1 |
Visualizer: Leyla Salayeva
Match a dramatic red accent wall with one hero piece of furniture. This beautiful embossed feature wall lends its deep red tone to a bedroom chair by the window, where it is framed by sheer white drapes. Note how two ceiling lights echo the circular pattern of the feature wall too, to build a rippling shape theme in the room.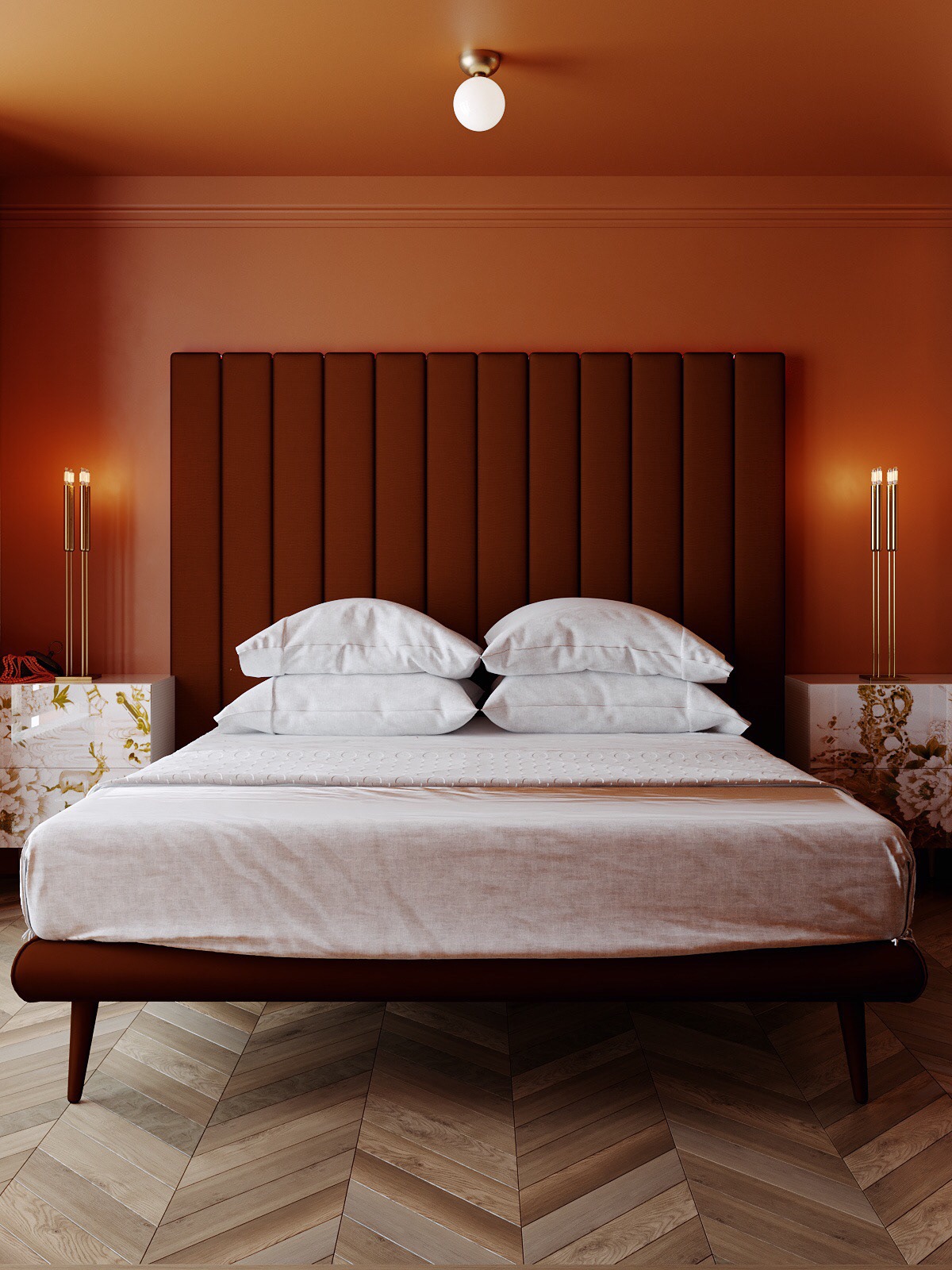 Let red rein from ceiling to floor. The fiery orange-red wall paint in this bedroom scheme follows on from a solid red ceiling. A deeper red headboard overlays the paintwork, and stretches the colour out over pale wood flooring. White elements clean up the colour scheme, whilst golden accents add luxe.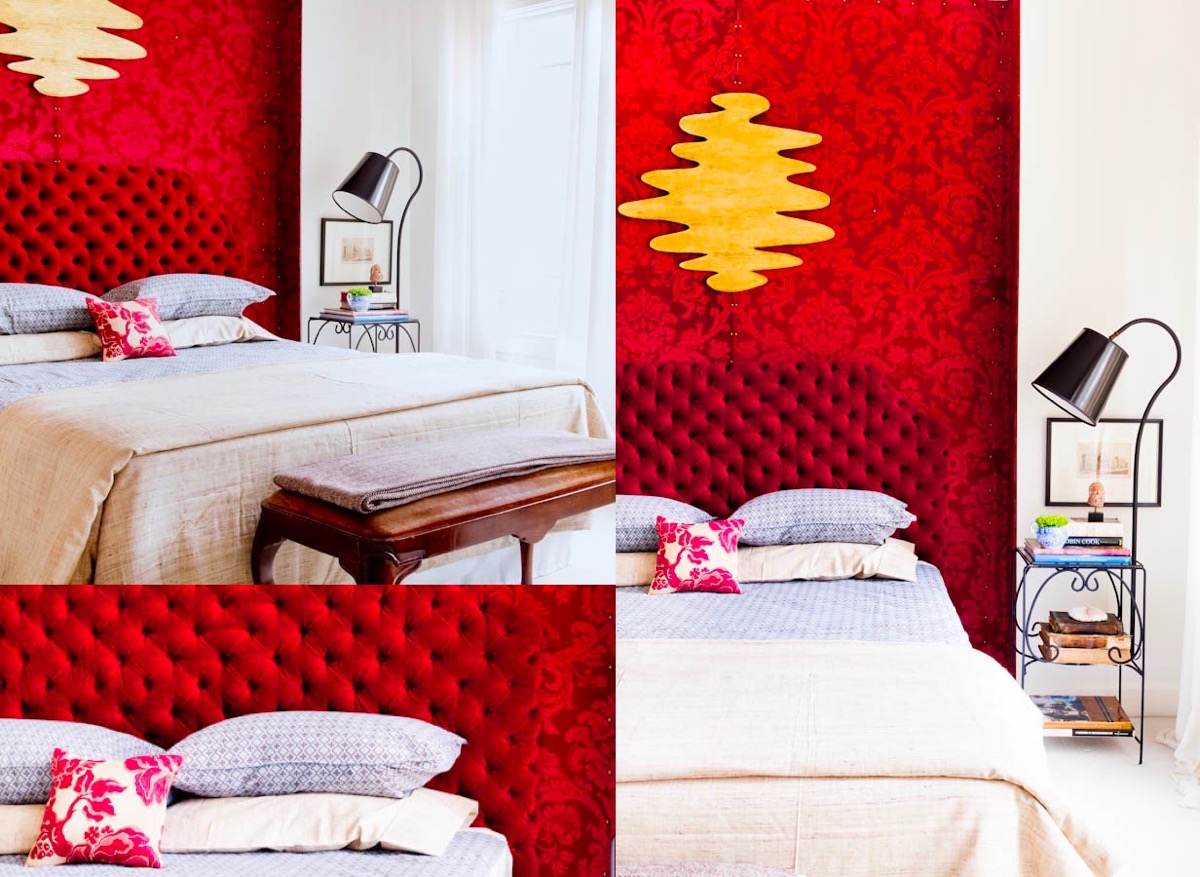 3 |
Designer: Raji RM & Associates
Try out new textures. This red tufted headboard merges with a flocked fleur de lis wallpaper of the same bright shade, each defined only by their deep texture. A border of flat white space is left around the colourful combo to allow the effect to breathe.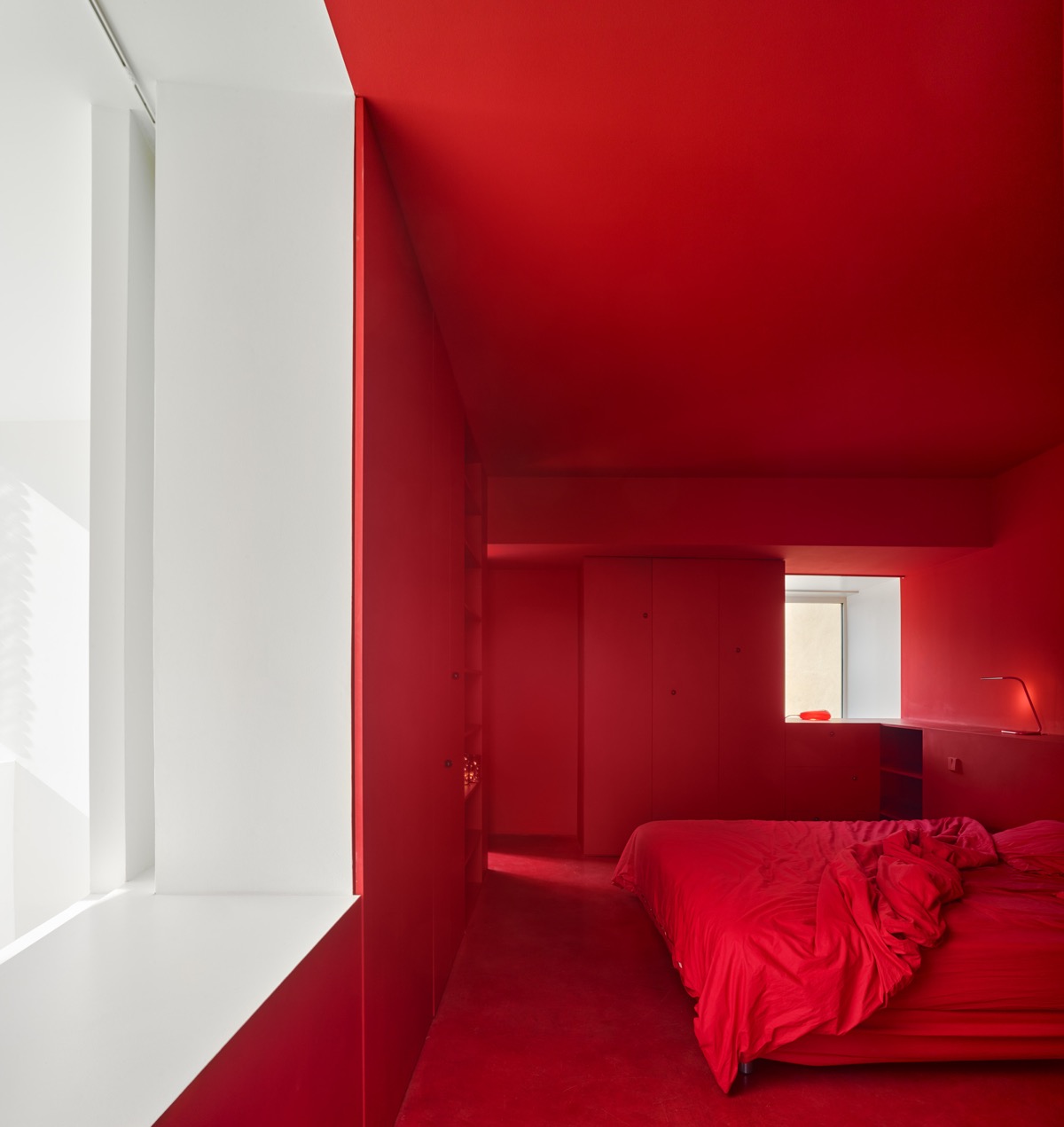 4 |
Designer: Dominique Coulon & Associés
Go maximalist in a minimalist setting. When decorating a pared back minimalist bedroom that's all clear of clutter, colour can apply all of the personality to the room. Bleed a red ceiling into 360º red walls, doors, furniture, essentials and floor. The window reveals in this all out red room have been coated in a light reflective white paint to prevent the colour block from feeling oppressive.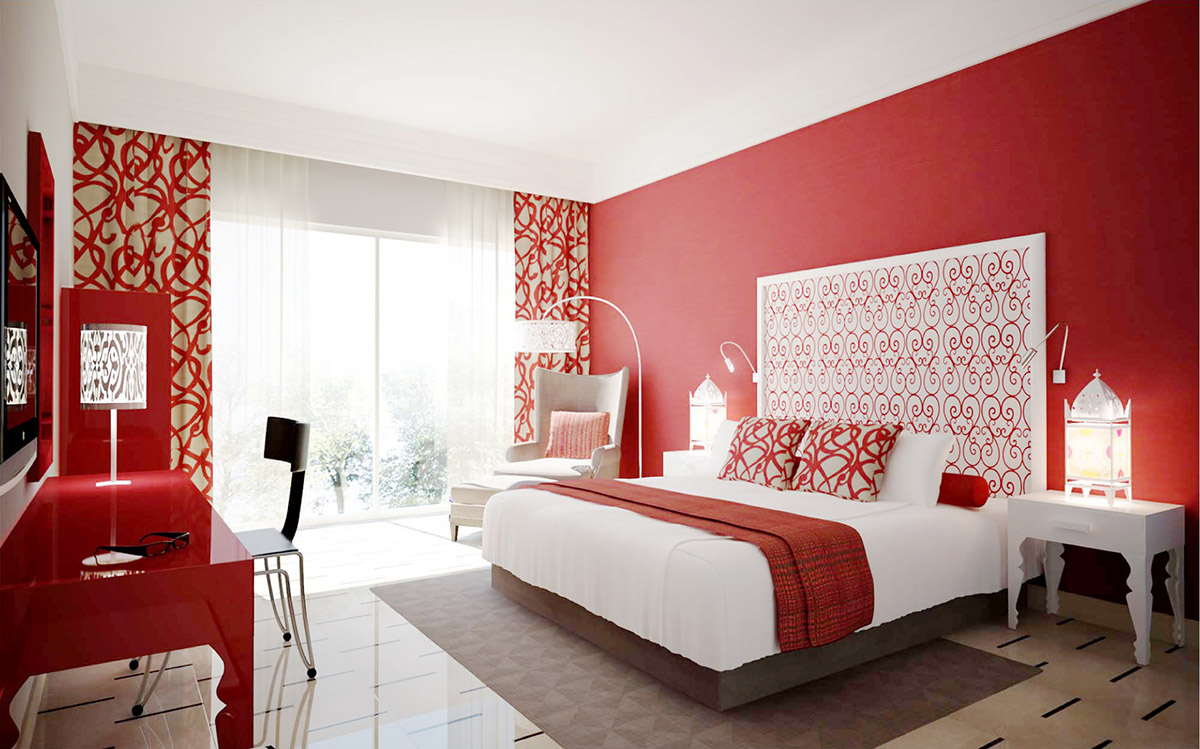 5 |
Designer: GG And Grance
Pick a pattern. A patterned red bedroom curtain and cushion set will add a cohesive colour story to even a plain room. However, you can amp up the effect of your new home decor elements by colour matching your wall paint to their pattern. Take a sample of your fabric to the paint mixing desk at your local DIY store for a bespoke match.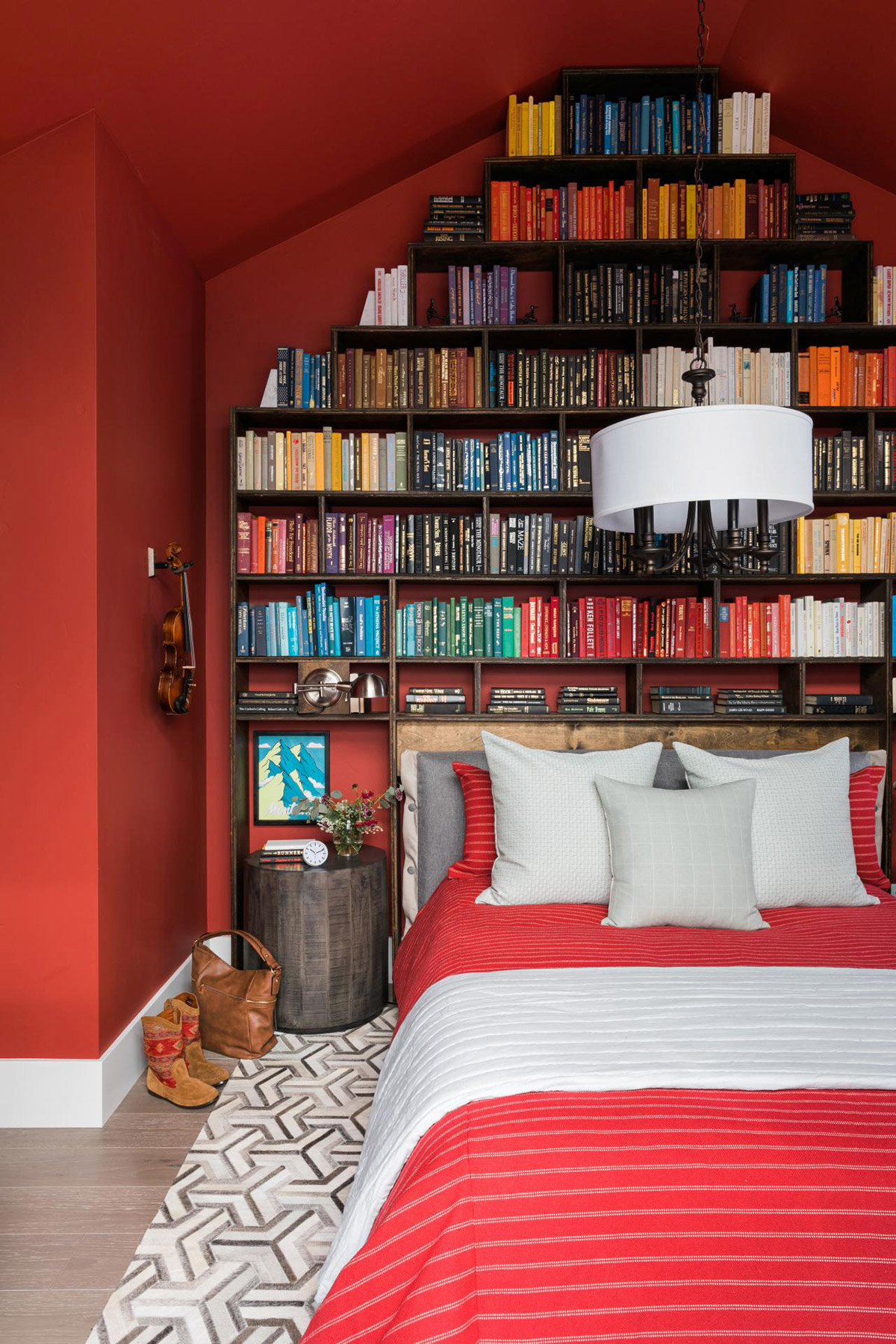 6 |
Photographer: Rustic White Photography
Via: HGTV
Apply as a bold backdrop. Red has been used as a backdrop behind a towering home library in this cosy book lover's bedroom. A crisp red bed set compliments the wall paint.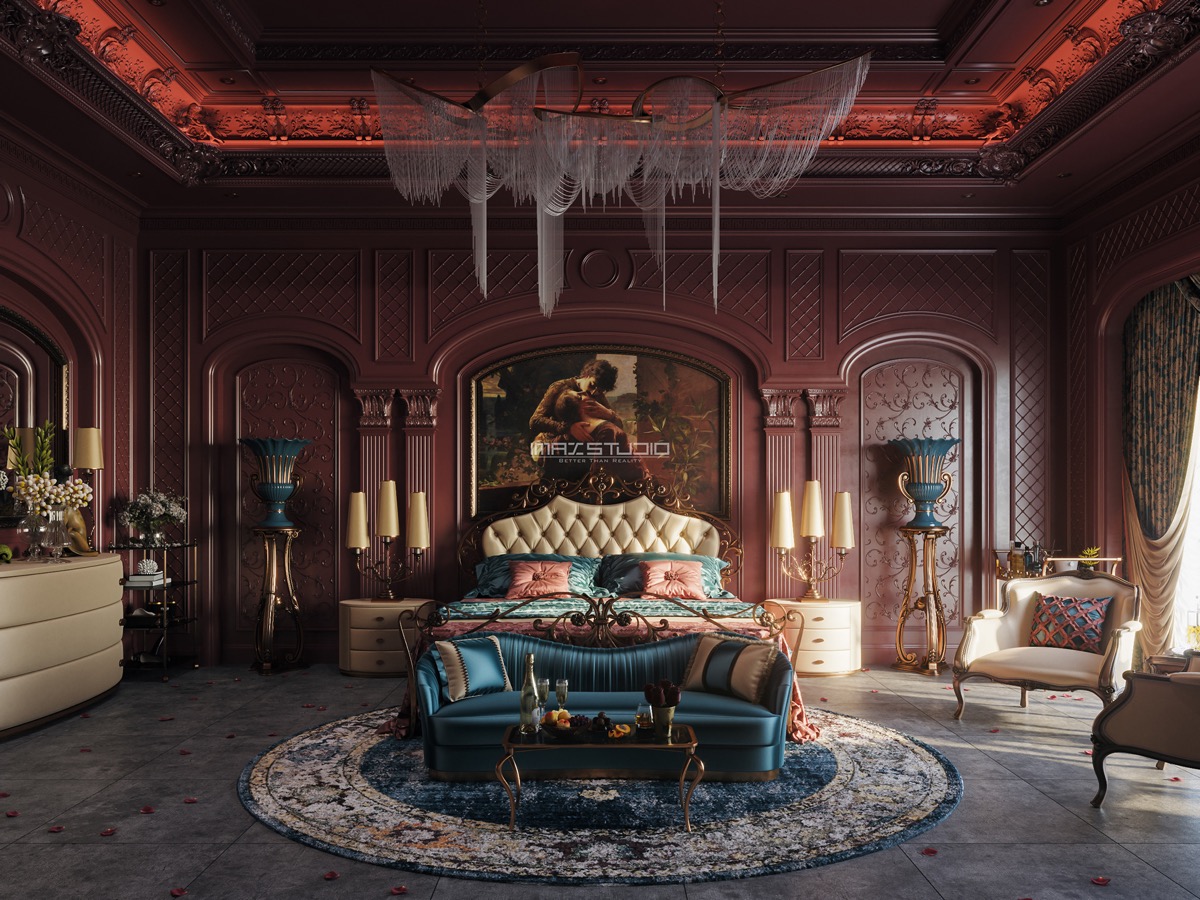 7 |
Visualizer: iMax Studio
If bright red isn't your bag, then how about a gothic dark red bedroom. This amazing burgundy boiserie encased space is dramatised even further by red lighting around its deeply decorative cornice.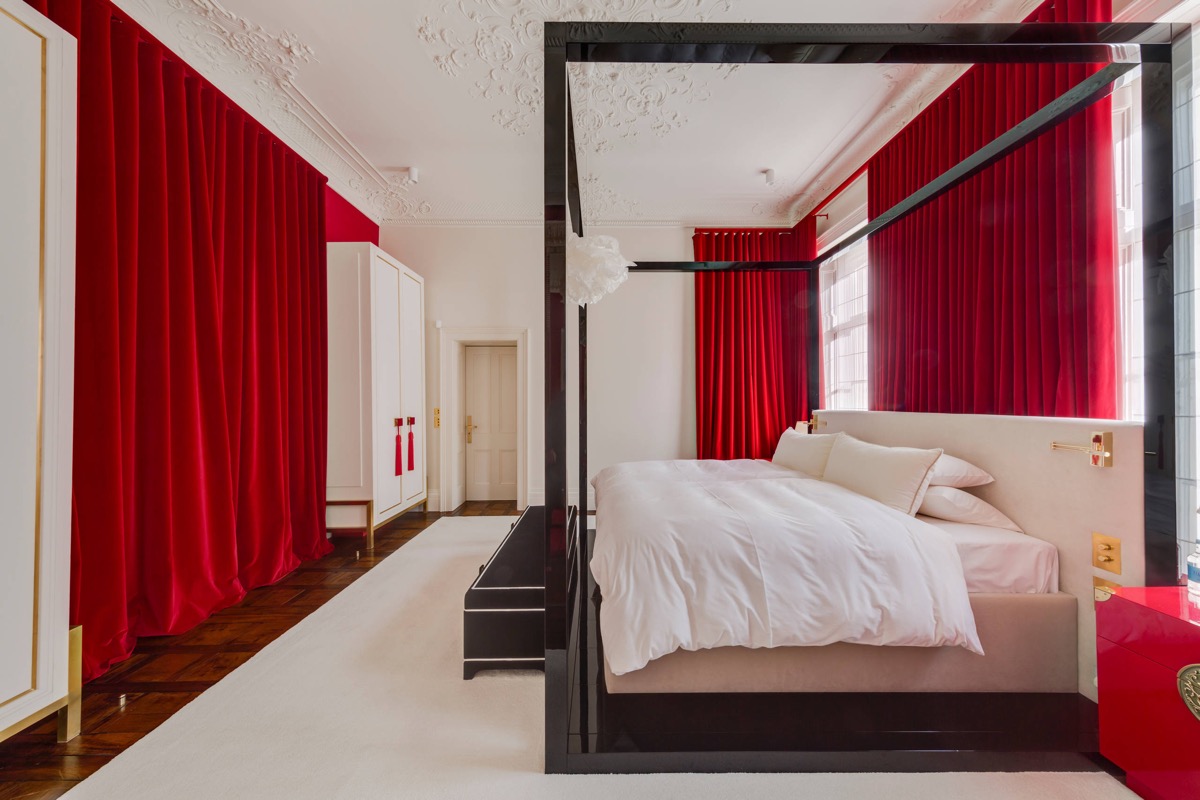 8 |
Designer: Convert Construction
A touch of theatrics. Heavy plush red curtains put on quite the performance at the windows of a monochrome bedroom design. They could also be used as a portiere in a studio space, or to conceal the messy contents of an open fronted wardrobe.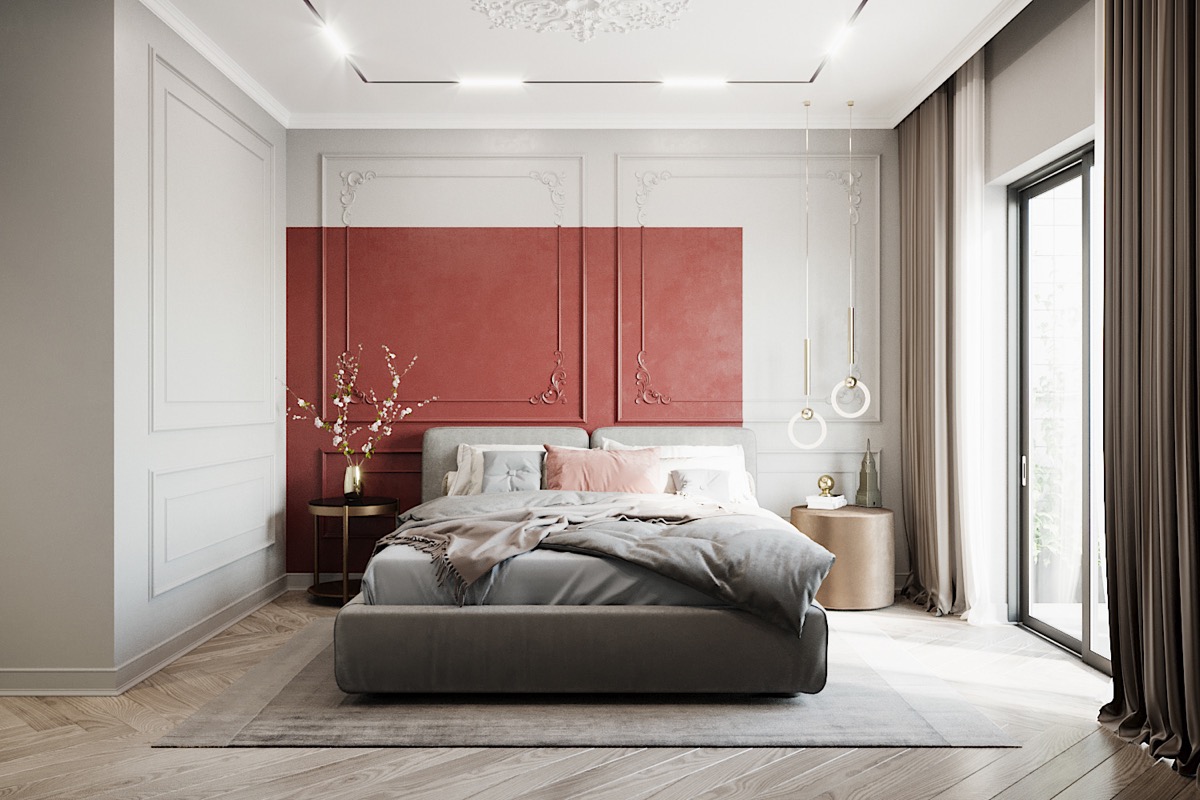 9 |
Visualizer: Ngoc Thuy
Red paint doesn't have to fill a whole bedroom wall. Grab yourself a spirit level and a roll of masking tape to create a fashion forward quirky colour block. Asymmetric placements look best–a boserie or wainscot panelled wall works even better.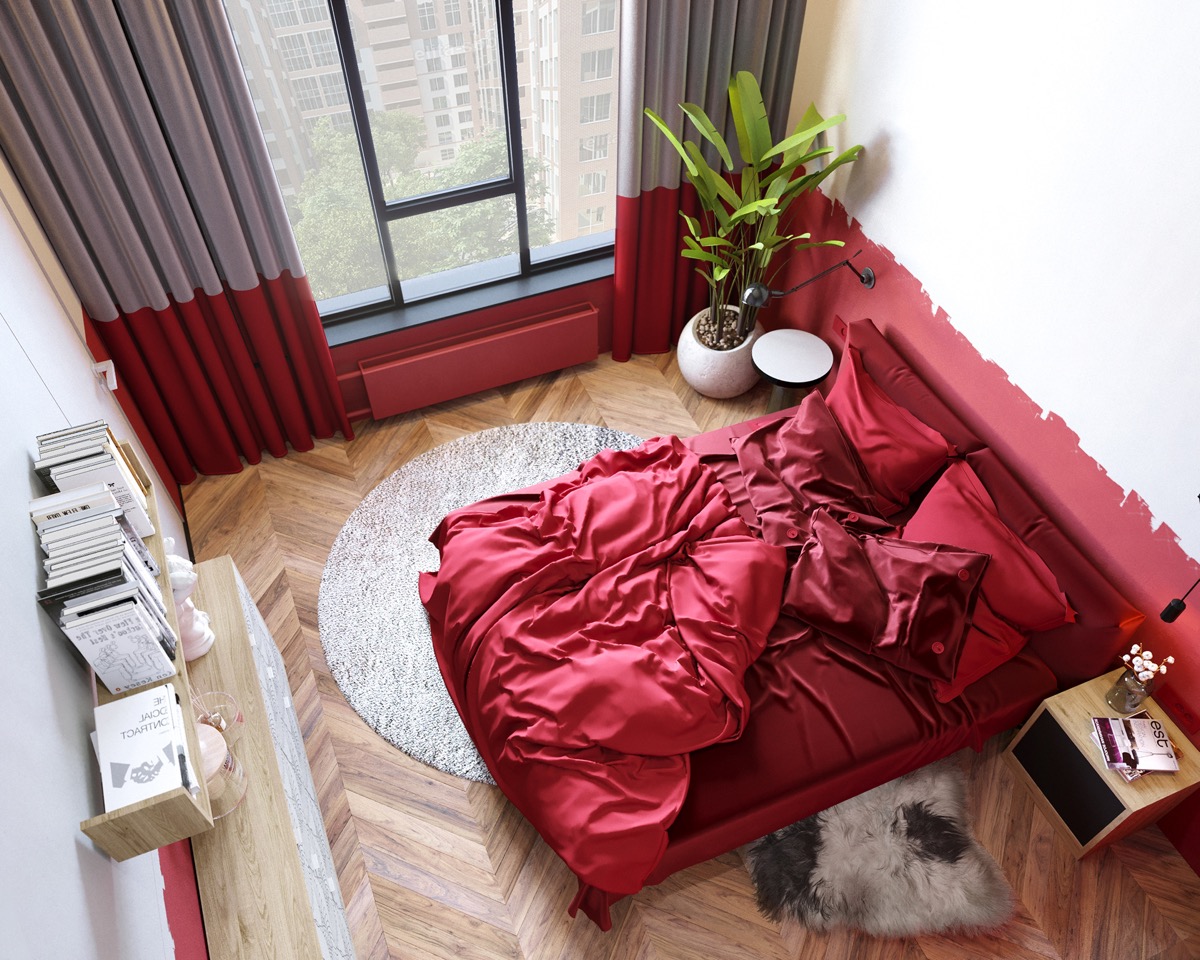 10 |
Visualizer: Anastasia Kruseva
The red paint effect in this bedroom has been applied loosely around the lower quarter of the walls, to match two-tone window drapes. A red bed base and red bedding set flood more colour into the base of the room.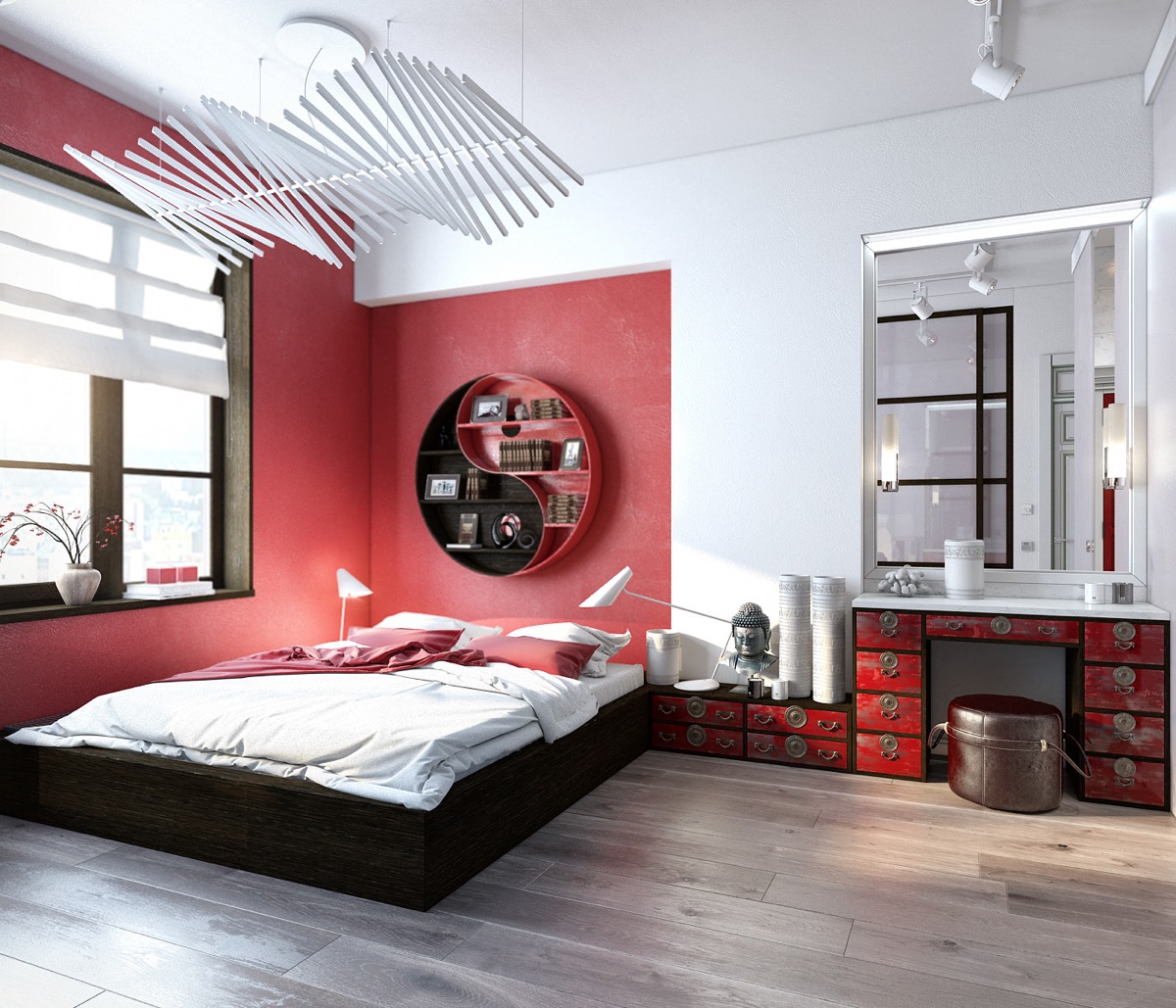 11 |
Visualizer: Tatyana Ryltsova
Use colour to define the sleep zone in a large room. Applying a block of colour around the bed makes the sleep zone feel more contained and cosy within a wide open space. A red and black Yin and Yang shelving unit ties the colour of these walls and bed together. A white modern chandelier stands out in form, rather than colour.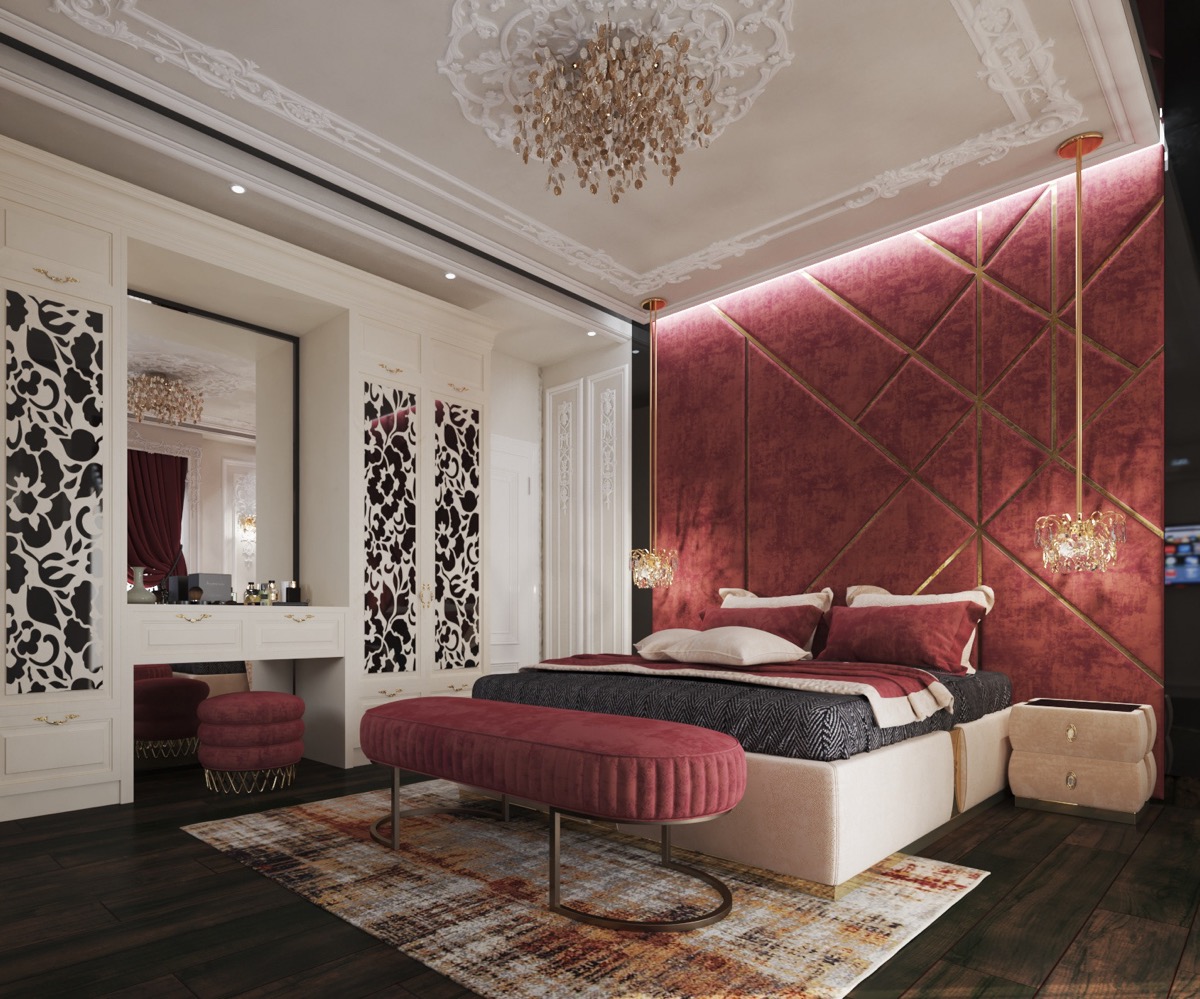 12 |
Visualizer: Samar Mahmoud
Limit colour to the upholstery. Whether its a red upholstered headboard, an ottoman, a vanity stool, a red bed set, curtains or all of those things, limiting yourself to one single fabric ensures a perfectly matching ensemble that evokes a high end hotel look.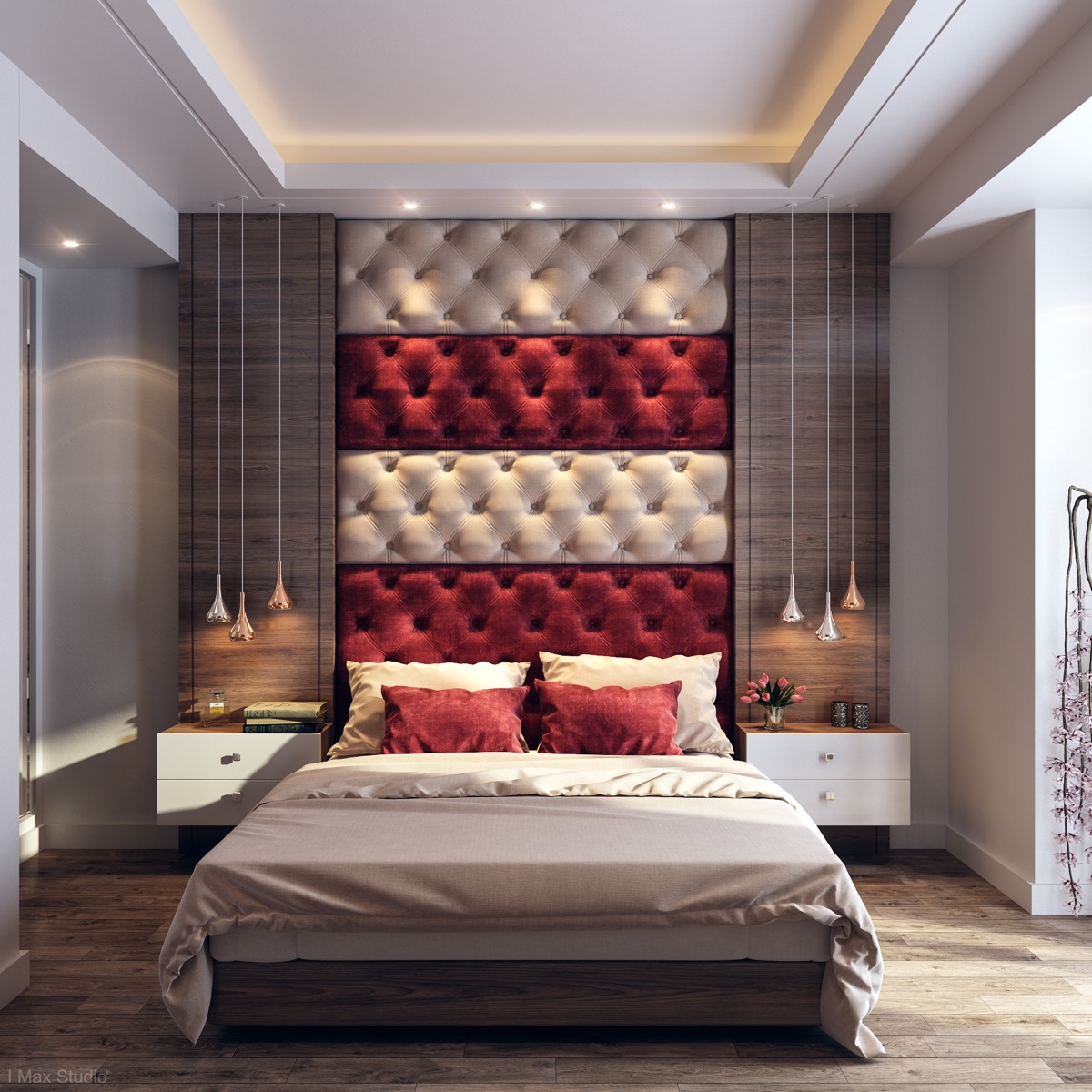 13 |
Visualizer: iMax Studio
Commission a bespoke red headboard. The red and white sections of this tufted headboard design create a striking striped effect. Throw on some pillows to match and you're done.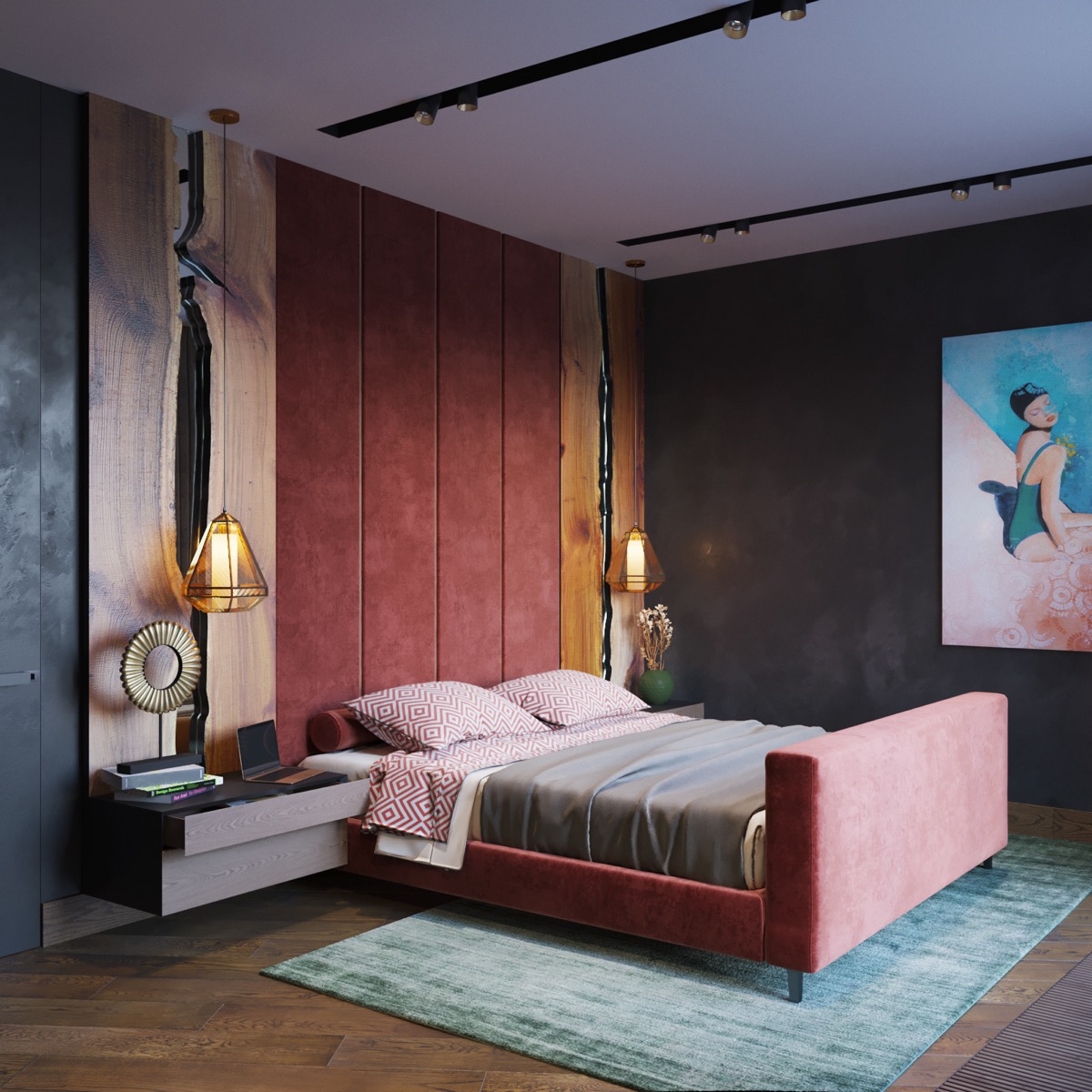 14 |
Visualizer: Volves Interiors
Upholster a headboard wall and bed base in tandem.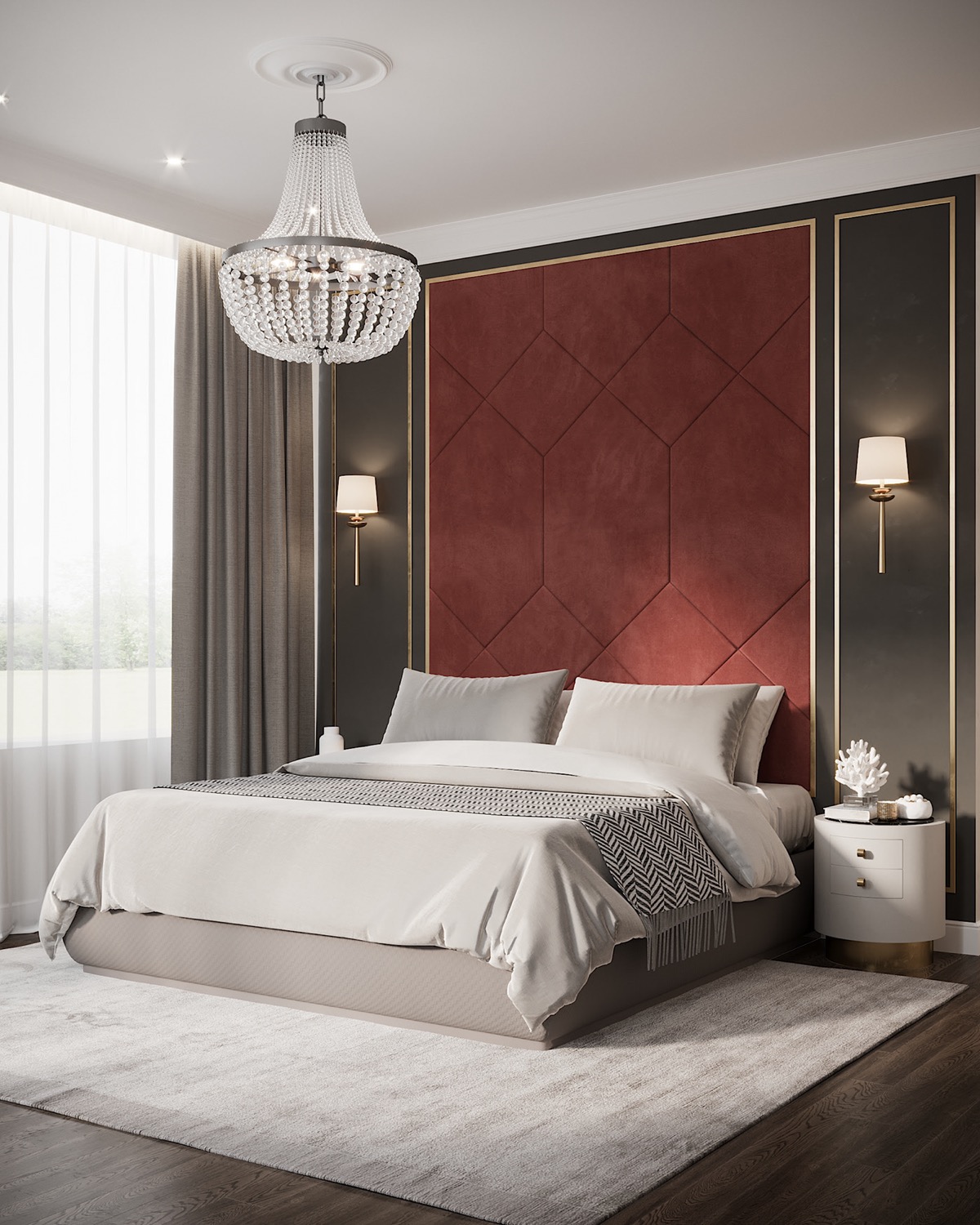 15 |
Designer: Yudinadesign
Visualizer: Andrey Vologzhin
One more beautiful bespoke upholstered headboard design. This time the colour in the room is strictly limited to the headboard alone.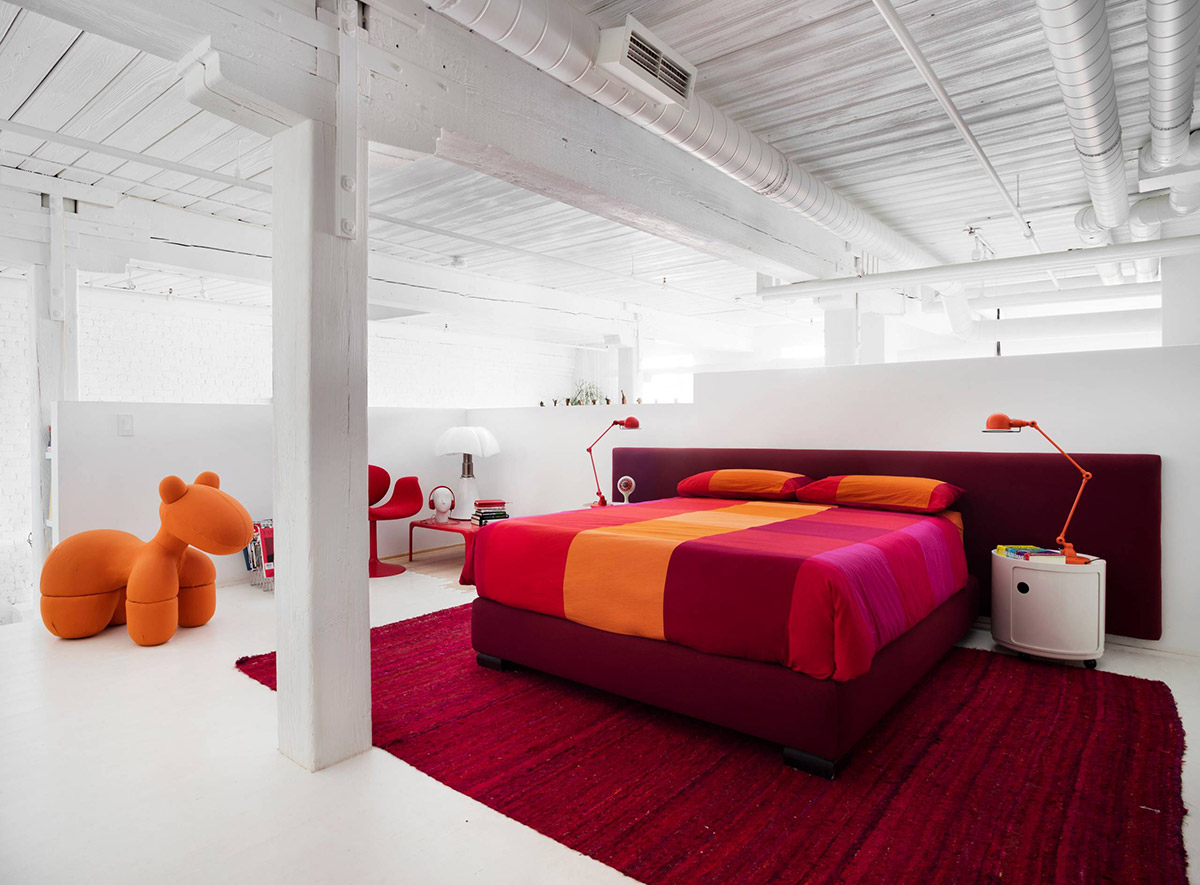 16 |
Designer: Stephane Chamard
If you're living in a rented space then it can be tricky to create your dream colour scheme if the landlord wants their walls left alone, but don't be discouraged. A red bed frame and bed set, red bedroom rug and colour coordinated accessories can provide all that's needed for a rich colour scheme.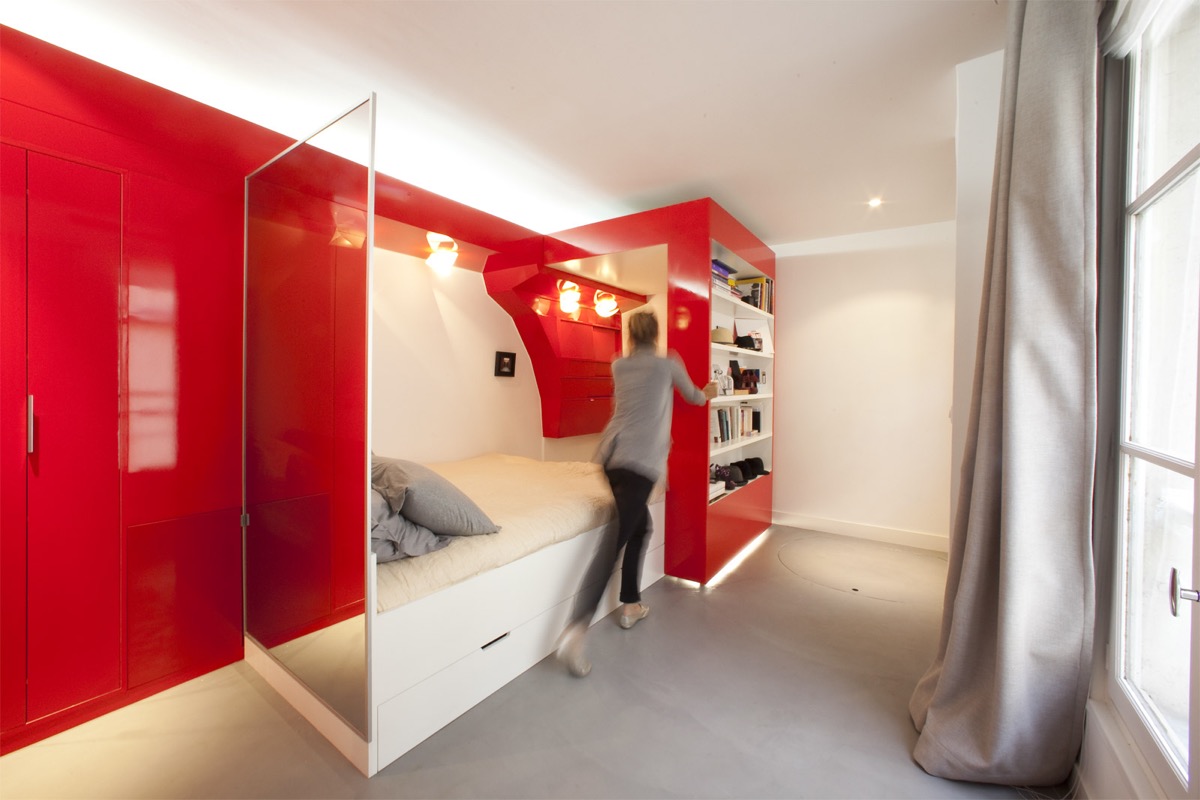 17 |
Designer: Paul Coudamy
Give walls the smooth and glossy look…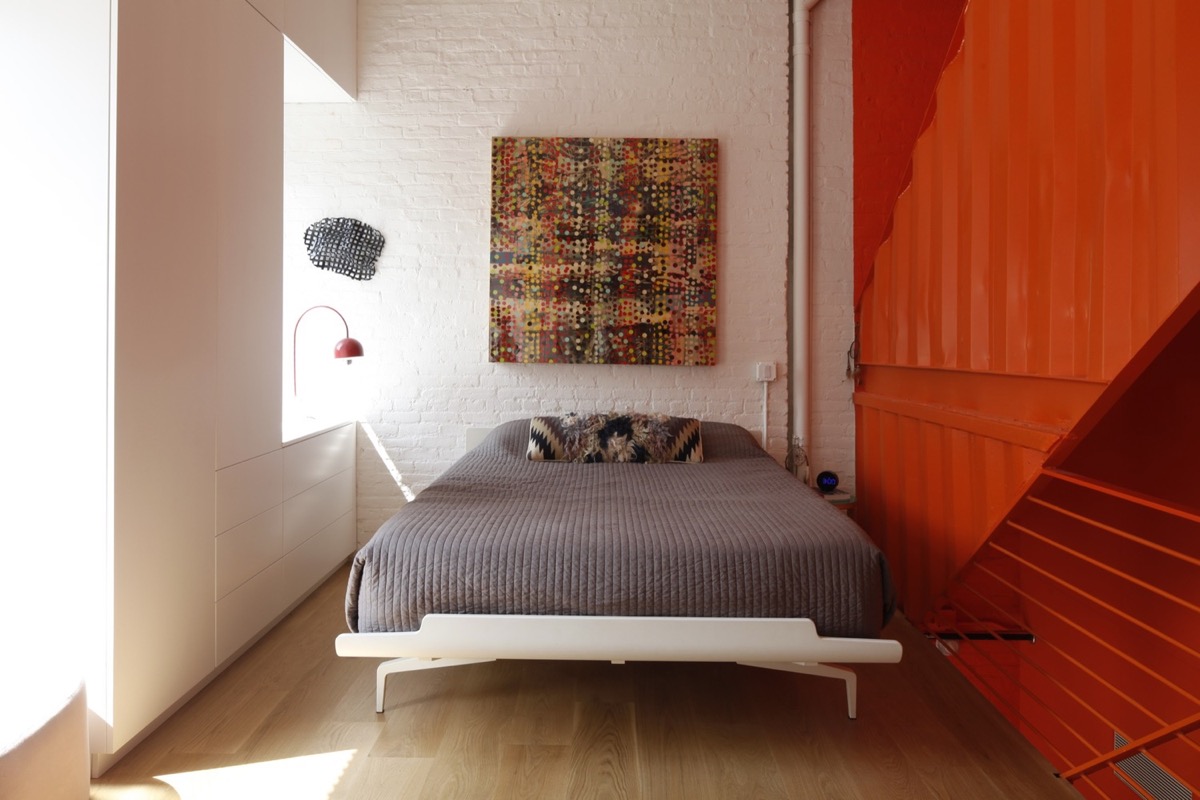 … Or colour coat corrugated iron for a characterful crimped feature wall, or industrial style wardrobe doors.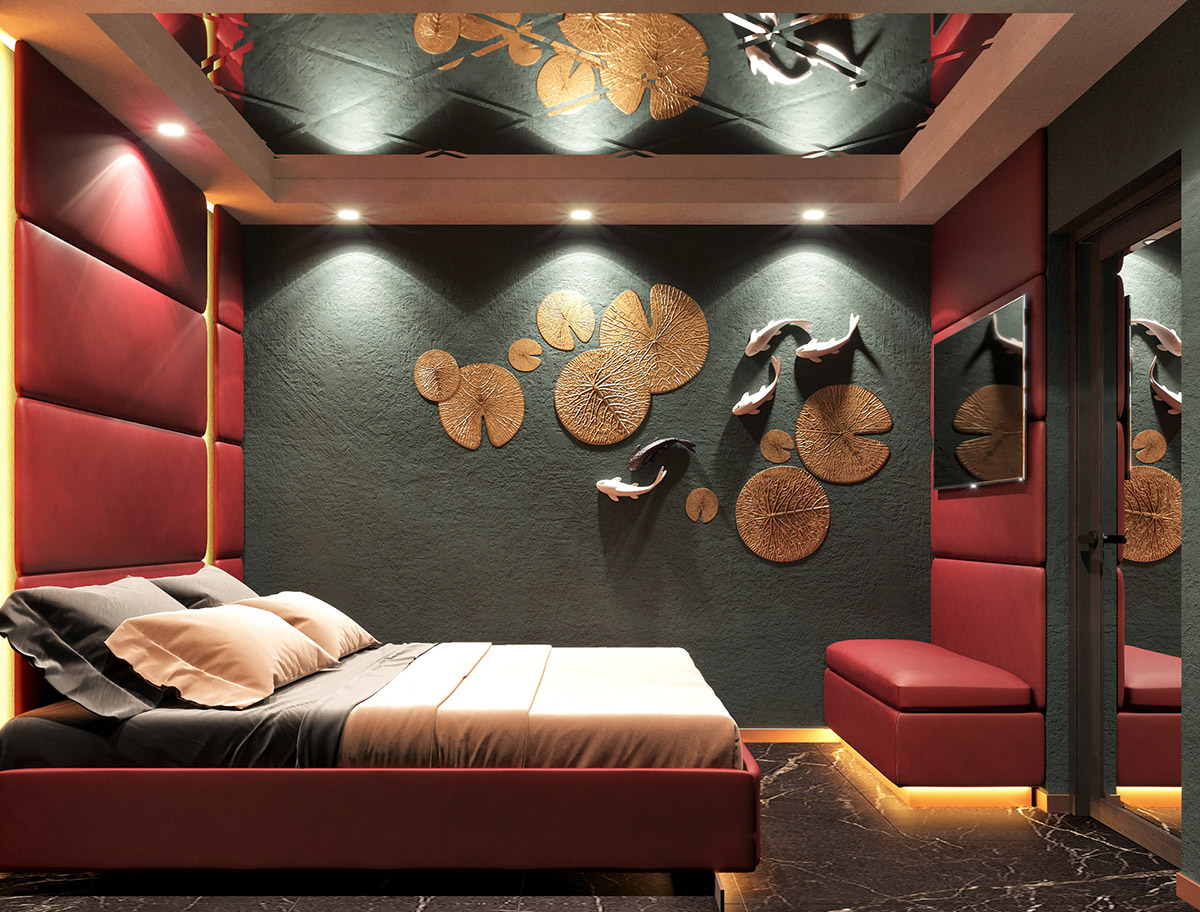 19 |
Visualizer: Vladimir Ogorodnikov
Another fabric-forward bedroom design, though in this one the red upholstered wall panels have a smooth leather-look. LED strips cut down and around the red leatherette panels, adding a golden glow.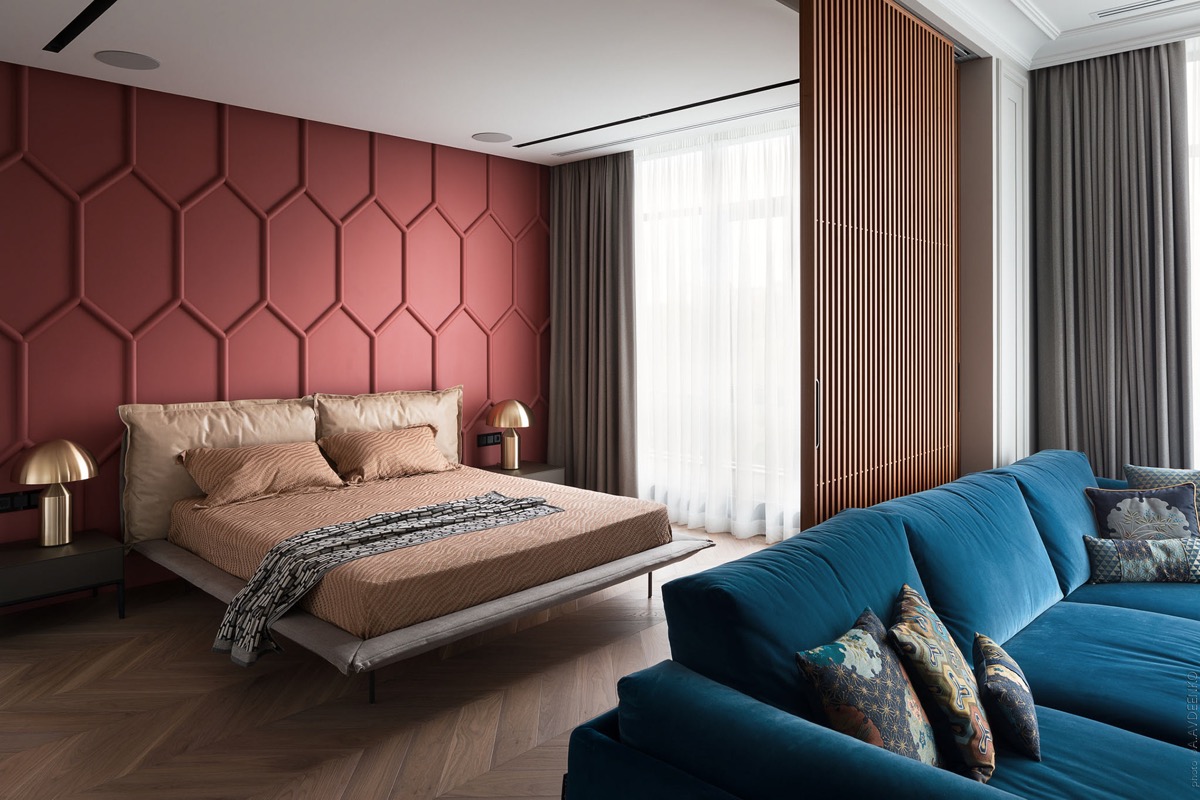 20 |
Photographer: Andrey Avdeenko
A non-upholstered headboard wall presents the possibility of an easy colour change at a future date, at the low cost of just a tin of paint. Beading has been used to create a geometric design across the headboard wall of this red and brown bedroom scheme.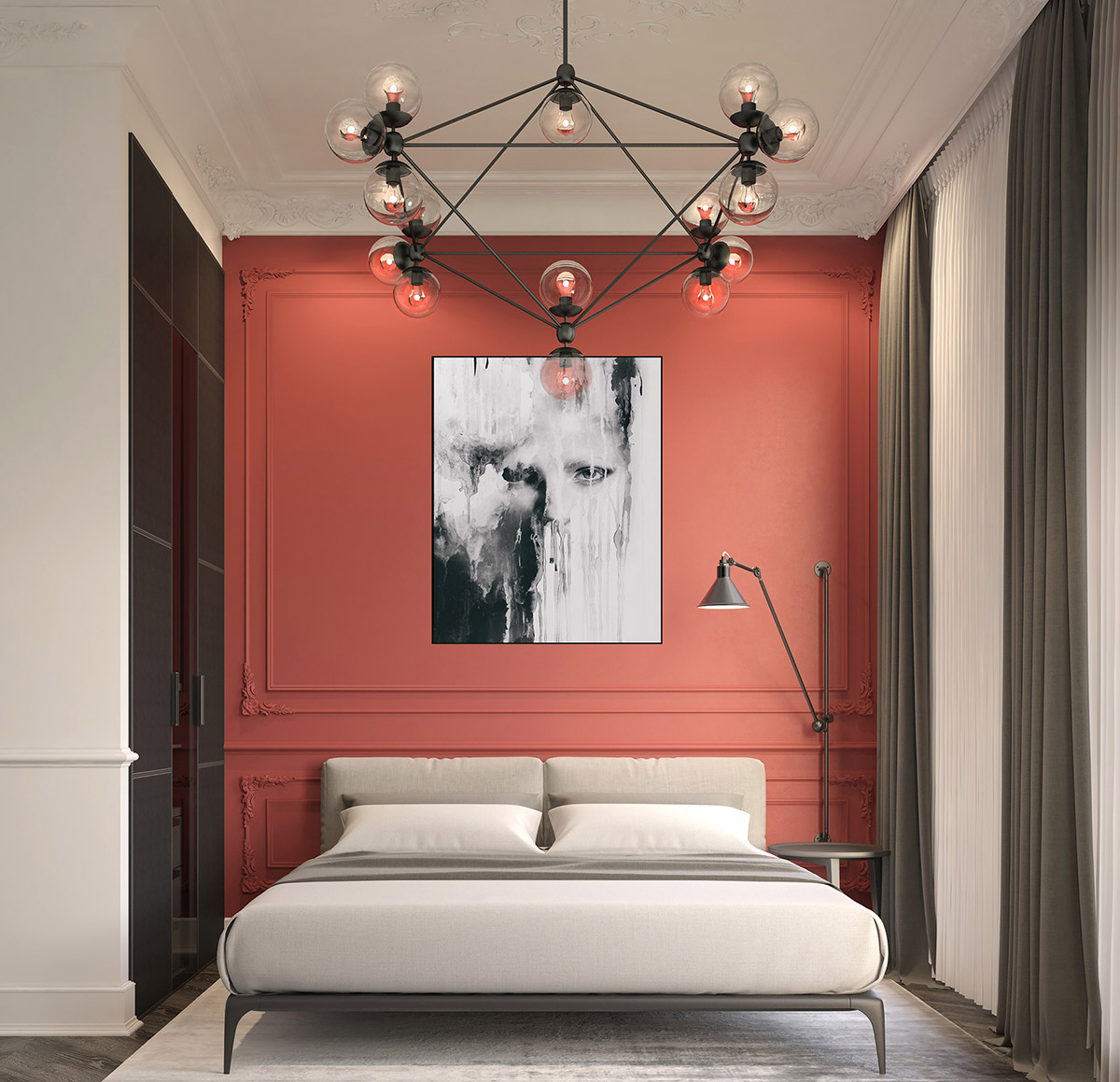 21 |
Visualizer: Leyla Salayeva
Red is a colour that spans the ages. Here, traditional red boiserie is teamed with contemporary art and a modern sputnik chandelier with chic results.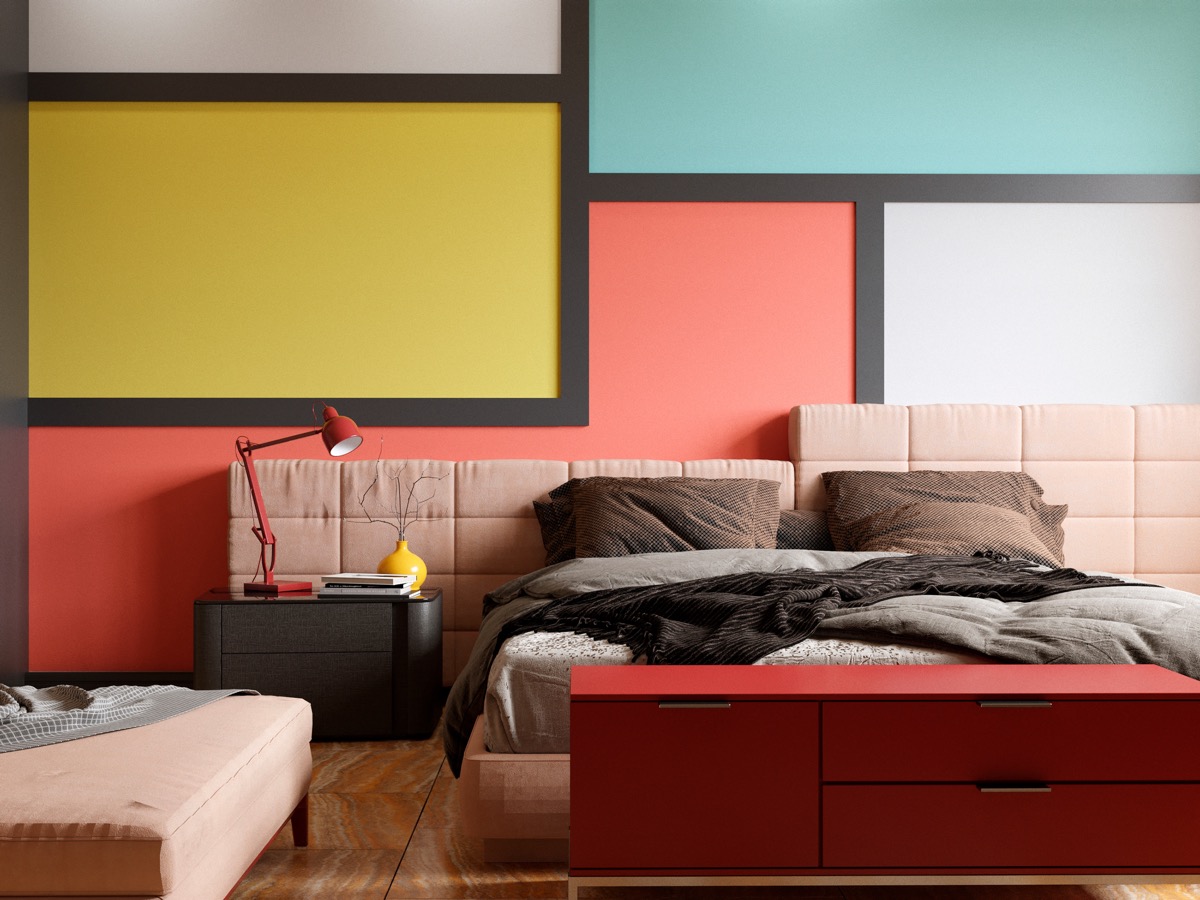 22 |
Visualizer: Serg Ushakov
All out arty. Use black strips to frame out a Mondrian inspired bedroom feature wall. Choose furniture with simple blocky silhouettes to cement the concept.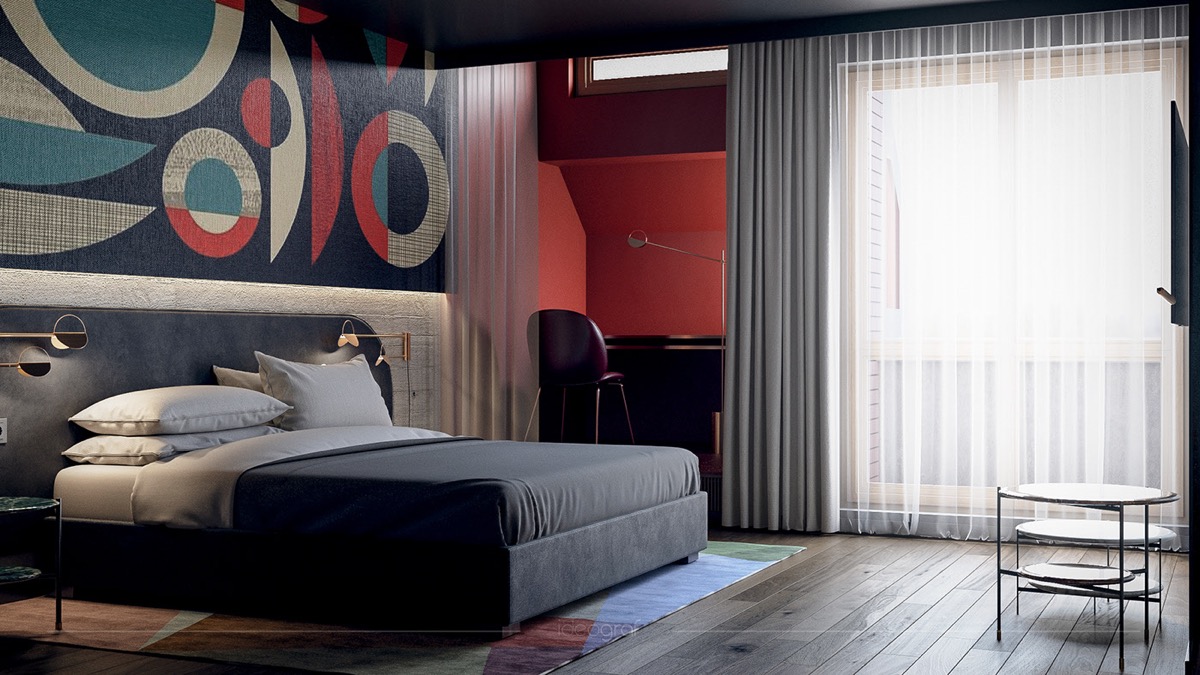 23 |
Visualizer: Ideograf PL
An alternative artistic approach to the bedroom feature wall.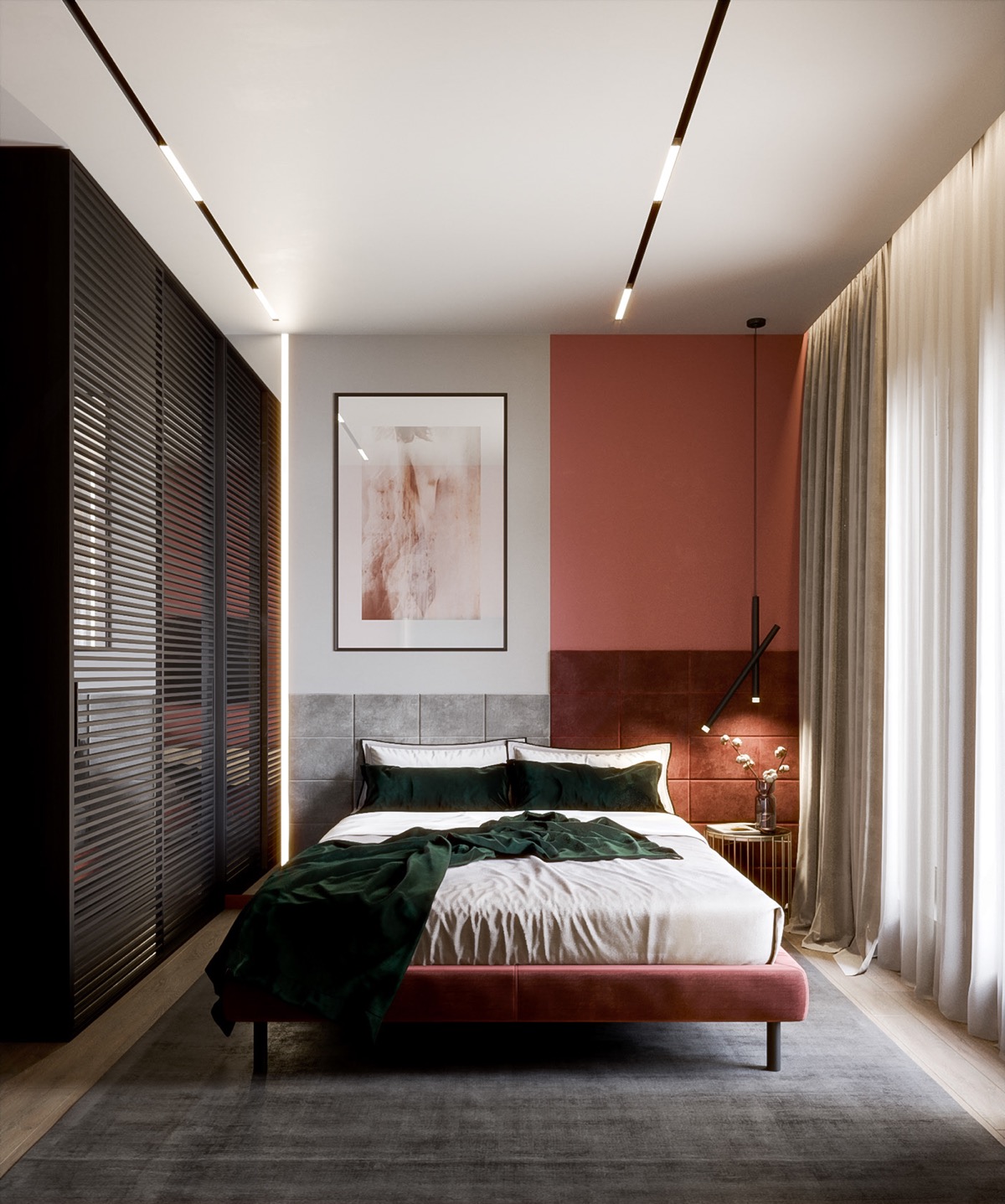 24 |
Visualizer: Lev Production
Split personality. If you just can't seem to commit to an all red feature wall, then go half and half…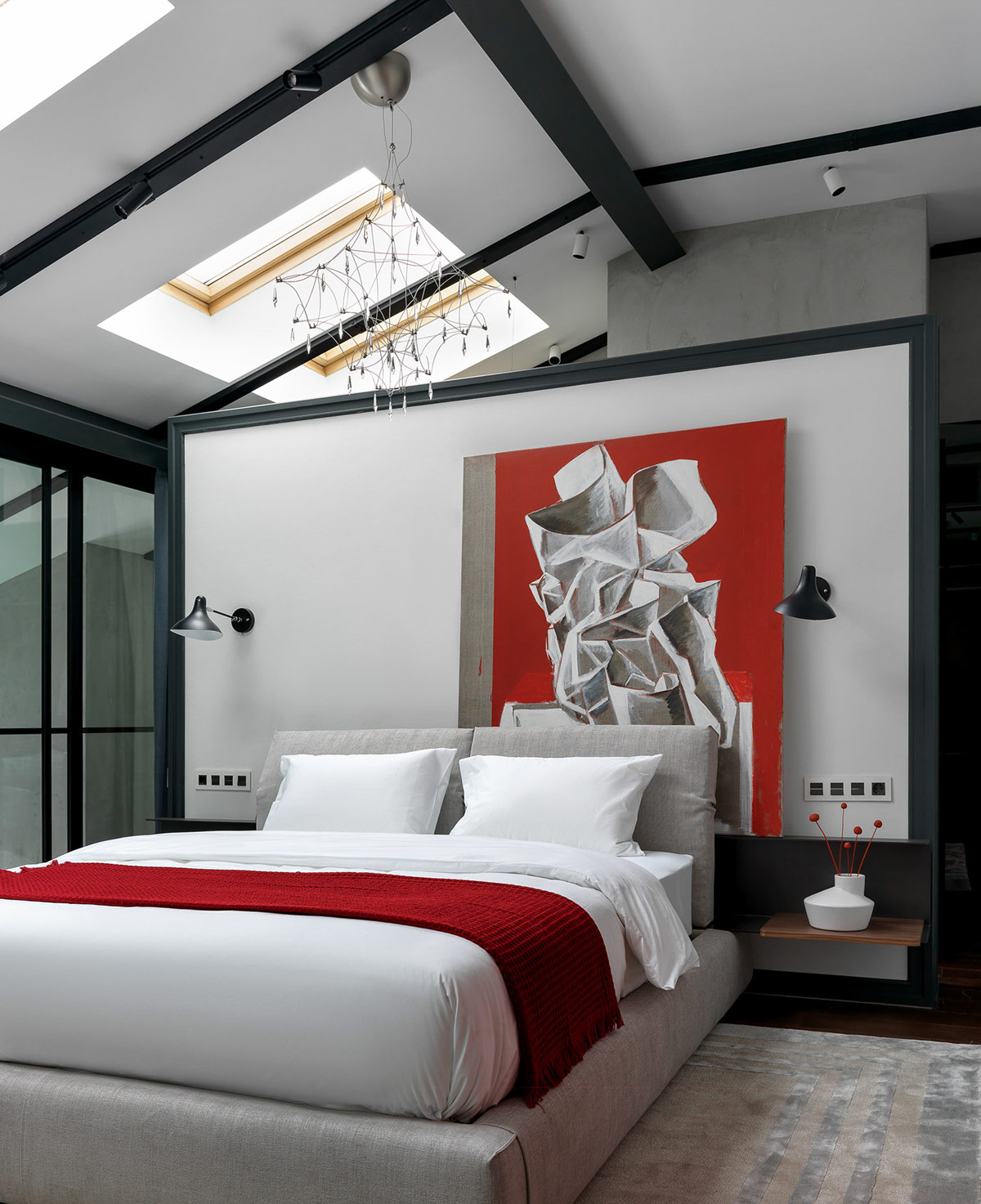 25 |
Photographer: Sergey Krasyuk
… Or bring in just a pop of red with a piece of wall art; add a red throw over the bed to give it a partner.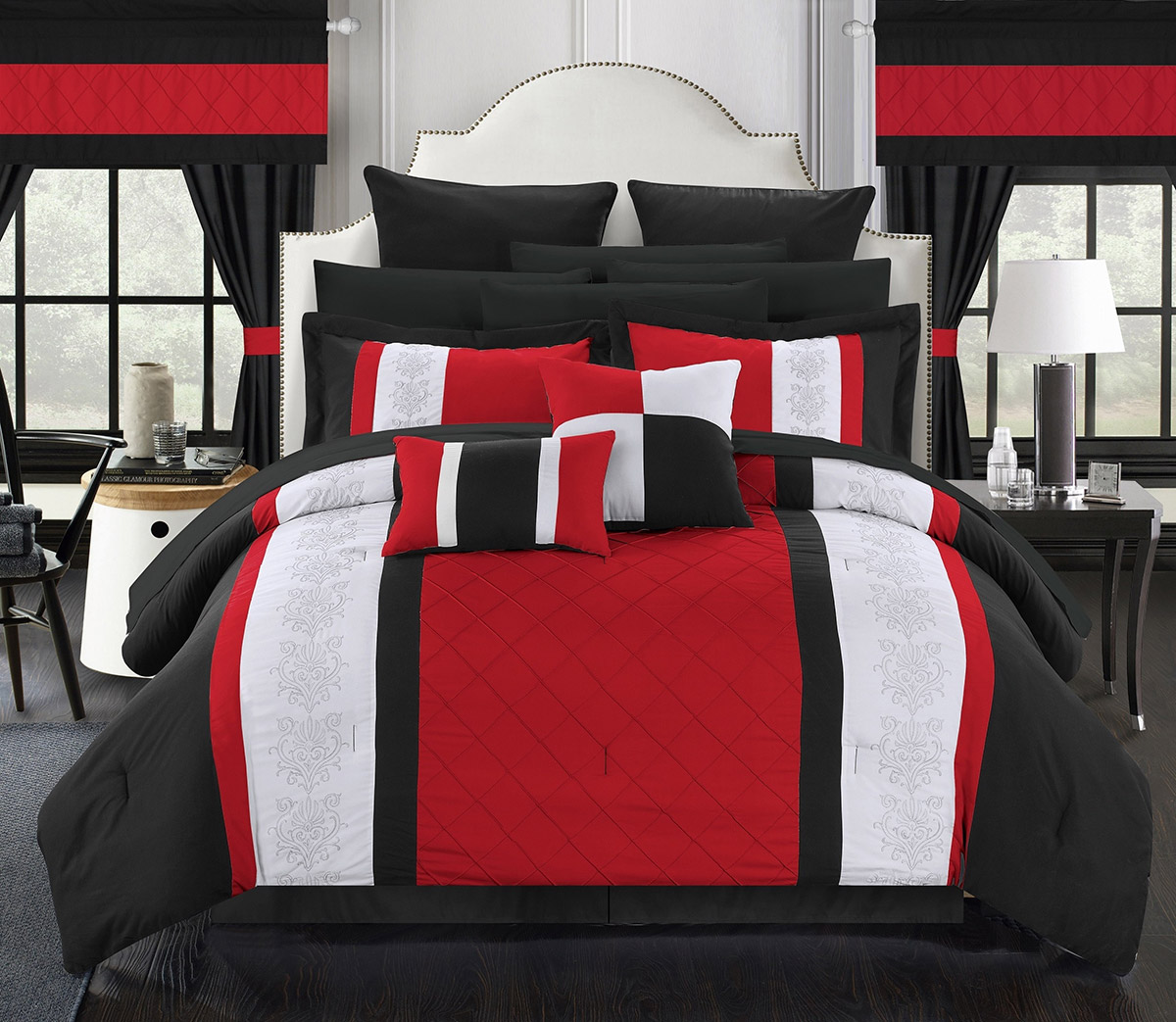 Beef up red accent decor with some basic black elements. The depth of black fabrics in a red and black bedroom scheme will make areas of colour appear even more vibrant.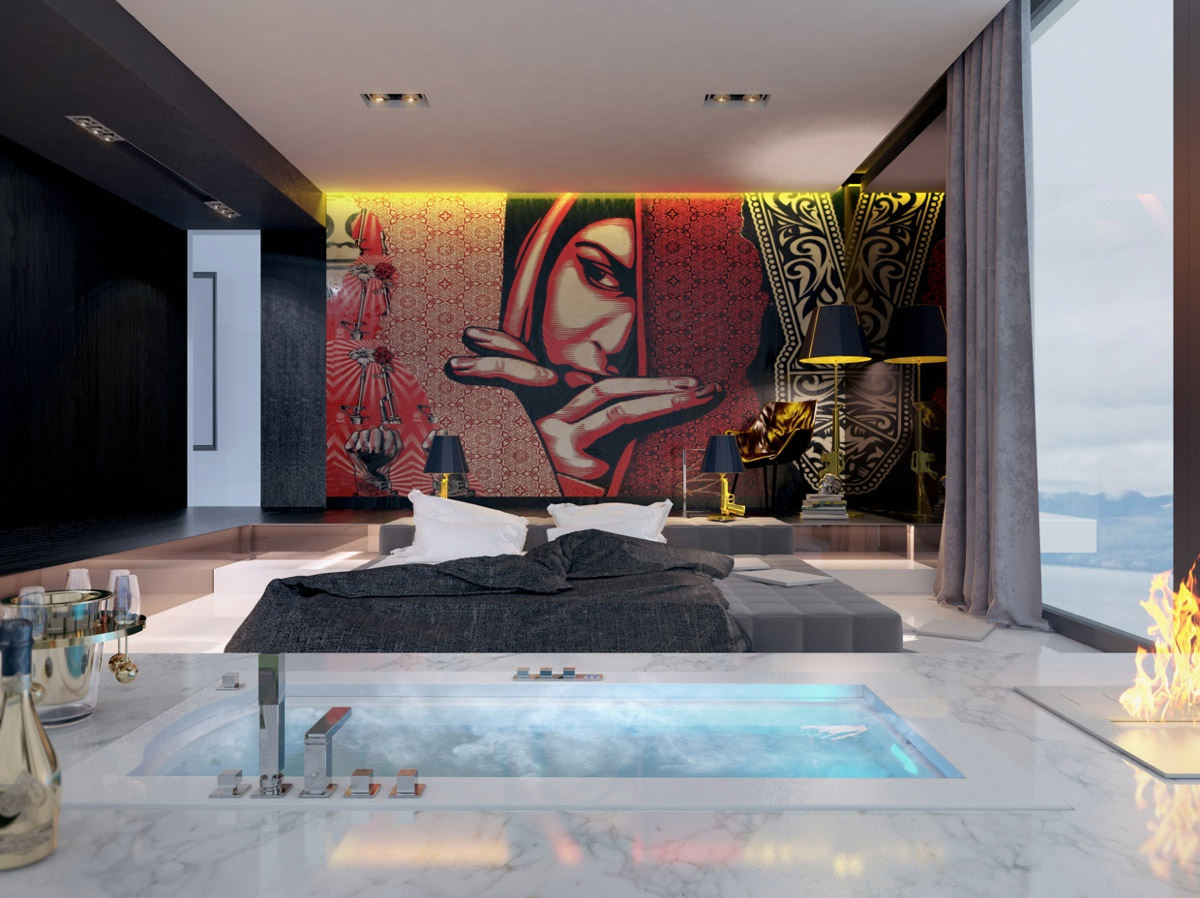 27 |
Visualizer: Albert Mizuno
Mix it up with a wall mural.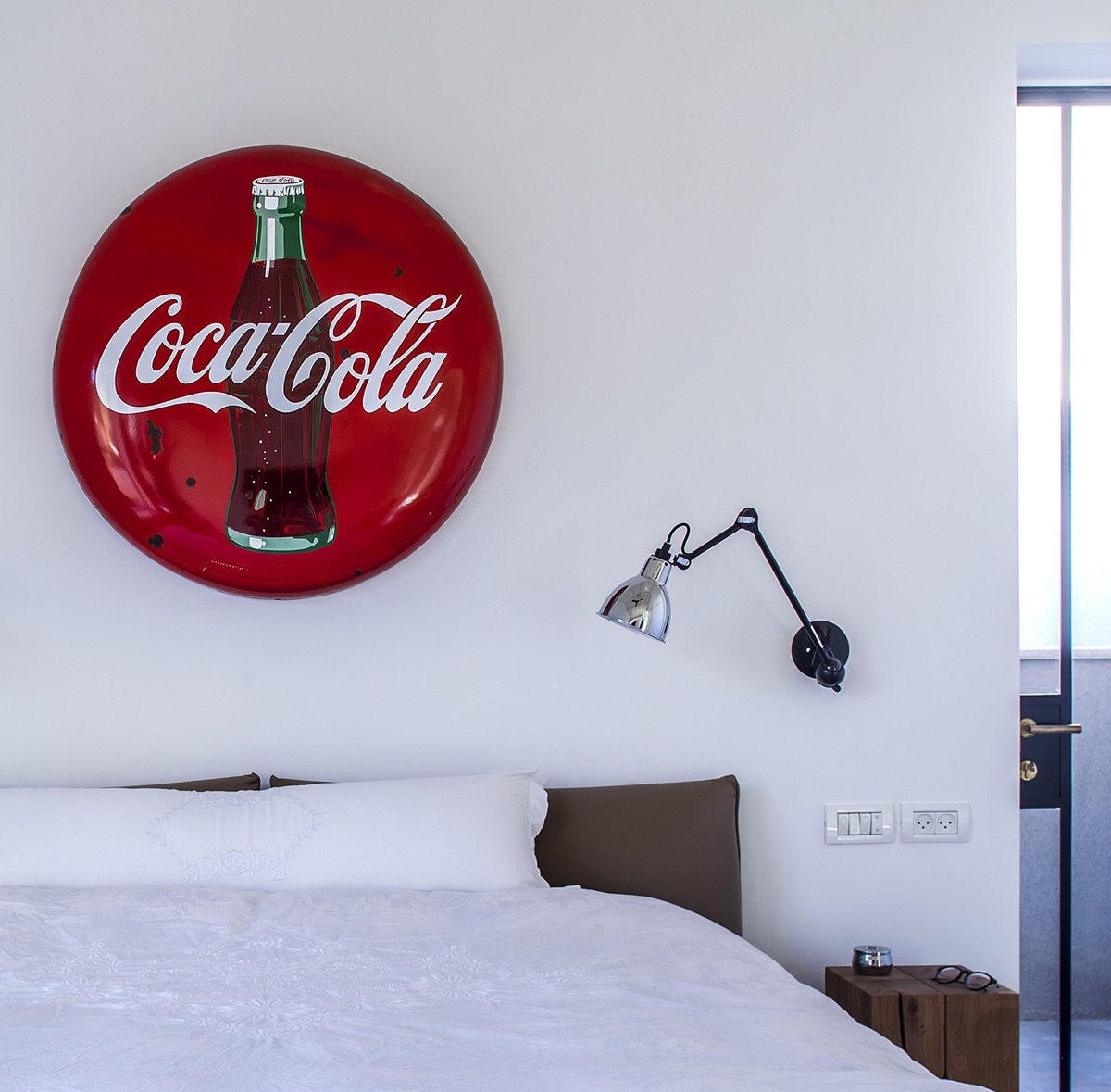 28 |
Designer: Henkin Shavit Architecture & Design
Scavenger hunt for fun red based accessories to ring the changes.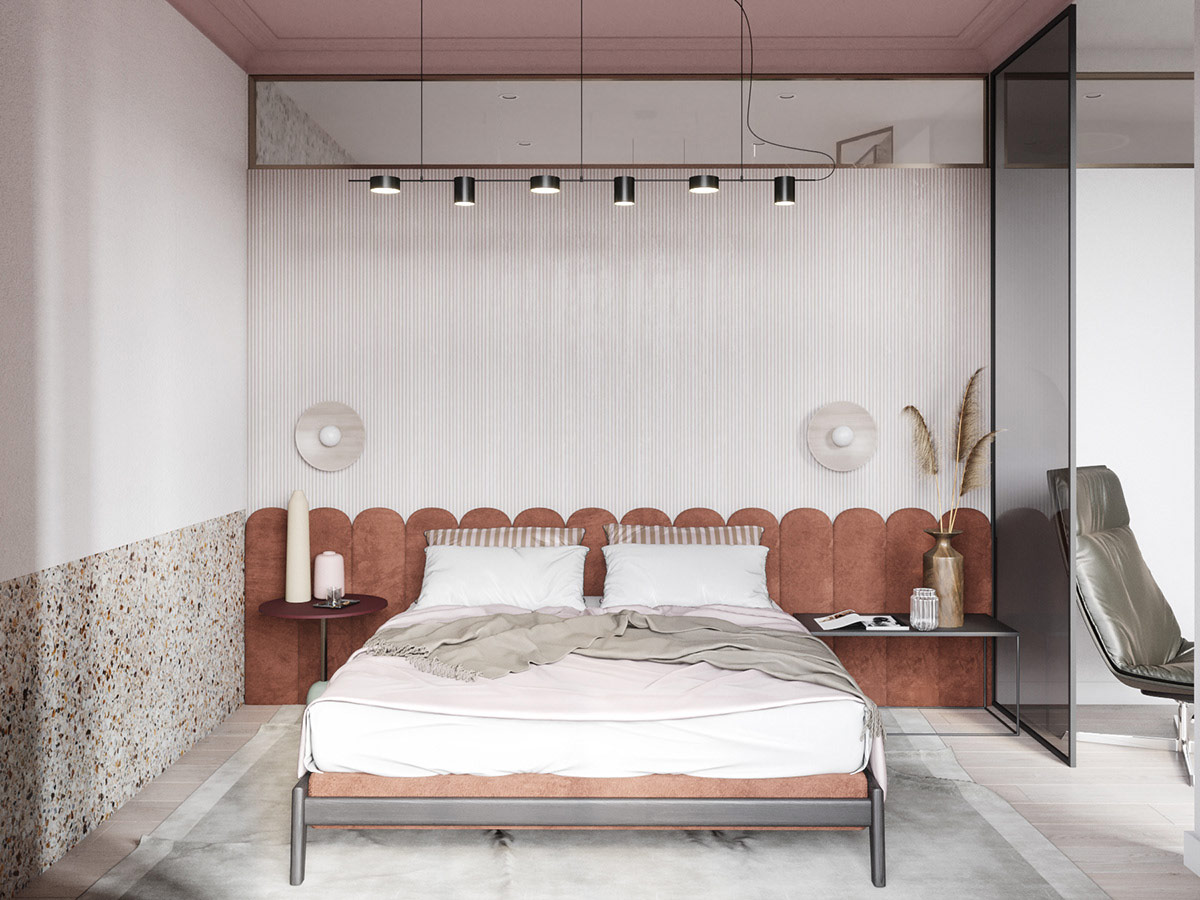 29 |
Visualizer: Anna Sergeeva
Muted reds sit back in a colour scheme, whilst steeping it in quietly confident sophistication.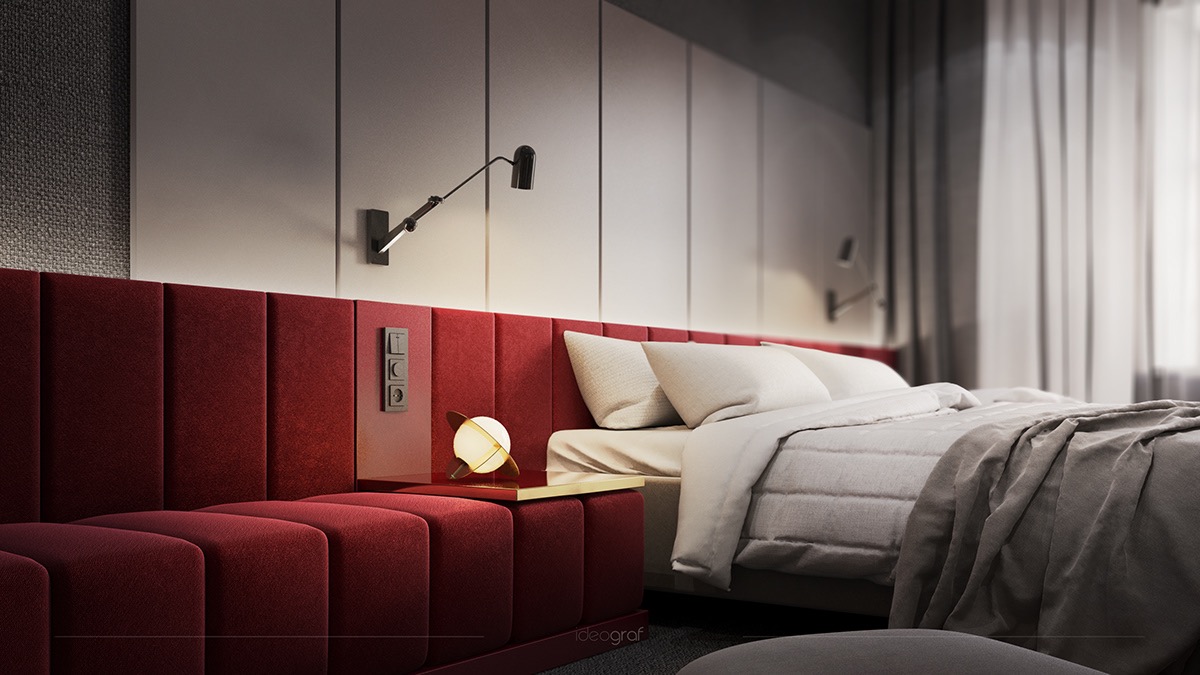 30 |
Visualizer: Ideograf PL
Red, plush and multifunctional; this headboard-cum-bedside-cum-ottoman ticks a lot of boxes.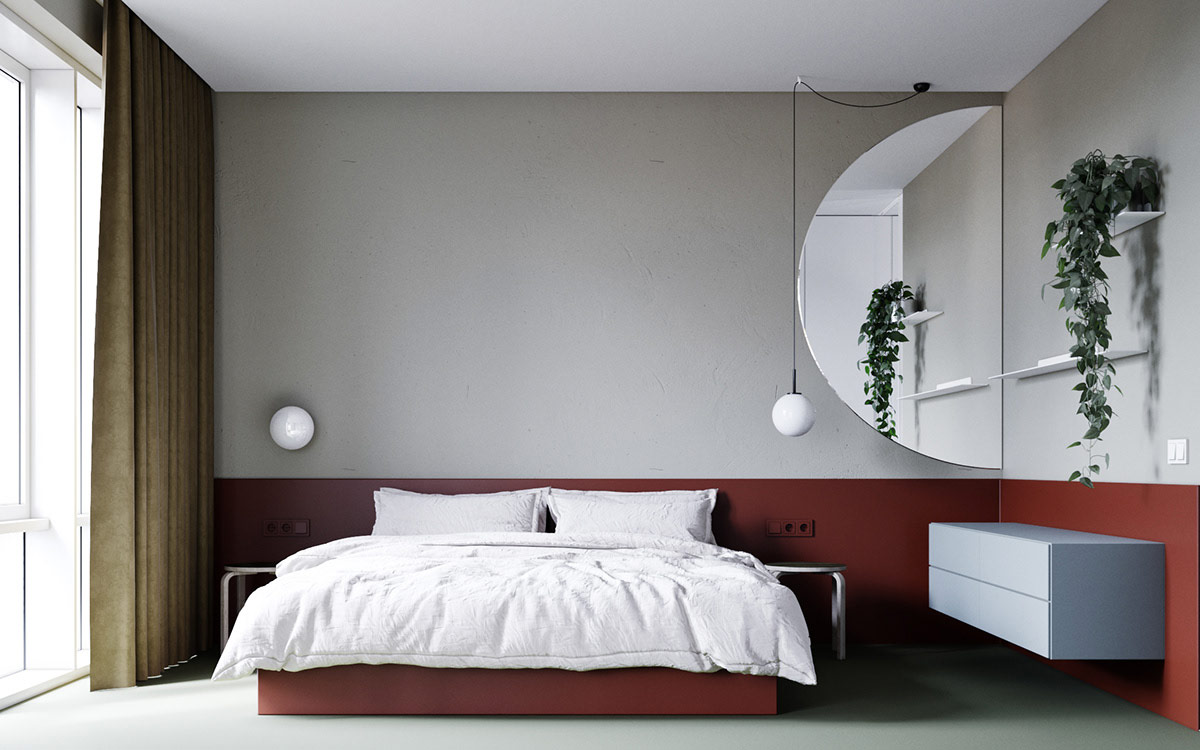 31 |
Visualizer: Rina Lovko & Sonya Melnik
The red wraparound. Don't stop a colour strip at the edge of a headboard wall, wrap it around the base of the whole room to tie the scheme neatly together.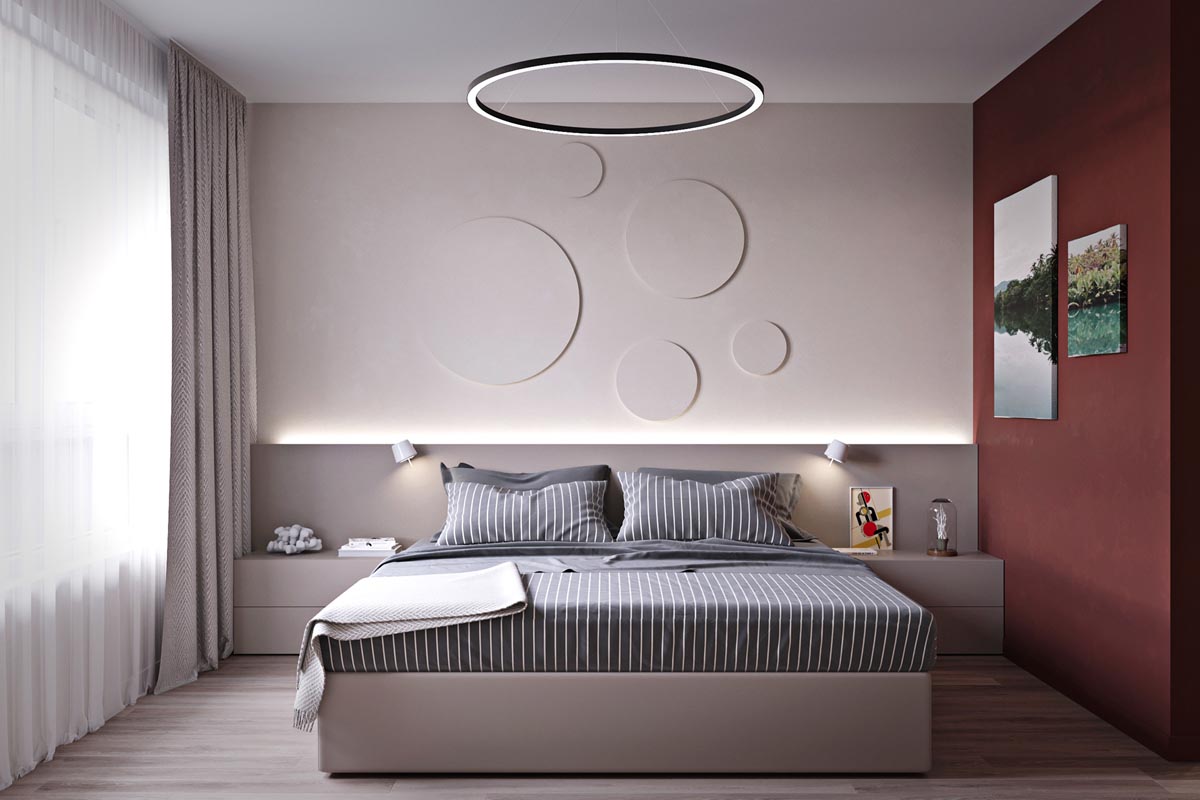 32 |
Visualizer: Tim Gabriel
Step aside. Red headboard walls can sometimes seem domineering, try shifting focus to an adjacent wall.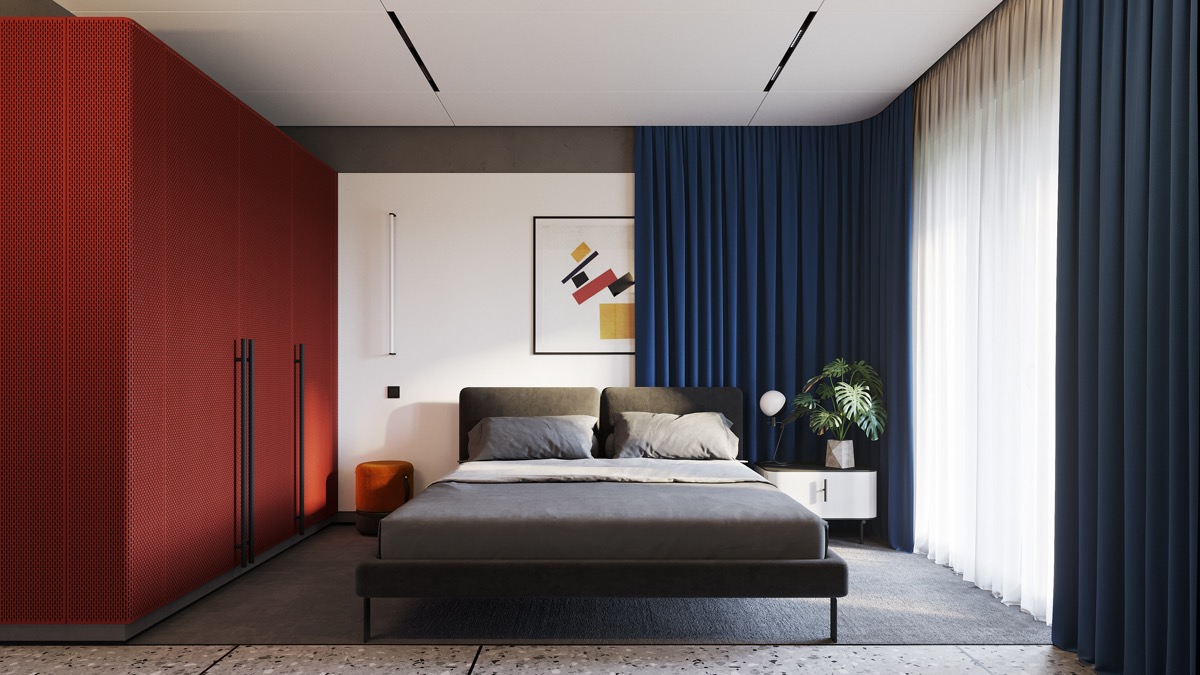 33 |
Visualizer: Alexandr Aranovich
A red and blue bedroom palette builds balanced contrast.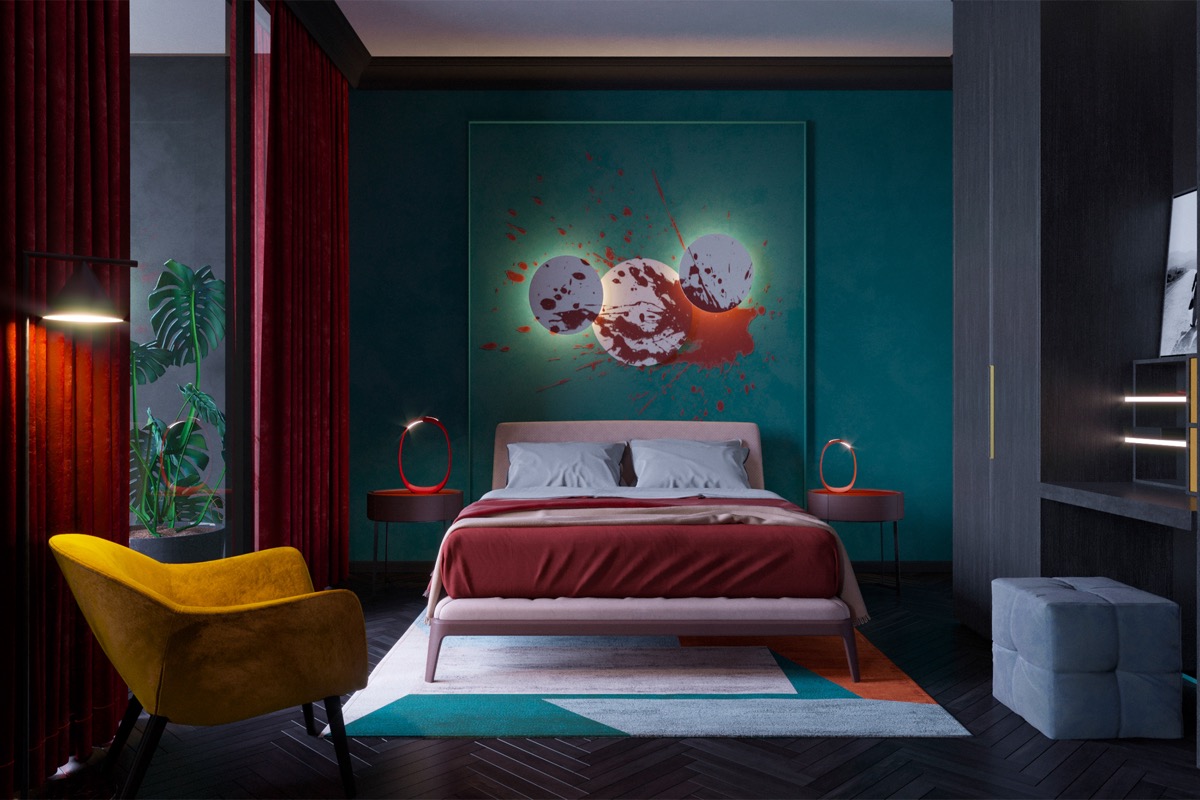 34 |
Visualizer: Anna Abaieva
A teal, red and gold bedroom has sumptuous depth.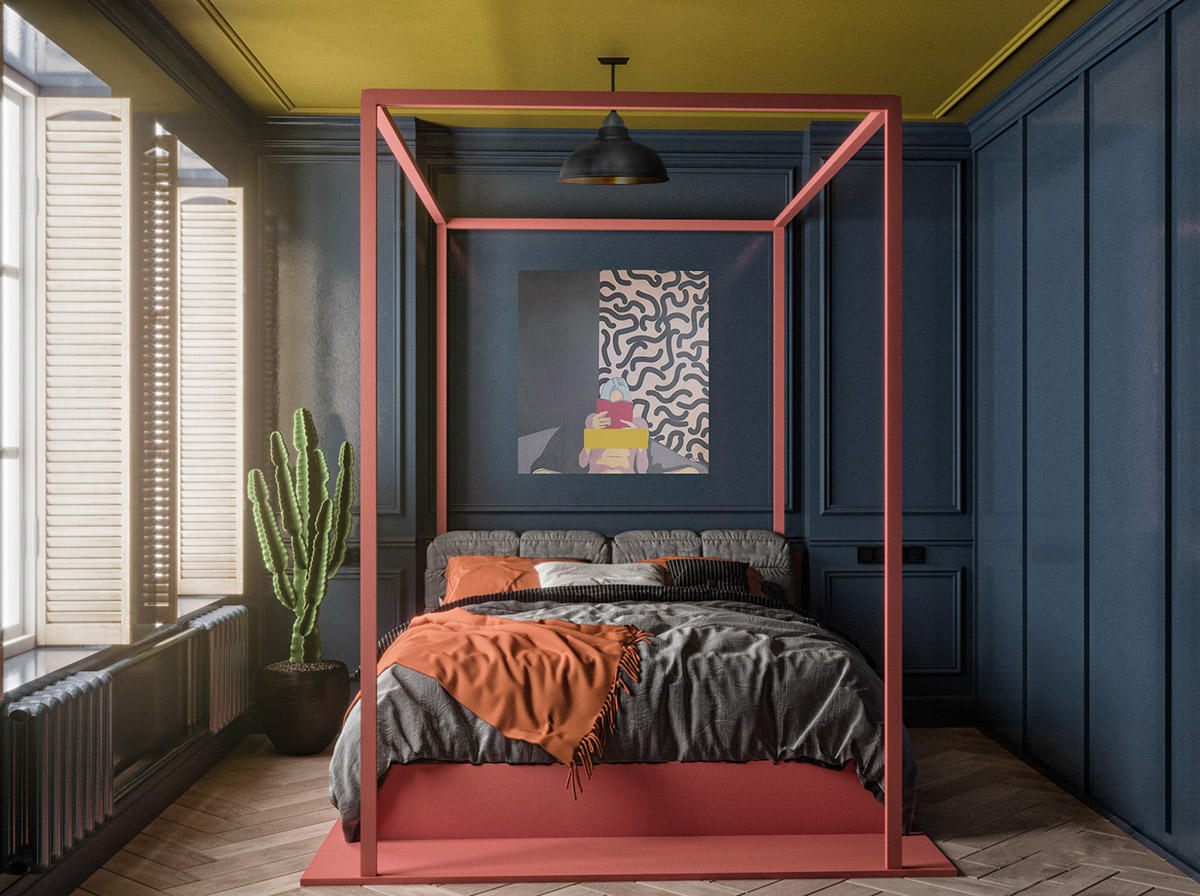 35 |
Visualizer: Sara Elsakka Sara Elsakka
Instead of throwing red from pillar to post, make the most impact with the least fuss by selecting a show-stopping red four poster.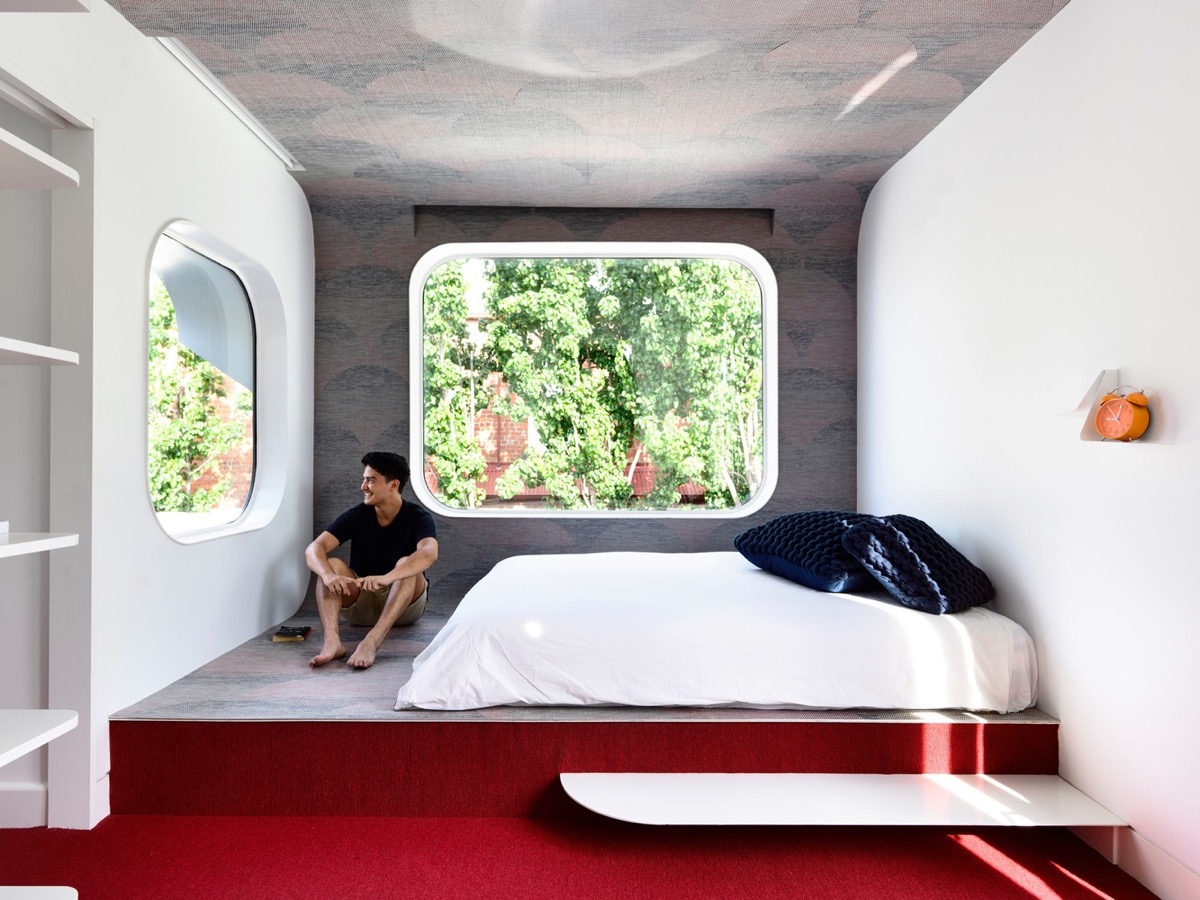 36 |
Designer: Austin Maynard Architects
Roll out the red carpet… red composite… or red tile.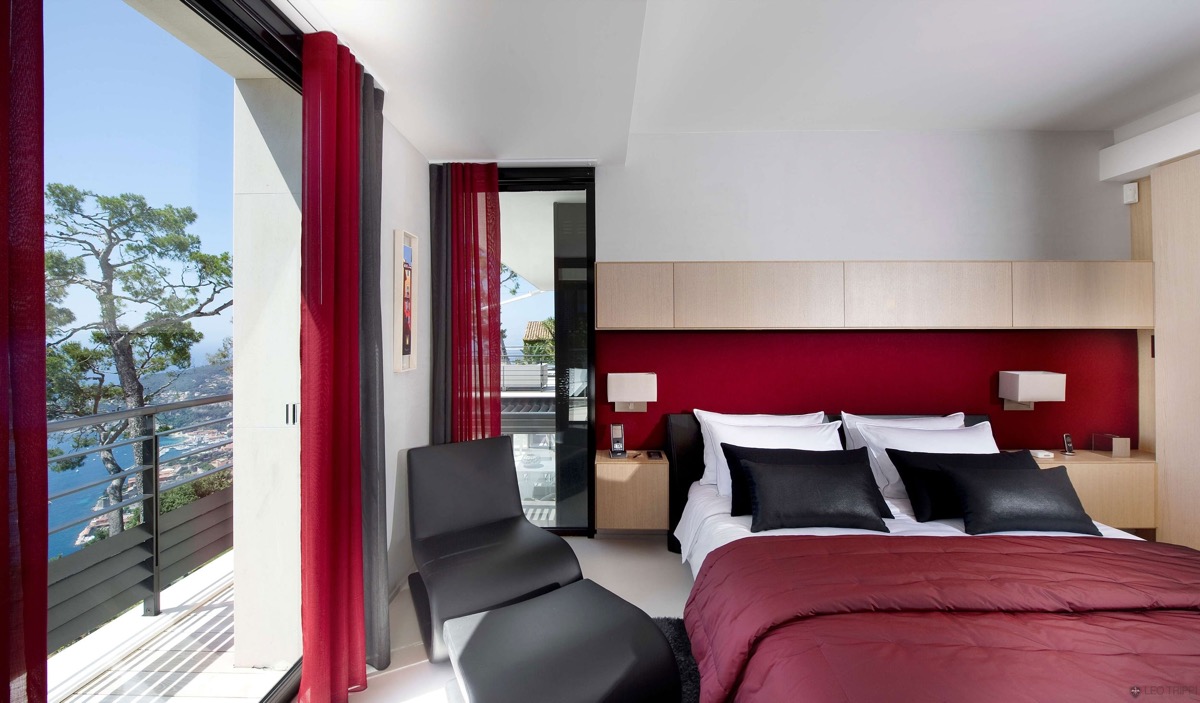 Add tantalising tidbits. This room design puts a sliver of red between the cabinets, a slice of red on the bed and a just a drizzle at the windows.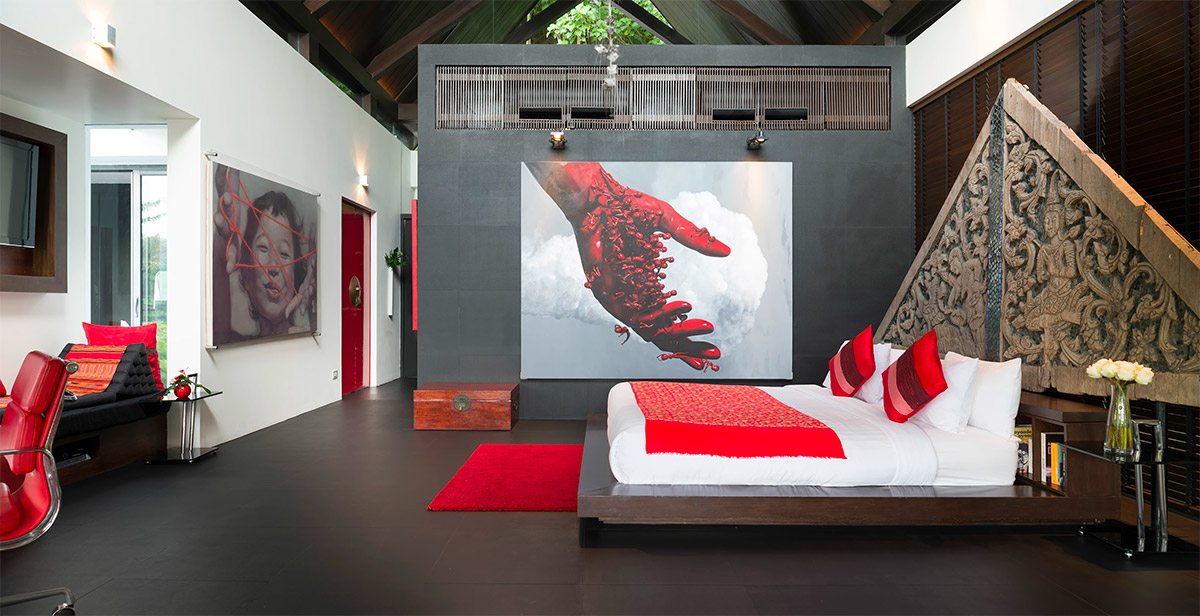 In particularly large areas, keep the red accents moving around the room to carry the eye and unite the space.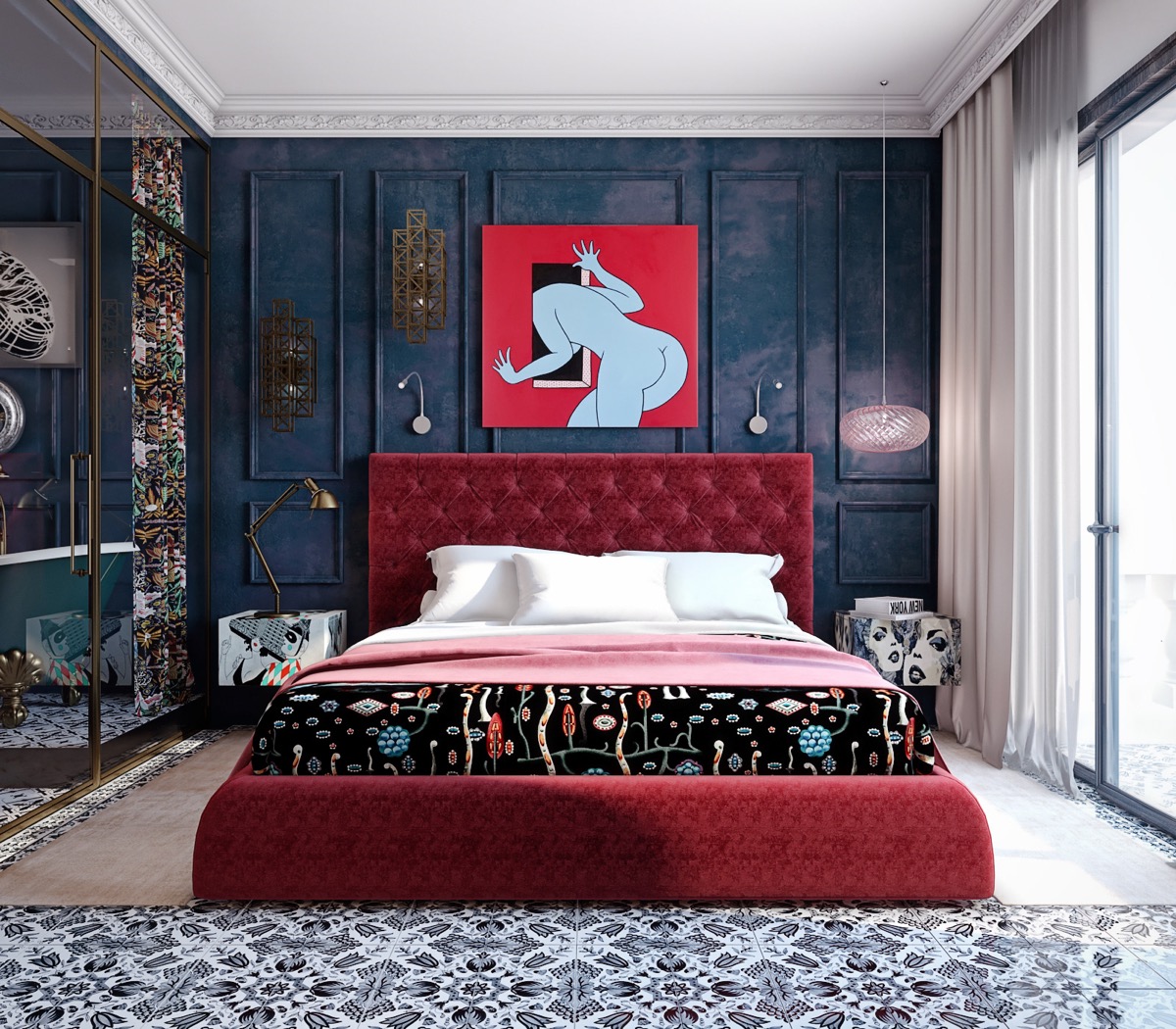 39 |
Visualizer: Art Group by Vasilkova Daria
A cheeky piece of artwork is complemented by a multi colored comforter in this risqué red bed scheme.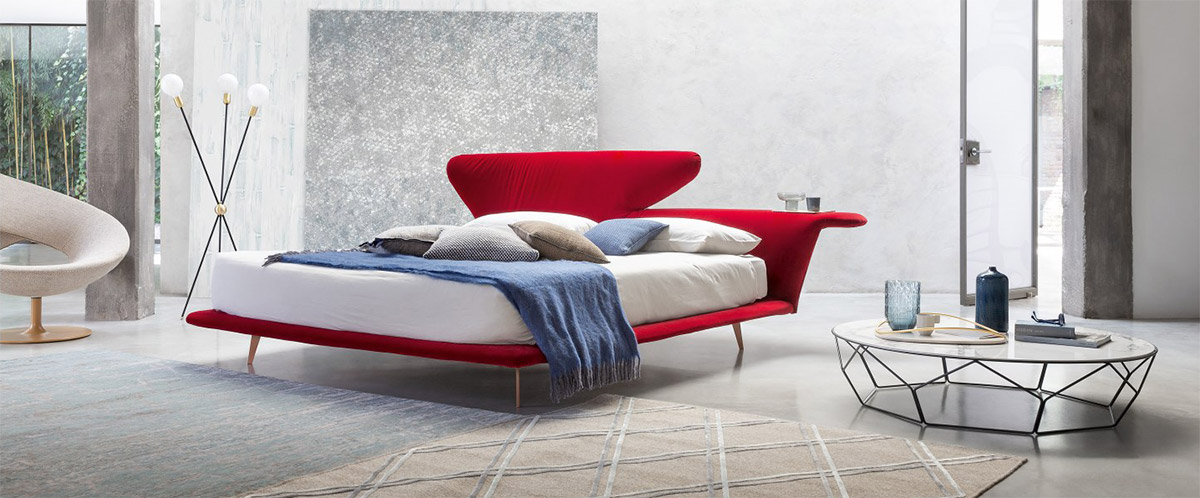 For an ultra modern statement red bed, check out the Lovy bed from Bonaldo…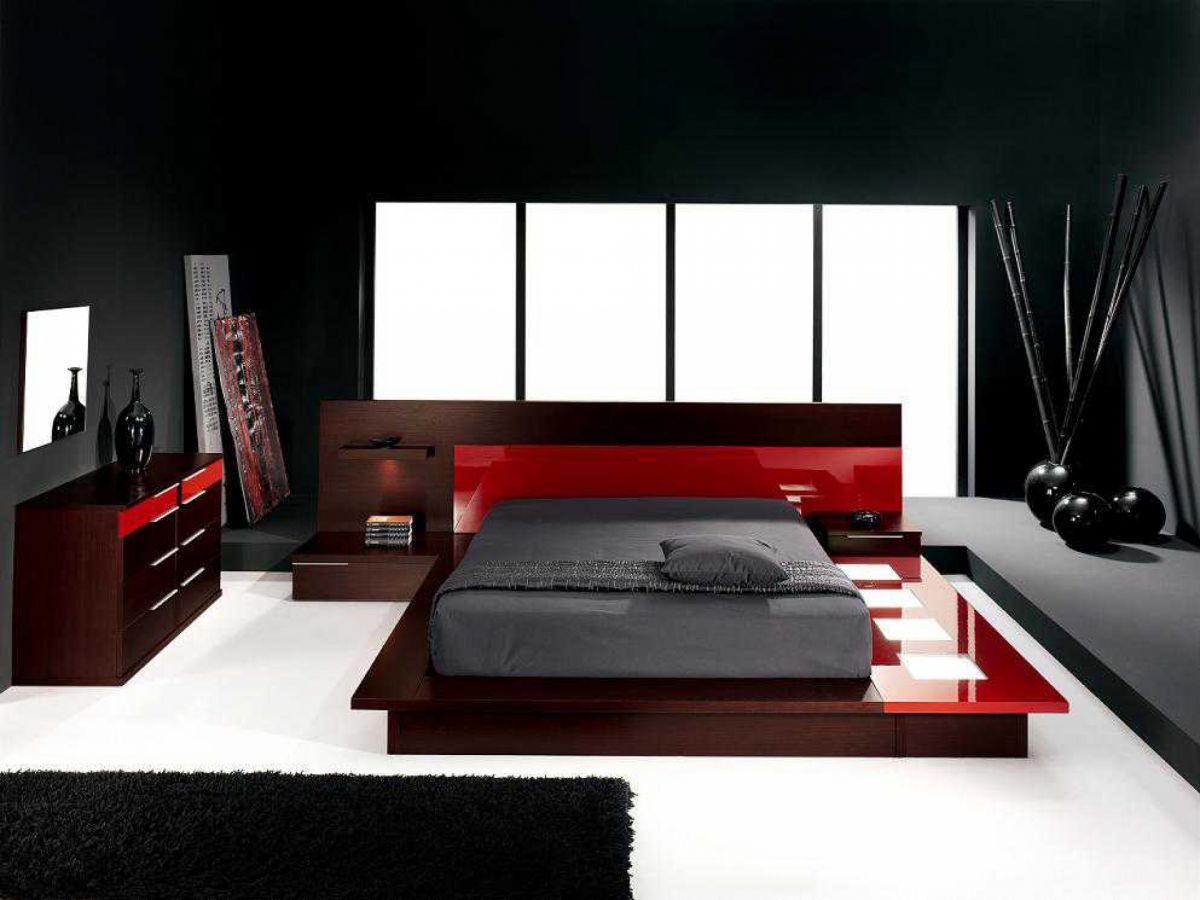 … Or go glossy with a wide framed platform bed, like the one in this slick red and black layout.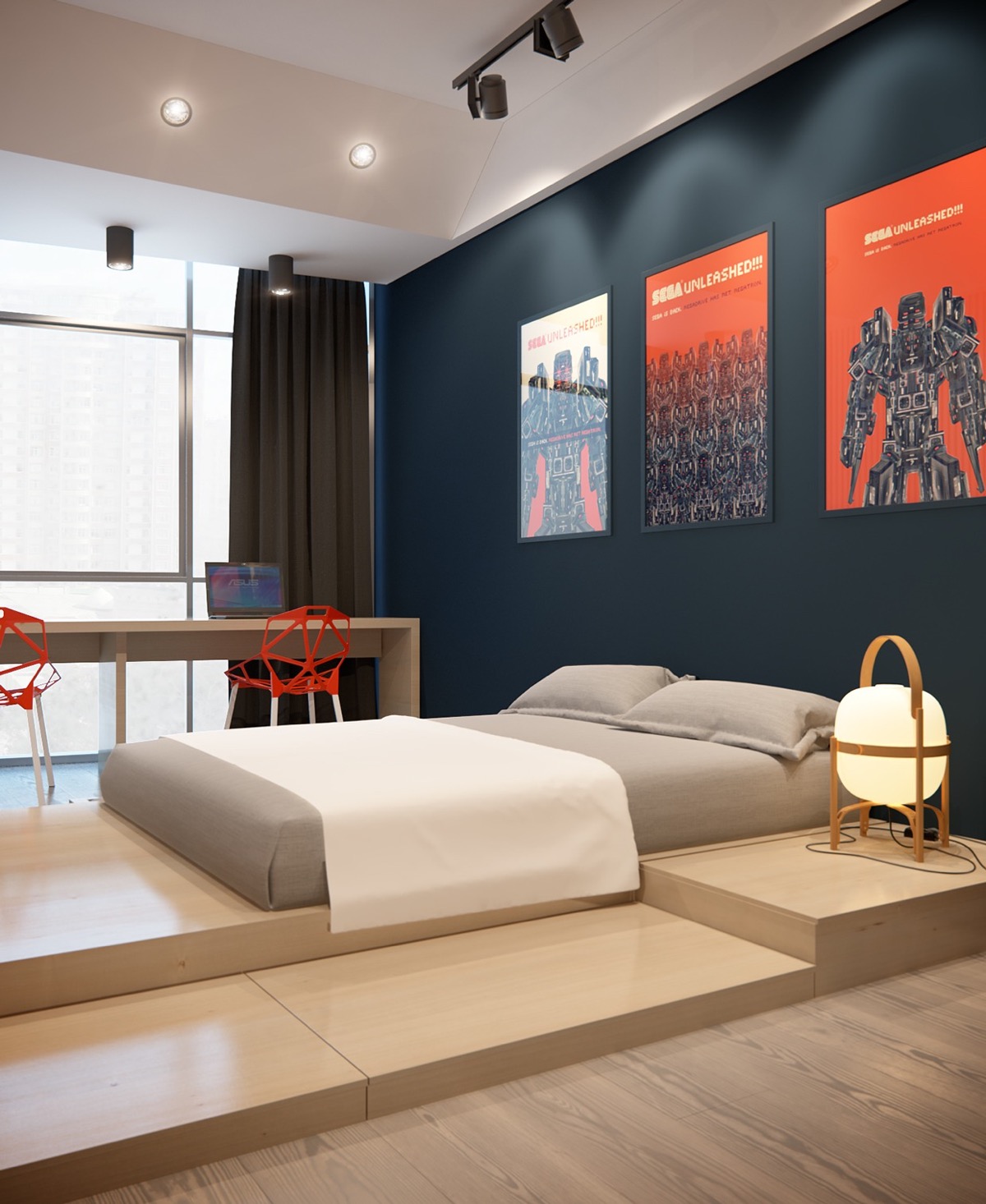 42 |
Via: Elvin Aliyev and Leyla Ibrahimova
Use red to pull attention where it matters–whether that's to hobby items or as a reminder to hit that workspace.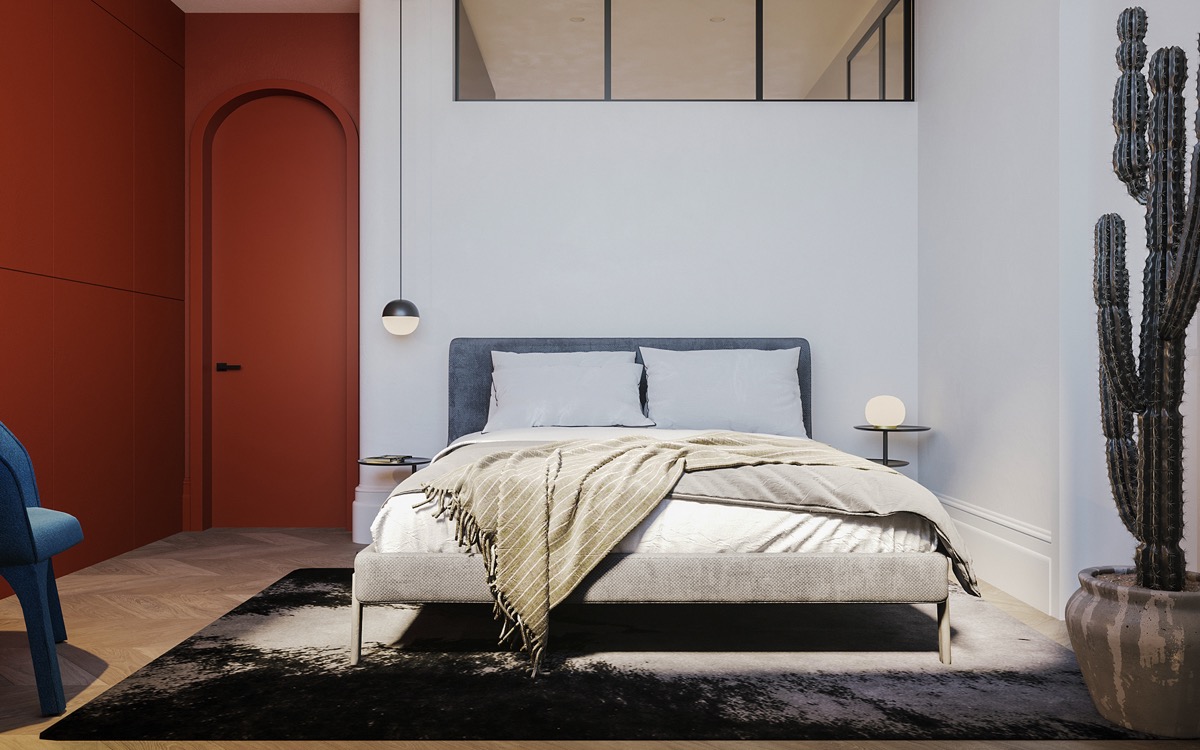 43 |
Visualizer: York Architects
Create a corridor of red to the exit.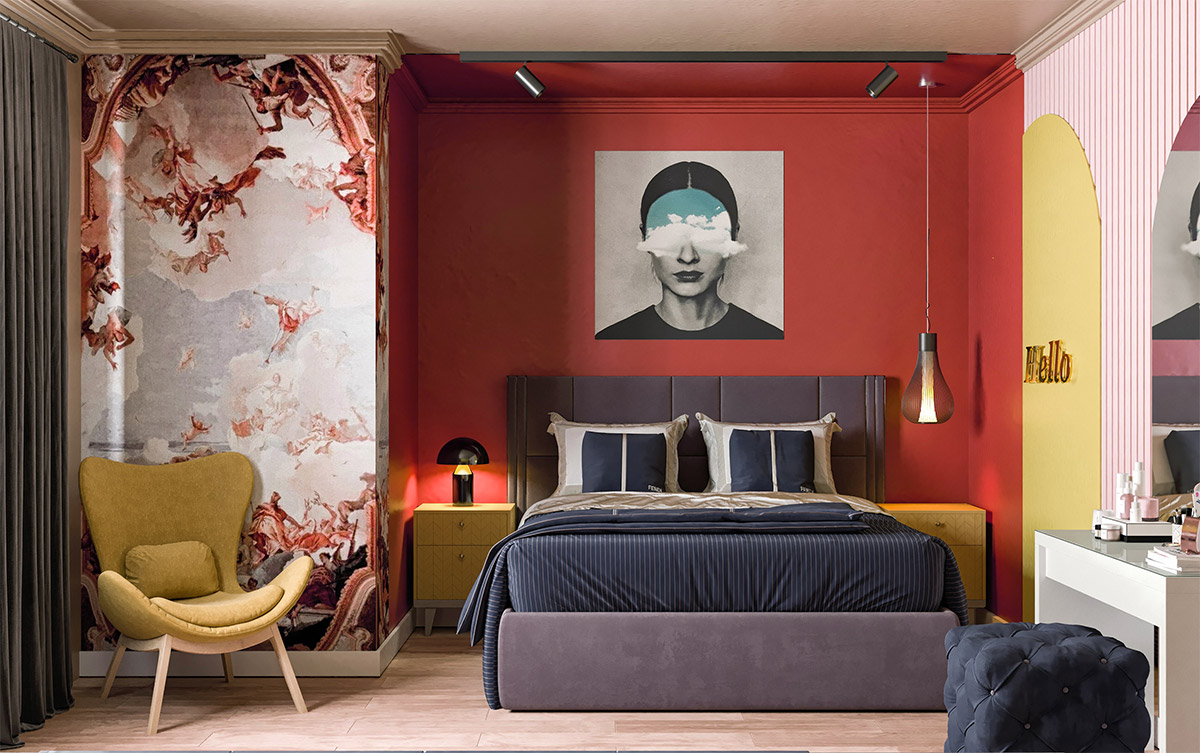 44 |
Visualizer: Sara Elsakka
Combine solid red walls and red based wall murals to make areas of light and shade.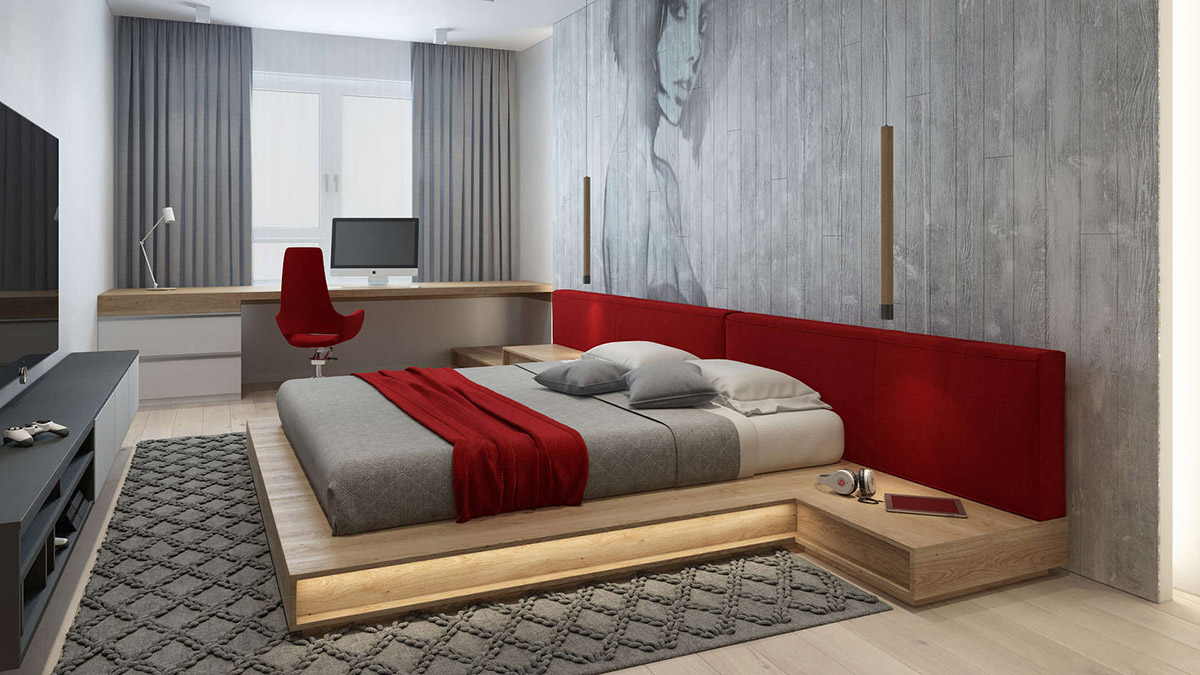 The rule of three. Most people will be familiar with the magic rule of three, a kind of cheat sheet for applying and balancing elements in a room without having to think too much about it!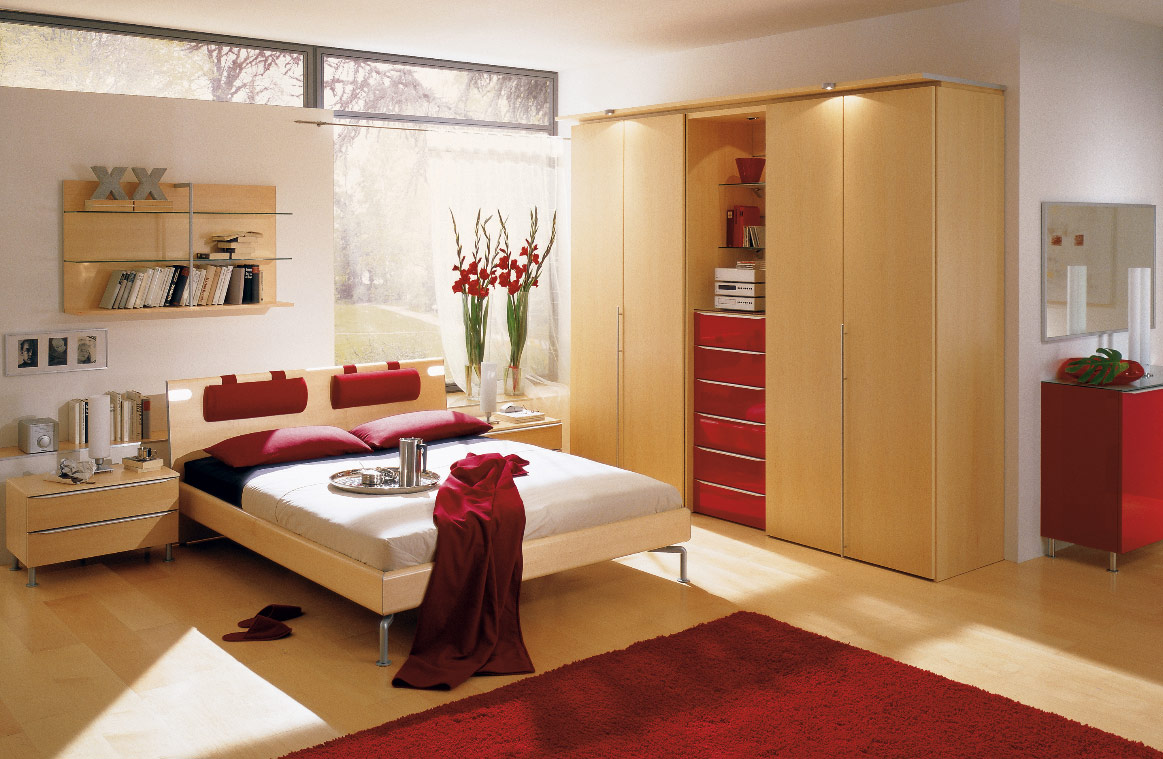 Mellow wood tone and warm reds make a perfect match.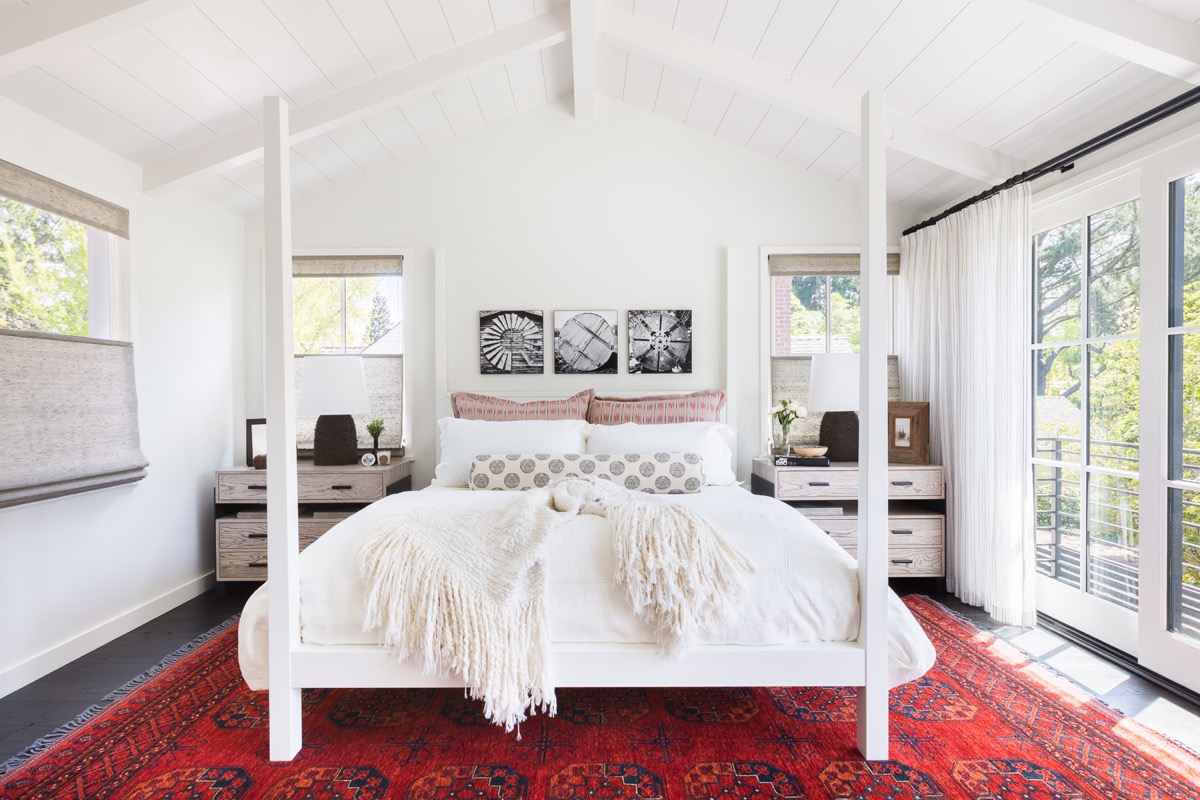 47 |
Designer: Alyssa Rosenheck
You don't have to undermine an ethereal white aesthetic to bring in the warmth of red–you only have to underline it.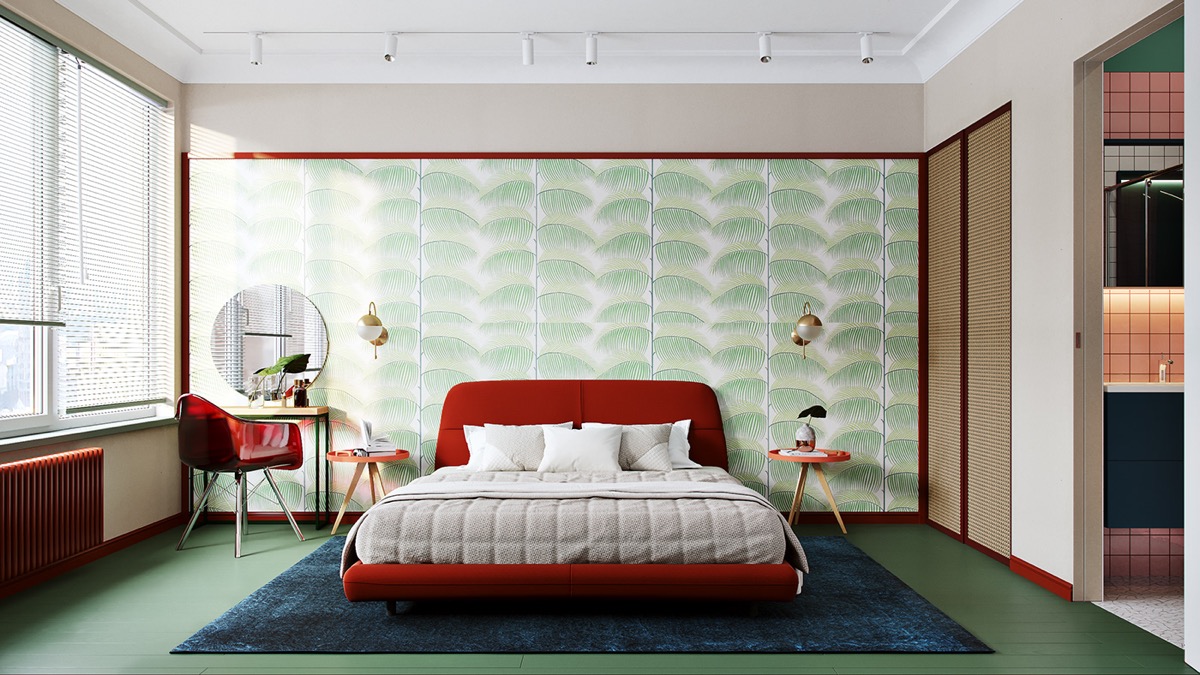 48 |
Visualizer: ATO Studio
Light green and red make a cute clash.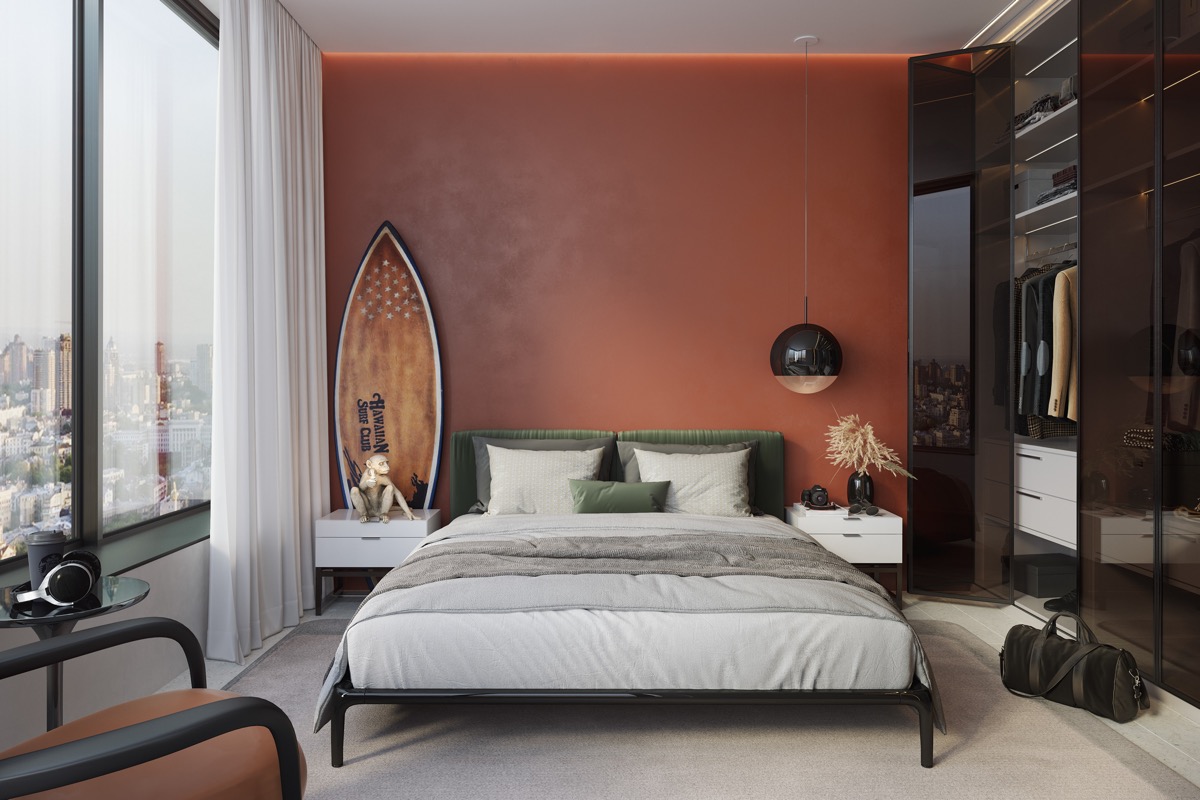 49 |
Visualizer: Spotless Creative Group
A muted green and red mix has a laid back feel. Throw in gloss black elements to build cool modern charm.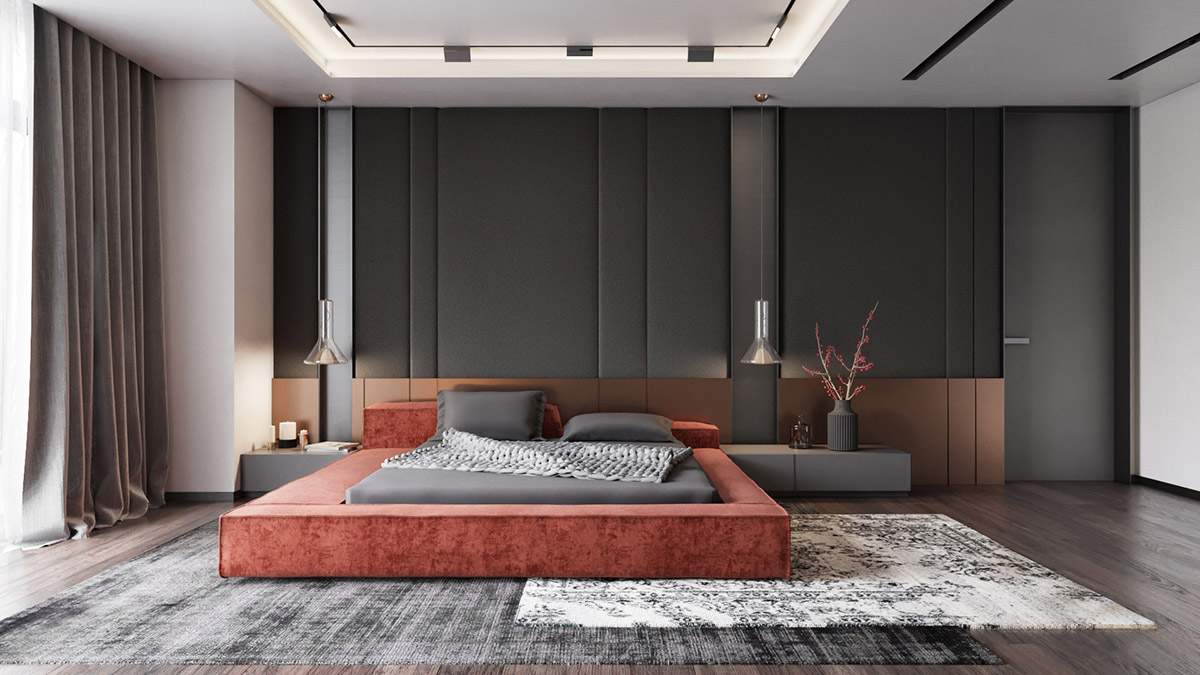 Give a grey scheme added gravity with the pull of a red floor bed.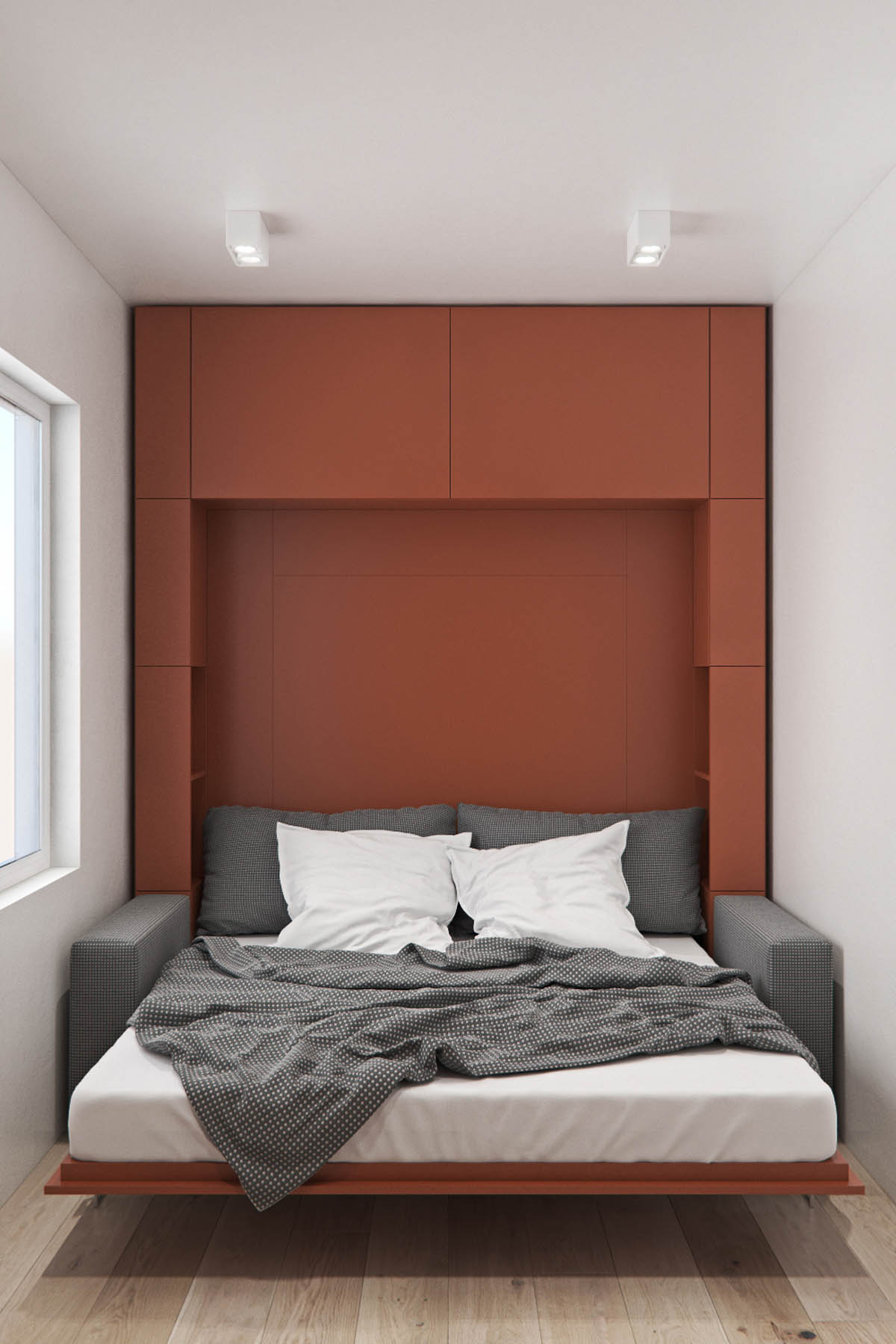 51 |
Visualizer: Oleg Trofimov
Fashion a welcoming red guest bedroom with a red Murphy bed.