Update a classic shade. Dark green bedroom walls build a look of deep sophistication. Team dark green decor with a grey bedstead and a modern floor lamp to keep the look current.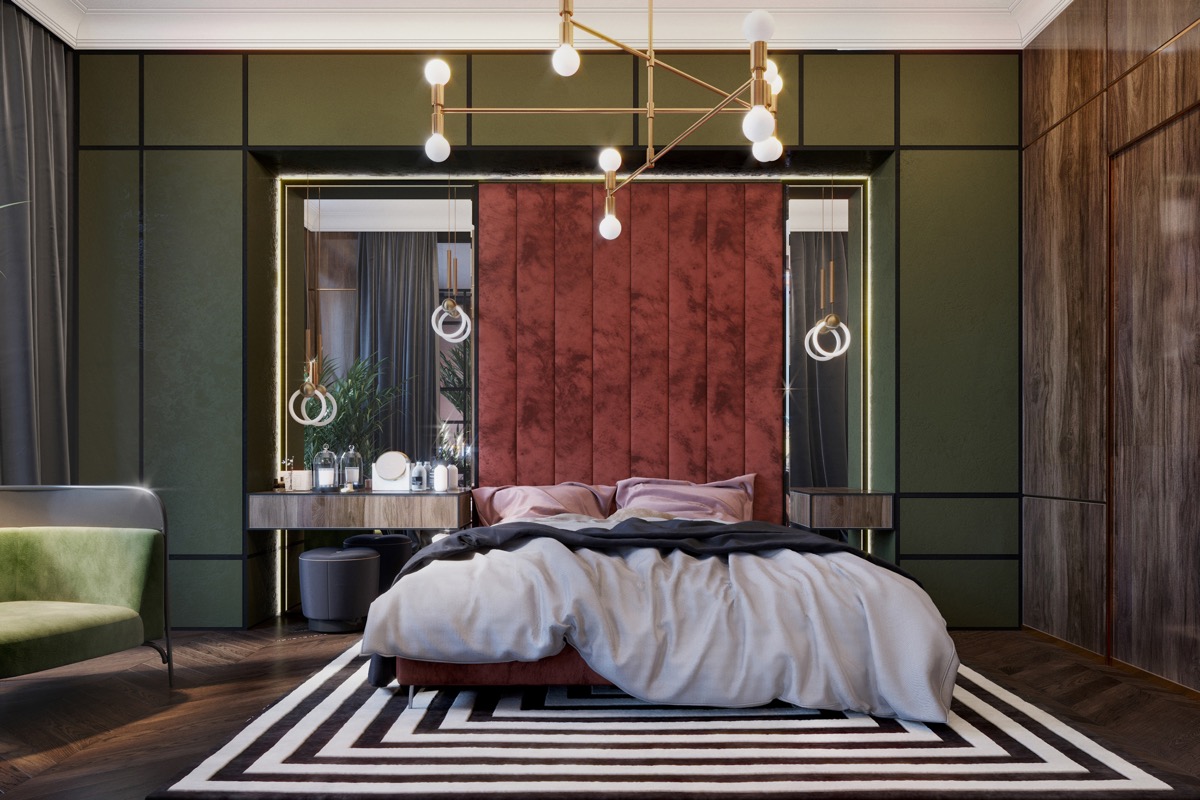 2 |
Visualizer: Alina Pipoyan
You can modernise a hunter green bedroom with an attention grabbing monochrome rug and a sputnik chandelier.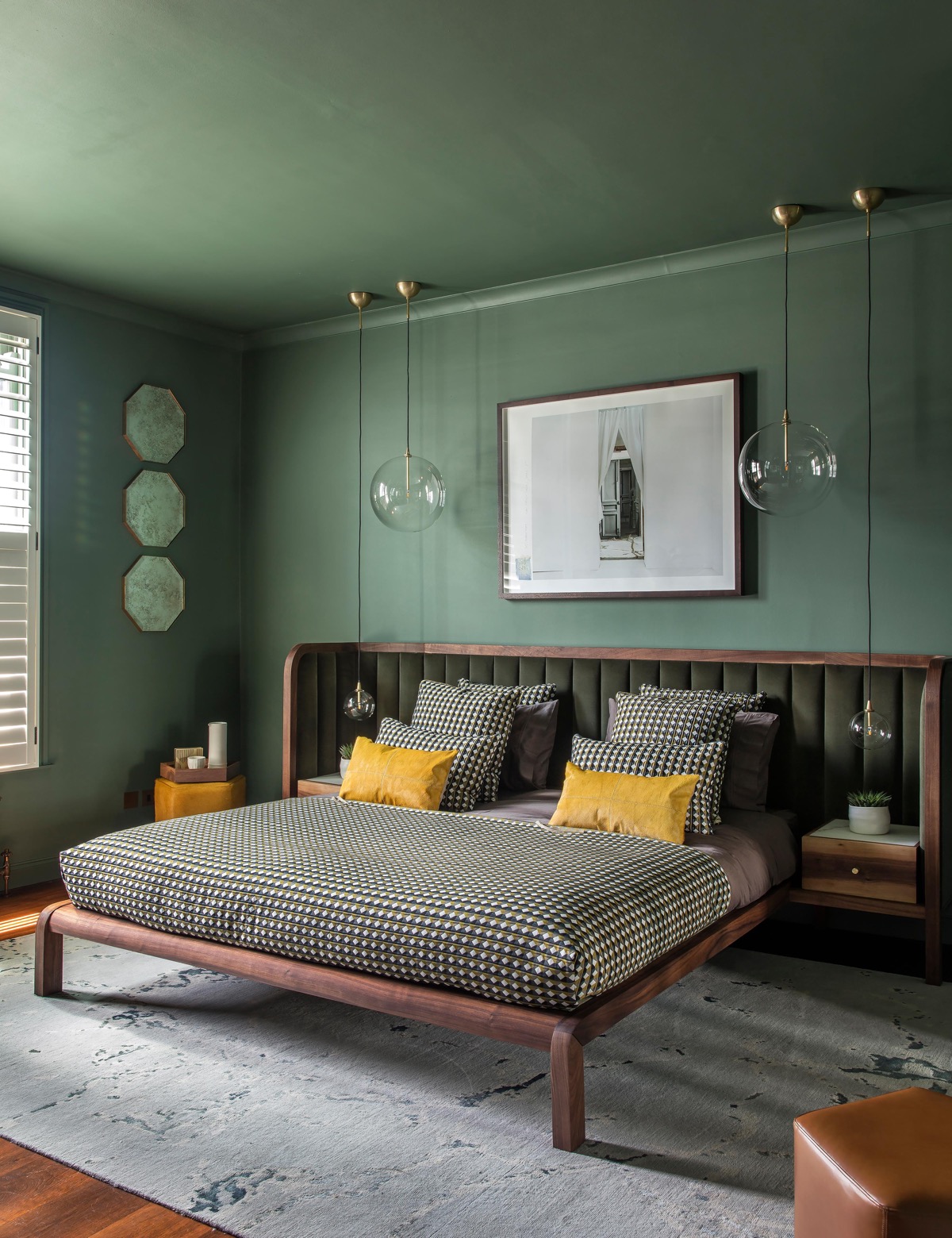 Raring to go rustic. A green and brown bedroom scheme evokes a rustic charm. Add a pop of solid yellow in some scatter cushions or a bed throw to brighten up the combo, and match with yellow gold accents in bedroom pendant lights or lamps.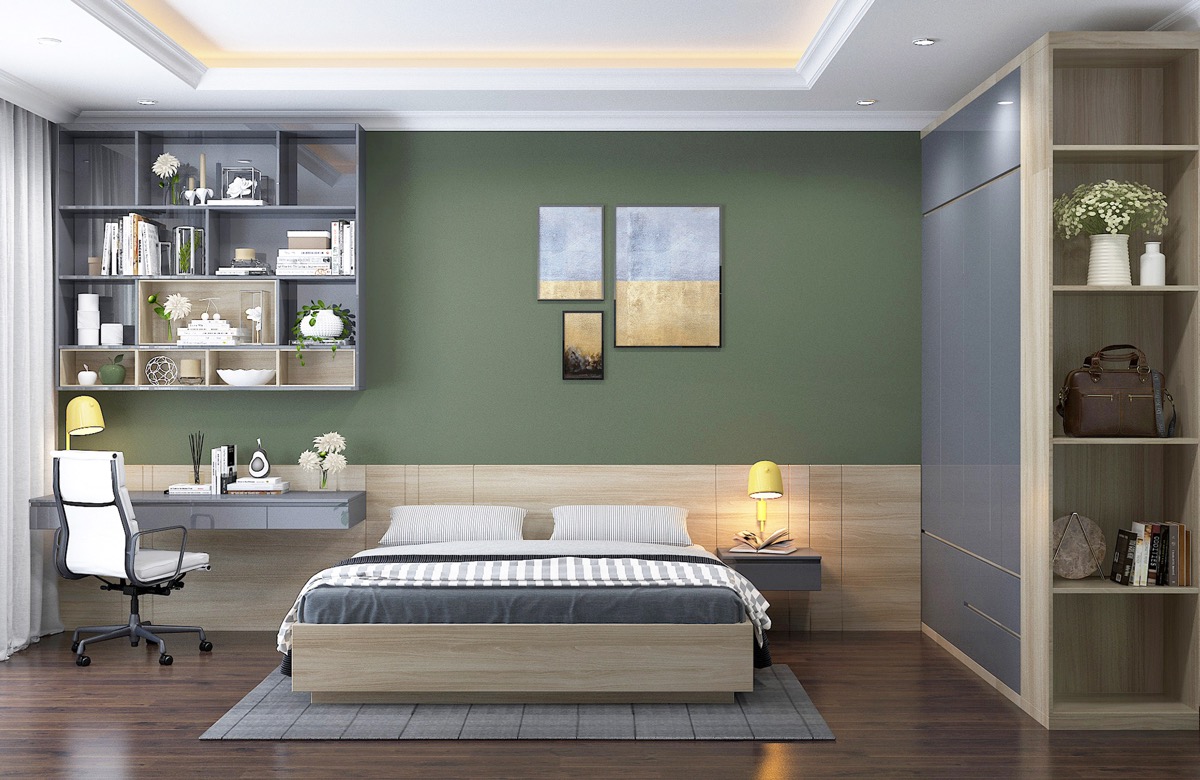 A sleeker take on a green, brown and yellow theme.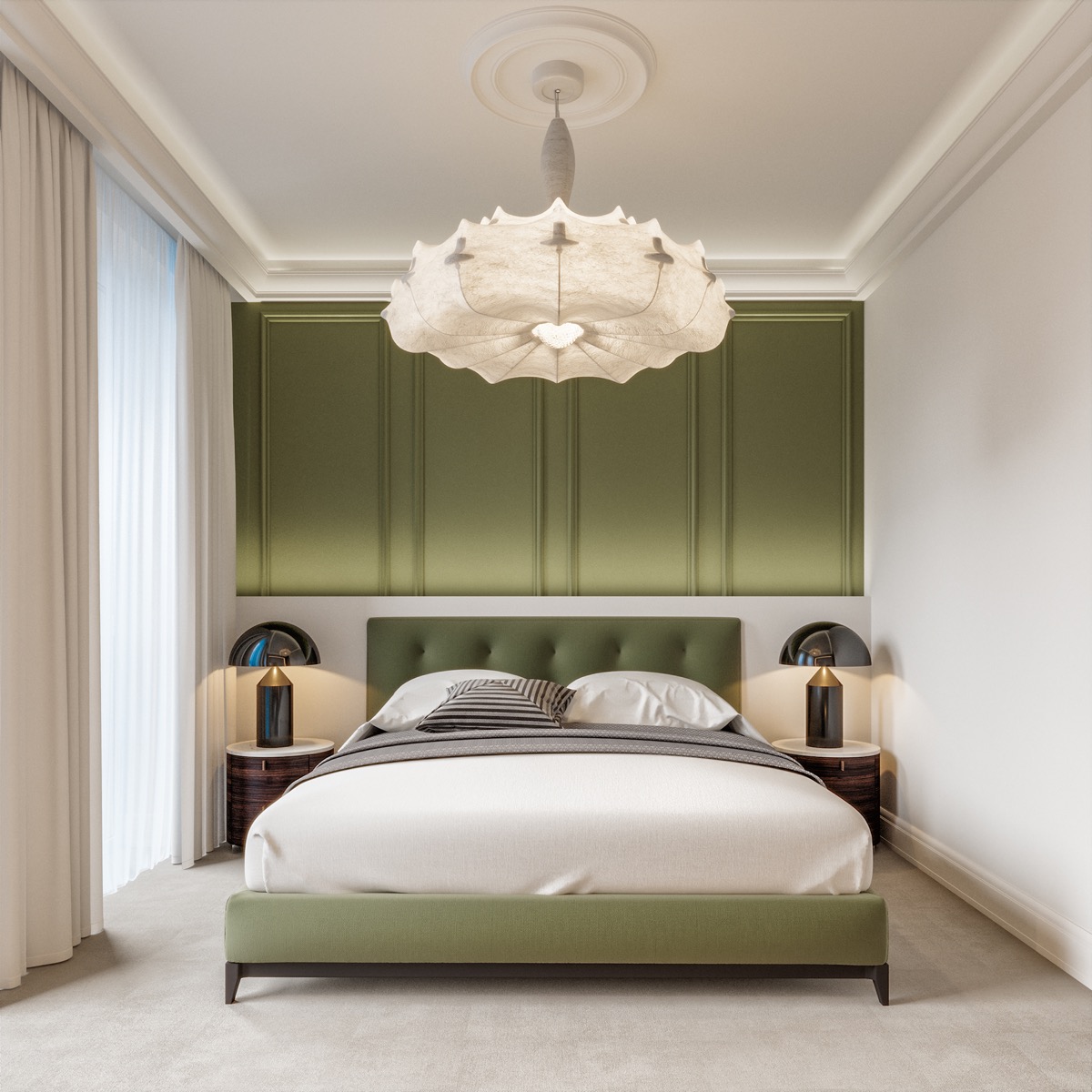 5 |
Visualizer: Maxim Shpinkov
Light and refreshing. The freshness of green and white bedroom decor is like biting into a crisp green apple. Sprinkle seeds of dark wood or black accessories in to complete the fruit of your creation.
6 |
Visualizer: Dering Hall
Do you find it difficult to get up in the mornings? A zesty lime green bedroom might just do the trick to pull you out of your early slump! Go all out with matching accessories to really ramp up a positive get up and go outlook.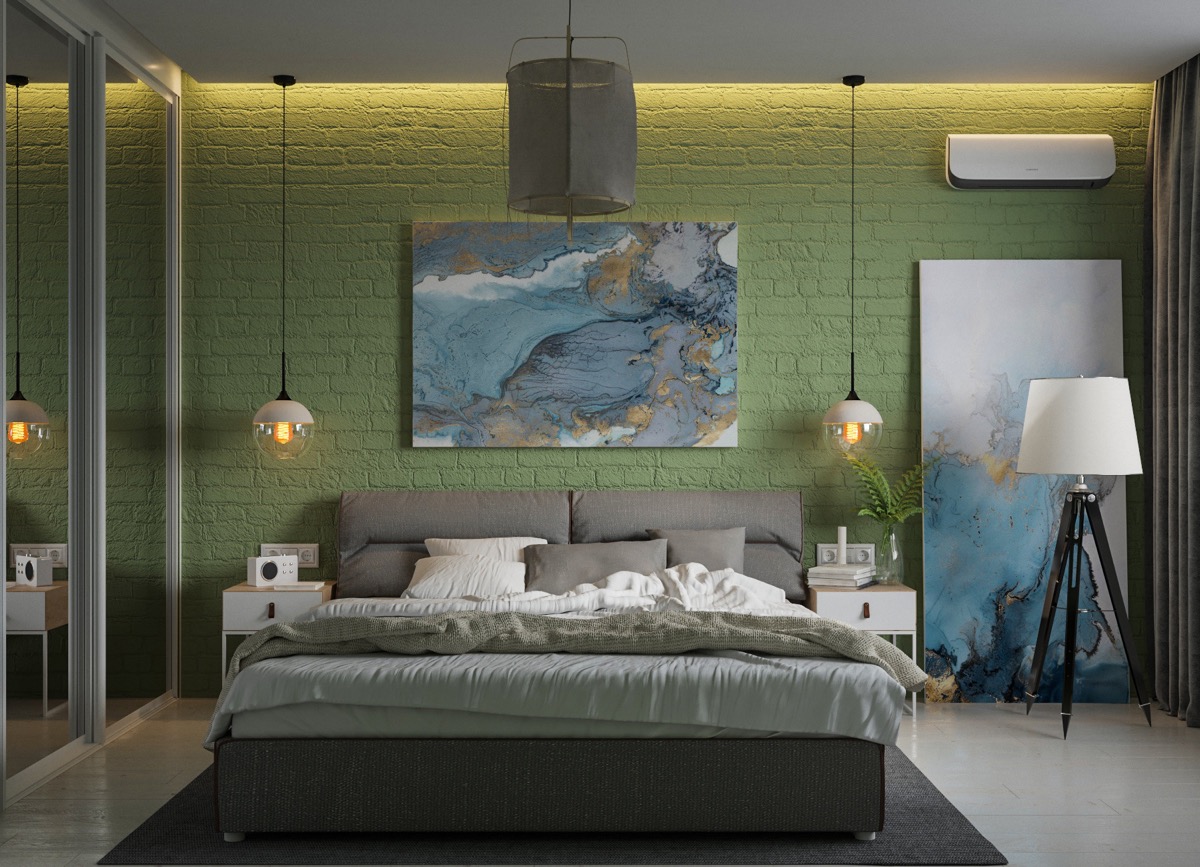 7 |
Visualizer: Aheyev Yevhenii (AEgroup)
Team shades of green with colours from the same side of the spectrum. Cool blue accessories work smoothly against a green canvas to make a calm and tranquil sleep space. The green background in this bedroom is textured by exposed brickwork, which brings added depth to the room design. The warm glow of LED perimeter lights accentuates the rugged surface.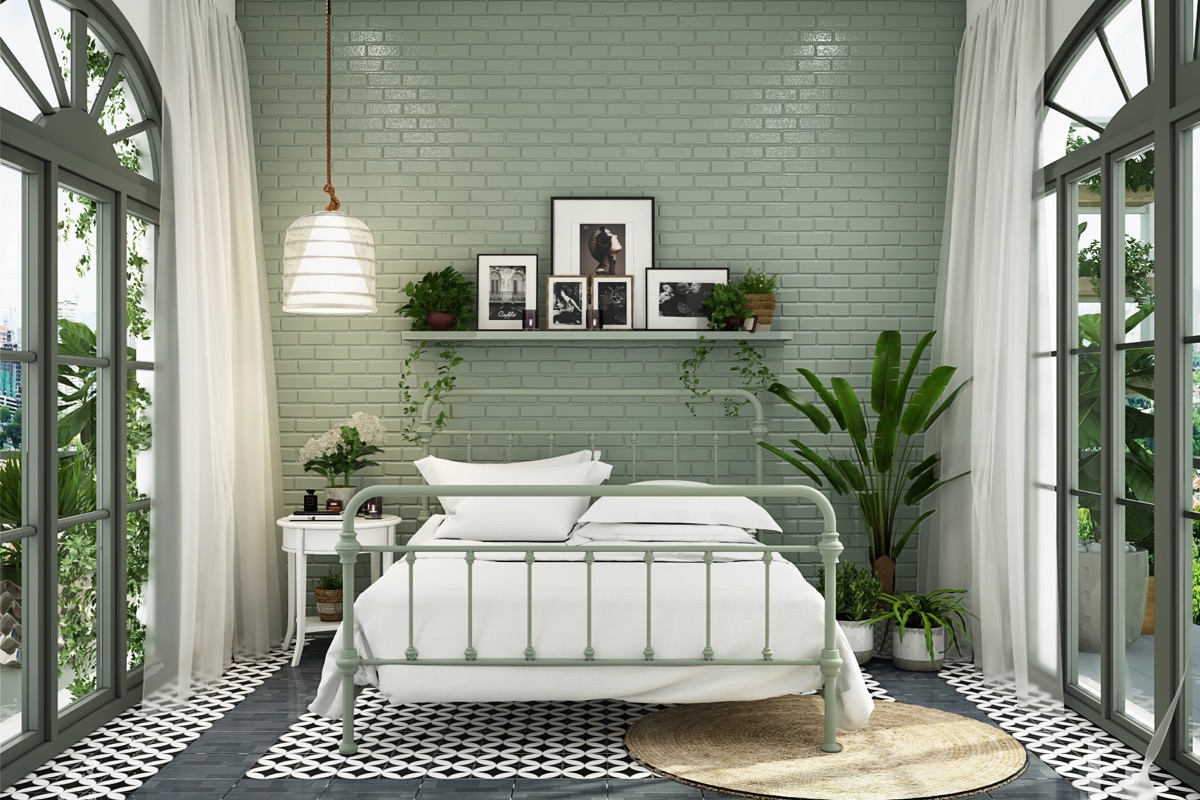 8 |
Visualizer: Oanh Phuong
Accessorise with indoor plants. You don't have to go out shopping around home decor outlets to accessorise your green bedroom design, just take a wander around your own home and gather up a flourishing array of houseplants to boost your new space.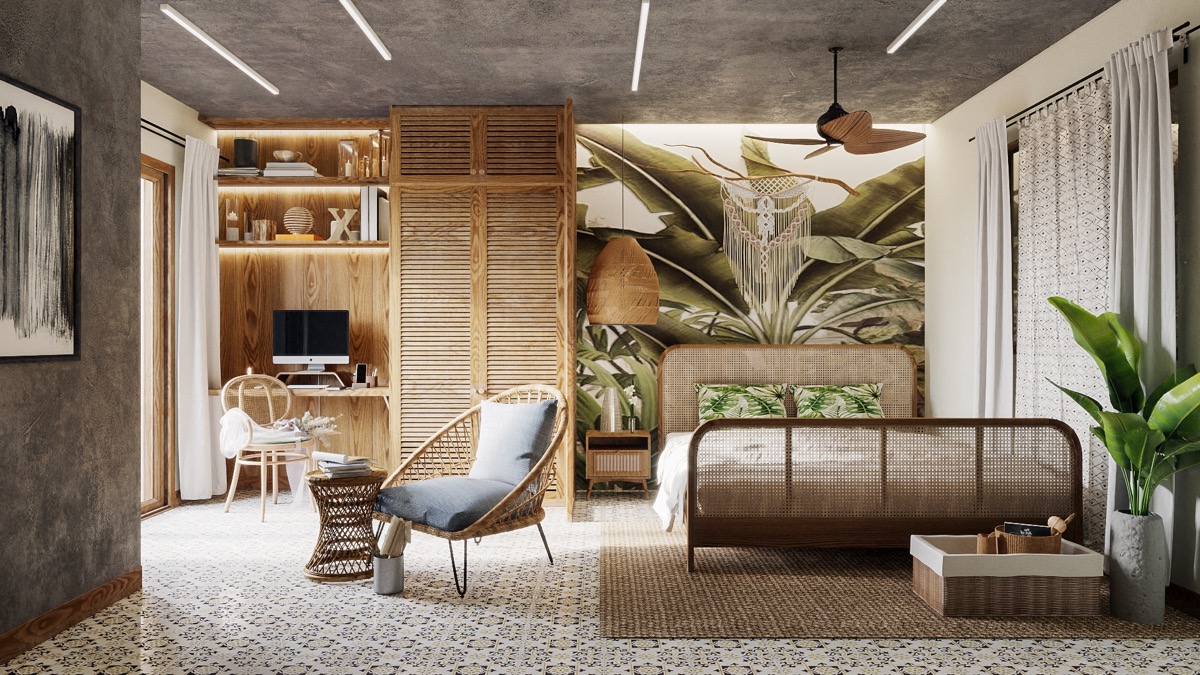 9 |
Visualizer: Phạm Minh Quang
Take it to the tropics. A tropical wall mural, botanical print scatter cushions, and a ceiling fan (whether you're feeling the heat all year round or not) will cultivate a vacation flavour. Add wooden elements, louvre wardrobe doors, rattan furniture and a jute rug to enrich the concept.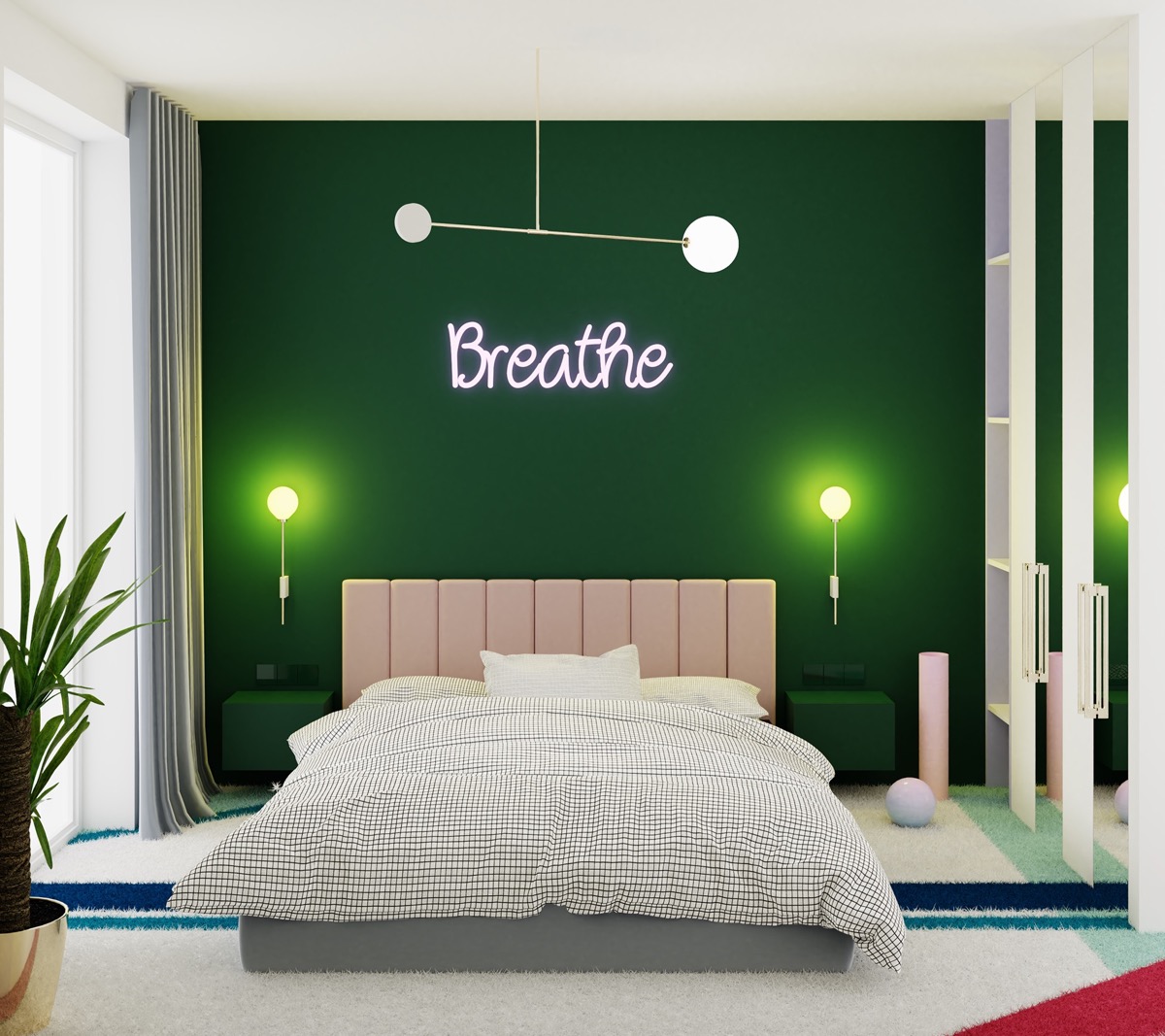 10 |
Visualizer: Karina Urbańska Karina Urbańska
Illuminate the look. Modern wall sconces and a typographical neon sign burn brightly against deep forest green bedroom paint here. A beige tufted headboard and smaller neutral accents balance out the bold feature wall.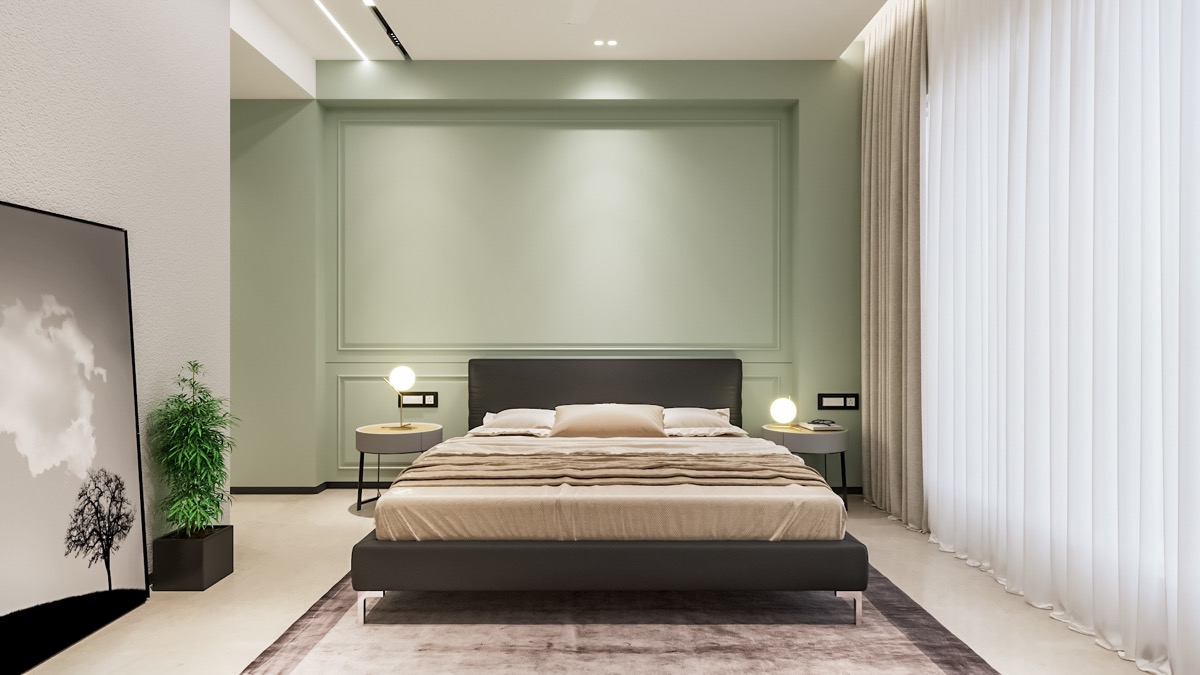 11 |
Visualizer: BlacQube 3D
Another take on the green and beige combo. In this bedroom, only the bedclothes and the window drapes offer beige accents, which means this element of the design can quickly, easily, and relatively cheaply be switched out for another colour. Pale pink accents could be fetched in to perk up the look during the summer months, or charcoal grey textiles could give the look a sharper edge.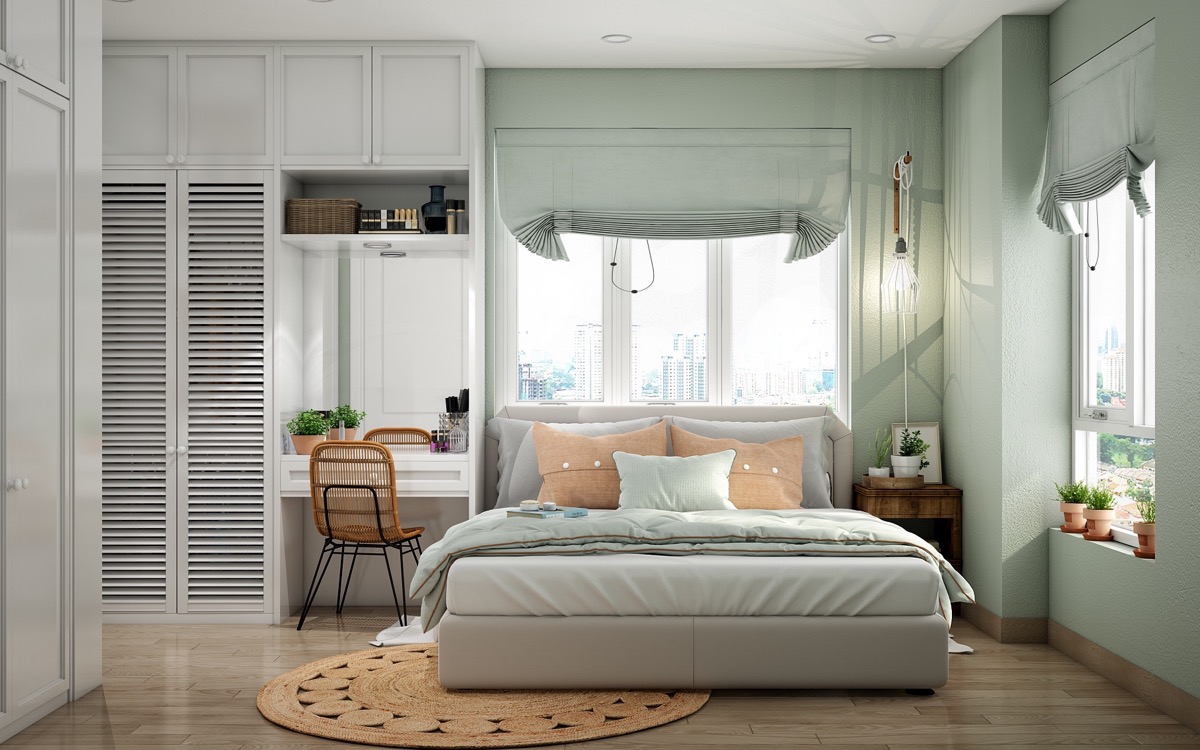 12 |
Visualizer: Oanh Phuong
Oh-so-easy au naturel. Use natural rattan furniture, jute rugs, burlap cushions and terracotta pots to quickly warm up a cool light green bedroom design. These earthy tones also bring a sense of effortless laid-back style–and because they are completely neutral they can easily be repurposed in new colour schemes or other parts of the home, bonus!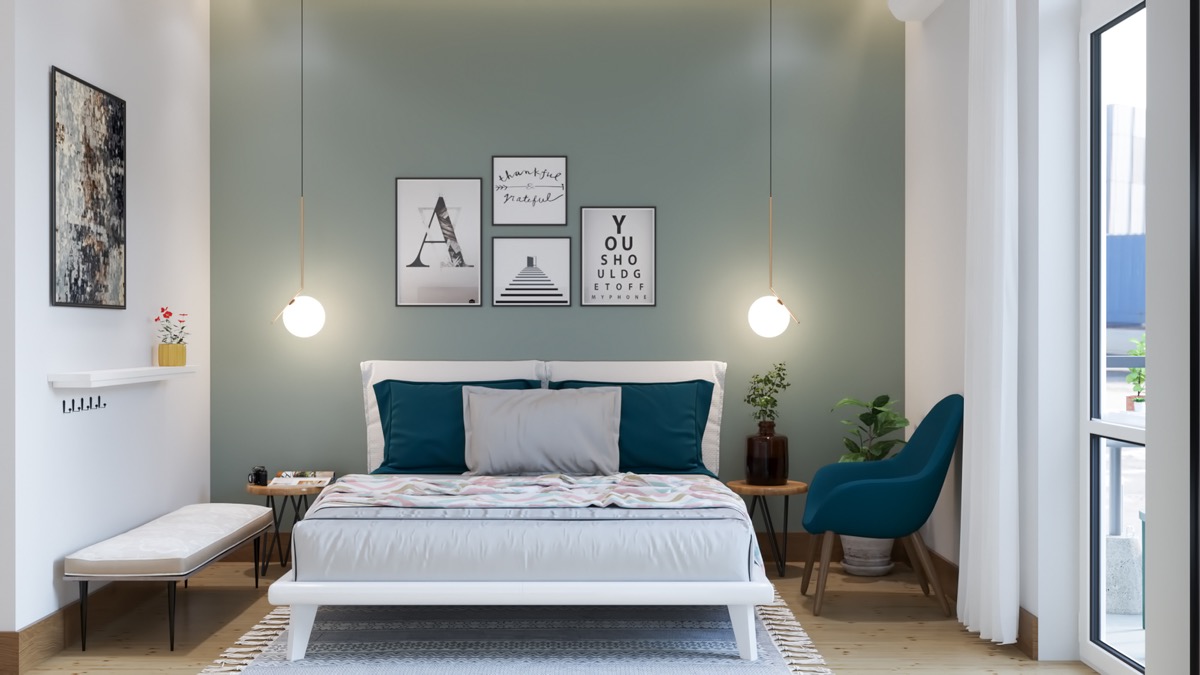 13 |
Visualizer: DA Visual
Bring marine blue accents and monochrome artwork to a misty blue green bedroom wall. The deeper coloured elements will only accentuate the gentleness of the hero colour. Try creating white borders around different colours to give each its separate moment.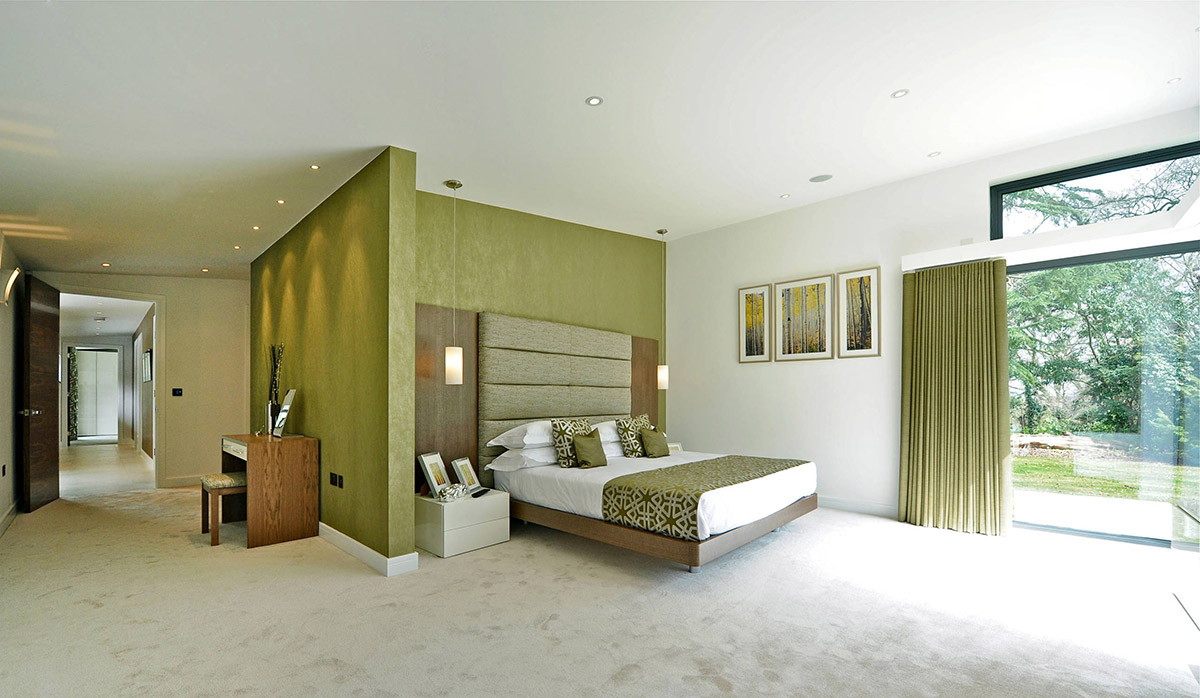 14 |
Designer: Jigsaw Interiors
Make breathing space. In this home design, solid olive green bedroom walls and matching green bedroom curtains have been separated by a large expanse of white wall. The break in colour gives the single strong hue plenty of space to breath.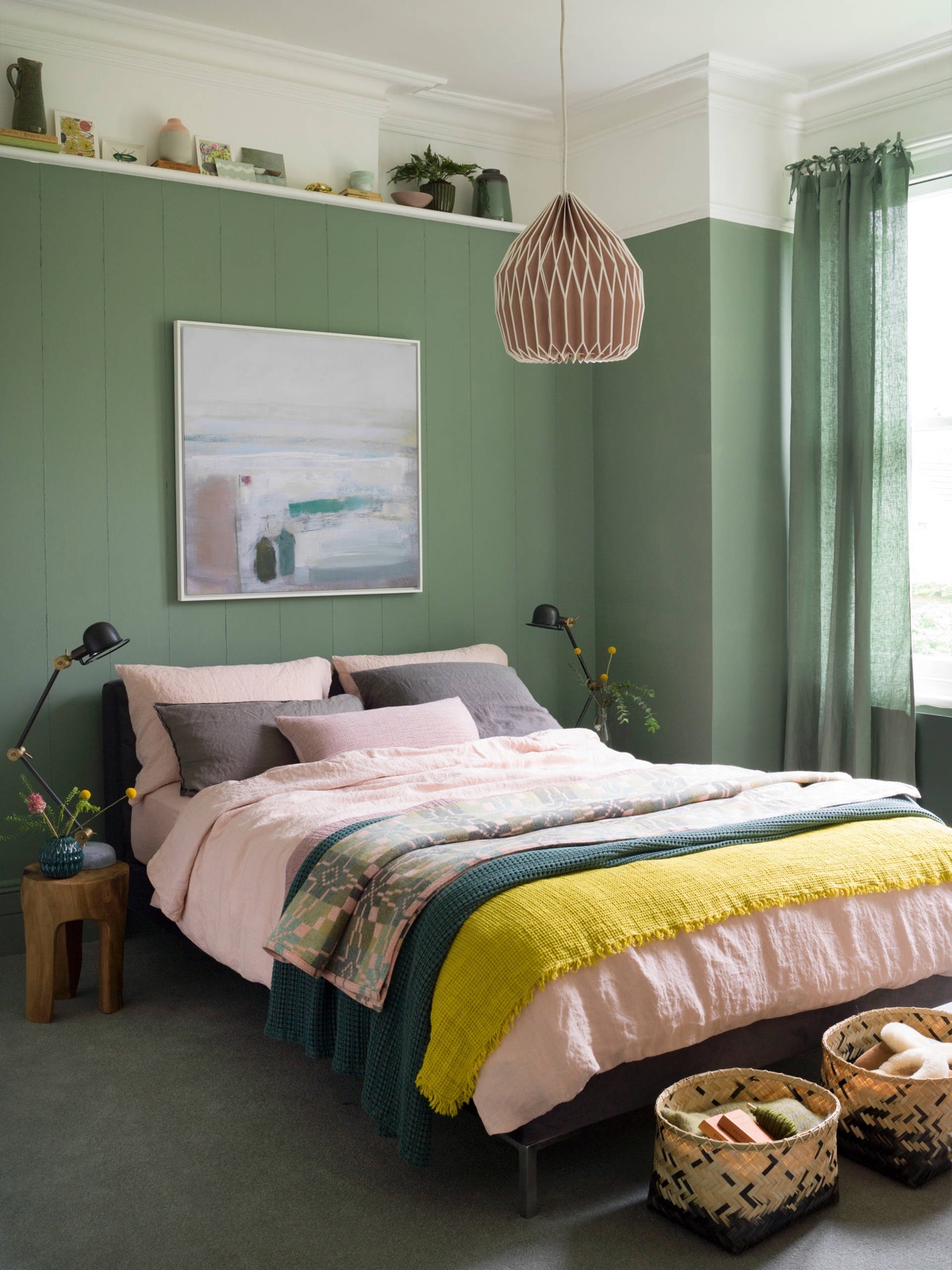 15 |
Designer: Ali Attenborough
Muted greens act as neutrals. Sage green bedroom walls make a beautiful muted base for pastel pink, sunny yellow, shades of blue and even lilac accents.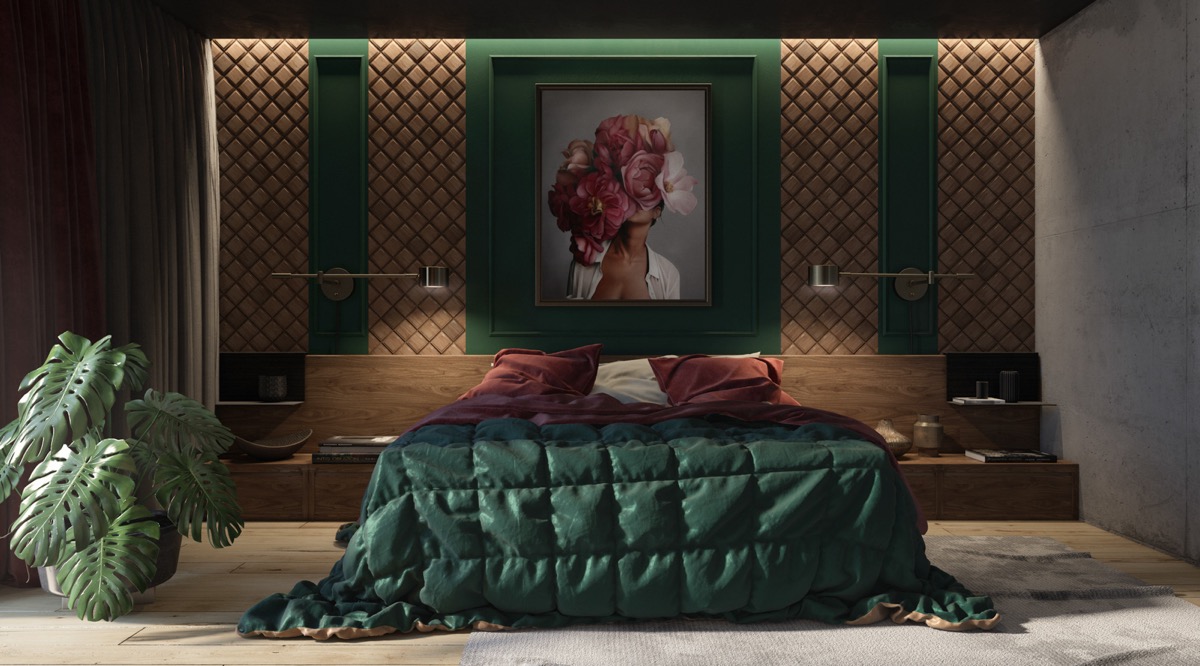 16 |
Visualizer: YOURFOREST
Emerald tones can be teamed with rich burgundy hues and golden browns.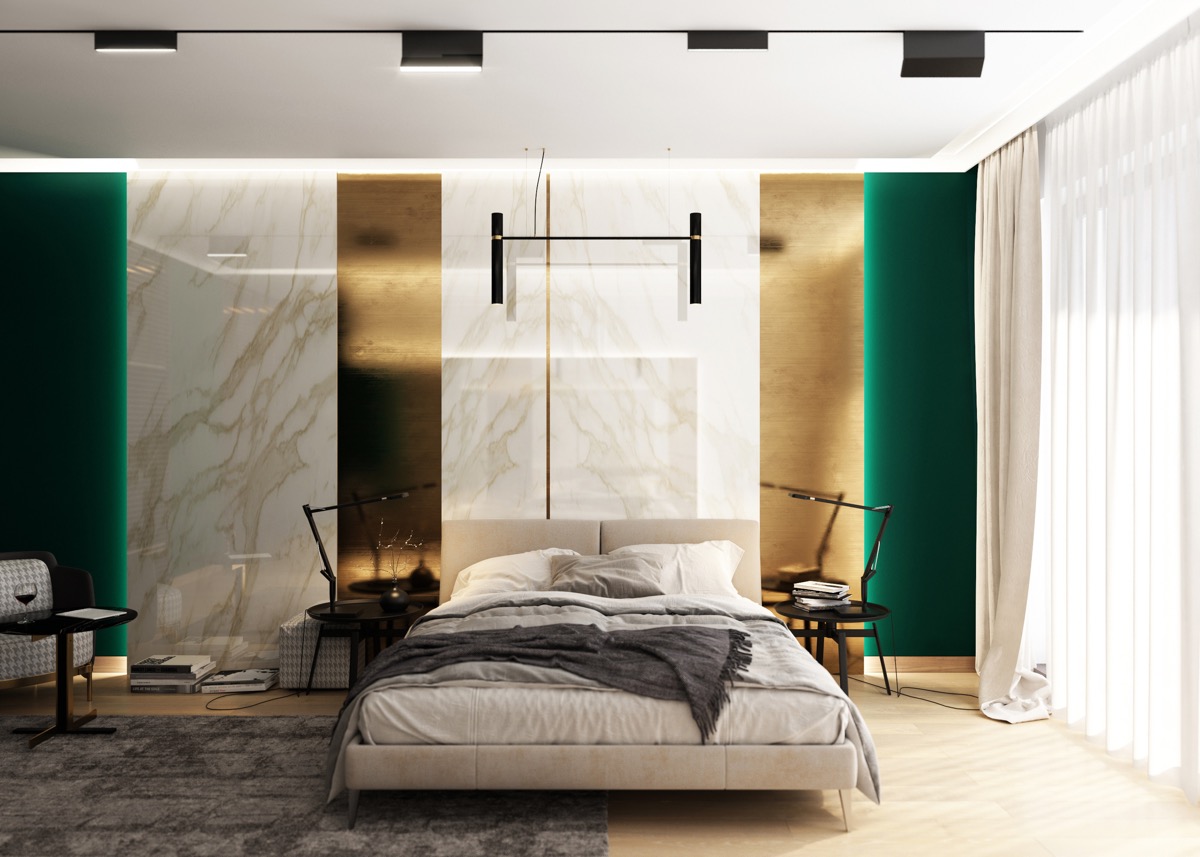 17 |
Visualizer: Khrystyna Mayik
Gold and green are a match made in heaven. Don't just limit yourself to small golden accents either, go big with shimmery golden feature walls. Note how gorgeously these marble slabs vibe with the green and gold look too, resulting in a look of high-end luxe.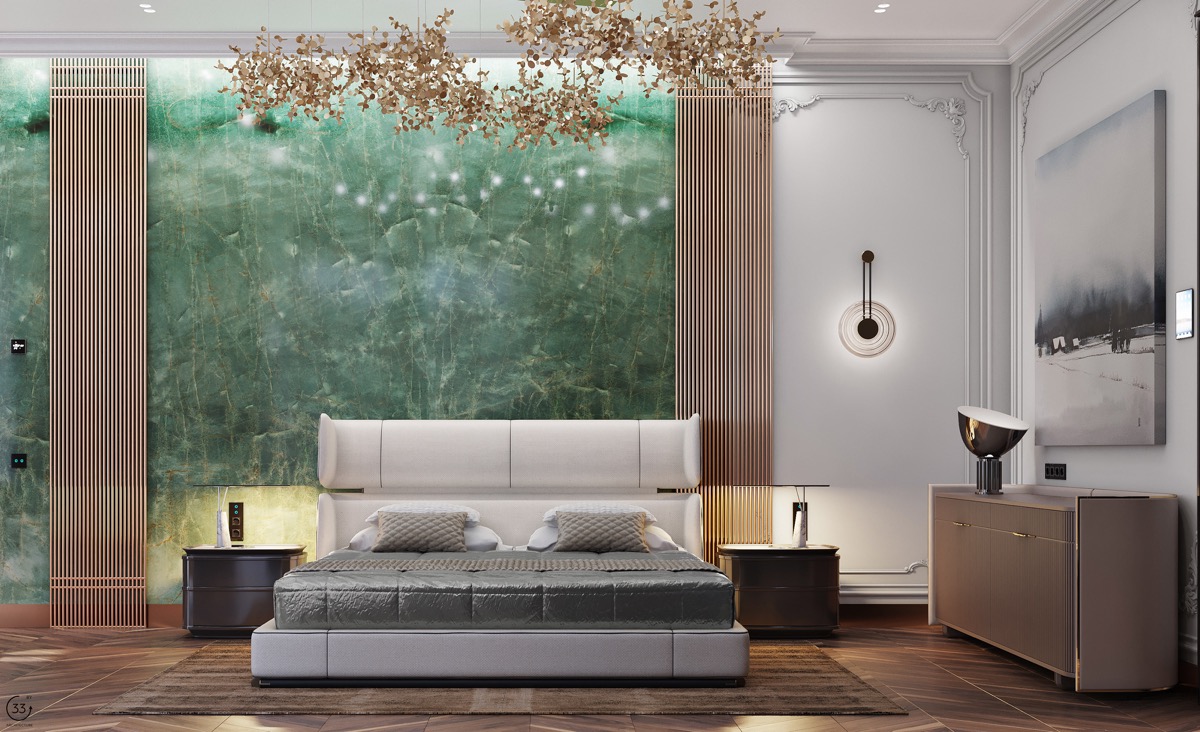 18 |
Visualizer: 33bY Architecture
Carrying on with the luxe wall treatment trend, check out this wall of emerald quartzite–named for its characteristic bright green shade that resembles the precious stone. An organically inspired Terzani chandelier gives the emerald green bedroom a springtime spirit.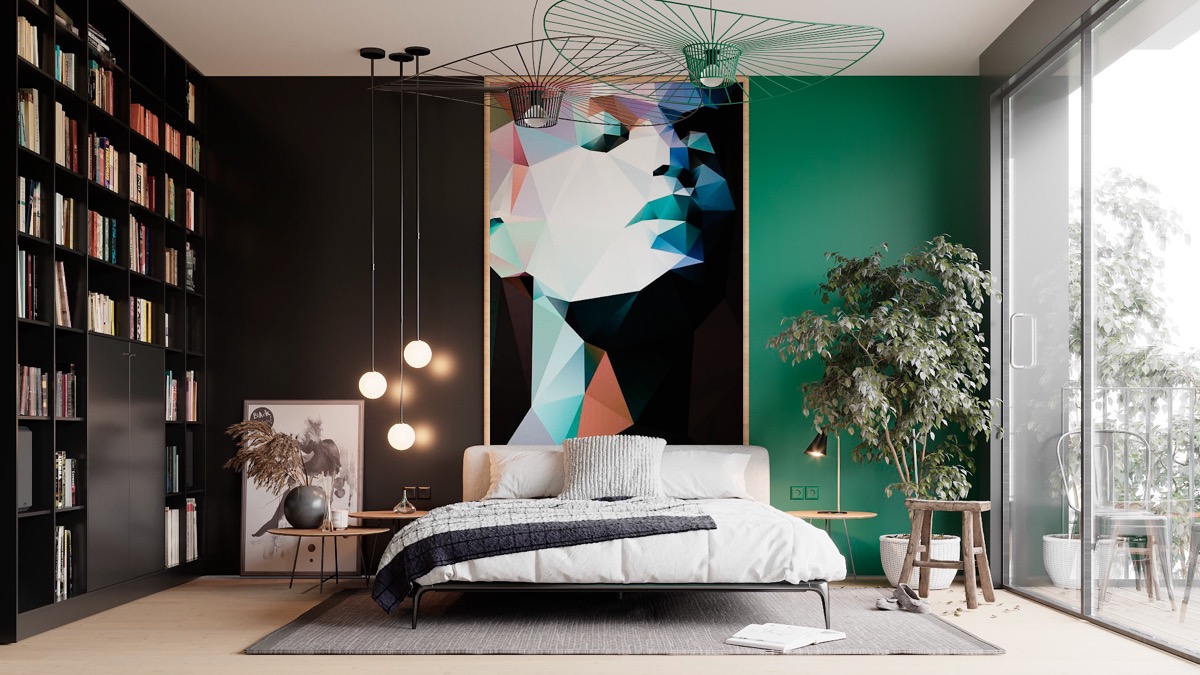 19 |
Visualizer: Madi Chanyshev
Go half and half, like this vertically split green and black bedroom. Consider masking the divide with a design element like this huge piece of art, or a towering headboard design.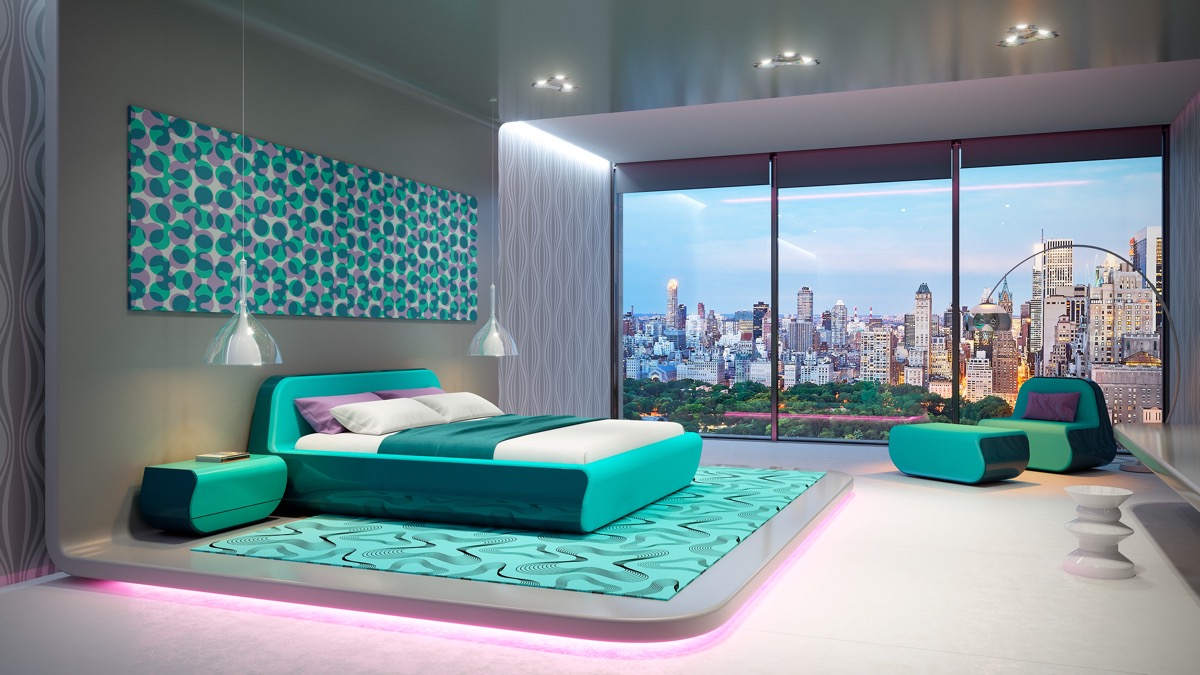 20 |
Visualizer: Denis Syrov
Pull in some purple. A seafoam green bedroom has a sense of glamour; throw in some purple and green bedroom art for vivid contrast.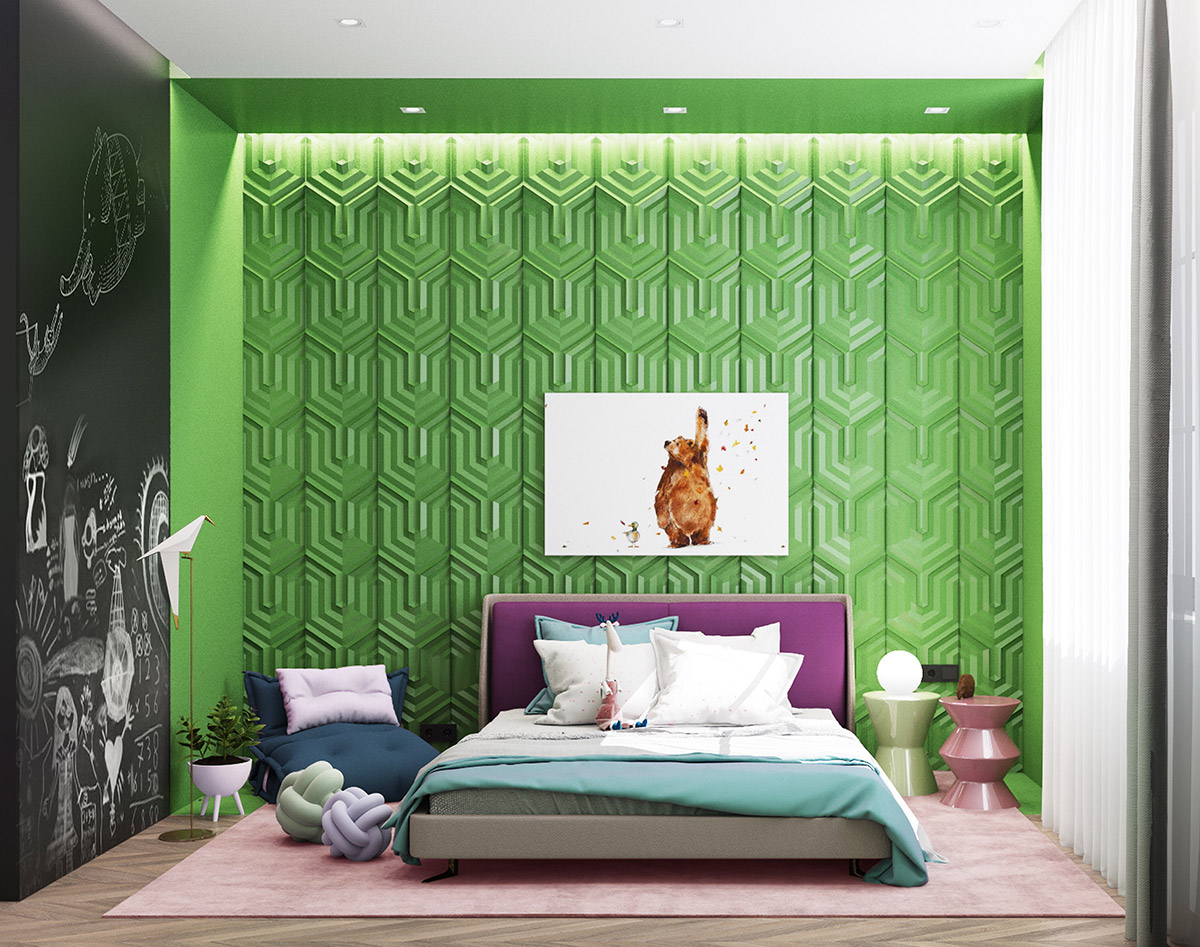 21 |
Visualizer: Olga Korniyenko
More high contrast with purple accents in a quirky comfy green kids' room.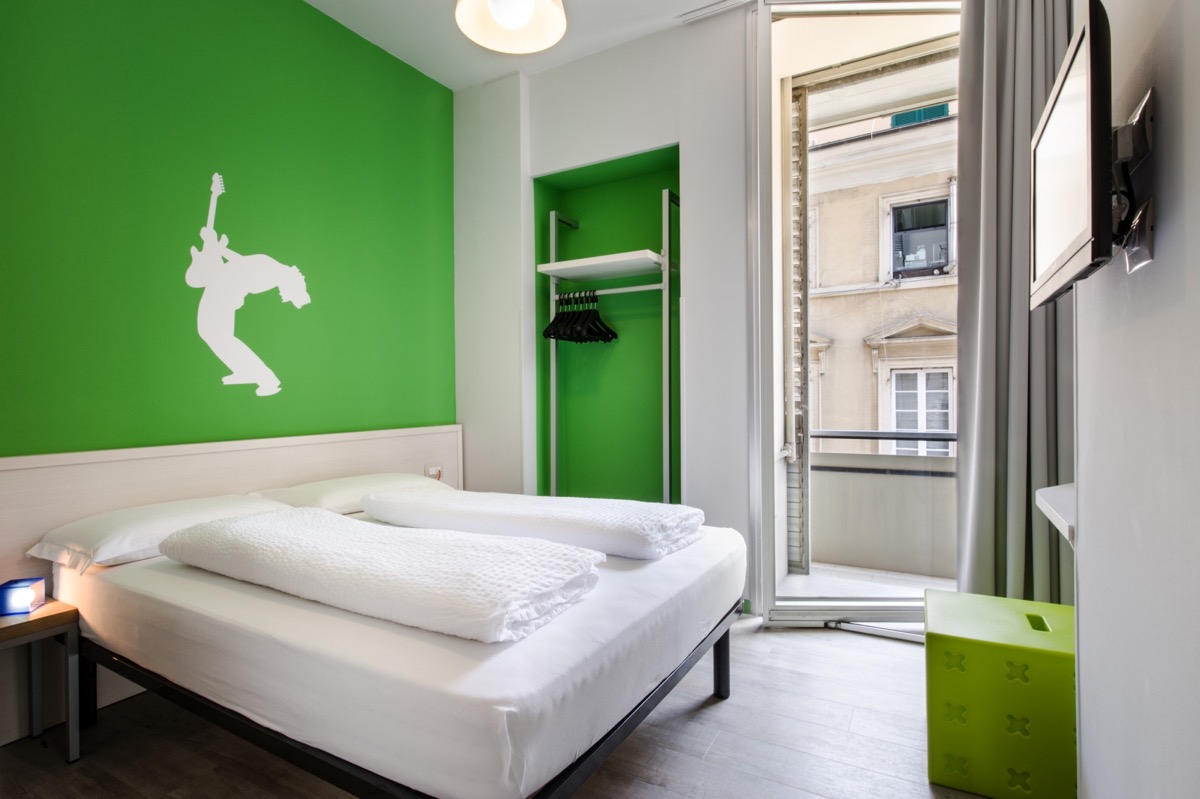 22 |
Source: Hotel Nologo
Look for colour opportunities. In this green boy's bedroom, the niche behind an open fronted closet has been painted to match the green headboard feature wall.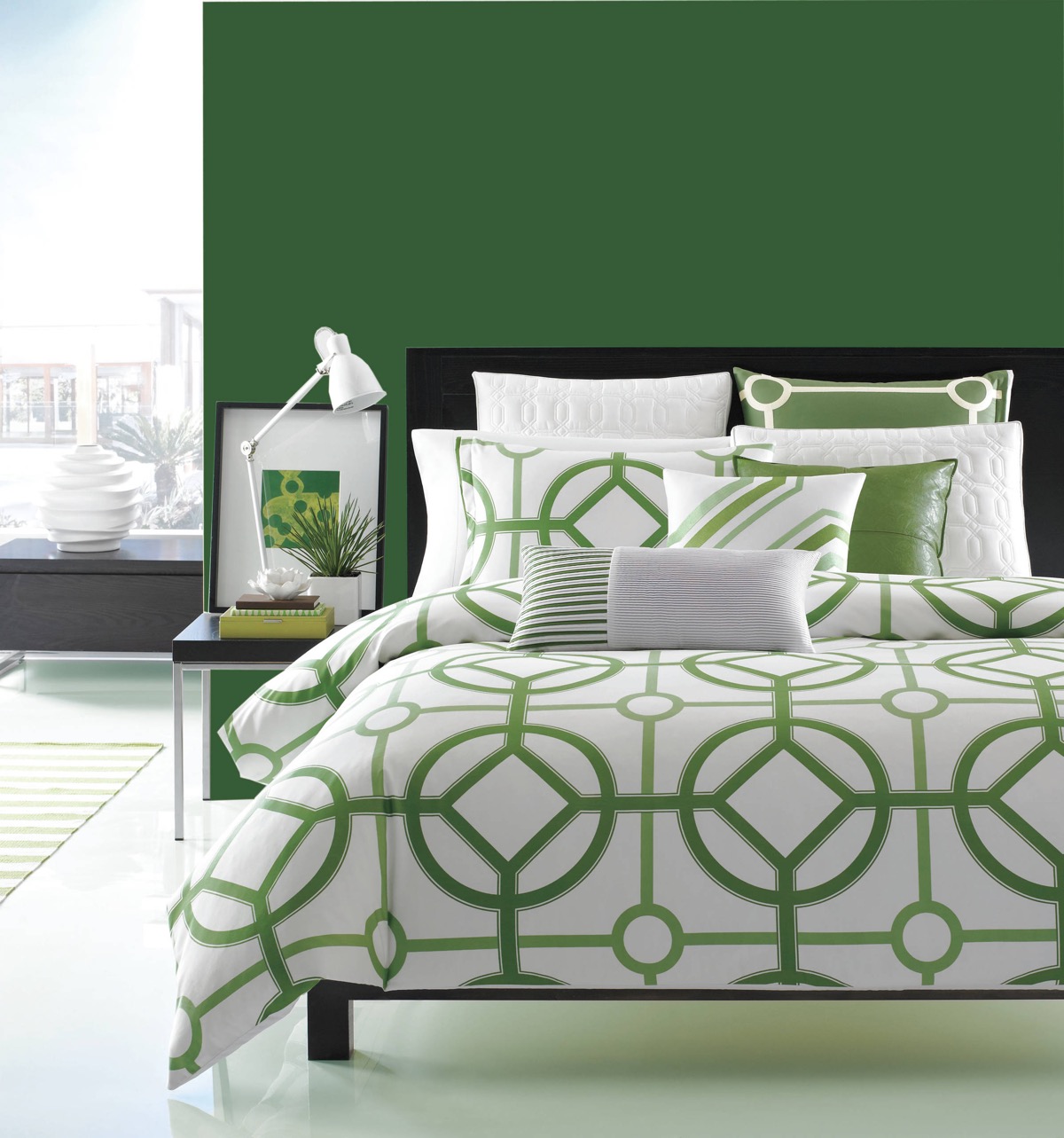 23 |
Source: Hotel Collection
Seek out star pieces to soup up the style factor, like this stunning green and white bed set.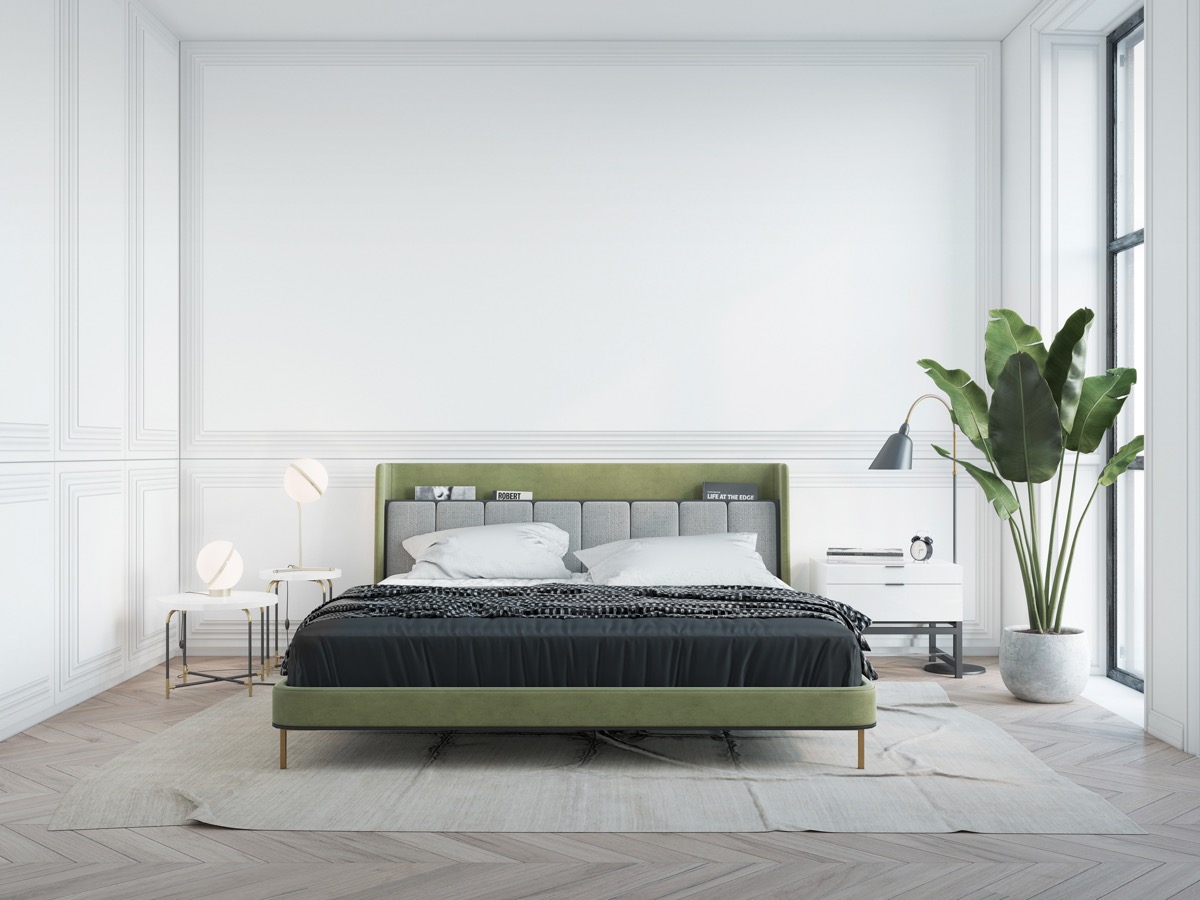 24 |
Visualizer: Alexander Velgan
Sometimes one key element is enough to shape the green theme. Focus on larger pieces like a bedstead, or a vanity set.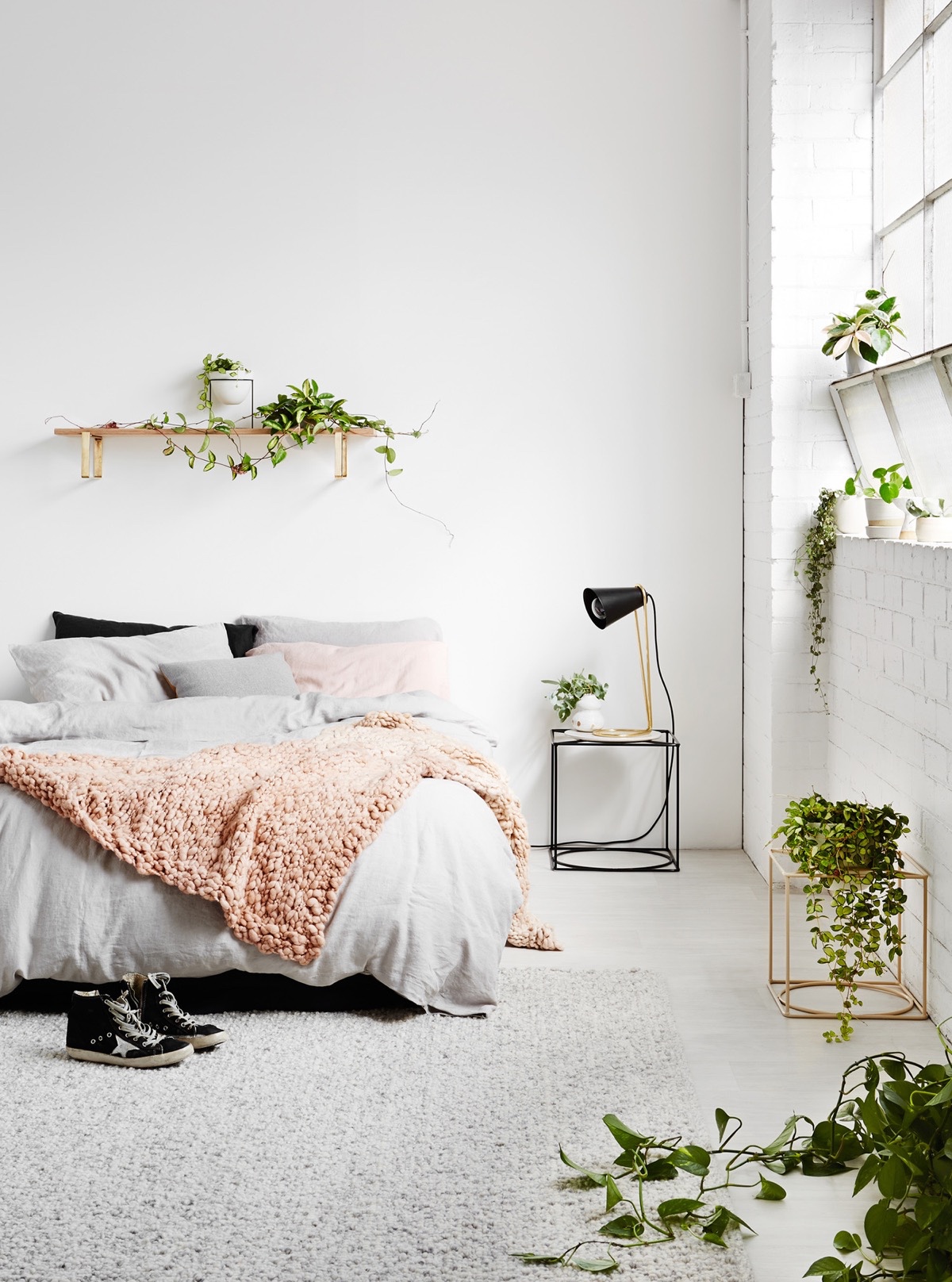 For a more minimalist bedroom aesthetic, indoor plants alone can grow a calm green scheme.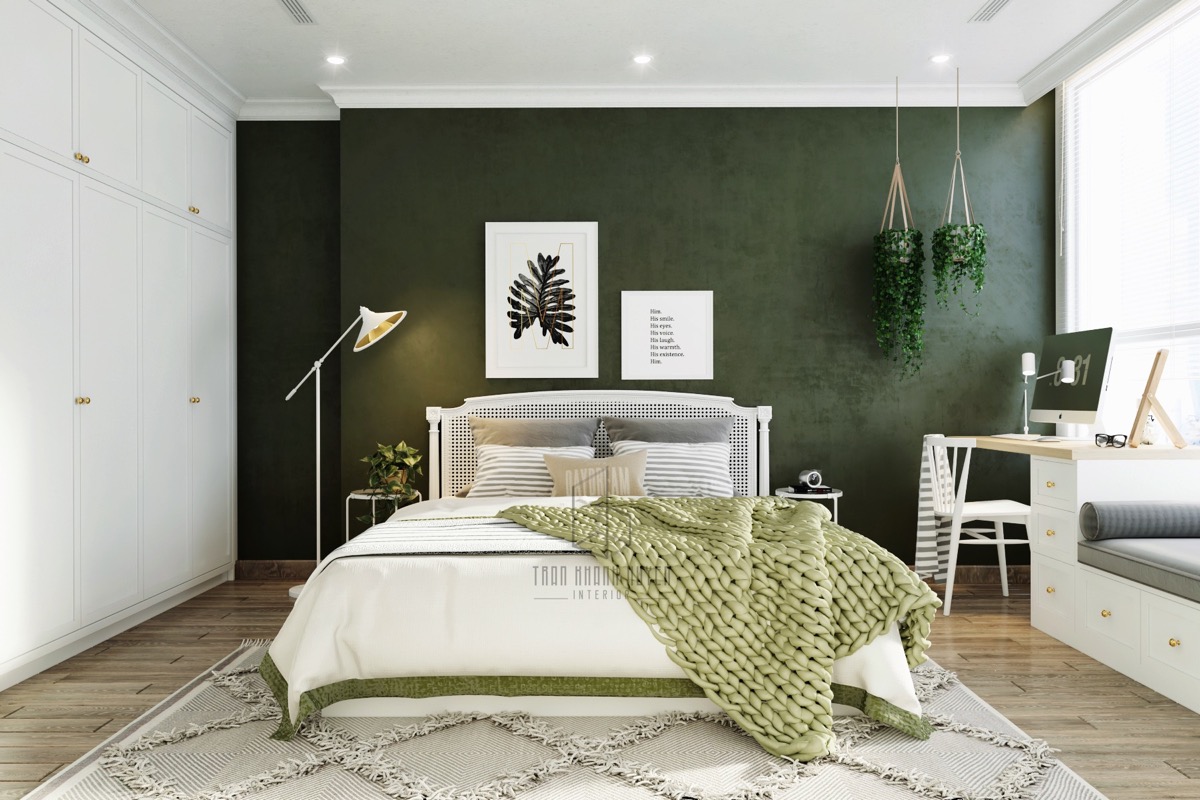 26 |
Visualizer: Thao Uyen
Pushed on room for plants? Hanging planters hold the solution. The hanging plants in this design are almost camouflaged against a dark green bedroom wall, but this subtle addition provides a successful zoning technique around the home workspace.
27 |
Visualizer: Oleg Mints
If you're not green fingered, then you can still use plants to colour your green bedroom, in print form…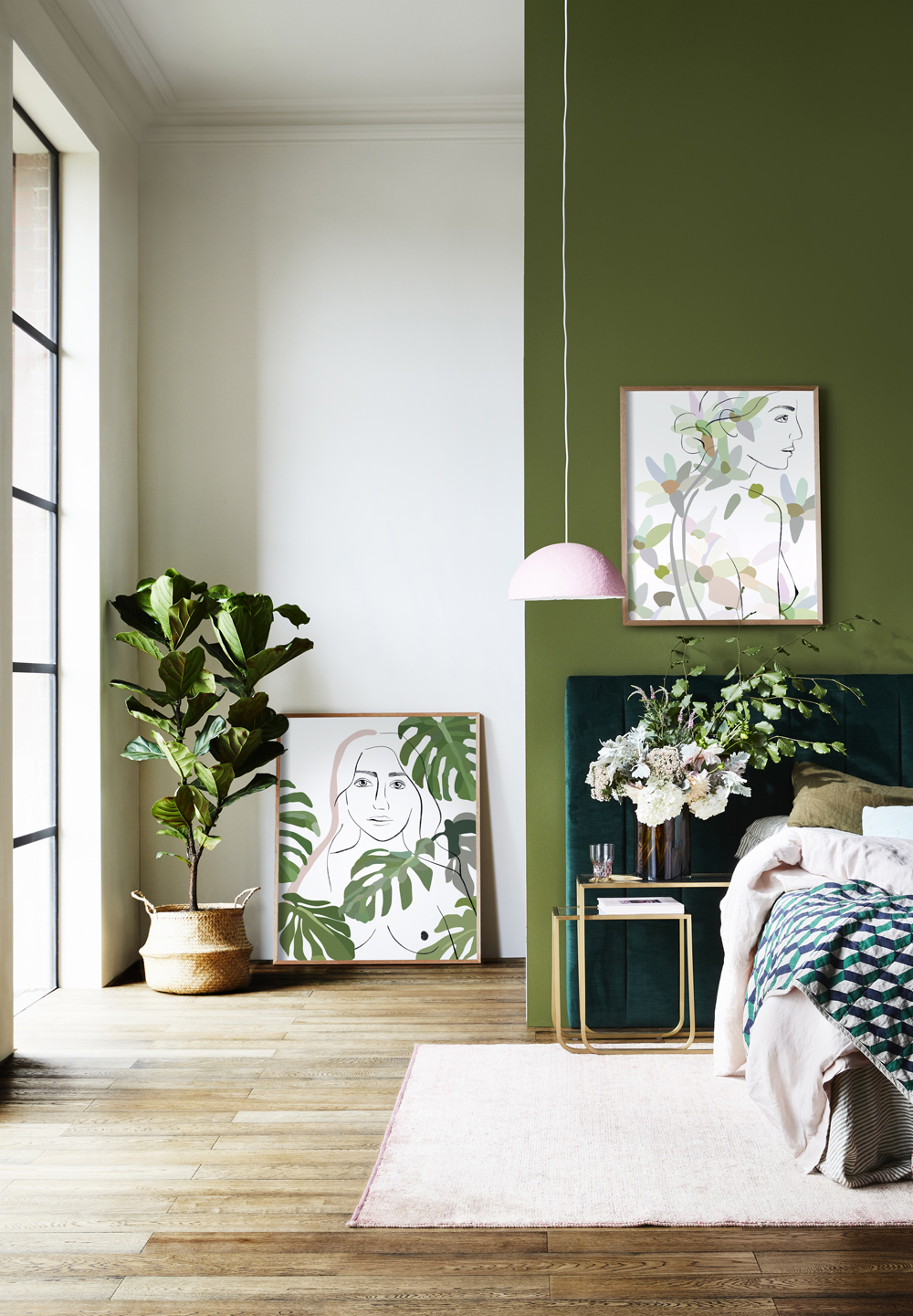 … Or use a combination of both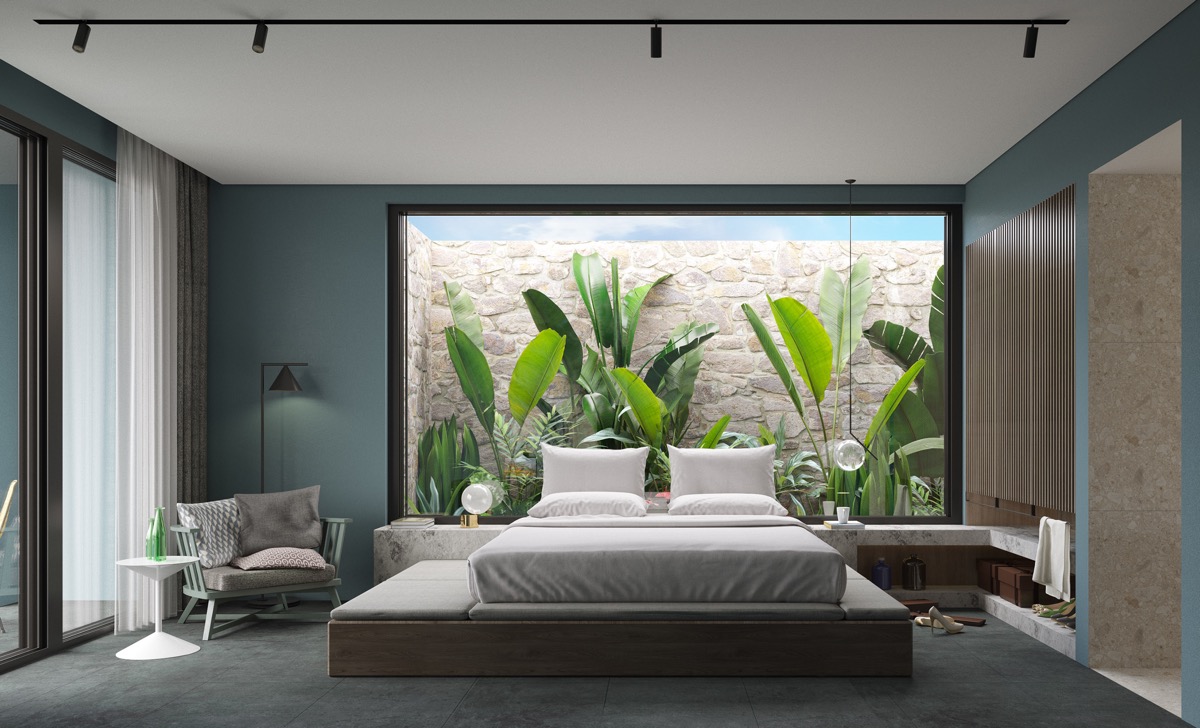 29 |
Visualizer: Fatih Beserek
If you are blessed with success in the garden, cultivate a courtyard as your green backdrop…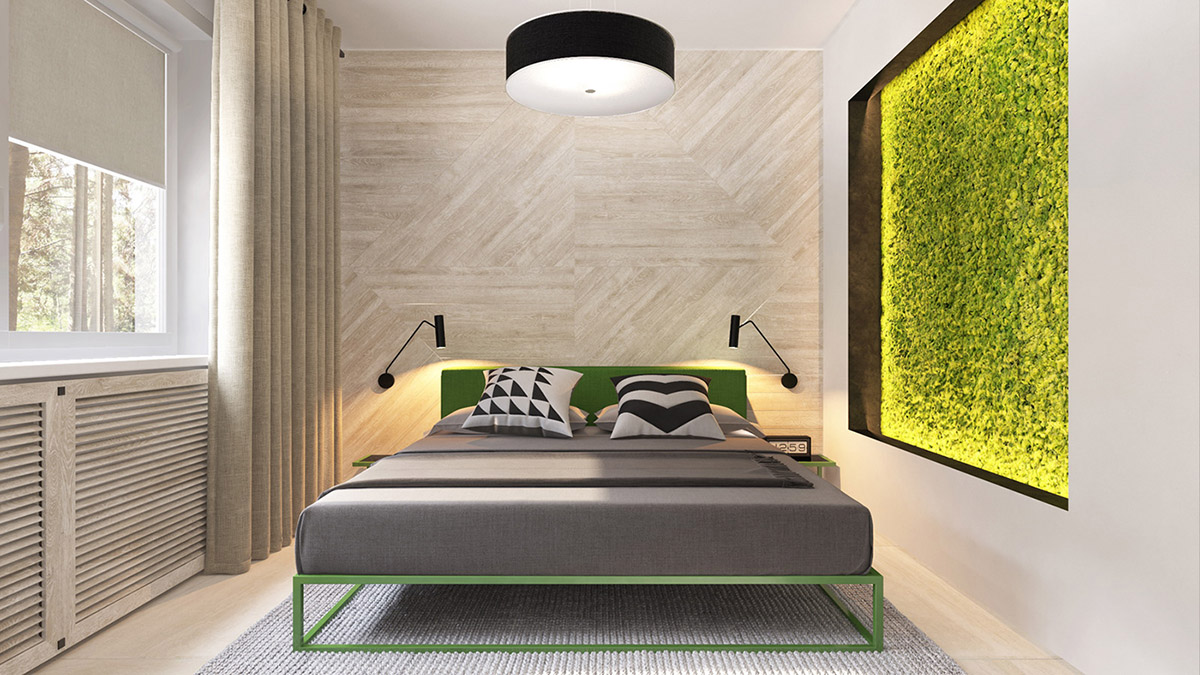 30 |
Visualizer: LOV Studio
… Or a vertical garden.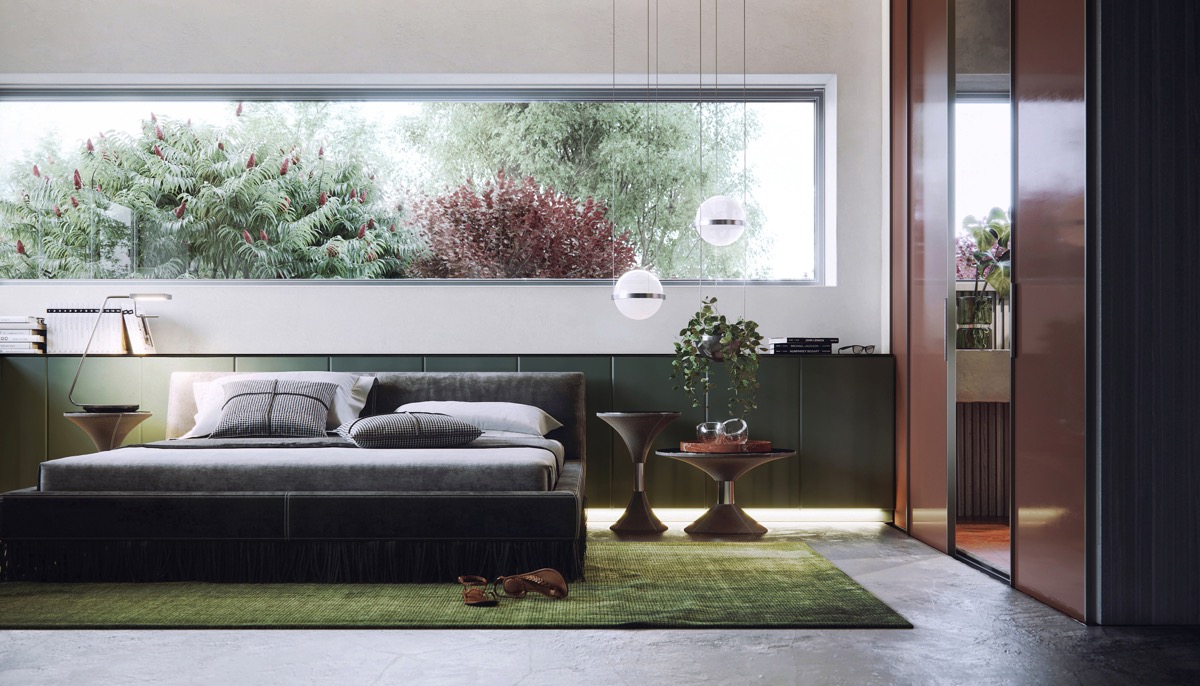 31 |
Visualizer: Anna Fedyukina
Plant an indoor garden feel by laying a grass green rug beneath your bed. Add wooden accessories or side tables to keep the natural theme going.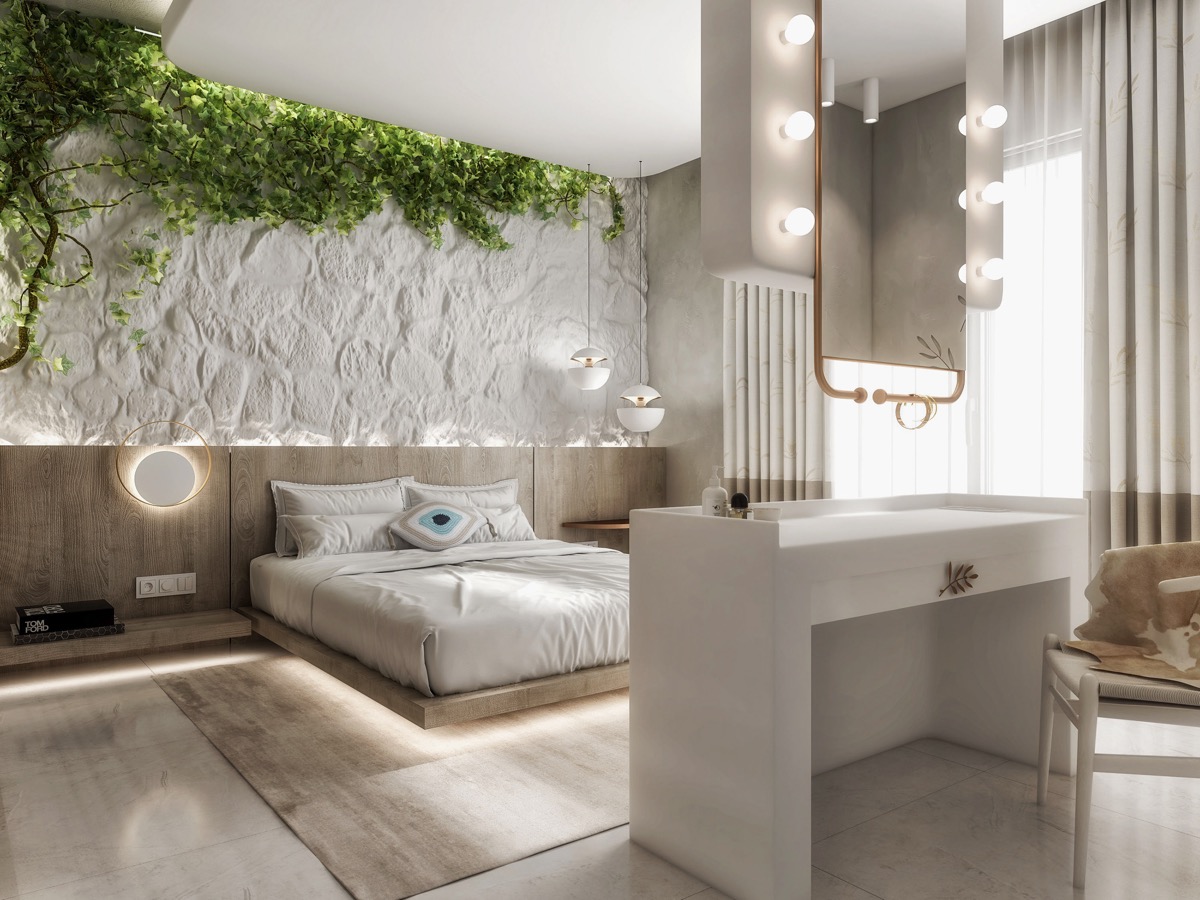 32 |
Visualizer: OFFICE 4
Draw from Mediterranean design. Propagate lush green climbing plants across the rugged surface of a whitewashed rustic stone wall.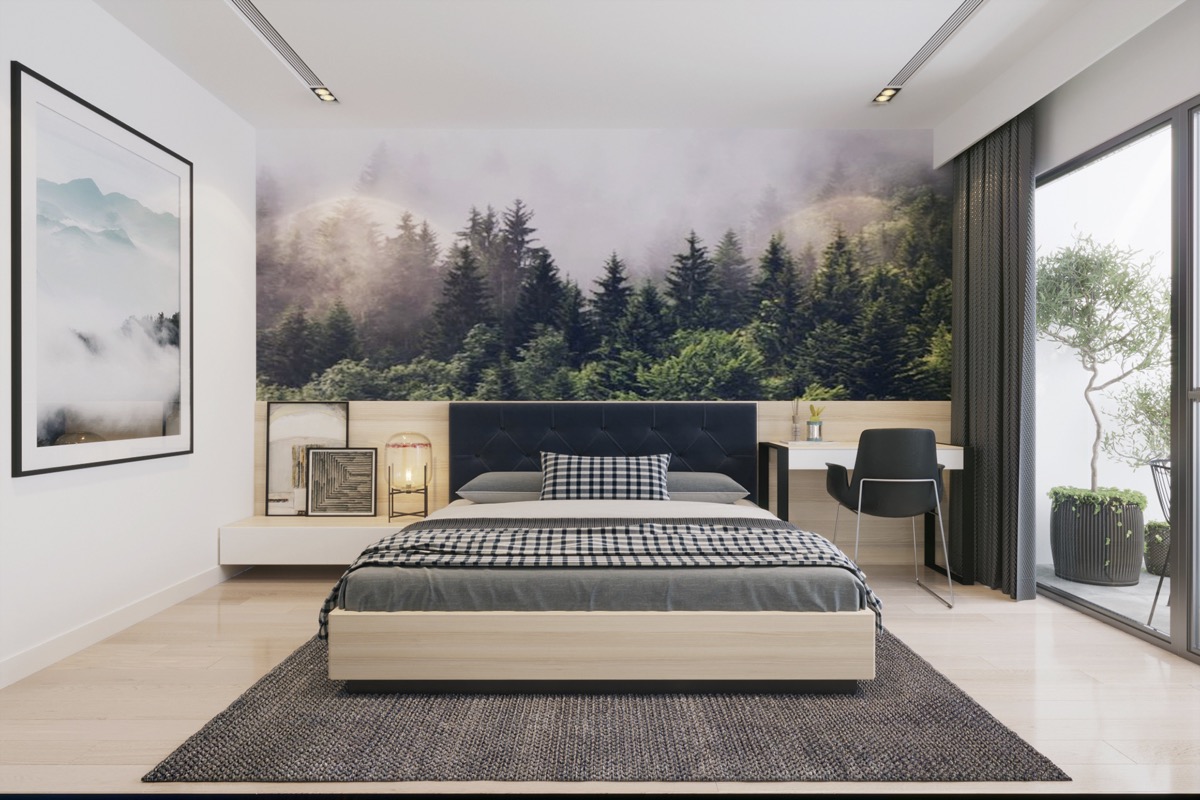 33 |
Visualizer: Mai Anh Nguyen
Fake forest views with a realistic wall mural.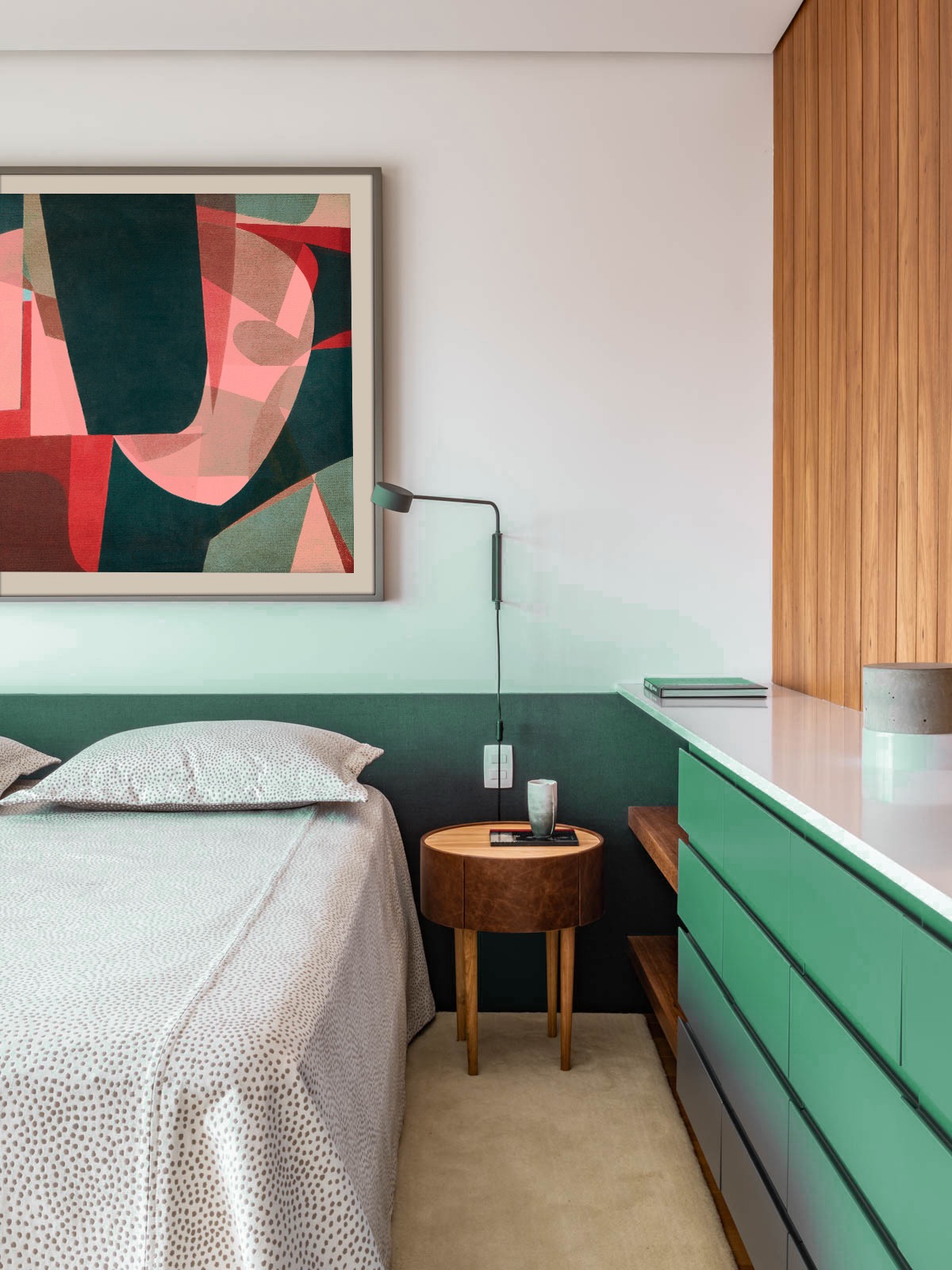 34 |
Visualizer: Fernando Vieira
Keep it on the down low. If a full wall of green feels a little much, confine colour to the lower half of the room. Include furniture items in the green lower half of your room to make one continuous stripe, like how this green headboard stripe merges smoothly with a matching chest of drawers.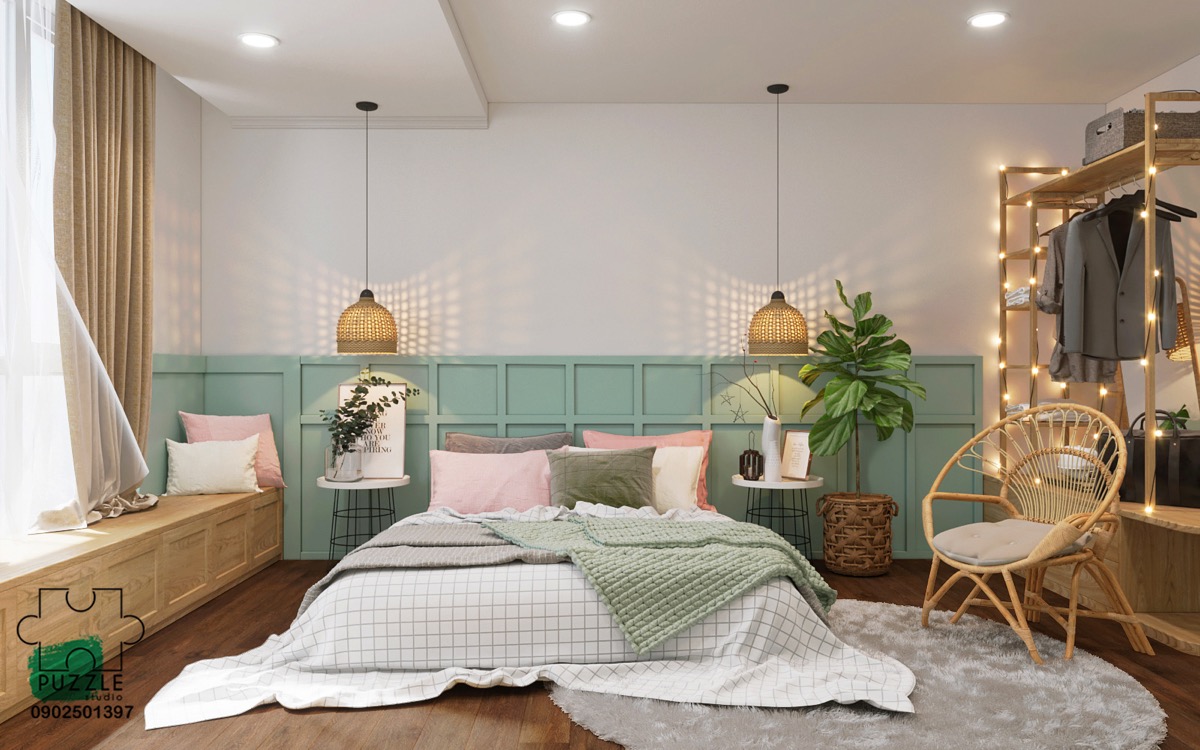 35 |
Visualizer: Lai Pháp
Wall panelling is another great way of applying colour just to the lower half of your bedroom. Paint some half height wainscot or boiserie in your favourite shade.
36 |
Visualizer: Egue y Seta
Create a colour block. Grab a spirit level and a roll of painters tape and you're good to go.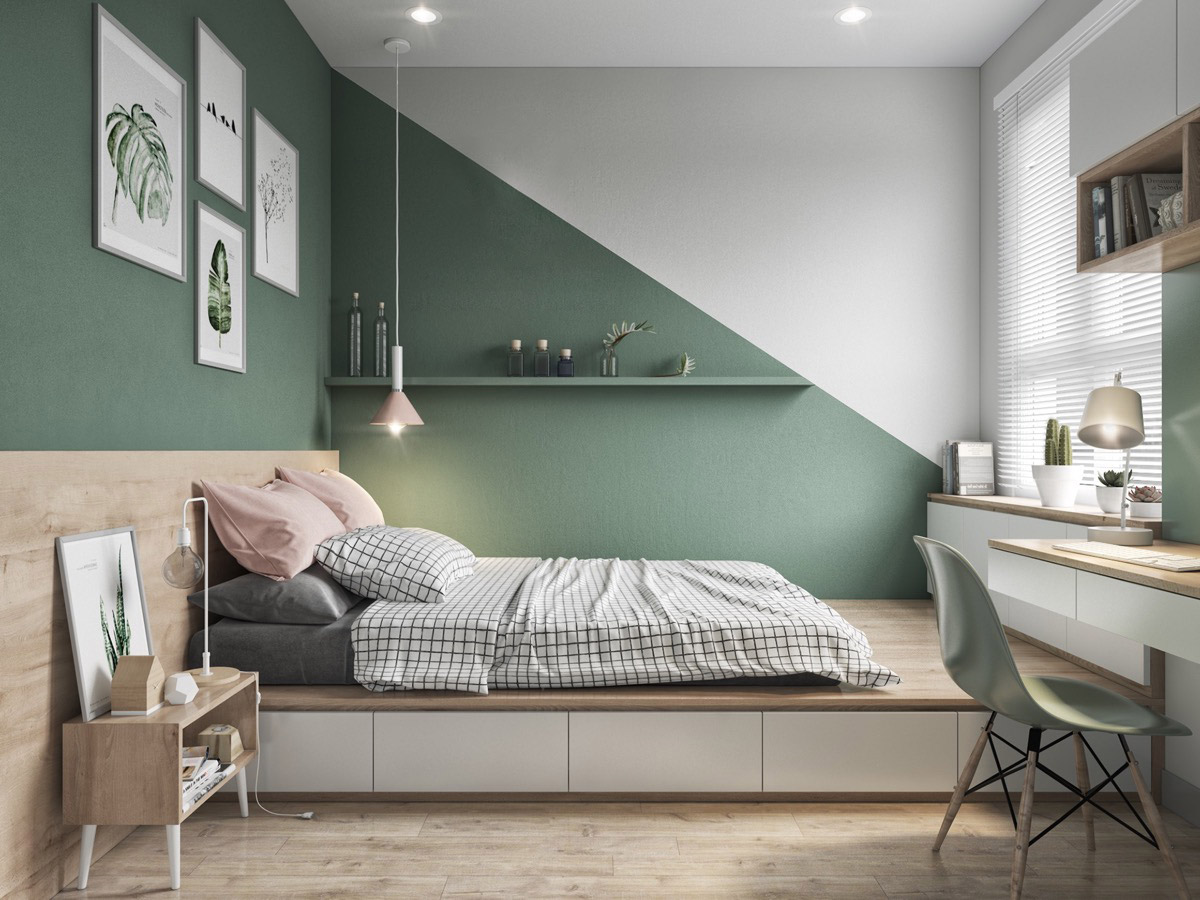 37 |
Visualizer: Imade pastel
A diagonal half and half paint effect. Note how the wall shelf is colour coordinated to its allocated section.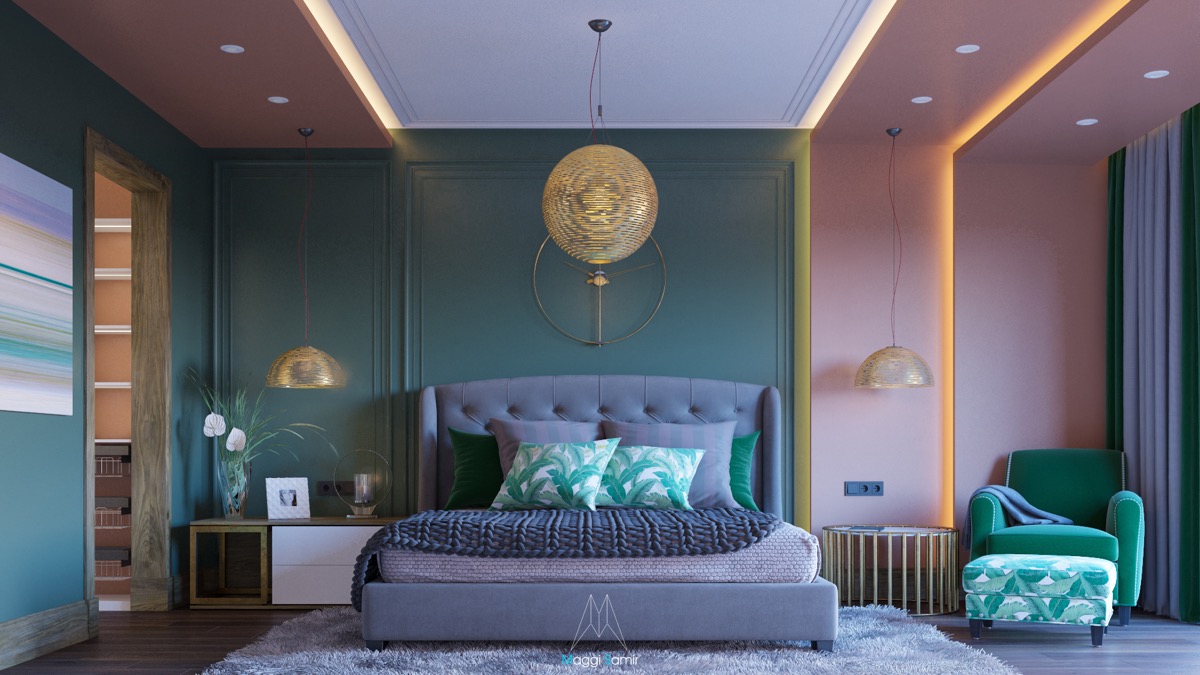 38 |
Visualizer: Maggi Samir
A pink and green bedroom scheme has contrast with softness. Be sure to add in areas of white and grey to break up the abundance of colour.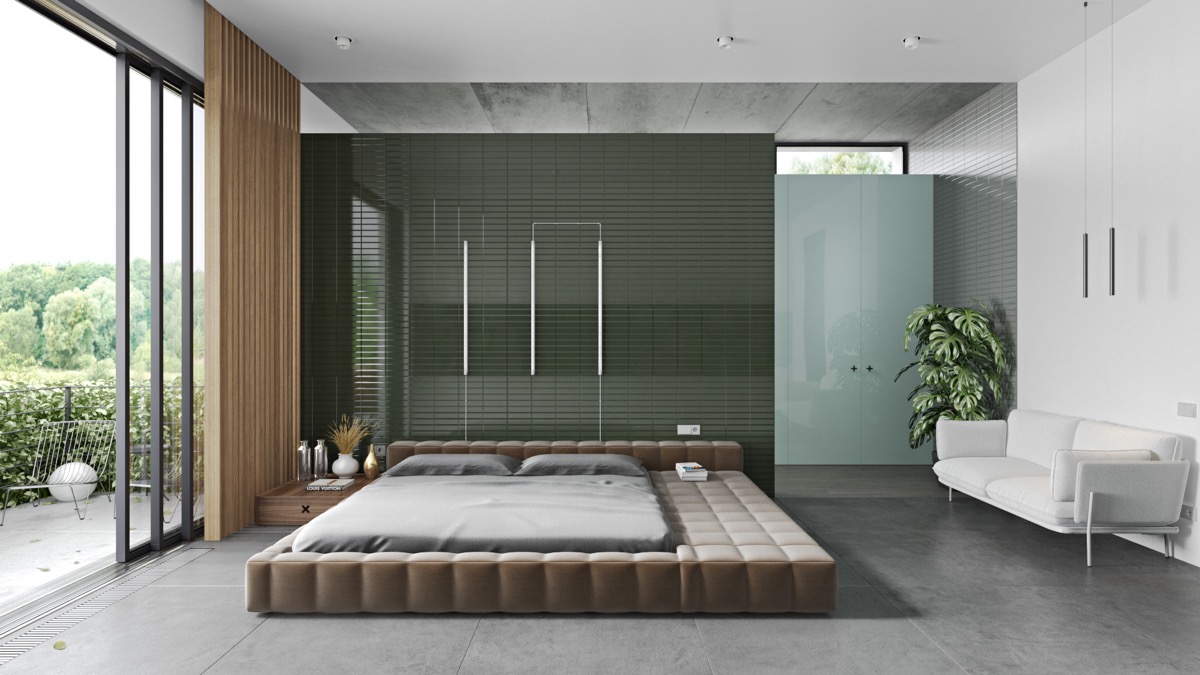 39 |
Visualizer: Visualizer
Glossy green finishes build a very modern bedroom aesthetic. Choose gloss panels to clad a headboard feature wall, or go for glossy green closets.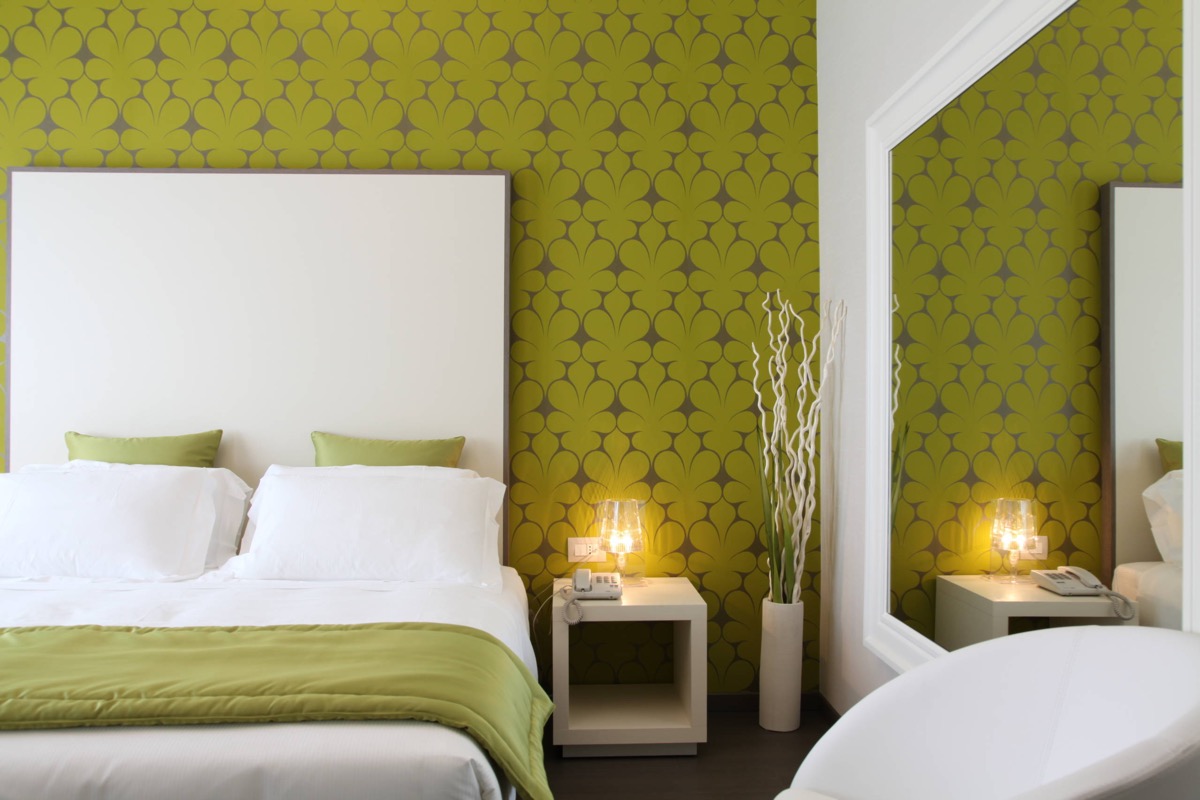 Add depth and pattern to your bedroom with graphic green wallpaper.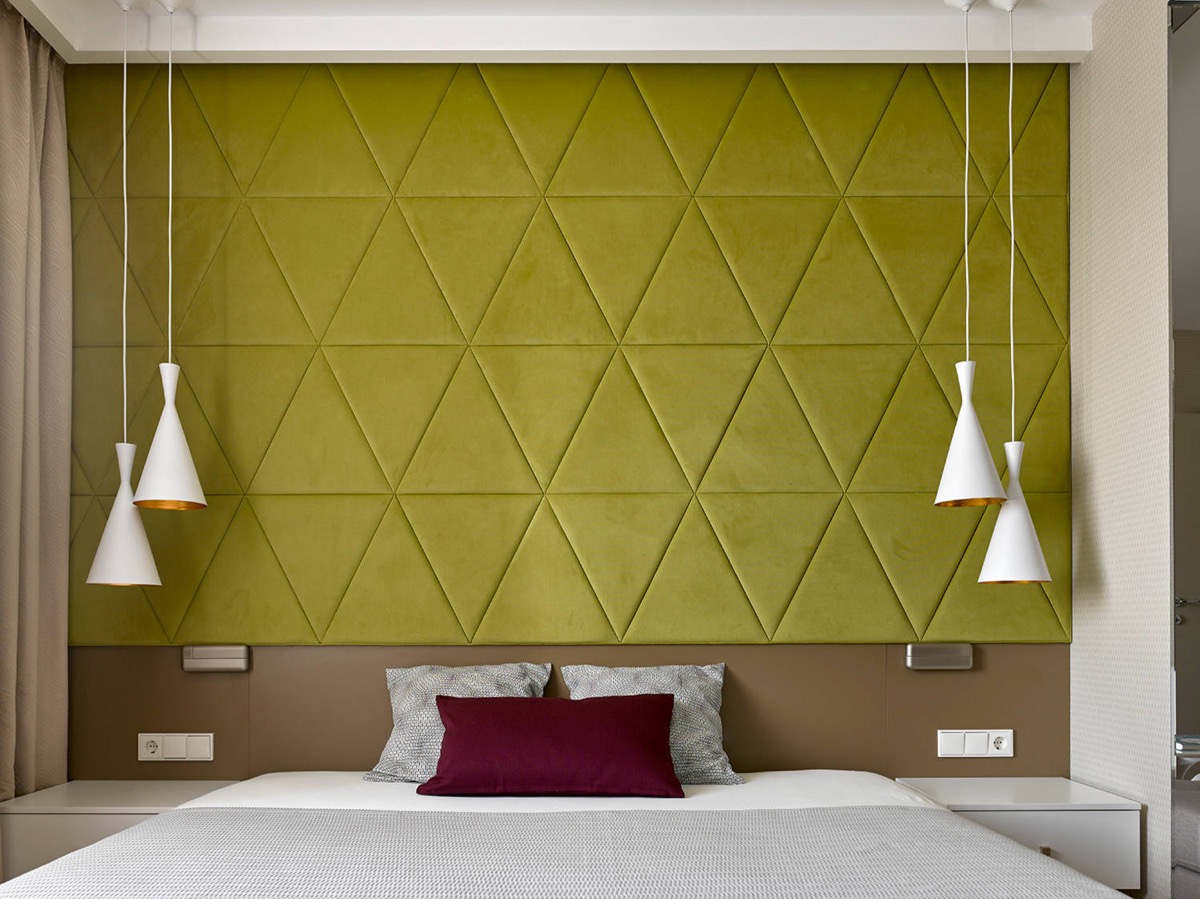 This olive green bedroom brings pattern via a geometric upholstered headboard design.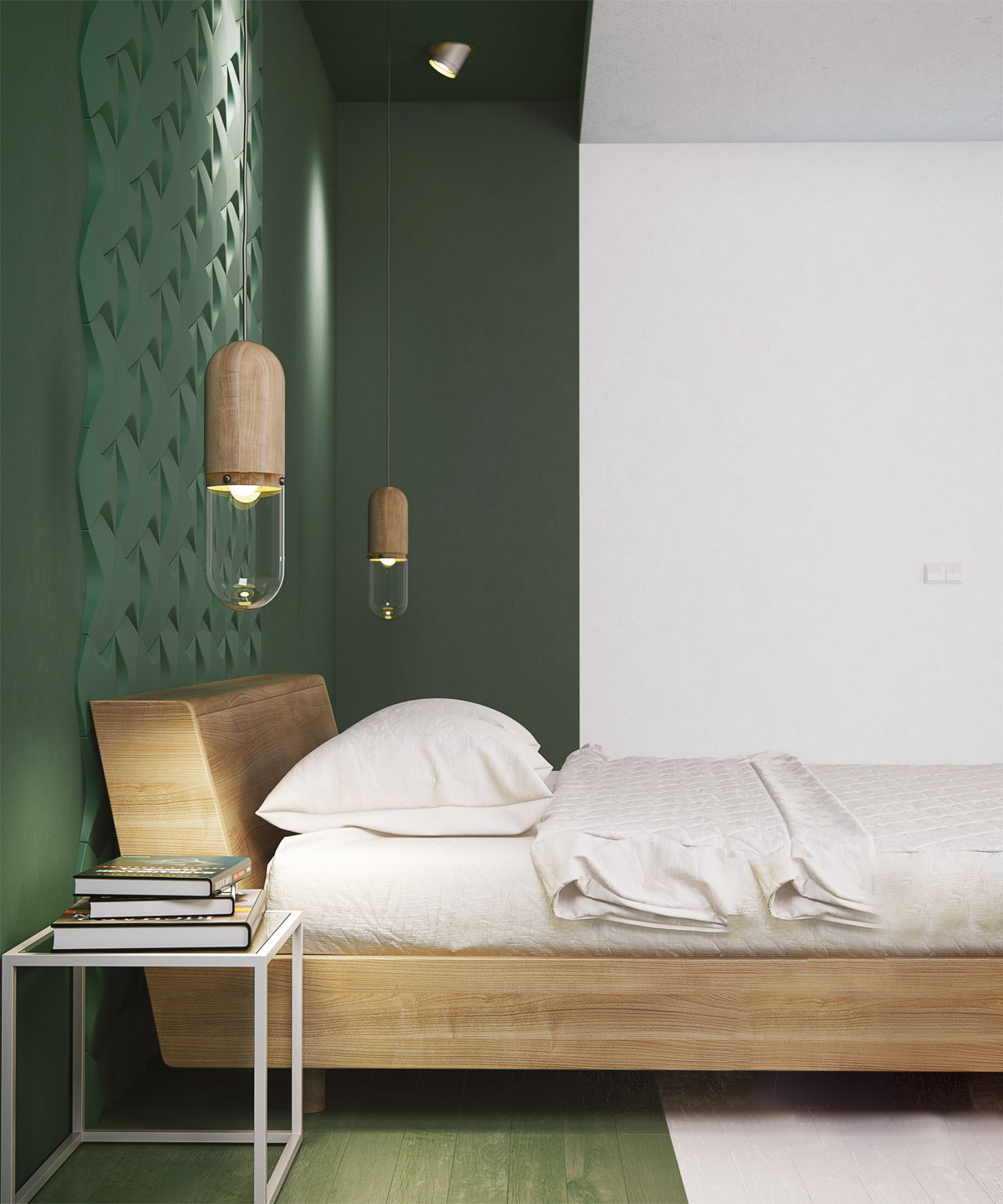 42 |
Source: Art Styl Wall Tiles
Another stunning green headboard idea, this time teamed with a wooden platform bed.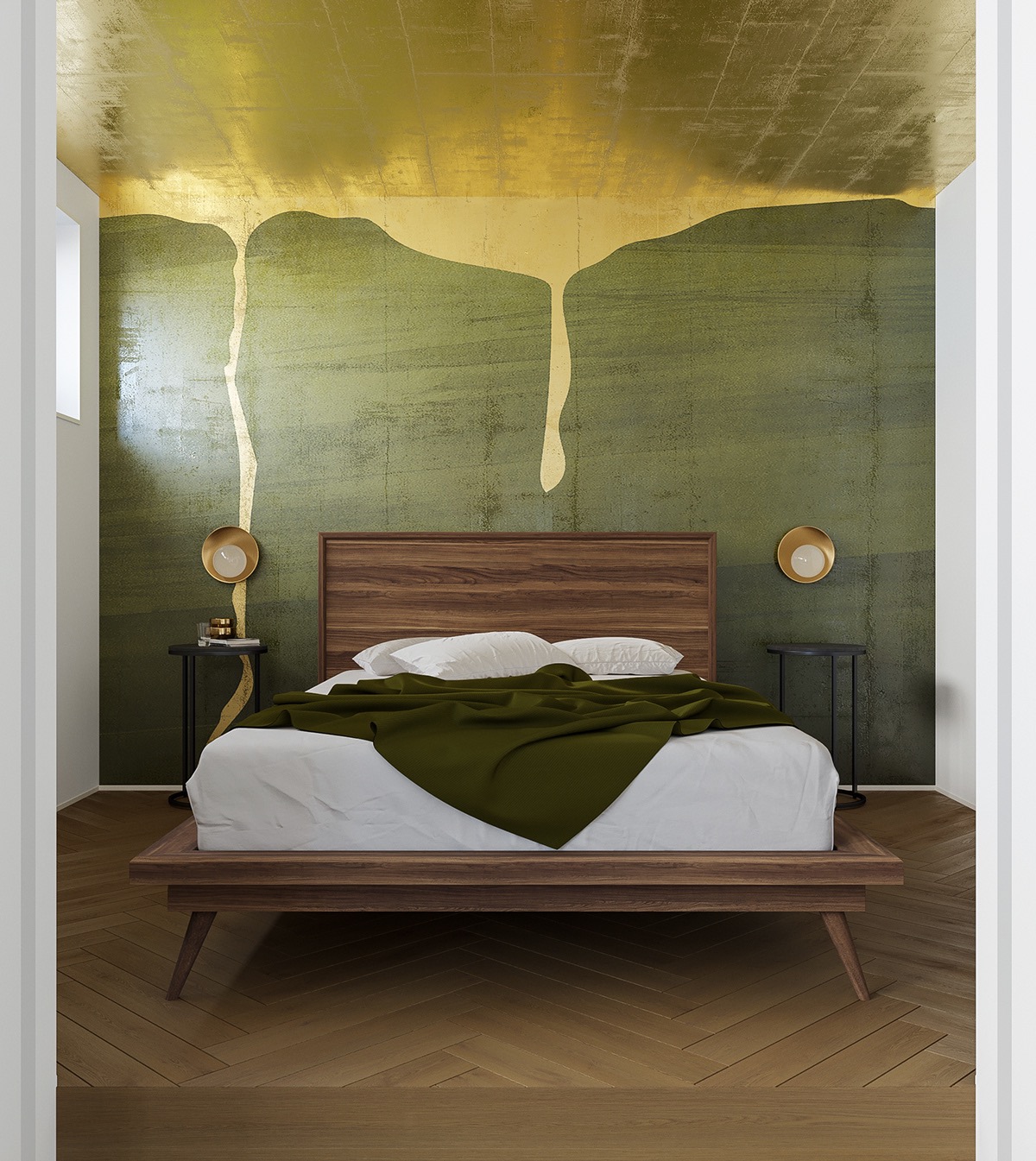 43 |
Visualizer: Andrew Taran
Deliciously deep green and dripping with gold, this unusual decor effect trickles gold ceiling paint all the way down to the headboard and modern wall sconces below.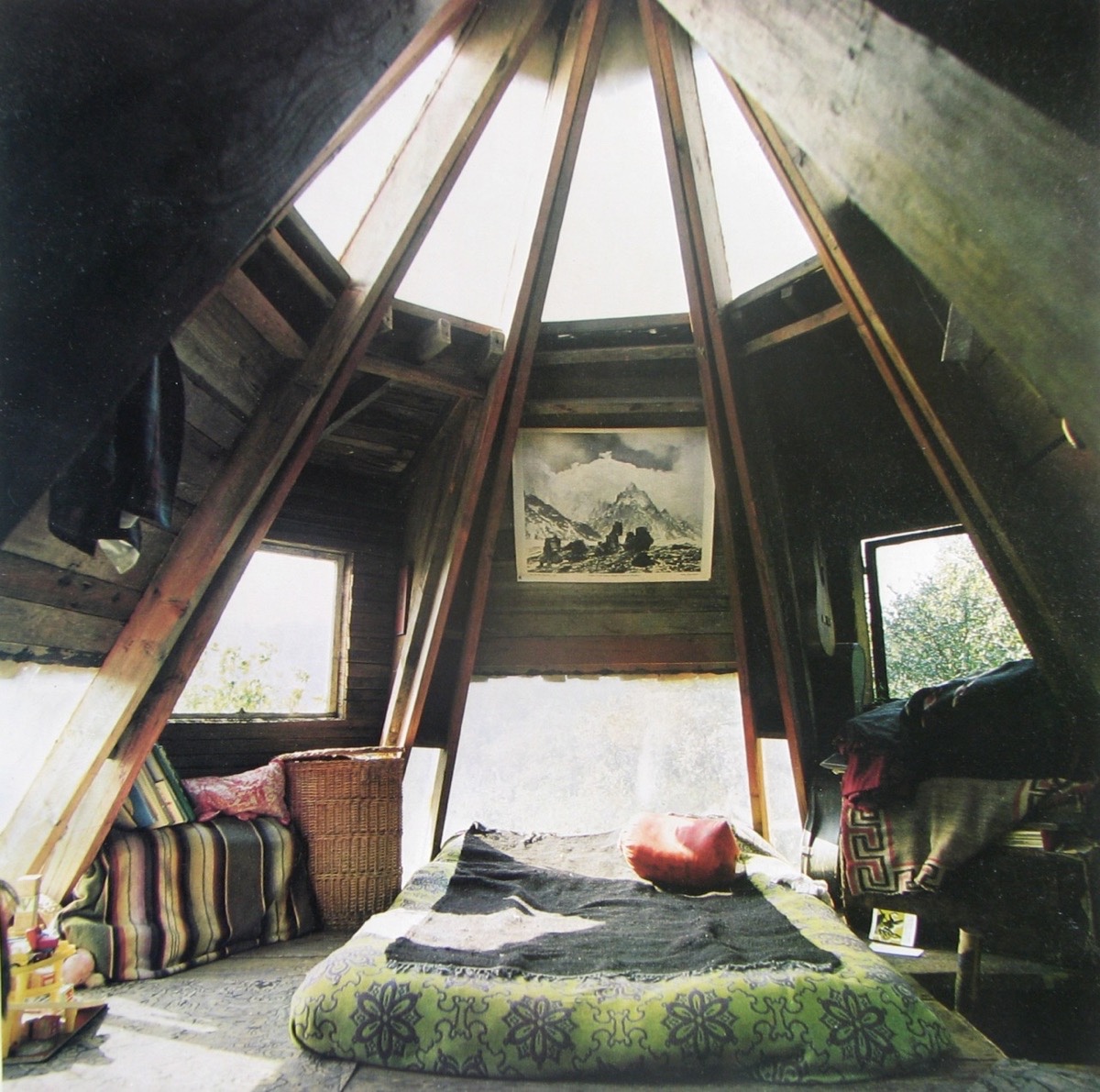 44 |
Via: Solonge Scherazad
Go wild. A rustic attic bedroom accented in a natural green hues makes a magical woodland den.
45 |
Visualizer: Paweł Pęcherzewski
Fit for a monarch. A regal green wall of boiserie towers magnificently up to deeply decorative white cornice.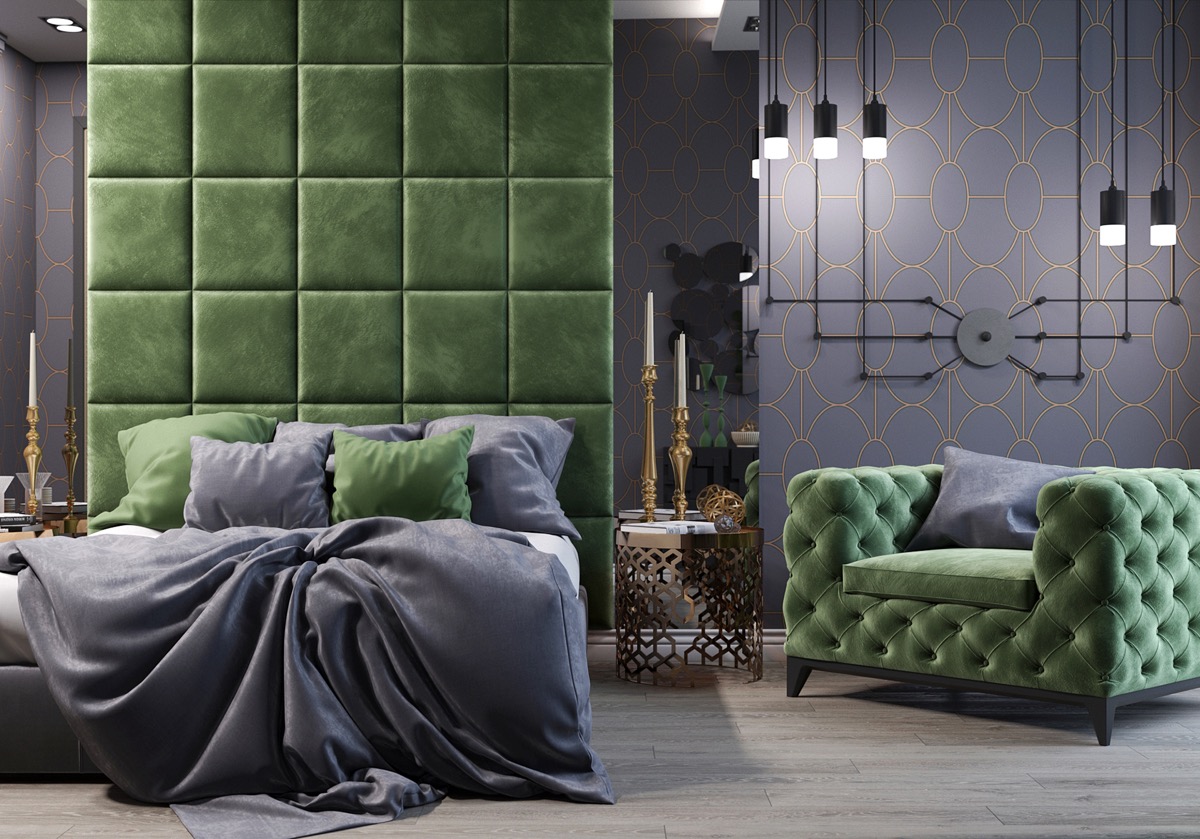 46 |
Visualizer: Julie Pashina
Bold and balanced. This dark gray and green bedroom uses each tone in the same quantity to achieve balance. Gold accents lift the dark palette with a little lustre.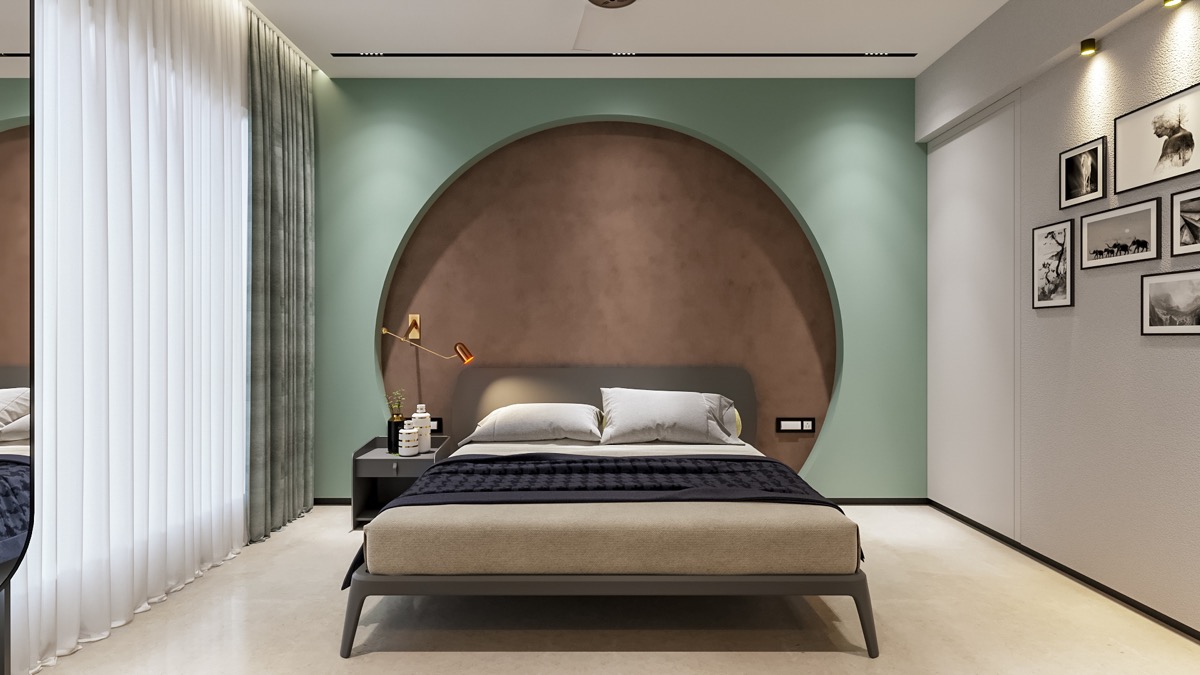 47 |
Visualizer: BlacQube 3D
Copper complements a light grey and mint green bedroom.
48 |
Visualizer: Anton Karniaichuk & Katherina Rusak
If after you've painted a solid accent wall it feels too imposing, knock it back behind some shelving.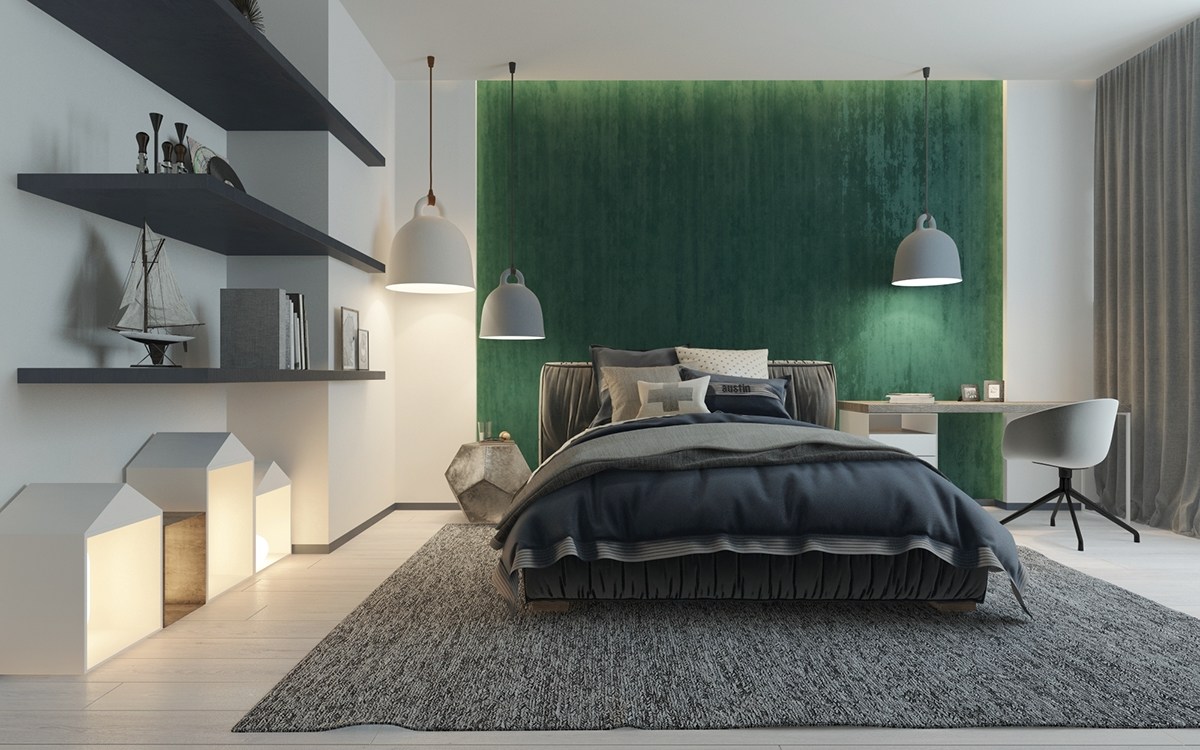 49 |
Designer: Kupinskiy & Partners
Visualizer: Elena Sedova
Ambient lighting can also reinvent an accent wall, particularly if textured.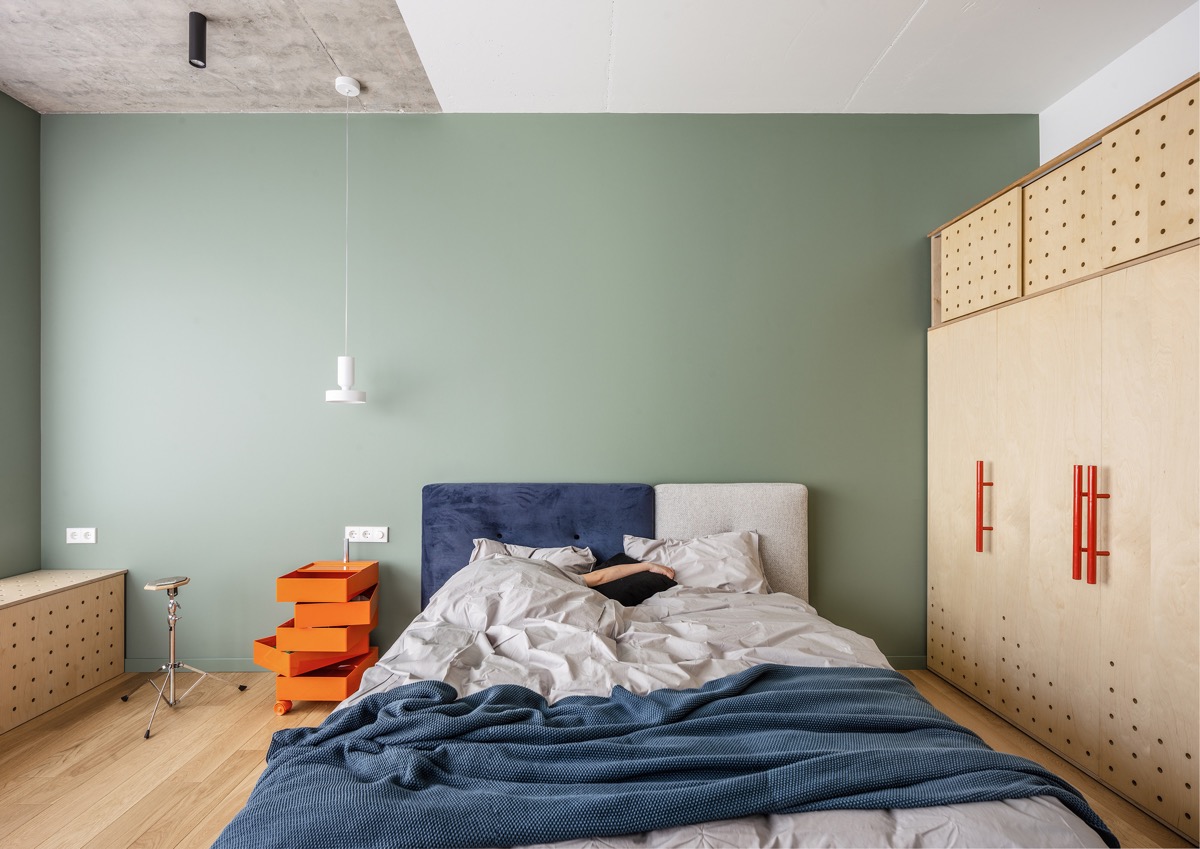 50 |
Designer: Bogdanova Bureau
Go bright with an orange, blue and green bedroom palette to amp up the energy in your mornings.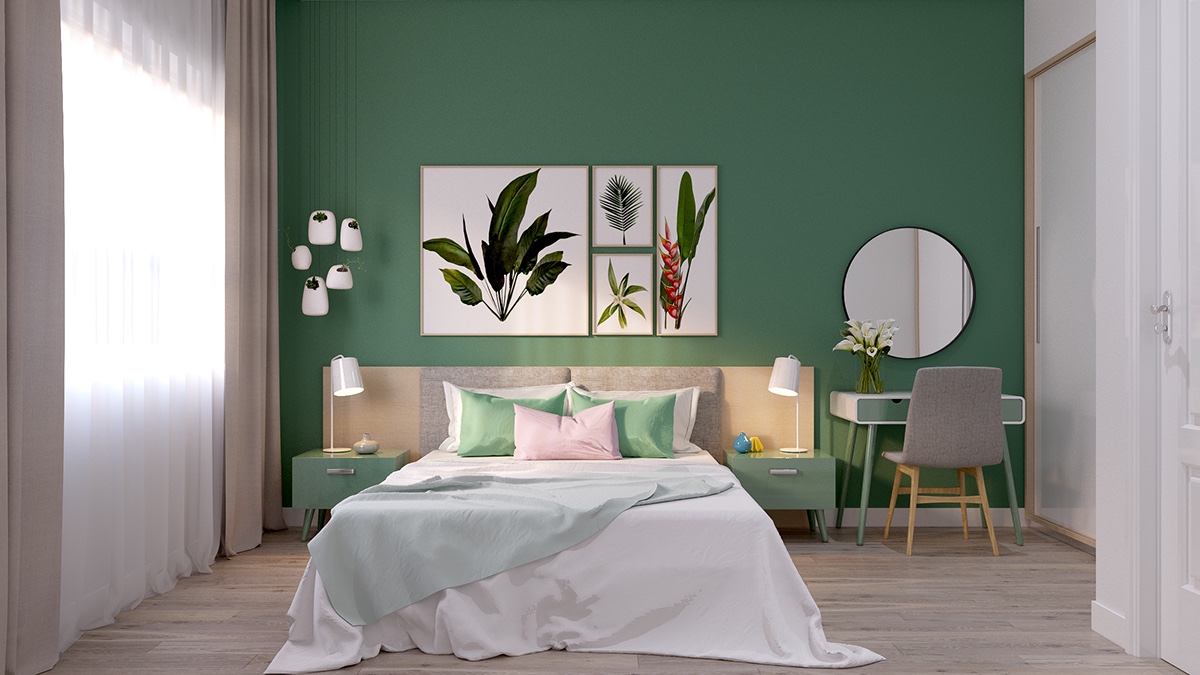 51 |
Visualizer: Quân Xiền
Delicate delights. Small green bedside tables and an elegant dressing table add elegant touches.