1 |
Visualizer: Horizon Render Vizualization Studio
Transitional bedrooms can draw features from any era. So how do these features come together as one cohesive and recognizable style? There are a few hallmark qualities you can expect from transitional spaces: curvaceous furniture profiles, cohesive neutral color palettes, and classic architectural details. But bending the rules is half the fun, as this bedroom does with its brilliant harvest gold bedframe.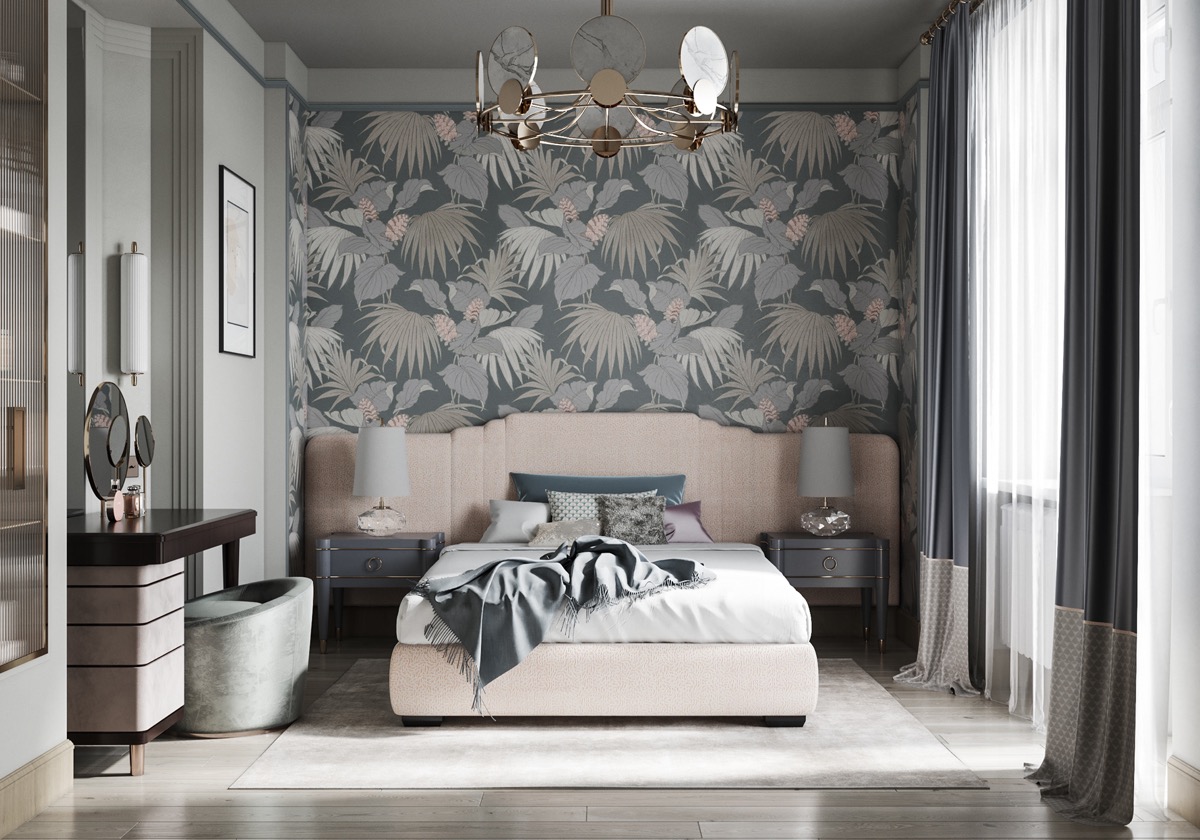 2 |
Visualizer: Horizon Render Vizualization Studio
Here, rounded elements like the platform bed and vanity dresser establish this space with modern up-to-date appeal. Yet other elements feel as if they were plucked from a different era – especially the fascinating chandelier with its Art Deco influences. The wallpaper showcases one relatively easy way that anyone can bring a touch of vintage flair to a bedroom while tying the look together.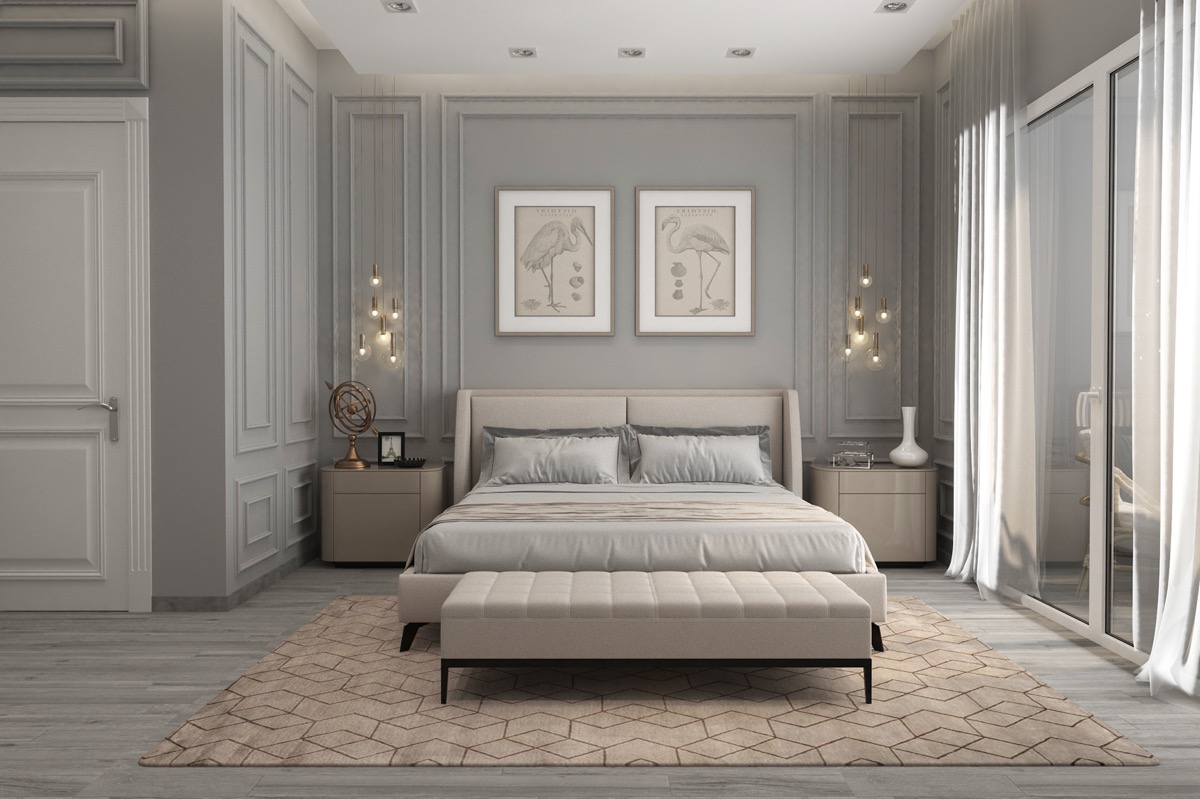 3 |
Visualizer: Reem Elgafi
Elegant boiserie is a fantastic way to set the stage for a transitional bedroom – a traditional element that takes well to modern color palettes. The large area rug is one piece that embraces current trends without reserve, decorated with a geometric print that captures the eye and adds contrast to the sleek surfaces that surround it.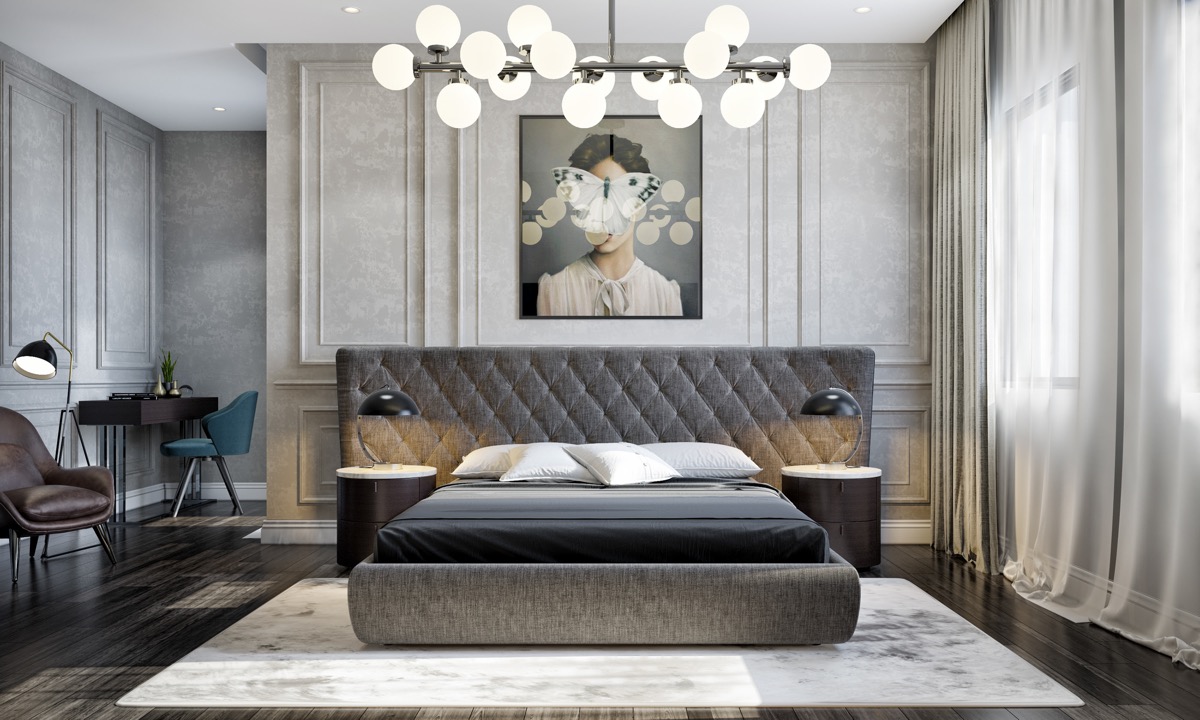 4 |
Visualizer: BAX Design
Again, boiserie makes a dramatic showing in this high-ceiling bedroom. Other architectural elements like the cove ceiling bring the look back to perfectly modern. Upholstery choices give the modern furniture a classic look – like the dark leather that envelopes the Swoon Lounge by Space Copenhagen.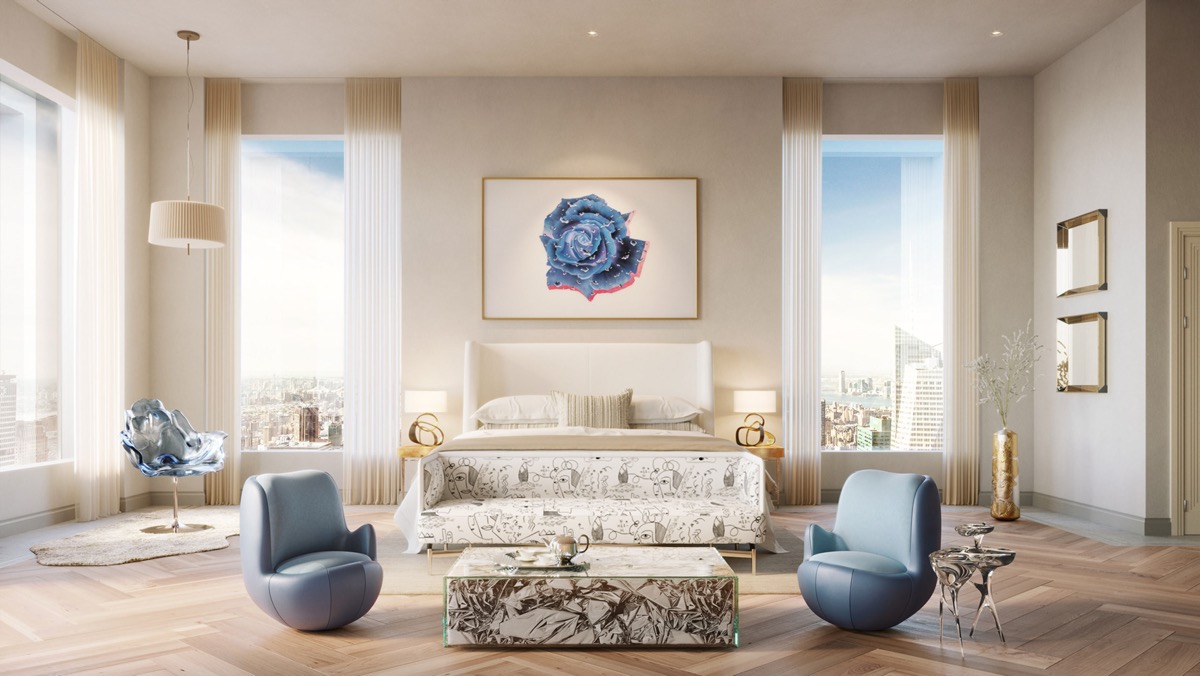 5 |
Visualizer: Oxygen – Architectural Visualization
Calm neutral colors are a common palette in transitional themes. This room starts with shades of light cream, complemented with glimmering gold accents throughout. On the other side of the temperature spectrum, blue statement pieces stand as focal points – the Ball armchairs by Mattia Bonetti, the liquid-like side chair inspired by Jacopo Foggini's Ella Collection.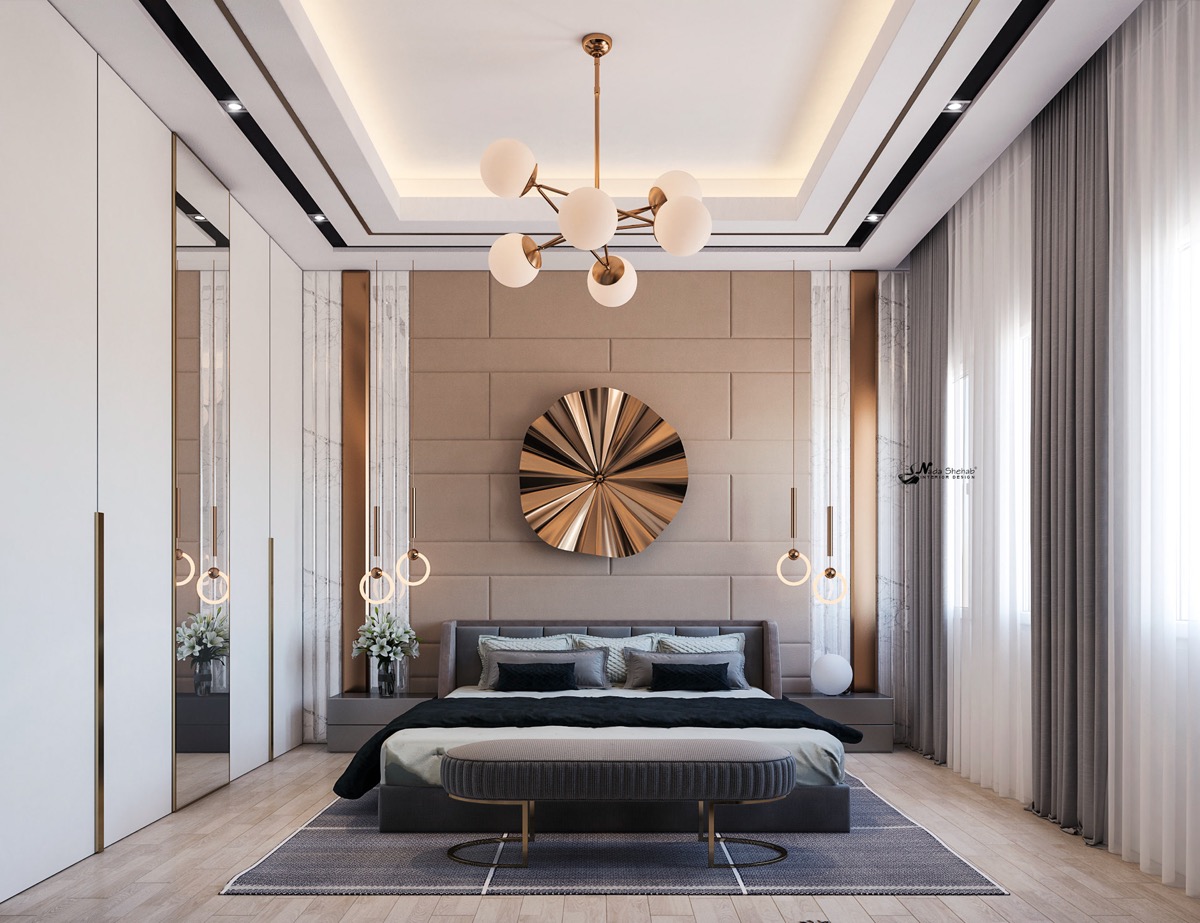 6 |
Visualizer: Nada Shehab
When designing a transitional interior that sticks to a neutral palette, it makes sense to build on a rich variety of textures to create visual interest. This bedroom combines layers of fabric and upholstery alongside dramatic metallics like the wall art and gorgeous pendant lights.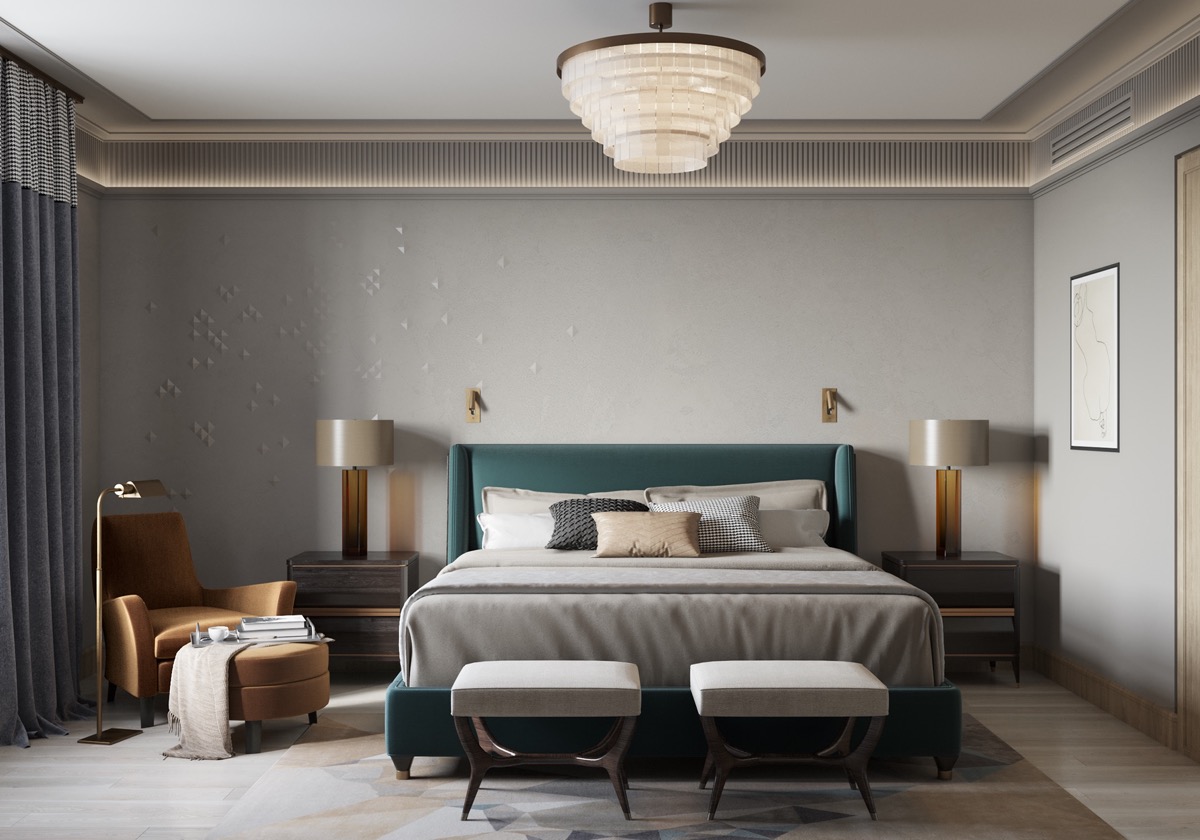 7 |
Visualizer: Horizon Render Vizualization Studio
Another transitional design color strategy involves vintage-inspired palettes. Here, the teal and amber accents reflect a selection of interior colors popular in the 1960s. These lovely shades gain such a current presence within this sleek bedroom.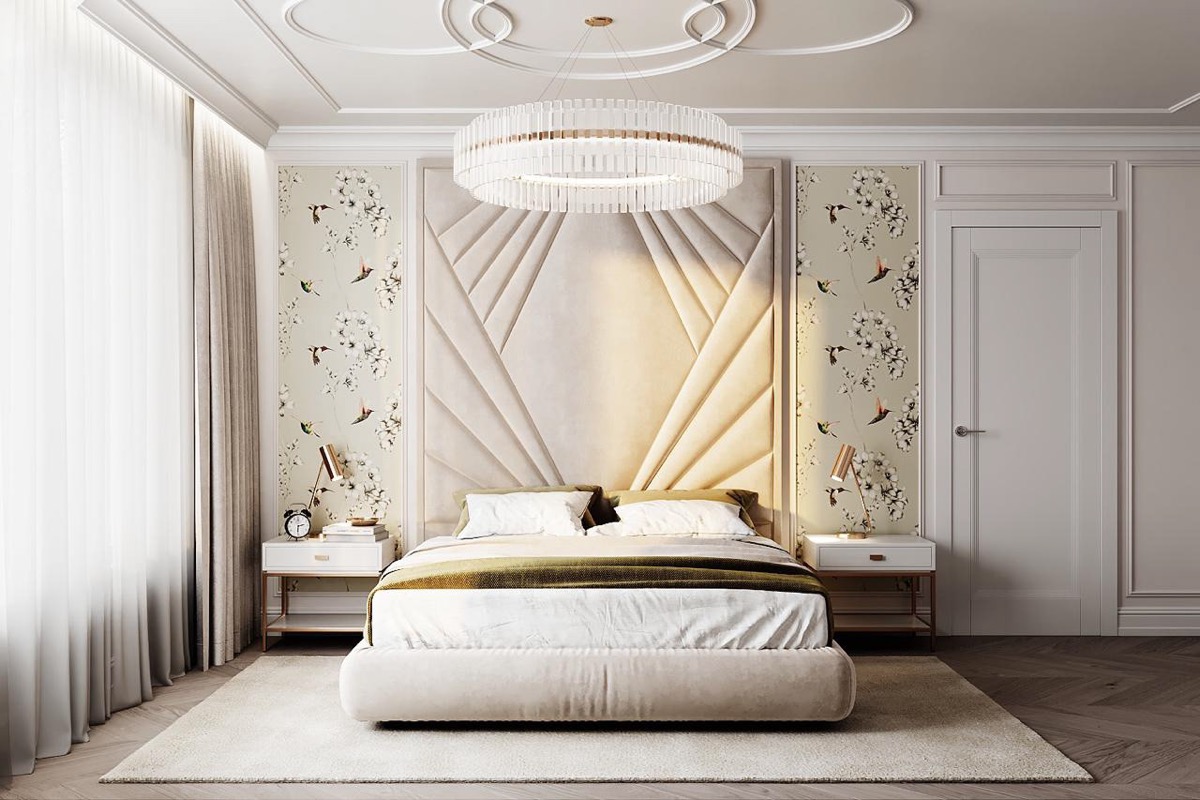 8 |
Visualizer: Ekaterina Skitsko
A grand upholstered headboard in the lightest blush centers this room well, the eye drawn to a circular chandelier in the center. Framing the wallpaper within the boiserie panels is an economical approach – this is the Amazilia pattern by Harlequin.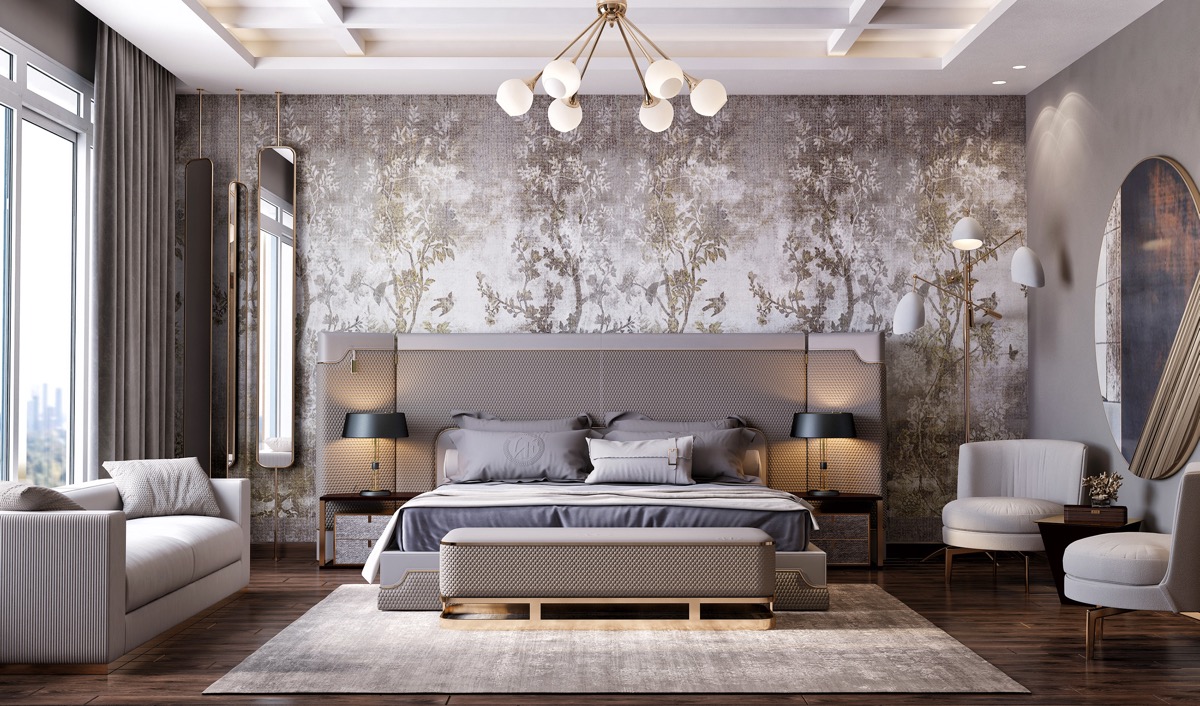 9 |
Visualizer: Reem Omar
Transitional bedrooms can adopt darker themes as well. This one does a great job introducing darker elements while still feeling light and neutral.
10 |
Visualizer: Xudojnik Dizayner
A rare example of a transitional bedroom that goes daring with bold hues, this bedroom combines the clean lines and metallic accents of Art Deco with the flowery organic details of its predecessor Art Nouveau. The architecture wavers between classic arched windows and ultra-modern ceiling configurations.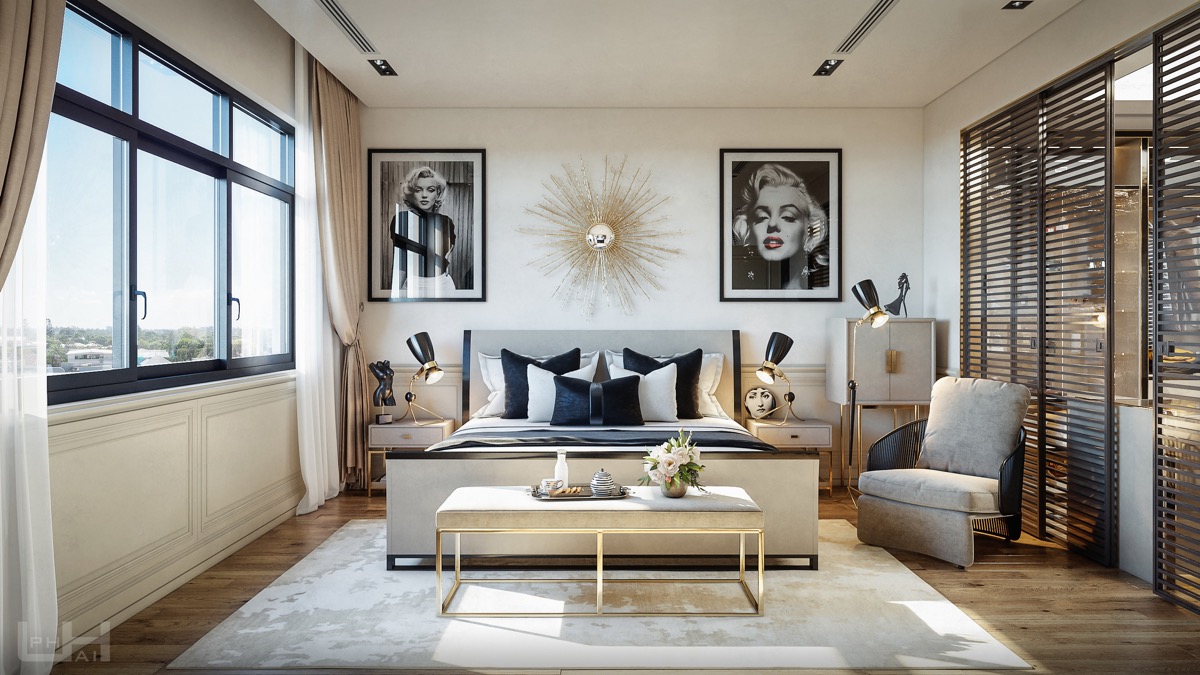 11 |
Visualizer: Hai Doan
One inexpensive way to underscore a transitional theme is to hang recognizable era-specific art. These iconic Marilyn Monroe prints certainly make a strong statement.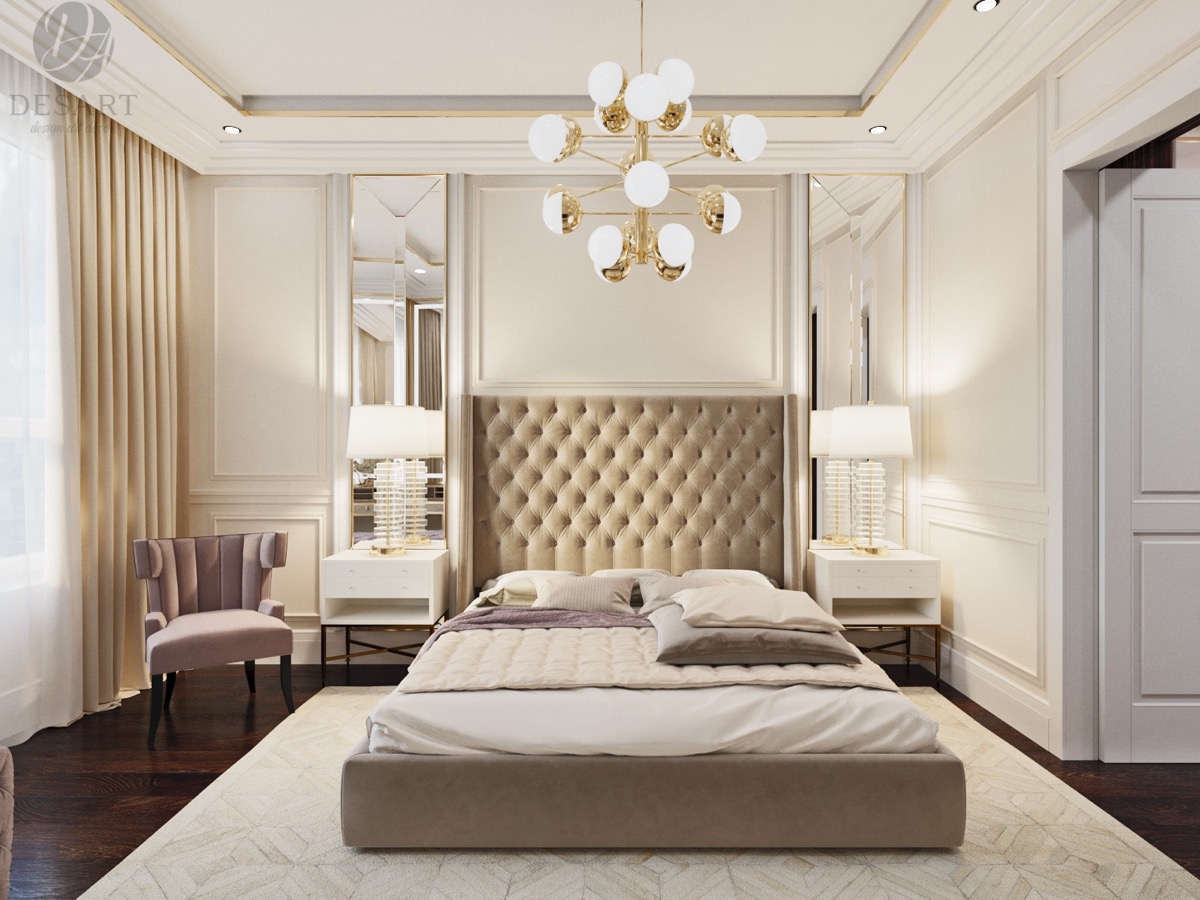 12 |
Visualizer: Diana Tarakanova
Crown molding and delicate boiserie make this space the perfect candidate for transitional design. One of the standout elements in this space is the upholstery – the button tufting on the headboard and pleated backrest on the chair embody classic luxury.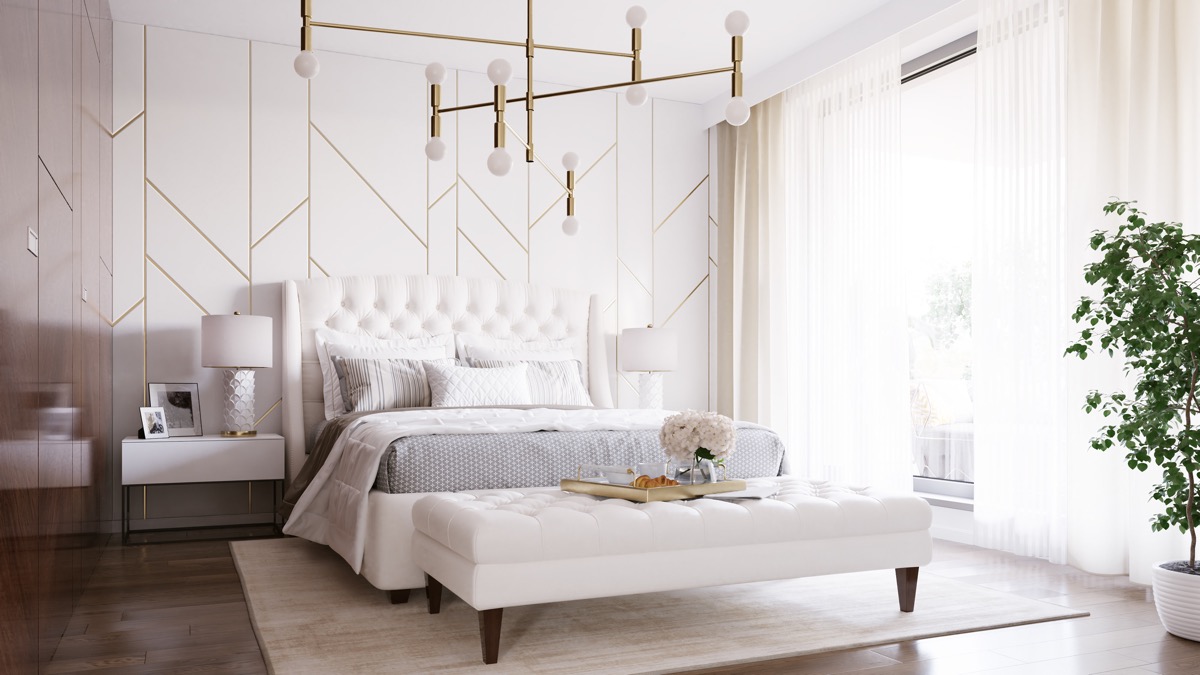 13 |
Visualizer: Martin Kováčik
The ultra-modern accent wall would look right at home in a striking minimalist arrangement, but this bedroom goes in a different direction. The cozy button-tufted bed and bench exert an impressive amount of influence to draw this space back toward transitional style.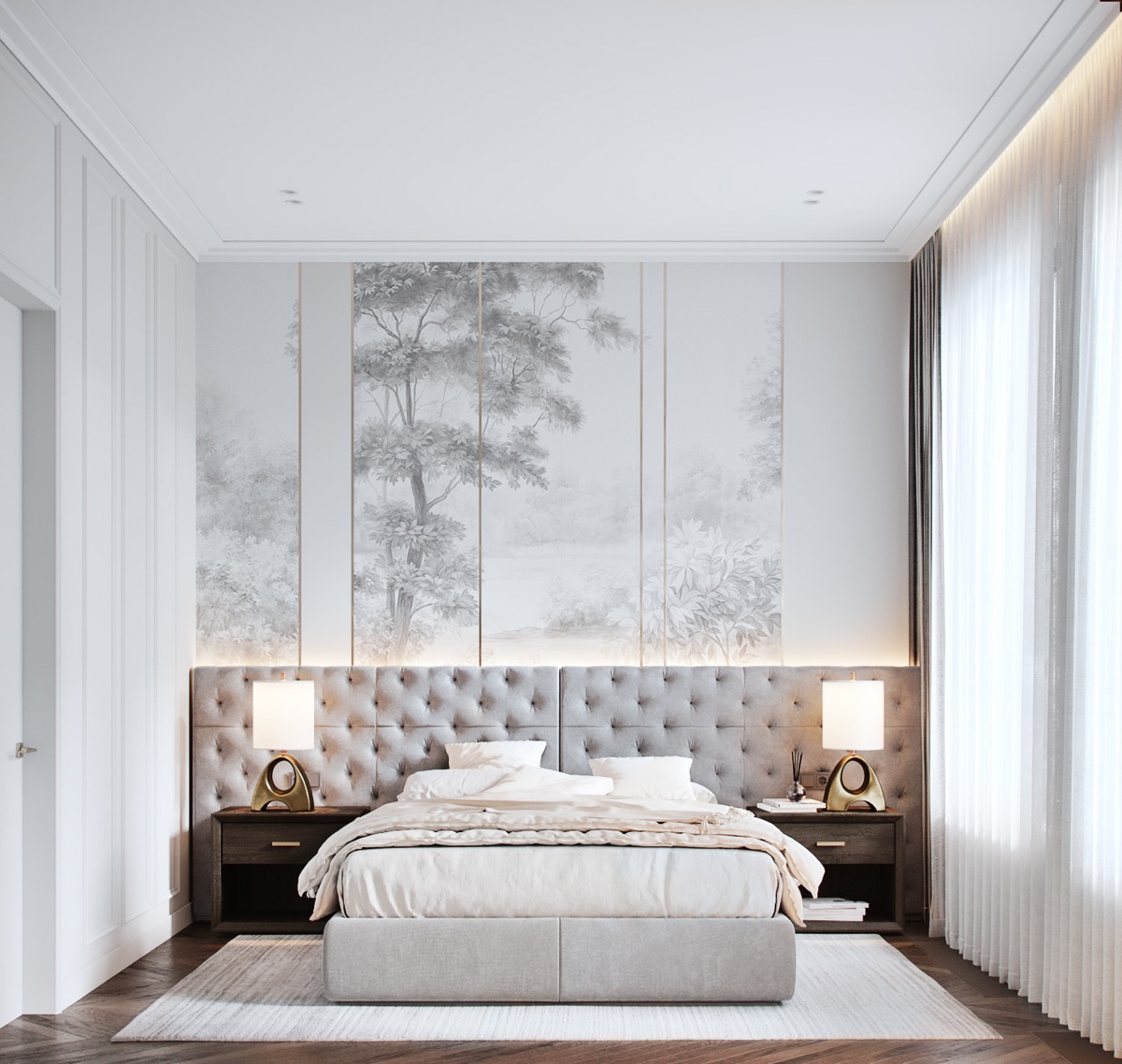 14 |
Visualizer: ATO Studio
Simplicity often makes transitional themes more effective. This bedroom uses accessories sparingly – restricted to a pair of sculptural table lamps. A faint nature scene on the wall provides decoration without overshadowing the delightful textures that make this space so special.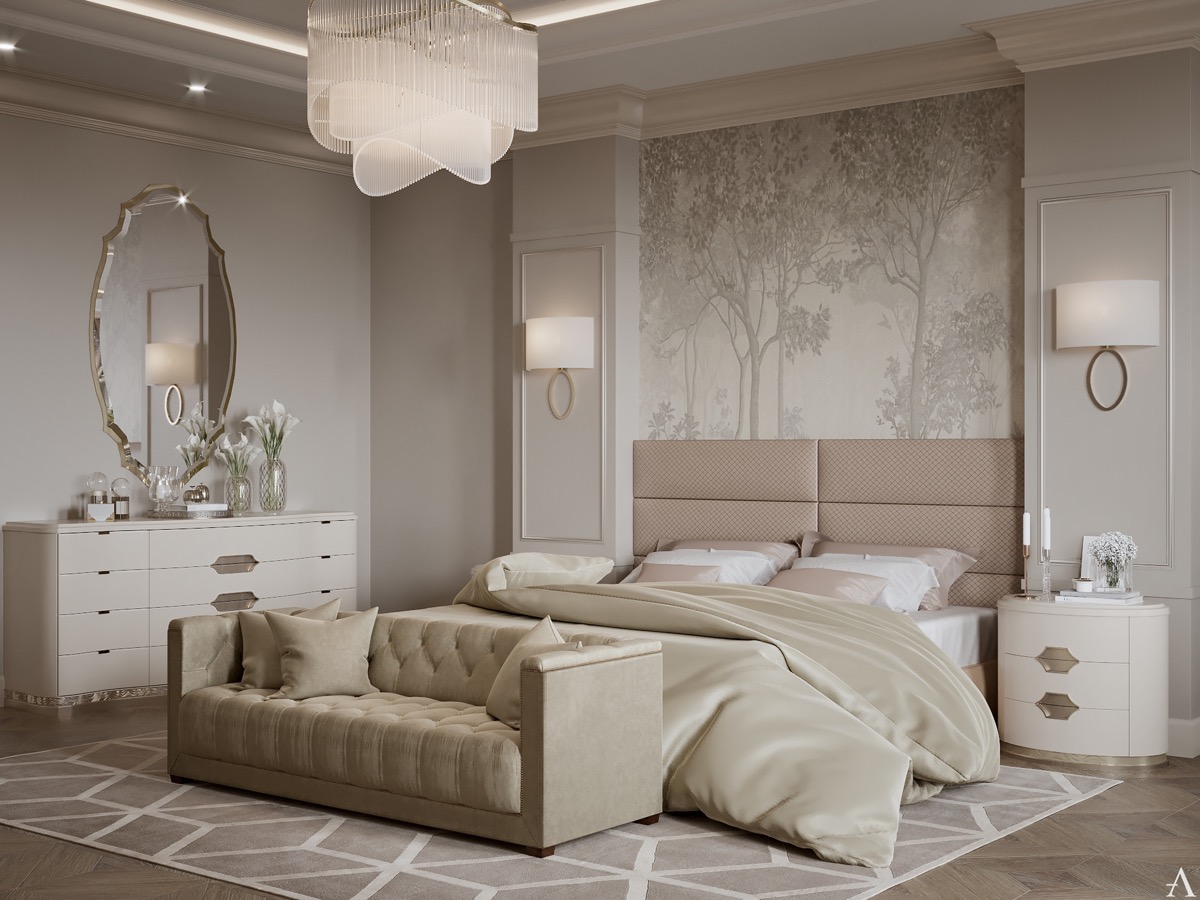 15 |
Visualizer: Kirill Gordeyev
But simplicity is not always the only answer. This bedroom makes spectacular use of unconventional decorative details, like the drawer pulls and the mirror frame. The undulating curves of the chandelier play into the elegance and drama of this creative space.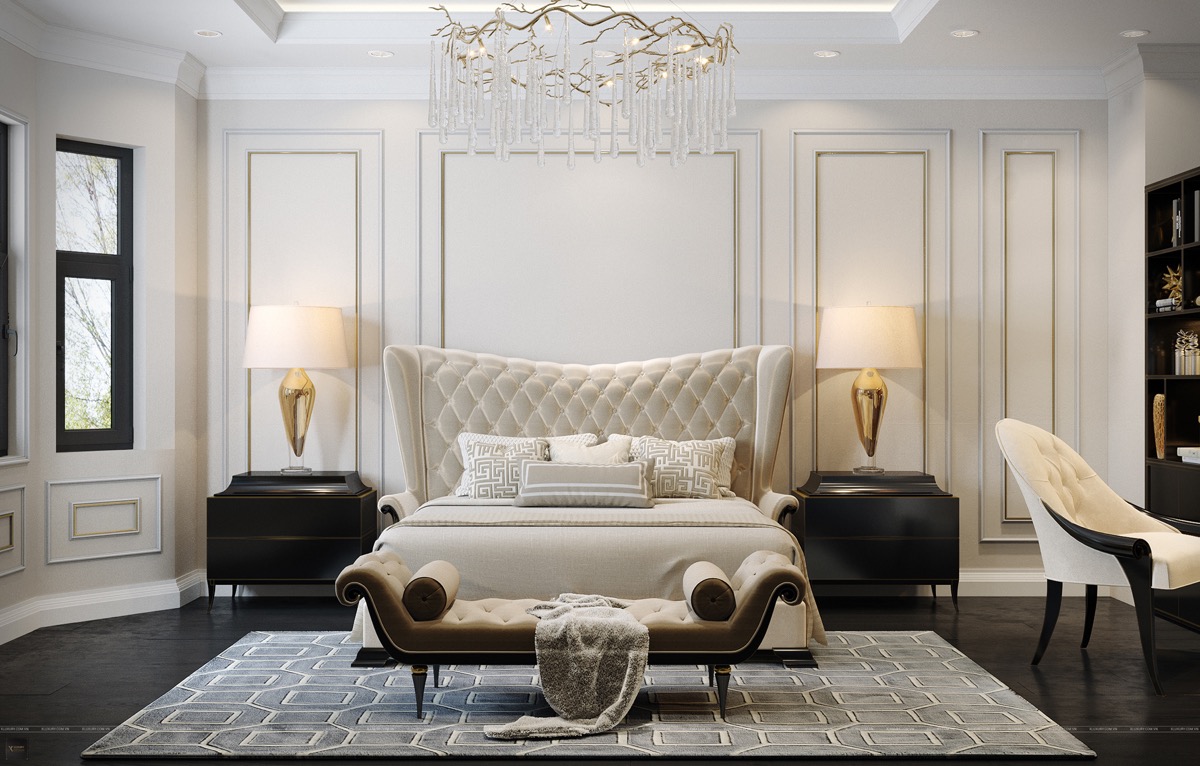 16 |
Visualizer: Thanh Hang Vu
These classic furniture profiles feel fresh and contemporary thanks to the calming transitional color palette. While every item in this space is worthy of admiration, the chandelier prompts special attention – this piece from Serip Lighting features organic forms that bridge across design eras gracefully.
17 |
Visualizer: Stanislav Kaminskyi
Dark and rugged – this transitional bedroom takes a strong departure from standard themes. The color palette embraces all the transitional favorites but takes them deeper with greys, leathers, and matte black.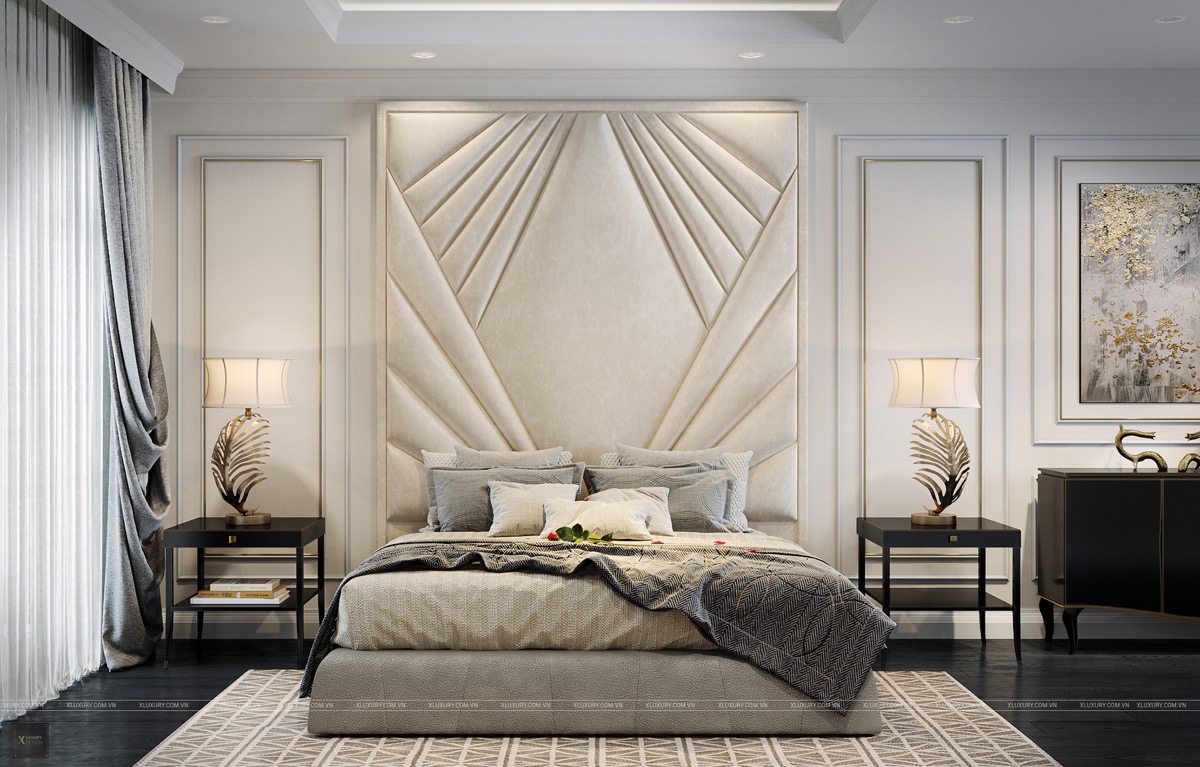 18 |
Visualizer: Thanh Hang Vu
Another fantastic space that centers around a dramatic Art Deco headboard wall. This space uses clean lines to its advantage, allowing more delicate details like the artwork and the palm frond lamps to capture attention.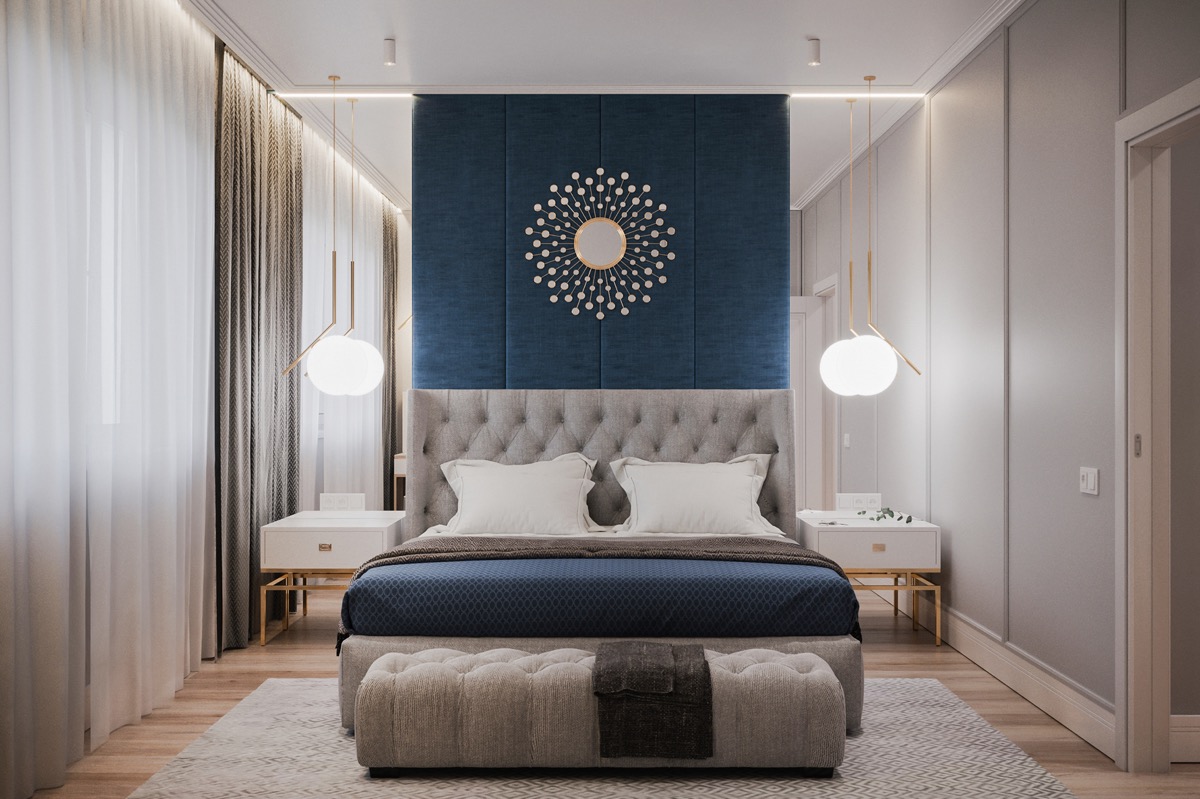 19 |
Designer: Bellas Artes
Visualizer: Nurik Karanavidani
Sapphire blue textiles set this transitional bedroom apart. Modern elements include the IC pendant lamps by Michael Anastassiades, a handsome choice alongside vintage-inspired accessories like mid-century modern starburst mirror.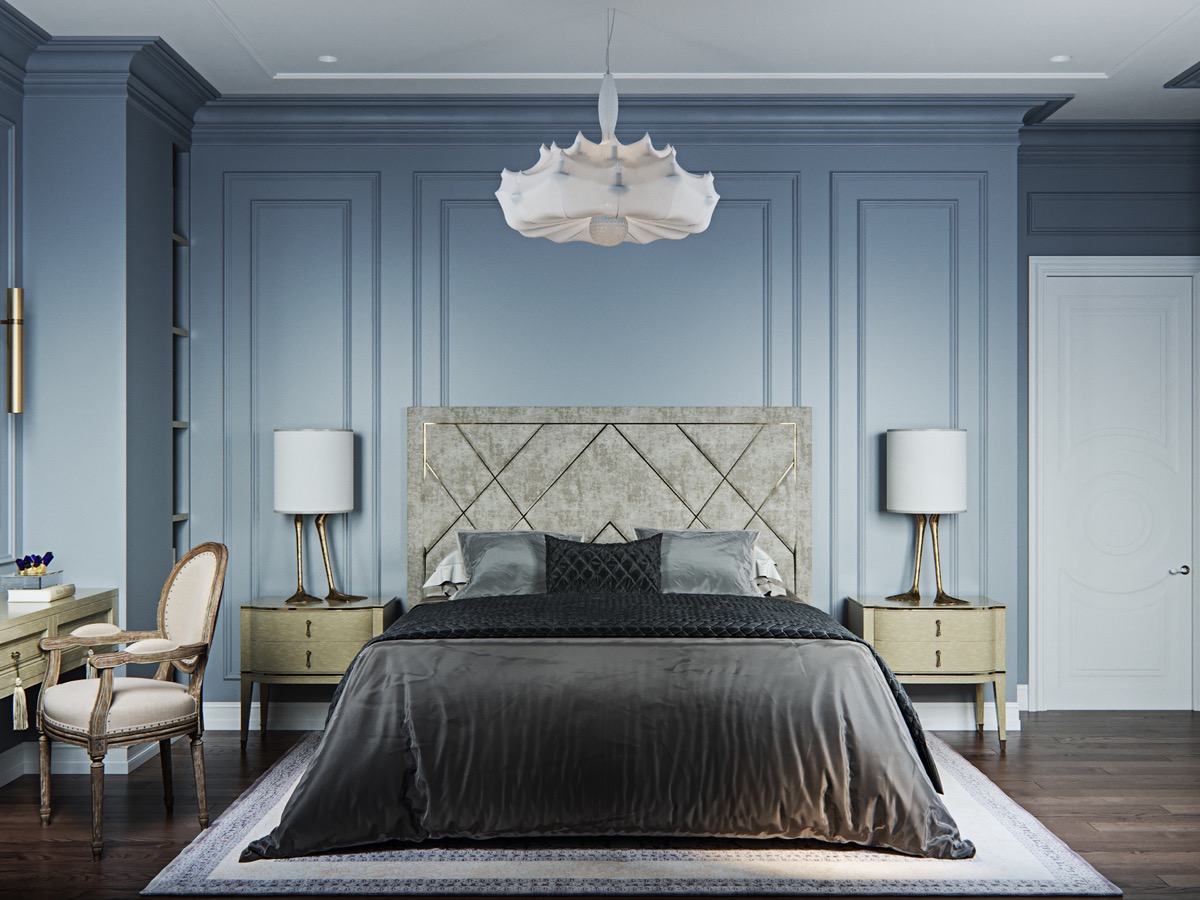 20 |
Designer: Angelina Kostina & Balcon.studio
Visualizer: Irina Rybnikova
What a charming transitional bedroom! Not only does this space dip outside of the more common casual neutrals, it also takes successful risks with playful décor. The duck feet lamps are from Porta Romana, the webbed chandelier by Marcel Wanders.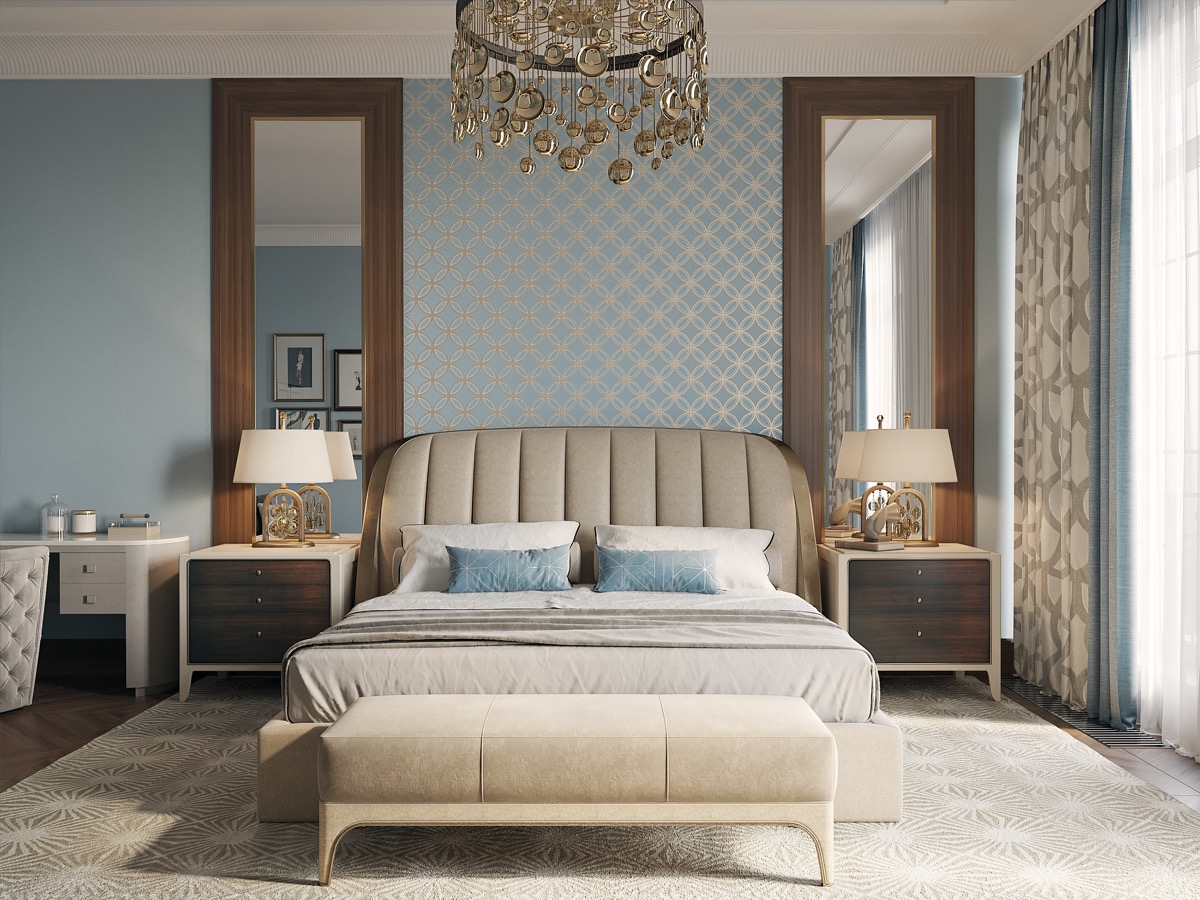 21 |
Visualizer: Irina Rybnikova
Playful patterns offer an updated take on transitional simplicity. The rug, accent wall, and curtains add depth to the palette of clean textures and subdued colors.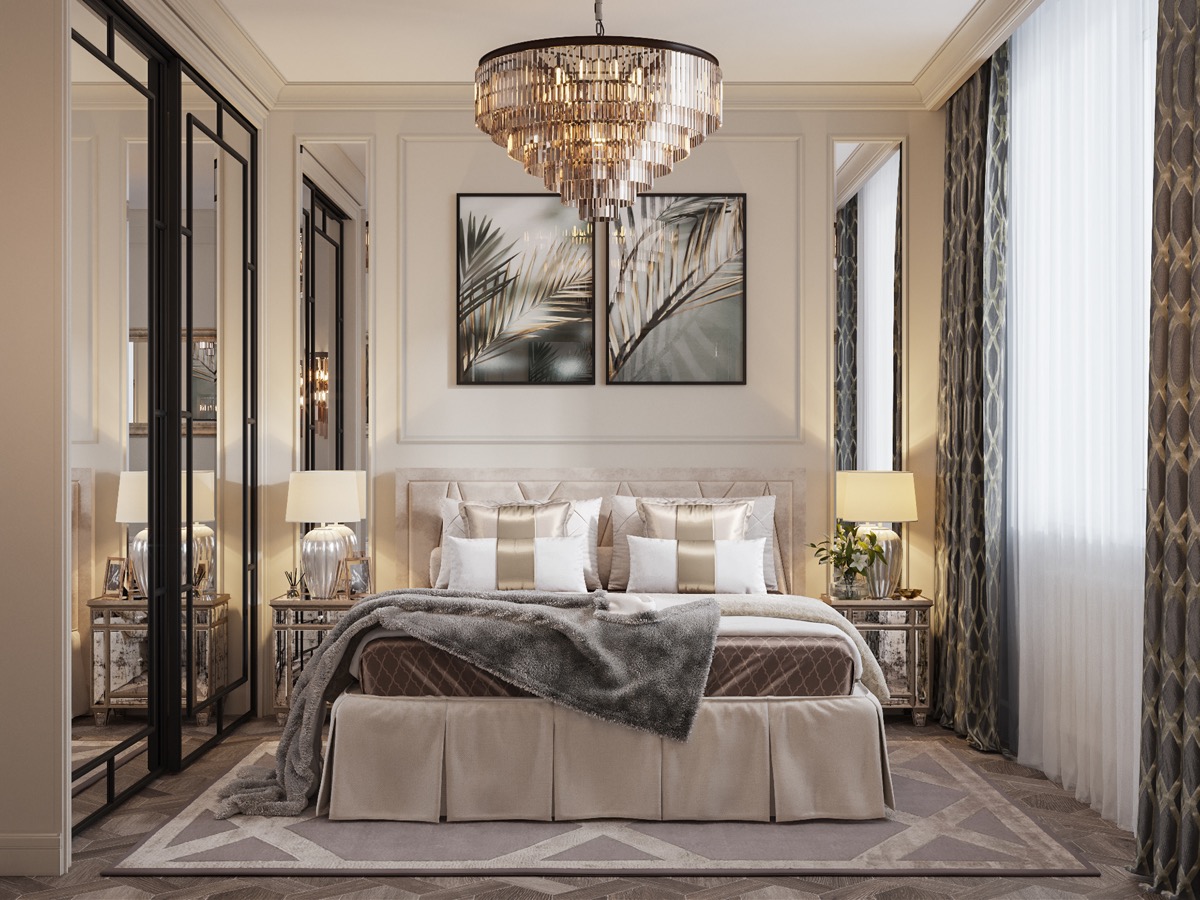 22 |
Visualizer: Panova Viktoria
This transitional bedroom exudes luxury. Shining satins, glimmering gold, pearlescent finishes, and layers of rich textiles give this space an opulent quality that ties the decorative elements together despite their diverse design styles.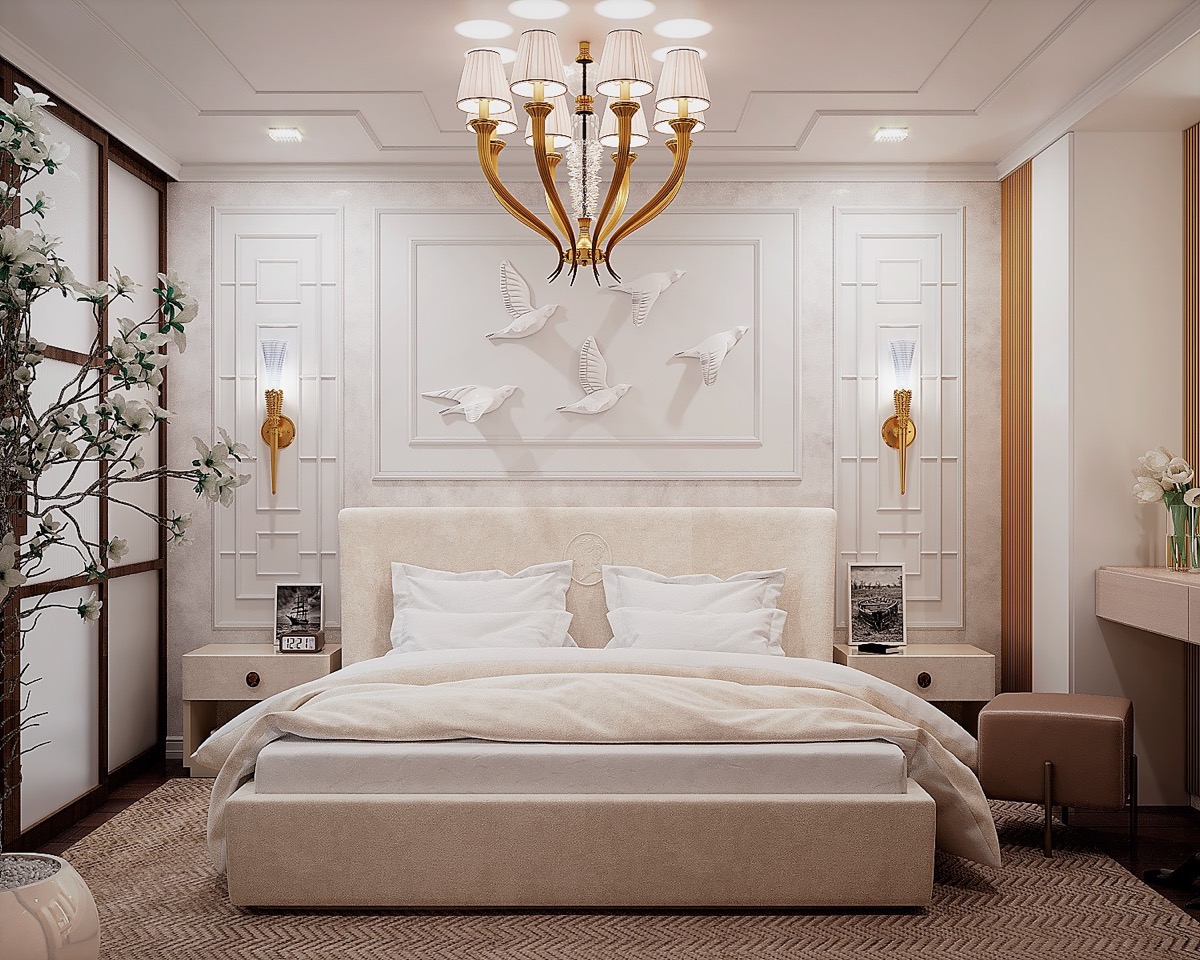 23 |
Visualizer: Marina Selivanova
Because of its neutral and flexible nature, transitional style meshes well with other décor themes as well. This bedroom embraces hints of East Asian design influence. Where western spaces would have plain boiserie, this bedroom employs elaborate fretwork. Where contemporary homes would have transparent glass, this space uses frosted panels.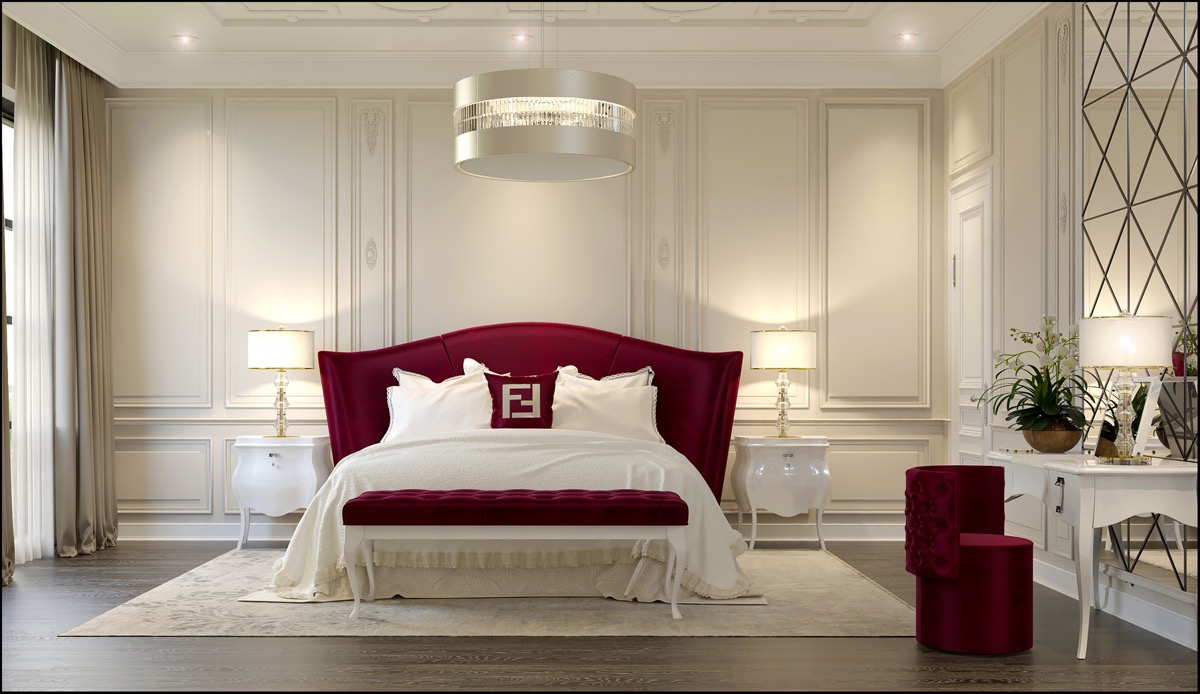 24 |
Visualizer: Marina Selivanova
Now, let's look at a few uncommon color accents for transitional interiors. Ruby red is a very intense choice – opulent, passionate, and bold.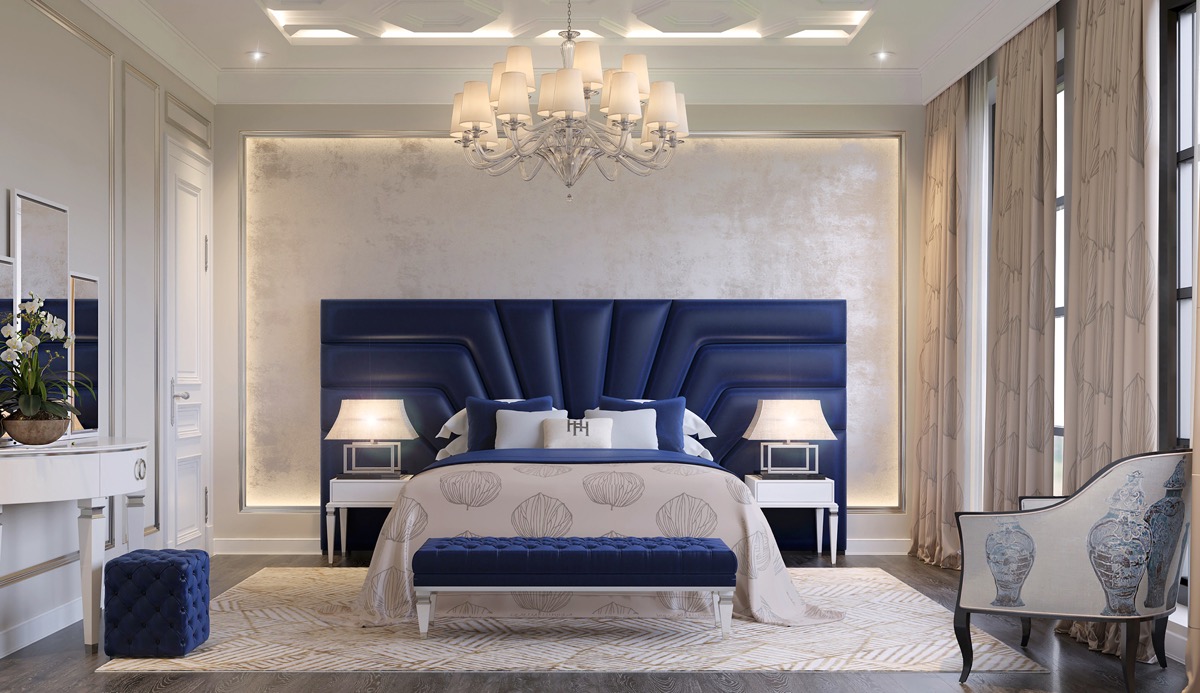 25 |
Visualizer: Marina Selivanova
Pastel blues are common in transitional design, but this deep cobalt blue is a divergent choice. Its appearance throughout the more traditionally-inspired parts of the room – like the chair and pouf – offer a counterbalance to the remarkably modern headboard.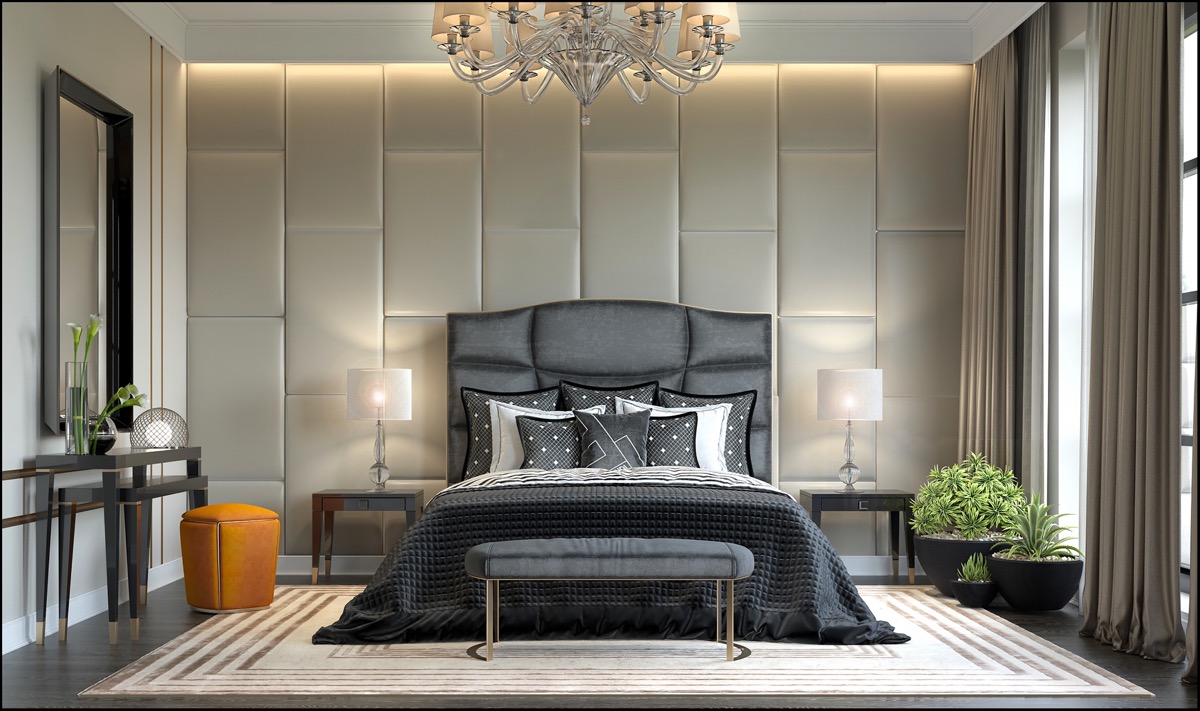 Colorful accents can also sway a transitional space more toward the modern side.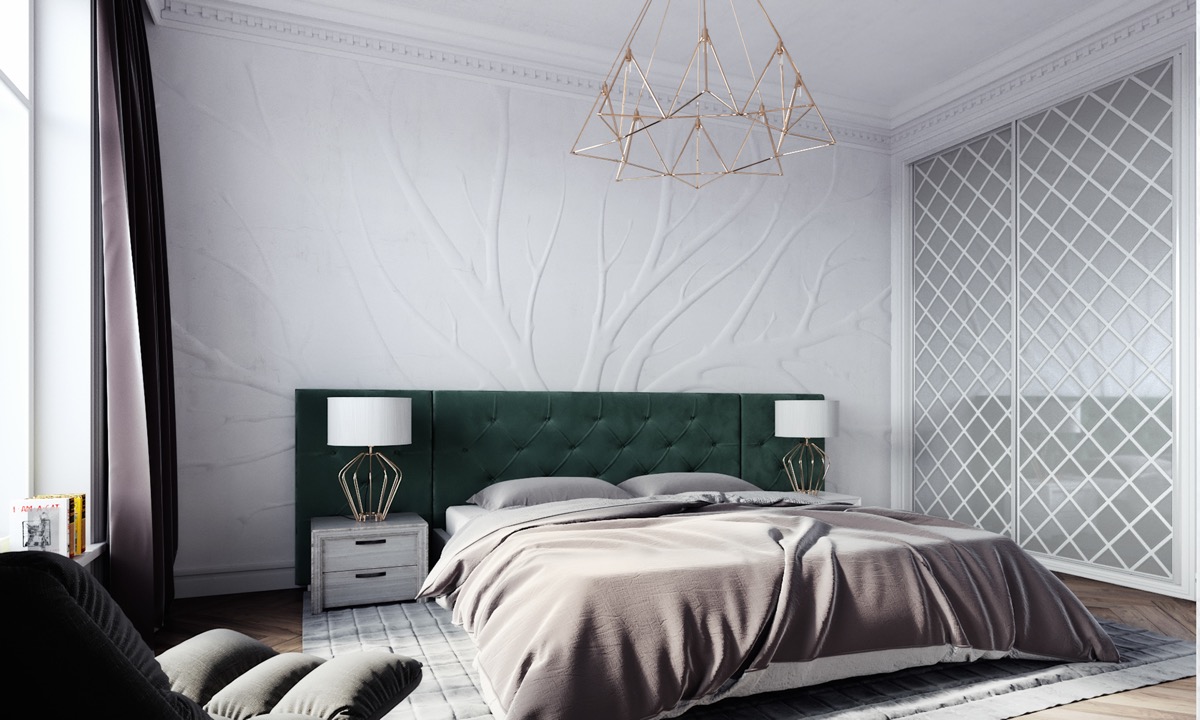 27 |
Visualizer: Kamran Kadirov
Emerald green is an especially suitable color for this theme – timeless and elegant, and a great fit alongside the metallics and neutrals so common in transitional interiors.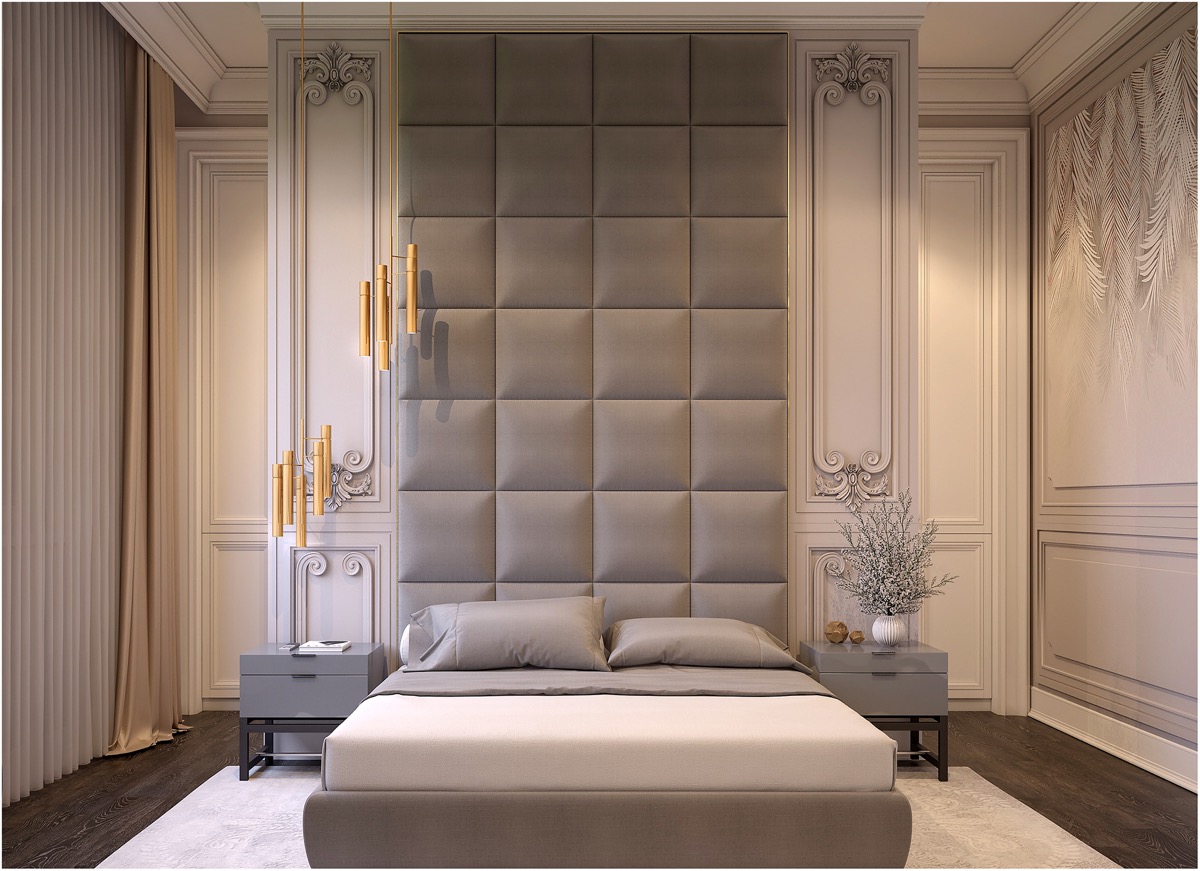 28 |
Visualizer: Leyla Salayeva
This bedroom demonstrates strong contrasts between modern and traditional elements. The boiserie here is especially ornate, while the bed and furniture all maintain the clean lines of perfectly contemporary design.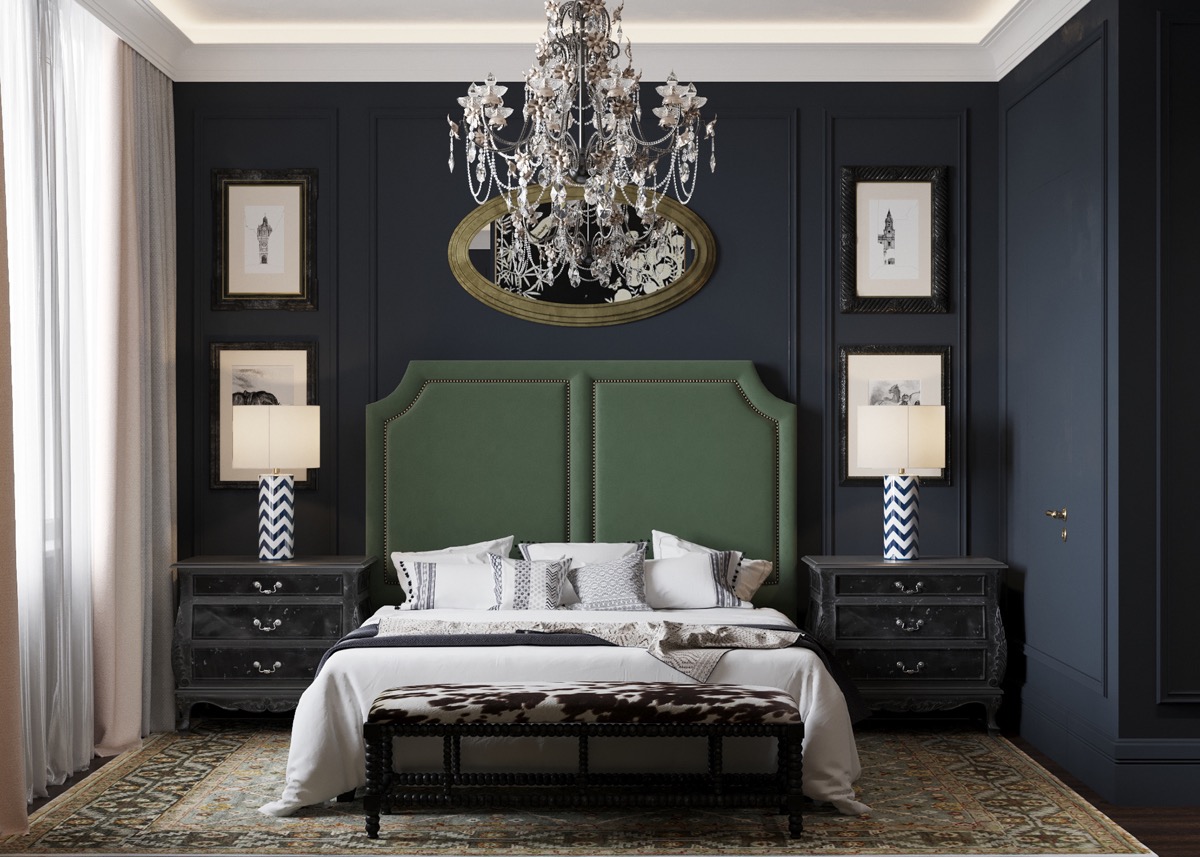 29 |
Visualizer: Irina Maslova
Many of the features that define transitional style focus on achieving a level of cohesiveness as to avoid looking eclectic – but that does not mean that transitional bedrooms must avoid eclectic details altogether. This space has fun combining modern zig zag prints with rustic cowhide patterns, an antique rug with contemporary printed pillows. The result is charming!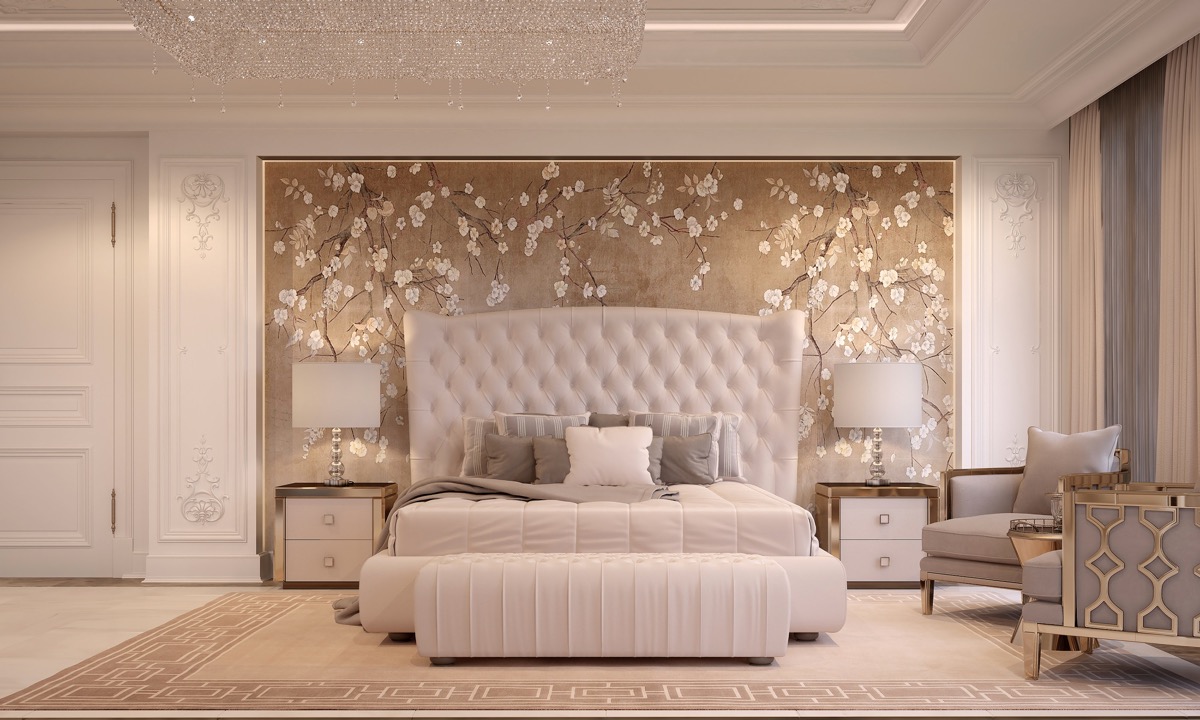 30 |
Visualizer: Leyla Salayeva
Smart color blocking makes this spacious bedroom feel warmer and more intimate. The accent wall and rug work together to define the bounds of the sleeping space, punctuated by a grand upholstered bed in the center.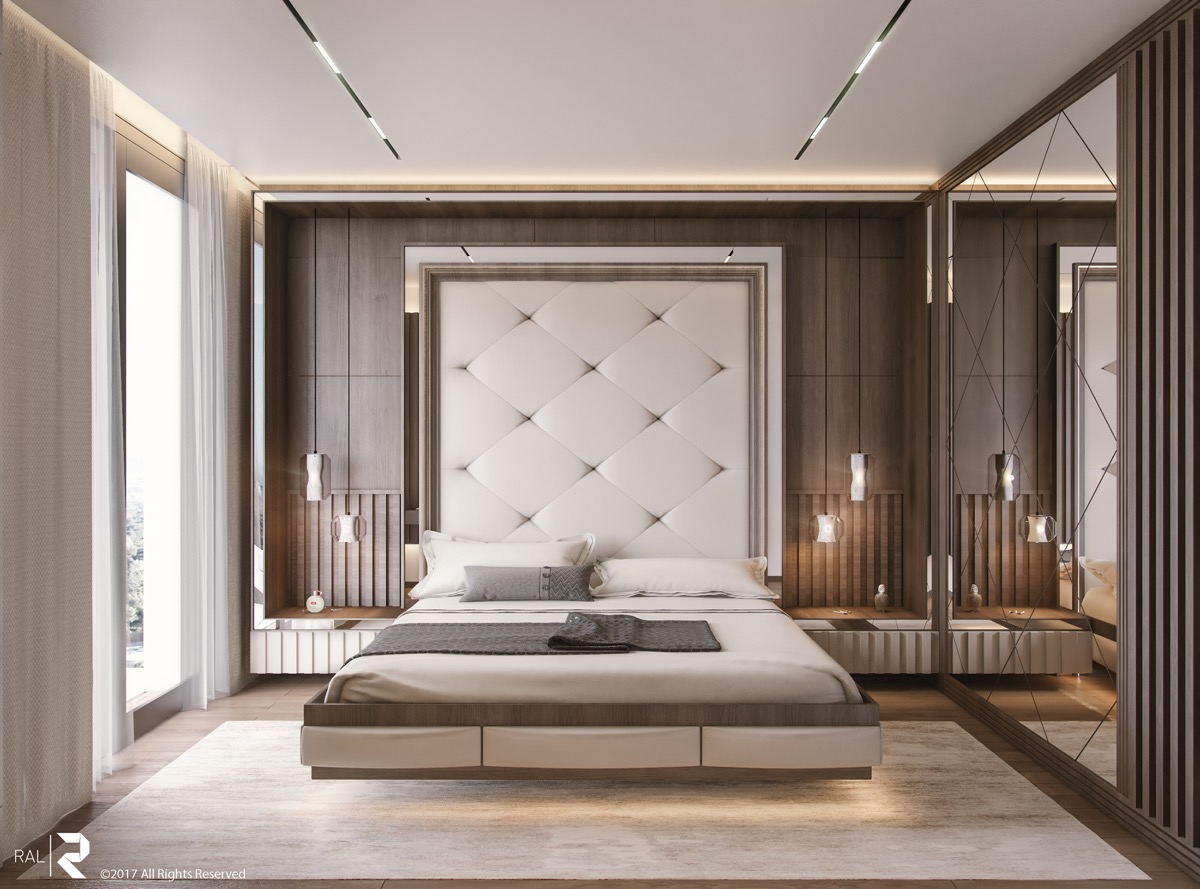 31 |
Visualizer: RAL Designs
Decorative paneling adds decorative appeal to almost every surface of this handsome bedroom – the large upholstered headboard, the dramatic accent wall, the built-in side tables, even the edges of the platform bed.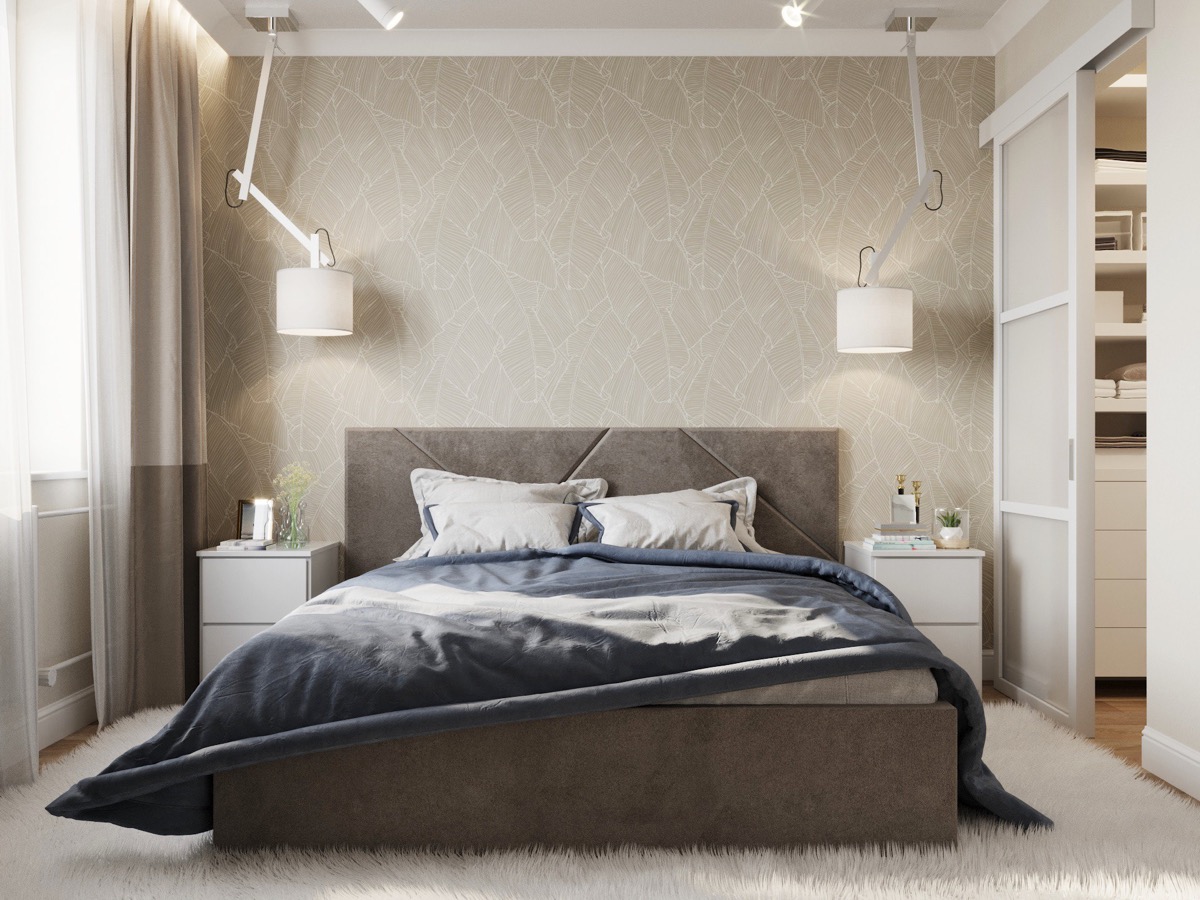 32 |
Visualizer: Slava Korchagin
This bedroom keeps things especially simple. This is an example of an accessible transitional style that anyone can emulate: swap in your own favorite minimalist side tables, upholstered headboard, subtle accent wall, etc.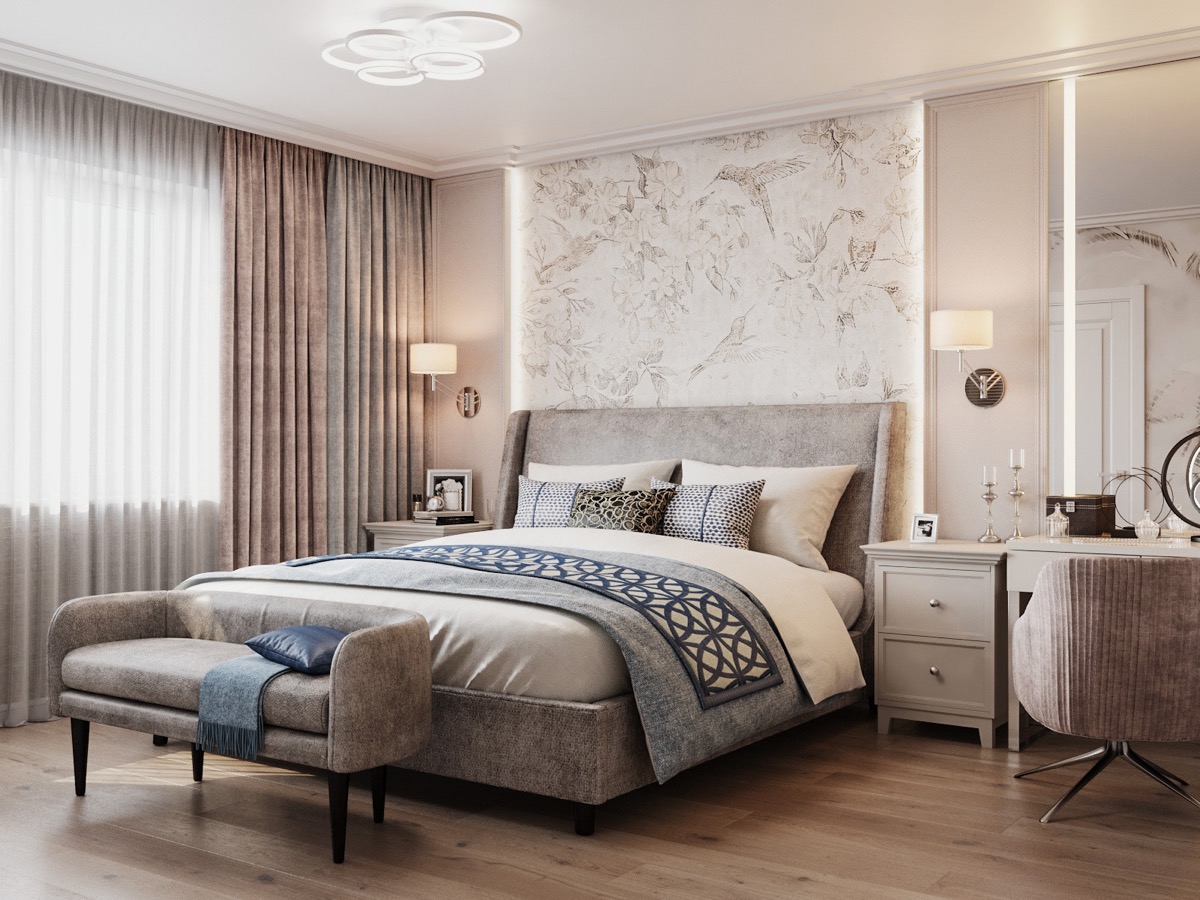 33 |
Visualizer: Slava Korchagin
Here is an example of a transitional bedroom that would be accessible to those with a reasonable budget. It does include a few larger investments like the crown molding and cove lighting, but otherwise the furniture and materials remain relatively straightforward.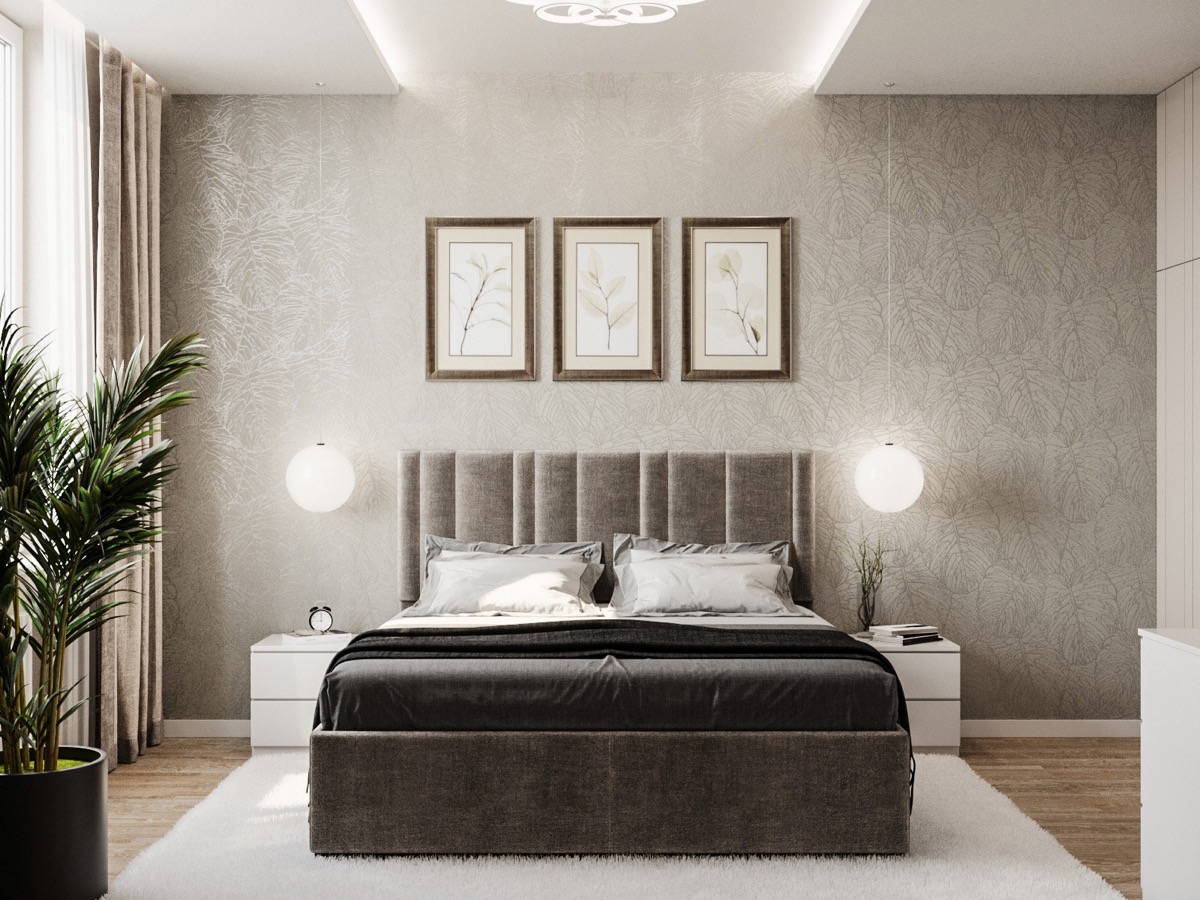 34 |
Visualizer: Slava Korchagin
Minimalist pendant lights, minimalist side tables, classic artwork, and a classic accent wall – this bedroom shows how elements from two completely different themes can contribute to a flawless transitional space.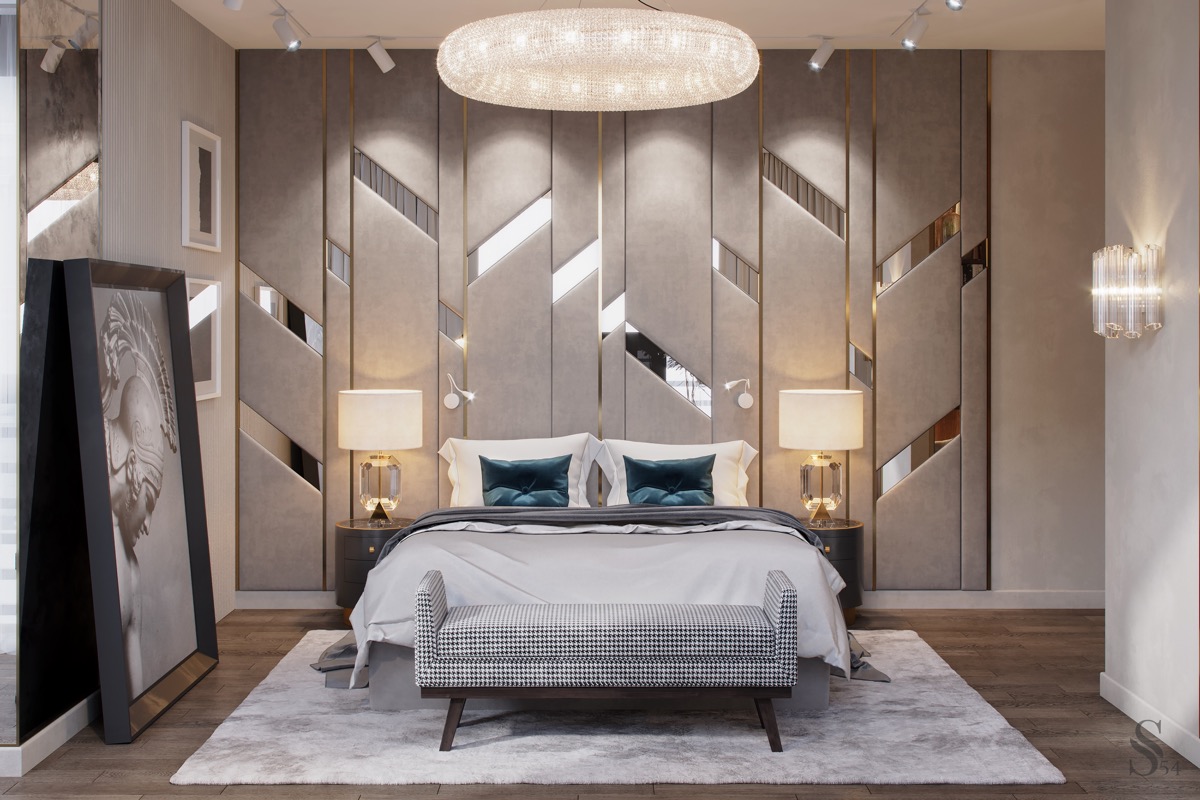 35 |
Visualizer: Anton Krat
A spectacular example of high-end transitional style. This bedroom steals the show right from the first glance with its mirrored wall panels and crystal chandelier.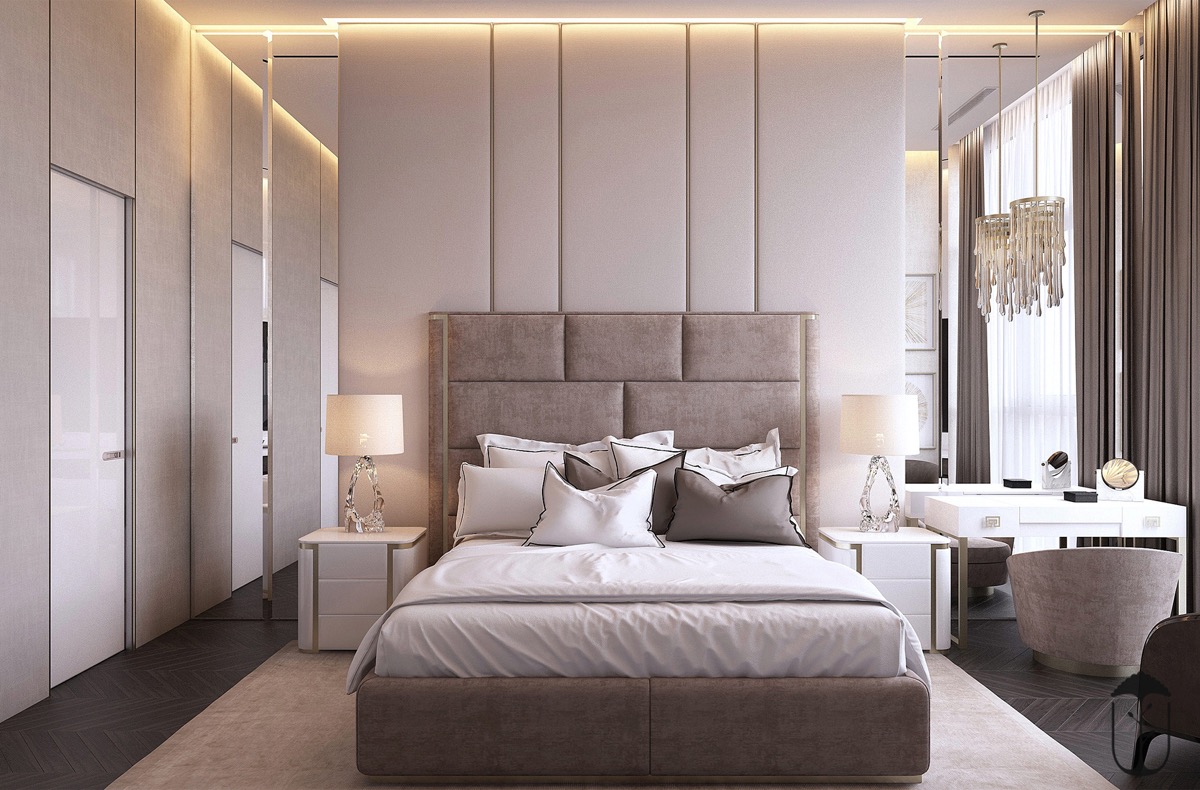 36 |
Visualizer: Dinara Yusupova
Understated luxury has its appeal as well. This bedroom starts with the smooth and simple materials common to transitional décor but sprinkles opulent touches throughout – the sculptural table lamps, the crystal pendant light.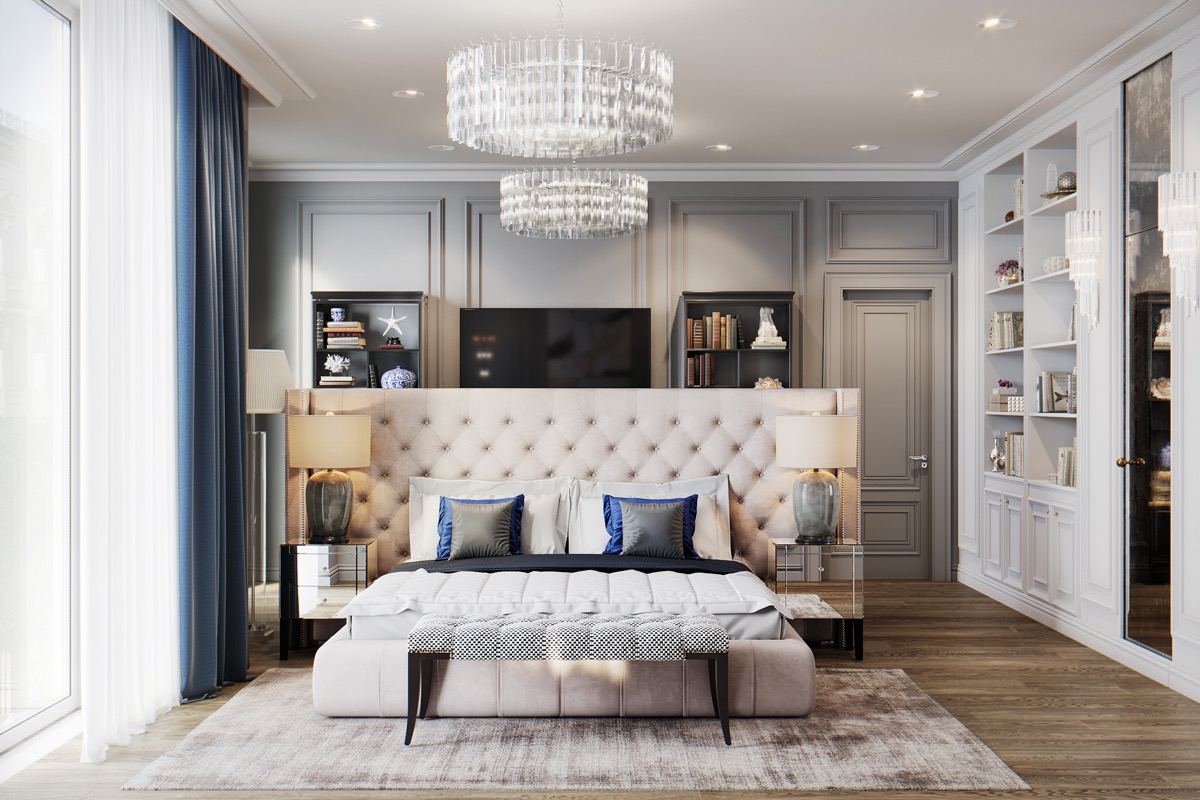 37 |
Visualizer: Anton Krat
Extraneous decoration is uncommon in the world of transitional interior design trends. However, this room does not avoid personal touches. Instead, it uses a large headboard to create separation between the transitional sleeping area and the living space filled with books and collectibles.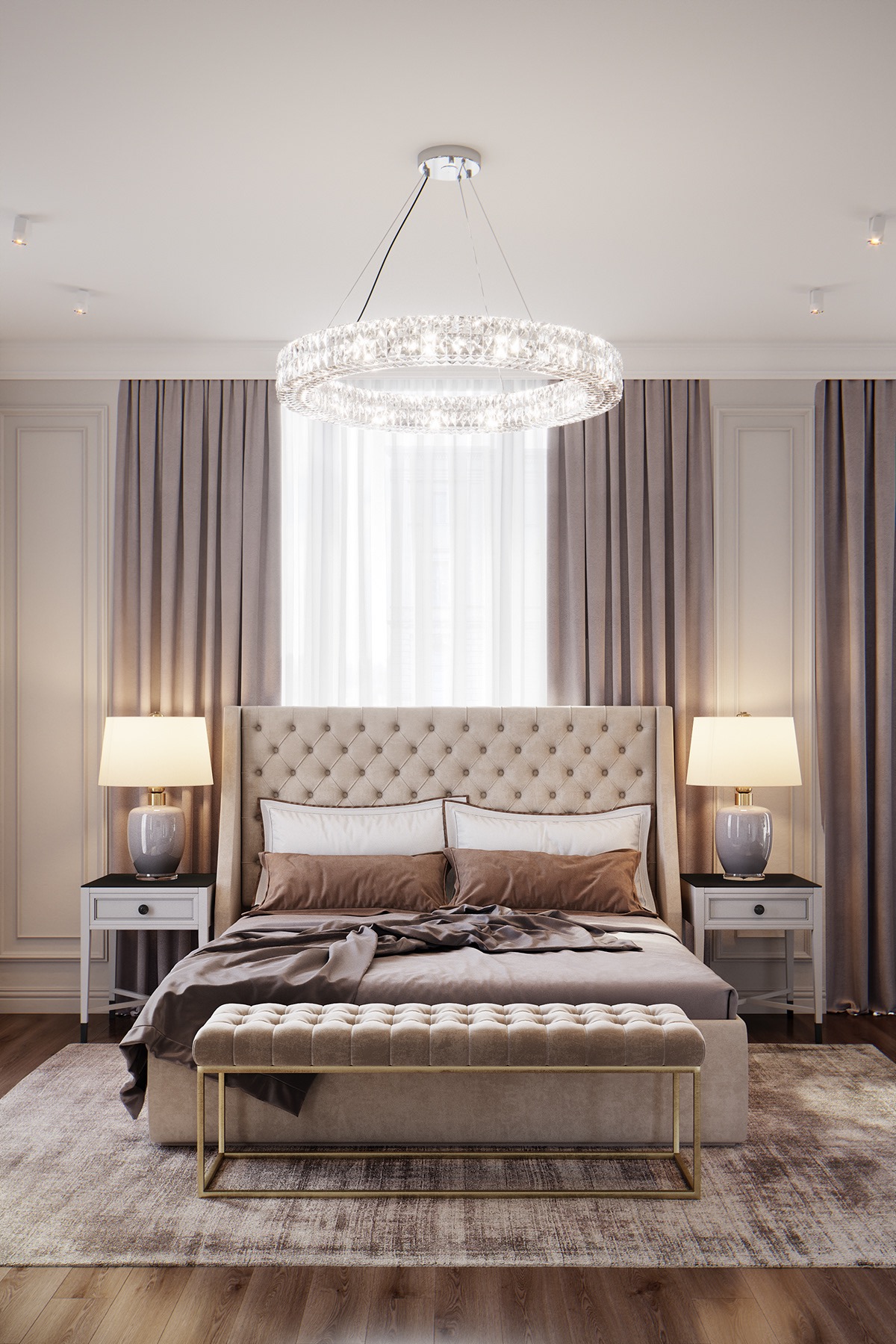 38 |
Visualizer: Anton Krat
This beautiful space is carefully curated to create the ideal balance between classic and contemporary, luxury and accessibility.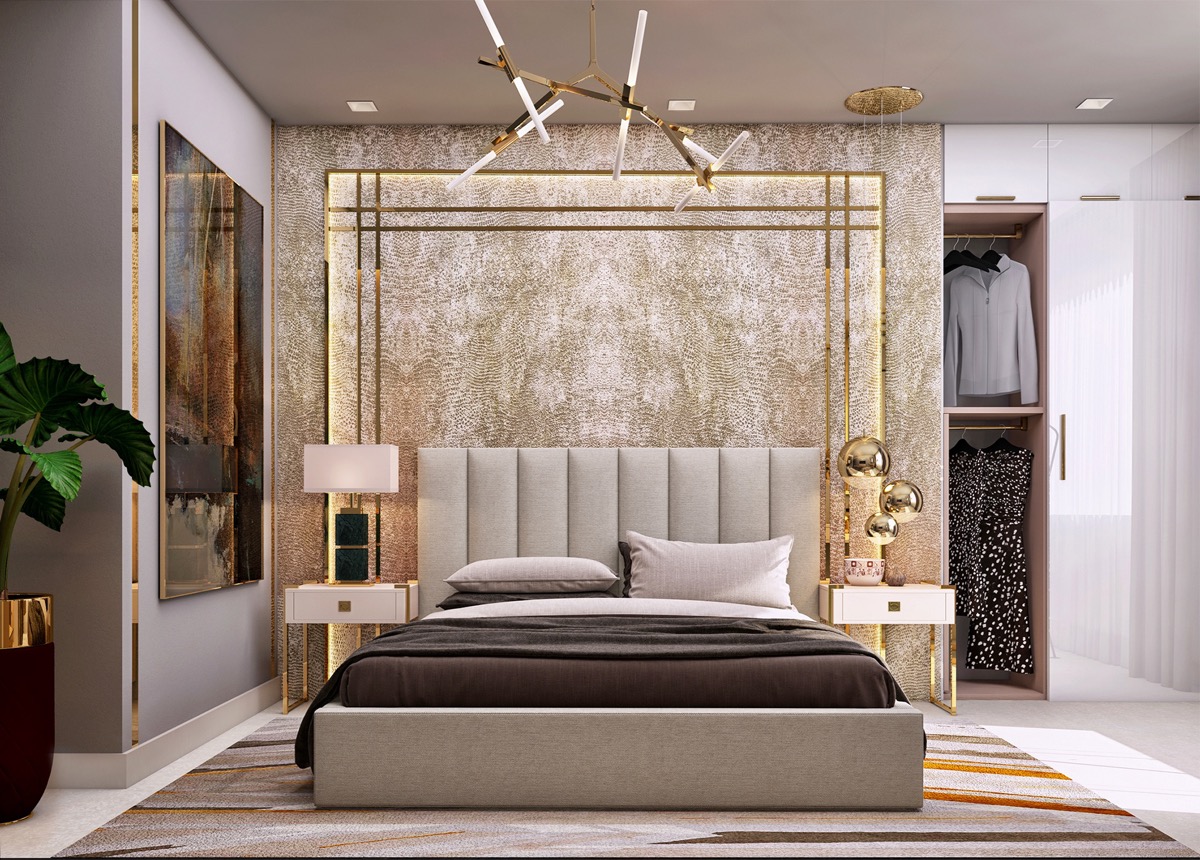 39 |
Visualizer: Omar Maghrabi
Transitional styles aren't always subdued! This one embraces opulence. The brilliant gold accent wall and matching globe pendants, the Lindsey Adelman chandelier. Every decorative aspect feels extravagant while the center of the room – the bed – maintains a striking contrast of calm simplicity.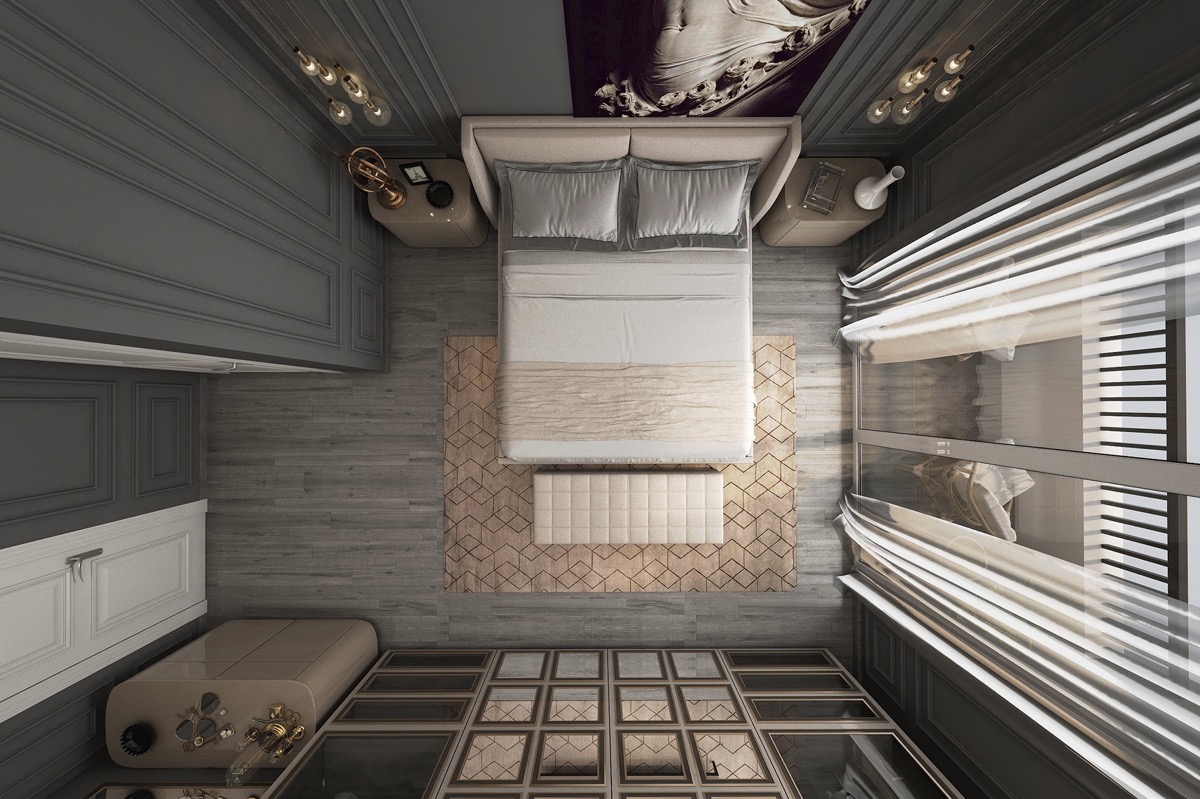 40 |
Visualizer: Reem Elgafi
And finally, a quick glimpse at a lovely transitional bedroom from above. This style is great for small spaces thanks to its streamlined character, but also scales well to spacious rooms because of its inherent flexibility.