1 |
Visualizer: Olia Paliichuk
Make pink the headline – or the headboard. If you don't want a whole room full of blush pink then how about just a headboard feature wall? Keep other colours in the room within the same muted colour palette so that the scheme melds peacefully together, like this soft green accent rug, grey bed covers and curtains.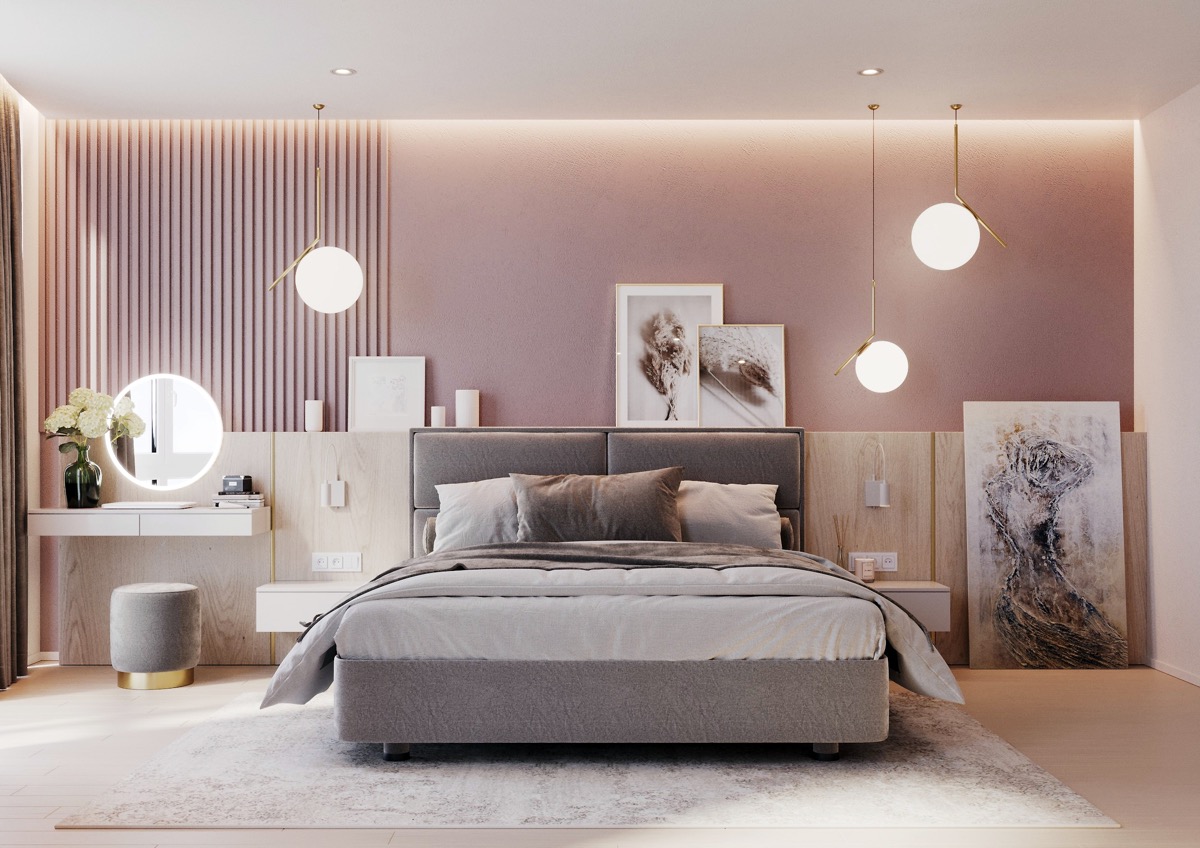 2 |
Visualizer: Arina Zamorina
You can also add a little texture to your pink headboard feature wall by adding slats. Accentuate the finished look with some stylish bedroom pendant lights too. These gold ones are the IC Lights S Style Pendant. The original is available here.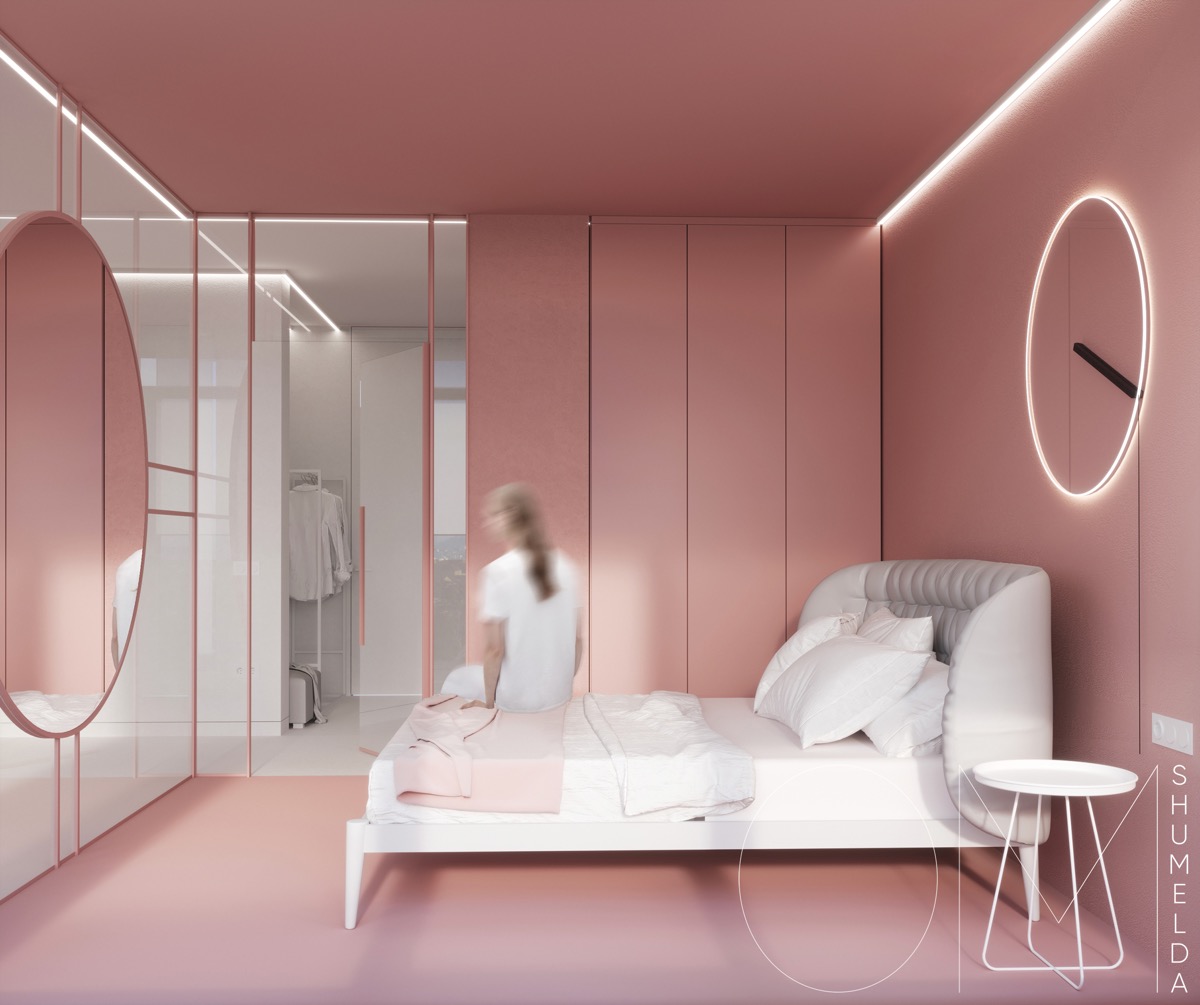 3 |
Visualizer: Design Lyiv
Go all in. If you're an all or nothing kind of personality, then an all pink bedroom scheme should hit the mark. Go for a shade of pink paint that is warm and soothing so that the bedroom remains a calm and welcoming place. Choose all white furniture to cut crisp and clean silhouettes.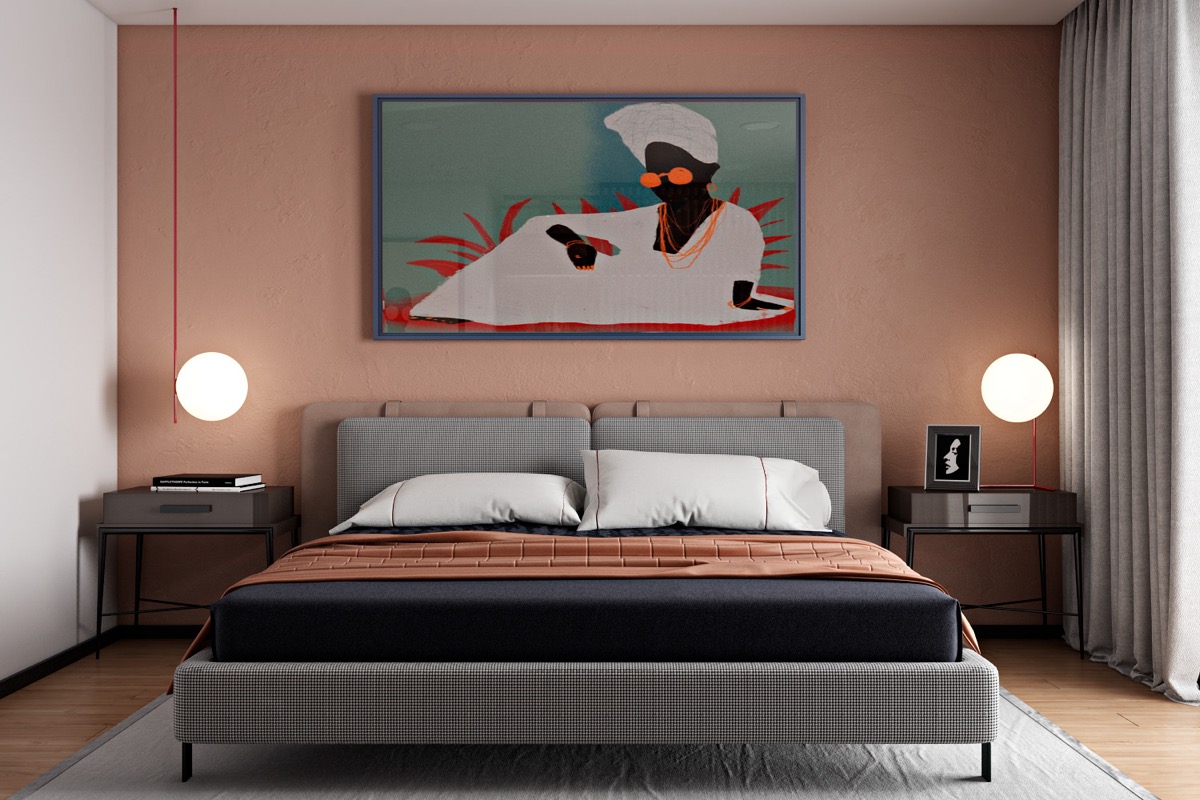 4 |
Visualizer: Daria Alieva
Change your tone. Brighten dusky shades with bright coral elements to bring things bang up to date.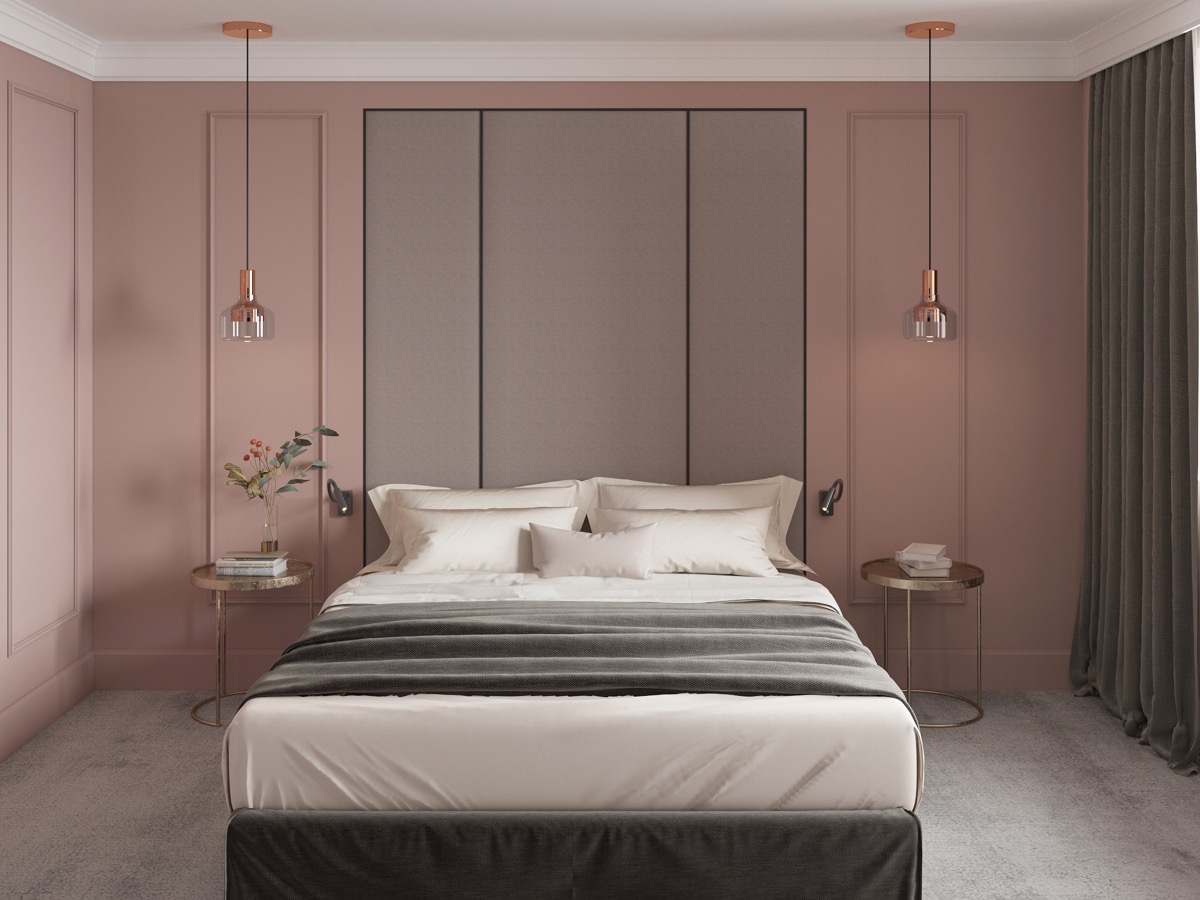 5 |
Visualizer: Yuliya Chudinovskikh
Chic and shiny. A grey and pink bedroom scheme makes a chic combination but can fall a little flat on its own. Metallic accents like these twin pendant lights and small side tables add in a little sparkle. Whether you go for warm copper, light gold accents, or complement the pink tones of your room with rose gold lamps and accessories, it will be a harmonious pairing.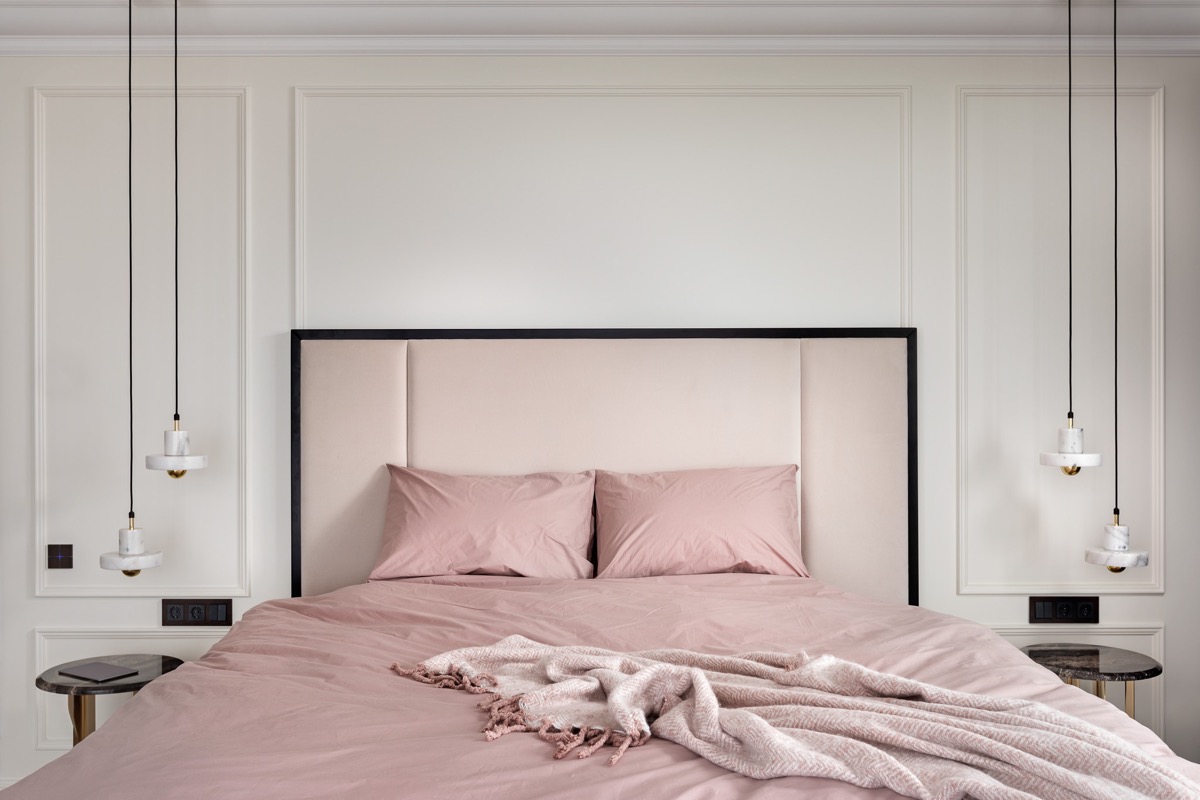 Make your bed into a peaceful pink island, in the middle of a calm white sea.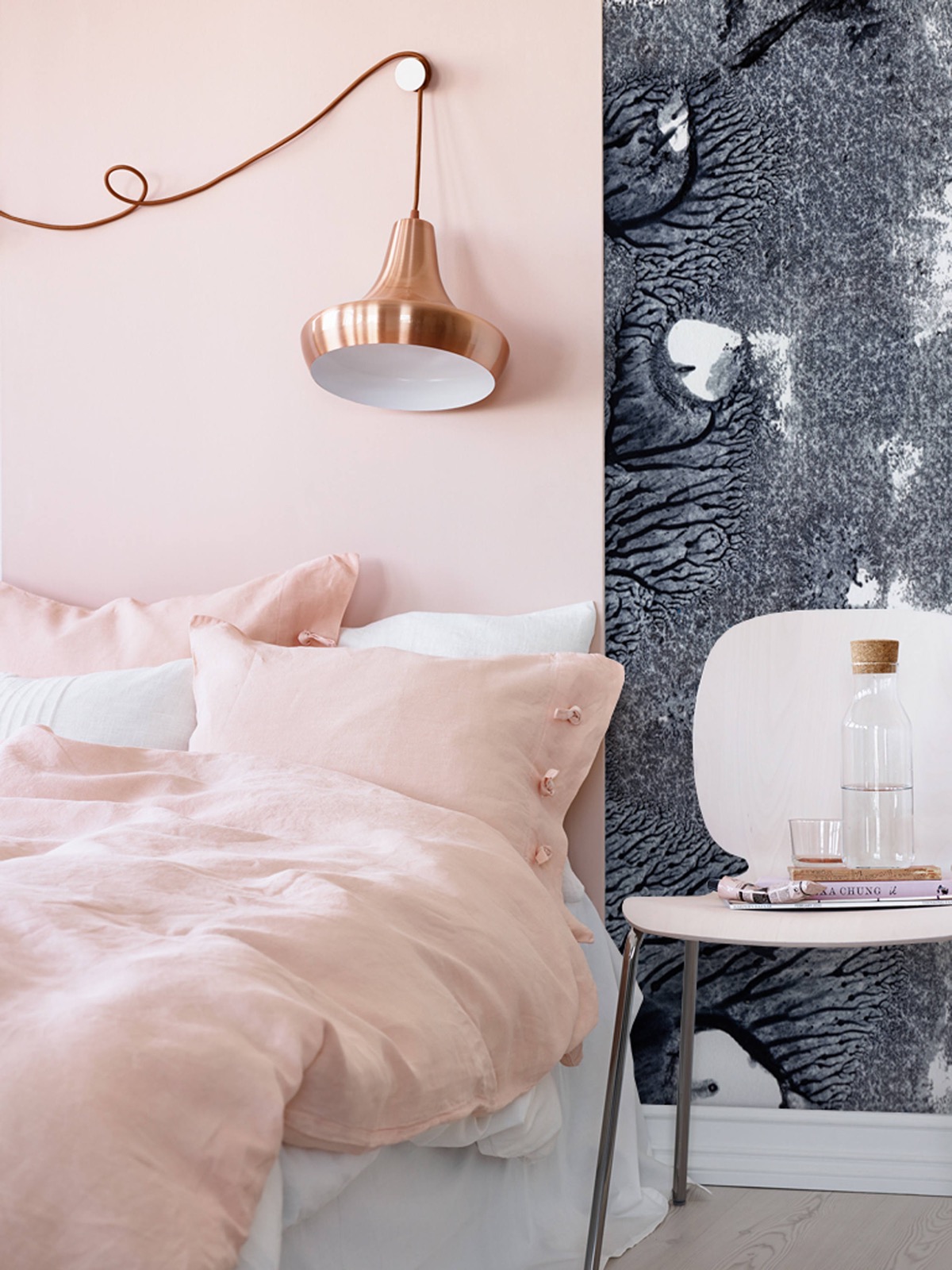 7 |
Source: Street Workshop, Etsy
Plush pink bed sets look fresher when layered with white sheets and pure white pillows.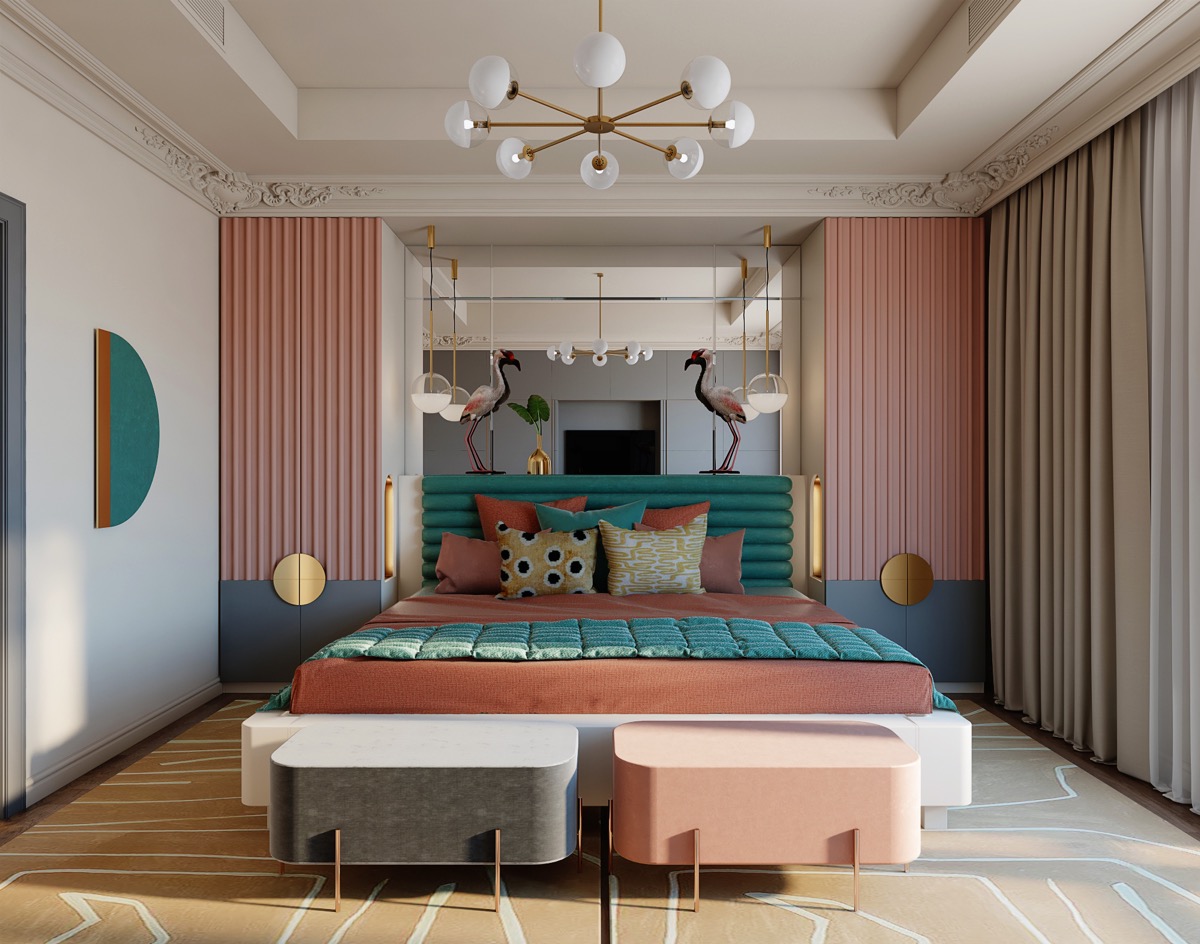 8 |
Visualizer: Art Group
Add a blast of contrast. If you're looking for a second strong colour to contrast and complement pink decor, then teal is a terrific option. Coming from the opposite side of the colour wheel, this blue-green hue makes a bold partner for pink. You can combine the two easily by layering up bedclothes, or go duotone on wardrobe finishes. There are contrasting bedroom benches in this particular example too, but this time grey has been chosen to create a quieter balance…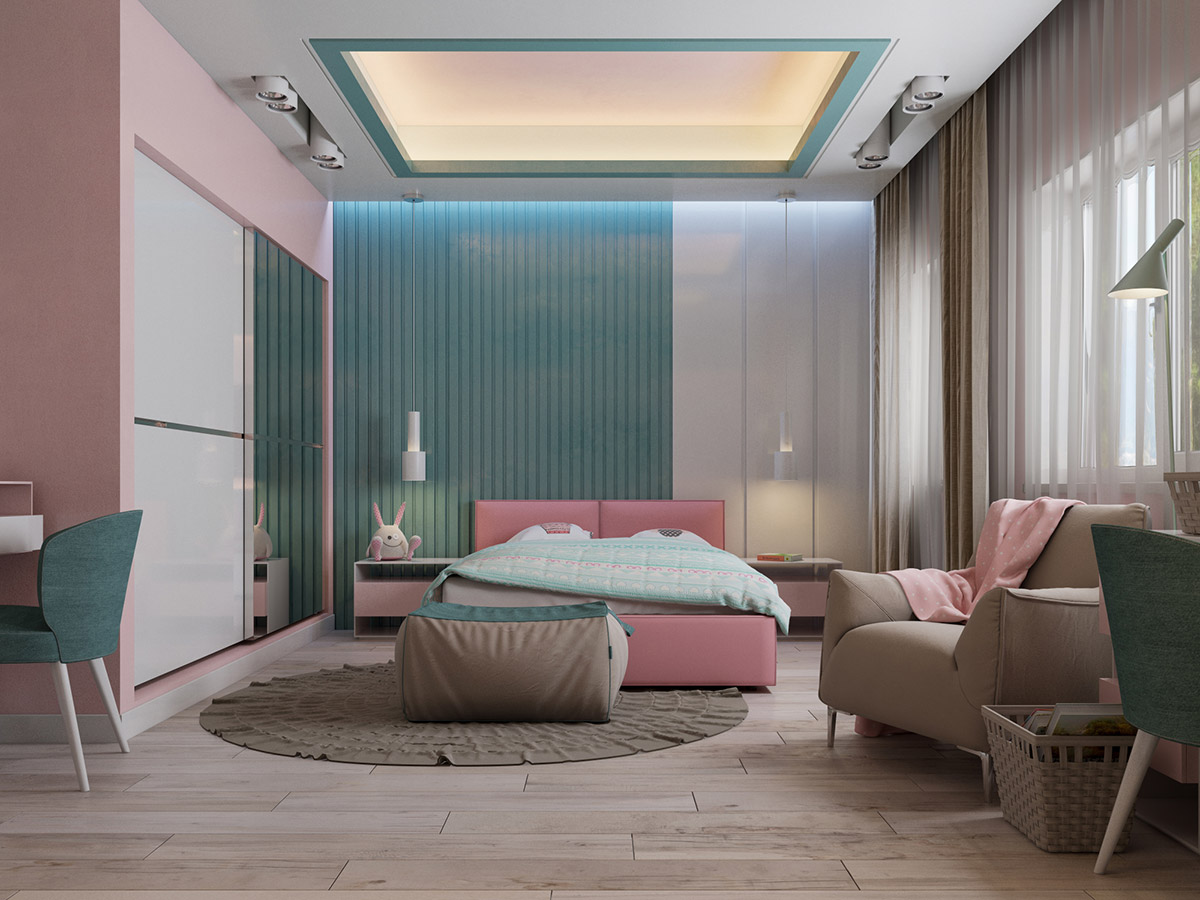 9 |
Visualizer: Maggi Samir
A similar balance can be achieved with a teal, pink and brown bedroom palette.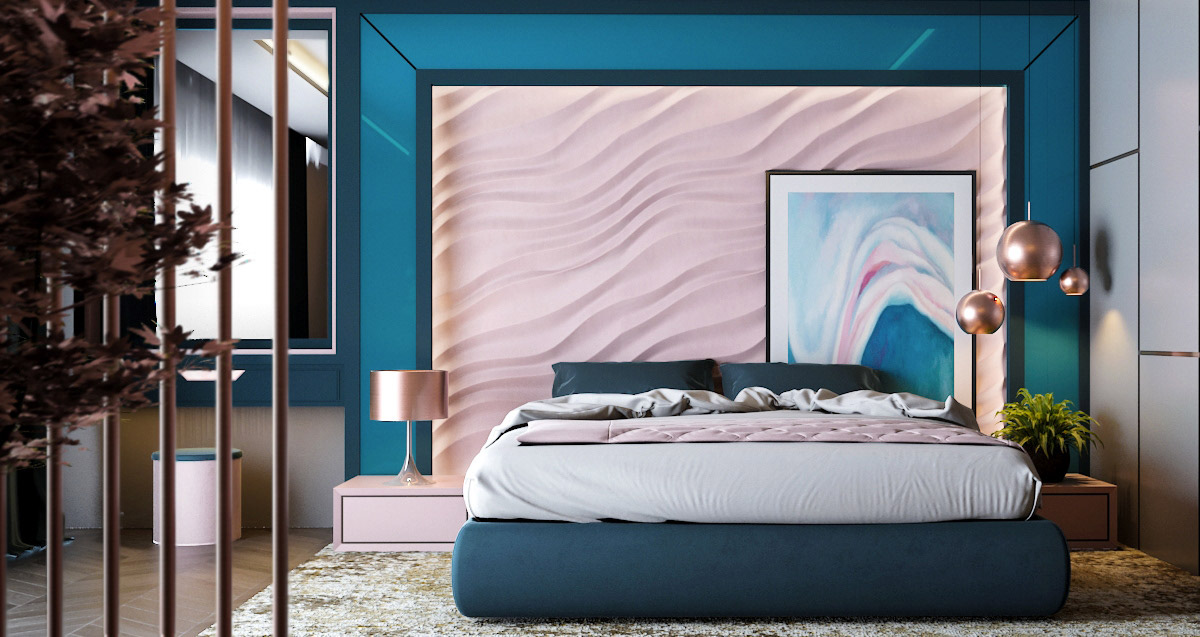 10 |
Visualizer: Andrew Athanasius
Meld colours with a piece of wall art. In this pink and blue bedroom design, peacock blue accentuates a pink textured headboard feature wall. Rose gold orbs drop down by a piece of wall art that brings the two hues together. A rose gold bedside table lamp echoes the metallic tone on the opposite side of the blue bed.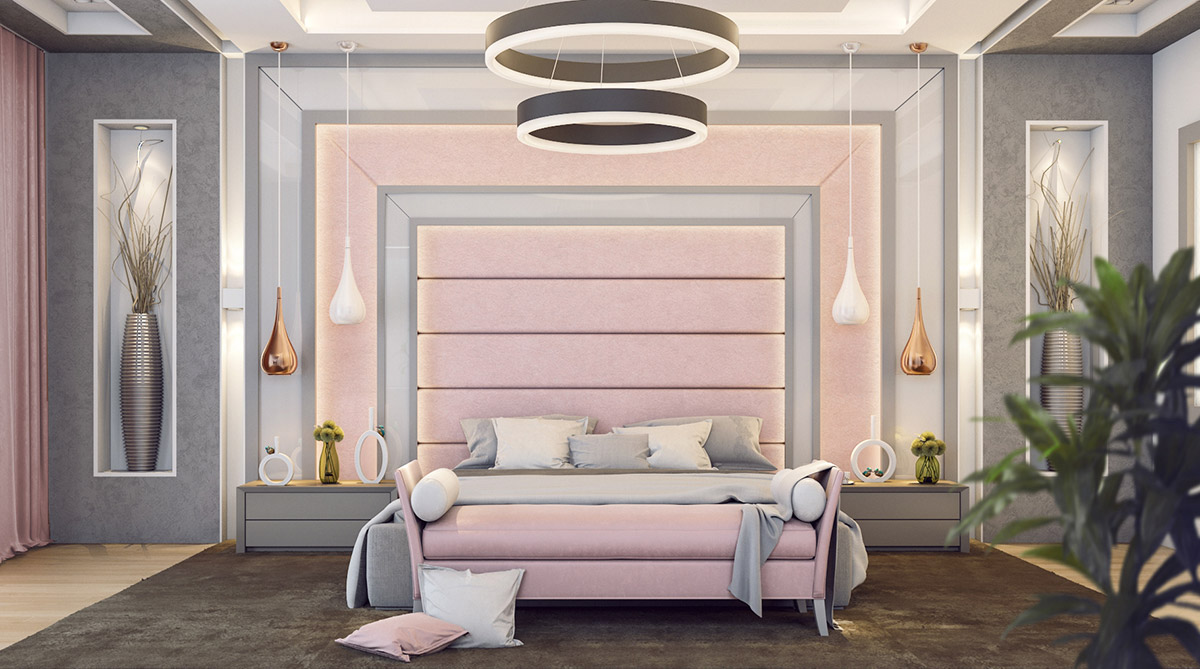 11 |
Visualizer: Andrew Athanasius
Frame it, frame it, frame it. The cushioned headboard in this pink and grey bedroom has been set within three more frames, resulting in a grander headboard that also reaches behind the bedside units.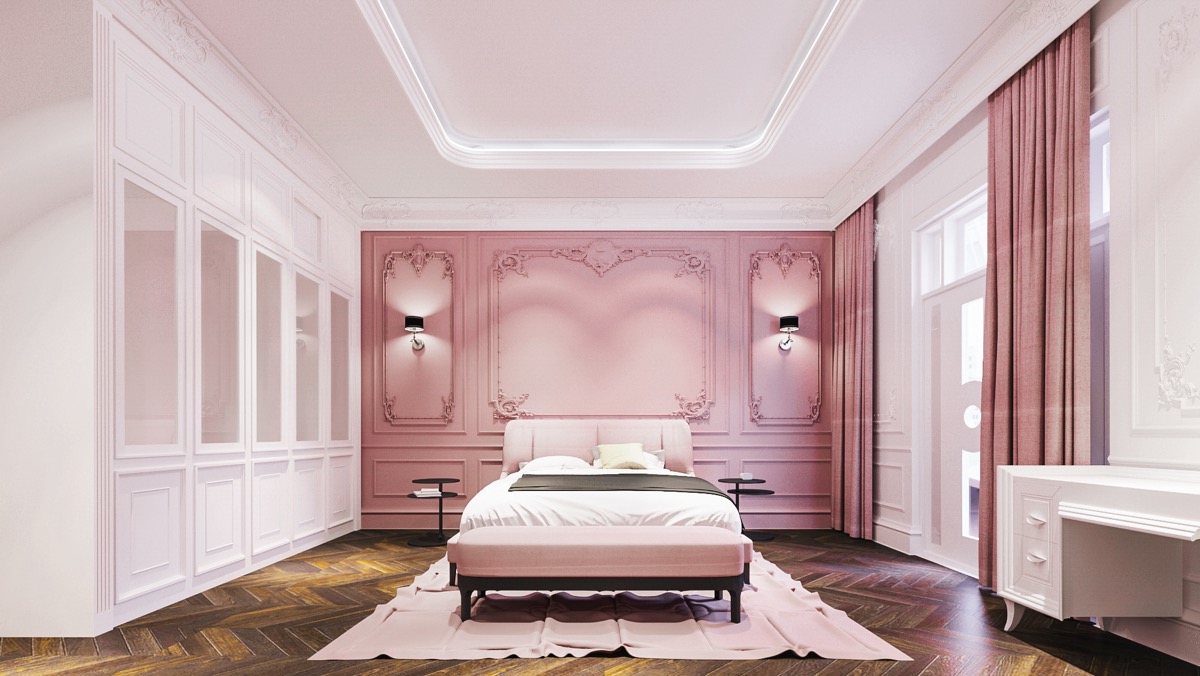 12 |
Visualizer: Tien nguyen
There's boiserie, and then there's pink boiserie. This traditional wall treatment looks tooth-achingly delicious in sweet pink. Pink drapes, bed, pink bedroom bench and a pink area rug continue the delicate tone.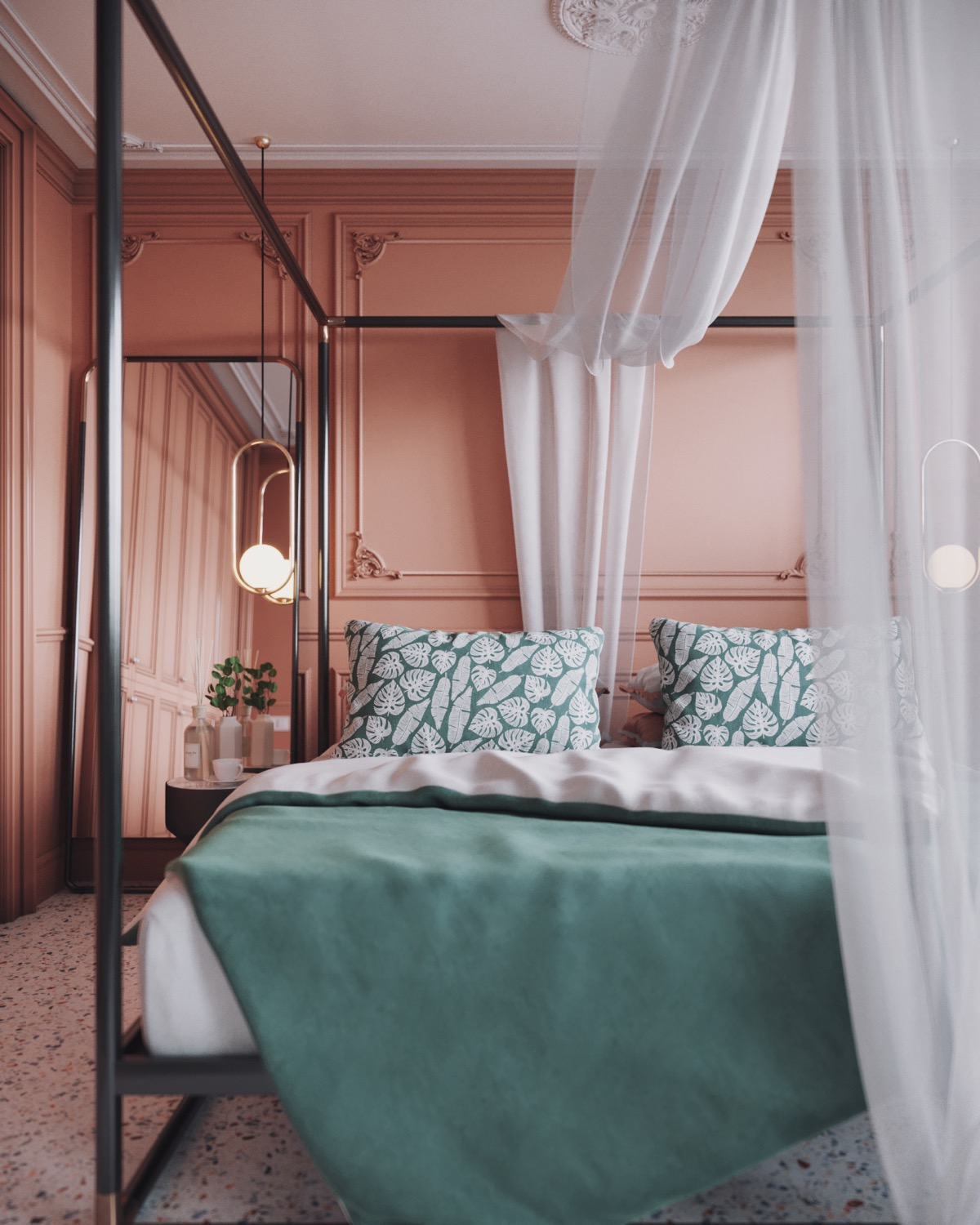 13 |
Visualizer: Maria Novikova
More pink boiserie, this time within a pink and green interior design.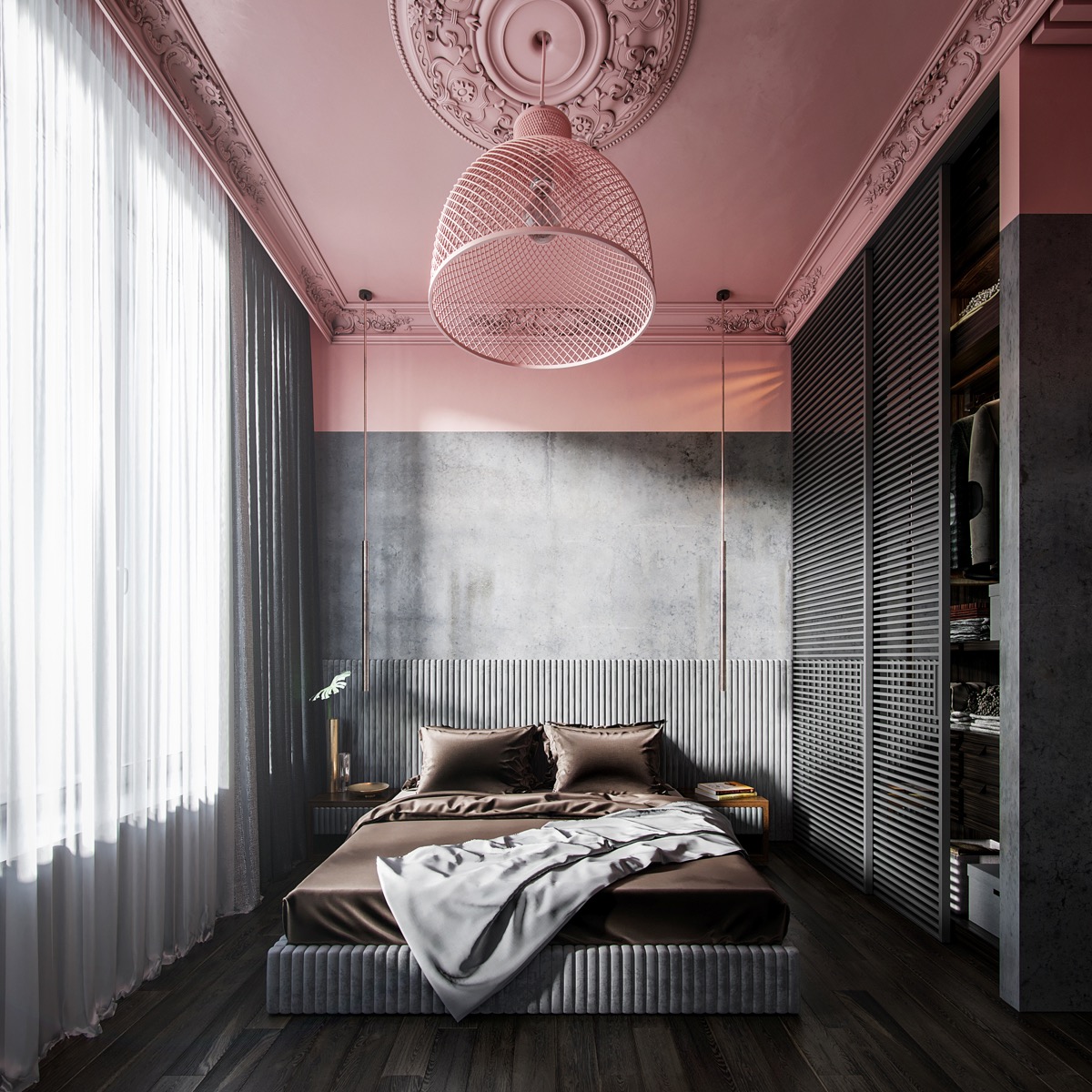 14 |
Visualizer: Andrey Barinov
Pink painted traditional features fill the ceiling in this bedroom, where a modern pink light shade dangles from a classic ceiling rose. Decorative coving creates a beautiful border.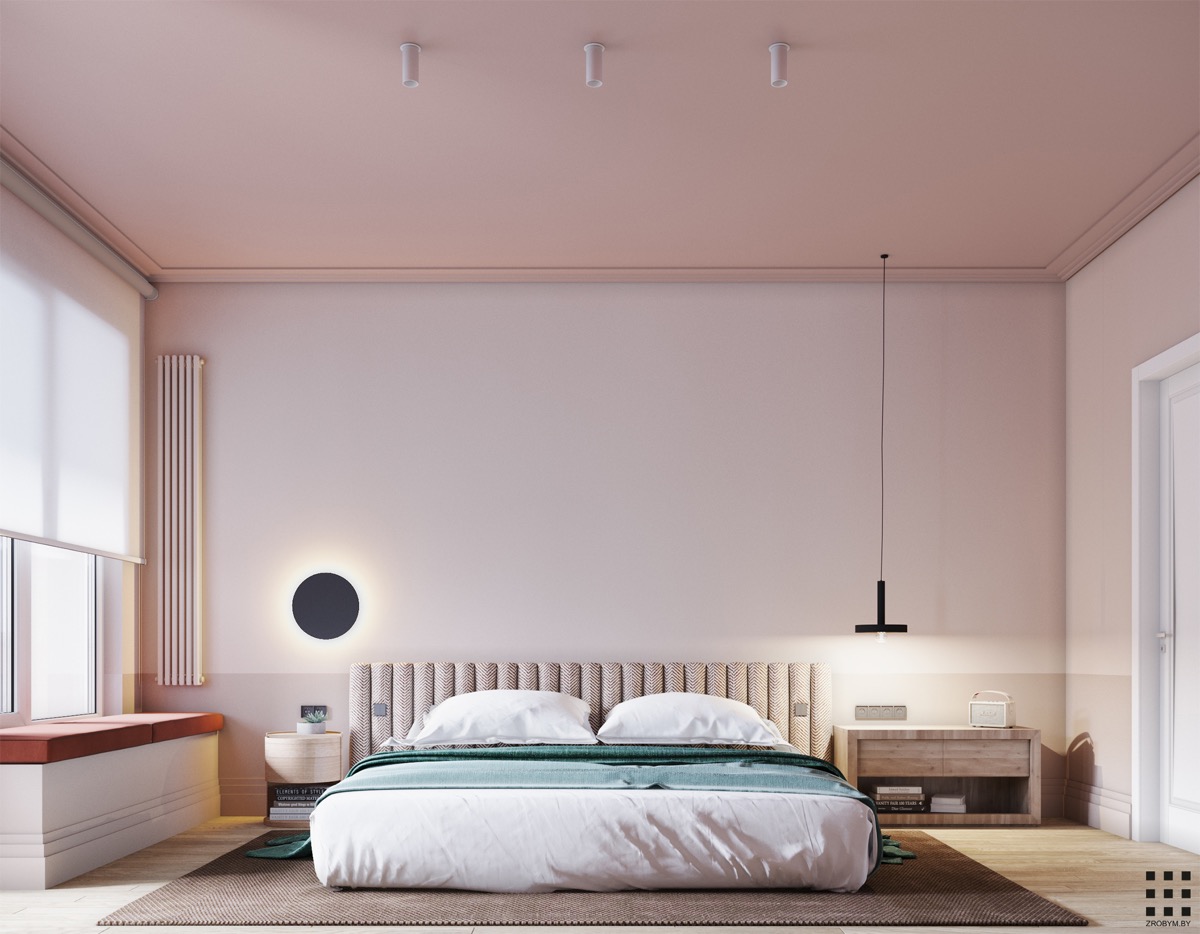 15 |
Visualizer: ZROBYM architects
Weight down a light decor scheme with darker elements. Black bedside lights bring dark base notes to this pale pink modern bedroom. An asymmetrical design is created by hanging a pendant light at one side, and mounting a modern wall sconce at the other.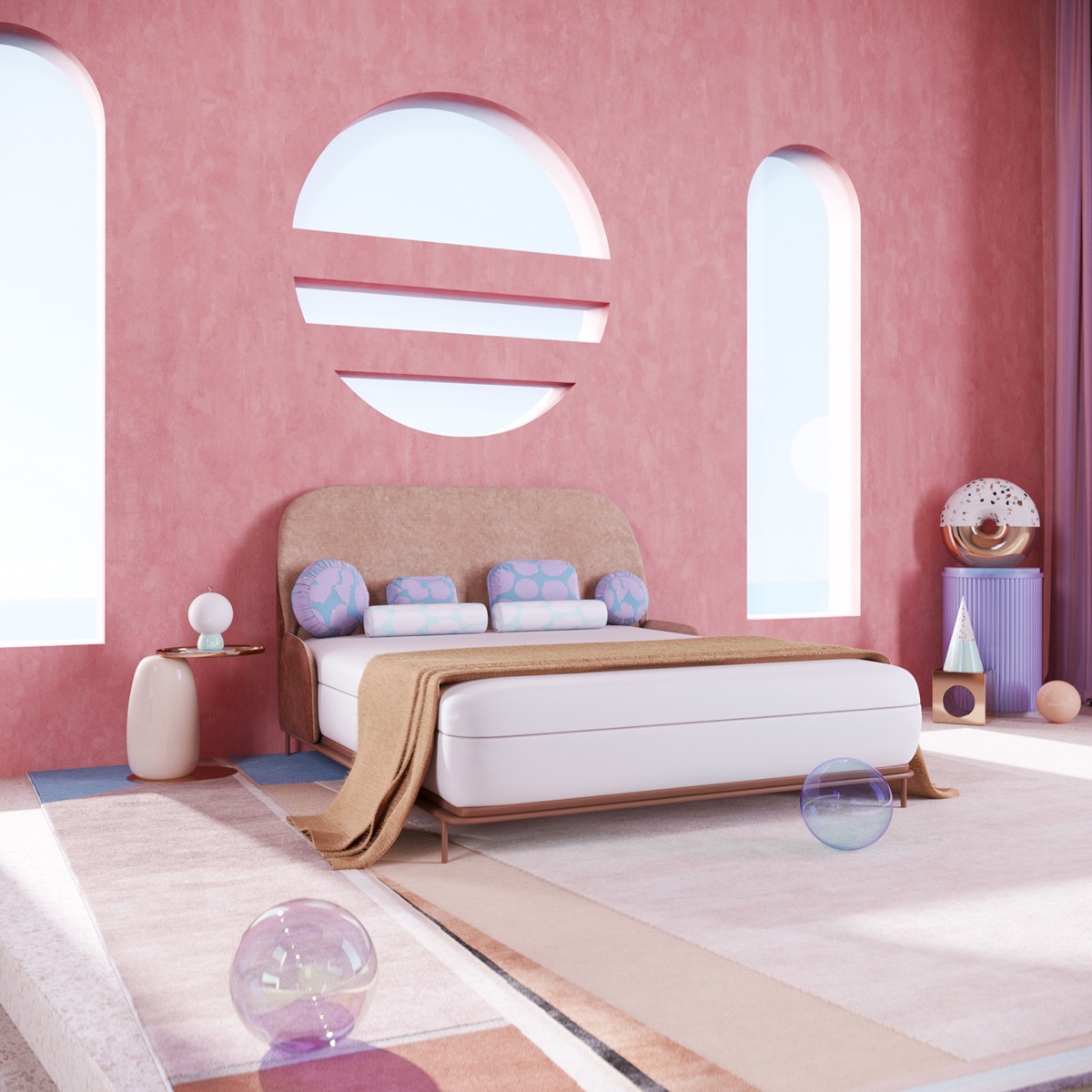 16 |
Visualizer: Archionica
Shape up. This pink and purple bedroom scheme uses graphic shapes for an uber contemporary feel.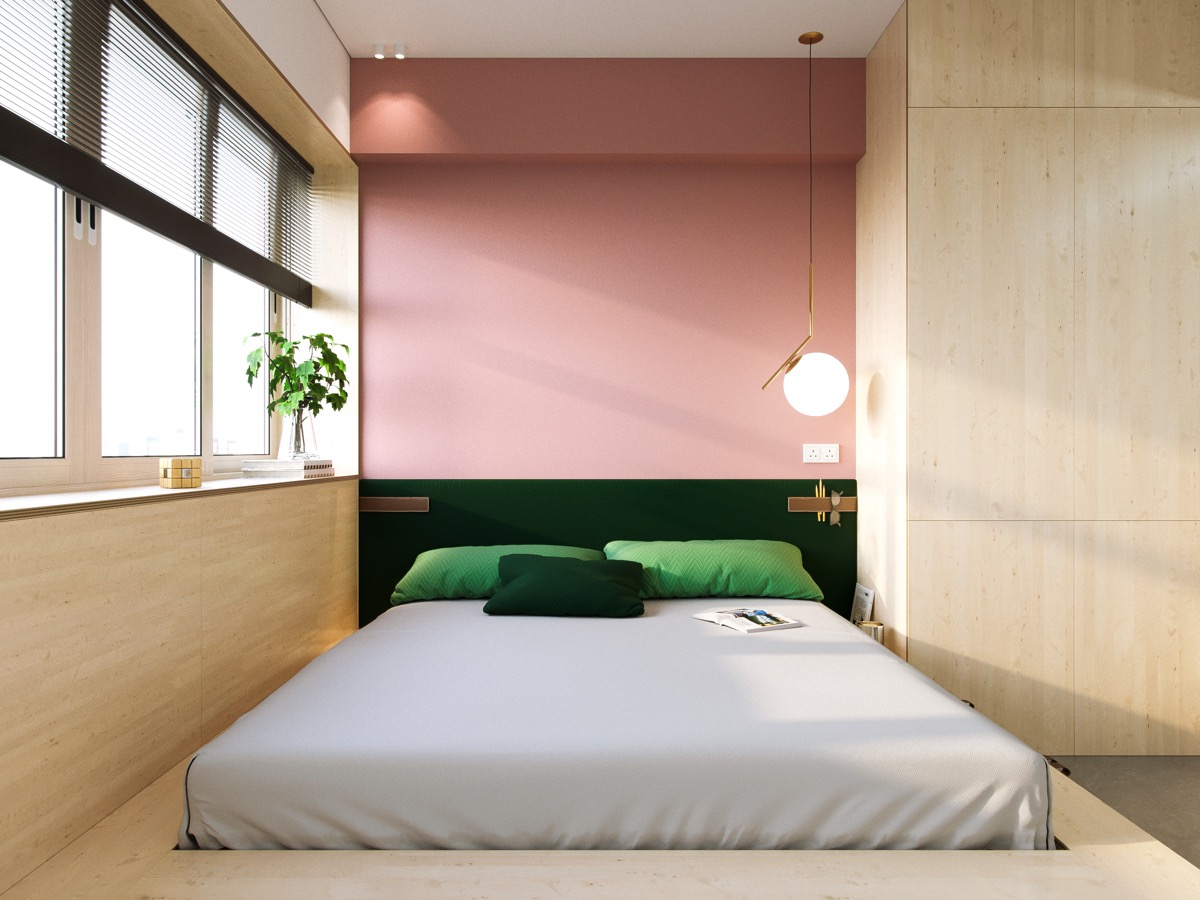 17 |
Visualizer: Andrey Barinov
Grow a natural theme by adding green and wood accents. A pink and green bedroom with wooden elements evokes a sense of nature that will aid with relaxation.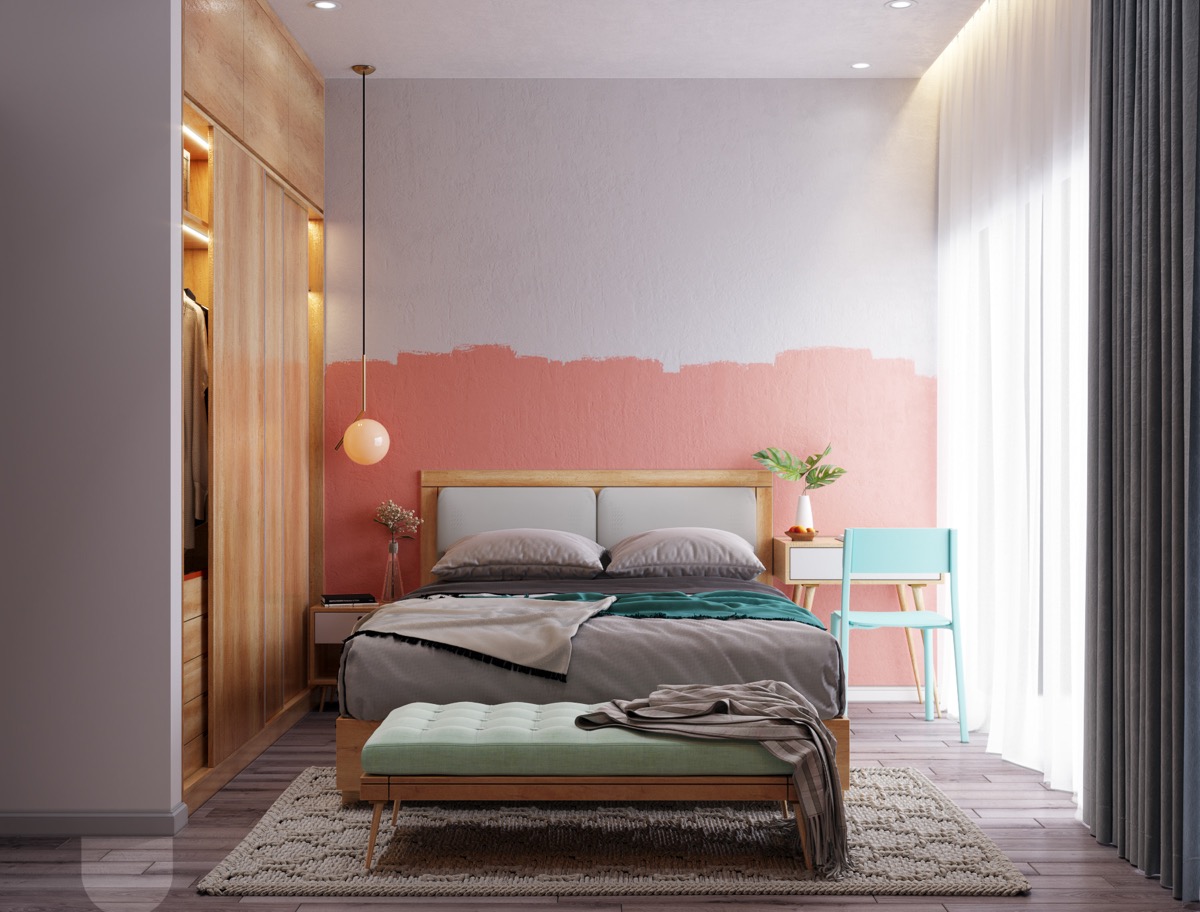 18 |
Visualizer: Nam Quang Đặng
Meet the colour scheme halfway. It's no new thing to paint walls in two different colours on their upper and lower half, but a loose paint technique that this one adds modern and carefree character.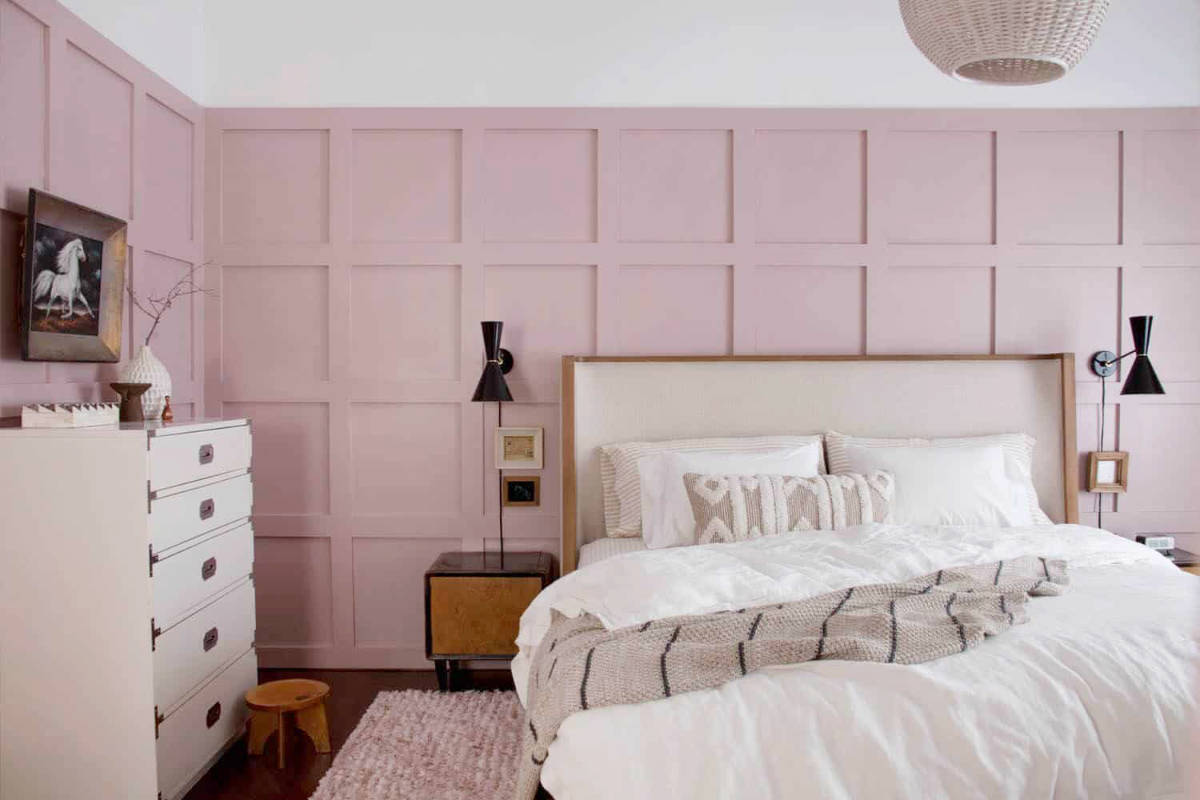 19 |
Source: A Beautiful Mess
Wrap the room with pink wainscot for a smart classic take on the candy colour.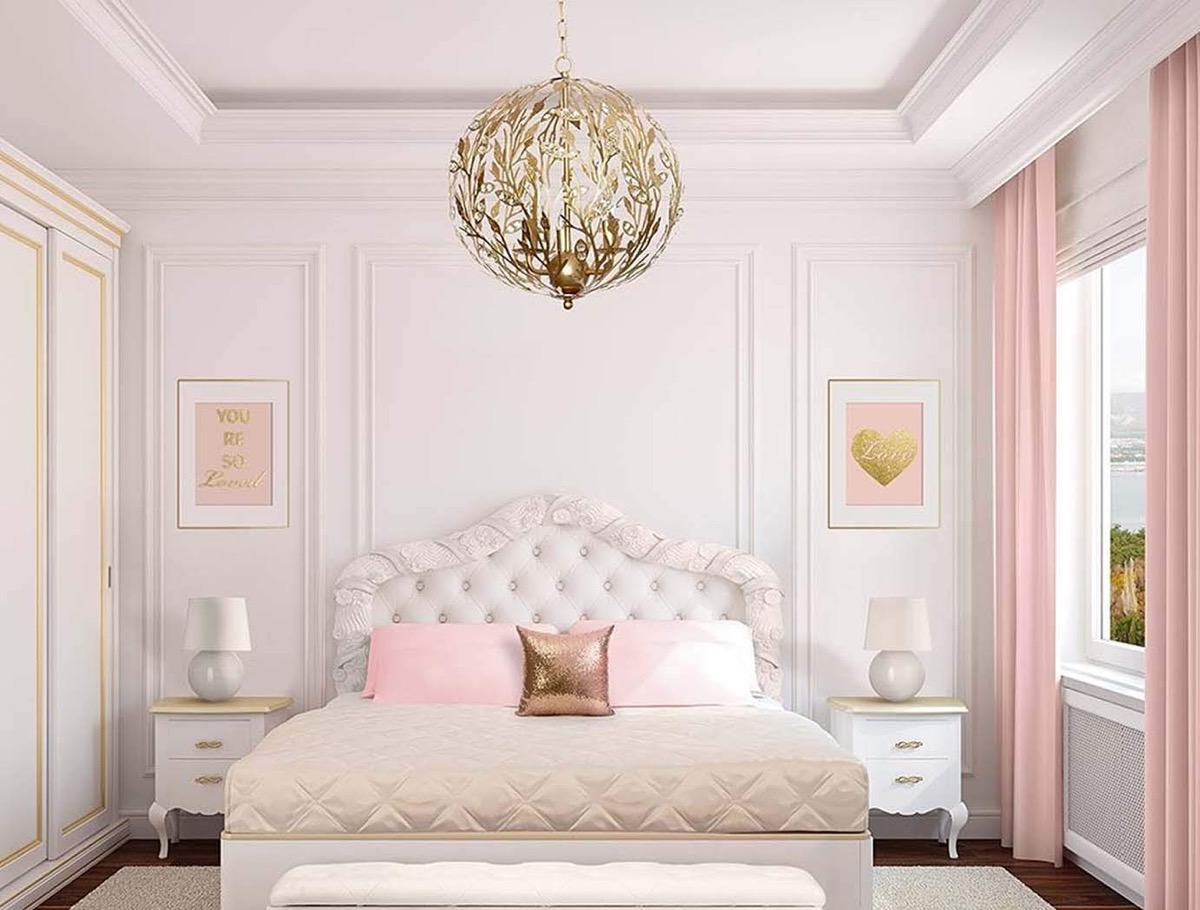 Look to luxe to add romance. The lustrous wall art, pendant light shade and furniture trims in this pink and gold bedroom add a dash of luxury. Get that gorgeous golden light here.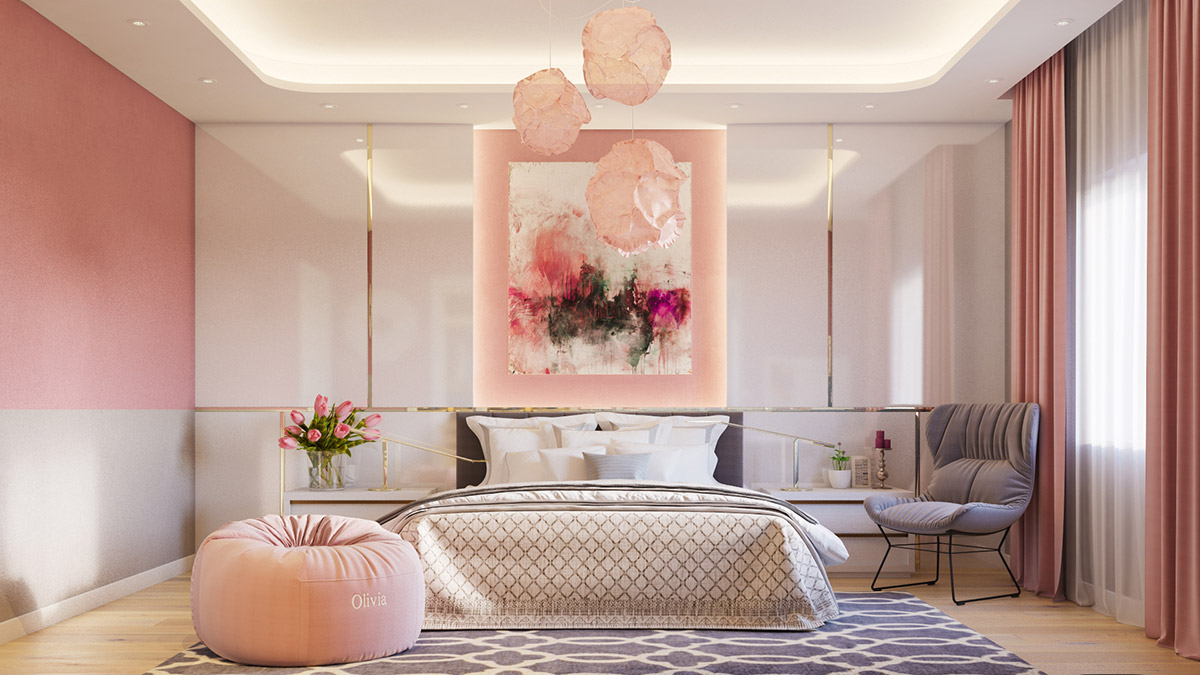 21 |
Visualizer: Maggi Samir
Be selective. By picking out just a few of your favourite pink pieces you can put together a pink bedroom scheme that isn't overbearing. In this example, a piece of modern artwork is the muse for the room, and has been given a pink backdrop that brings out its colours. Plush pink window drapes, pink pendant lights and a pink beanbag join the exhibit.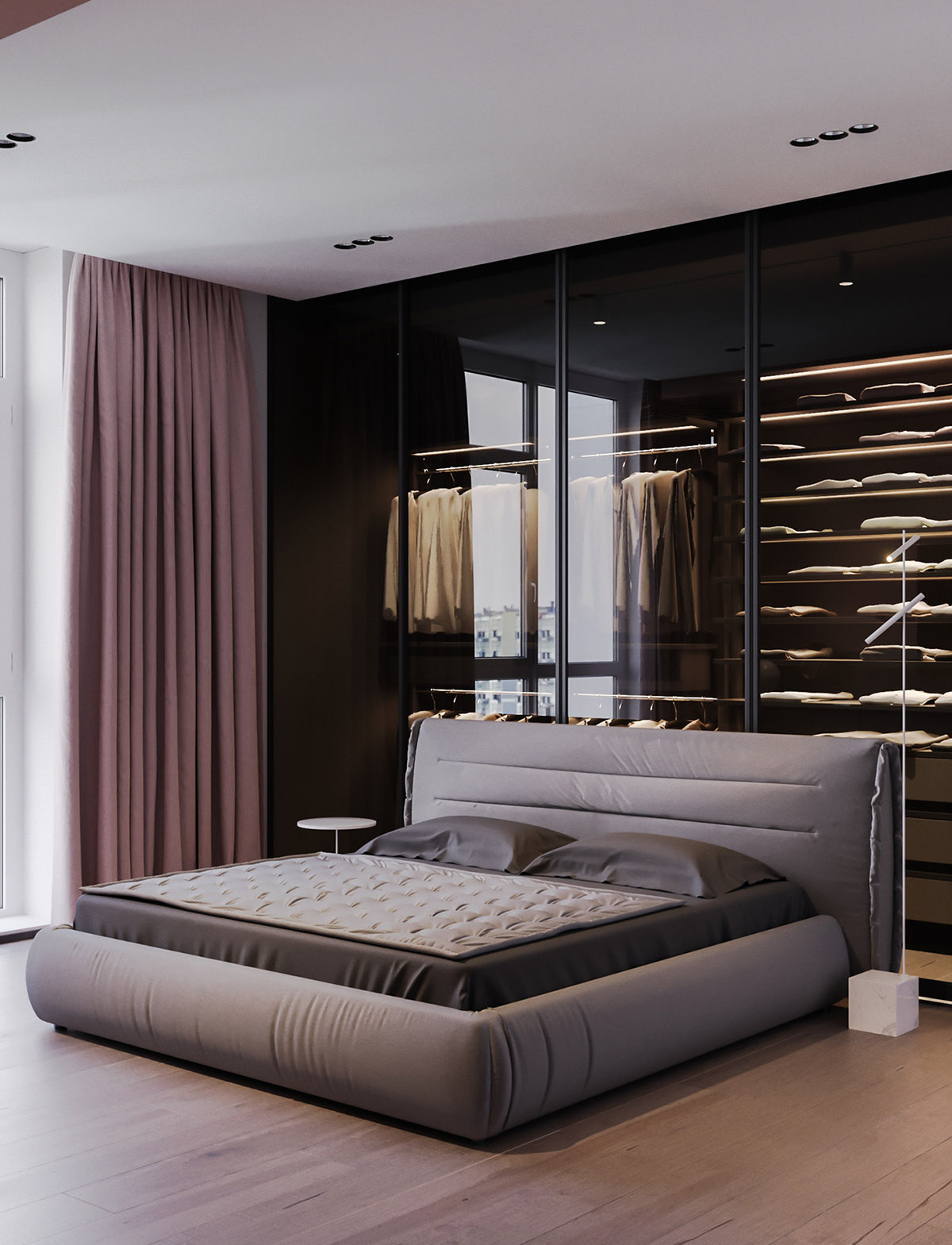 22 |
Visualizer: Ruslan Kovalchuk, Mariya Chmut and Stephen Tsimbalyuk
Not all pink bedrooms are sweetness and light. Dusky pink and dark grey bedrooms have have touch of shadowy drama. Add a backlit glass closet to proceedings and you've really got yourself a show.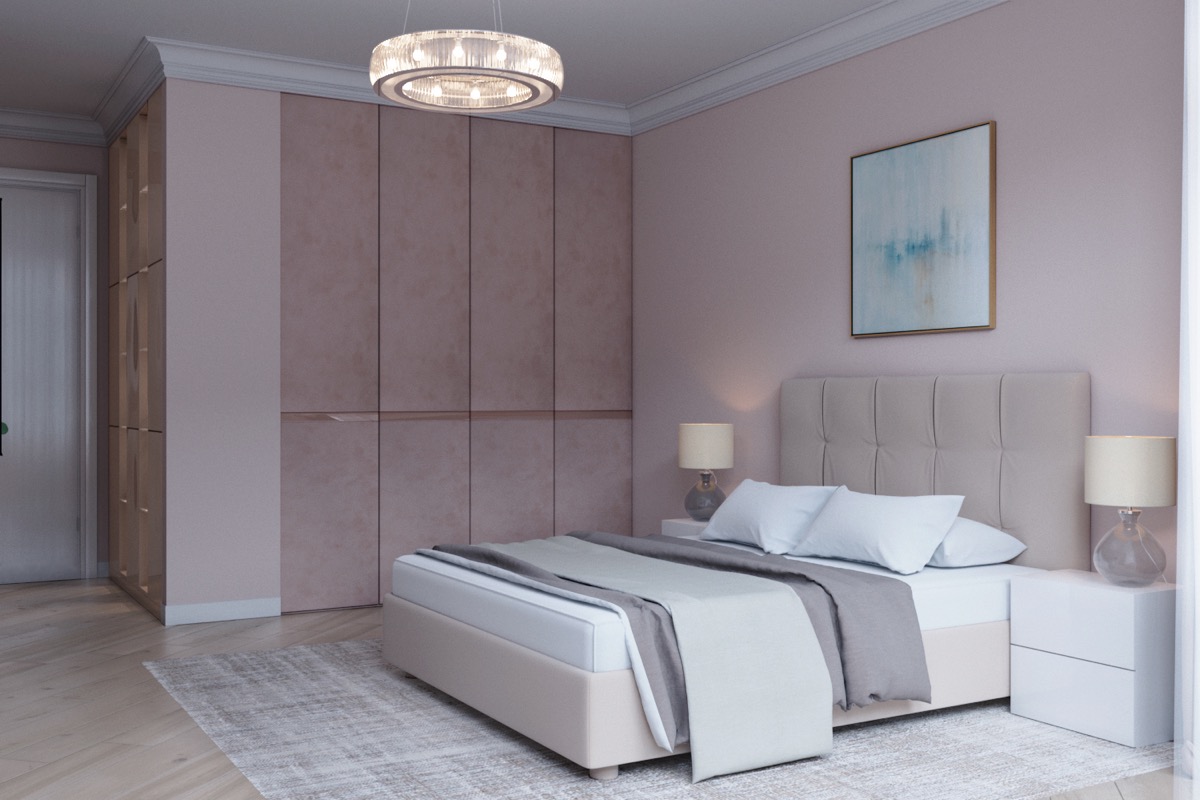 23 |
Visualizer: Olga Pavlyk
These dusky pink closets have a textured finish to make them stand out from the rest of the pink crowd.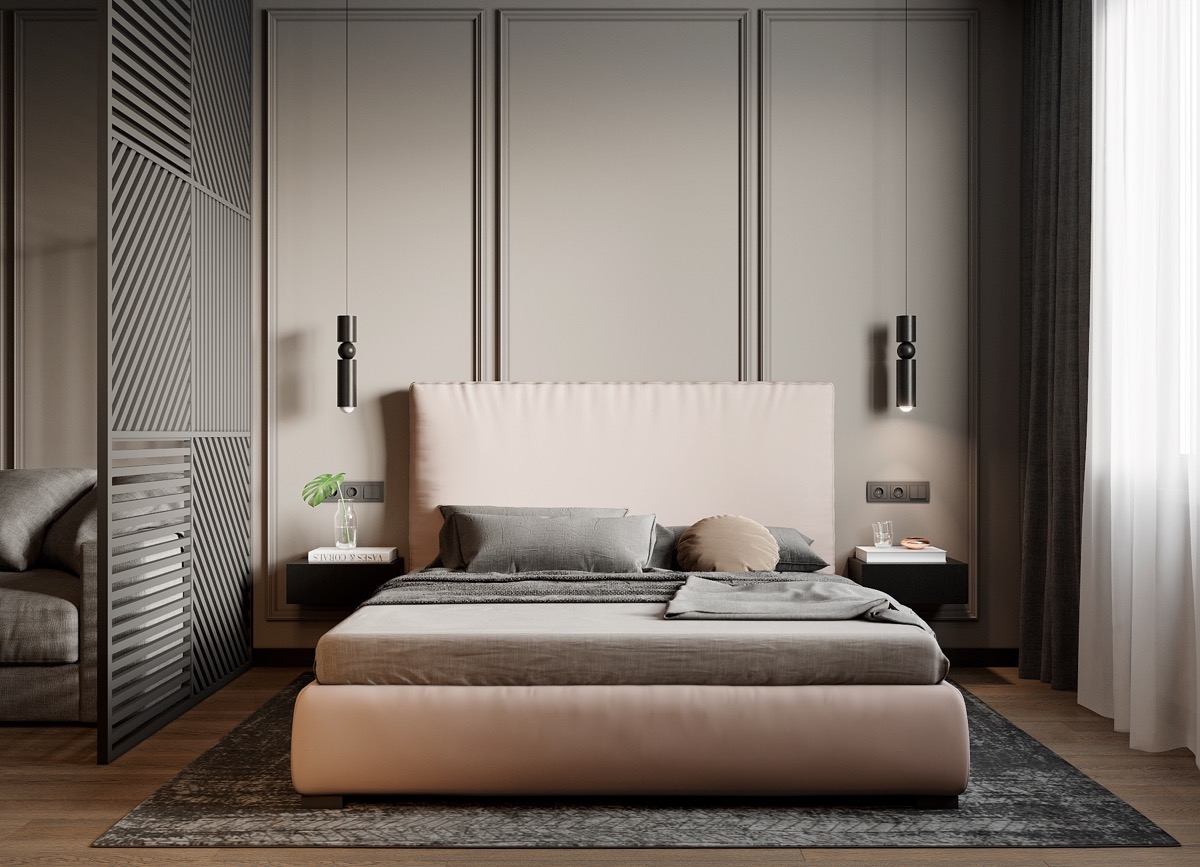 24 |
Visualizer: Ekaterina Svanberg
Tie it together with taupe. Pink and black bedroom accents rest well against a taupe backdrop, as the warm yet neutral colour works as a colour bridge between the two.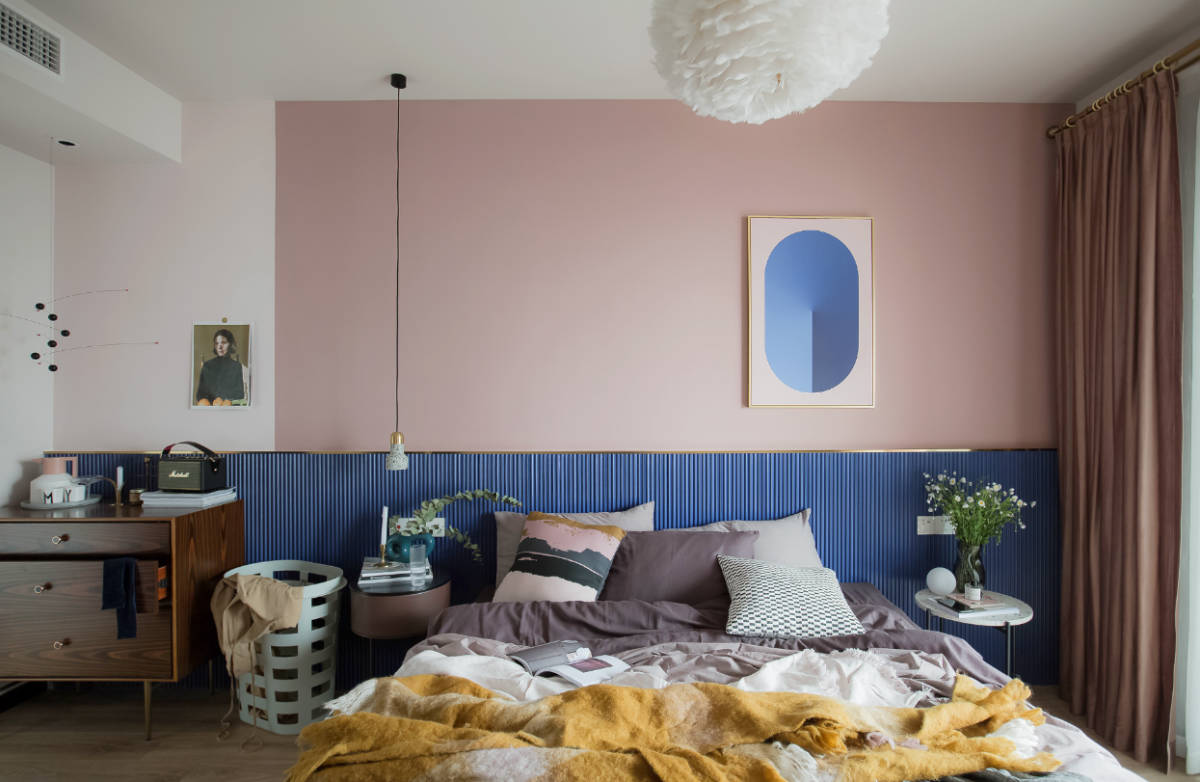 Lovers of the eclectic vibe will be tickled pink with this one. Yellow ochre, cobalt blue, brown elements and pale pink come together with tiny streaks of gold in a magical boho melting pot.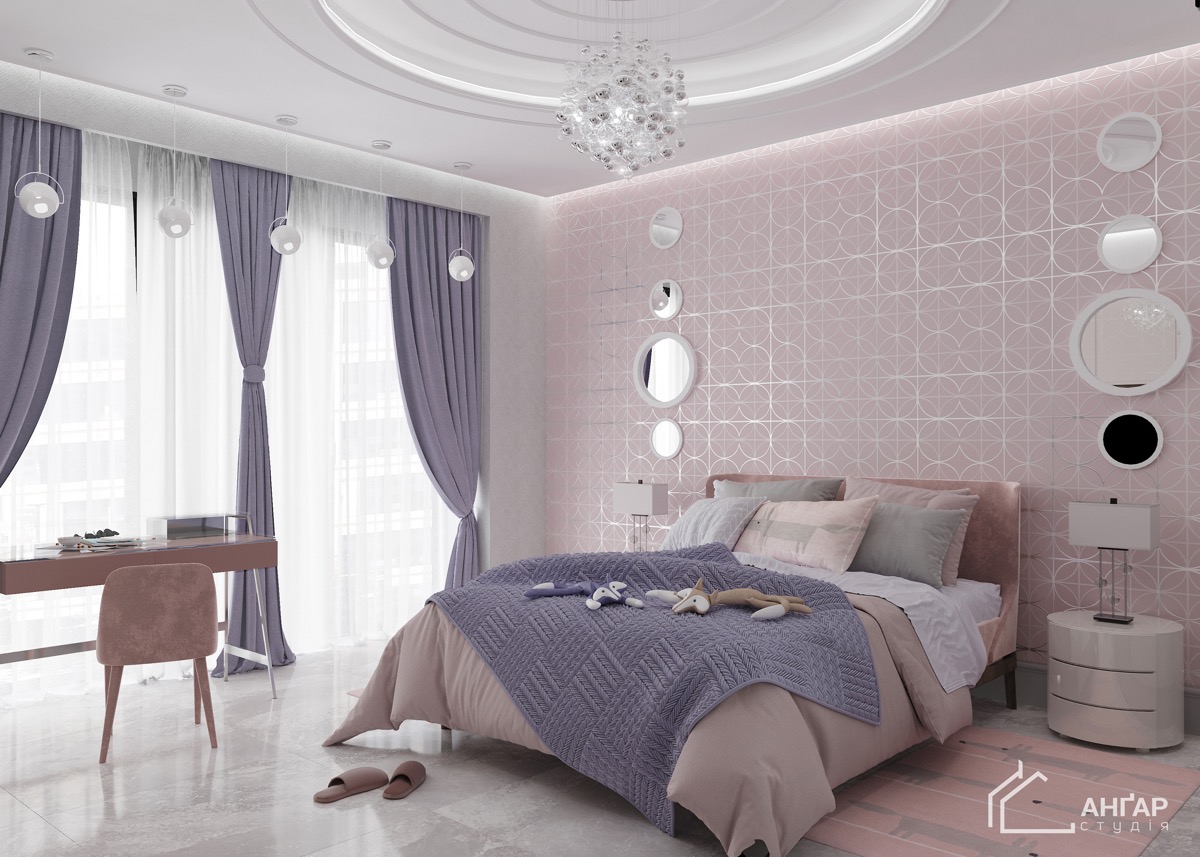 26 |
Visualizer: АНҐАР студія
Give your pink bedroom some jewellery. Add a bit of 'bling' with sparkly pendants, shiny wallpaper prints and multiple decorative wall mirrors.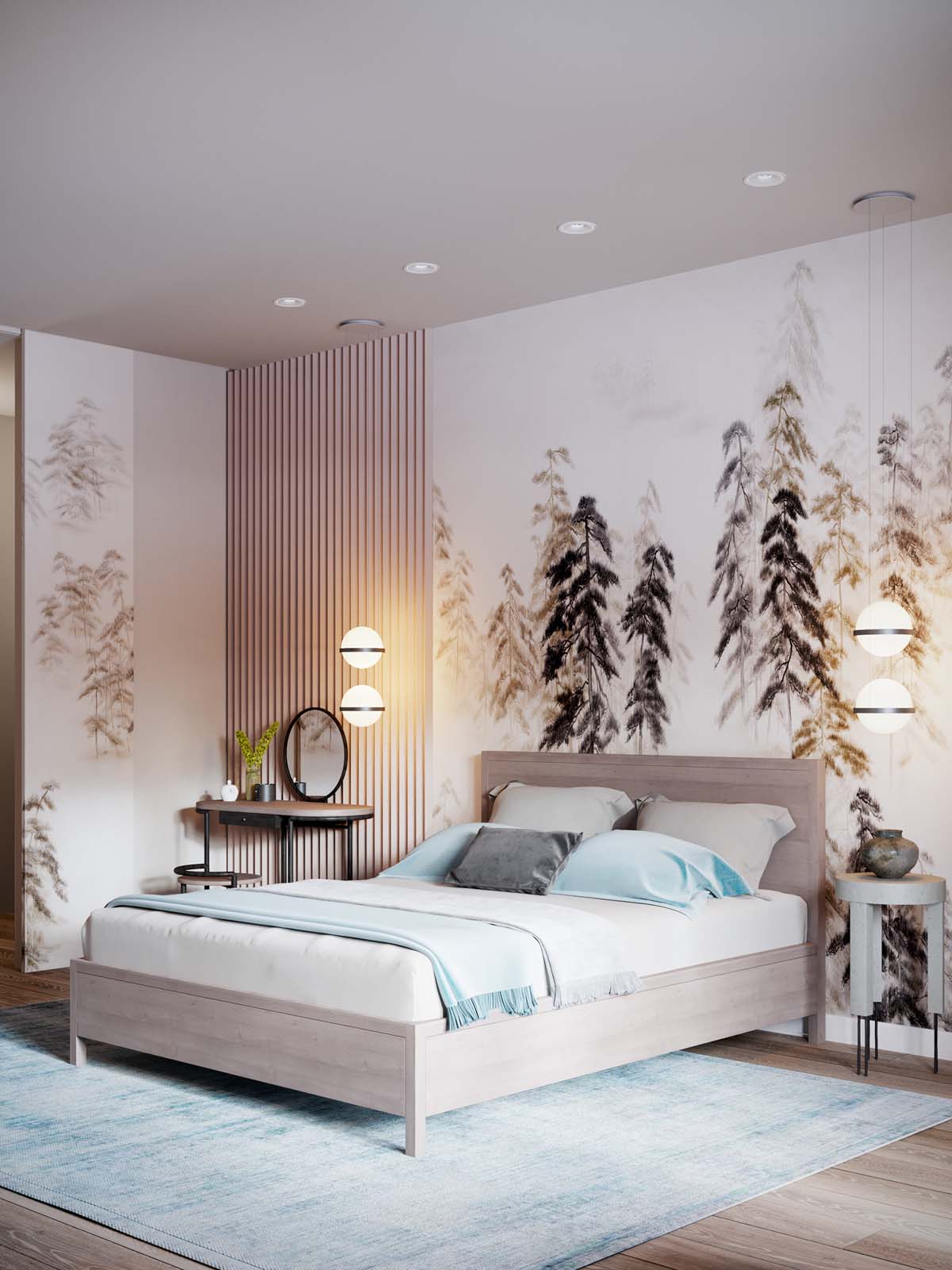 27 |
Visualizer: VizLine Studio
Use colour to define areas of use. A pink slatted wall panel covers the area behind a vanity table in this bedroom, clearly separating the makeup table from the bed.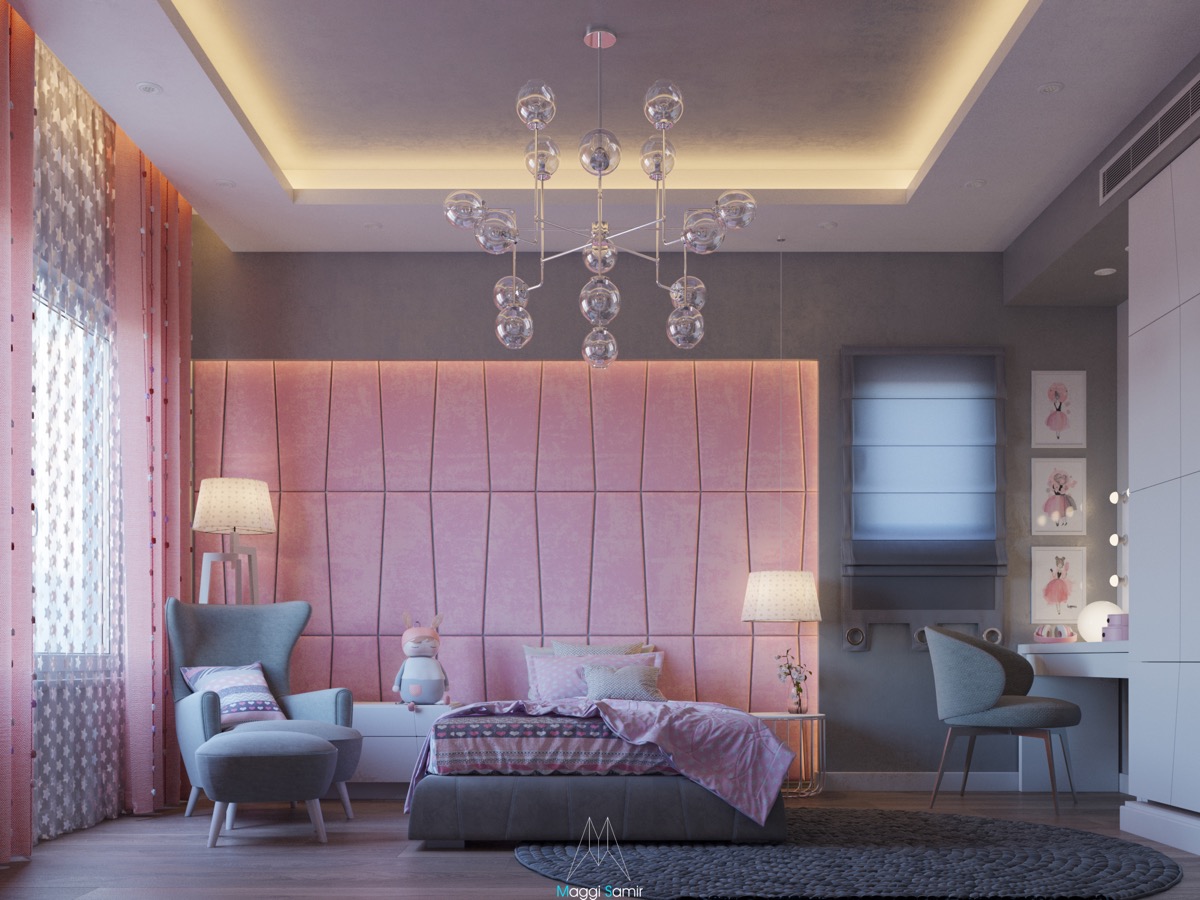 28 |
Visualizer: Maggi Samir
The padded pink wall section in this room marks the sleep and relaxation zone – with a dressing table and closets left out in the grey zone.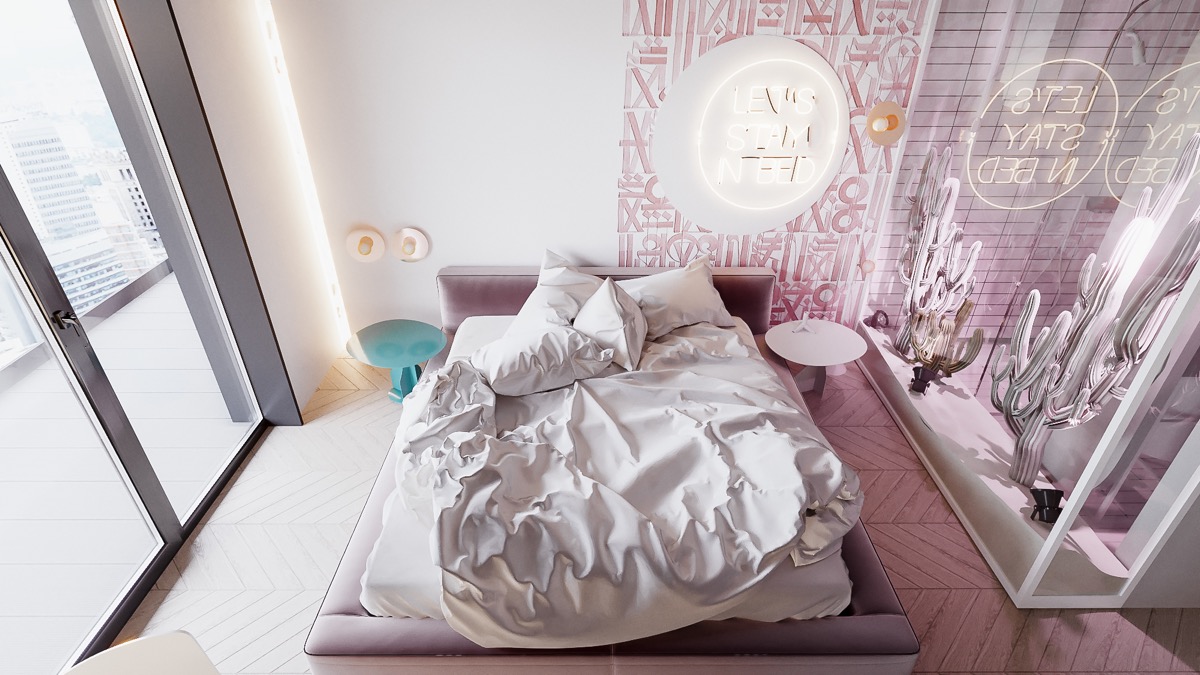 29 |
Visualizer: Hi-Light Architects
Put it in lights. There's nothing subtle about a neon sign, a giant terrarium or a bold pink wallpaper, but who said a bedroom had to be subtle?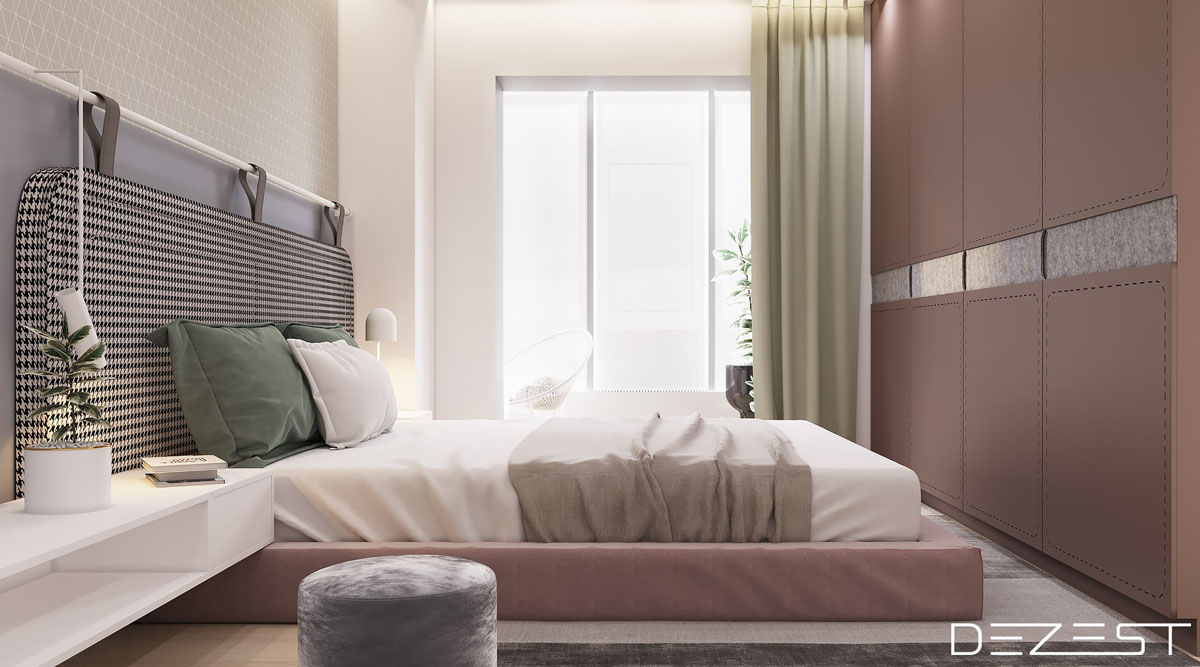 Break it to make it. These green, black and white elements nicely break up this pink decor scheme, and balance each other out perfectly.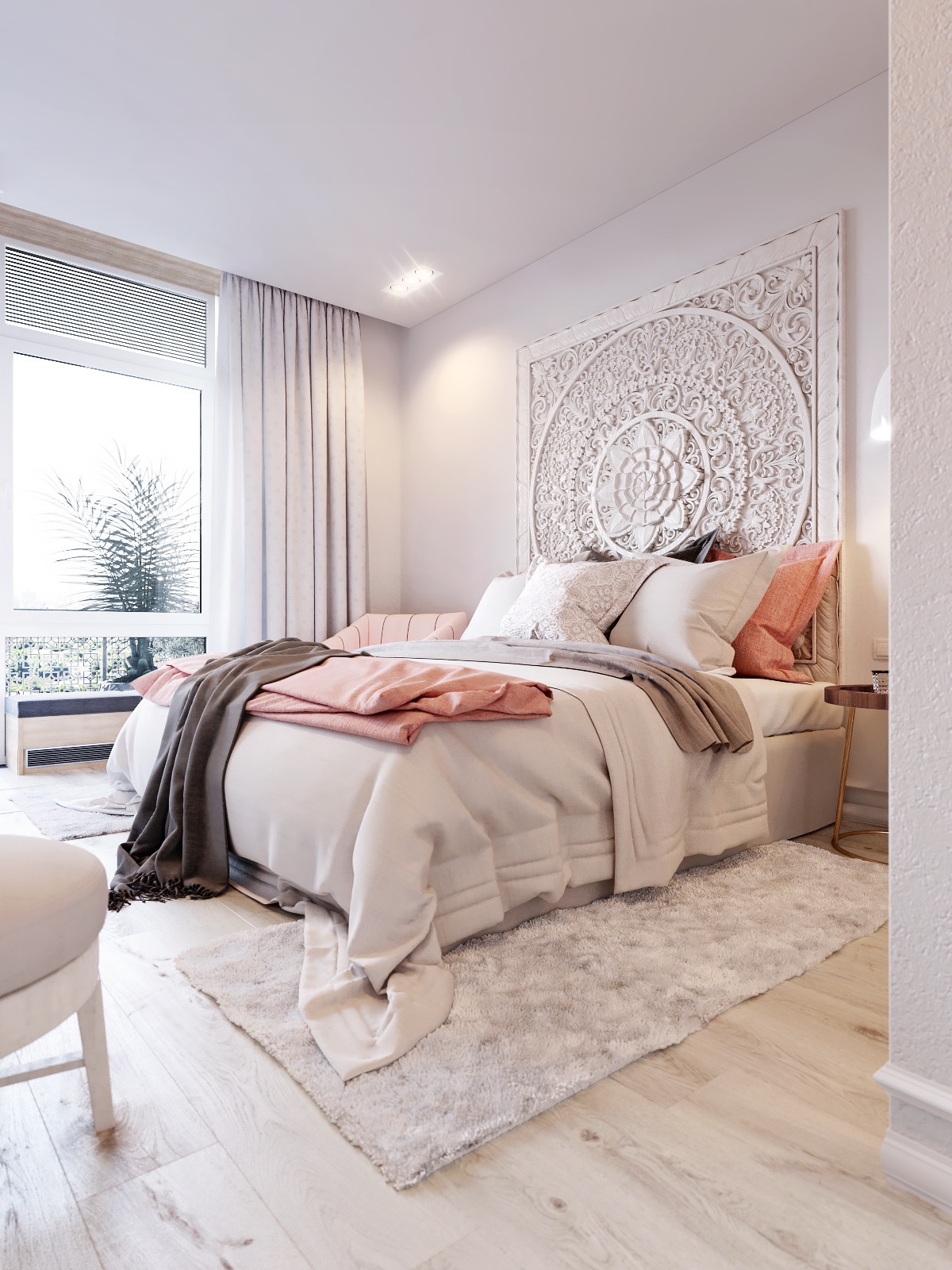 31 |
Visualizer: Dima Kravtsov & Alina Buligіna
Pink doesn't have to be the main event. Just because you want to feature pink in your bedroom, that doesn't mean you have to make it the most dominant thing. The focal point of this bed is a showstopping white mandala headboard; the pink throw, accent cushions and pink bedroom chair provide a solid supporting act.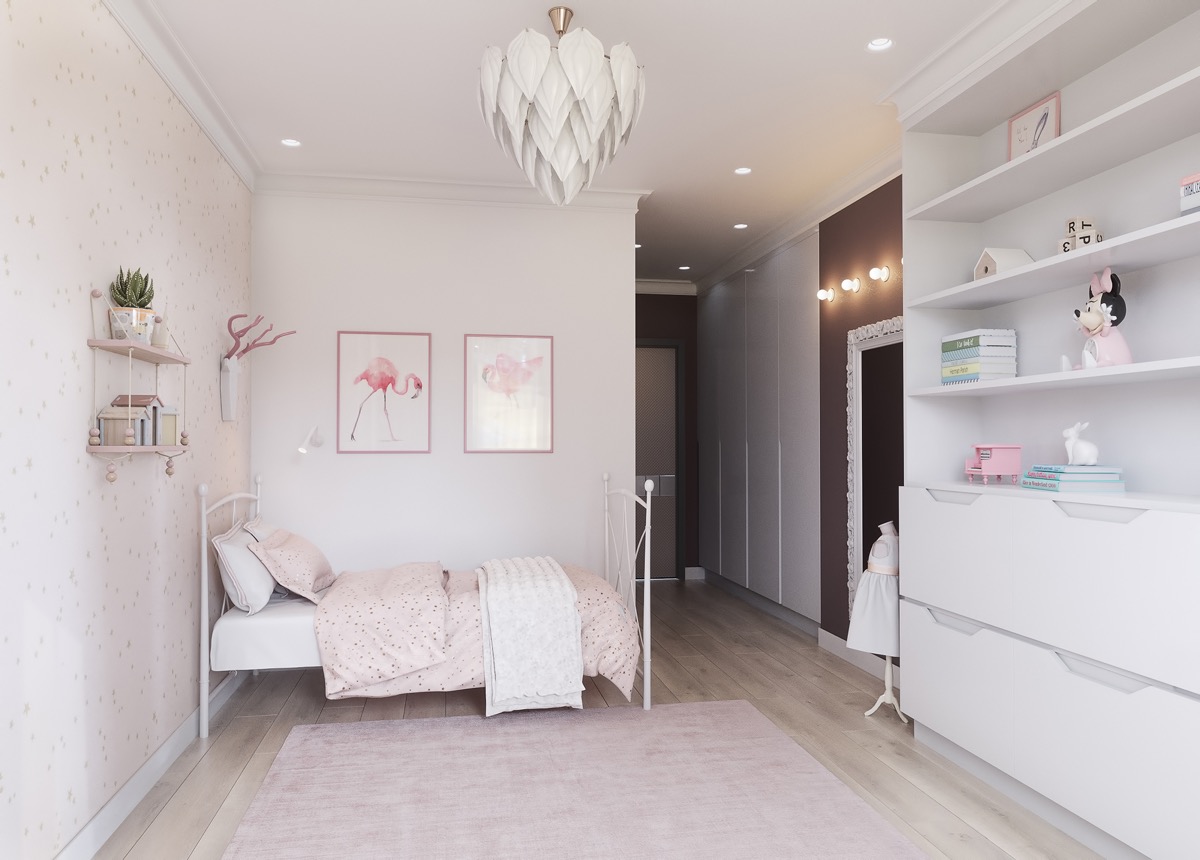 32 |
Visualizer: Andrei Erokhin
Just a few pink bedroom accessories colour this predominantly white bedroom.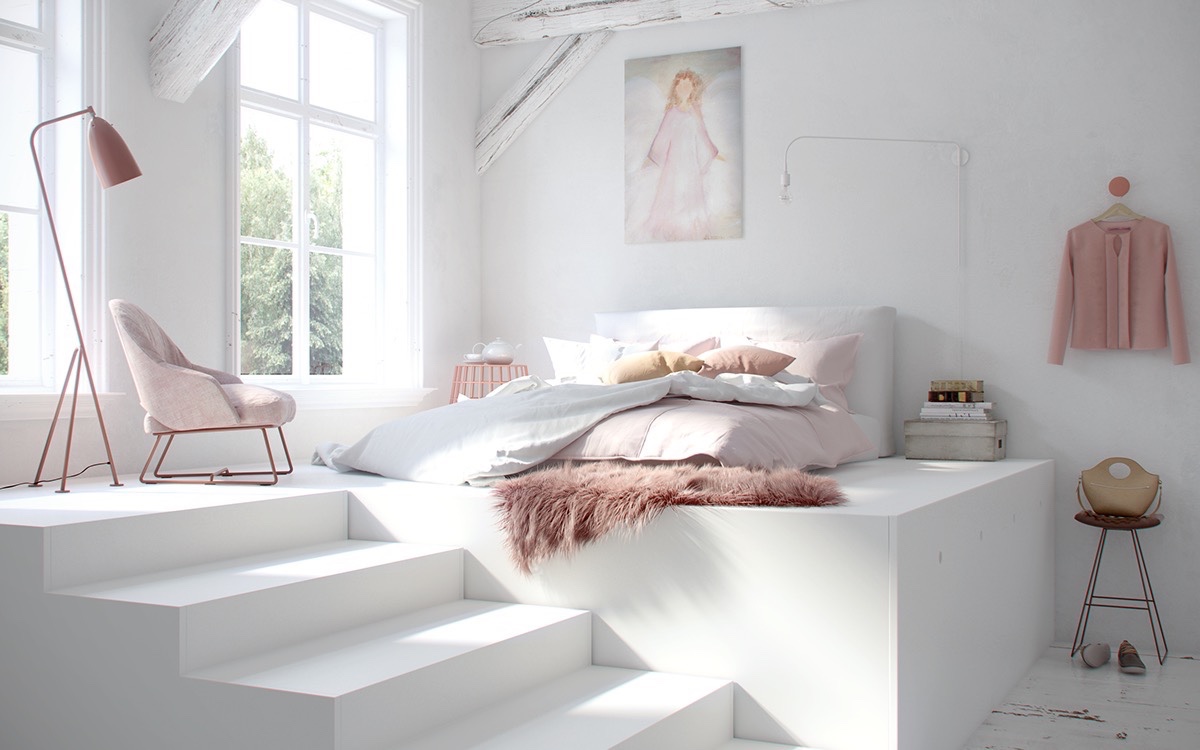 33 |
Visualizer: Filip Sapojnicov
Curate small clusters of pink. You might colour just the closets and a vanity table, or just the bed and a reading corner like in this cozy bedroom. Keep the majority of the room white so that pink furniture, a rug or floor lamp will really stand out.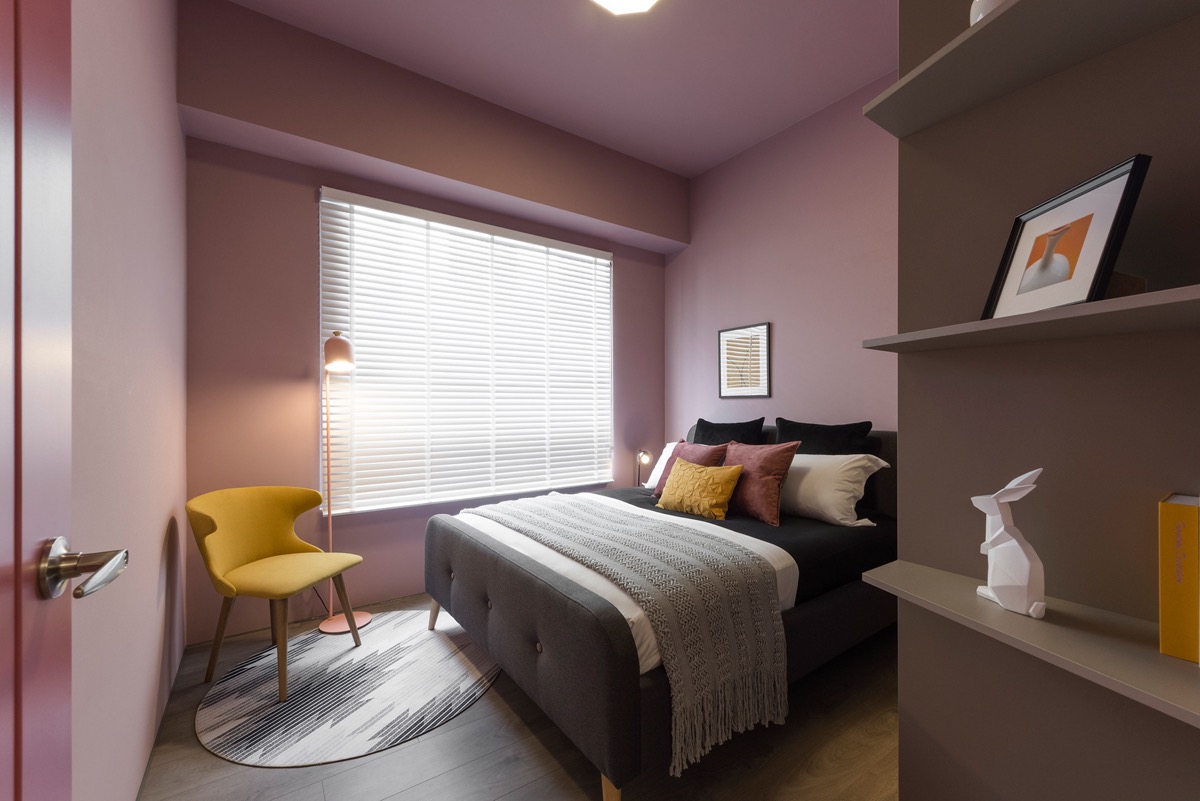 34 |
Visualizer: Angel black
Dress the room from head to toe. A bedroom that is completely enveloped in one colour, from ceiling to floor, will gain much needed colour relief in the form of a contrasting accent chair and bright home accessories. This example brings in warm sunshine yellow accents as a cheerful touch.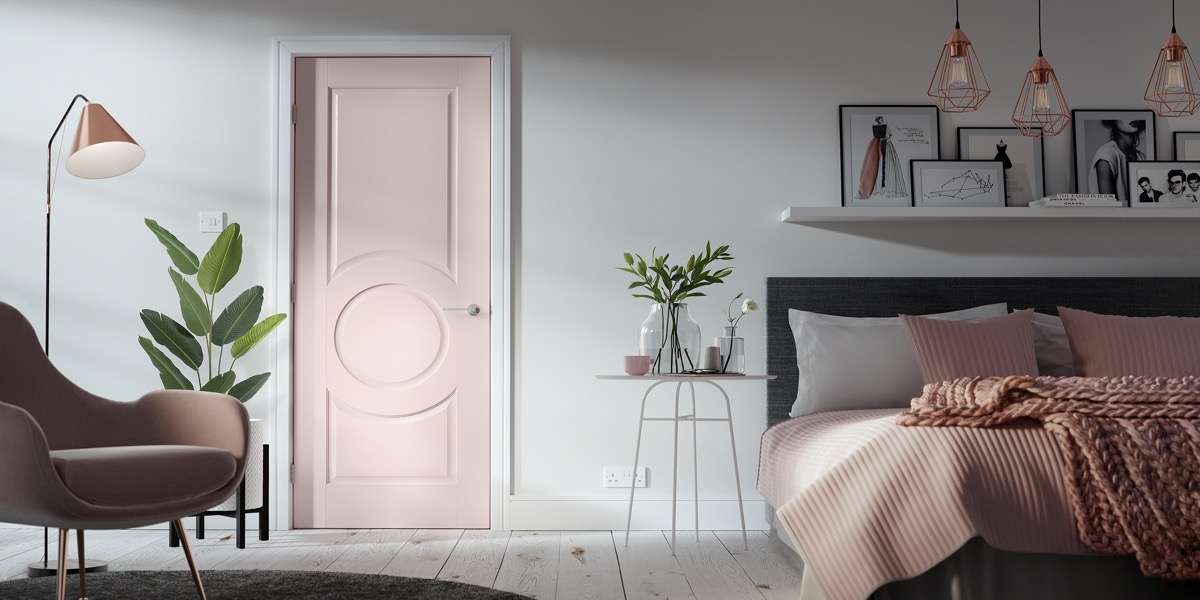 35 |
Visualizer: Pikcells Ltd
Redesign your door. White walls, white trims and white floors fill this Scandinavian bedroom. In order not to disturb the peace, only the door has been painted with a hint of pink to match a pink bed set.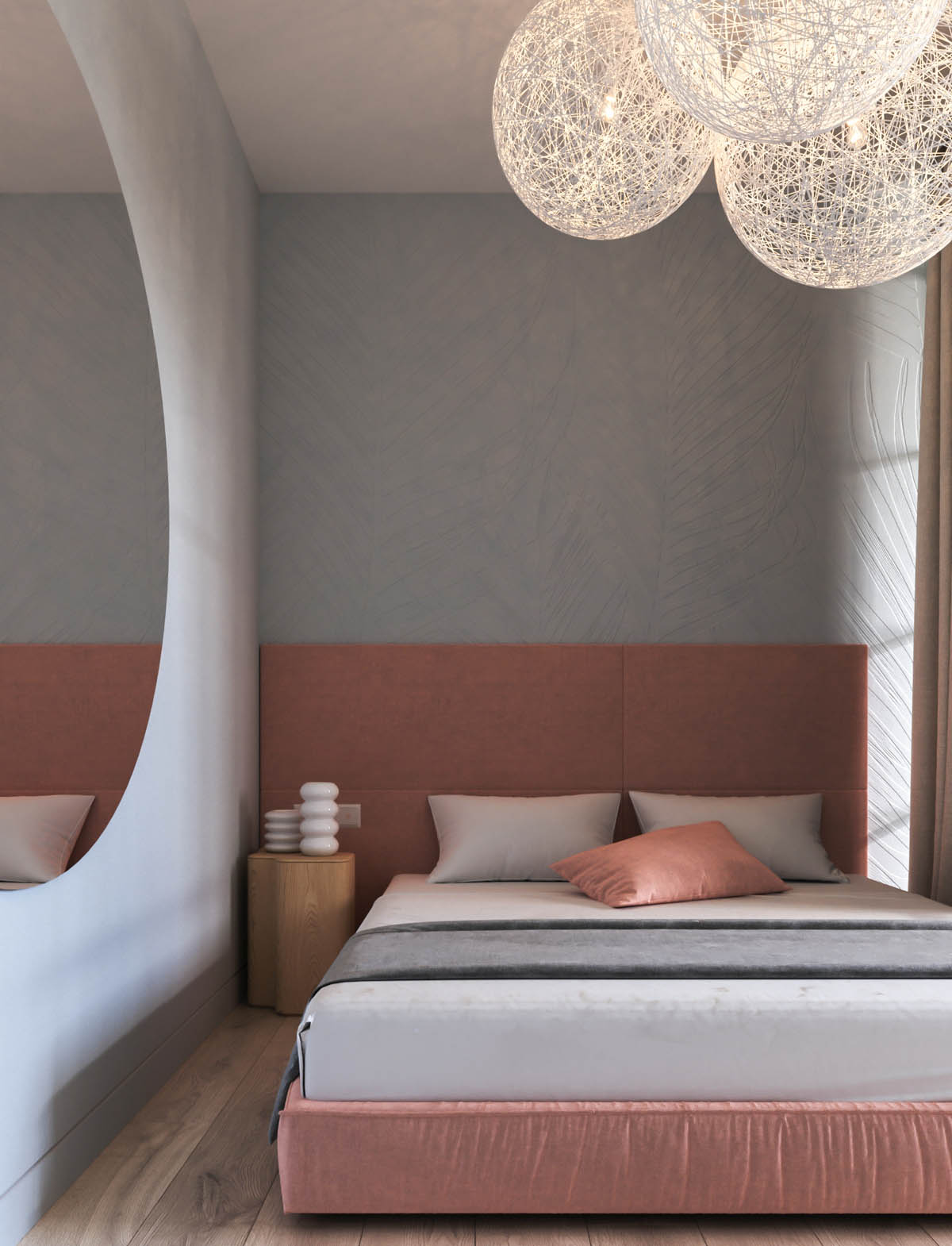 36 |
Visualizer: Ruslan Kovalchuk & Stephen Tsimbalyuk
Double the room colour with a huge mirror.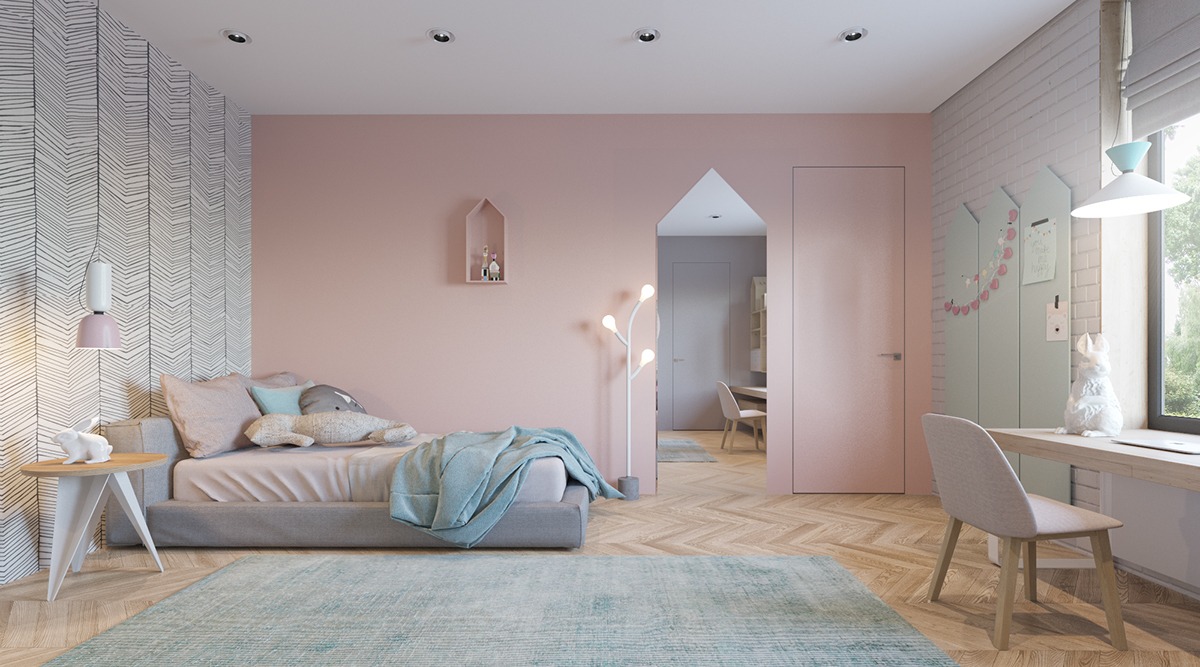 37 |
Visualizer: Olia Paliichuk
Paint with pastels. Pastel pink and powder blue will always be beautiful together. Apply in even amounts for a baby soft colour scheme.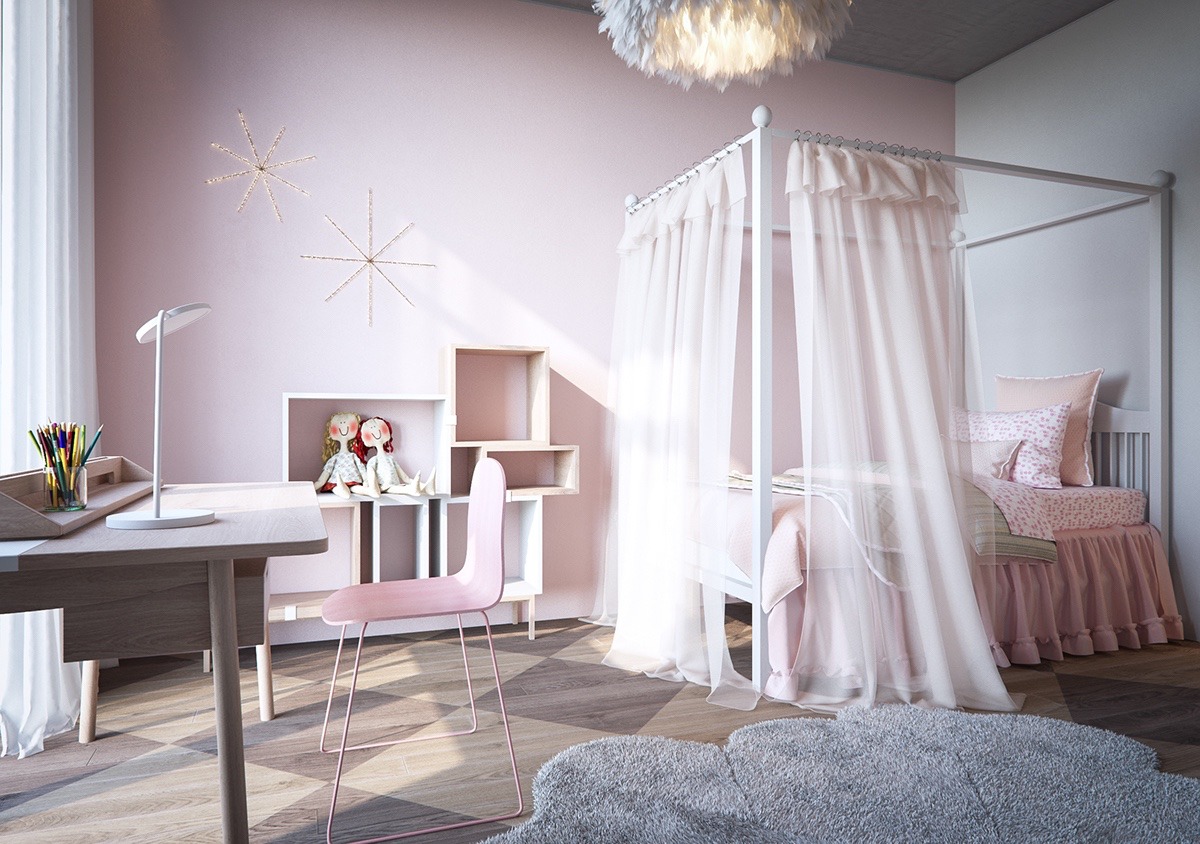 38 |
Visualizer: Vladimir Korsun
Is there anything more traditionally girly than a pink bedroom with a four poster bed? This room also features a modern desk space with a pink kid's chair so she can work at making her own dreams come true.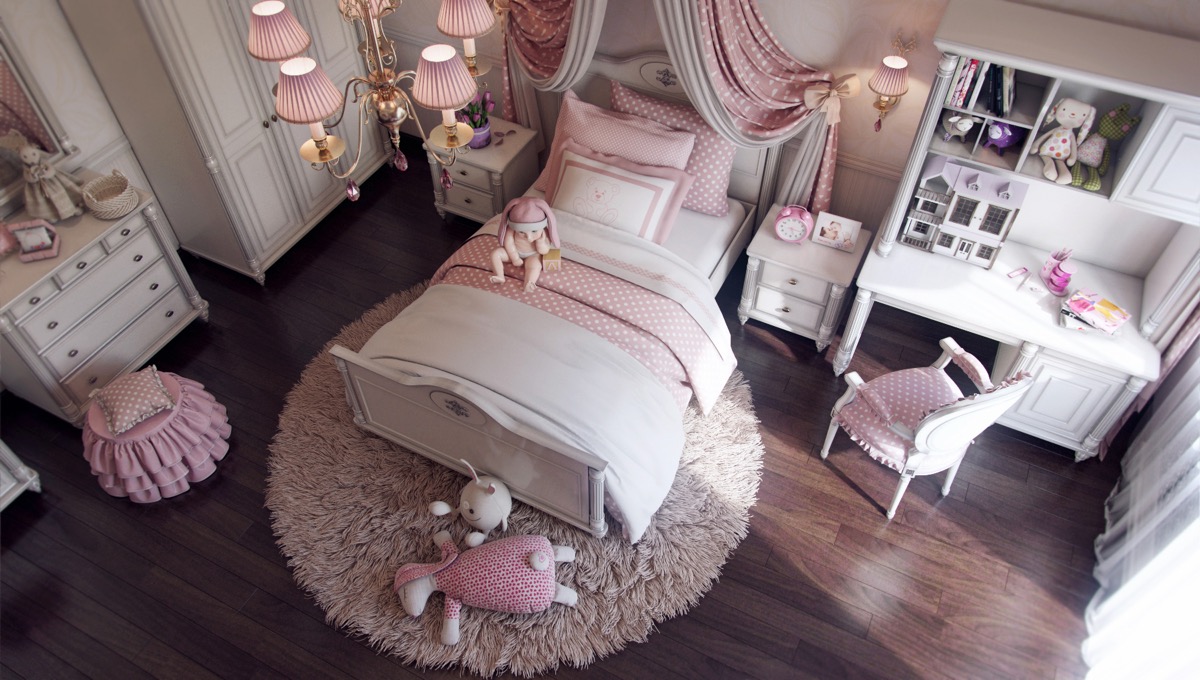 Another traditional pink kids' room, this time with a canopy bed.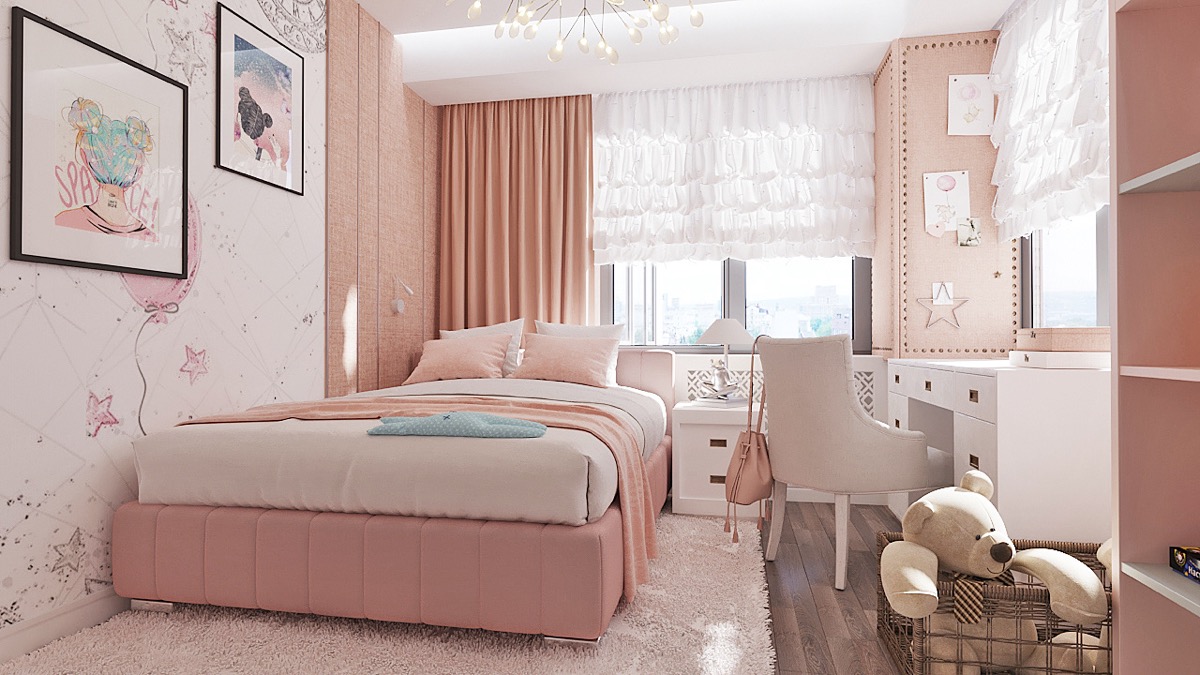 40 |
Visualizer: Andrey Malienko
Fluff out with frills and extra fabric. Ruched nets dress the dual aspect windows here; pink drapes have been hung to the side of the glass to make the window look bigger. The walls beside the bed and desk have been softened with pink upholstered panels.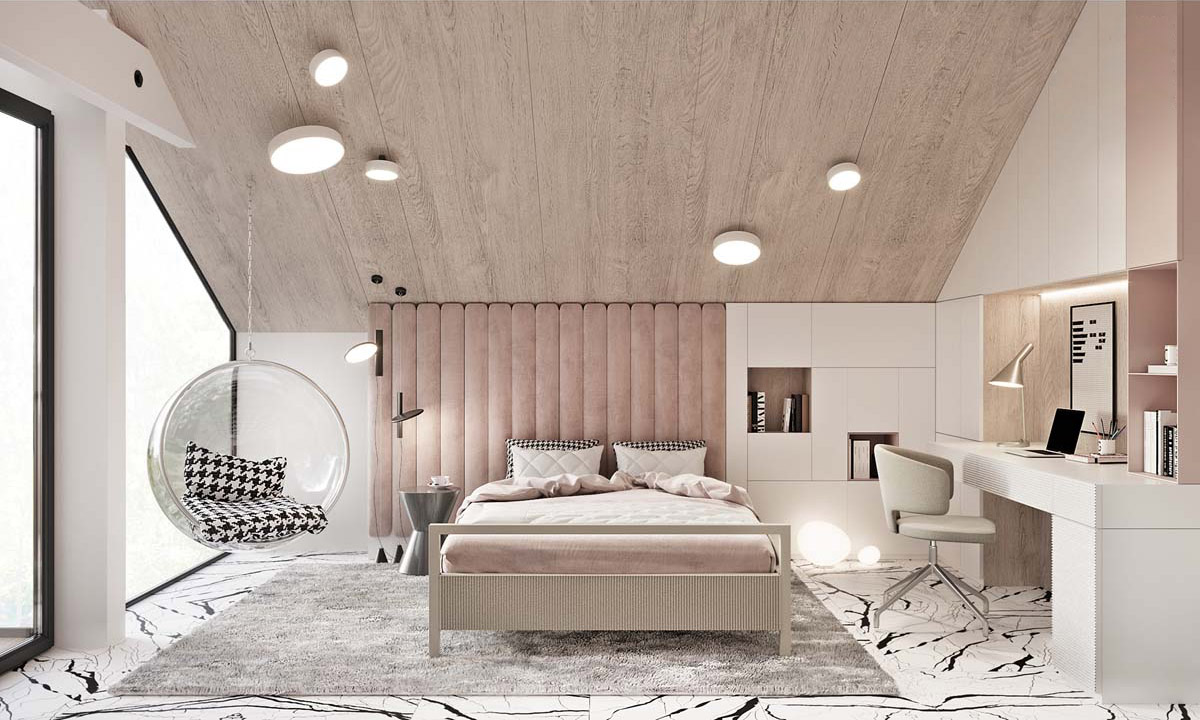 41 |
Visualizer: TOL'KO interiors
Fashion your own pink pieces. This luxury kids' room has all of its storage furniture made-to-measure. A designer table lamp and a set of pink shelves fit inside a desk nook, below bespoke wall units with a matching pink door.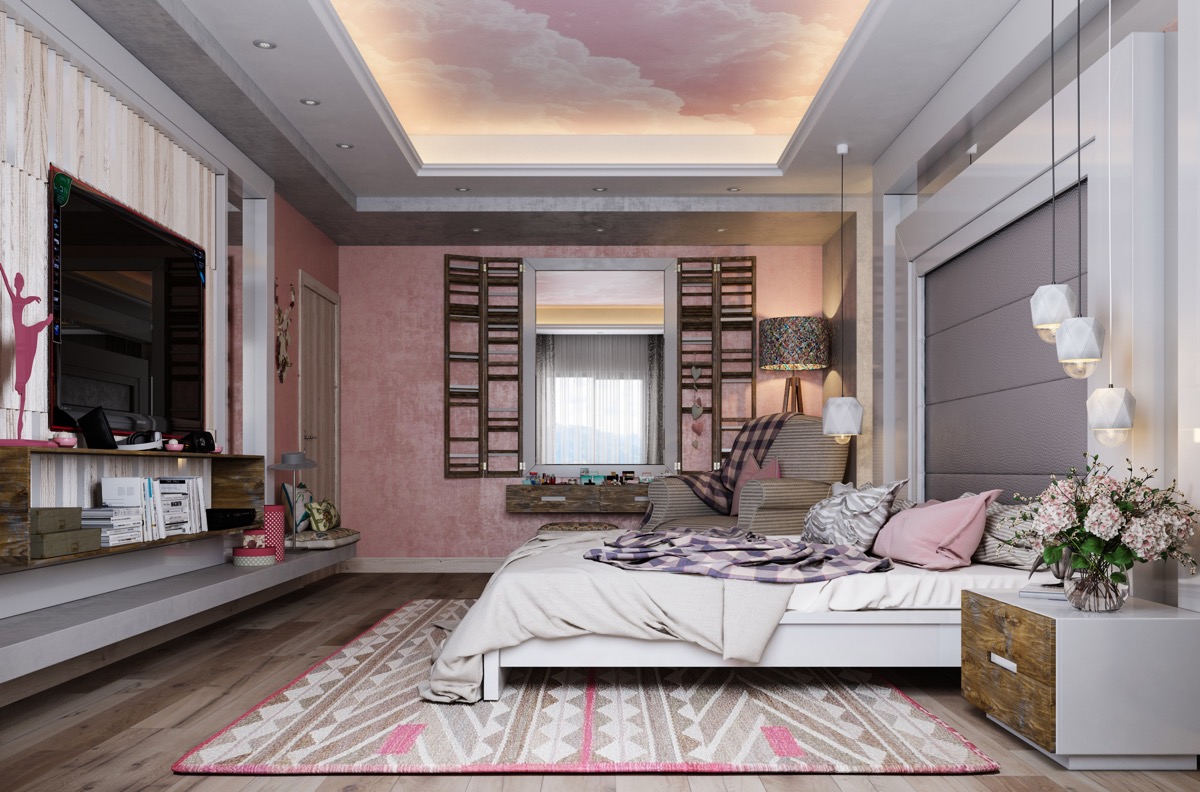 42 |
Visualizer: Maggi Samir
Sleep beneath a pink sky, like this dreamy pink cloud ceiling mural. A pink area rug reflects the hue back down on ground level.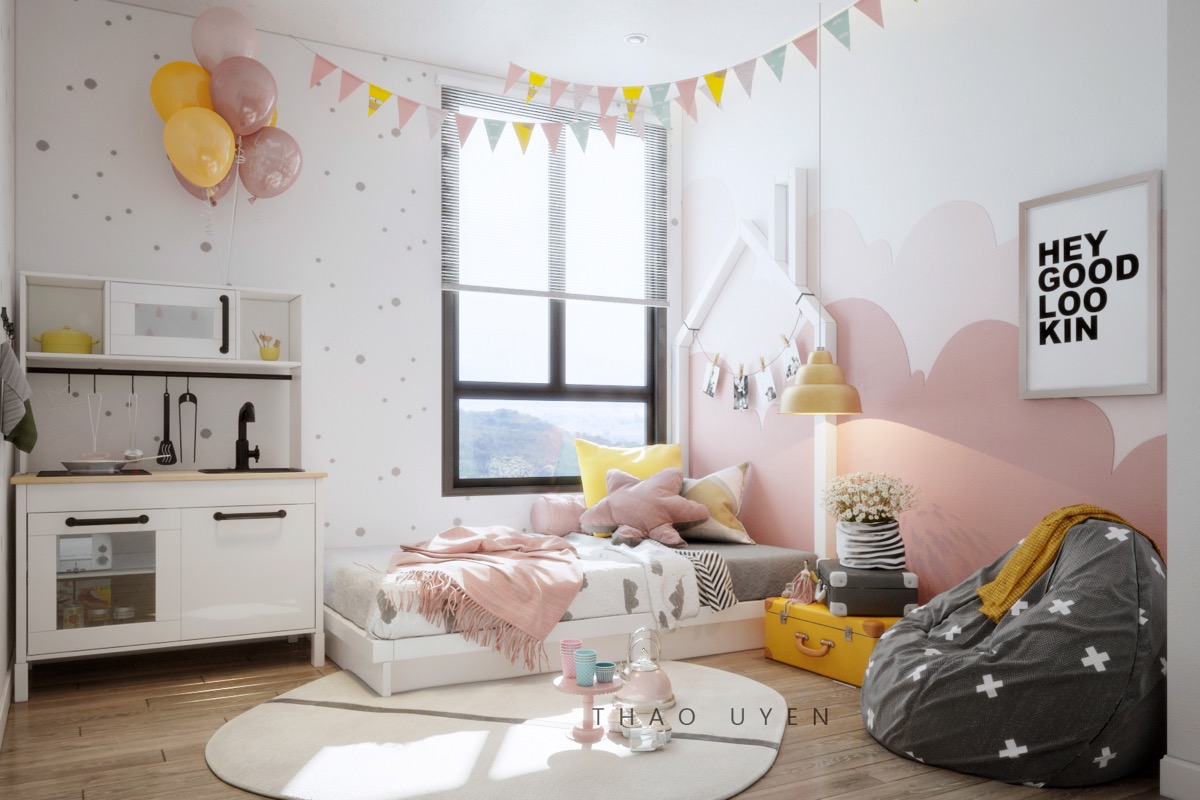 43 |
Visualizer: Thao Uyen
A more child-like vision of the pink cloud theme.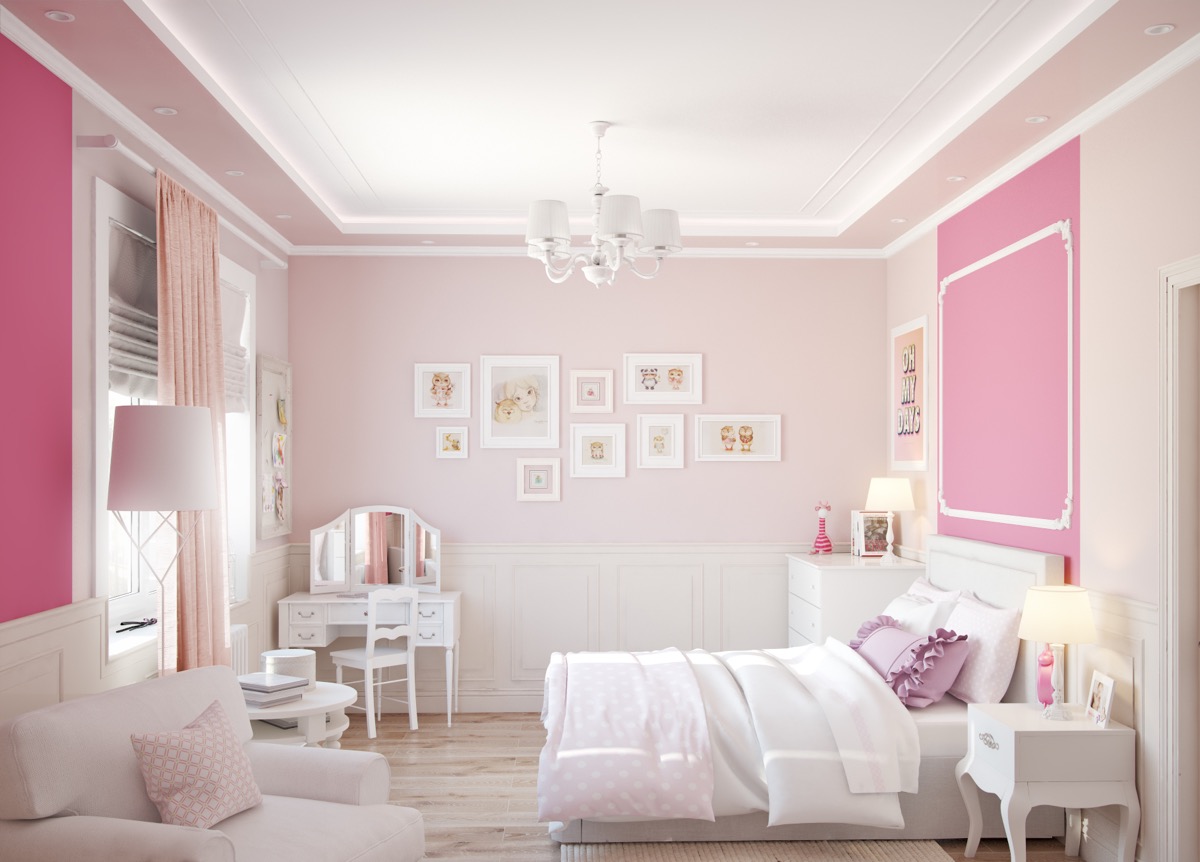 44 |
Visualizer: Andrei Erokhin
Blow hot and cold, with hot fuschia and iced pink wall sections.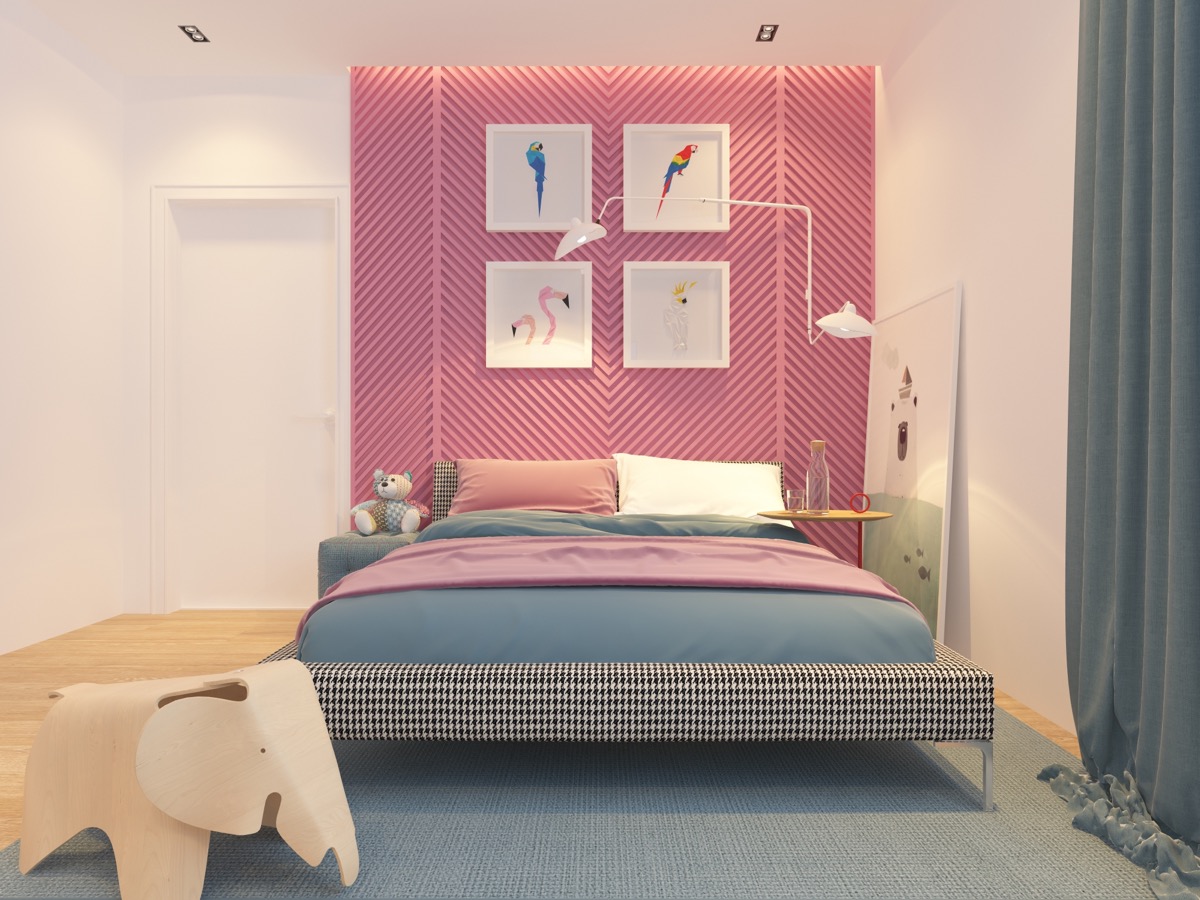 45 |
Visualizer: Anton Naselevets
Take inspiration from the tropics. A white swing arm wall lamp stretches across tropical bird prints on this hot pink headboard feature wall.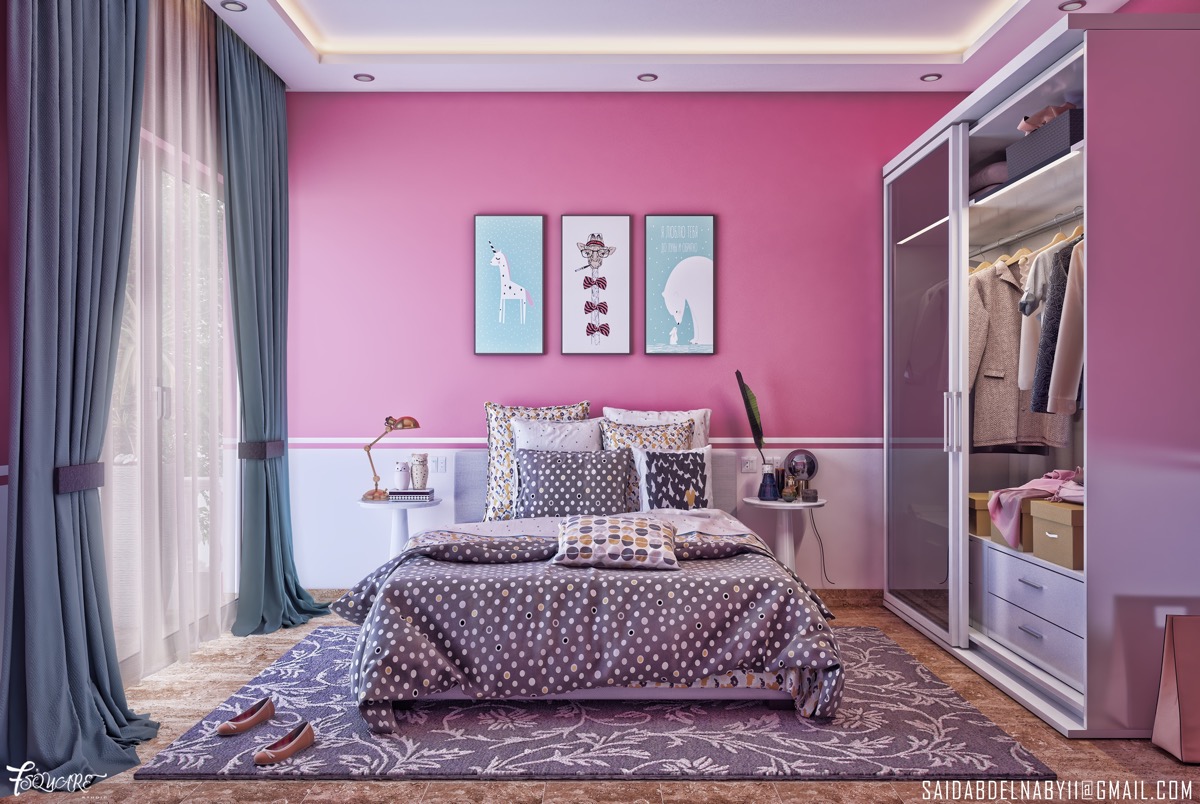 46 |
Visualizer: 7 Square Studio
Another take on a hot pink accent wall with animal art prints.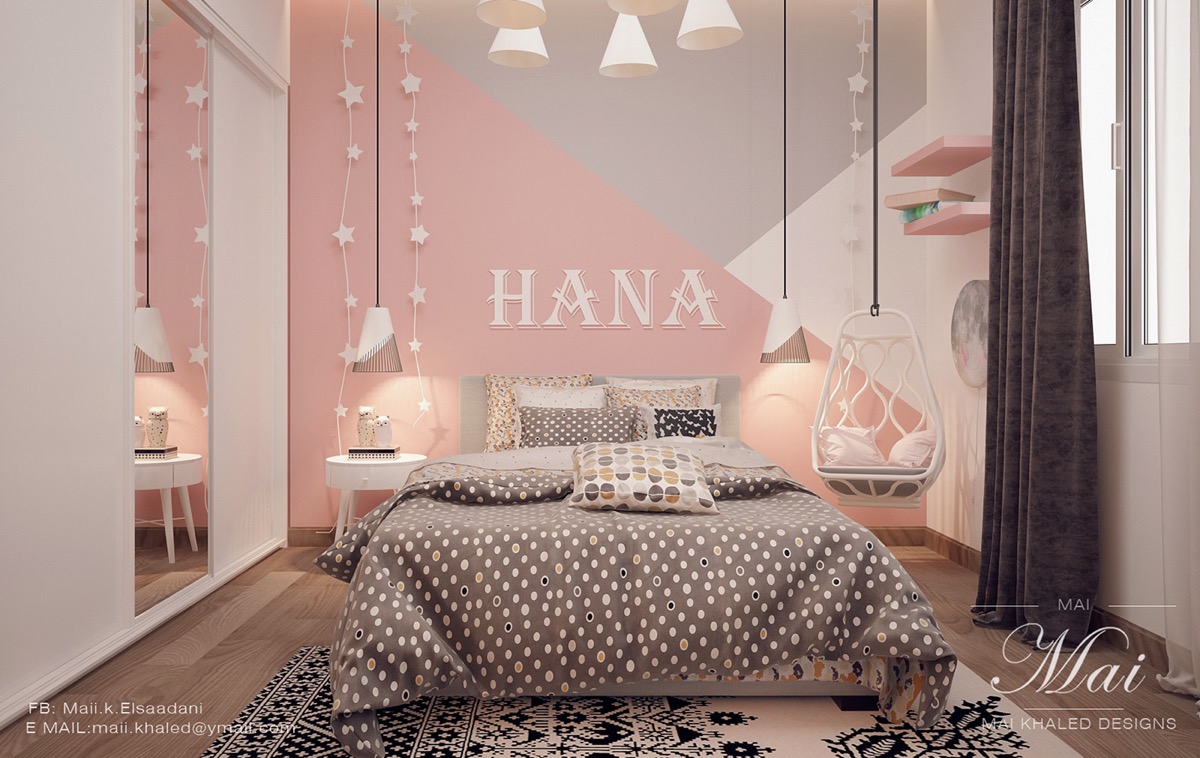 47 |
Visualizer: Mai Khaled
Pink and personalised. Kids love to see their names printed on just about anything, from pencils and pencil cases to mugs and tshirts. Why not personalise their room too with some painted wood wall letters.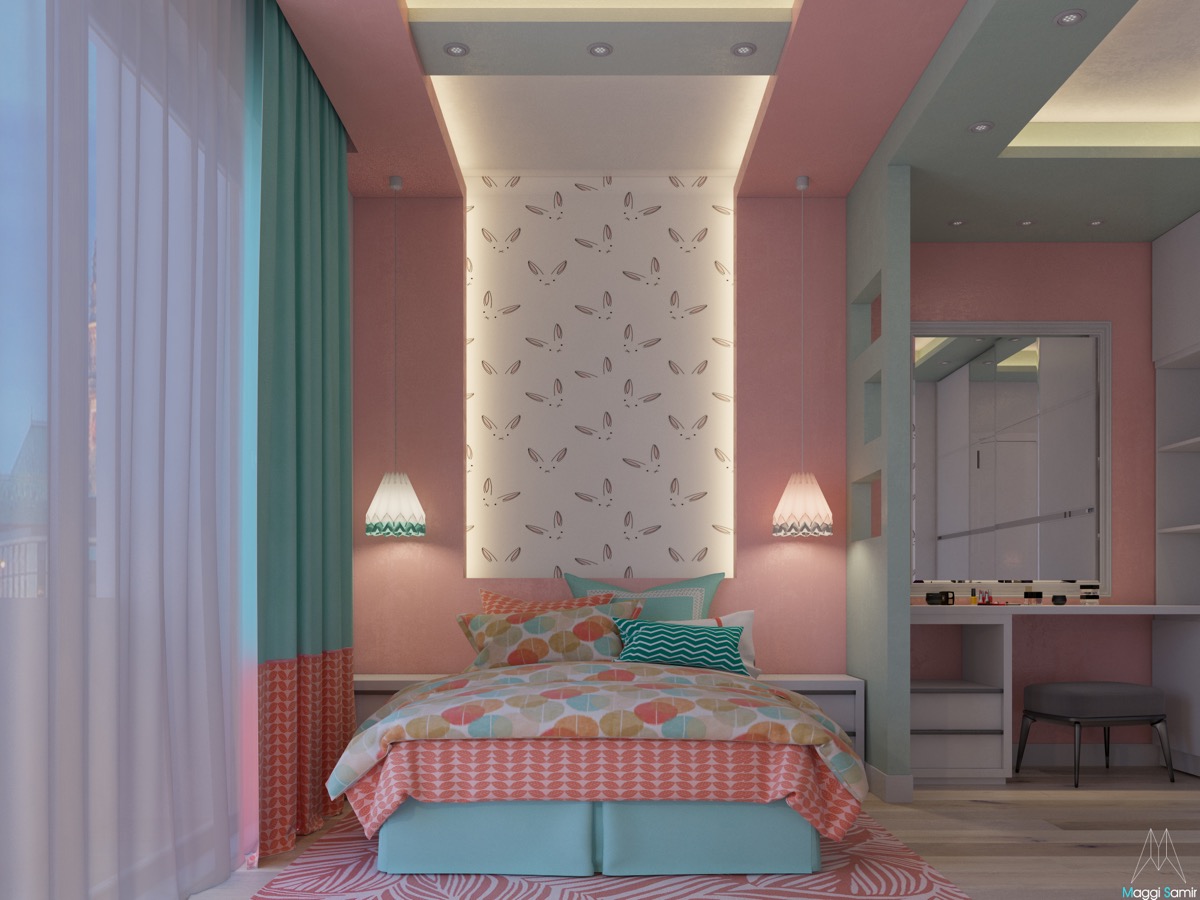 48 |
Visualizer: Maggi Samir
Change up prints and patterns.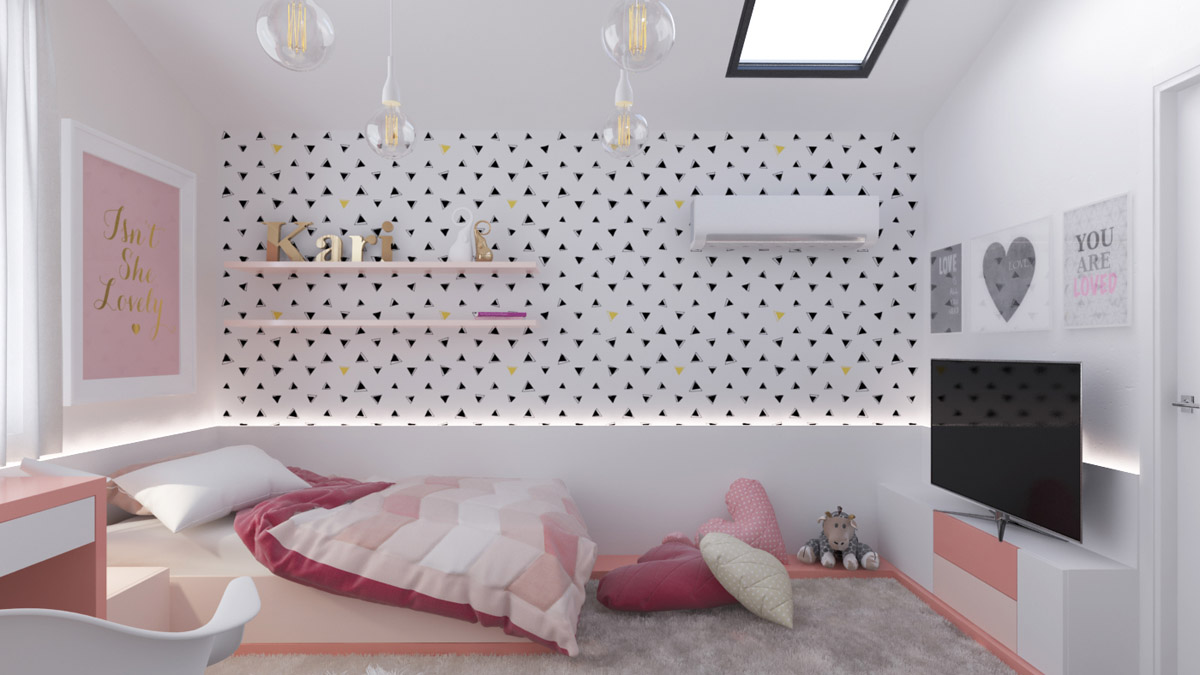 49 |
Visualizer: FINE DESIGN
Soft pink meets soft lighting in this pink black and white kid's room, which is trimmed with a half height border of LED perimeter lighting.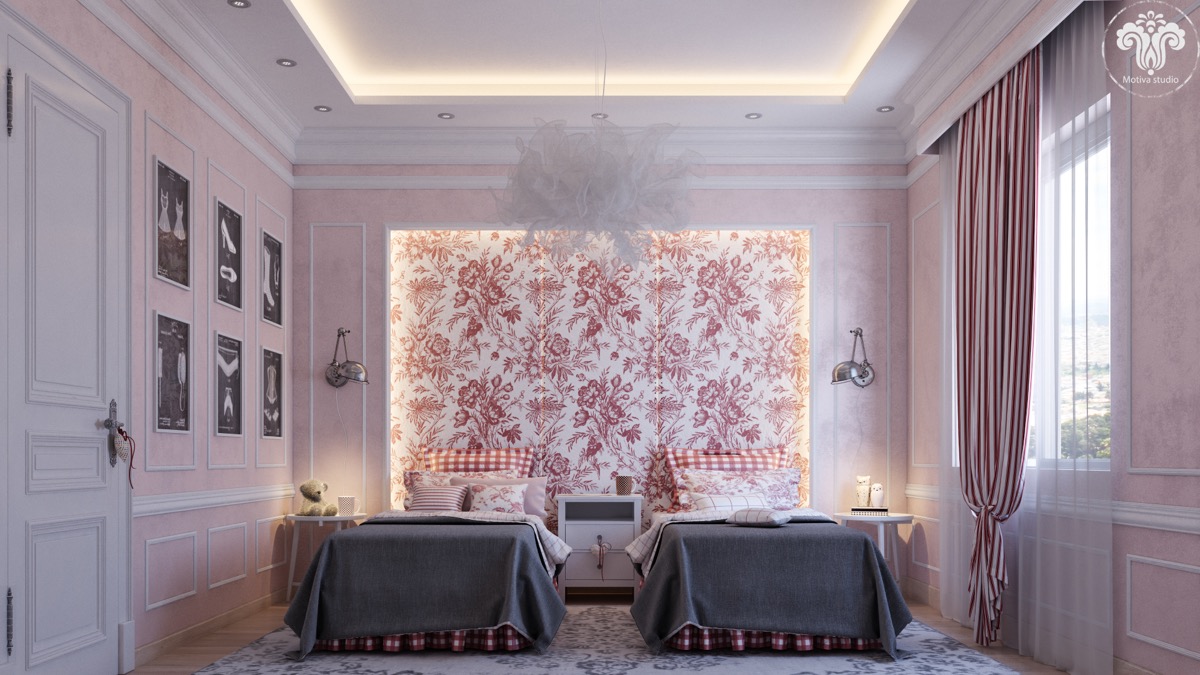 50 |
Visualizer: Maggi Samir
This softly lit floral feature forms a joint headboard for twin beds. See more ideas for shared kids' rooms here.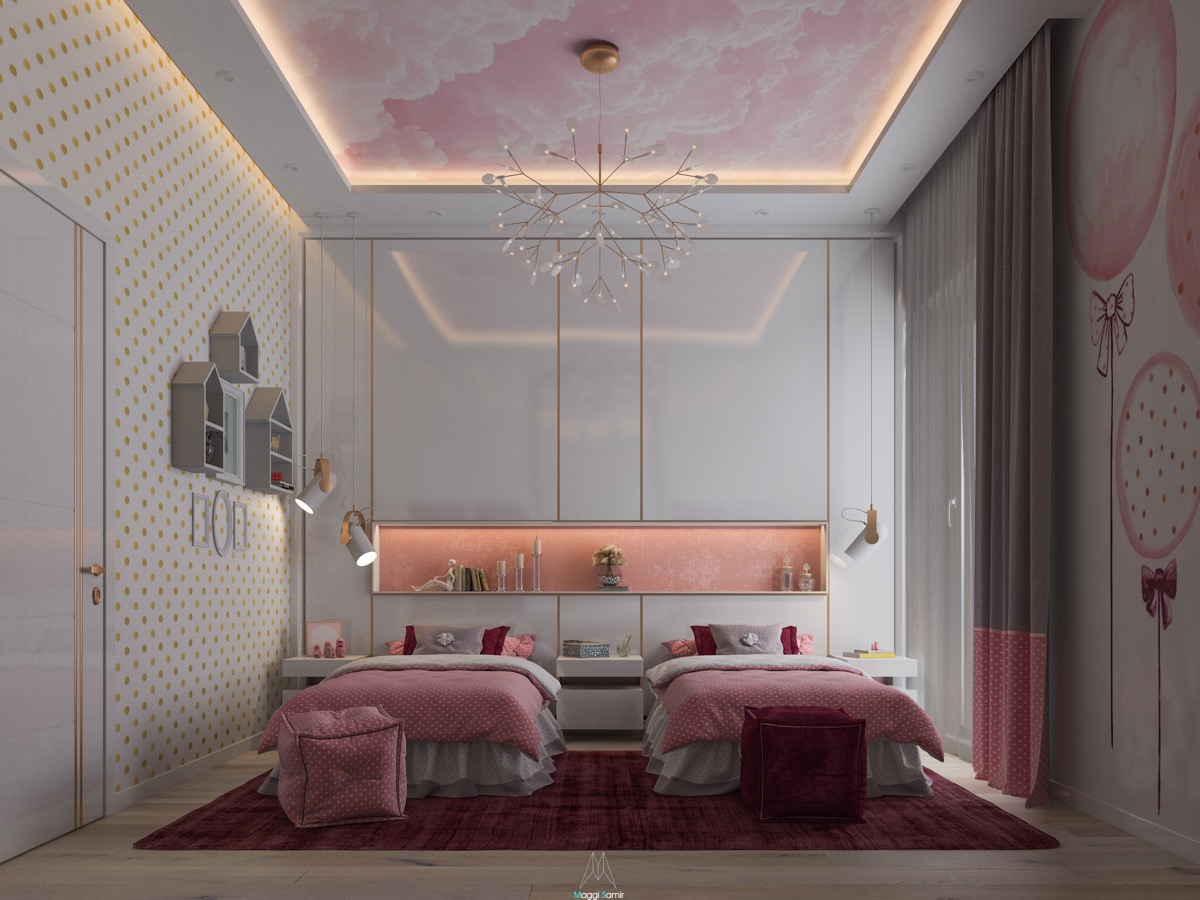 51 |
Visualizer: Maggi Samir
LED strip lights trim a ceiling mural and a modern chandelier here. A recessed pink wall shelf glows warmly above the two matching pink kids' beds.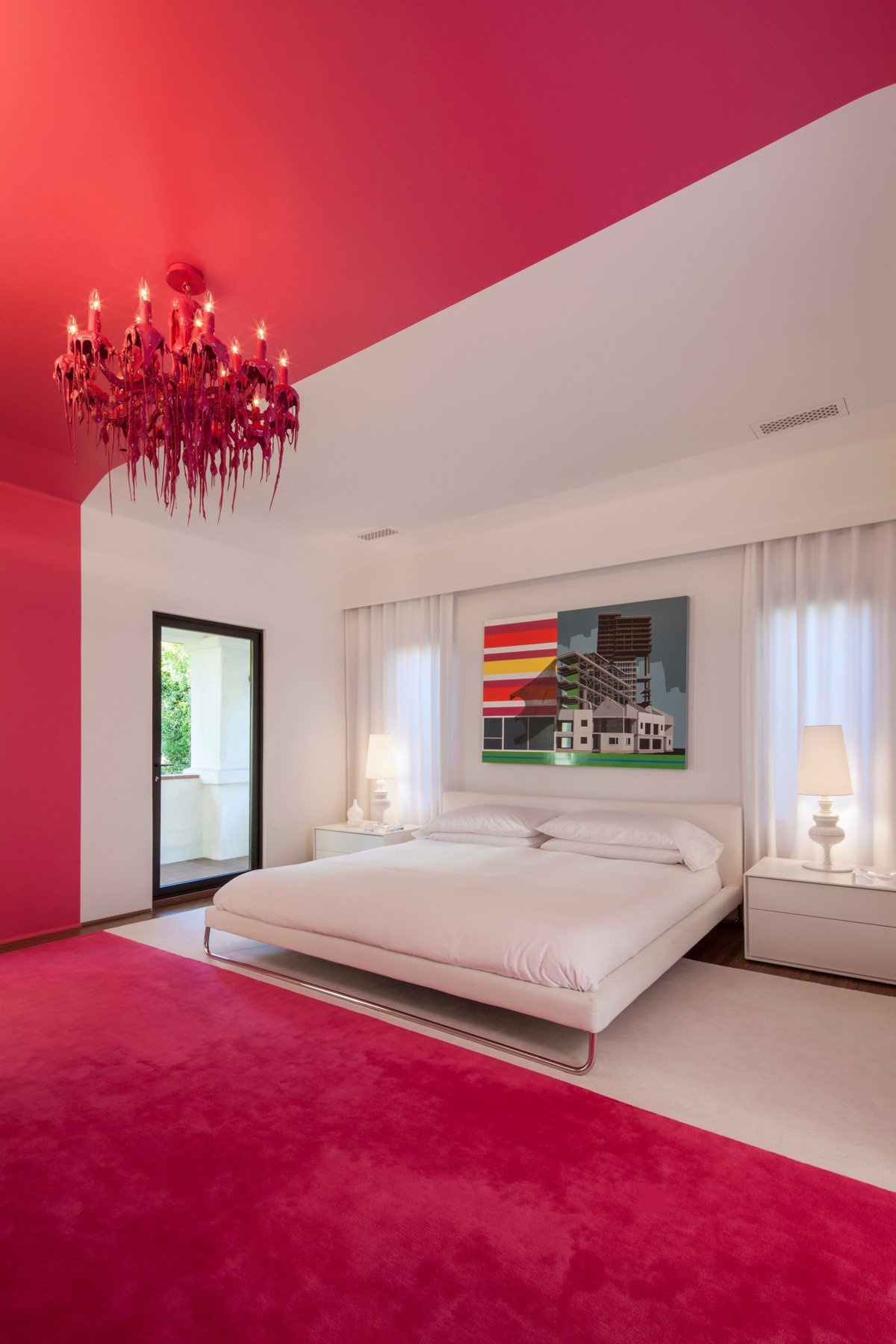 52 |
Visualizer: Ghislaine Viñas Interior Design
Take it over the top. Create a stripe of unapologetic fuschia pink across your floor, up your walls, and over your ceiling. Hang a colour coordinated chandelier for extra full-on effect.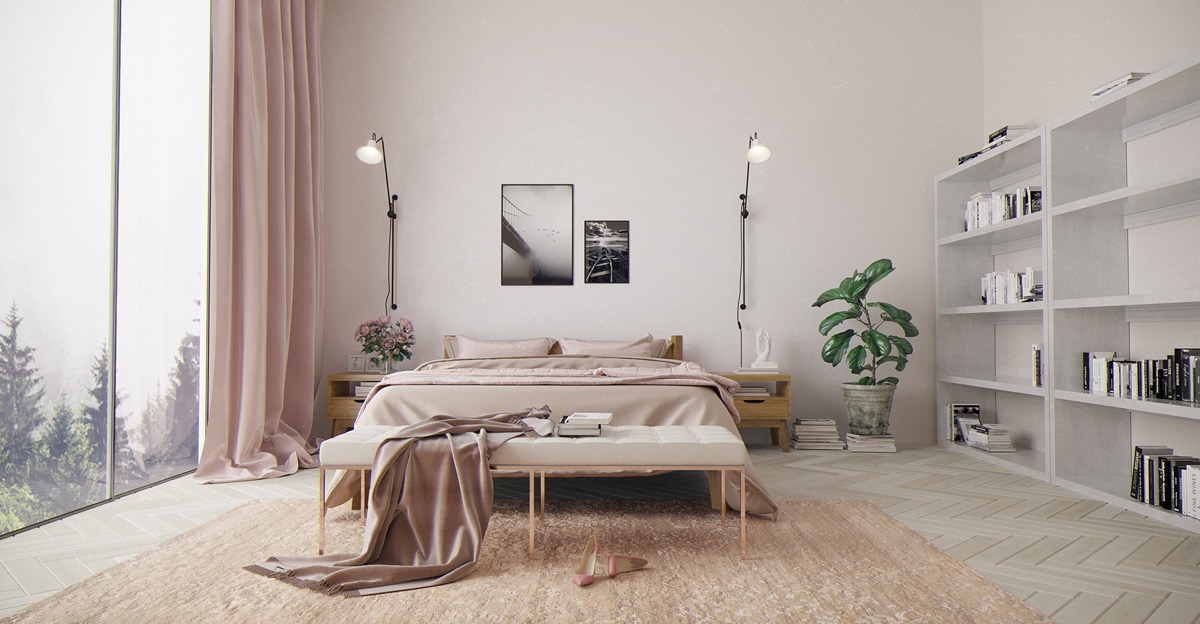 53 |
Visualizer: Anna Potapenko
Drape a white space with flowing pink accessories, like silky window drapes, soft bed set and a matching throw. Use elegant black accents to sharpen up the scene, such as monochrome artwork and some slimline swing arm wall lamps.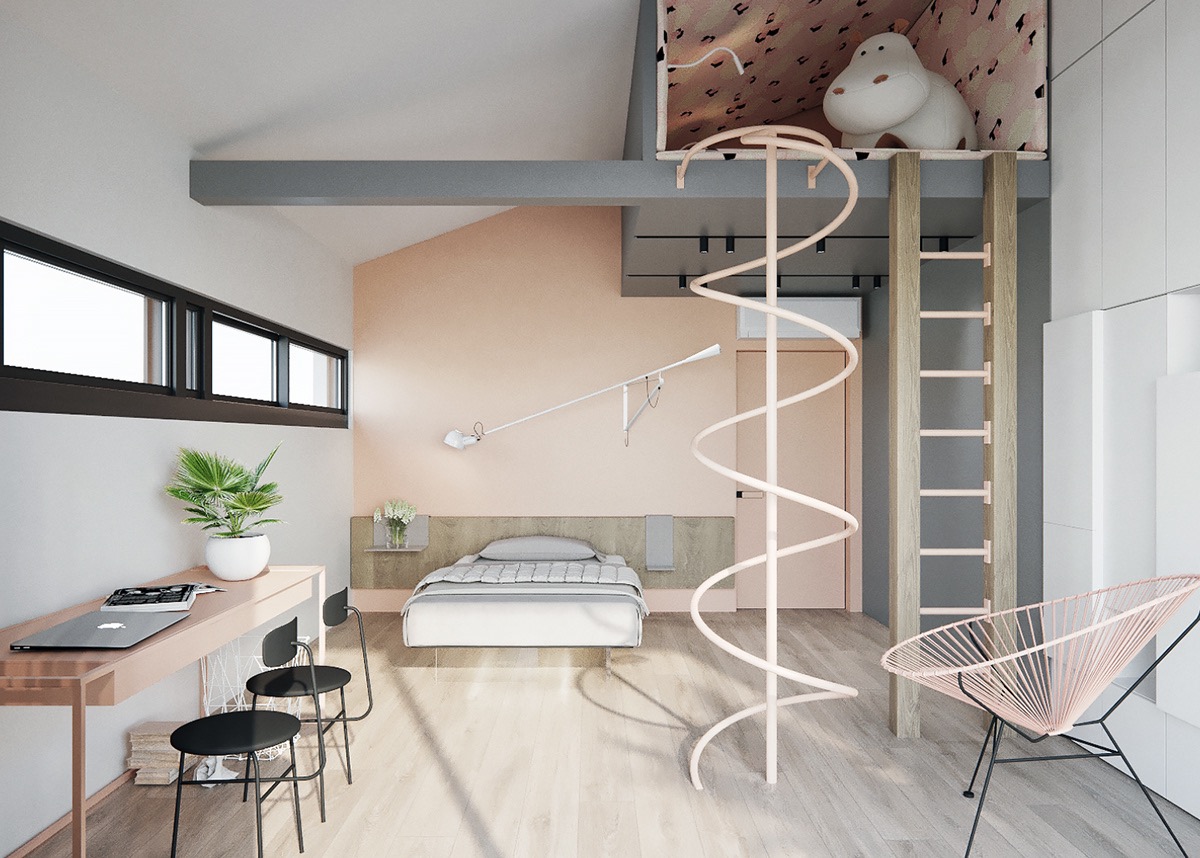 54 |
Visualizer: LEVEL80 | architects
Lighten up a lofted bed or playspace. Light pink makes a light and delicate lining for a boxed-in bunk or play nook. Colour match the stairs or ladders that climb up to it to accentuate the effect.
55 |
Visualizer: Luxibu Lu
Offset smooth pink planes with textured feature walls to conquer an awkward room shape.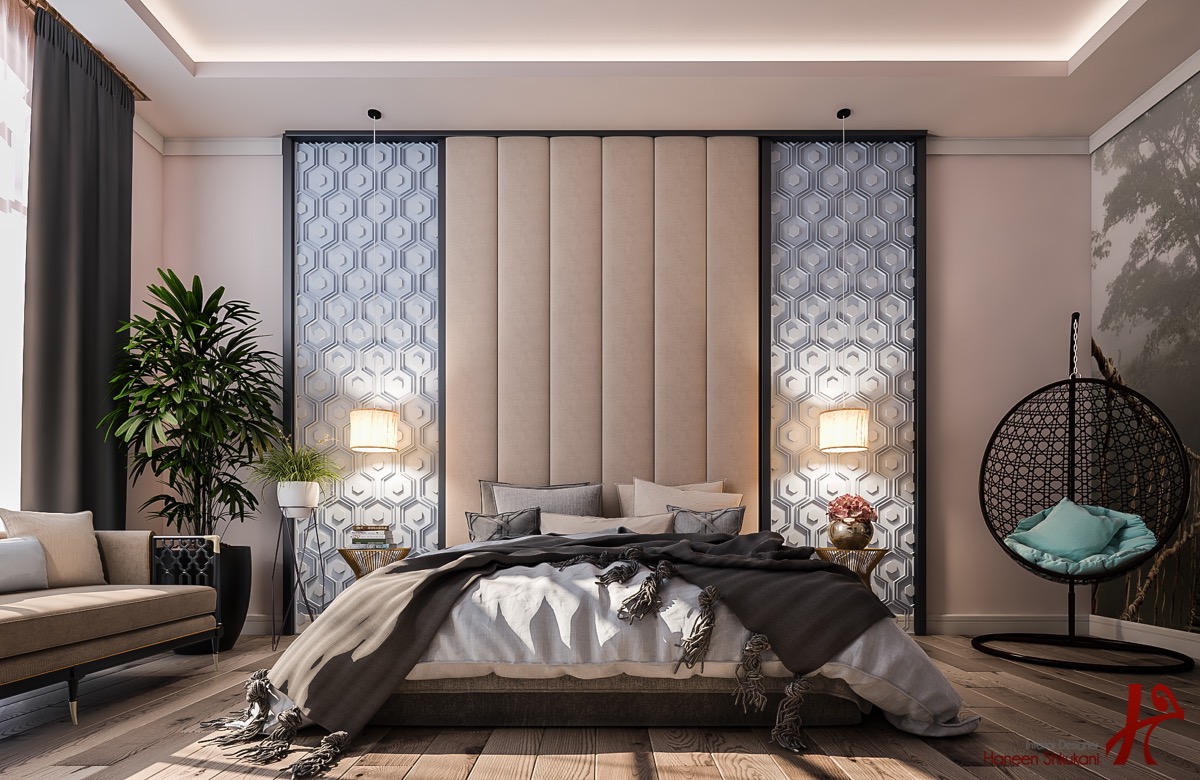 56 |
Visualizer: Haneen Shkukani
Widen the effect of a pink headboard without overdoing it on colour. Add white patterned/textured panels onto each side of the pink headboard design, and frame all three pieces to keep them visually connected.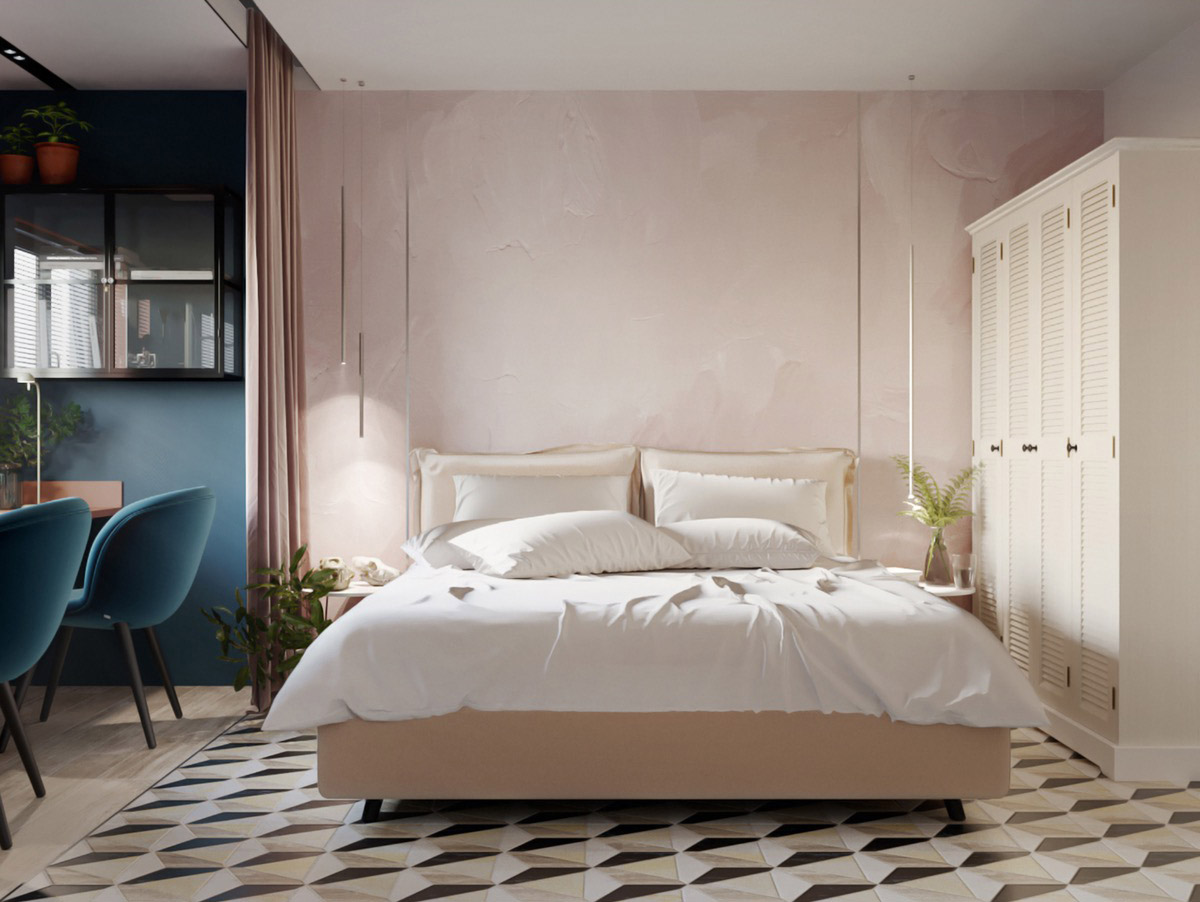 57 |
Visualizer: Shkolnikova Ksenia
Make a misty dreamy bedroom wall by rolling out a pink paint effect. In this room, a pink portiere draws across a home office area to keep work and rest zones softly sectioned. The home workspace is also decked out in deep teal green to exaggerate the boundary.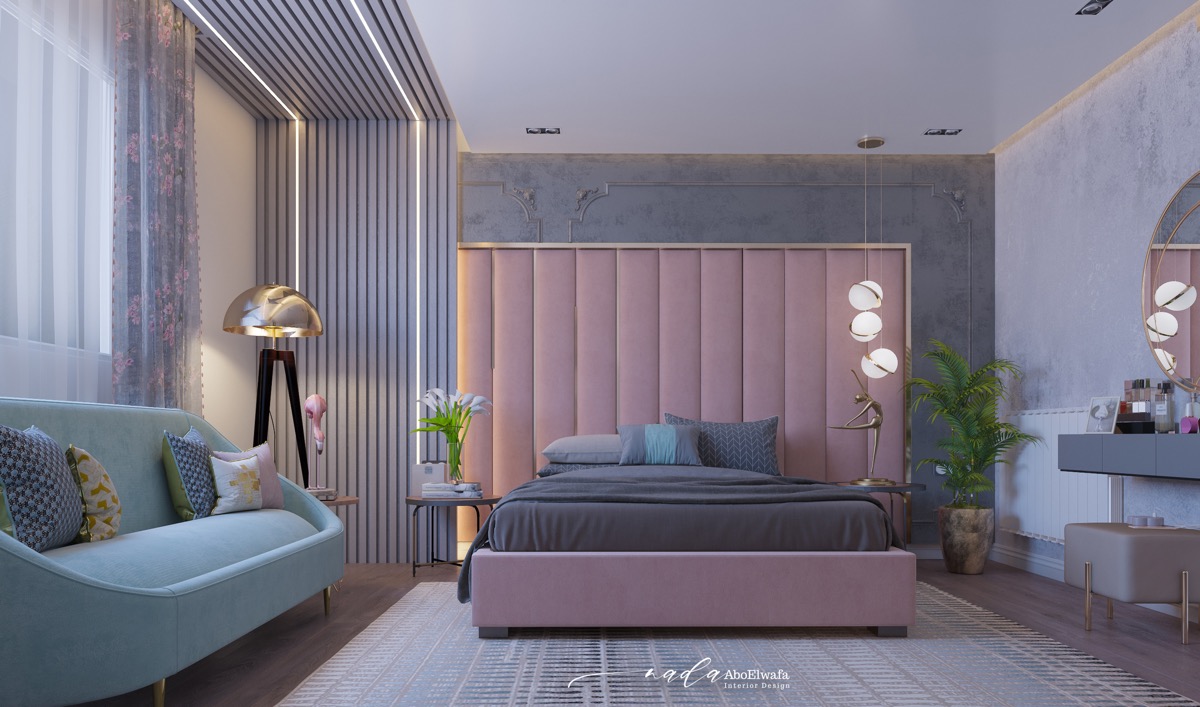 58 |
Visualizer: Nada AboElwafa
The curvaceous nature of globe pendant lights mingles gracefully with an intimate pink bedroom setting. Choose a clustered low hanging pendant design to fashion chic glamour.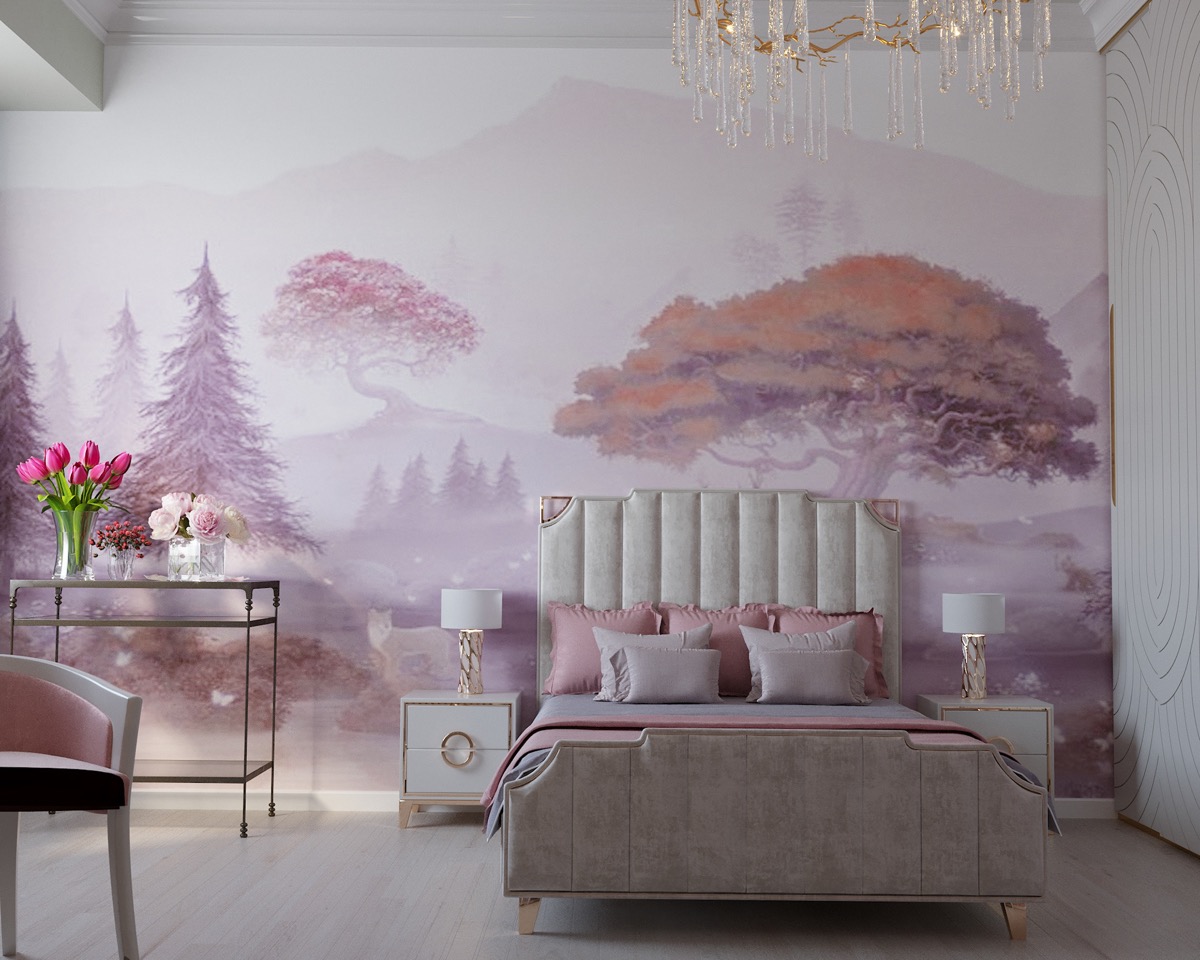 59 |
Visualizer: Fakhri Gafarov
Nature themed bedrooms don't have to be all about neutrals, mossy greens and shades of brown. Explore the possibility of a nature themed mural that's been tinted with pink to evoke hazy memories of summer sunsets. Dress the room with a vase of gorgeous pink blooms to bring in a real piece of the outdoors.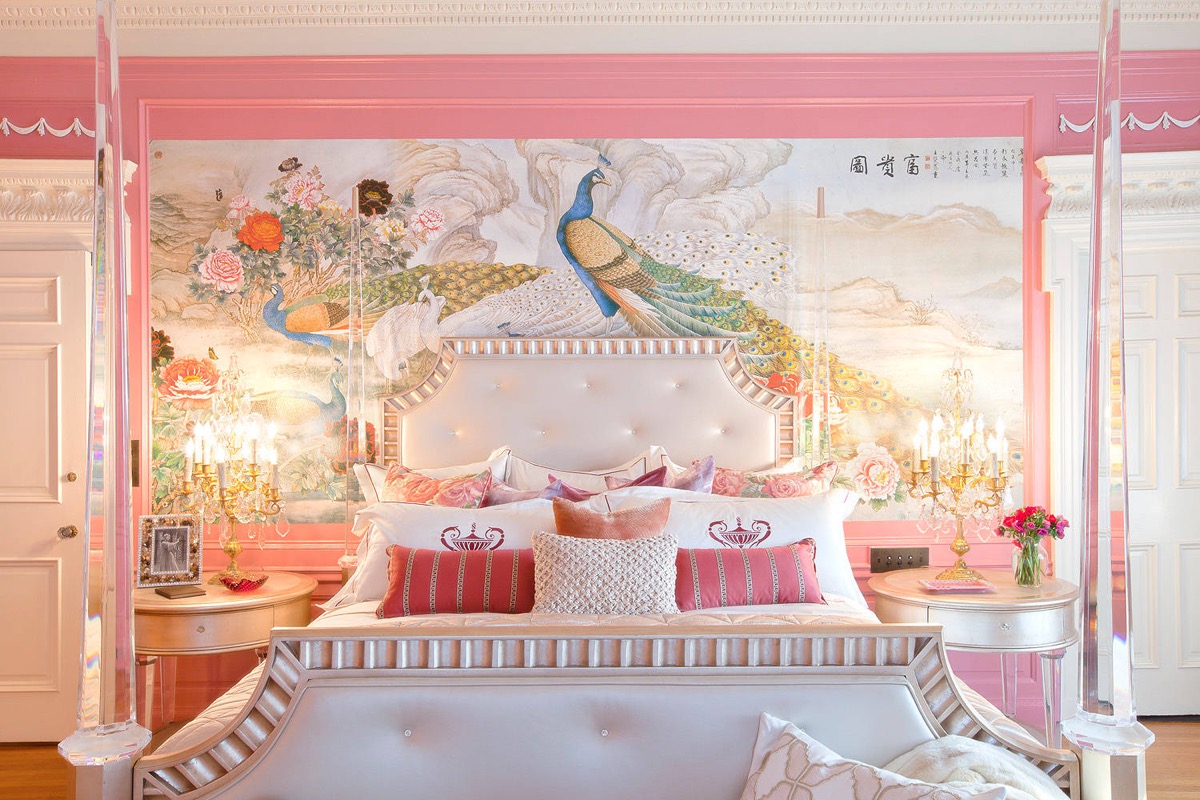 60 |
Designer: Woodson & Rummerfield's House of Design
Animal themed murals work too! This peacock decor is intermingled with imagery of pink roses, and surrounded by a frame of rose pink paint.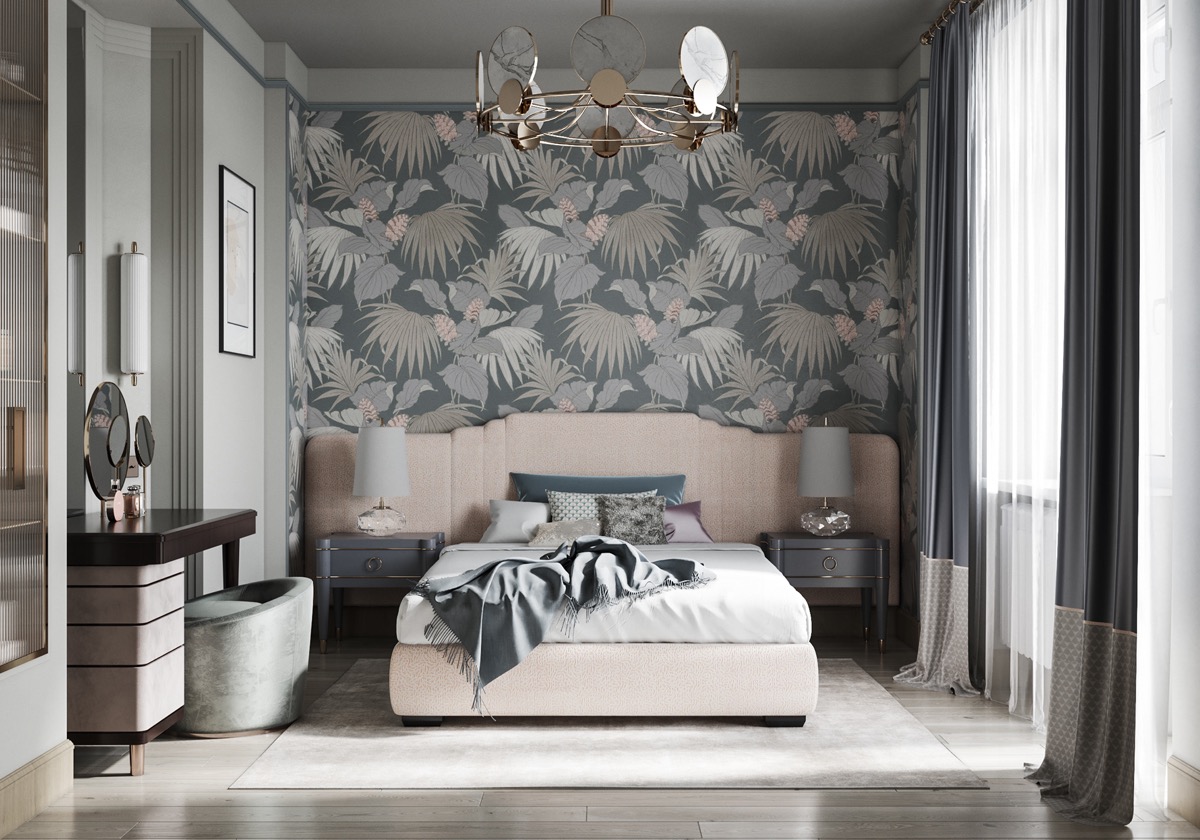 61 |
Visualizer: Horizon Render Vizualization Studio
Another beautifully executed nature themed decor scheme, this time achieved with a botanical print wallpaper that has blush pink accents amongst the foliage. A rising headboard silhouette sits like a pink crown bestowed upon the bed.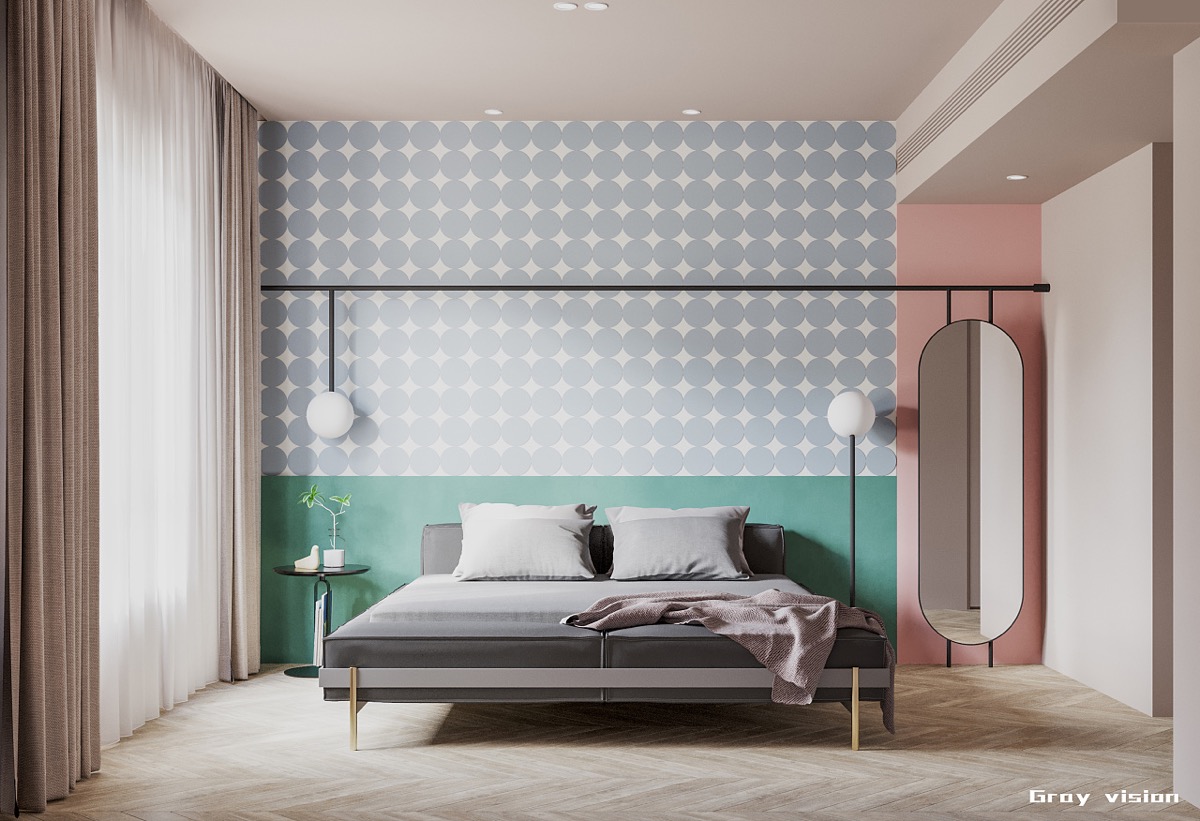 62 |
Visualizer: Gray Vision
Cut out a catwalk. Paint a rectangle of pink behind your floor length mirror, then tell us you don't strut toward it like you're doing runway at fashion week.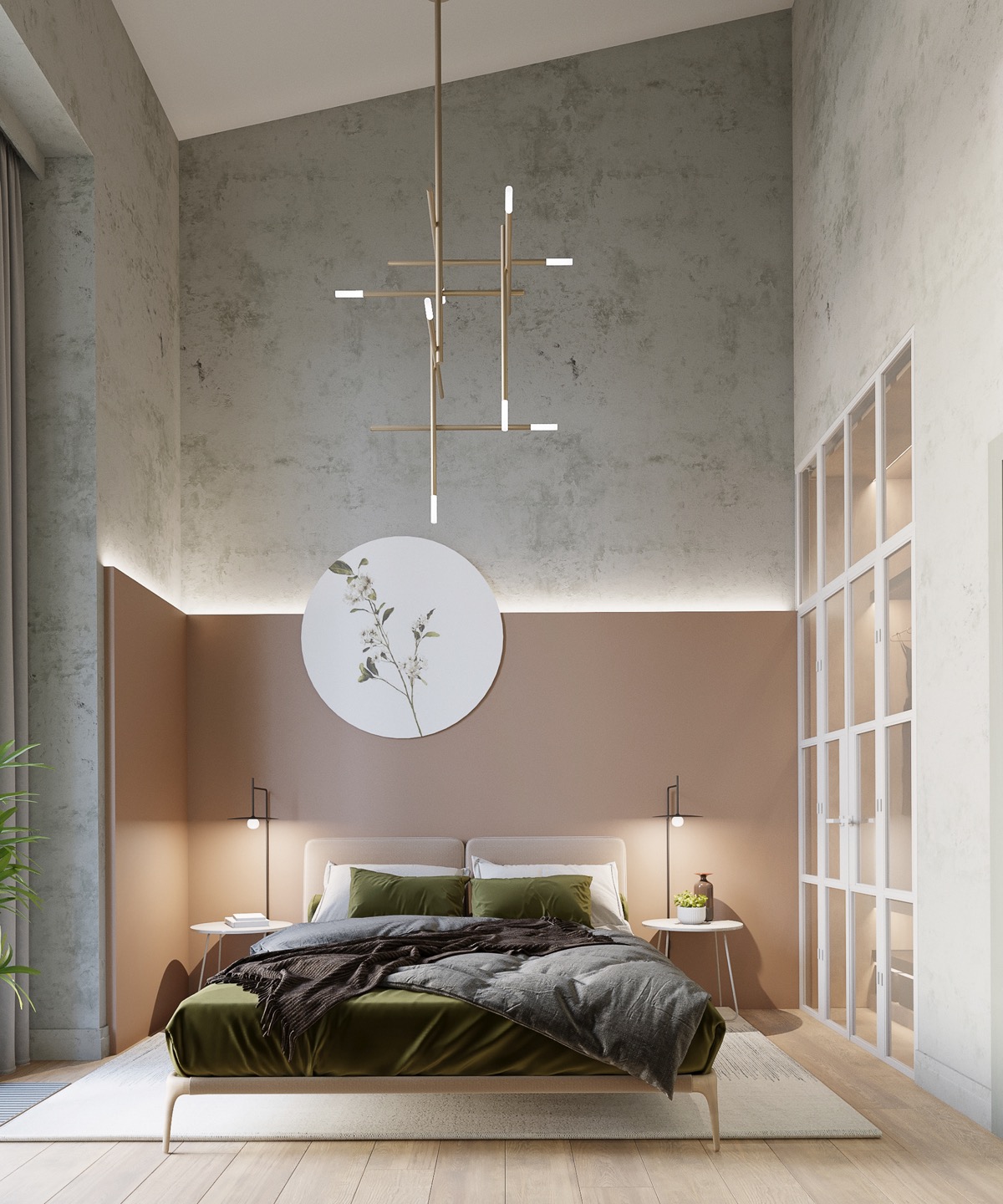 63 |
Visualizer: Anastasia Kruseva
A bit of pink, a lot of raw concrete and one hot modern chandelier–what more could one ask for? Oh, ok then, how about some fabulous ambient lighting to set off the pink panel work and a huge shiny glass closet? Bellissimo!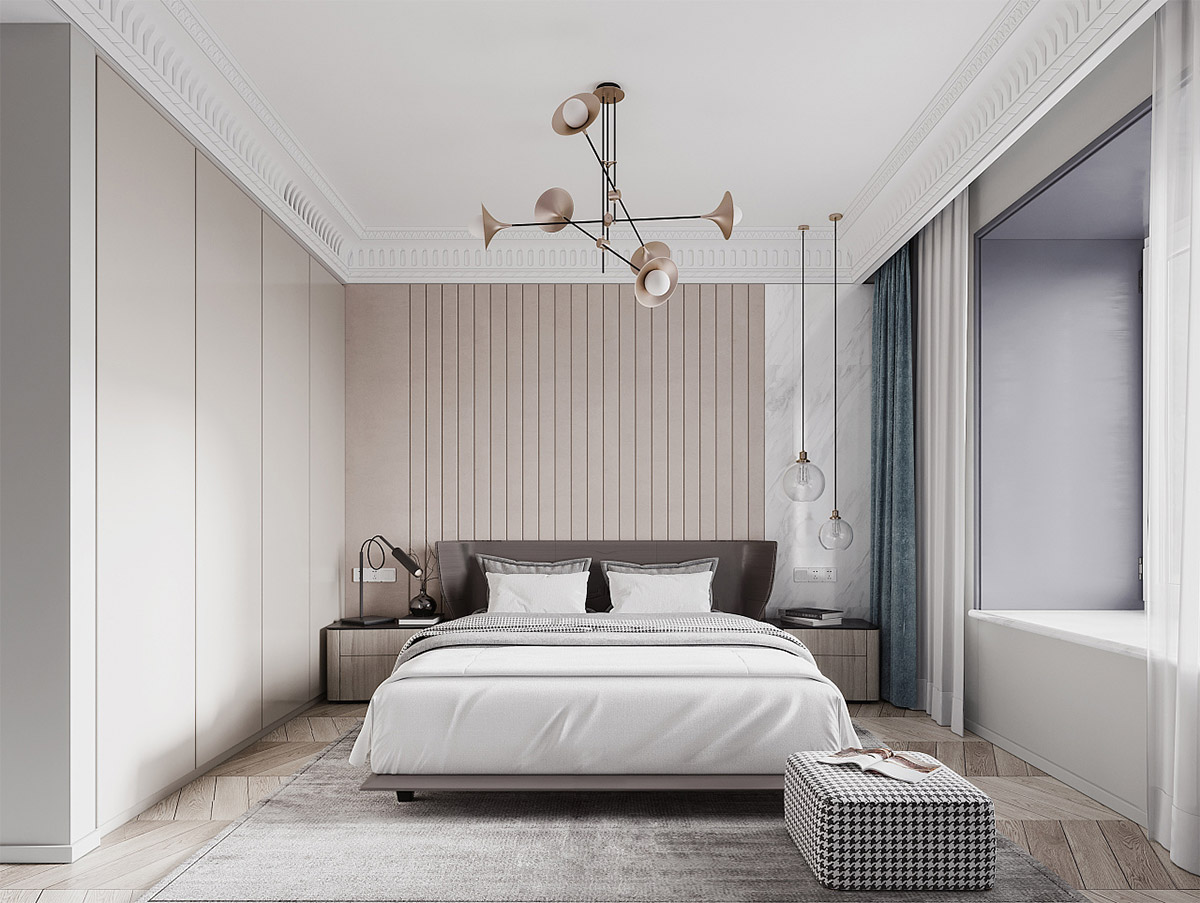 Bring a little buzz into a fully pink colour scheme by adding a pair of plush sapphire blue drapes at the windows.
65 |
Visualizer: Lanre Alao
Chip away at any unwanted sweetness by choosing big and bold, black and white additions. A heavily graphic black and white rug will help weigh down a light scheme, monochrome art dresses walls without overflowing a colour palette. Finish with a black modern pendant light to keep the look tight.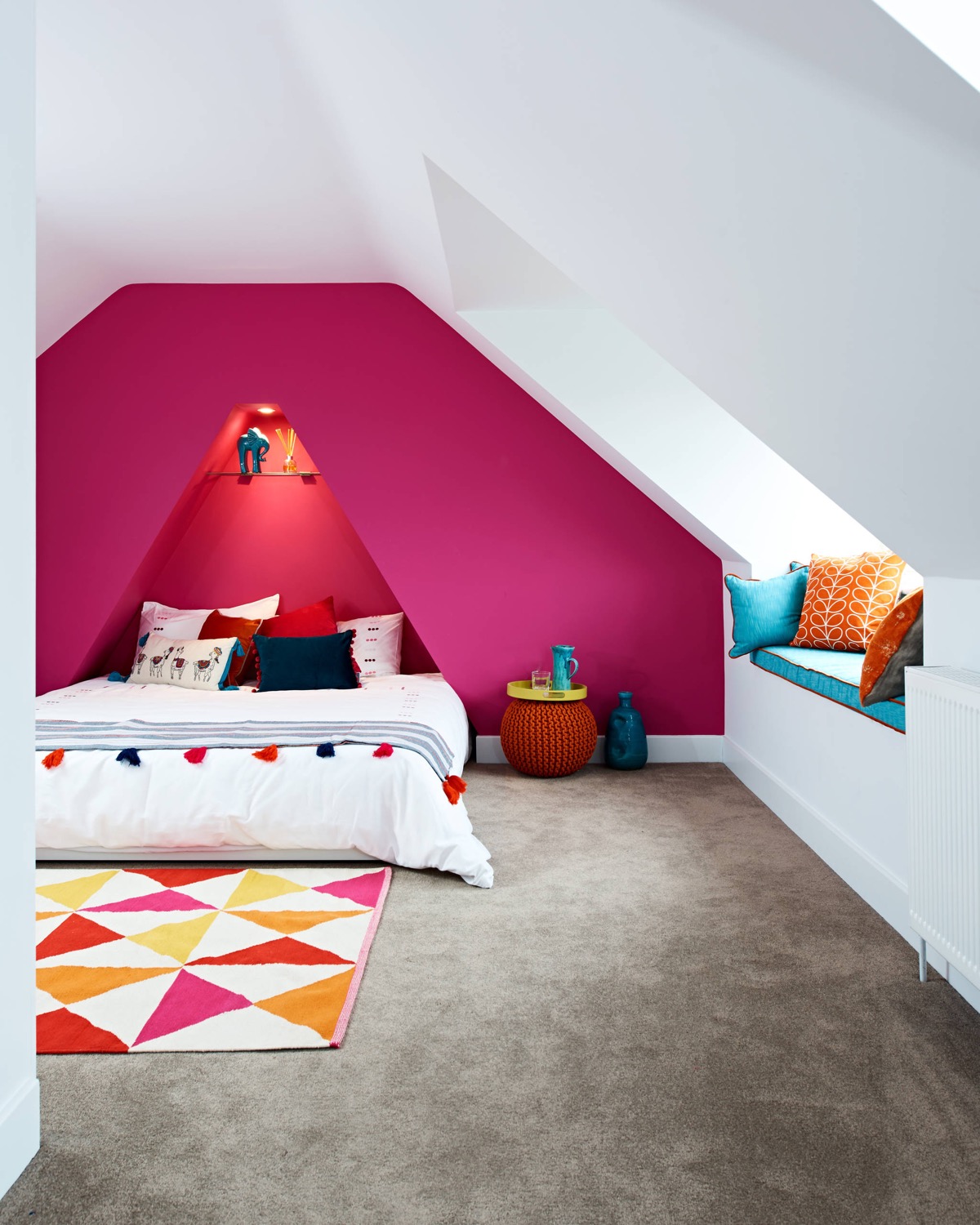 66 |
Visualizer: Tallon Perry Interiors
Turn up the sunshine. If a bright fuschia wall isn't enough to make you don sunglasses, throw in some orange, red and turquoise scatter cushions and a multicoloured bedroom rug to turn the vibe totally tropical.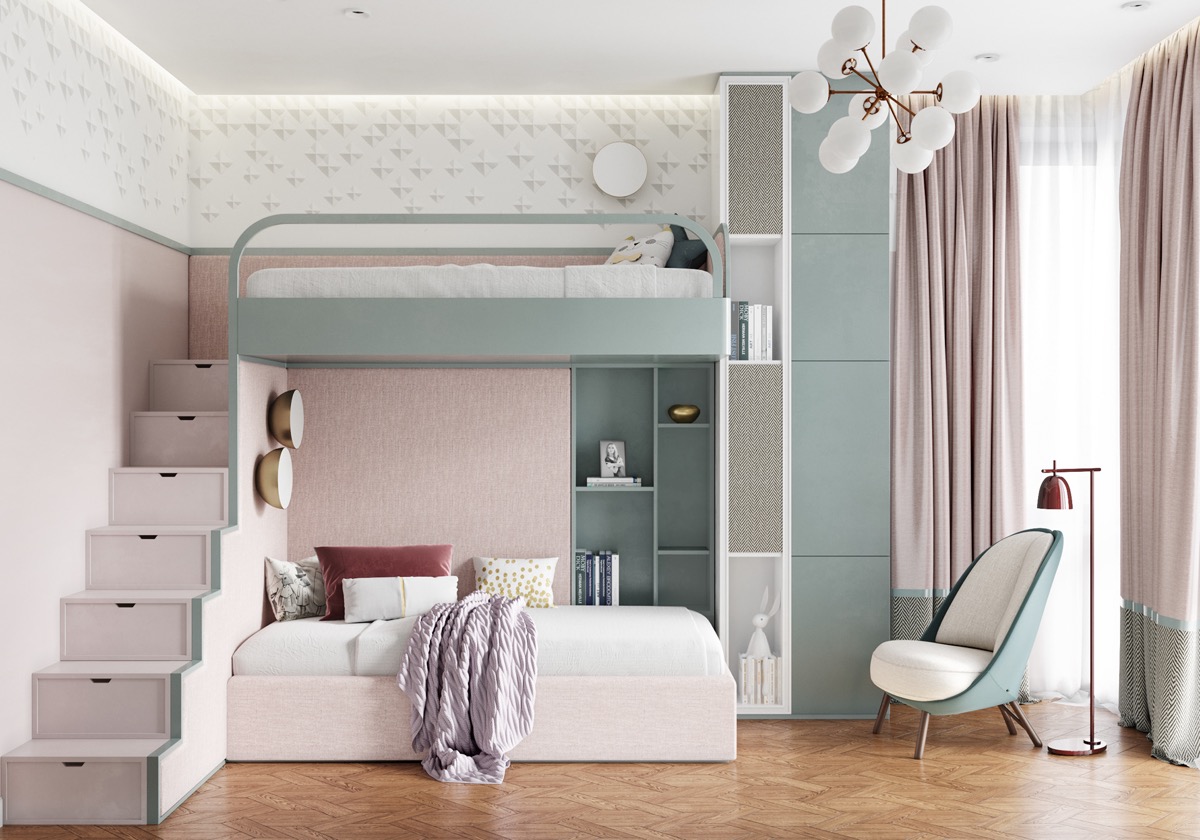 67 |
Visualizer: Horizon Render Vizualization Studio
Mellow pink and minty. Even out pastel pink elements with the same amount of minty coloured pieces for a cool and collected result. Use the two different colours to bring out areas of interest like display shelves and storage cupboards, or to give two bunk beds each an individual presence.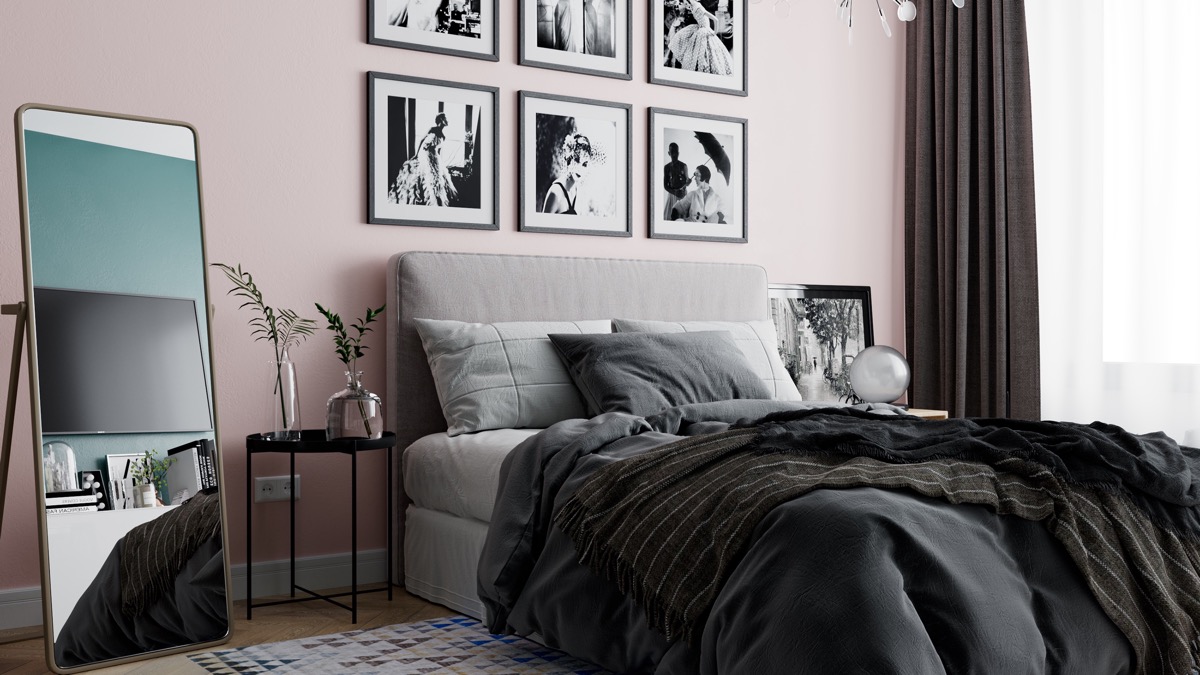 68 |
Visualizer: Artem Bukin
Dial it down with charcoal grey and black. Don't stress too much about finding that oh-so-perfect muted shade of pink, pastel pink shades can be dialled back by layering darker elements into the scheme, like a dark grey bed set and curtains, and black and white photographic prints.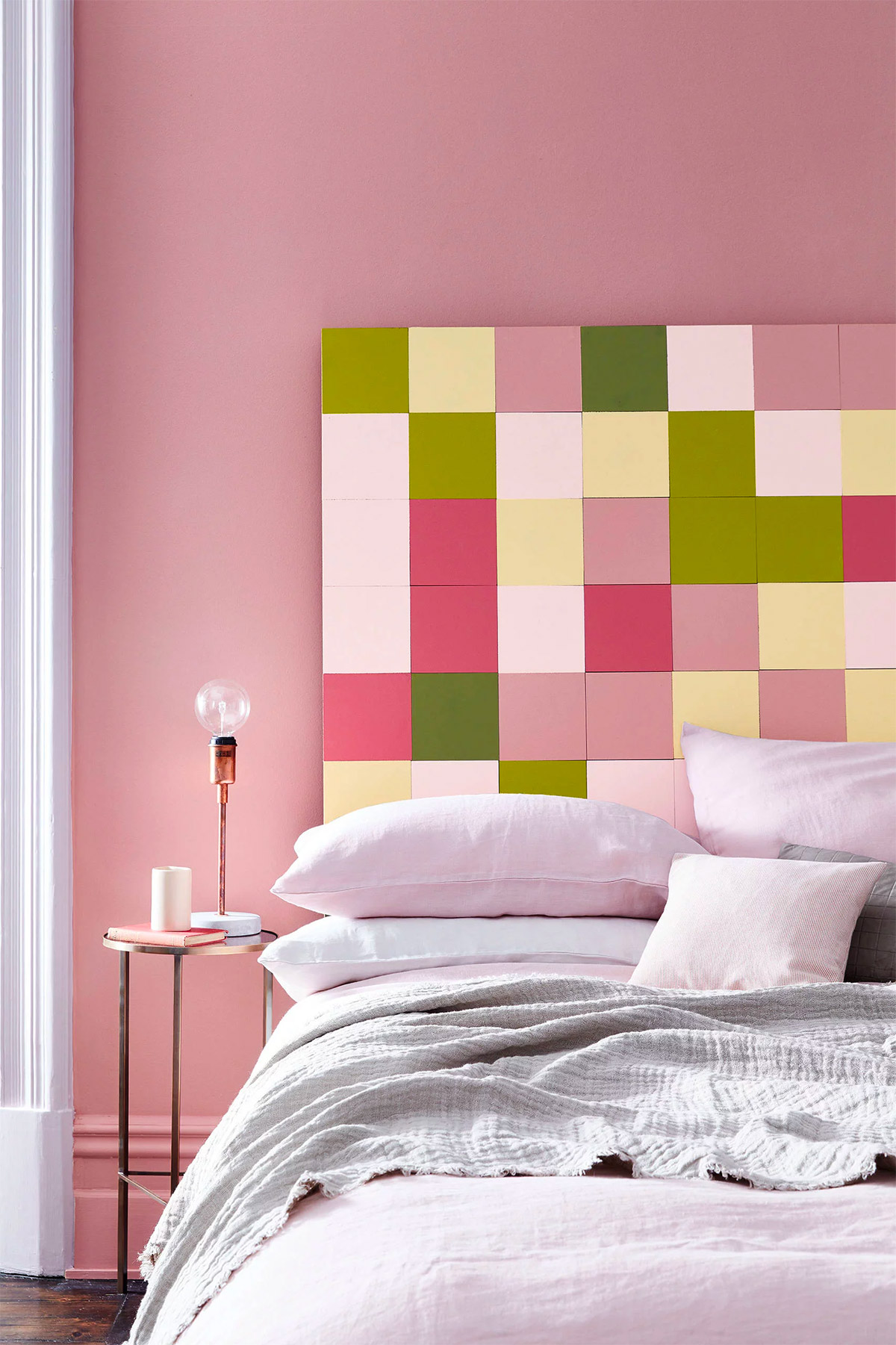 It's great to pixelate. Create a bespoke pixelated pink headboard design by using blocks of different shaded paint or fabric. Add in one or two extra colours to raise the energy.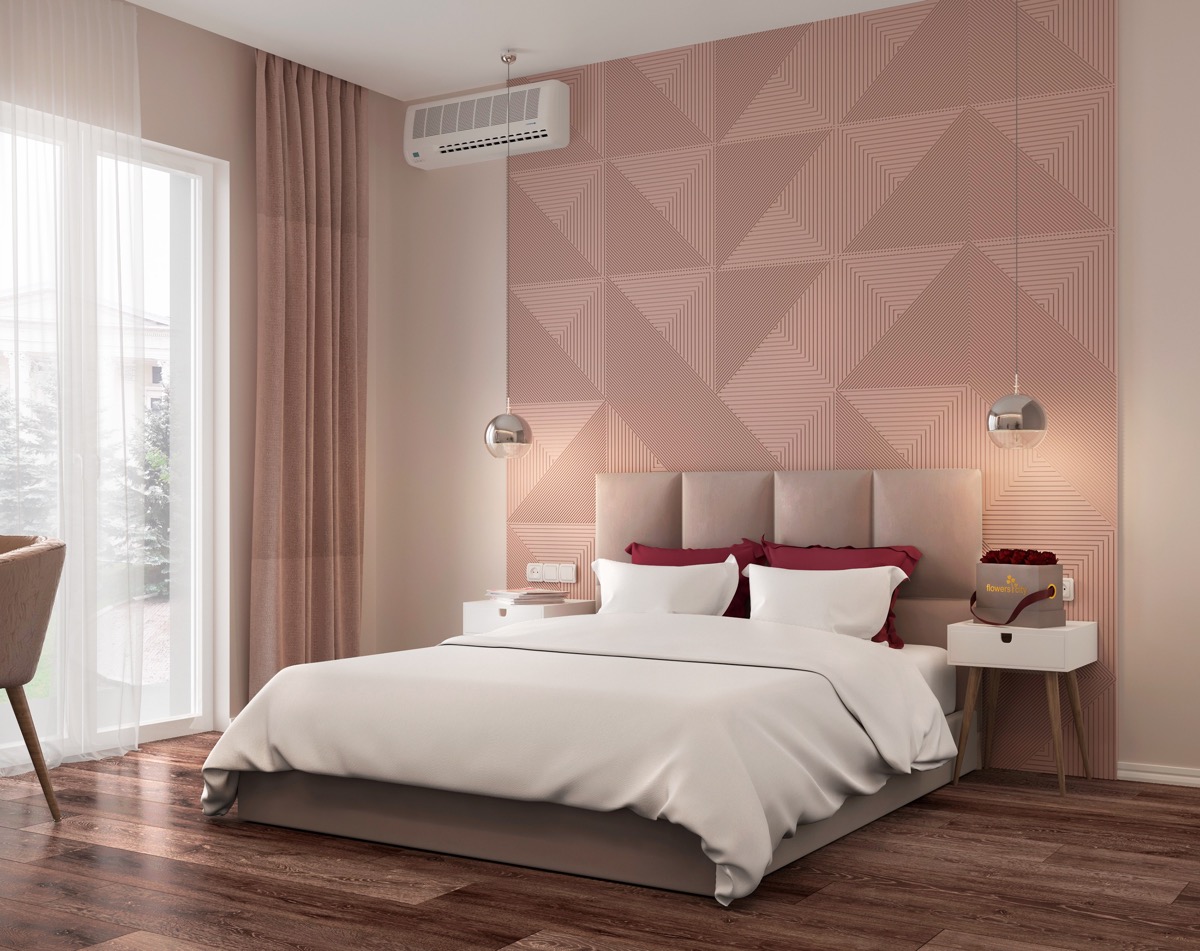 70 |
Visualizer: Mariya Kabak
Give each piece its wow factor. This geometric panel accent wall makes up for in pattern what is lacks in boldness of shade; on the other hand, a couple of basic pillows up the ante in hot pink covers.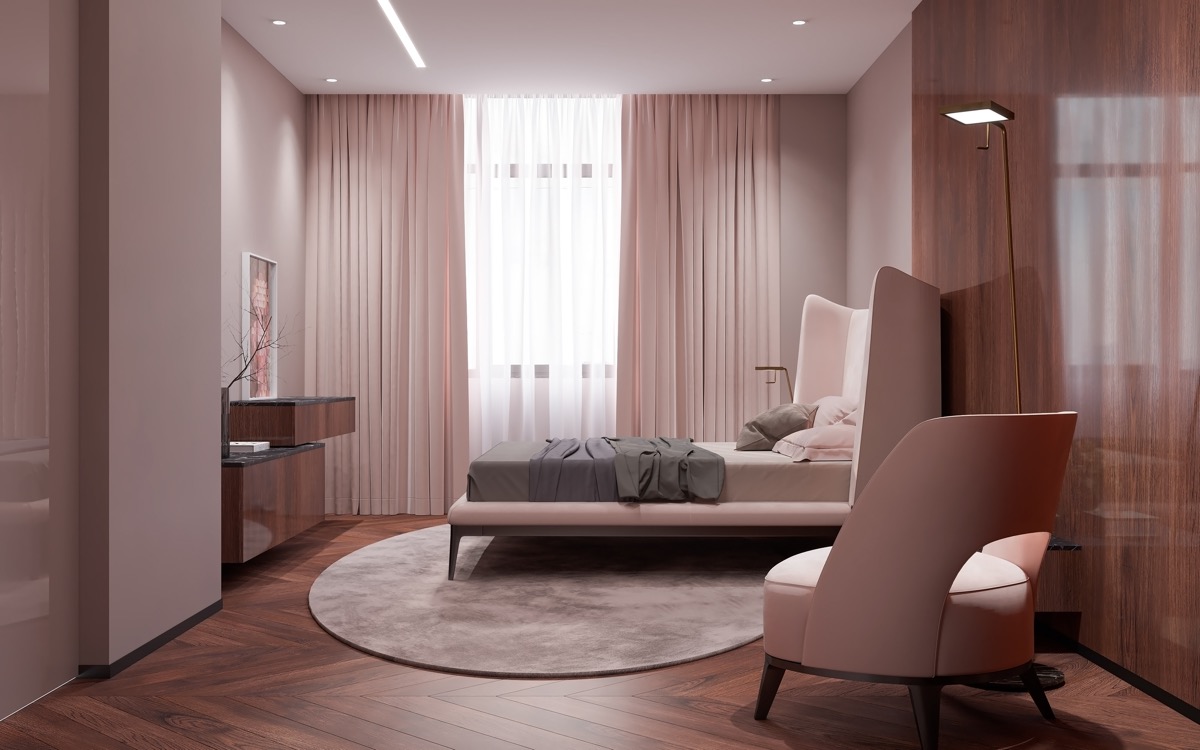 71 |
Visualizer: Vlad Yuhimchuk Vlad Yuhimchuk
Get picky about bedroom chairs. A basic bedroom chair in itself can be enough to add a pop of colour to a bedroom design, but the right piece could push your design to the next level. This chic modern pink chair has a sweeping backrest that vibes stunningly with a winged bed design, and its upholstery is the perfect shade to establish a third sugary perspective in the pink and wood grain room design.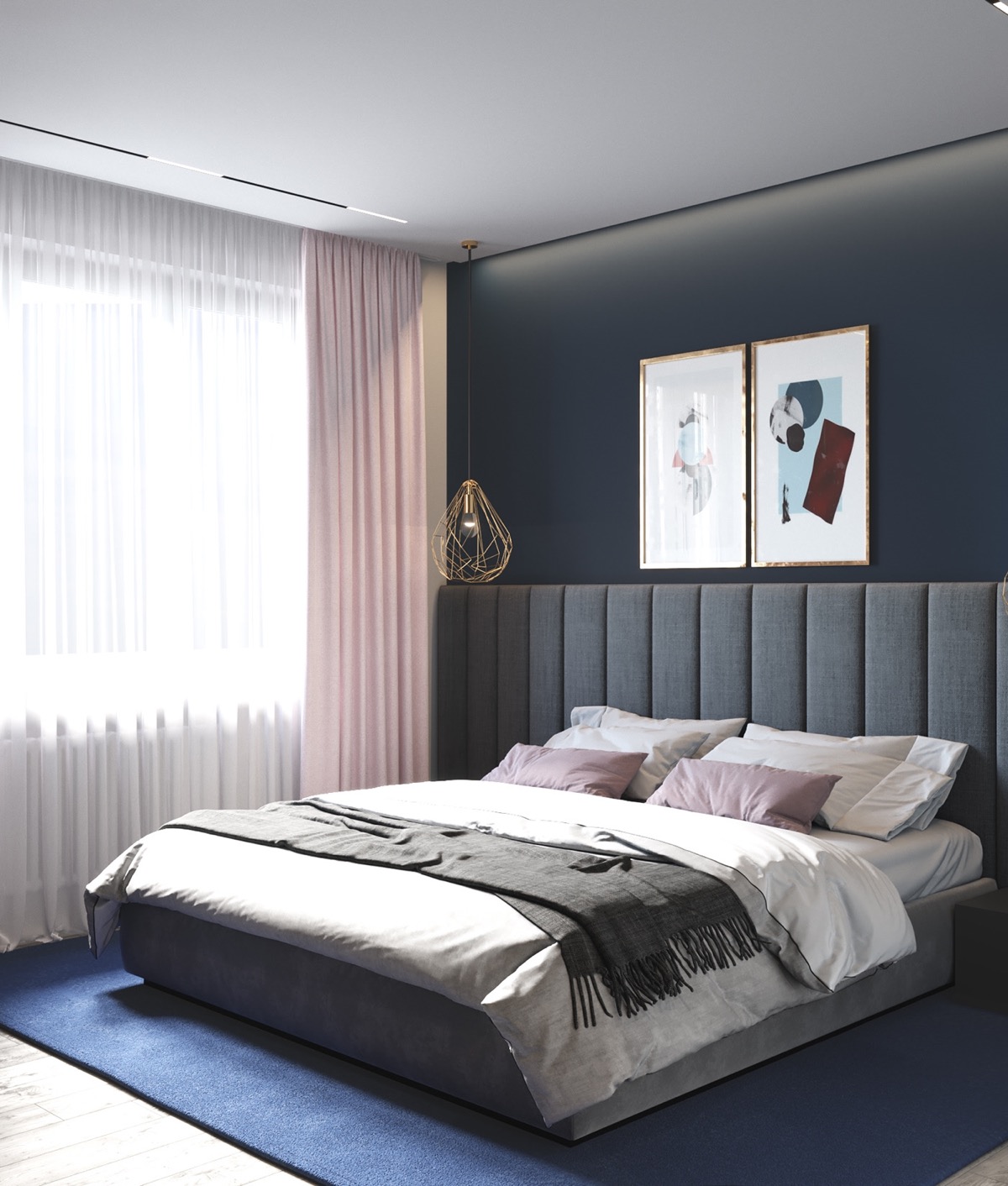 72 |
Visualizer: Shmidt Studio
Pretty up a blue room with pristine pink cushions and curtains.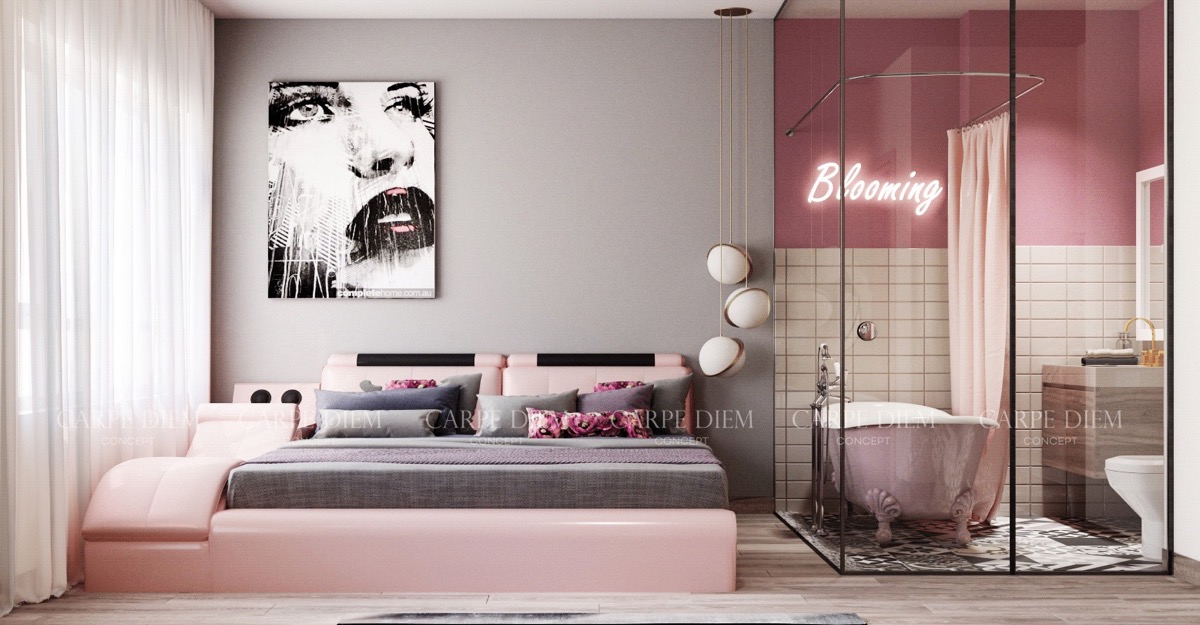 73 |
Visualizer: Tam Nguyen
Push up the pink factor in your master suite, with a glass wall pink ensuite bathroom. A pink chaise lounge, attached to the bedside, extends the pink factor all the way across to the opposite window in here too.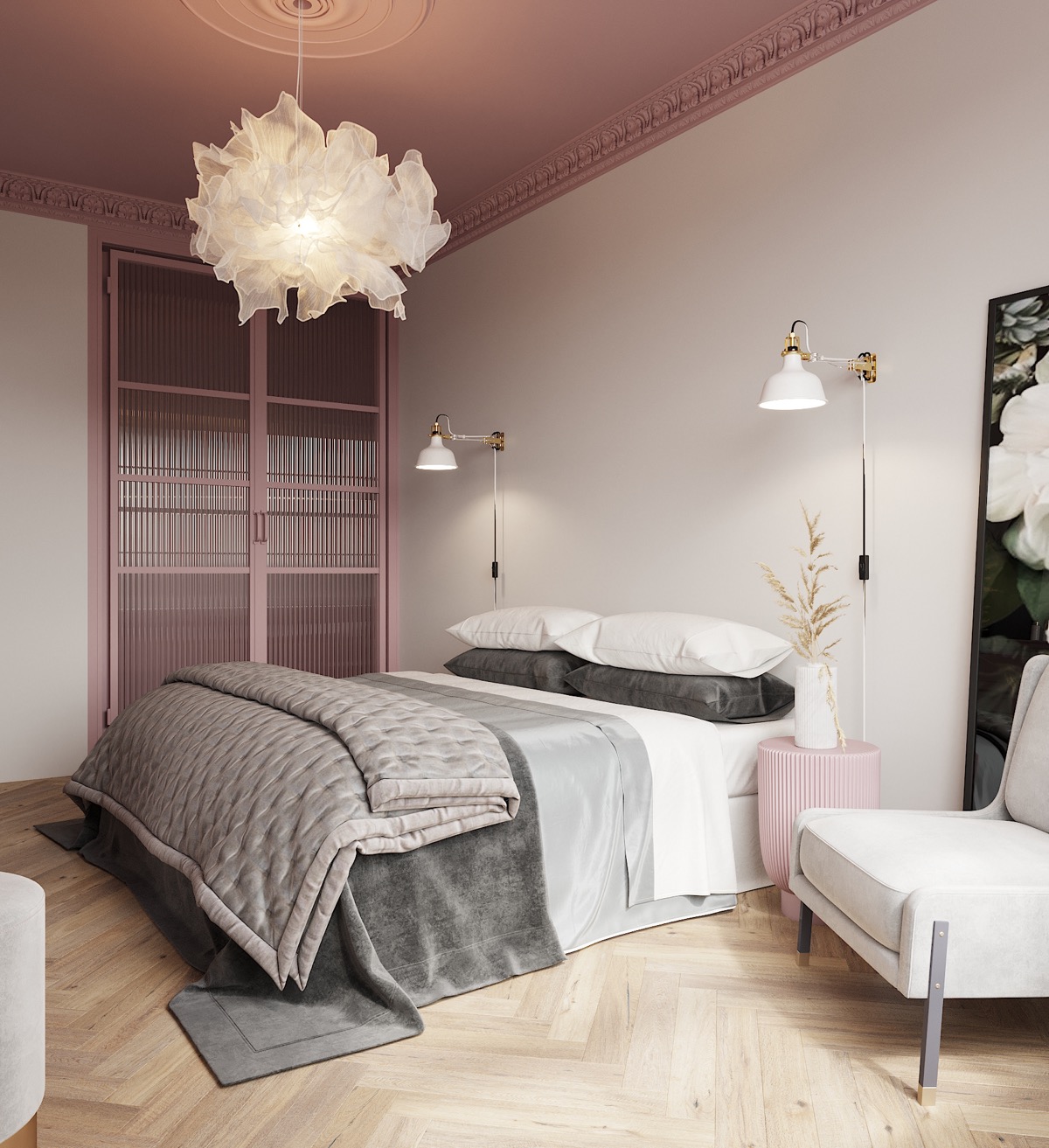 74 |
Visualizer: Evgenia Belkina
Compliment the gentle shade of your new pink room with a floaty pendant light shade. Look for loose ruffles and gentle feathery designs.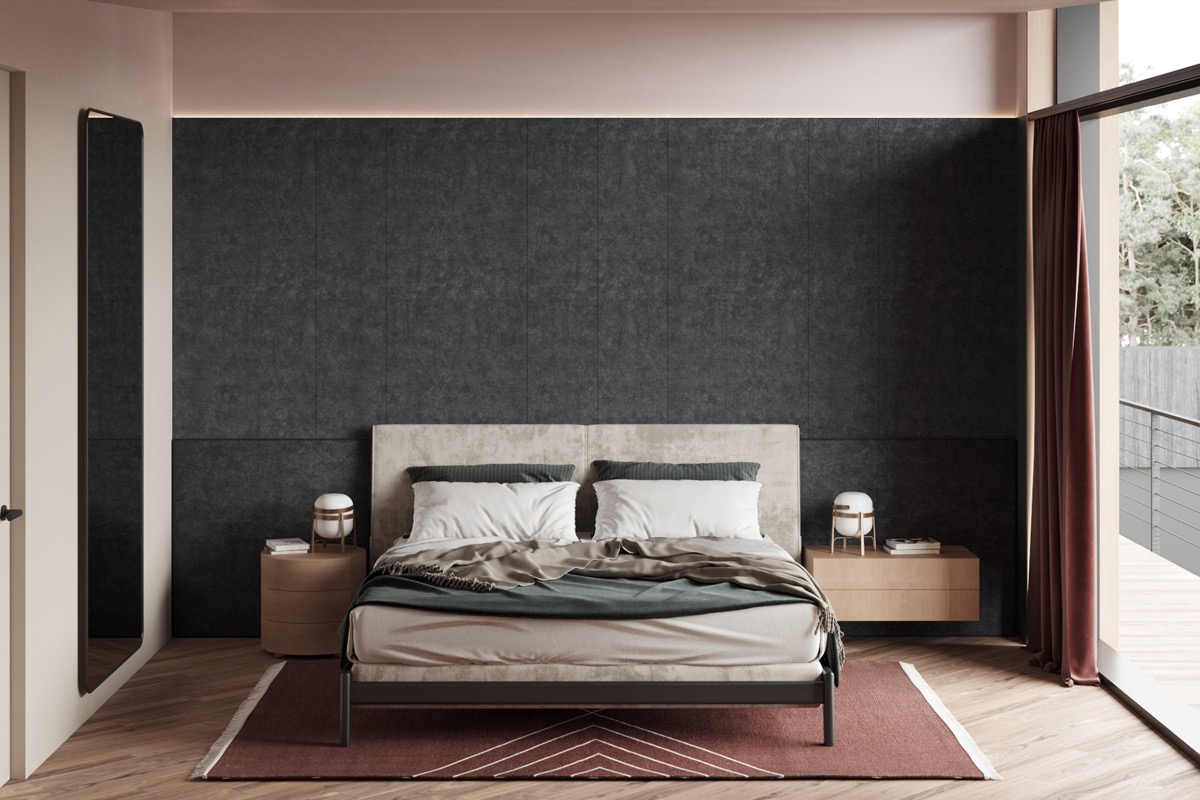 Sometimes it's about what's NOT pink in the room. When planning out a pink bedroom, it's just as important to figure out the things that won't follow suit, like this charcoal grey panelled headboard wall.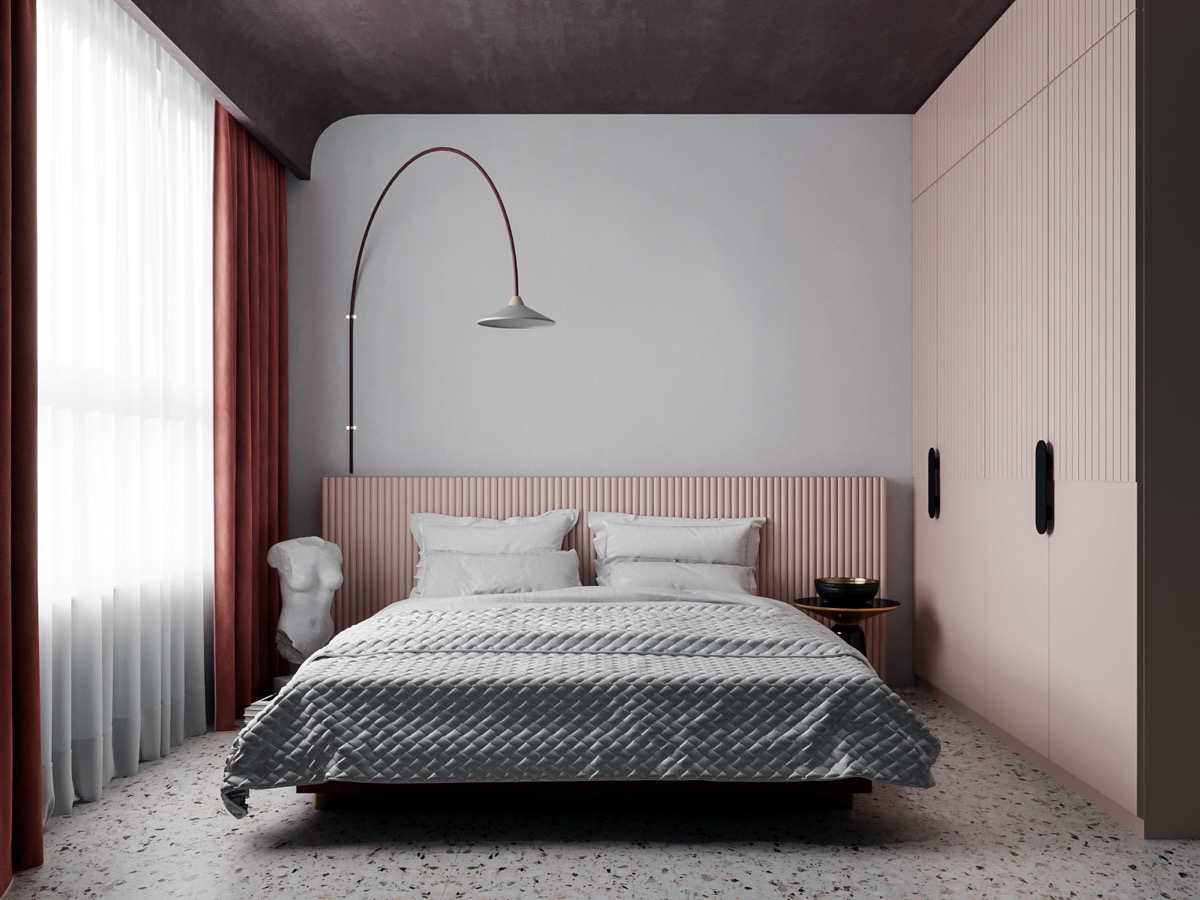 76 |
Visualizer: Thành Kiến
Confine pink to the furniture only. A pink headboard and matching pink closets can have more than enough impact on a bedroom colour scheme, particularly if they are built in the same textured/ribbed material to create that solid visual link.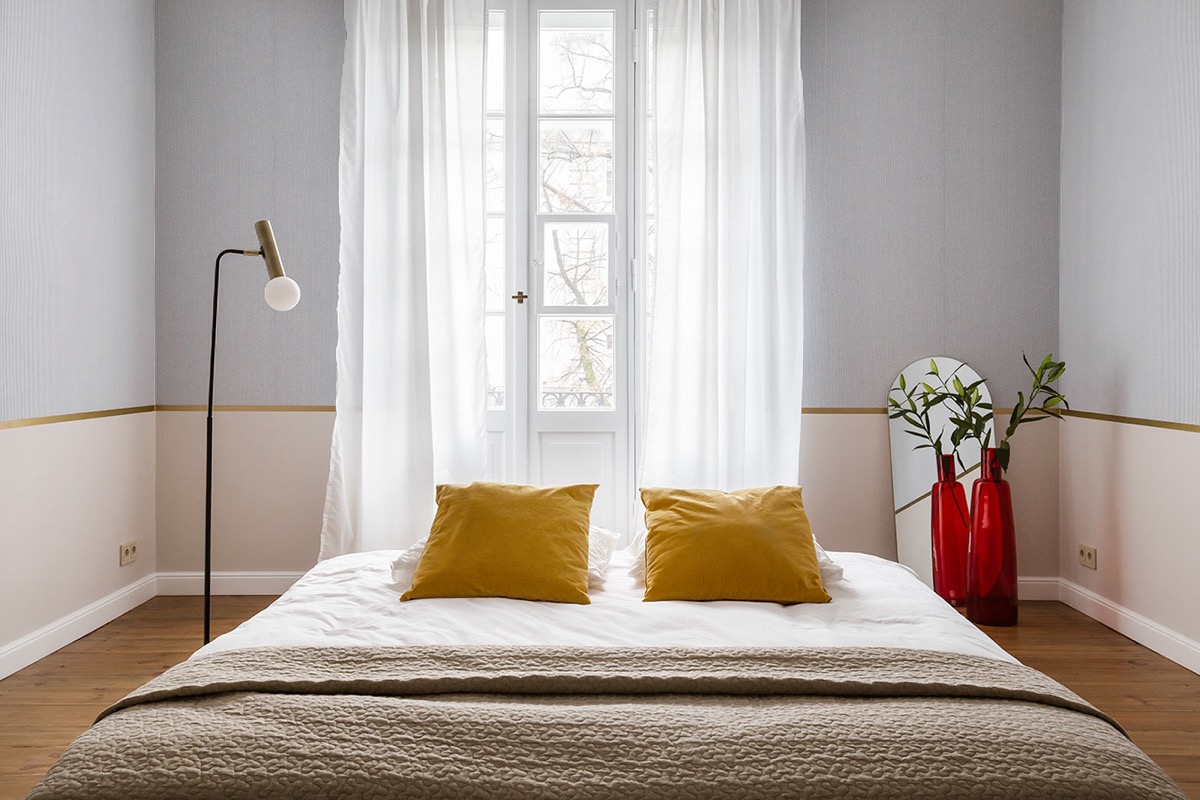 77 |
Visualizer: Kroniki Studio
If you have a floor bed, then keep your coloured section close to the ground with you.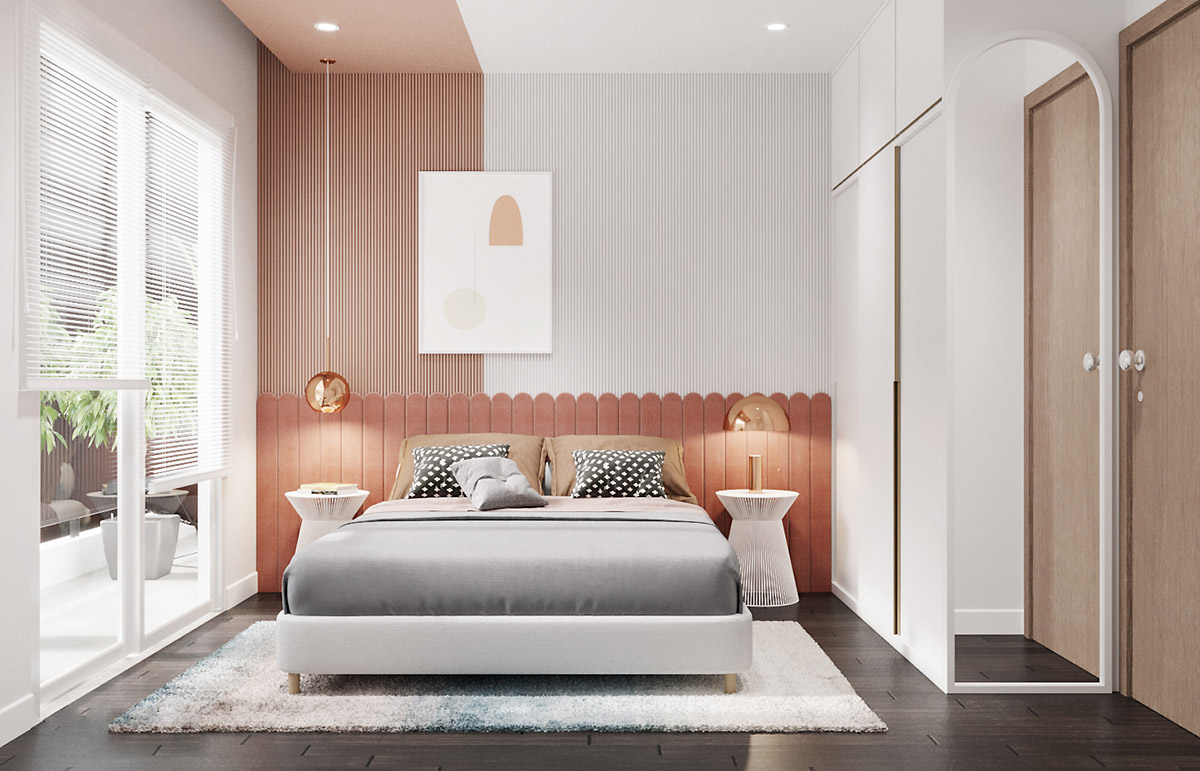 78 |
Visualizer: Lai Studio
Rose gold accents and copper accessories tone seamlessly with rosy backgrounds. The metallic pieces will blend subtly yet still add shine to the overall finish of the room.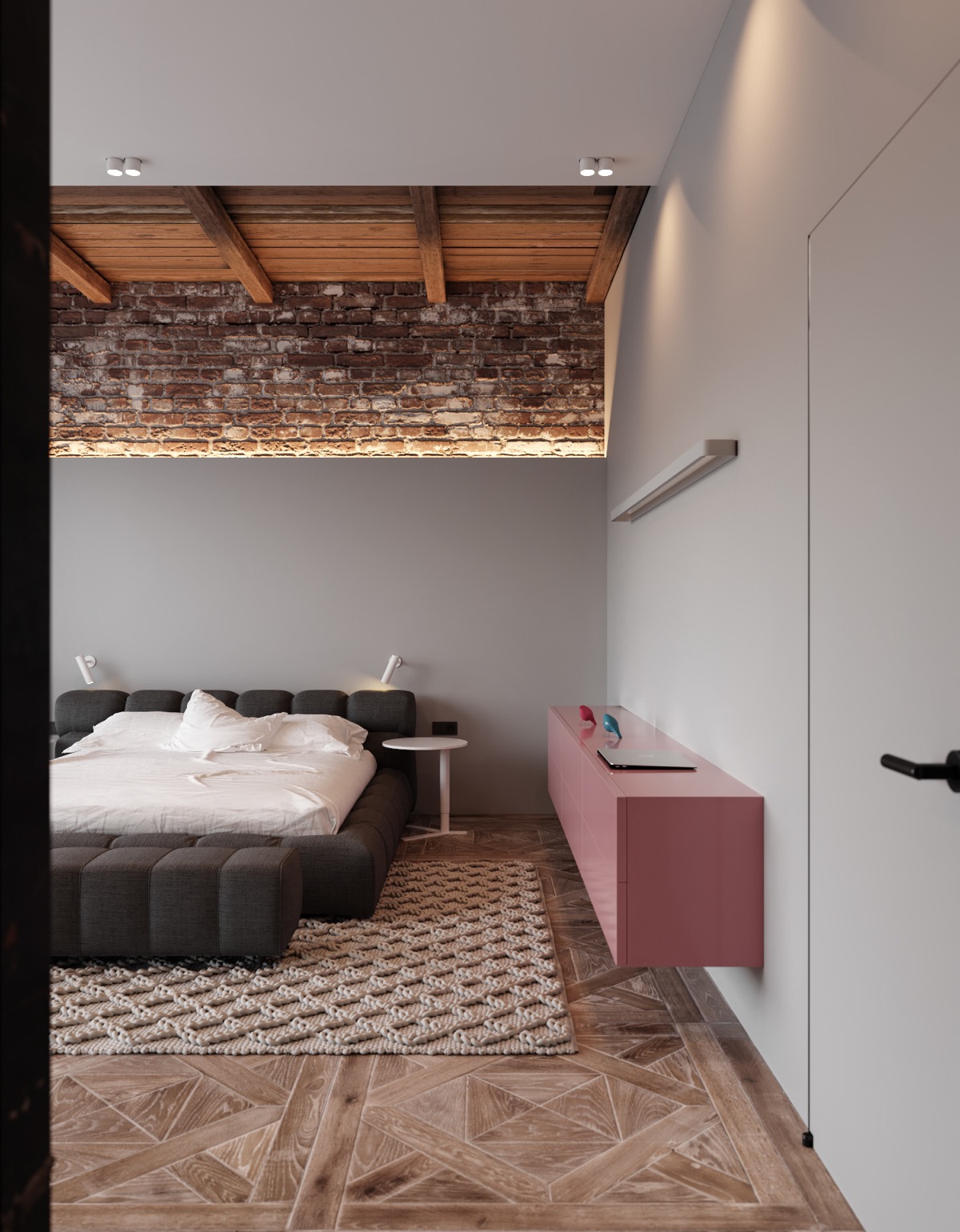 79 |
Visualizer: Konstantin Kildinov
Rustic, industrial or sleek modern interior styles, pink works fabulously alongside them all. Bring on the raw timber, exposed brickwork or concrete, and pink pieces will add warmth and softness.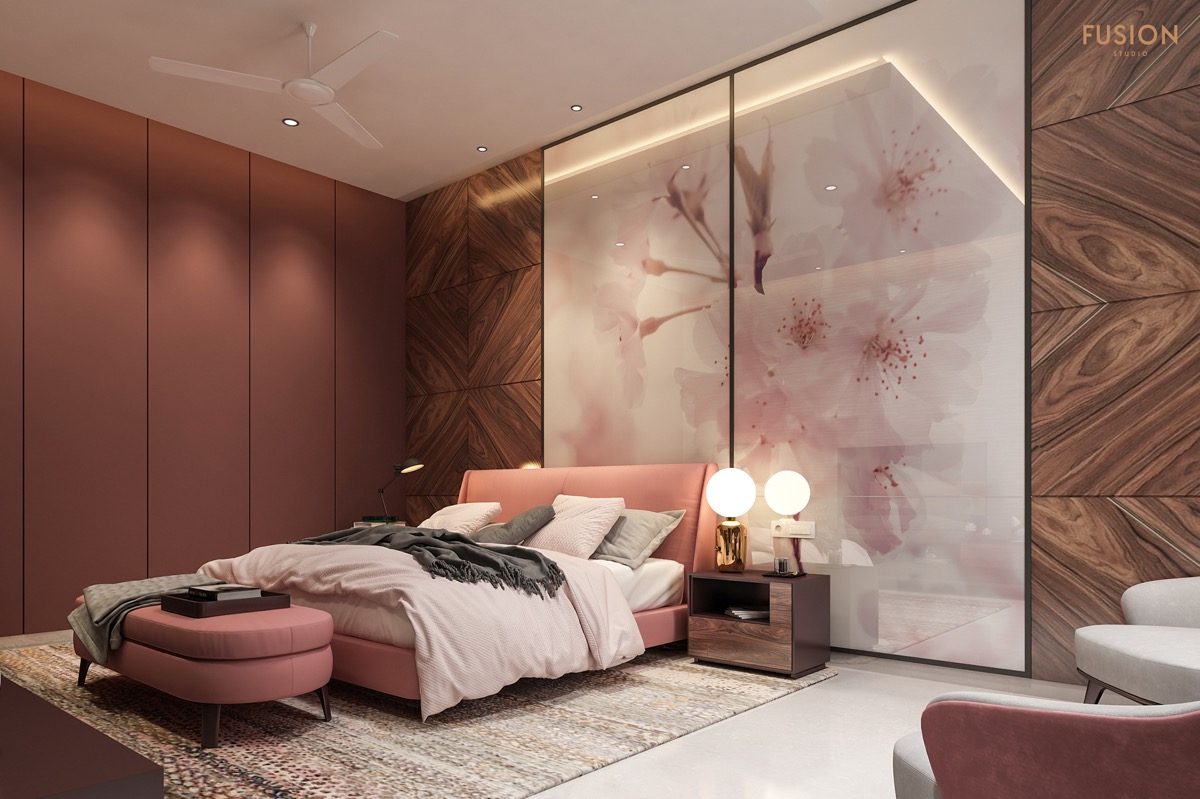 80 |
Visualizer: Jagjit Singh & Bhoday Amrinder
Polished wood grain and pink also make a stunning duo together, particularly when combined with a nature/floral theme.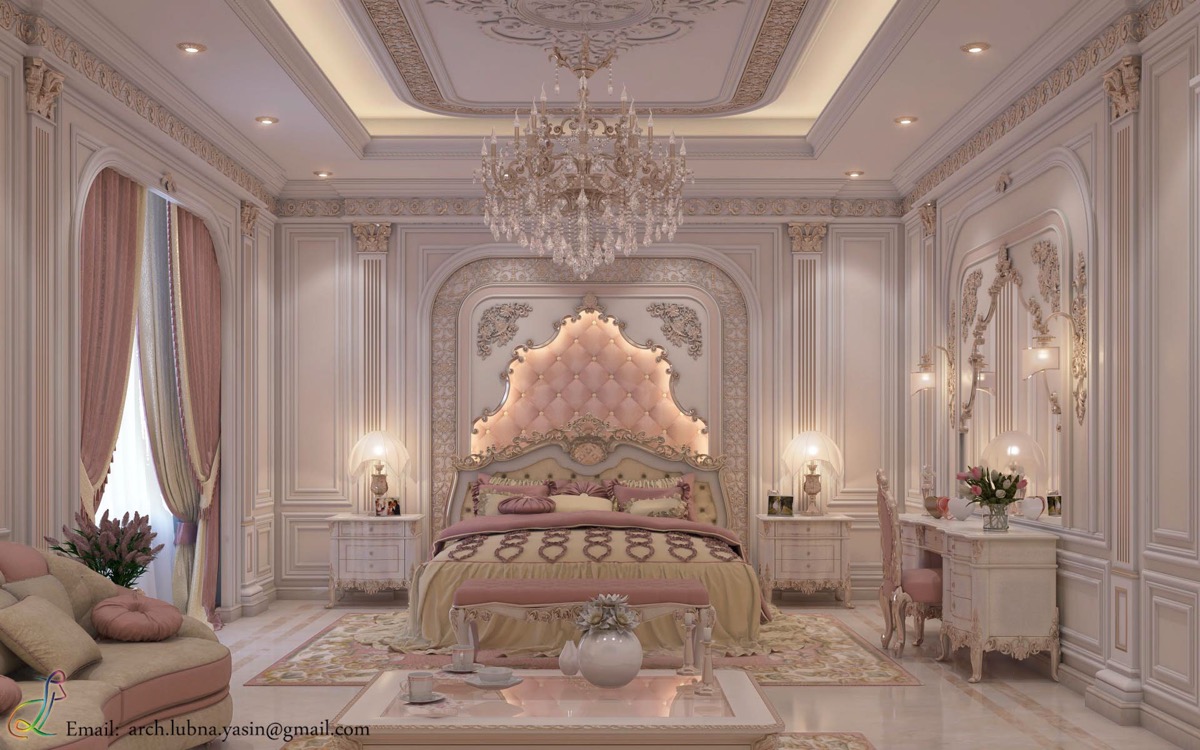 81 |
Visualizer: Lubna Yasin
Amplify the prettiness of swags, swirls and all kinds of glamour with pale pink and light gold trims.
82 |
Visualizer: Vitaliy Neretin
More swirls and swags.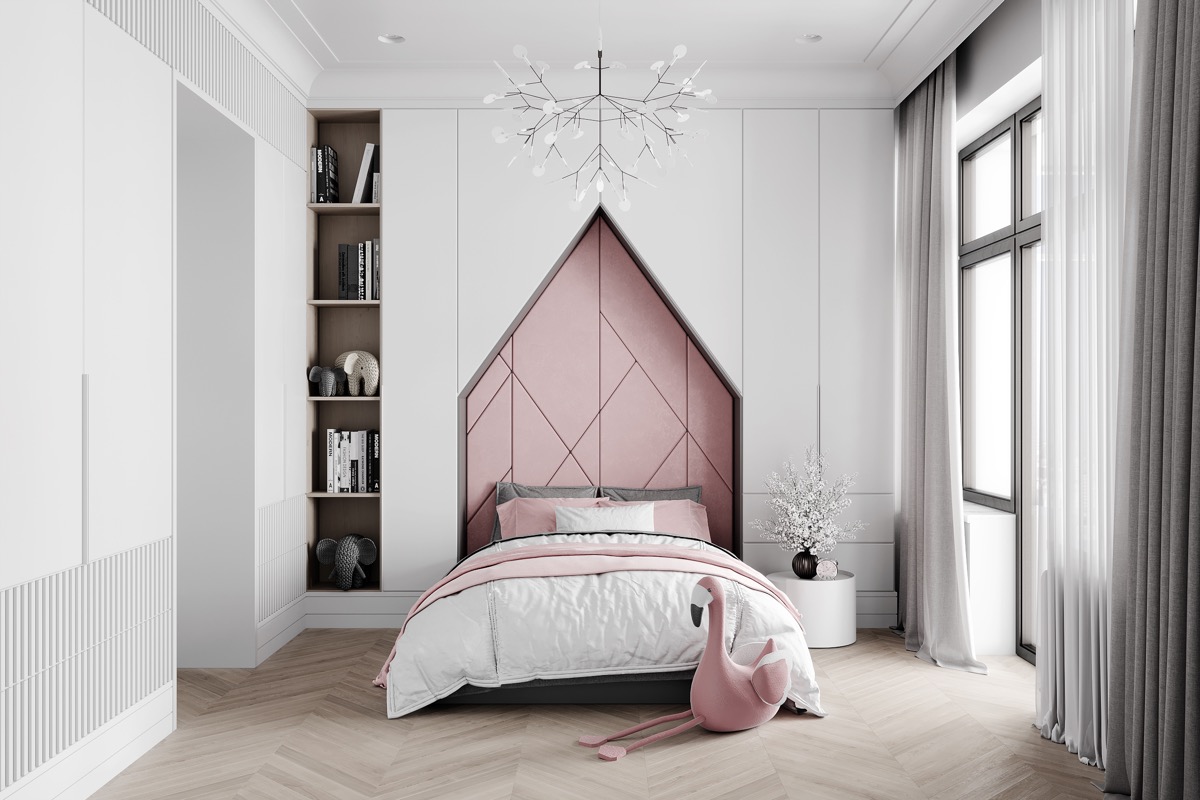 83 |
Visualizer: Vladislava Torgonsky
Go flamingo… pink. Flamingo's make cute motifs for pink kids' rooms; this particular little bird friend has inspired a pink house shaped headboard nook too.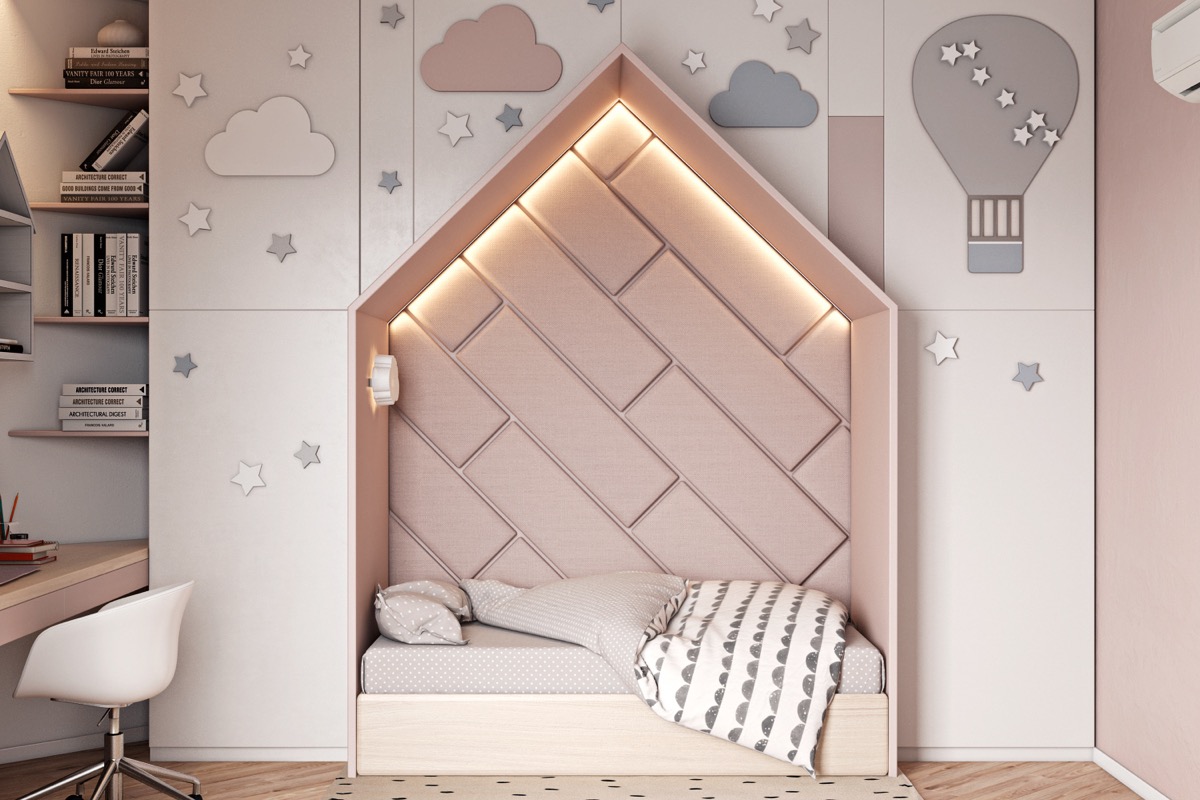 84 |
Visualizer: Daria Alieva
Another pink house shaped headboard nook idea, this time with the bed tucked in lengthways. Clouds, stars and a hot air balloon complete the whimsical scene.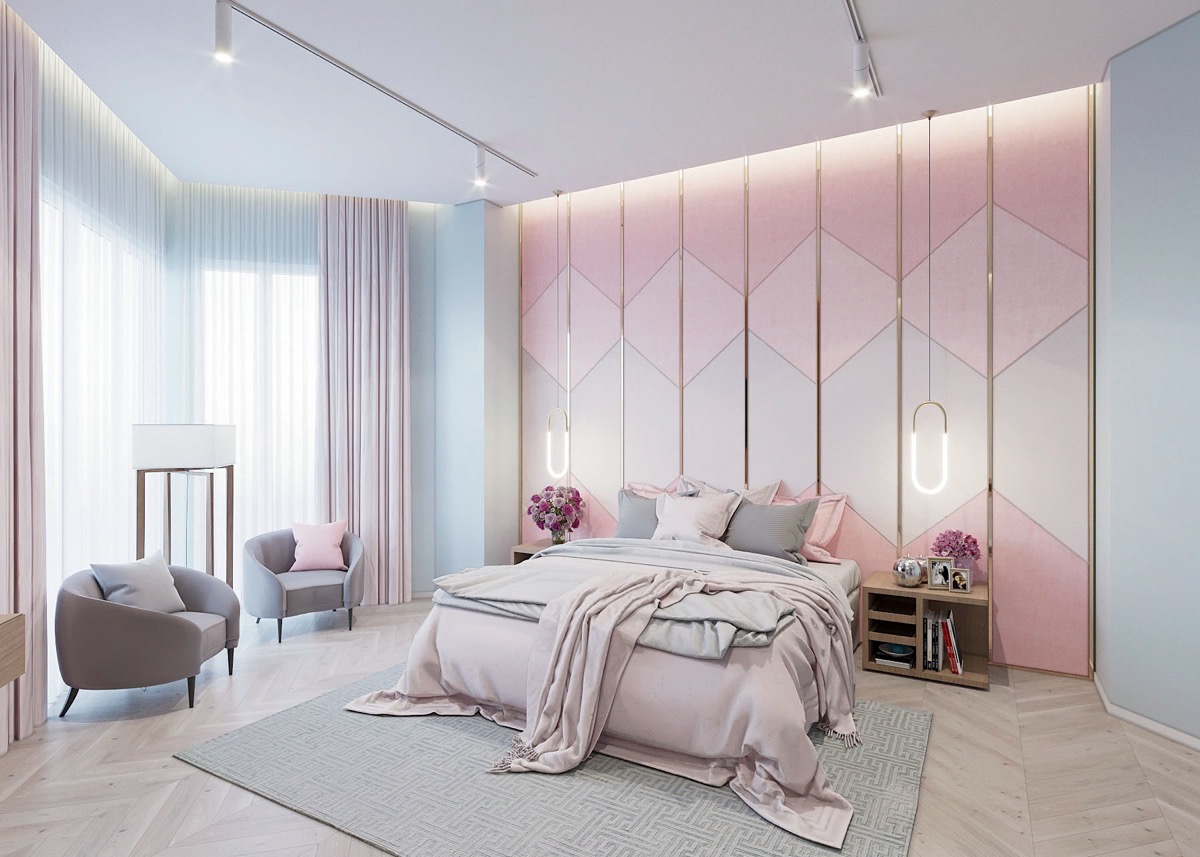 85 |
Visualizer: Milan Iskrenov
Don't stop at a beautiful pink headboard idea, layer up the look with captivating bedroom pendant lights.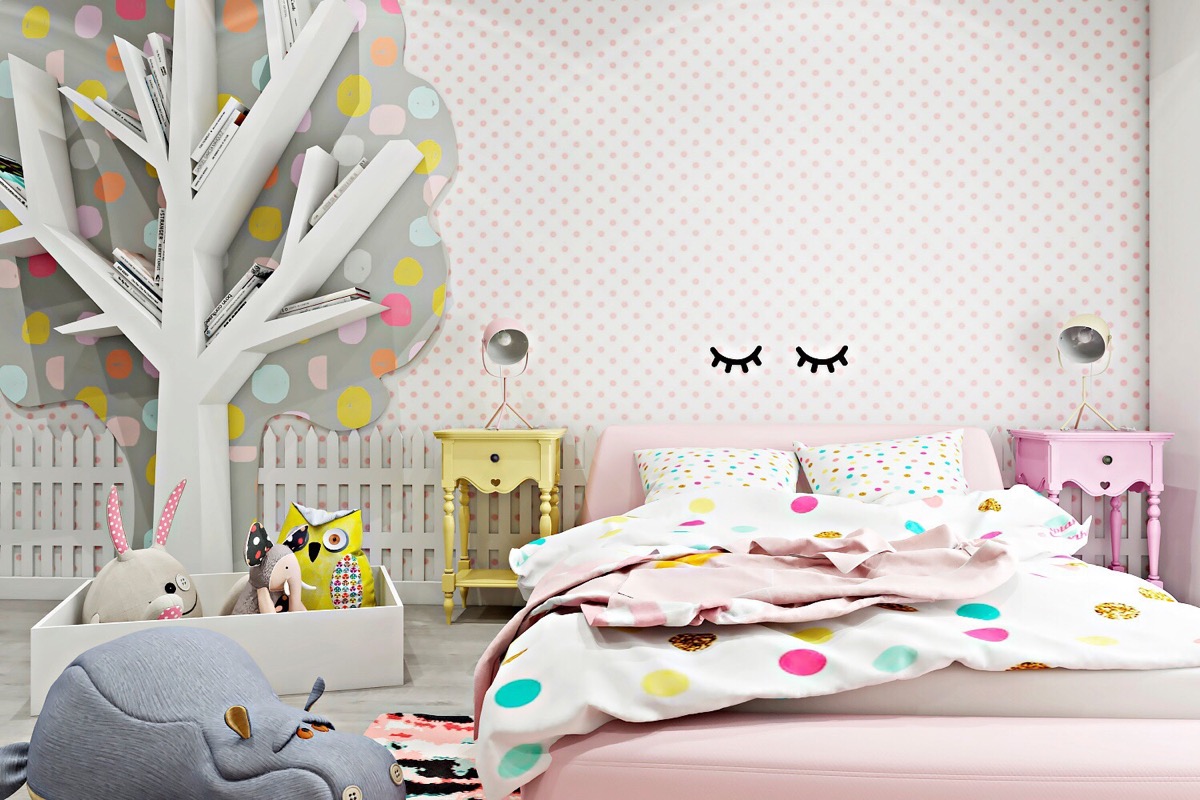 86 |
Visualizer: Victoria Osypenko
Pink with polka dots! Whether your polka dots are pink in themselves, or you scatter rainbow polka dots alongside a solid pink background, this is an absolute winner for a fun kid's room design–or for anyone still fun filled and young at heart!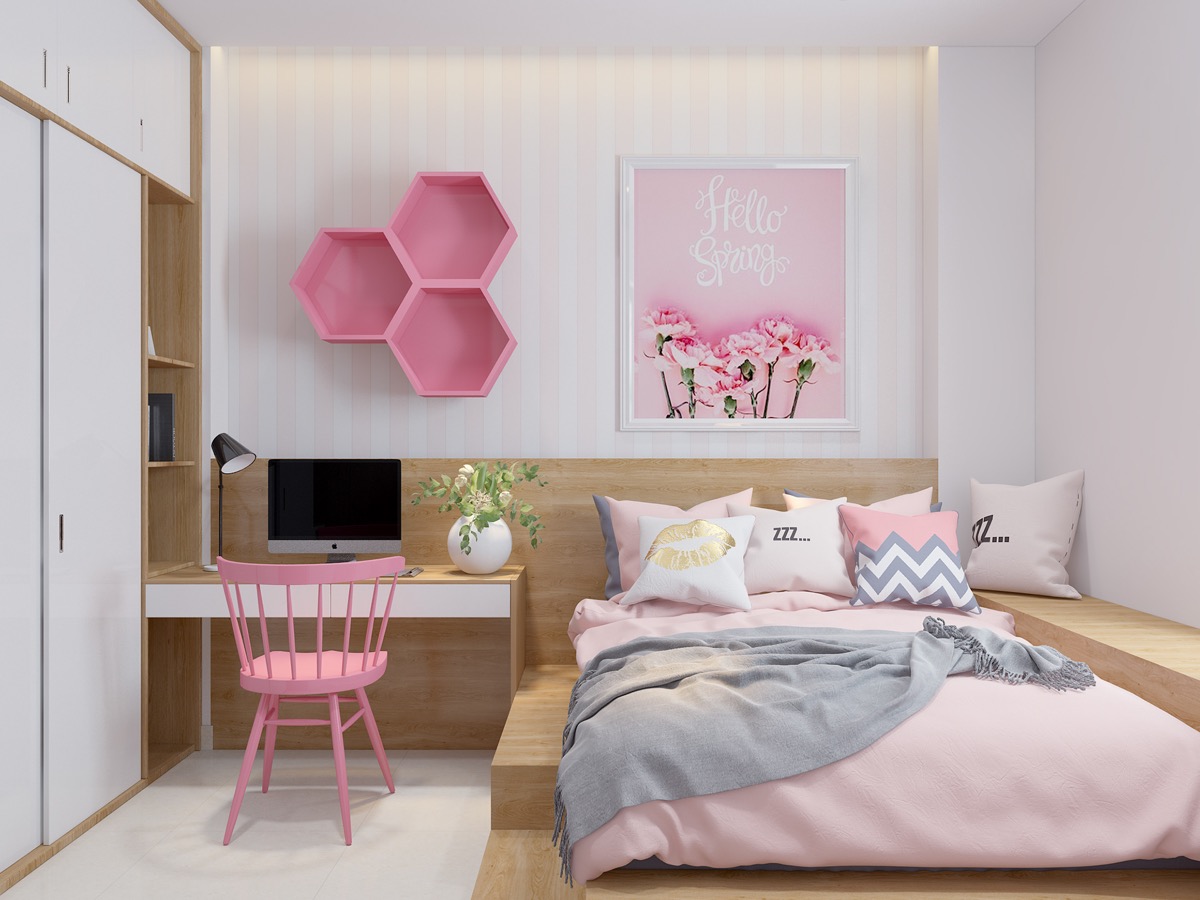 87 |
Visualizer: Truc Ngo
Springtime vibes. Fresh pink and white candy stripe wallpaper, light wood tone furniture and rose pink accessories will put a spring in your step.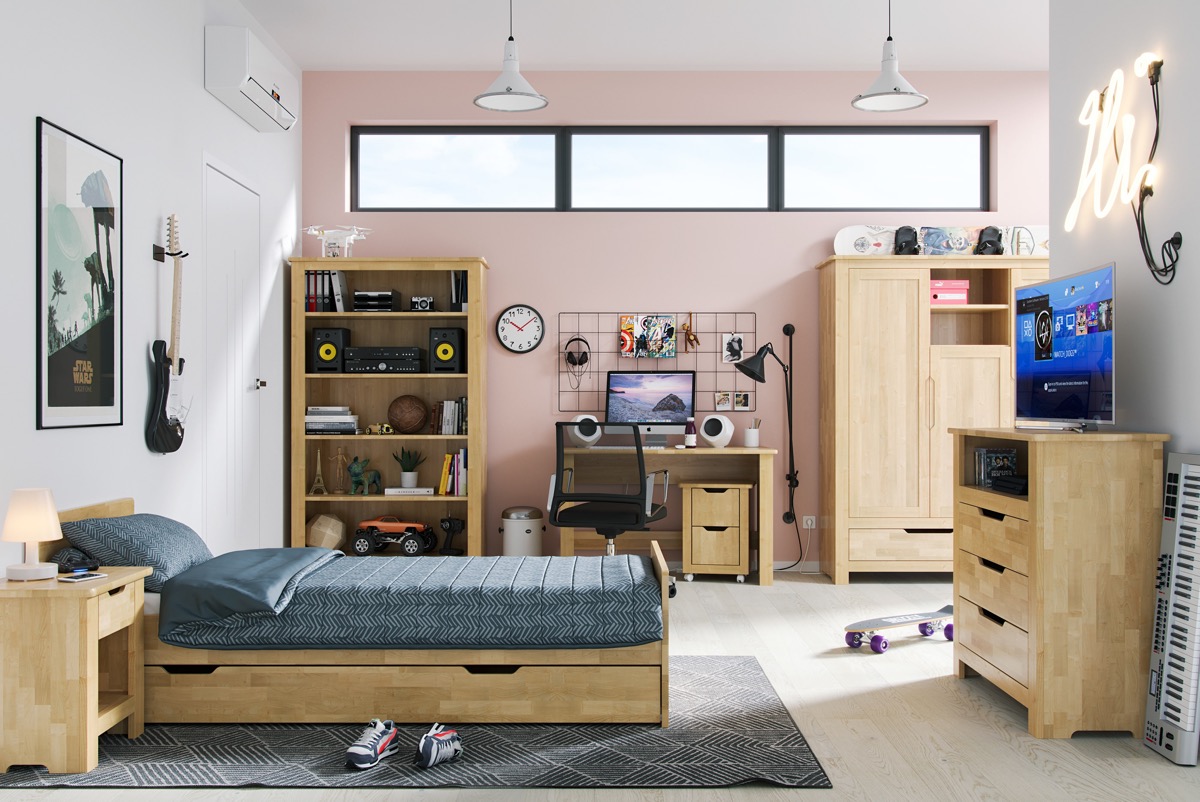 88 |
Visualizer: Krzysztof Studziński
Pink isn't just for the ladies, guys. Pink was never considered a 'girl thing' until some baby clothing retailers suggested it should be so in the early twentieth century. Thankfully pink is now being restored to its former gender neutral status and is regularly seen in men's fashion and interiors.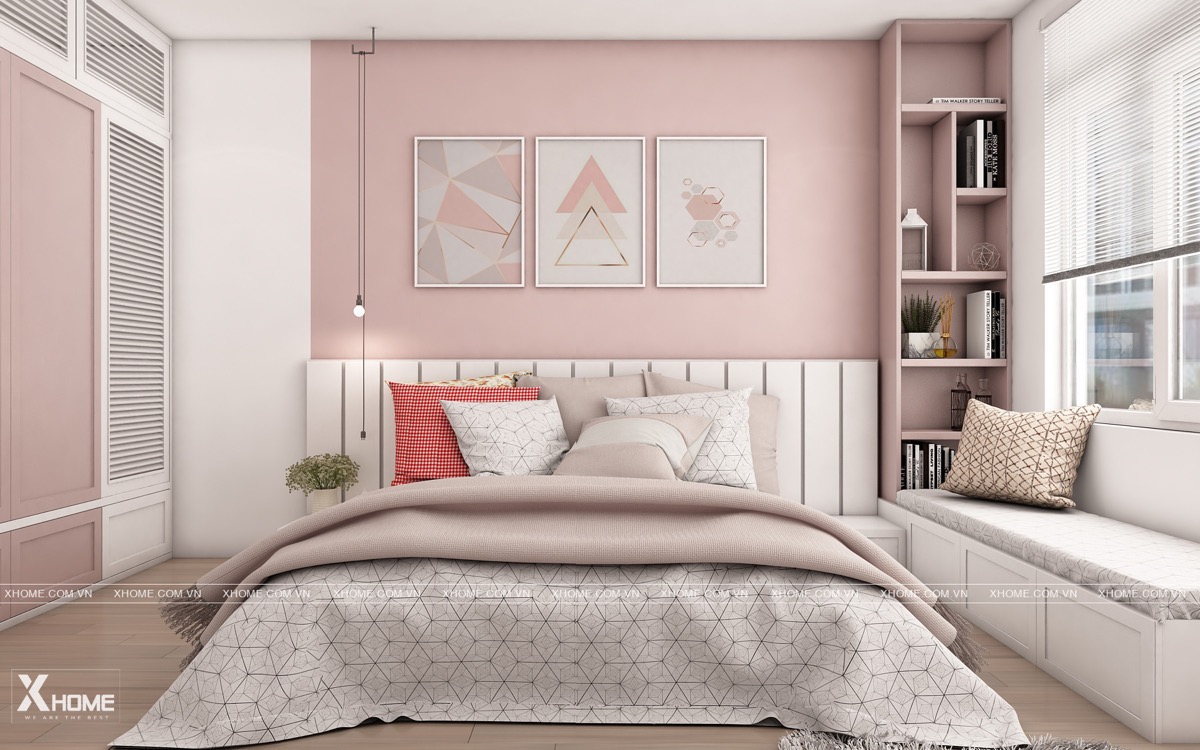 89 |
Visualizer: Tram Nguyen
Paint bookcases in the corresponding paint colour to your wall for a peaceful pink layout.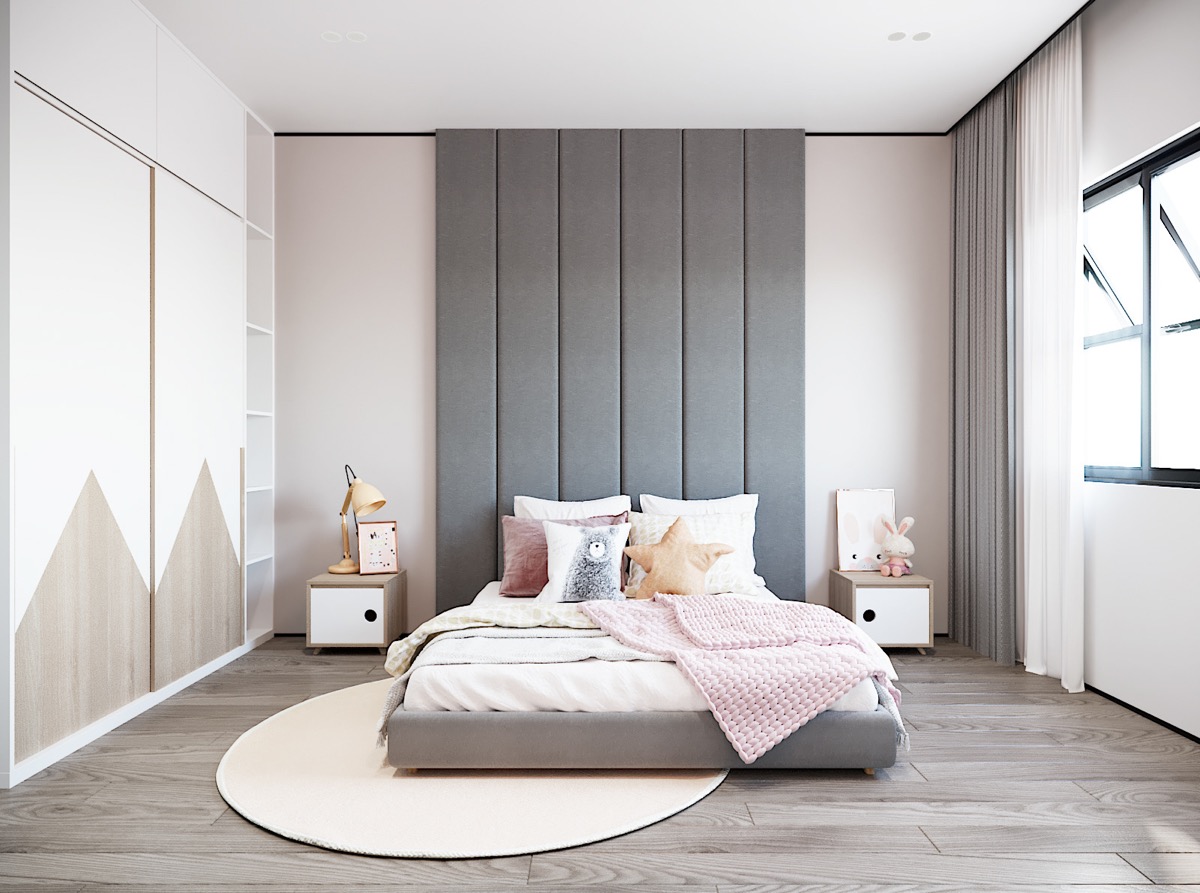 90 |
Visualizer: Ngoc Thuy
Pale mauve gives the lightest hint of a tint.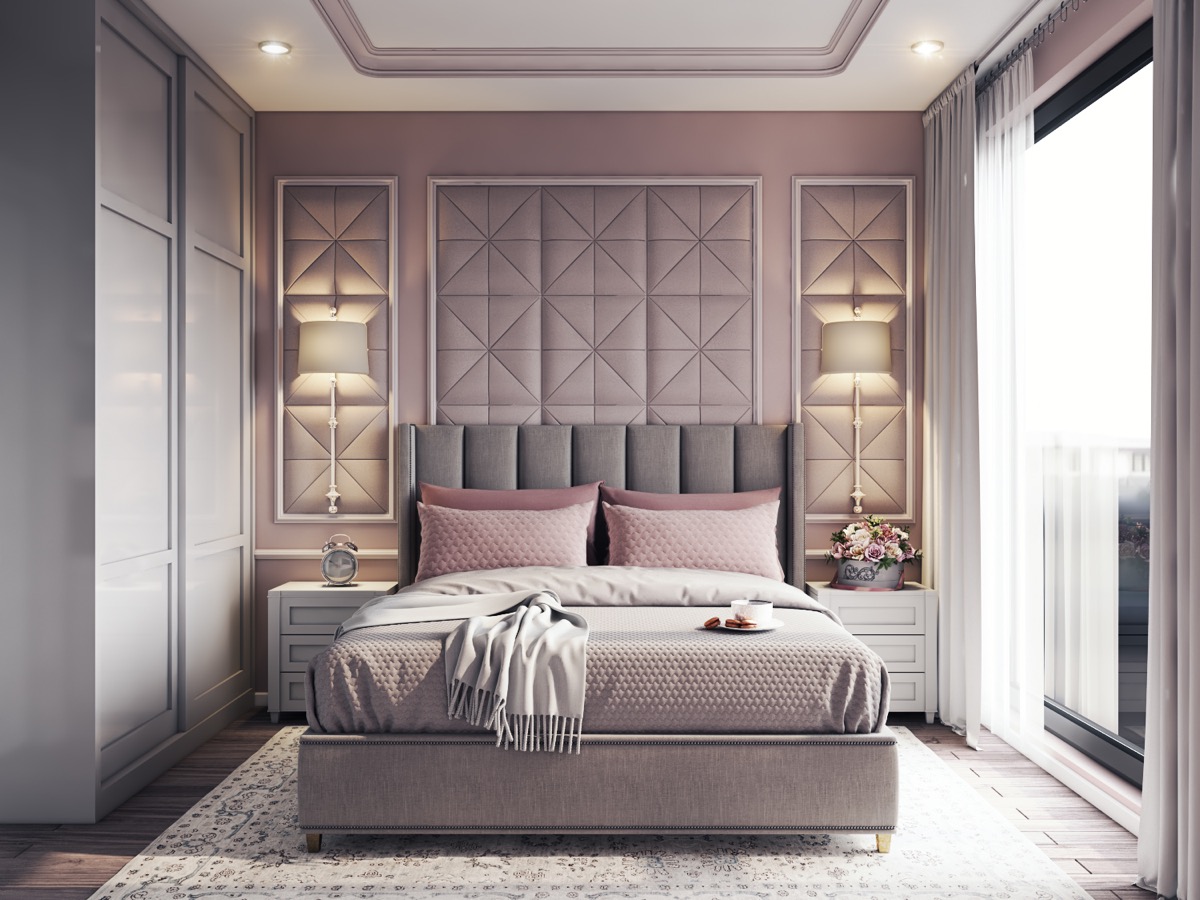 Another stunning mauve bedroom idea, this time featuring mauve padded wall panels.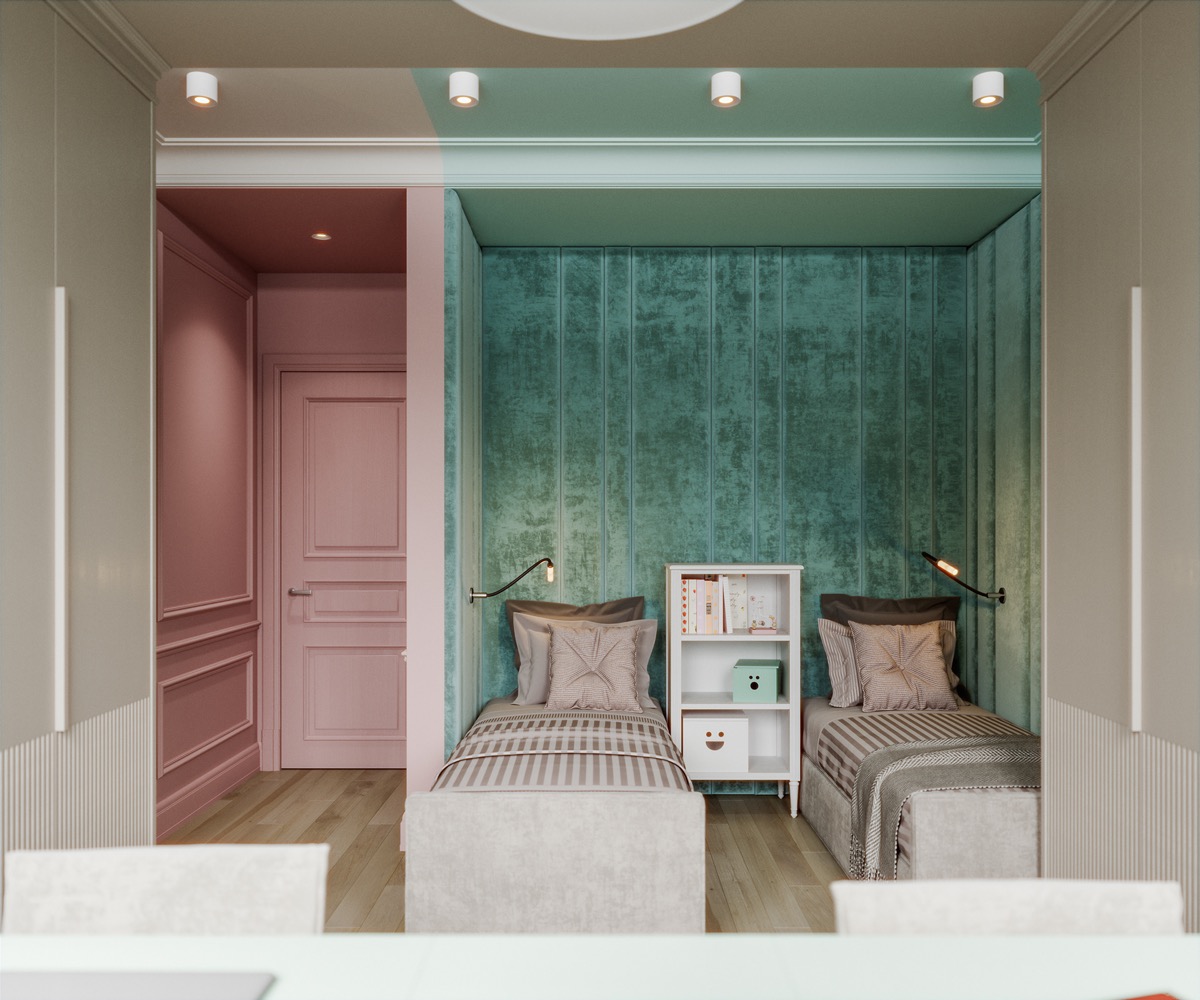 92 |
Visualizer: Maxim Shpinkov
Stage different areas in a room by colour blocking walls and doors, and sectioning up ceiling space–like the pink entryway and teal sleep 'box' in this shared kids' room.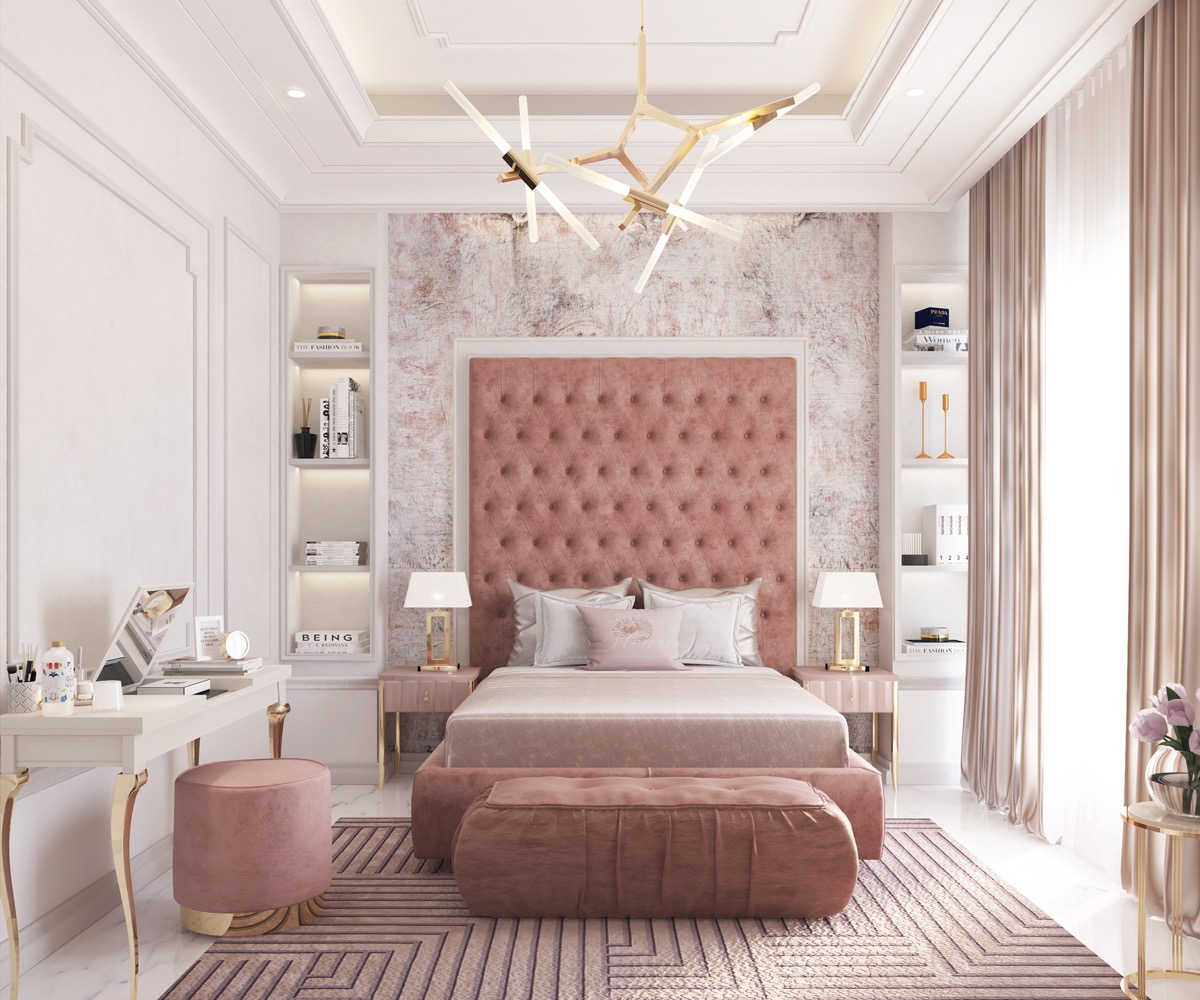 93 |
Visualizer: MennatAllah Tarek
Blend outward. Starting with a solid pink tufted headboard here, we move out into a territory of mixed colour and pale bedsides, before landing in plain white paintwork. The gentle transition is restul and easy on the eye.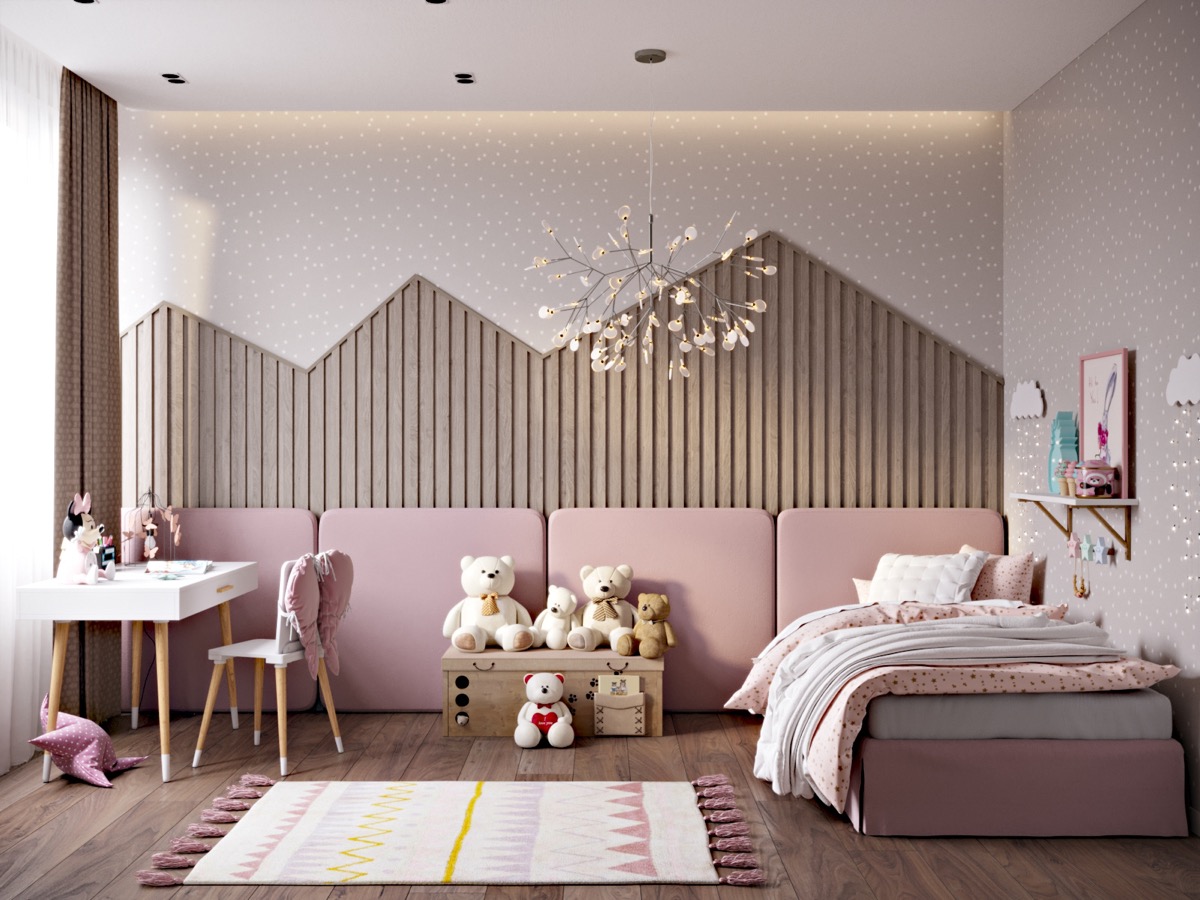 94 |
Visualizer: Lauri Brothers
Pad out that pink headboard. When you're onto a good thing, keep it running–right across the room.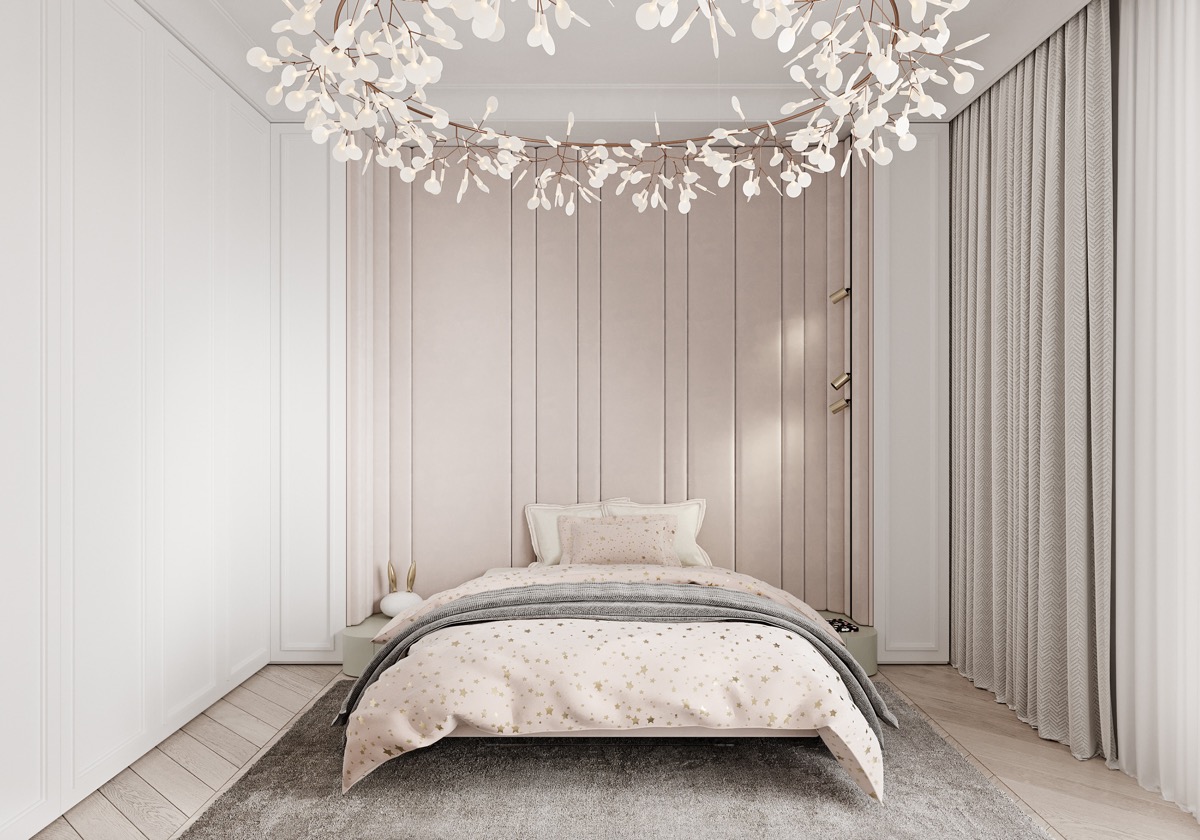 95 |
Visualizer: TOL'KO interiors
Ruches and ribbing. Simulate a ruched curtain by ribbing your pink headboard upholstery. Note how the slender stem of the tall floor lamp gets conveniently lost in the folds.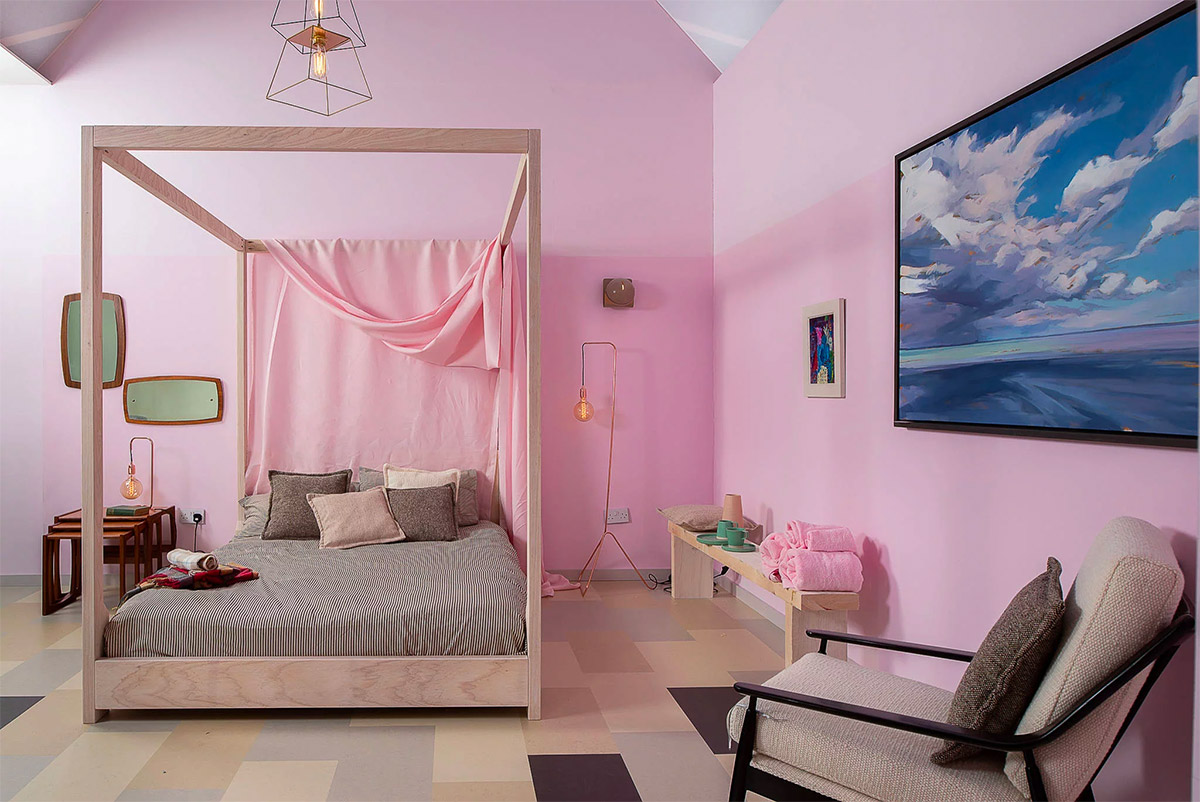 96 |
Photographer: Andzik Dublin Photography
Sing pink all the way up to the rafters.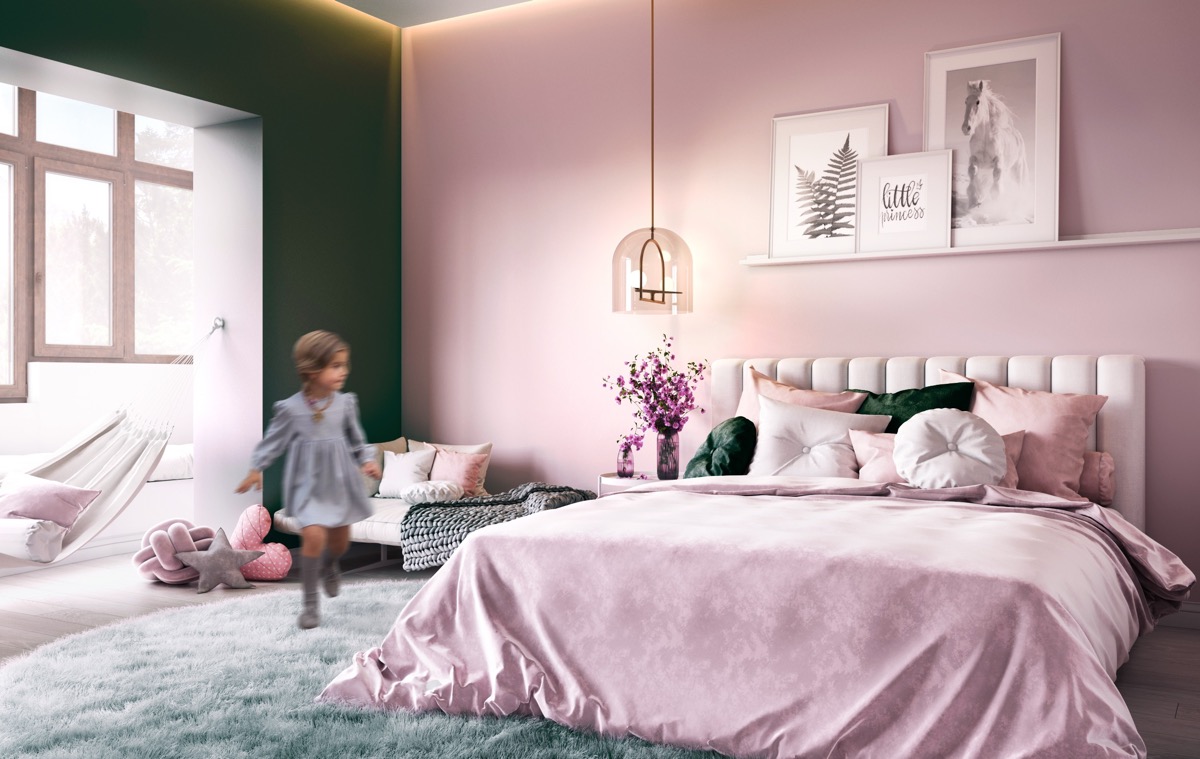 97 |
Visualizer: JKLab Architects
Carve out some crazy cool contrast with baby pink and bottle green.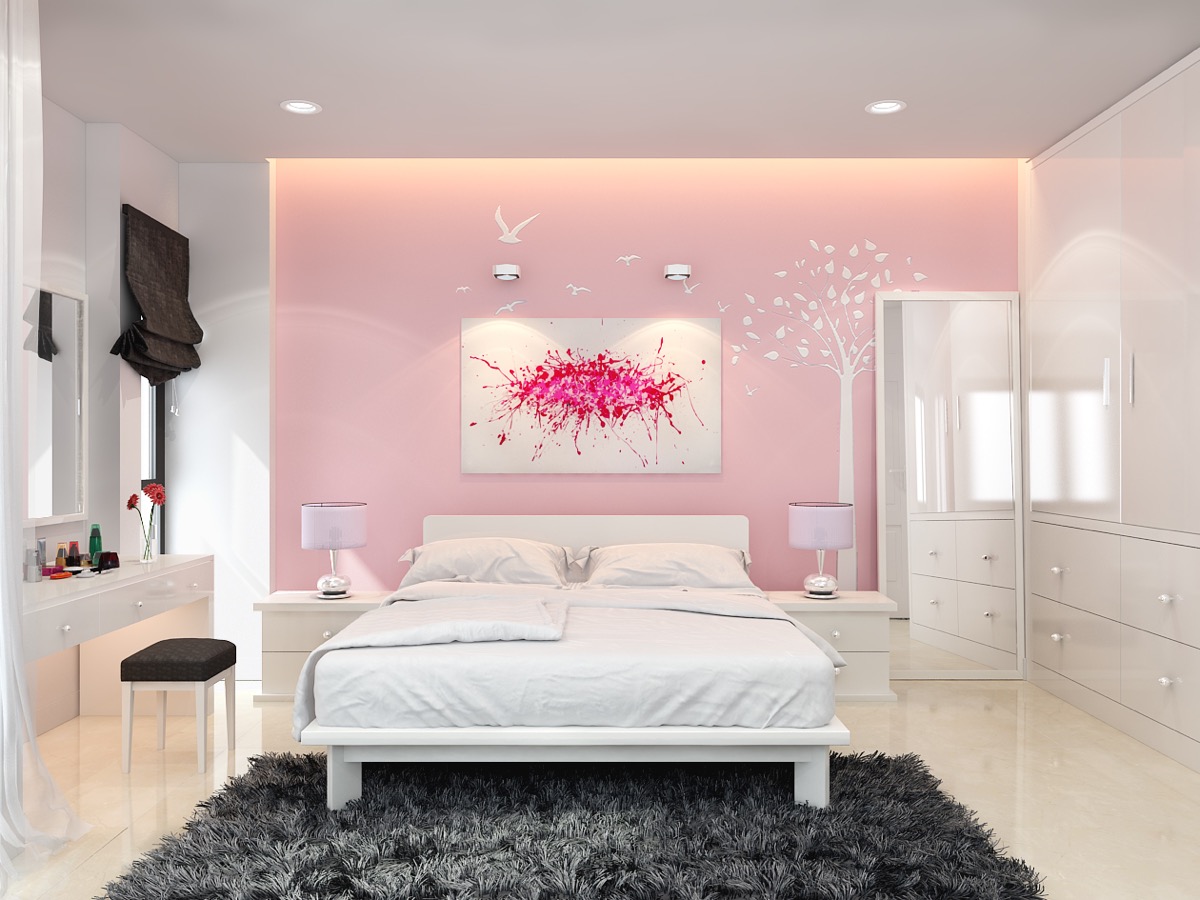 Energise a laid-back light pink room with a sudden splash of hot pink.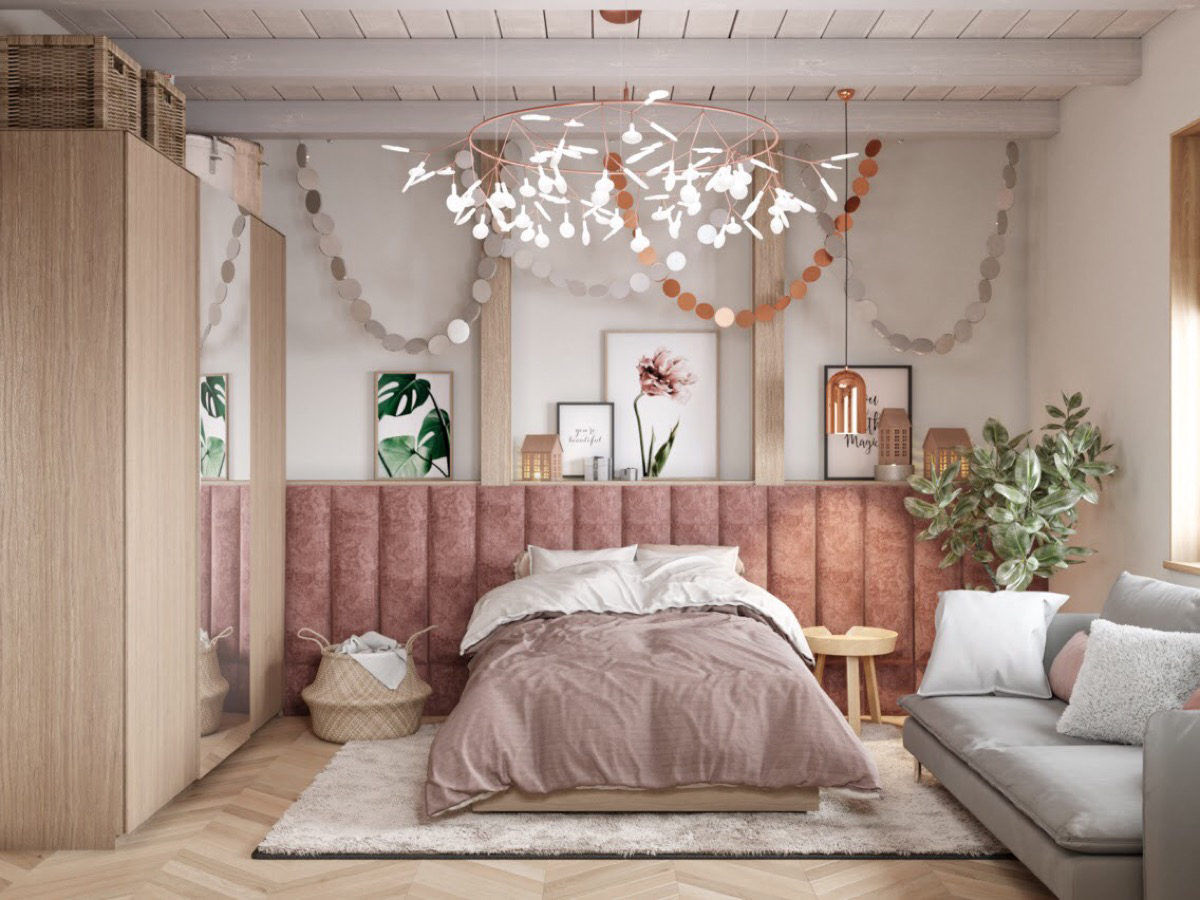 99 |
Visualizer: RUDA Studio
Accessorise silver grey and blush bedrooms with metallic silver and copper elements.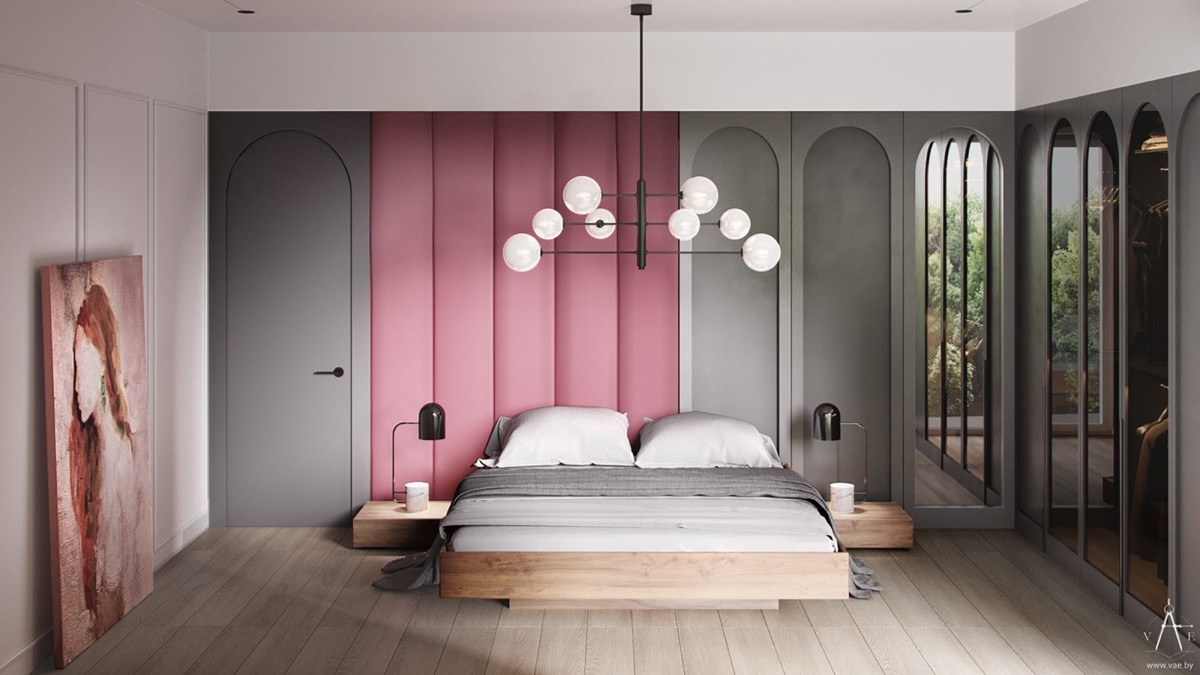 100 |
Visualizer: Studio | VAE
Pink panels offset with arches.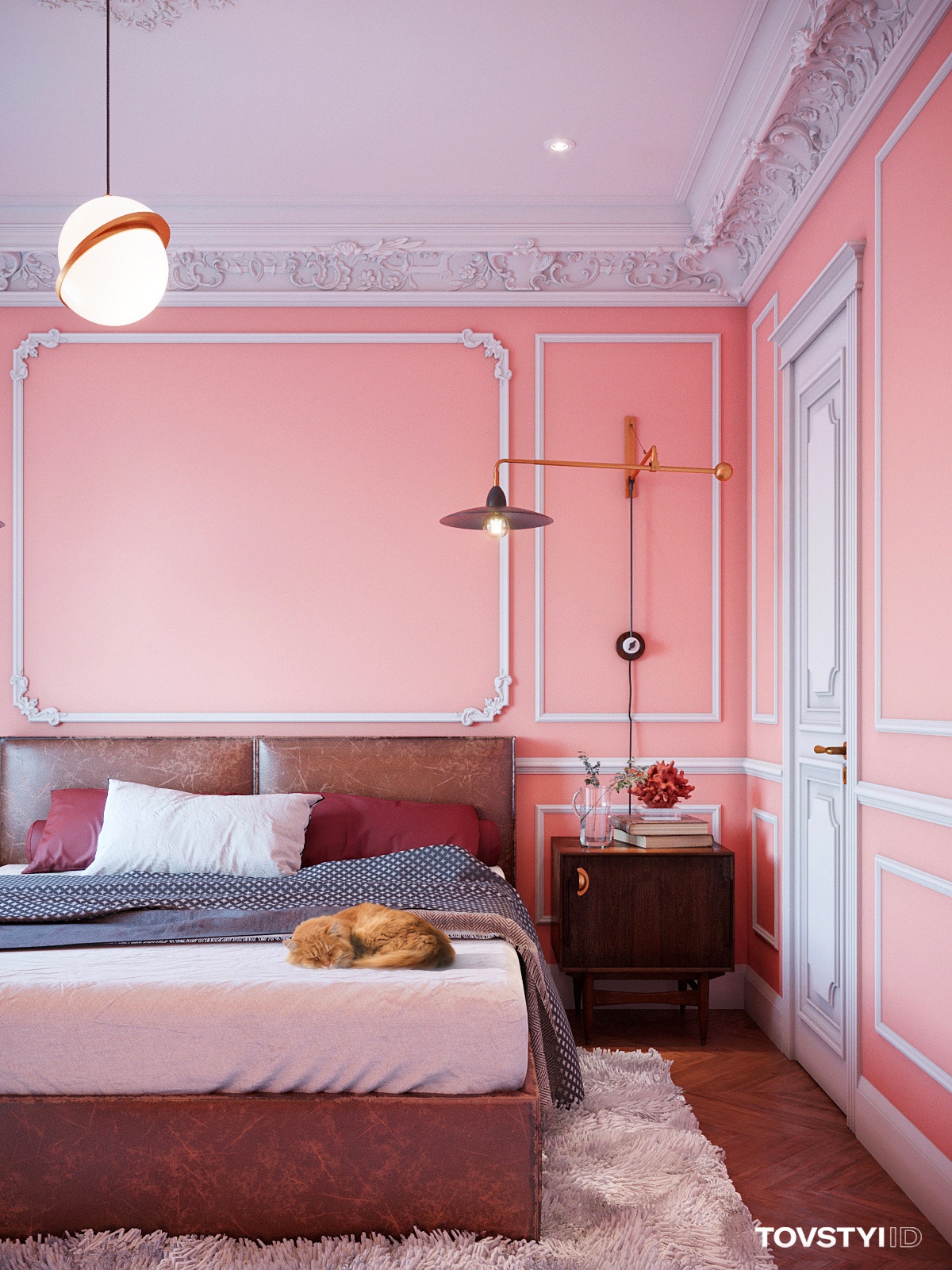 101 |
Visualizer: Tovstyi Bohdan
Old faithfuls and new delights. An old distressed bedstead looks right at home alongside super fresh bright coral paintwork. Crisp white bedclothes and white wall trims bring the two together.