Art meets fashion in this modern bedroom with a glass dressing room. "My House Is My Dress" pronounces a huge piece of art behind the bed, which comes alive with jewel colours and a floral theme. The glazed closet displays racks of designer garments–pieces of artwork in themselves.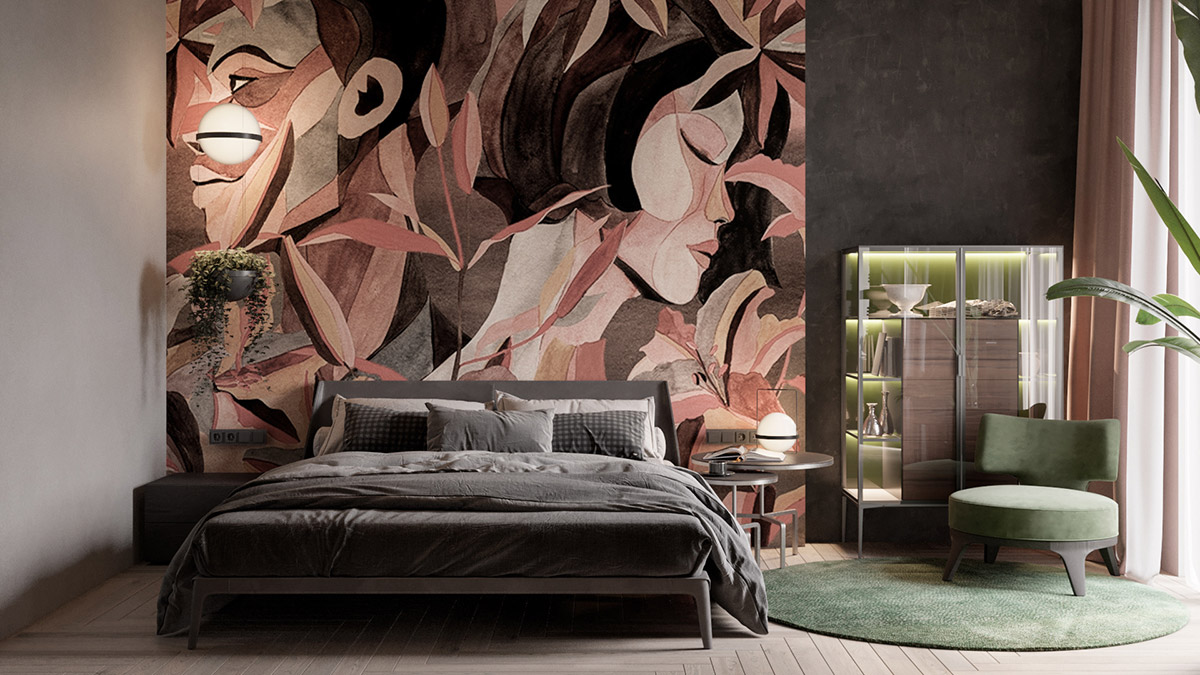 Bursting with botanicals. Neutral toned artwork dominates this dark room, and the botanical element is brought forth with indoor plants dotted around the space.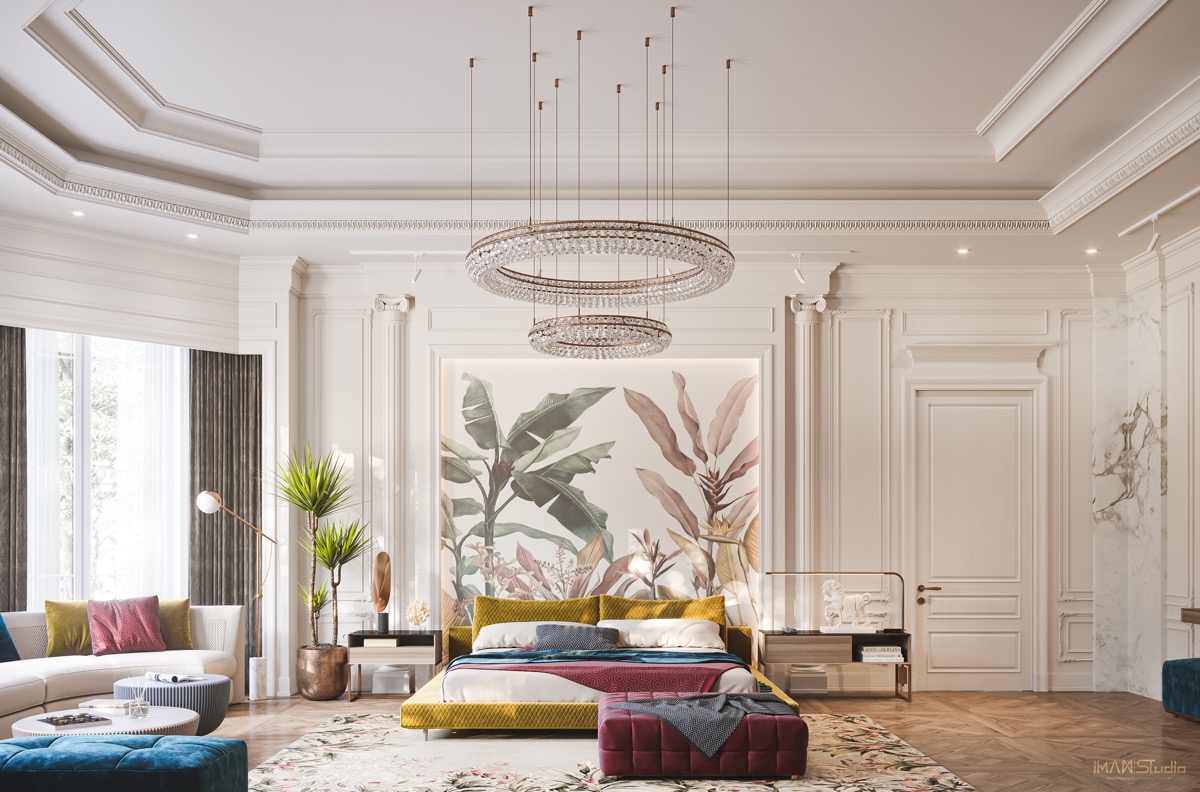 Exaggerate lofty room proportions with towering murals. This palm themed painting leads the eye all the way up to scrolled chapiters, classical coving, and a beautiful chandelier.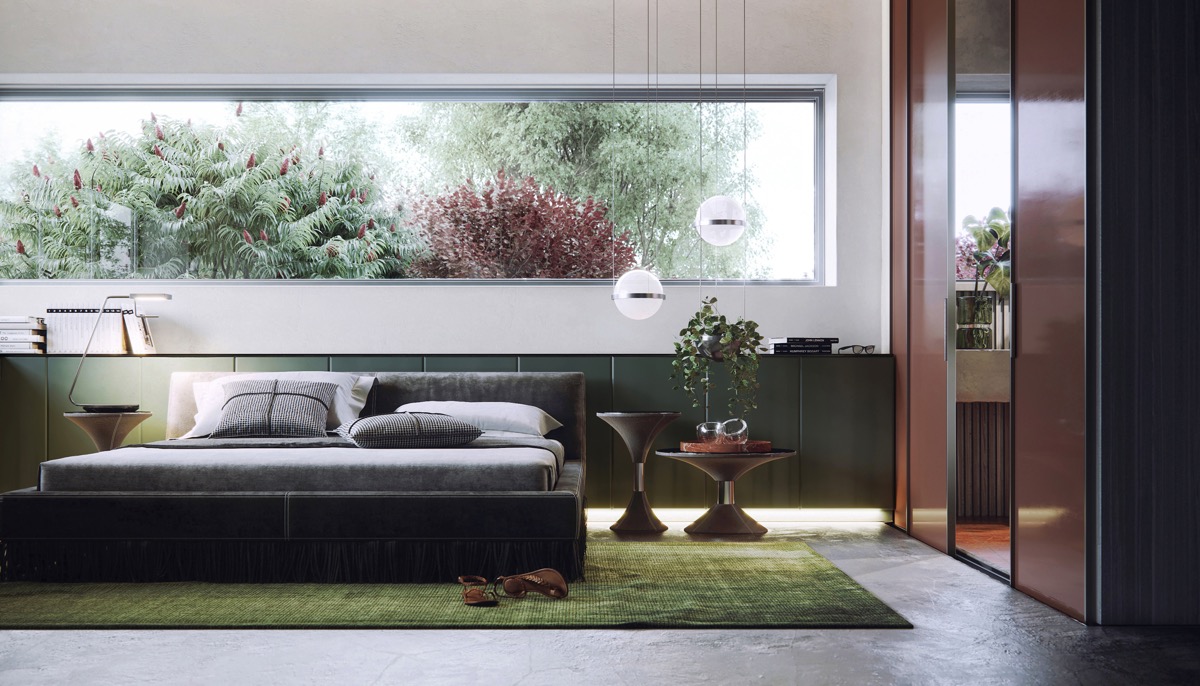 Nature can be a convincing canvas. The picture frame behind this headboard is a picture window, with a peaceful view of lush garden. A lawn-green rug brings the garden palette right underfoot.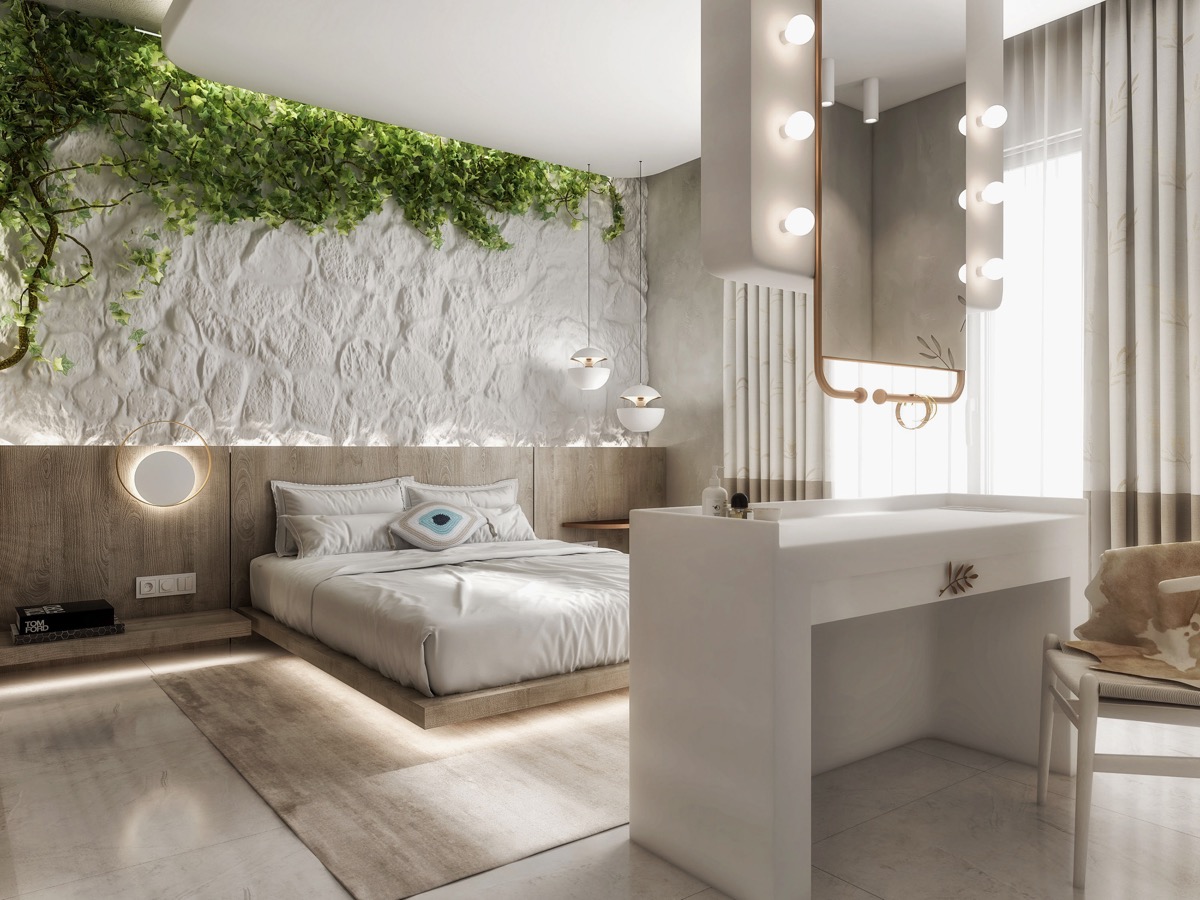 Another take on nature's artistry, this whitewashed rocky bedroom wall features climbing plants all the way over the bed.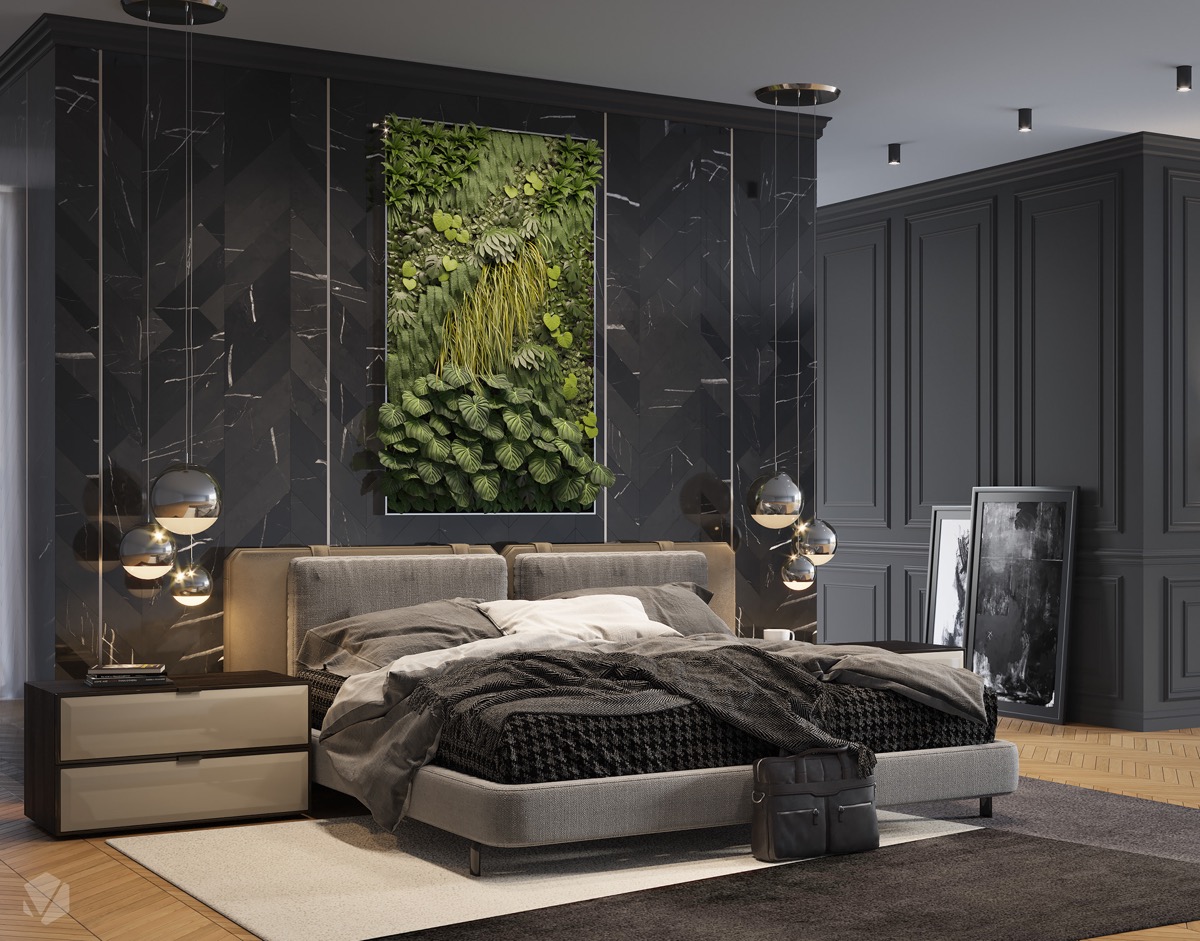 A framed vertical garden offers a more controlled approach to indoor greenery. Black wall panels create a deliciously dark contrast with the freshness of the green foliage.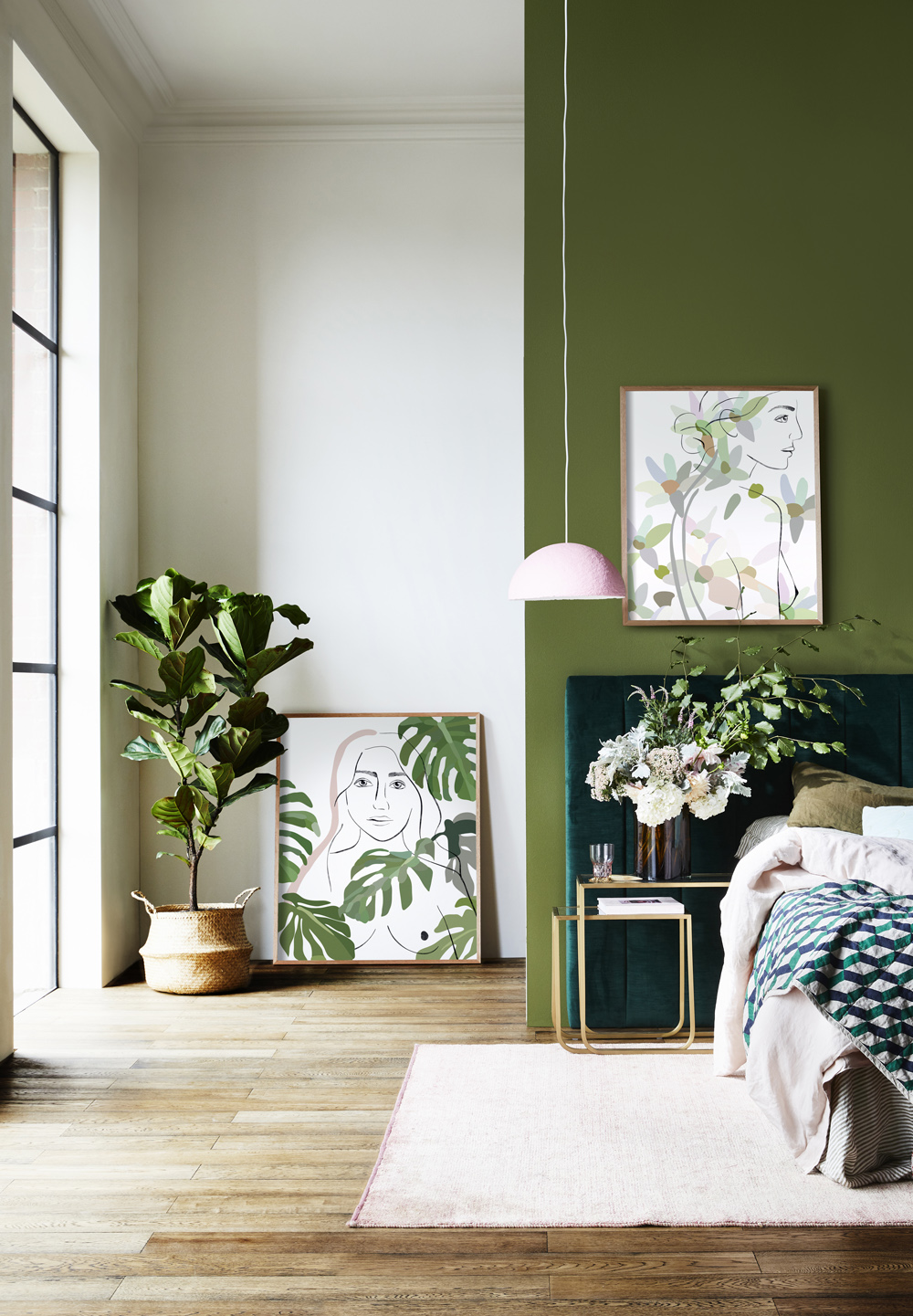 If you prefer to confine plants to pots and paper, then the botanical theme can be stretched with a solid green painted accent wall.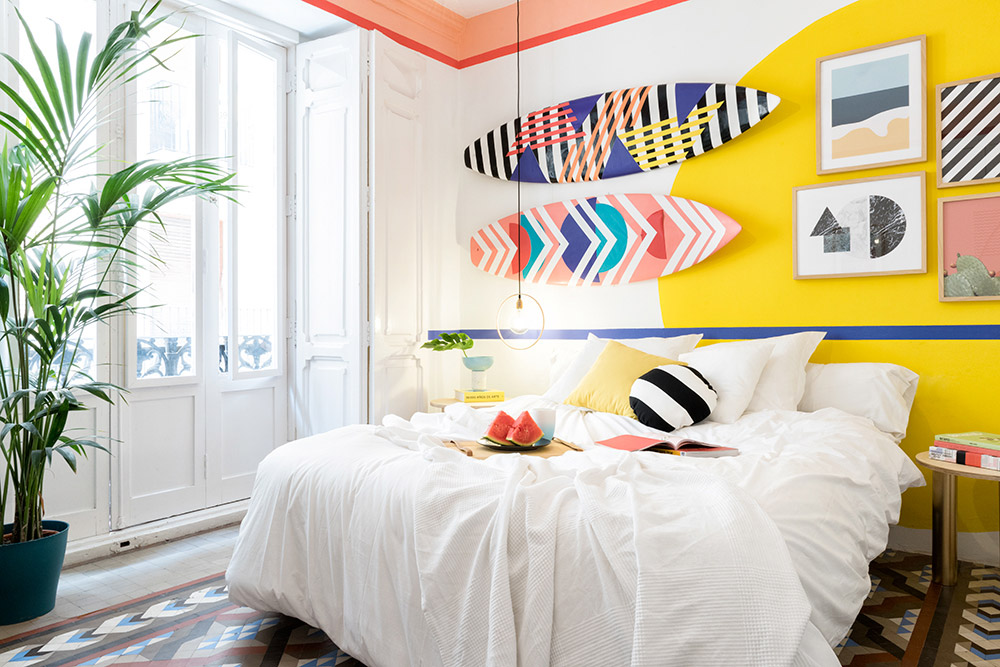 Surfs up! Catch cool bedroom vibes with bright clashing colours, dazzling geometric pattern and a couple of surfboards mounted up as totally radical works of art.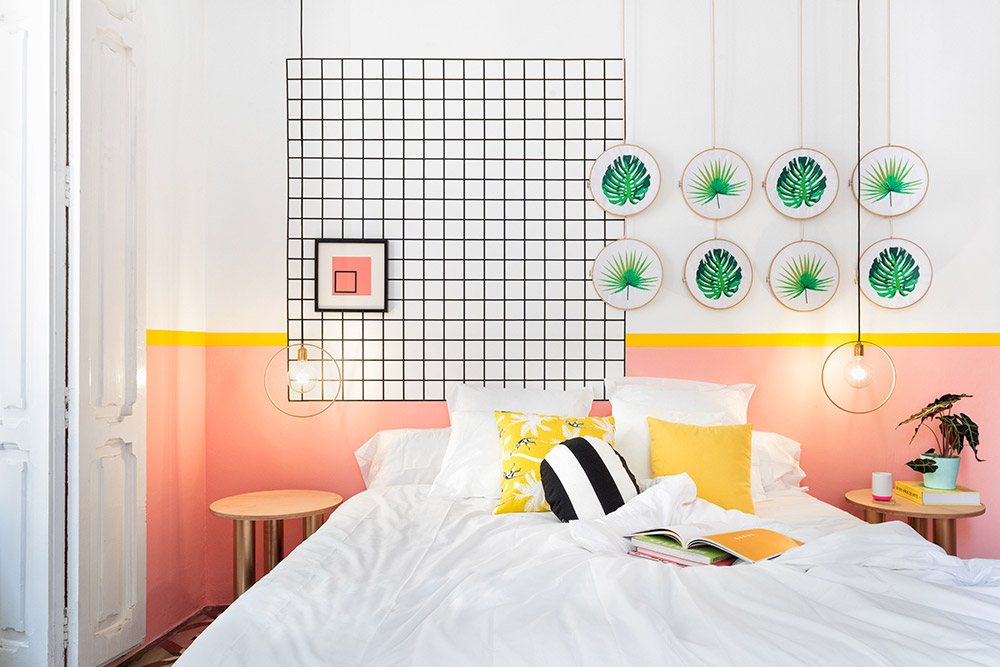 Extreme sports not your thing? Switch the surfboards with a grid for hanging interchangeable prints.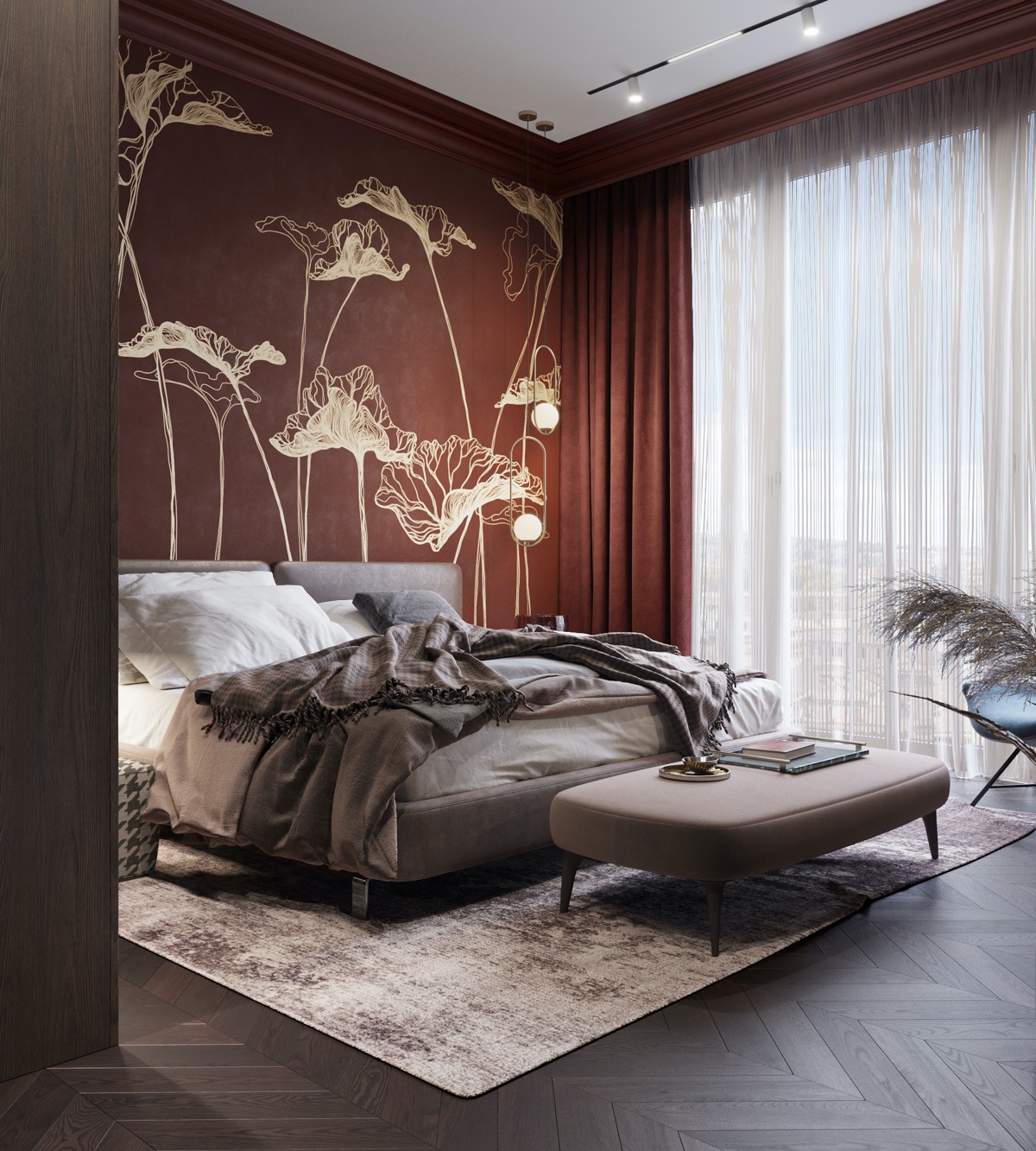 An all encompassing red bedroom scheme is always a statement, but you can take the rich aesthetic to new levels by adding in hand painted art with a golden theme.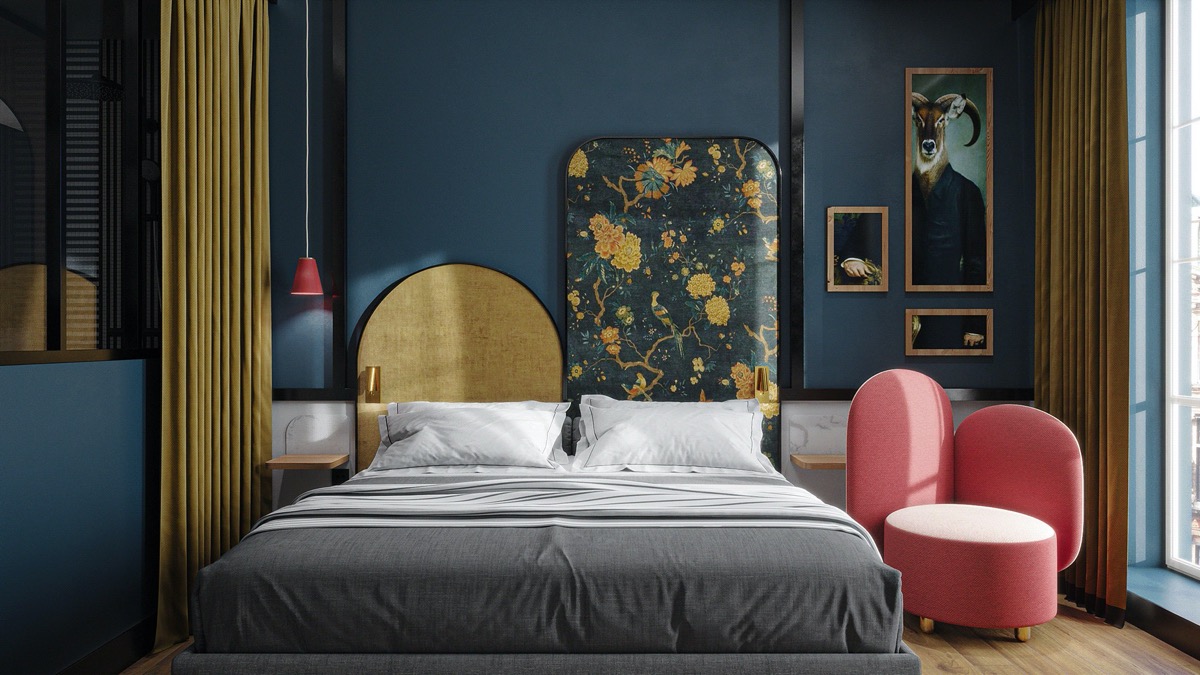 Throw everything at it. We can't decide which is the hero piece in this room. Is it the bespoke split headboard, the sculptural chair, the shape theme that links them both, or the suited goat triptych?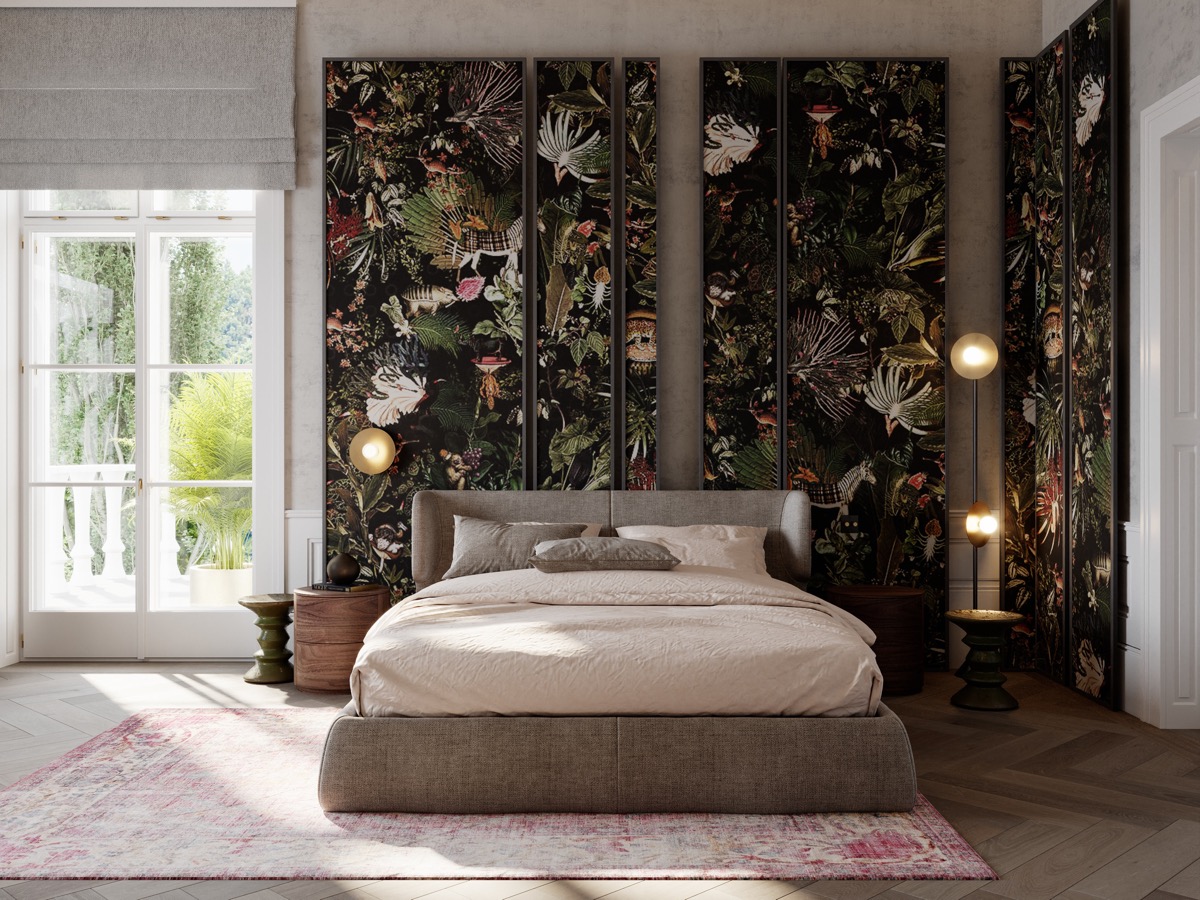 This polyptych is created by applying designer wallpaper to panels of varying widths. What makes this particularly effective is the L-shaped arrangement around the bed, which stages the area almost as a room within a room.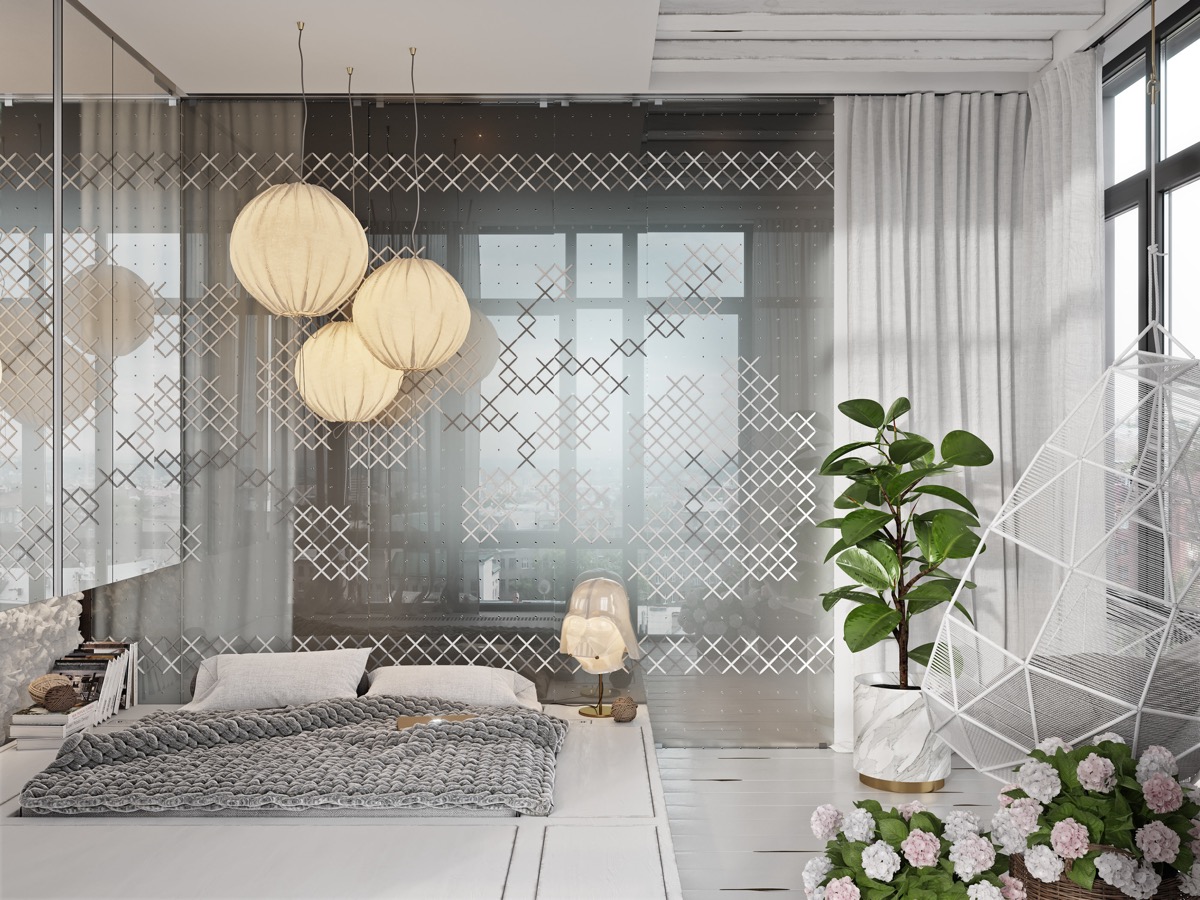 Romantic meets futuristic in this light reflective boudoir. A Star Wars bedside lamp looks just as at home in the delicate decor as does the flowering plants.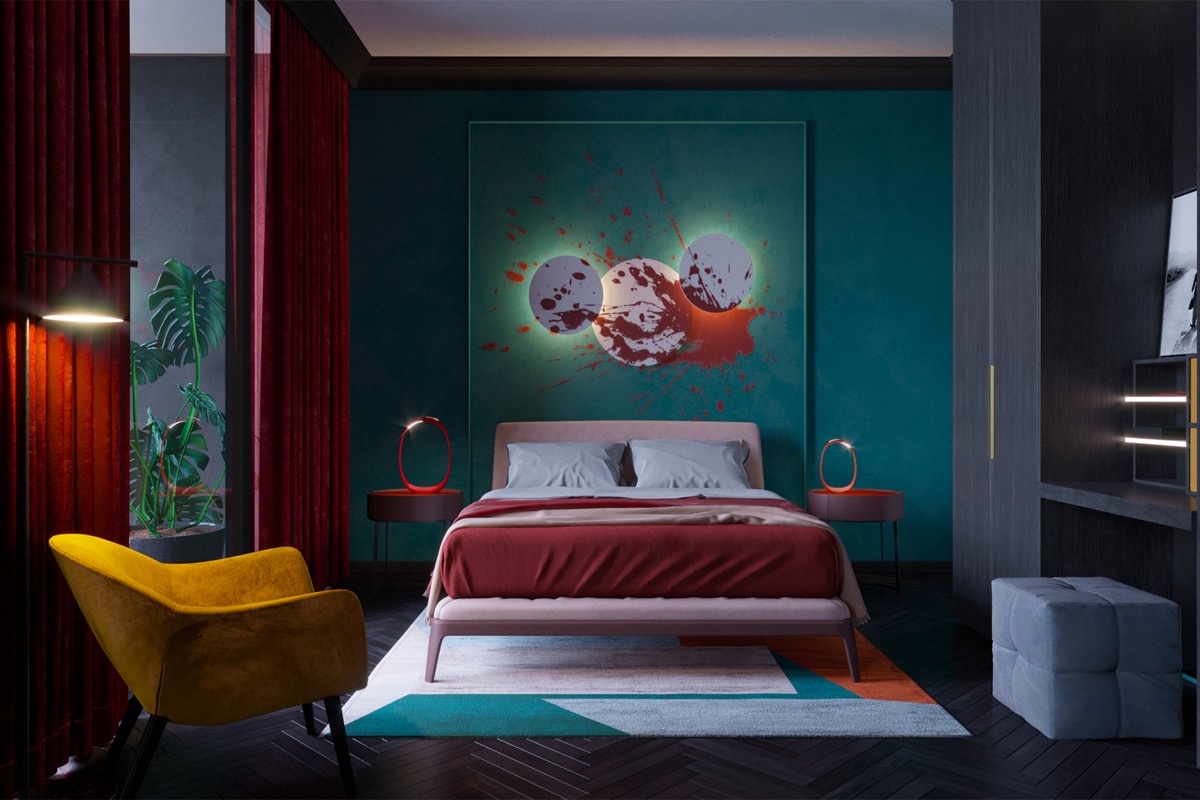 Make a splash with contrasting colour. Teal and red make a dreamy dark scheme, and a drop of yellow is just enough to lift the combo and draw out small gold fixtures in the room.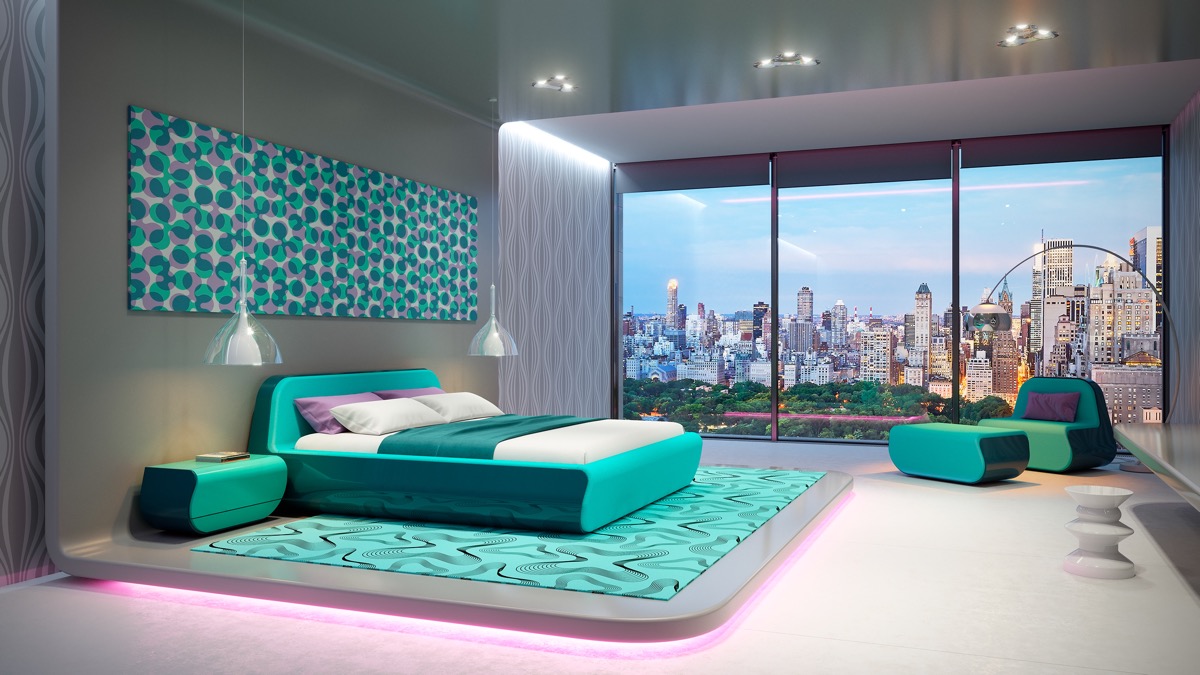 This time teal decor comes coupled up with vibrant violet accent pillows, art, and a colour coordinated lighting track that gives the raised floor a floating effect.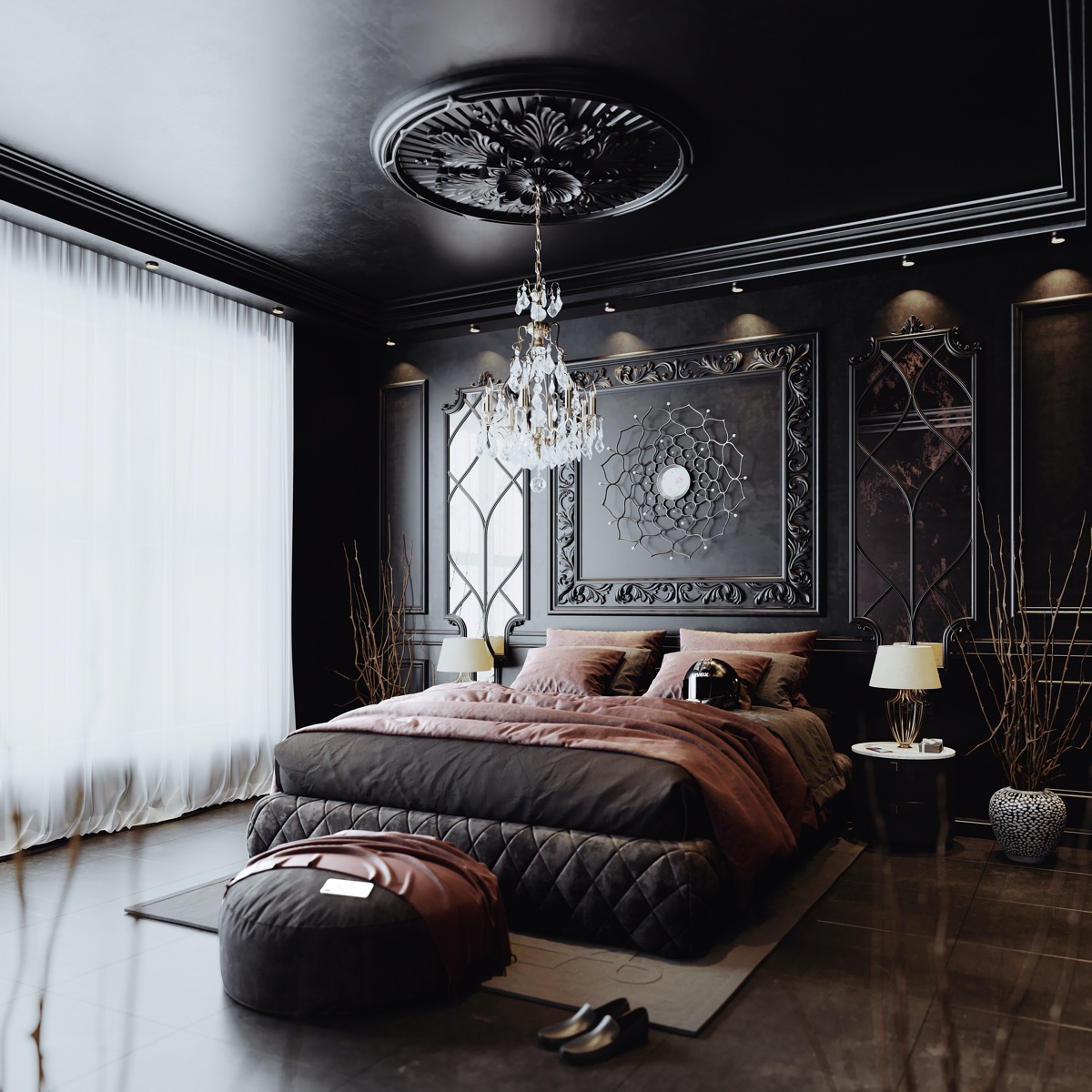 Beautiful borders. Carved panelling over the headboard, decorative mirrors at the bedsides and traditional ceiling roses make luxurious deep profiled additions to even the plainest of spaces.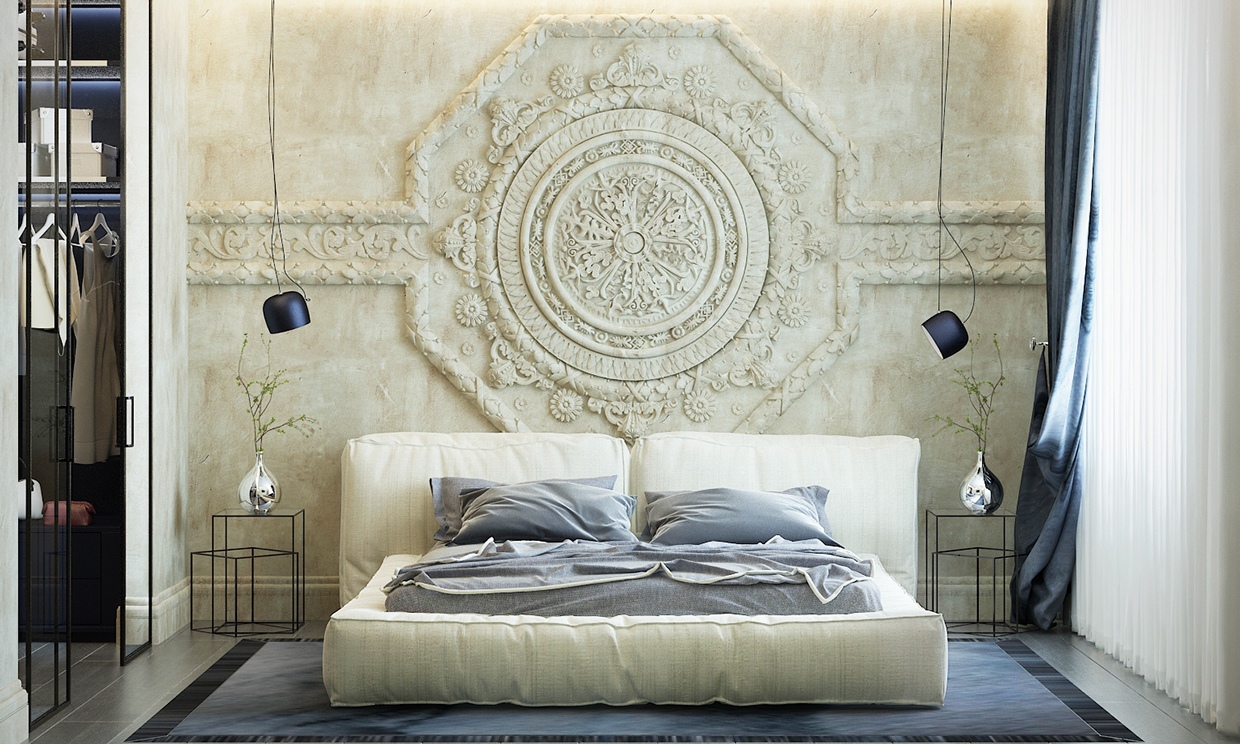 Speaking of deep and detailed decoration, how about this superb ornamental plasterwork. This traditional aesthetic takes on a whole new life when teamed with modern bedroom pendant lights and a contemporary platform bed.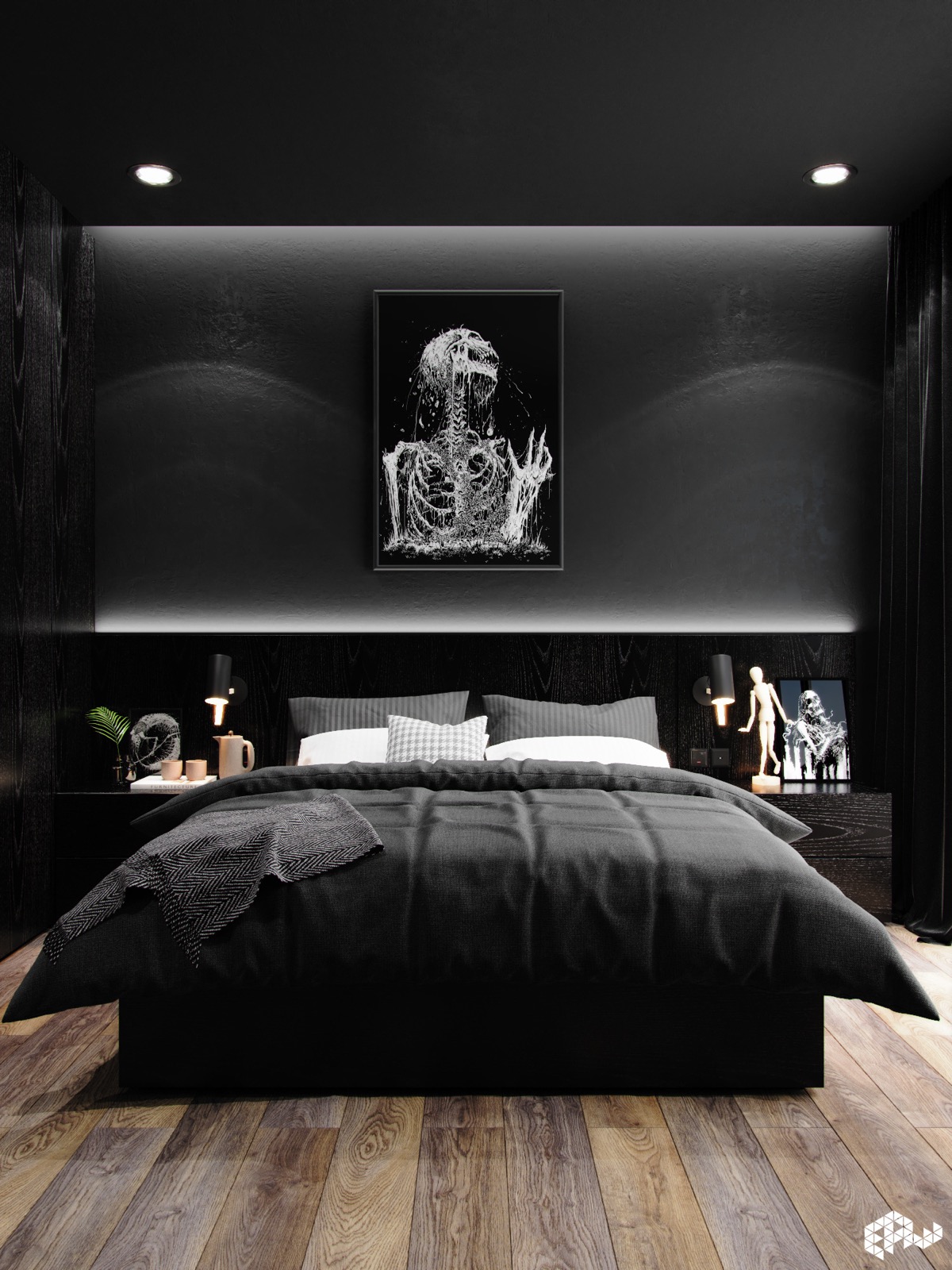 Gothic art takes a black bedroom to even darker depths.
Plotting out pattern. A circular motif repeats across a colourful headboard wall in this design, and the pattern inspires the choice of orb pendant lights and round bedside tables.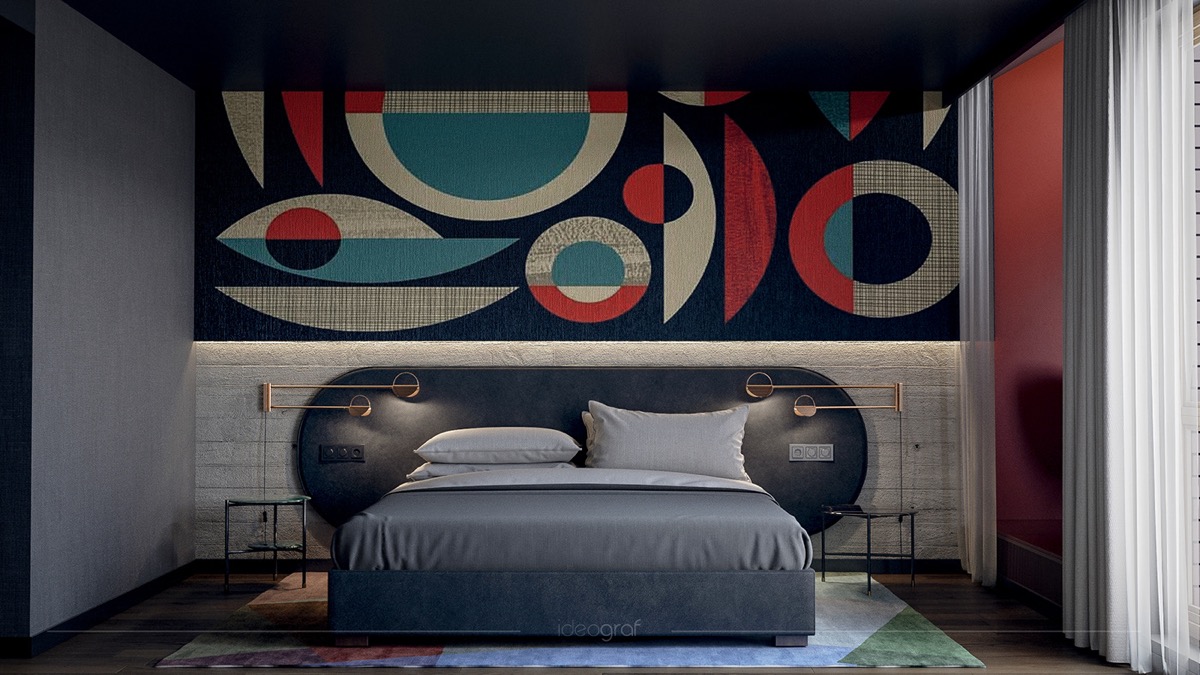 Similarly, rounded swing arm wall lamps and an elliptical headboard silhouette are inspired by the curvaceous pattern in this vibrant room design.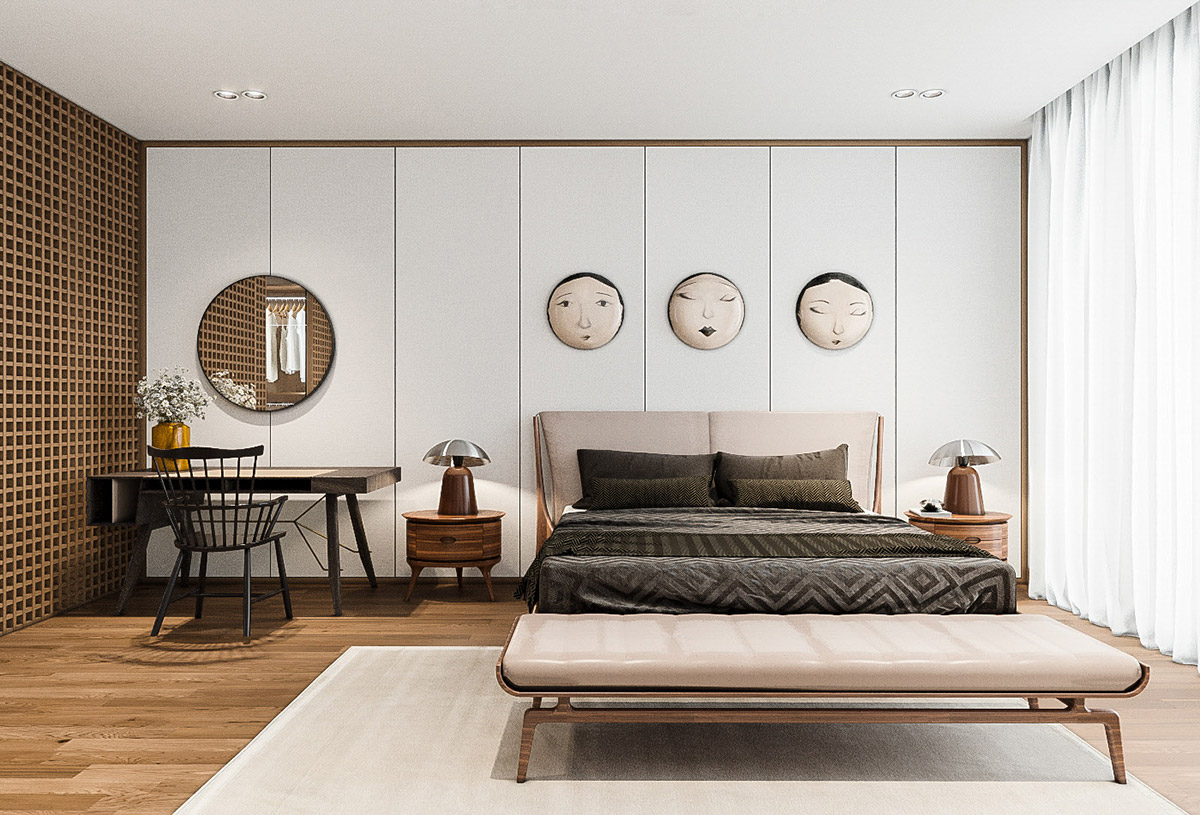 Round wall art sets the curvaceous shape theme in this earthy modern scheme. White panels freshen up the brown base tones.
Find spiritual abundance in a Japanese Koi fish themed bedroom. Feng shui says that having the spirit of the koi near you will attract good fortune, so in this sense it's totally lucky to sleep with the fishes.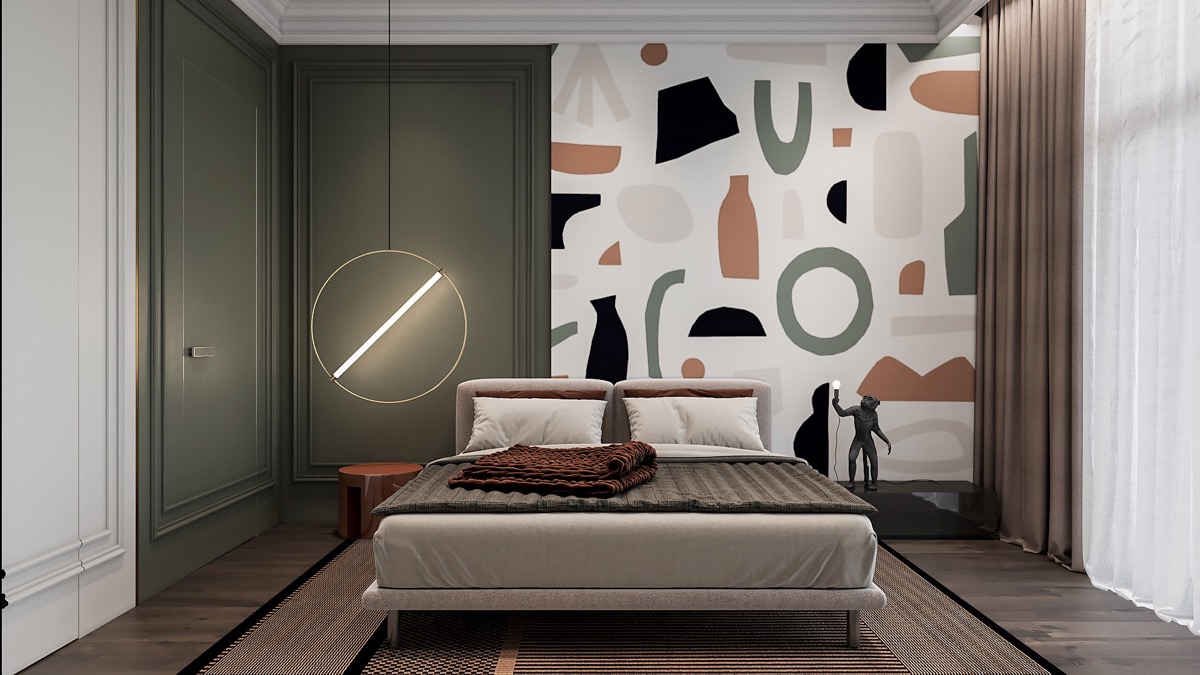 Sure, there's an eye-catching wall of pattern in this room, but we've simply got to celebrate that spectacular bedroom pendant light. Note how the outline of the light balances out the circular motif in the wall pattern opposite.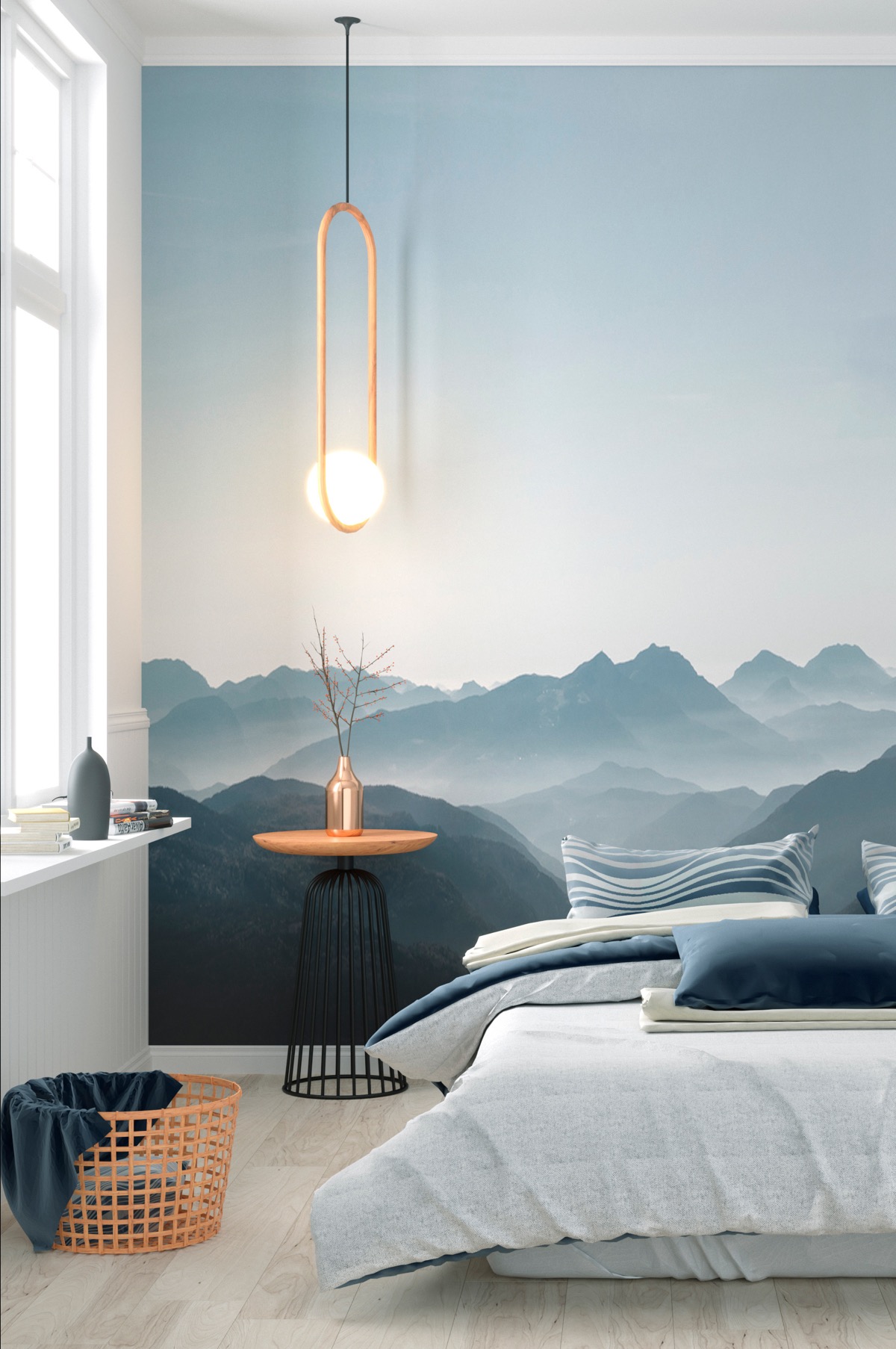 Mountains and mist; is there any mural so equally inspiring yet peaceful? The elegant bedroom pendant light seems to cradle a setting sun. A natural timber bedside table and rattan laundry basket bring added warmth to the cool colour palette.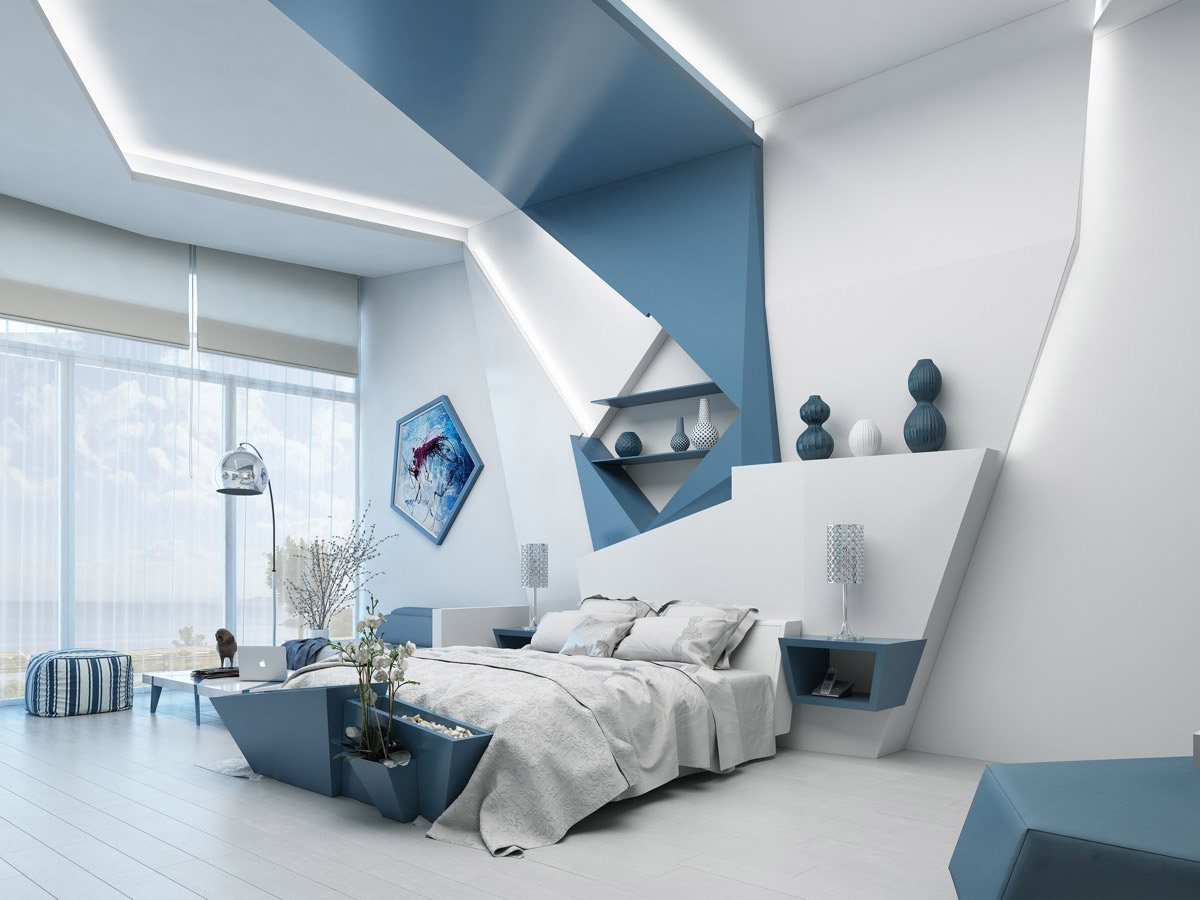 A cubist headboard design spirals out of hand in this completely individual bedroom design. Angular blue bedsides match quirky planters at the foot of the bed. See more inspirational examples of cubism in interior design.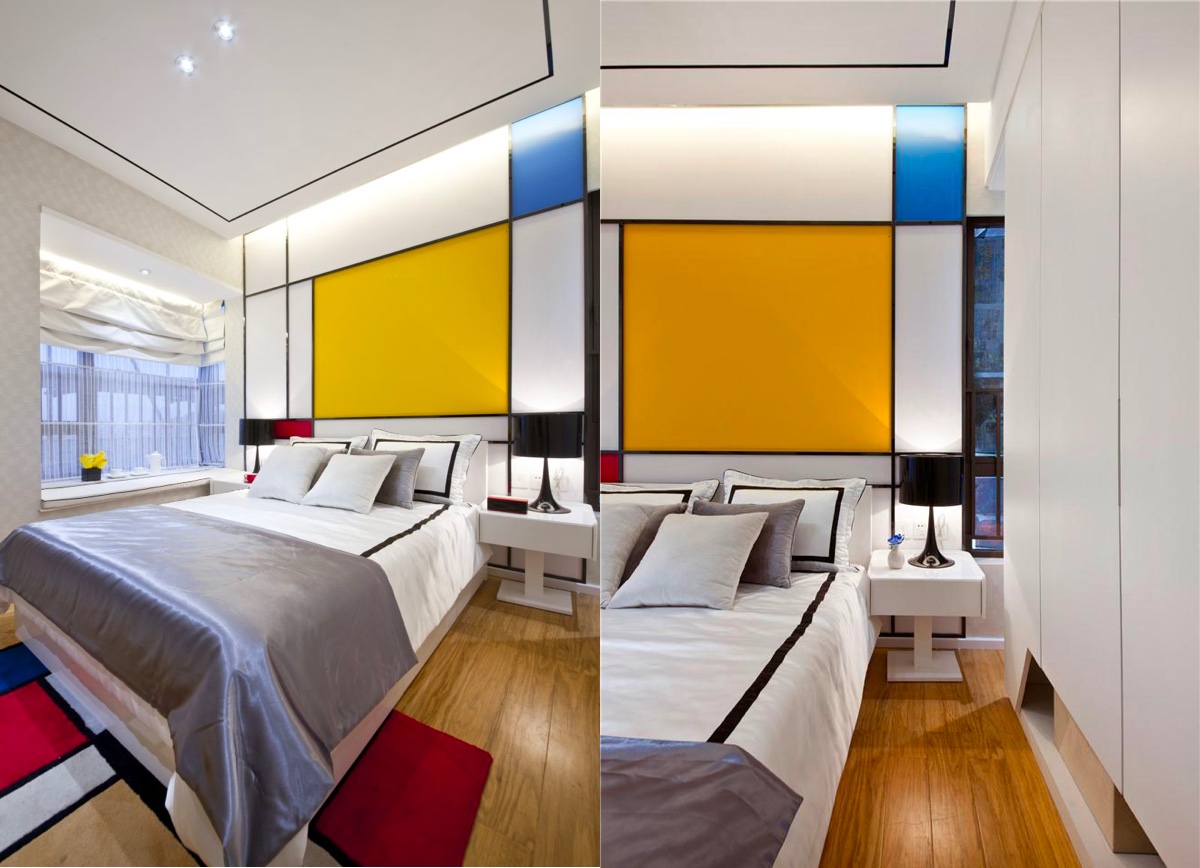 Embrace classic cubism. Pull all three primary colours into a Mondrian inspired design.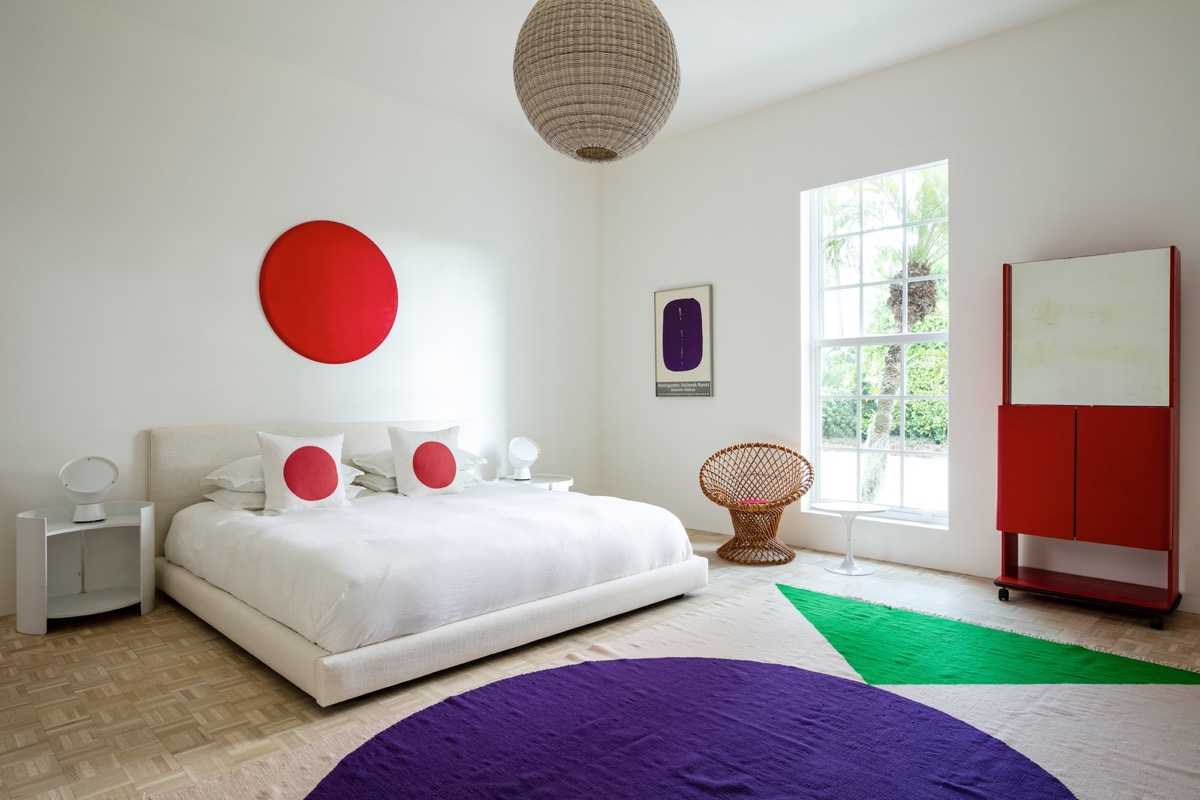 Beats of colour paint an uplifting rhythm to wake to.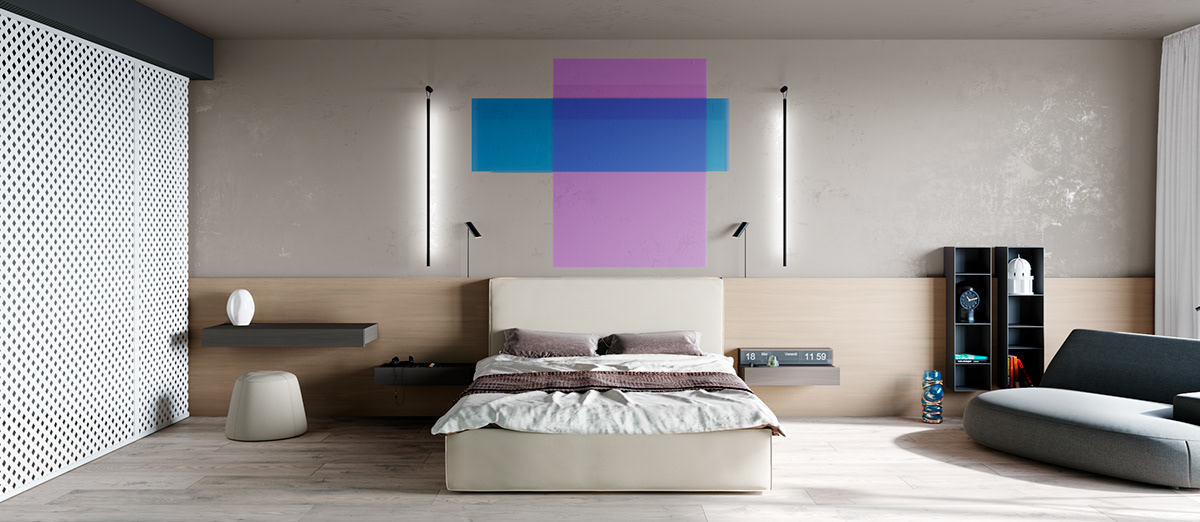 A minimalist colour hit. Elongated wall lights evenly highlight the colour block mural.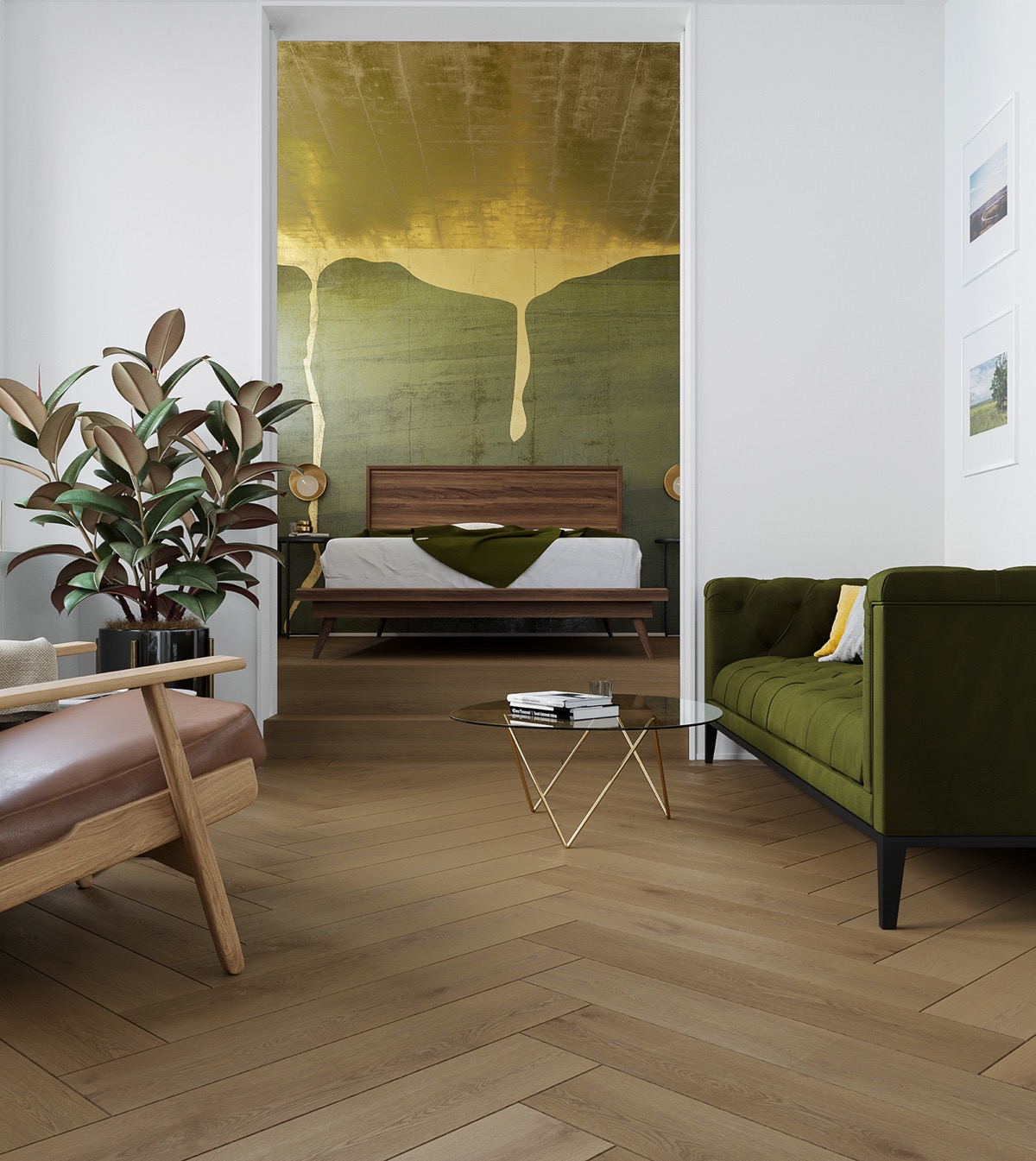 Dripping with gold, this running paint effect brings the ceiling deep into the decor scheme like never before. Soft moss green paintwork and accent furniture make the perfect accompaniment.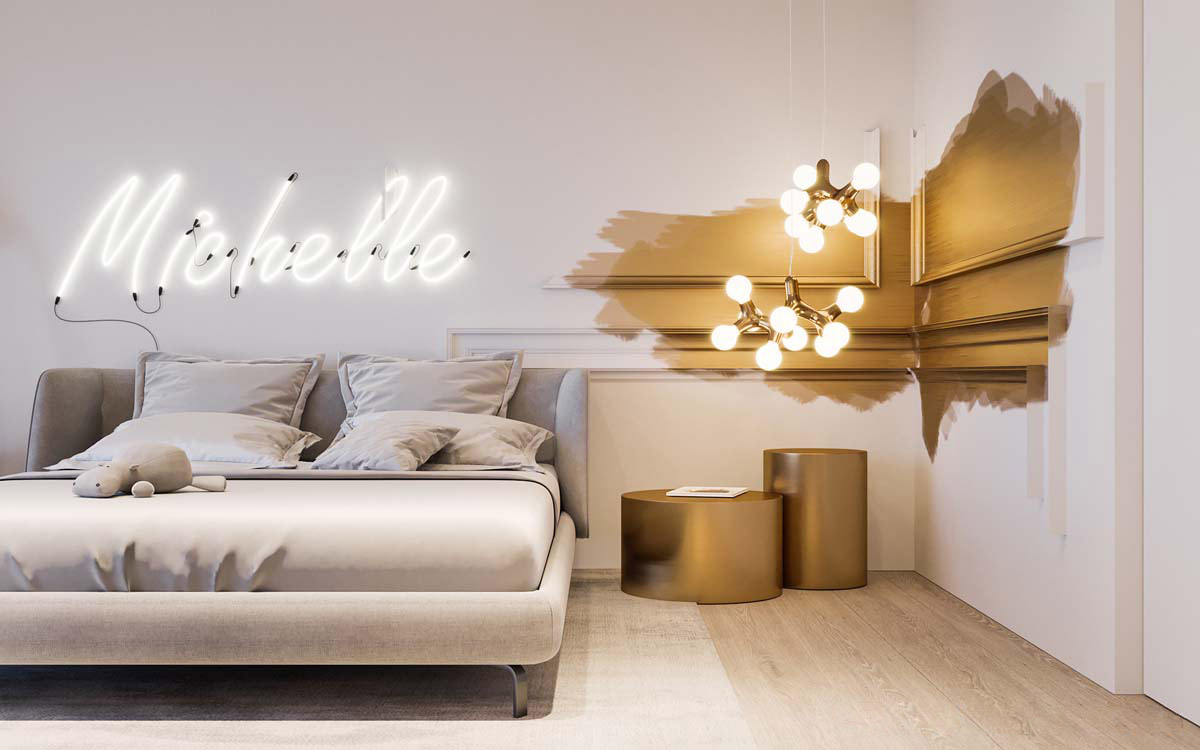 Another golden design, this metallic paint effect is employed to highlight an artistic corner of deconstructed wall panelling. Low hanging golden pendant lights and lustrous side tables expand the concept.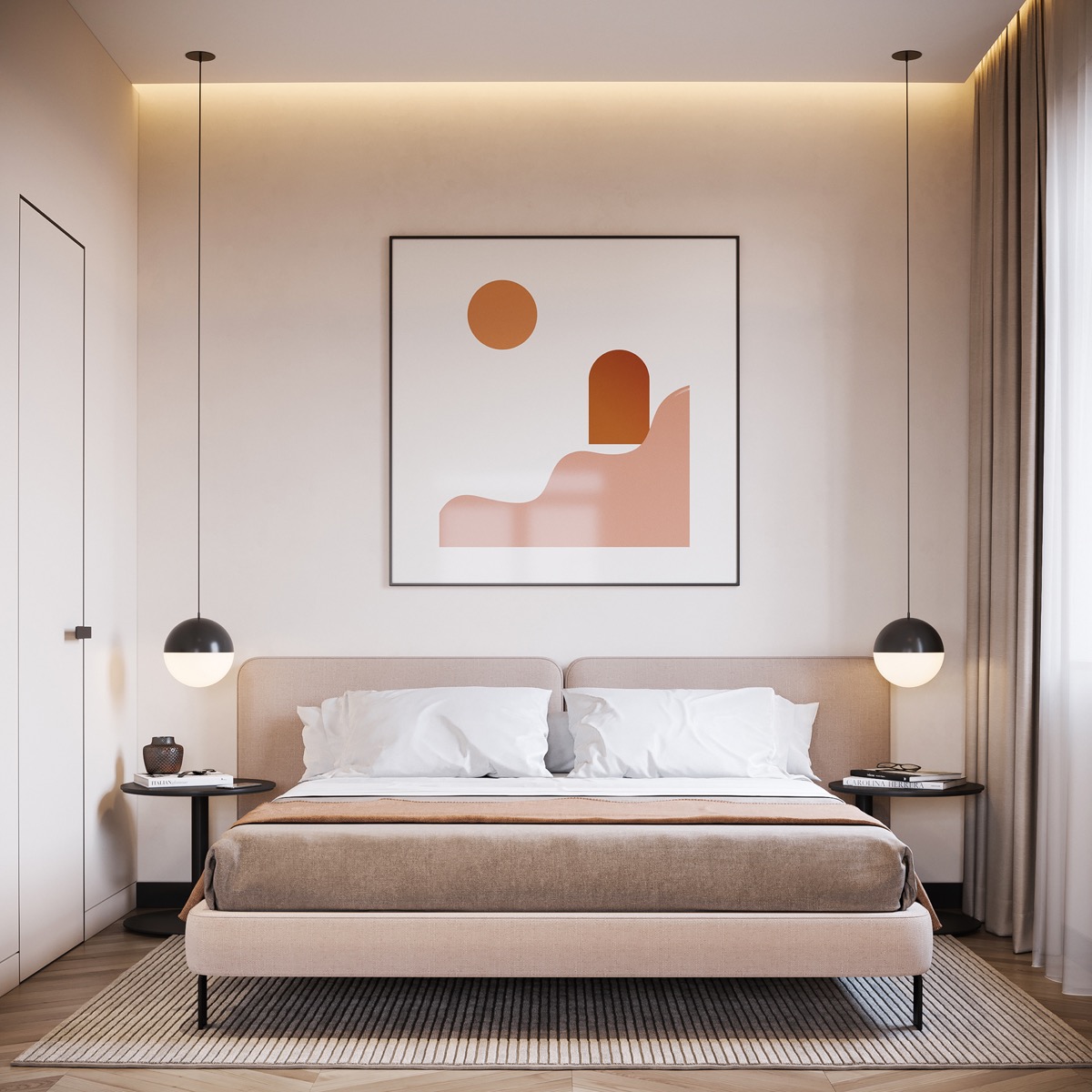 Restful and refined. This calm neutral bedroom scheme is polished up with a framed abstract print. Orb bedroom pendant lights draw shape inspiration from the composition.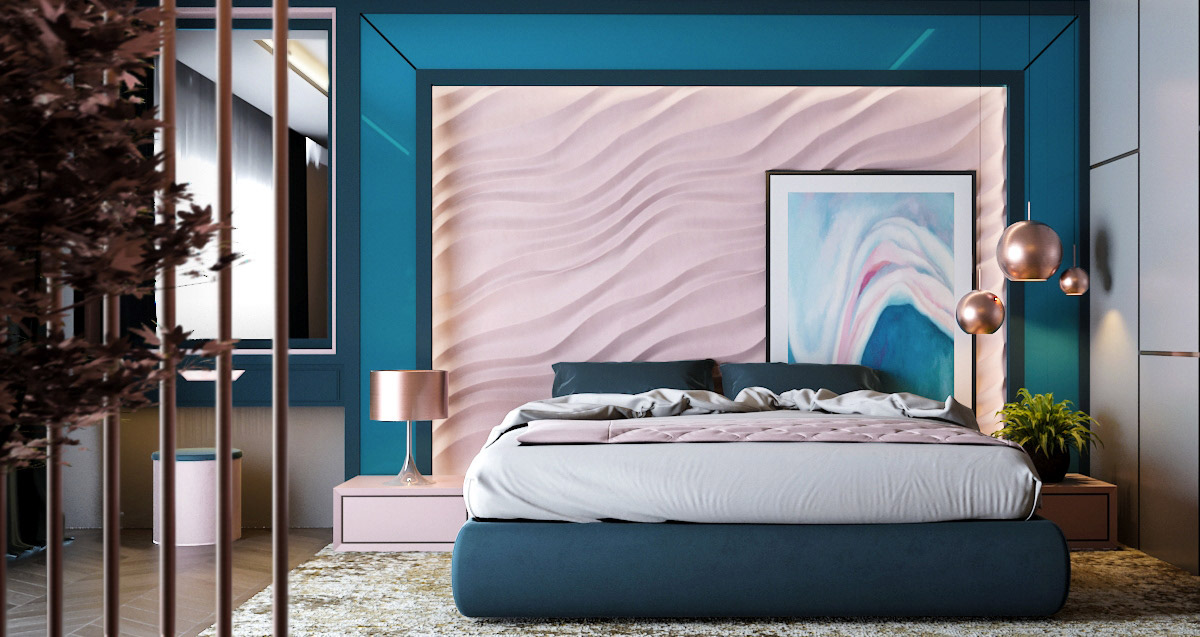 Dreams come in waves, pink ones in this bedroom. Blue borders contrast deeply with the pastel pink bedroom decor, whilst copper accents meld with the warmth of the hue.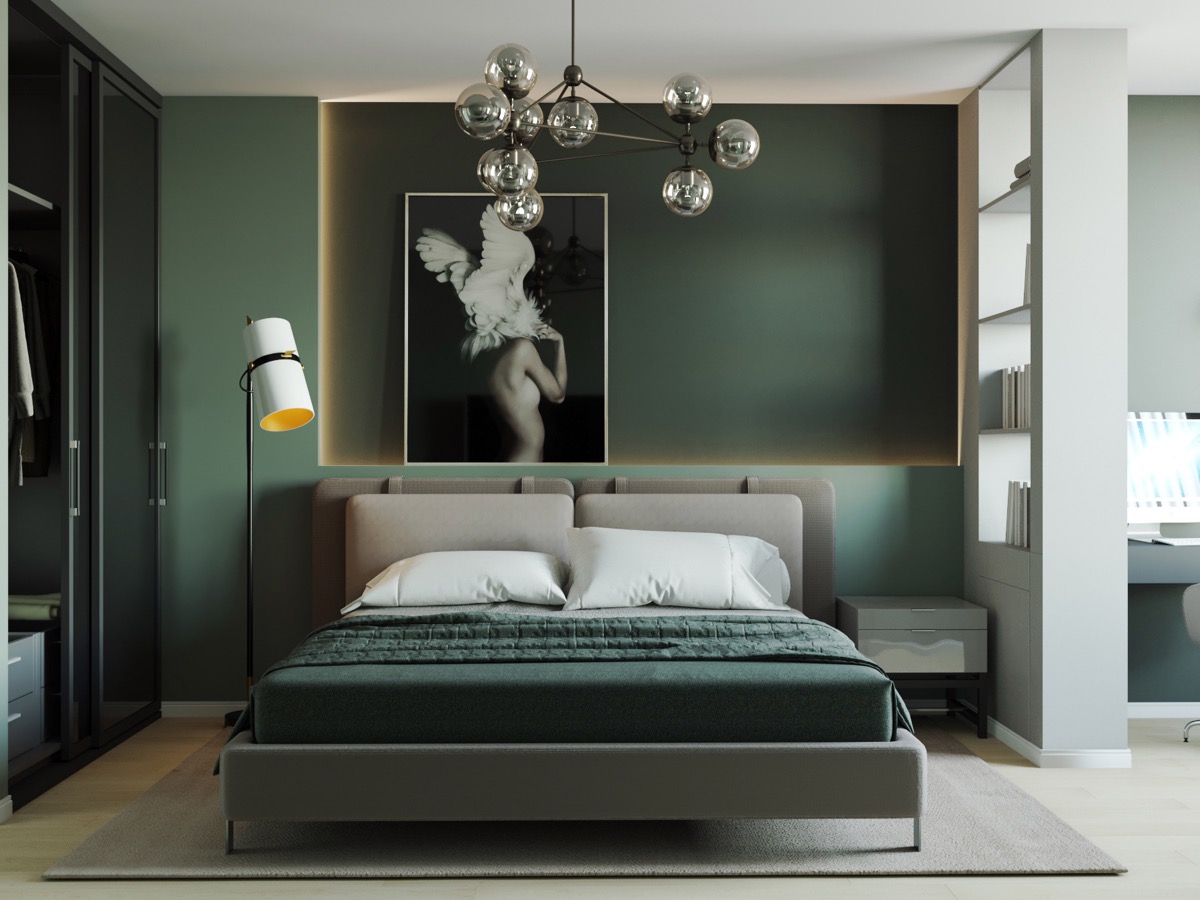 Light up your love of art with recessed LED ribbons. This green bedroom accent wall features a shallow niche for the artwork that is just deep enough to conceal some subtle illumination.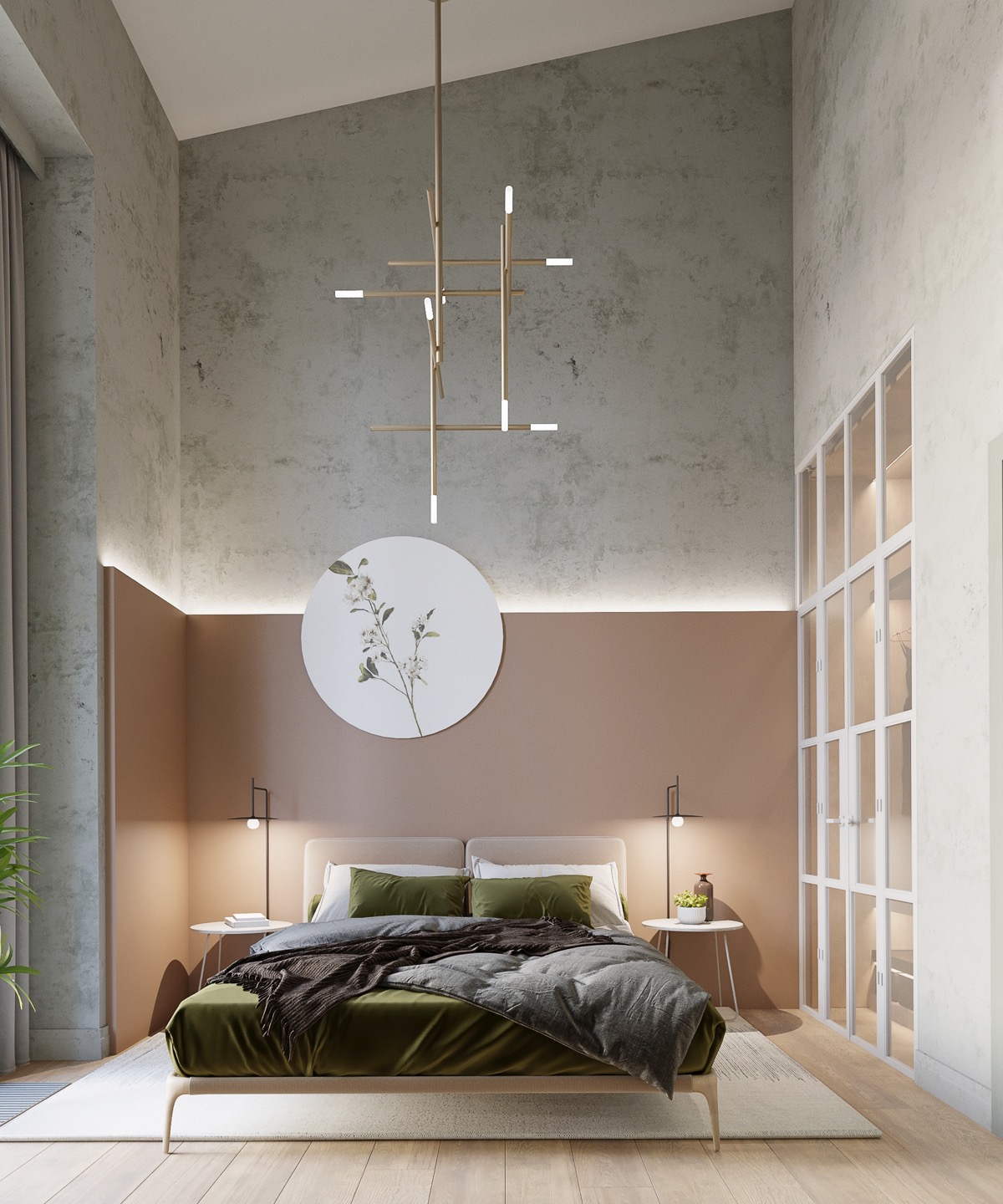 Alternatively, make the light ribbon part of the art, and extend the beautiful lighting scheme with a modern chandelier.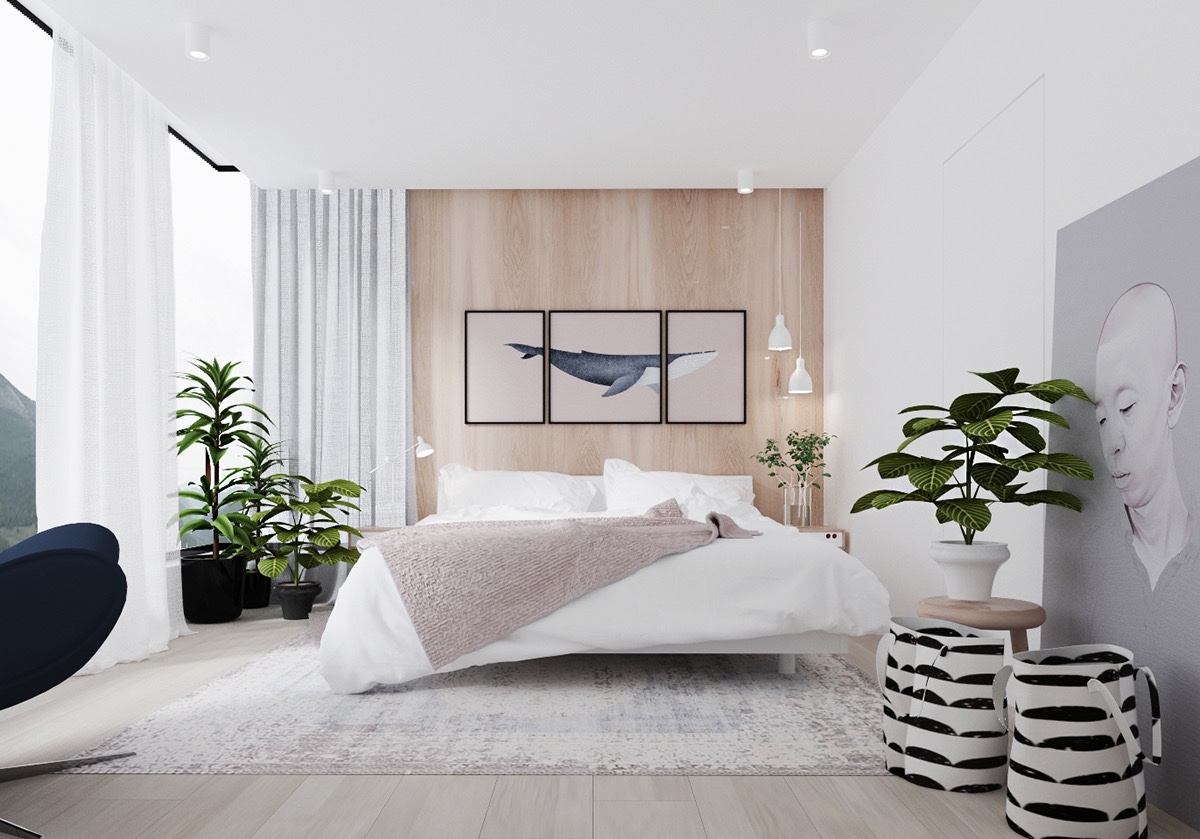 Make the room art centric by choosing neutral tones and natural materials. A whale triptych and a portrait on canvas vie for attention in this nature kissed minimalist bedroom with monochrome accessories.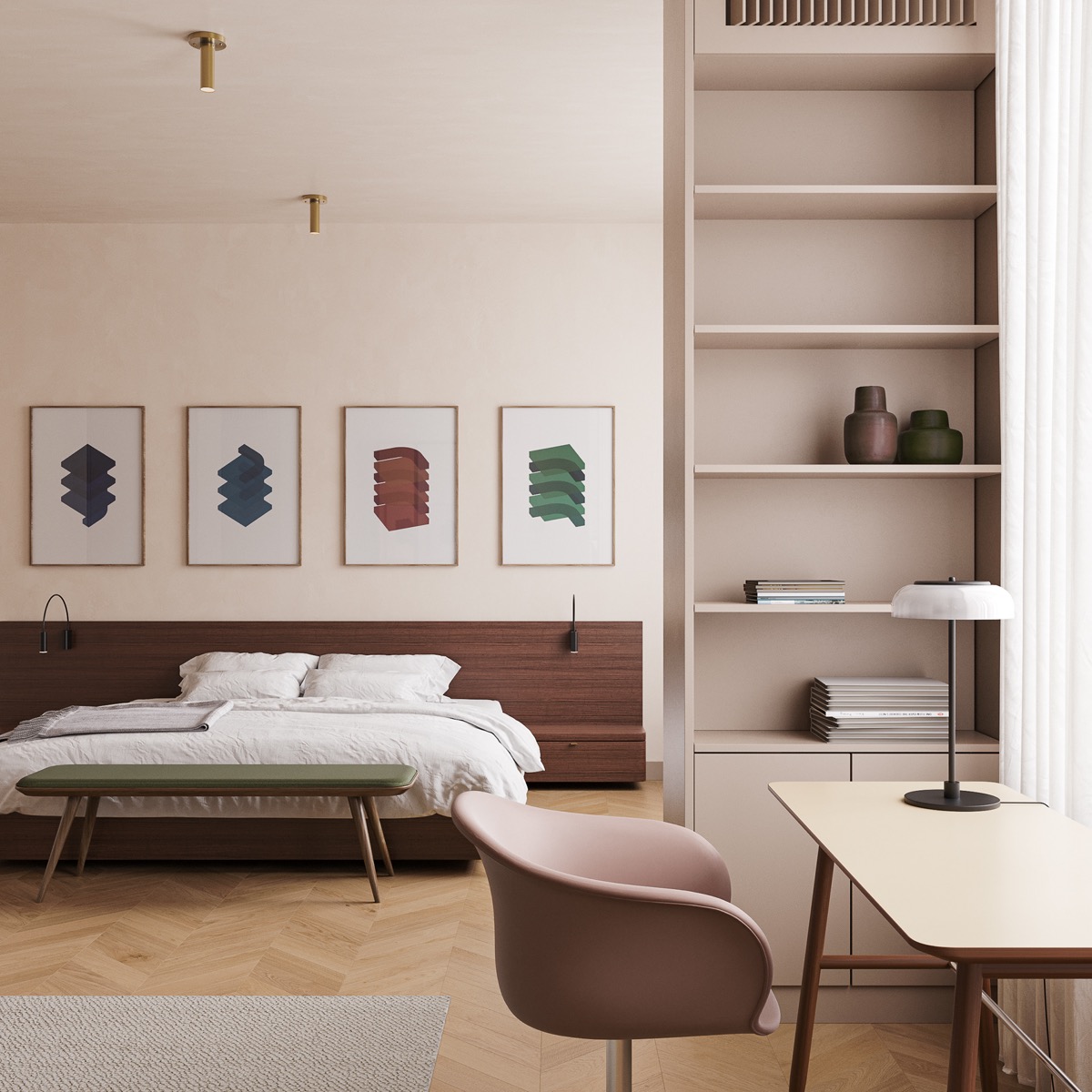 Muted and suited to their sophisticated surroundings, this gallery of works inspires a quiet colour scheme that translates into decorative vases in the bedroom workspace.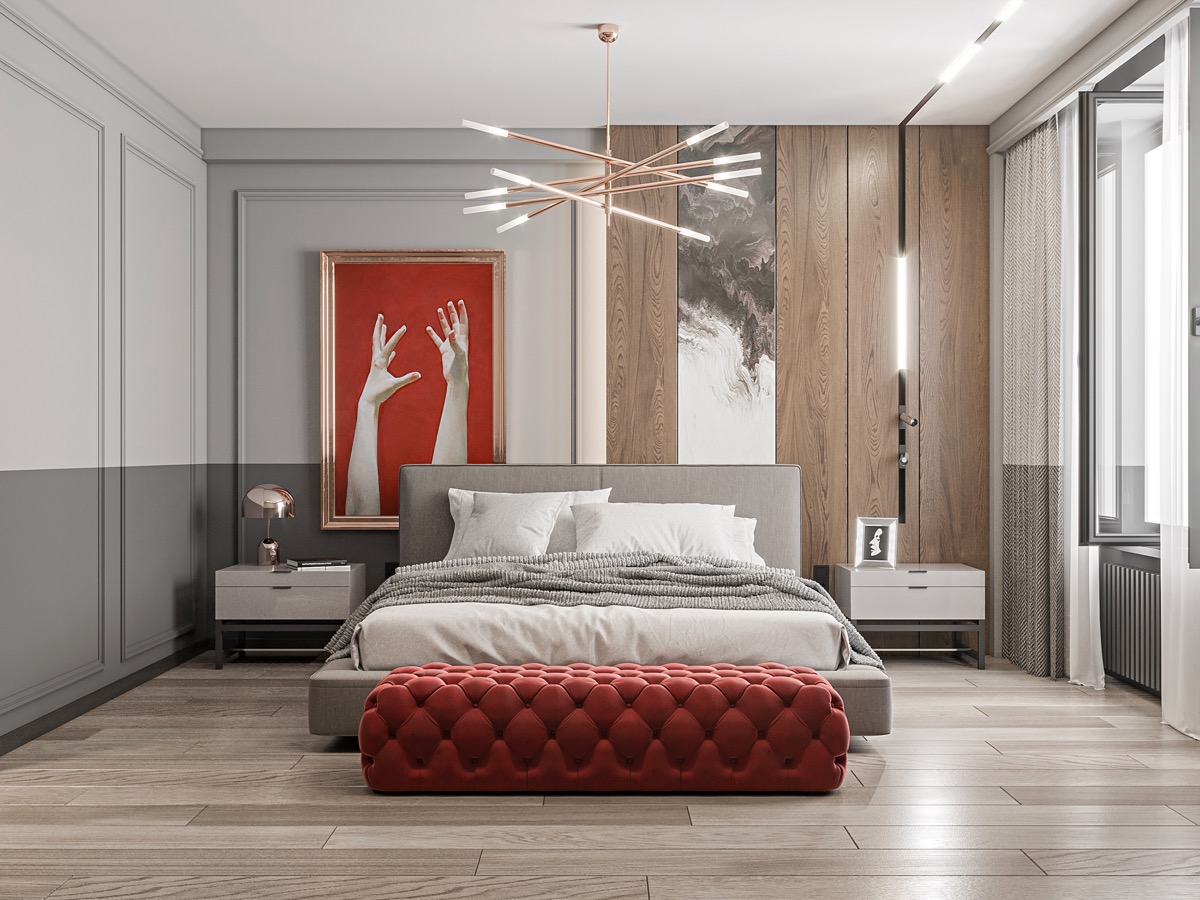 Like red lipstick and rouge, this red end of bed bench and artwork finish off a chic ensemble.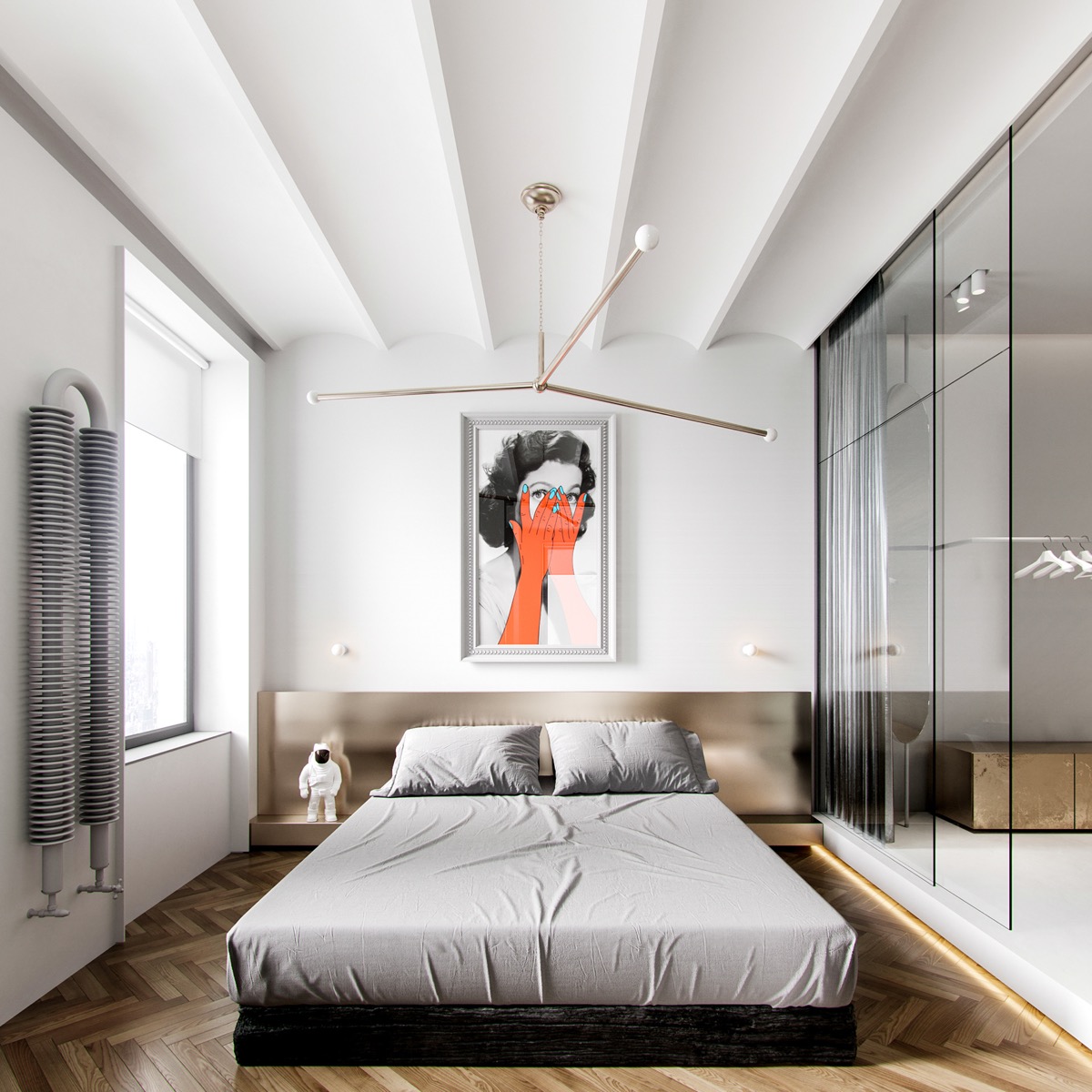 Be playful in pictures. The subject of this artwork seems to be covering her eyes from the view of an exhibitionist glass bathroom/dressing room!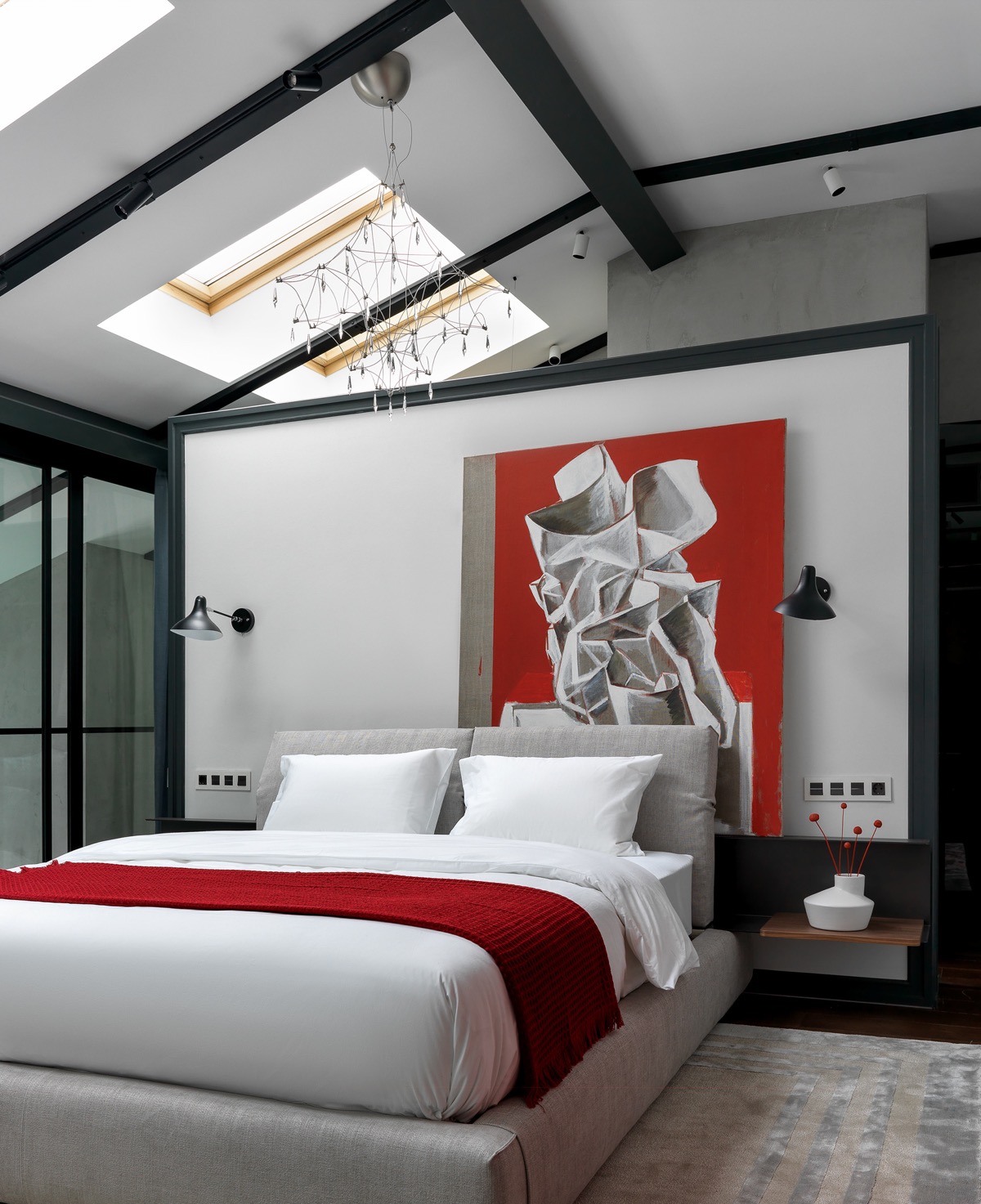 Let your favourite piece set the scheme. This snow white scheme is pricked with blood red accessories that complement the homeowners treasured art. A black framed headboard cleverly magnifies the piece.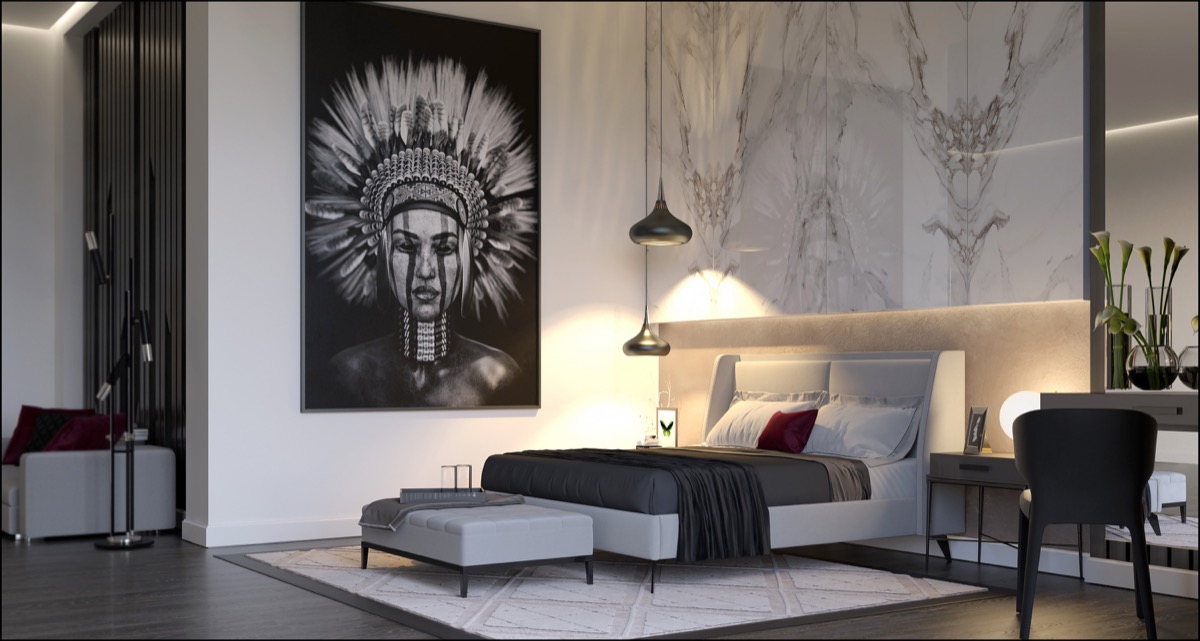 Size up. Whether it's the stunning tribal art or the luxurious bookmatched marble wall that catches your eye here, the scale is impressive.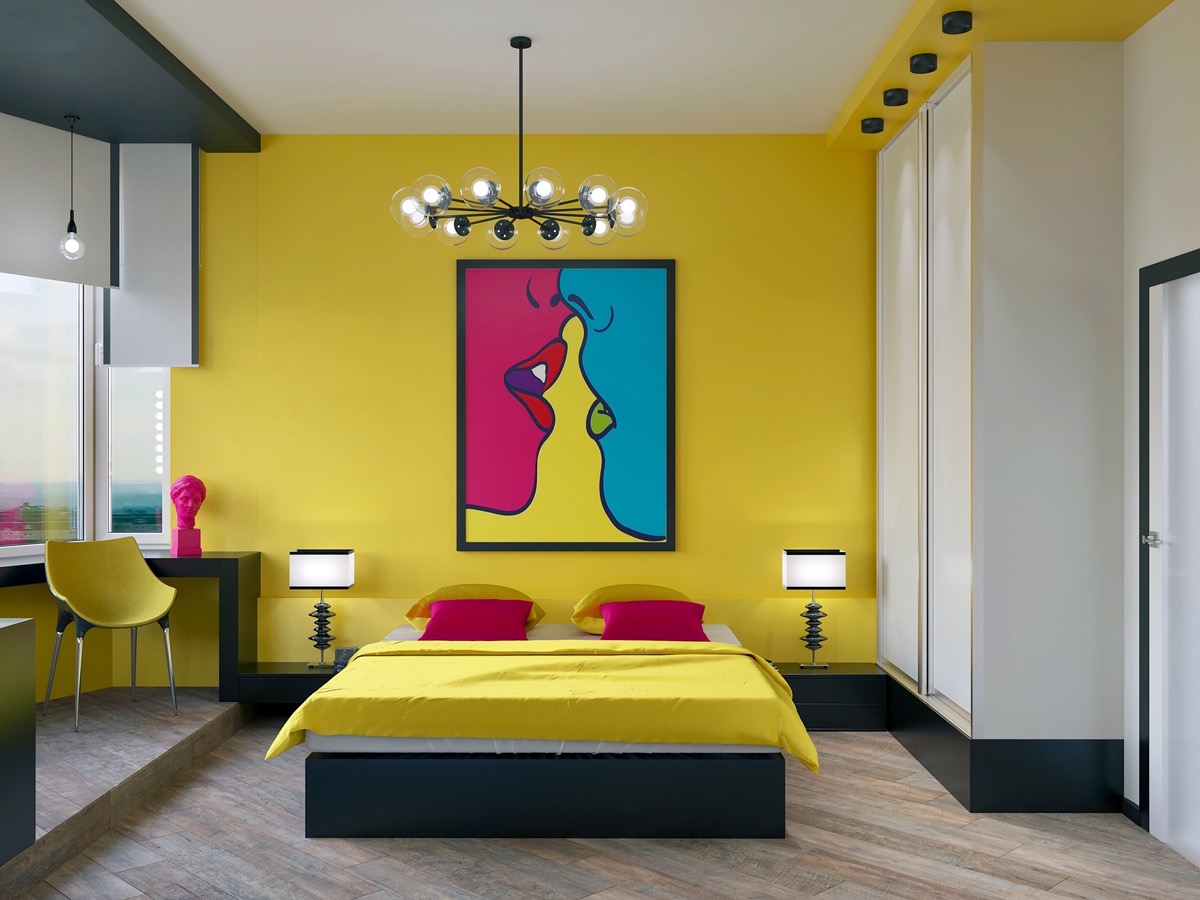 Loud and unapologetic; pop art is one for colour enthusiasts and lovers of all things upbeat.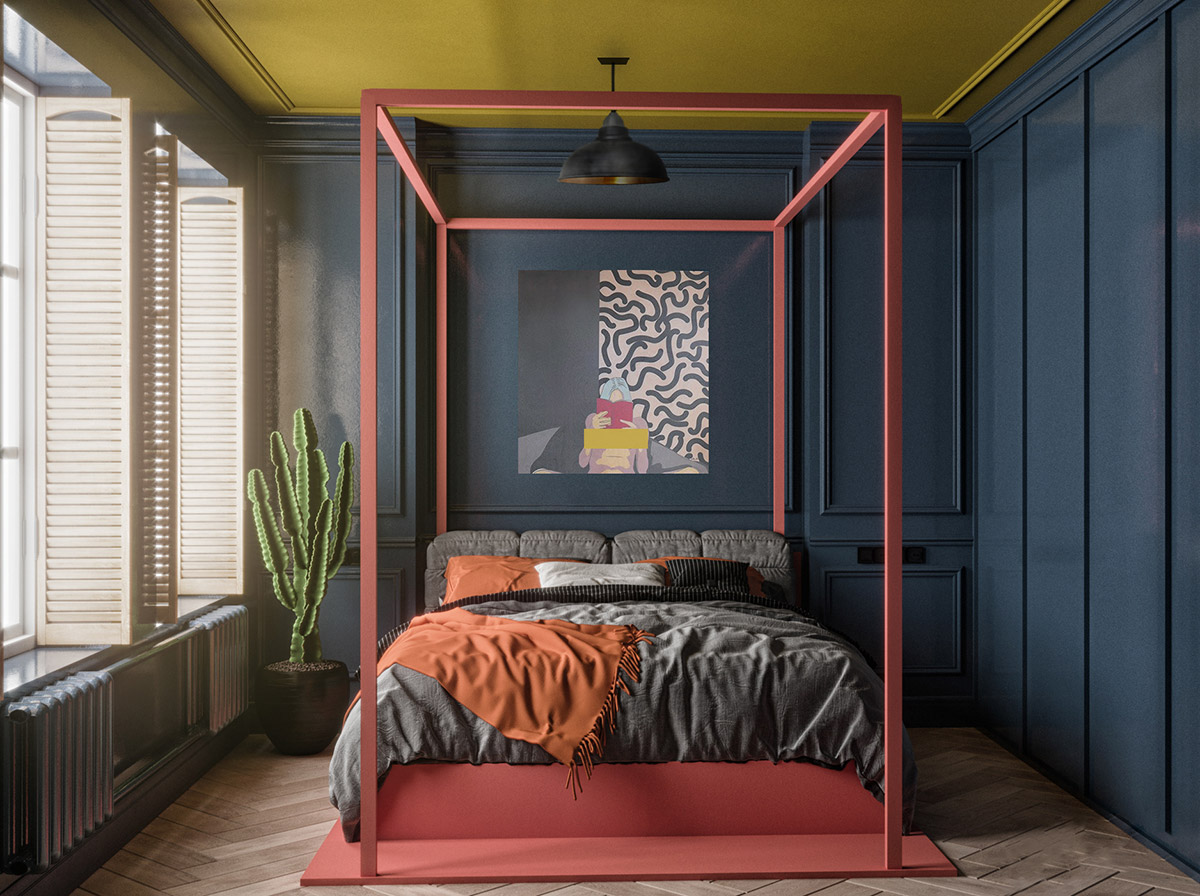 Looking for a pop of colour that's not so "in your face"? Take your decor scheme over the top with a colour block ceiling or a painted 4 poster bed. Wall art displays beautifully within the bright elevated bedframe.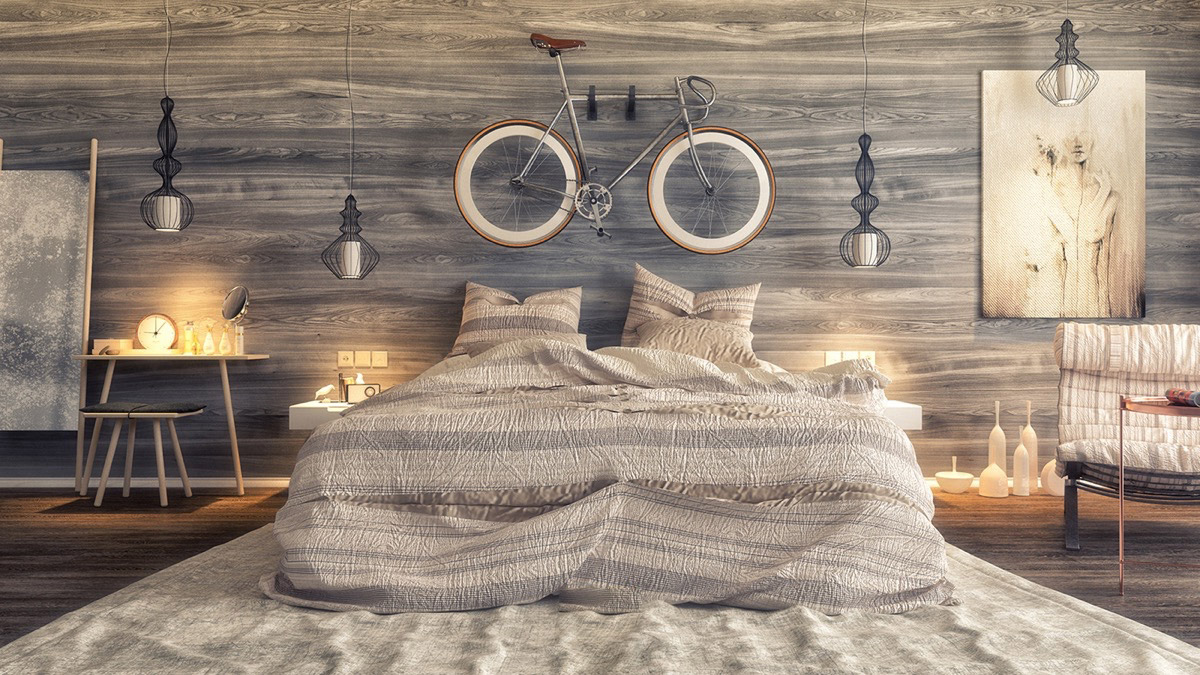 Nomads and travellers at heart will gravitate toward souvenirs or items that conjure images of adventure.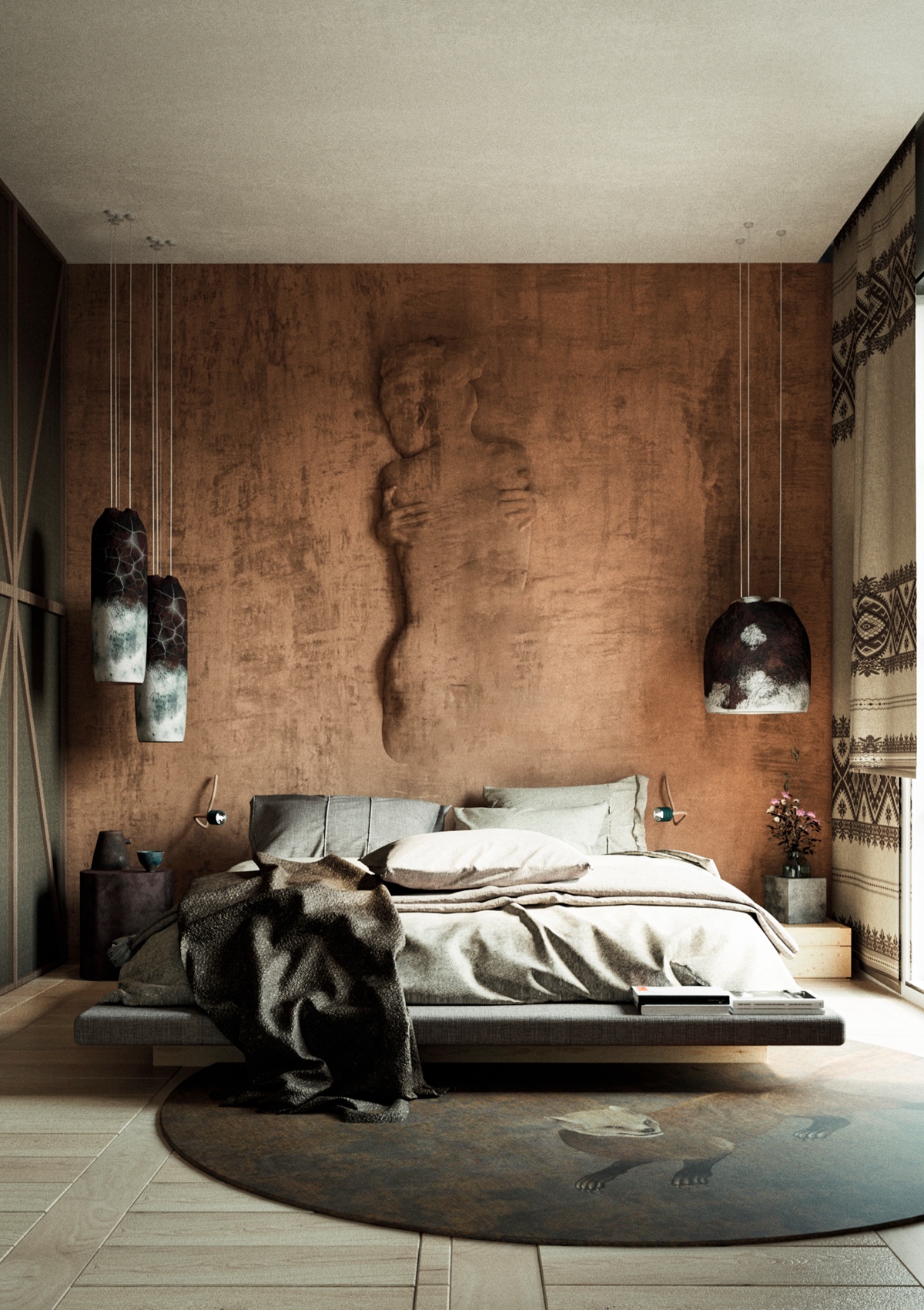 This nomadic style bedroom features rugged rustic elements and a unique hand carved art wall. More images here.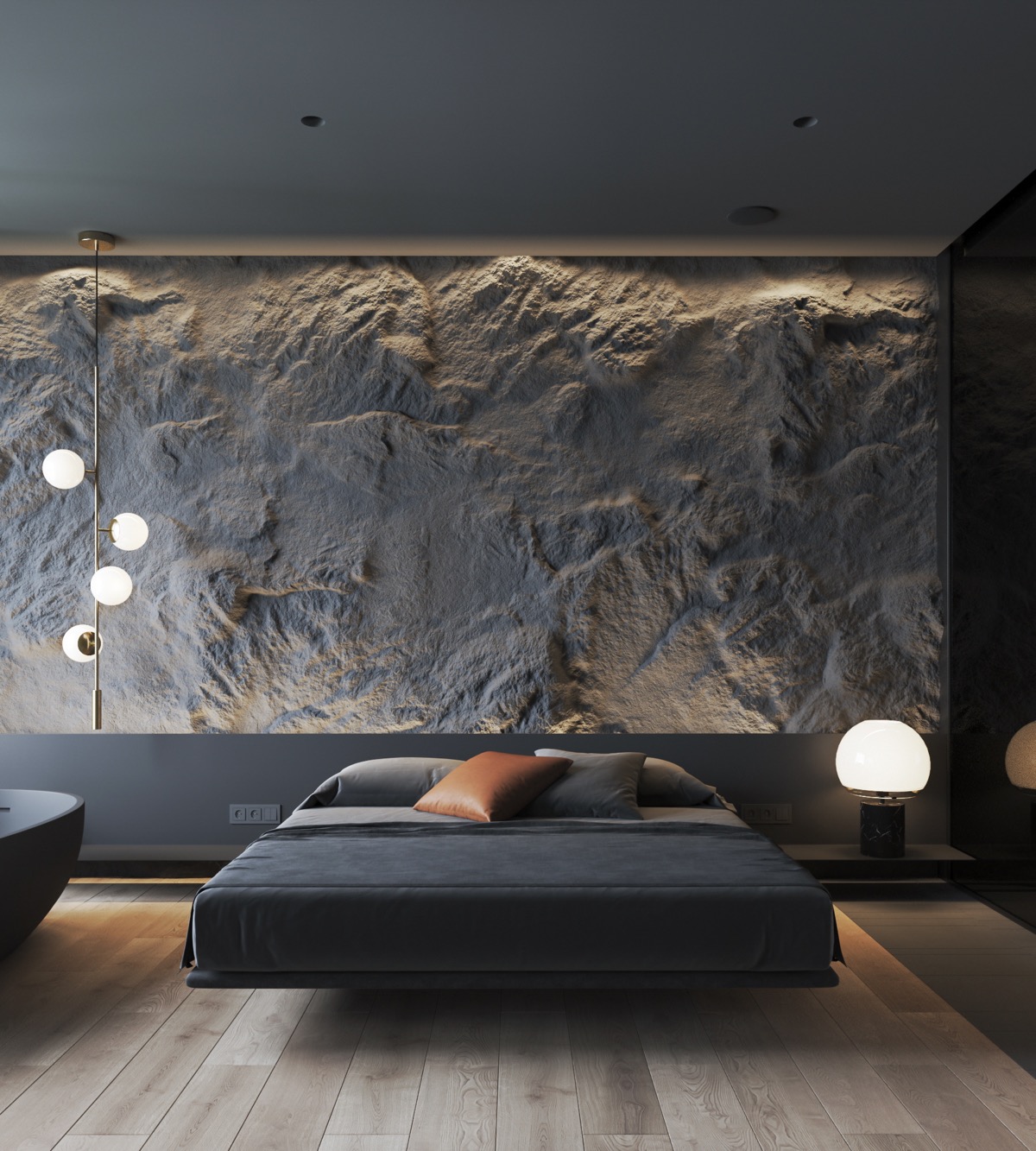 Rugged rock makes an amazing spectacle to fuel the fantasies of adventurous types and home birds alike. An undulating rockface wall conjures the feeling of sleeping on a mountainside from the comfort of your very own comfy bed.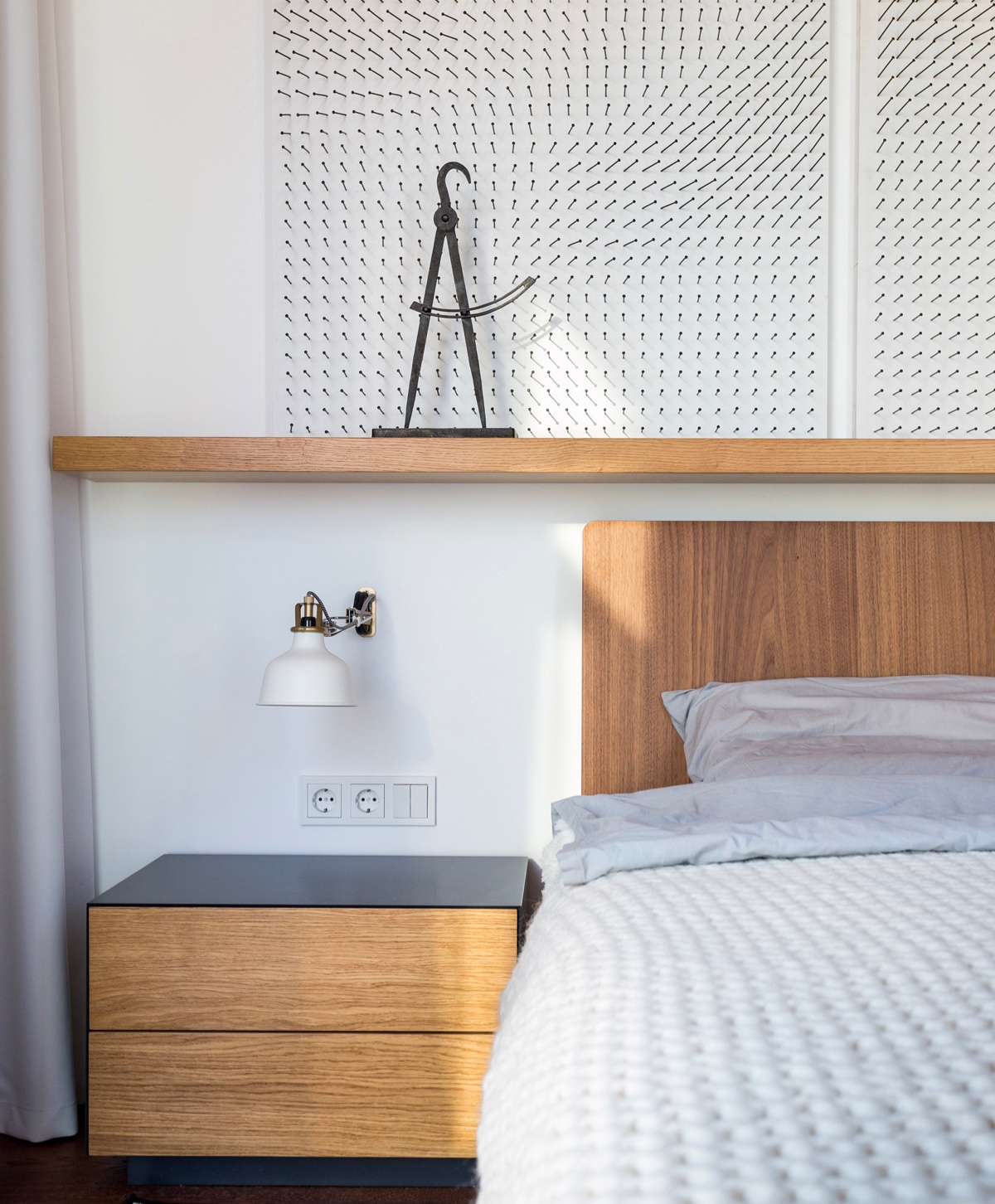 Laying on a bed of nails won't give you the best night's sleep, so upend those boards and make some nail art instead!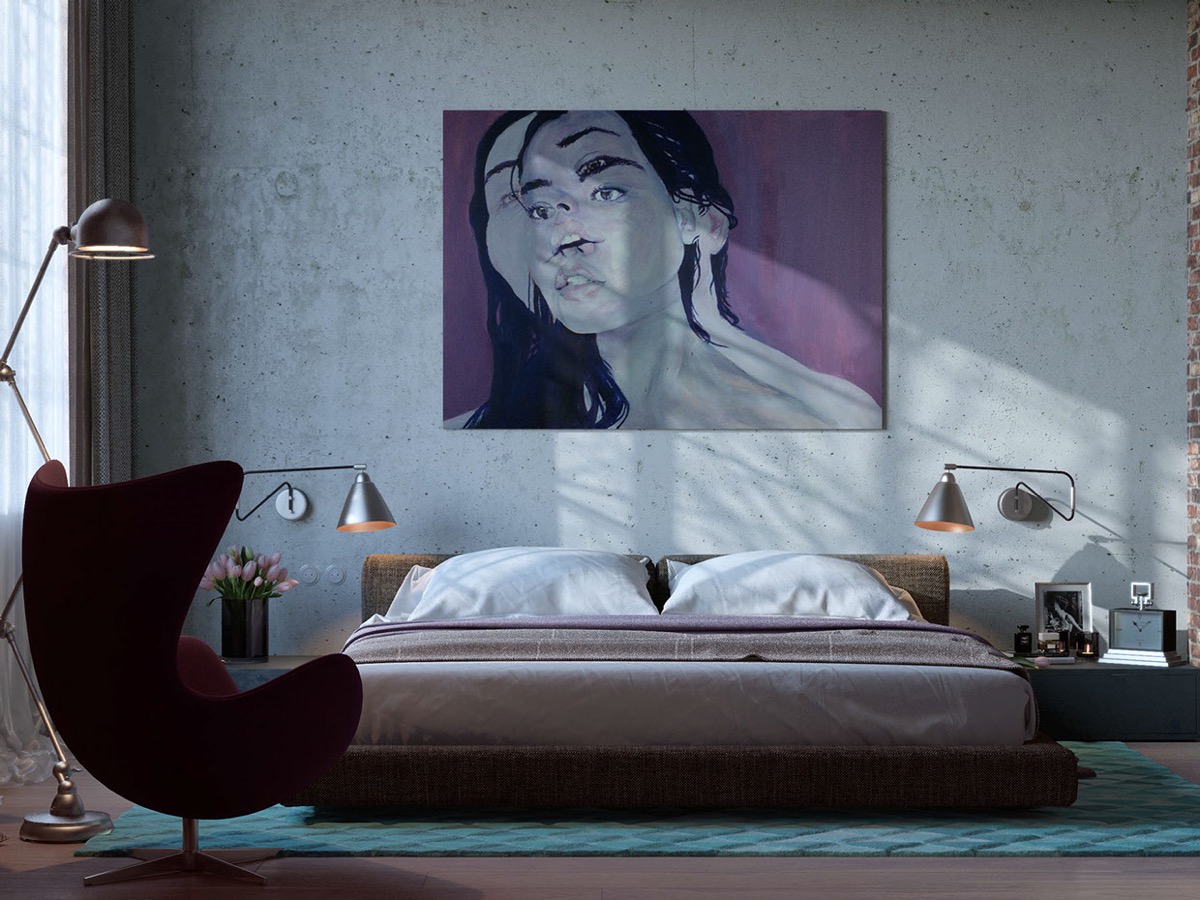 The industrial bedroom aesthetic makes a moody backdrop for dramatic wall art.
Paint with light. The silver plates of this headboard float on a fiery glow, like cracked earth over magma.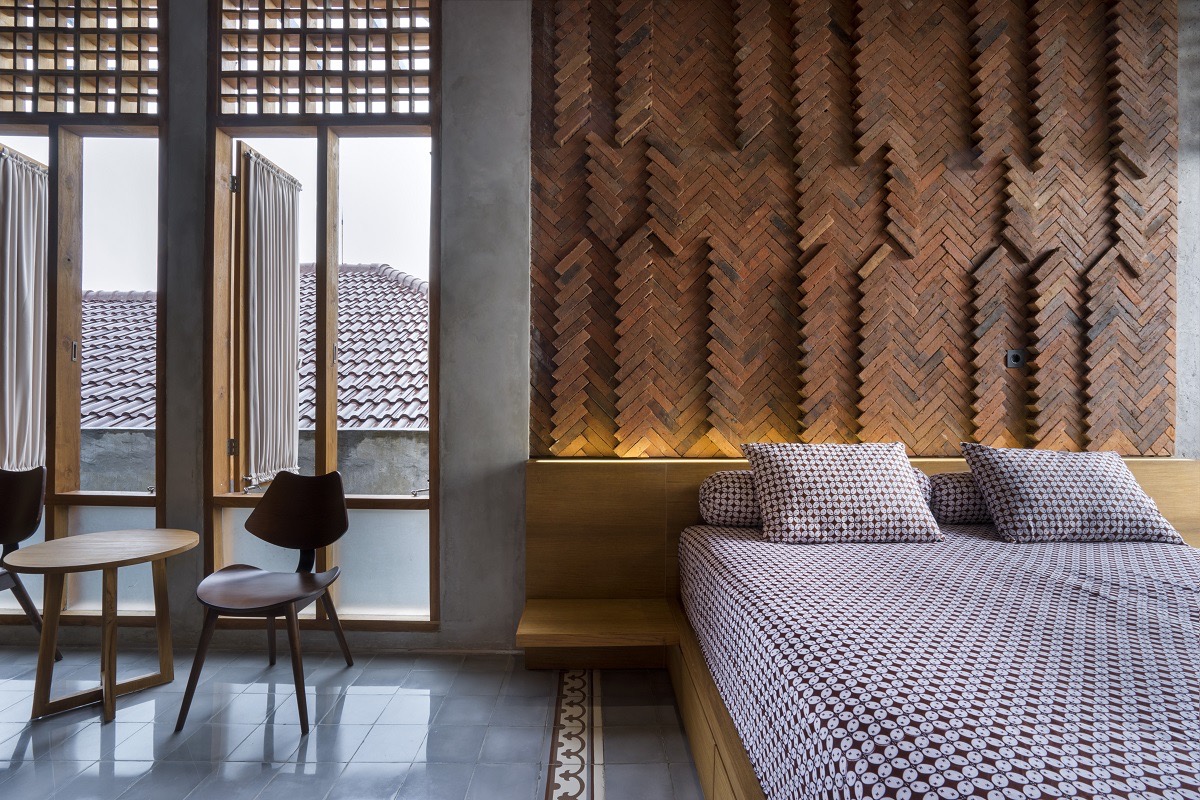 If you thought that bricks and mortar were just for building the shells of homes then look again. This exposed brick wall bedroom feature has a fascinating extruded effect, like a glorious three-dimensional mosaic.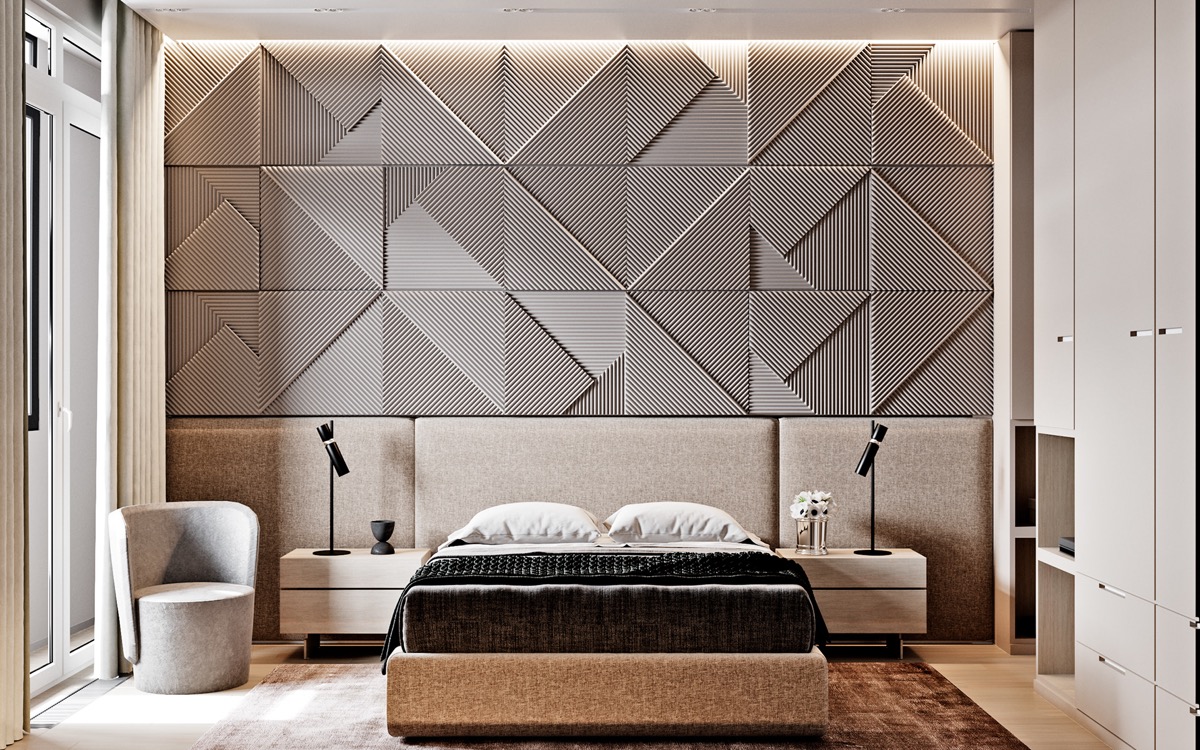 This piece of craftsmanship employs modern panelling to build geometric pattern.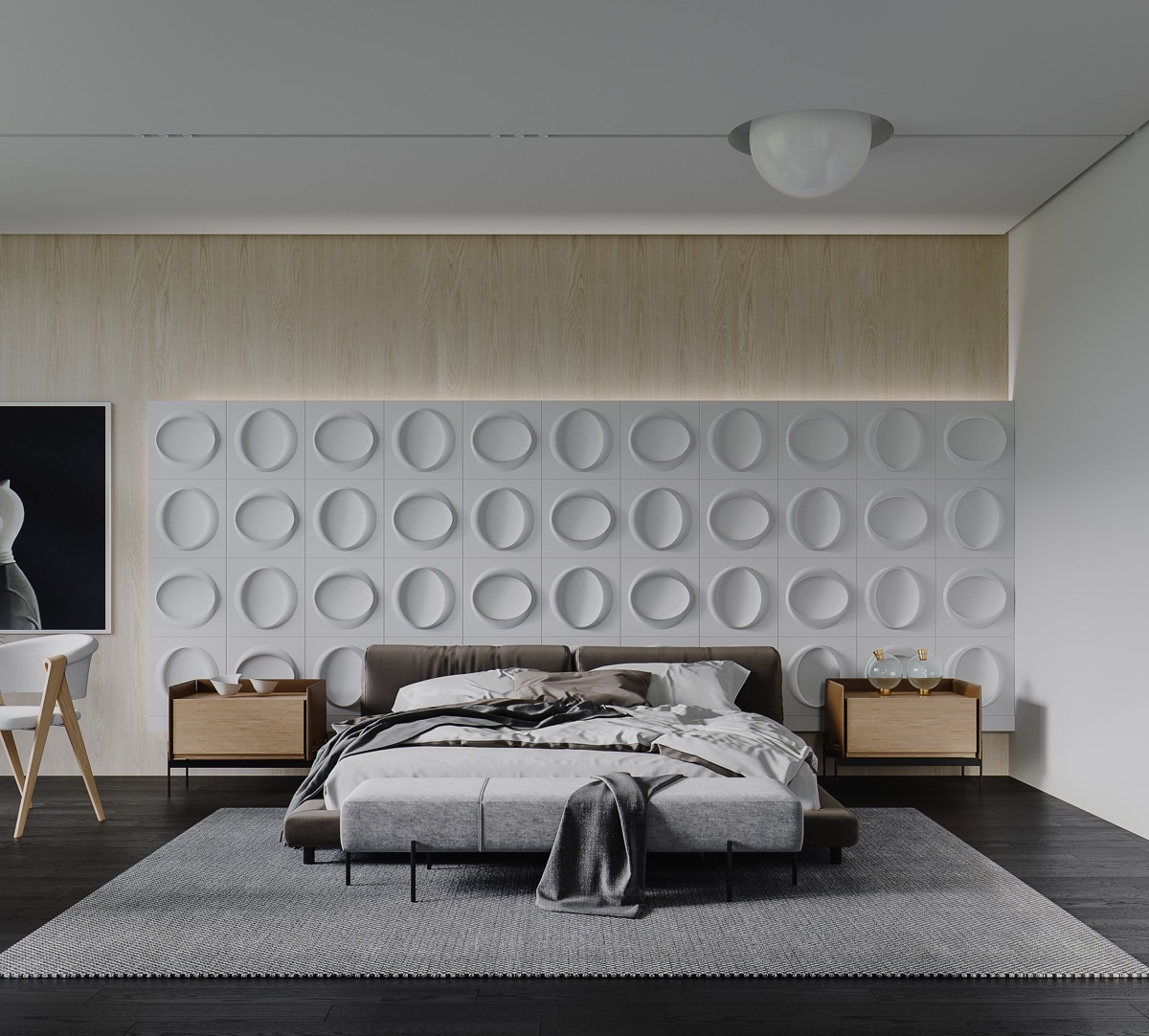 Roll and repeat. A single elliptical panel design is repeatedly turned 90 degrees along a headboard wall to fashion a mesmerising piece of decor.