1 |
Visualizer: Angelina Gladkova
Knocked back with neutrals, this muted red kitchen design is freshly framed with a bridge of creamy cabinets. An open kitchen shelf allows the upper block of colour to be broken up with monochrome kitchen accessories.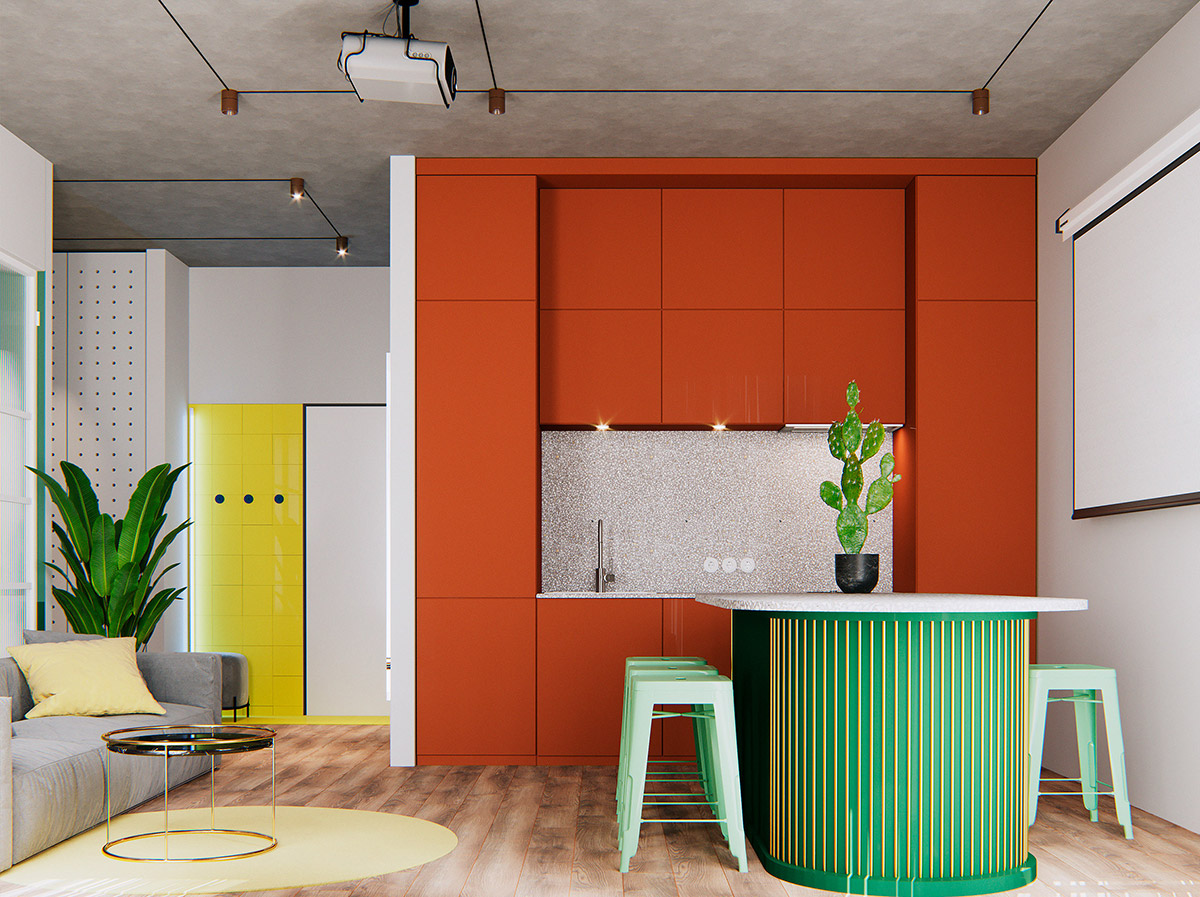 2 |
Visualizer: Palina Karniyenka
Pulling from opposite sides of the colour wheel, red and green kitchens create a startling contrast that's only for the brave. This design utilises green kitchen bar stools and an indoor plant to exaggerate the eye catching pop of green established by the island.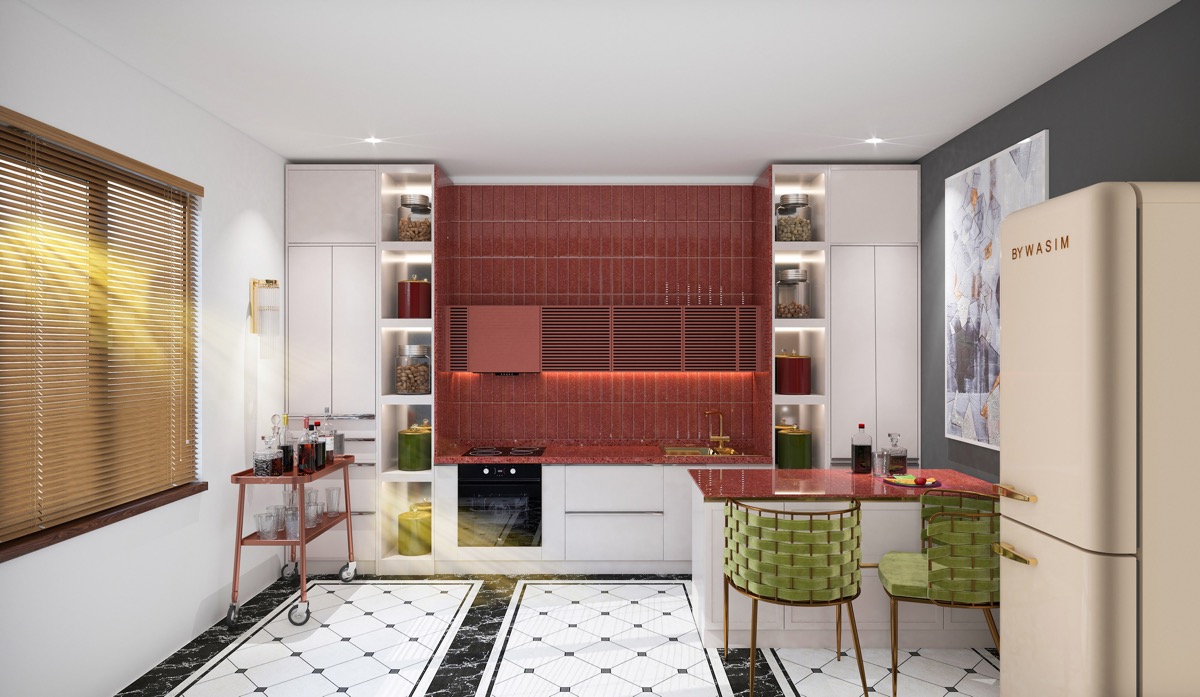 3 |
Visualizer: xo_ wasim
Tame the colour contrast between green and red kitchen elements by including large areas of white, and using softer hues.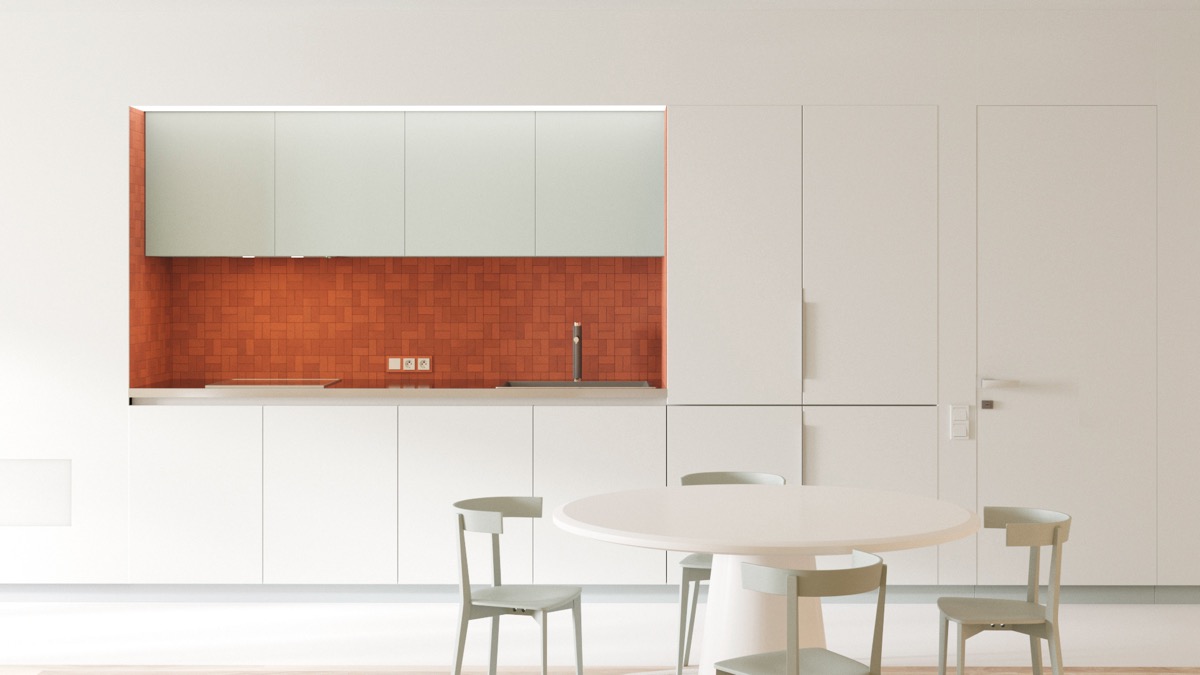 A red kitchen theme doesn't have to overwhelm the space. This red backsplash is plenty to achieve the look in a sleek minimalist kitchen.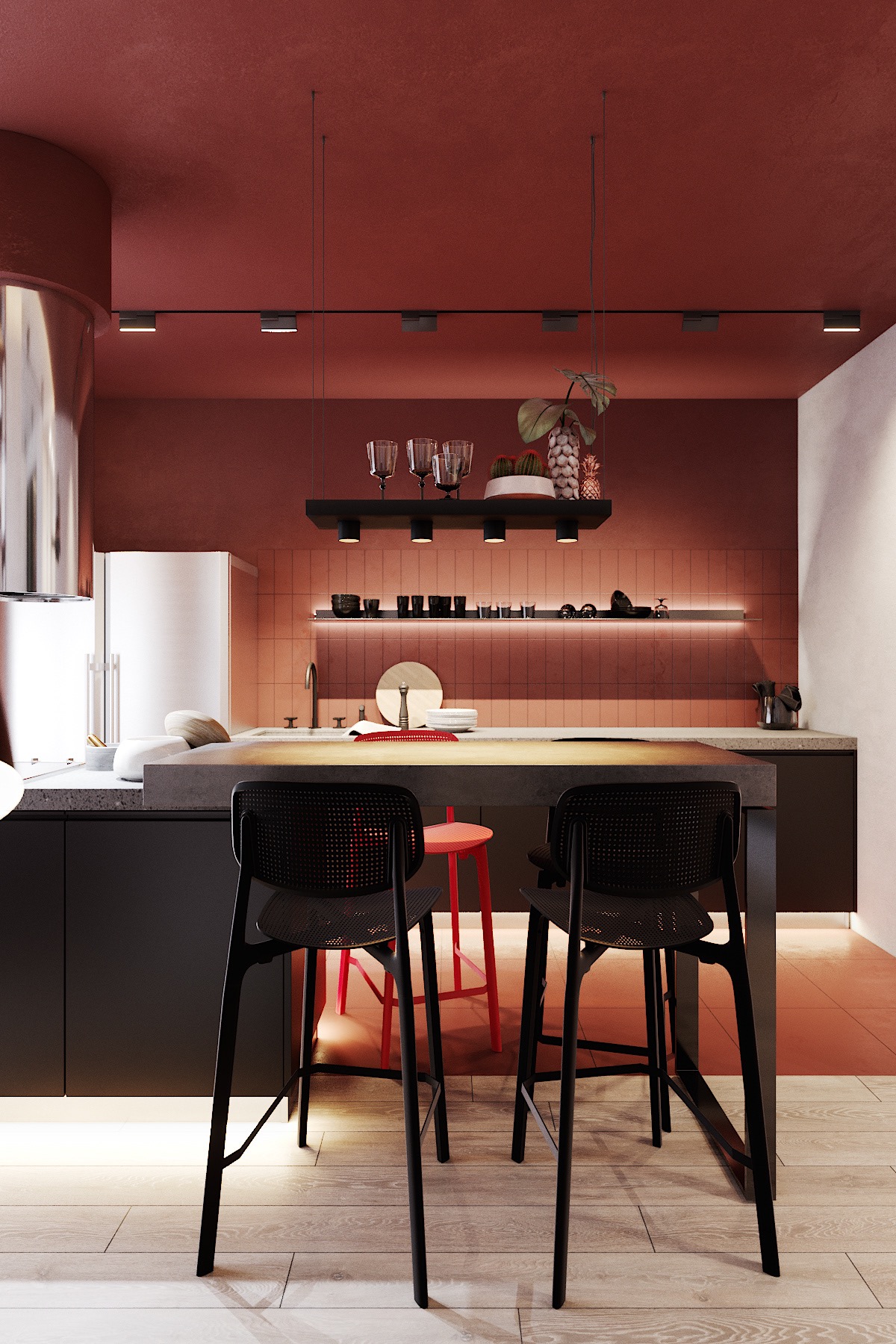 5 |
Designer: Lauri Brothers
In the red zone. This open plan living room shows clear zoning around the kitchen with a red tile floor and backsplash, matching walls and an all red ceiling. Even the bar stool that lands in the red zone is given a hot chilli coat of paint.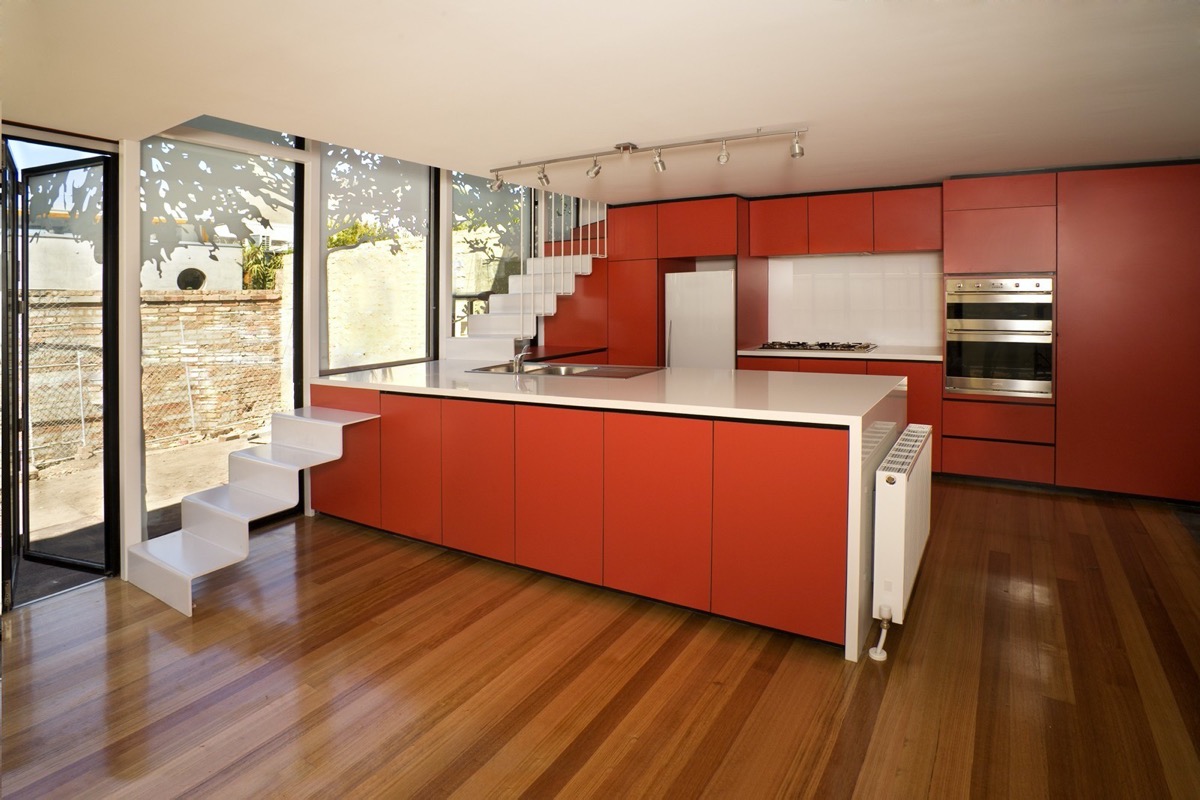 6 |
Designer: Austin Maynard Architects
Strong colour can bring balance to other eye-catching features, like this integrated staircase design. The bright red kitchen volumes gain command of their allocated space even beside the unique distraction.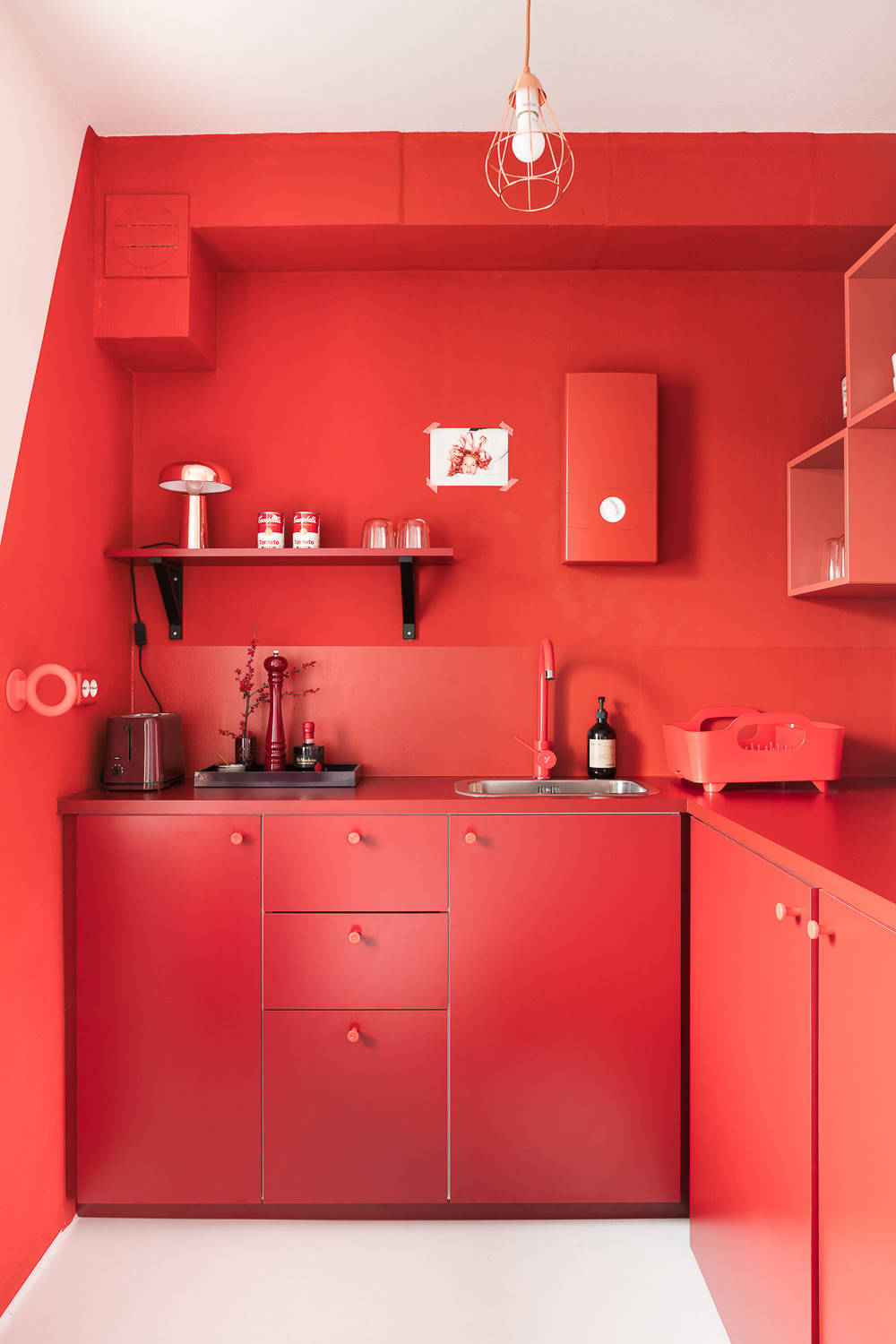 7 |
Designer: Gleba+Störmer
Go all in. Red kitchen cabinets and backsplash, red walls, shelves, red kitchen accessories and even a red tap combine in a colour saturated corner.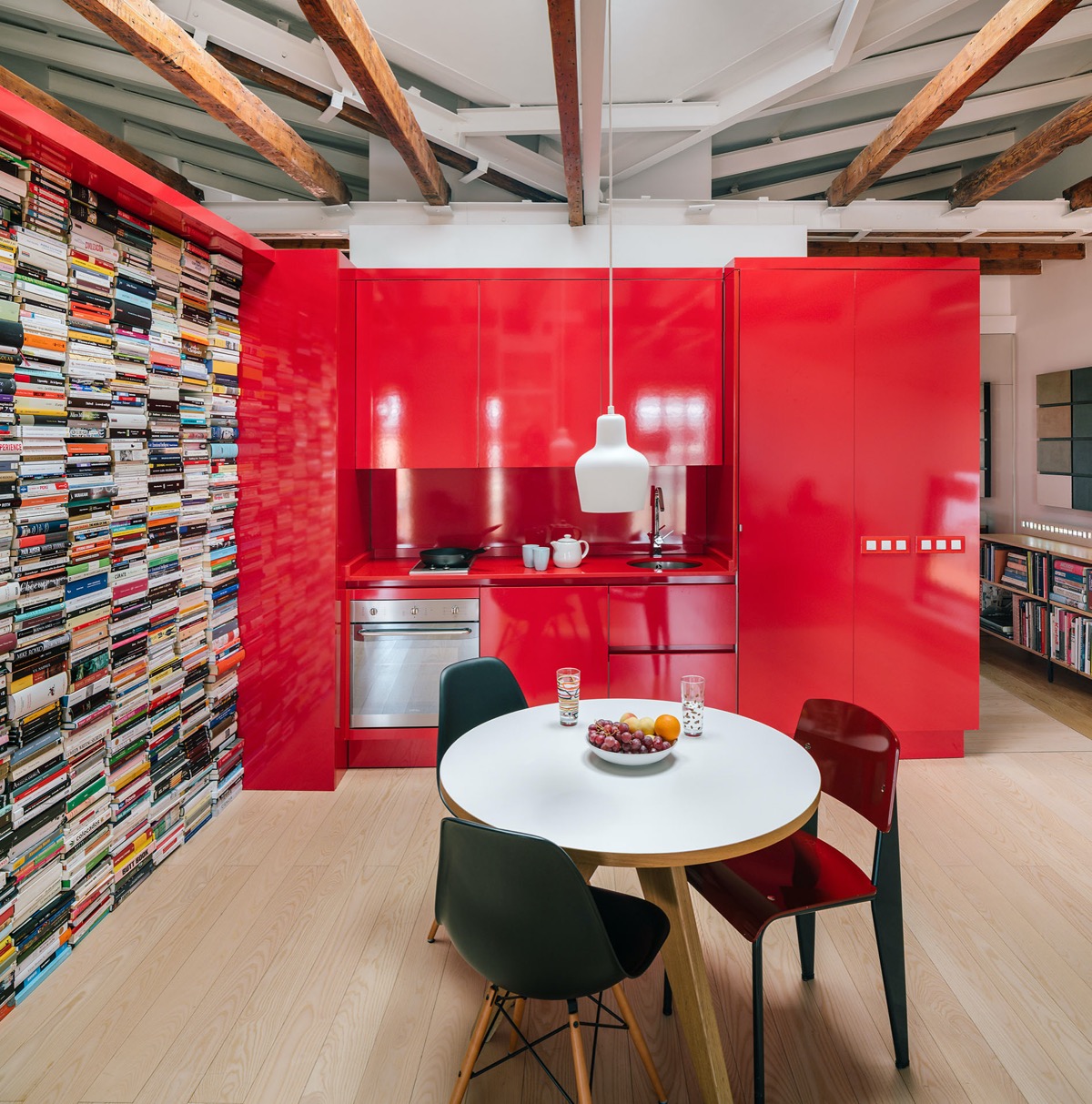 8 |
Designer: Gon Architects
Glossy and glam, this modern kitchen is accompanied by a colourful wall of tightly stacked books. A red gloss cornice trims the unusual wall feature to lengthen the kitchens layout.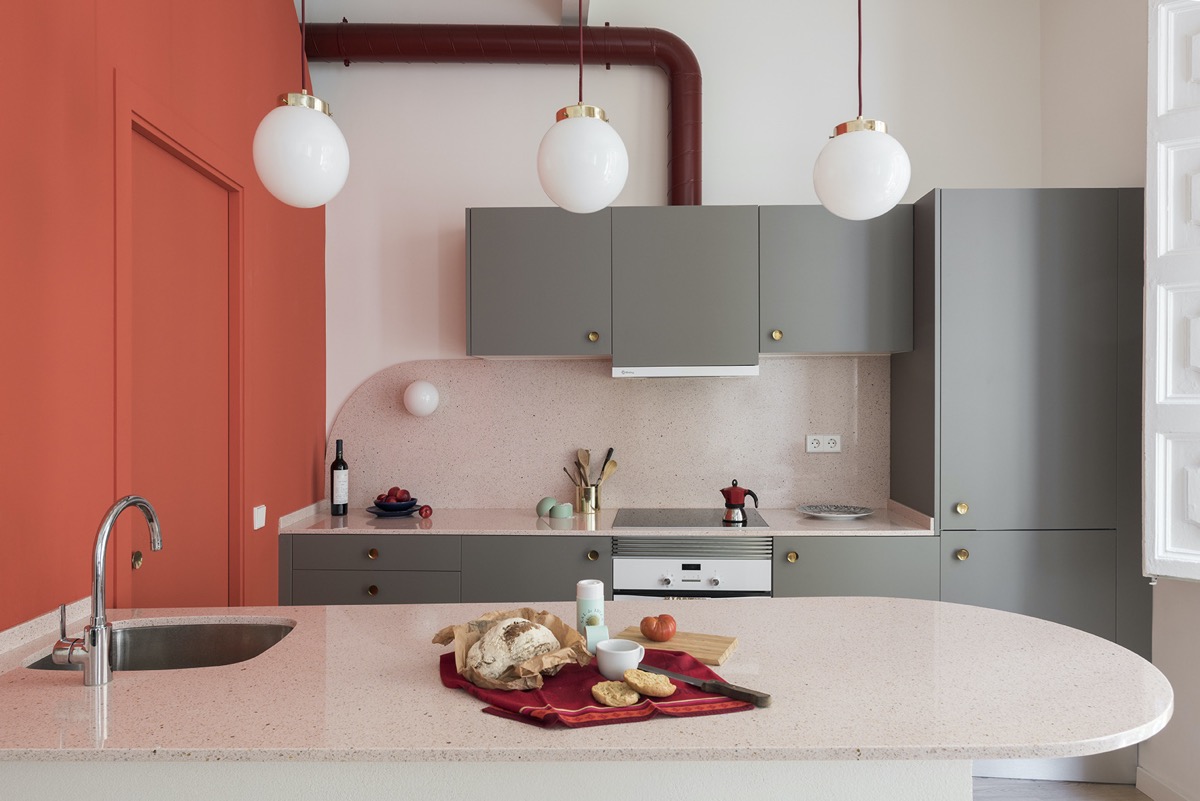 9 |
Designer: Colombo and Serboli Architecture
Enliven a grey kitchen with a riotous red feature wall. Gold cabinet hardware and gold kitchen pendant lights will thread warmth through the scheme to merge the contrasting aesthetics.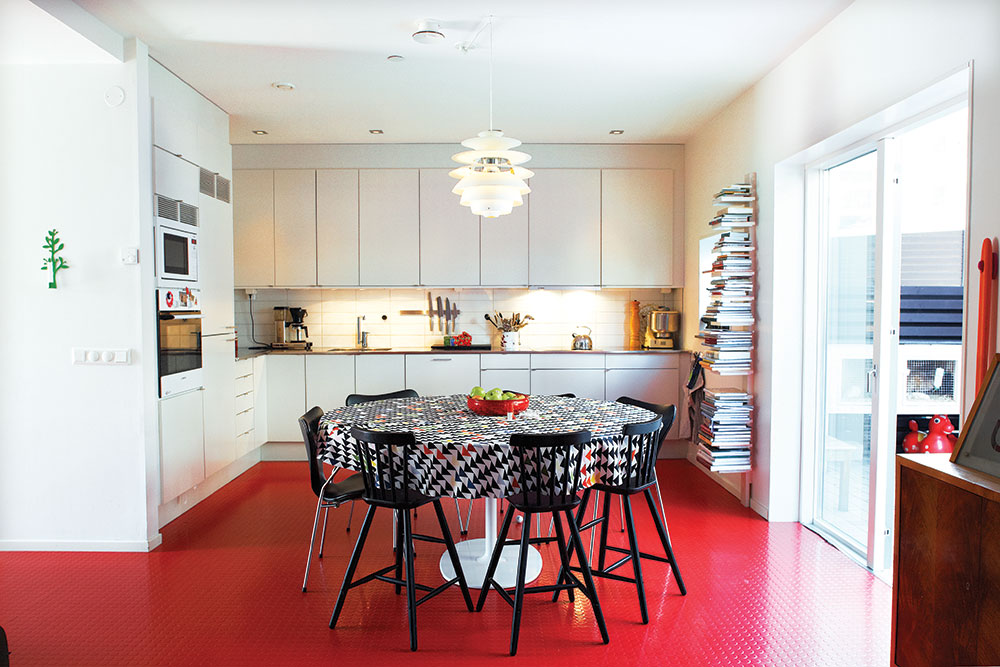 Alternatively, flip the red hero feature onto the floor. Then, use a sparing amount of red kitchen accessories to draw the rosy accent up onto the kitchen countertop or dining spot.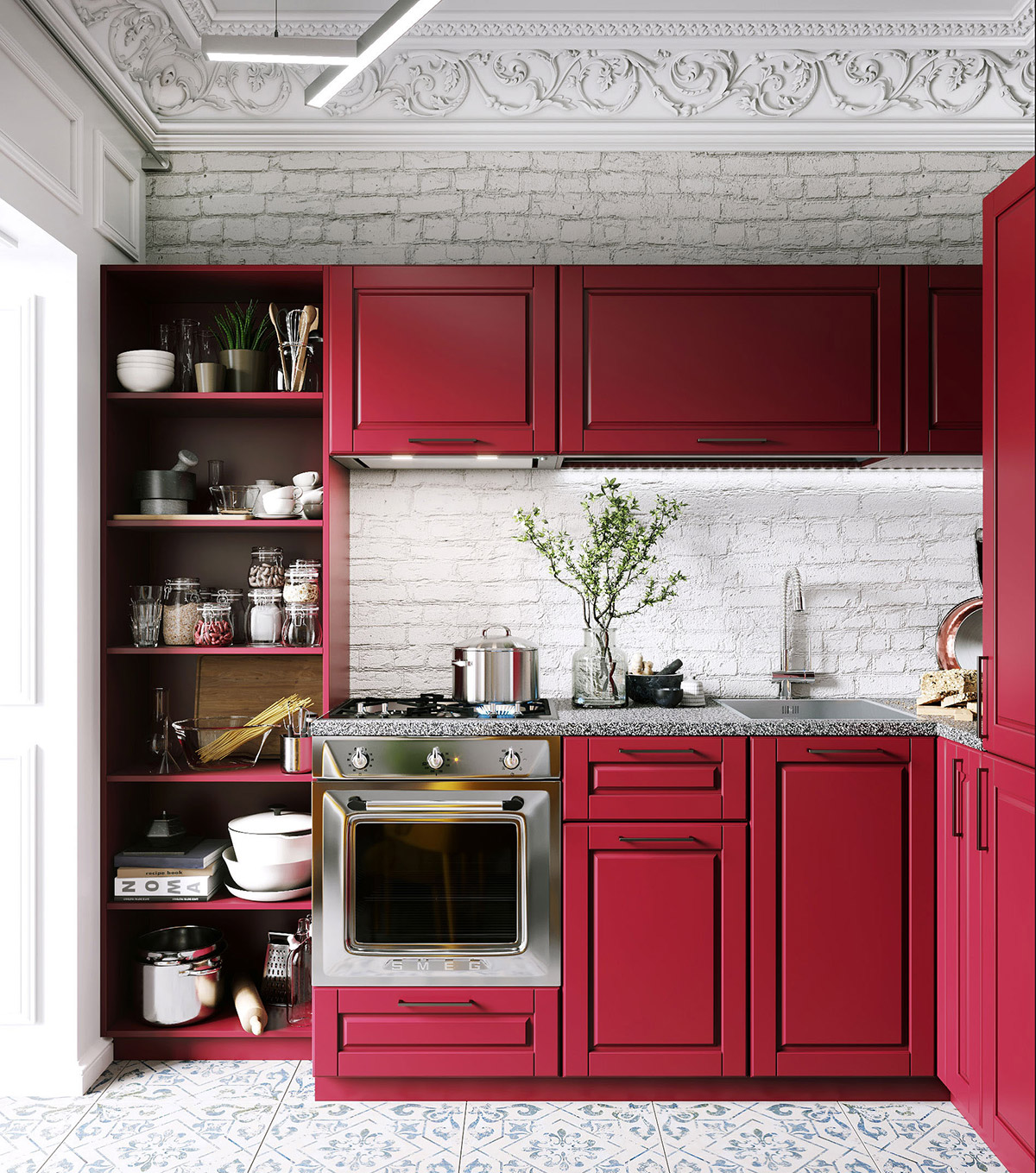 11 |
Visualizer: 3D Quart Studio
Take a bite of cherry red neoclassical elegance with traditional cabinetry and deeply decorative coving. An open pantry adds a little rustic twist.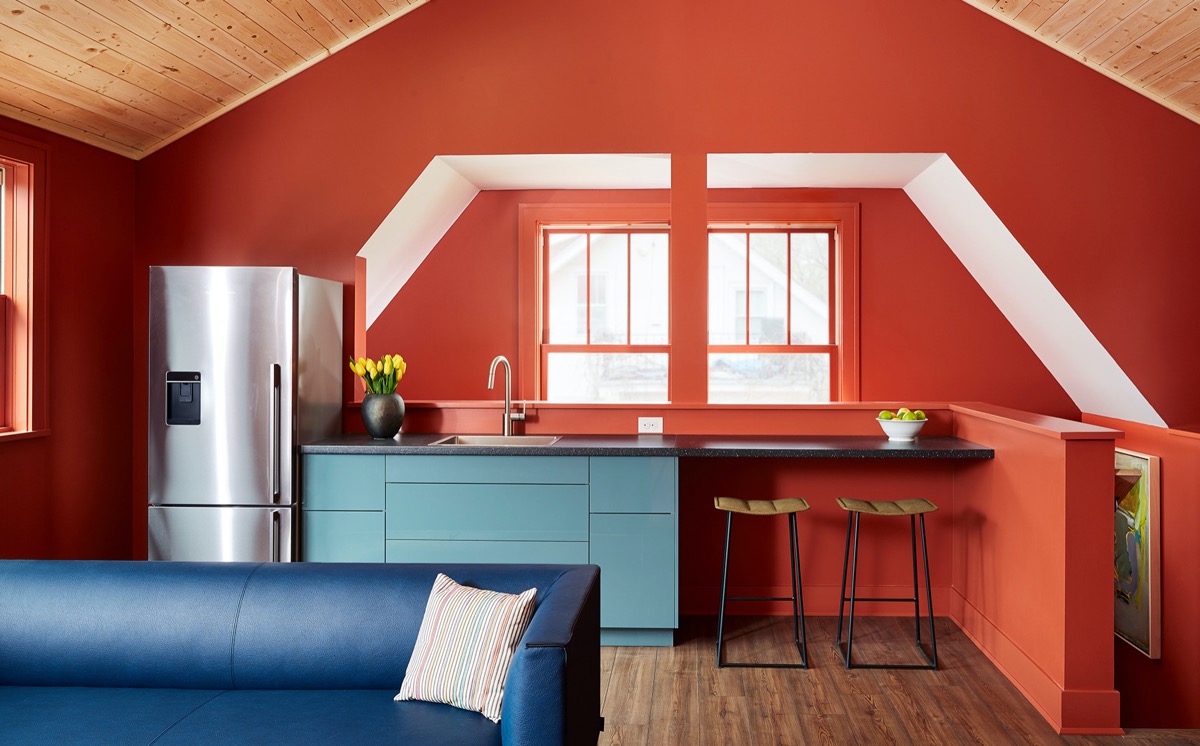 12 |
Designer: Christopher Strom Architects
Counteract the heat of red kitchen walls with some cool blue units and stainless steel appliances.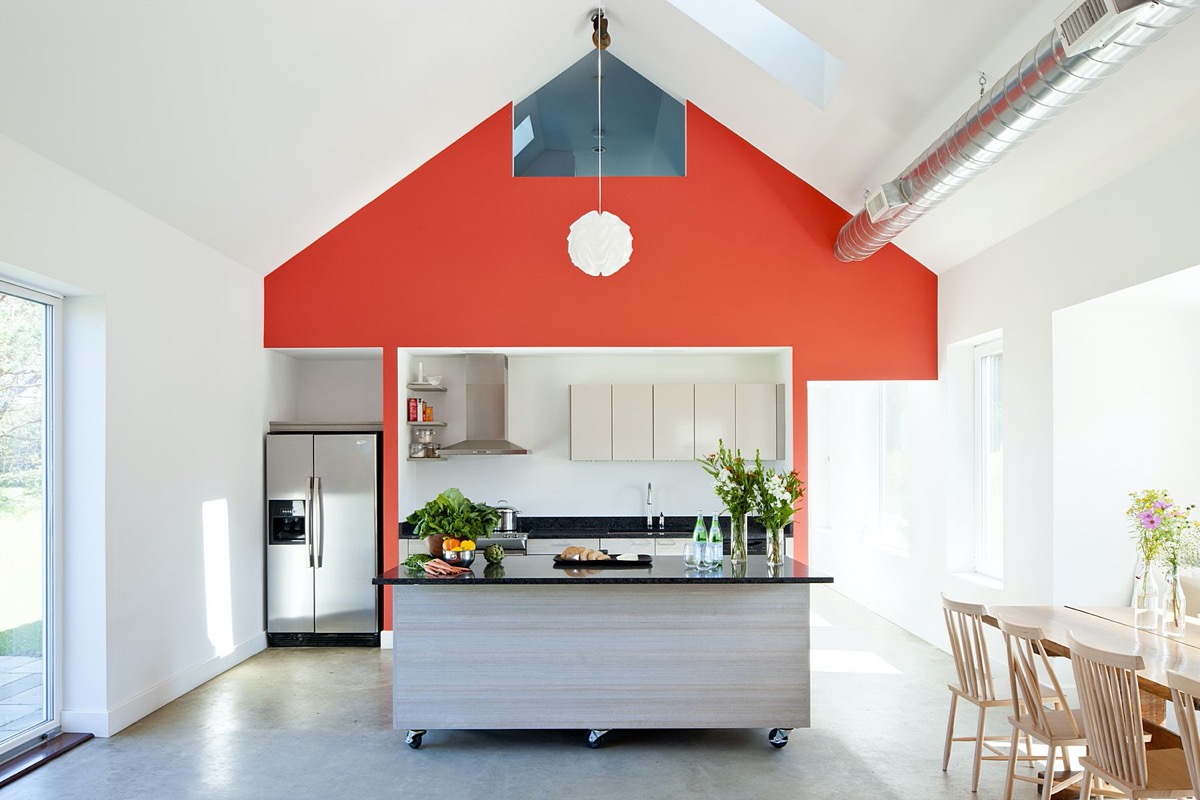 13 |
Designer: Zero Energy Design
Lure the eye up to the lofty proportions of your room by painting a bold red accent wall all the way up into the high rafters. The bright shade will accentuate striking roof angles too.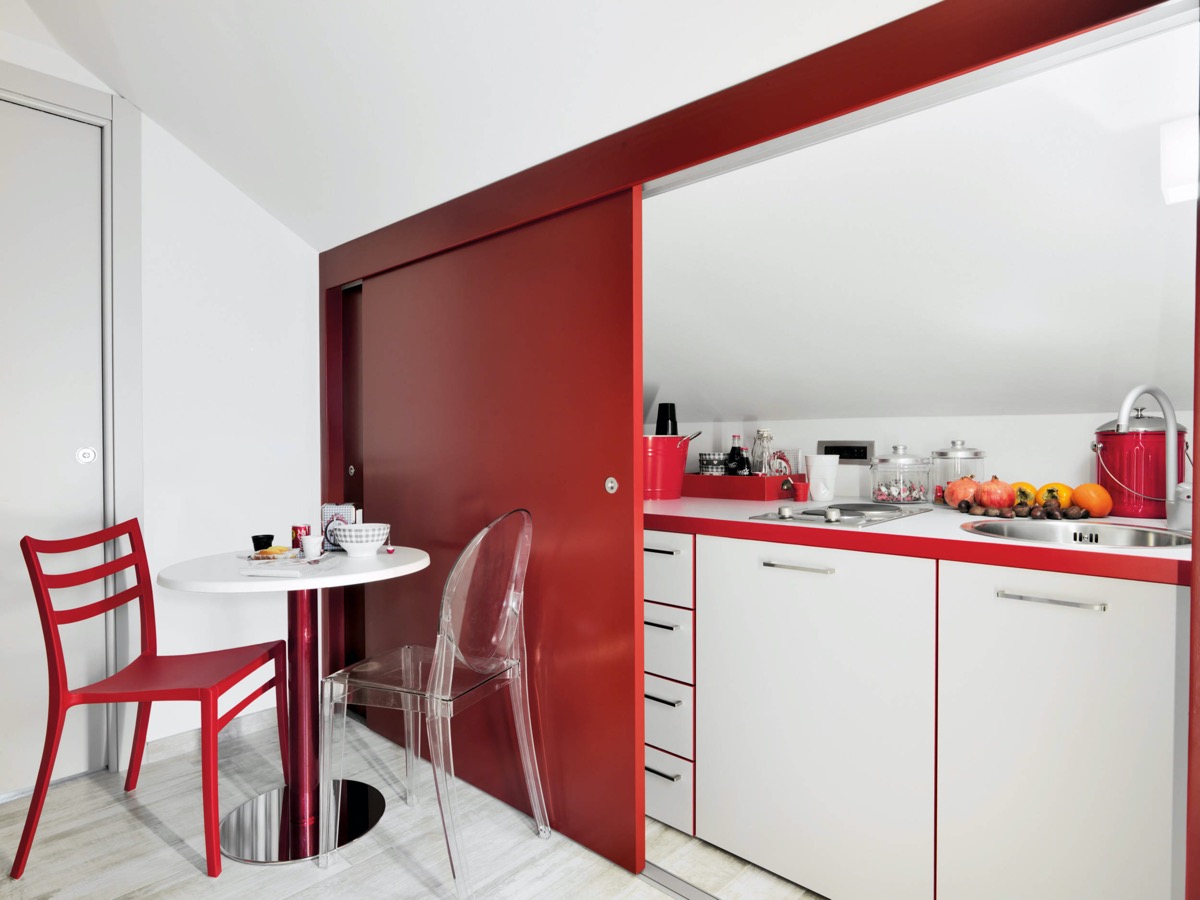 14 |
Photographer: Adriano Pecchio
This awkwardly small kitchen is better off tucked away, but that doesn't mean the concealing doors can't demand attention.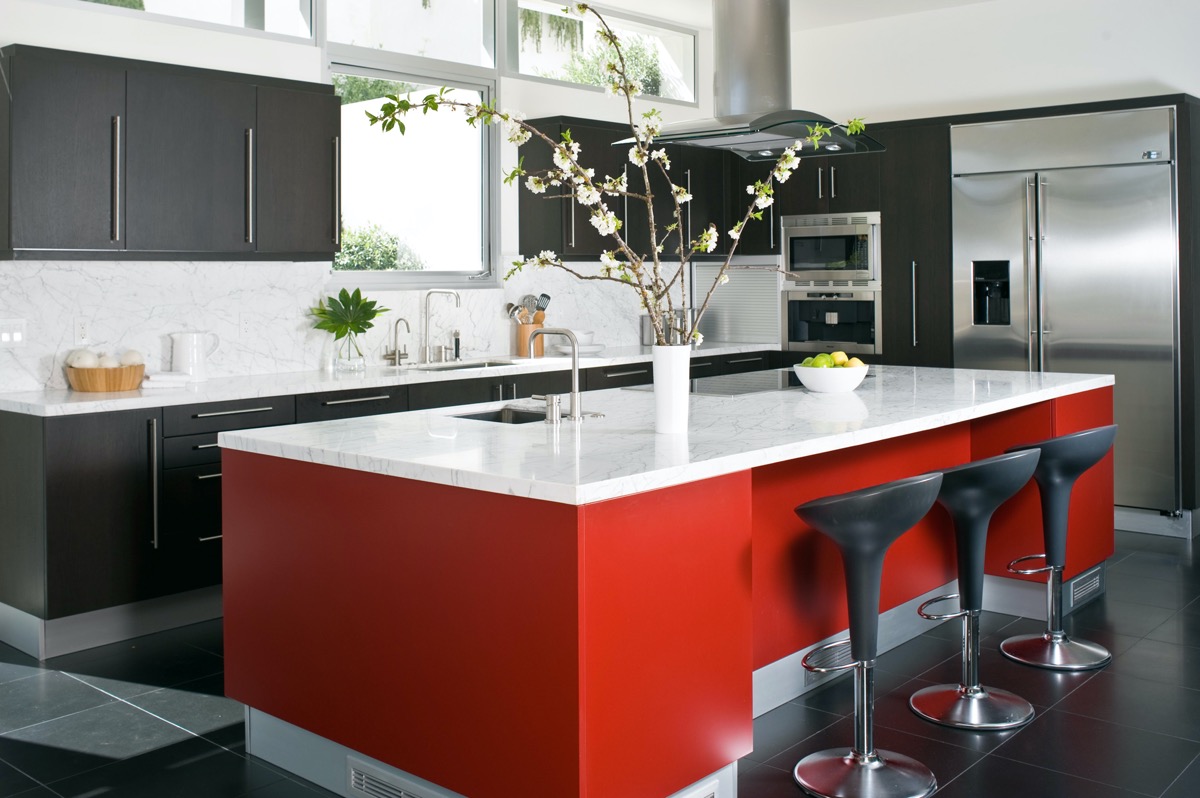 15 |
Photographer: Michael Garland
Red takes centre stage in this large kitchen setup with a fiery red kitchen island, against a simple base of chic black and white decor. A splash of living greenery softly subdues the eruption of burning colour.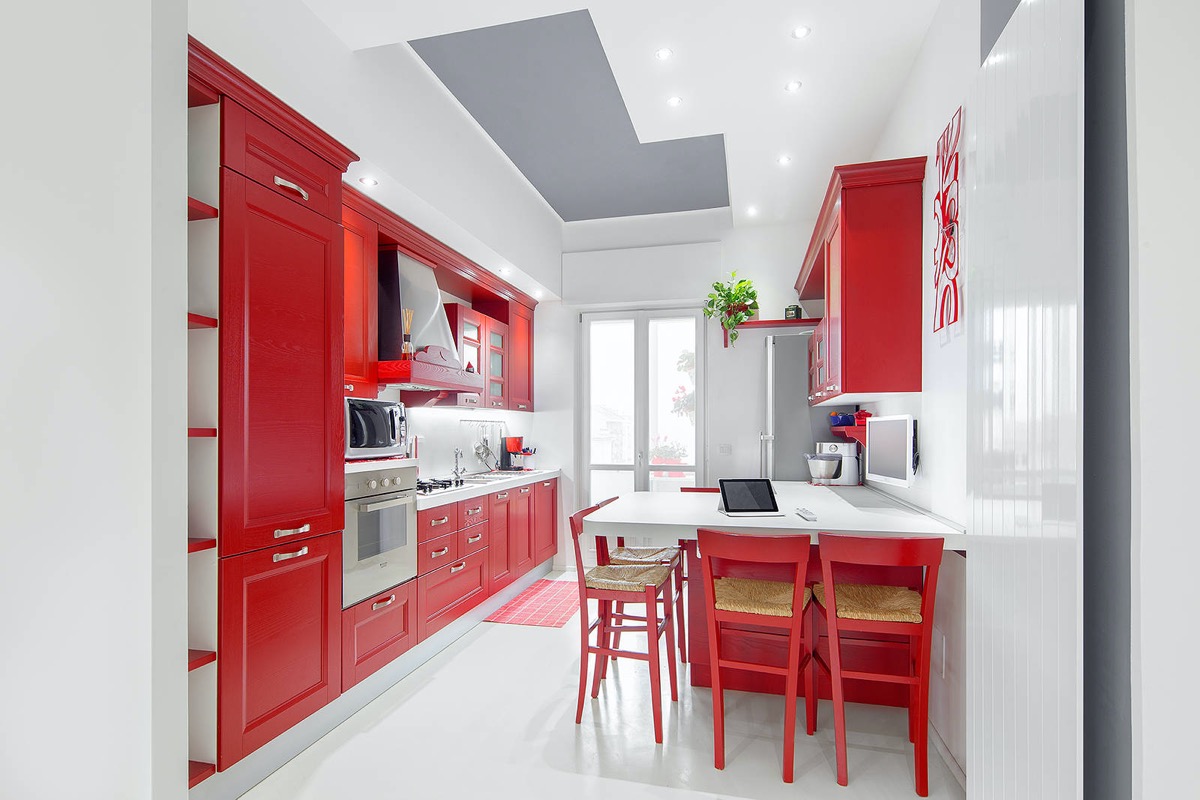 16 |
Designer: CstudioArchitetti
The eye rests in white spaces and cool grey pools between this double run of red units. Rattan seated kitchen bar stools add a natural neutral into the mix.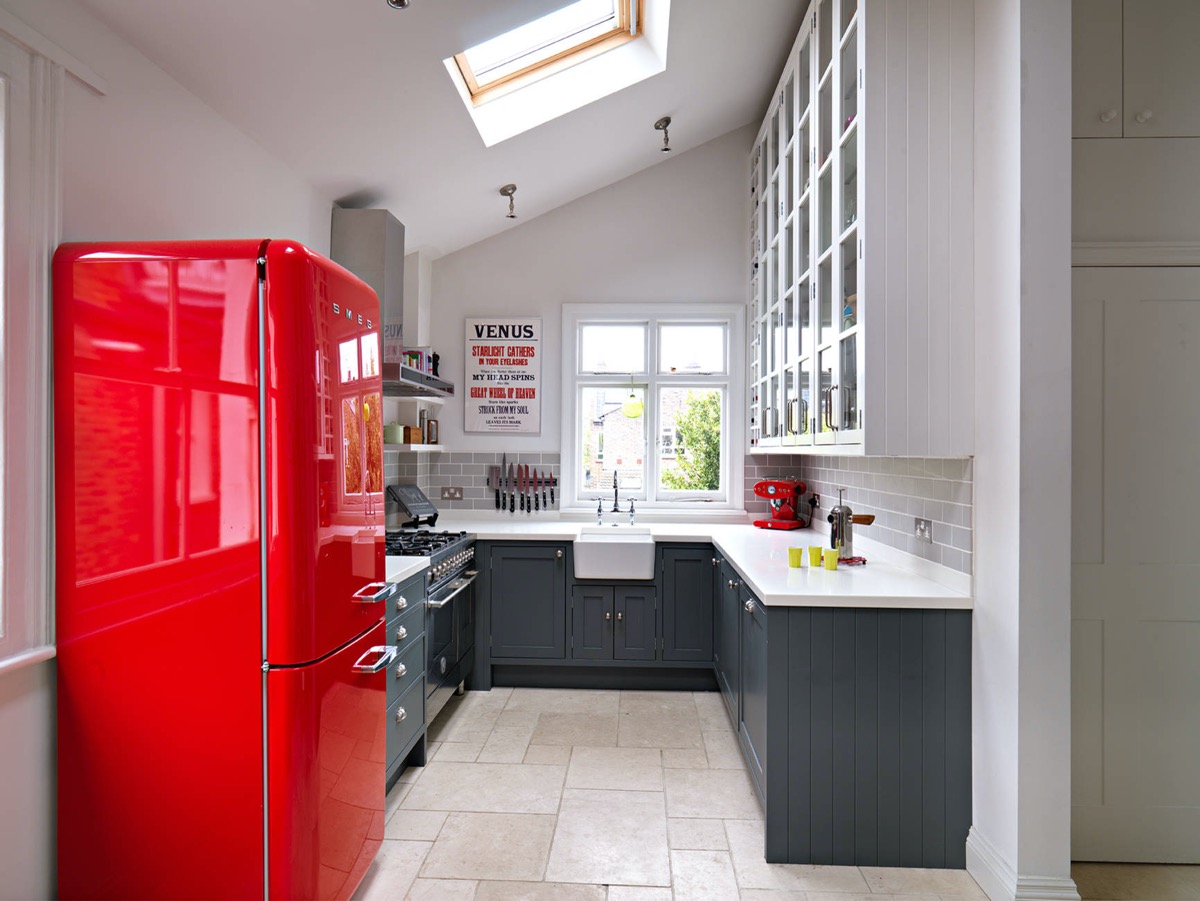 17 |
Photographer: Adam Butler
Hot and cool at the same time, this red SMEG refrigerator is the life and soul of this grey and white kitchen layout. A piece of typographic artwork draws the fridge's hot accent to the back wall of the kitchen, along with a colour coordinated FrancisFrancis for Illy X1 ground coffee machine.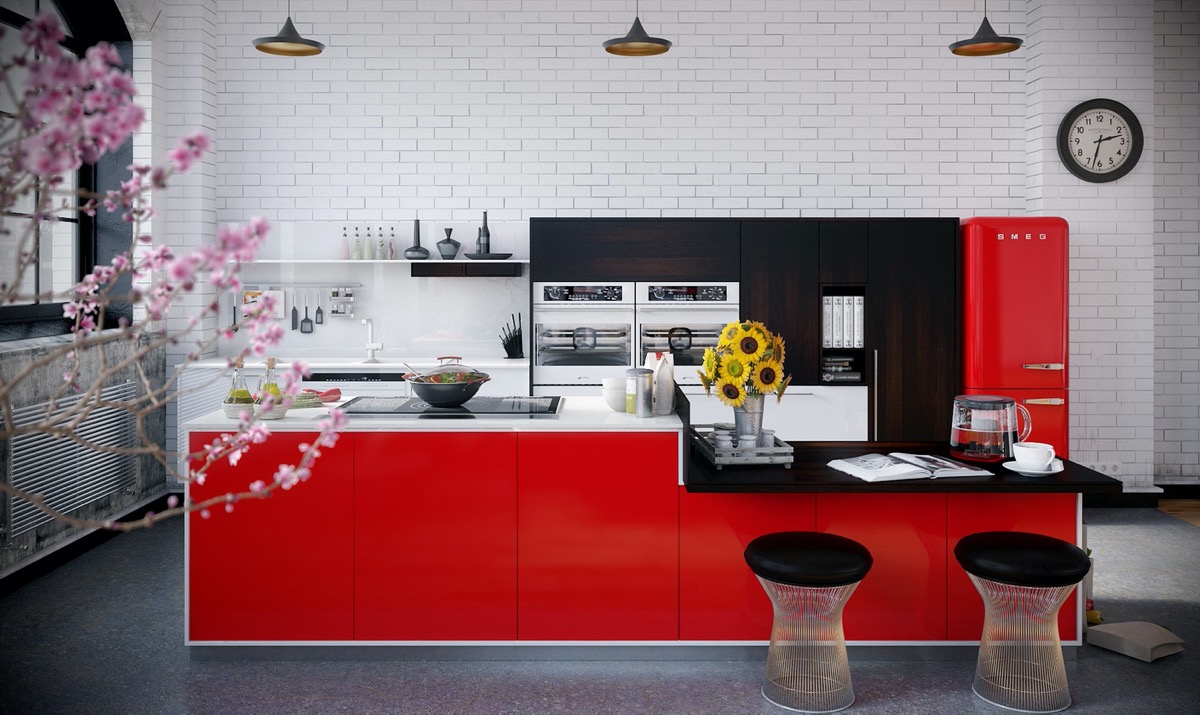 More red SMEG fridge love, this time with an entire colour matched island in its honour.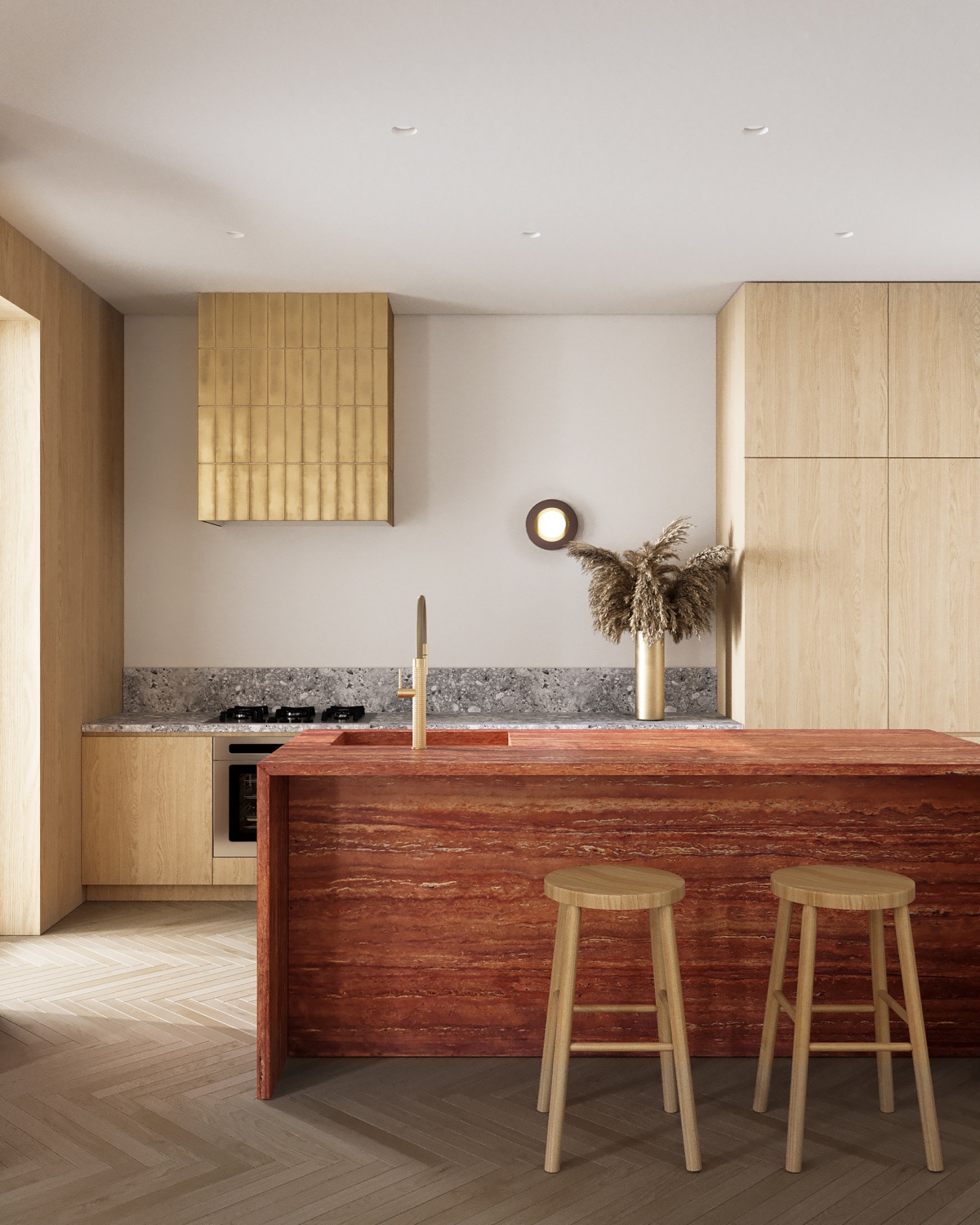 19 |
Visualizer: Natalia Pogorielova
Luxurious gold elements and a rouge kitchen island rub together to create a unique blend of elegance here, cradled by the simplicity of smooth beech wood cabinets and bar stools.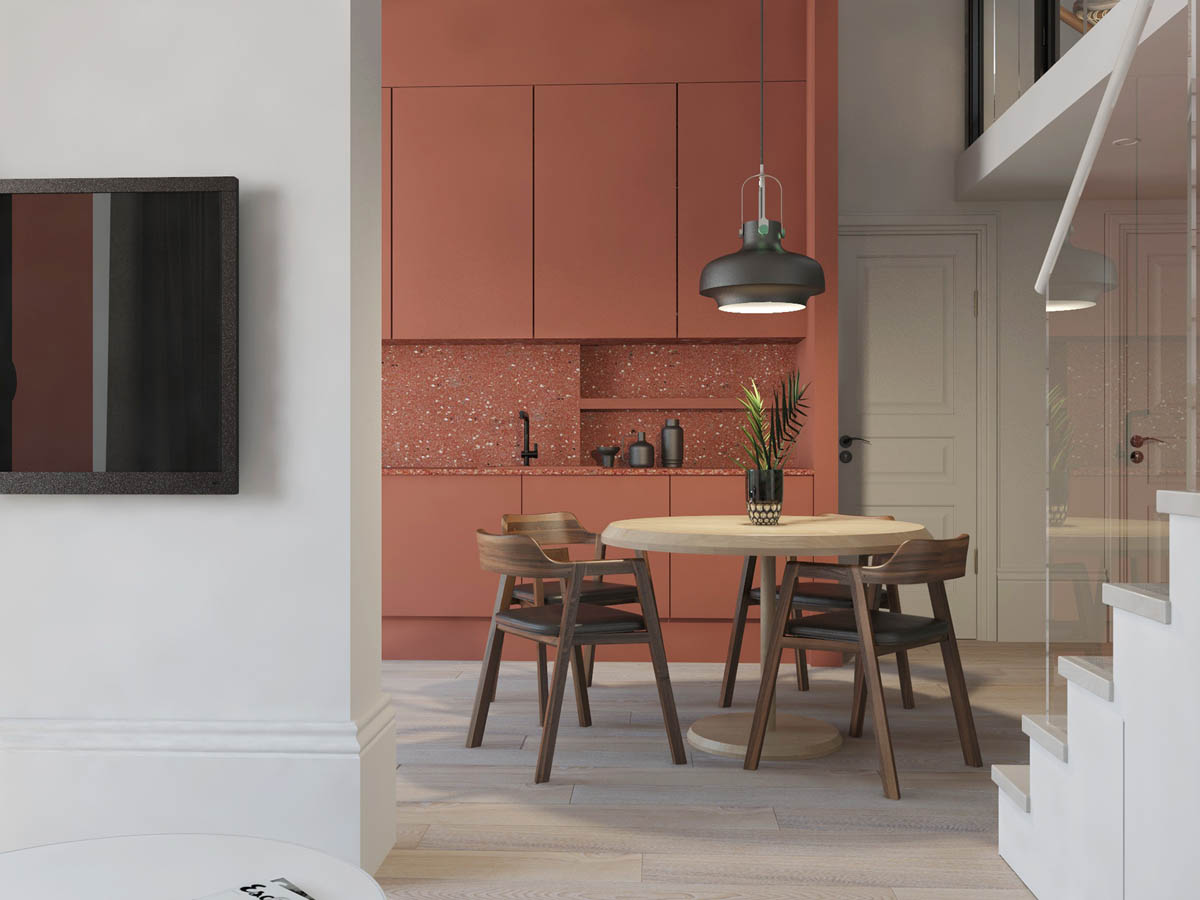 20 |
Visualizer: Kate Khotsim
Terracotta tones build an earthy floor to ceiling feature inside this double height living space. Colour matched walls and backsplash lengthen the effect.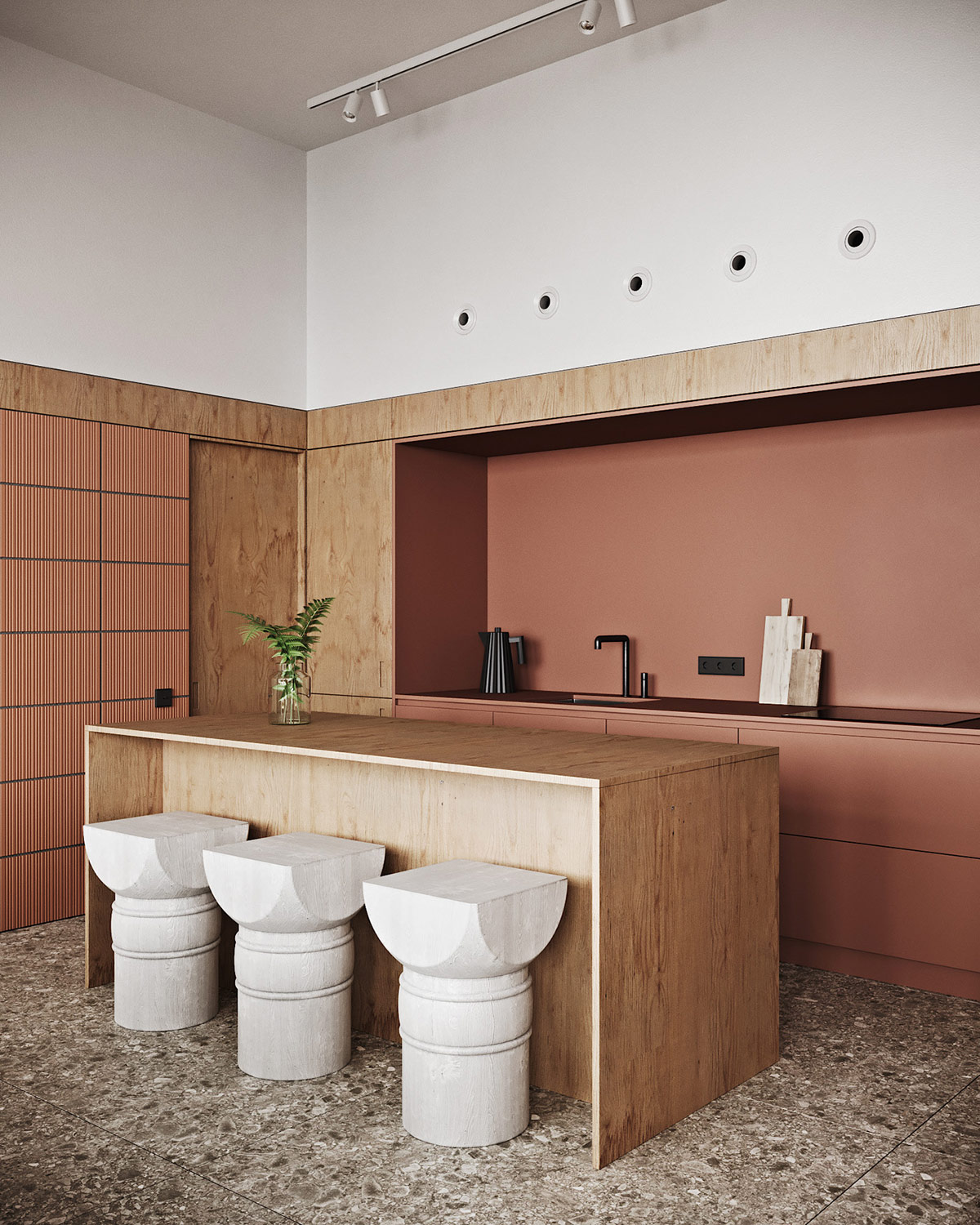 21 |
Visualizer: Buro White
Brick red and basic wood style a modern kitchen aesthetic with warmth. Chunky kitchen stools add a fresh white sculptural element.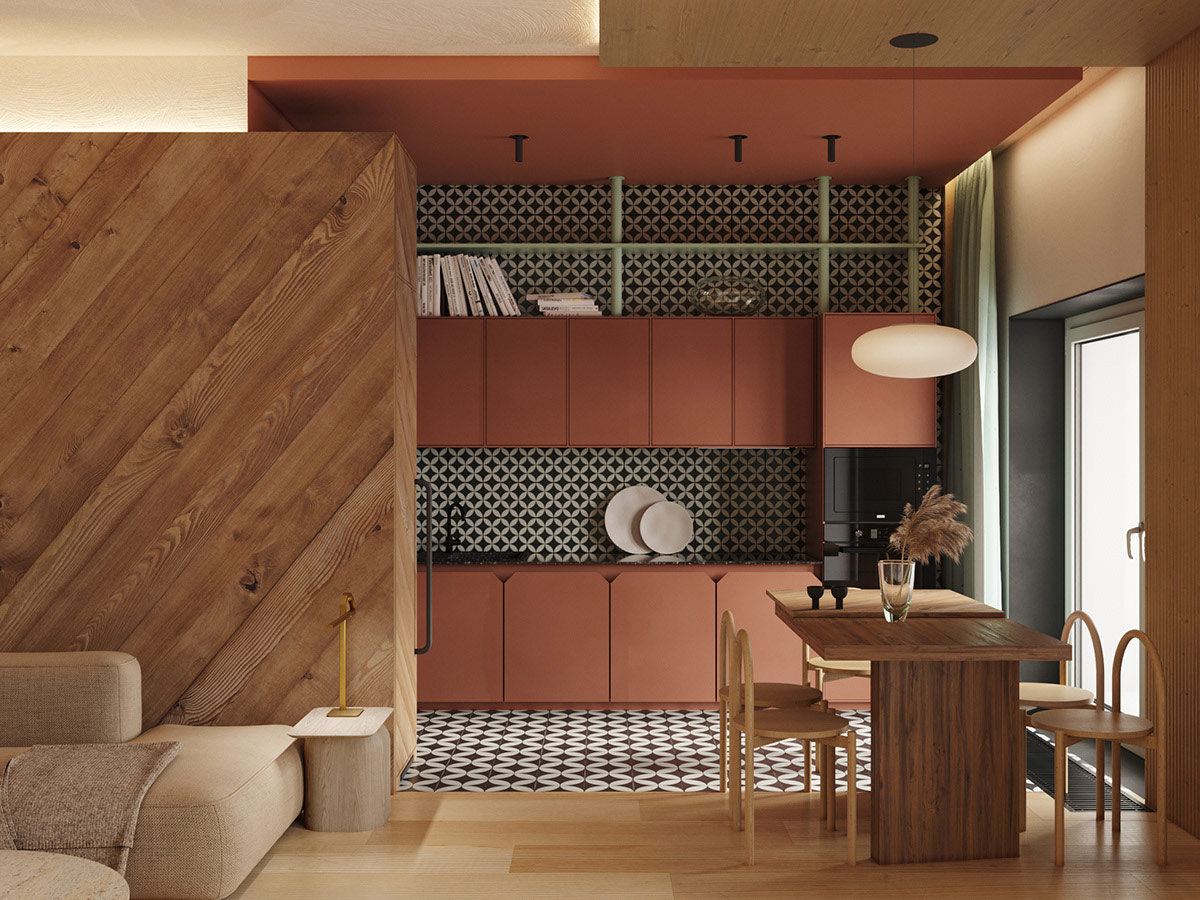 22 |
Designer: HE.D group
Visualizer: HE.D group
Three tiers of red volumes sandwich striking black and white pattern in this open plan kitchen design, constructing a unique layer cake of pattern and contrast.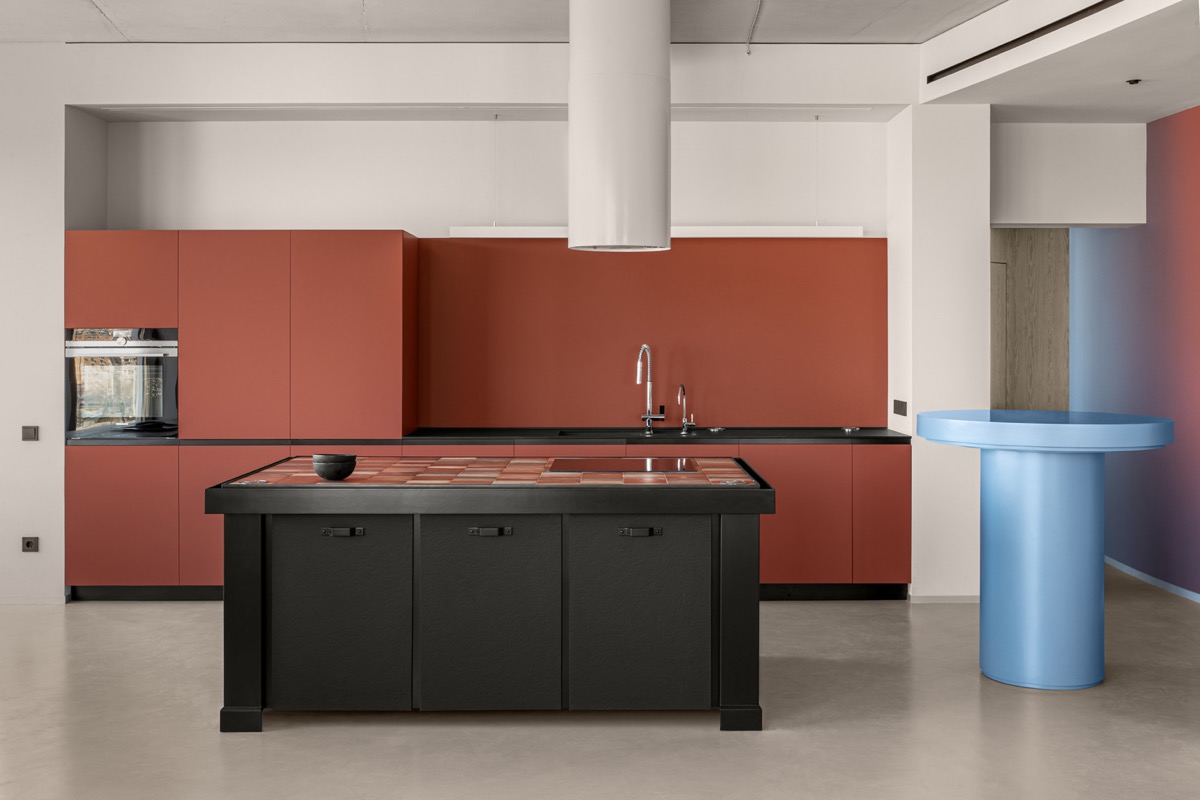 23 |
Visualizer: Rina Lovko
Black and red horizontal color blocking boldly anchor this kitchen installation in a white open space. Red kitchen tiles make a tonal countertop on the island.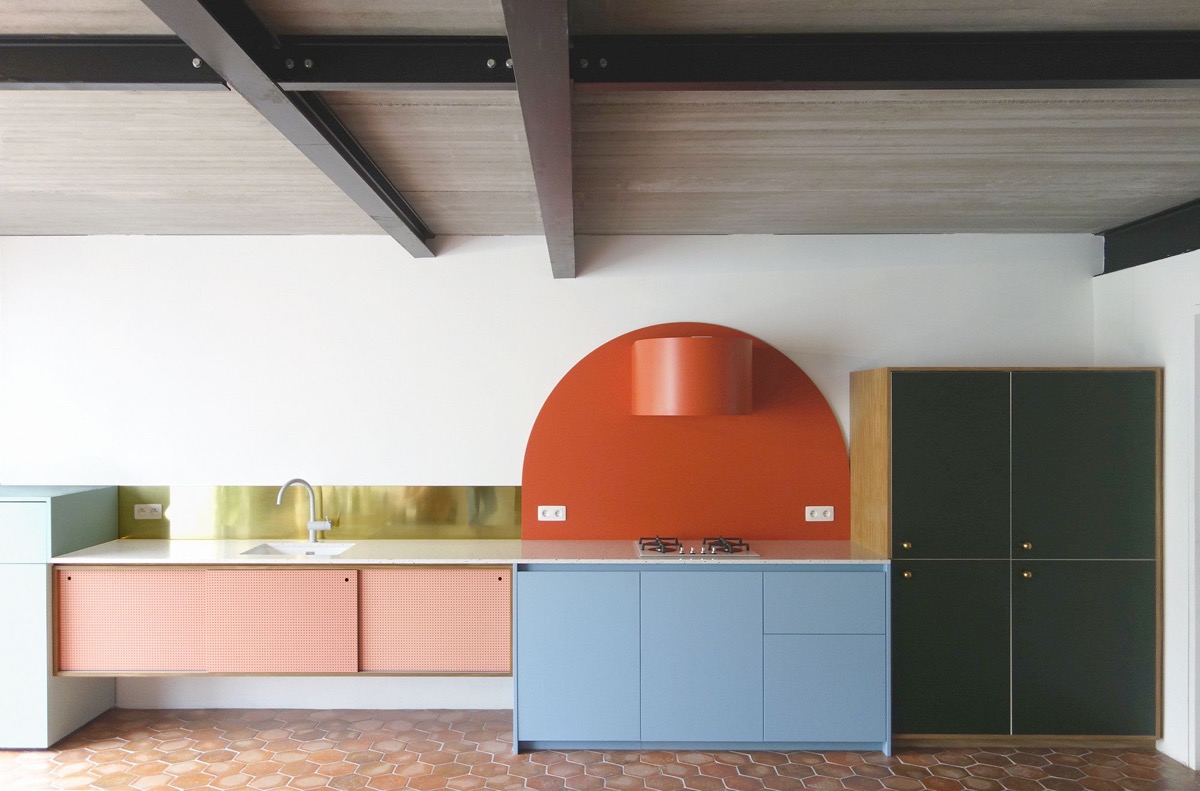 24 |
Designer: Dries Otten
When an all red setting seems too strong, but dilution with white too weak, consider combining the red colour theme with a multitude of softer or muted shades, like this blush blue, bottle green and red combination. An arched backsplash tops off the arty kitchen concept.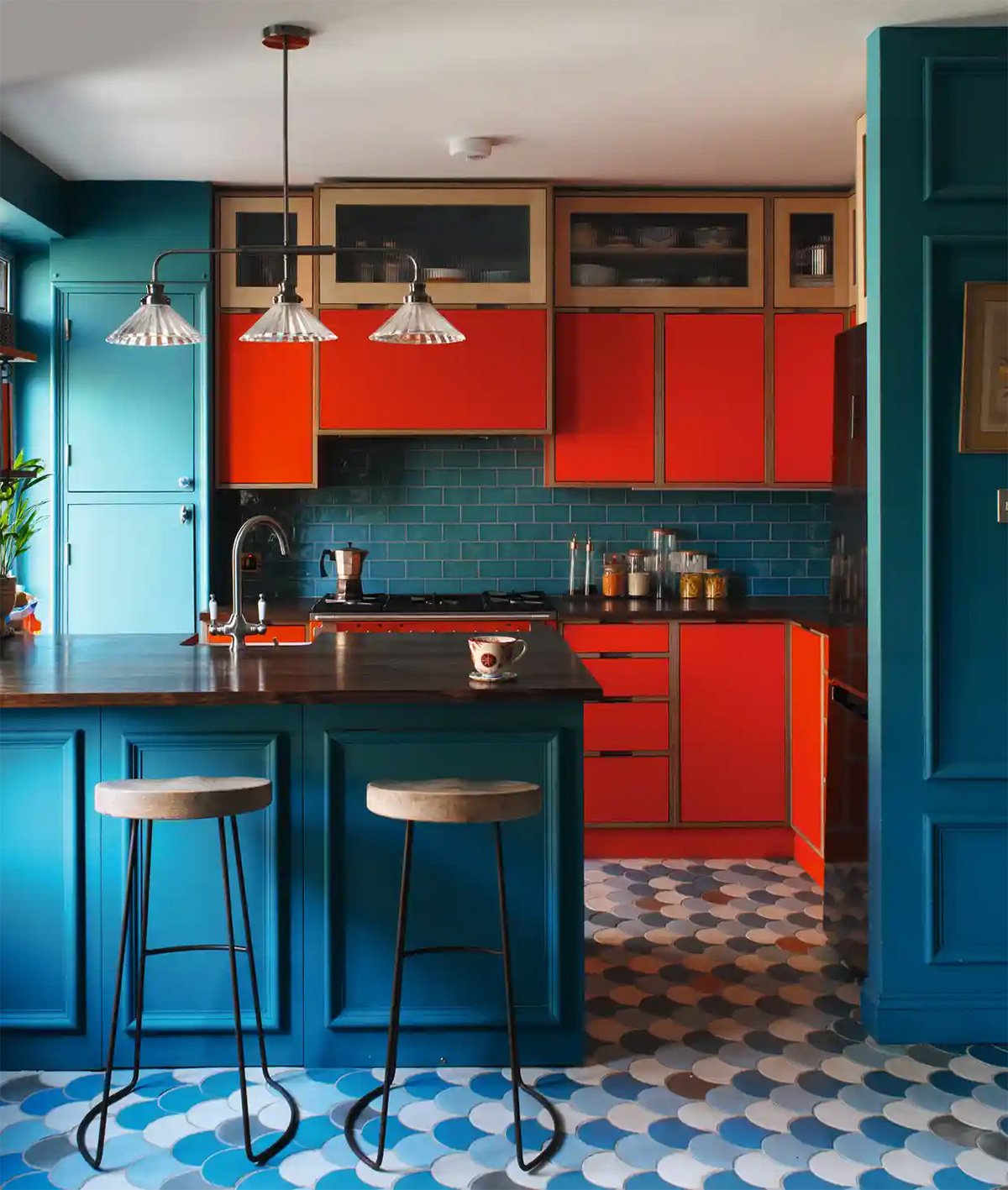 Match the saturation. This red kitchen section meets its match with an equally strong blue tone. The multicolor mashup meets with raw wooden elements and some industrial accessories to fashion an eclectic feel.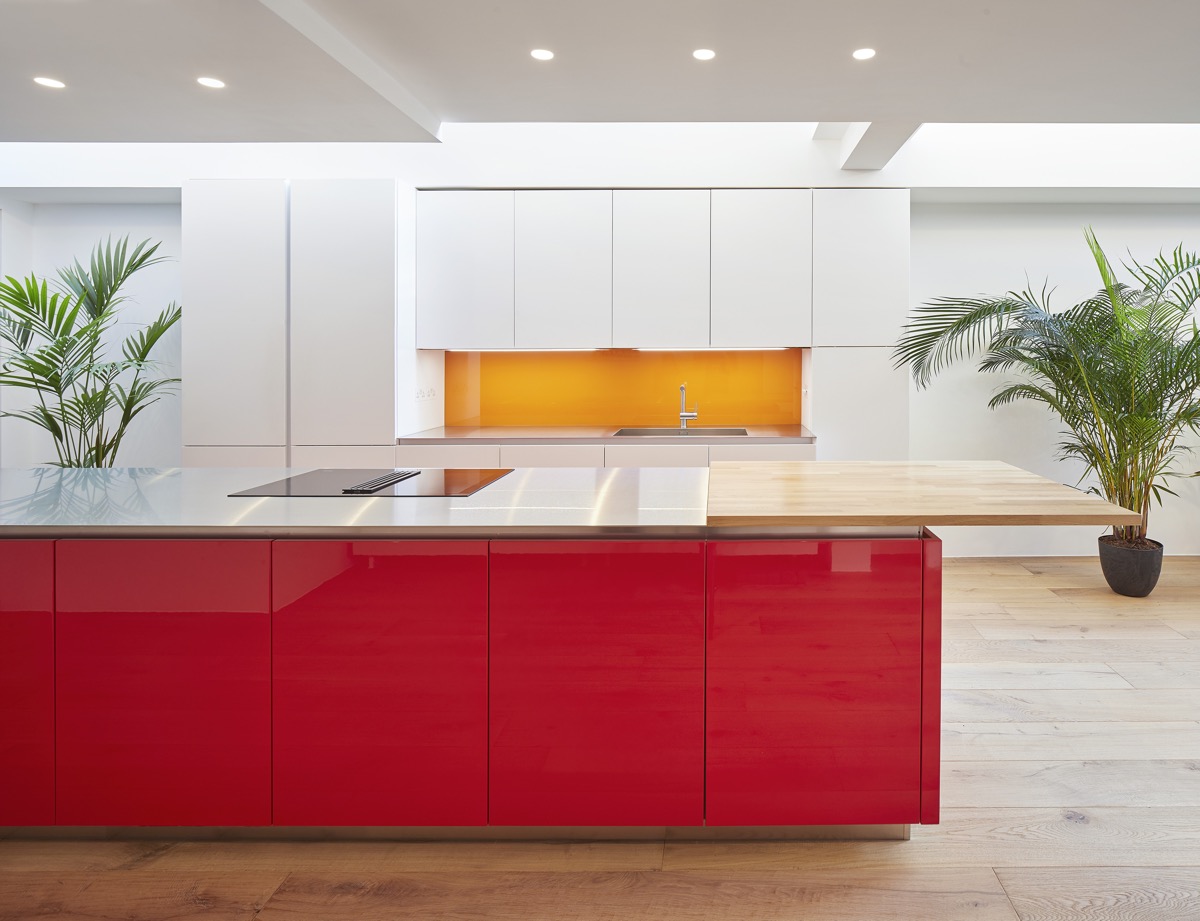 26 |
Designer: Sophie Nguyen
The fire of this red and orange accent kitchen is quenched with cold milky cupboards and a crisp white countertop. A wooden dining bar extension adds a welcome natural touch.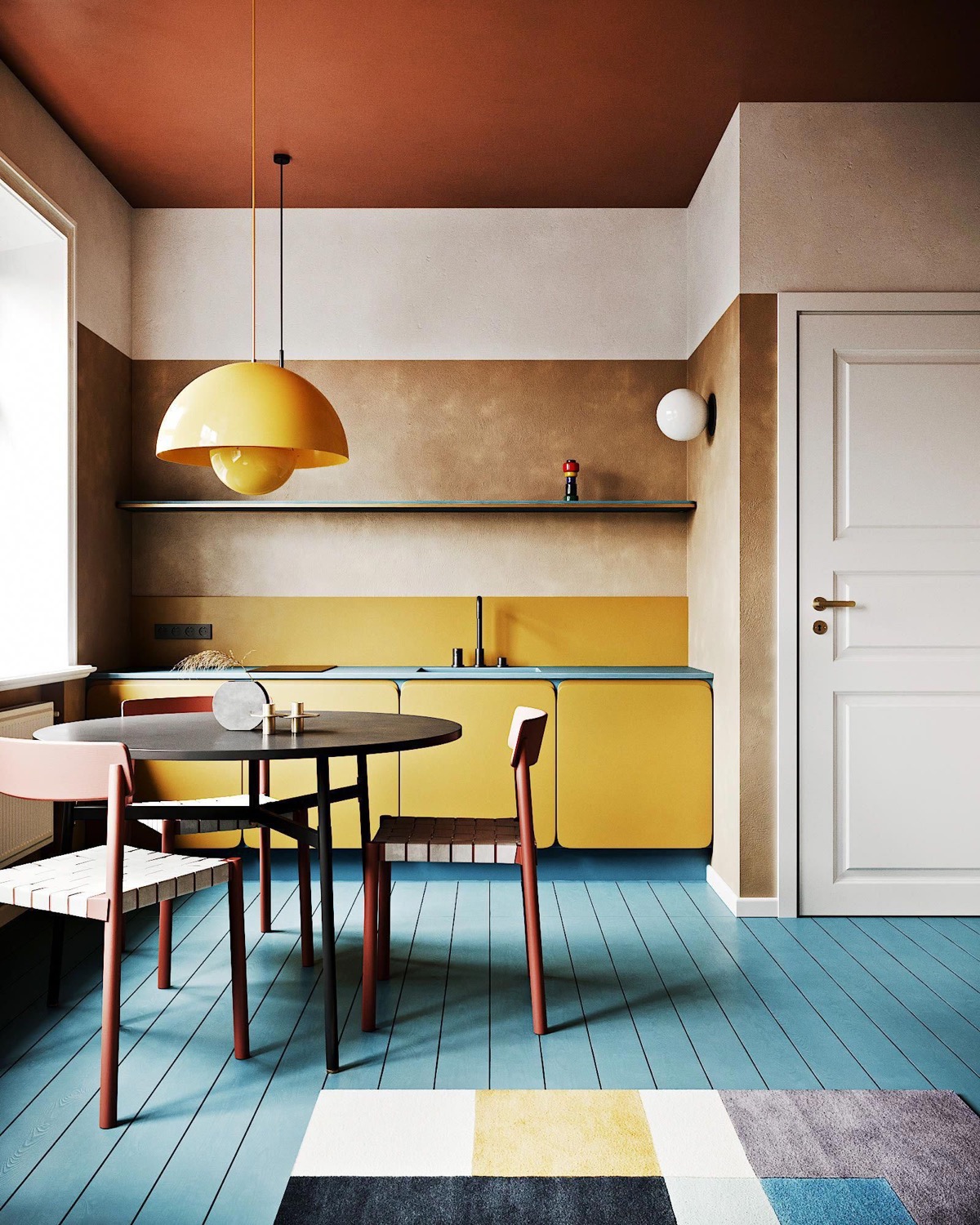 27 |
Visualizer: Yaroslav Priadka
Red kitchen accents come in the form of a colour block ceiling and red dining chairs in this small home design. Yellow additions bring out the sunshine.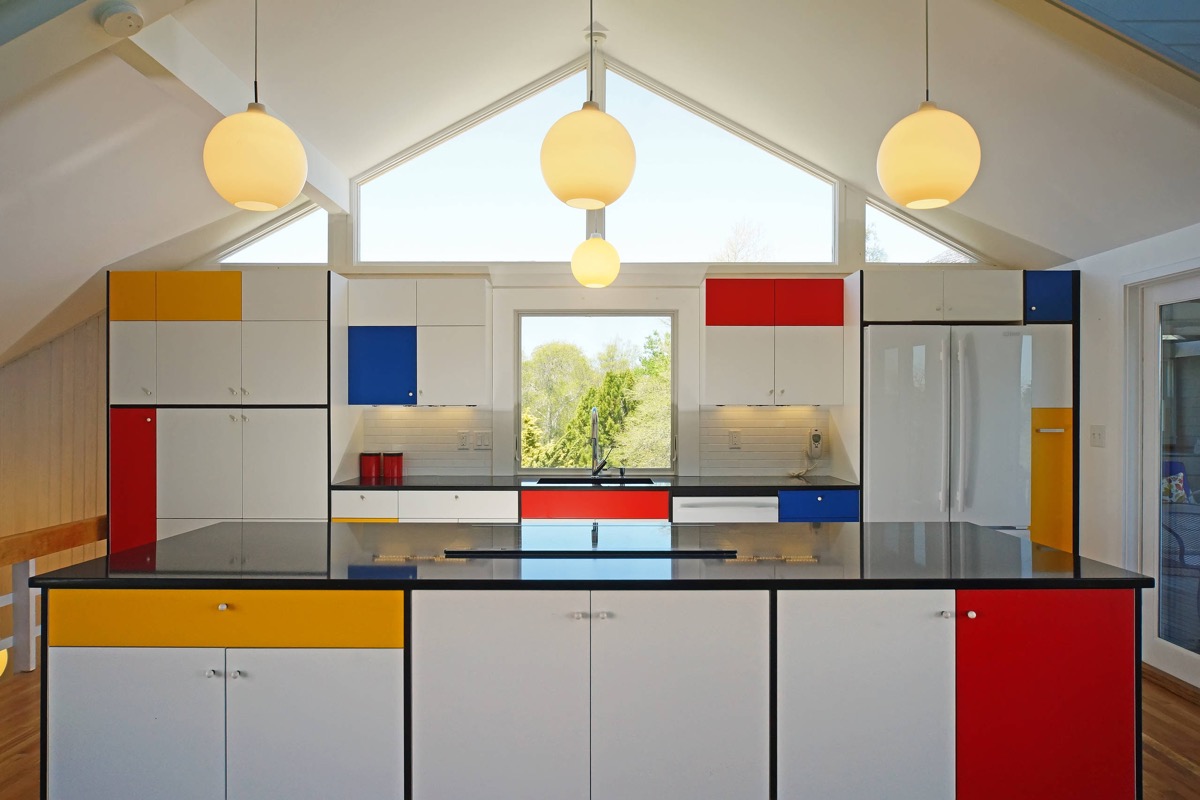 28 |
Designer: Carole Hunter
A taste of De Stijl. With kitchens and colour blocked primary colours, we just had to include a Mondrian inspired design or two.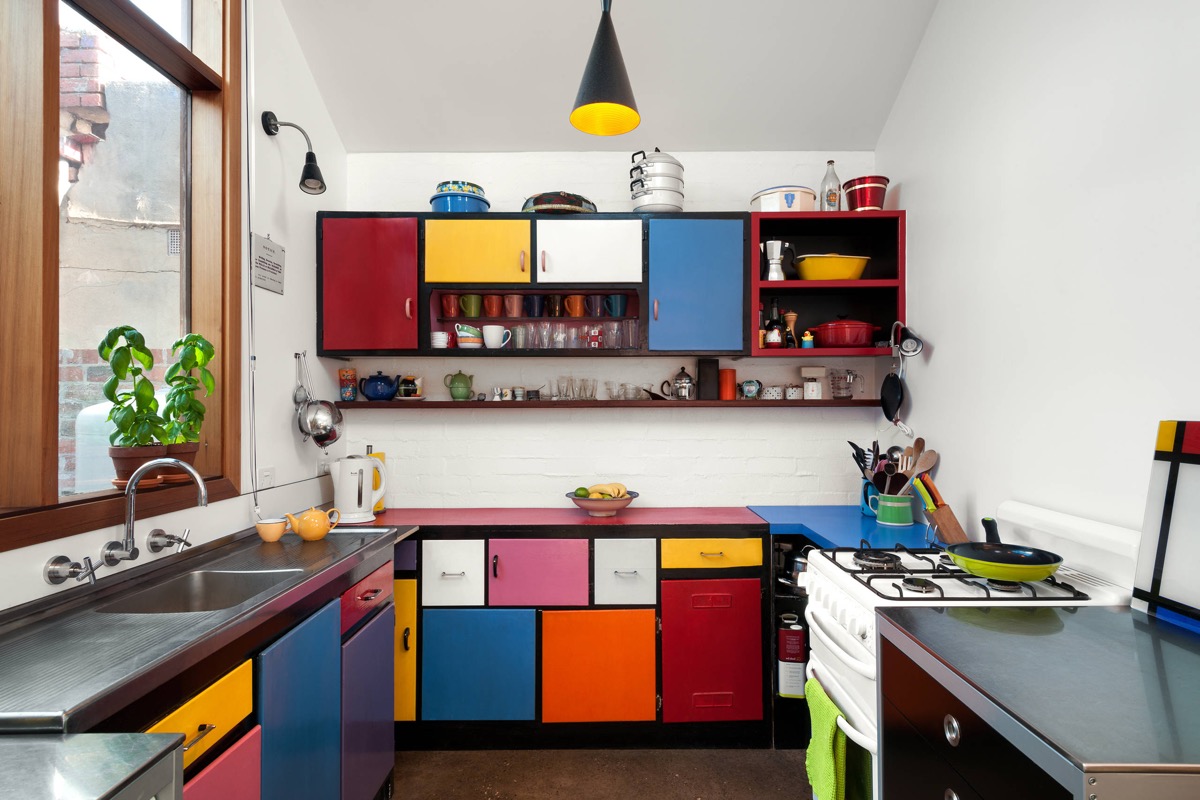 29 |
Designer: Ande Bunbury Architects
Frame out contrasting cabinets in black to define the colourful cubist vibe.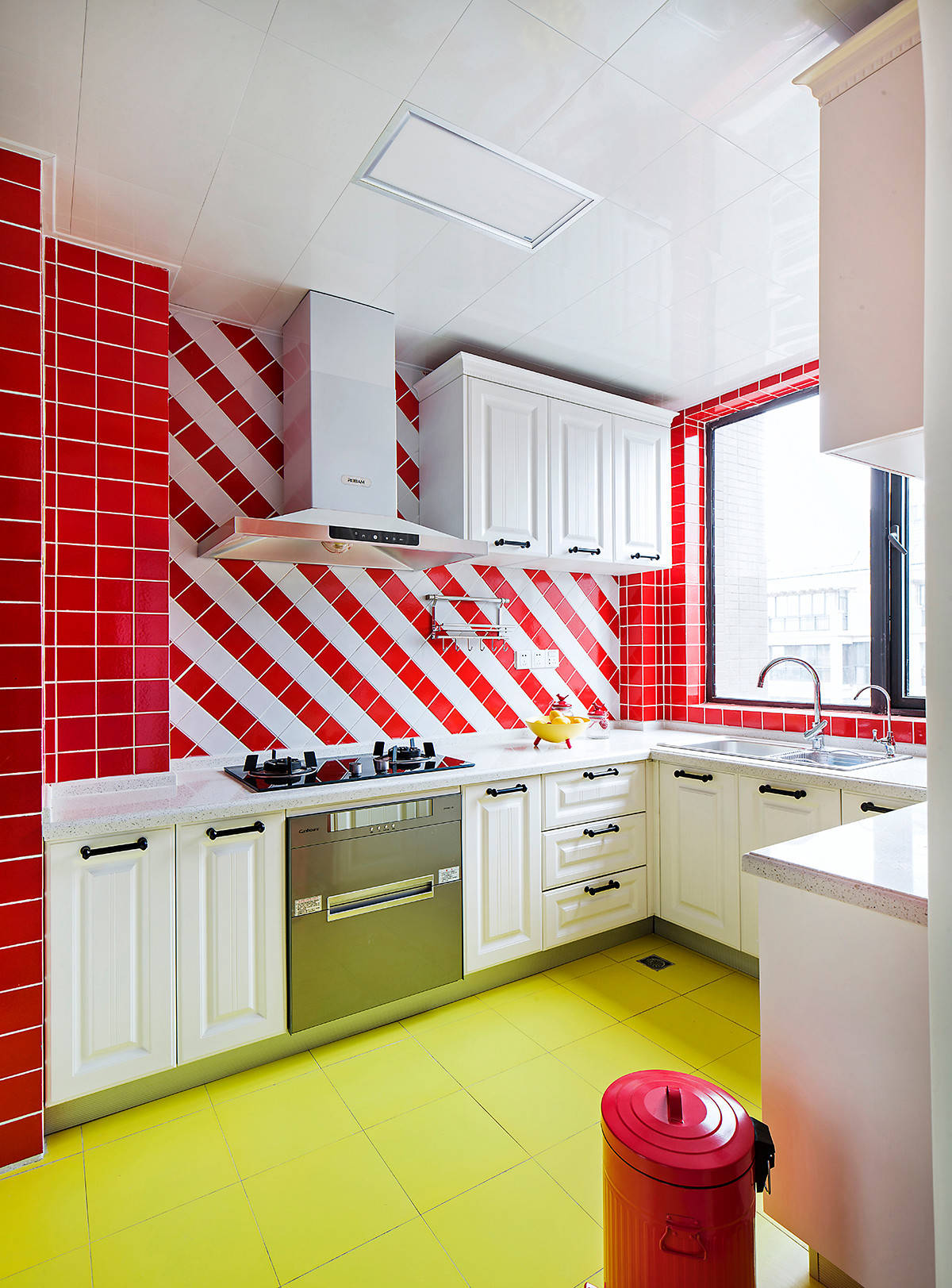 30 |
Designer: taomi design
Candy striped kitchens bring out the joy of the Christmas holidays every day! Although this lime green floor is a little more on the Grinch side.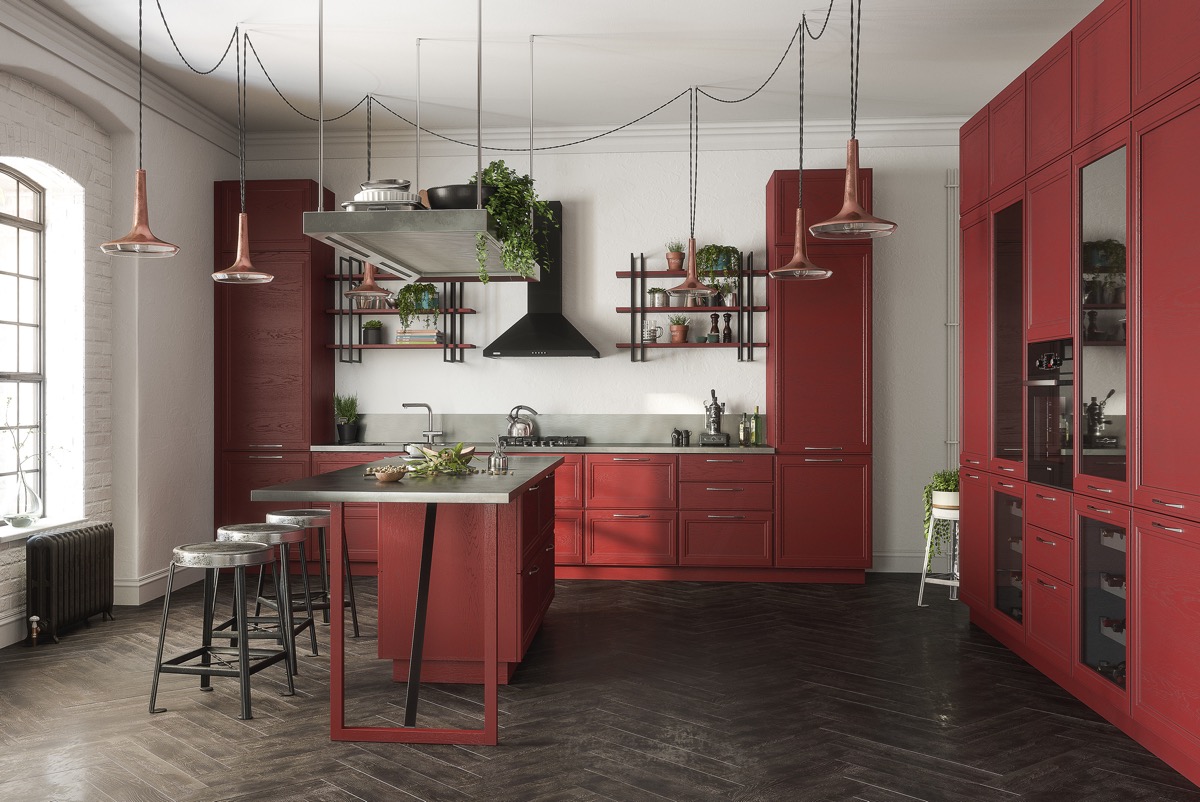 31 |
Visualizer: Lev Production & Alexandr Radionov
Create a sophisticated red industrial kitchen scheme by using a darker shade that will flow less jarringly with black metals, exposed wires and copper accessories.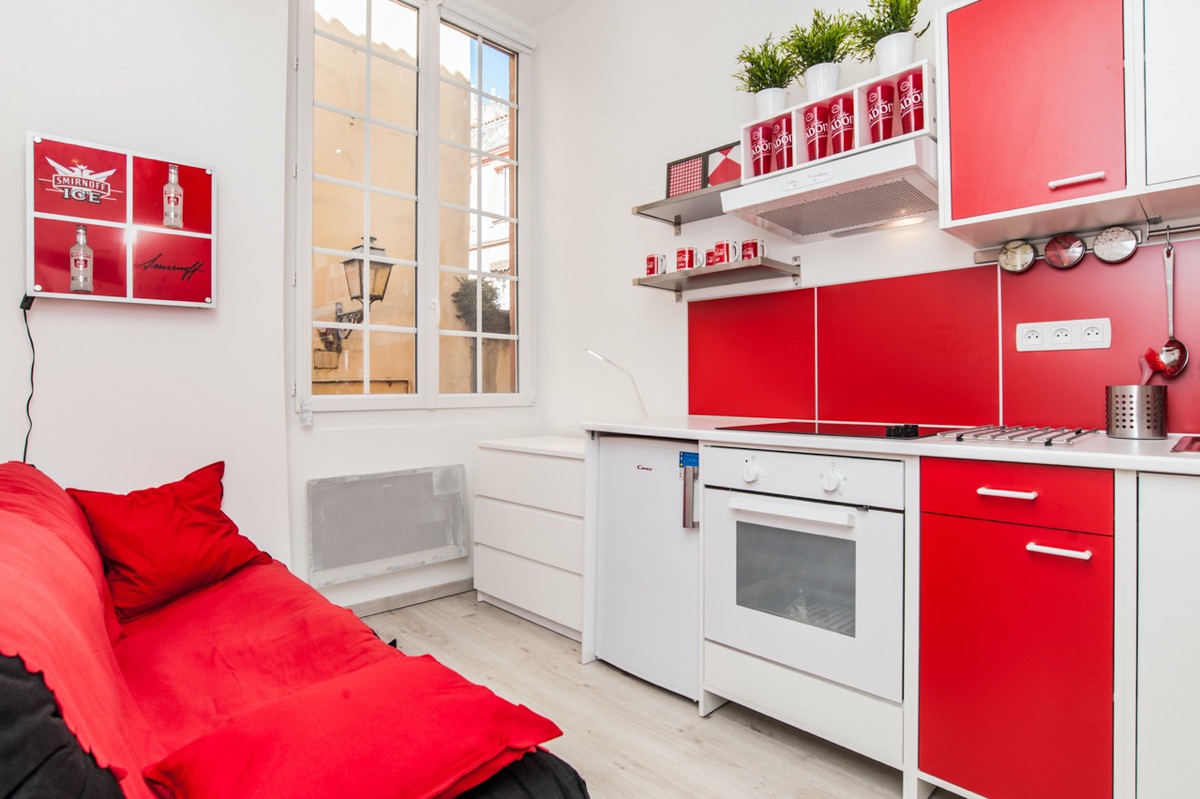 32 |
Source: HEXIA Real Estate Toulouse and Bagnères de Luchon
The scattered approach. A cupboard door here, a drawer front there. You don't have to go the whole way when you travel the red route, a few pit stops work just fine.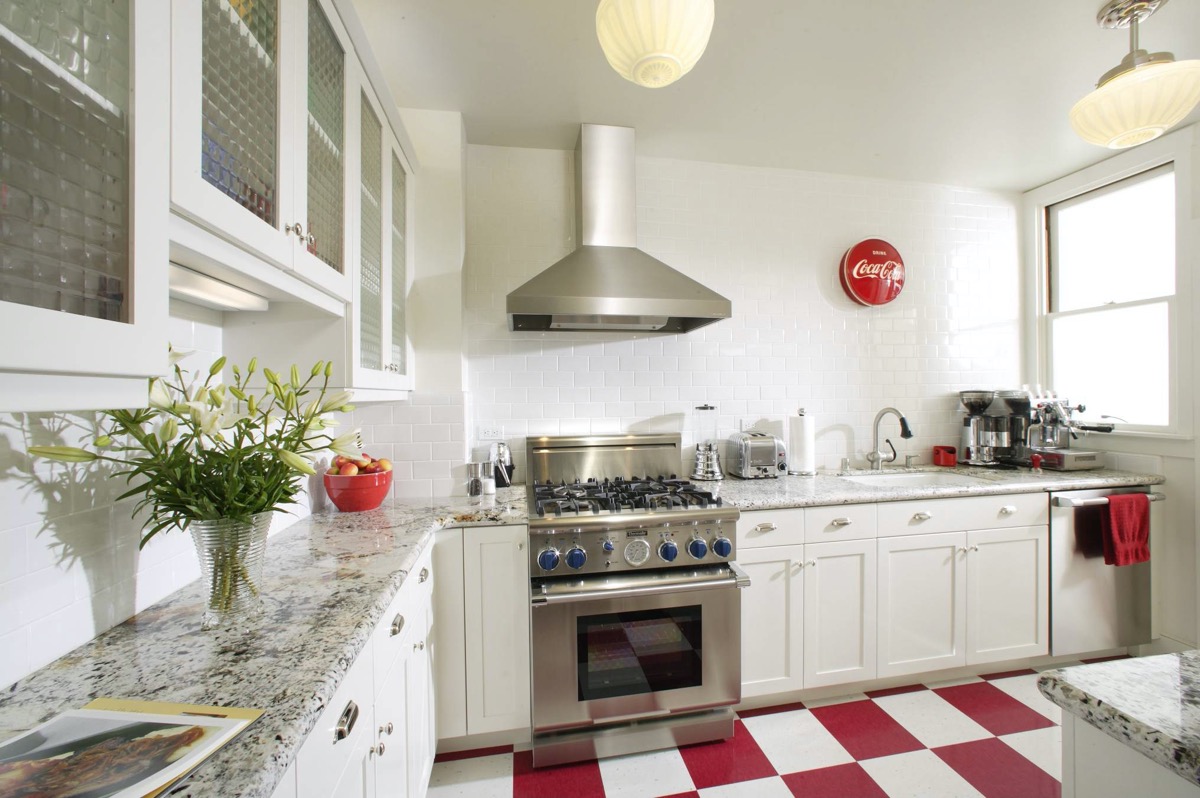 33 |
Designer: D&J Kitchens and Baths
Retro-fit a red kitchen theme with a few choice pieces. Coca-cola red kitchen accessories and a checkerboard floor totally transform this traditional white kitchen.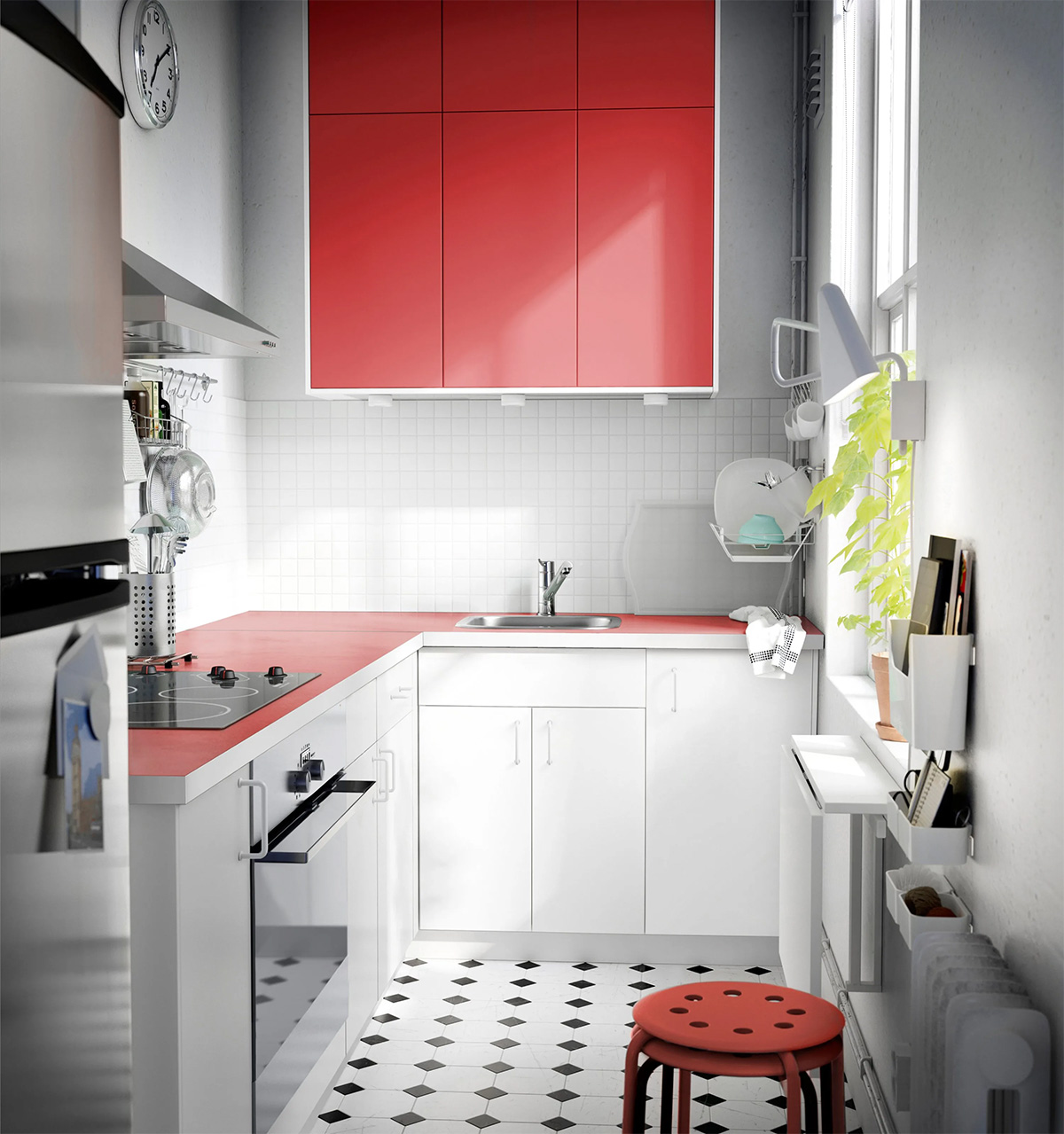 Another red update, this time with some new wall cabinets, a fresh countertop and some budget-friendly Ikea MARIUS stools.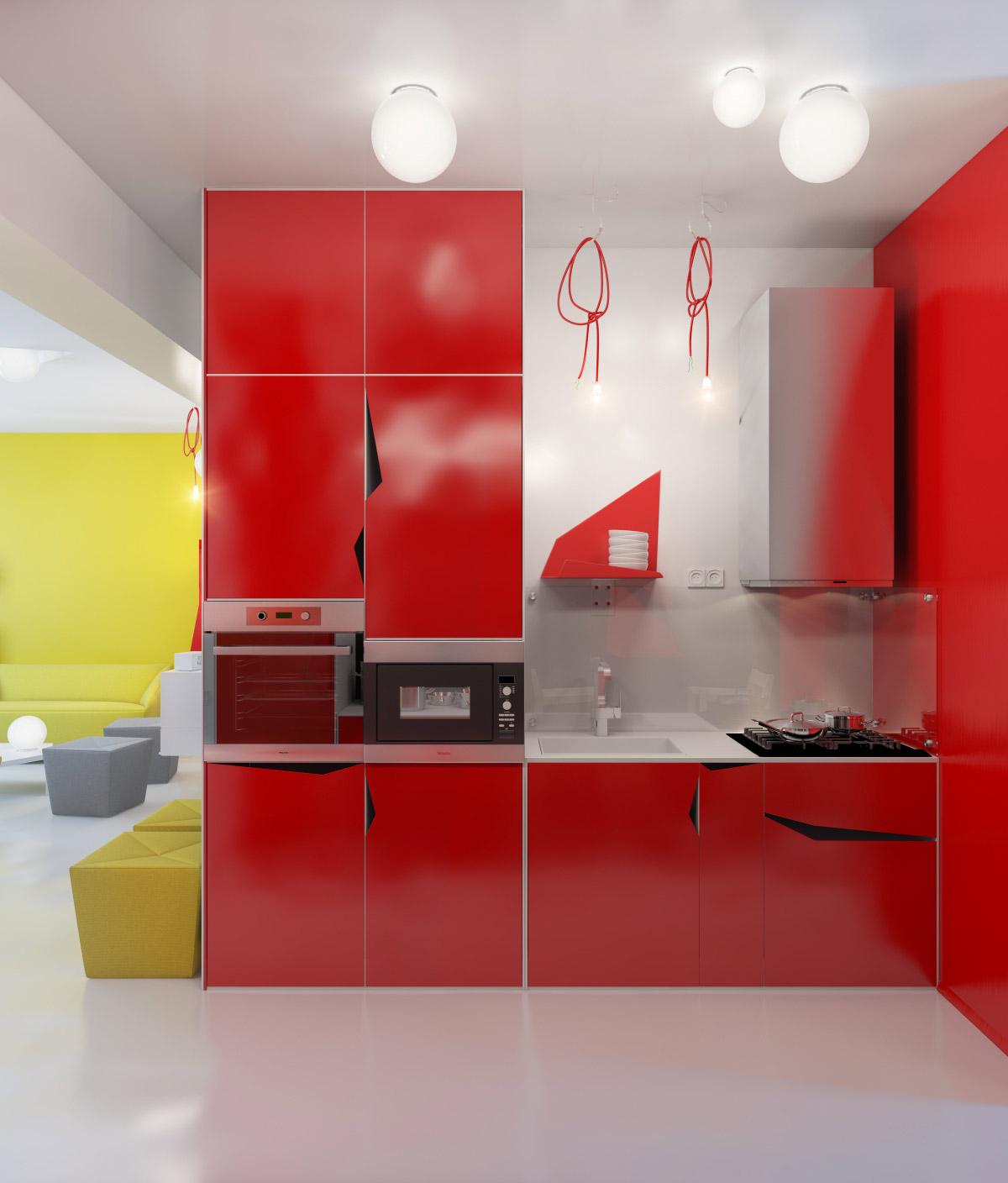 35 |
Visualizer: Anna Marinenko
Go geo. Sleek red cabinet fronts take on a modern geometric aesthetic with angular cutout door pulls. A unique red wall shelf completes the look.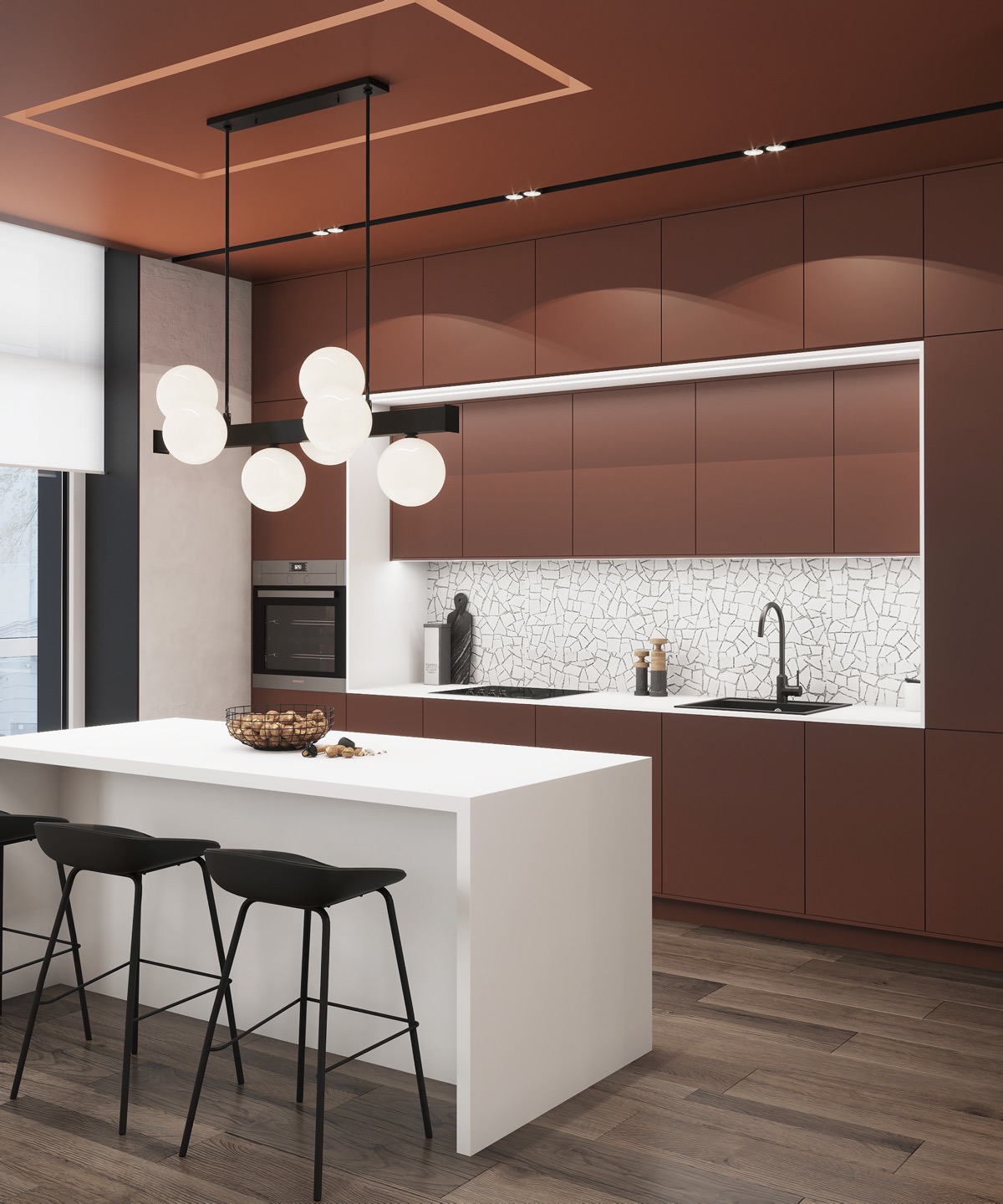 36 |
Visualizer: Alina Novytska & Lada Kamyshanska
Red-brown shades bring heat to a kitchen in a reserved and sophisticated fashion. Cut through with clean white elements and anchor with black accents.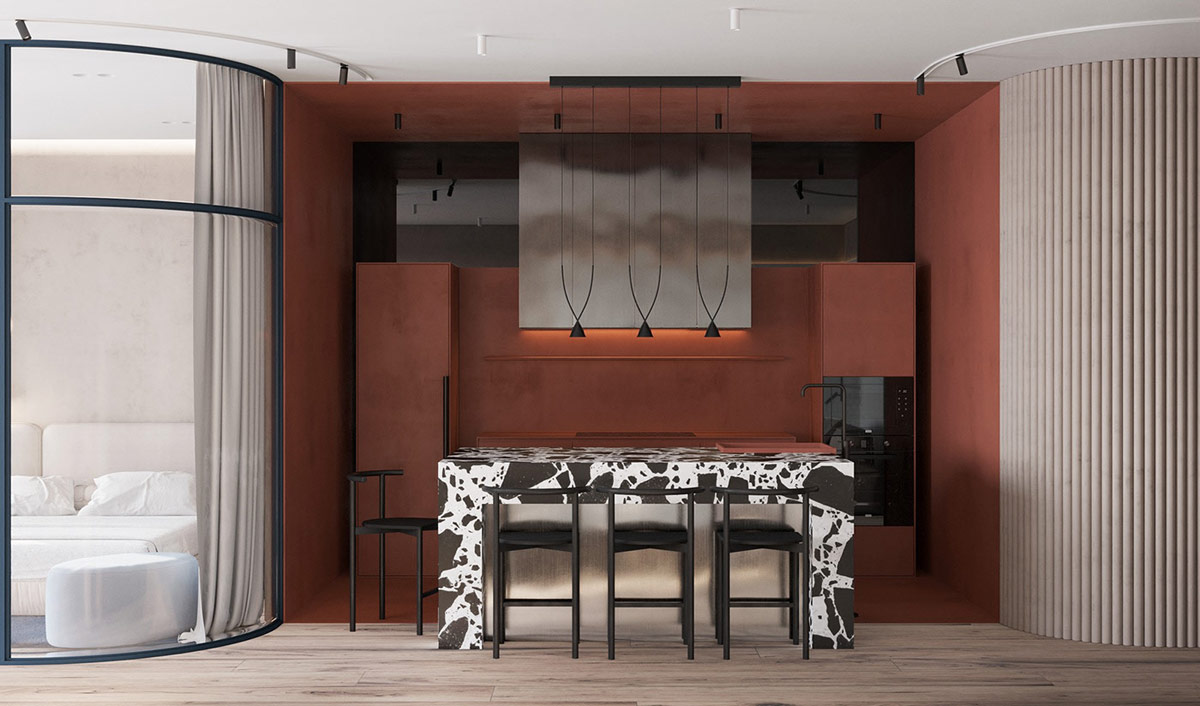 This dark red kitchen design is given a quirky update with a bold black and white kitchen island concept.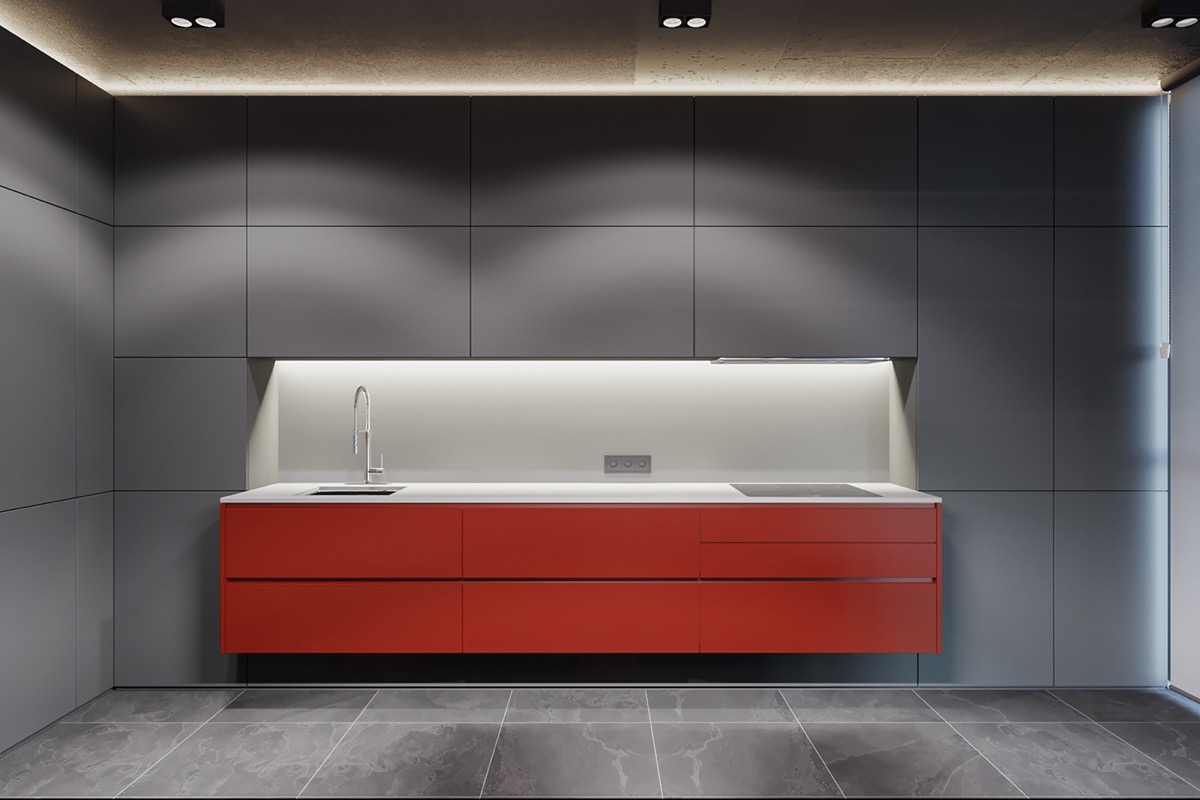 Flat grey units fall back from an extruded red volume of drawers here, which constructs a special simplified form.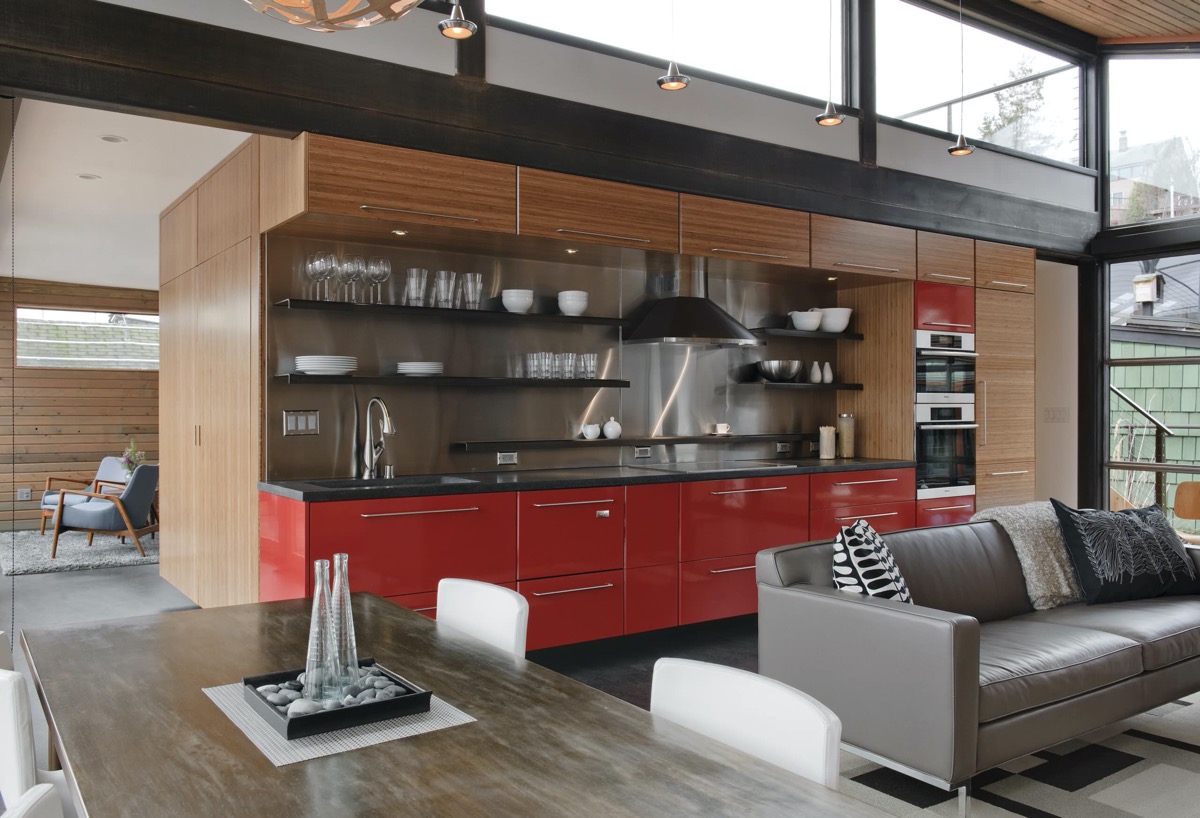 39 |
Designer: Dyna Contracting
Rule the room. In a large open plan space, a red kitchen makes a sleek statement wall that has purpose as well as punch.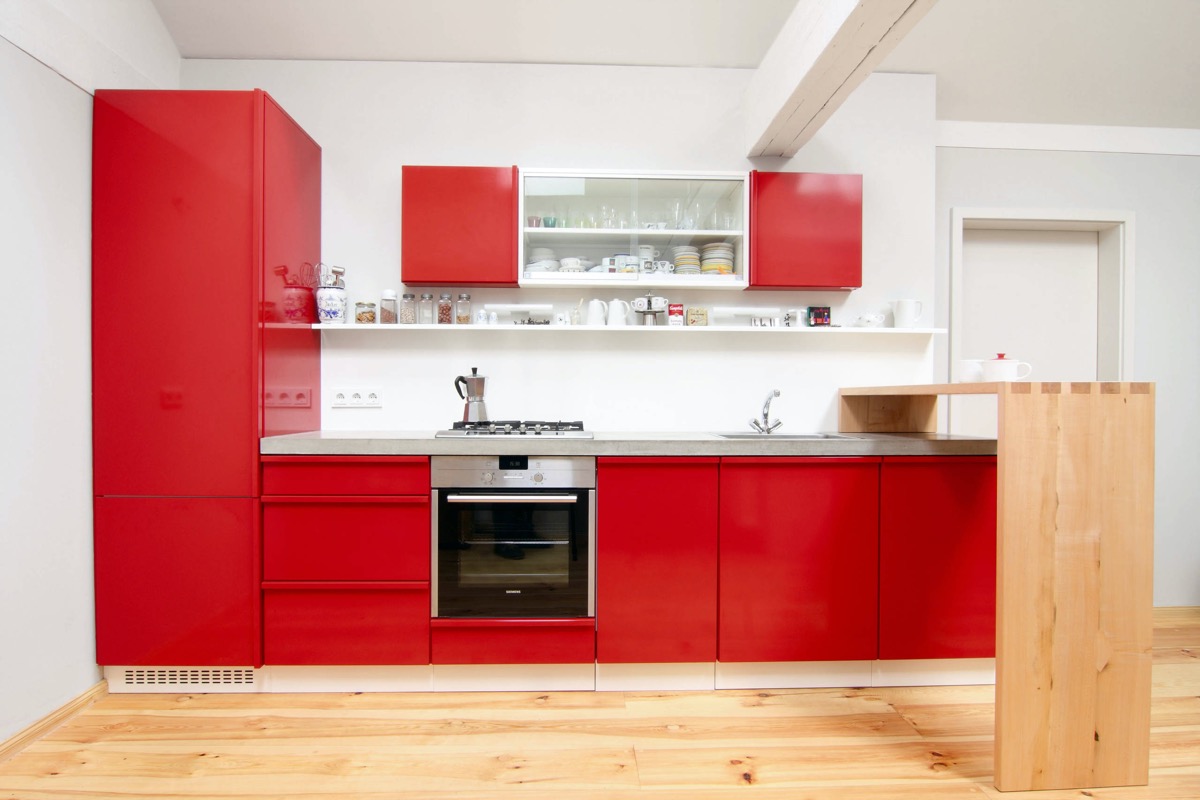 A straight one wall kitchen run can look pretty plain and insignificant, but that's never the case under a bright red finish.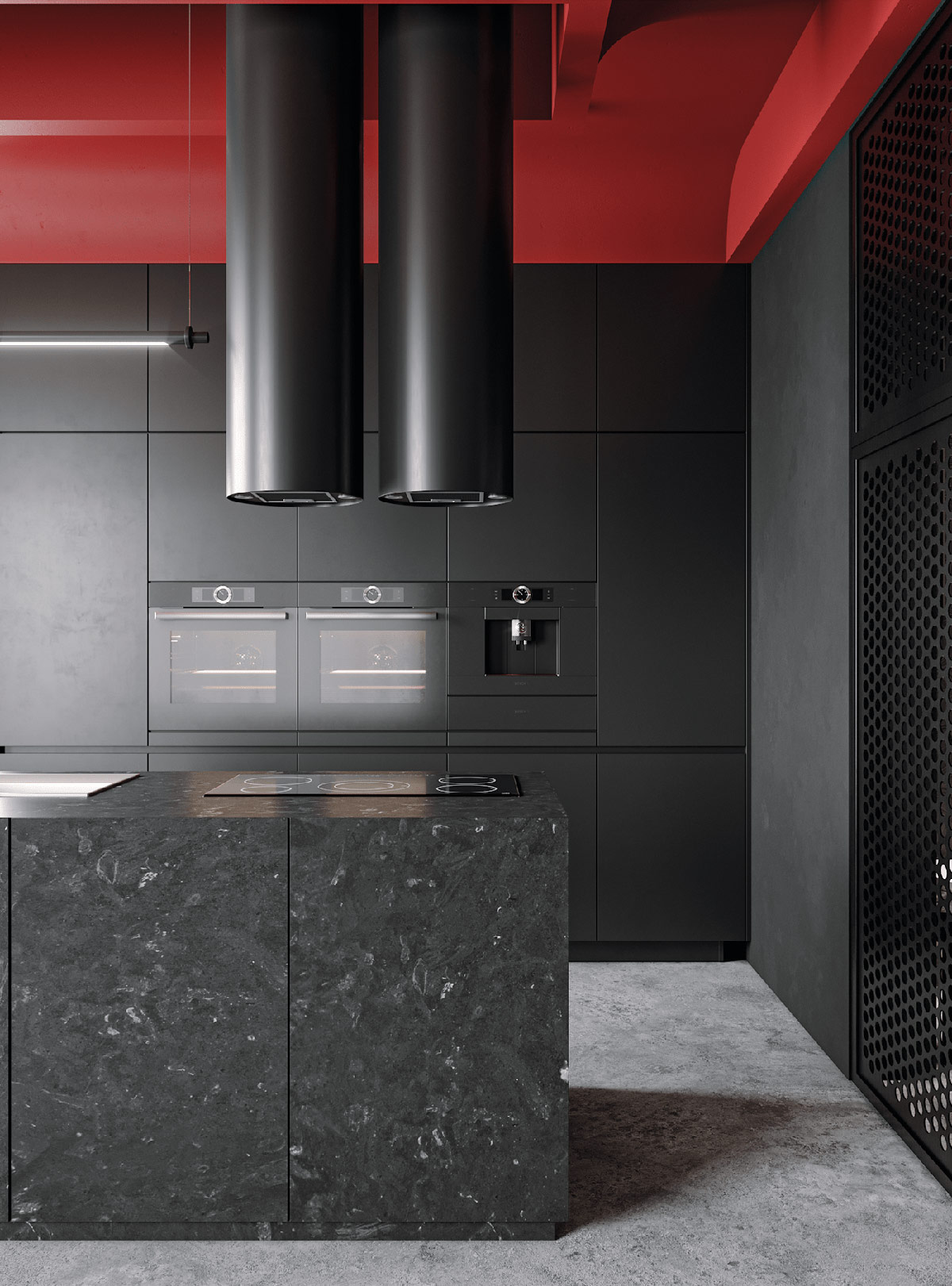 41 |
Visualizer: Alfgram Koie
Raise the roof over a matte black kitchen with a red bombshell of a ceiling.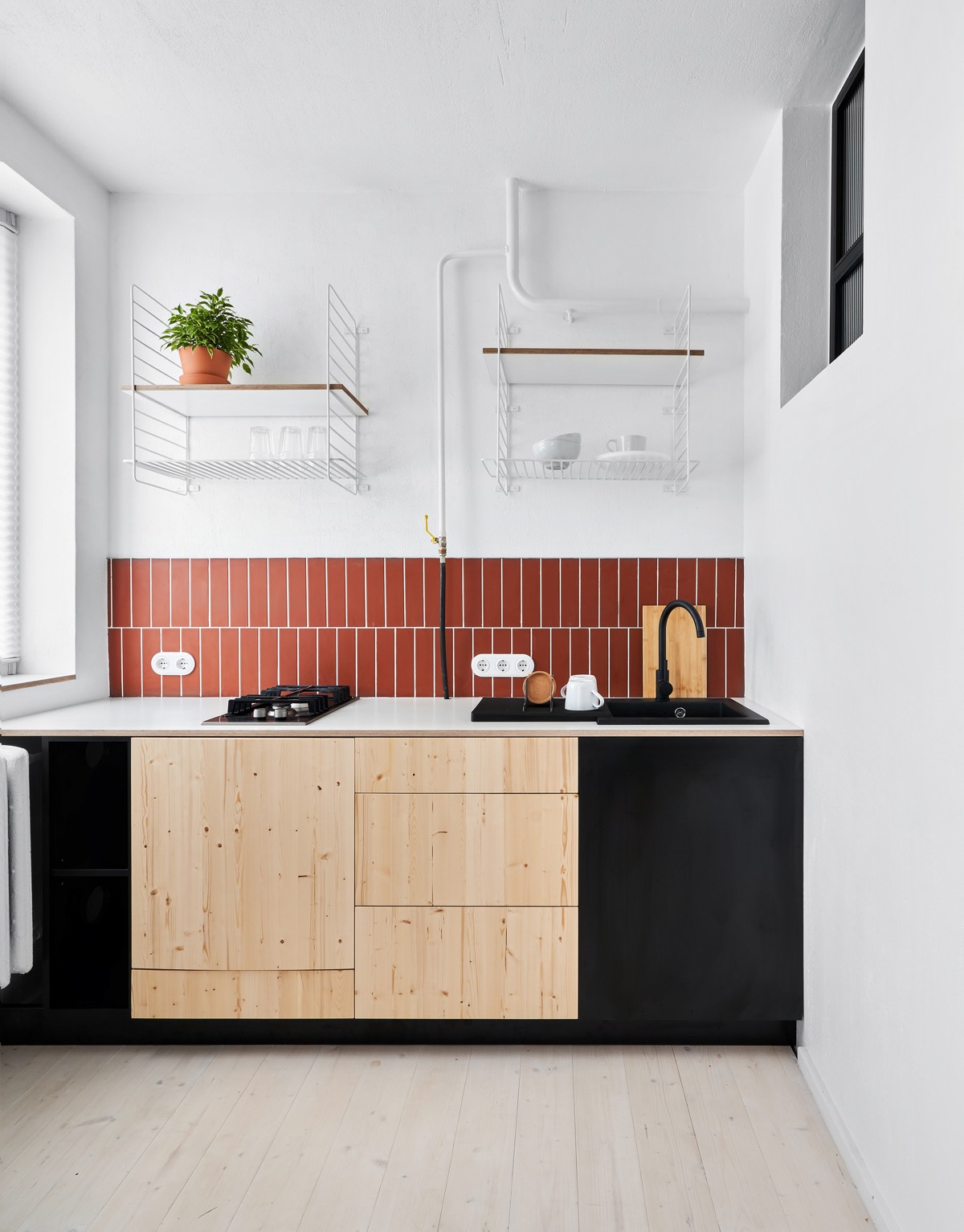 42 |
Visualizer: Mikhail Lenko
Small kitchen, big impact. Simple wooden Scandi vibes meet matte black moments and a rip of red.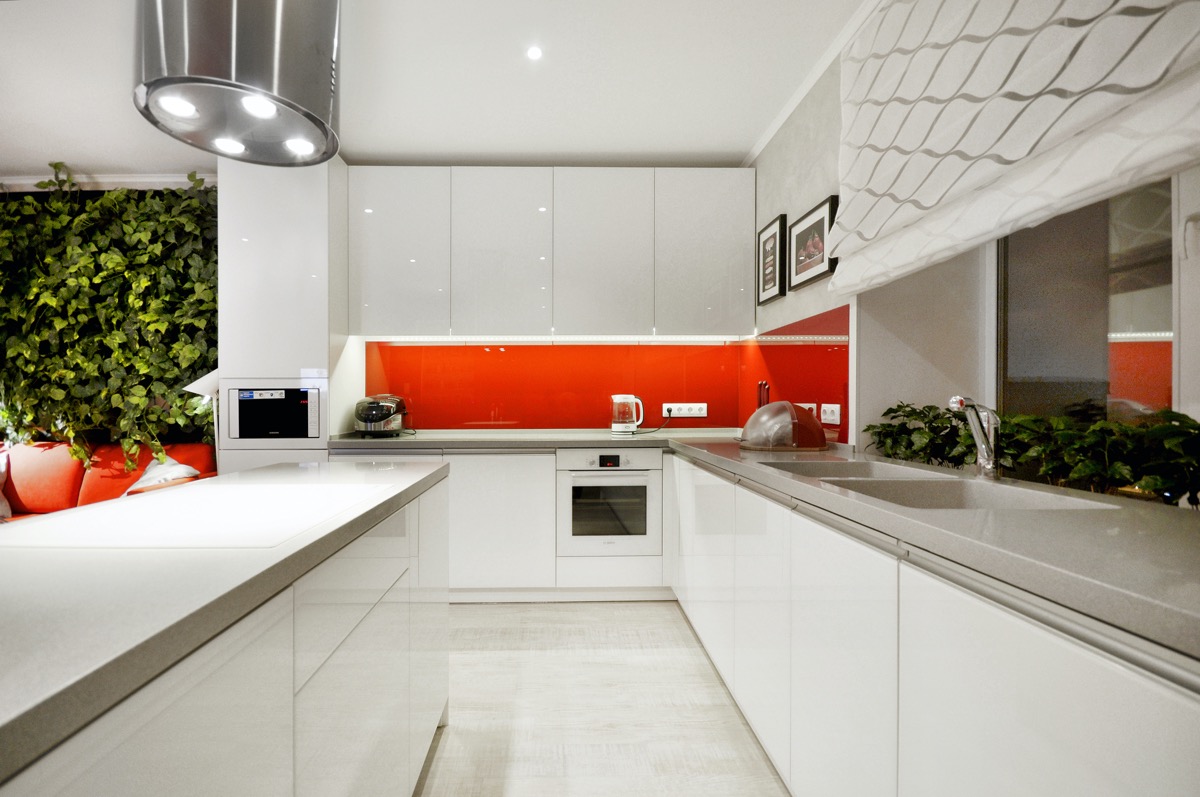 43 |
Designer: All Arts Design
Flame red roars around this glass kitchen backsplash, completely changing the visual temperature of an ice white modern kitchen.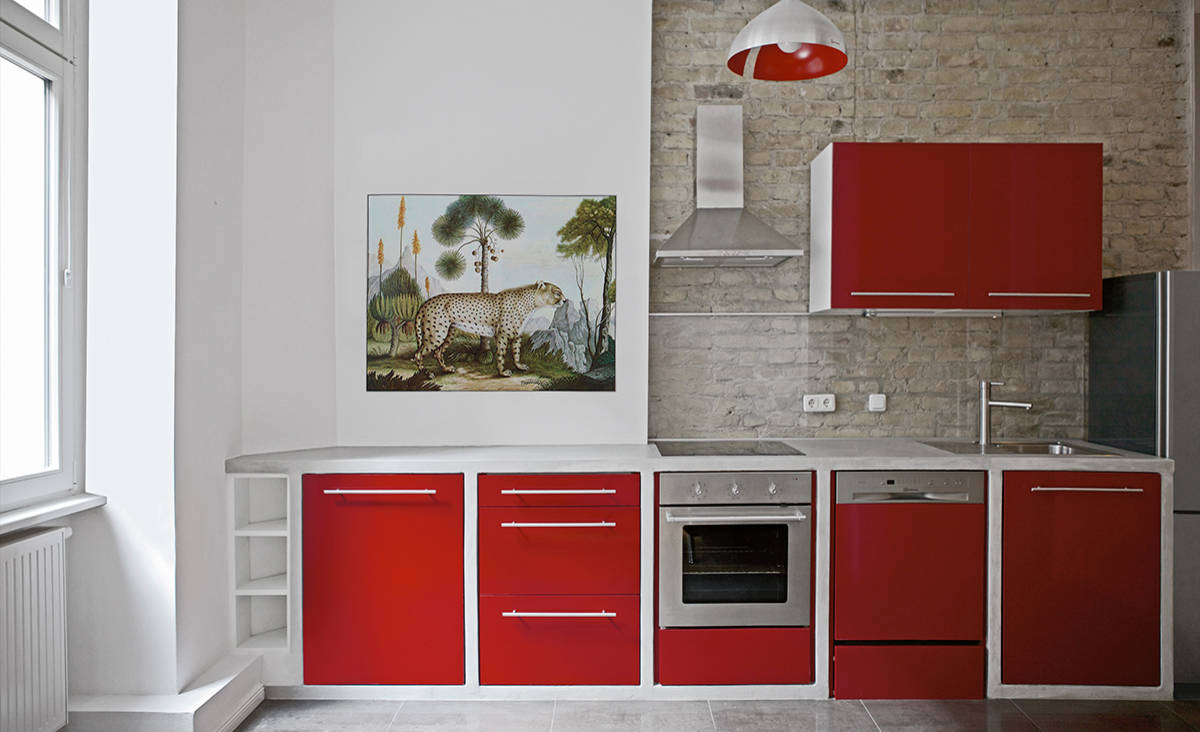 44 |
Designer: Rare Office
The cherry on the cake. Top off your red kitchen with a fun red kitchen pendant light.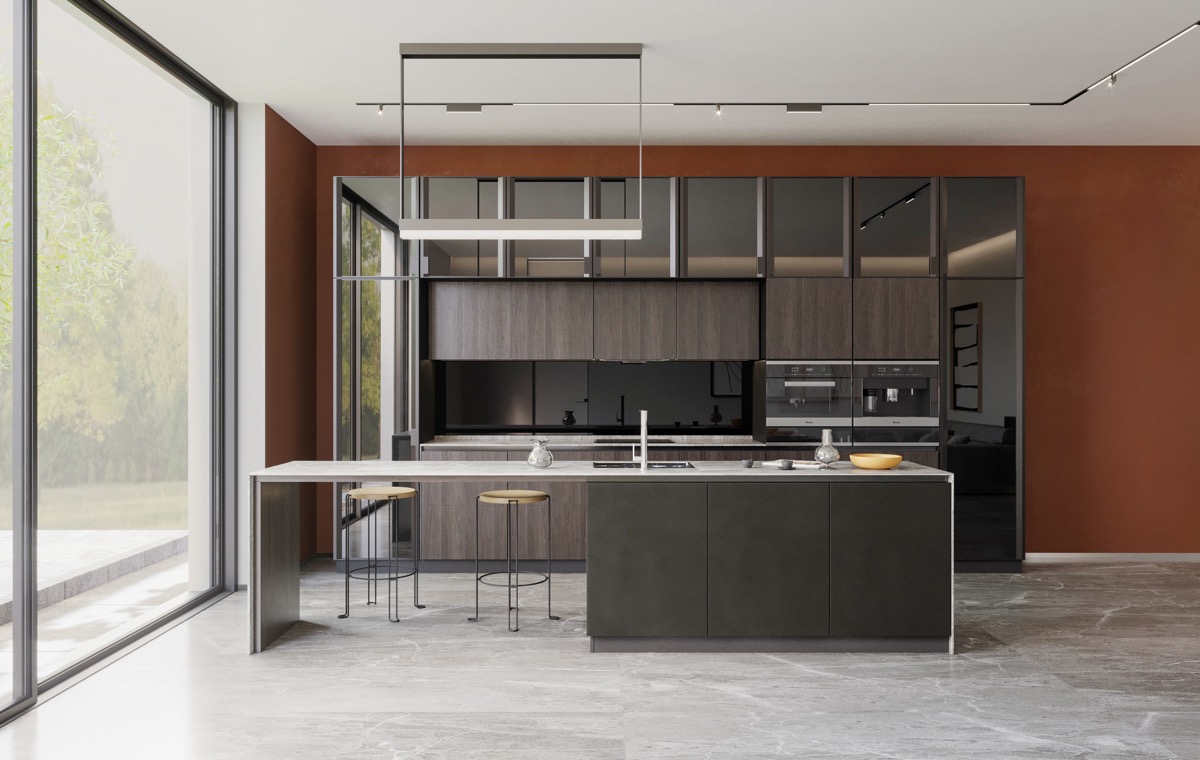 45 |
Visualizer: Julia Bielova
No need to give your kitchen designer the runaround! You may have already settled on a neutral kitchen design, but it's never too late to add on a painted red runaround.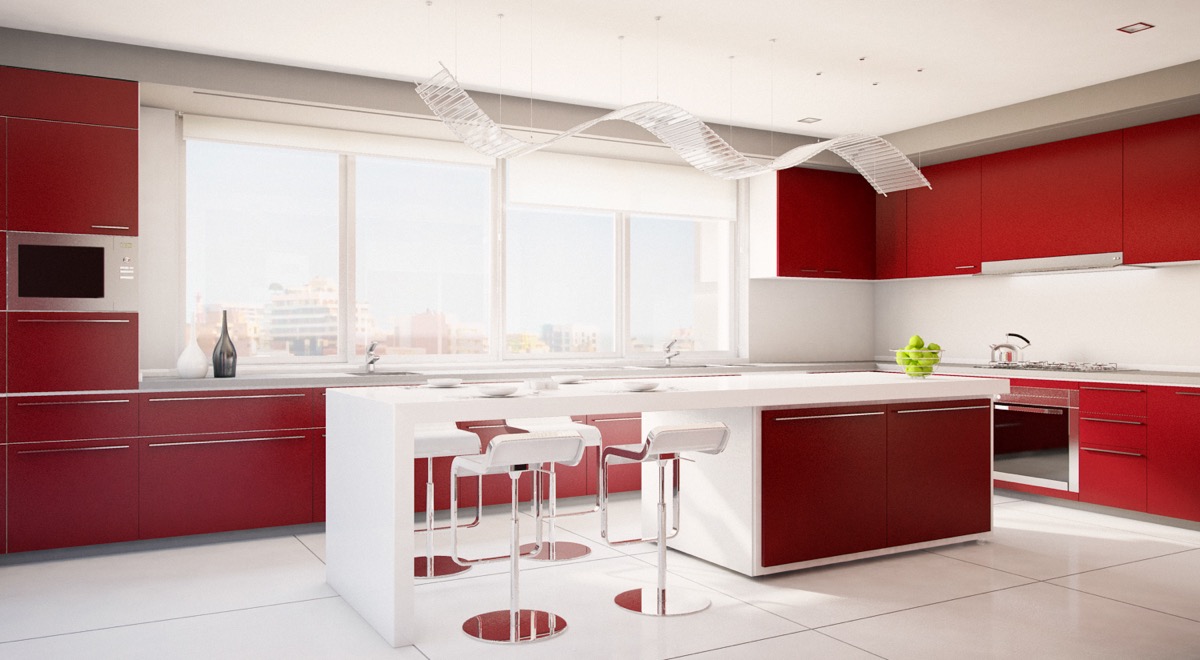 46 |
Visualizer: Ricardo Tohme
Contain the heat inside white wraparound countertops and white cabinet carcasses…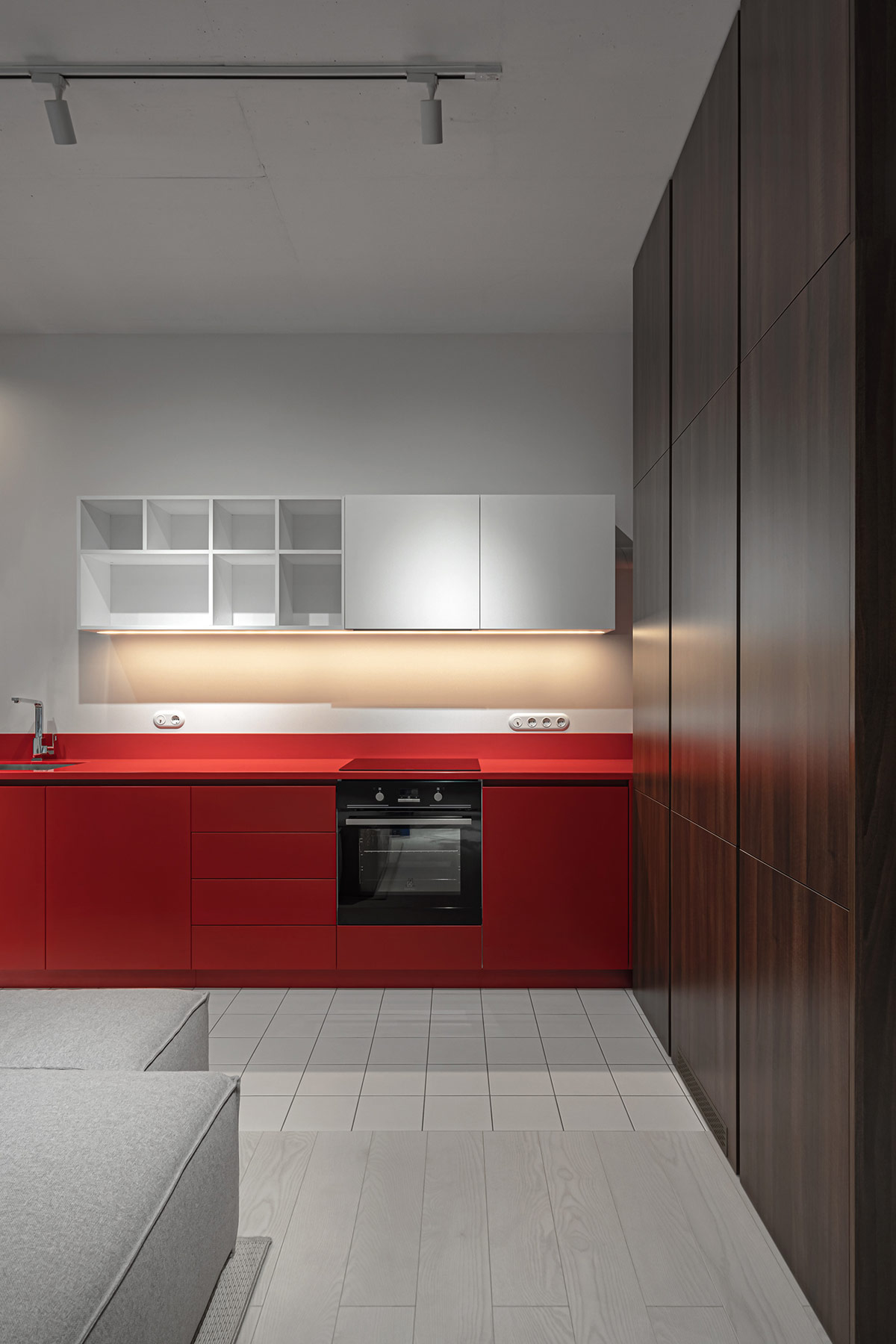 47 |
Designer: PAINTIT
Photographer: Shurpenkov Andriy
… Or keep it on the downlow under the eyeline.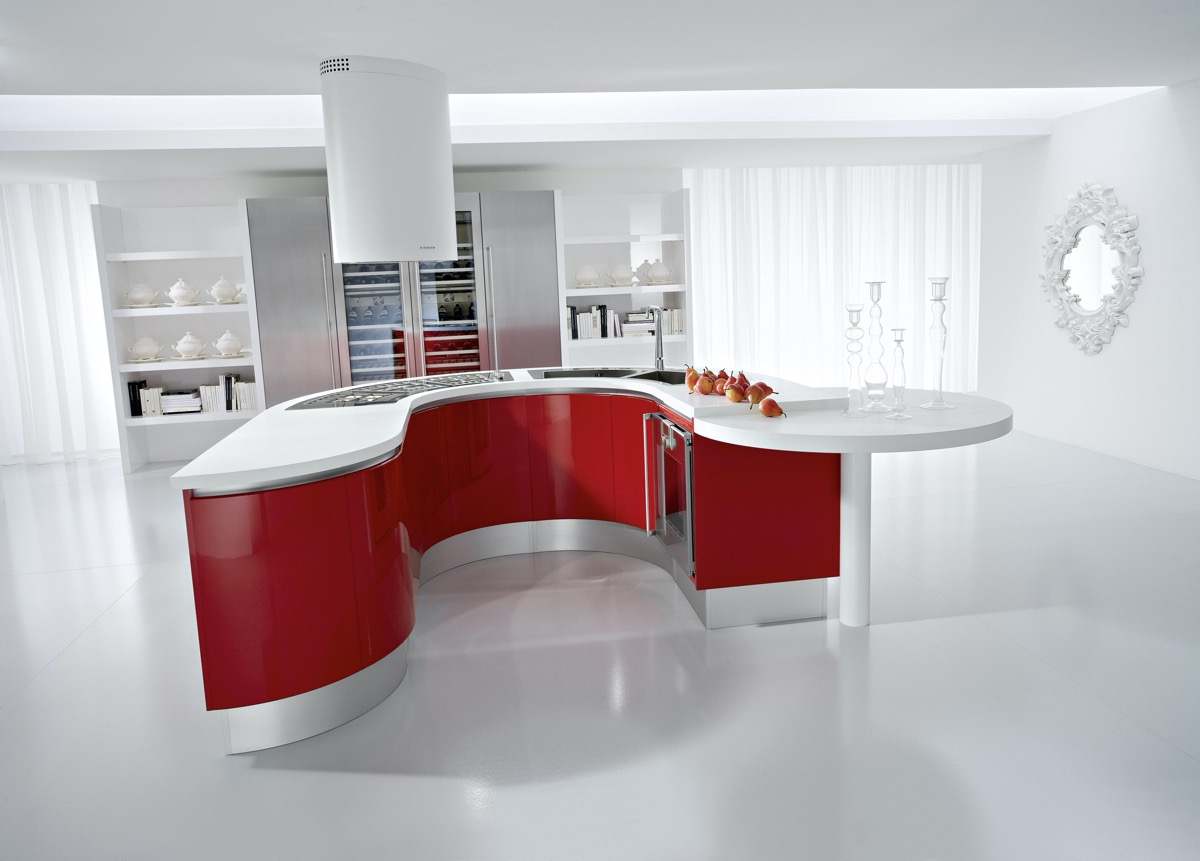 Curvaceous and seductive, this luxury kitchen is a racy red number meant for wide open spaces.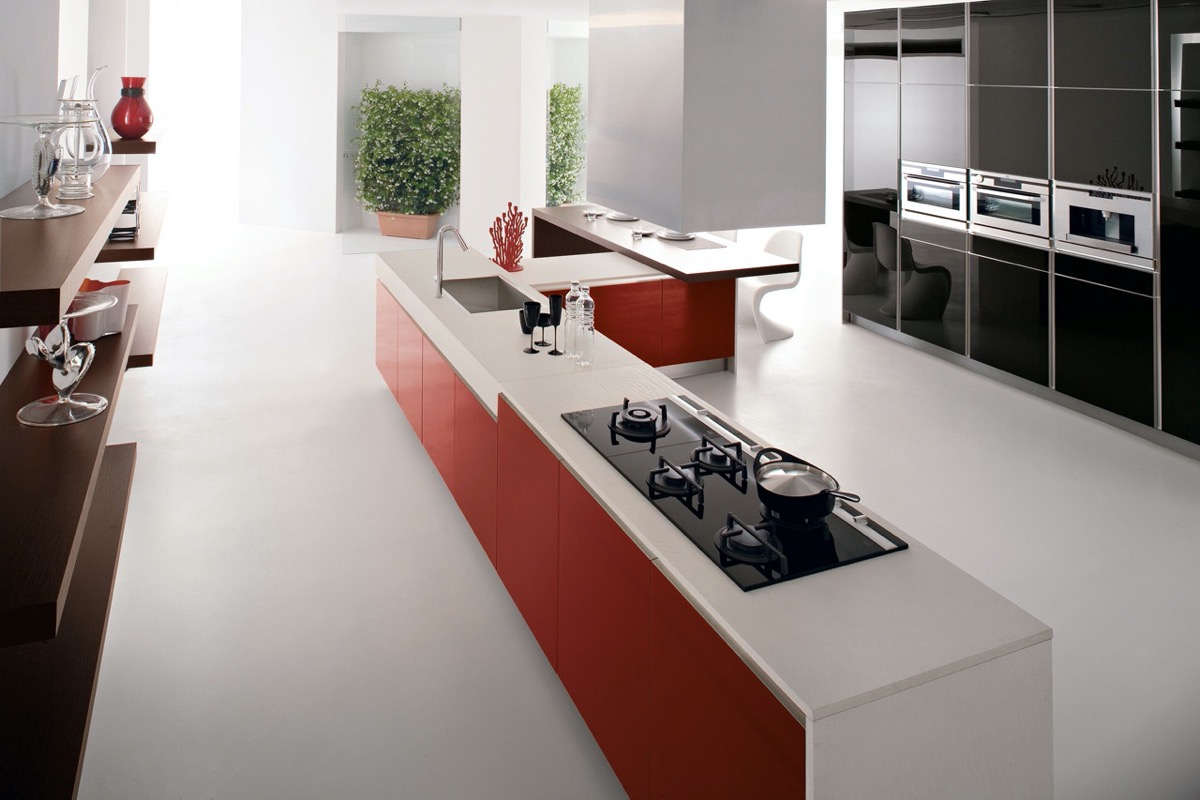 A pure white floor has a calming effect on rebel red, pair with silky white countertops for a cohesive conclusion.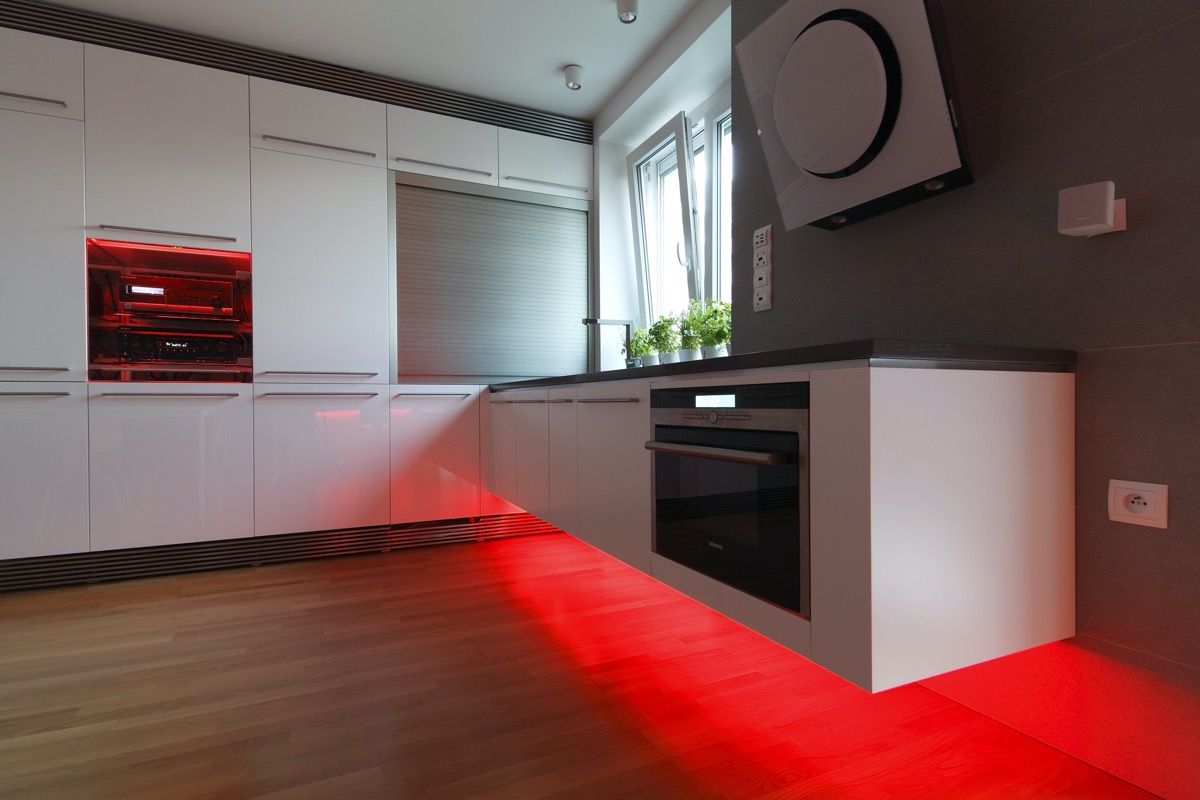 50 |
Designer: RULES architekti
Make changing out your colour scheme as easy as switching out the lights with colour-changing LED strips. Enjoy a red kitchen on Monday, a blue kitchen on Tuesday, green on Wednesday… You get the picture.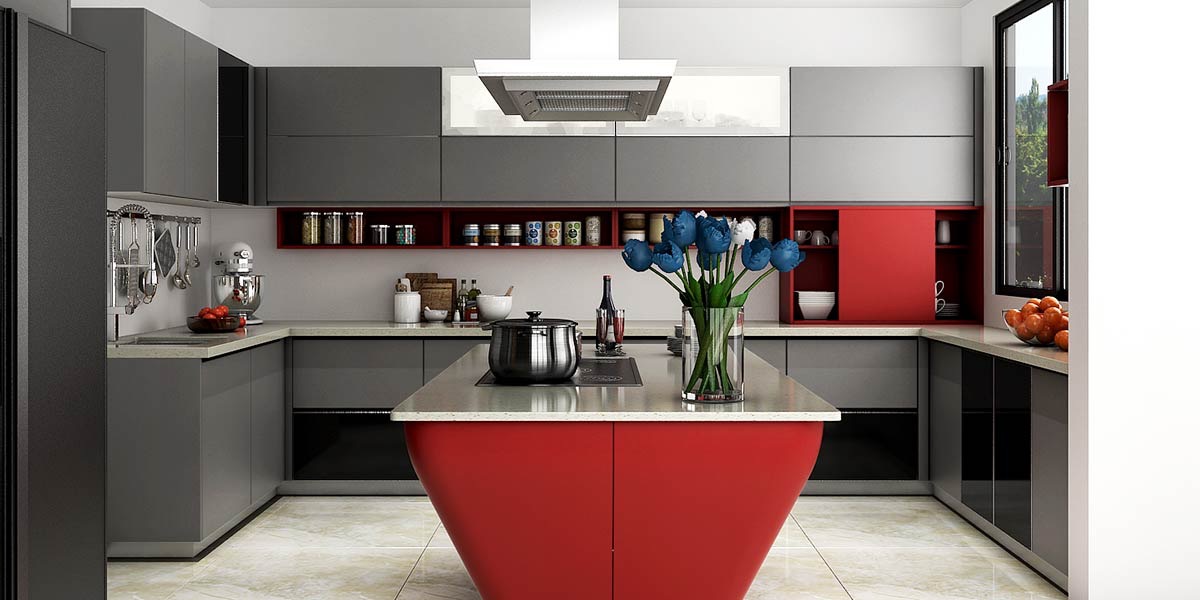 Interruptions can be a good thing. This smooth grey kitchen design is disturbed with lively red interruptions that completely alter the mood of the room.