1 |
Visualizer: Art Partner
Fresh and fancy. A white and copper kitchen has a fresh and simple minimalist feel, whilst still hitting a high-end finish. More images of this pastel home here.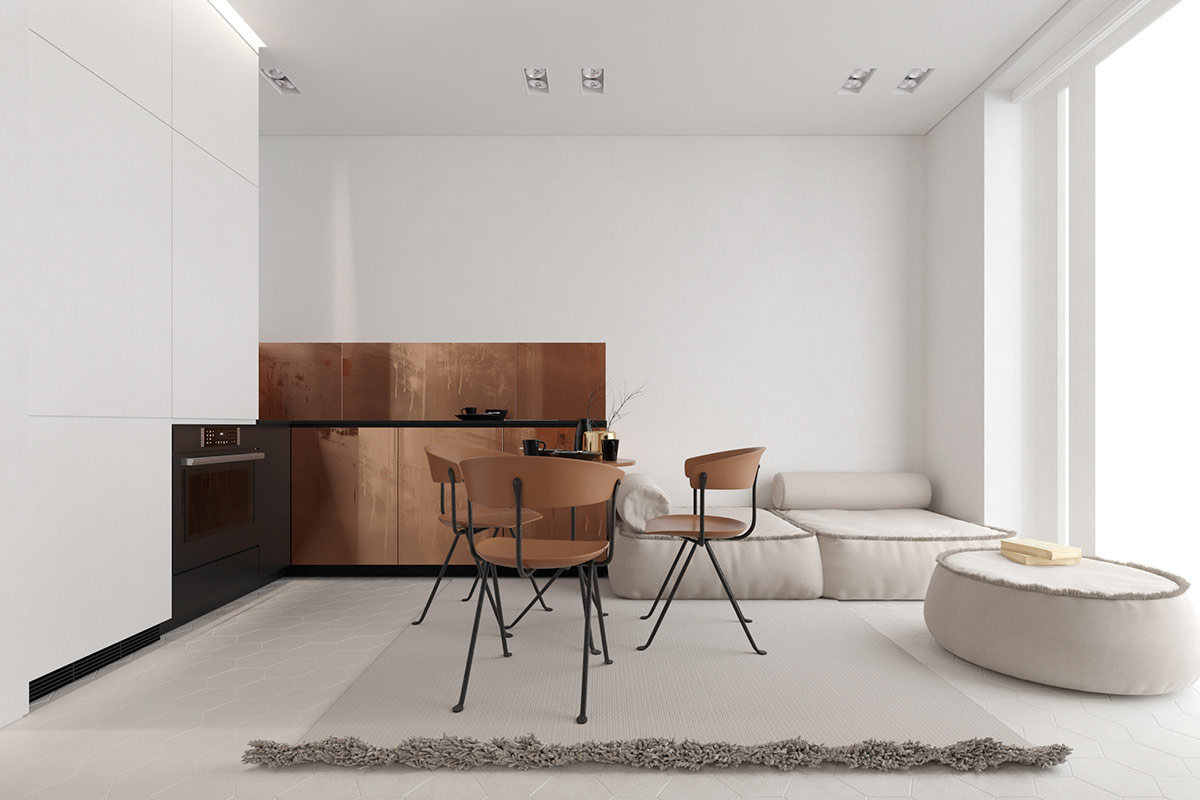 2 |
Designer: Igor Sirotov
Visualizer: Igor Sirotov
Small is beautiful. Even the tiniest installation, like this corner copper kitchen arrangement, can have a massive impact on the room.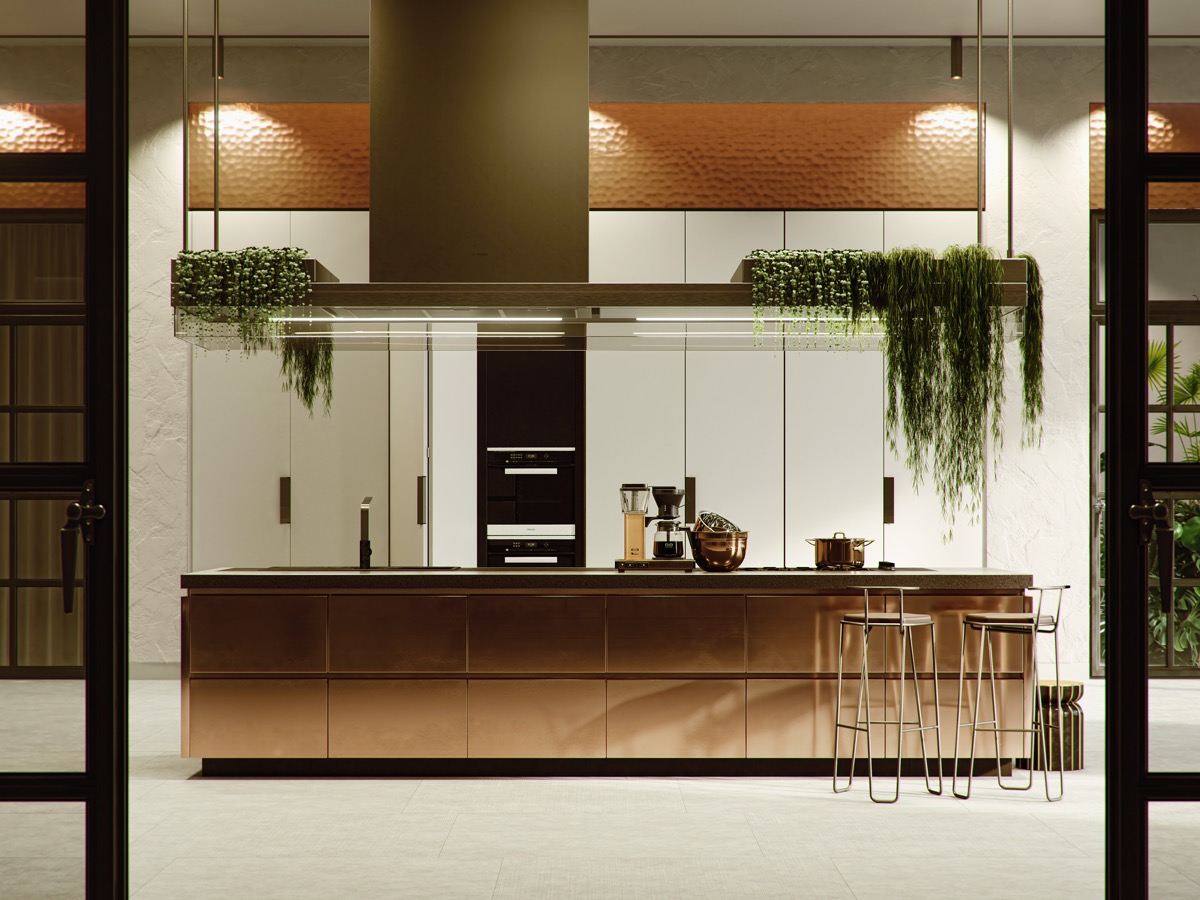 3 |
Visualizer: Bartosz Domiczek
Crown with copper. Not only does this kitchen design have a long and luxurious copper kitchen island, but there is also a hammered copper soffit to top off the taller white units behind it.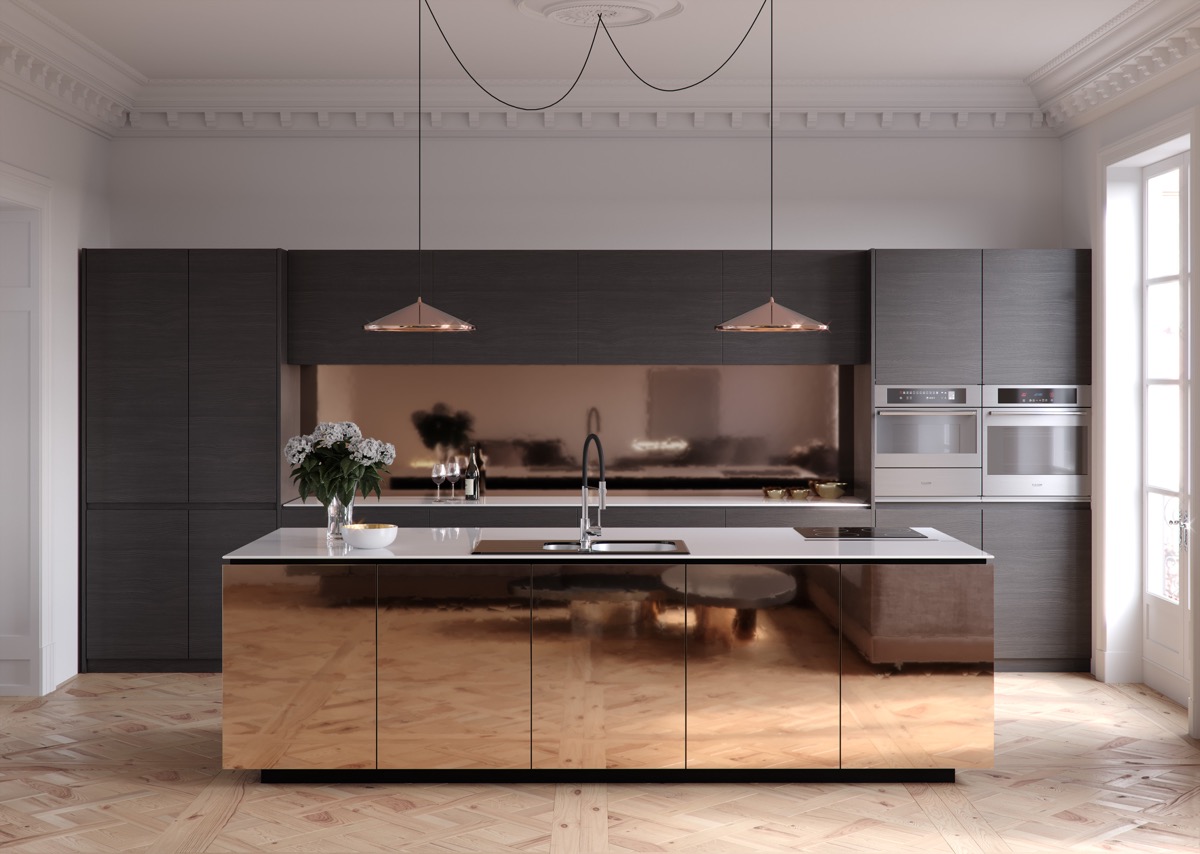 4 |
Visualizer: Orangegraphics Creative Studio
Mirror, mirror, on the wall, who is the shiniest copper of all? Mirror finish copper not only looks magnificent, but it also reflects the room to increase the sense of open space.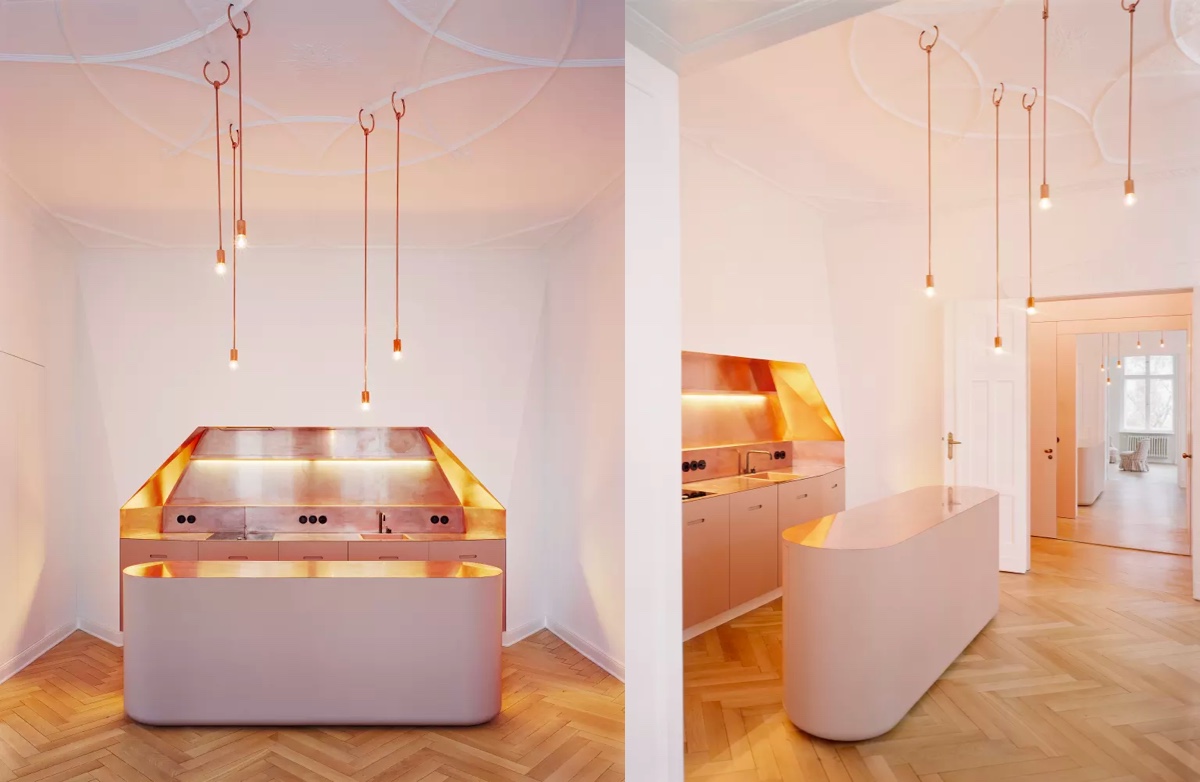 Bejewel the room. Dangle copper kitchen light fixtures low over a kitchen island to give your kitchen some copper pendant jewellery.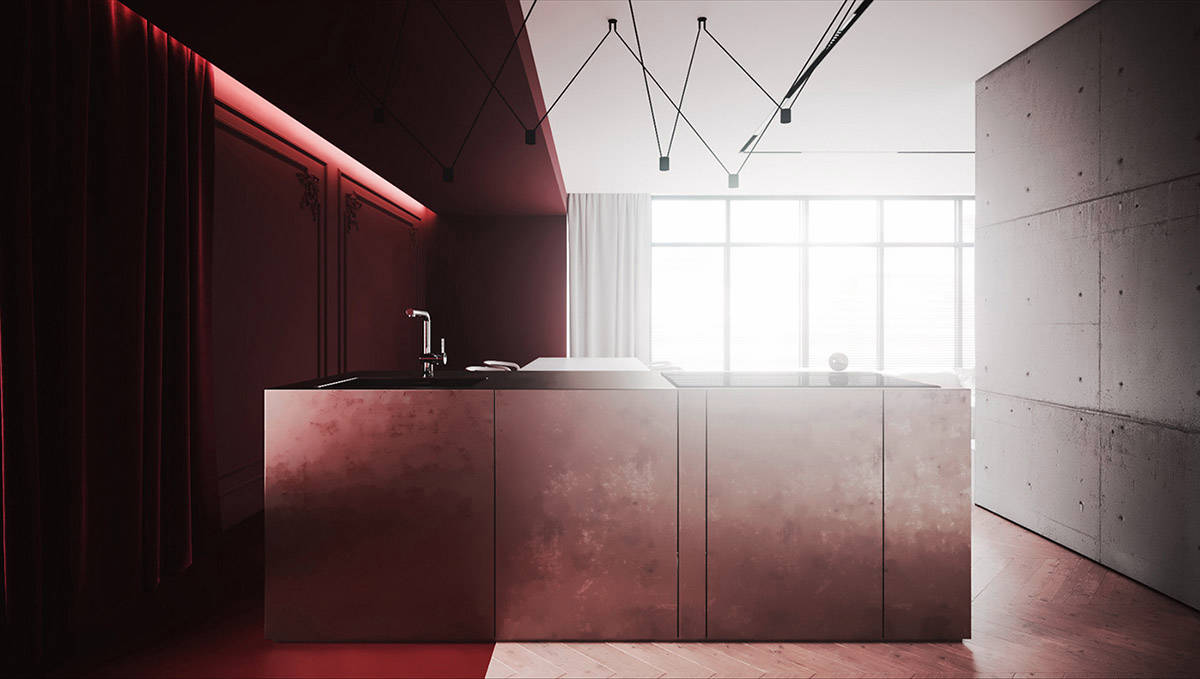 6 |
Visualizer: D3 Design
Reinvent the room. Let coloured light play over your metallic finish to create different looks and moods.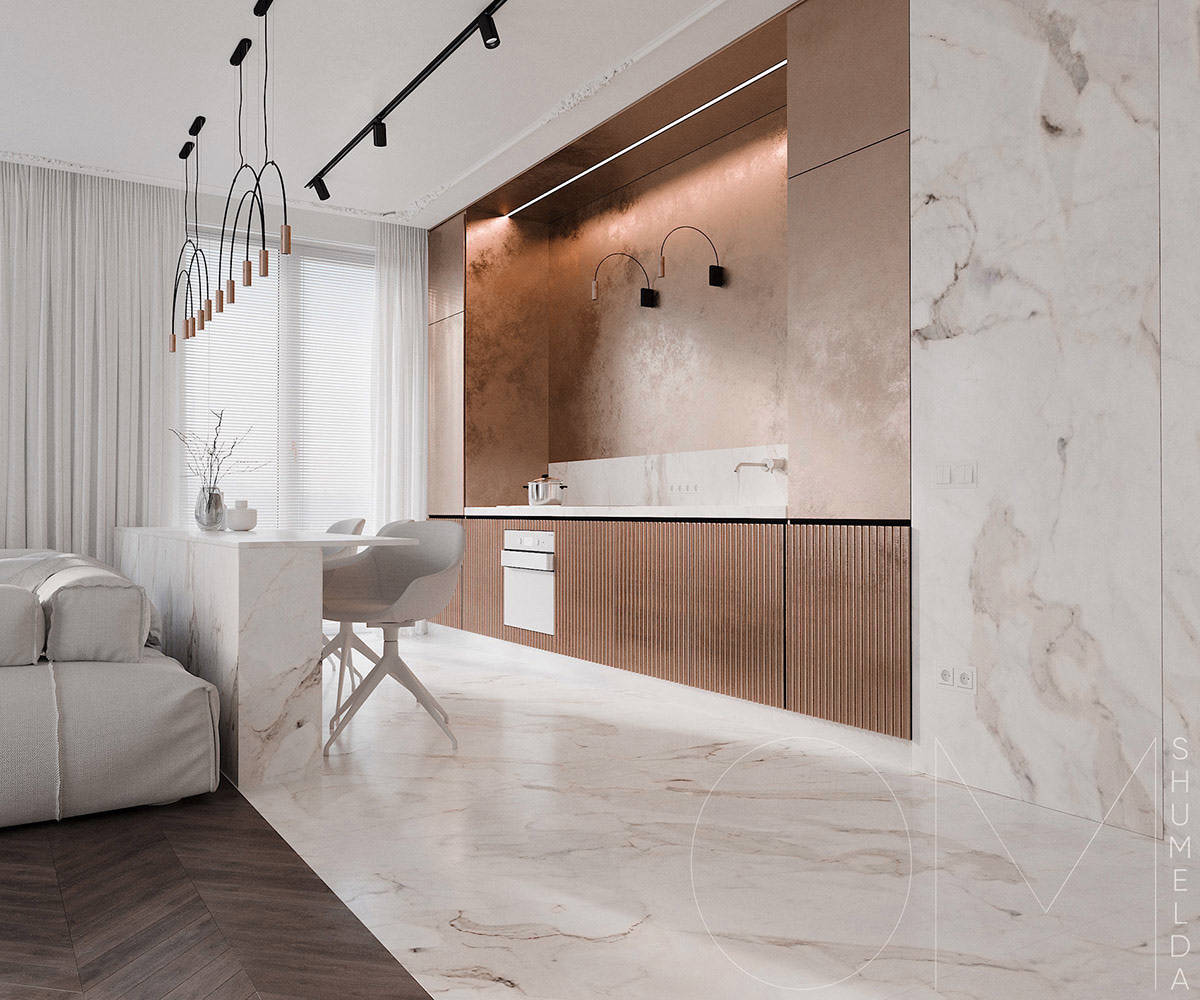 7 |
Visualizer: Design Lviv
Tint with texture. These copper base units have a slightly darker appearance to the upper cabinets due to the shadows created by their ribbed surface. Find more images of this luxe home here.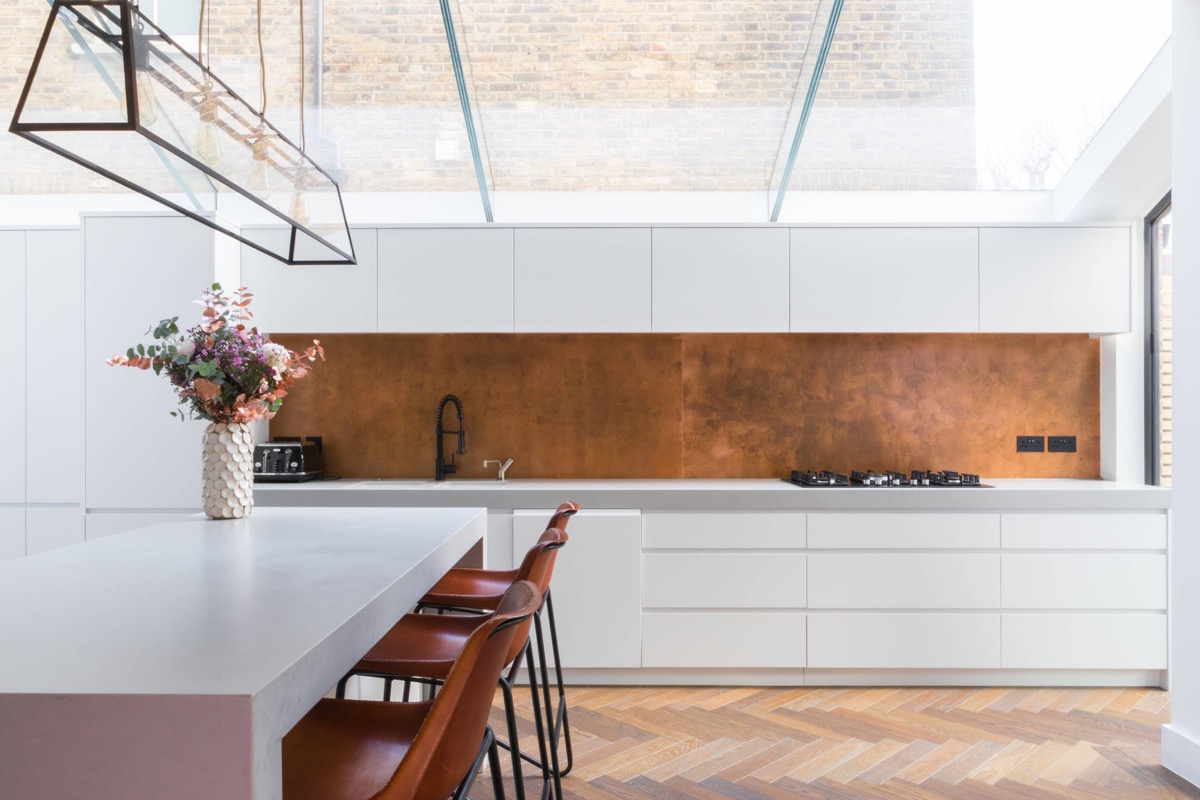 8 |
Photographer: Elina Päsok
Add character with copper. A gently aged patina crosses this deep copper backsplash, giving the modern all white kitchen a little age and interest.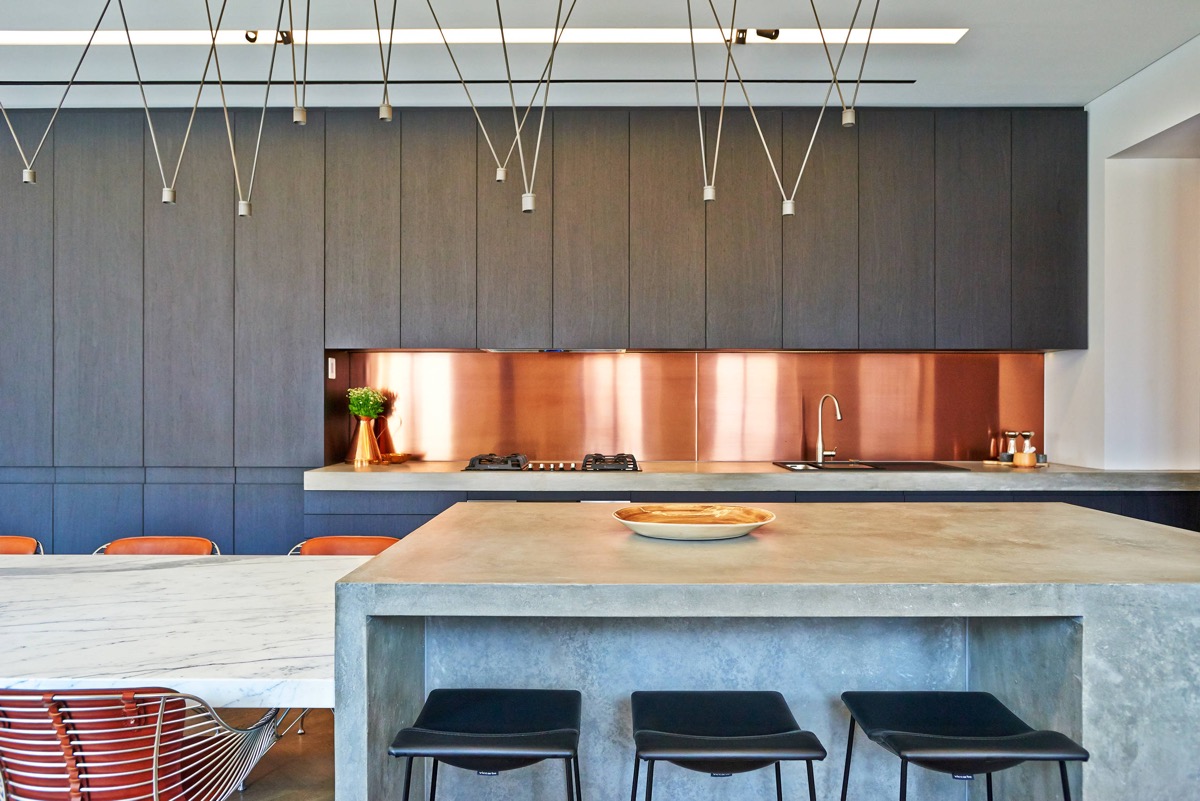 9 |
Designer: Concrete House
On the flip side, this high shine smooth copper backsplash dramatically brightens up a grey and raw concrete kitchen design.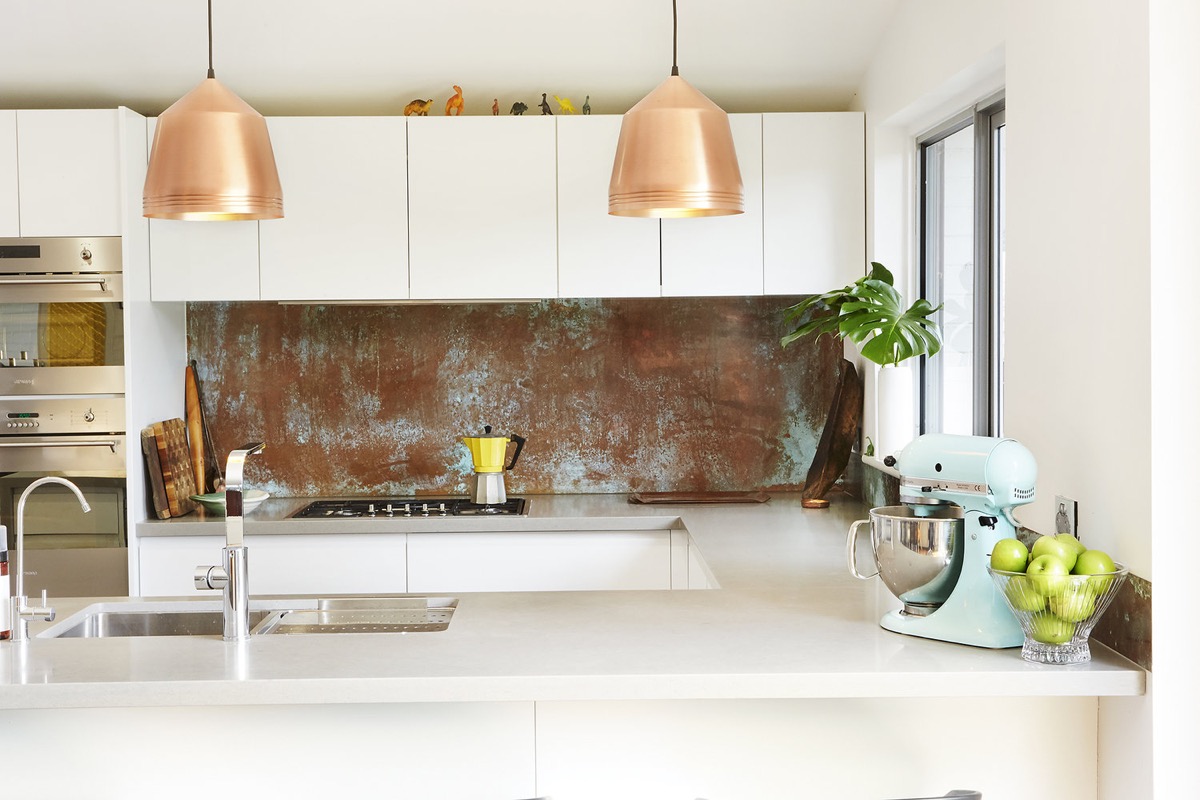 10 |
Designer: Copper By Design
Team up copper and turquoise kitchen accessories. When oxidised, copper turns a beautiful shade of pale green, just like the Statue of Liberty. So whether you accentuate the beauty of patinated copper with a copper kitchenAid or a turquoise one could be the subject of some debate.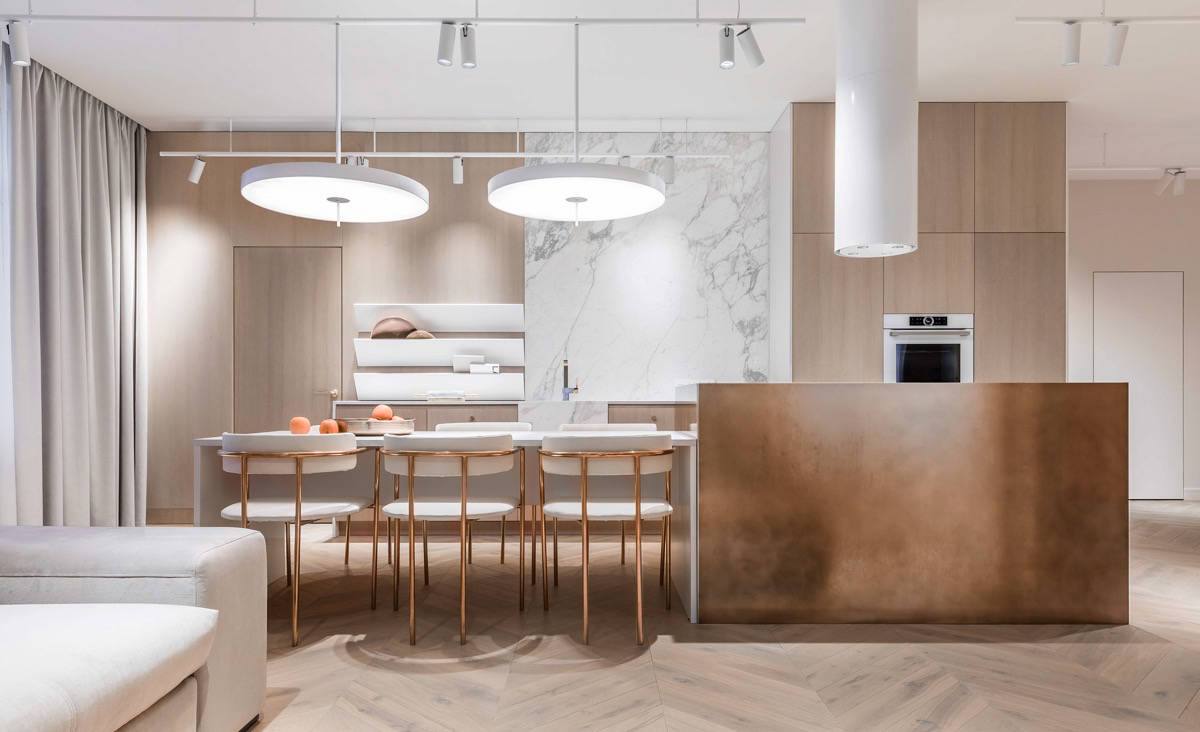 Increase a copper theme with smaller accents. The effect of this copper kitchen island is stretched out by the addition of copper dining chairs along a white dining extension.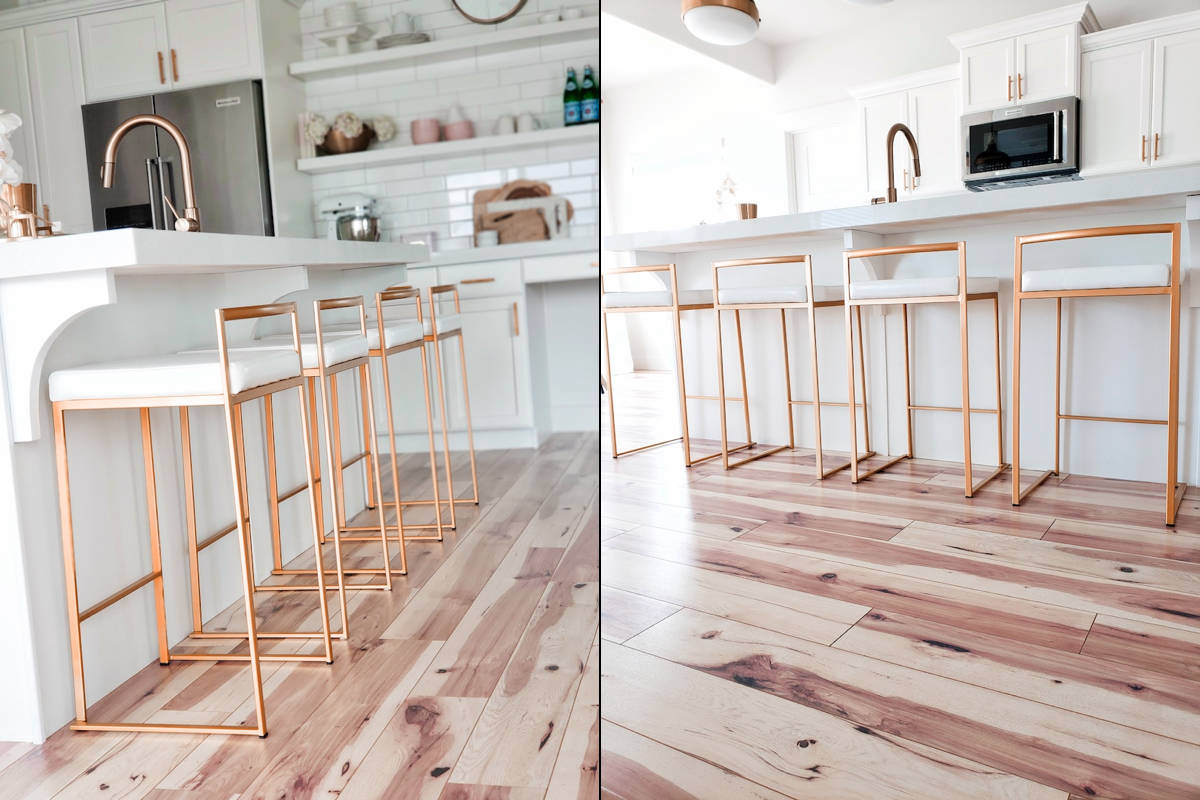 12 |
Designer: White Lane Decor
Copper bar stools provide the seating in this kitchen, which match a copper kitchen faucet with sprayer and copper kitchen handles.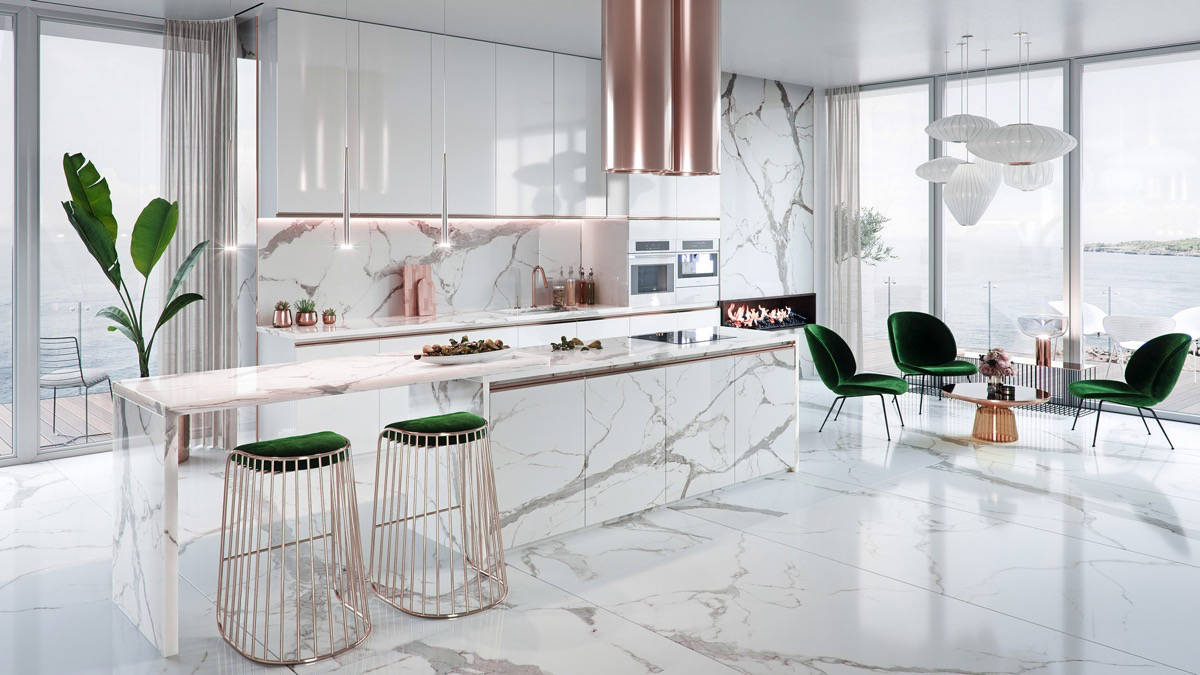 13 |
Visualizer: Orangegraphics Creative Studio
Make copper the core of the design. A copper kitchen hood forms the centre of this luxurious white marble kitchen with green accents.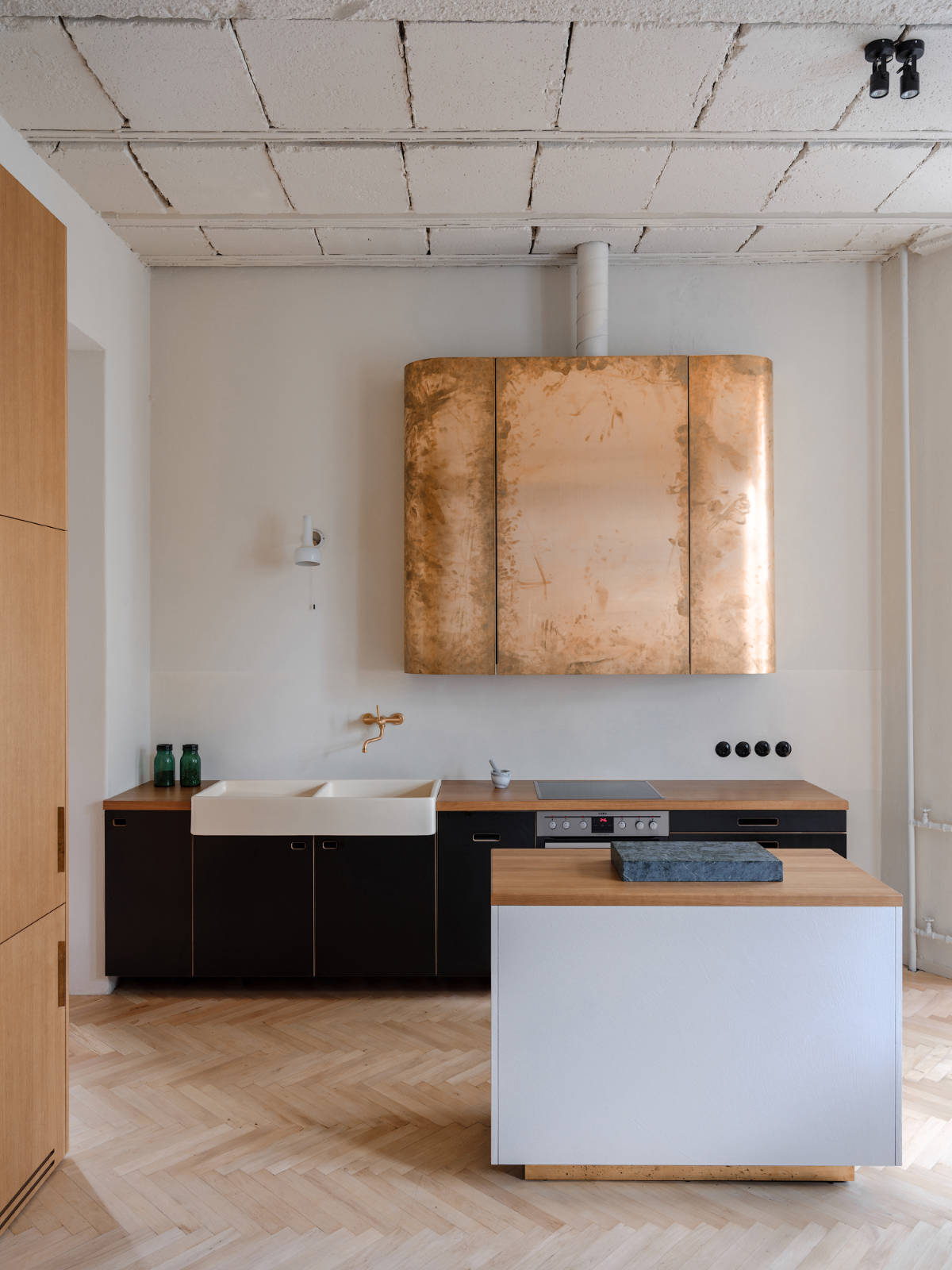 14 |
Designer: Emil Dervish
The cooker hood in this kitchen is part of a large copper volume, textured with patina.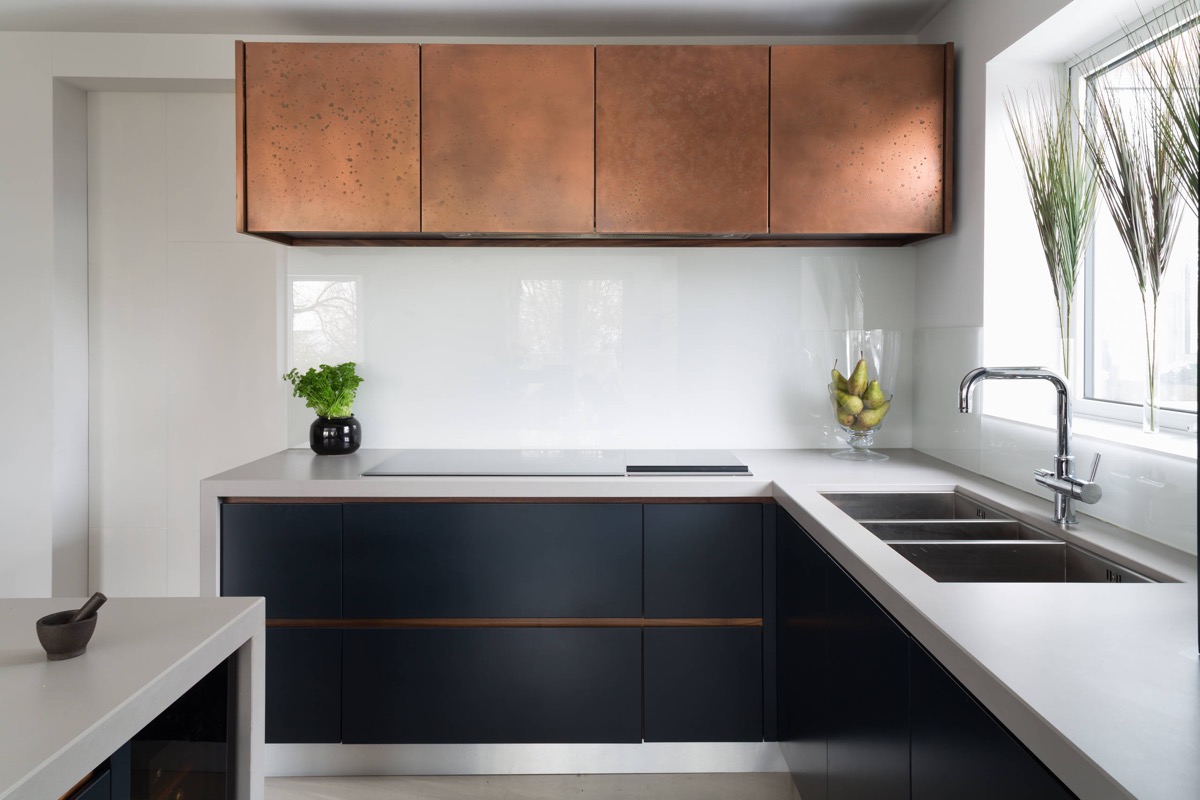 15 |
Designer: Goldman and Rankin
Give your metallics room to breath in the scheme. This two tone copper kitchen set looks uber smart cut through with white.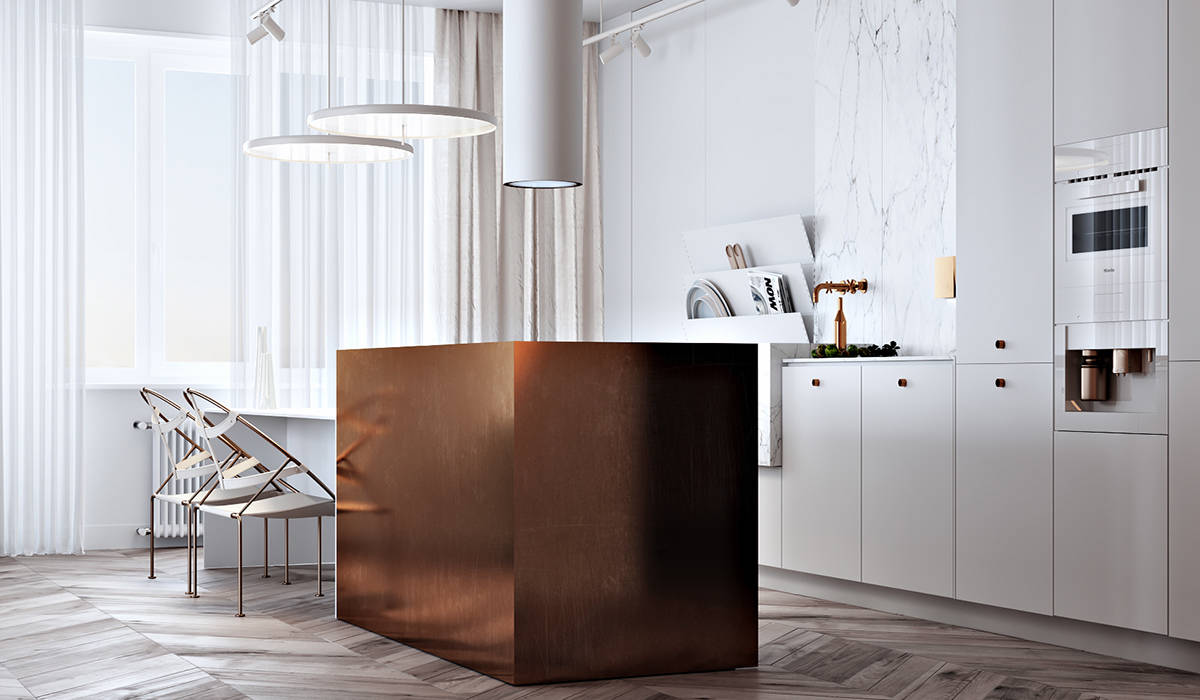 Create a sculptural volume. This singular cuboid volume dominates like a large piece of abstract sculptural art inside a gallery white room. More images here.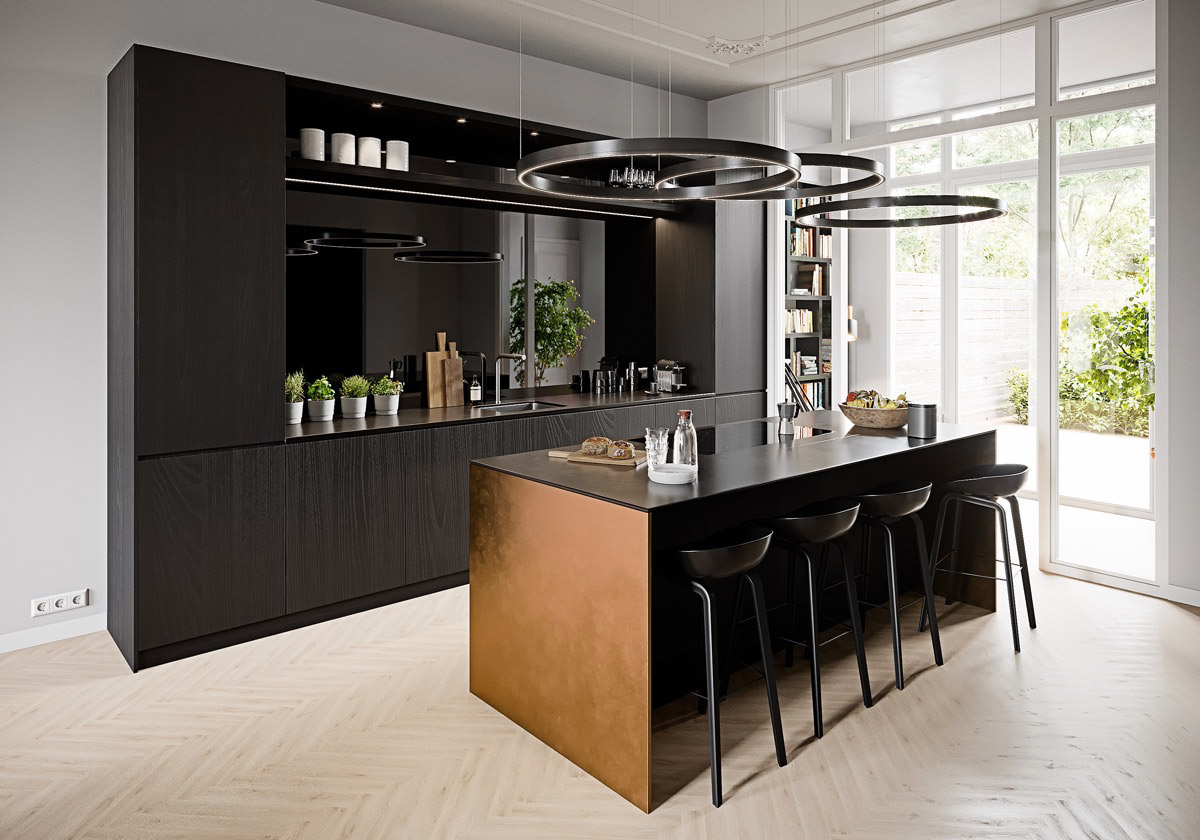 17 |
Visualizer: Vaes Visuals
Fashion a dapper set of black-brown cabinets and copper undertones…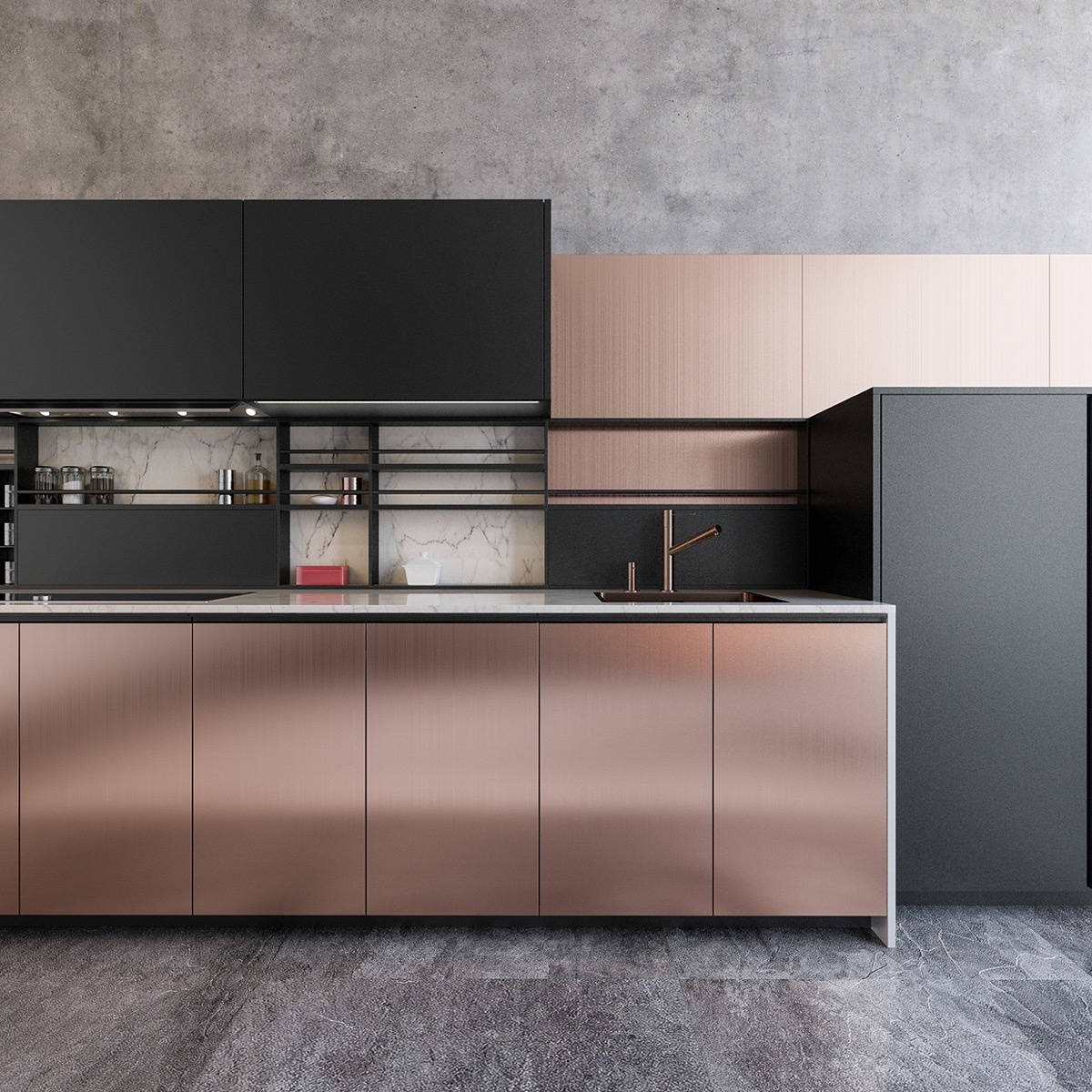 … Or use equal measures of copper and dark notes to achieve chic balance.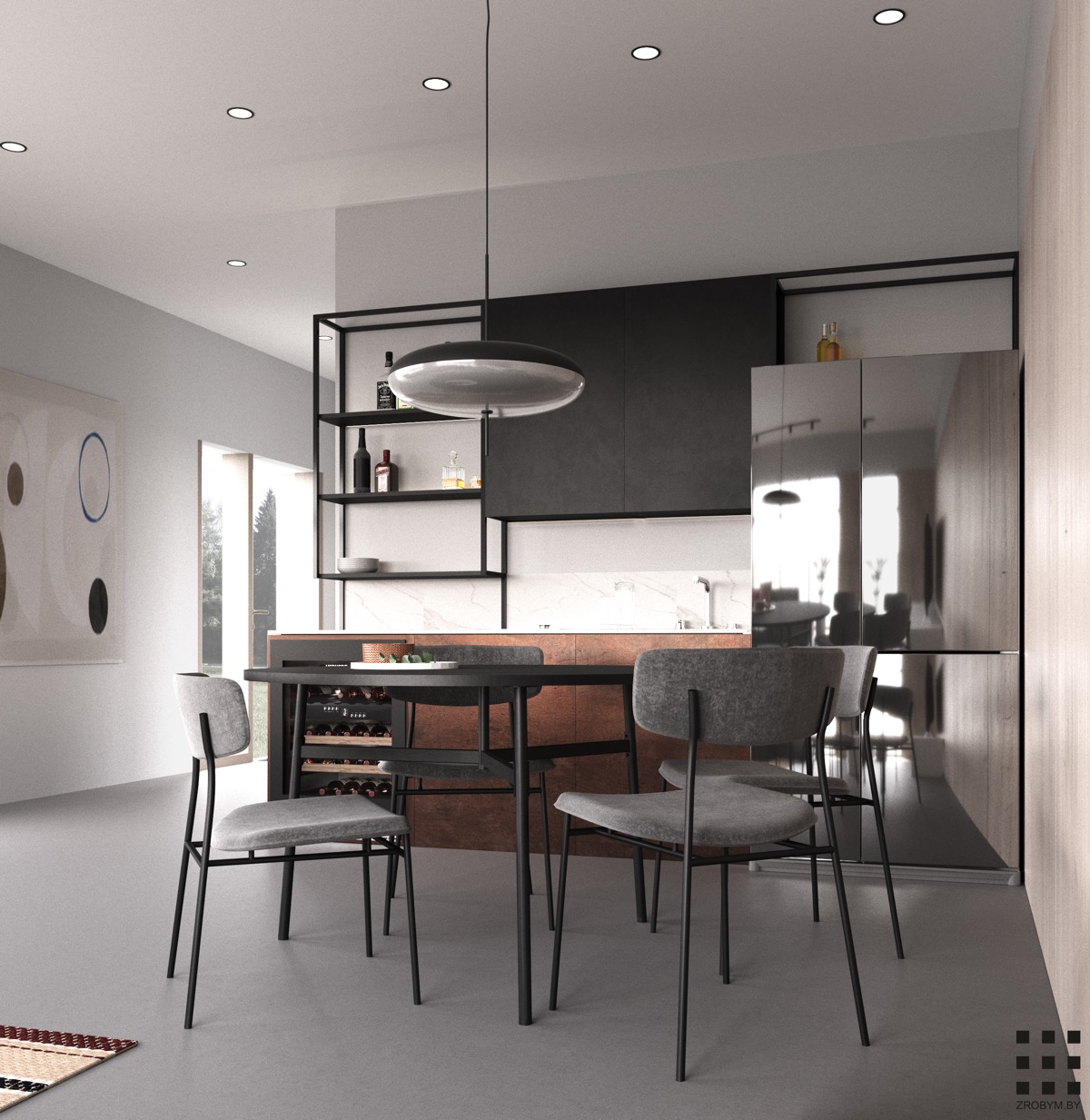 Meet with more metallics. You can combine copper elements with other metals too. In this design, a mirrored silver American style fridge freezer complements copper base units.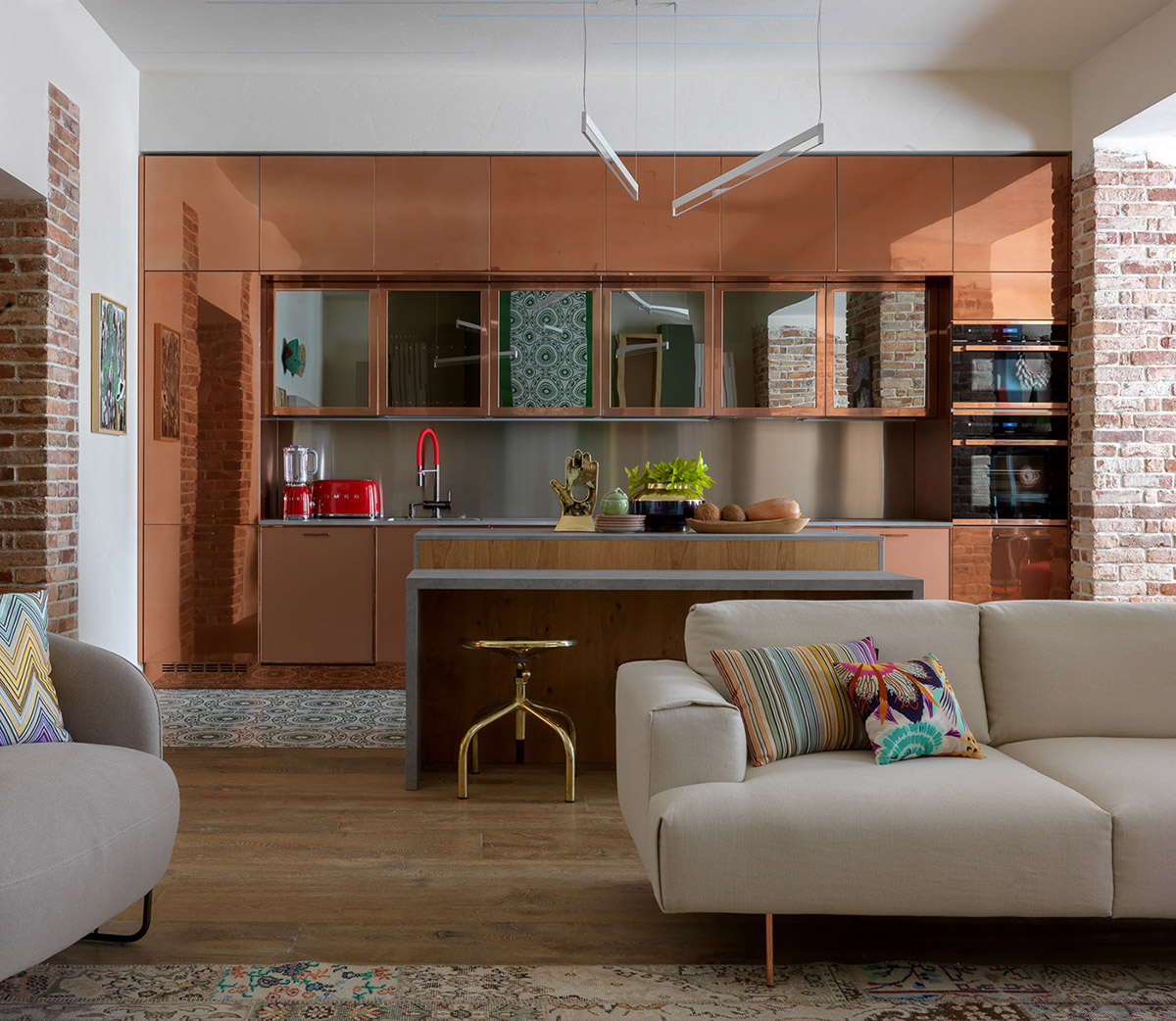 20 |
Visualizer: Art Group
This time, its gold accents that brush up beside a fully fledged copper kitchen run, in the shape of a gold kitchen bar stool and a golden sculpture.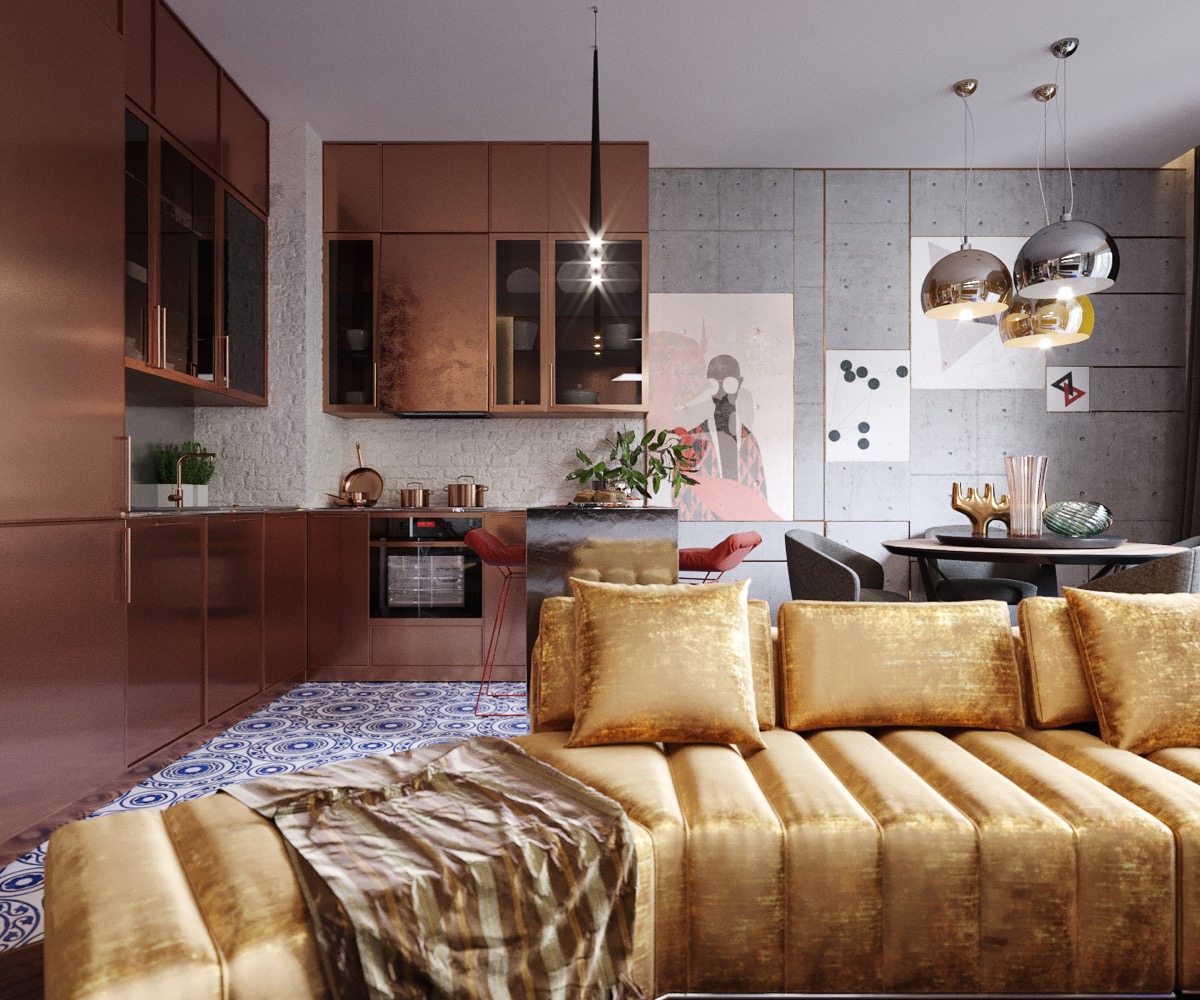 21 |
Visualizer: Art Group by Vasilkova Daria
Another take on the gold meets copper theme. This time golden sofa upholstery shimmers in the forefront. A trio of metallic pendant light shades bring metallic tones to the open plan dining area.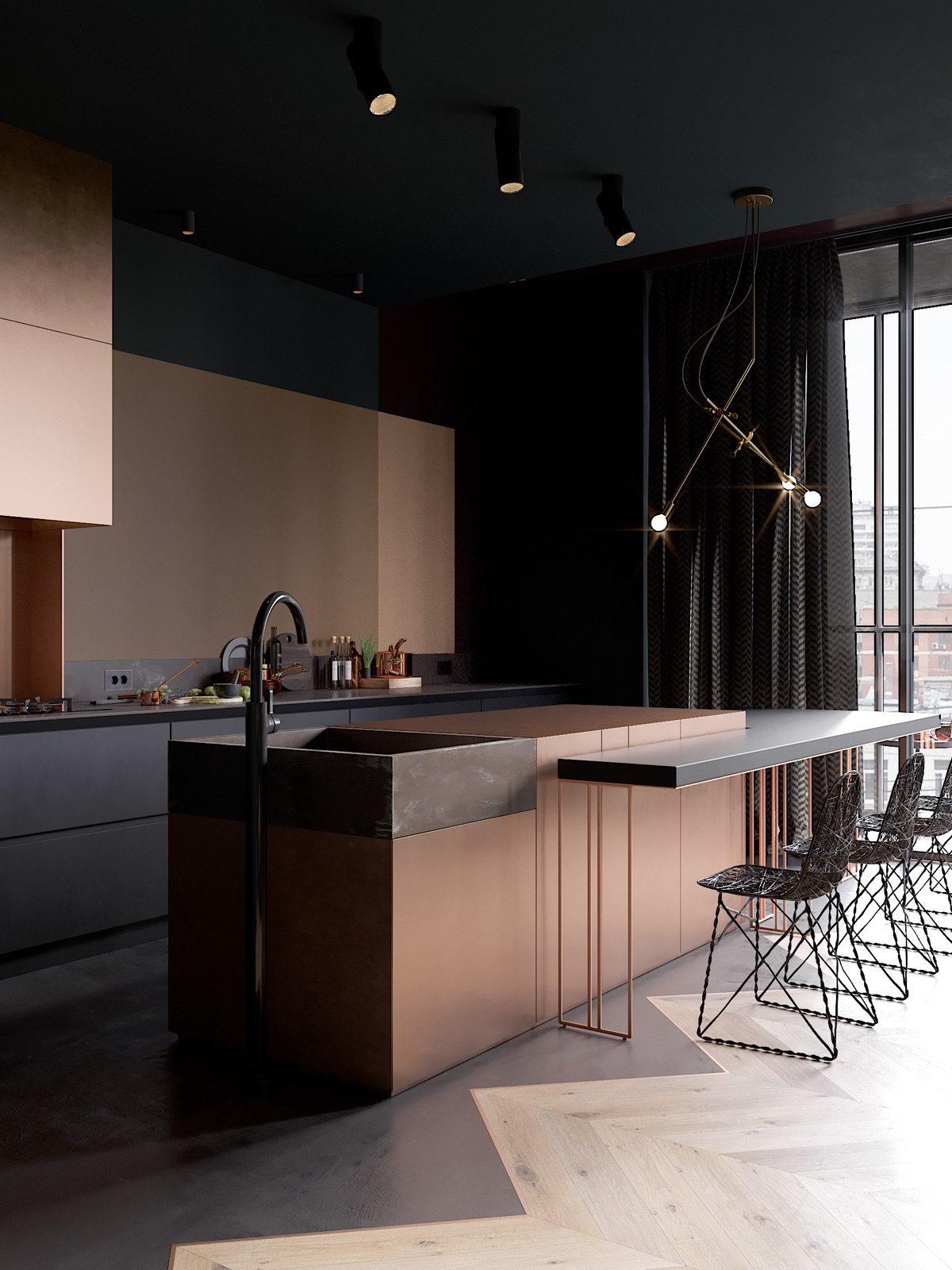 22 |
Visualizer: Cartelle Design
Build the look with blocks, like this linear kitchen with an end block sink.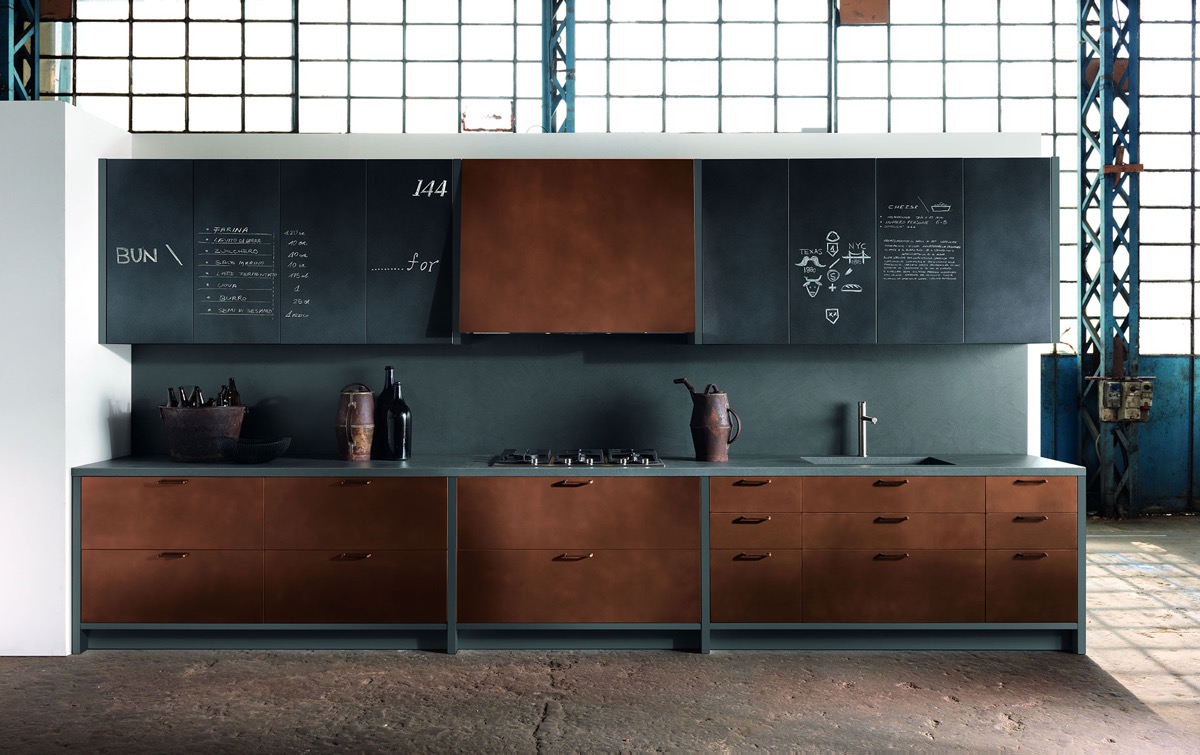 23 |
Designer: Lorenzo Granocchia
Concrete, copper and chalkboard, make a characterful composition.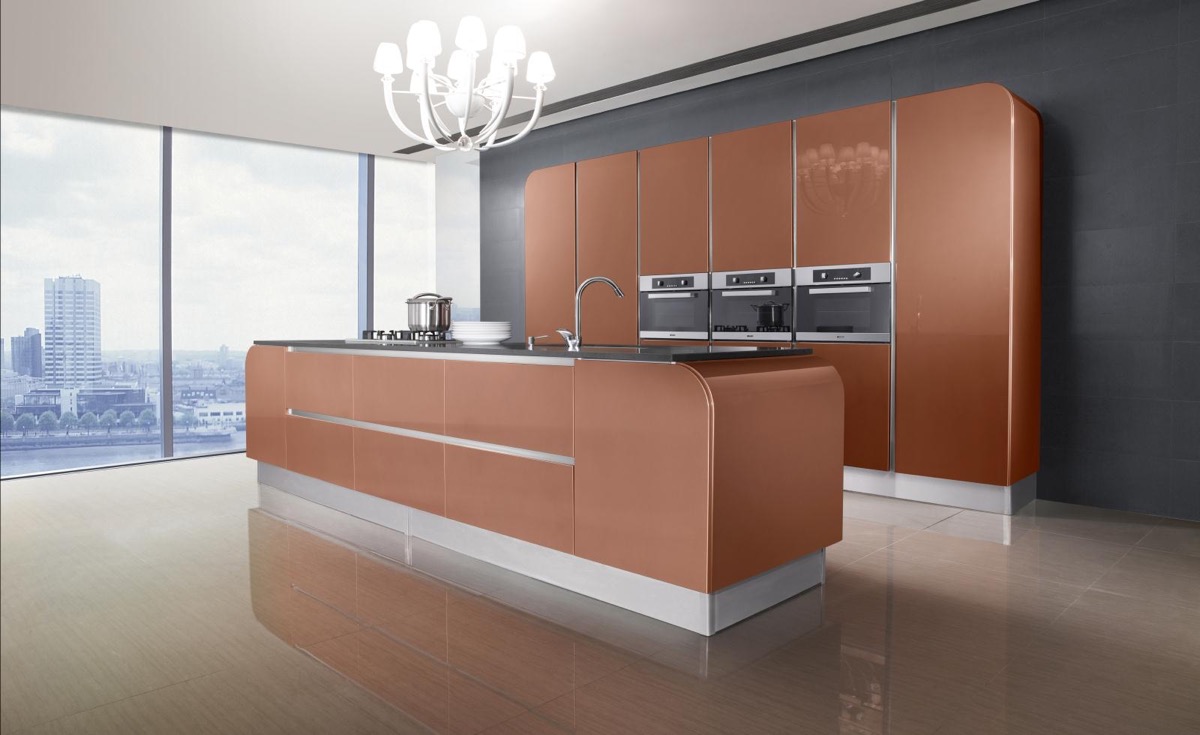 Curvaceous cooper looks cutting edge.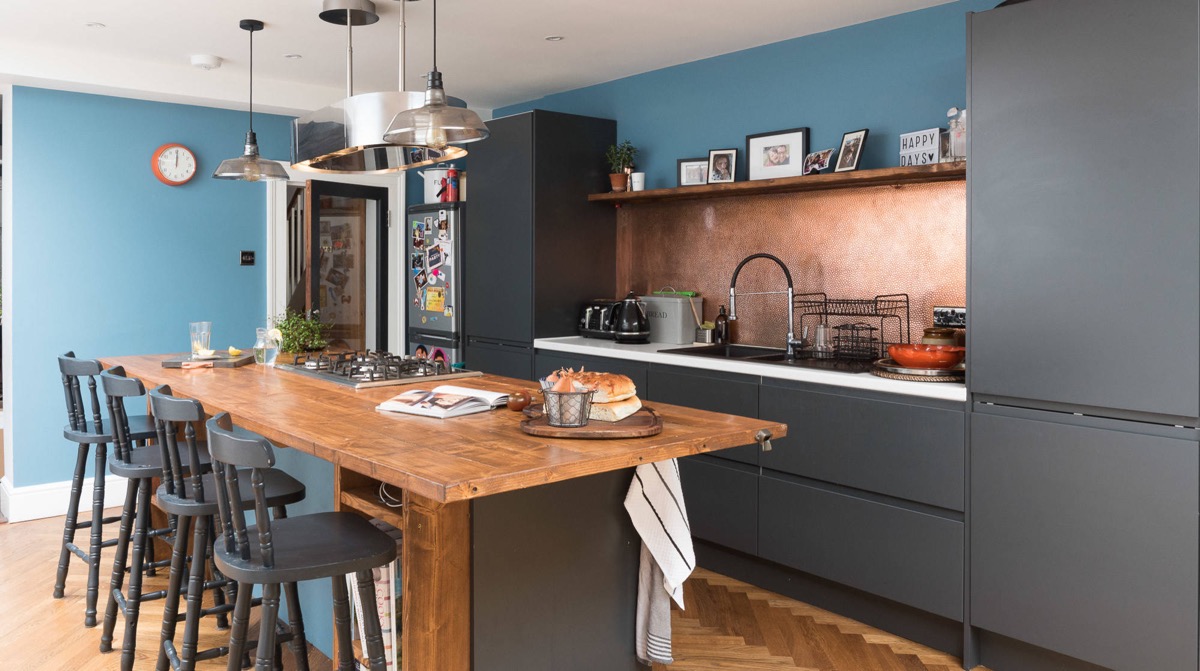 25 |
Photographer: Kopal Jaitly
Blunt the effect of bright copper with cooling blue decor.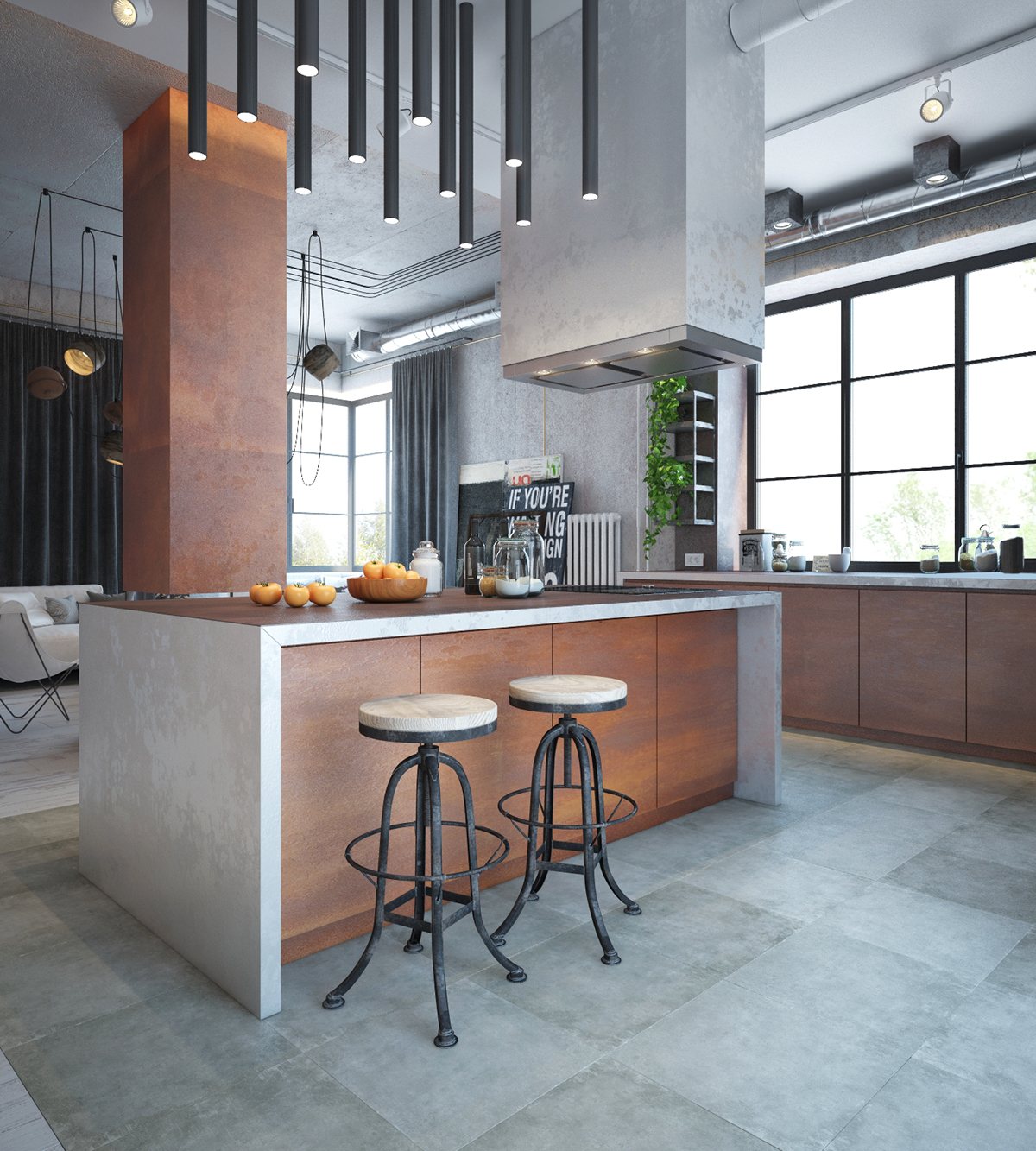 26 |
Visualizer: Dmitry Sheleg & ZROBYM Architects
Concrete countertops on copper units looks chic and unique.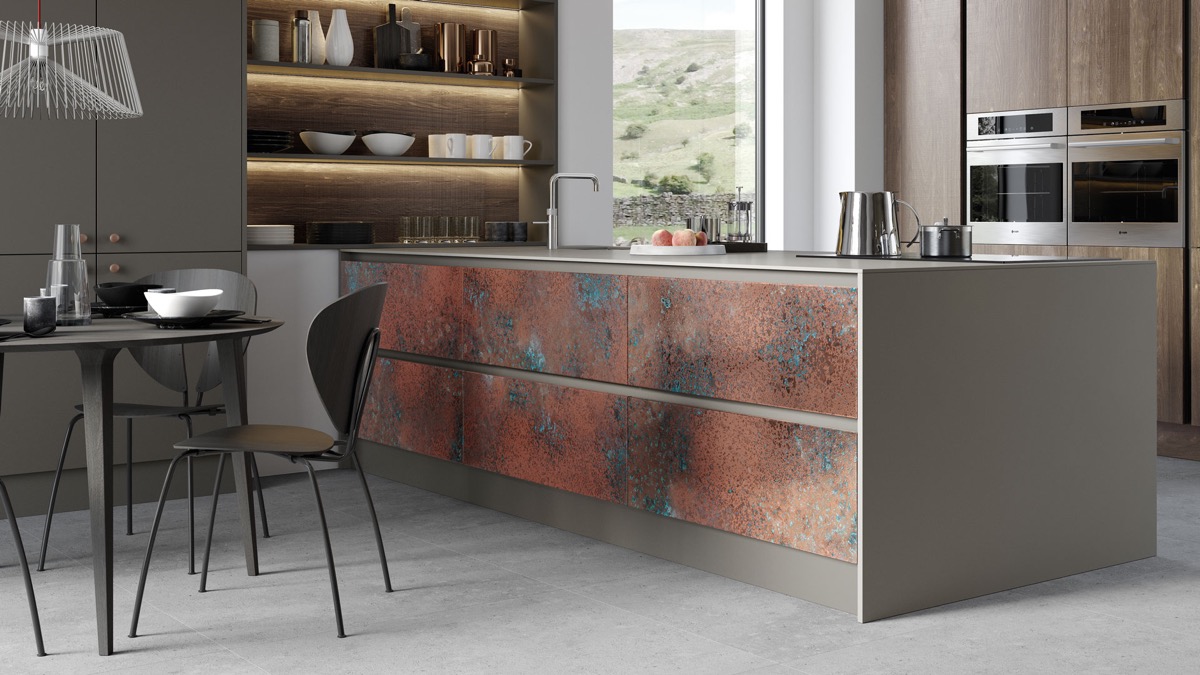 Crisp and clean looking countertops offset patinated copper drawer fronts in this design.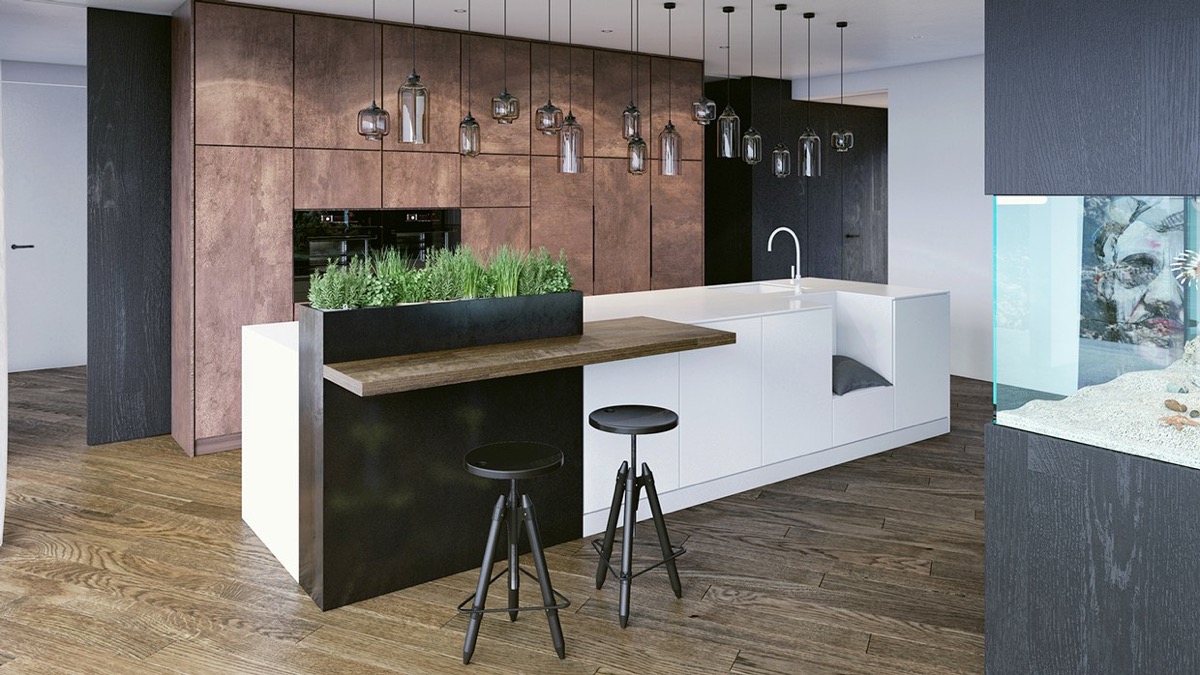 28 |
Visualizer: Jakub Komrska
Cultivate an enlivened room scheme. Live greenery provides a revitalising stripe against this copper kitchen backdrop.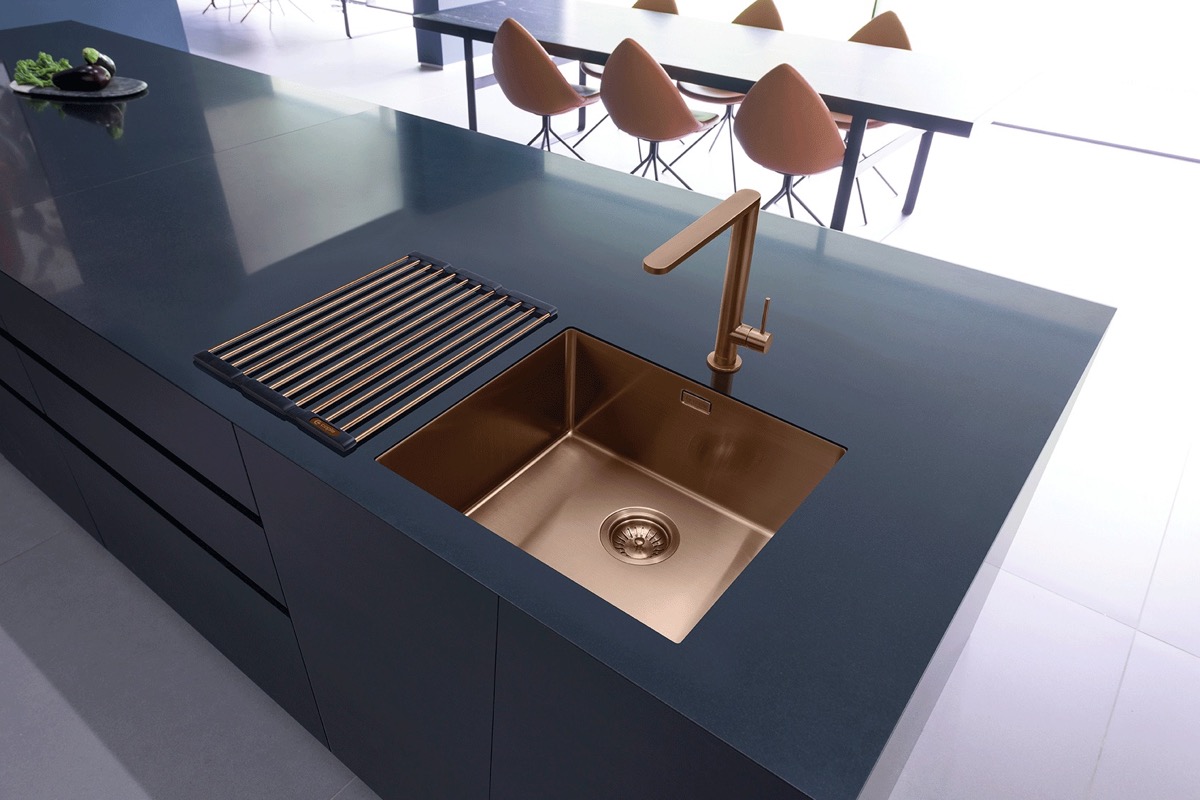 29 |
Source: Culina Balneo
It's all in the details. A copper trivet, faucet and copper undermount kitchen sink bring a bounty of richness to a plain black kitchen island.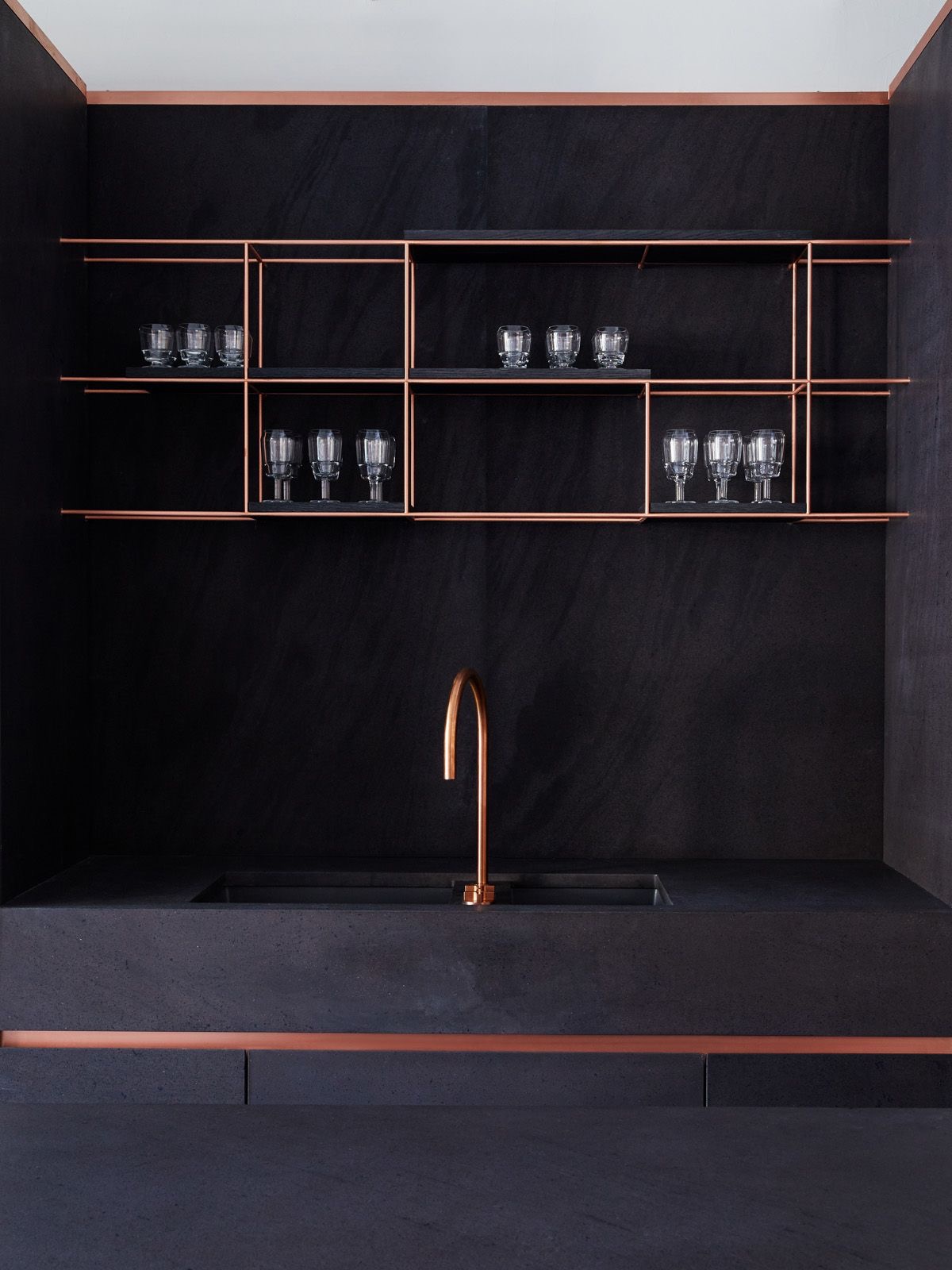 Copper shelves adorn this black kitchen decor.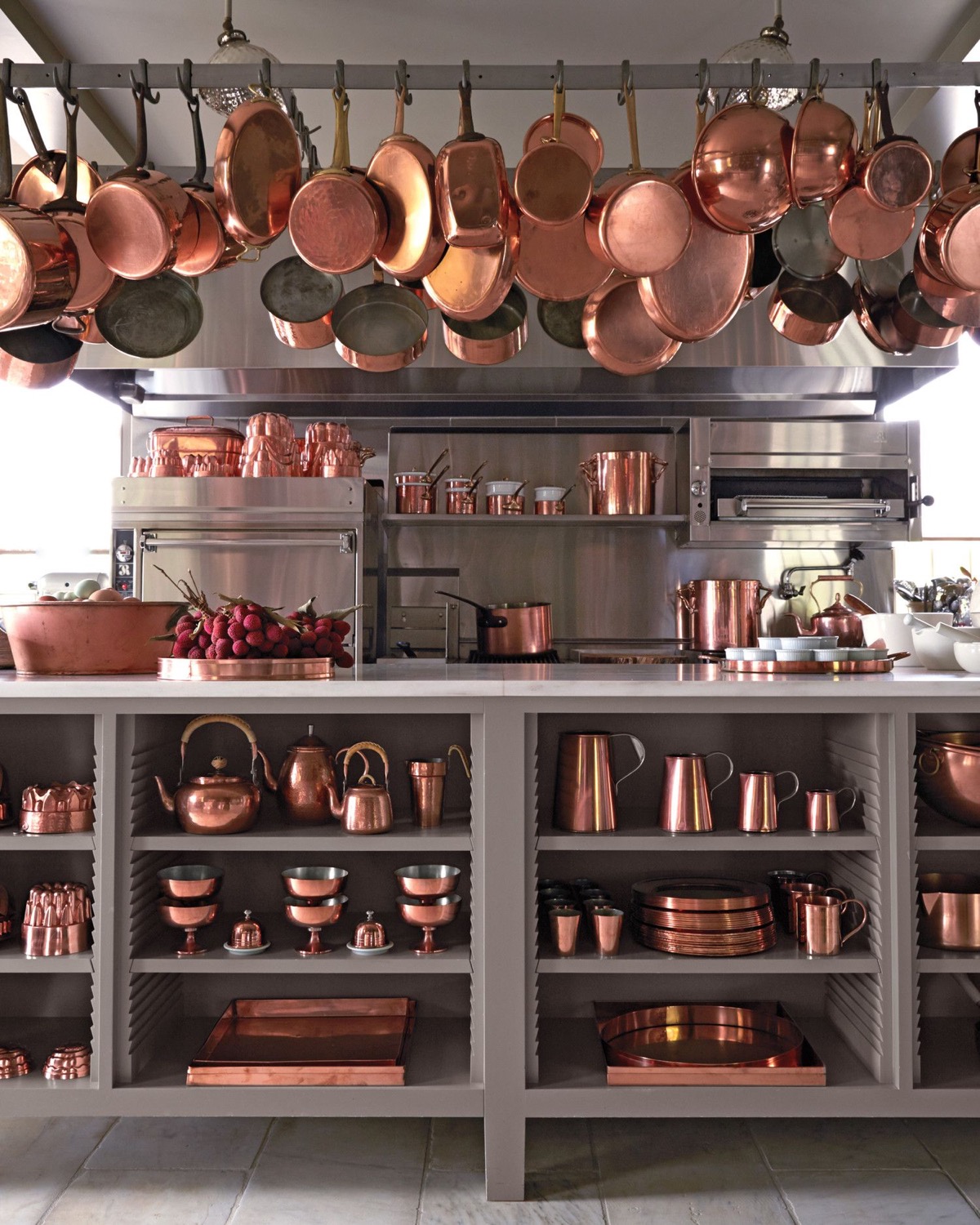 31 |
Source: Martha Stewart
Copper kitchenware looks great but do note: copper leaches into food when heated, leading the US Food & Drug Administration (FDA) in the US to caution against using unlined copper pans for general use.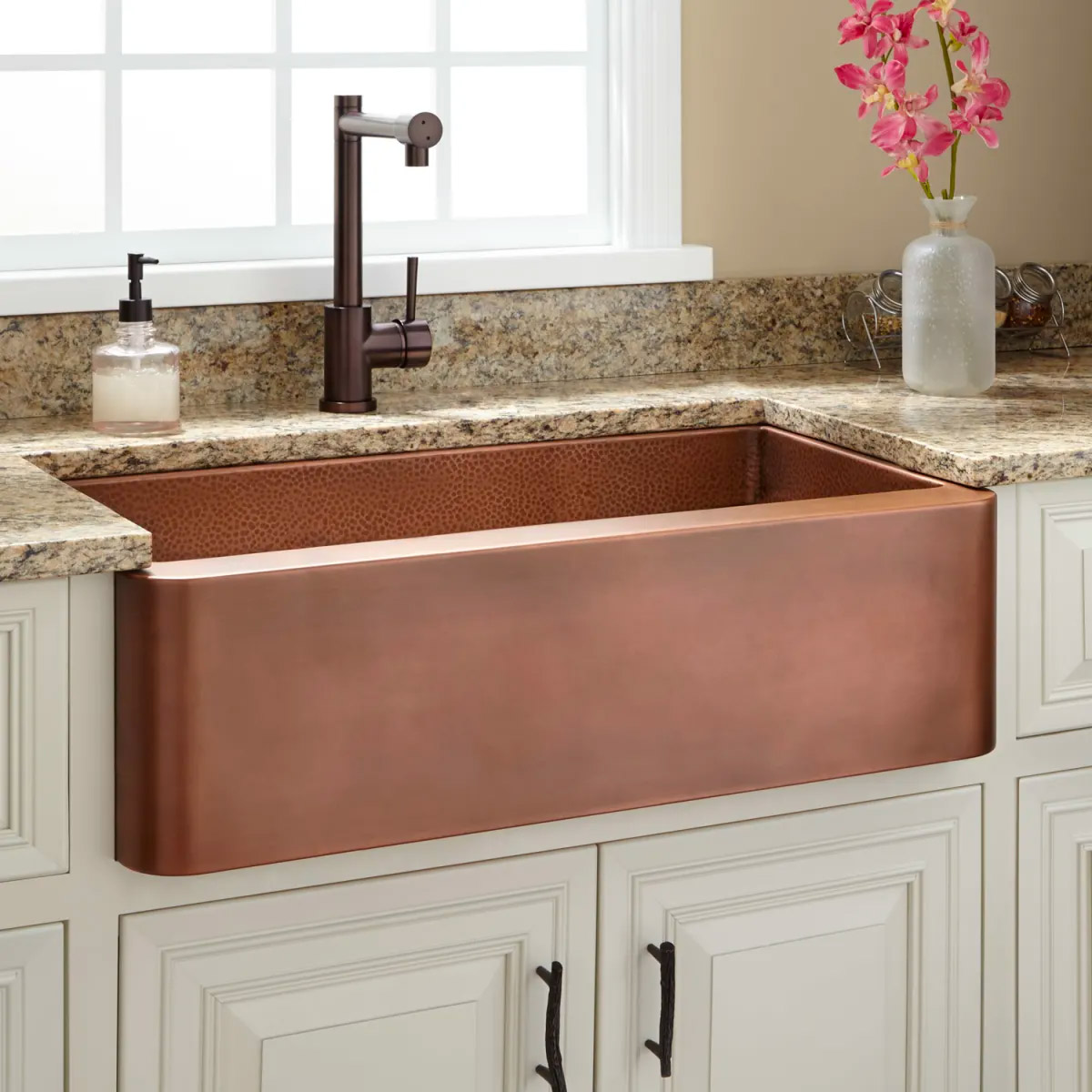 BUY IT
Copper can be both delicate and strong. Copper gets patina and sometimes scratches, but a hammered finish–like the interior of this copper farmhouse kitchen sink–gives it a more durable finish.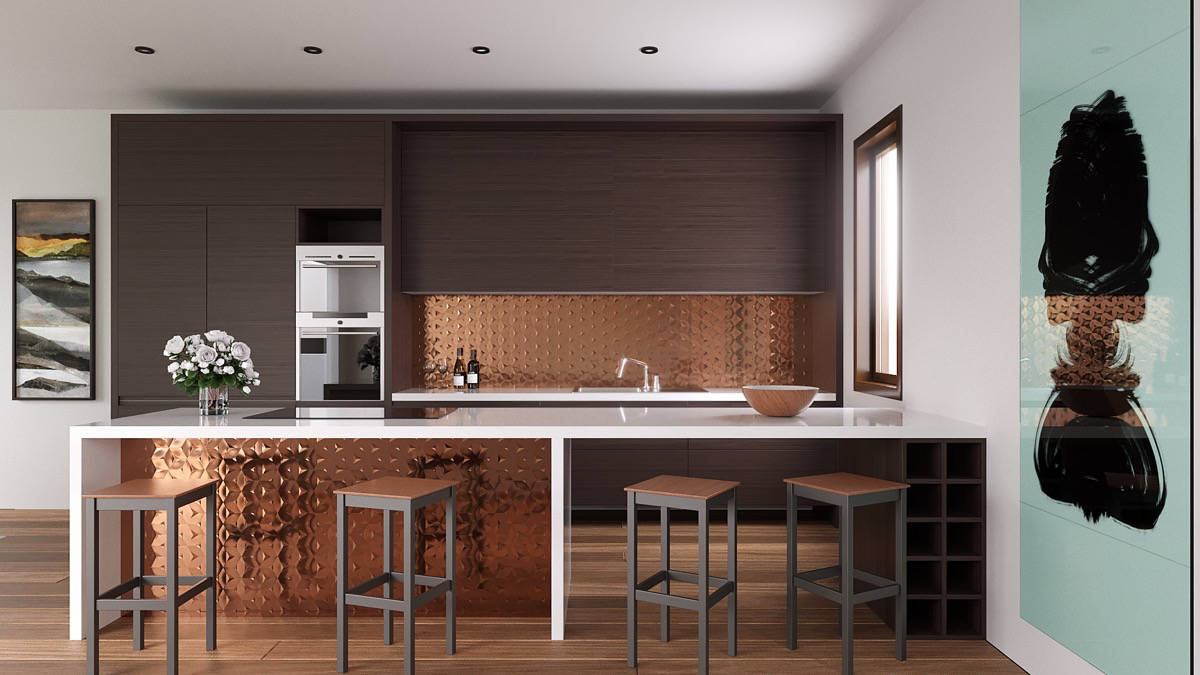 33 |
Visualizer: Juan Carlos Marmolejo
These textured copper panels work to disguise any dings that daily life may bring.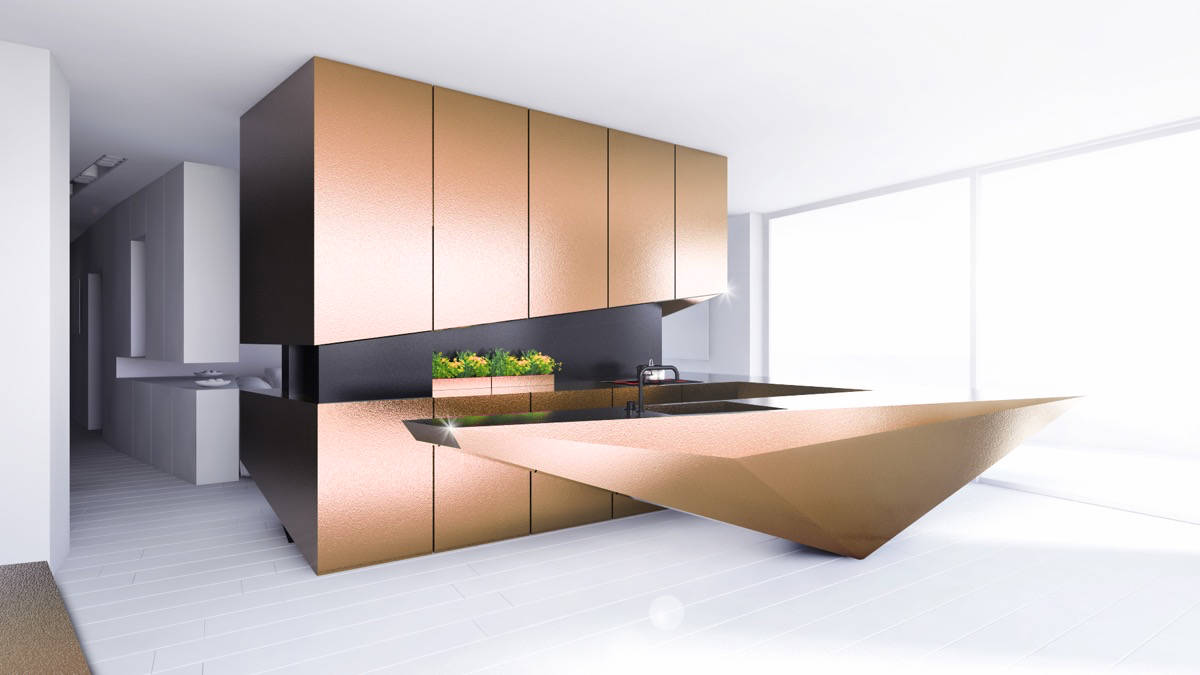 34 |
Visualizer: Who Cares?! Design
Copper stretches through the ages. Fashion a futuristic copper kitchen with a geometric island design.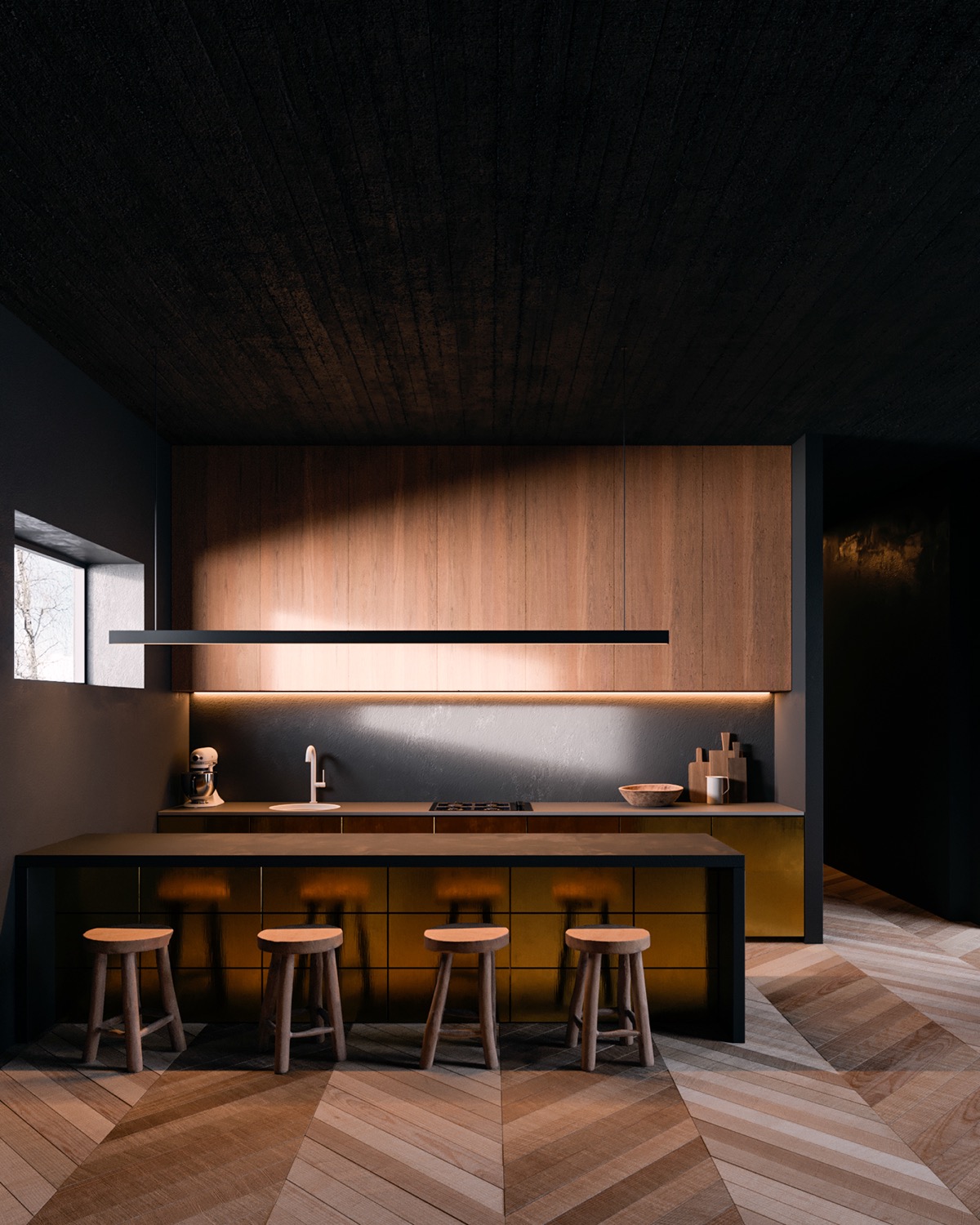 35 |
Visualizer: Kanstantsin Remez
A wood and copper kitchen combo works in perfect harmony. Black decor and accents dramatise the look.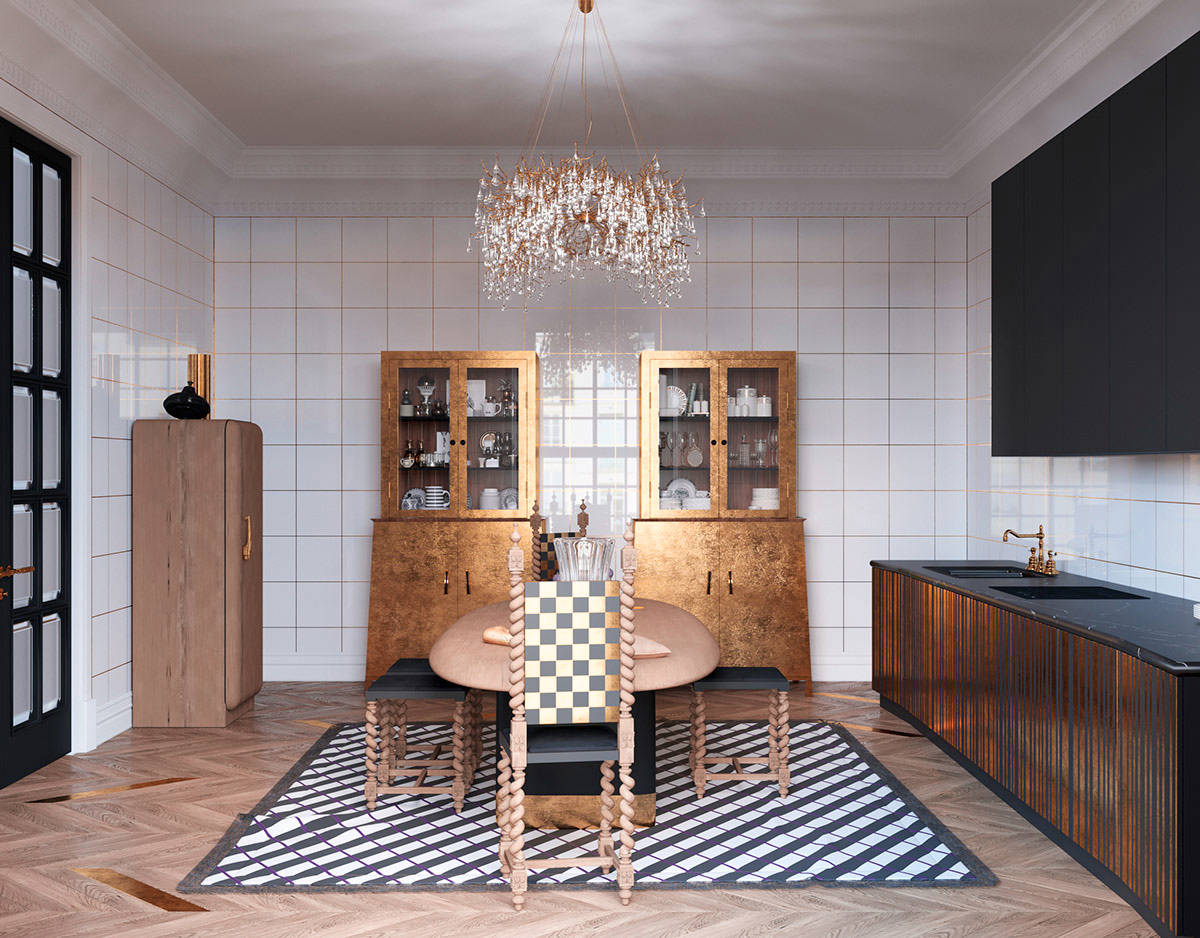 36 |
Designer: Zimenko
Visualizer: Vlad Yuhimchuk
Take it to the floor. This wood herringbone floor is filled with glorious flashes of blazing copper. Two matching copper dressers complement the grandeur of high backed dining chairs, which have a copper chequerboard design.