1 |
Visualizer: Orangegraphics Creative Studio
Marble kitchens have always spelled luxury. That sleek veined organic pattern across a countertop, backsplash or flooring is enough to shape a space, but how about taking the effect right across all of that and even cabinet fronts too? The all encompassing marble backdrop in this luxury kitchen-diner is balanced out with eye-catching emerald green accent furniture and plants.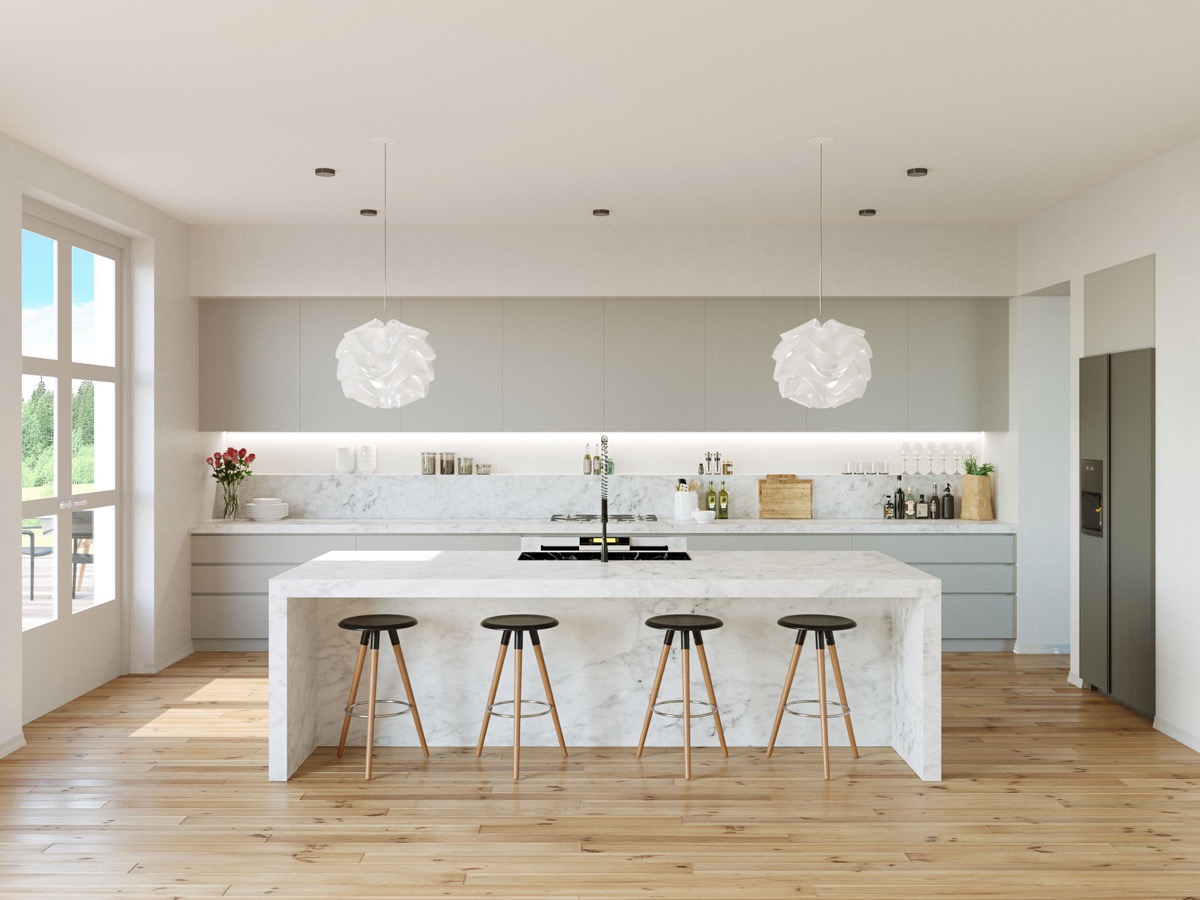 2 |
Visualizer: Ihor Bednarchyk
Marble envelops just the central island of this grey and white kitchen, but the volume is chunky and strongly commands the space.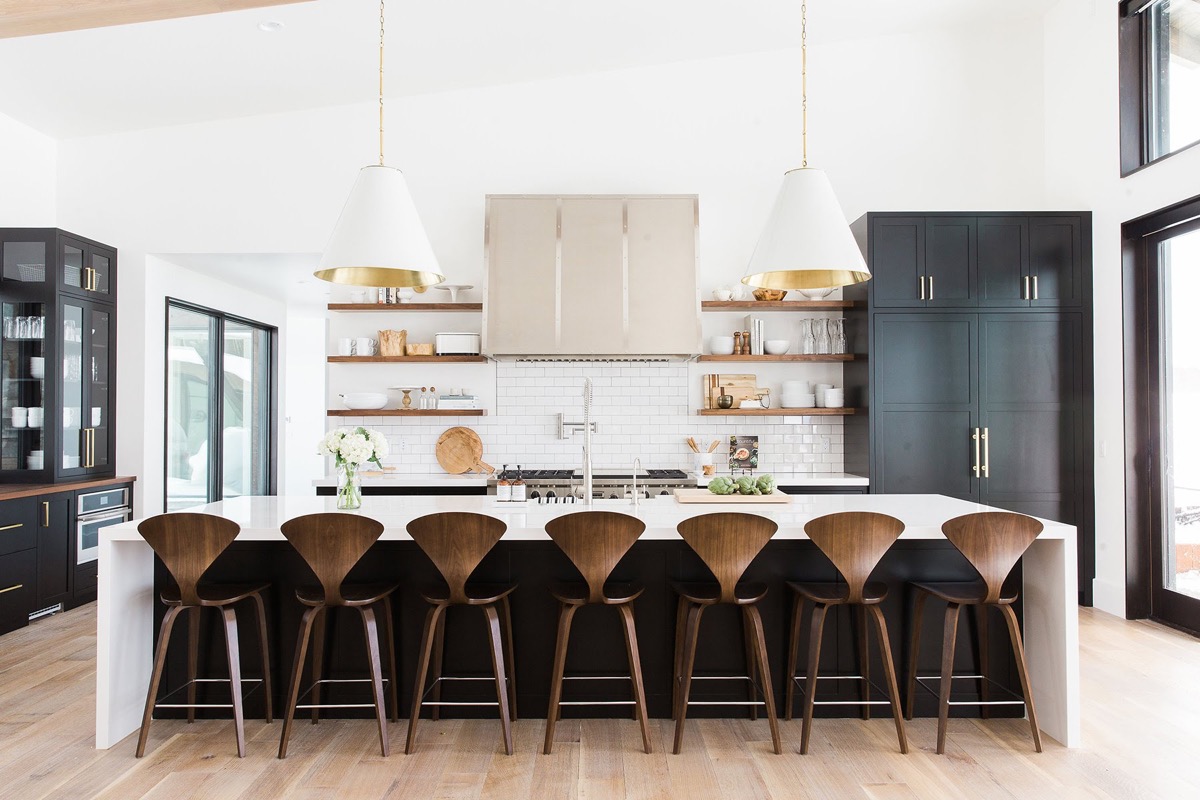 3 |
Visualizer: Studio McGee
Cater for the masses. A long lineup of designer kitchen bar stools make a statement here, and if you've got the space (and the cash) then hey, why not? These are Cherner style stools.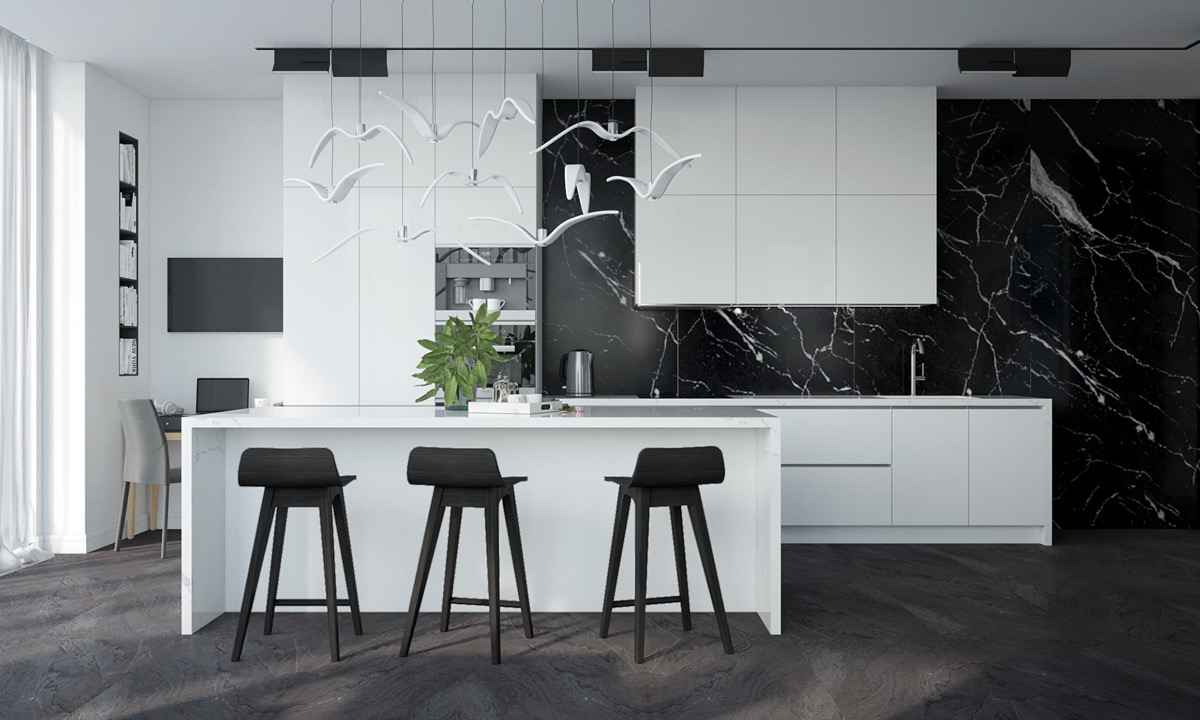 4 |
Visualizer: Katie Domracheva
Turn up the contrast. High contrast black and white kitchens are sharp and edgy – though this one has a nature theme with its flock of gulls mobile. Their fluid shape melds beautifully with the randomly streaked marble feature wall.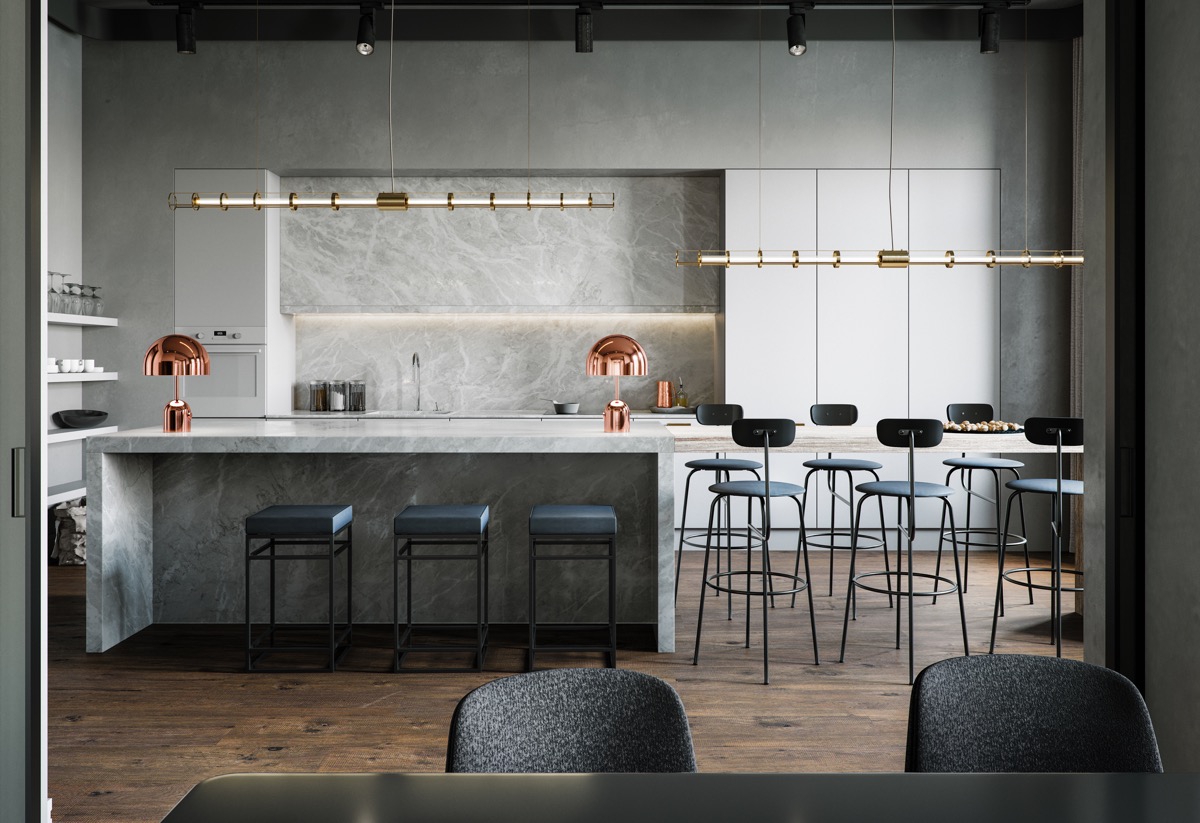 5 |
Visualizer: STUDIO.O. organic design
Add a bit of bling. Adding shiny accessories doesn't have to mean crystal chandeliers or sparkle worktops. These copper desk lamps add a sophisticated metallic touch without being too showy.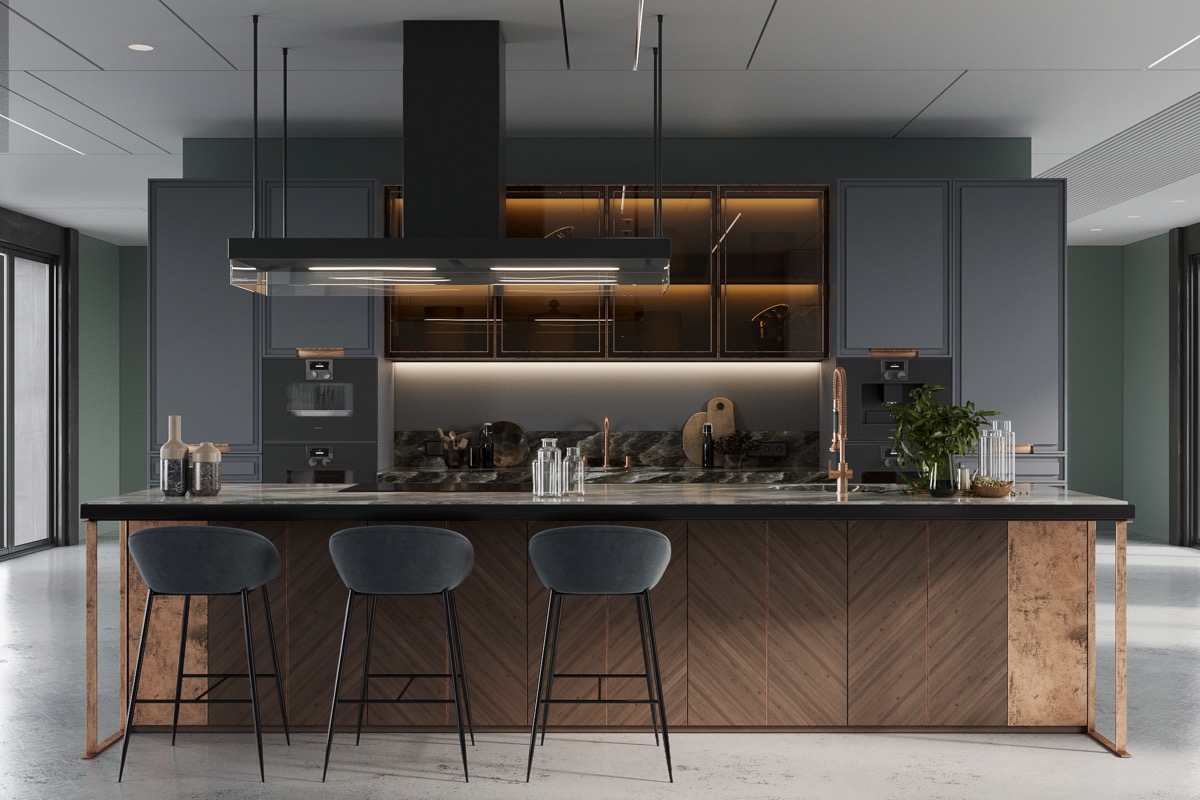 6 |
Visualizer: Alexey Seldin & Alexei Golub
Grey and woodtone look smooth through and through. The wood tone across this kitchen island has the added appeal of a fashionable herringbone design too. See more grey kitchens here.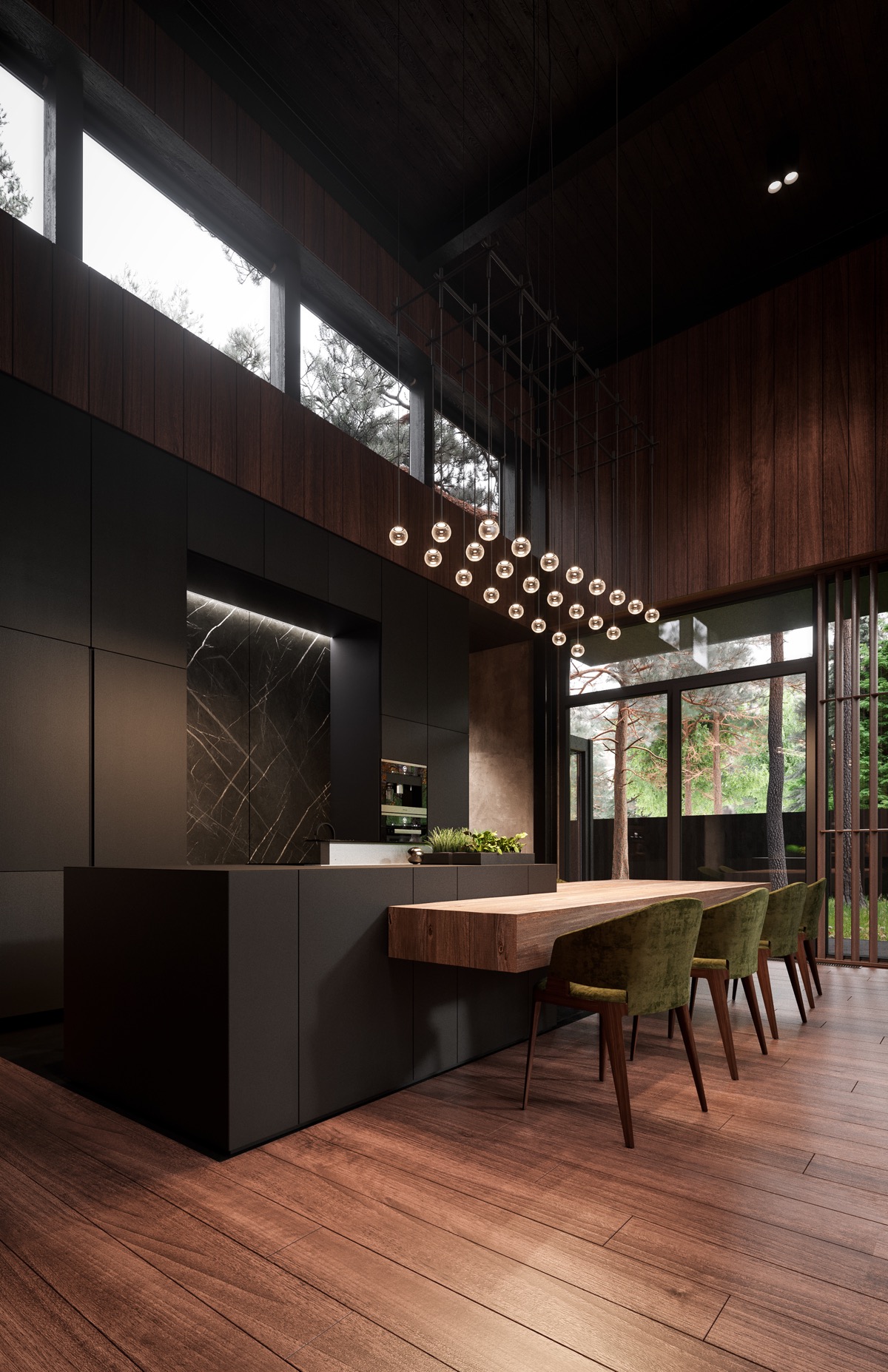 Add in a dropped dining bench. Not everyone is comfortable perching on high bar stools and it certainly doesn't evoke a formal feel. If there is only room up alongside the kitchen island for dining then consider dropping the dining bench to a more civilised height.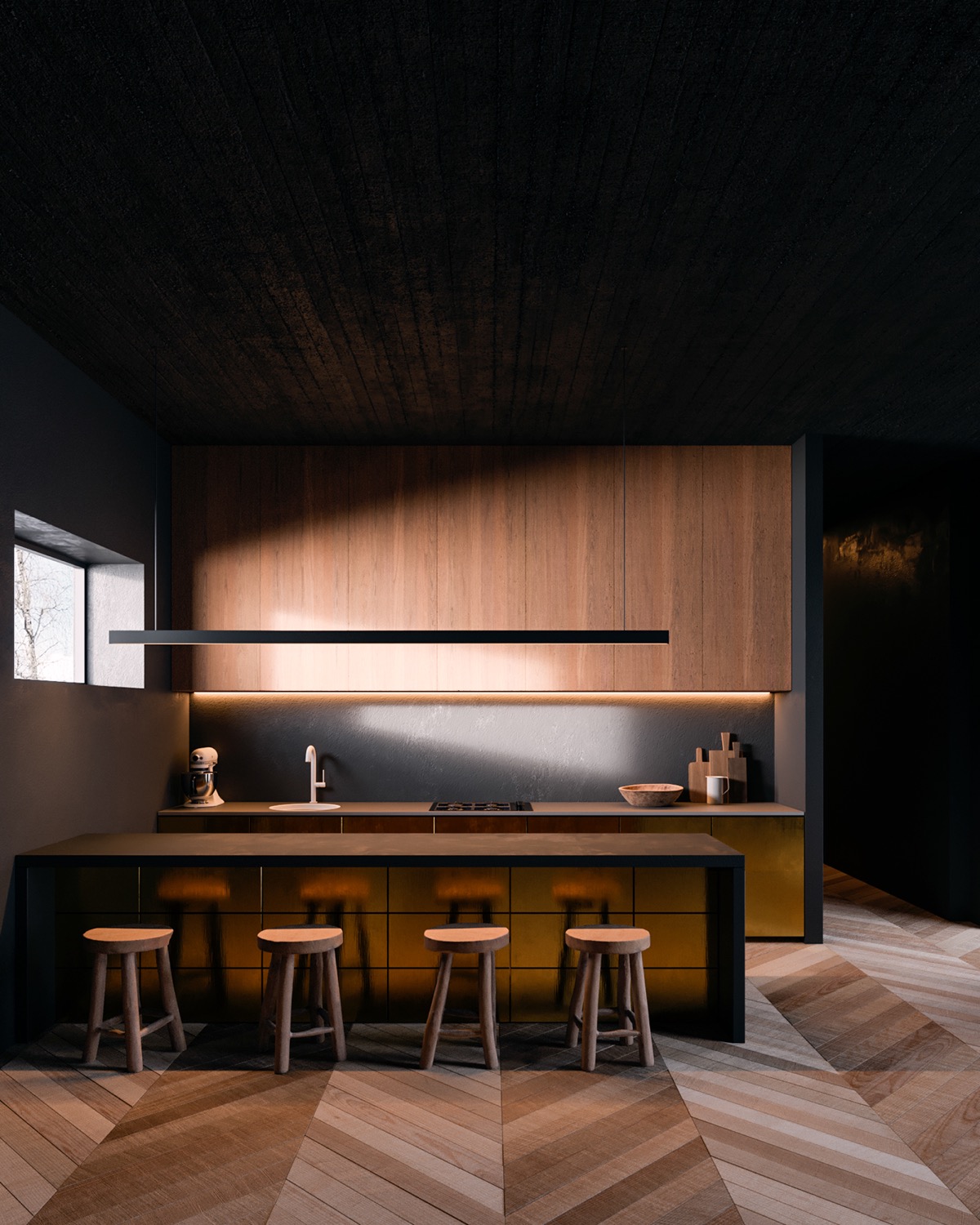 8 |
Visualizer: Kanstantsin Remez
Reflections brighten up a dark room. If you have poor light or high windows in your kitchen area, consider metallic fronted luxury kitchen cabinets to help bounce the light around like in this galley kitchen. This trick can also help a compact space feel larger.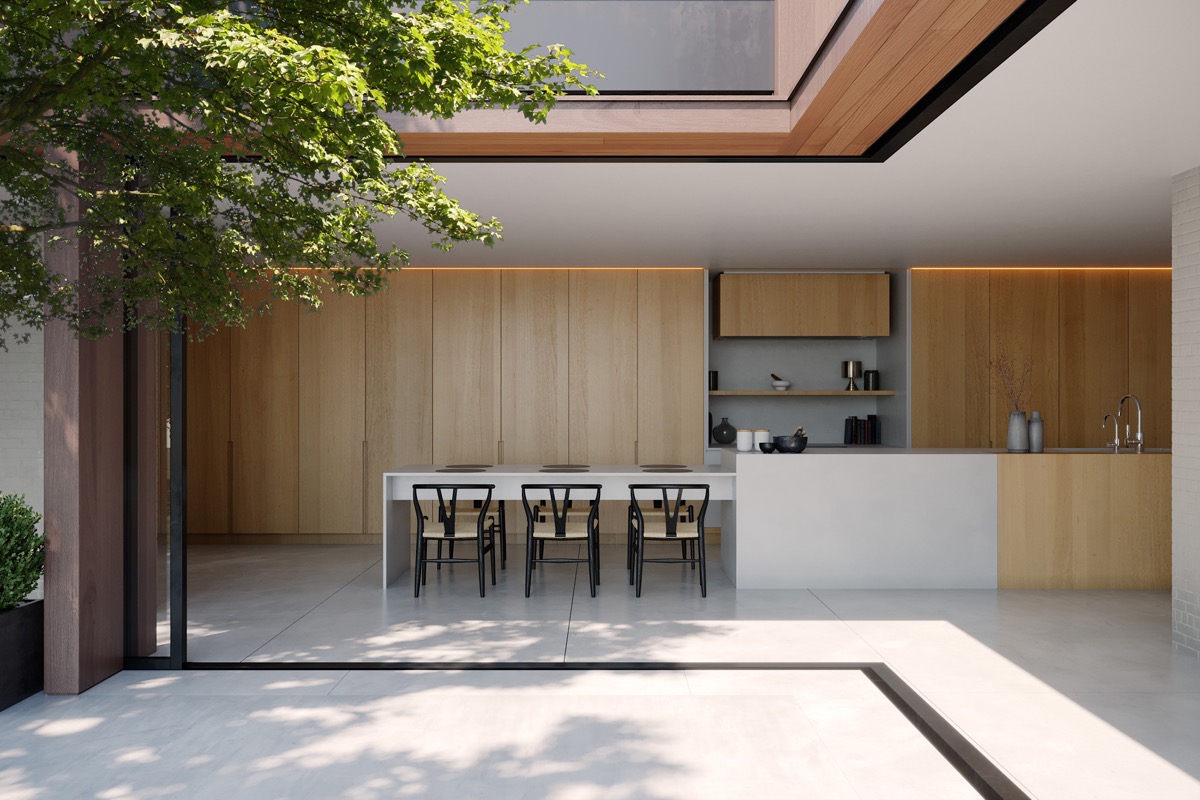 9 |
Visualizer: Tom Mathews
Create an indoor-outdoor kitchen with fully retractable patio doors.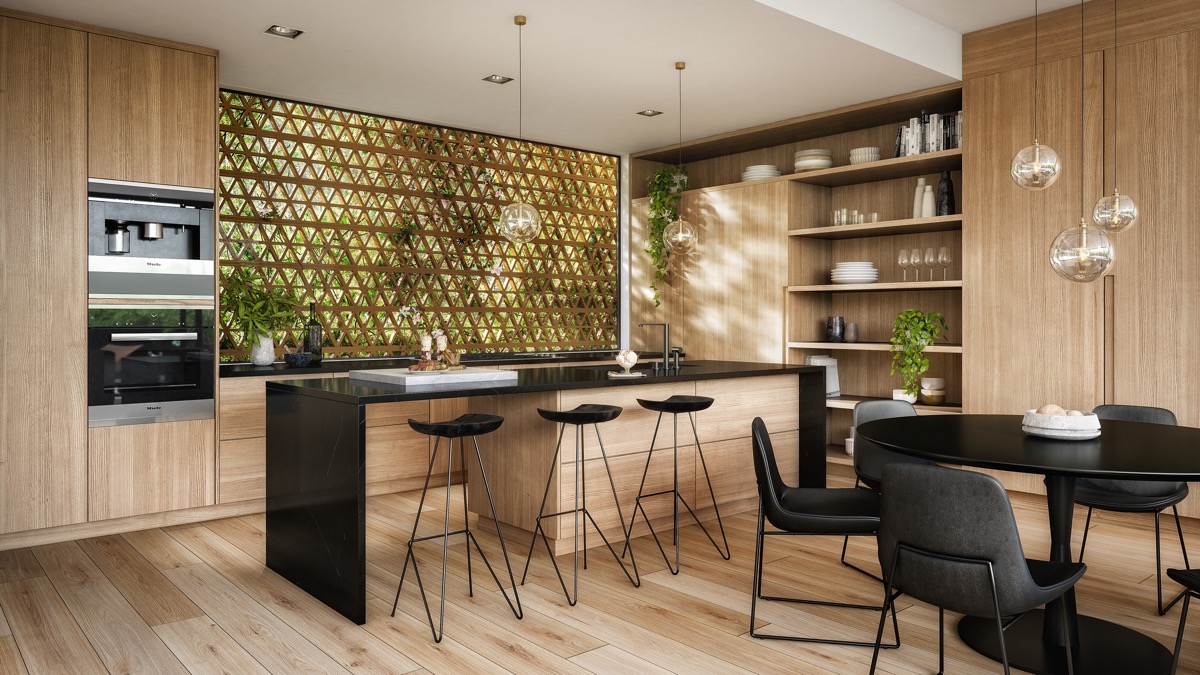 10 |
Visualizer: Darkroom Studio
Trelliswork creates a garden feel in this modern luxury kitchen.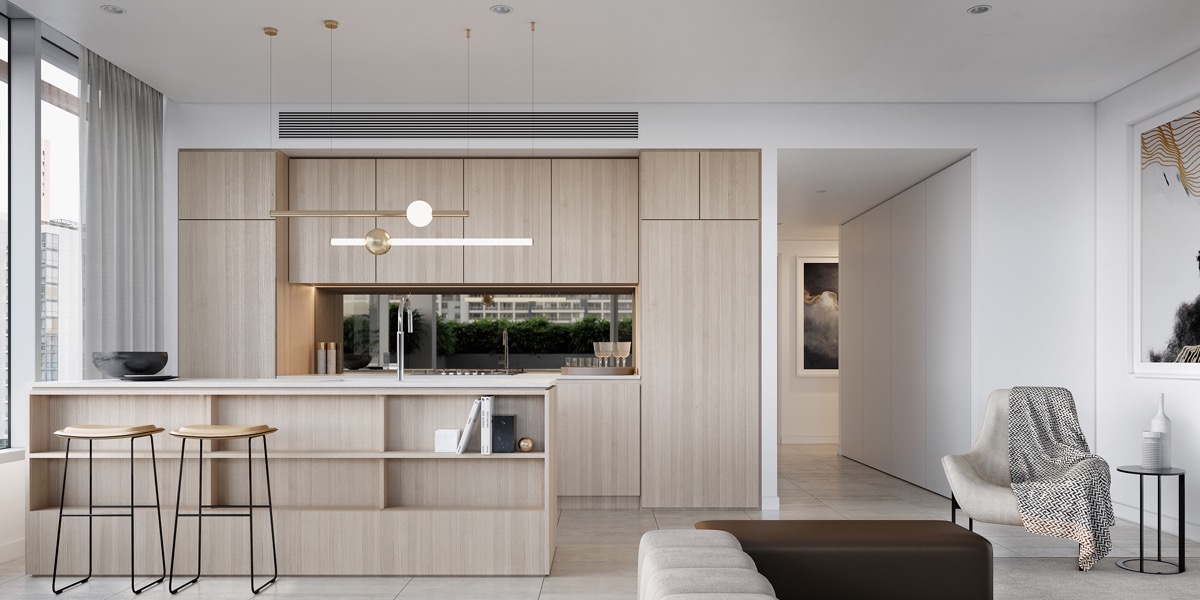 11 |
Visualizer: Evgenii Baisa
Crown your design with elegant kitchen lighting. Two beautiful bar pendants brighten up this tame white and wood kitchen. See more white and wood kitchens here.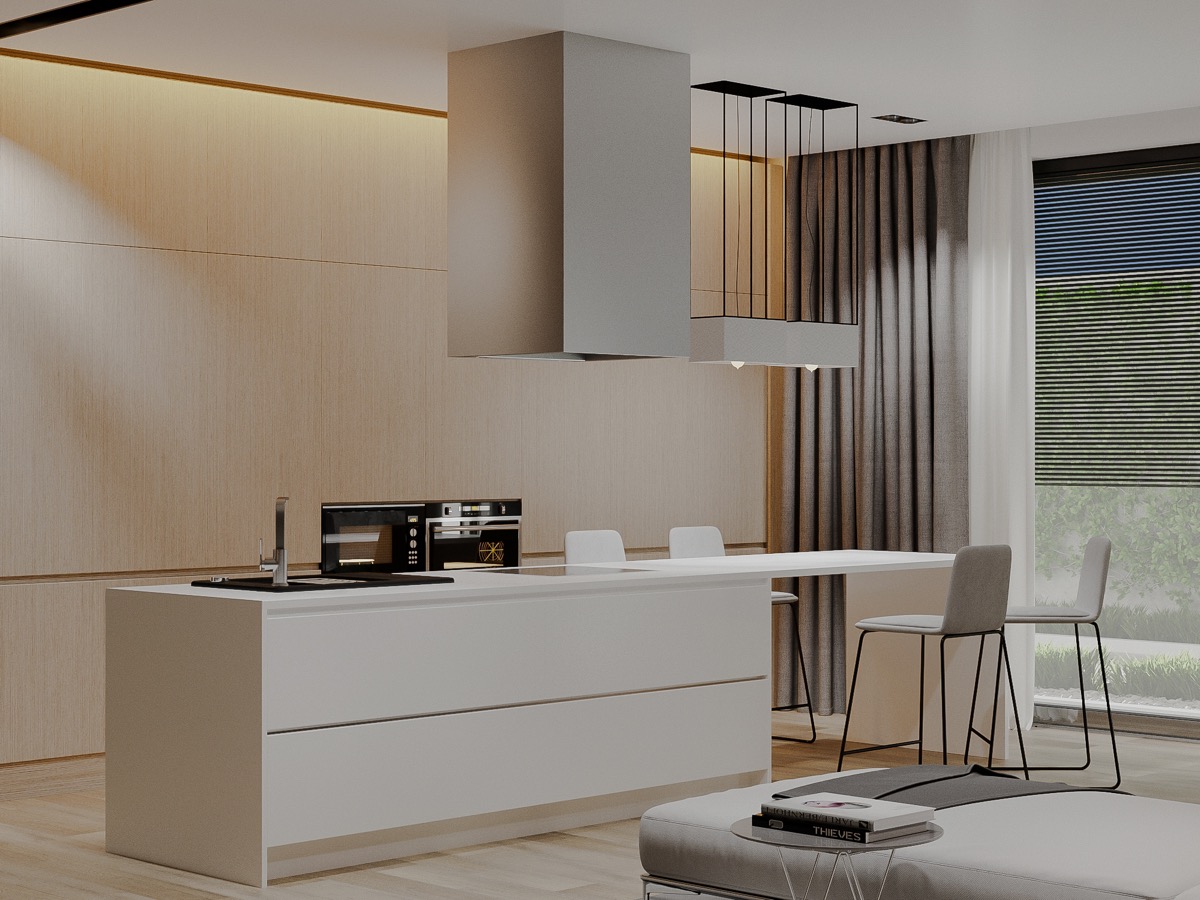 12 |
Visualizer: WohnenDesign
Create a sleek wall of tall cabinets. If you're blessed with a generously sized kitchen island or peninsula, consider going bench free in your backdrop. A solid wall of full height cabinets becomes as much part of the decor as it is part of the kitchen.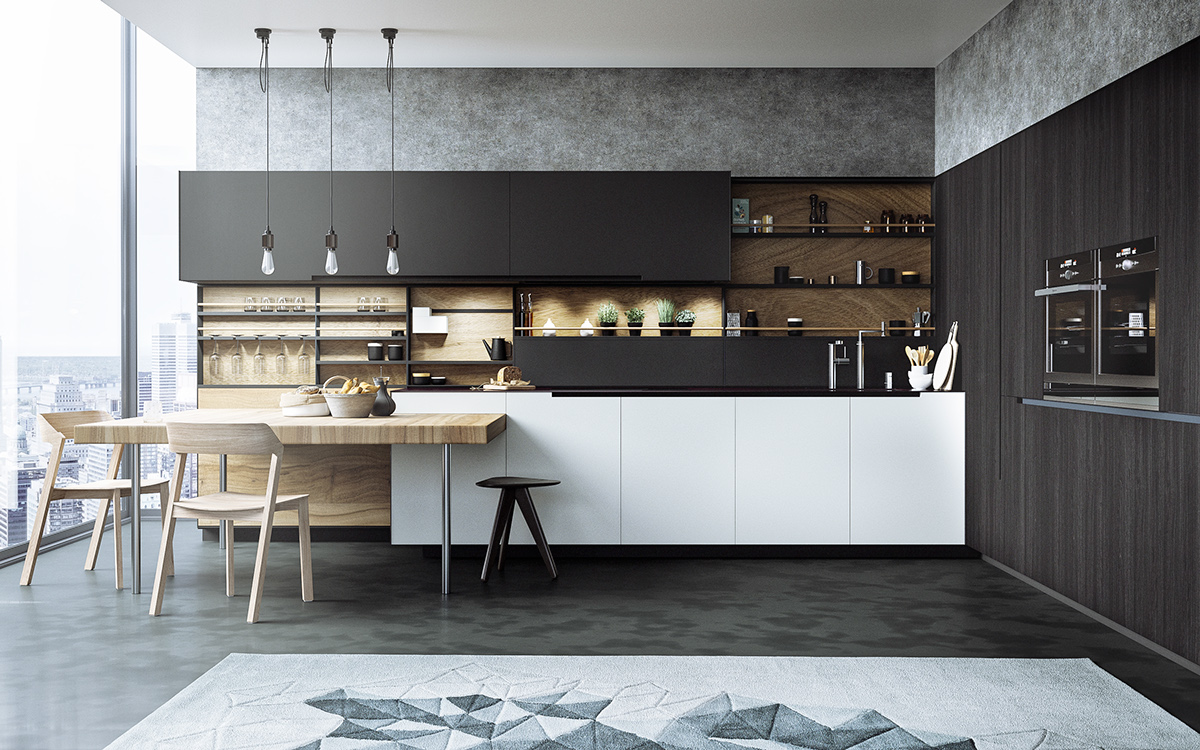 13 |
Visualizer: Plus Form
Add a beautiful rug. Okay, so a rug is NOT a good idea in the drop zone around the edge of benches – you would be forever whipping out the stain remover and trying to vacuum out the crumbs. However, in larger space, a central area rug can really cosy up the look, particularly in a dining kitchen.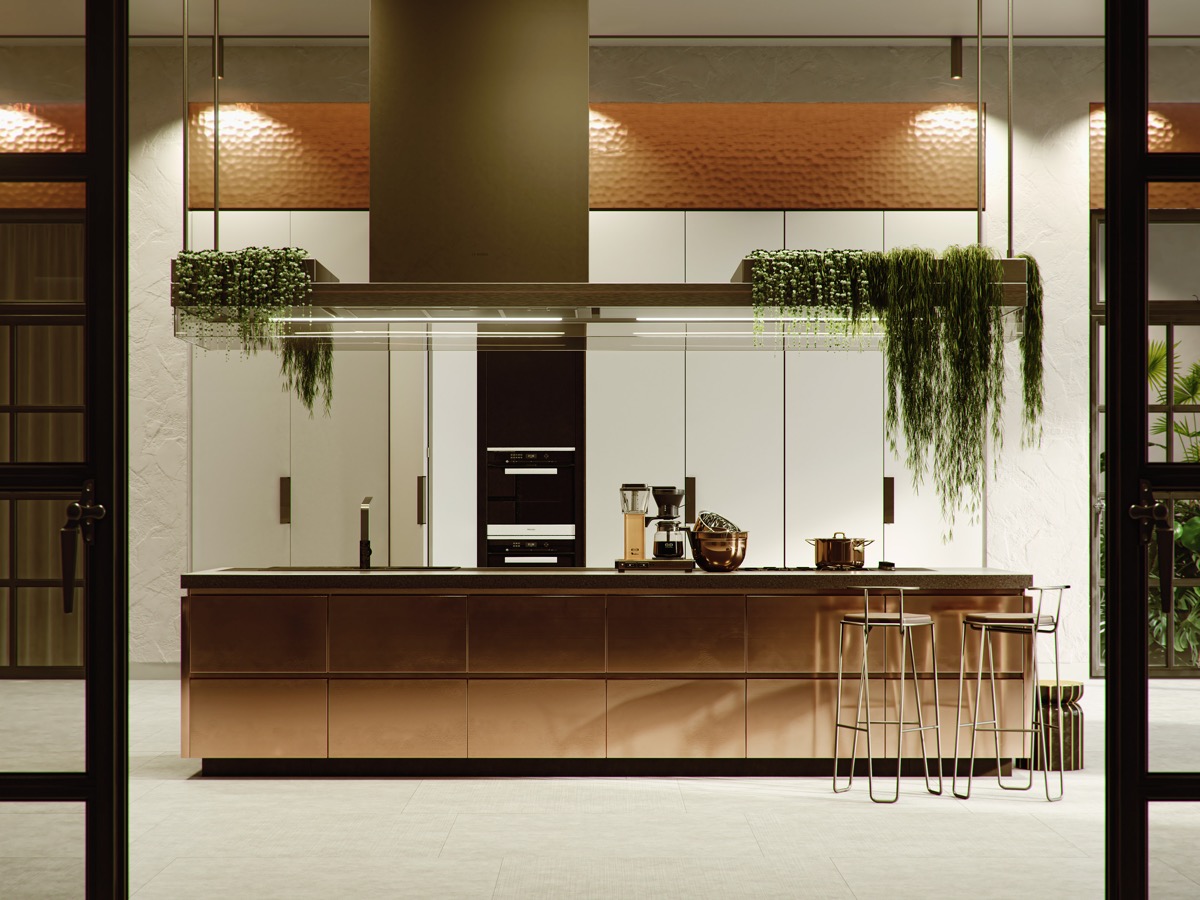 14 |
Visualizer: Bartosz Domiczek
Revitalise a kitchen with plants. Just about every single kitchen looks better with some greenery in it. Whether that's cascading hanging plants like this one or a line of bushy potted herbs is up to you.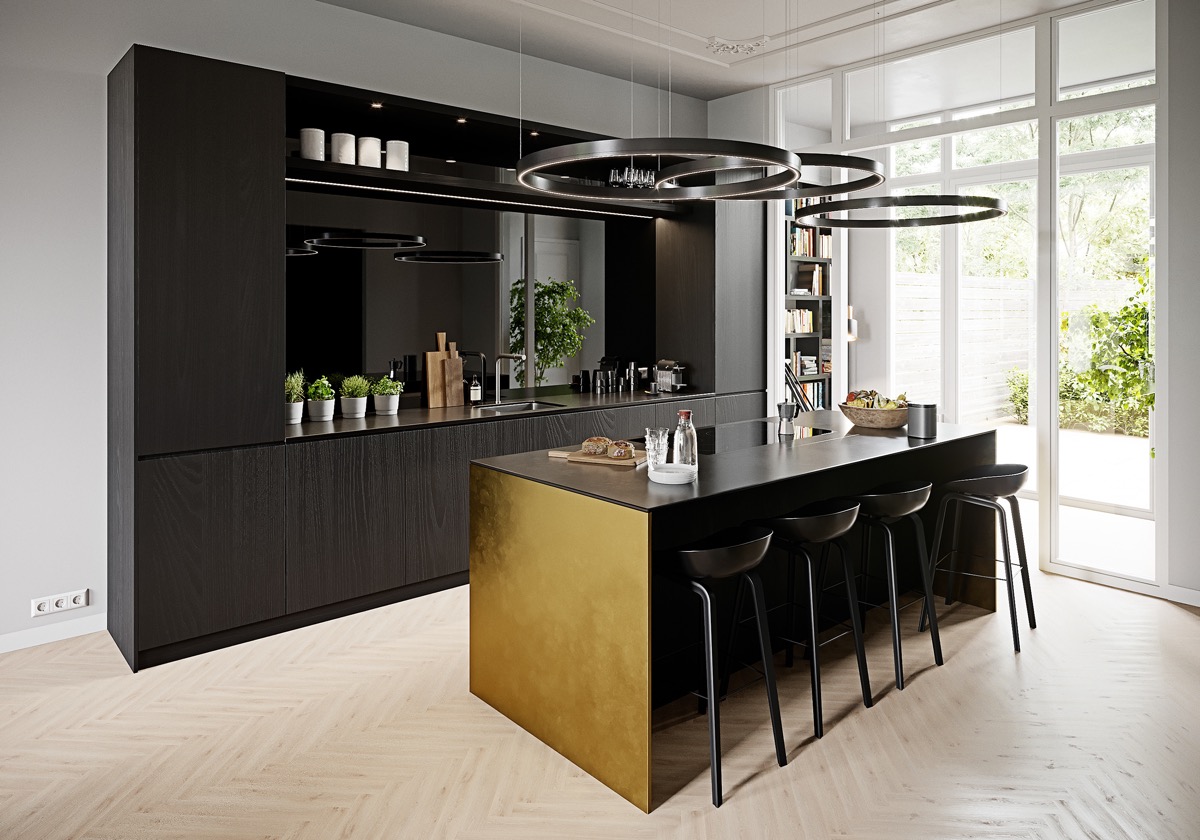 15 |
Visualizer: Vaes Visuals
Group multiple modern chandeliers for added effect.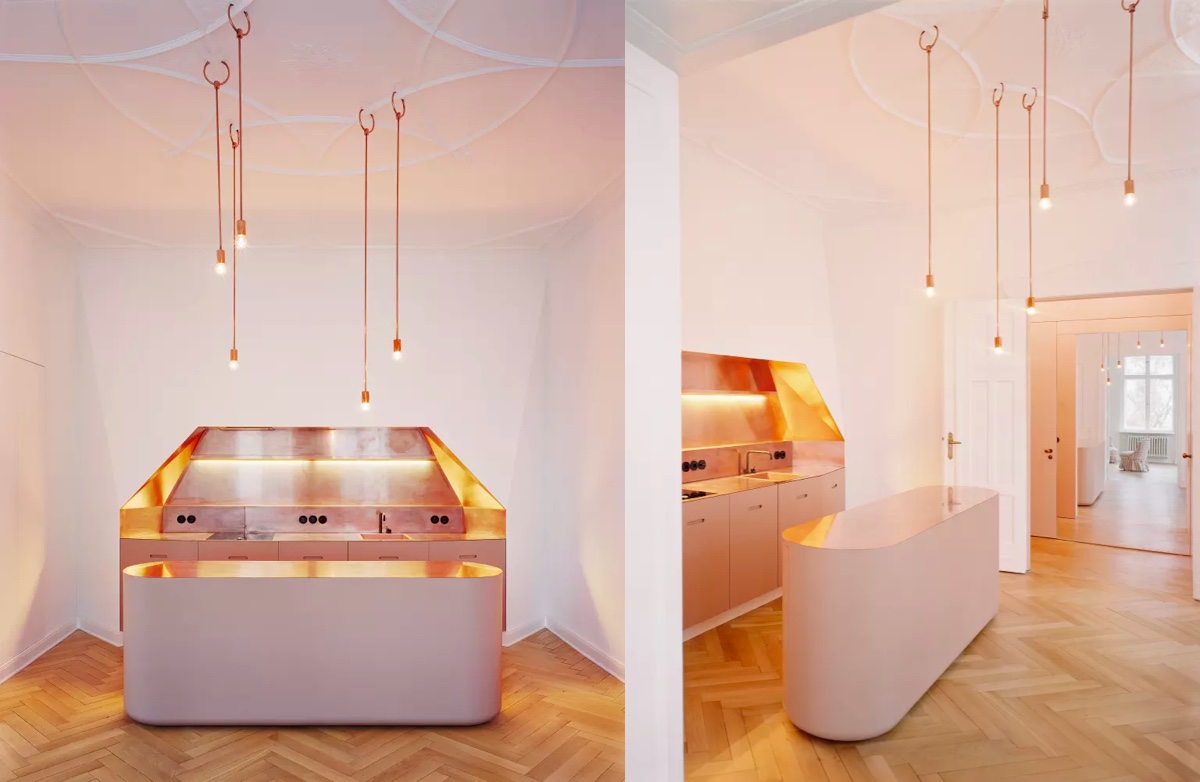 These kitchen pendant lights appear to clip to the decorative ceiling moulding – like earrings.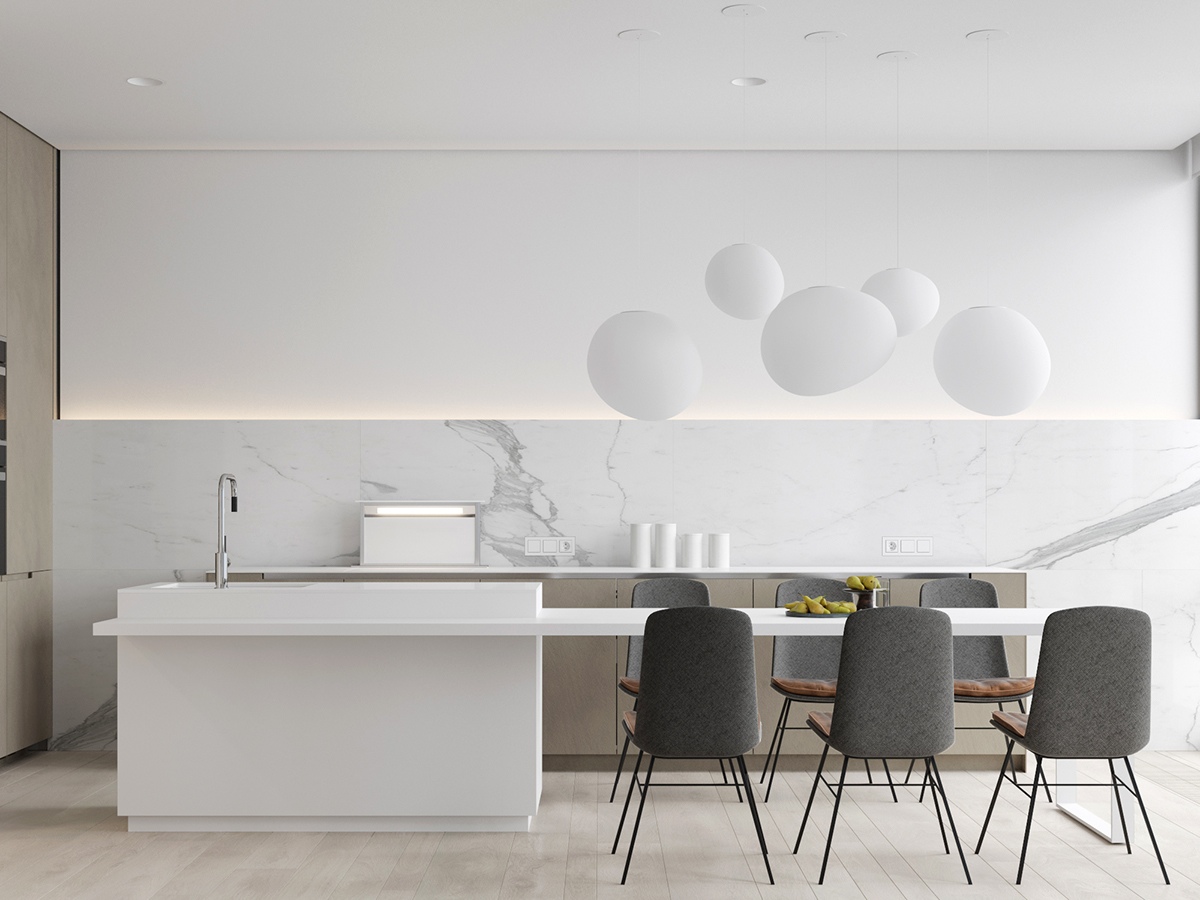 17 |
Visualizer: M3 Architecture
You can even turn up the luxury factor in a white on white kitchen design by picking out a group of sculptural pendant lights.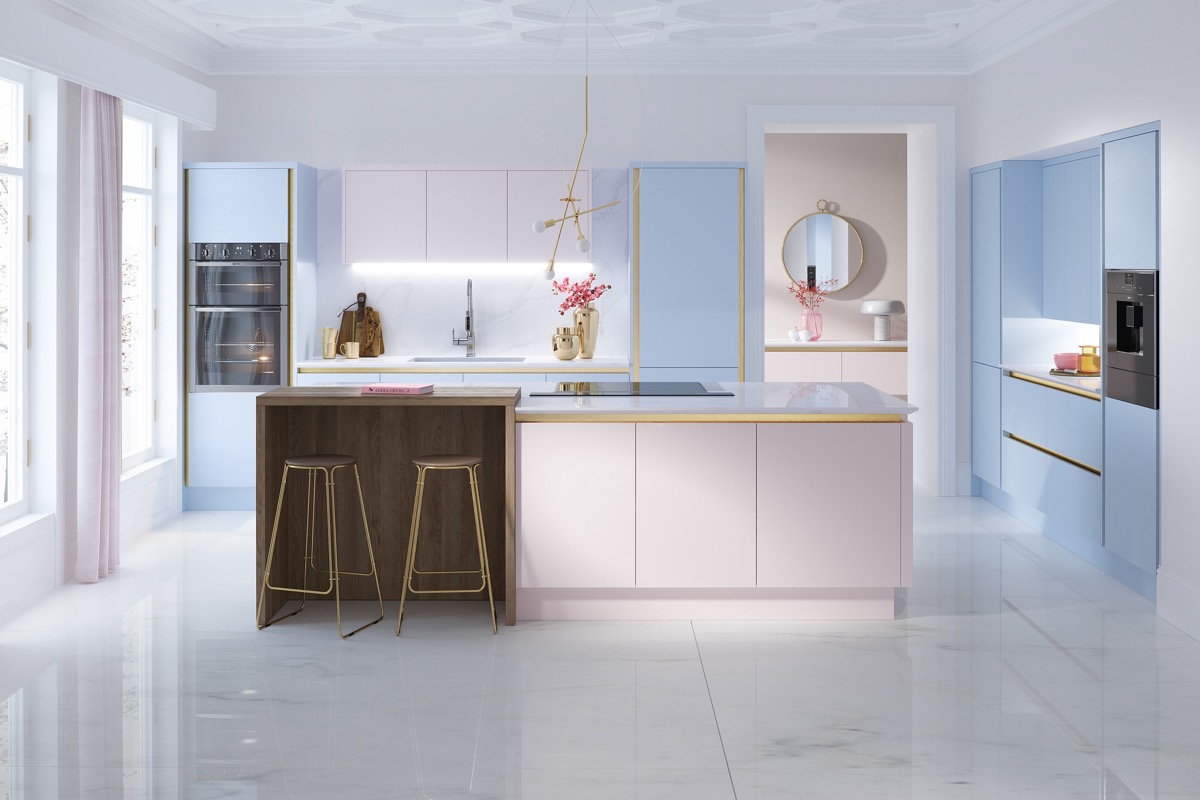 18 |
Visualizer: Pikcells
Be creative with colour. A pink kitchen may not be the first thing that springs to mind for a luxury kitchen, but a hint of pink is hot right now. Team with some powder blue for pastel coloured wow factor.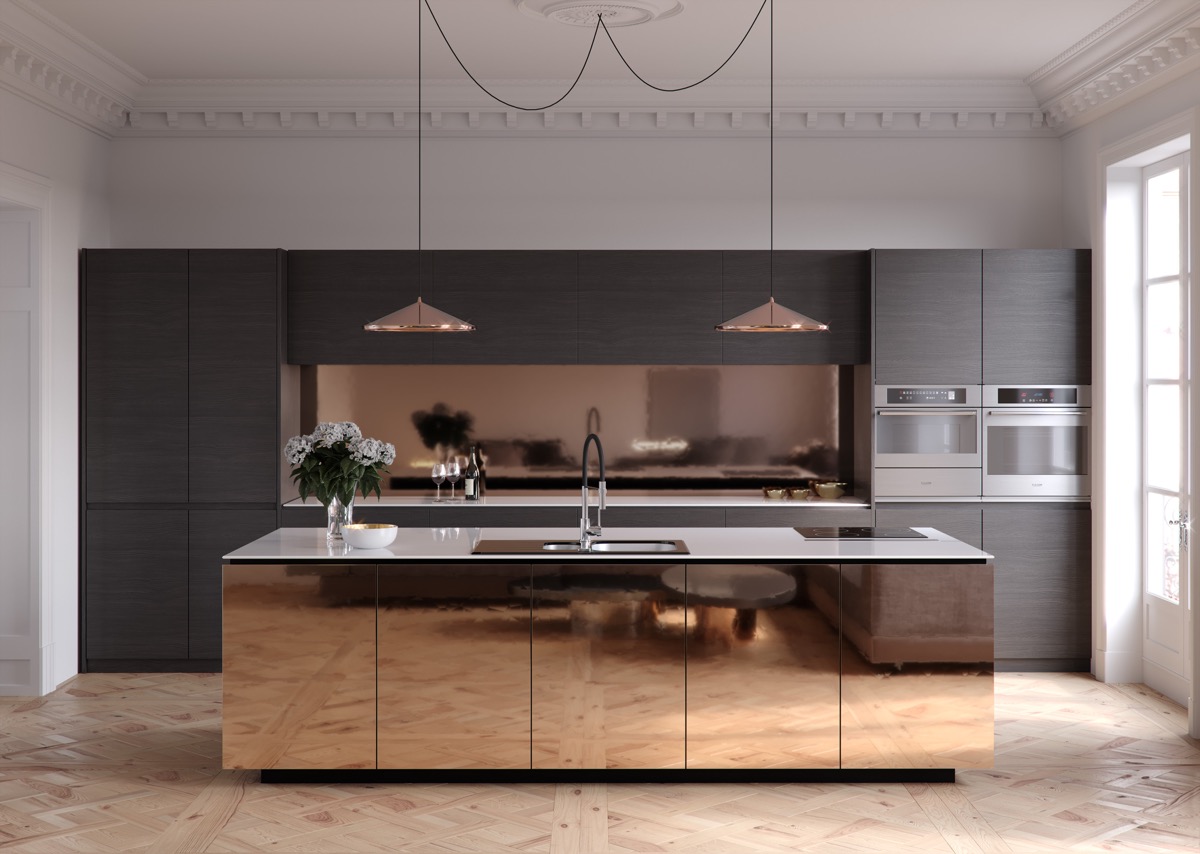 19 |
Visualizer: Orangegraphics Creative Studio
If you're looking for colour scheme inspiration, then luxury chocolate boxes are a good place to start. This kitchen looks fresh out of the wrapper.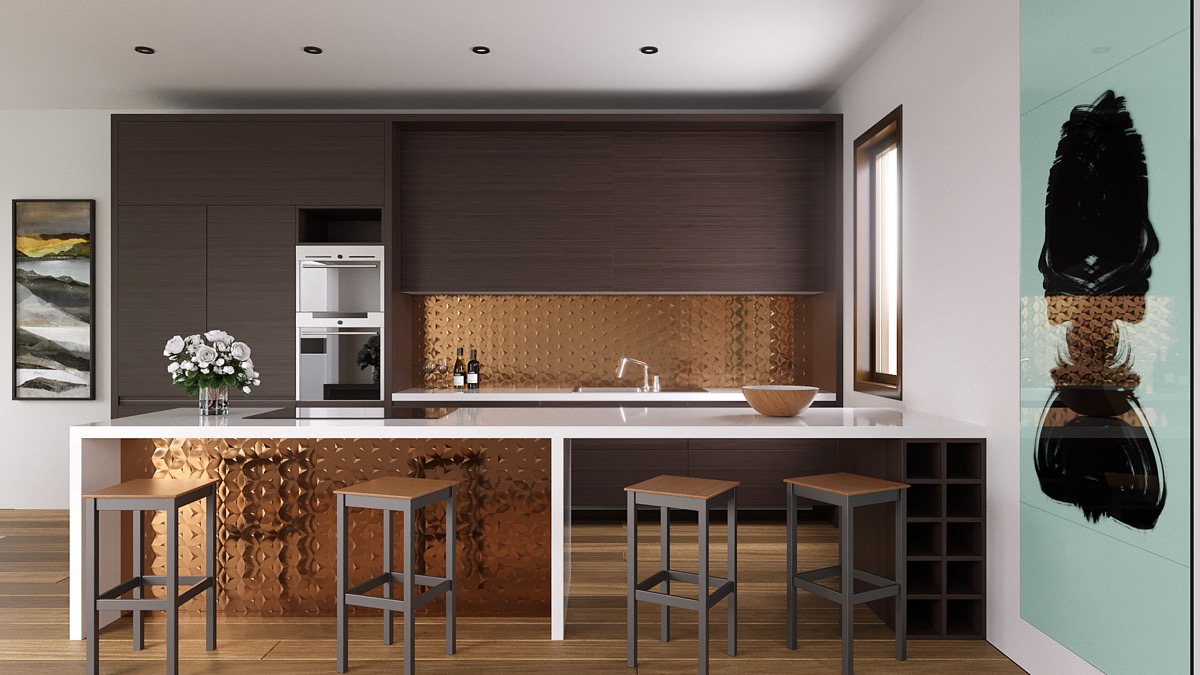 20 |
Visualizer: Juan Carlos Marmolejo
Add in some art. This large piece of wall art adds finesse.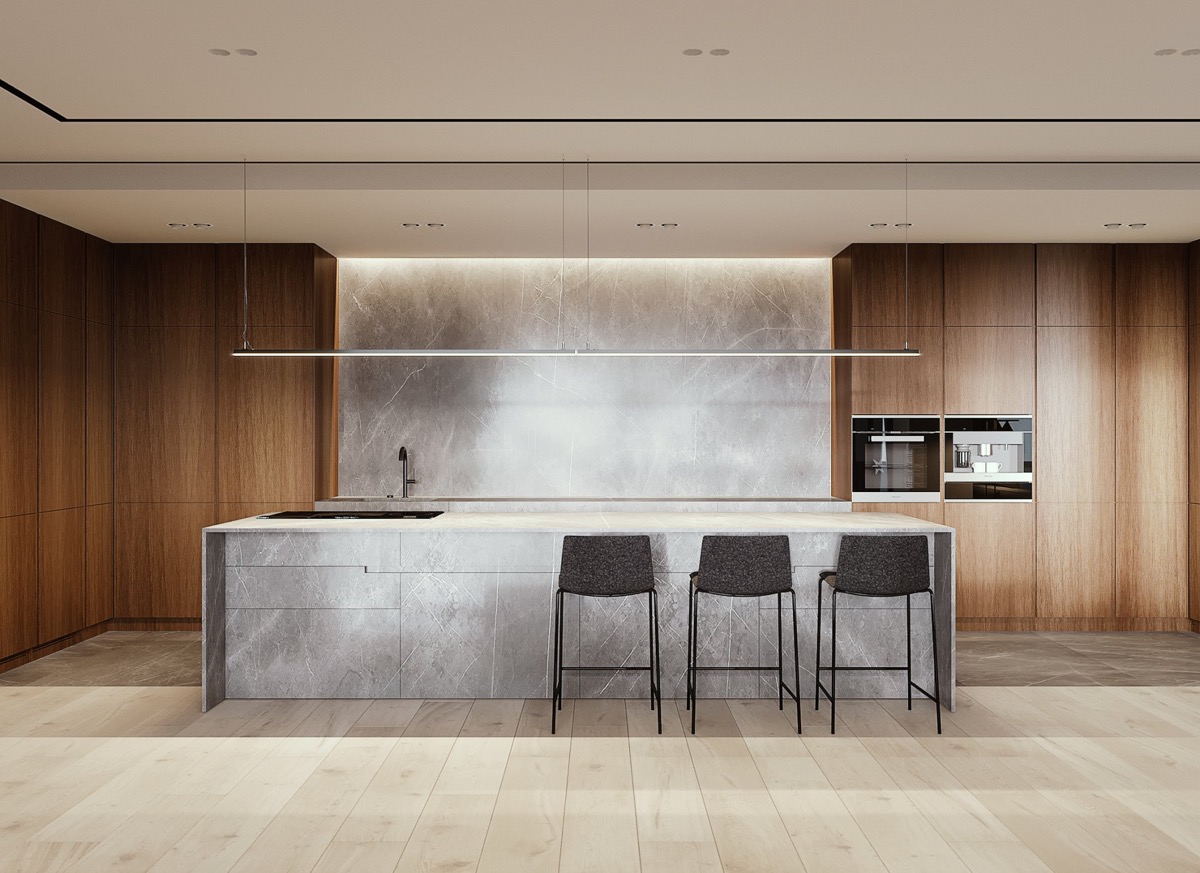 21 |
Visualizer: Mono Architects
Keep it simple. A minimalist kitchen design can still look high-end, it's all in the quality of the materials and a well balanced layout. The linear suspension light in this simplistic scheme keeps a low profile but accentuates the long line of the central island.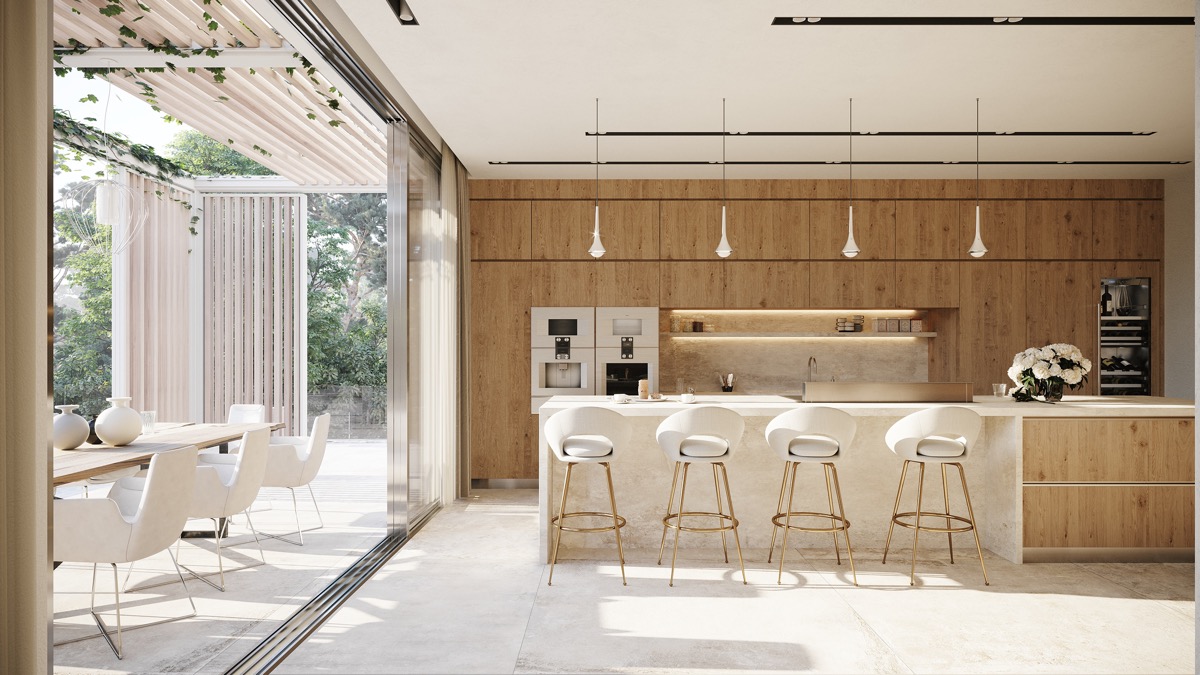 Sharpen up a wood kitchen with fresh white accents. This row of mini pendant lights drip cool white in front of wooden wall cabinets.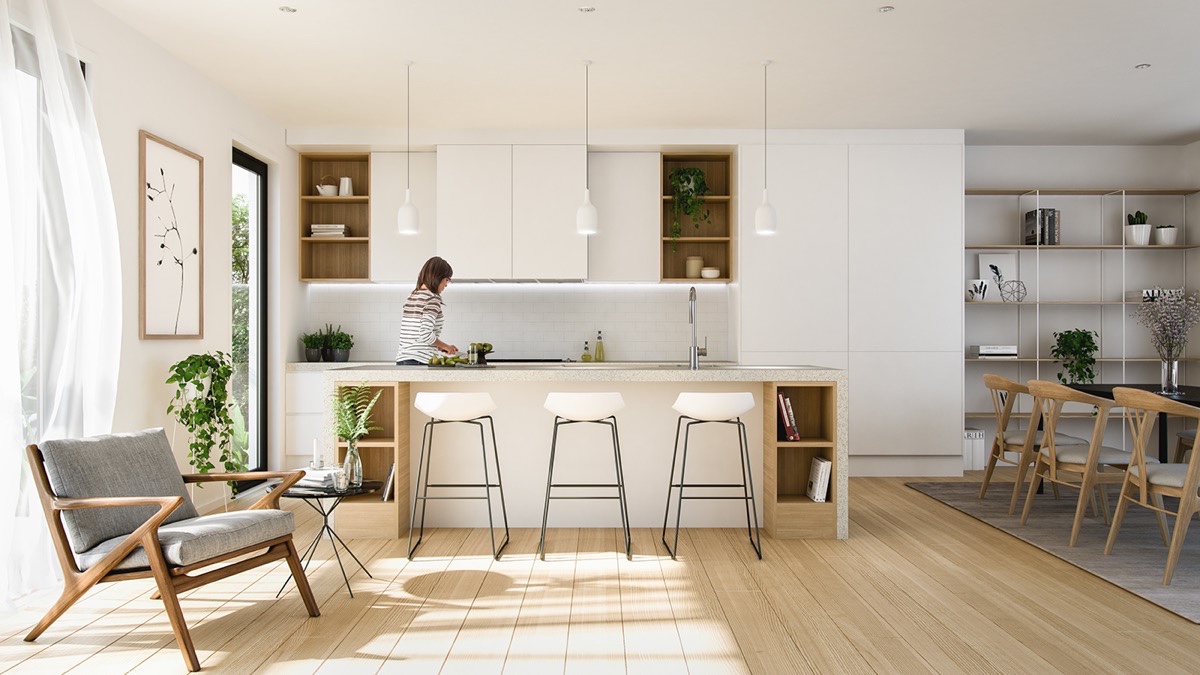 23 |
Visualizer: Dark Room Studio
Include open kitchen shelving nooks like this white and wood Scandinavian kitchen.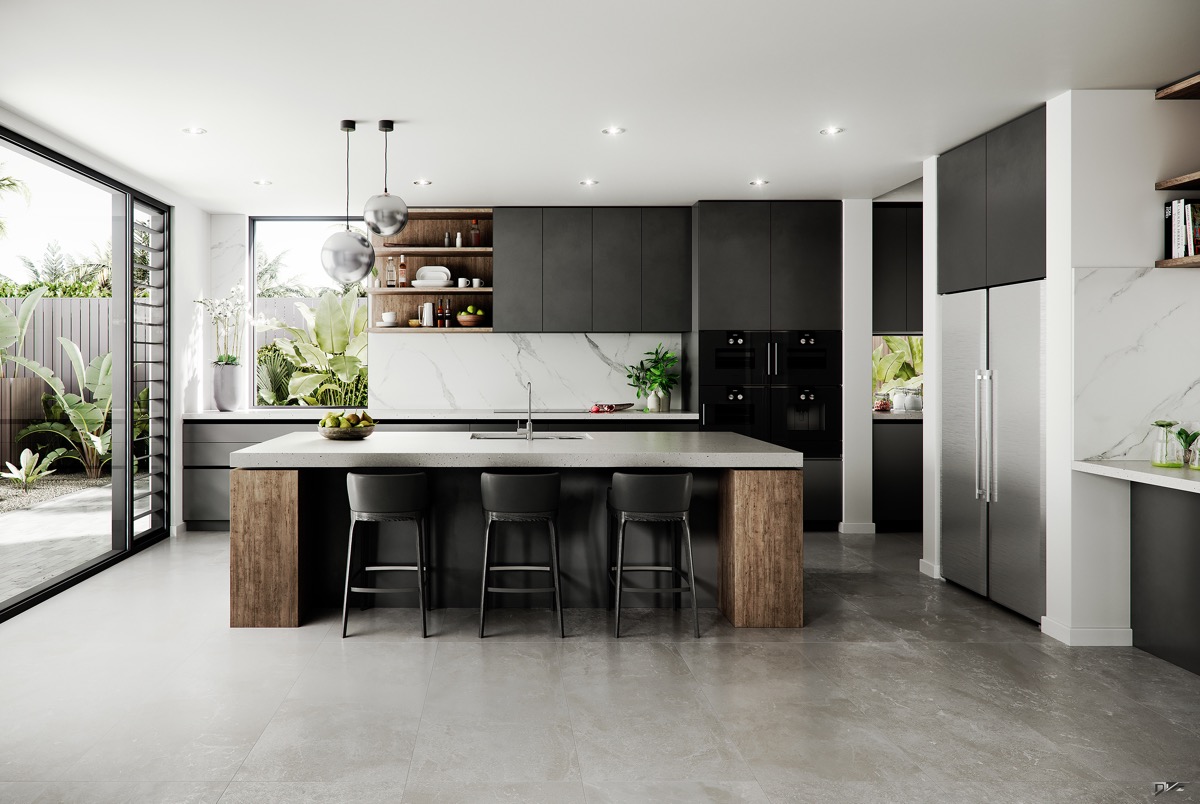 24 |
Visualizer: Dmytro Kobelnyk
Mix cabinet finishes. Smooth and sleek black cabinets crash up against rough raw wood in this rich yet rustic design.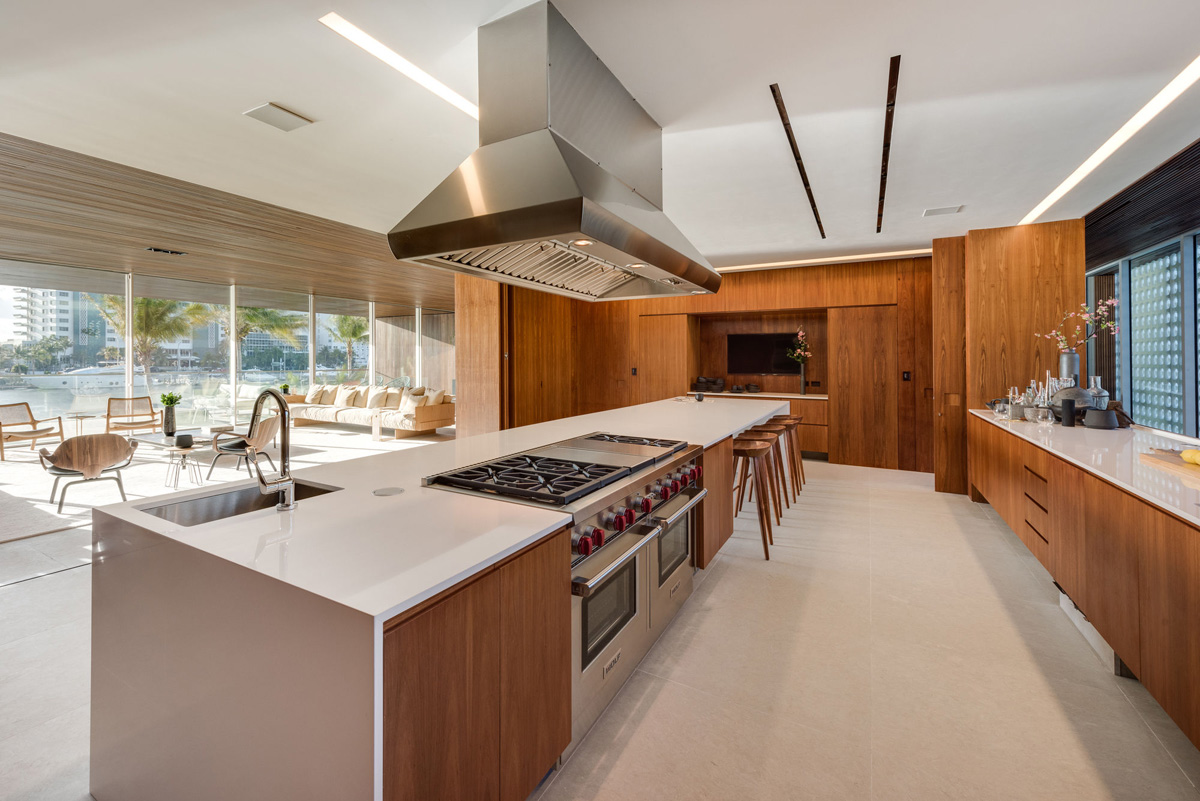 25 |
Designer: Marcio Kogan
Install a multi aspect island. This one is equipped with the cooker at one side and the sink on the other. More images of this gorgeous home here.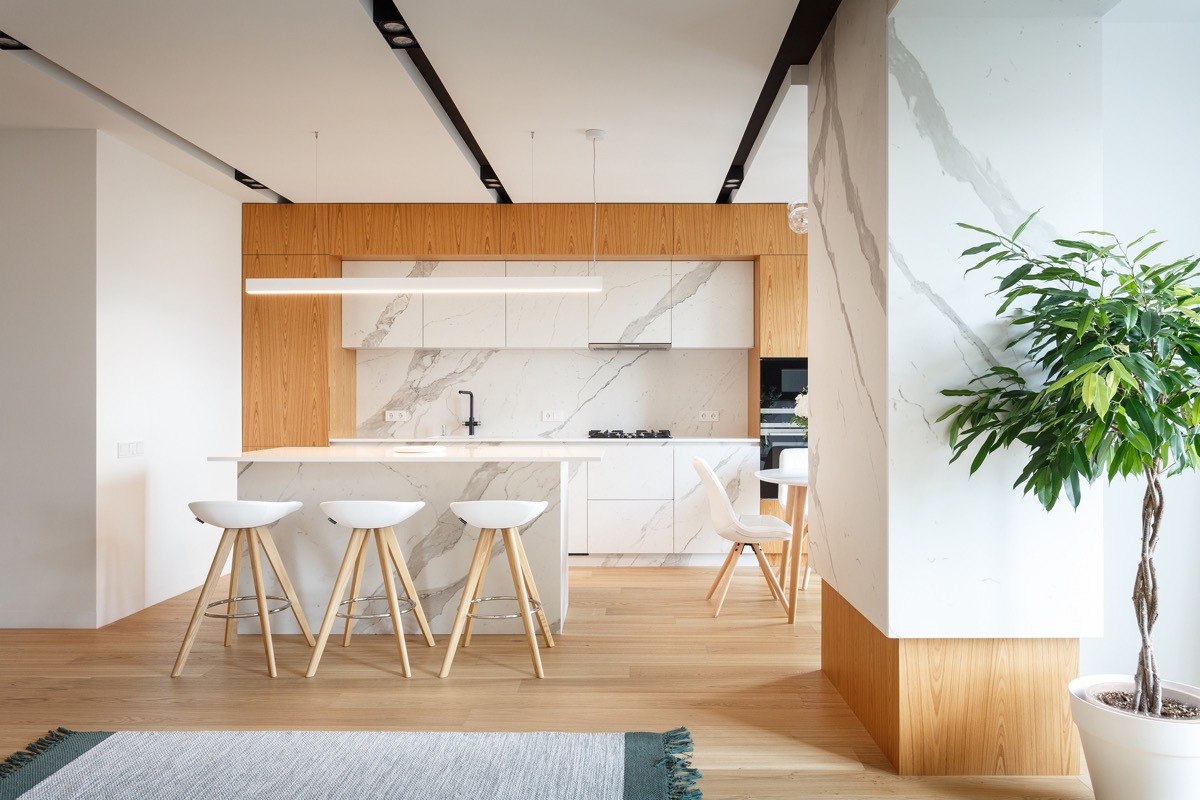 26 |
Designer: SVOYA studio
Style the surrounding decor as part of the cabinetry. The structural column that neighbours this kitchen installation has been clad in white marble and trimmed with blonde wood tone to match the units.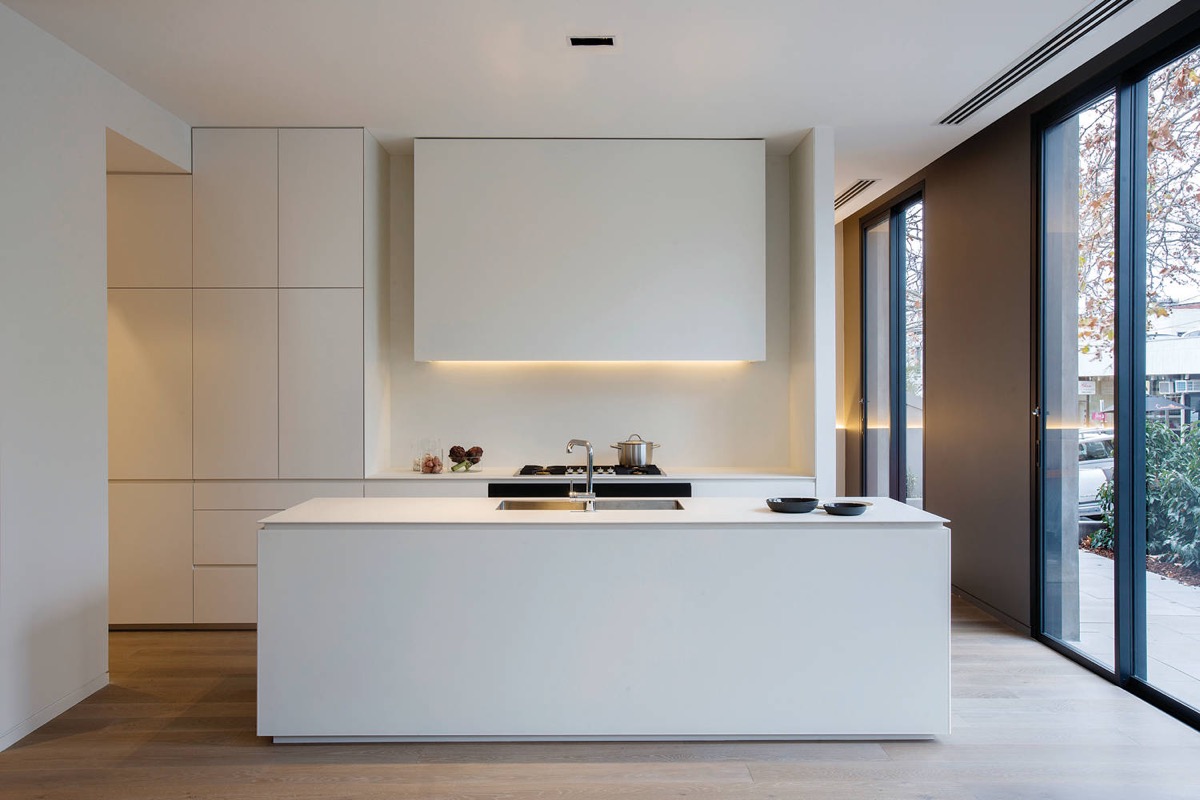 Use LED strips to highlight the edges of a sharp minimalist kitchen.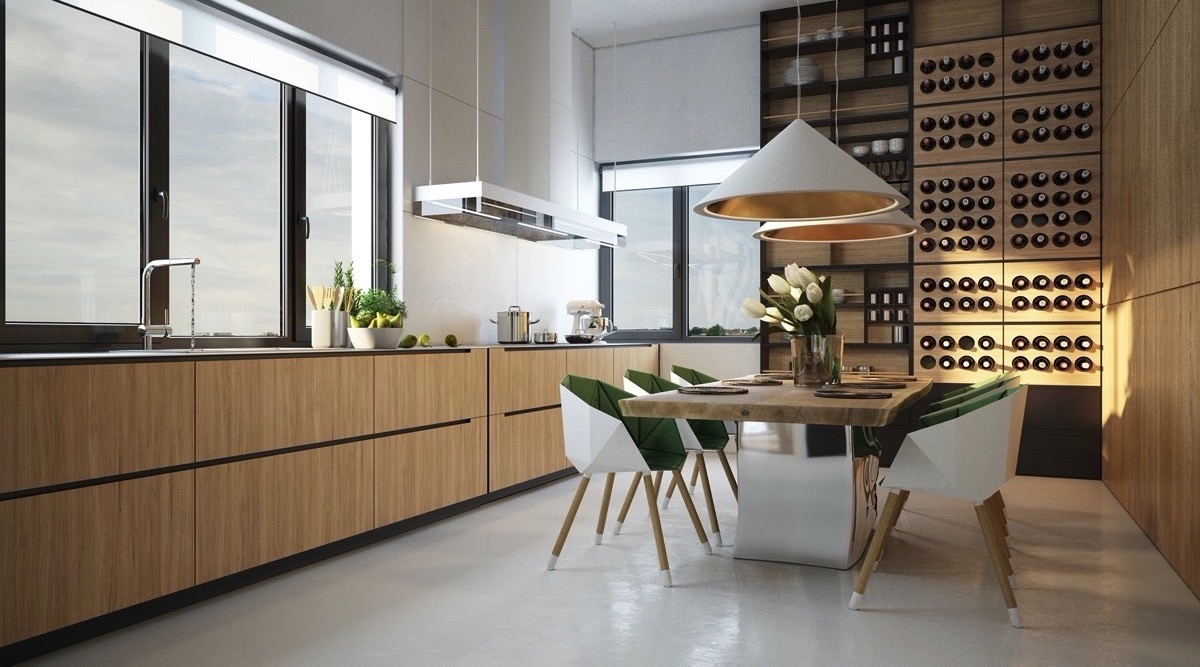 28 |
Visualizer: Oleksii Karman
If wine is your thing, then let it sing! Fashion a towering wine storage rack as part of your kitchen decor for a decadent wine cellar effect.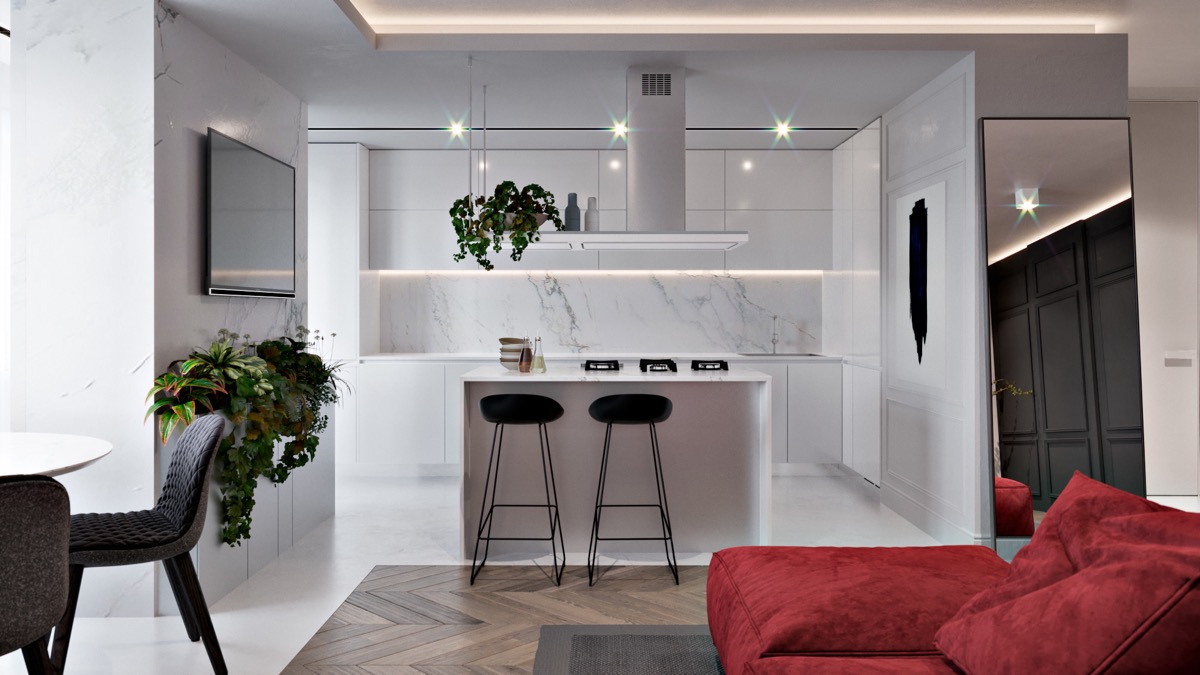 29 |
Visualizer: Neiman Design
By utilising a number of these tips in an understated way you can achieve small kitchen luxury. This little gem includes a classy white marble backsplash, pretty greenery, monochrome contrast, intriguing wall art and the glow of LED under cabinet lighting.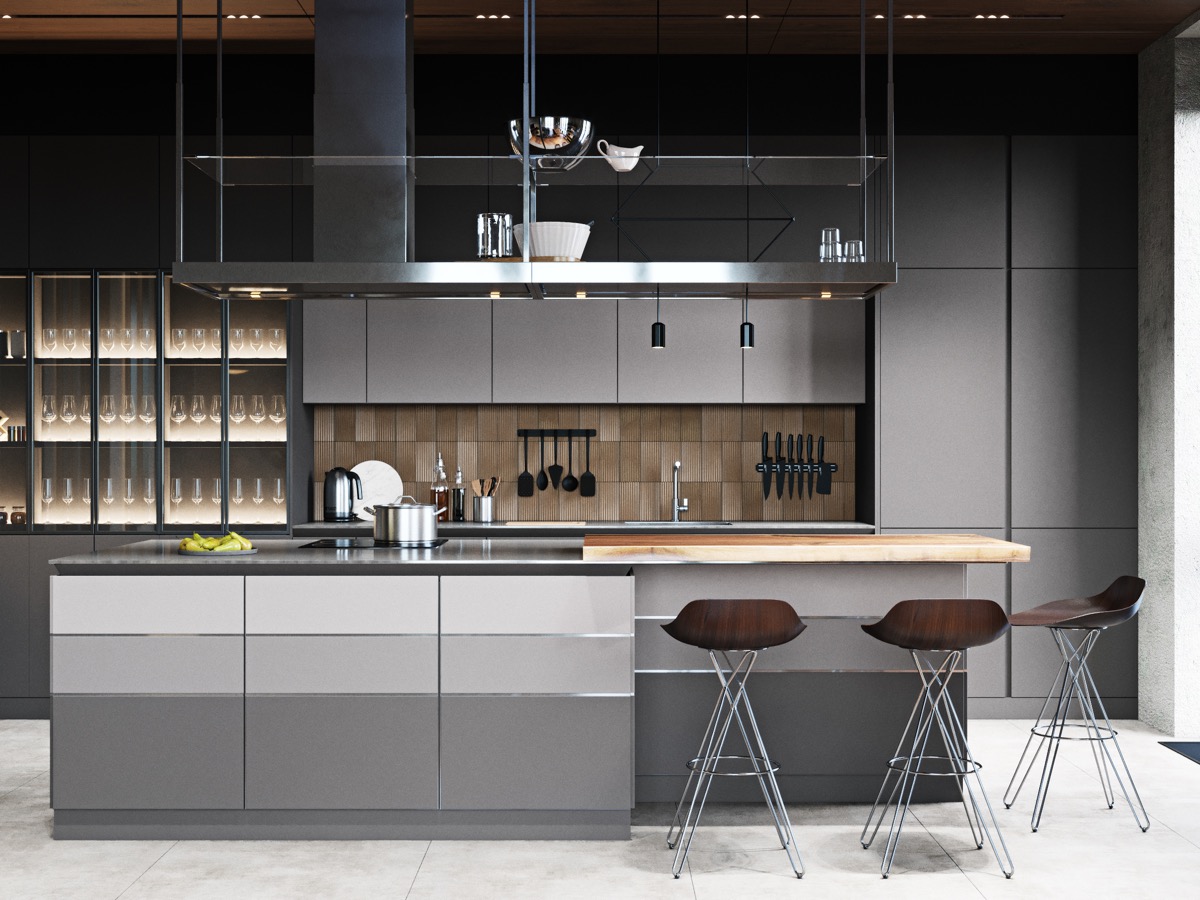 30 |
Visualizer: Evgenia aborina
Change your tone. Actually, change it a few times, like this triple grey toned kitchen design. Natural wood tones are introduced to warm and enrich the cool colourway.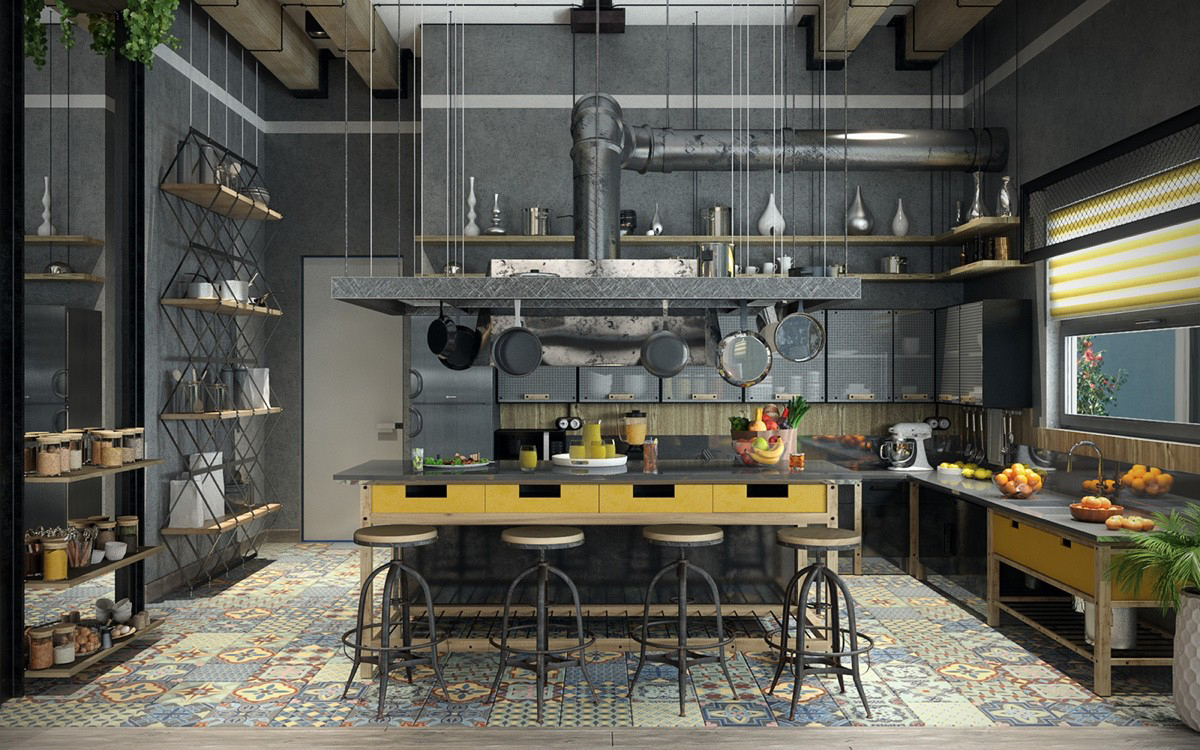 31 |
Visualizer: Mihail Scherbak & Timothy Kalakutsky
Ring the changes. A luxury industrial style kitchen can be enriched with beautifully patterned floor tiles and cheerful coloured accent drawers.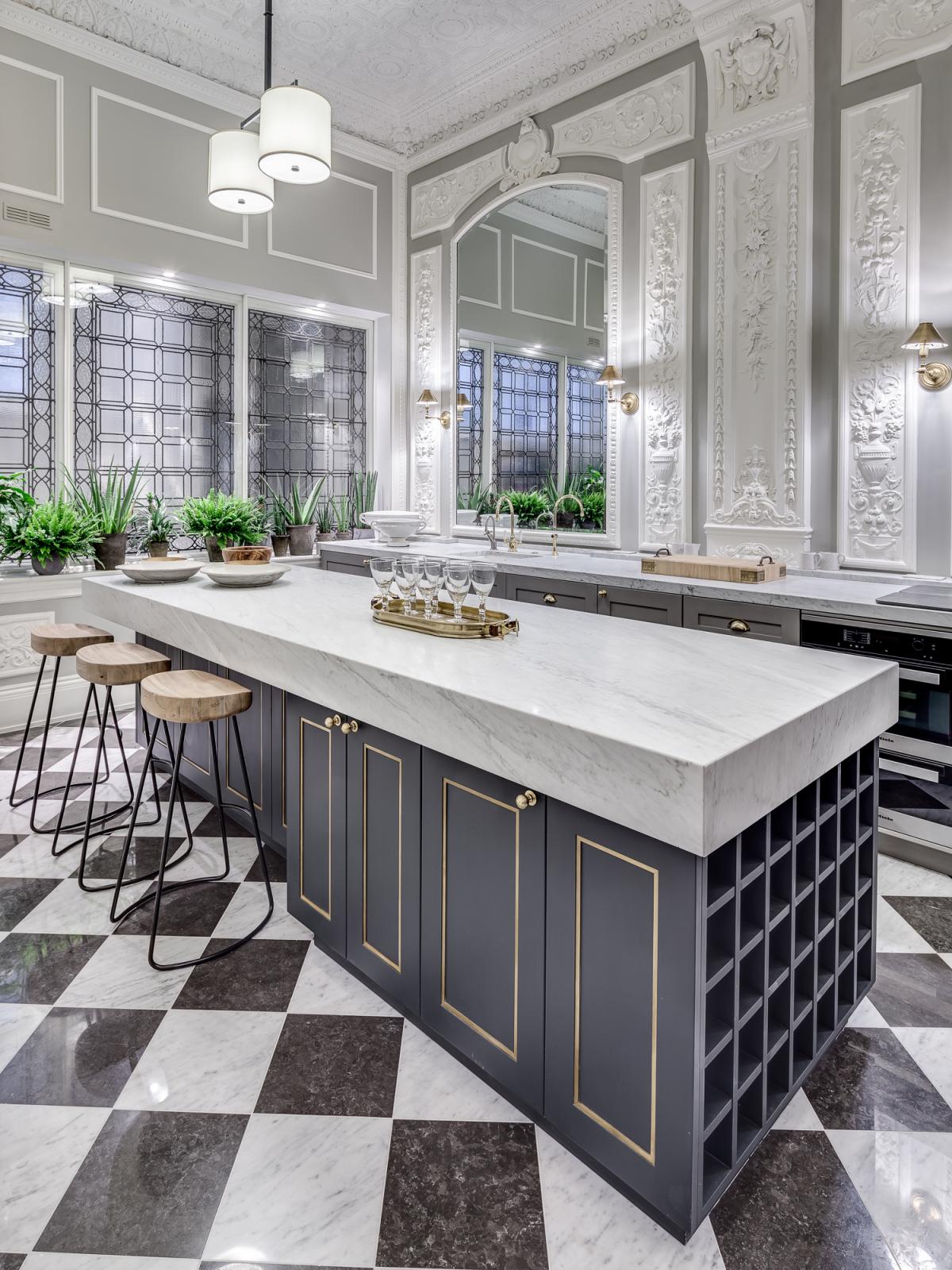 32 |
Designer: Barlow & Barlow Design
You almost don't need amazing cabinets in a setting as wonderful as this one. Wainscotting and highly decorative boiserie put on the real show.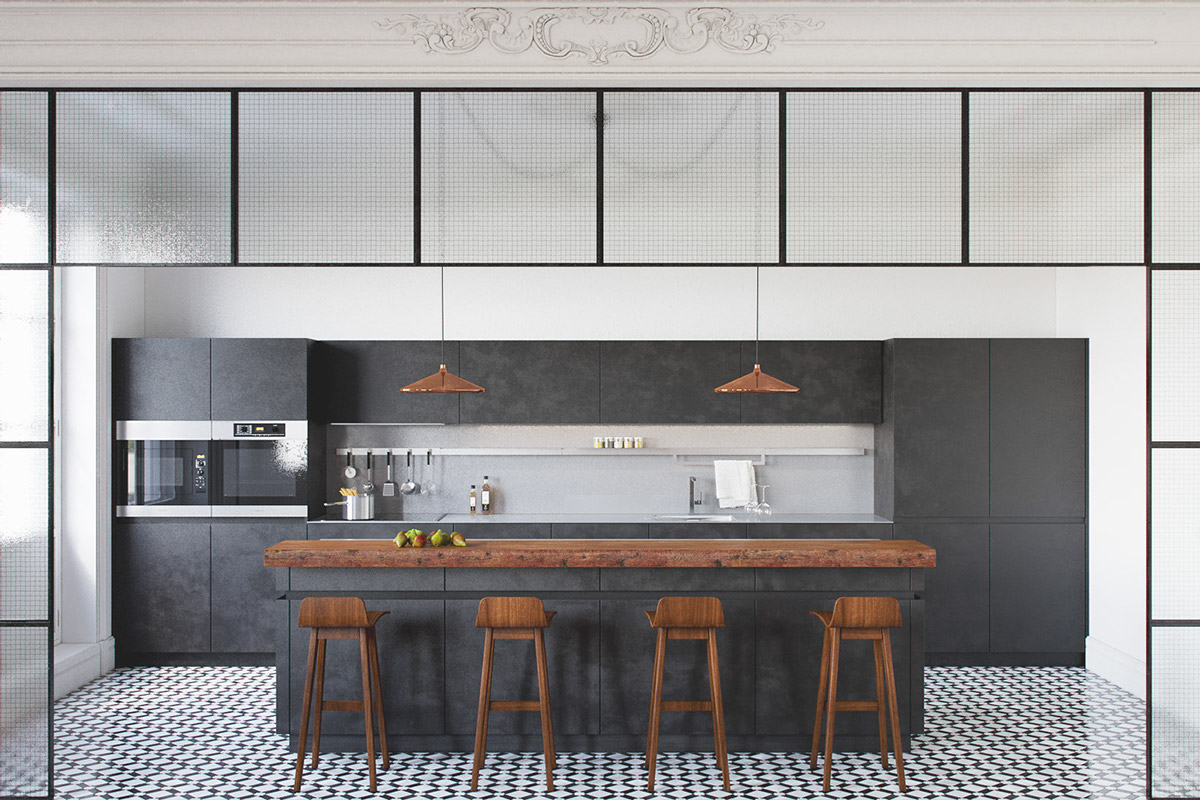 33 |
Visualizer: Nordes Design
Luxury vinyl flooring adds interest to a modern space. Where decorative features are lacking, you can create a visual boost with a swathe of geometric tile or vinyl flooring.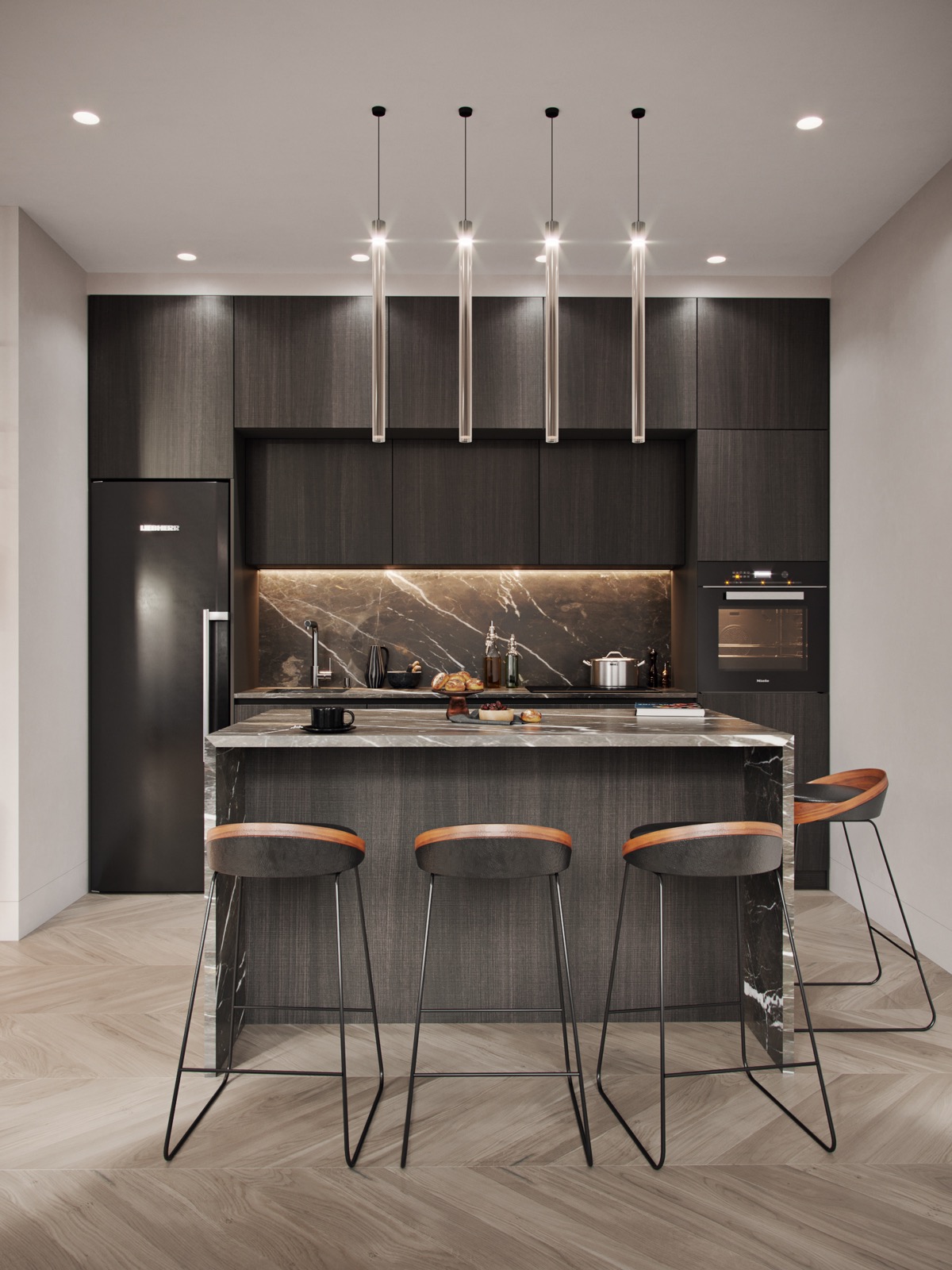 34 |
Visualizer: Aydar Kharlamov
Choose integrated appliances for a sleek streamlined look.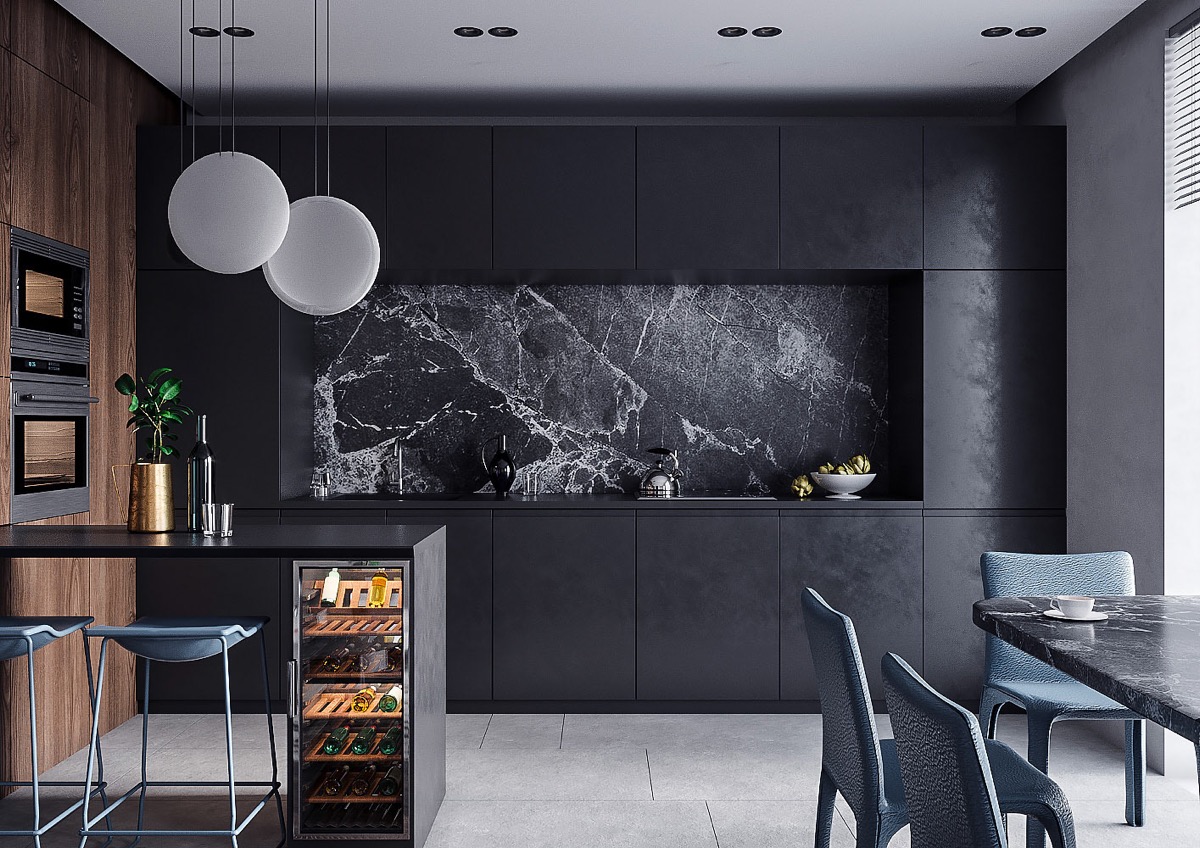 35 |
Visualizer: Kidz Design
Add in a wine cooler. This under counter wine cooler shines like a little jewel in the crown of this black kitchen ensemble.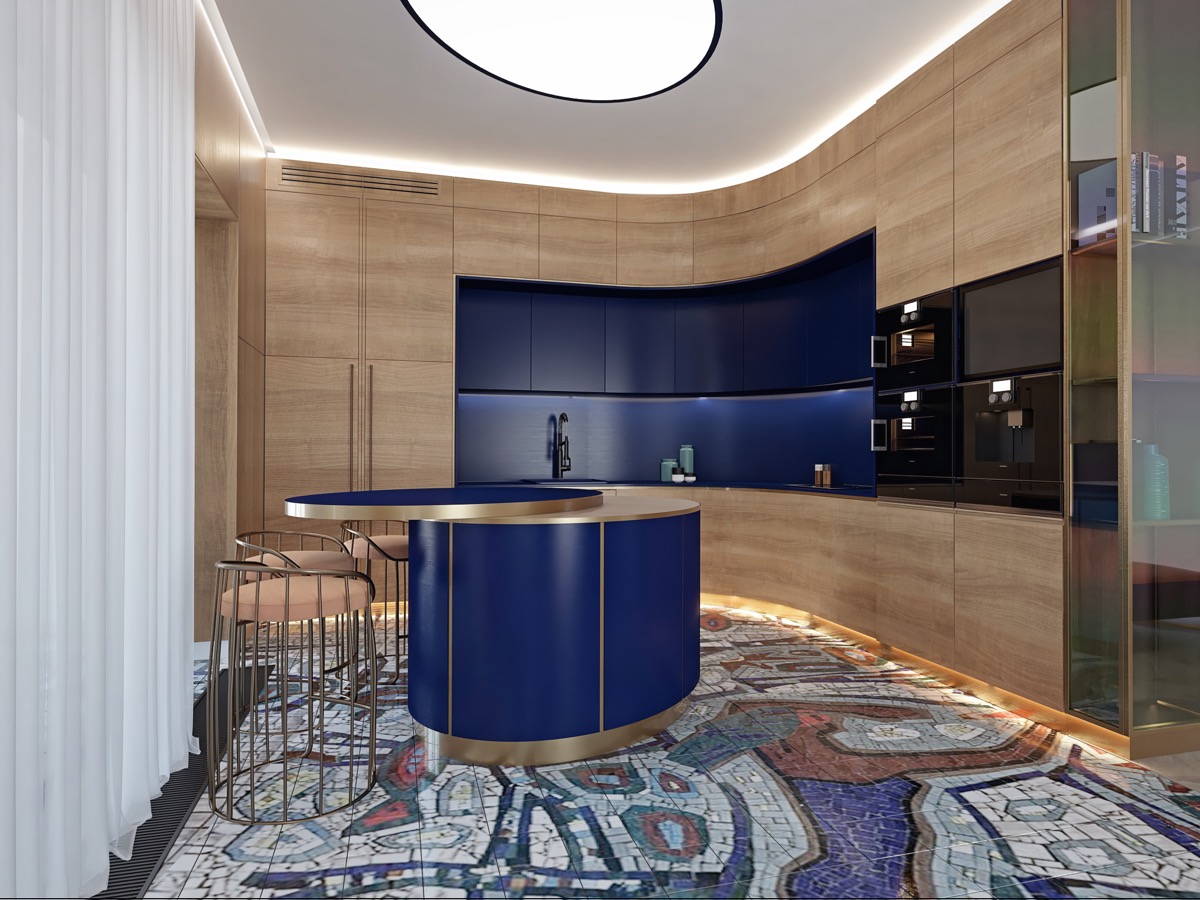 36 |
Visualizer: Art Group
Make a mosaic. The floor of this blue kitchen flows with organic mosaic pattern.
37 |
Visualizer: Nikita Dyagiltsev
Style it out with sculptural form. This amazing wooden breakfast bar seems to grow right out of the wall.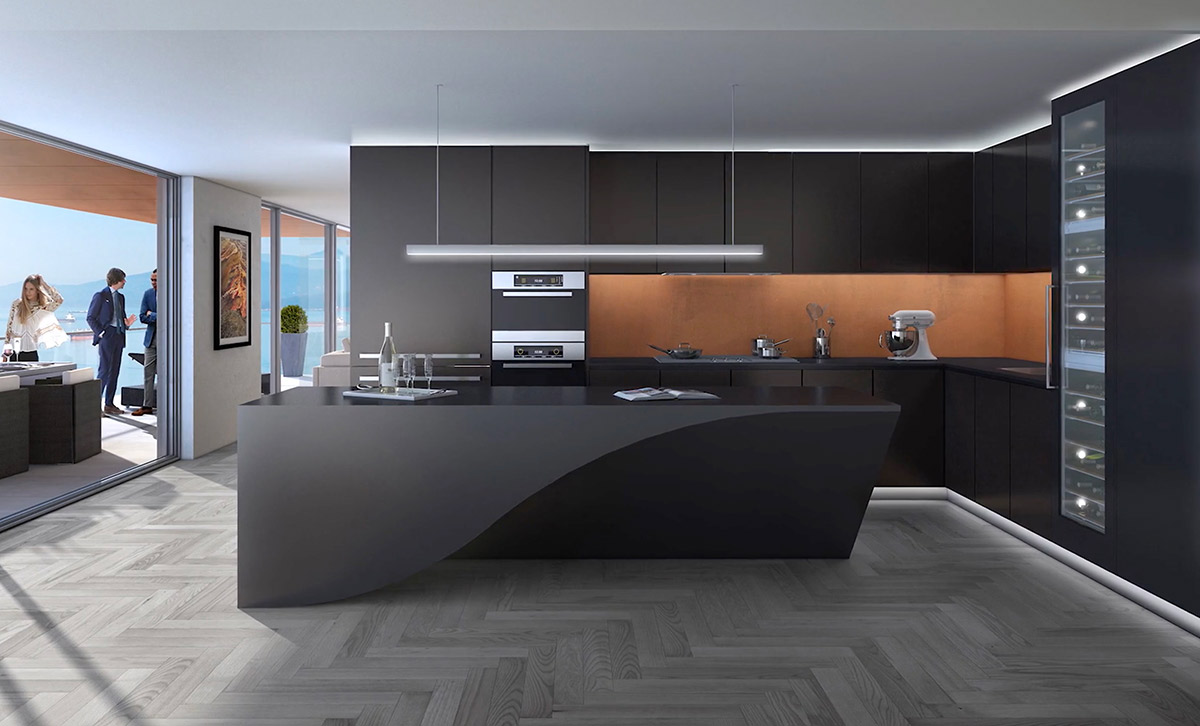 38 |
Visualizer: BIG Design
The sculptural piece in this kitchen is an island with a curvaceous cutaway. Linear kitchen lighting keeps the look clean.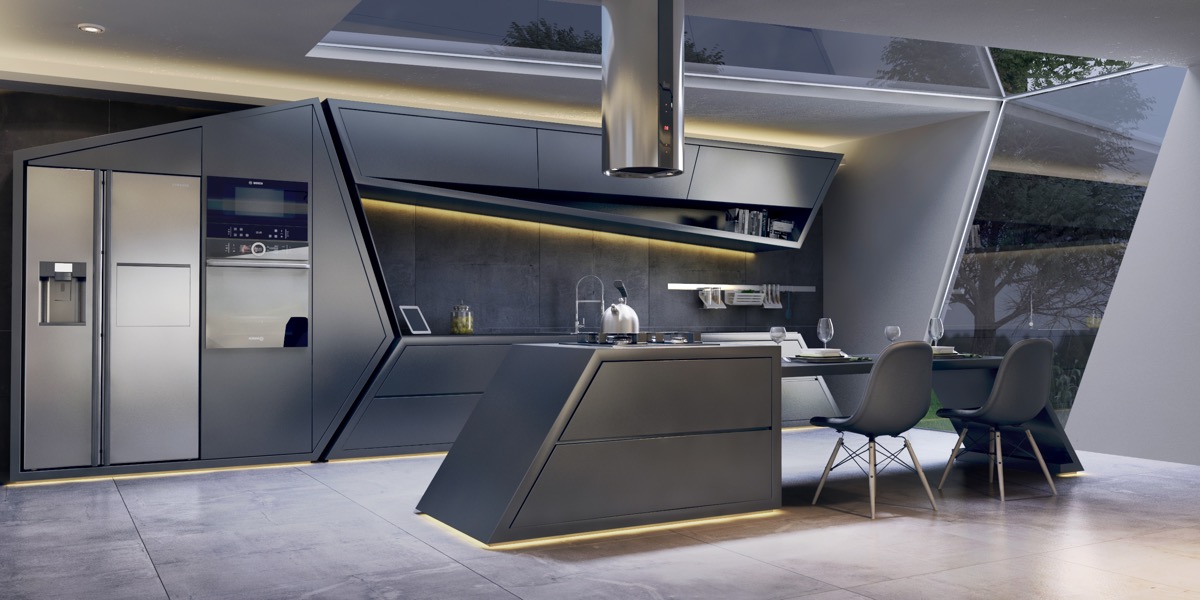 39 |
Visualizer: Burak Lafcı
Angular cutaways are the focus in this artistic kitchen design, where asymmetrical form is key. Every single section is carved out as a sloping volume that follows a different gradient to the next – including a bespoke skylight design to complement the aesthetic of the cabinets.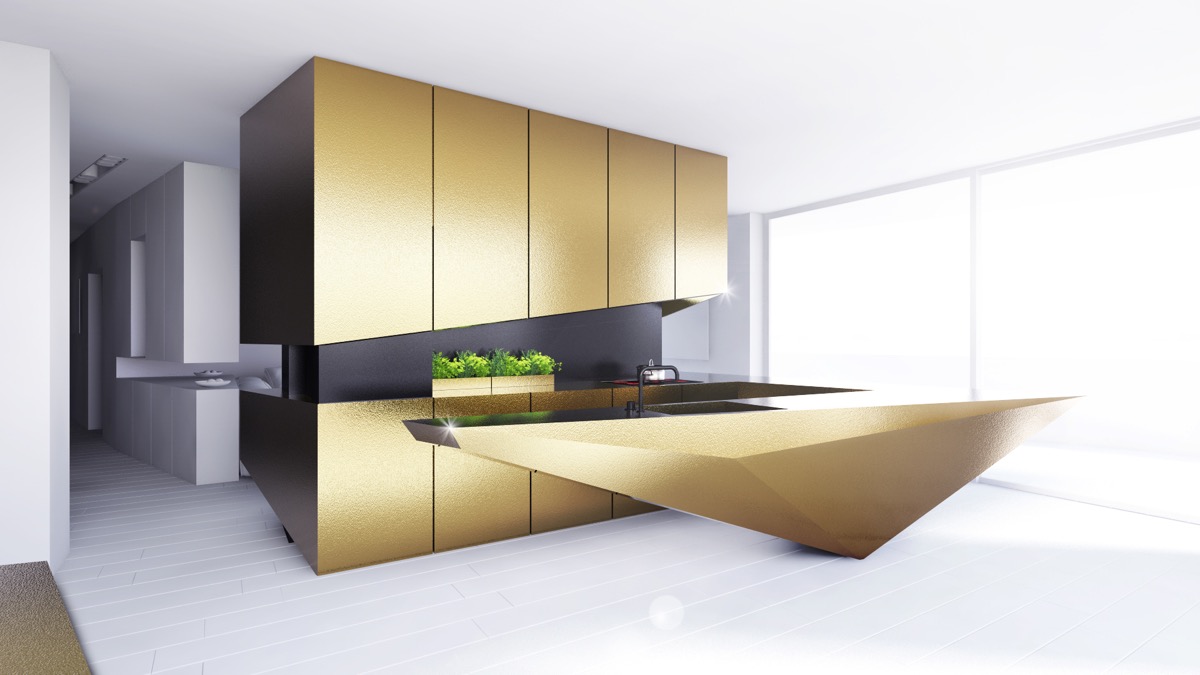 40 |
Visualizer: Who Cares?! Design
Nothing says luxury like an entirely gold kitchen. This U-shaped kitchen also features a stunning cantilevered effect peninsula.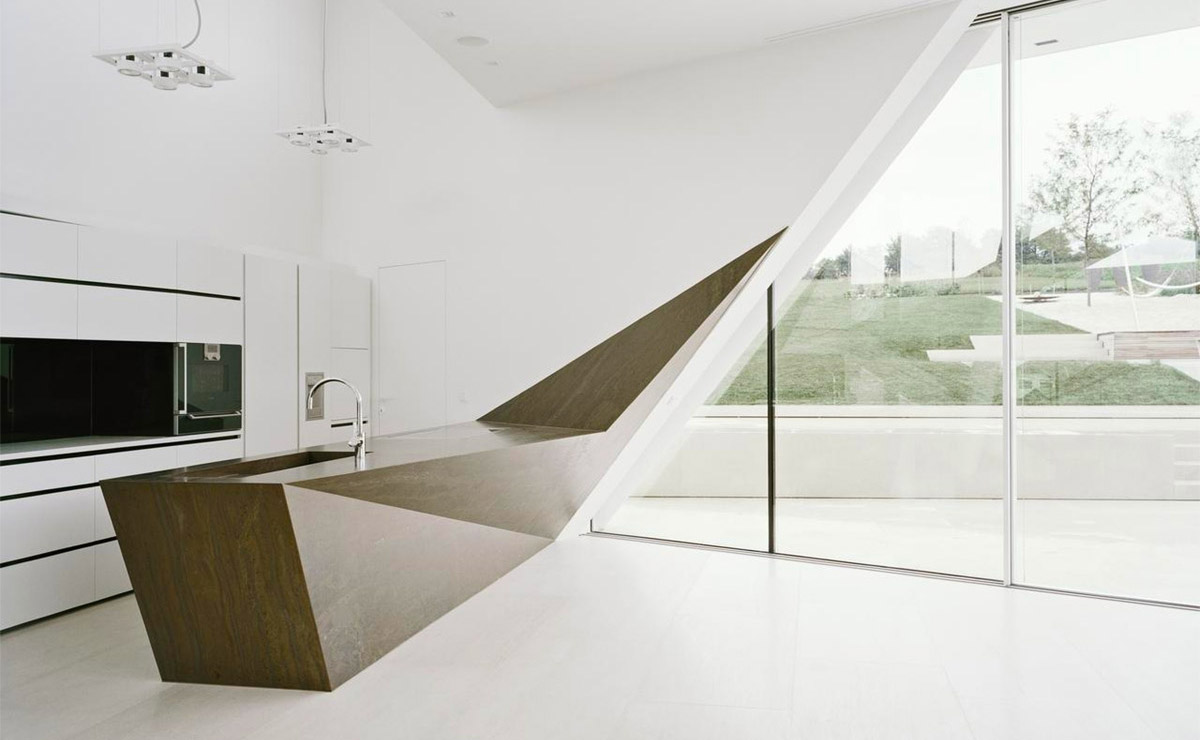 41 |
Visualizer: Project A01 Architects
Another amazing sculptural peninsula. Looking as though it has been constructed out of folds, this volume is like a giant piece of origami.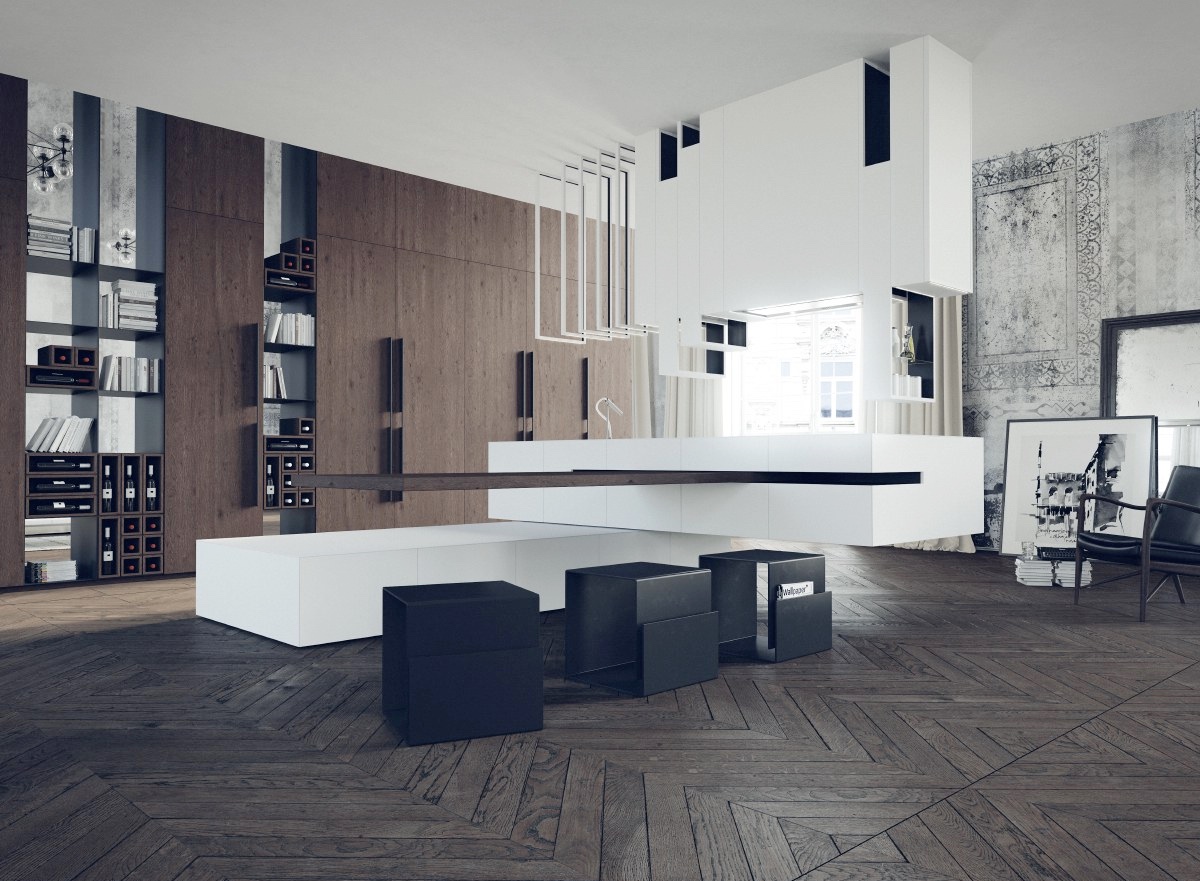 42 |
Visualizer: Delta Tracing
Create a cubist kitchen. So, this kitchen island idea really doesn't even look like a cooking space at all. It's more like a deconstructed concept or an abstract idea of a kitchen.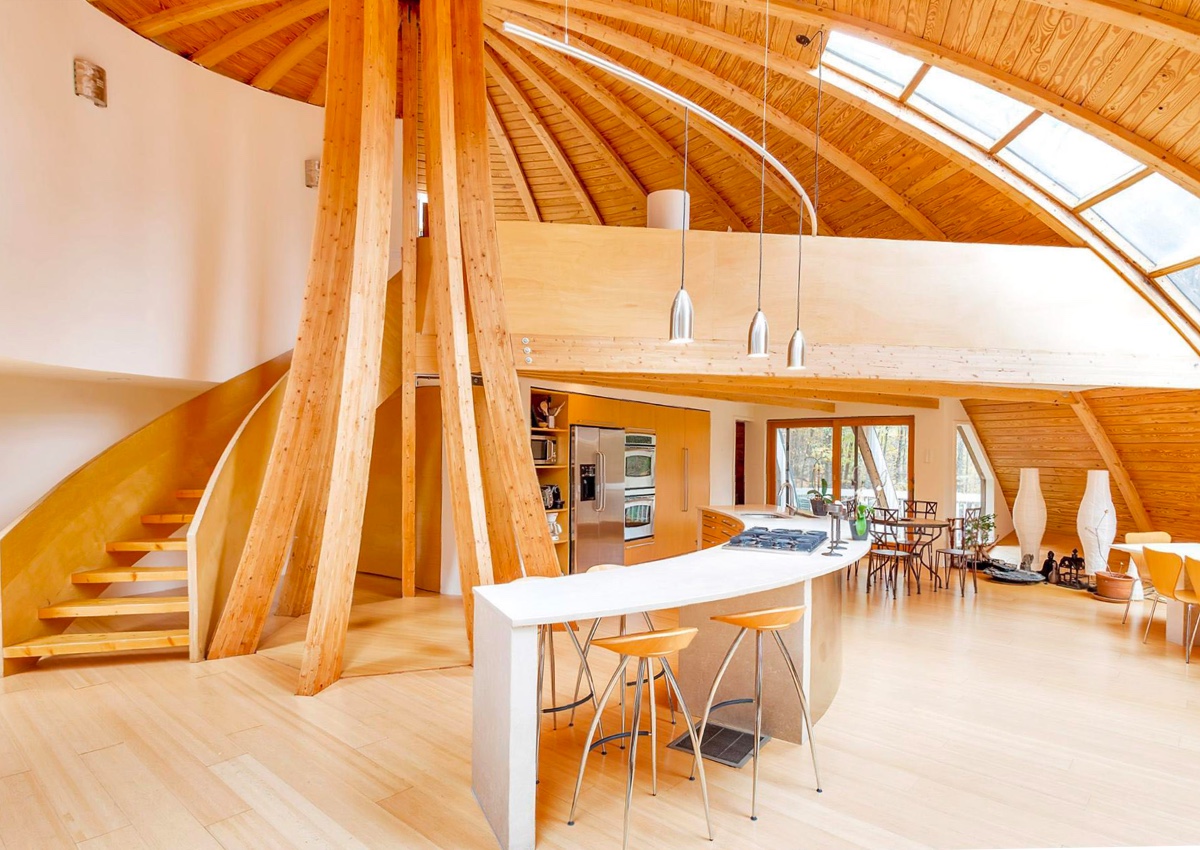 This spectacular space is all about the architecture. More images of this here.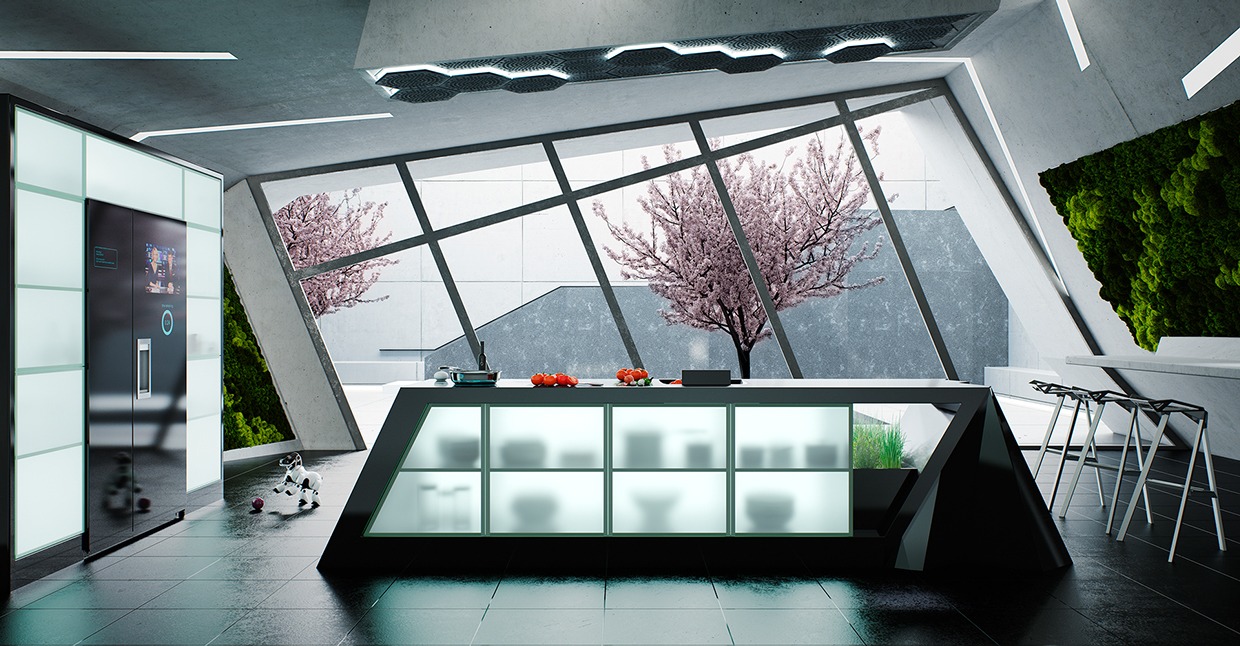 44 |
Visualizer: Visual Method
Flirt with a futuristic approach. Cutting edge technology, digital look lighting ideas, clinical glass cabinets and the infiltration of live plants gives this modern kitchen a year 2500 kind of feel.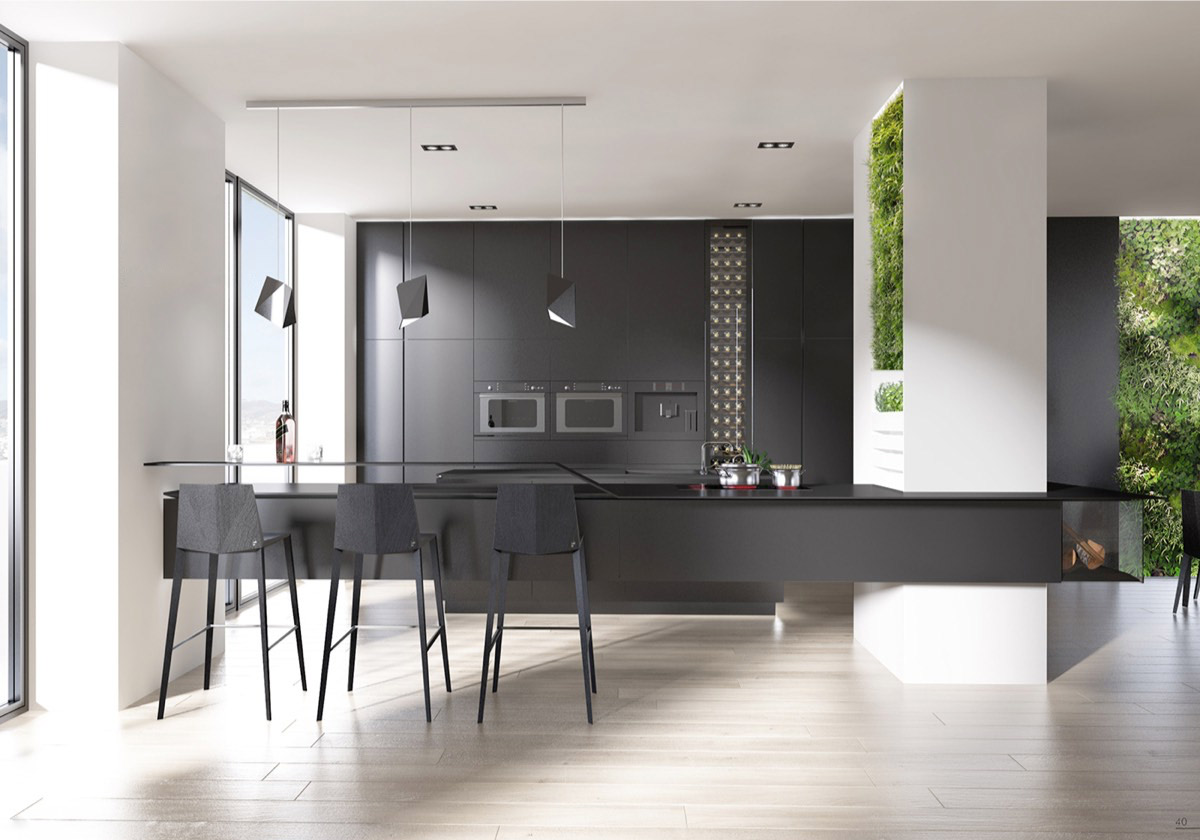 45 |
Visualizer: Who Cares Design
Grow yourself a green feature wall with an indoor vertical garden.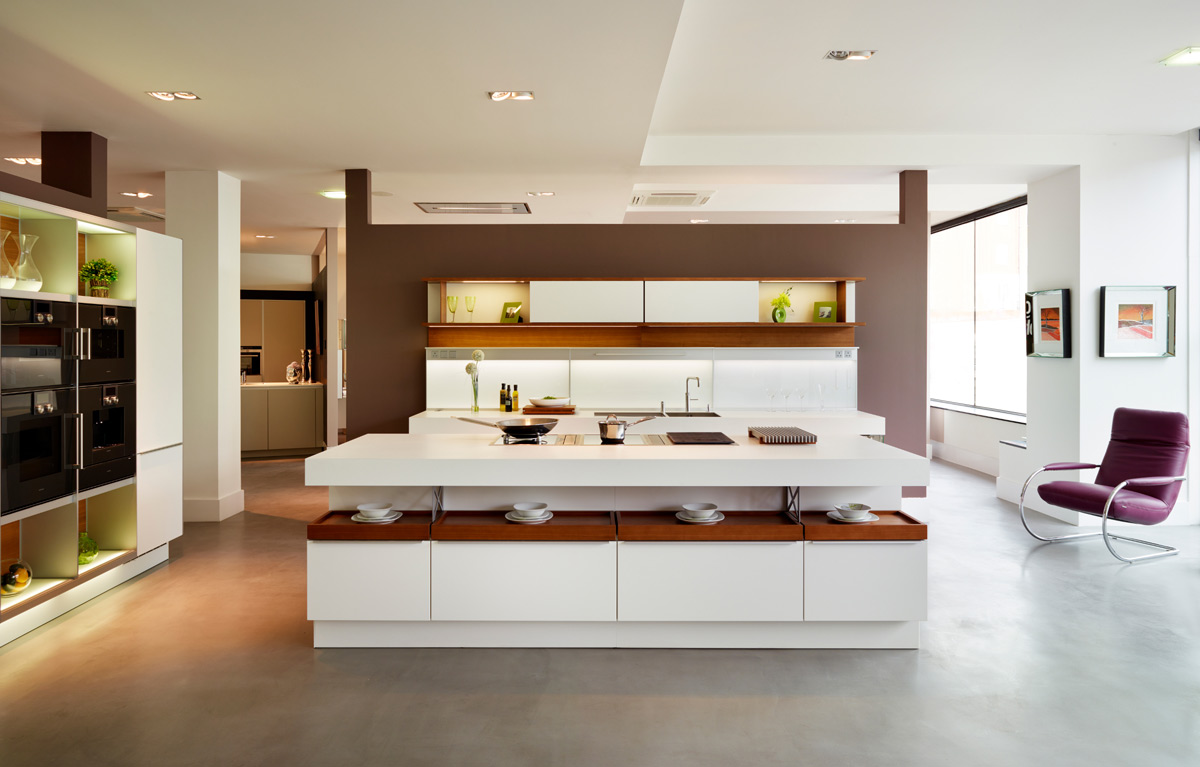 Imagine you're hosting your own cooking show! Arrange your cooking hob on an island facing outward to the audience… okay, so that's actually just your family but they can still enjoy the show!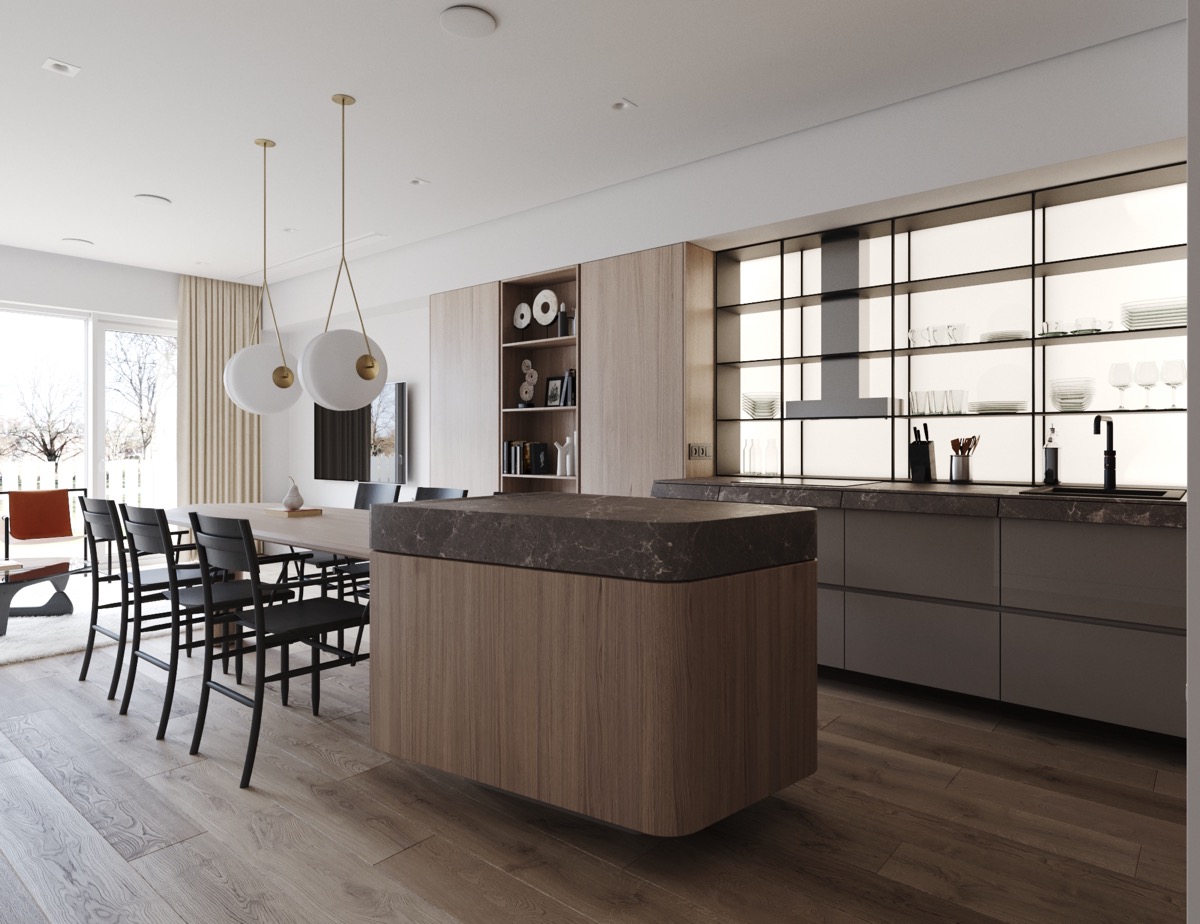 47 |
Visualizer: Stephen Tsimbalyuk
Master the art of levitation. Recessing the bases of units gives them a cool weightless look.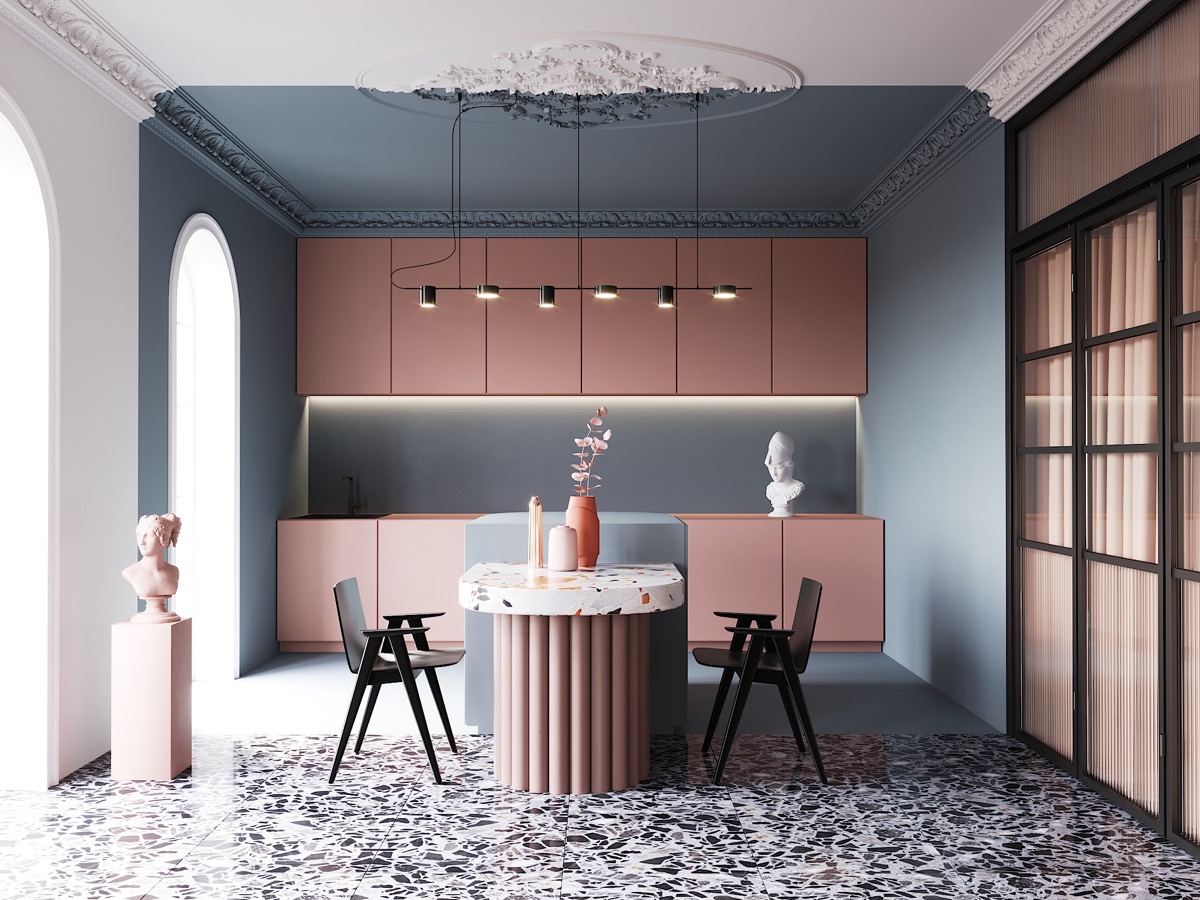 48 |
Visualizer: Evgenia Belkina
Add pieces of classic elegance to a modern kitchen, like these sculptural busts.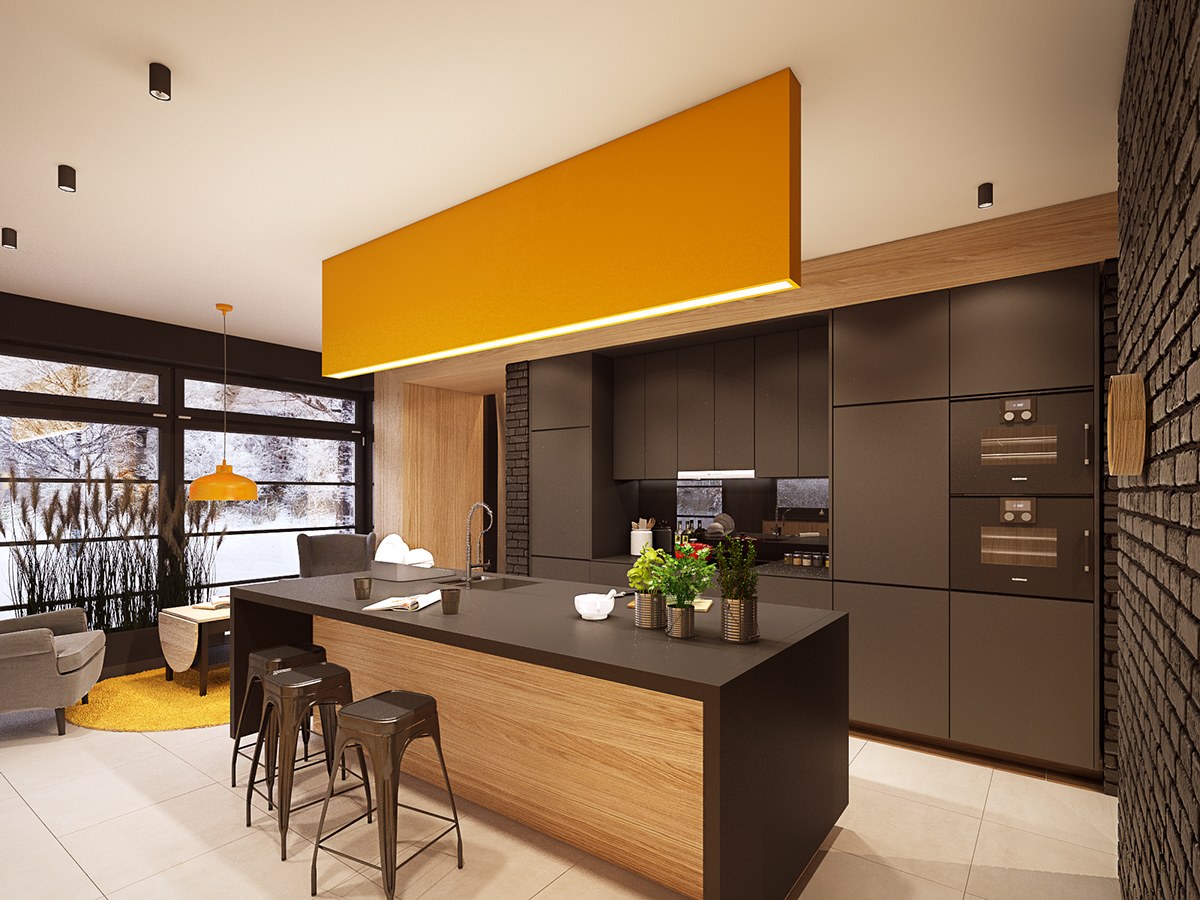 49 |
Visualizer: Plasterlina
A dark kitchen looks sophisticated for sure, but don't be afraid to throw in a couple of brighter pieces like these uplifting bold yellow lighting options and area rug.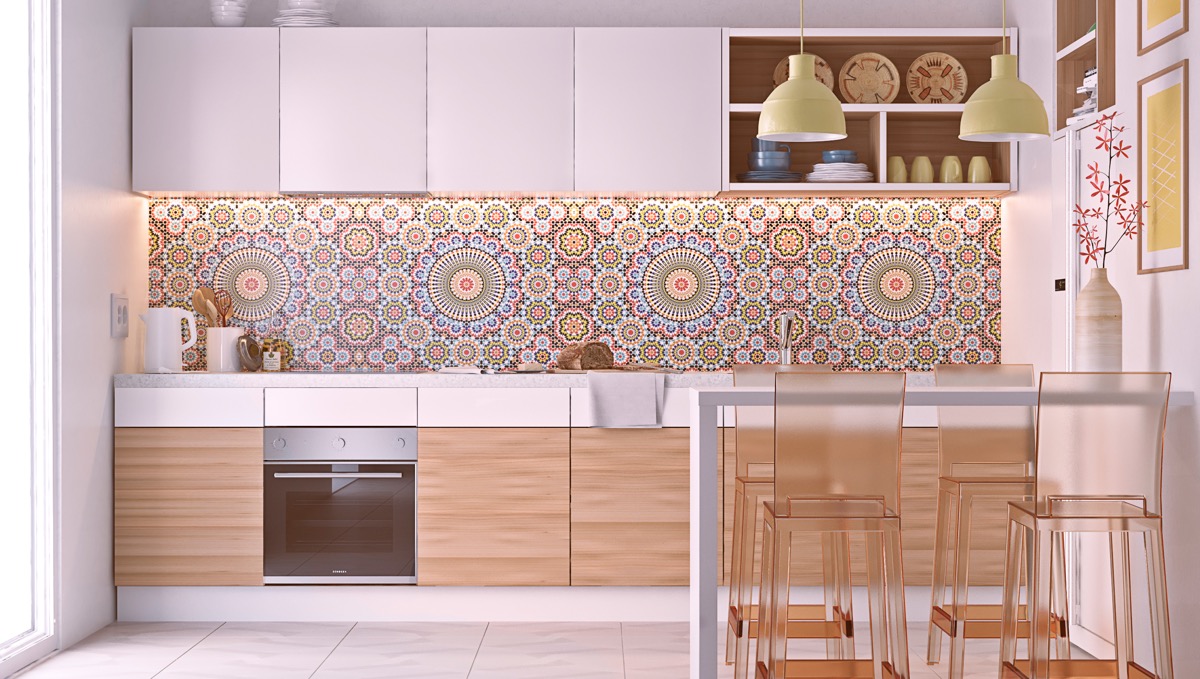 50 |
Visualizer: Dina Kuzmenko
If you want to throw your cash at just one luxury item, the kitchen backsplash isn't a bad choice. Pick out some showstopping tiles to set the scene.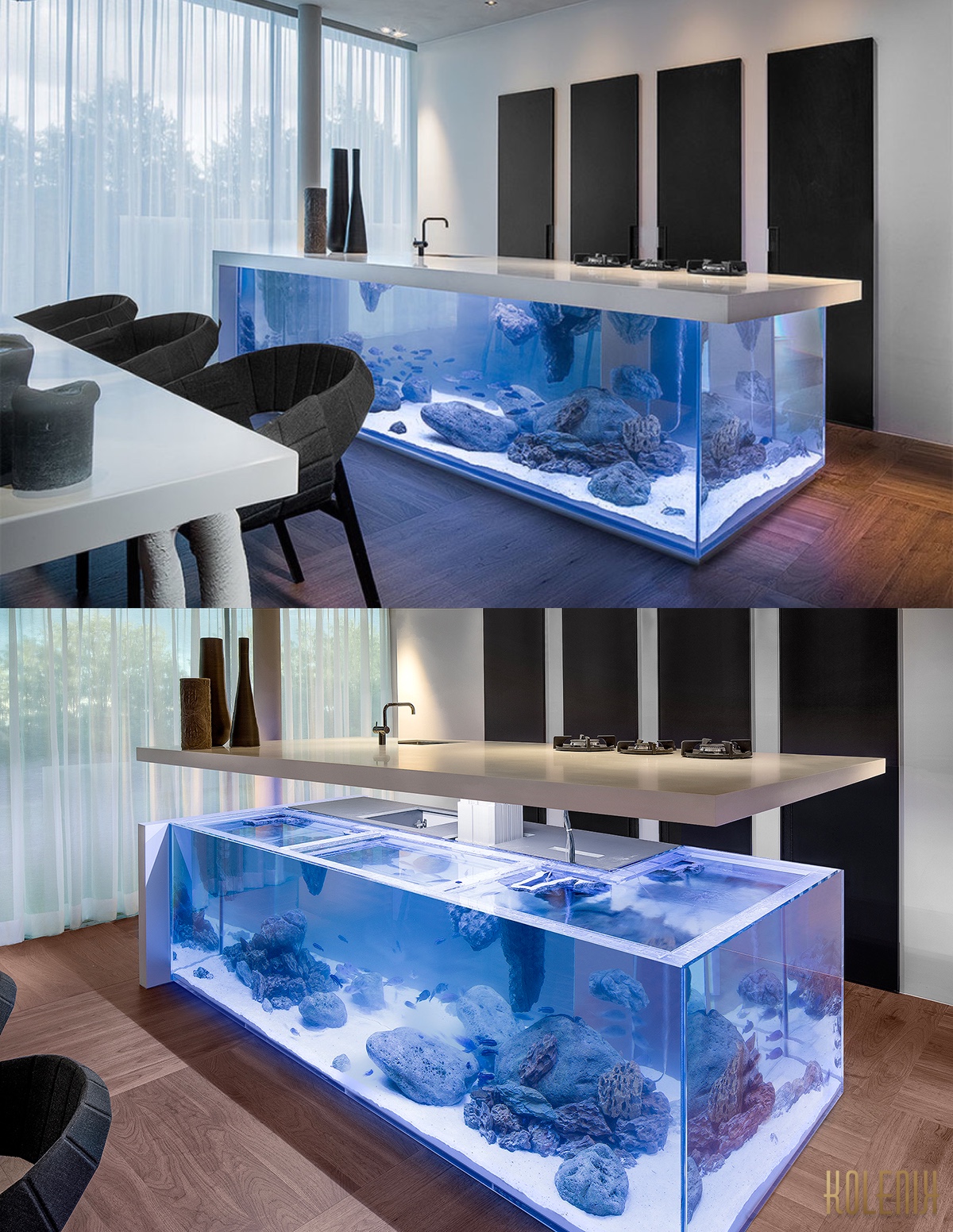 51 |
Designer: Robert Kolenik
The perfect luxury kitchen for mermaids or Aquaman – or just fish enthusiasts.