1 |
Visualizer: Thai Quang
Combine grey and green together for a look that's fresh. The tropical leaves and pineapples in this grey and white interior make a splash upon an exposed brick wall, two grey ottomans and two Scandinavian nesting coffee tables built to match.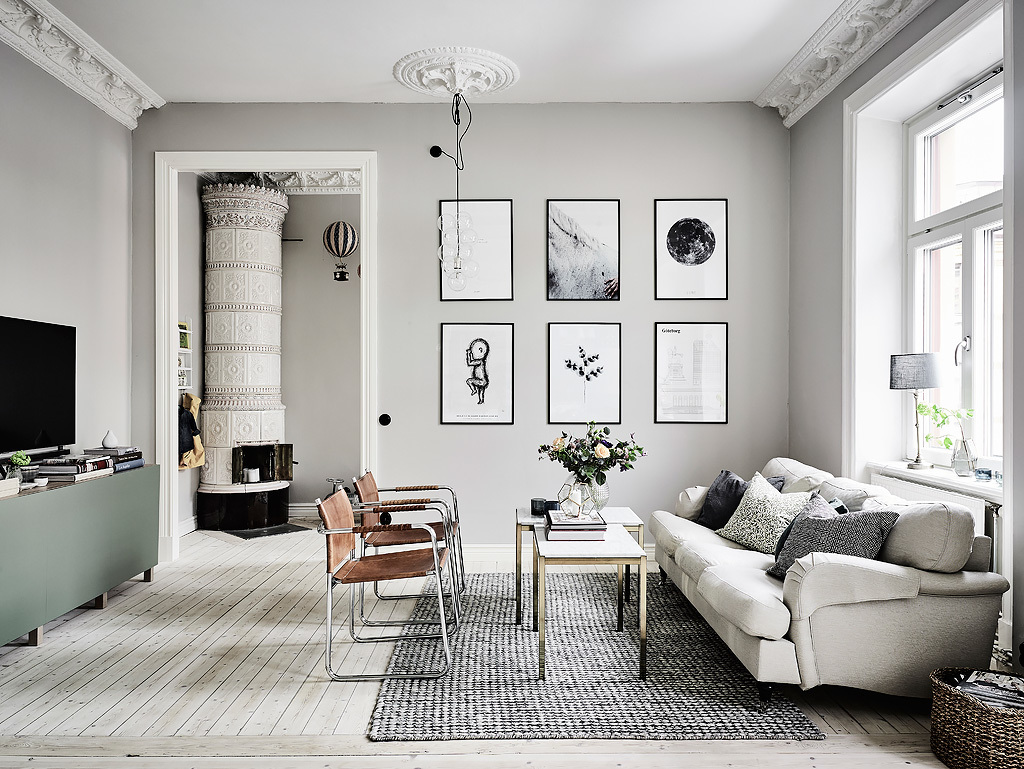 2 |
Photographer: Anders Bergsted
Source: Entrance
Grey living rooms take on many styles. This light grey number simulates Scandinavia with its six monochrome prints, two square leather chairs and structured, rectangular furniture. A Greek column fireplace in the corner adds a touch more character. Check out our 50 Inspirational Scandinavian-Style Living Rooms post for more interiors in this theme.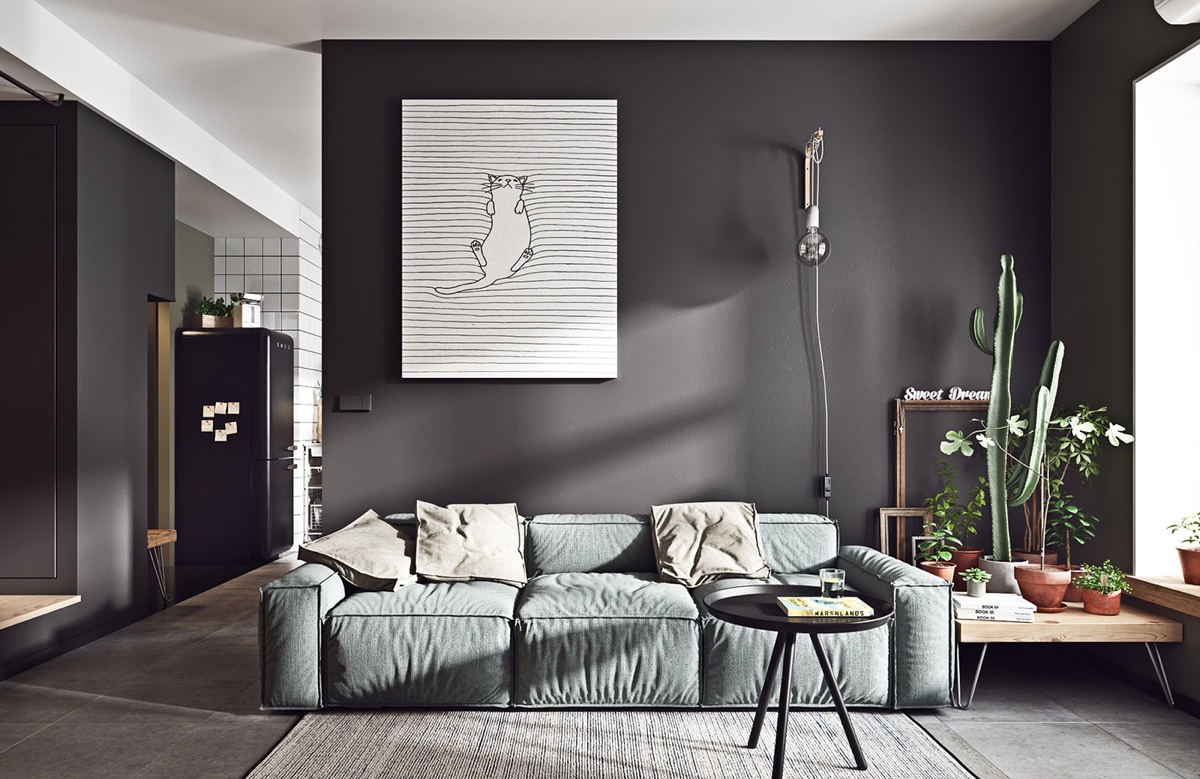 Prefer dark Scandinavian interior design? Paint a wall almost black, colour your floors in dark slate and pop a cat on its frontage, like this bold interior. A lighter grey couch, industrial light and a range of potted cacti provide items of interest.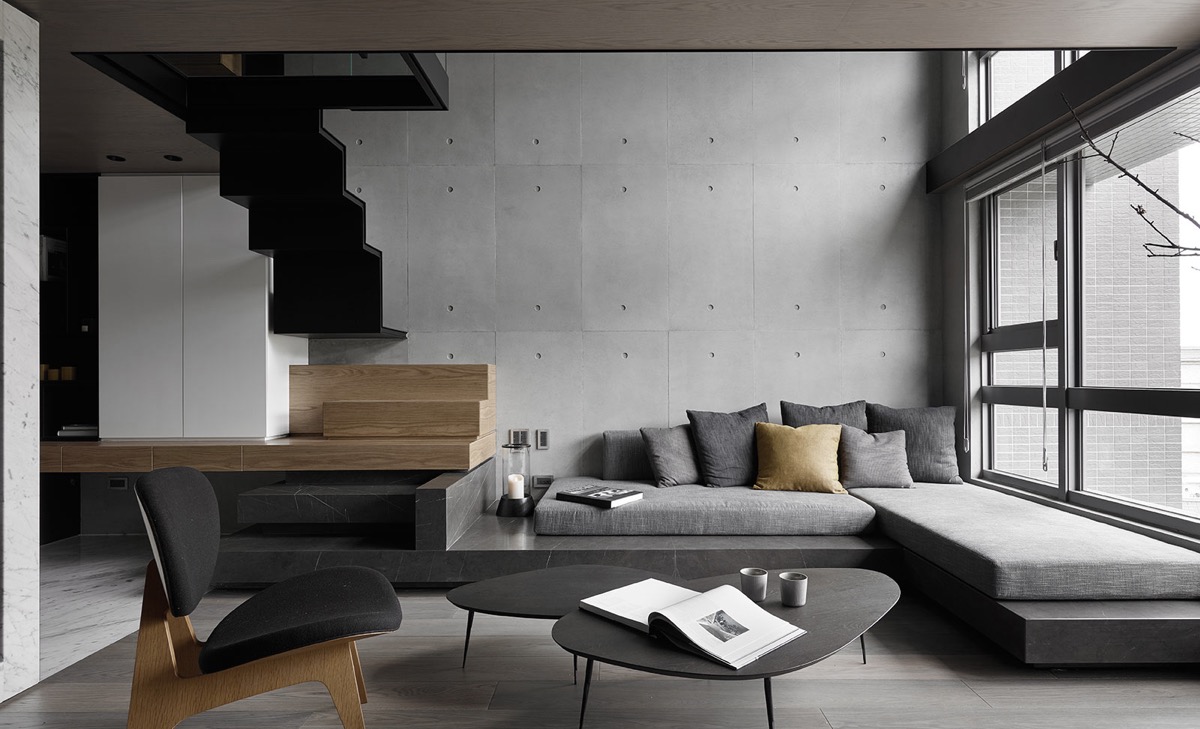 Go simple yet functional with a lounge in grey. The slick concrete feature wall of this black-and-grey interior is peppered with an artsy staircase, grey L-seater and abstract oval coffee tables.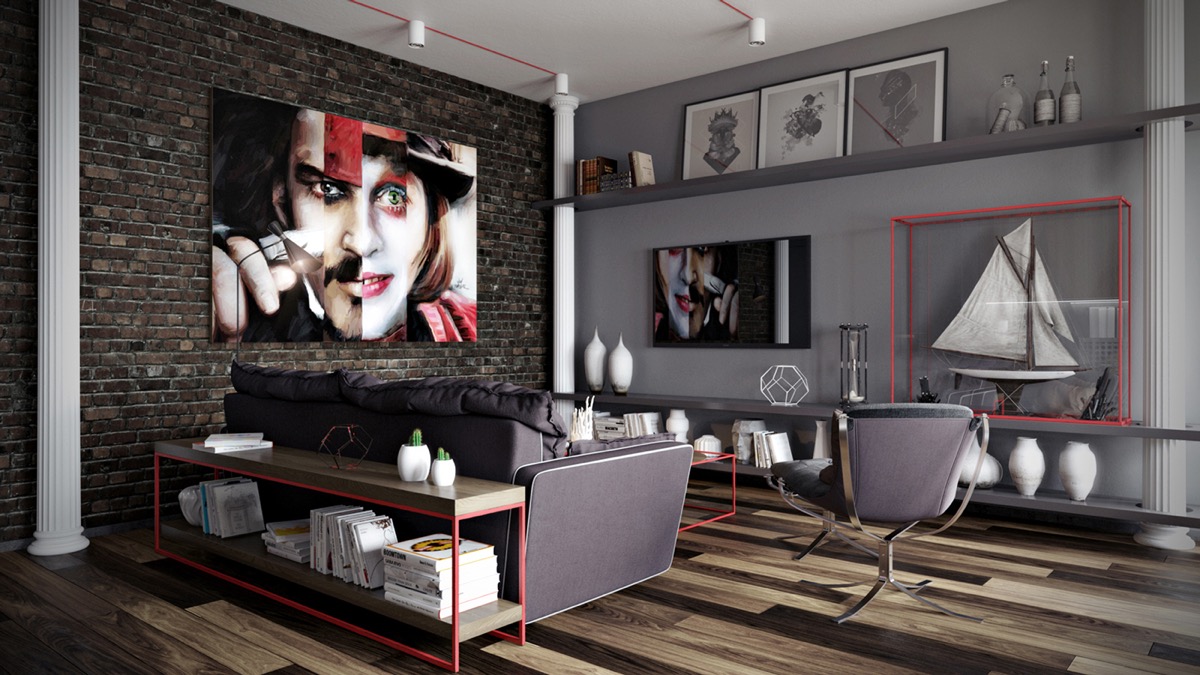 Grey creates space for dominant features. Mis-matching wooden floors, grey couches and muted accessories make way for a large facial abstract on an exposed brick wall. Red-lined shelving and a miniature yacht help tie the artwork in.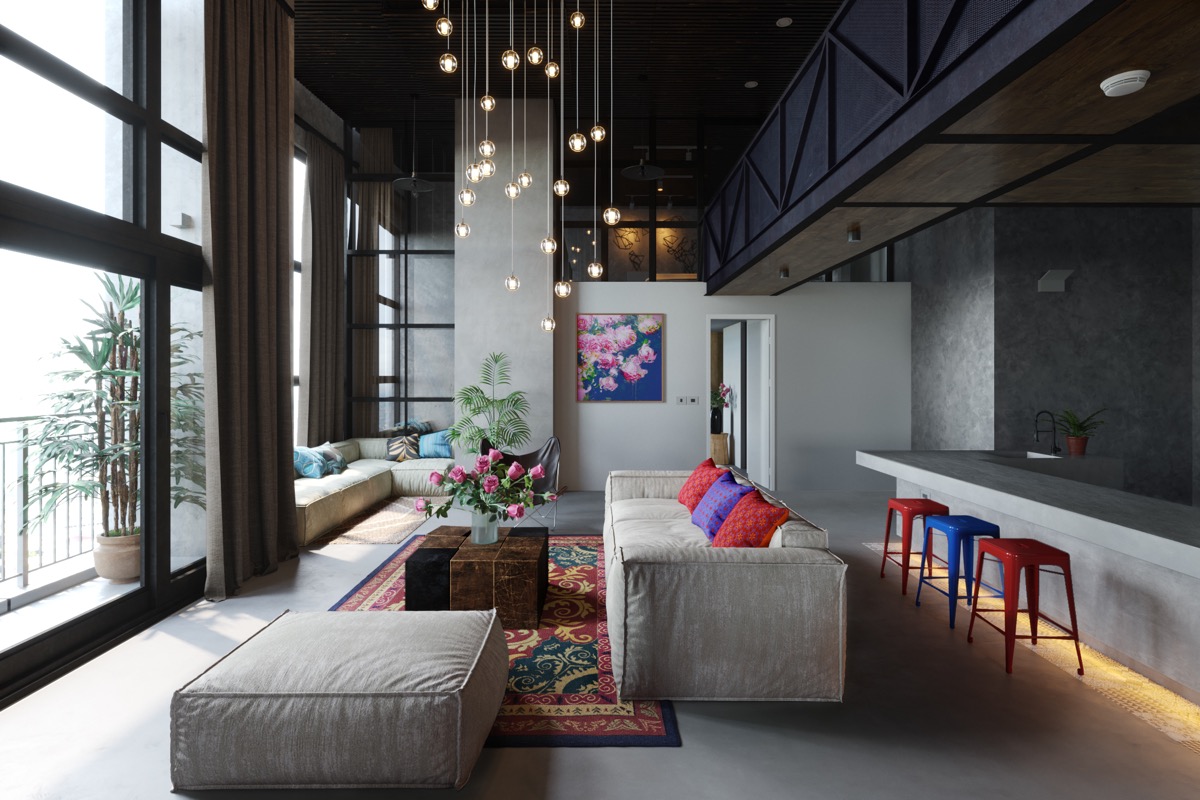 6 |
Visualizer: Roman Kolyada
Grey's a great base for a modern living room. This decor employs dangling lights to illuminate a grey couch, floor and ottoman with a matching kitchen bench and sprinkles of red and blue. A Turkish rug and floral print add pattern to form.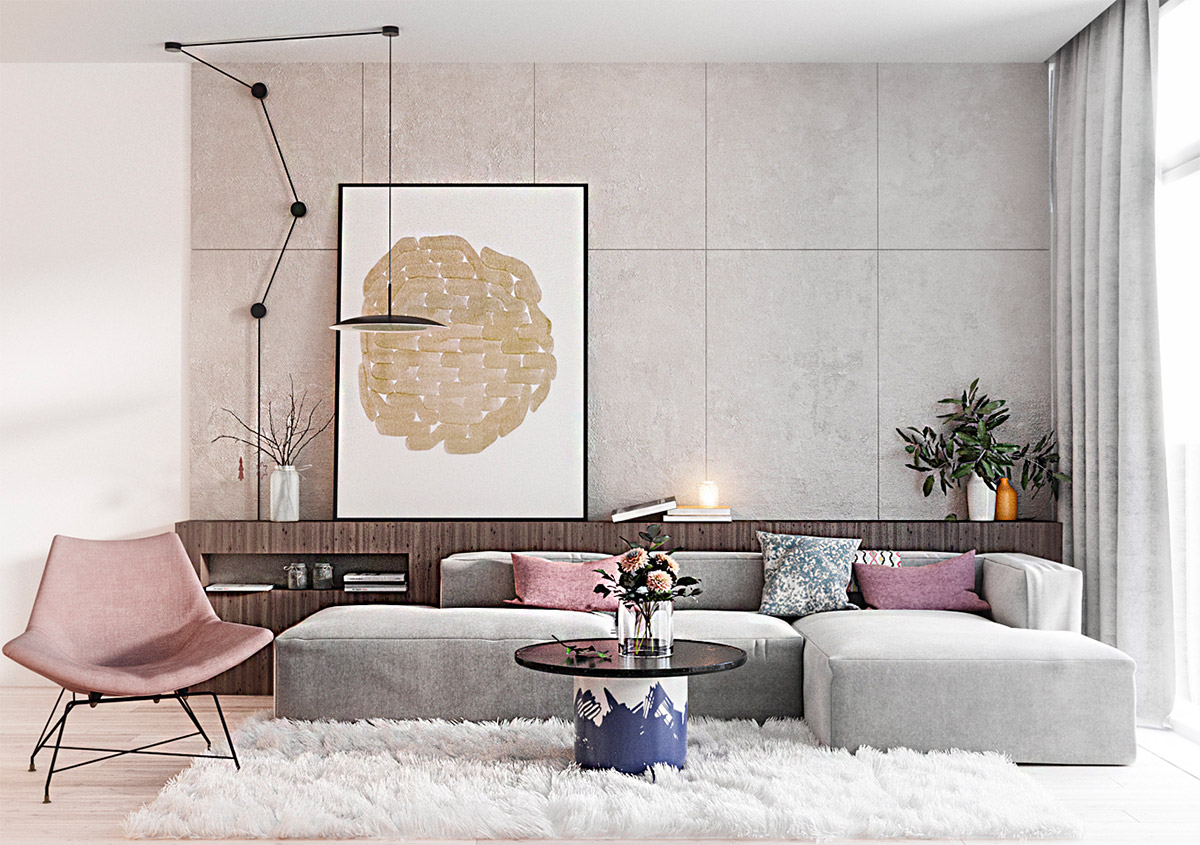 Grey walls need not be dark. This light and bright lounge is backgrounded by almost-white tiles, a snug suede L-seater, and pops of pastel in a pink seat and beige print. A multi-jointed lamp to the side stretches beside a paint-splashed table leg.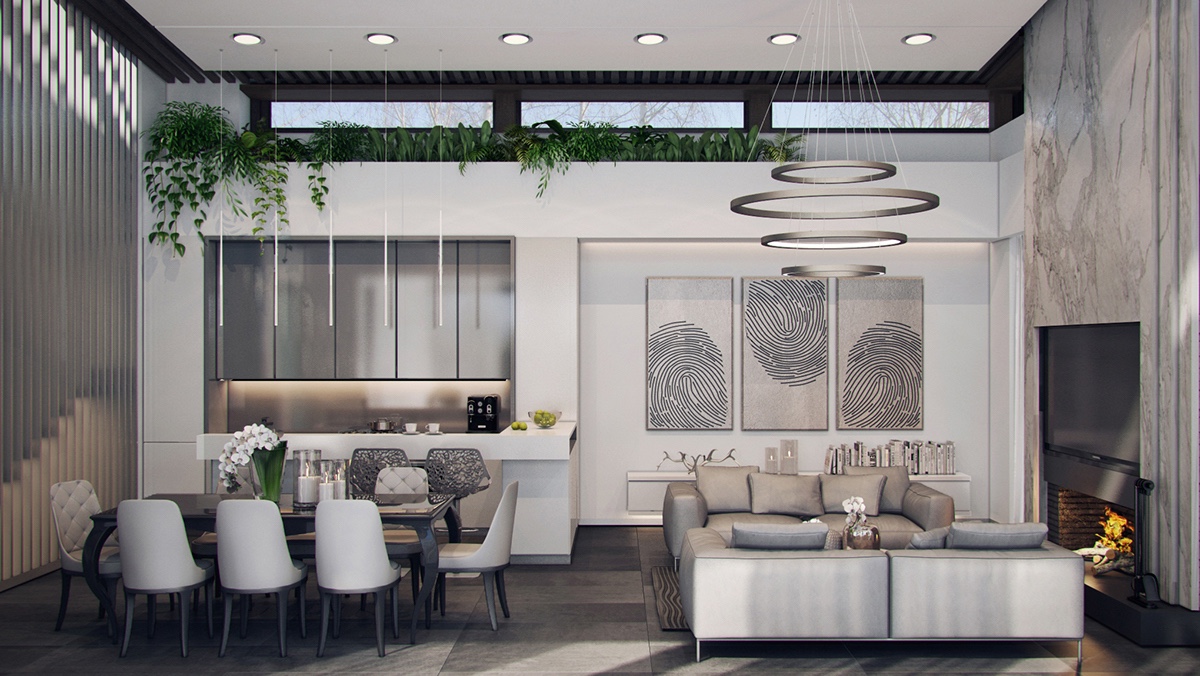 8 |
Architect: Sreten Jovanovic & Maja Urh
Visualizer: Anna Fedyukina
Use many shades of grey. This room combines fingerprint artwork, a grey-tiled floor, corrugated iron wall and marble fireplace to make grey with green creepers look effortlessly sophisticated.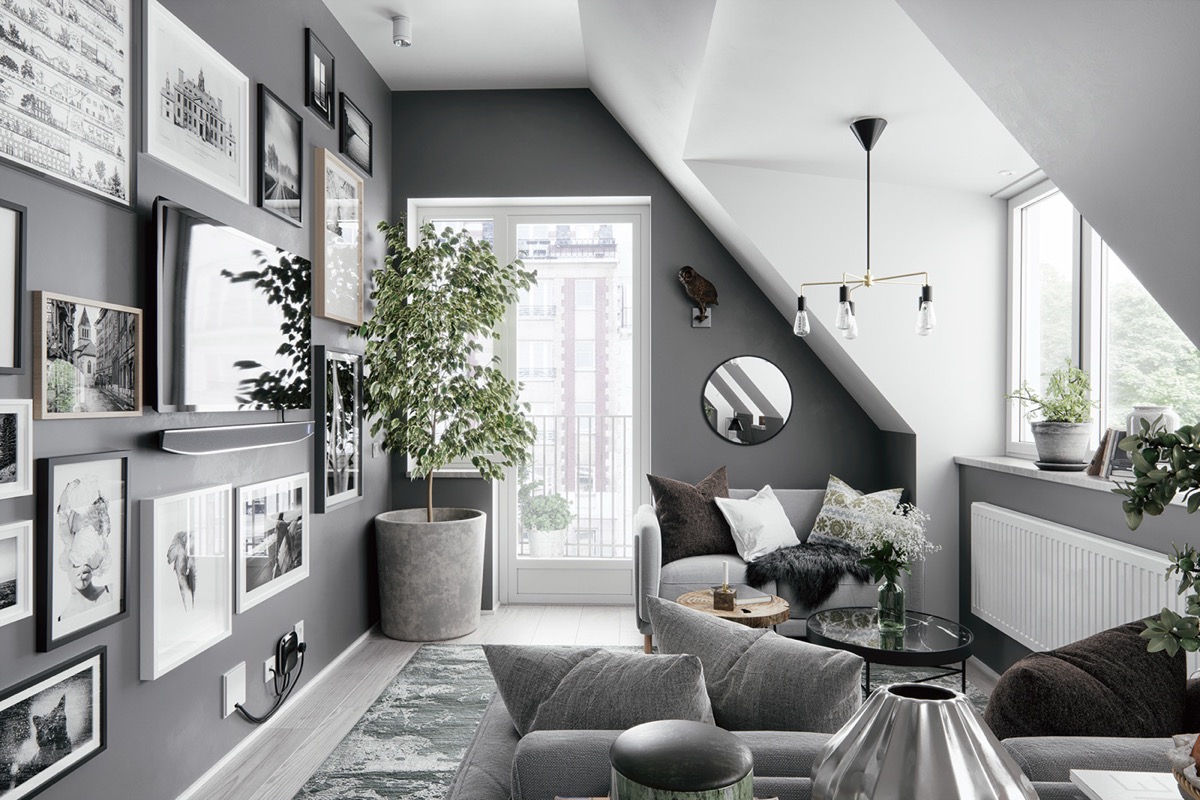 9 |
Visualizer: Rohit Aurora
Decorating a small space? Grey and white can make it look larger. This attic-roofed interior coats a wall and a half in mid-grey and a floor in splotches, amidst framed prints, photographs and square suede cushions. A potted tree in the corner speaks nature.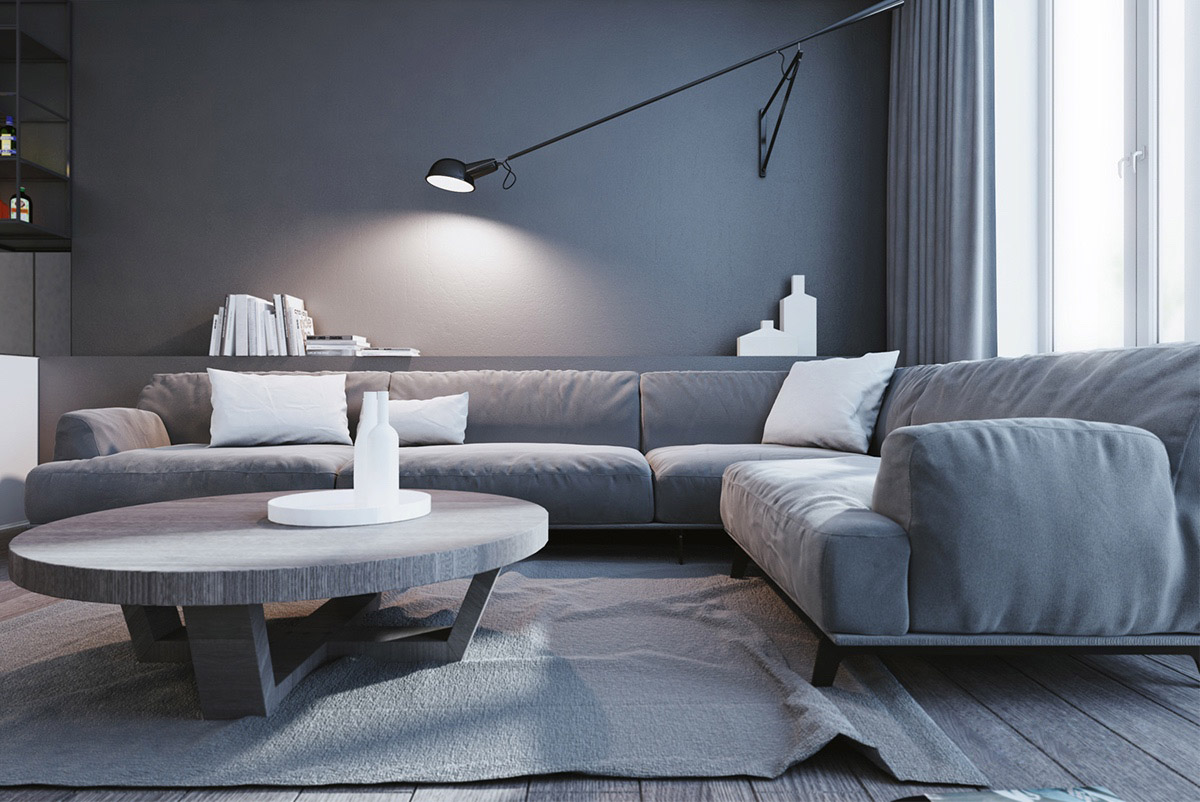 Grey works fabulously as a minimalist shade. This smooth painted wall provides shelving behind a suede L-seater and simple grey rug. A swing arm lamp illuminates a scramble of white cushions and accessories.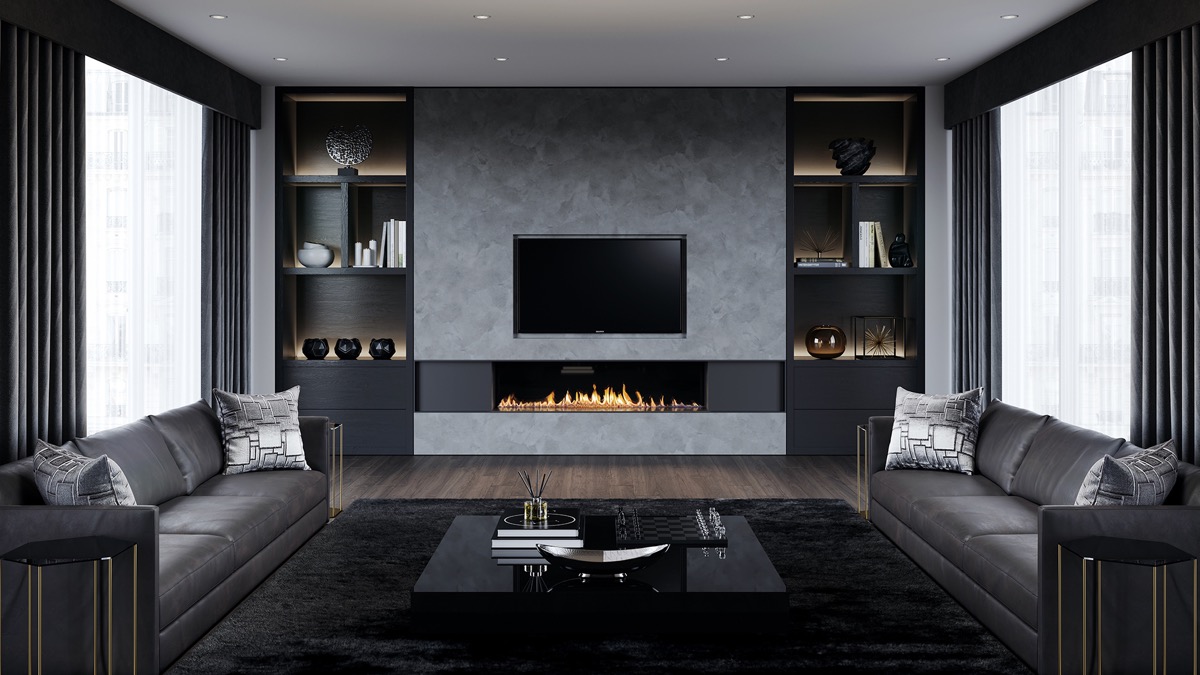 11 |
Visualizer: Eduard Caliman
Go dark for the ultimate in living room class. An inset modern fireplace, LED-lit shelving and charcoal leather couches frame a black velvet rug and acrylic coffee table. Lighter, textured wallpaper in the centre focuses the eye as windowed light streams in.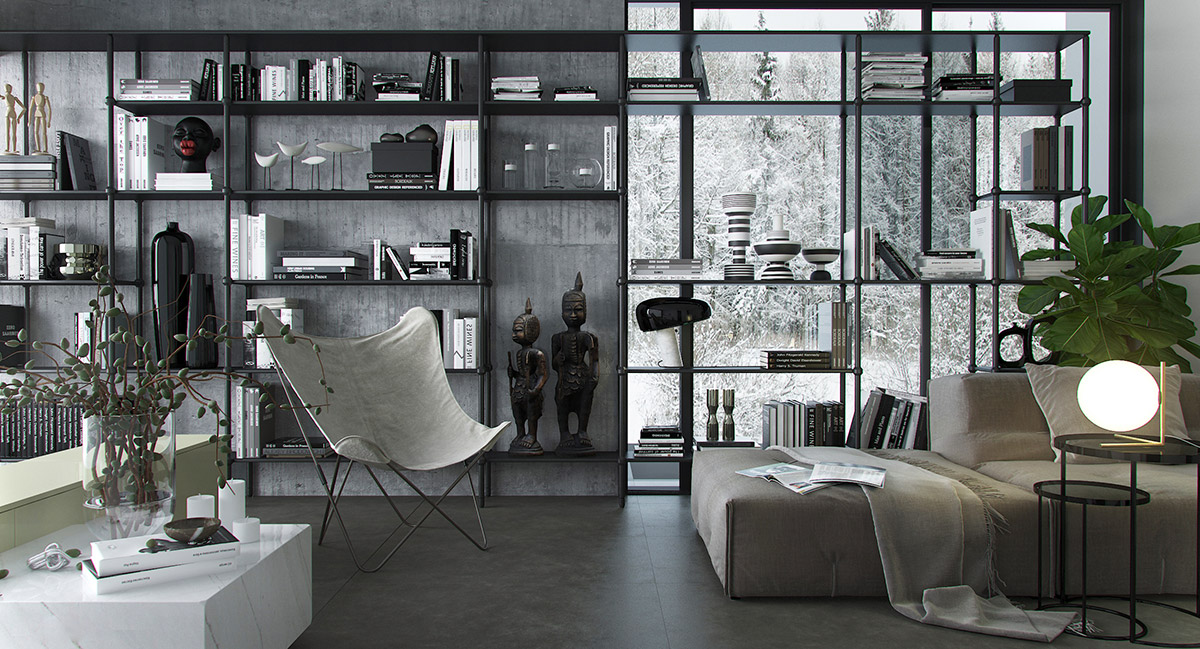 12 |
Visualizer: Denis Fomin
Make your bookcase a feature. The stencilled lines of this lounge's black shelving hold a multitude of reads, tribal statuettes and vases, as a soft block couch and ball light enhance their enjoyment. A concrete wall and polished grey floor form a slick backing canvas.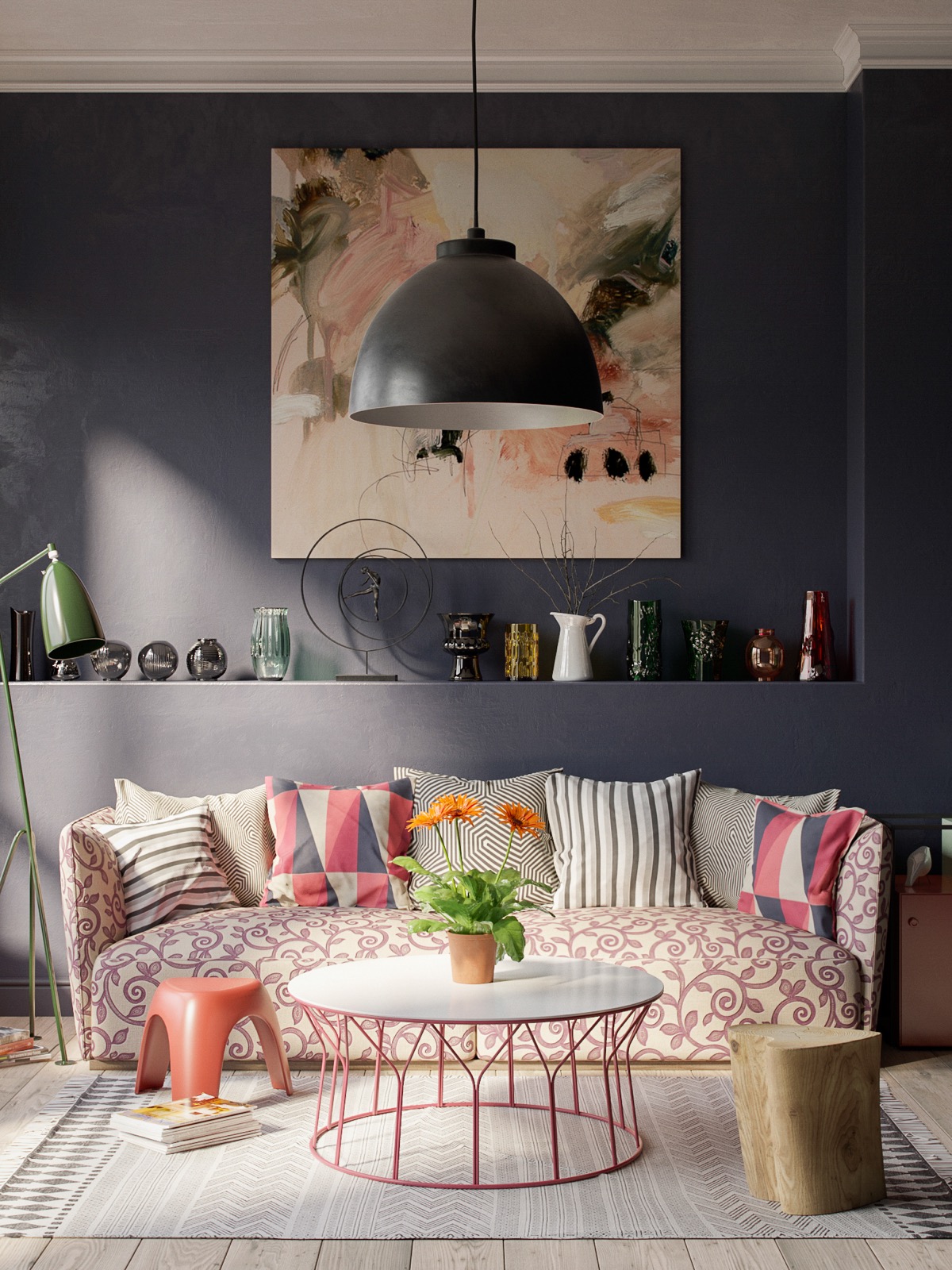 13 |
Visualizer: Filip Sapojnicov
Grey works with pops of colour. Paired with many different patterns and shades in pink, the shade covers the base wall, pendant and shelving niche to avoid cluttering.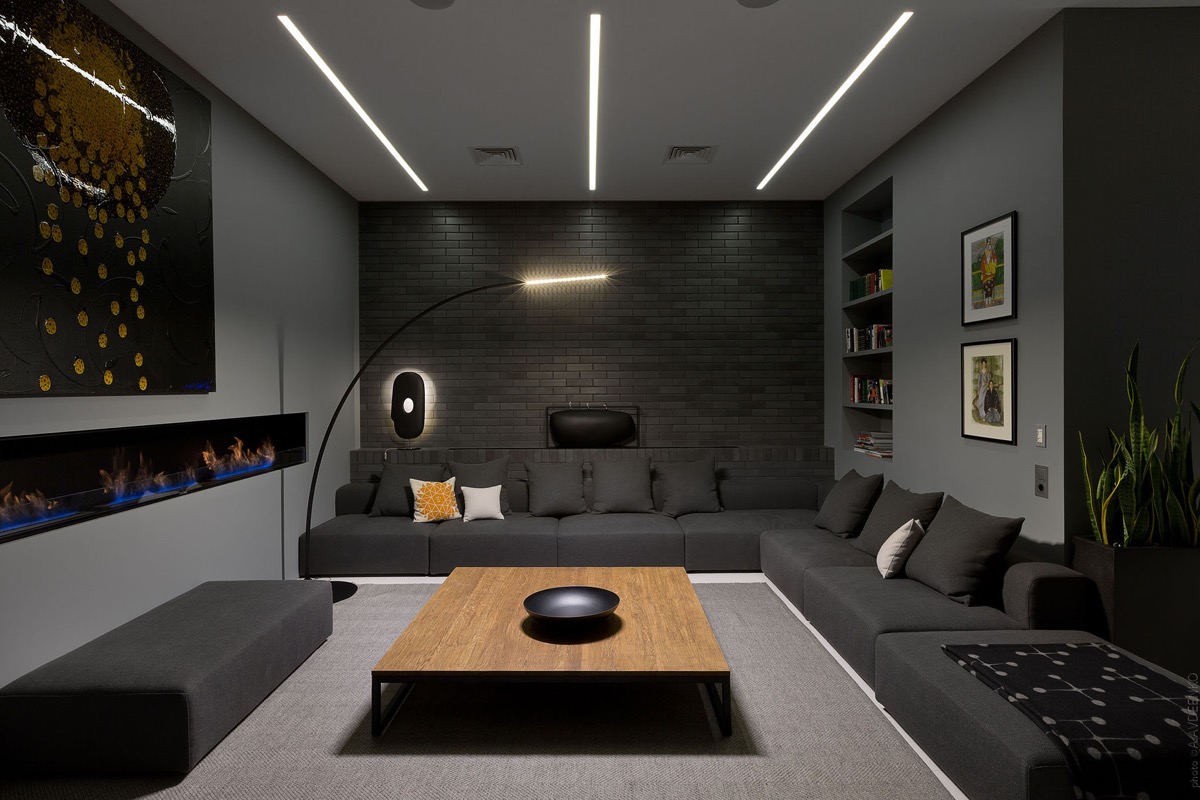 14 |
Visualizer: Andrey Avdeenko
Use grey and a shape as your design staples. With grey colouring an exposed brick wall, rug, walls and couches, rectangles come to the party in an inset fireplace, ceiling LEDs and one of the longest L-seaters known to man.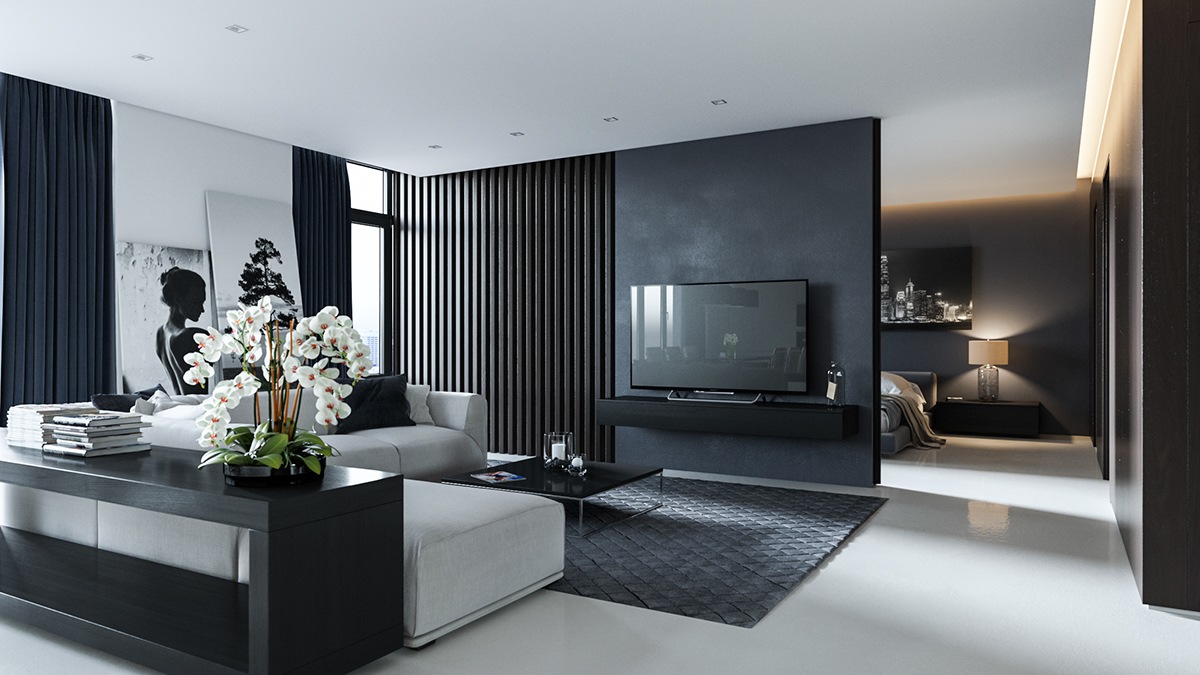 15 |
Visualizer: Sergrey Baskakov
Grey allows your living room to host more patterns and textures. This lounge spices it up with a wooden slat wall, quilted rug, smooth book cabinet and painterly canvases. A sprig of orchids to the side adds polish.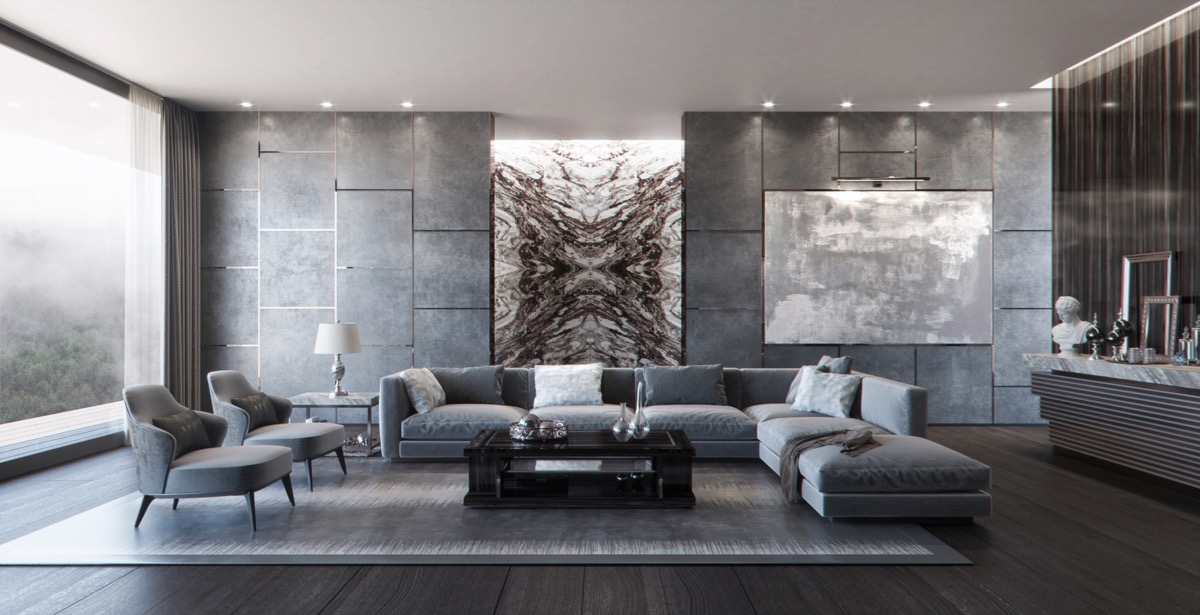 16 |
Visualizer: Varayut Denthlordkarn
Let texture be your focal point. Showcasing an abstract artwork at its centre, this lounge's grainy wall tiles, suede seating and woollen rug keep more than a hint of the cosy in a room wide and spacious. Check out our living room wall textures post for more focused inspiration.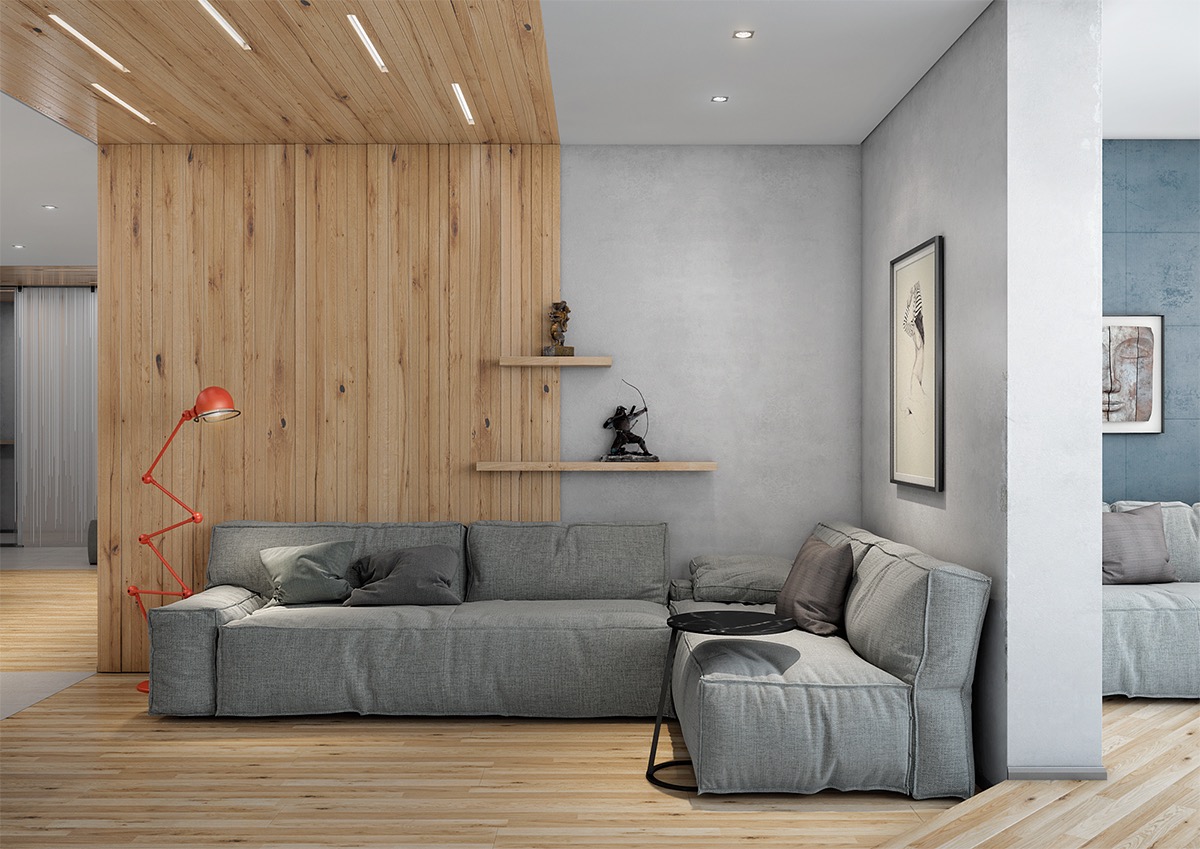 17 |
Visualizer: Andrew Skliarov
Accent grey furniture with wooden features. This structured living room seats its almost-futon sofas on a wooden floor, its ornaments on wooden shelves and a zigzagging floor lamp against wall-to-ceiling wooden panelling.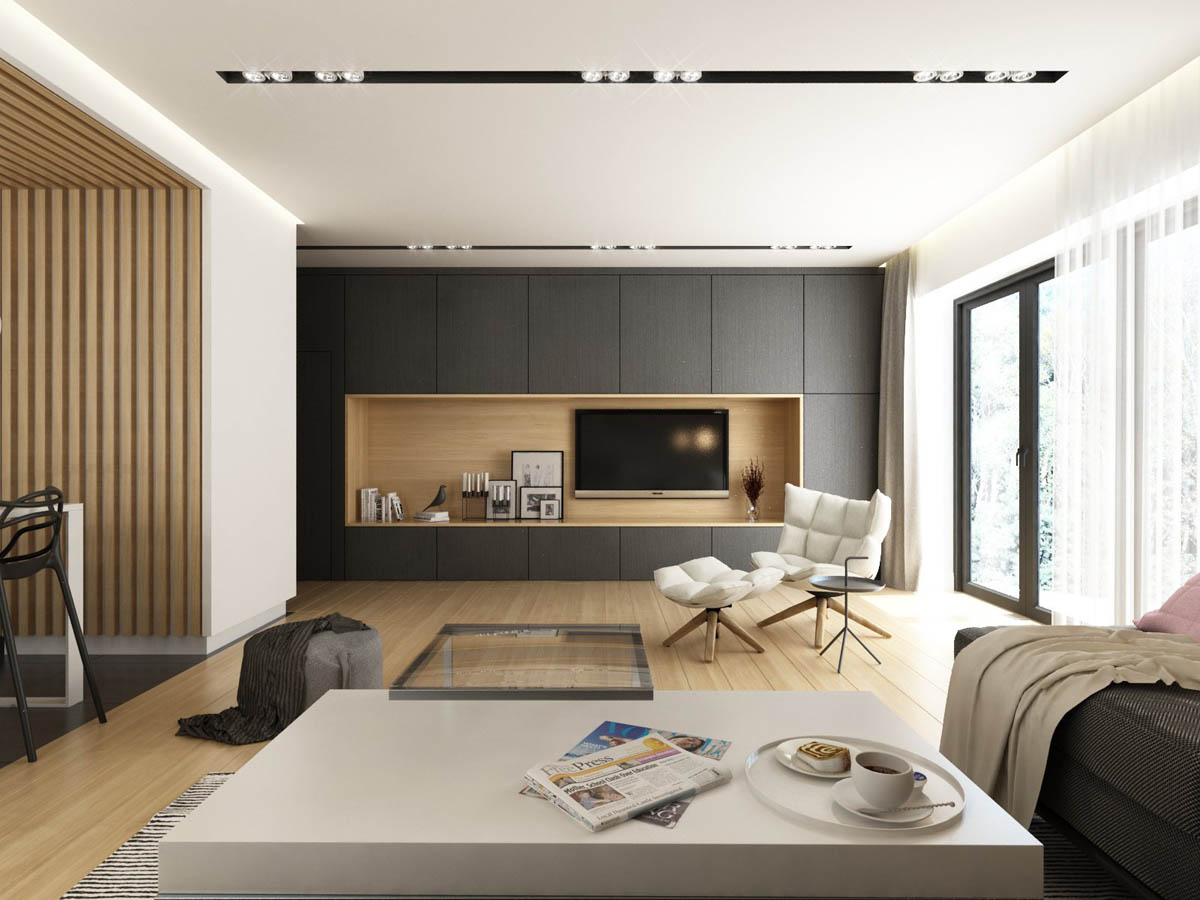 18 |
Visualizer: Mirela Świerc
Draw the eye in with pops of dark grey. This mostly-wooden clad room paints a TV frame, coats an ottoman and offers a seat in charcoal colouring. Bursts of white in a matching quilted seat and foot stool match the foreground coffee table.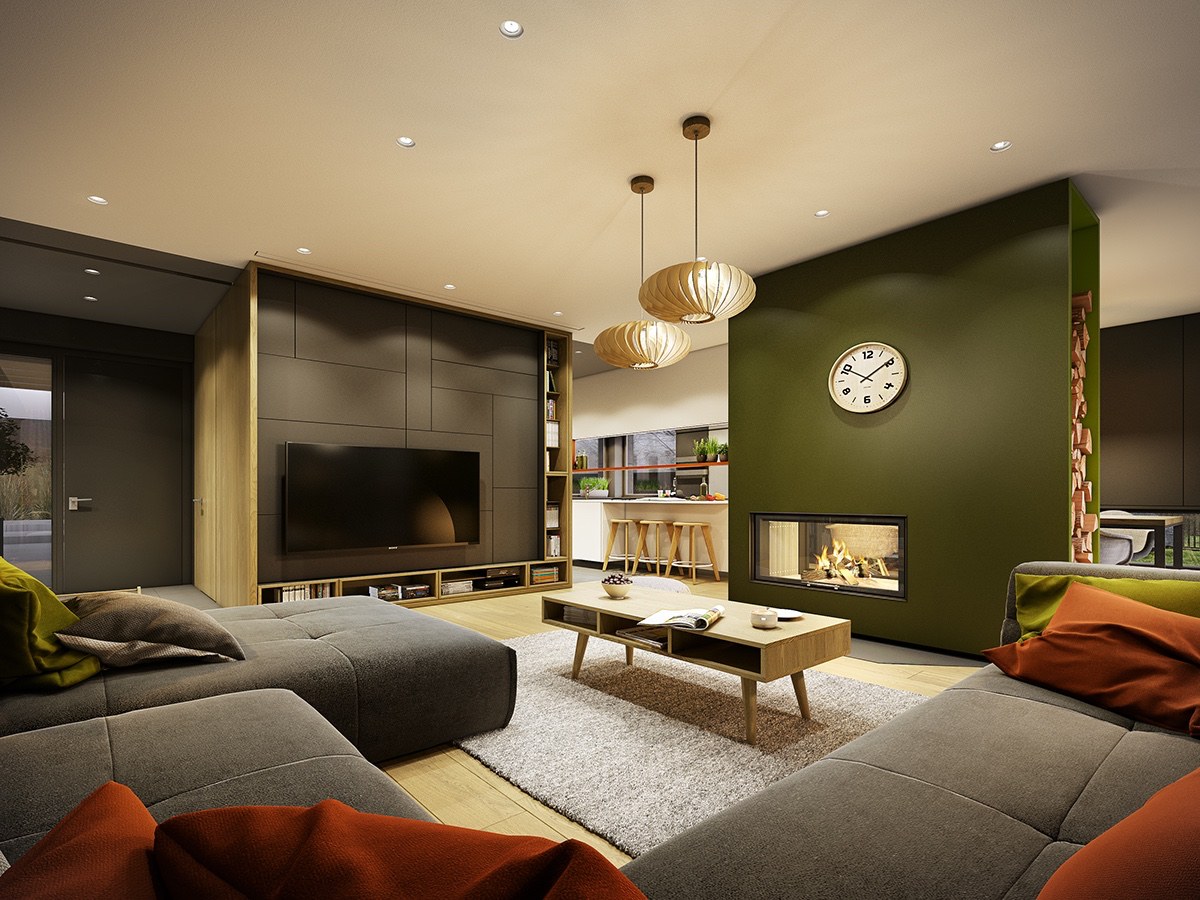 19 |
Visualizer: Plasterlina
Grey can work with warmer colouring. This autumnal living room creates heat with an olive green feature wall and terracotta cushioning, as grey softens the scene with an L-seater couch, woolen rug and TV panel. The retro colors and mid century modern coffee table capture the charm of a bygone era. A roaring fire, wood stack and two Chinese lanterns make it feel like home.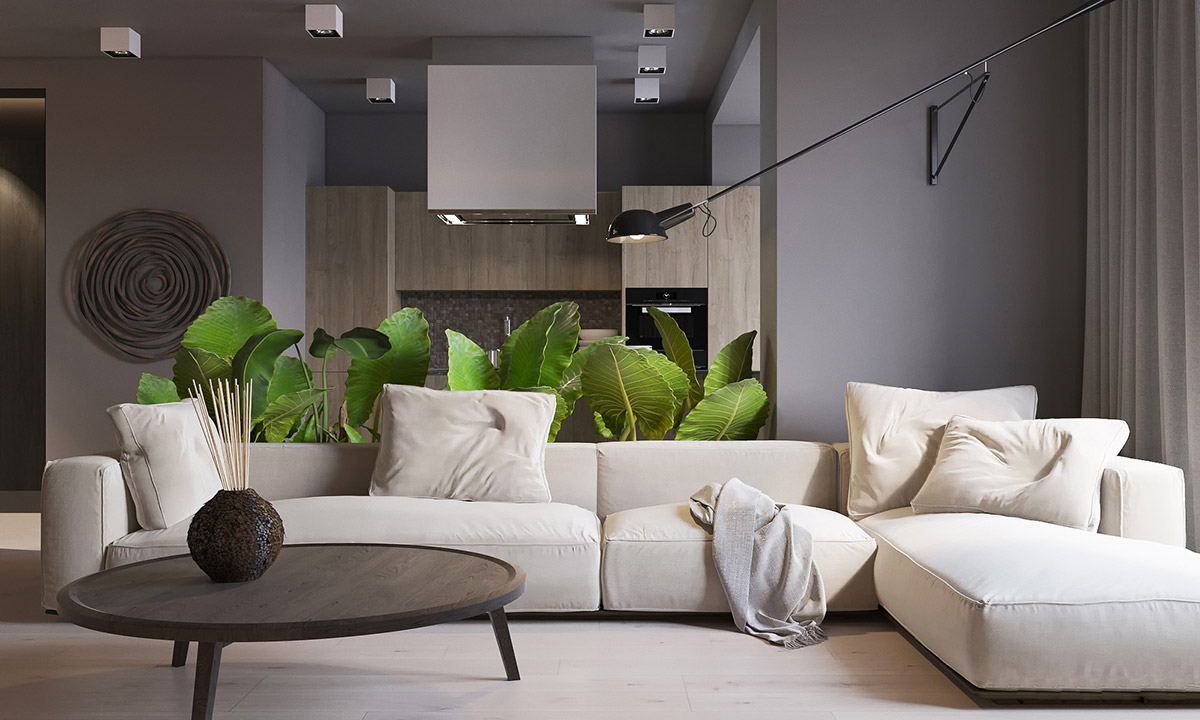 20 |
Visualizer: Now Design
Create a contemporary tribal look using white, green and grey. Mid-grey walls pair with a circular charcoal art piece, grey-wooden table and stretching hover lamp. A volcanic ash vase holds sprigs of bamboo, as lush green fernery hides behind the sofa.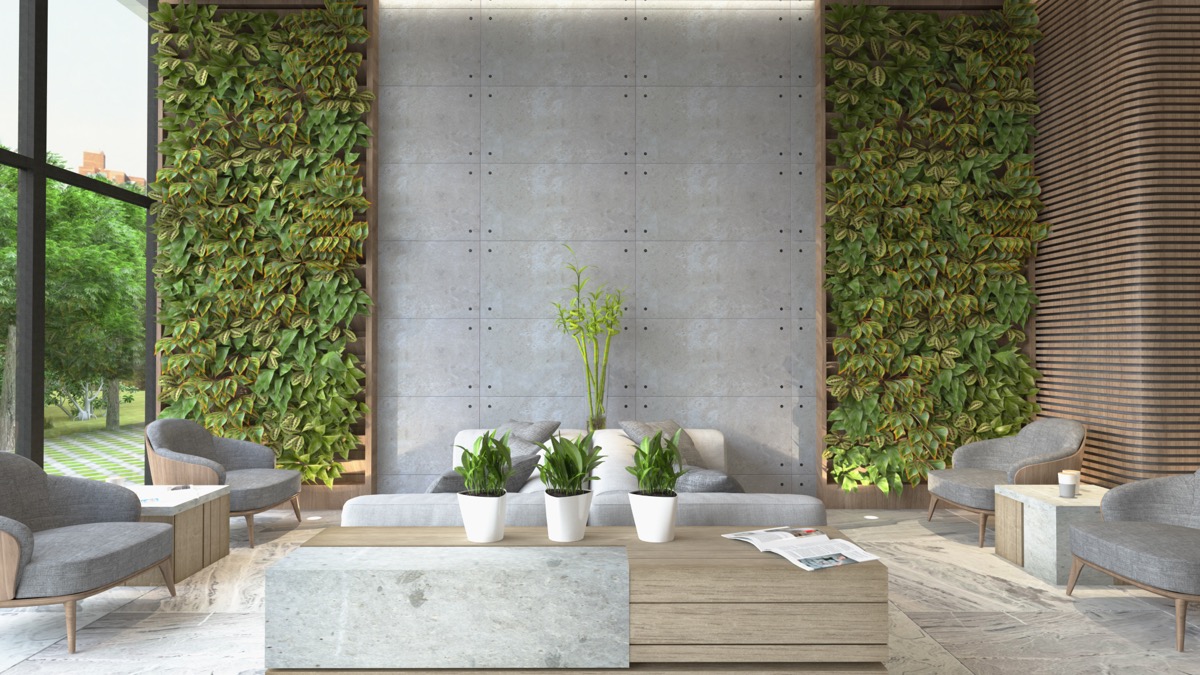 21 |
Visualizer: Hatice Unsal
Bring the outside in. This concrete living room uses large wall panels and a grey-tiled floor to make noise between two rows of creepers. A simple wooden coffee table boasting a stone corner mingles with grey armchairs and pot plants in this 21st Century scene.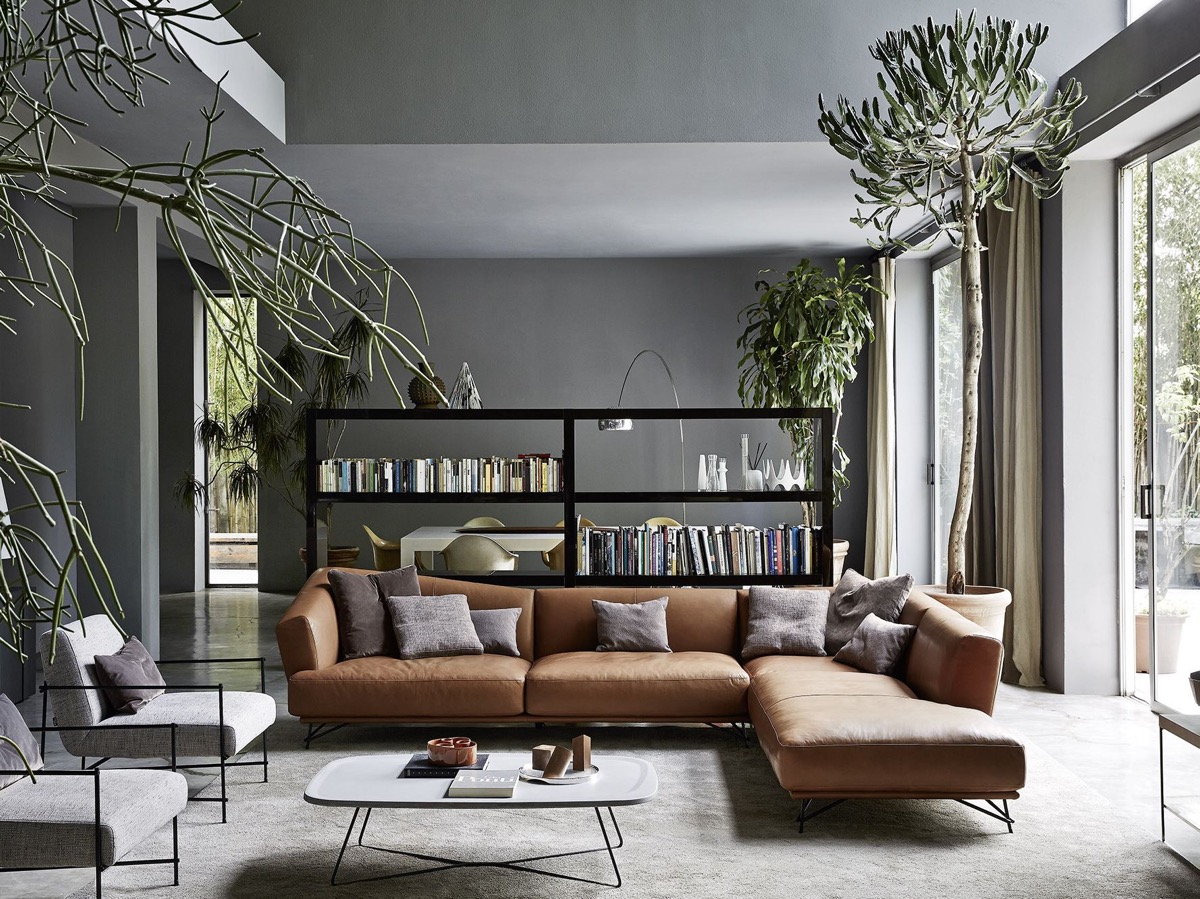 22 |
Source: Ditre Italia
Use grey to accentuate your lounge's sense of the unusual. Ceiling-height olive trees stand tall in this two-level design, as brown leather couches catch their fall afront a stencil bookshelf. Grey colours the rug, floor, walls and chairs, creating coolness with a contemporary twist.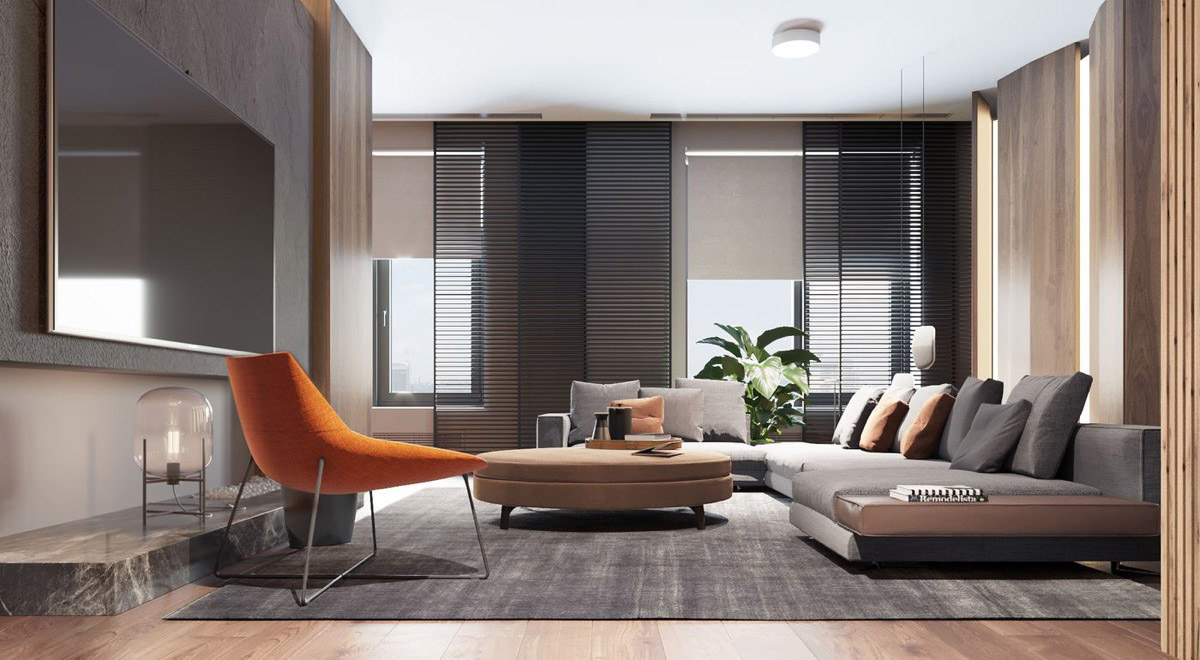 23 |
Visualizer: Hotwalls
Grey lets brighter colours shine. This lounge's orange accent chairs strikes a pose alongside hints of dusty pink and a rug, marble plinth, walls, blinds and sofa in grey.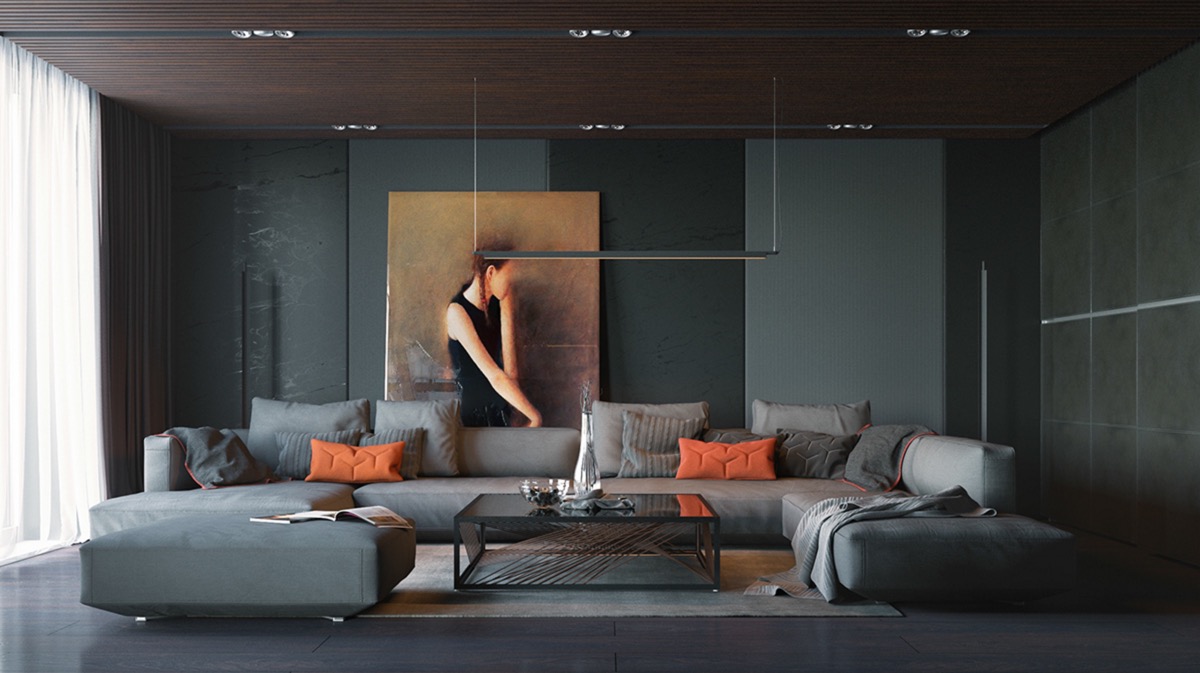 24 |
Visualizer: Svyatyuk Stanislav
After living rooms with large wall art? This darker grey room is a lesson in using shades, as its walls stretch seamlessly across light and dark panelling. The painterly canvas finds friends in two bright orange cushions and a stencil coffee table.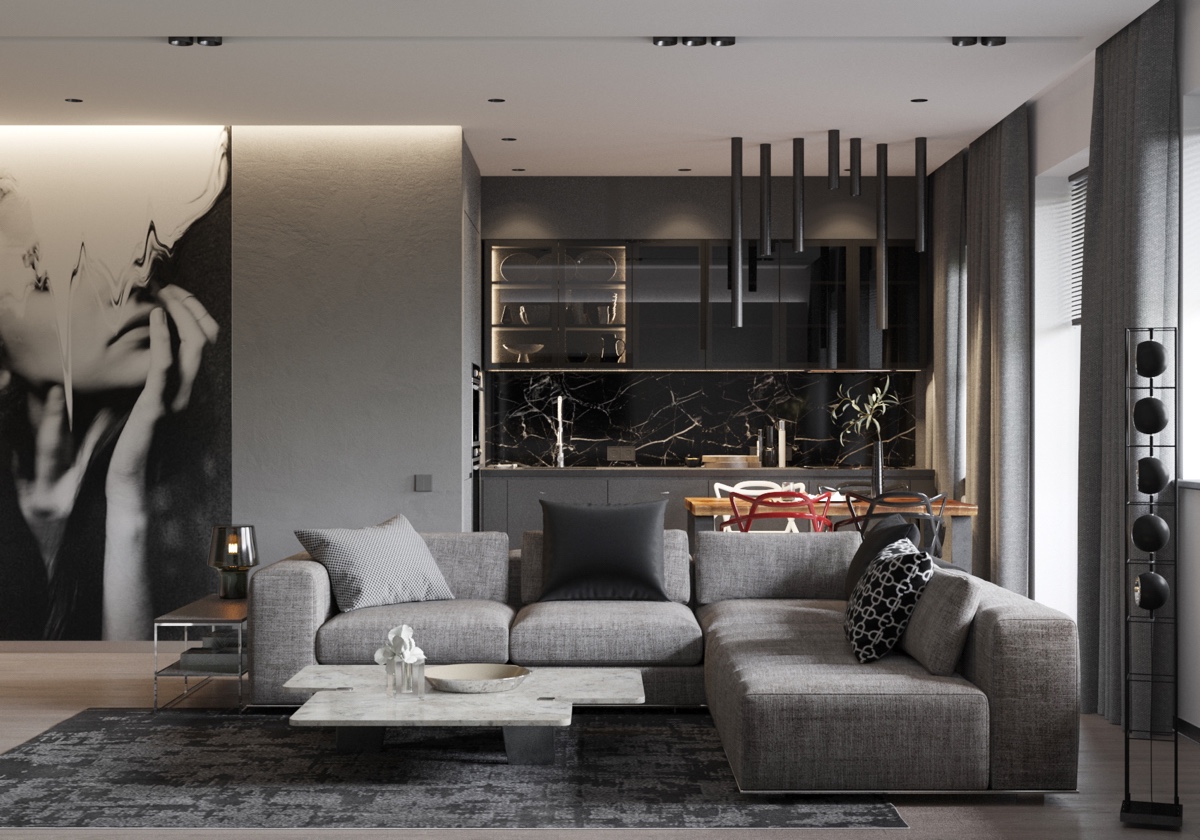 25 |
Visualizer: Nastya Ivanchuk & Marina Tsishyna
Monochrome prints are perfect for grey lounges. A full-length photographic decal meets our gaze beside a simple grey couch, differently-shaded cushions and a mottled rug. Black elements in a series of pipe lighting, a standing camera light and marble splashback make its contrasts seem natural.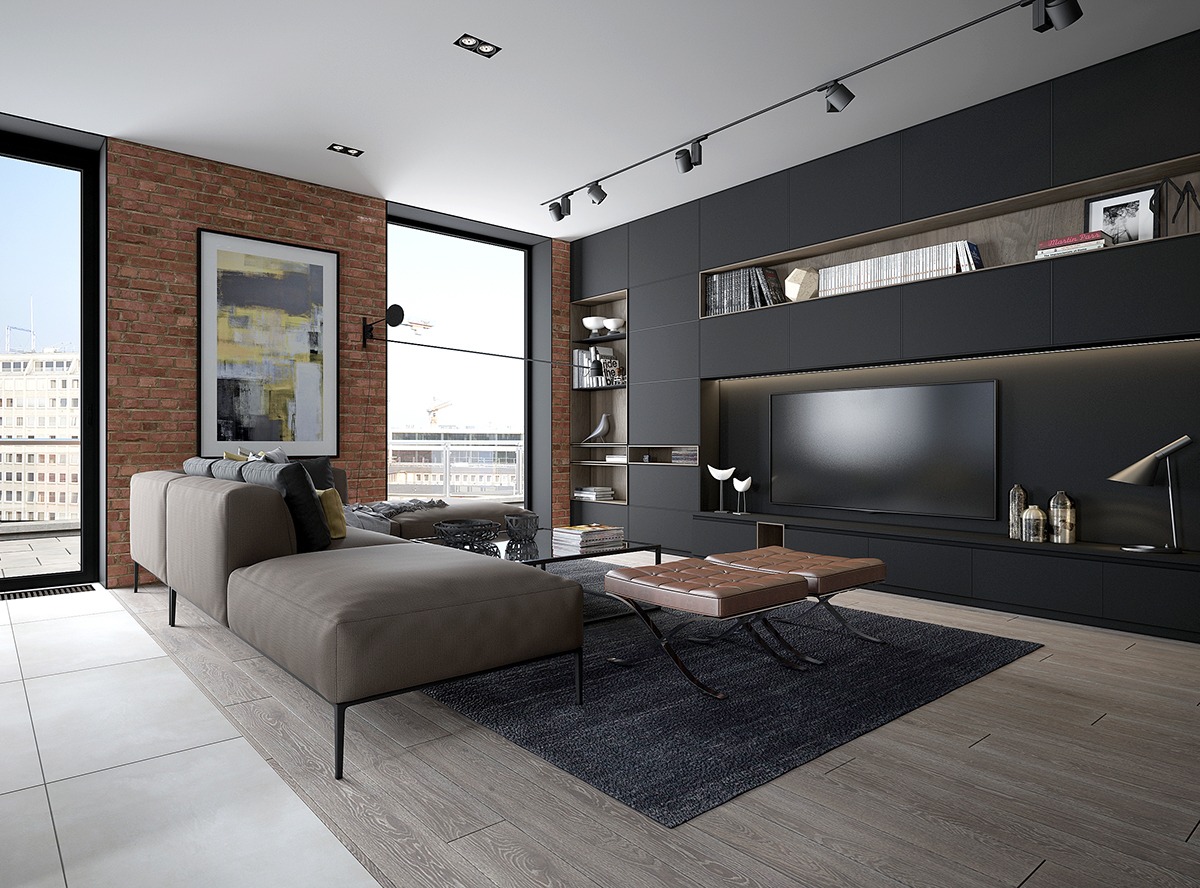 26 |
Visualizer: Maks Marukhin
Like your lounge clean and spacious? Keep it tidy with grey inset shelving, a woollen rug and leather L-seater beside exposed brick. A yellow and grey abstract adds creative edge.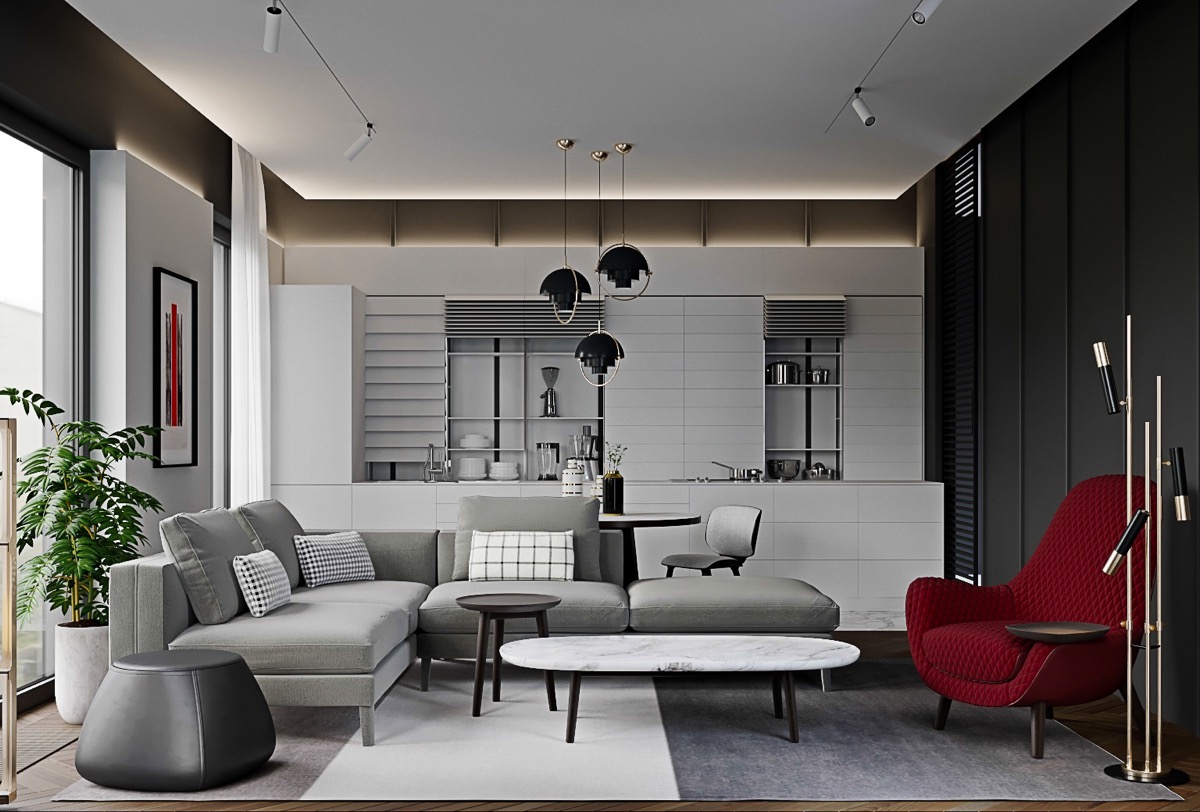 27 |
Visualizer: ATO Studio
Create contemporary drama with a living room in grey. The bold contrasts between the almost-black side wall and pendants, the light grey couch and kitchen appears almost monochrome in this design. A deep berry chair and resonating artwork avoid a clash in themes.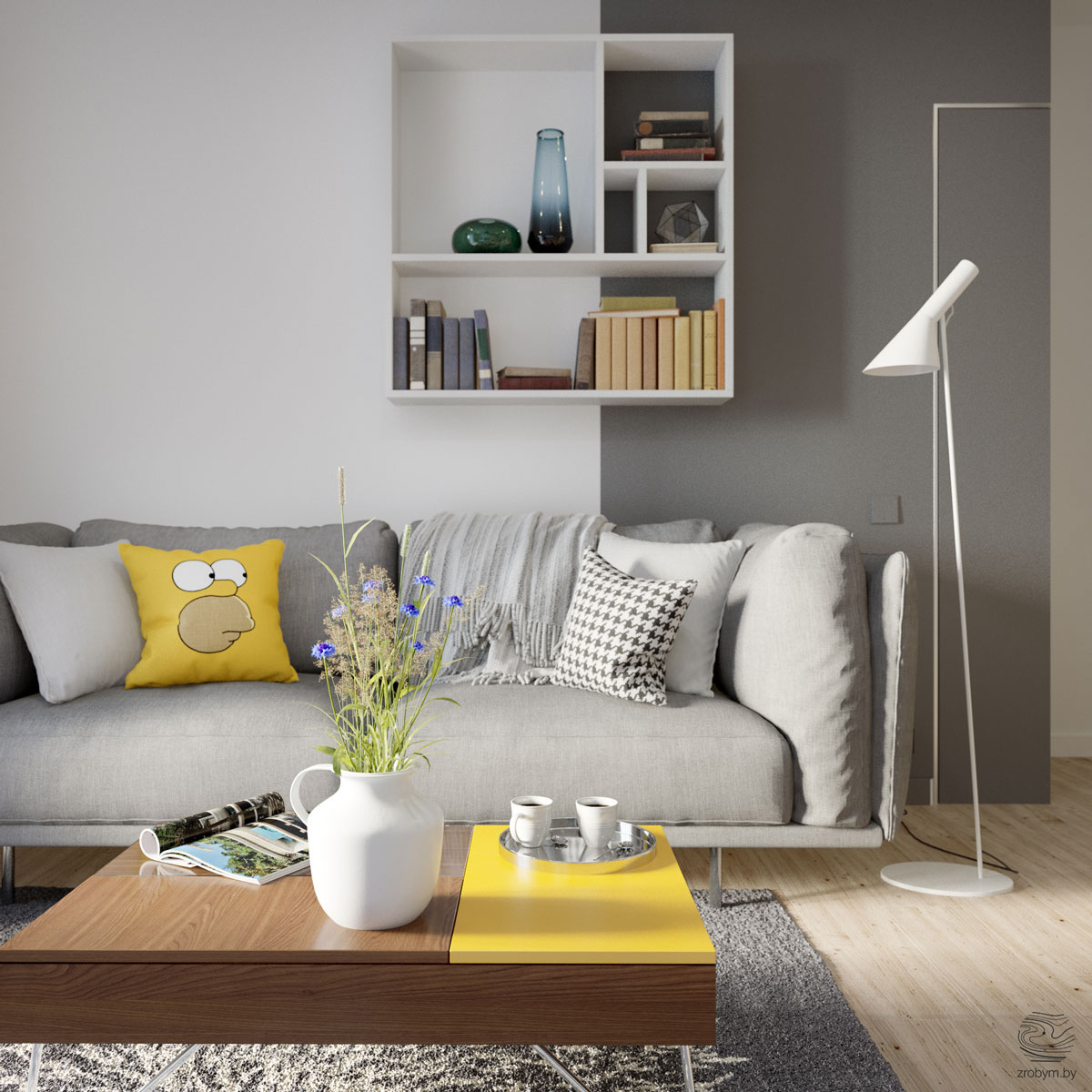 A yellow accent living room nicely twists grey. Homer peeps from a cushion on a couch in the hue, as grey stretches behind and below the sofa. Relaxed wooden furniture holds pieces in white, allowing room for a sunny yellow panel.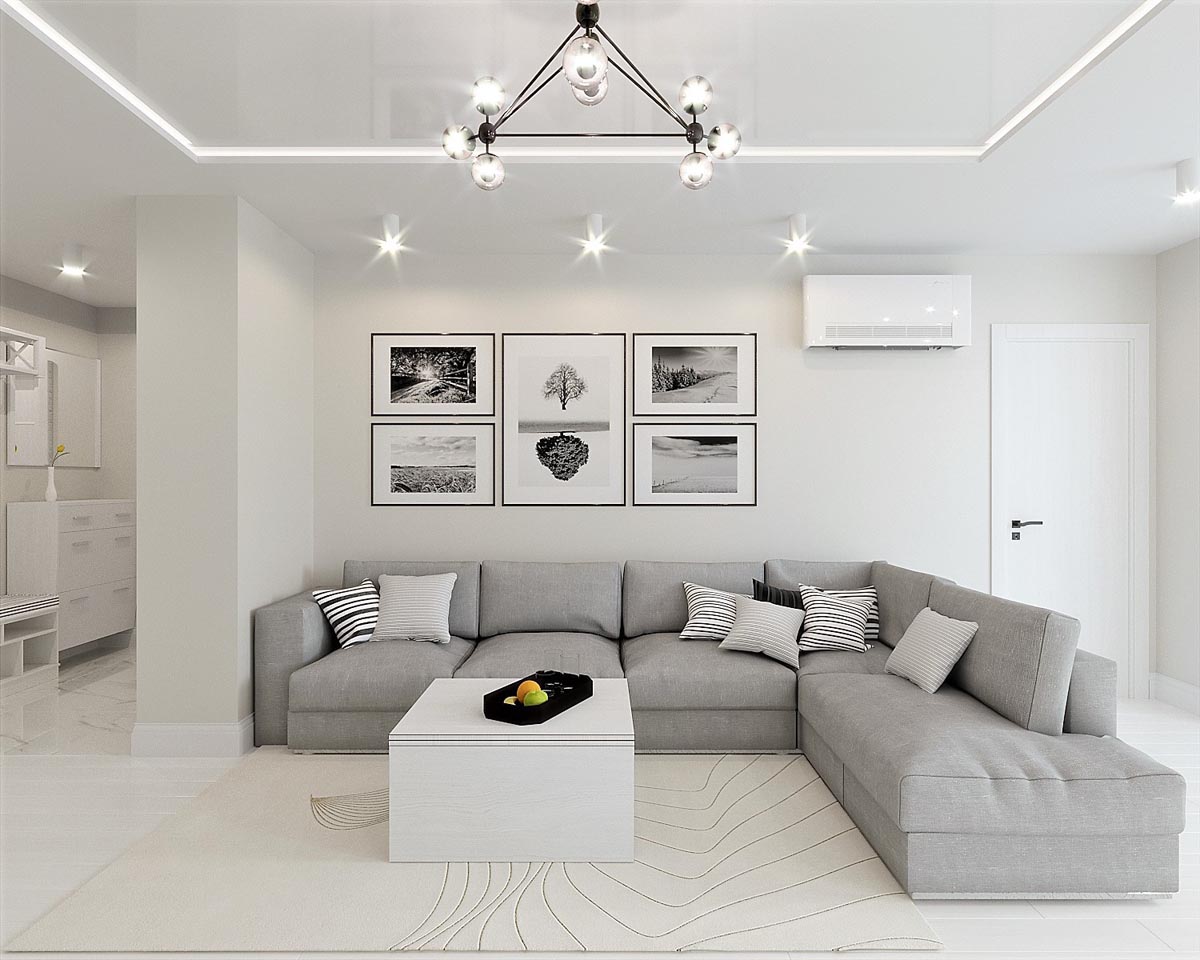 29 |
Visualizer: Marina Selivanova
Keep it light, bright and shiny. This almost-white living room introduces grey in a comfy corner seater, greyscale photography and zebra-striped cushions. An artistically-lined rug and black square fruit bowl tie the pieces in.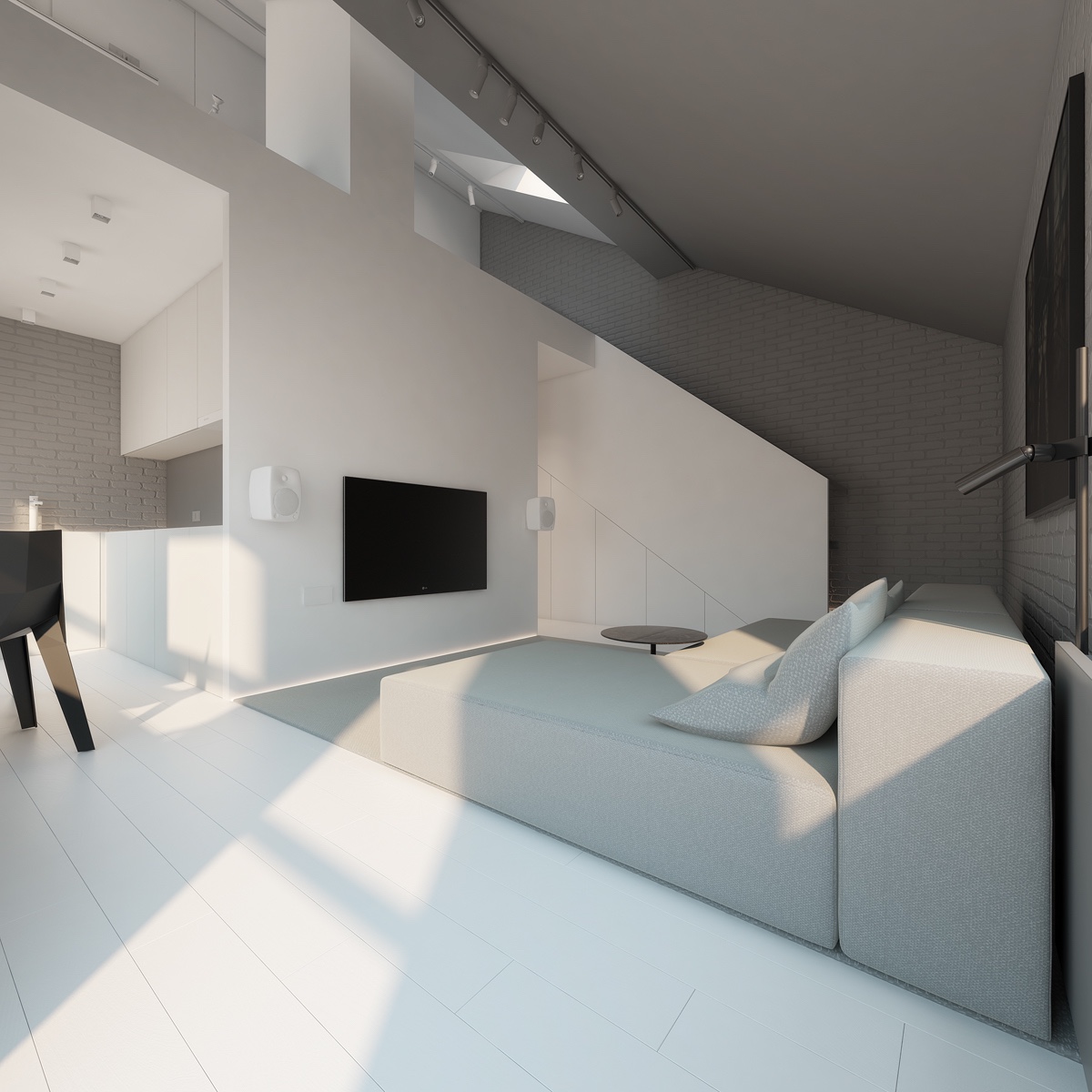 30 |
Visualizer: Oporski Architektura
Grey is perfect for the minimalist living room. This space designs with angles only, bathing a block L-couch and exposed brick wall in grey. Stark monochrome finds in a TV, artwork and chair add drama to form.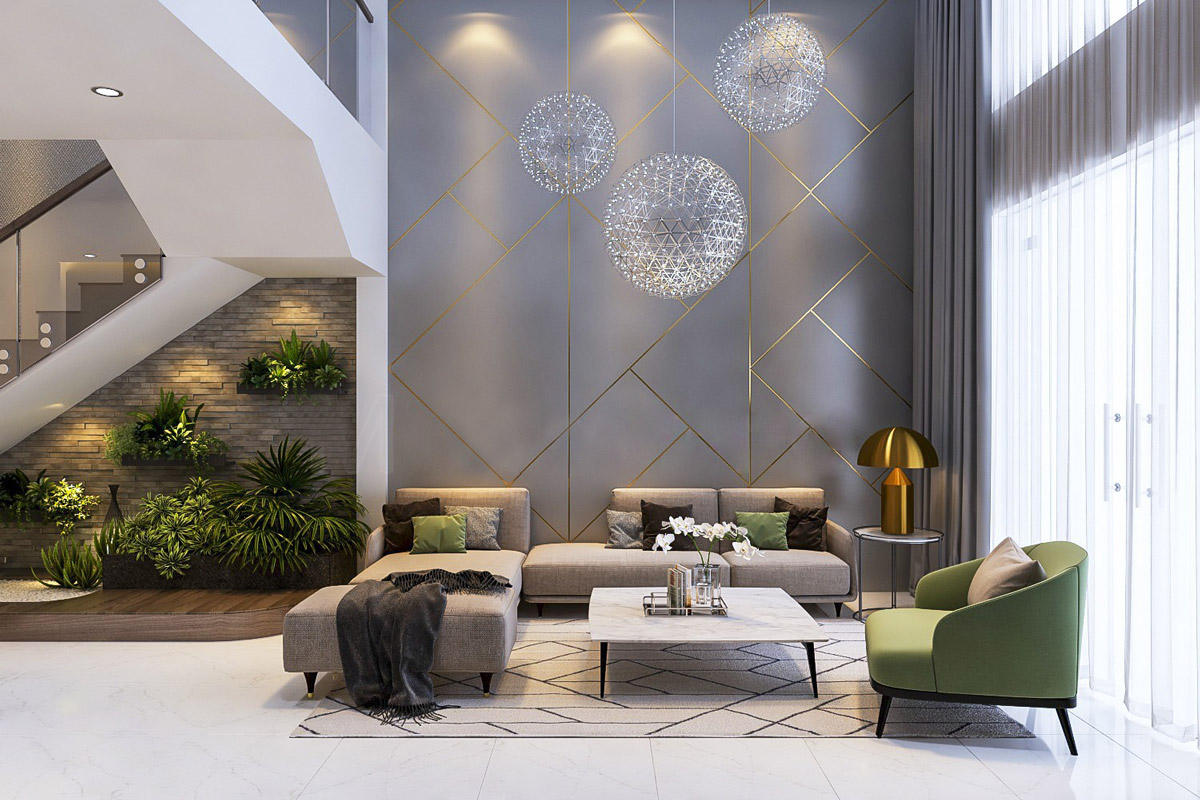 Grey and metallics are the best of friends. Lit up with firework chandeliers and a designer table lamp, here the luxurious Atollo lamp, this room screams luxury with mid-century modern pieces. Grey and gold wallpaper, a partly-living wall and a pea green armchair bring the antique to modern day.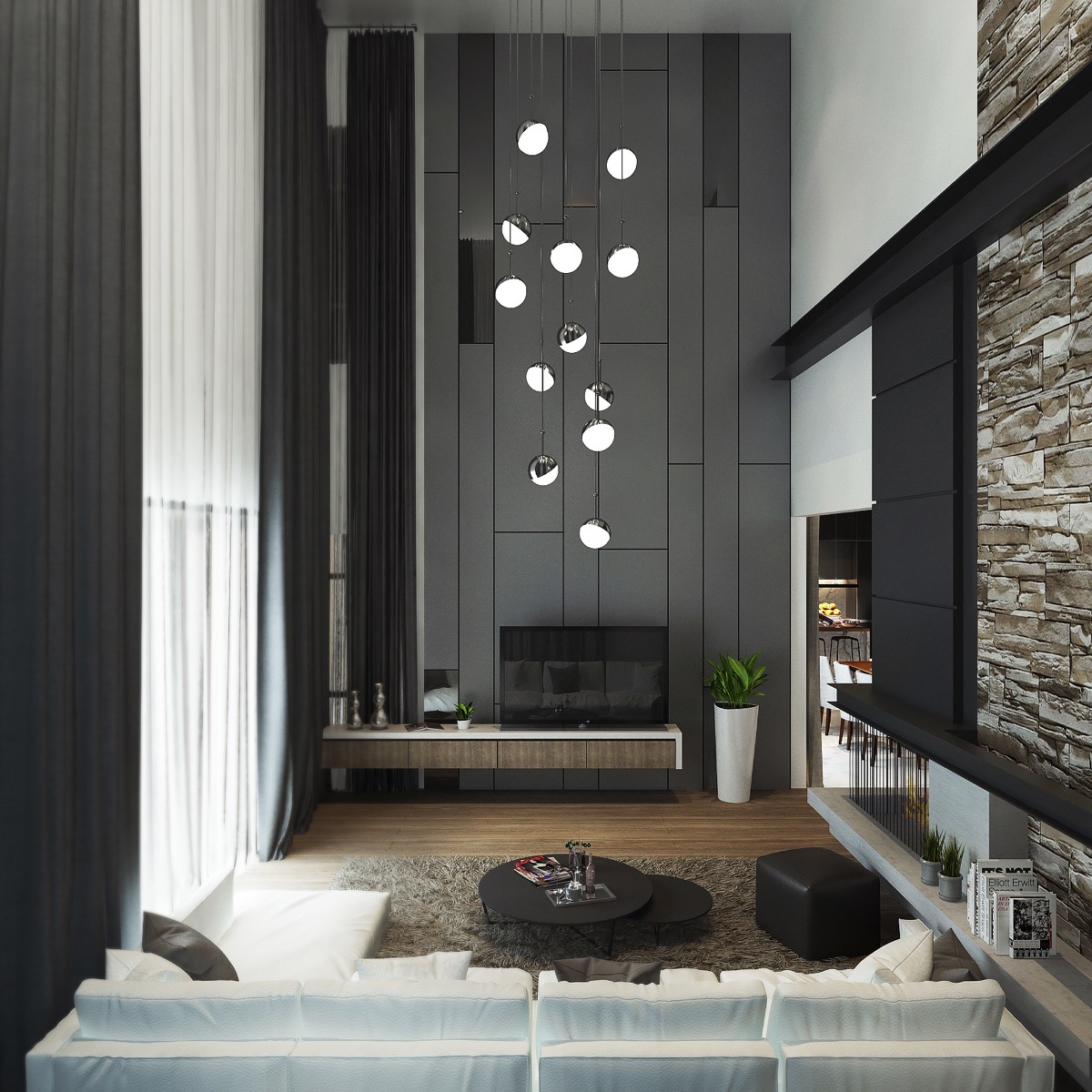 32 |
Visualizer: Tracy Ong
Grey can make double-height living rooms majestic. A dangling cluster of pendant lights make the most of high ceilings, amongst charcoal curtains and a many-tiled wall. A stacked stone fireplace and fluffy mushroom rug make the space warmer.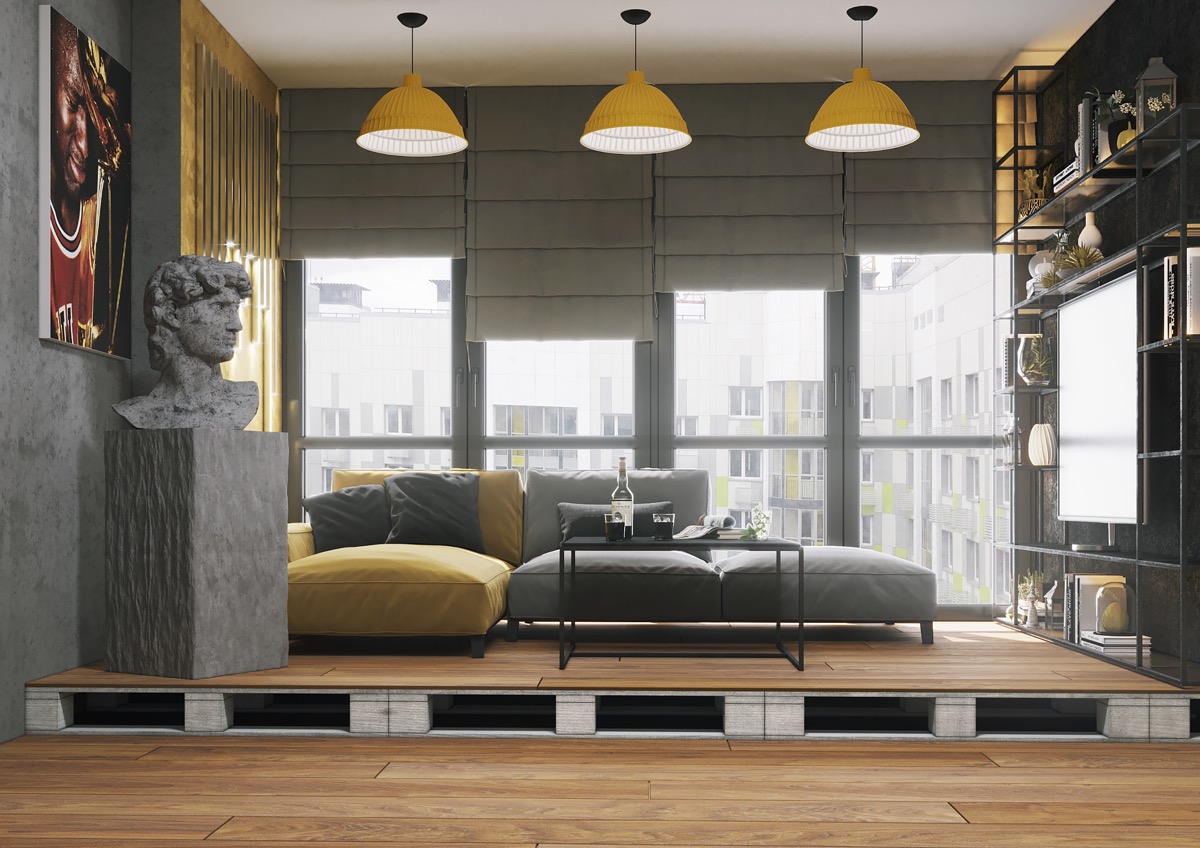 33 |
Visualizer: Kholostova Olga
Pair grey with yellow for a personal touch. This lounge screams through a trio of buttercup pendants, a Greco-Roman bust, printed canvas of a rapper and modern wooden platform. Grey ensures it's not busy with muted Roman blinds and a sofa half in colour.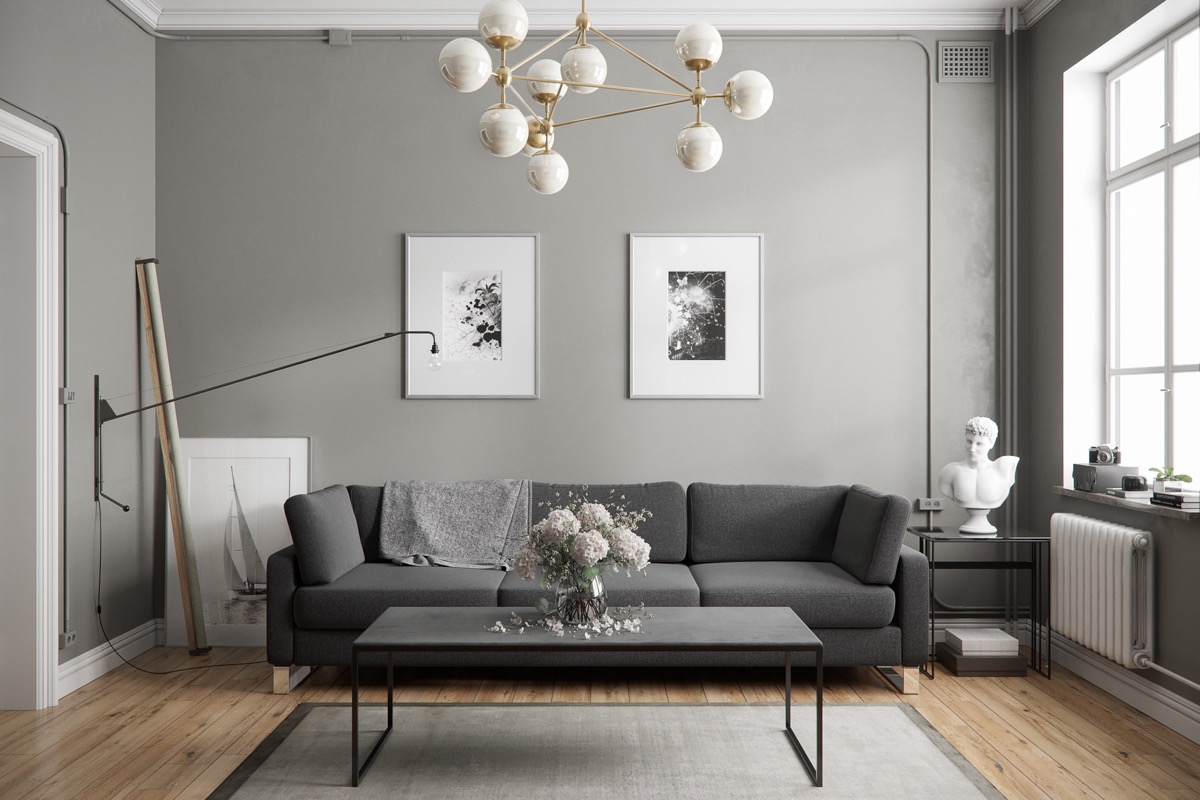 34 |
Visualizer: Filip Sapojnicov
Create a French boudoir feel with a contemporary twist. Accessorized with a small standing bust, white-bulb chandelier and swing arm wall lamp, French panelling gets moody aside simple grey furniture and white-bordered walls.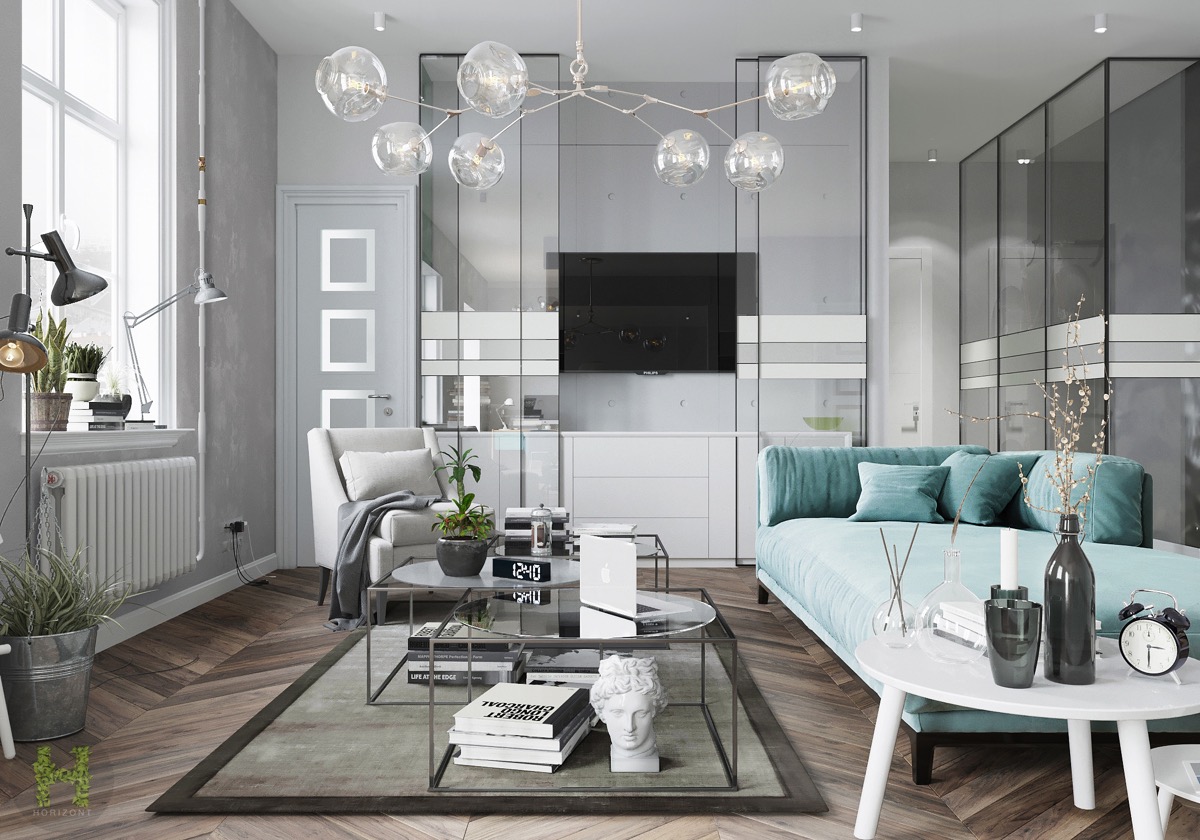 35 |
Visualizer: Horizont Design
Grey can lend room to more dominant features. The glass bauble chandelier, zigzagging floors and turquoise couch of this living room are afforded coolness with light grey paint and wallpaper.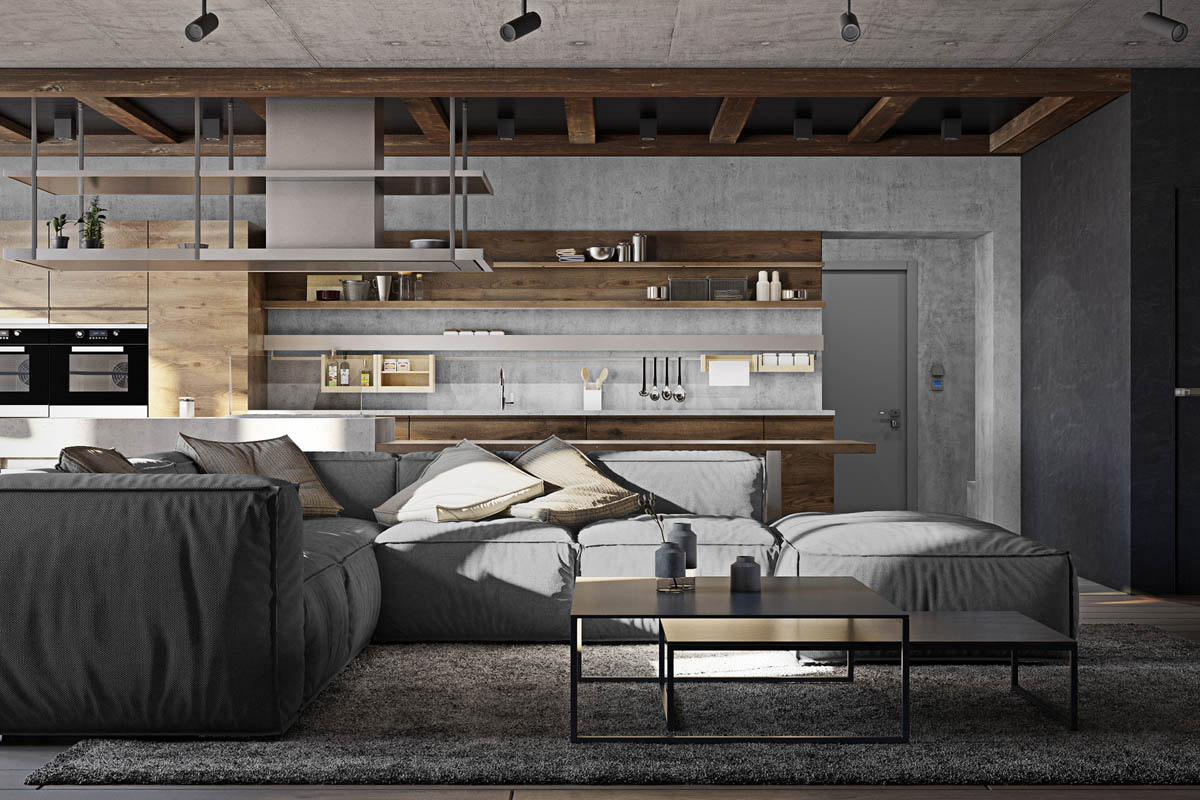 36 |
Visualizer: Polygons
Going industrial? Grey is the perfect colour scheme. The rough wooden rafters and cabinetry of this lounge-come-kitchen are made modern with a soft grey L-seater, fluffy rug and floors. Walls and ceilings come to the party in full-scale concrete.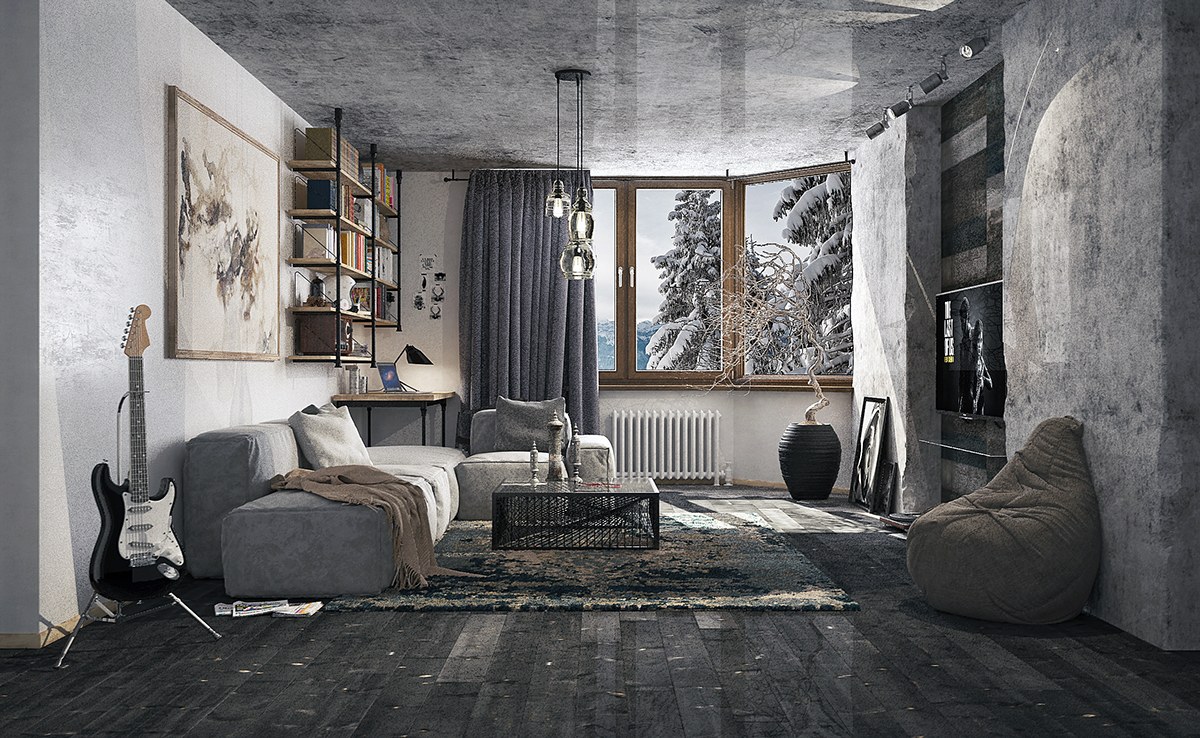 37 |
Visualizer: S Marshall
Prefer the look of the artist's retreat? With a ceiling and feature wall in shiny stone, grey wooden floors and slumped couches join to chill. An electric guitar and potted twisted cane hint at greater creativity.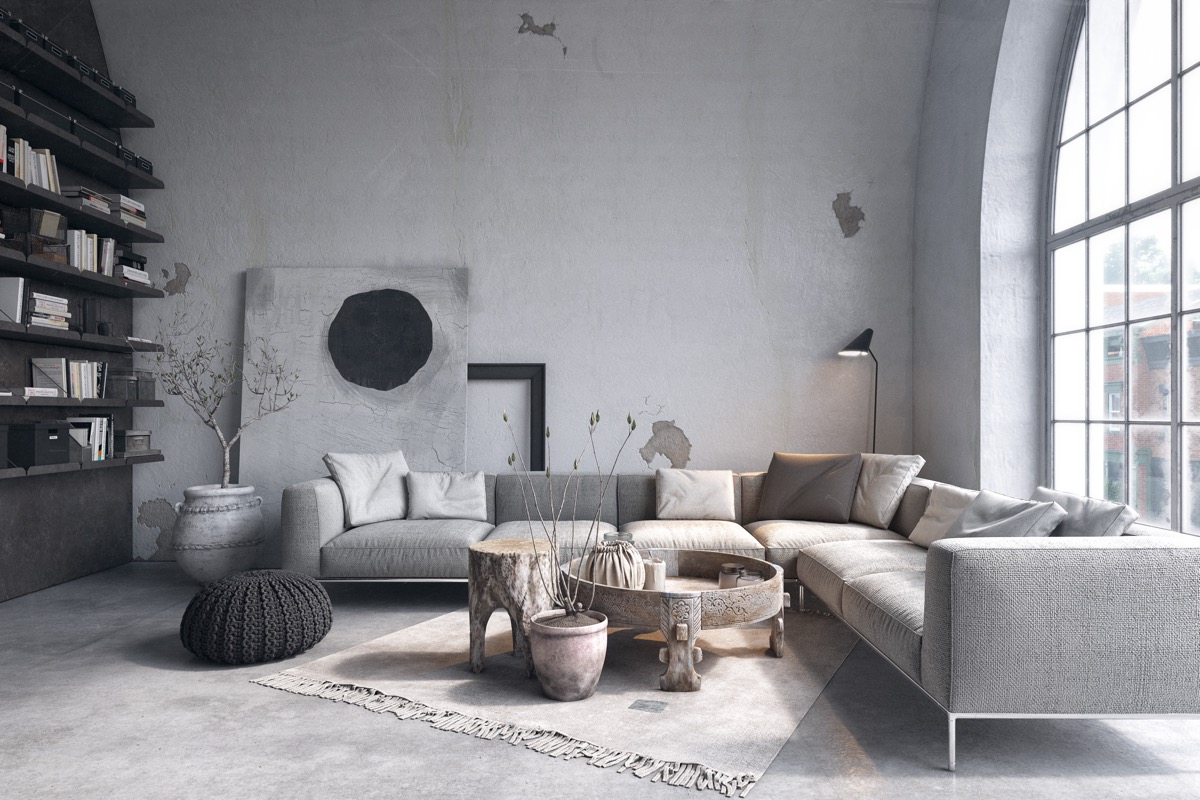 38 |
Visualizer: Serhii Seinov
Create a rustic living room in black and grey. Centred around a trio of tree trunk coffee tables, this grey winding sofa and ceiling-height bookcase are beautifully lit up by a train station window.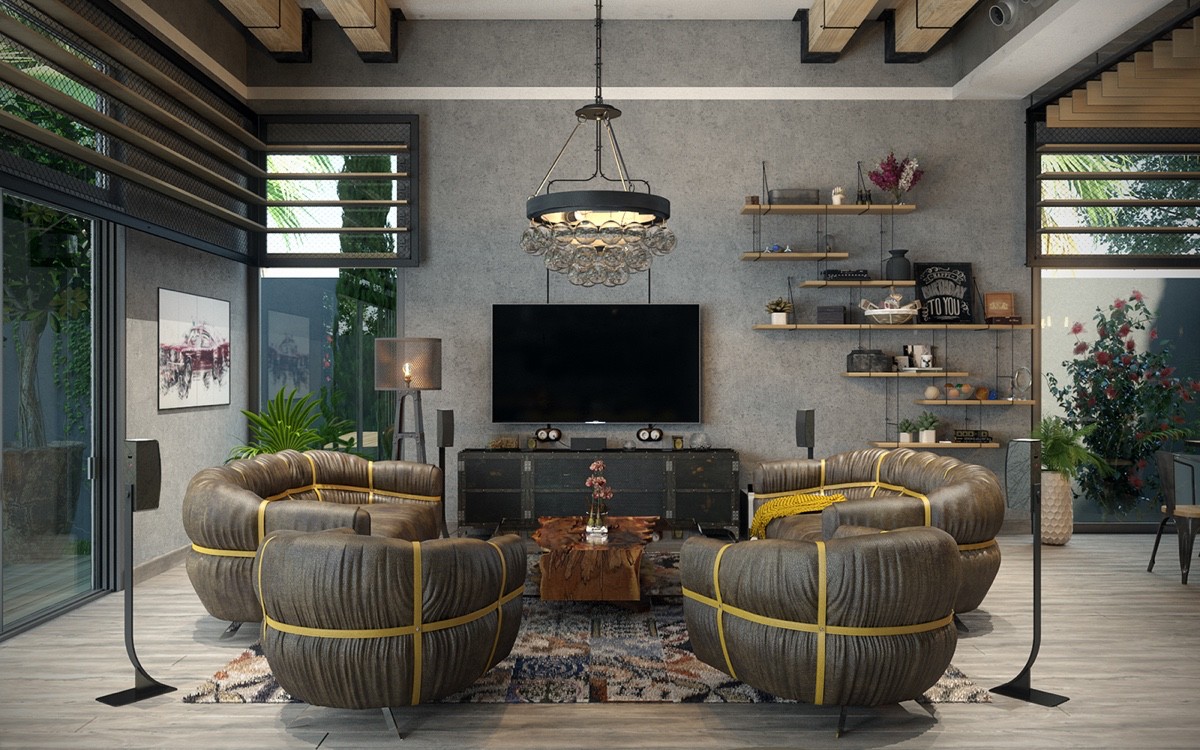 39 |
Visualizer: Mihail Scherbak & Timothy Kalakutsky
Let yellow and wood add interior pizzazz. Set upon textured grey, wood forms into ceiling rafters, Scandinavian shelving and a rustic coffee table. Yellow bandages grey seats with striking lines of colours, as a metal TV cabinet and iron chandelier cement this industrial-style living room design.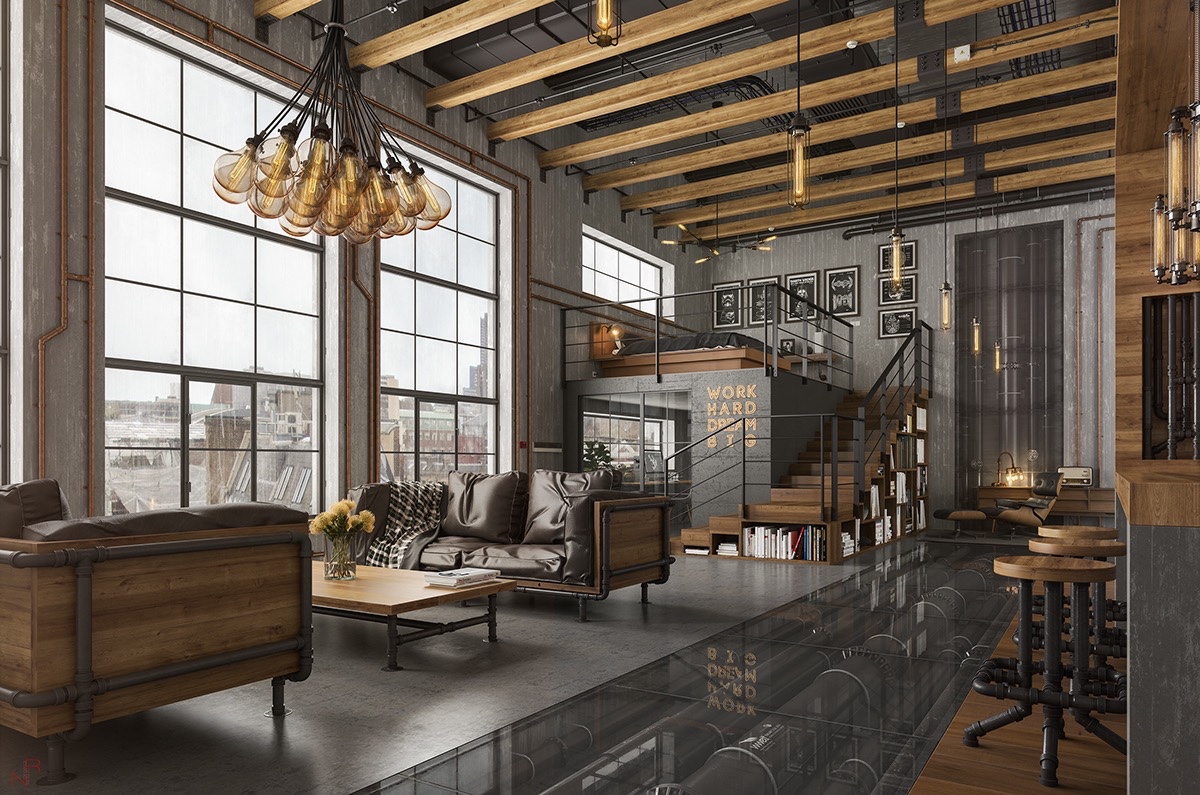 40 |
Visualizer: Romas Noreika
Grey acts inspirational in this industrial loft. As wood streamlines the space in rafters, couch frames and a winding staircase, grey adds polish in slick concrete, distressed walls and a darkened, piping-feature glass panel. A bouquet of lightbulbs completes the look.