This pure sky blue paint colour has got to be one of the most relaxing of all. Teamed with white adjacent walls, floor and furniture the look is kept fresh and uncomplicated. The introduction of green from indoor plants acts as a subtle splash of contrast against the hue. Black accents brought in via a console unit, cushions and nesting coffee tables add just enough weight to the light scheme.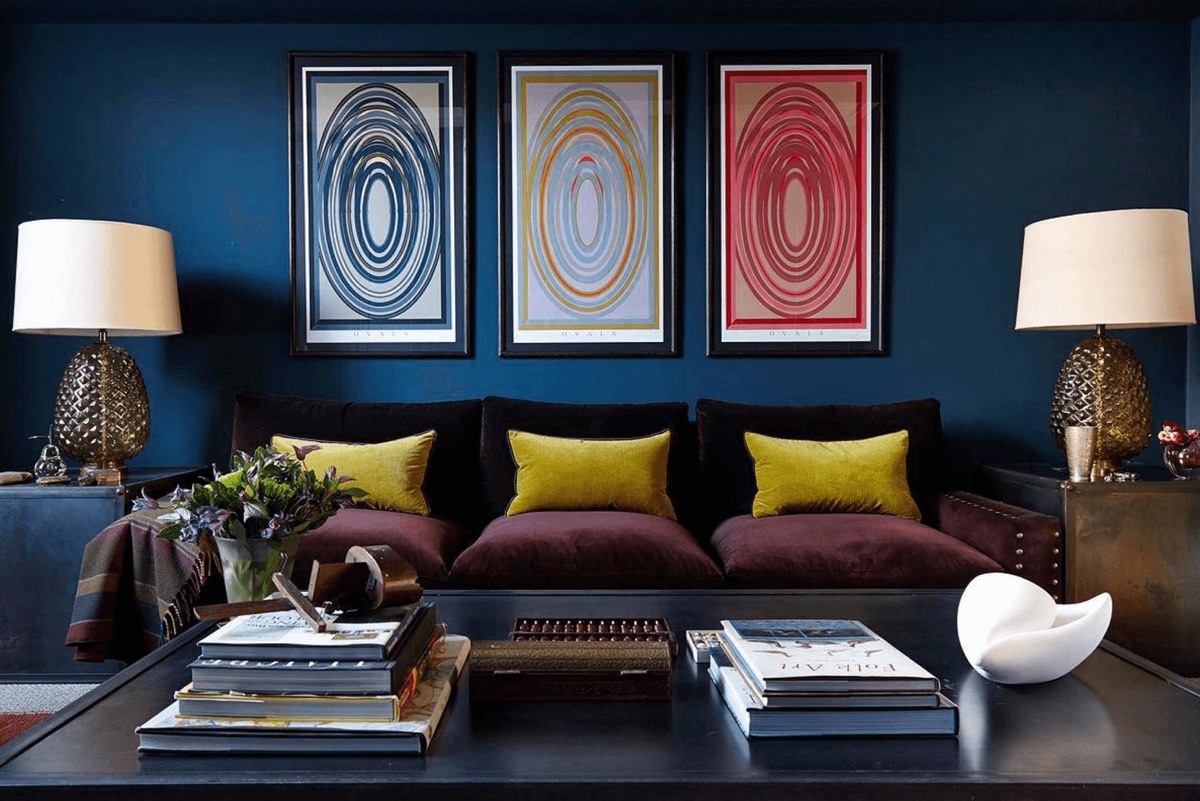 2 |
Designer: Charlotte Crosland Interiors
If dark and sumptuous opulence is more your style, then this dark blue lounge scheme with a plum coloured sofa and yellow ochre cushions is sure to inspire. Bronze accents and colourful wall art complete the decadent decor.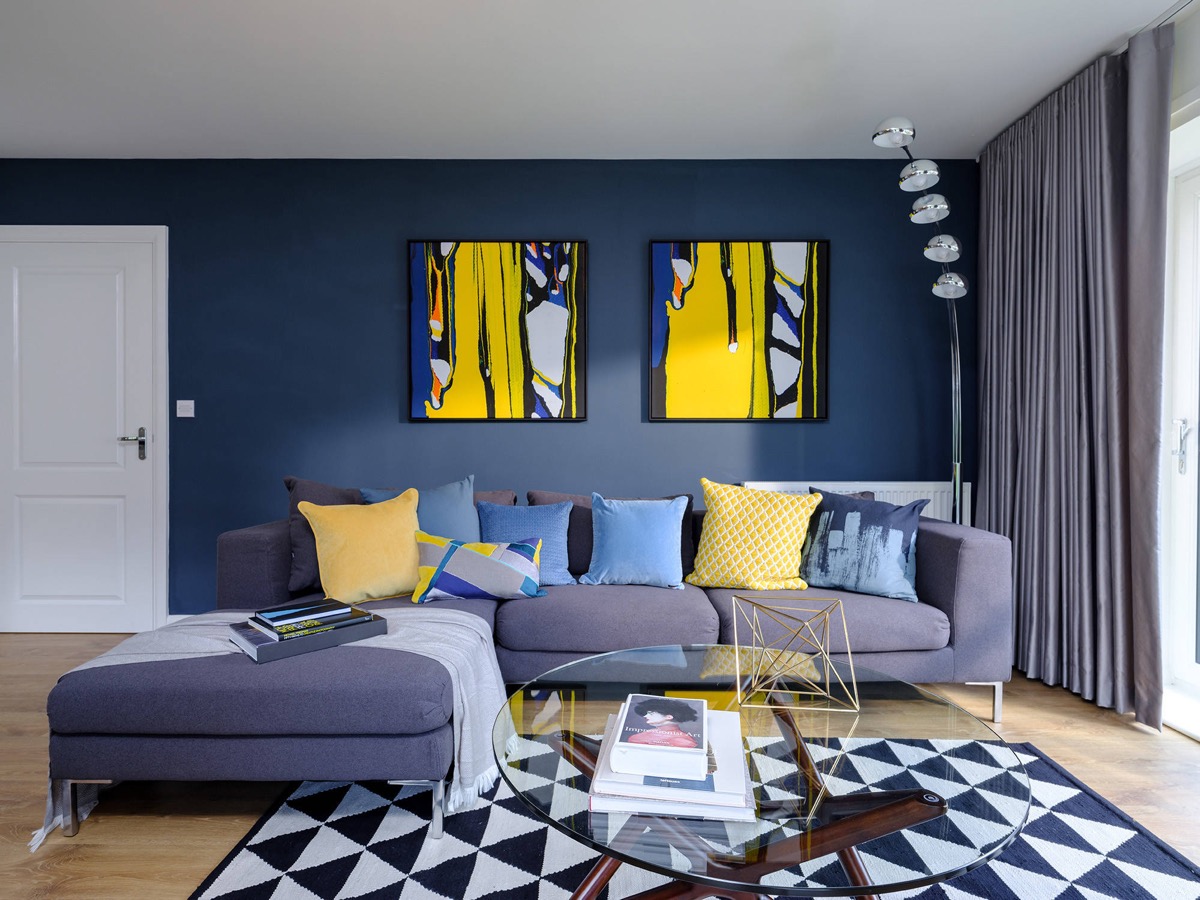 3 |
Photographer: Photovisions
Another dark blue decor scheme but this time with a slightly pop art inspired feel due to high contrast sunshine yellow accents and graphic prints on cushions, artwork and a geo rug that dazzles through the glass top of a mid century modern coffee table.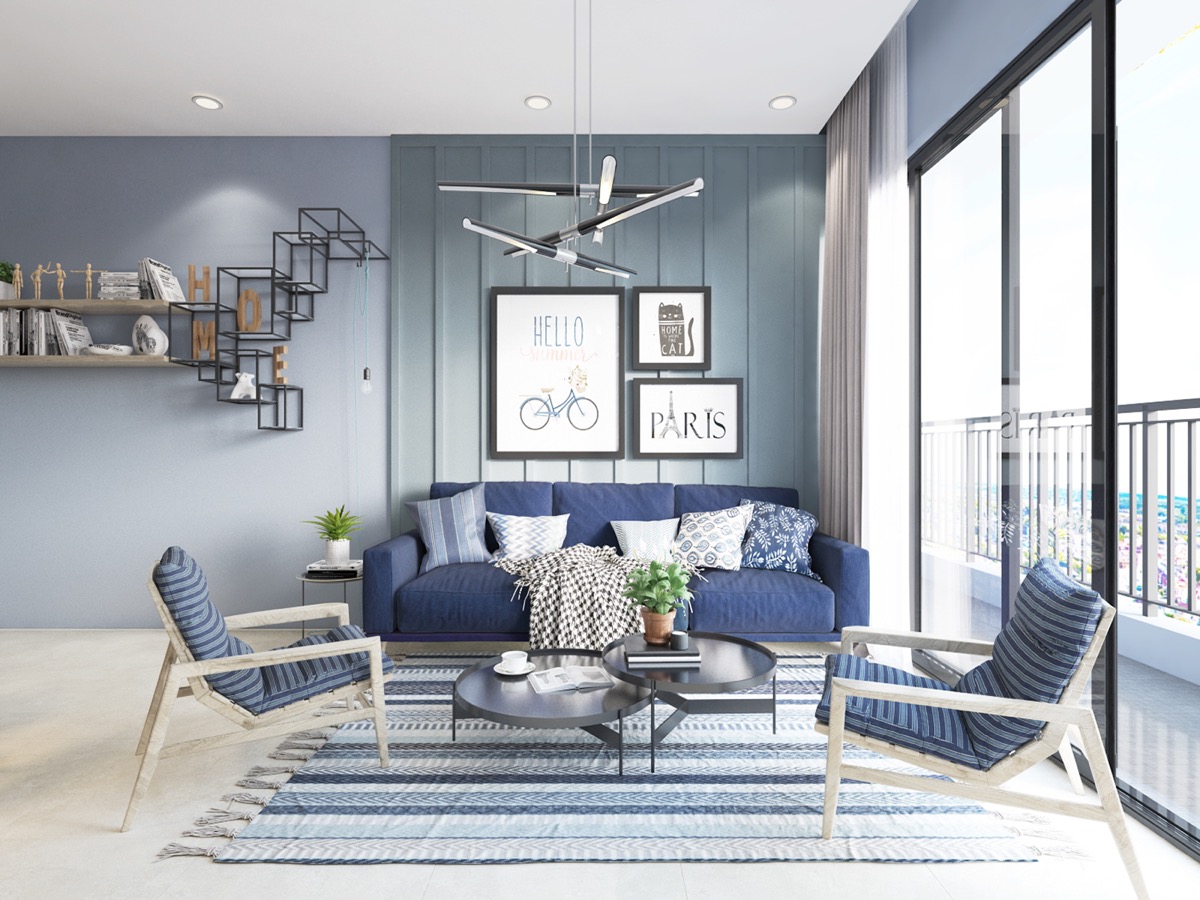 A beach theme is hinted at in this living room. Striped chairs that recline low like traditional deck chairs, and a tasseled area rug on a pale floor like a beach rug on pale sands. Blue panels cover a feature wall, reminiscent of a beach hut. The coastal look is reined in and given a modern edge with the introduction of black metal coffee tables and unique wall shelves.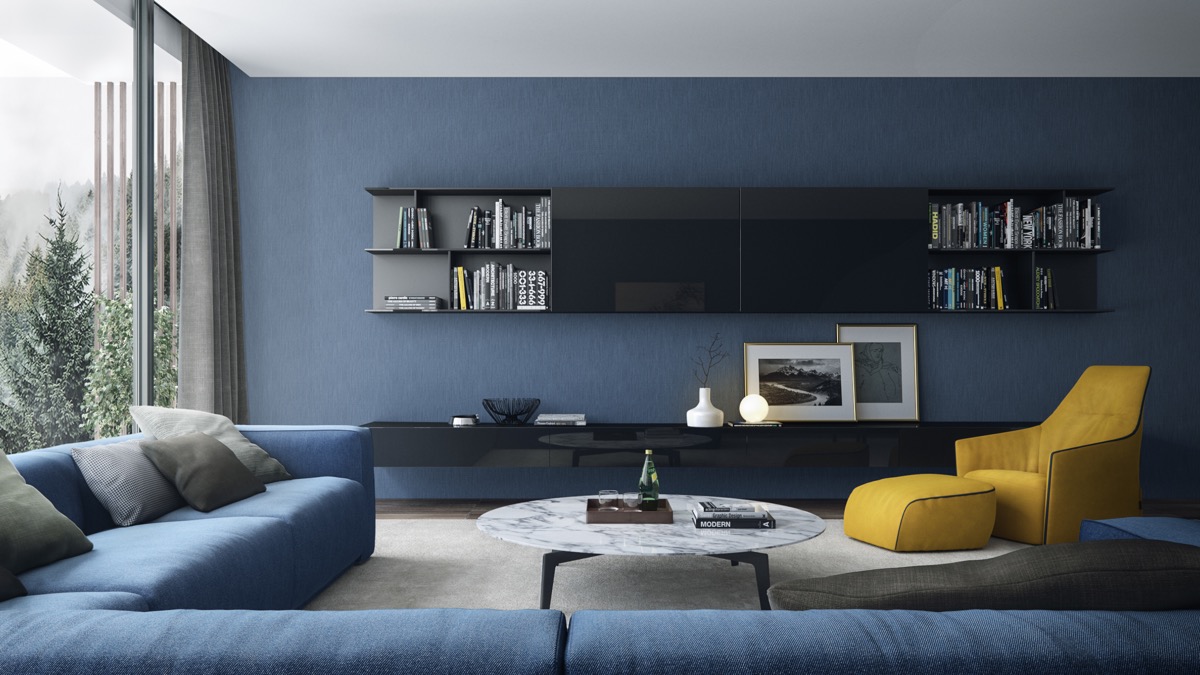 5 |
Visualizer: Ugo Concept
In this dark blue living room theme, the shade of the feature wall is copied and continued around the room via an upholstered L-shaped sofa. A bright yellow accent chairs with matching footstool has been introduced to shatter monotony.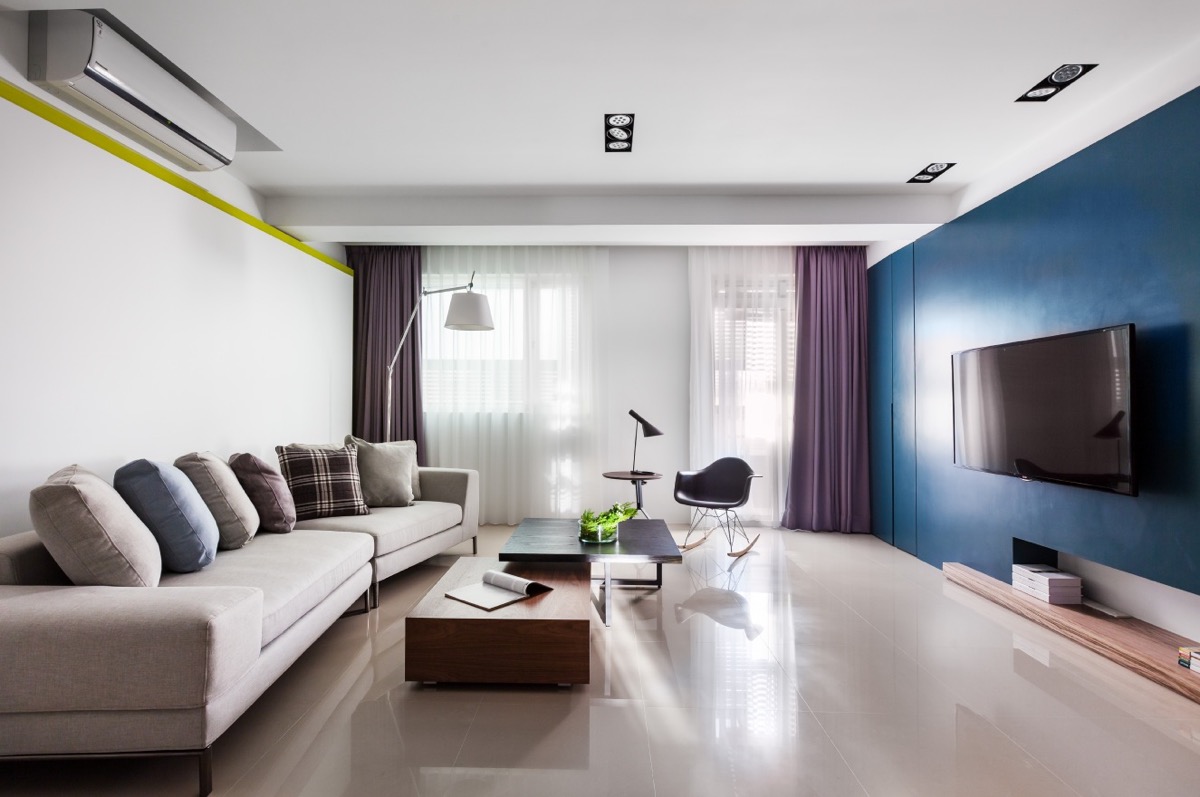 6 |
Visualizer: Z Axis Design
A single wall of strong blue is echoed only by one diluted blue cushion on the opposite side. Purple heather cushions and curtains complement the blue tones perfectly, and one vivid chartreuse strip balances the visual weight of the room. The sofa and floor are neutral and light, whilst a dark coffee table, modern rocking chair and a designer table lamp provide the base notes.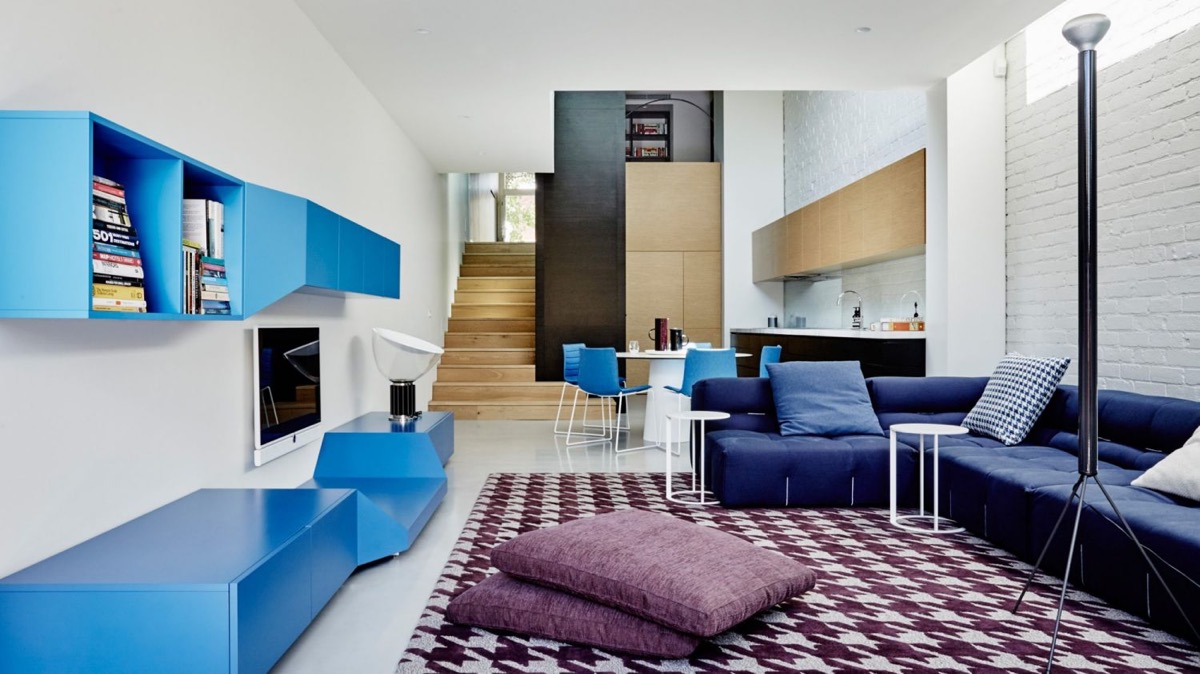 Purple and blue at play together again here, this time in a much more vivid combo. Plenty of surrounding white and light wood tone prevent the vibrant hues from appearing too much.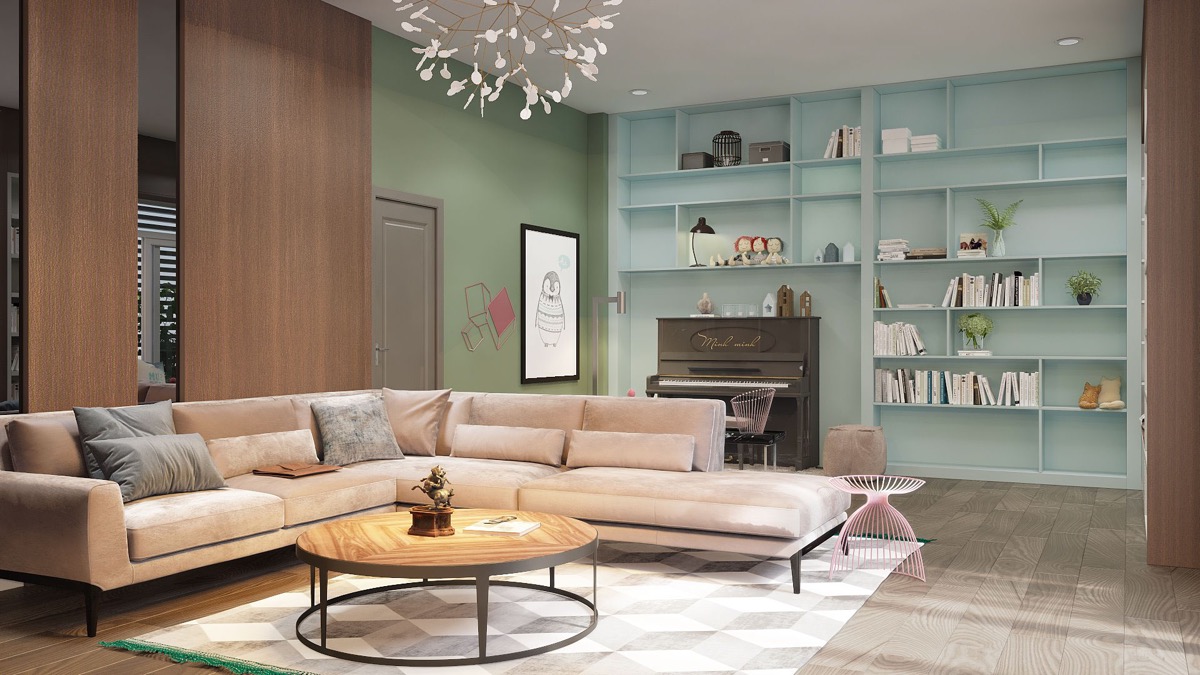 8 |
Visualizer: AM Studio
Is there any colour more restful on the eye than duck egg blue? The calming colour of this bespoke bookcase has been put with a beautiful blush sofa in this pastel coloured lounge. A pink and blue colour combination looks super sweet, but here the cute clash is toned down by the addition of a soft sage accent wall plus deep wood stain.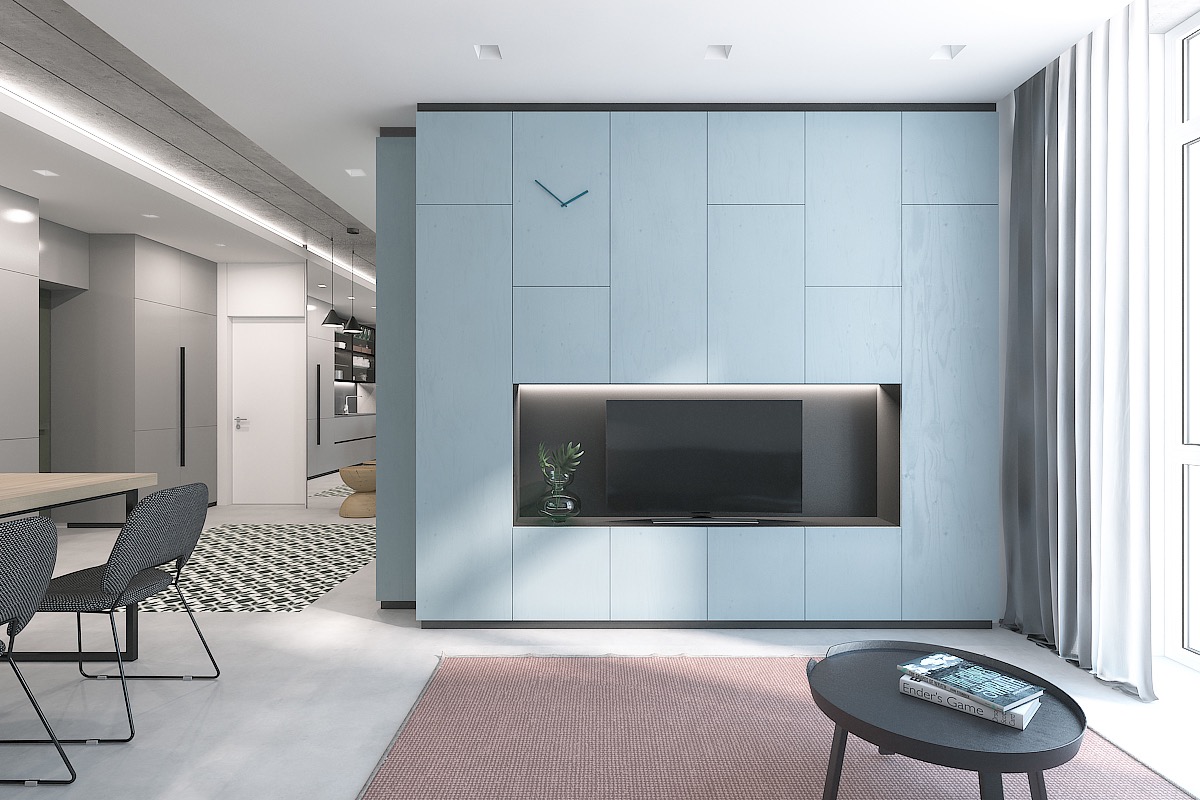 9 |
Visualizer: Lugerin Igor
A volume of light blue storage cabinets makes a great divider in this open plan space. Again the blue hue has been warmed by the introduction of soft pink, this time in the form of an area rug. The sweet shades lift the monochrome scheme but are relaxing rather than jarring.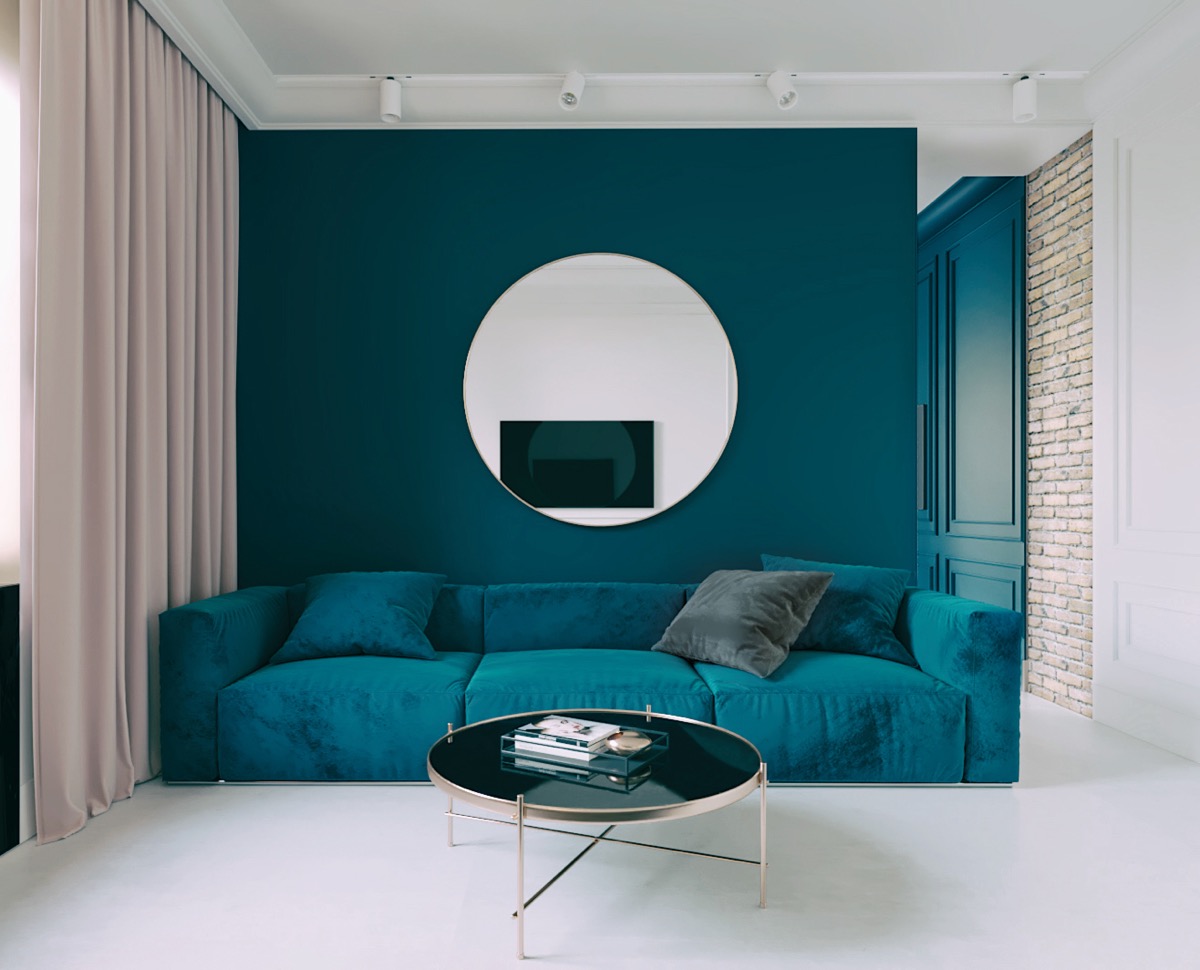 10 |
Visualizer: Max Nevkhoroshev
This velvety modern sofa is camouflaged against a teal wall. A round mirror and round coffee table resemble a full moon and its reflection in a still pond.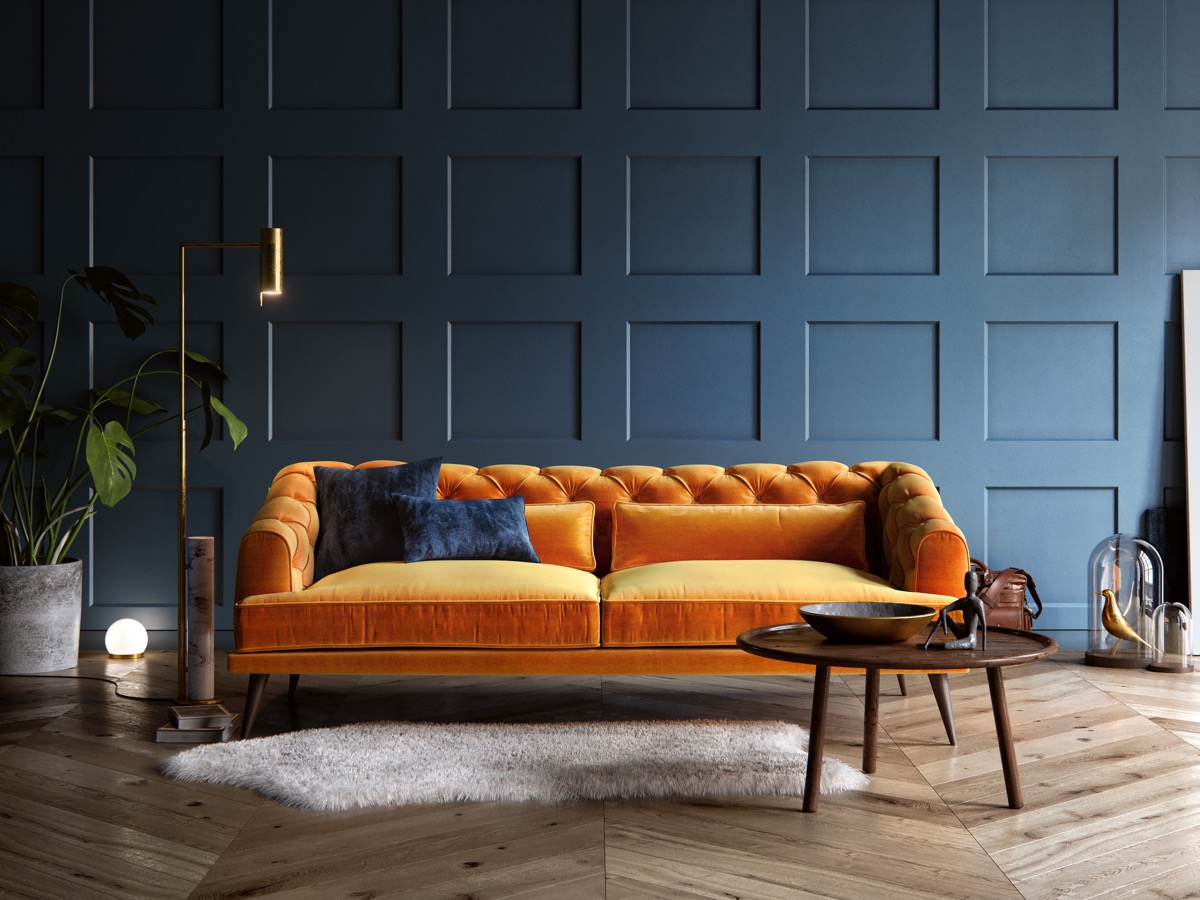 11 |
Visualizer: Aleksey Krivosheyev
An orange Chesterfield sofa and a gold floor reading lamp sing off midnight blue wainscoting.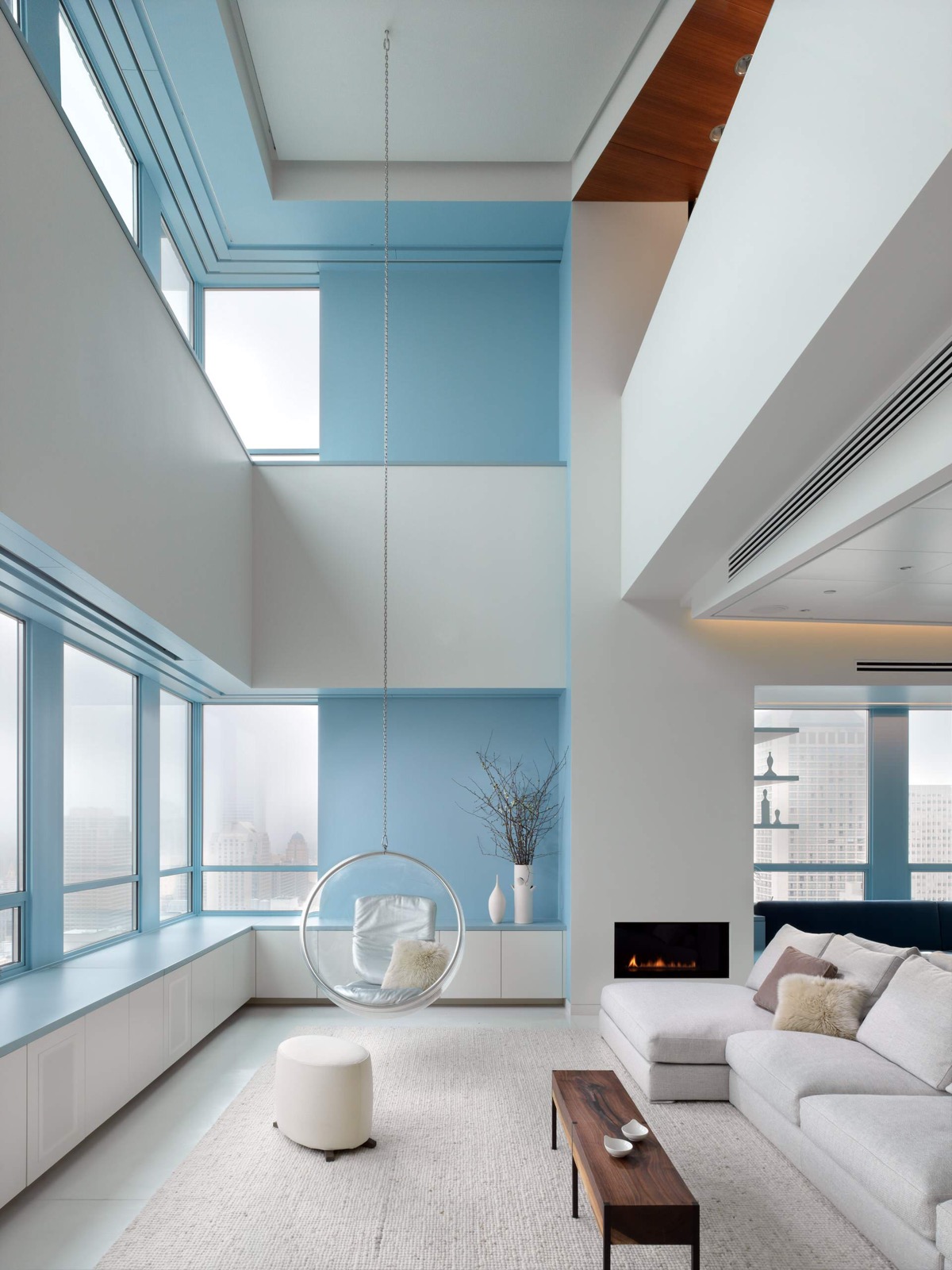 12 |
Designer: Winder Gibson Architects
Like gazing up into a cloudless summer sky, this lofty sky blue living room looks heavenly.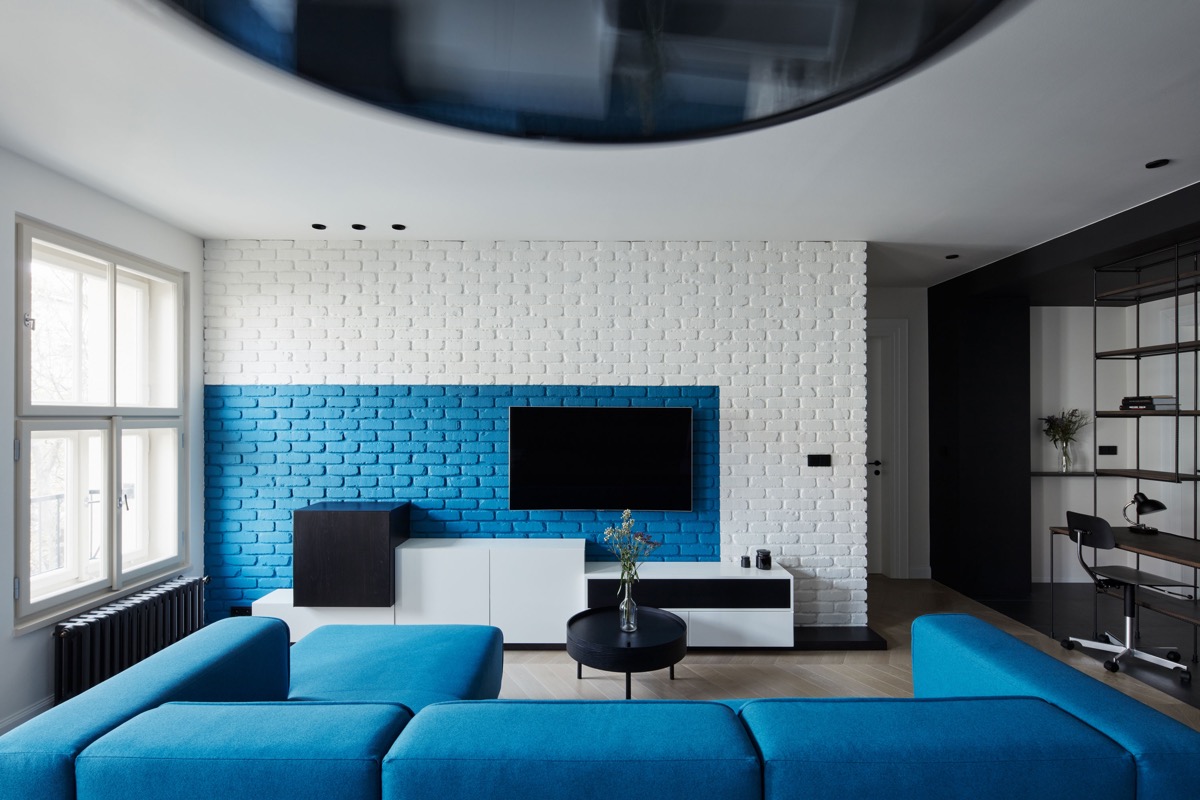 Electric blue flashes around the perimeter of this black, white and blue living room. Blue may typically be thought of as a calming influence but this hue feels positively energised.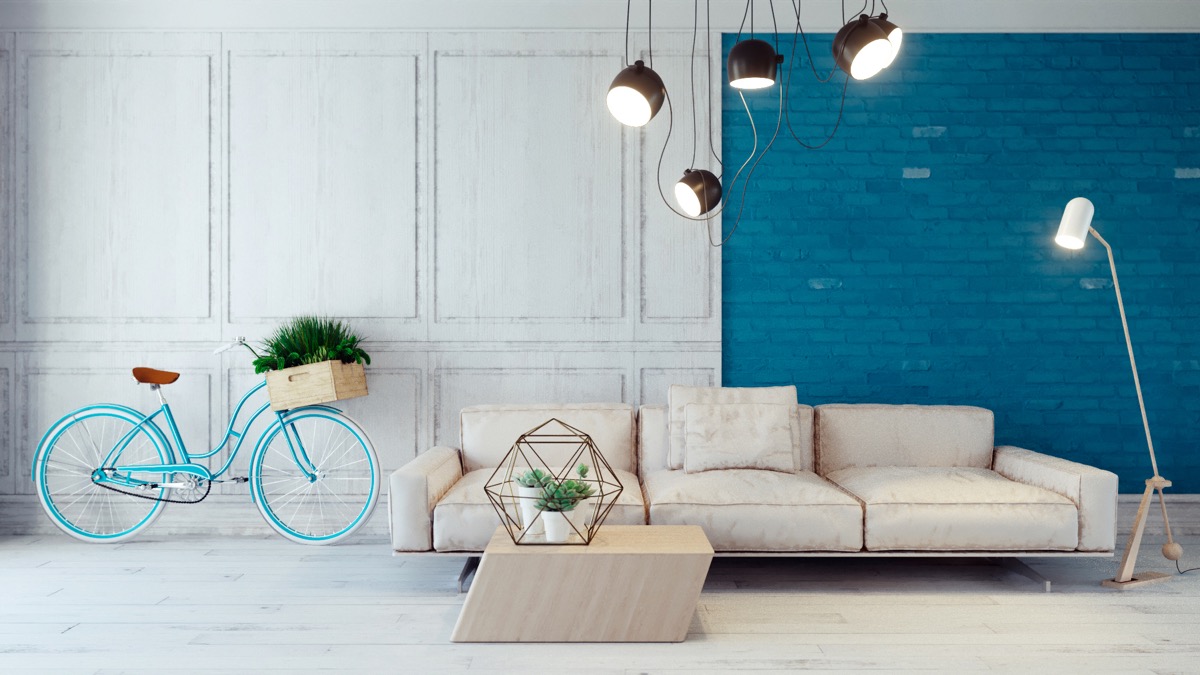 14 |
Visualizer: Viacheslav Sobolevsky
We love the unexpected styling of a colour coordinated ornamental bicycle in this room scheme. The bright red seat is a nice cheerful touch.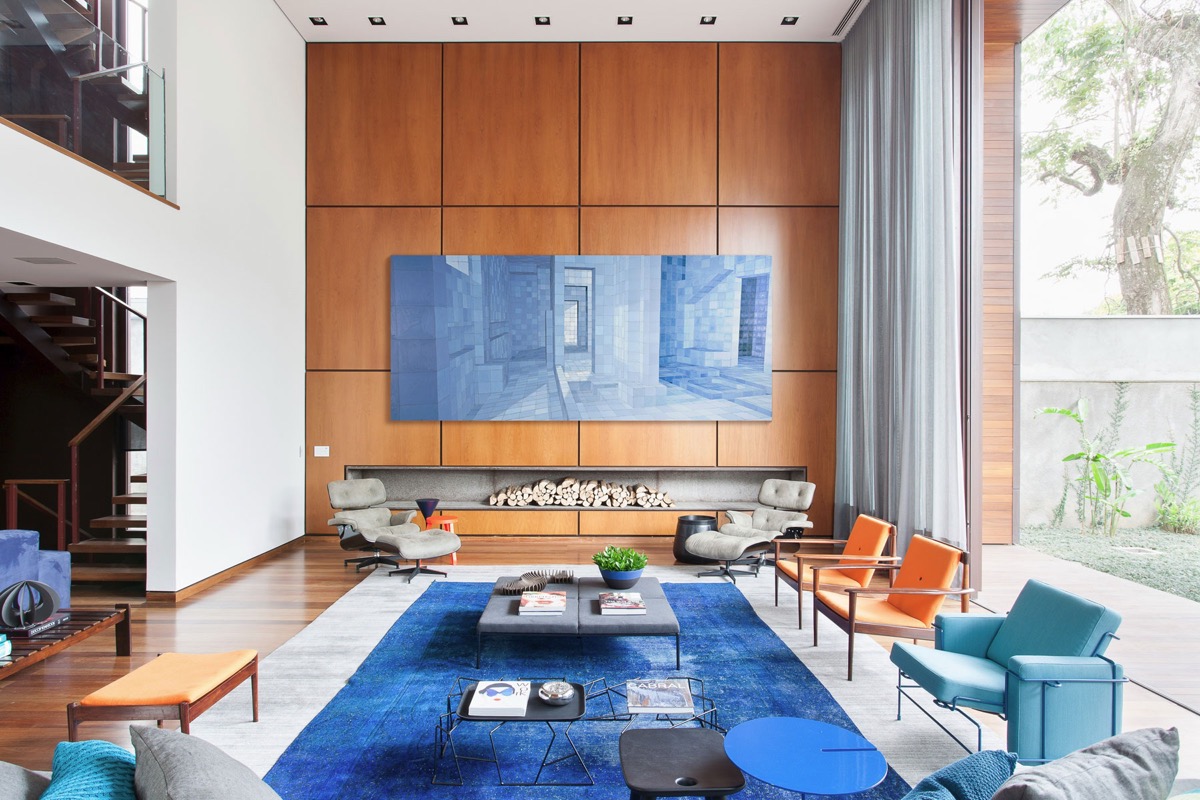 15 |
Designer: Suite Arquitetos
Orange meets blue again in this enormous layout. Because blue is at the opposite side of the colour wheel to orange, the combination is naturally striking.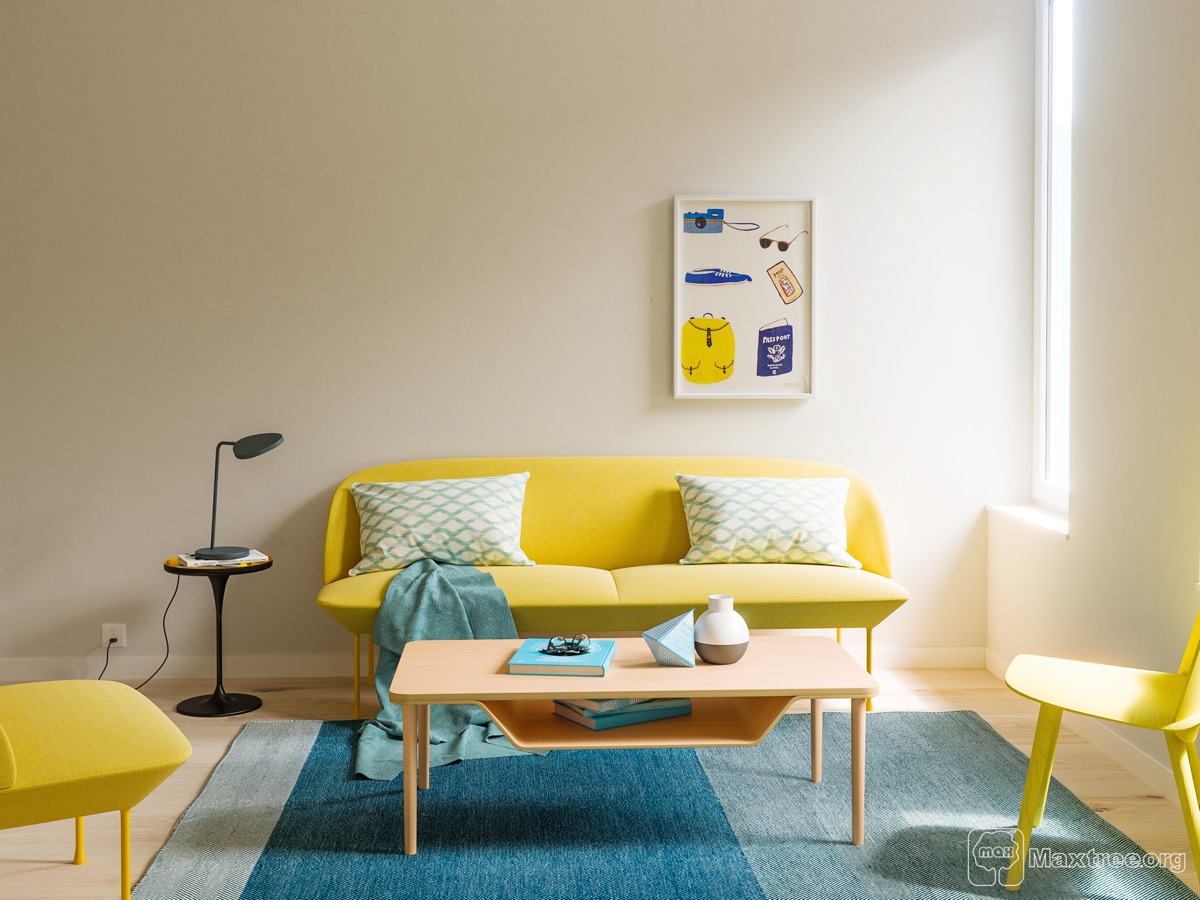 Just a kick away from orange on the colour wheel is yellow, making it another eye-catching combo.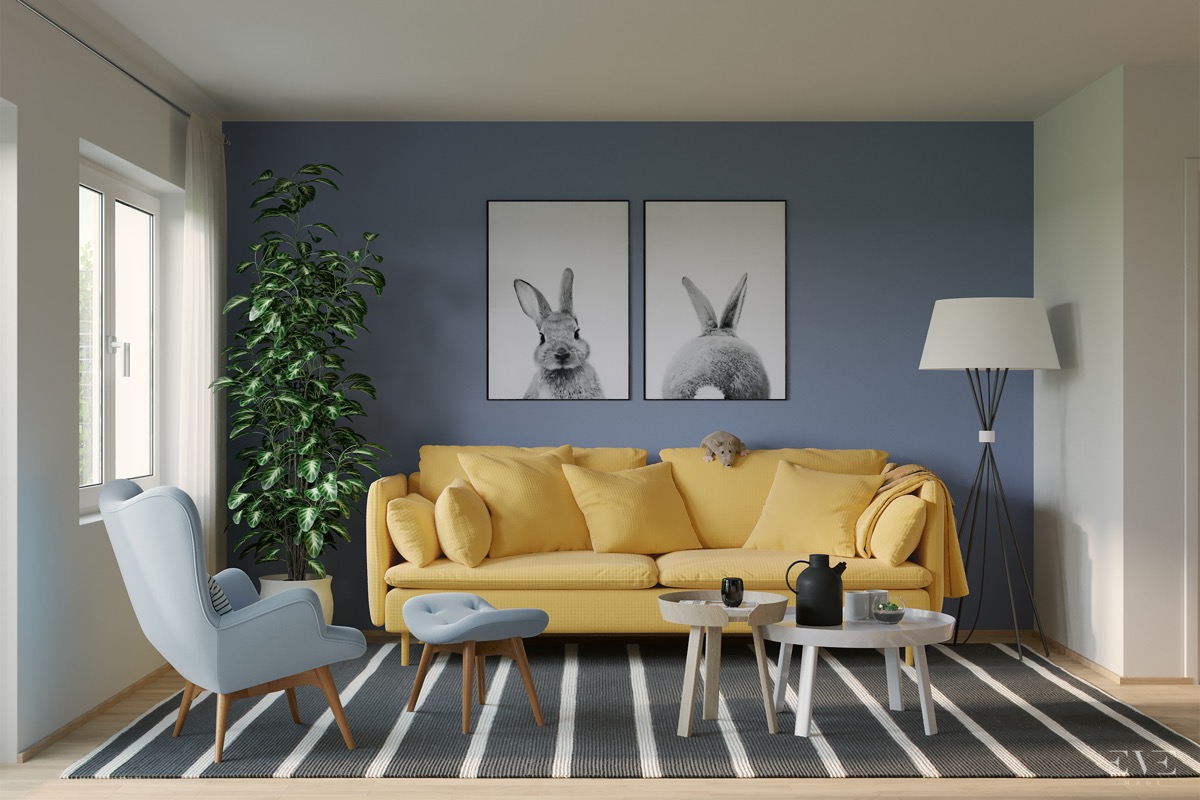 17 |
Visualizer: Eve Images
A blue-yellow mix in more muted shades.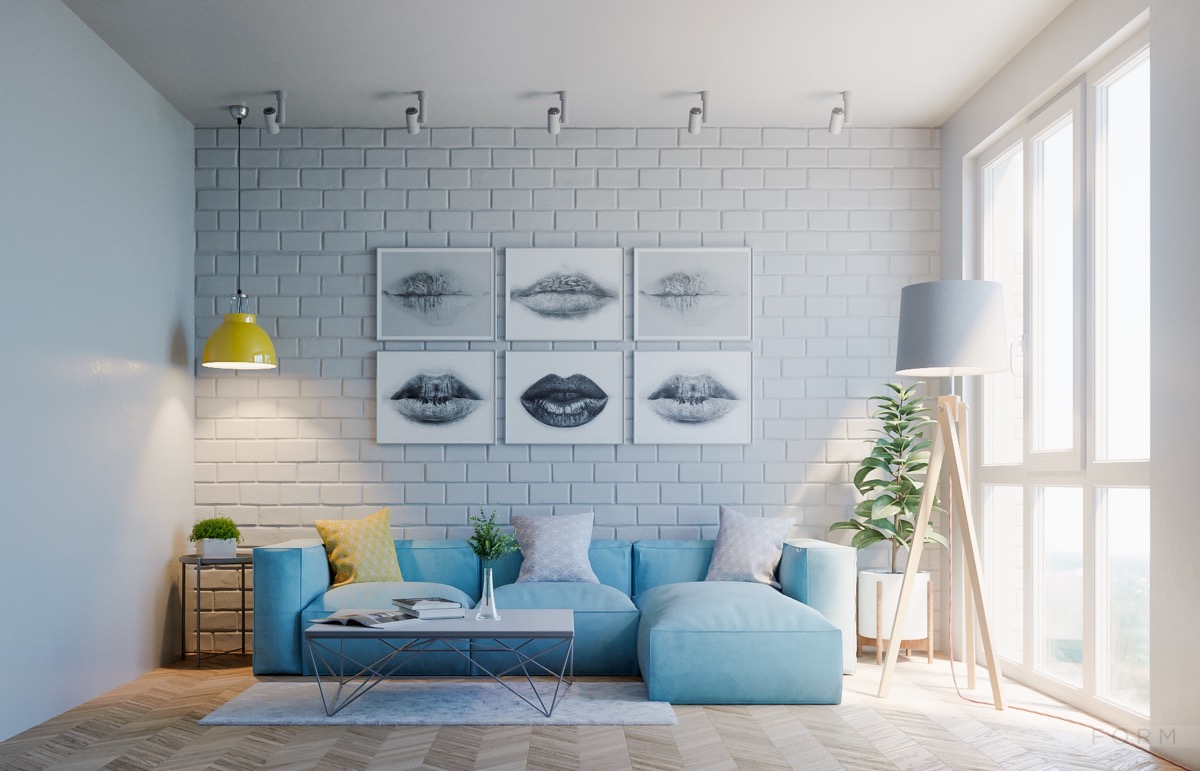 18 |
Visualizer: Alexander Kuzmenko
In this lounge scheme the colour has been restrained to only the sofa, one cushion and a lightshade.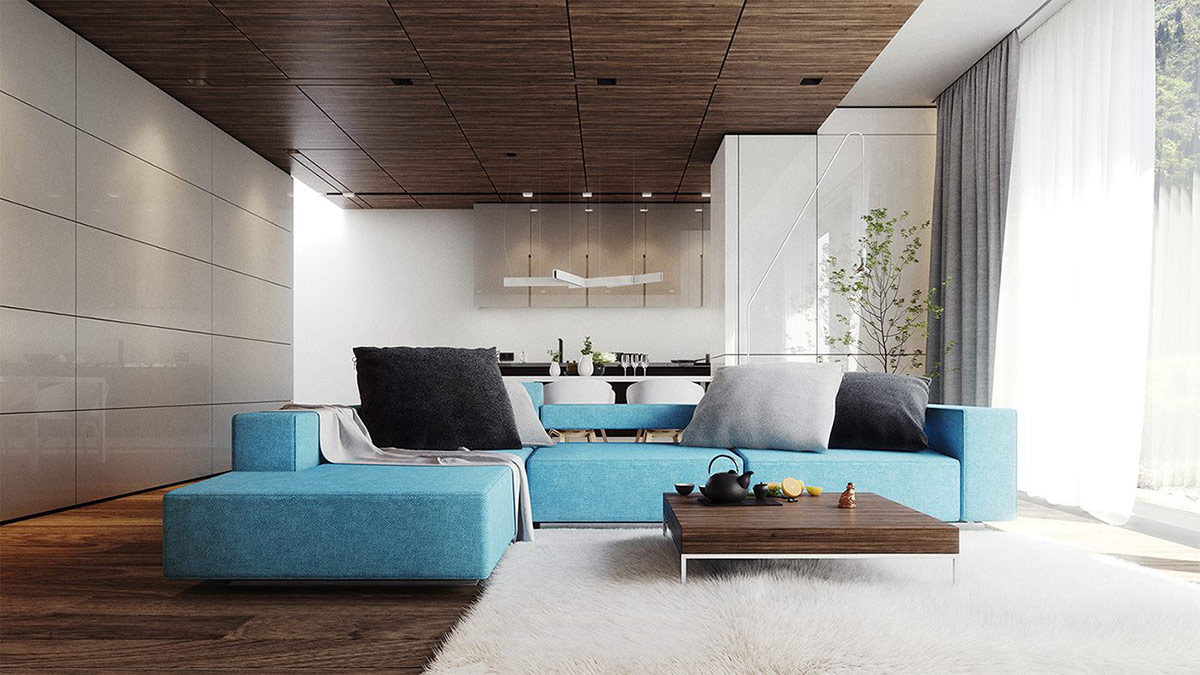 19 |
Visualizer: Constantine Rybkin
The bright hue of this aqua blue sofa has been broken up with huge pale pillows to match the overall decor, and black pillows that are matched by the kitchen base units, teapot and cups.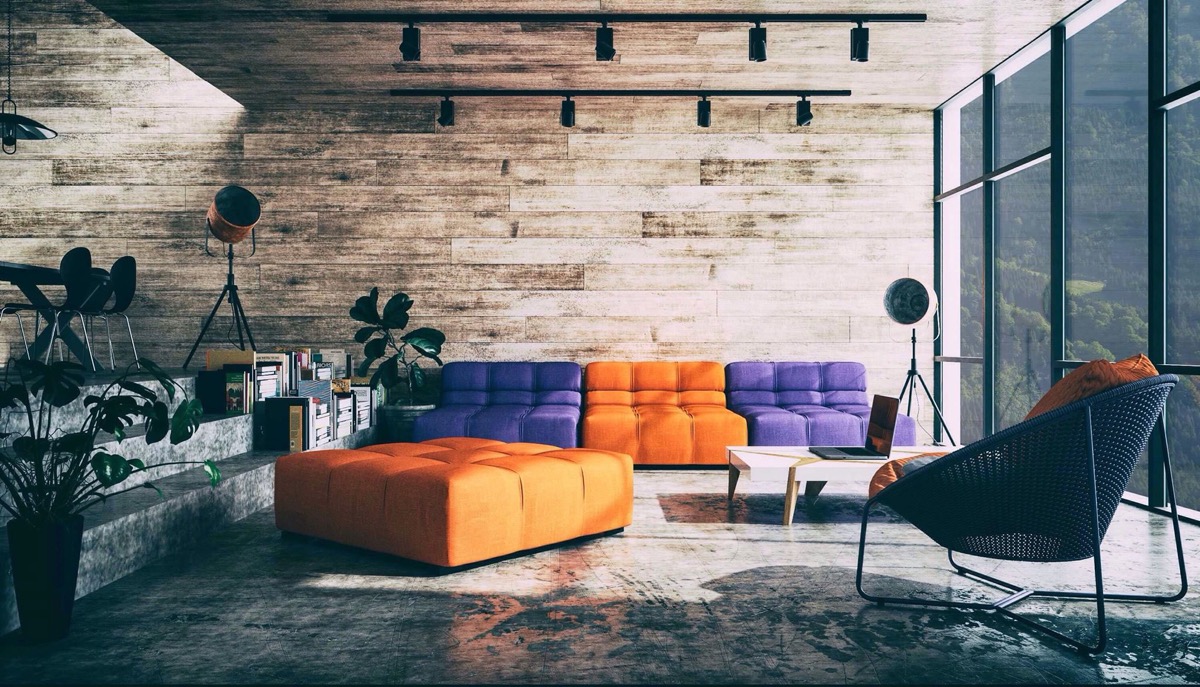 20 |
Visualizer: Aquiles Ruiz
Against a backdrop of wood and concrete you can go as bright as you dare.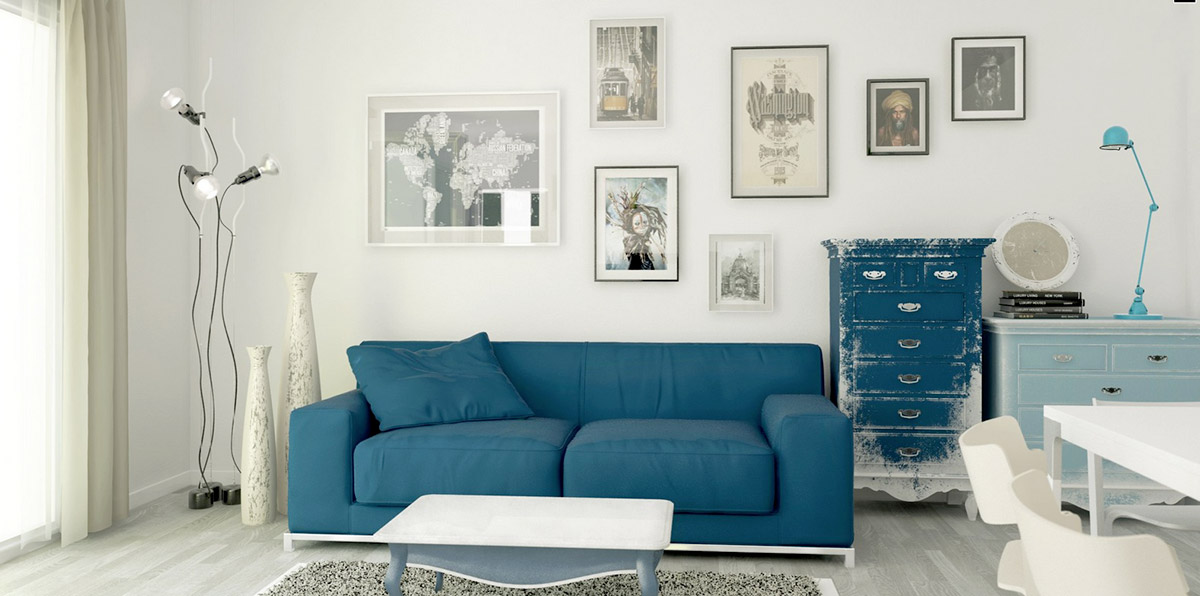 21 |
Visualizer: Materica d_sign
Choosing different shades of the same hue adds depth and interest.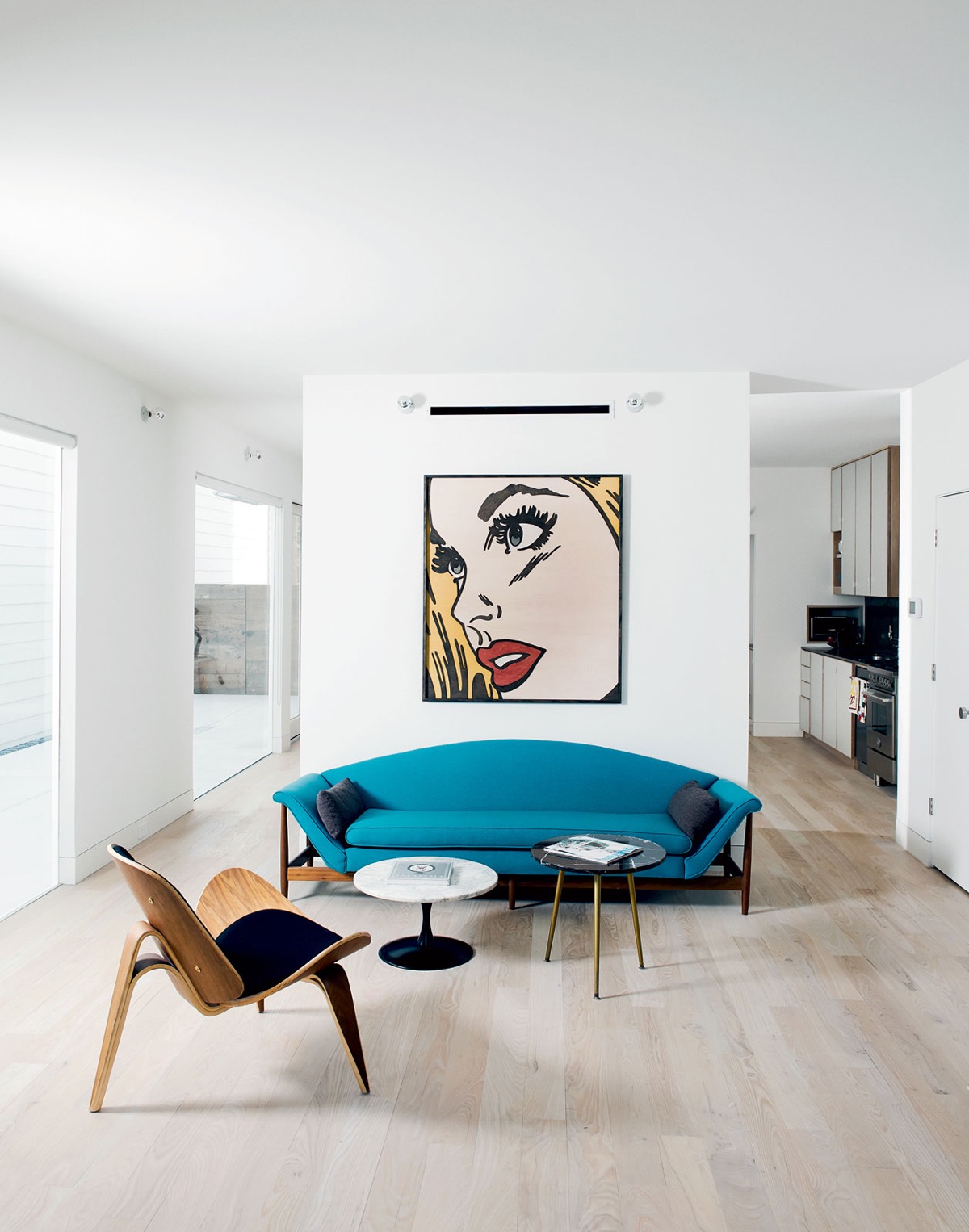 22 |
Designer: Ford Design
This minimalist living room gains added interest from highlighting the unusual shape of the sofa with a bright shade.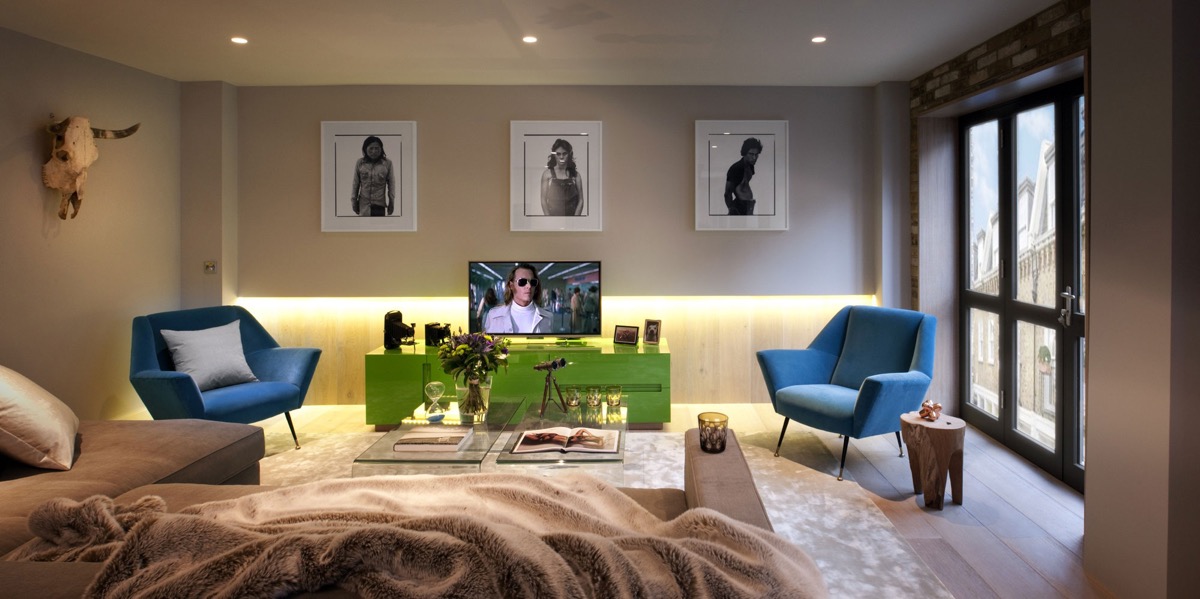 A couple of matching blue accent chairs balance this layout.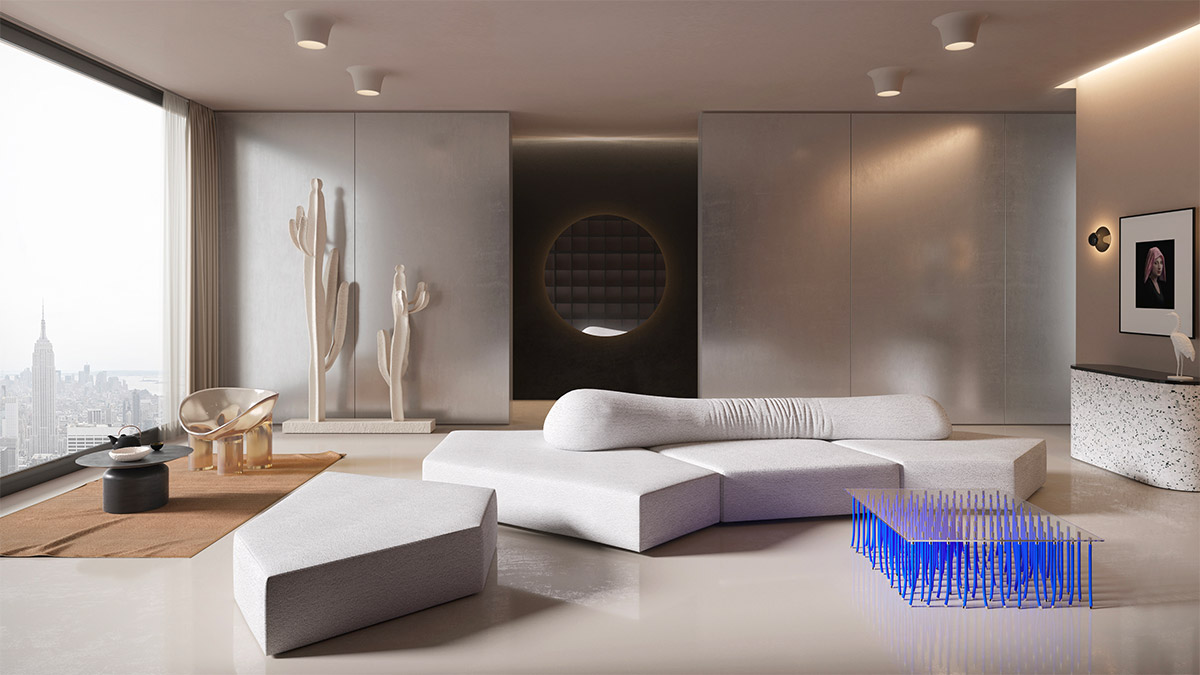 24 |
Visualizer: Z River Studio
A single unique coffee table could be your stand-out blue accent…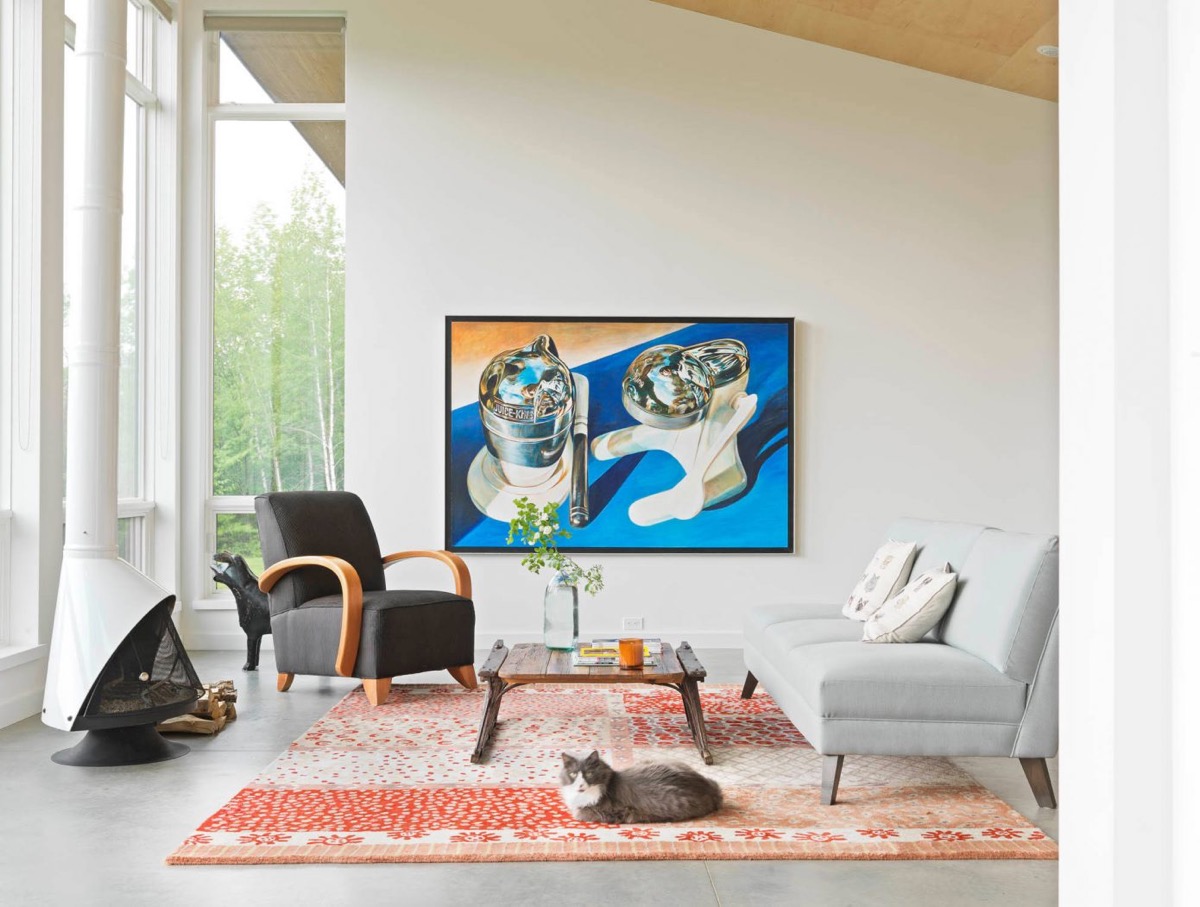 25 |
Designer: Amber Hodgins
… Or a piece of blue wall art.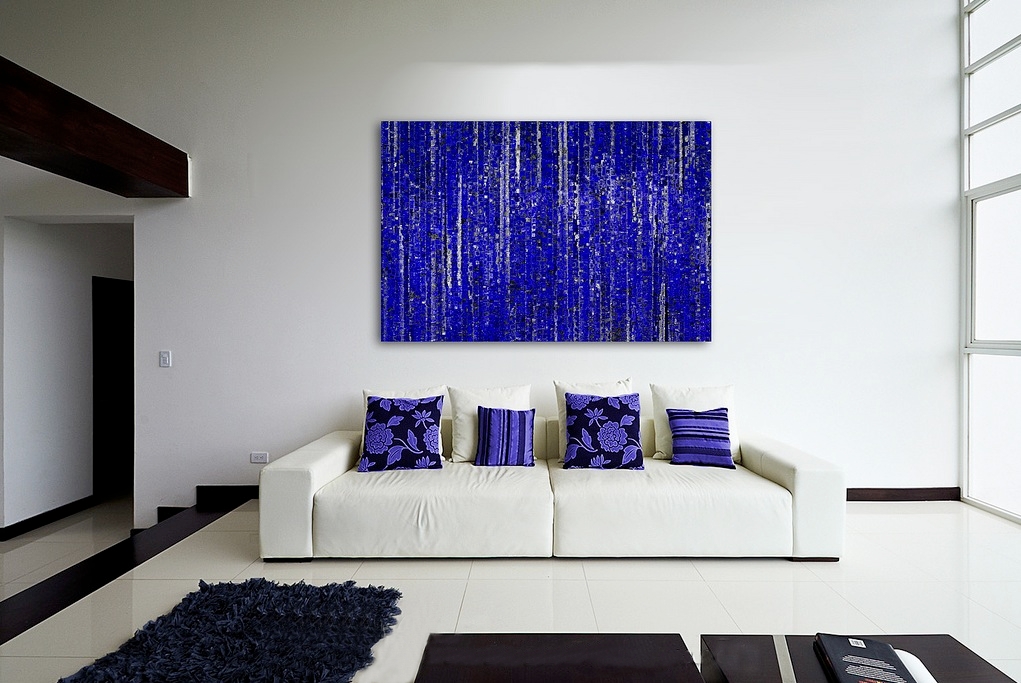 26 |
Source: Mark Lawrence
Living rooms with large wall art can be simple in design to let the art do the talking.
27 |
Source: SCE Construction
A blue aquarium casts a dreamy light over this lounge.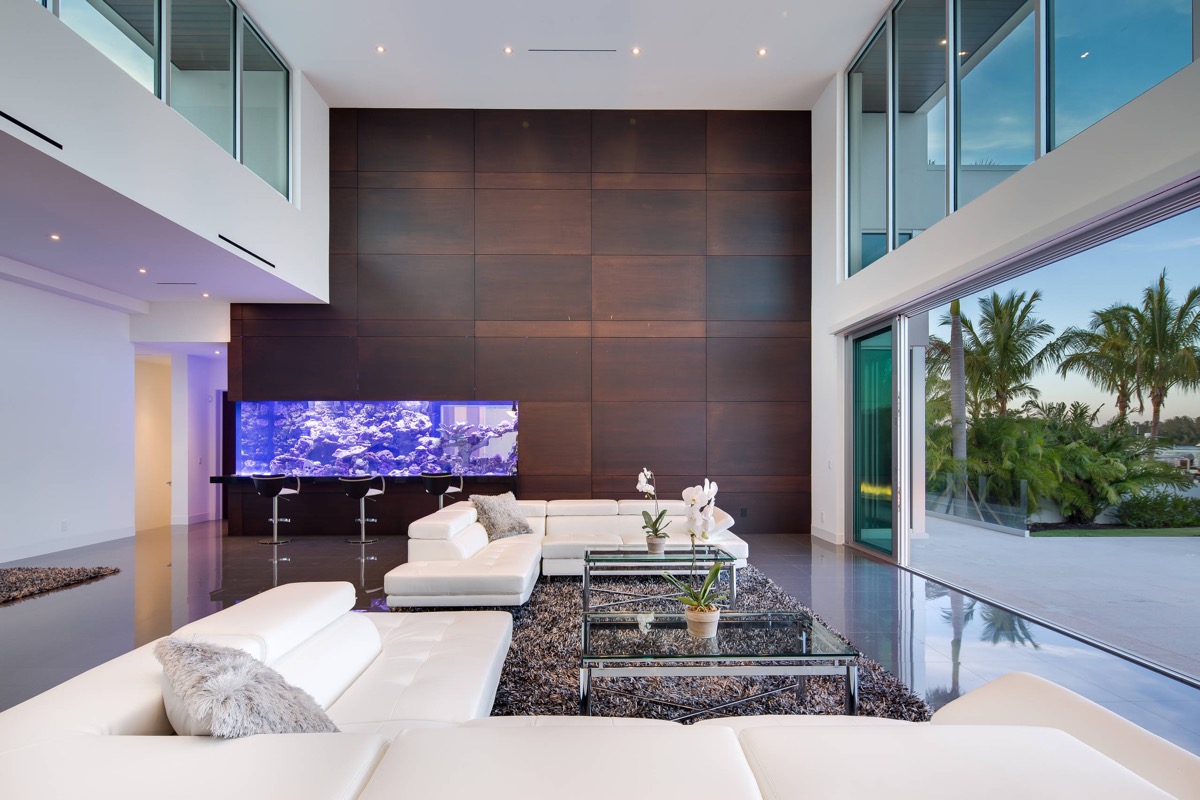 28 |
Architect: DSDG
Source: Living Color Aquariums
Here, an illuminated aquarium adds a dash of vibrant color to an otherwise neutral space. Blue-tinted glass flanks the room to either side, reflected by the pair of glass coffee tables in the center.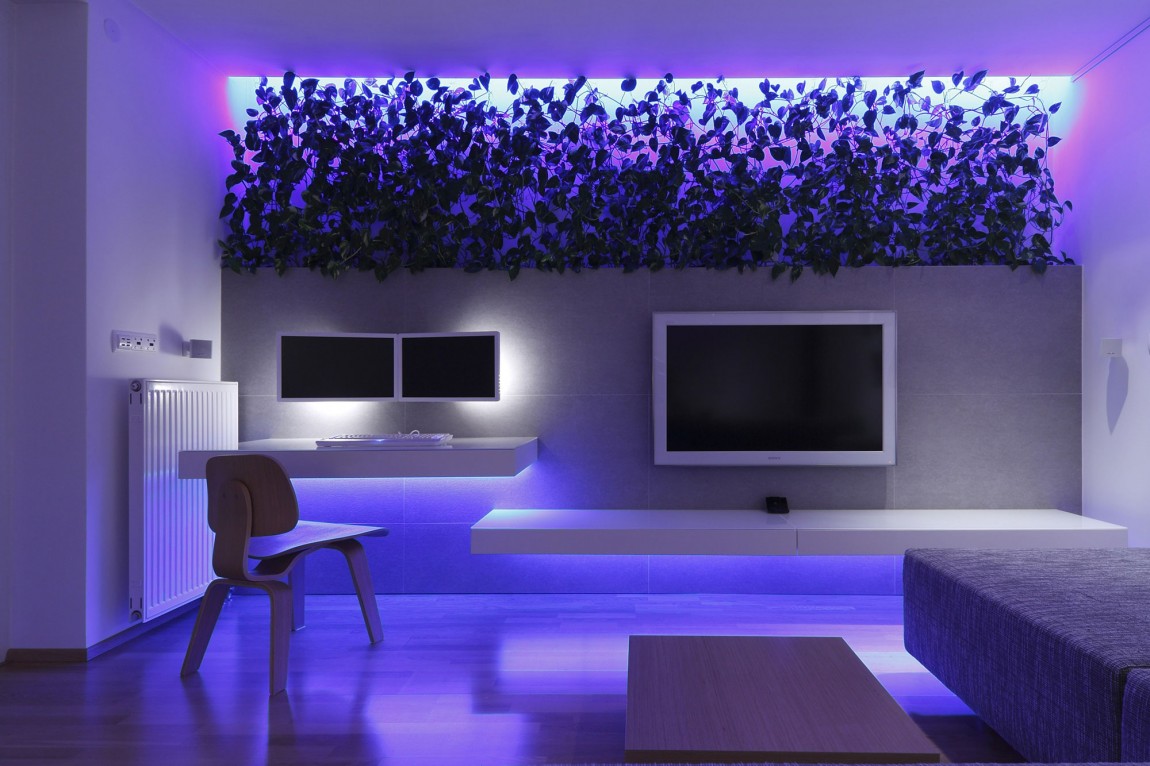 29 |
Designer: Rules Architect
Colour changing LEDs can be a great alternative to painting on permanent colour. You can check out more images of this gorgeous home here.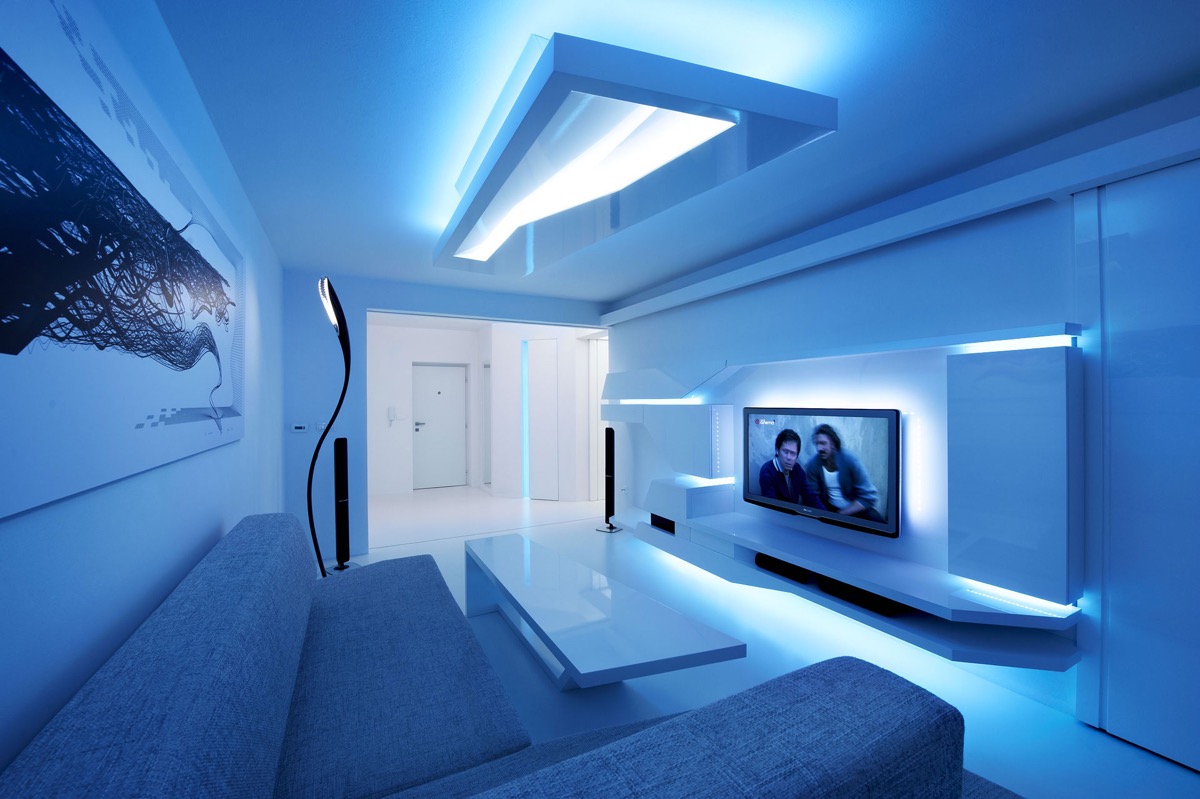 30 |
Visualizer: Next Level Studio