Create an inverted art gallery. Black and white photographic prints and paintings are an ideal accessory for a black room. Art galleries may typically present these on white walls but a black display wall looks twice as striking.
2 |
Visualizer: Igor Sirotov
Keep it simple. An all black bedroom suits minimalist bedroom furniture, with clean linear shape.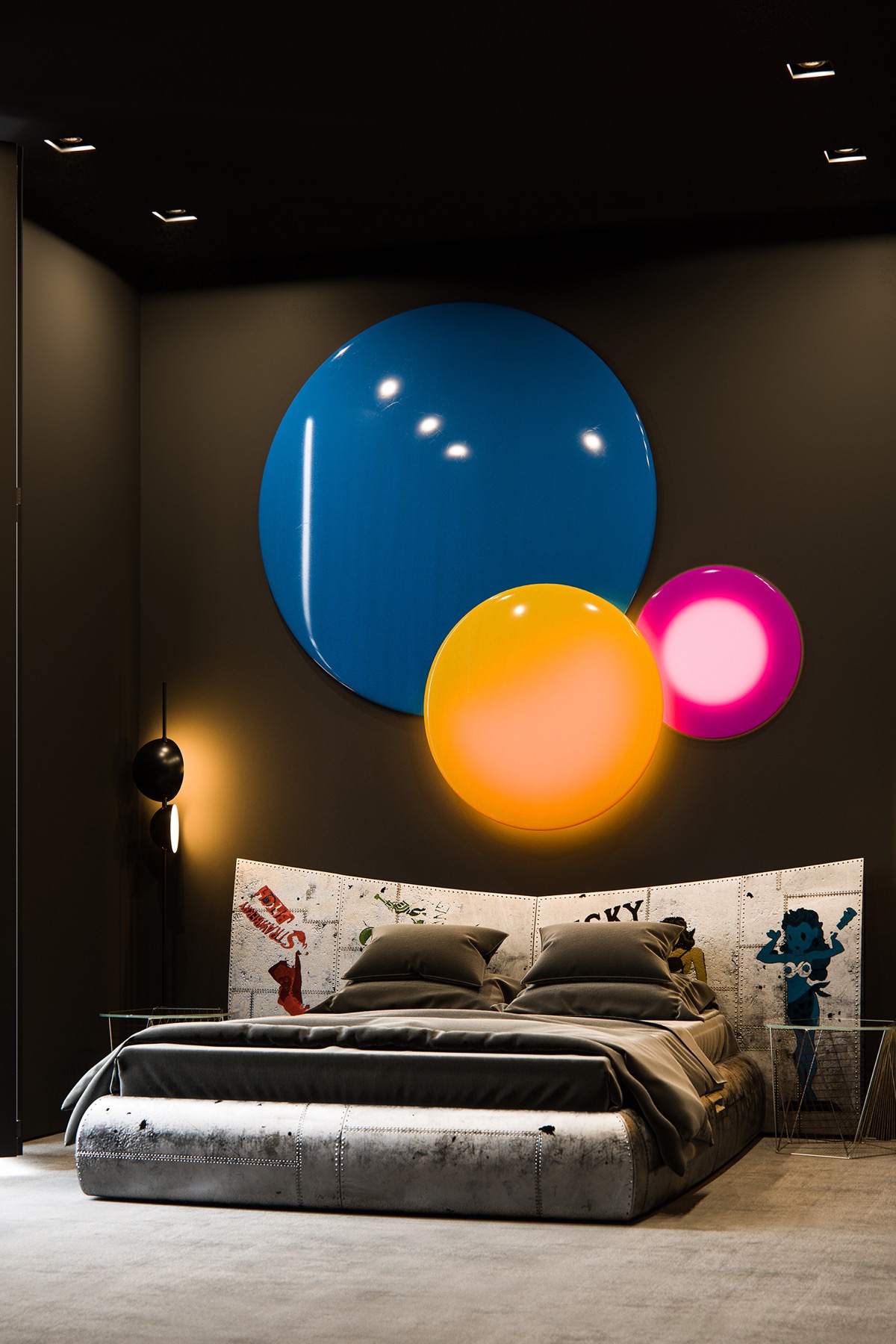 3 |
Visualizer: Double Aye
Black makes a perfect backdrop. When walls are knocked back in black, you can go wild with colourful accessories, like this tricolour light installation. Black also makes a good base for standout furniture pieces like this unique painted bed.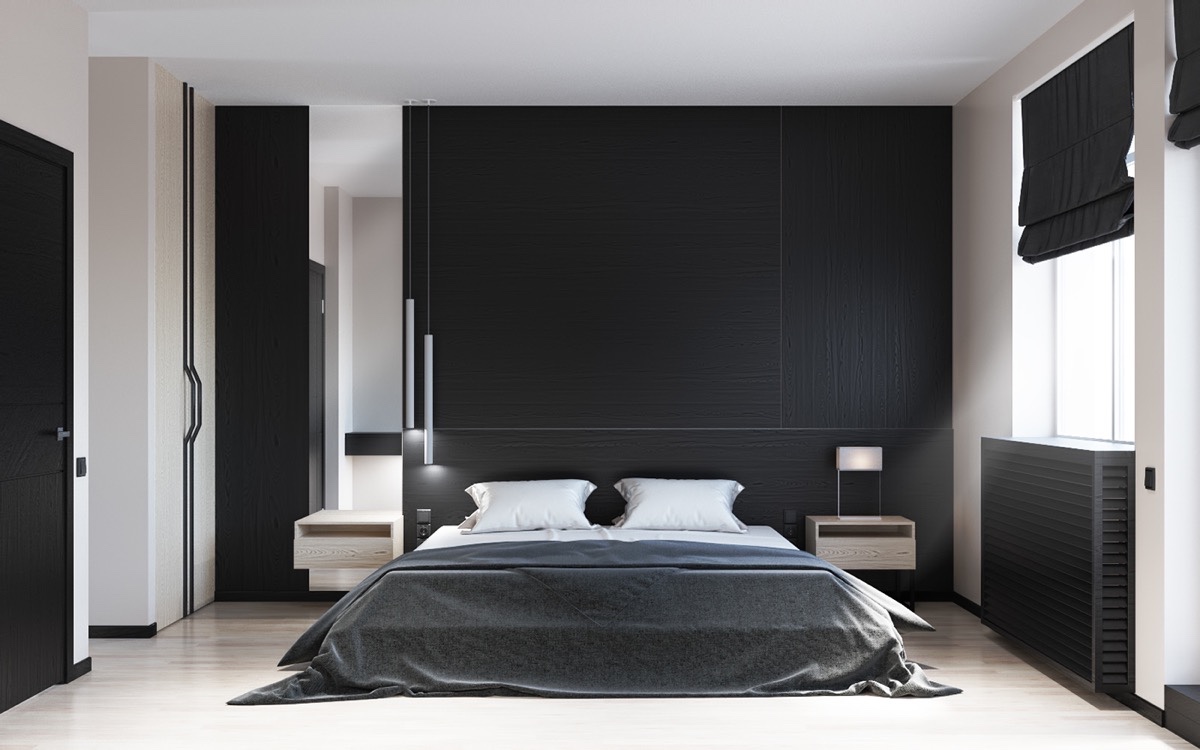 4 |
Visualizer: Kriss Maksymchuk
Reflect light into dark coloured rooms with mirrors. Situate a stripe of mirror behind one or both bedside units. A floor to ceiling strip of glass will go a long way in bouncing extra natural light around your interior.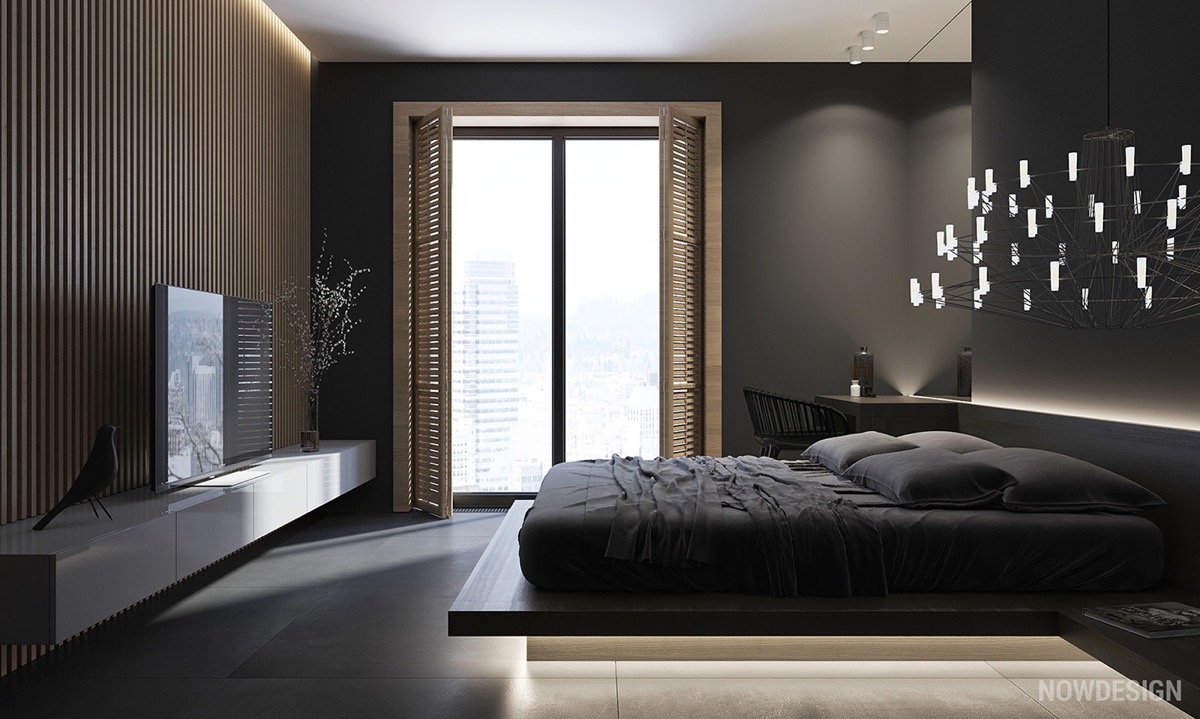 5 |
Visualizer: Now Design
Light it up. If you're going to have a black bedroom then you have to consider lighting as part of the plan. Install too little illumination and you might find yourself left in the shade. LED strip lights present the perfect solution for edging furniture; attach them along the perimeter of the headboard and around the bed base for a truly inviting and cosy look. Hang a modern chandelier low for extra drama.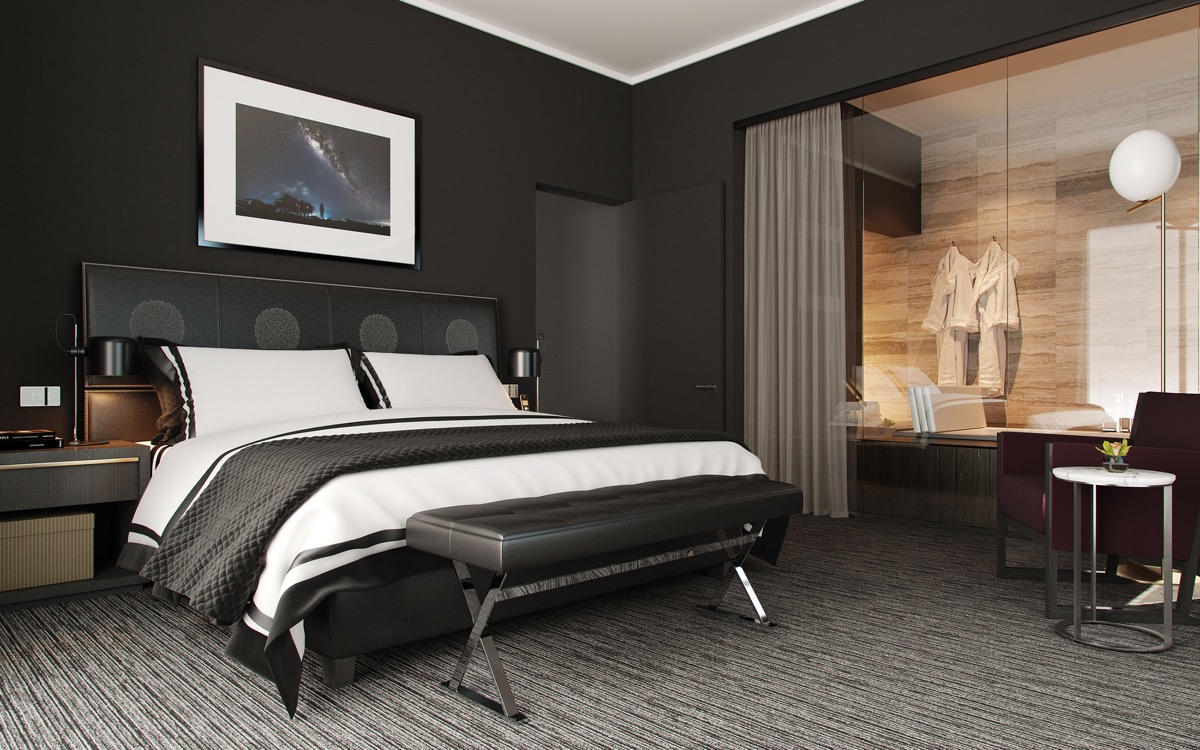 6 |
Visualizer: Jeffrey Faranial
Borrow light – and colour. This bedroom is opened up at the back by having a glass wall ensuite bathroom. This can contribute extra daylight via the bathroom window, or it can just be a way to introduce another colour. In this case the open ensuite adds a glowing woodtone vista to the scene.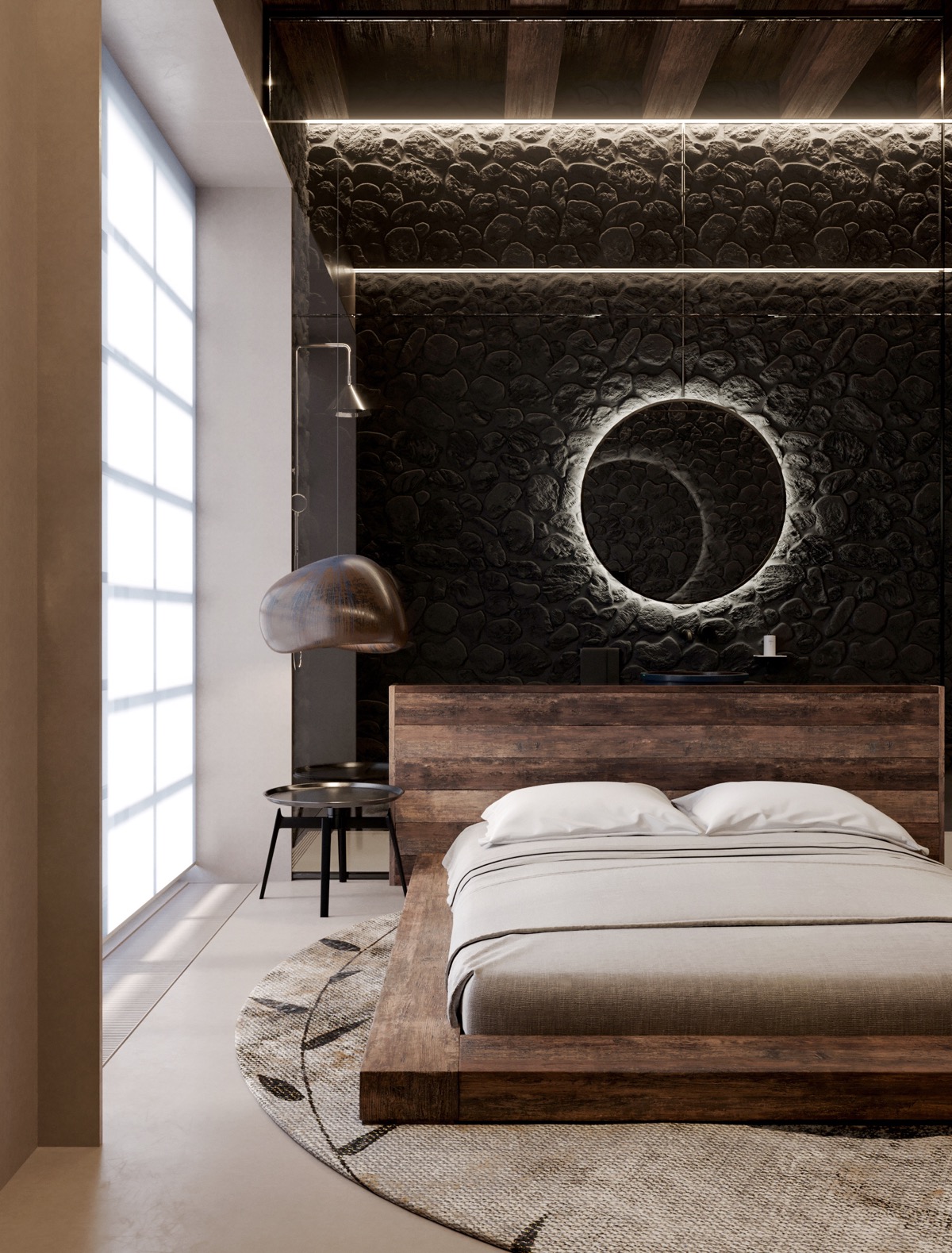 If flat black feels to stark to you, then consider a textured feature wall. Don't forget to throw some illumination over it to really pick out that detail. Keep the rest of the scheme white and woodtone so as not to overpower the strength of the dark wall.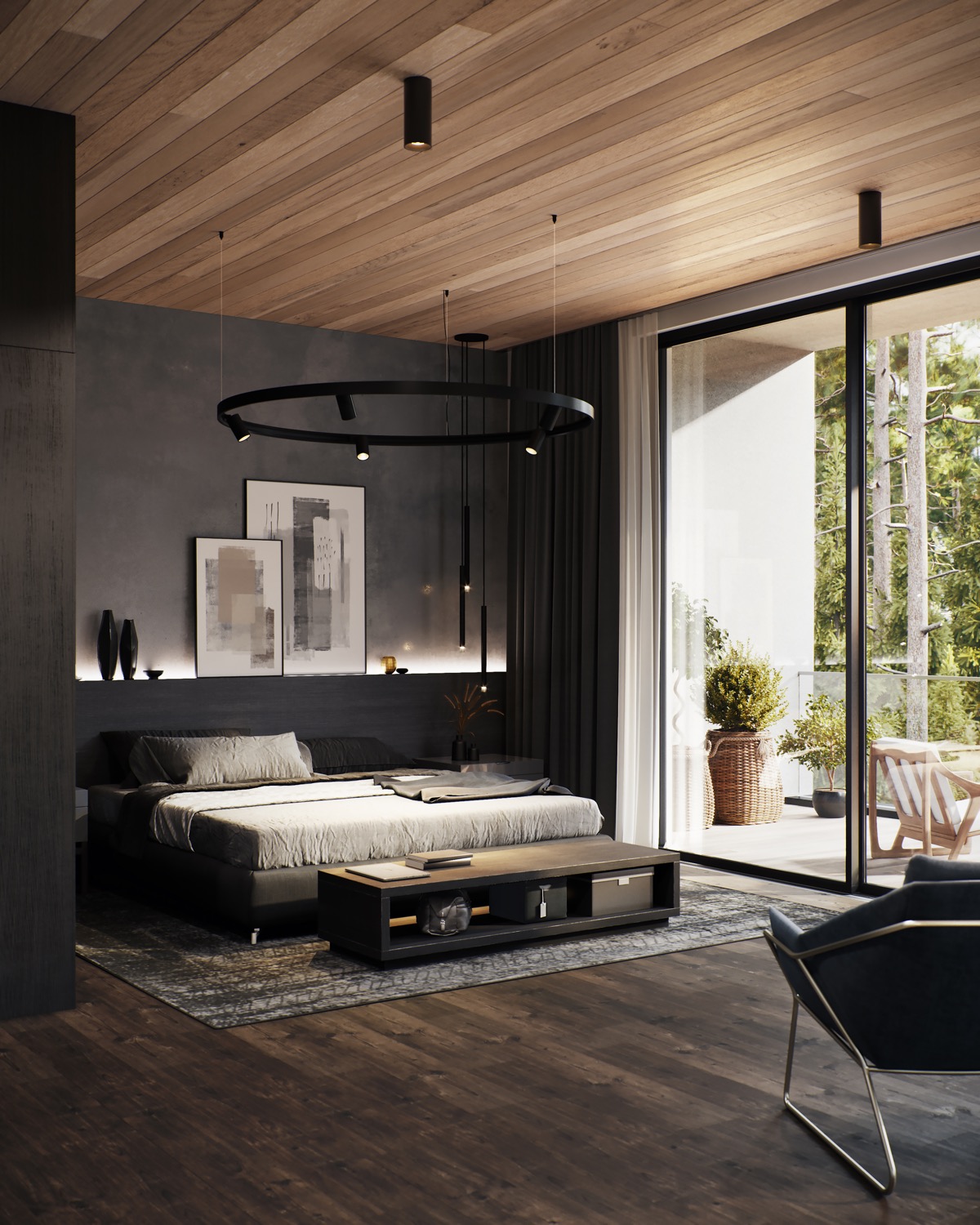 8 |
Visualizer: MirrorR Studio
Rich rustic. Black and rich woodtone make an ideal colour narrative for a rustic bedroom scheme. Bring in a chunky black metal pendant light and some natural woven baskets to shape the theme.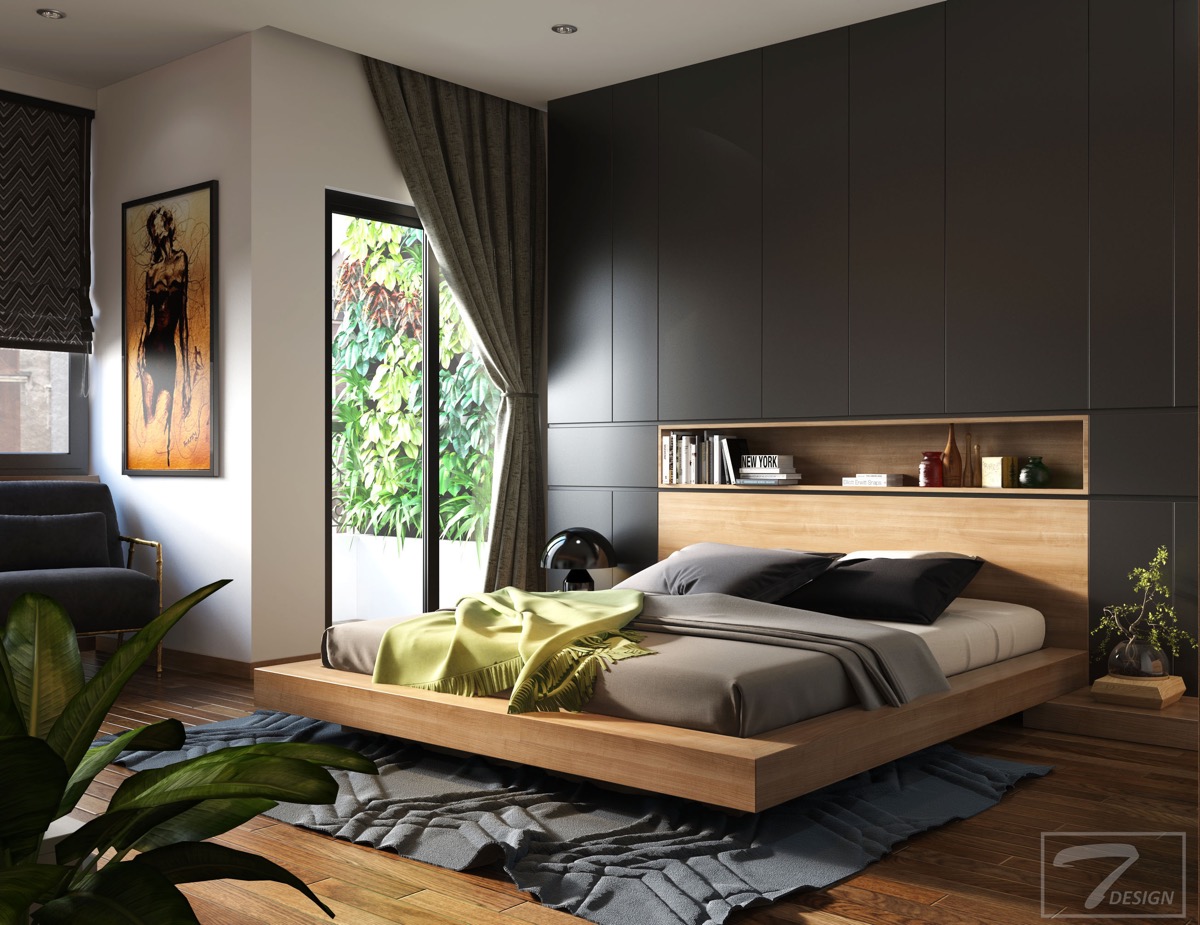 9 |
Visualizer: Tài Nguyễn
Fashion a headboard feature wall out of black storage cabinets. These black slab fronted units appear like a contemporary panelled wall behind the platform bed.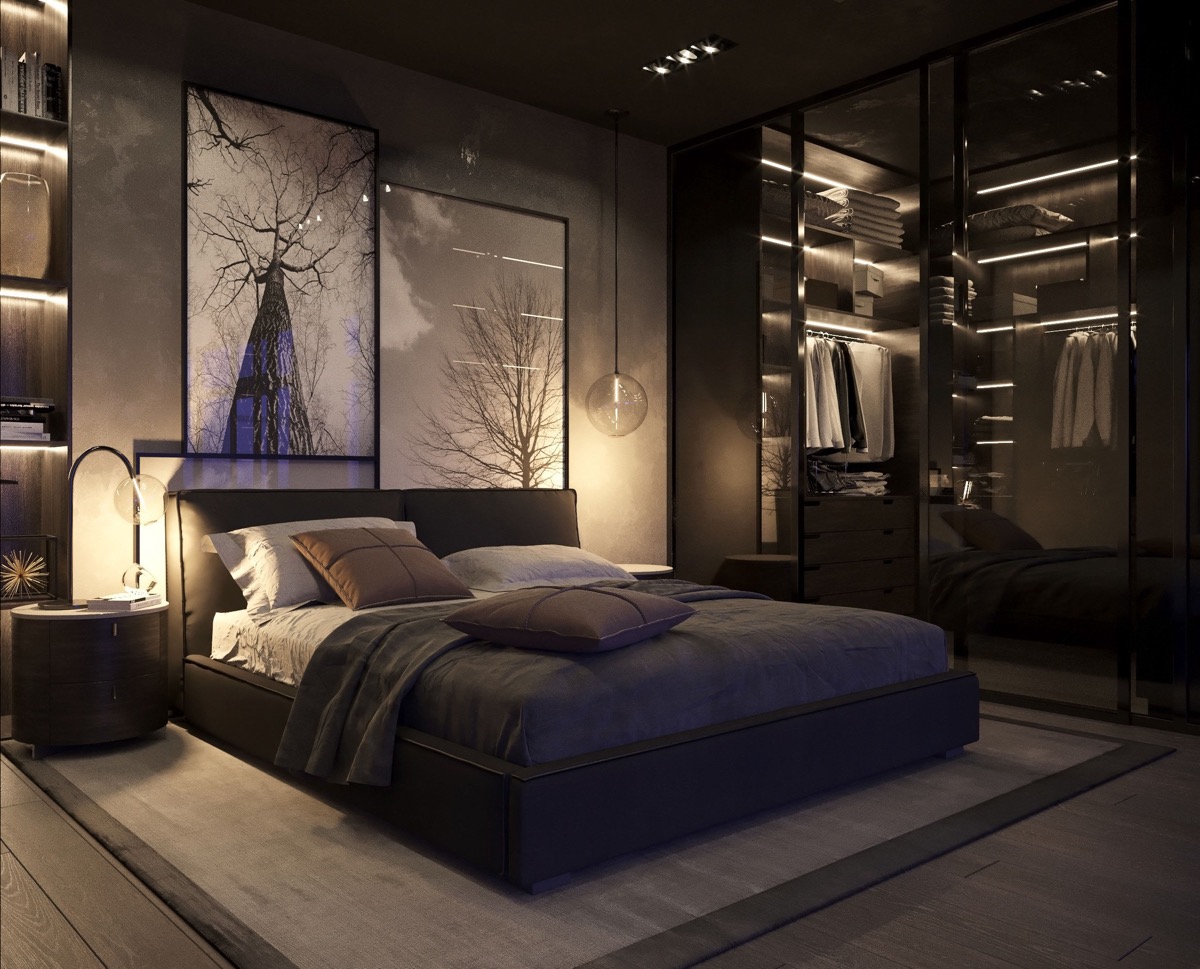 10 |
Visualizer: Dim Eysner
Wire up the wardrobe. Another way to get lots of light into the back of a dark room is by installing a closet with glass doors. By day, the glass will reflect natural light from the window. By night, the closet can be a lightbox, where LED strip lights glow from the garment rails and shelving. Edge other shelves in the room too, for an all around glow.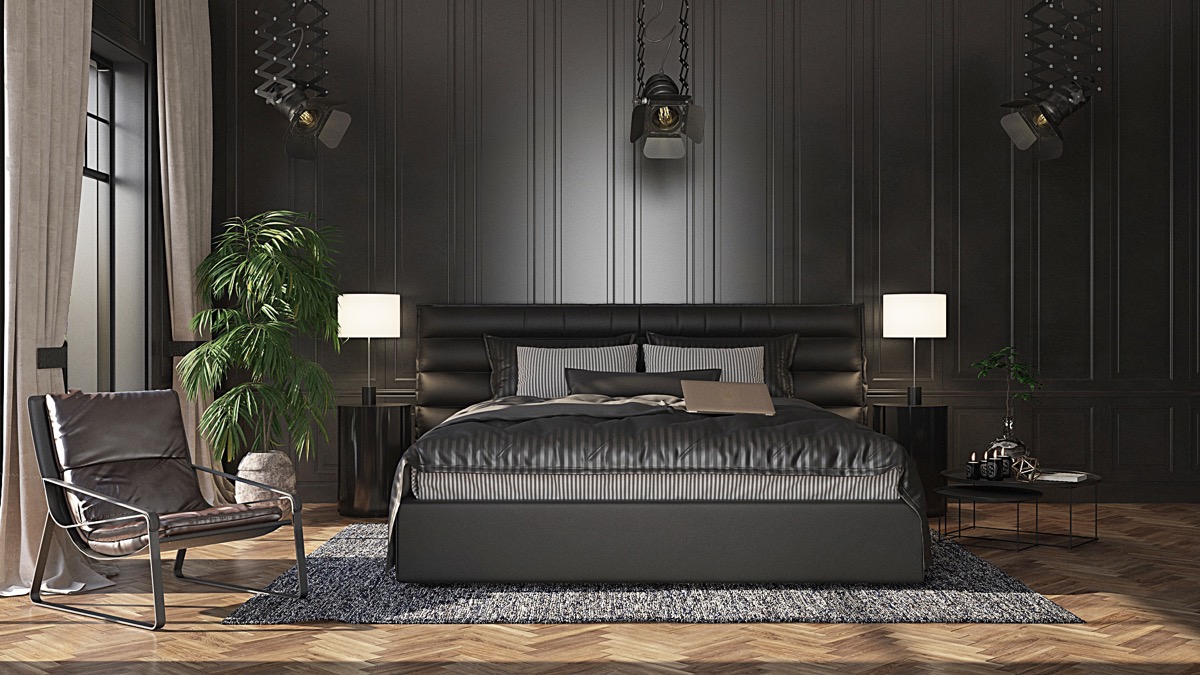 11 |
Visualizer: Alexandru Ionita
Go green. Live greenery will soften a black decor scheme and breathe life where there is shade.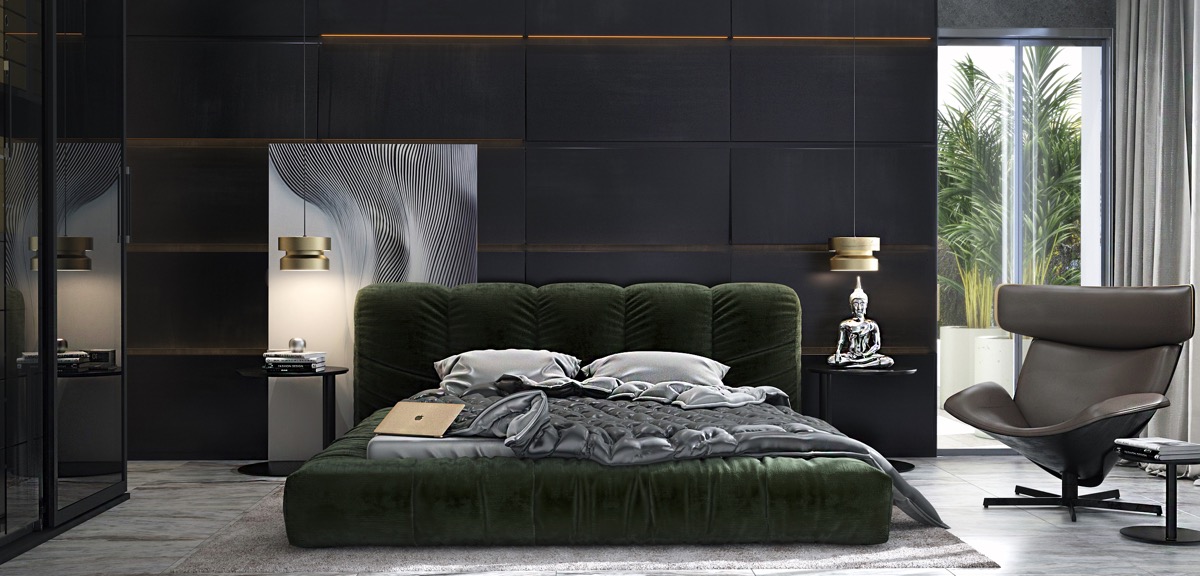 12 |
Visualizer: Alexandru Ionita
You can push the green theme a little further by bringing in coloured furniture, like this plush green fabric bedstead.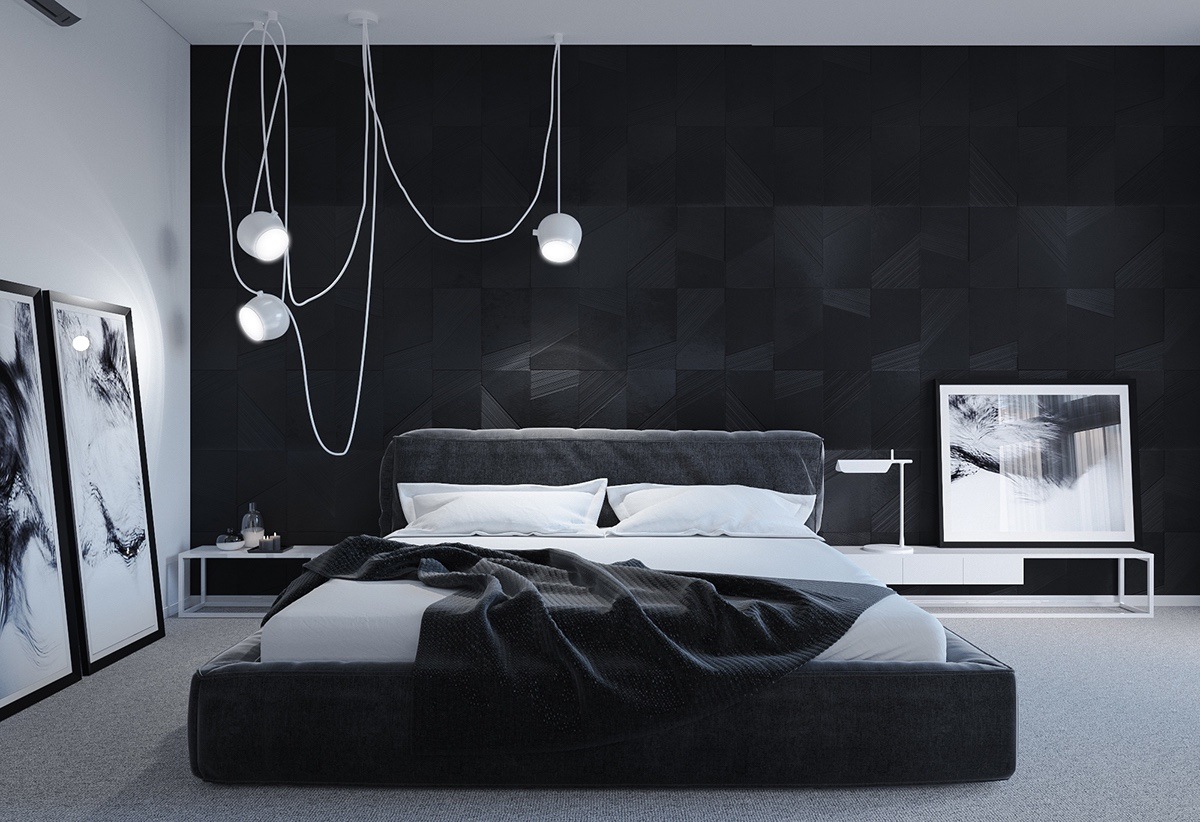 13 |
Visualizer: Anastasia Andryushchenko
A little splash of white will go a long way. Thin white electrical wires of a modern pendant light scribble luminously across a subtly patterned black wall here. Slender white bedsides trim the baseline.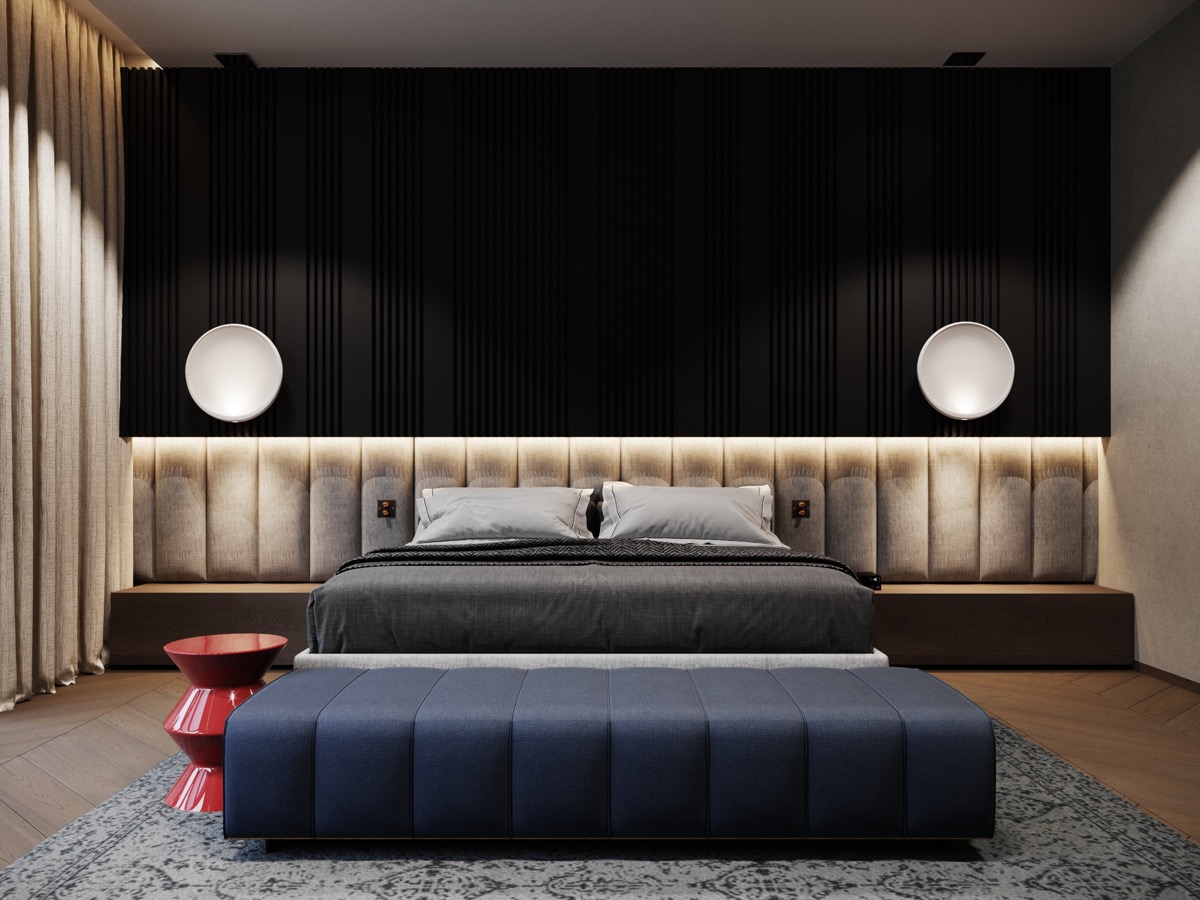 14 |
Visualizer: Johny Mrazko
These circular bedroom pendant lights hang like moons in a pitch black sky. A red stool and blue ottoman break up the neutral scheme.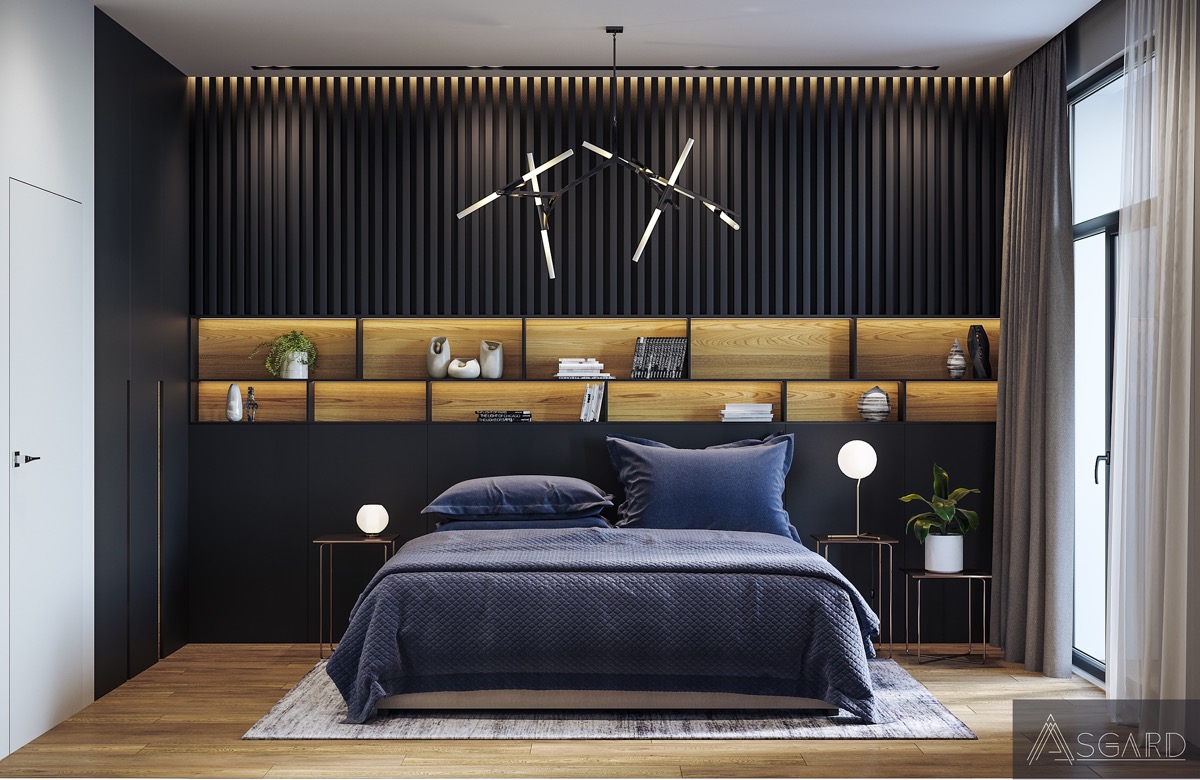 15 |
Visualizer: Asgard Interiors
Hit the sheets in a black and blue room. This black bedroom has been dressed with a blue bed set. As the bed is such a massive item in the room, changing out the colour of the bedclothes will completely change your colour scheme – you could have a new look every week. Check out the beautifully warming stripe of wood shelving across this cool slatted black headboard wall too. Illuminate a slatted wall along the ceiling line to pick out the detail, and hang a modern chandelier to layer up the look.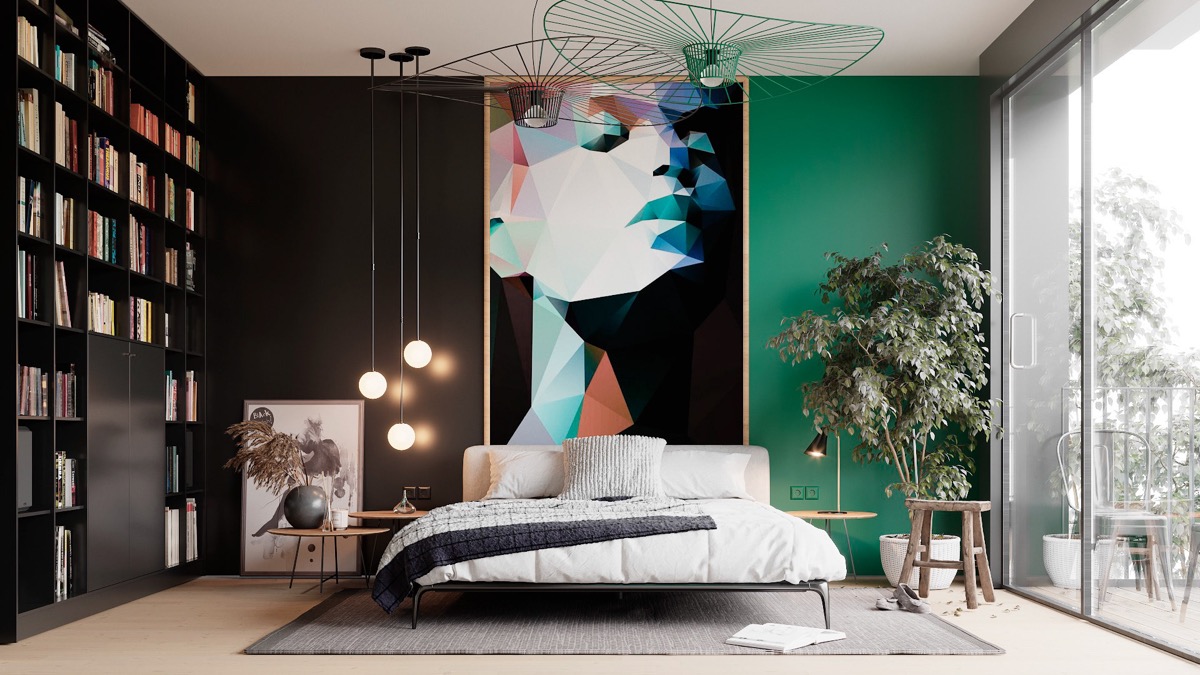 16 |
Visualizer: Madi Chanyshev
Draw inspiration from art. If you find a particularly striking piece that you'd love to display in the room, then let its colours inspire the decor. No need to paint a whole wall to match, a small colour insert works wonders in a dark scheme. Notice how the bookcase in this room also adds relief in the blackness.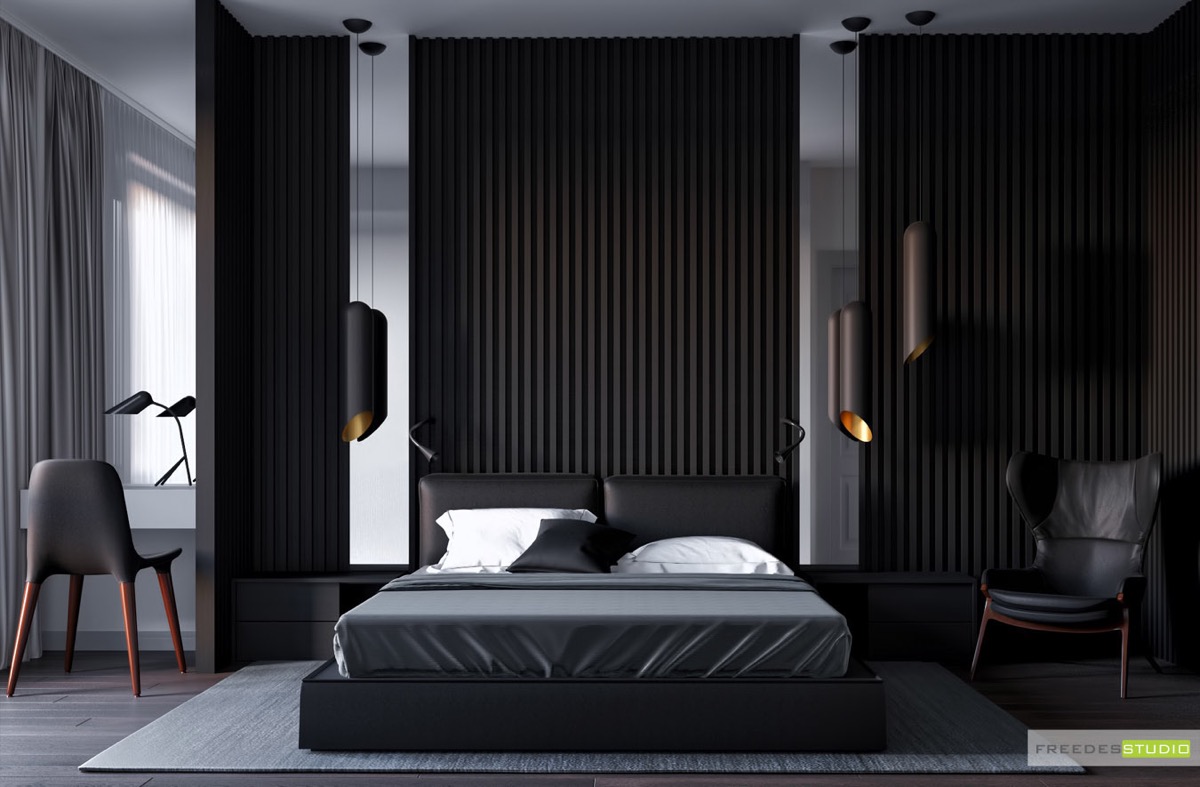 17 |
Visualizer: Freedes Studio
Camouflage large furniture items. This winged black accent chair is hardly noticeable against the black wall, which makes the scheme seem more open.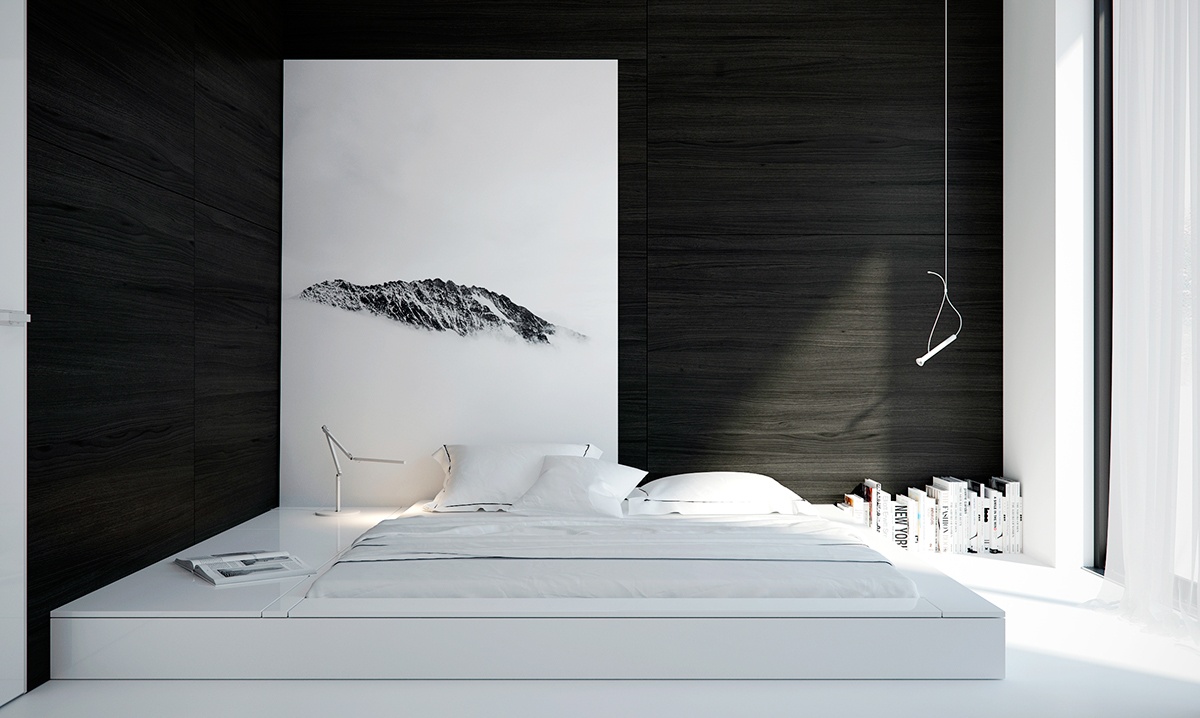 18 |
Visualizer: Stanislav Borozdinskiy
When walls are dark, fill the floor with light. This pure white platform bed on a smooth white floor looks ethereal in contrast to deep black-brown walls. A white art canvas draws light into the vertical plane.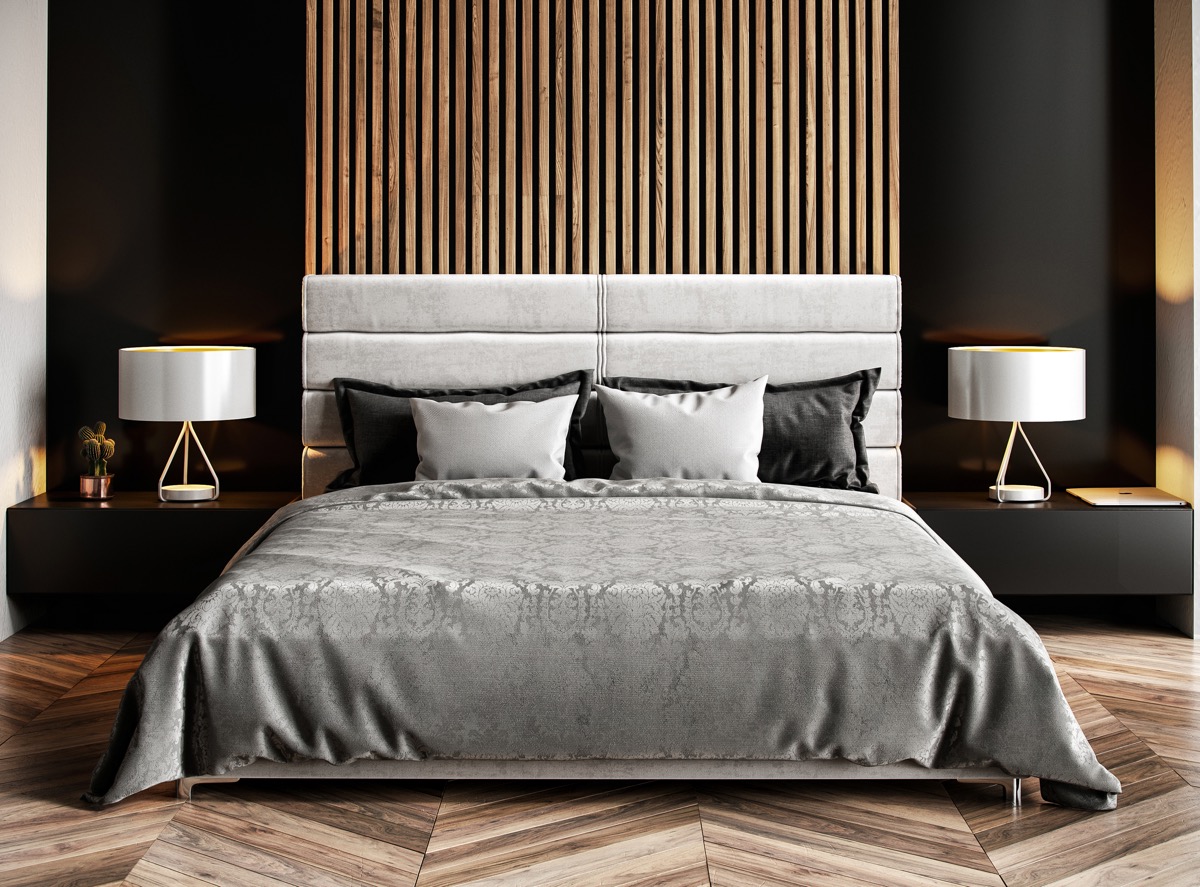 Pierce solid black areas with light accessories. Pale bedside table lamps bring light relief to black bedside sections. See more ideas for wood slat walls here.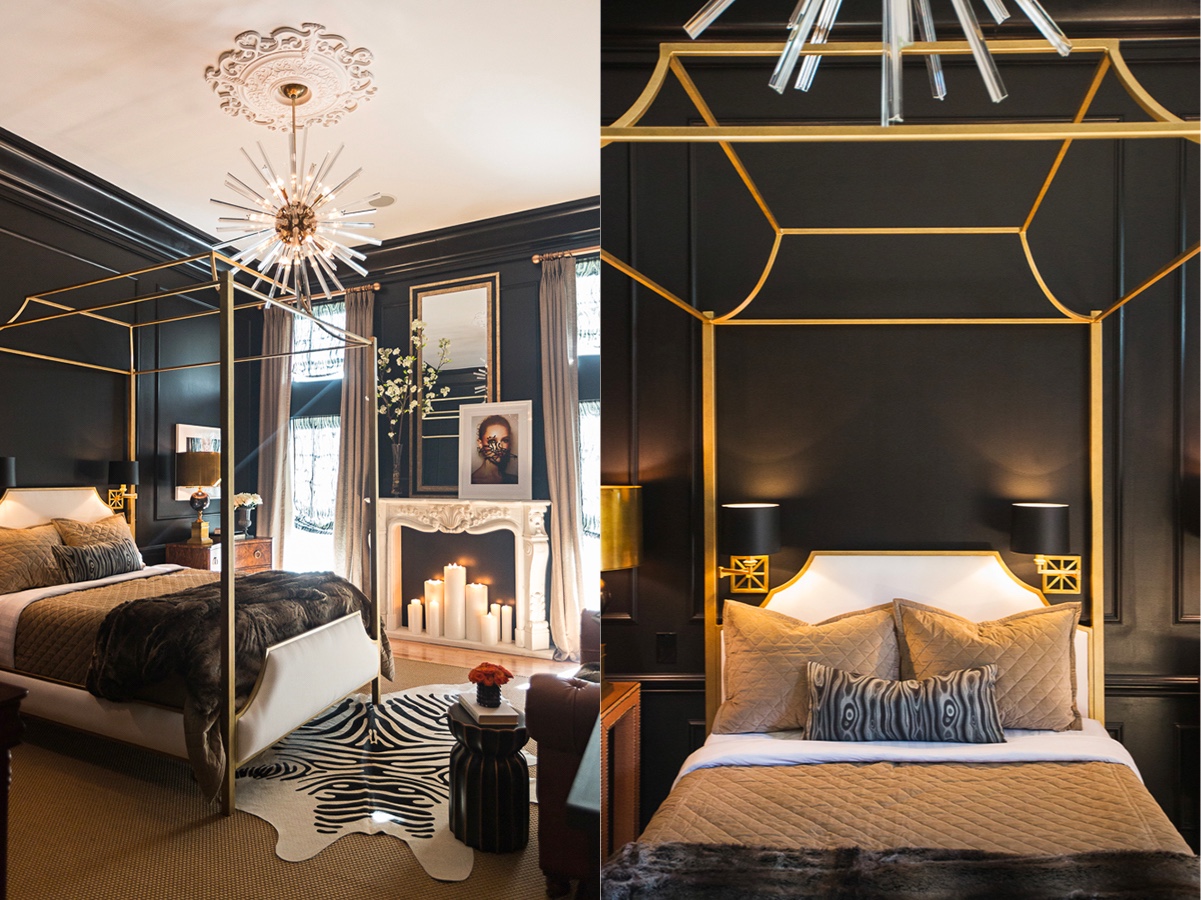 20 |
Designer: Rande Hackmann
Photographer: Megan Thiele
Dark decadence. Nothing has quite the same depth of decadence as a black and gold bedroom. Push it up a notch or two with a gold four poster bed and black boiserie. Notice the unusual placement of a fireplace between the windows too. The decorative surround houses a group of pillar candles – though always remember to keep lit candles away from draughts and curtains.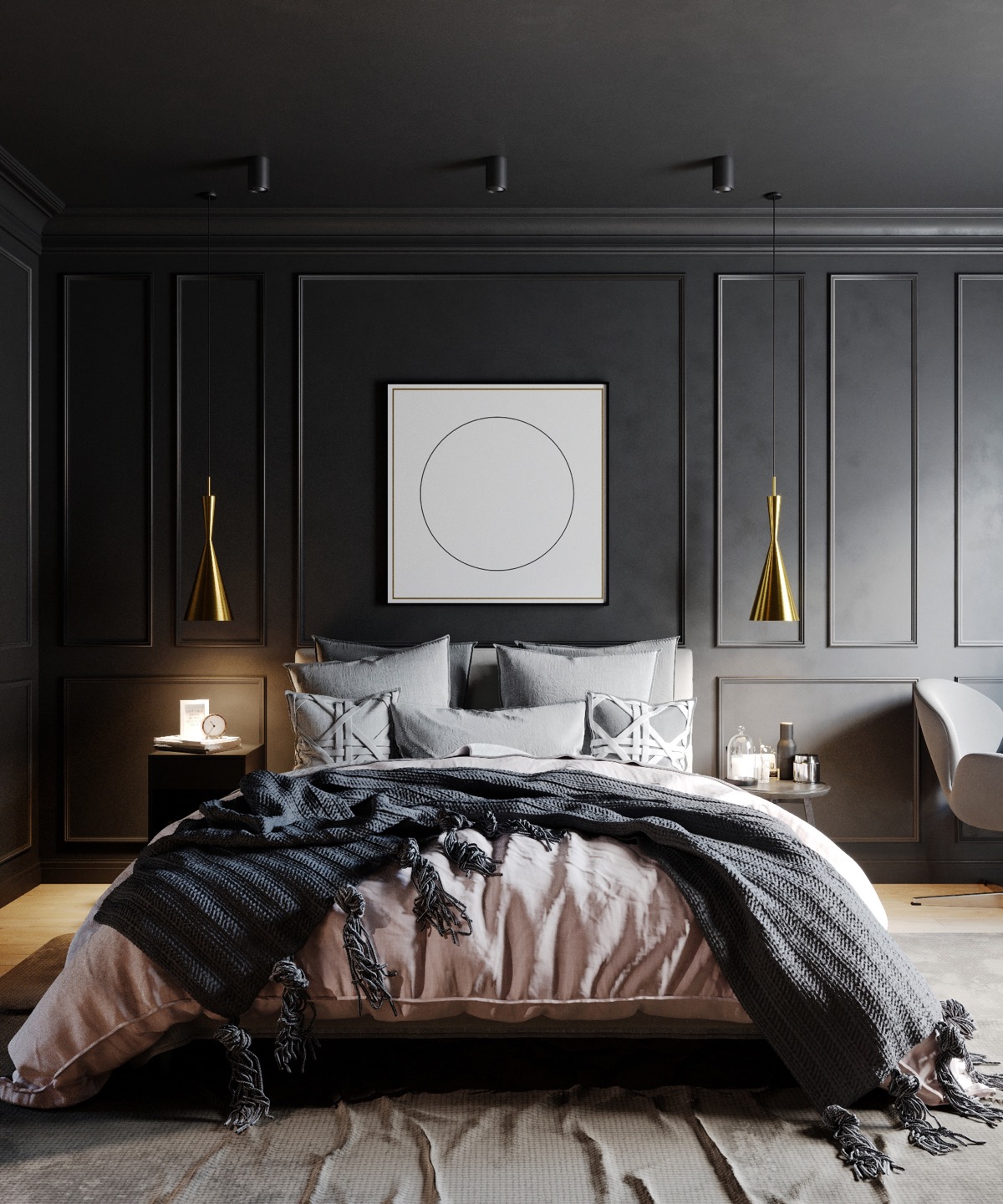 21 |
Visualizer: Marina Donskikh
A more subtle black and gold bedroom scheme – this time just two elegant gold pendant lights bring the glamour. A blonde wood floor matches their tone.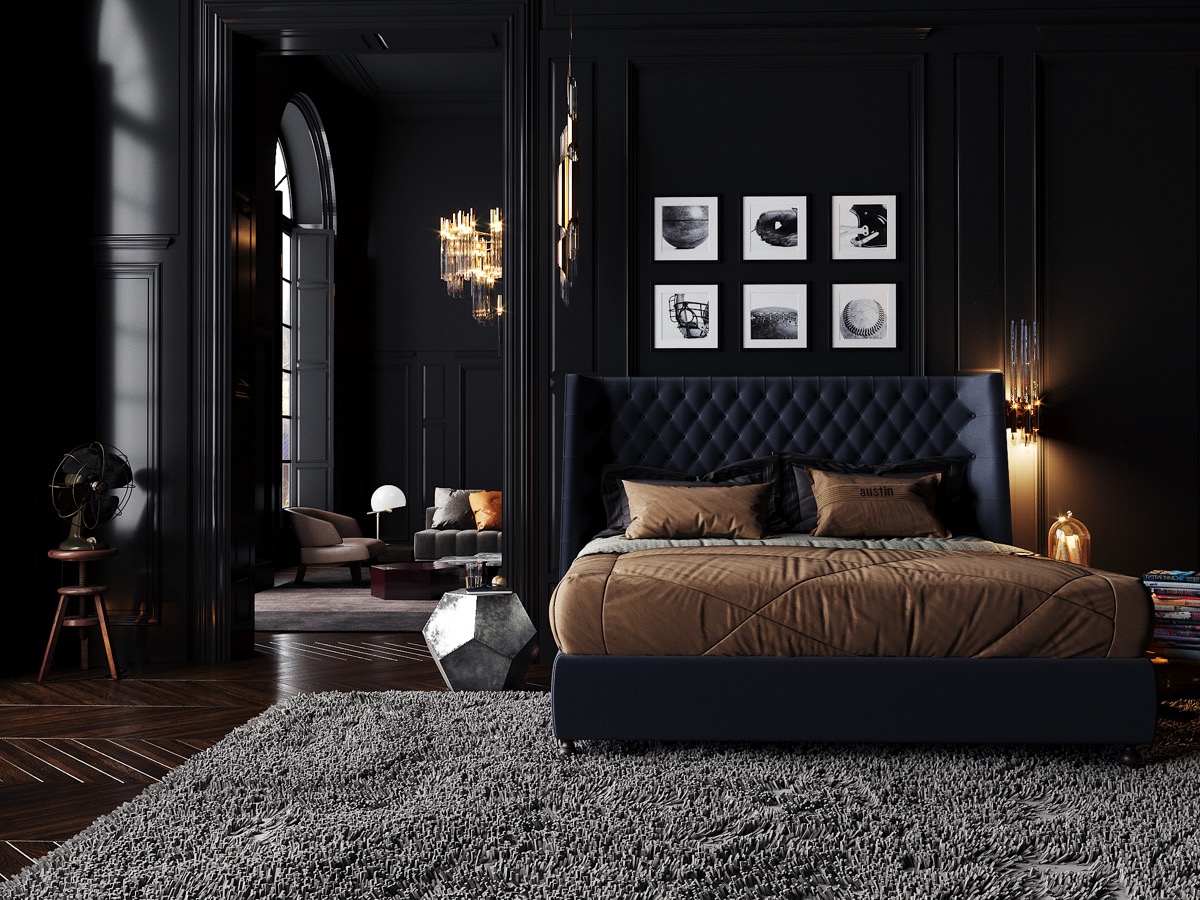 22 |
Visualizer: Harun Kaymaz
Dark dressed eclectic. This interesting mix of modern and classic pieces are held tightly together by the strong colour scheme.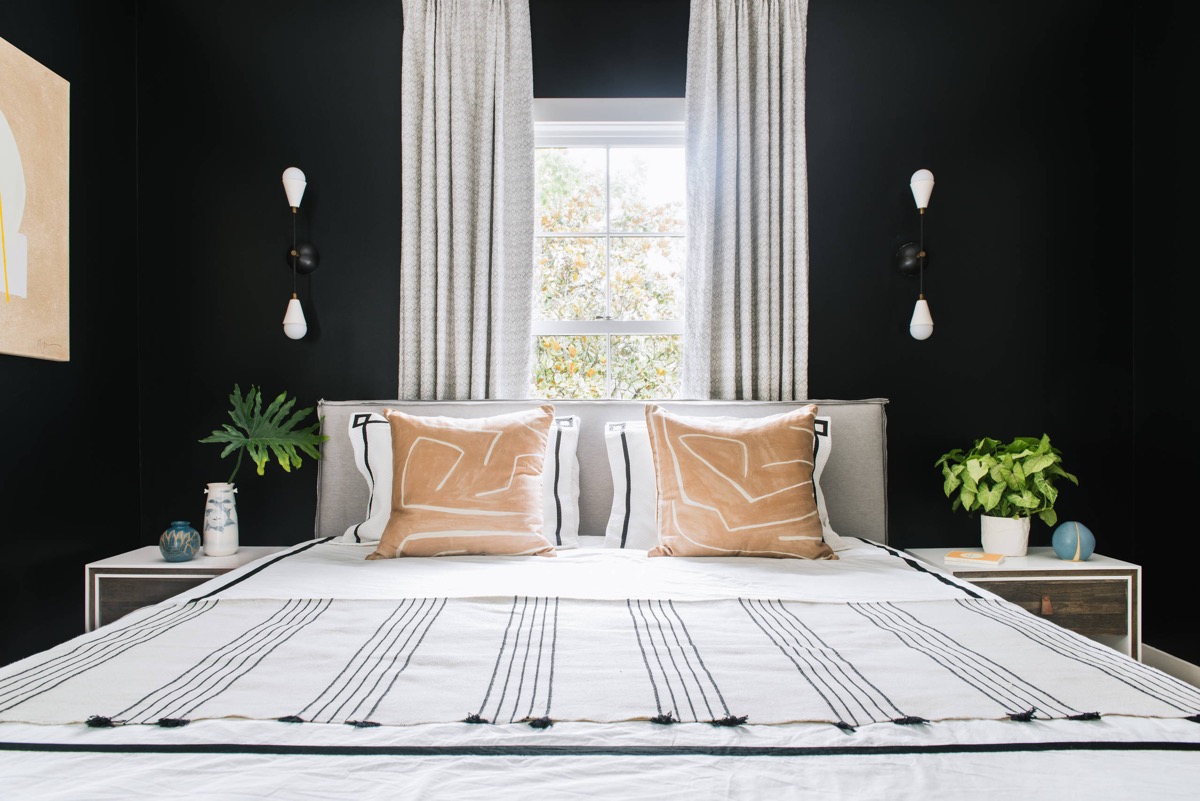 23 |
Designer: Cortney Bishop
Brighten where it matters. The bed and the windows are brightened as the stars of this show, black walls fall back. Pretty little indoor plants dress white bedside units, under white wall sconces. A striped bed throw ties the black and white of the room together, whilst beige cushions and wall art stop the scheme from becoming too coldly monochrome.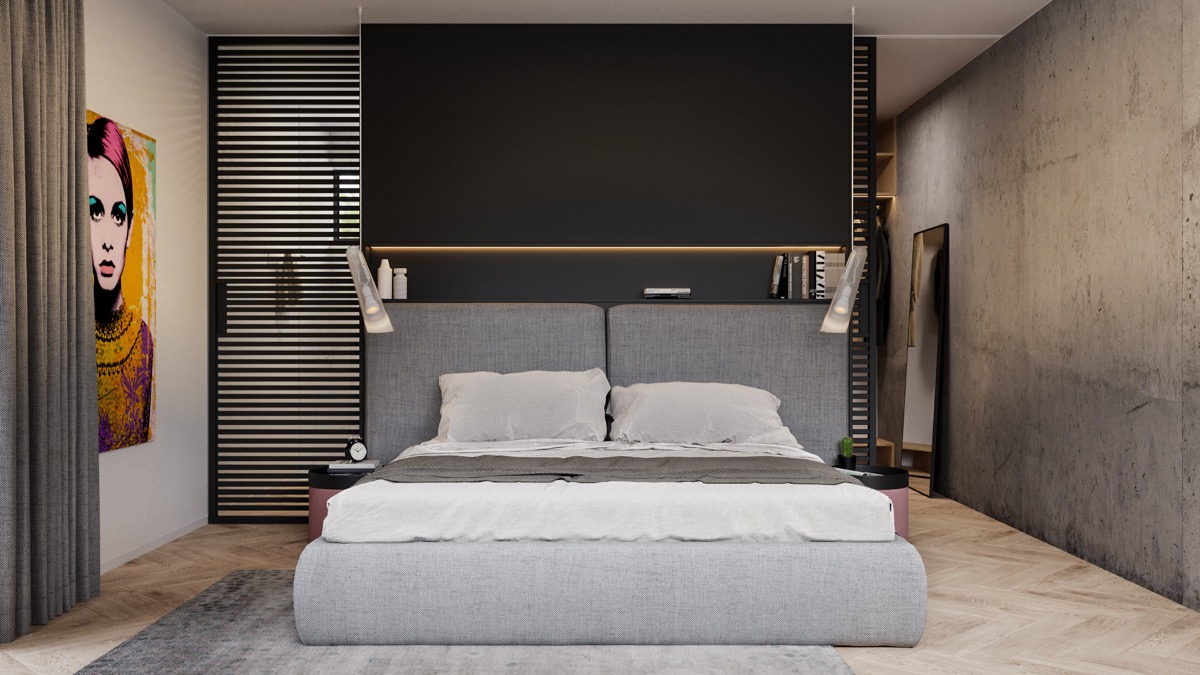 24 |
Visualizer: Peter Janov
Have fun with an unexpectedly colourful piece.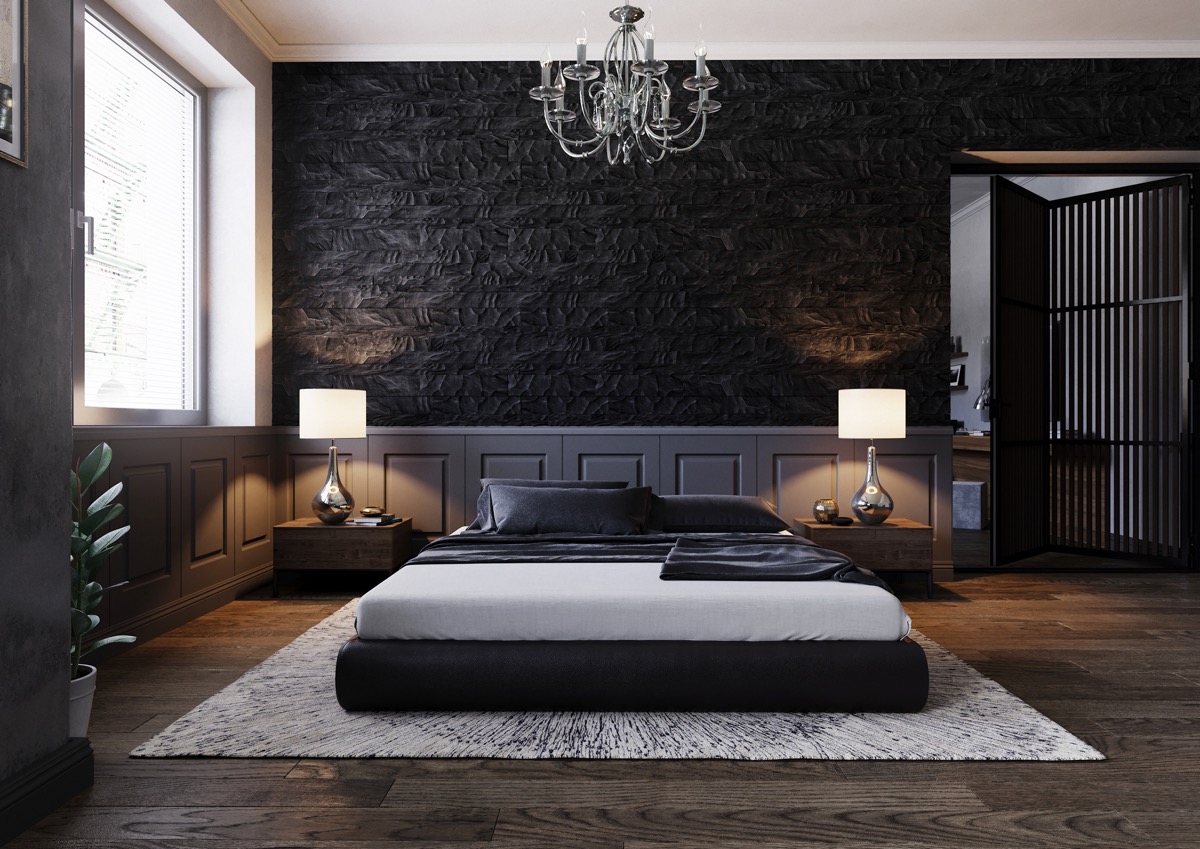 25 |
Visualizer: Sergey Ko
Quietly lighten an all black bedroom with low grey wall panelling and a pale grey rug.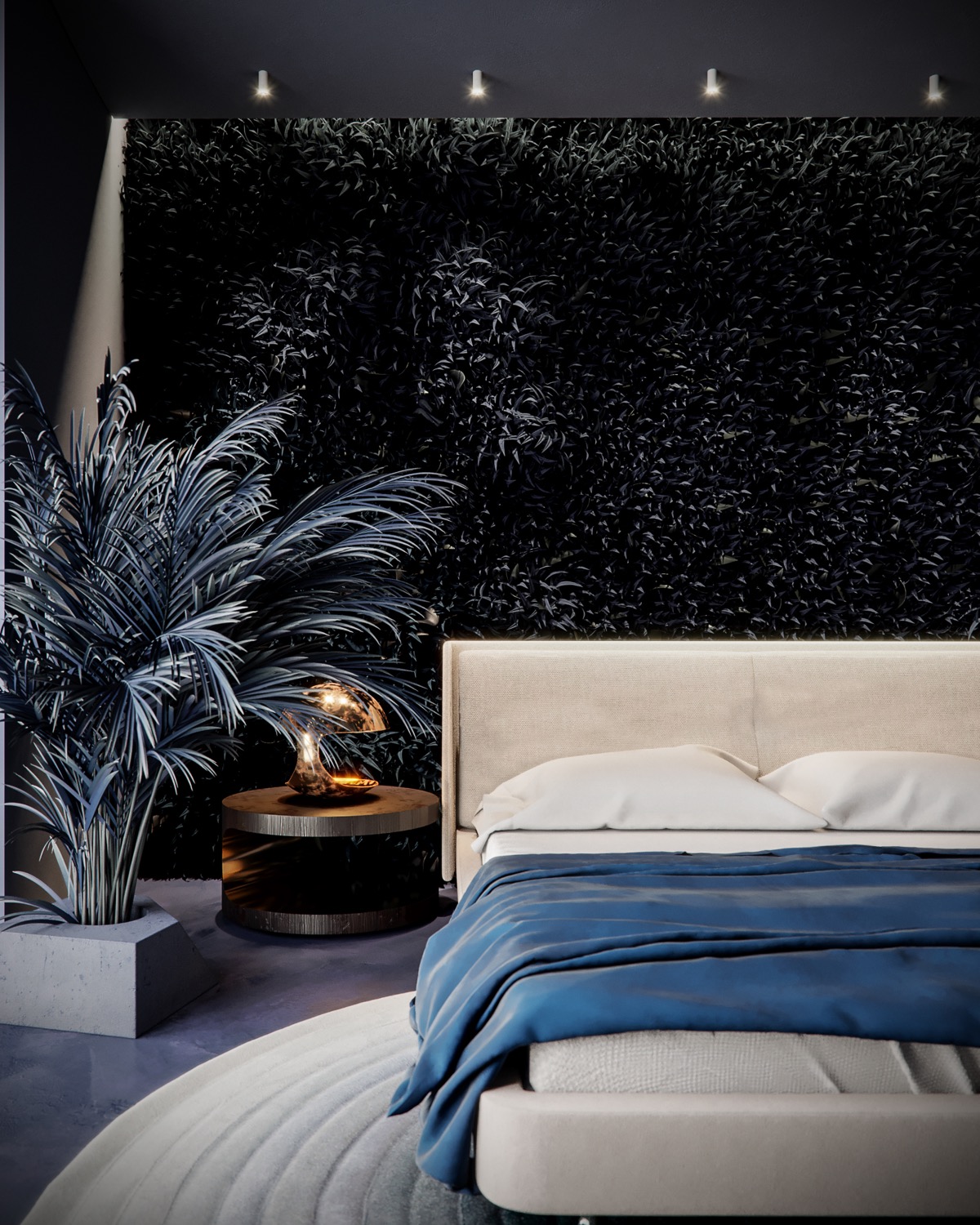 26 |
Visualizer: Artem Meshchankin & Sergei Makhno
A second example of keeping things light on the floor – this time with a cream fabric bed and cream circle rug. The bedside table and designer table lamp echo the circular theme.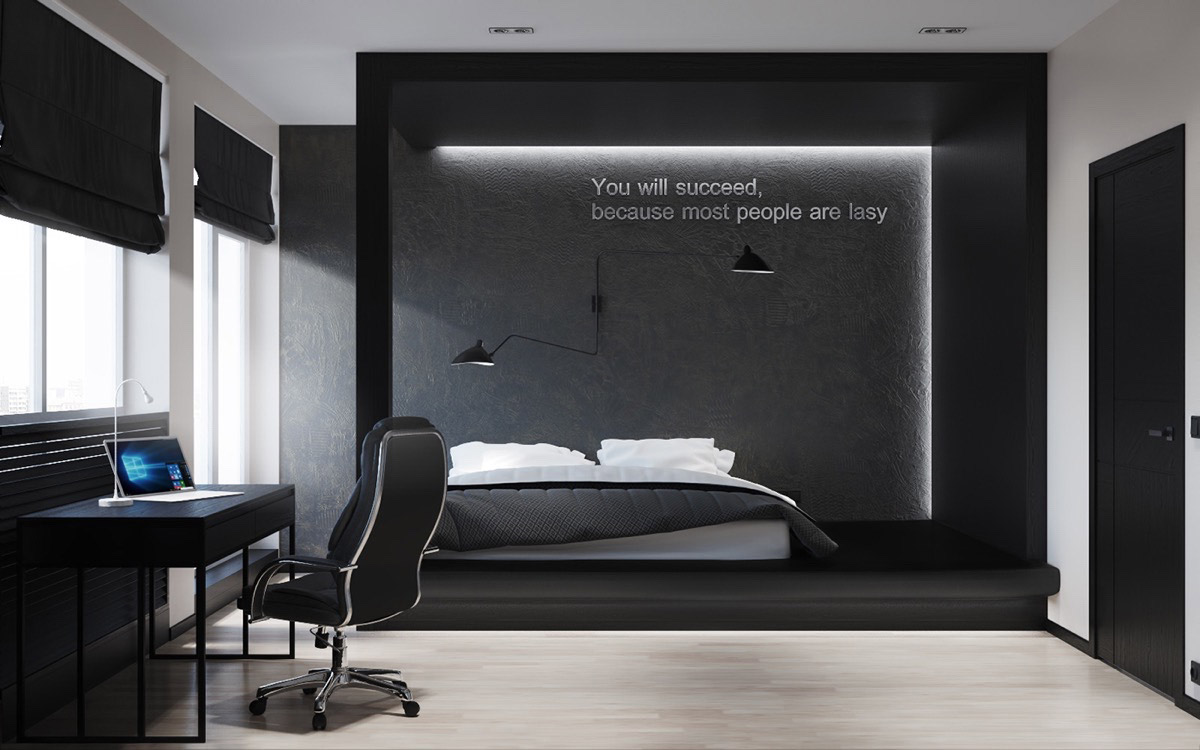 27 |
Visualizer: Kriss Maksymchuk
Build a black room, within a white room. A black 'box' has been fashioned to house the bed in this predominantly white space. The dark area is uplifted by motivational quotes over the bed, under an illuminated canopy. A huge swing arm wall lamp adds reading light.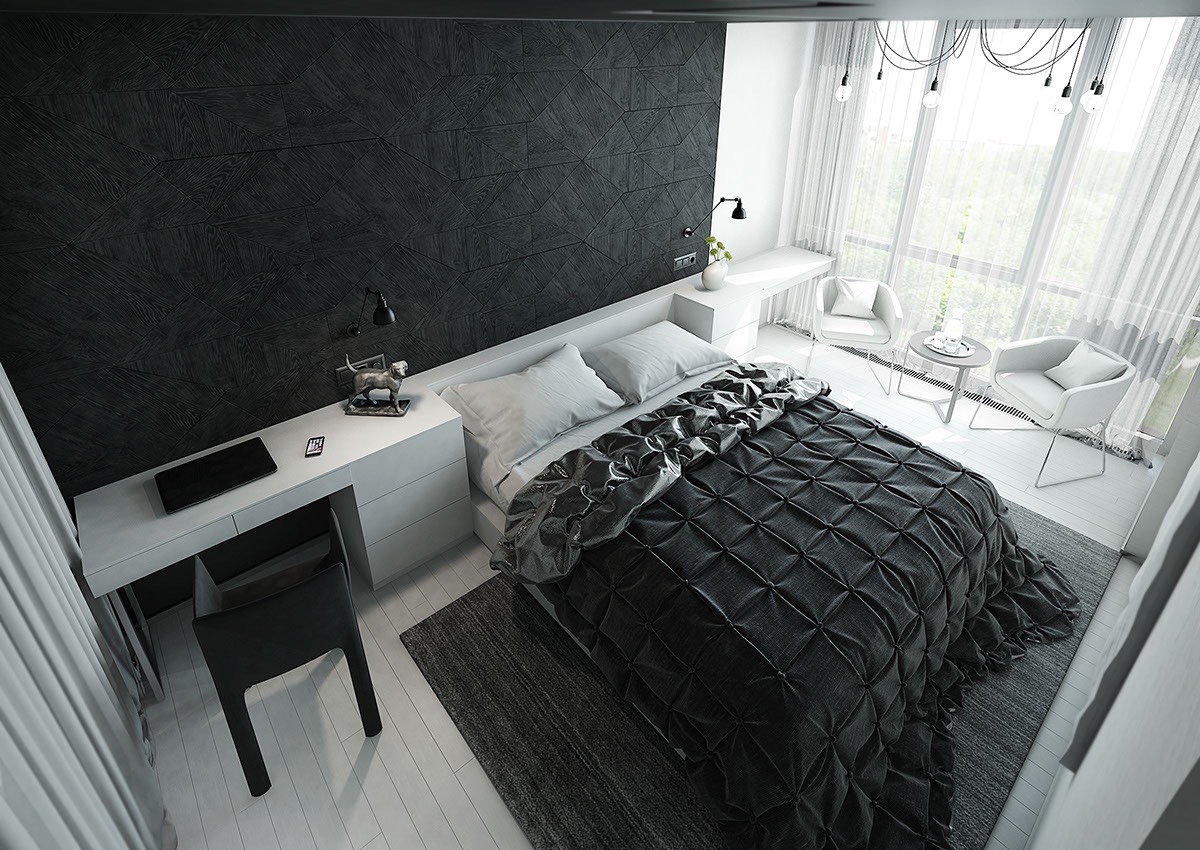 28 |
Visualizer: Aleksey Bereznyak
Much more understated wall sconces bring reading light to this ruffled bed. The bedside units span out to create a desk and dressing table on either side.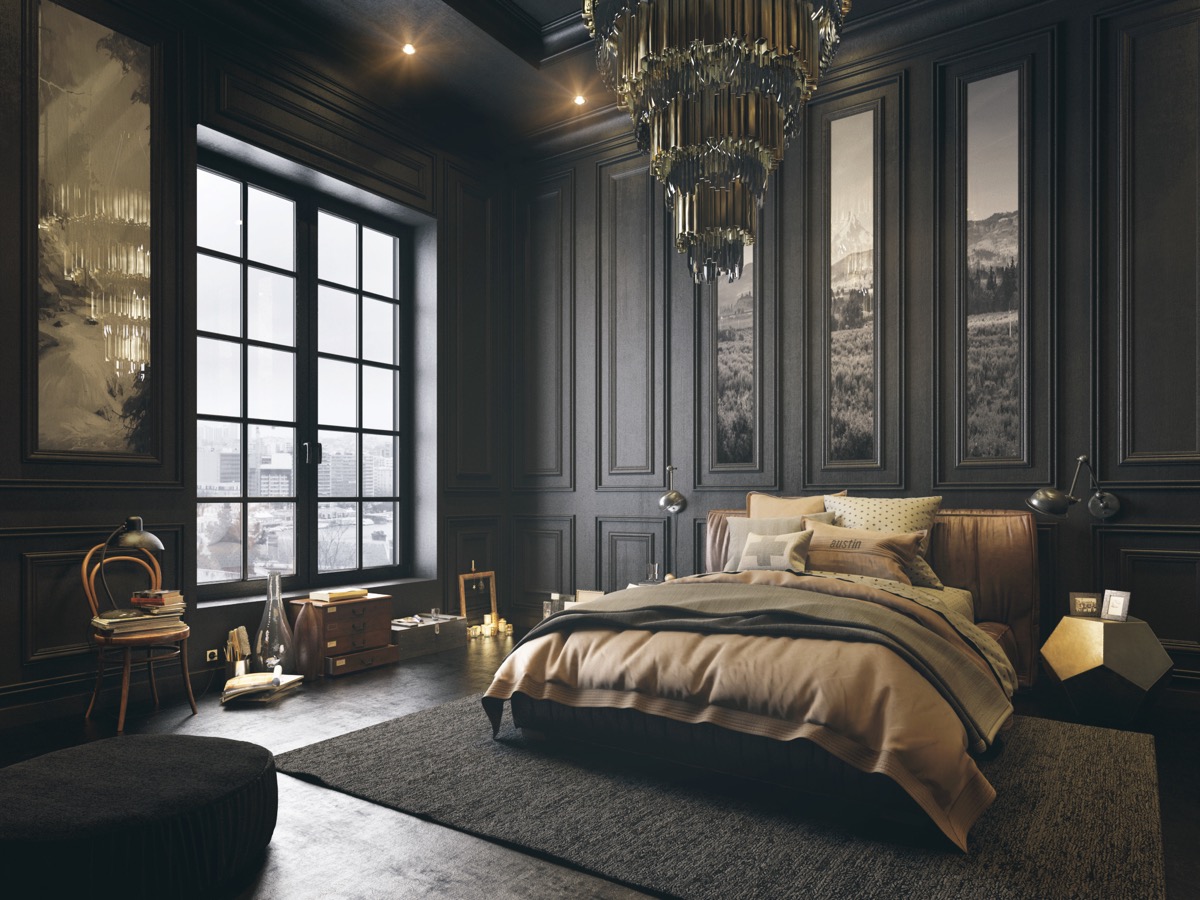 29 |
Visualizer: Harun Kaymaz
Apply black and white imagery into panel moulding.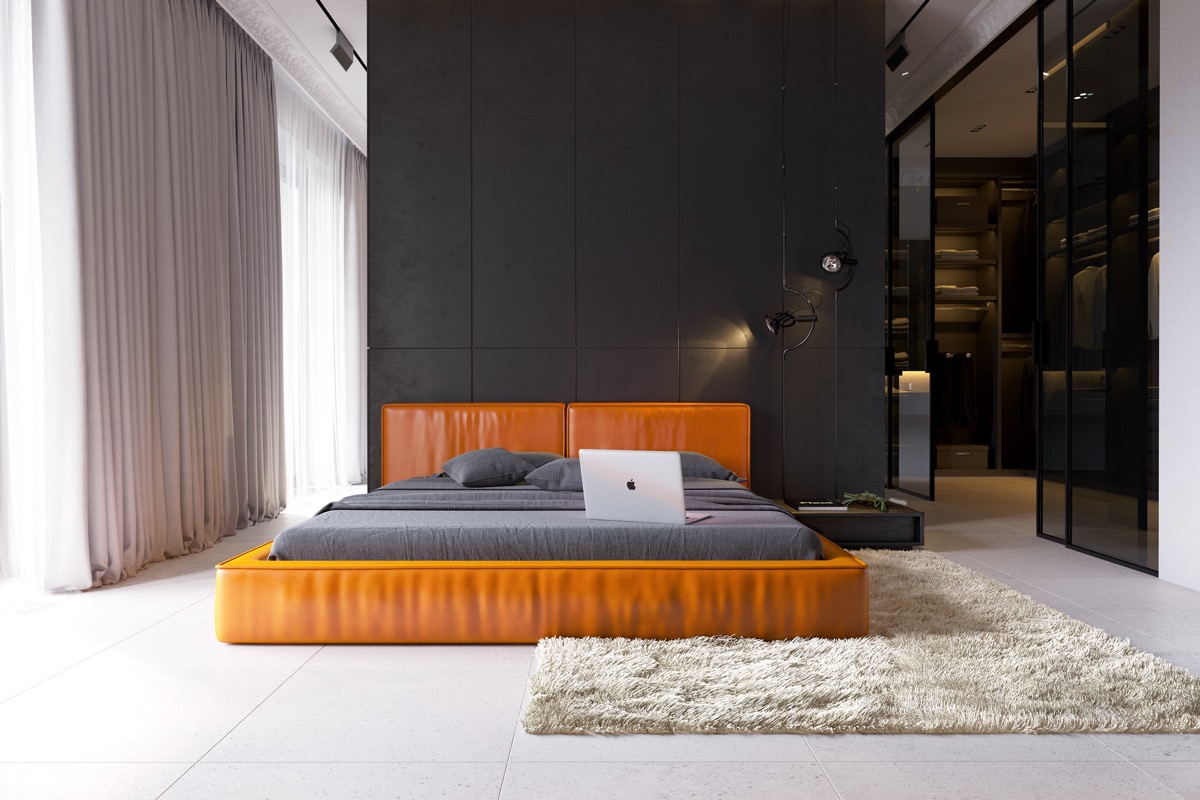 30 |
Visualizer: Luydmila Todorova
A black bedroom is a neutral home for hard to match items.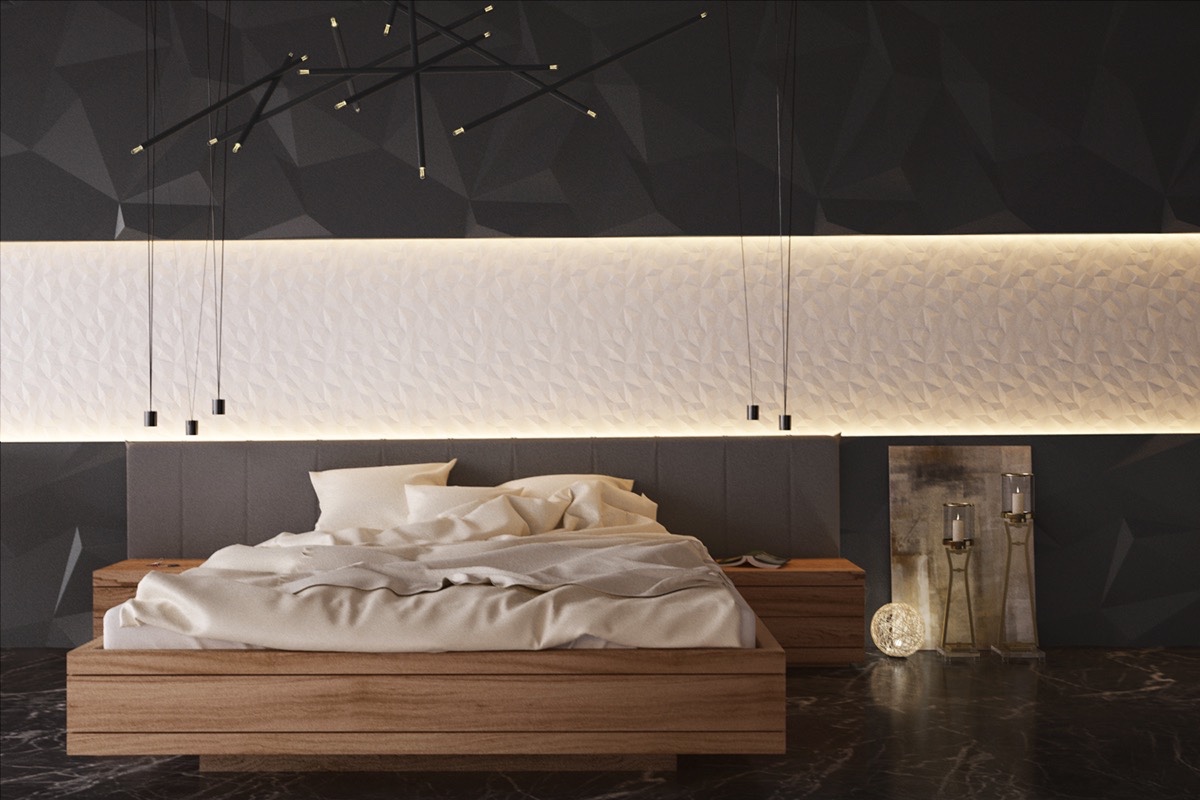 31 |
Visualizer: Giorgos Tataridis
Slice it through. Cut through the darkness with a slice of white or cream. This textured niche with recessed lighting completely changes the dynamic of the room.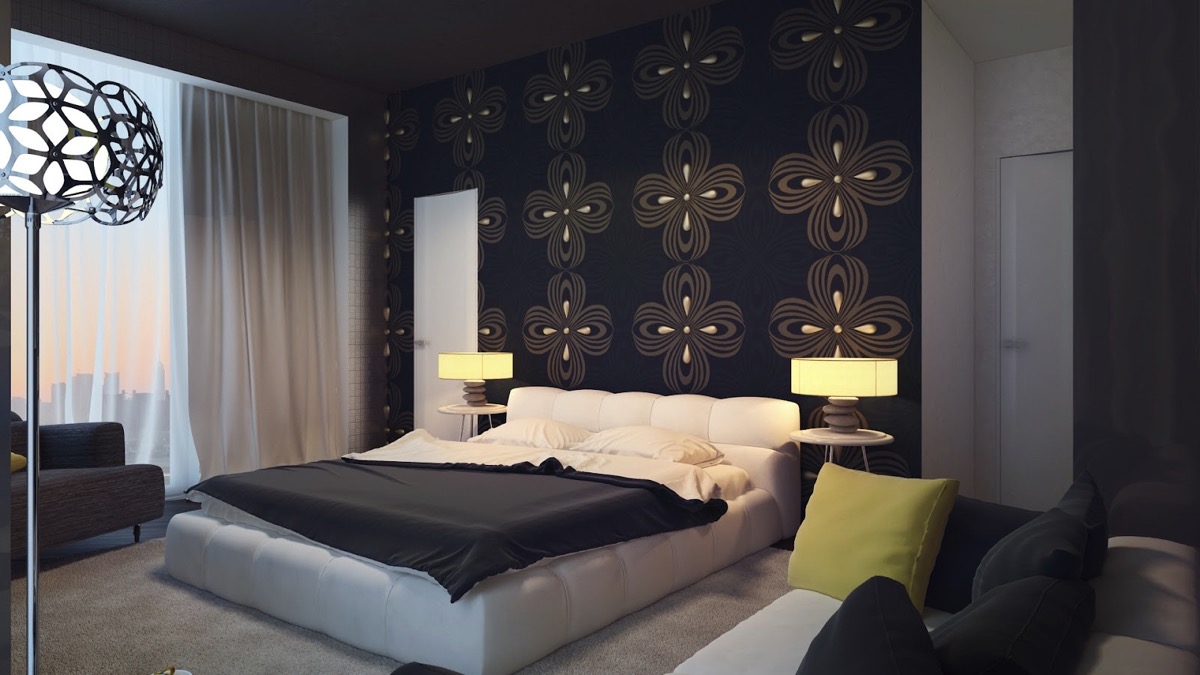 32 |
Visualizer: Ugljanitsa Alexander
Go big with wallpaper prints that have light detailing.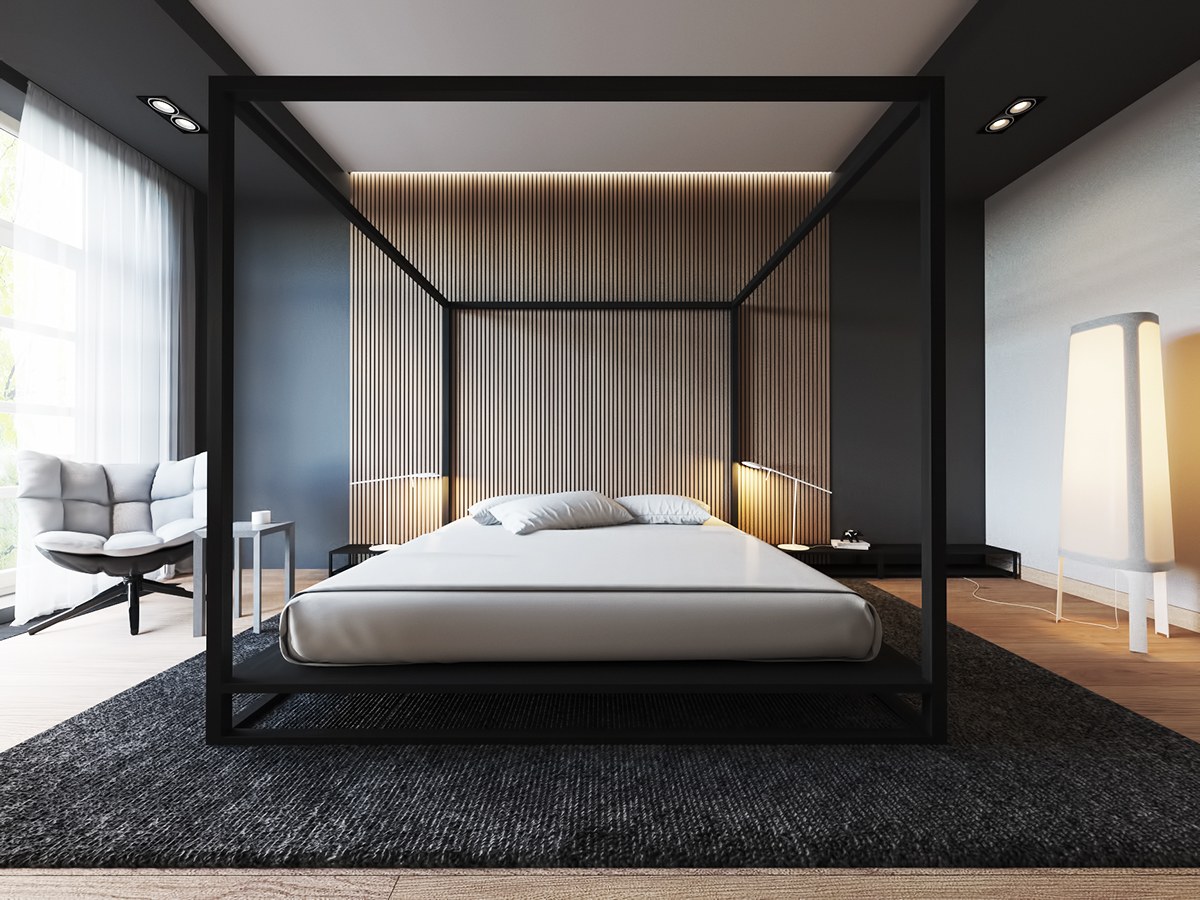 33 |
Visualizer: Inna Shapovalova
An equal combination of light and dark makes a soothing yin and yang. The bed and bedroom chair create a beautifully balanced visual, each with dark bases and light fabric.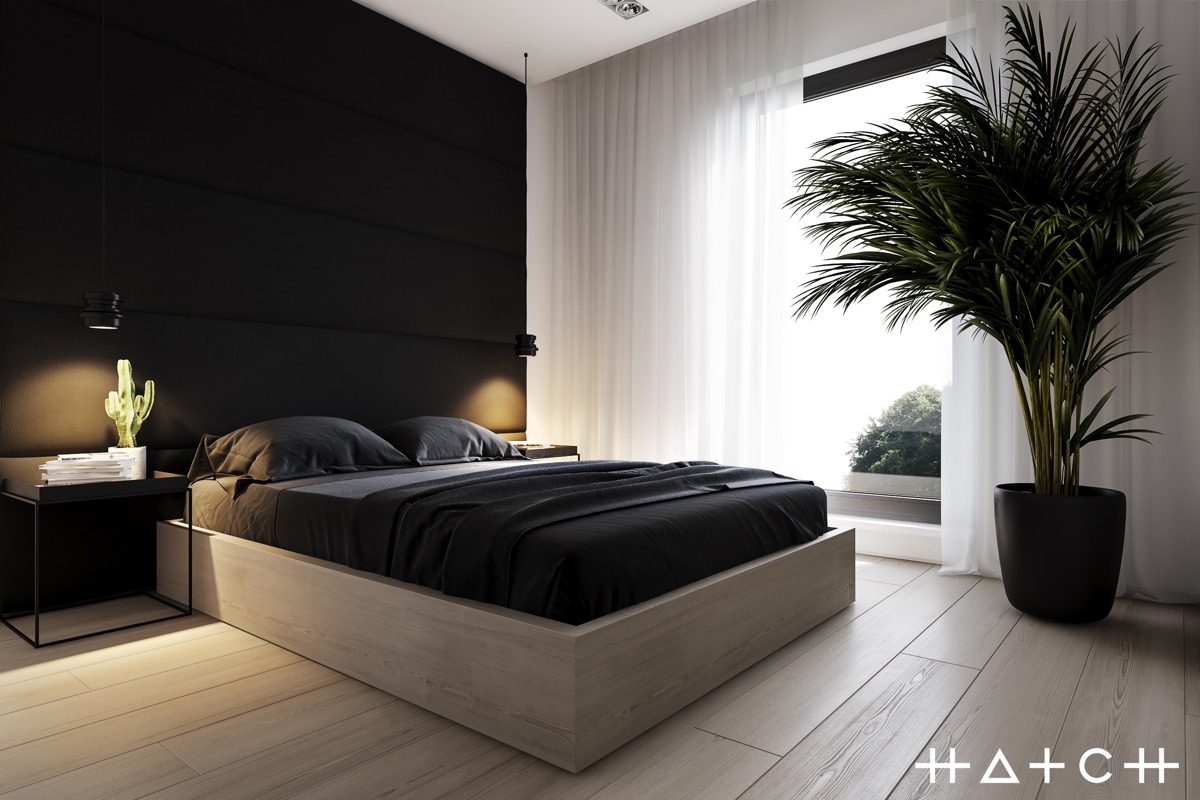 34 |
Visualizer: HATCH STUDIO
Make narrow windows appear larger by hanging drapes that expand all the way across the window wall.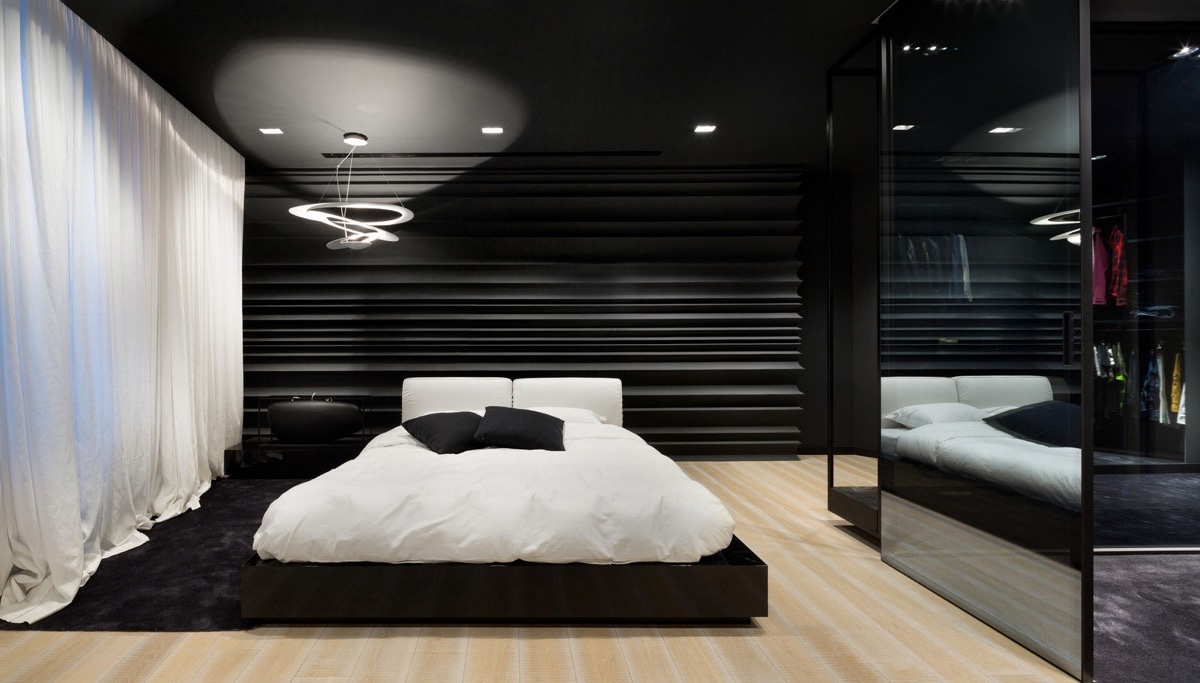 35 |
Visualizer: Lera Katasonova Design
Hang window drapes all the way up at the ceiling line to create added height too.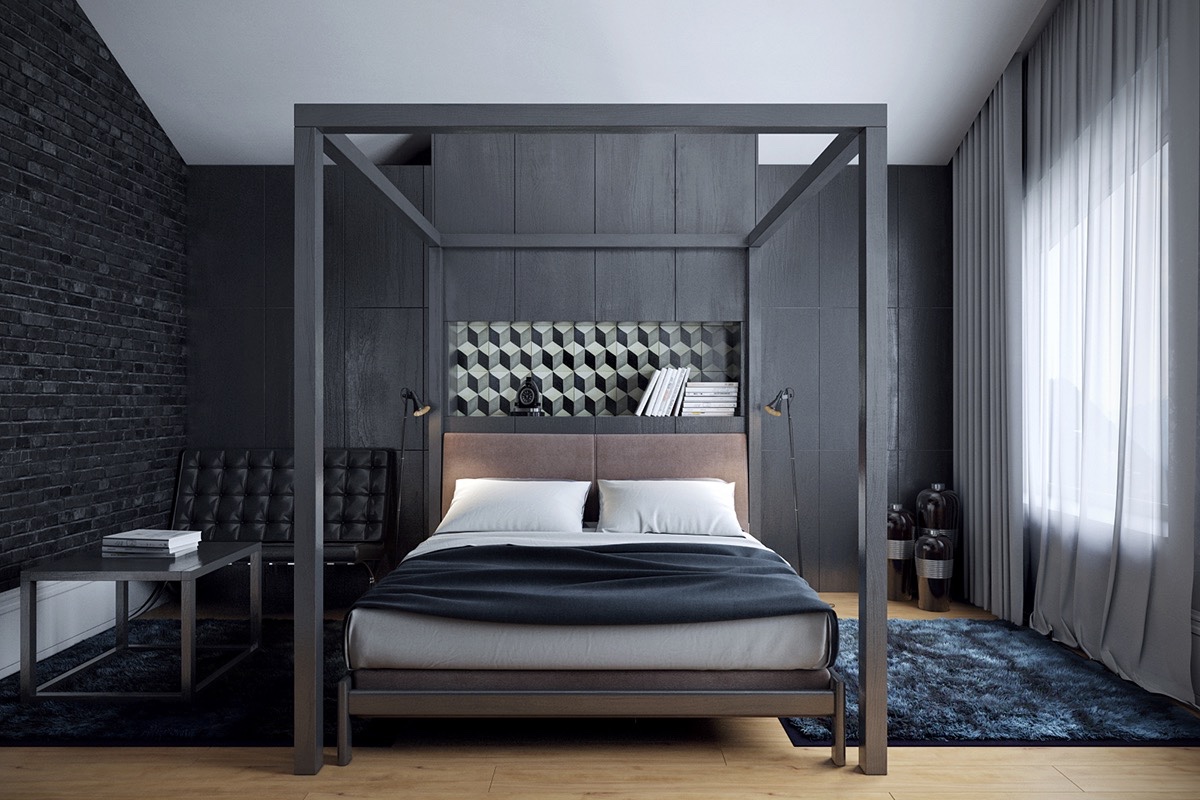 36 |
Visualizer: Sergey Kondratev
Go black with brickwork. Exposed brick has been painted over in this black and gray bedroom, so that the texture can still be seen. The wall acts as zoning decor for a small bedroom lounge area. The brick texture is complemented by geometric pattern in a niche behind the bed.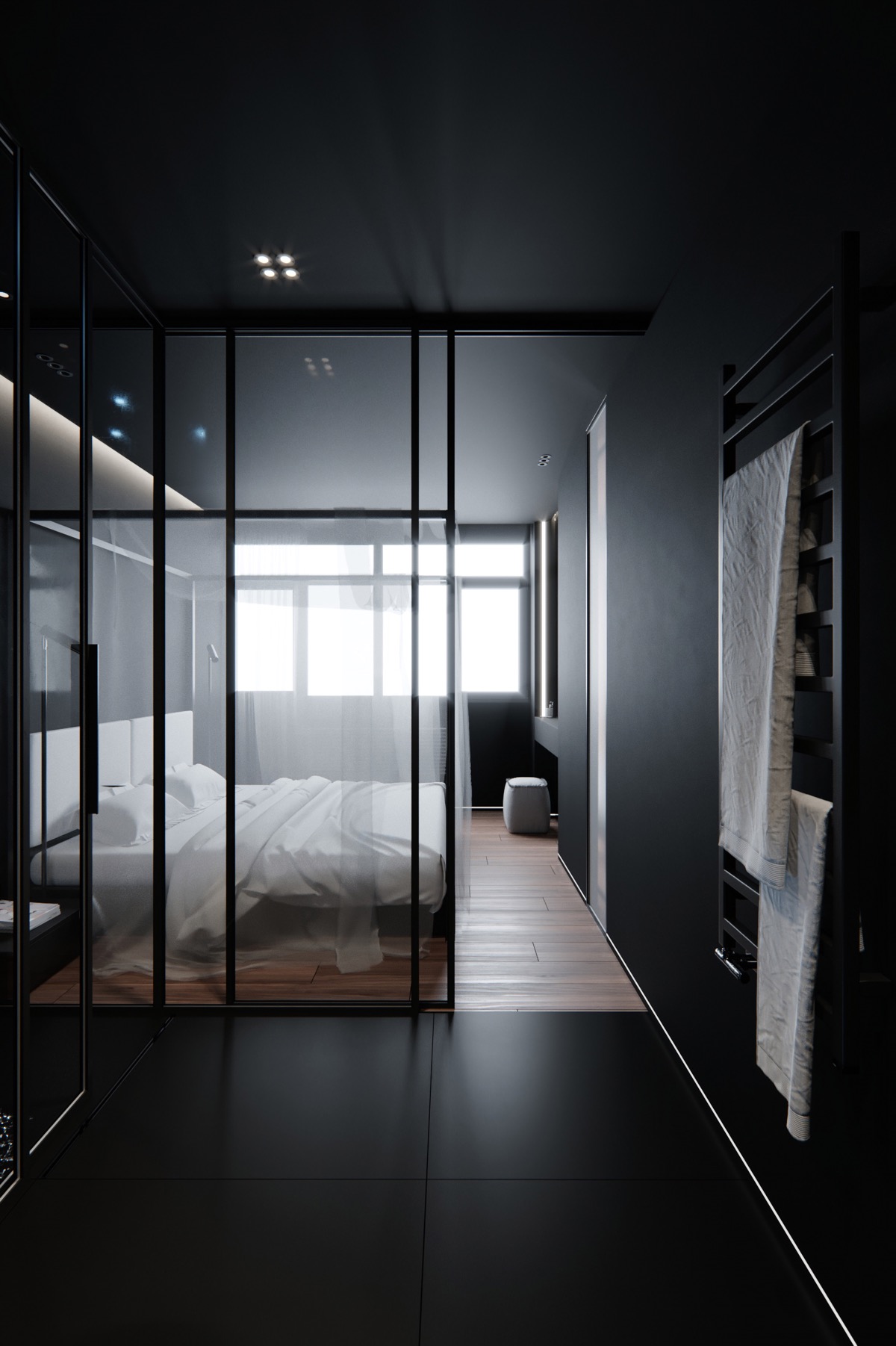 37 |
Visualizer: Igor Sirotov
In this example of a glass wall ensuite, the bathroom borrows light from the bedroom rather than vice versa.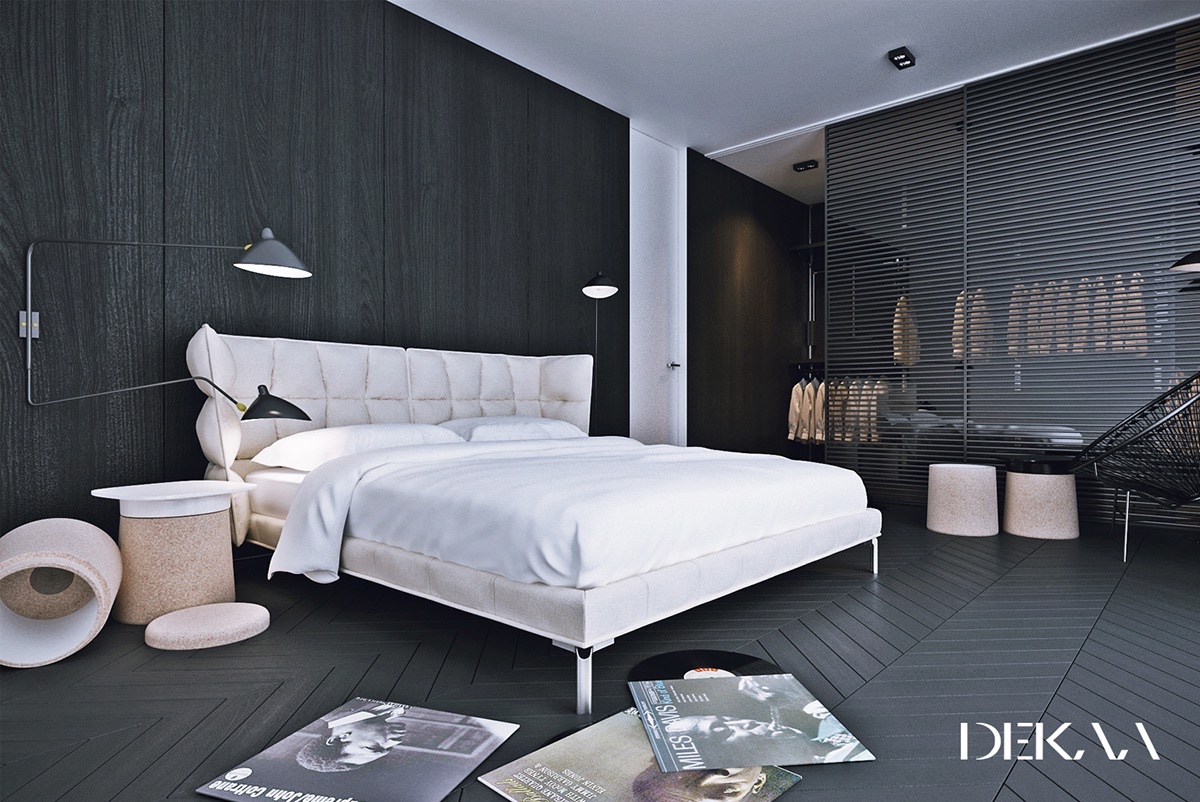 A dark slatted door features in this bedroom with wardrobe display. Beige furniture lightens the look.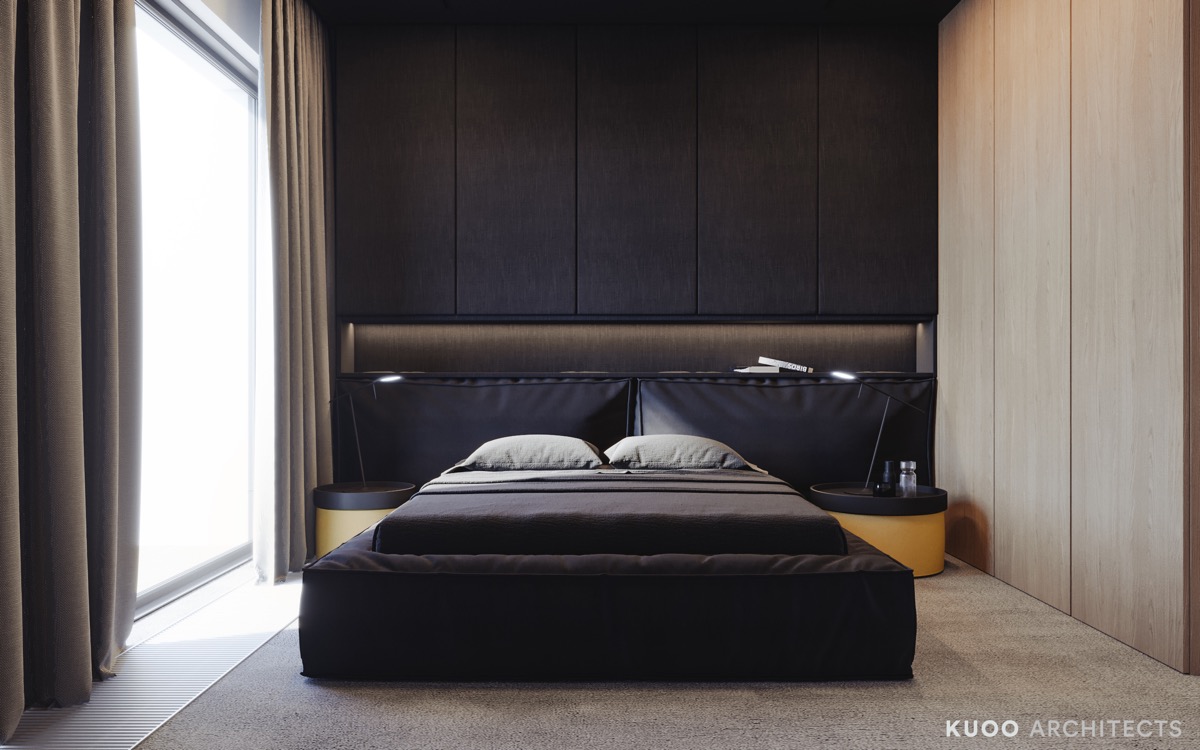 39 |
Visualizer: KUOO ARCHITECTS
An expanse of wooden wardrobes balance an all black wall.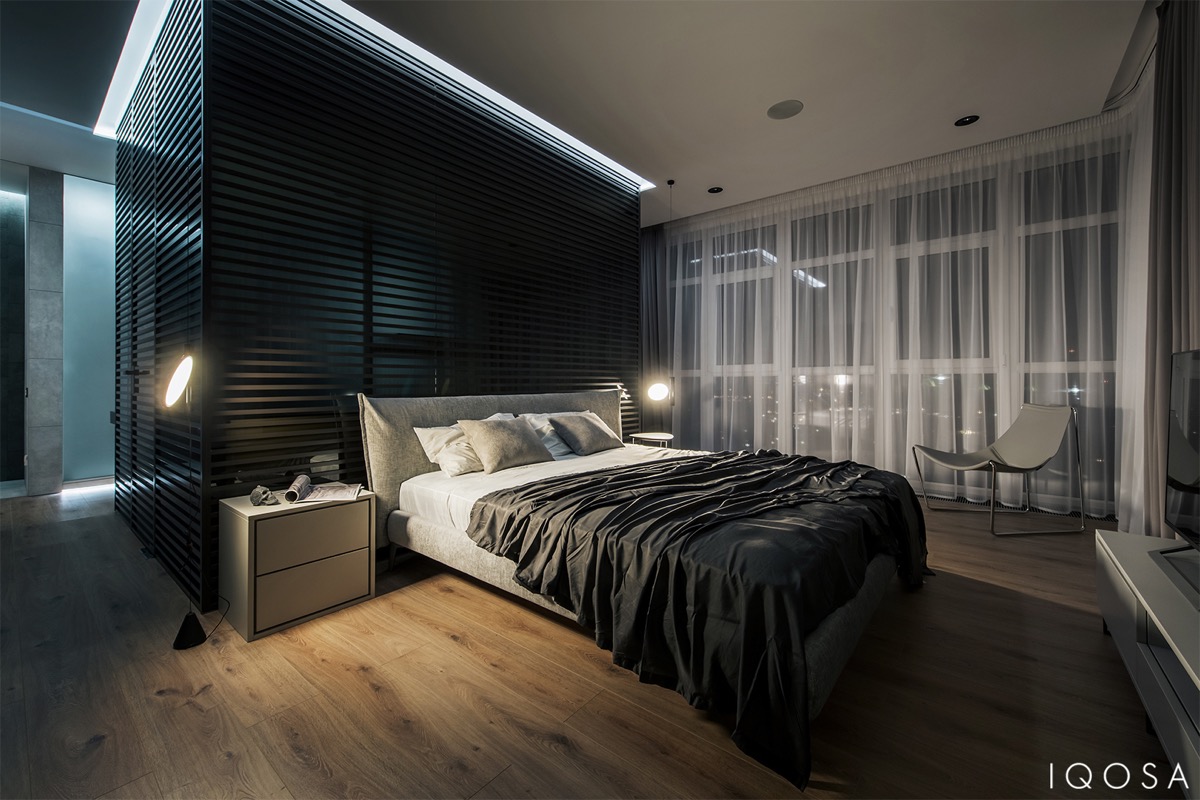 40 |
Visualizer: IQOSA Architect
Make things pop with perimeter lighting.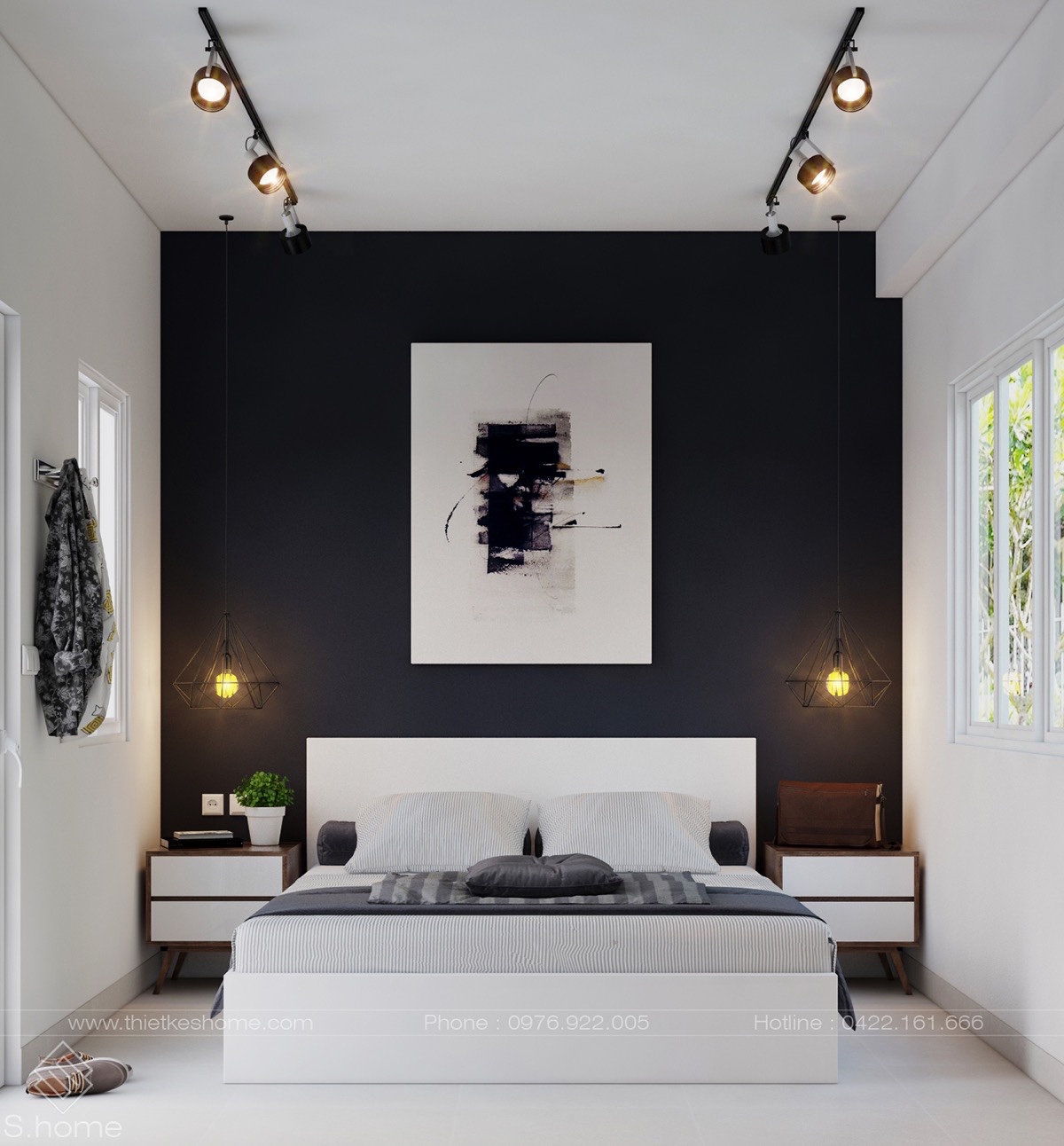 A single black wall, beaten back by white in the rest of a Scandinavian style room creates a clean look.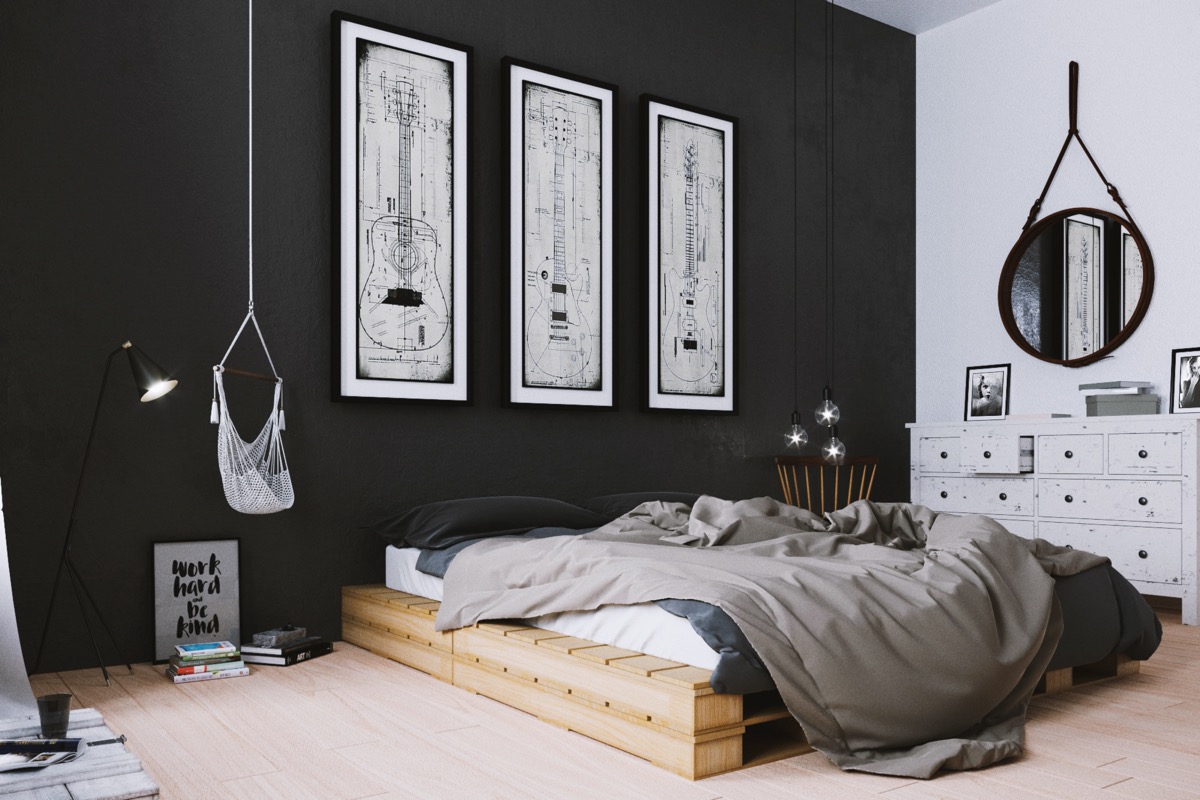 42 |
Visualizer: Nunzio Cava
Throw together a cool bedroom with a black feature wall, a reclaimed pallet bed and music themed art.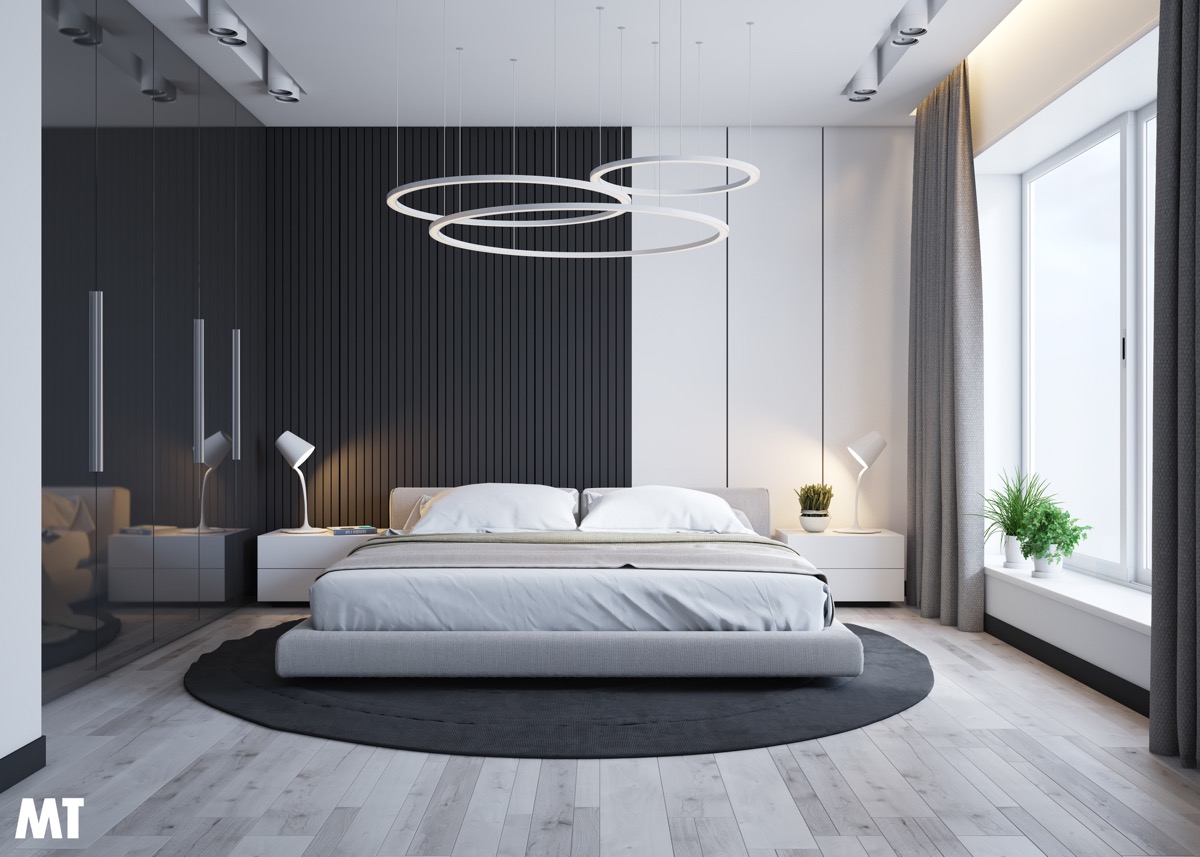 43 |
Visualizer: Mohamed Terko
Halo lights make this black and white bedroom a heavenly space.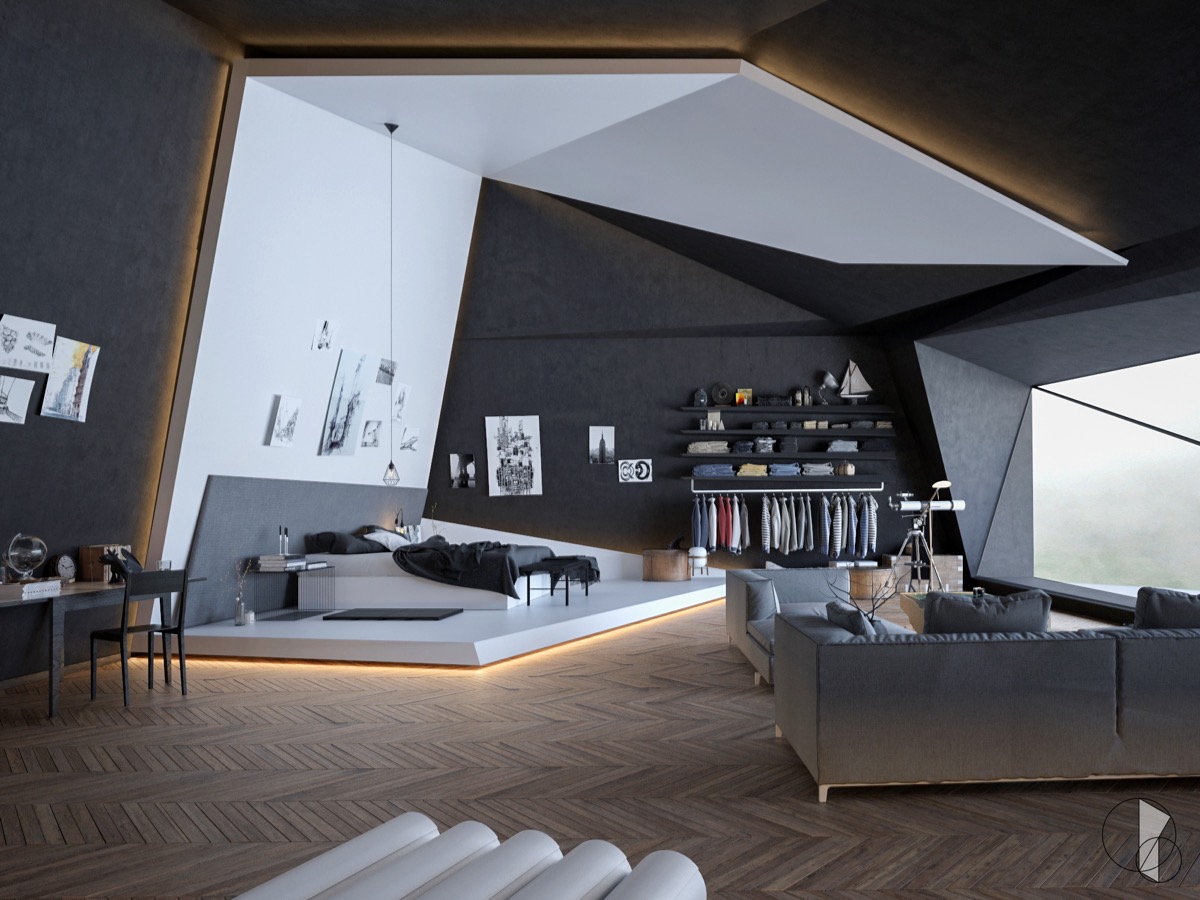 44 |
Visualizer: Ahmed Itafy
Keep it cosy. That close feeling that all black decor evokes presents a positive effect in an oversized loft space.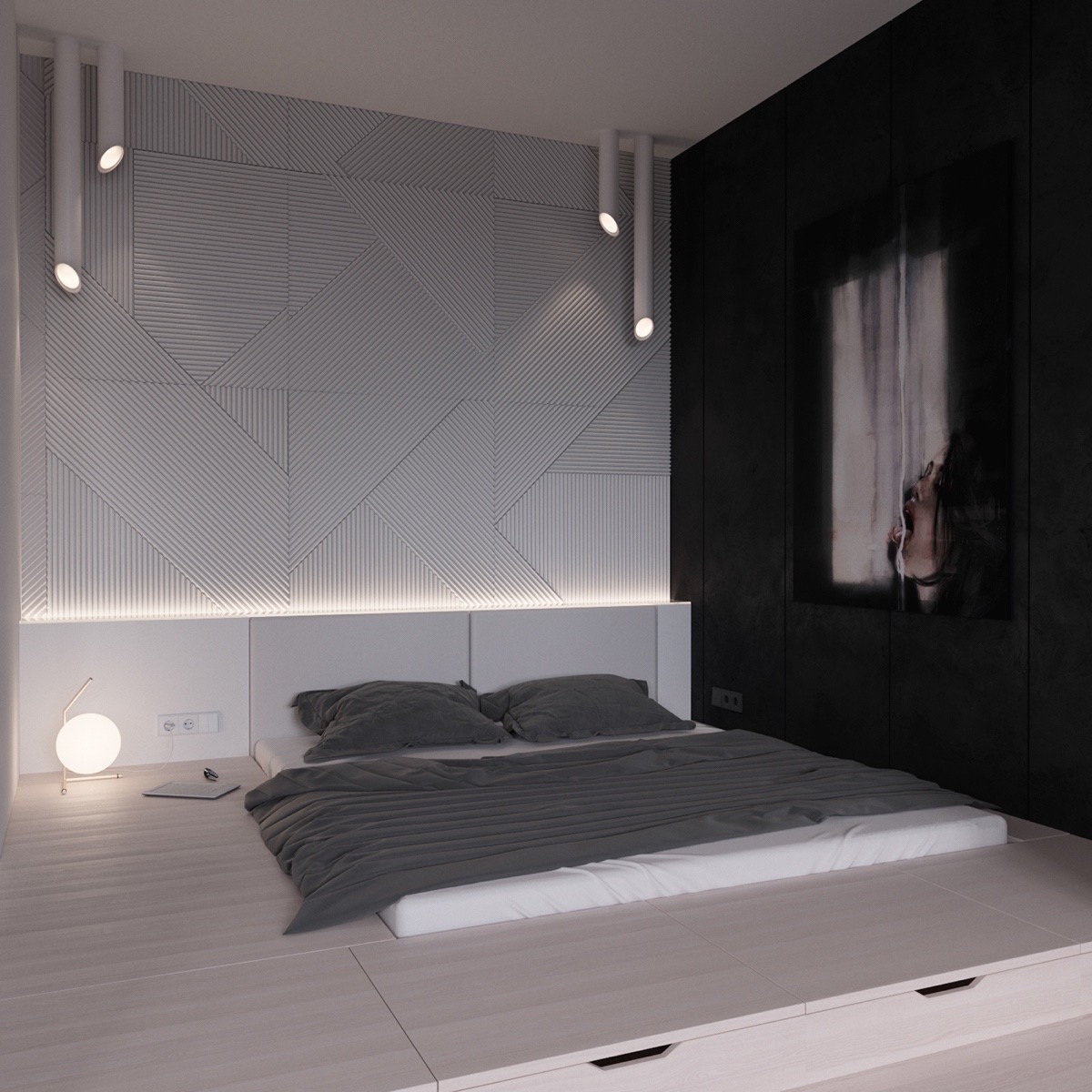 45 |
Visualizer: Maxim Nizovkin
Shake up simplicity. A flush-fitted floor bed design and sleek ceiling lights create a wonderfully simplistic scheme; a black accent wall gives the design depth and dimension.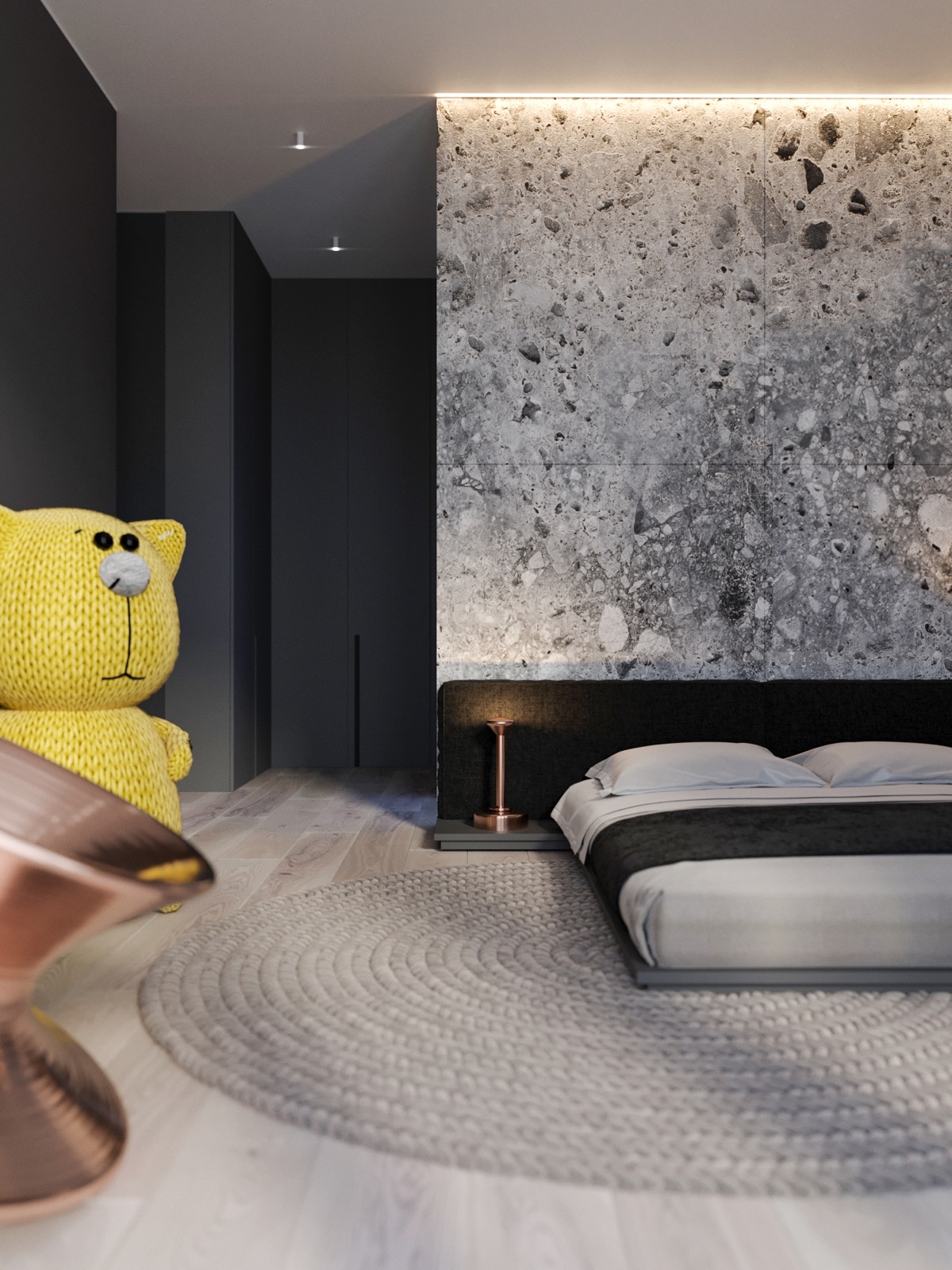 Texture all the way. Think monochrome granite and woven rugs.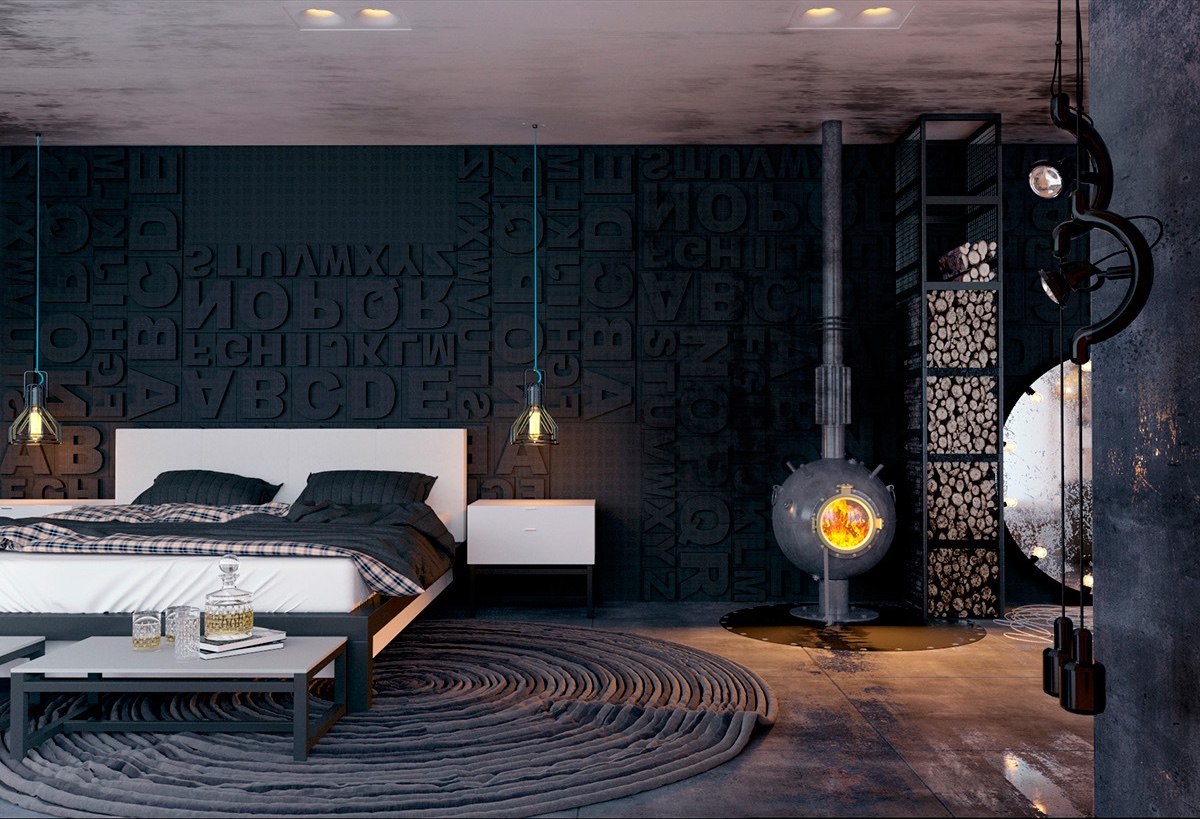 47 |
Visualizer: MI Group
Industrial style lighting suits a strong backdrop. Try adding brightly coloured flex to make them pop.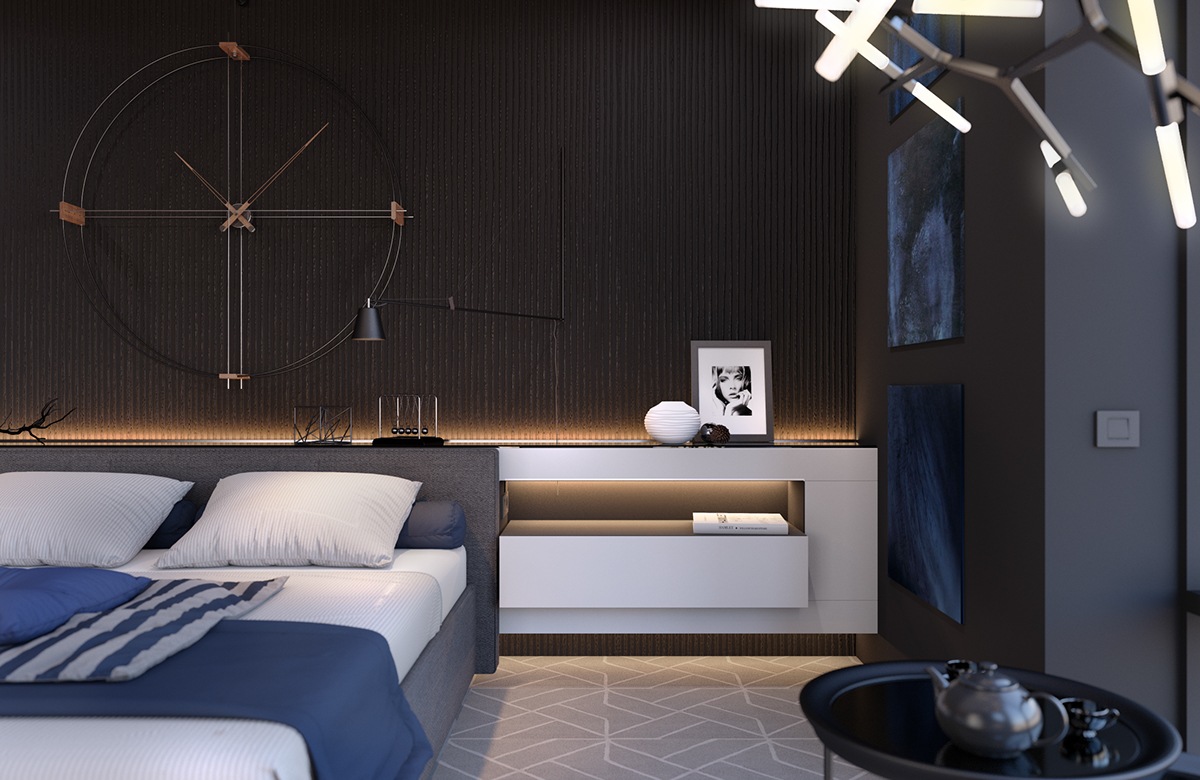 Accessorise a black wall with a large wall clock.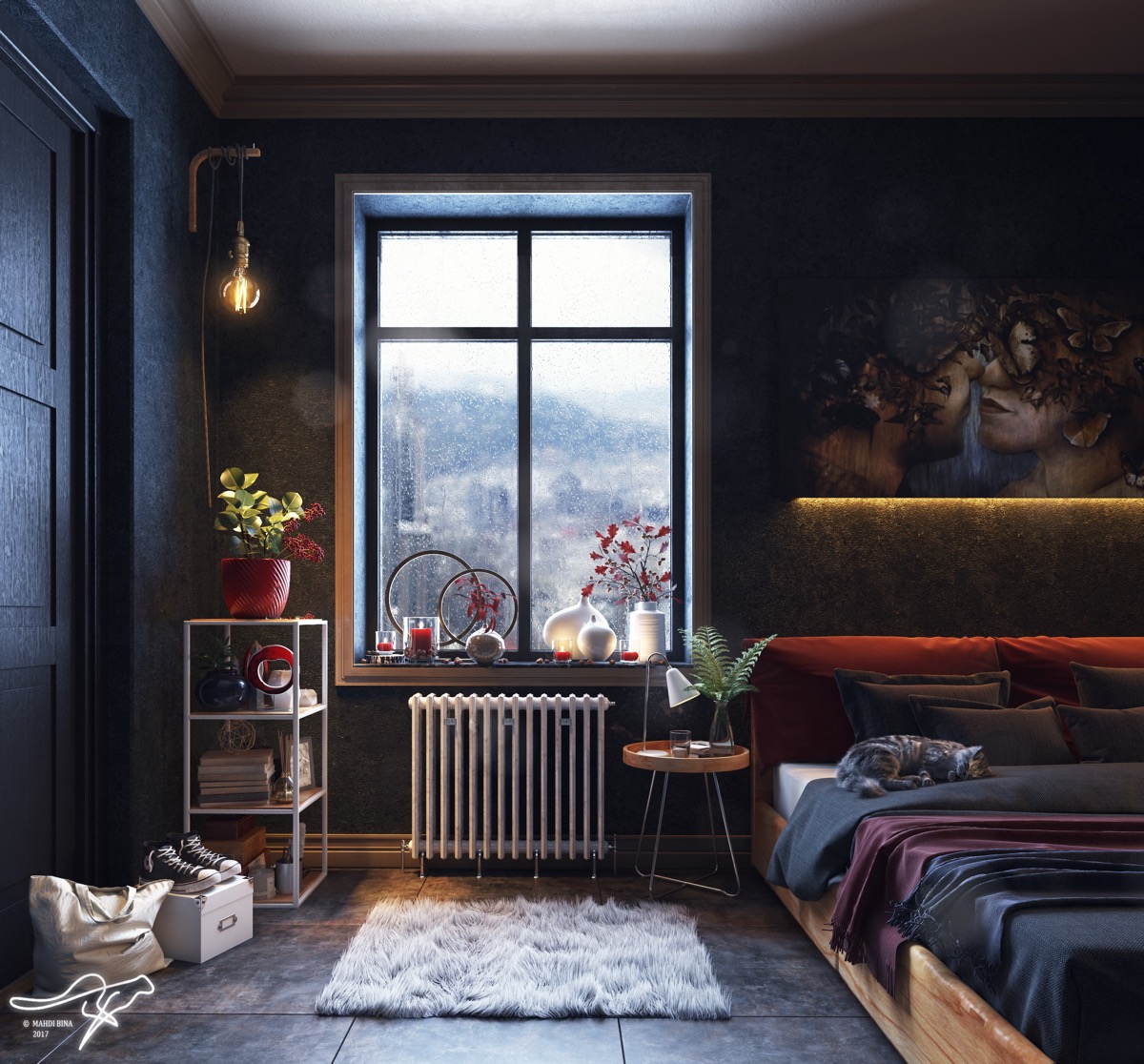 49 |
Visualizer: Mahdi Bina Mahdi Bina
A black and red bedroom looks sumptuous…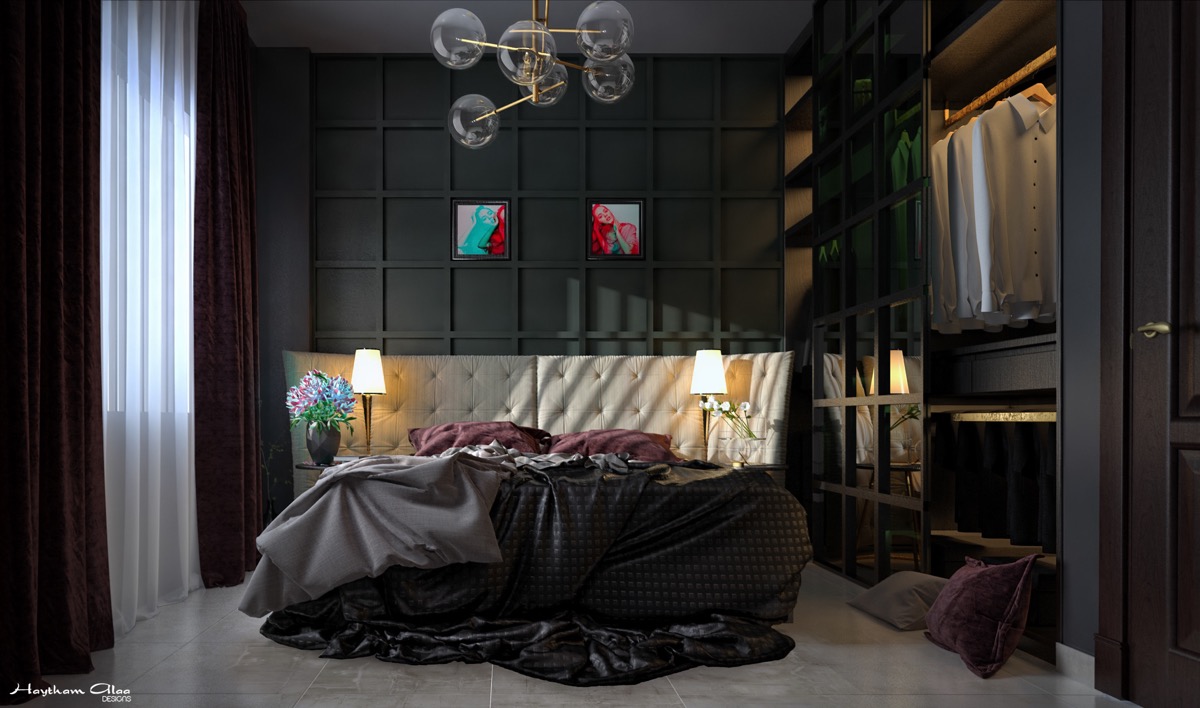 50 |
Visualizer: Haytham Alaa
… add panel moulding for a high-end finish.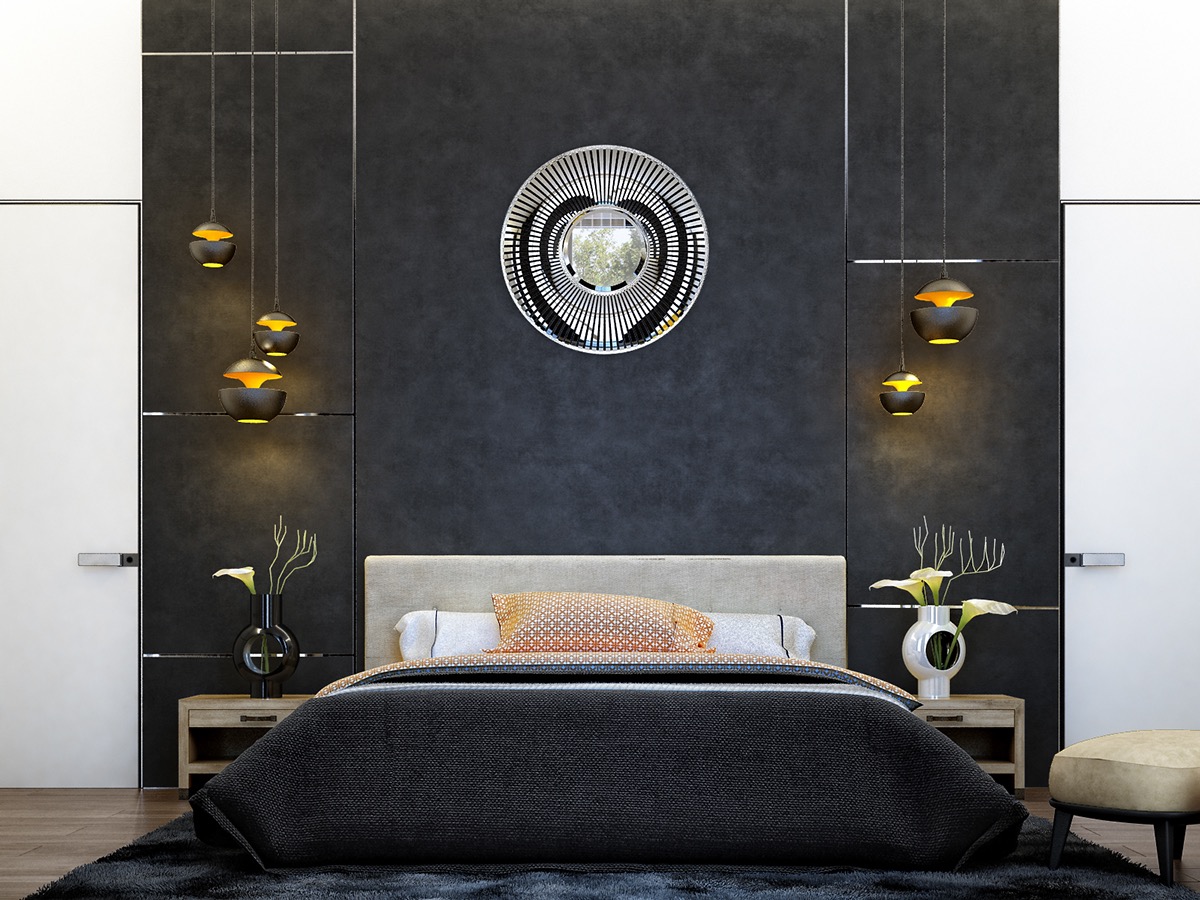 51 |
Visualizer: Olga Podgornaja