1 |
Visualizer: Andrey Barinov
Pink and precise. This pastel pink bathroom is made neat and sweet with very precise lines of pink statement. A pink vanity unit aligns edge-to-edge with its pink backsplash wall, and a pink vertical radiator drizzles another line of delicious strawberry icecream colour.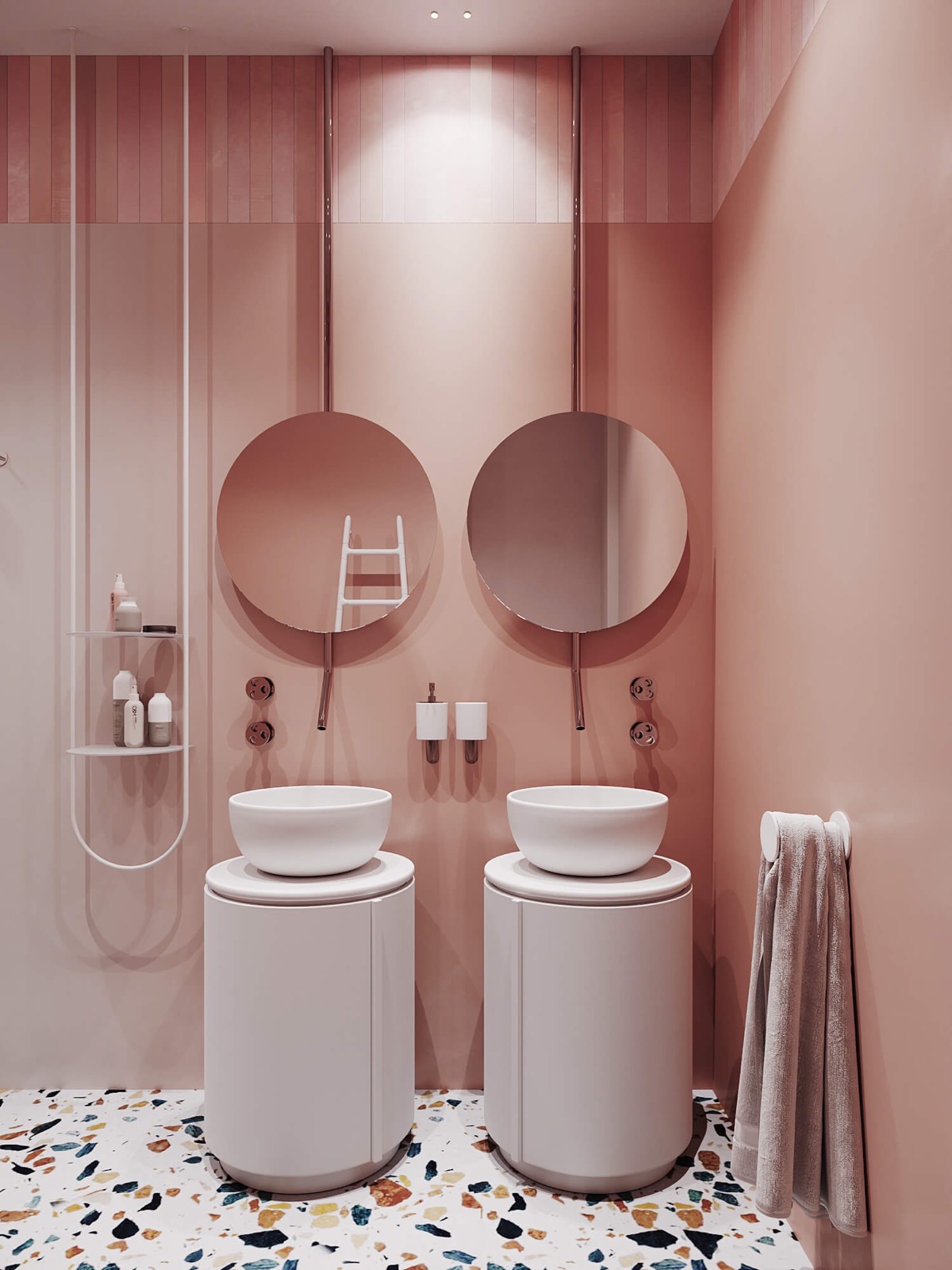 Tiptoe on terrazzo. Give a pink bathroom a stylish statement floor by laying terrazzo. It's confetti pattern is spot on trend right now, and it gives a fun edge to a plain pink scheme.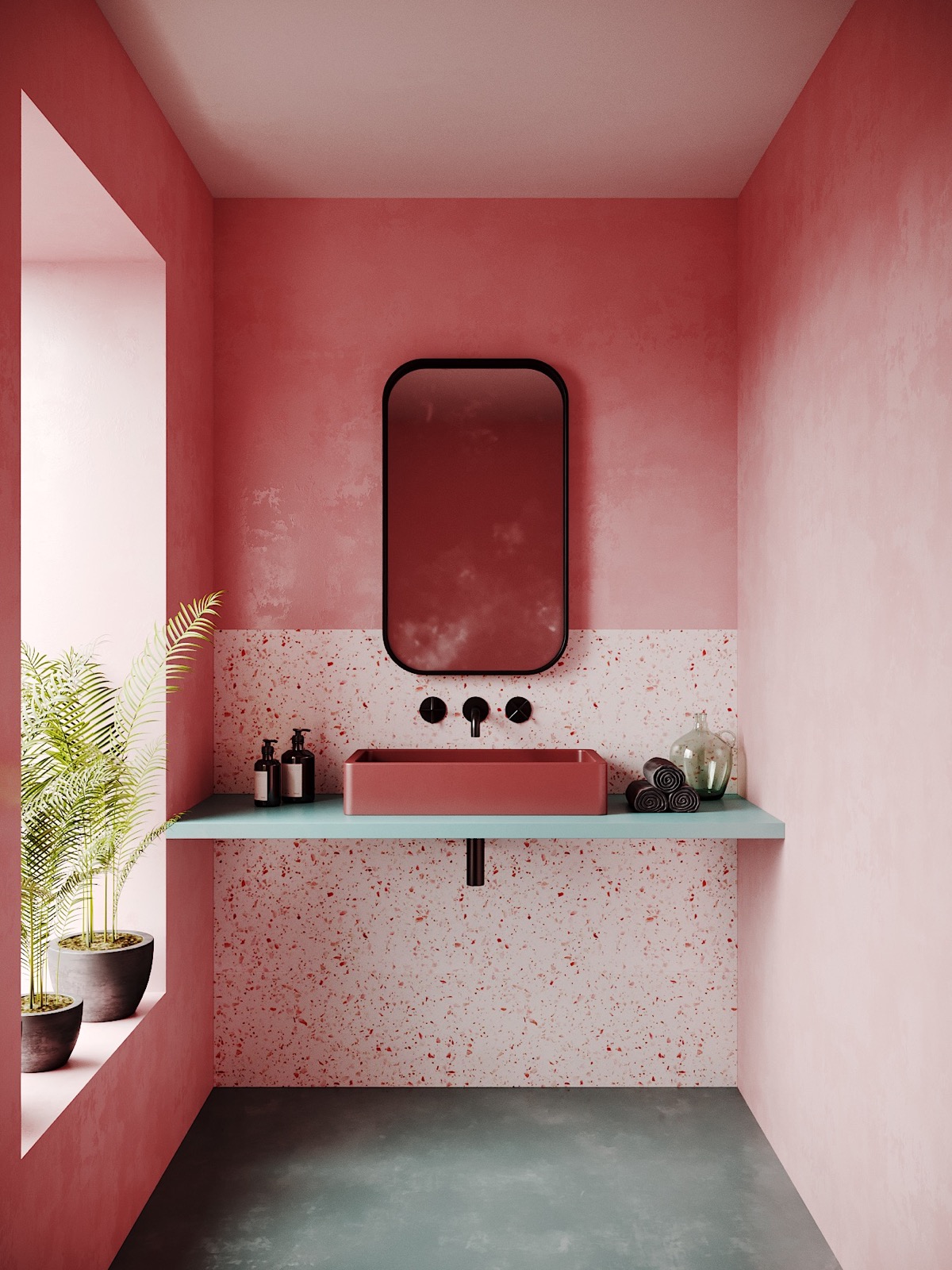 3 |
Visualizer: Yaroslav Priadka
Or, back up your colour scheme with a terrazzo backsplash. A rose terrazzo backsplash brings in colour whilst avoiding solidity, so would be a great option for tinting an white based bathroom. Or, team rose terrazzo with pink concrete walls for an all out and stunning textured alternative.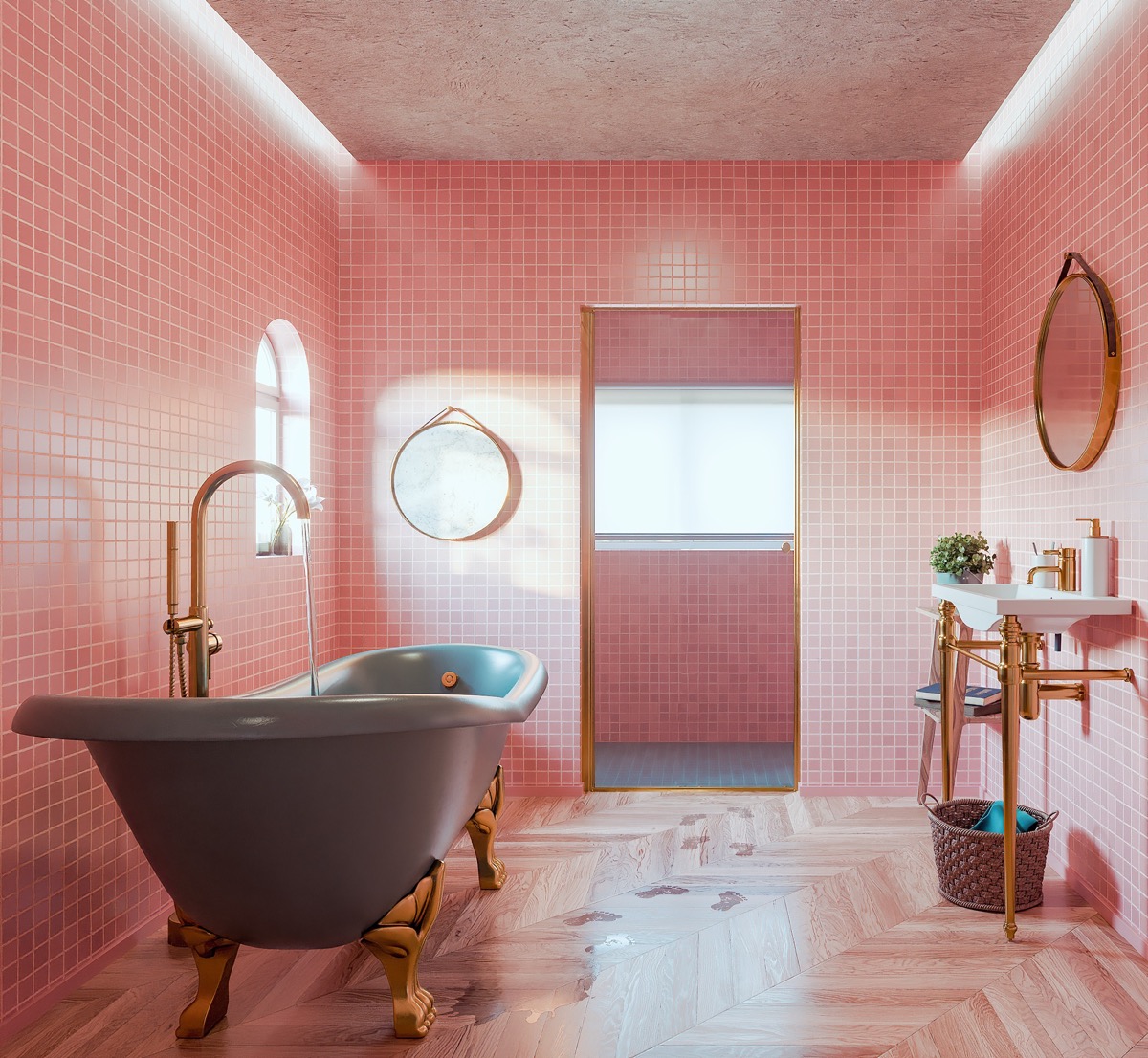 4 |
Visualizer: Studio Heisenberg
Go glam with golden accents. A pink and gold bathroom palette holds undeniable glamour and, in this case, a certain vintage charm.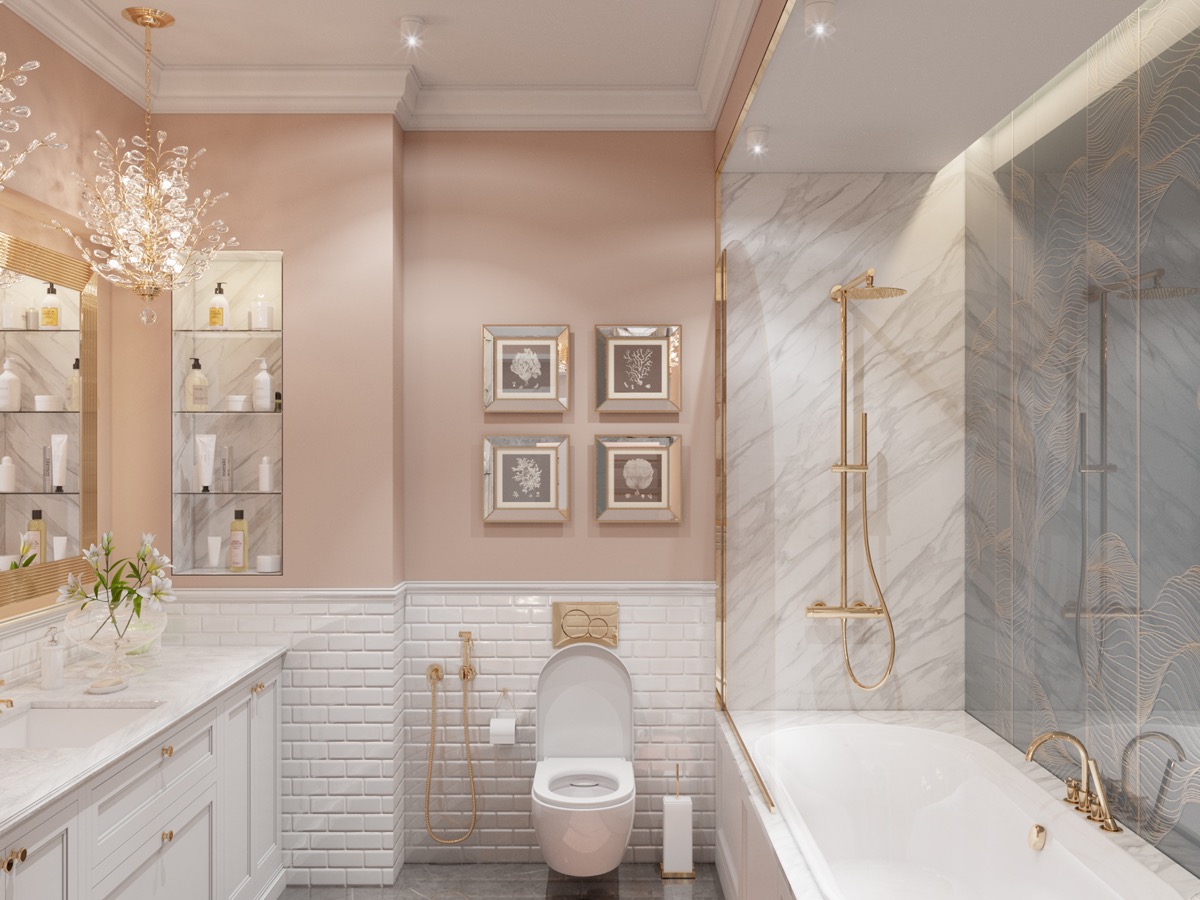 5 |
Visualizer: Polina Yatmanova
Go up the glamour scale by bringing in sparkling crystal bathroom lights and miles of marble.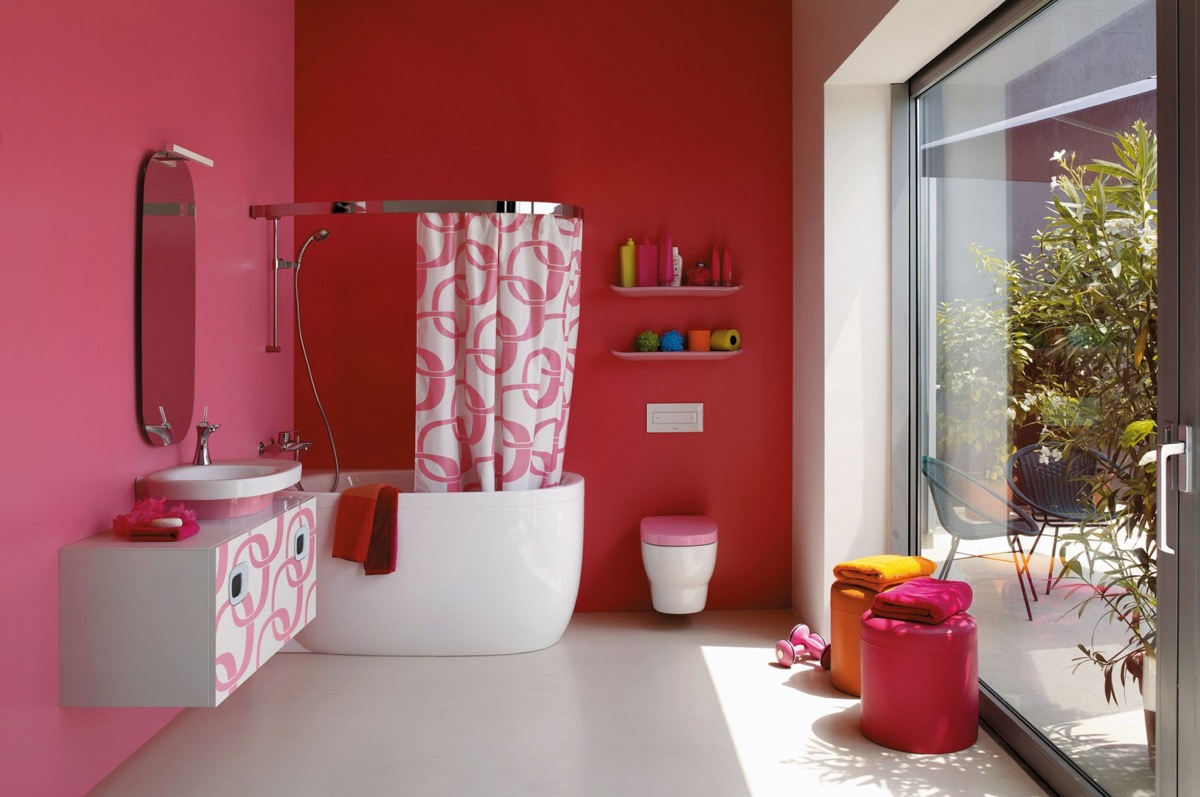 Hotter than a steaming bubble bath, this fully hot pink bathroom design amps up the fun factor even more with some hot pink bathroom accessories. A pink graphic pink shower curtain matches the decal on the vanity, and a set of pink wall shelves complement the pink loo seat!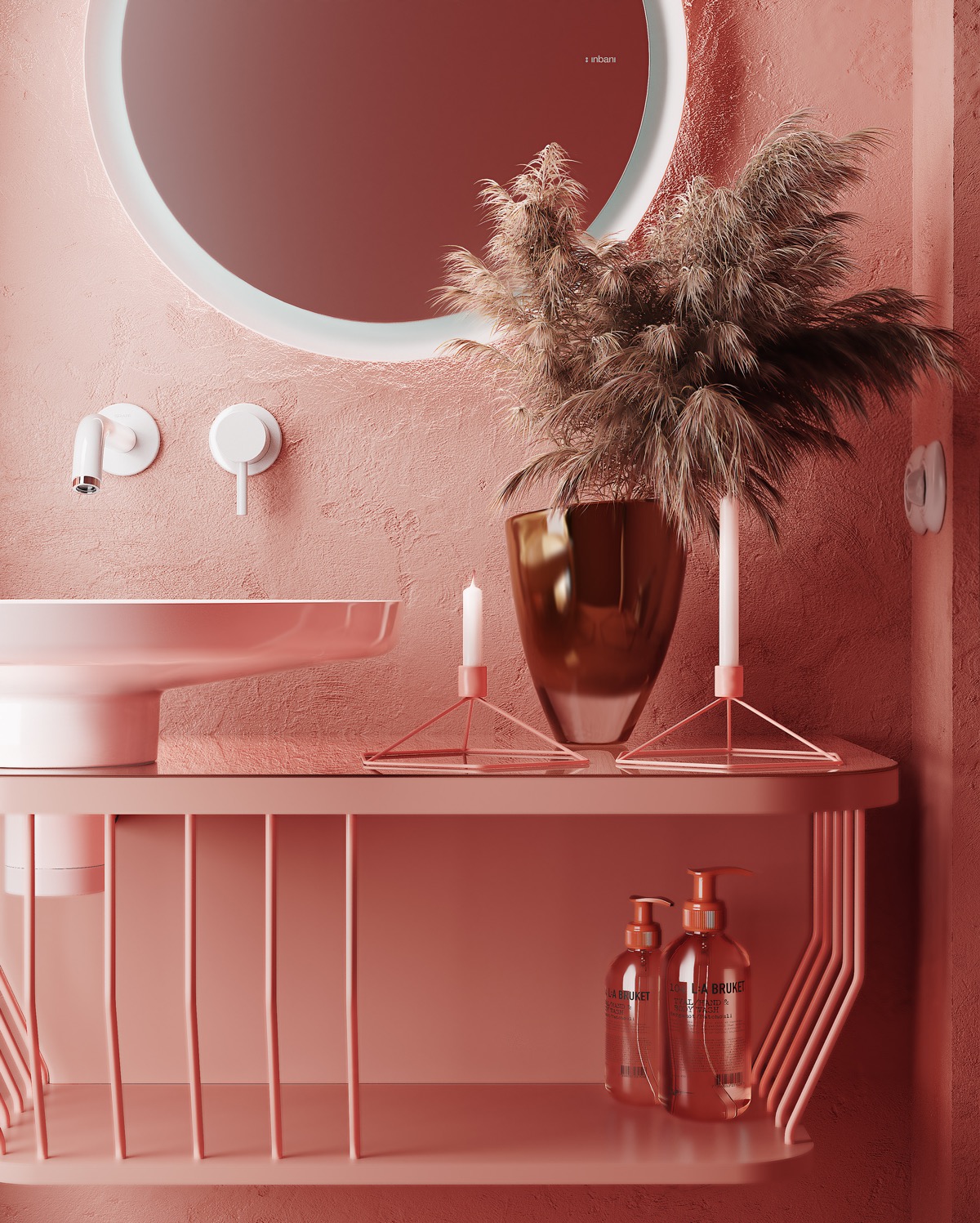 7 |
Visualizer: Abdumumin Khafizov
Make the most of your new colour scheme by investing in a whole host of pink bathroom accessories too. This pink vanity unit is topped with a set of pink candle holders. Don't forget to grab pink towels, washcloths and pink soap dispensers while you're at it.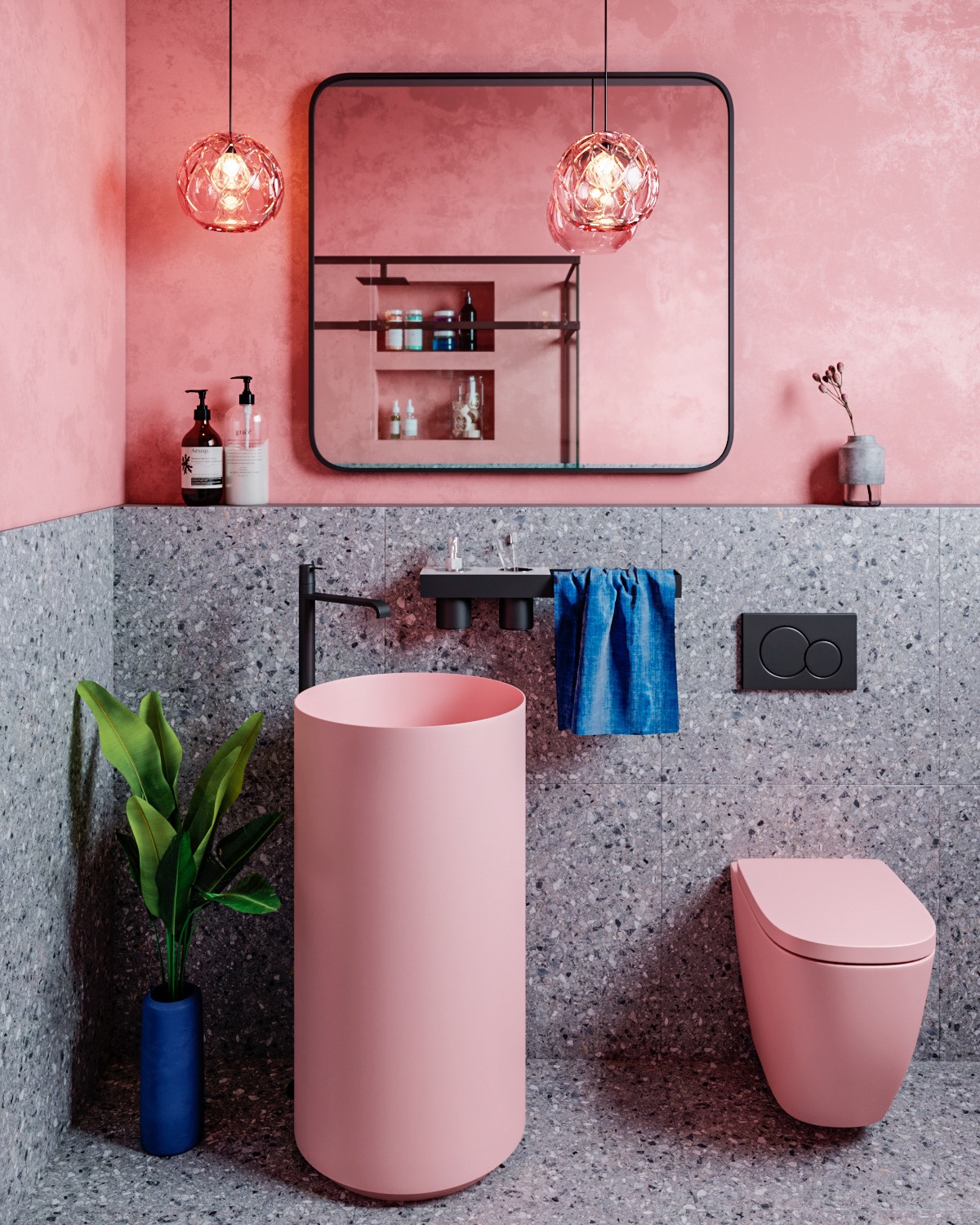 8 |
Visualizer: Kate Tsyganina
This unique bathroom sink sets quite the style statement. The single towering column of pink ceramic would be enough to set the trend on its own, but we get a double pink whammy with a pink toilet here too.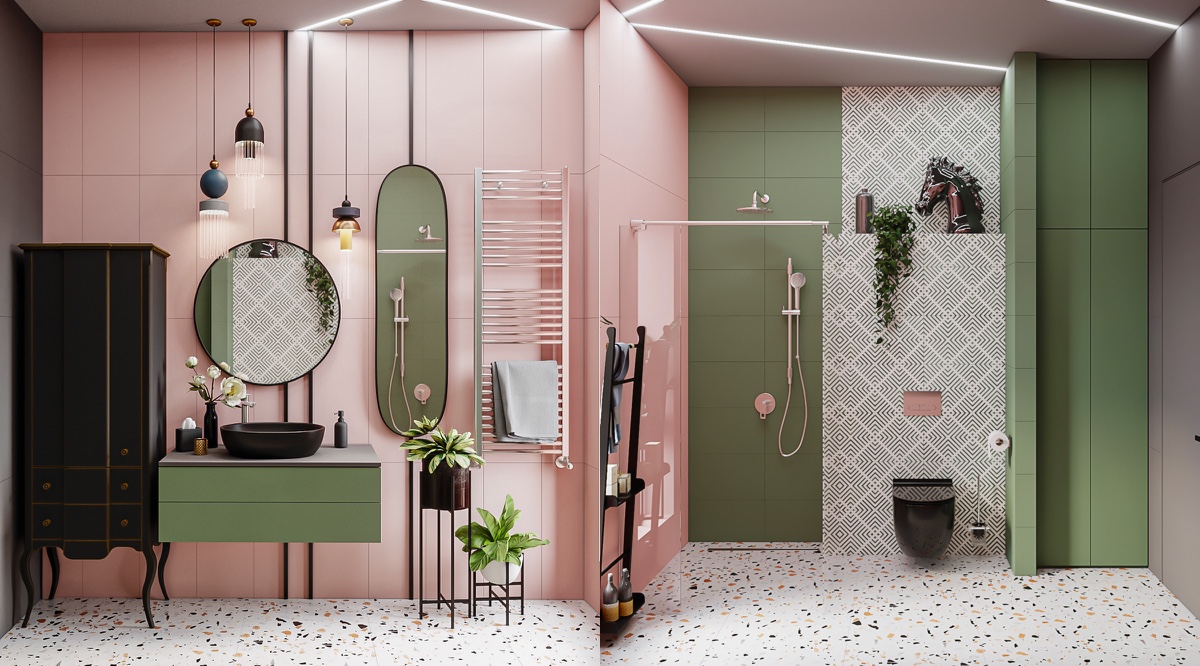 9 |
Visualizer: Kate Tsyganina
Colourful meets classic, meets contemporary, meets downright quirky! Although pink walls might be the first thing you notice about this bathroom design, there is a whole lot more going on. Sleek contemporary pieces have been mixed with classic and unusual elements to build a curated eclectic look. A trio of quirky bathroom vanity lights dangle from a ceiling cut through with a geometric pattern of LED strips, and a traditional cabinet offsets the modernity of a the vanity, mirror, and geo wall tiles.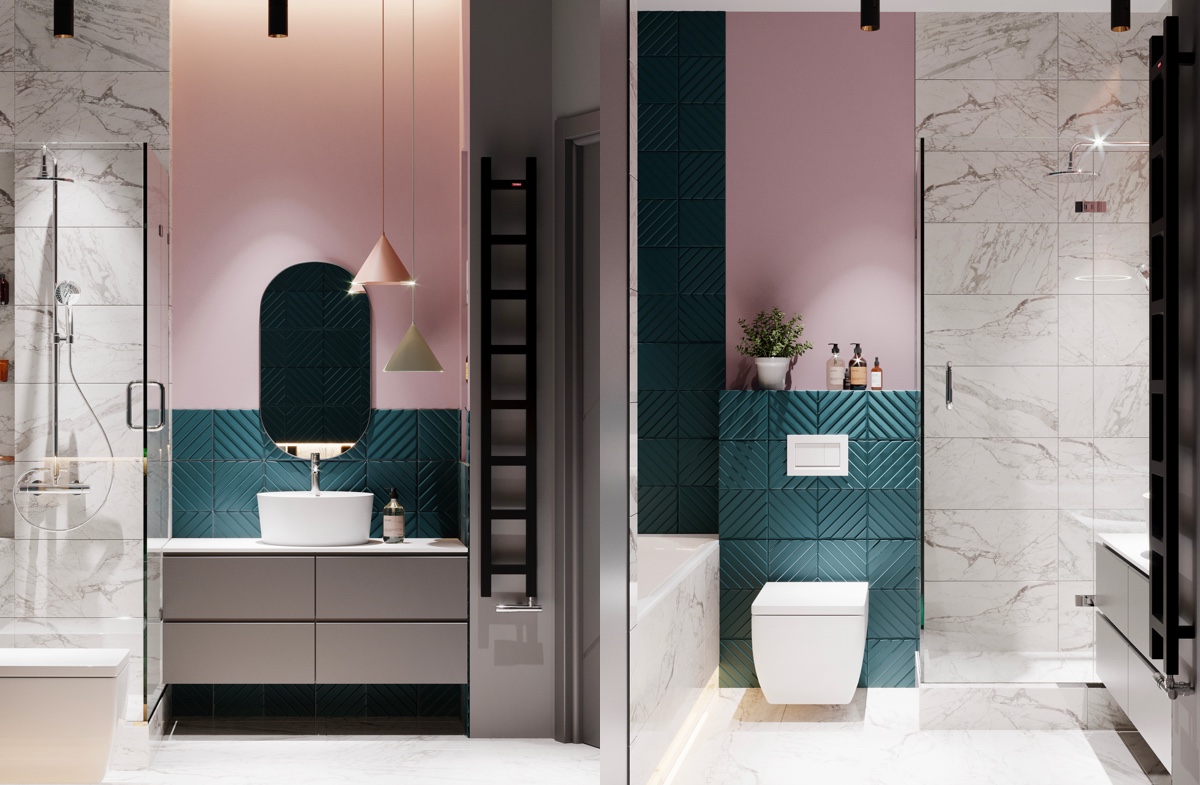 10 |
Visualizer: Marina Tsishyna
Splash in some aqua. No we don't mean fill the bath, we're talking about introducing aqua blue elements to your pink bathroom design to create areas of deep contrast without heading to the monochrome spectrum.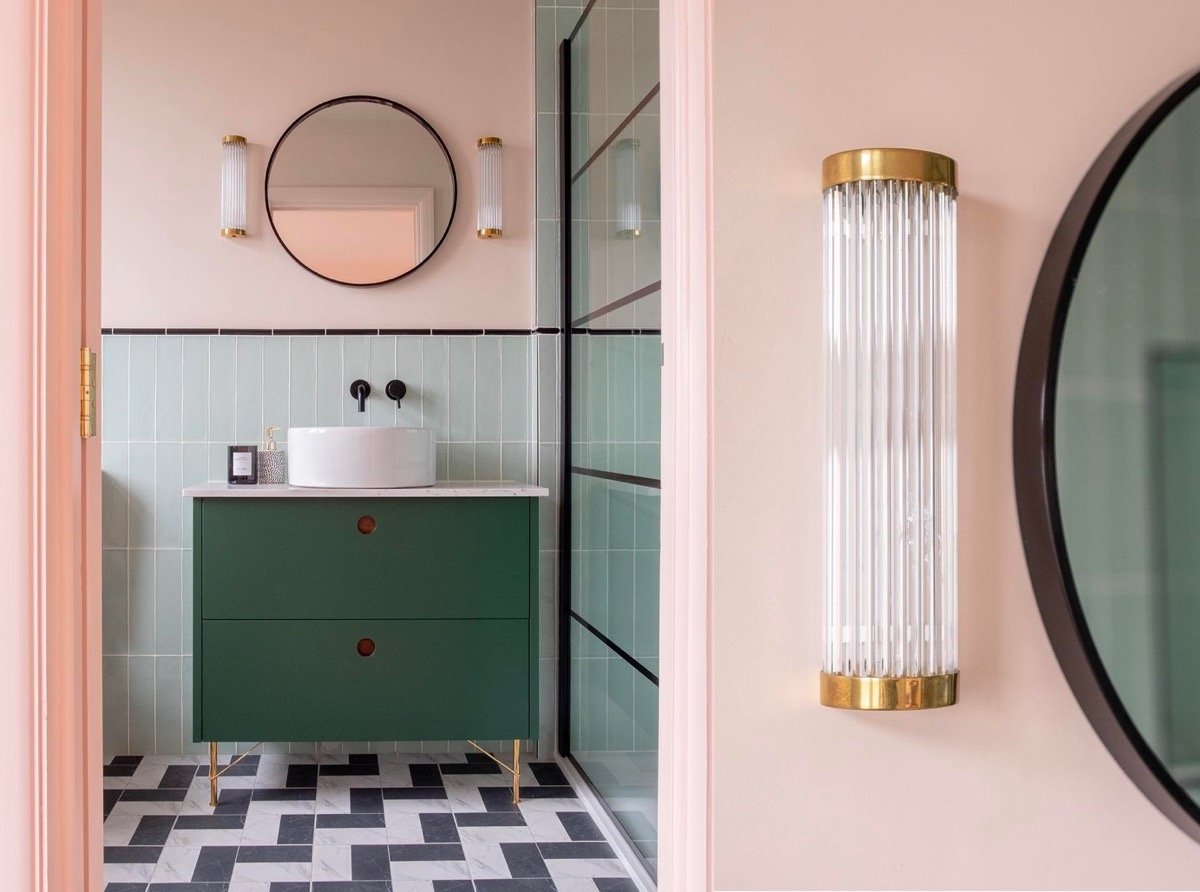 11 |
Visualizer: Sarah Akwisombe
Green has similar contrasting effect, although a deep leaf green tends to build more of a feeling of calm, like a walk through the park in a pink sunset. This pink and green bathroom design splits the colour ratio 50/50; light pink paintwork brightens the upper half of the walls, whilst green tile and bathroom furniture weigh the lower segment.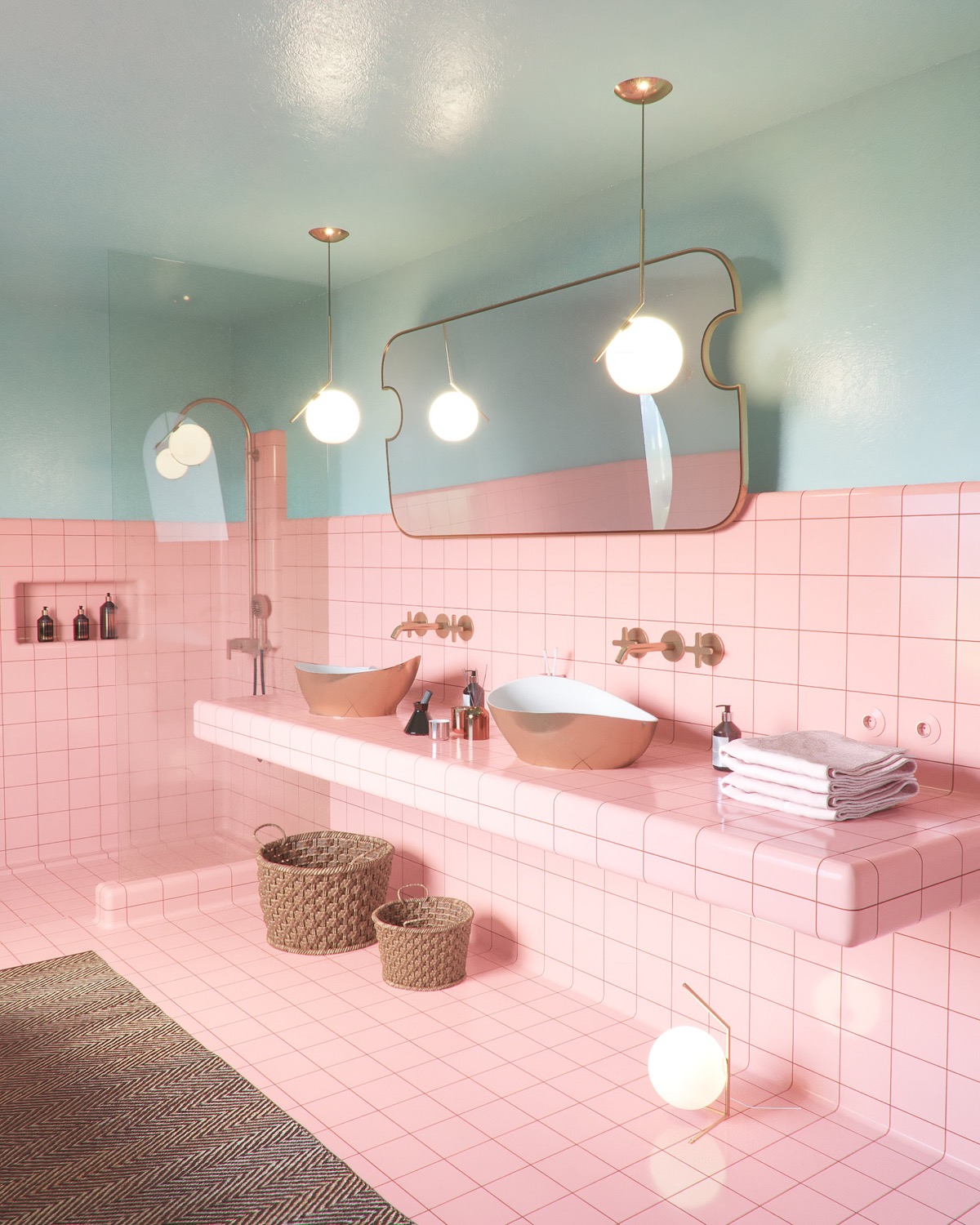 12 |
Visualizer: Utkan Gunerkan
This design shows the balance of colour flipped around, with green paintwork spanning the upper wall space and ceiling, and pink tile flooding the lower walls and floor.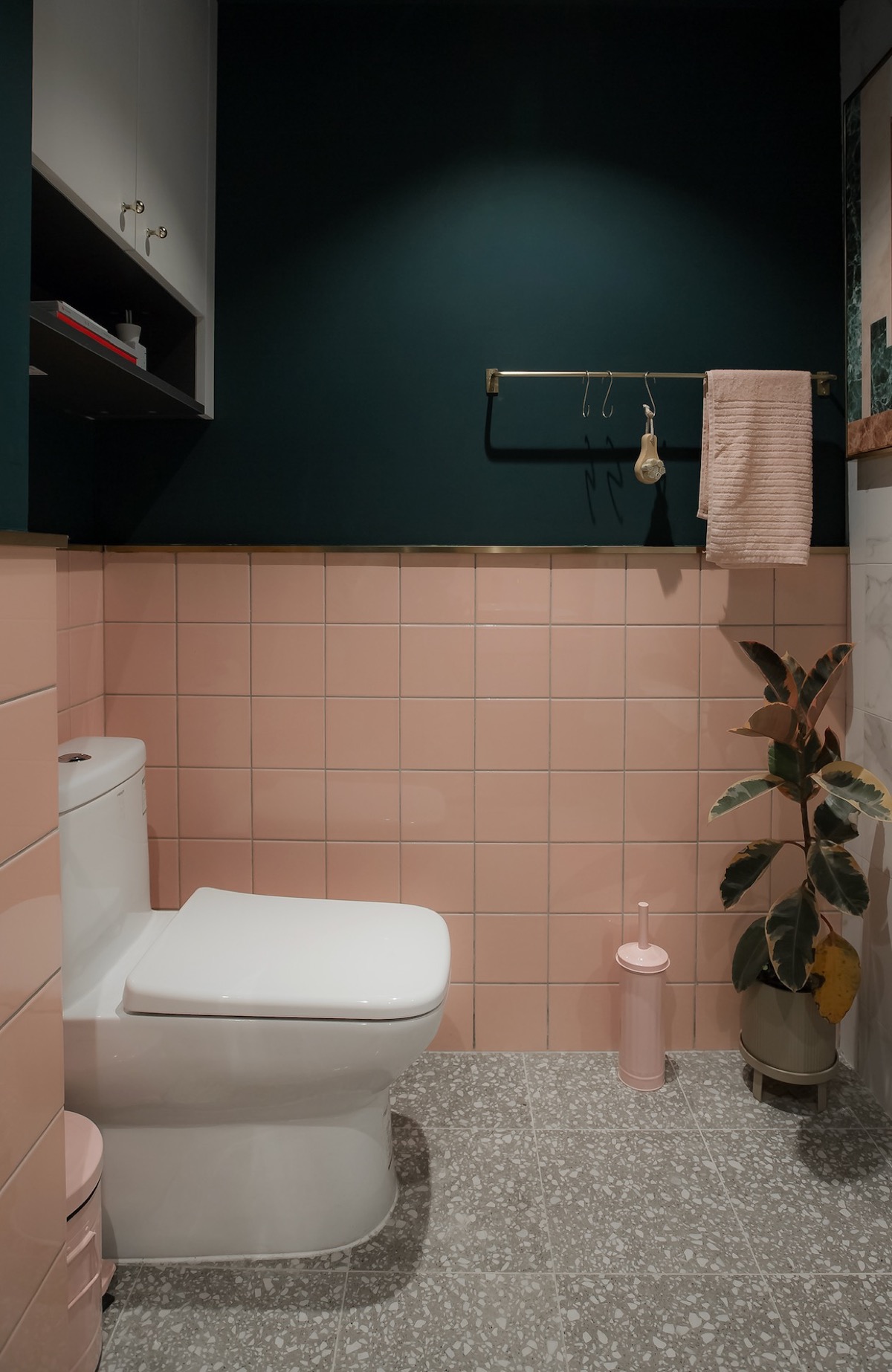 Although strong, the dark green and pink colour balance also works in small spaces. Note how the loo brush and trash can have been colour matched to the pink walls so that they almost disappear from sight–a top tip for cramped spaces.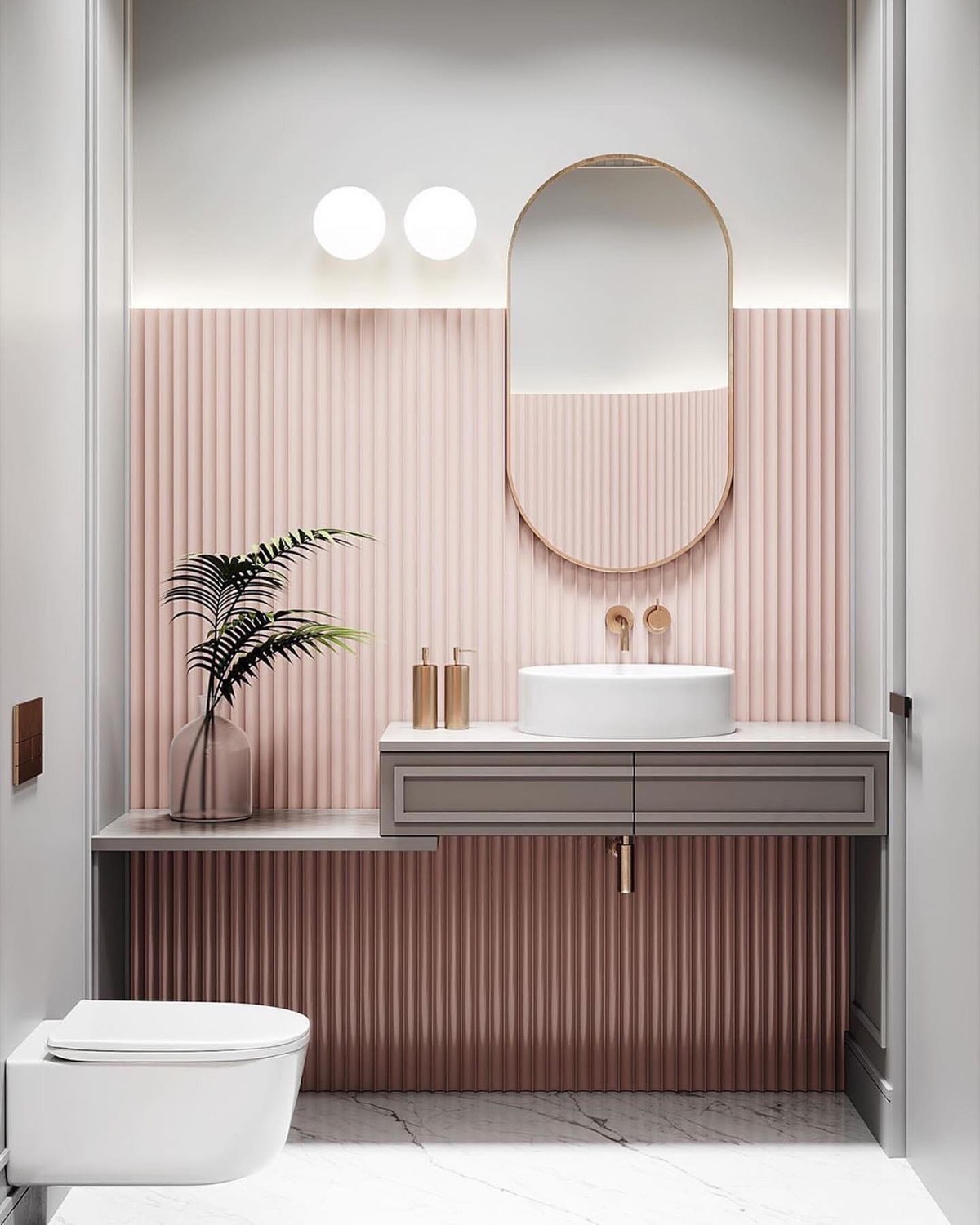 Work light and shade into solid sections of colour by utilising different textured wall panels, like this beautiful ribbed backsplash wall.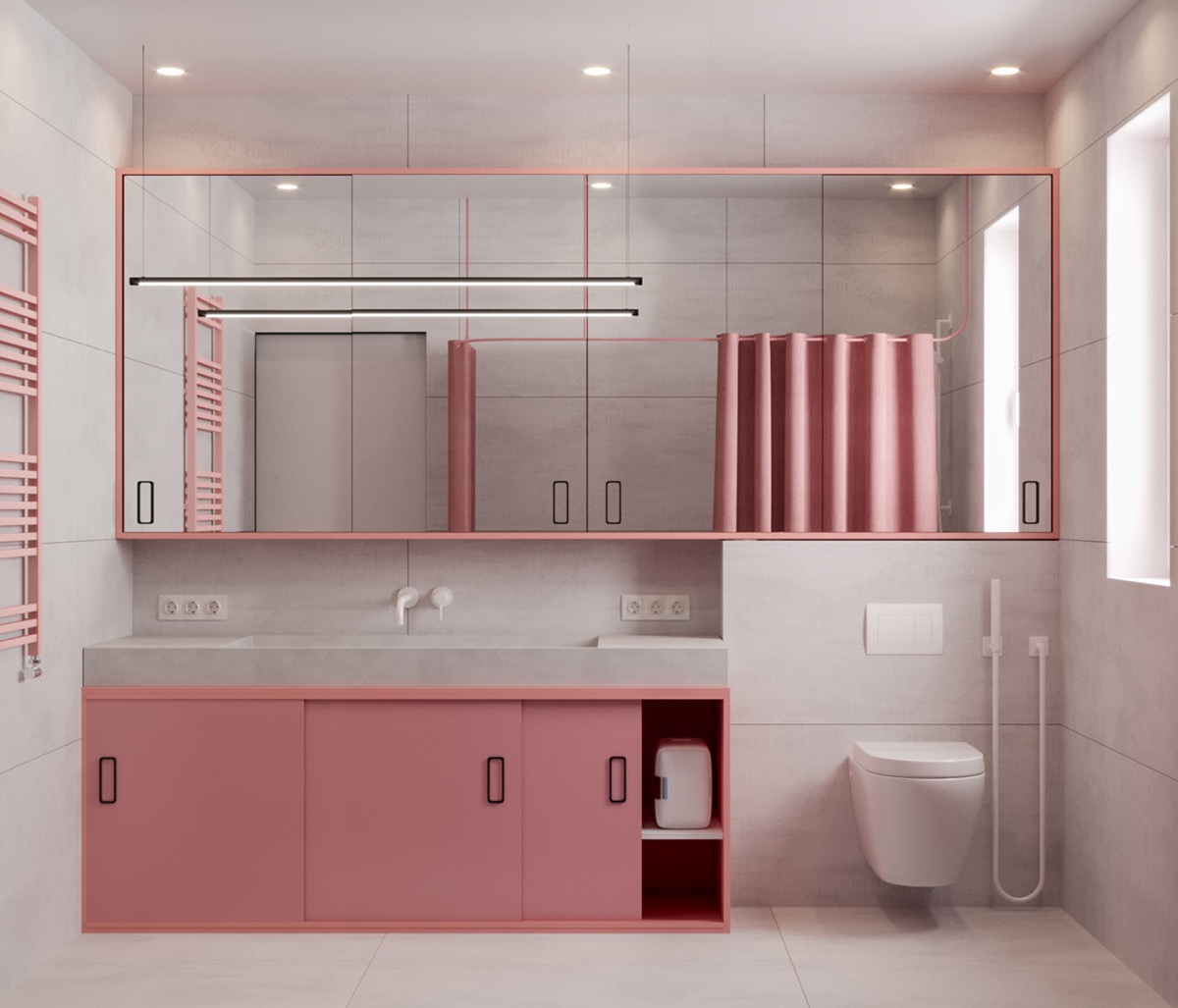 15 |
Visualizer: Ira Lysiuk & Stanislav Pashkalyan
Bump up the oomph in a basic white bathroom. A bathroom of standard white tiles makes a fine jumping off point for hyper statement pieces, such as a pink heated towel rail, pink vanity unit and matching mirror, and a standout pink shower curtain. This particular design lets the pink pieces shine brighter by keeping all bathroom fixtures white on white.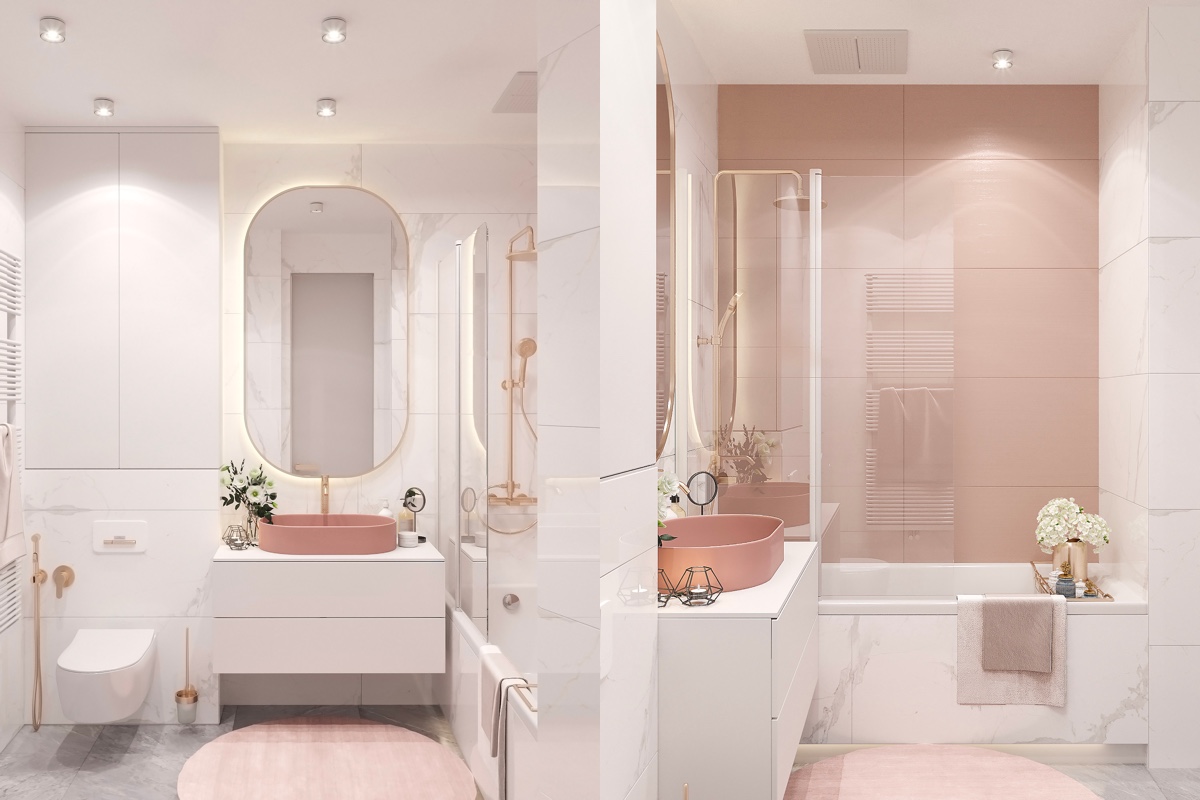 16 |
Designer: Elena Ivanova
Visualizer: Anna Sergeeva
This pink and white bathroom design has a softer side, accessorised with gold fixtures and a fluffy pink bathroom mat.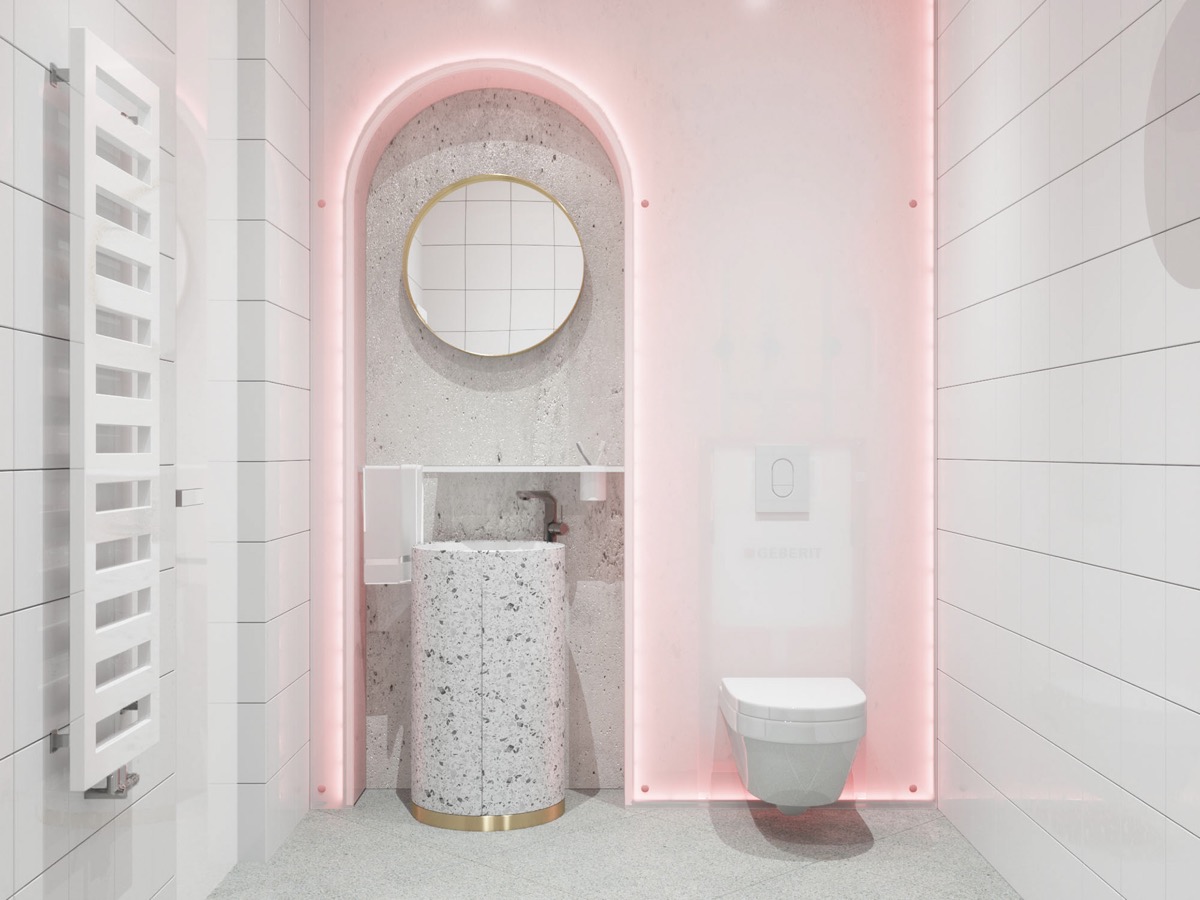 17 |
Visualizer: Roma Srebranets
Electrify your colour scheme with pink neon lighting.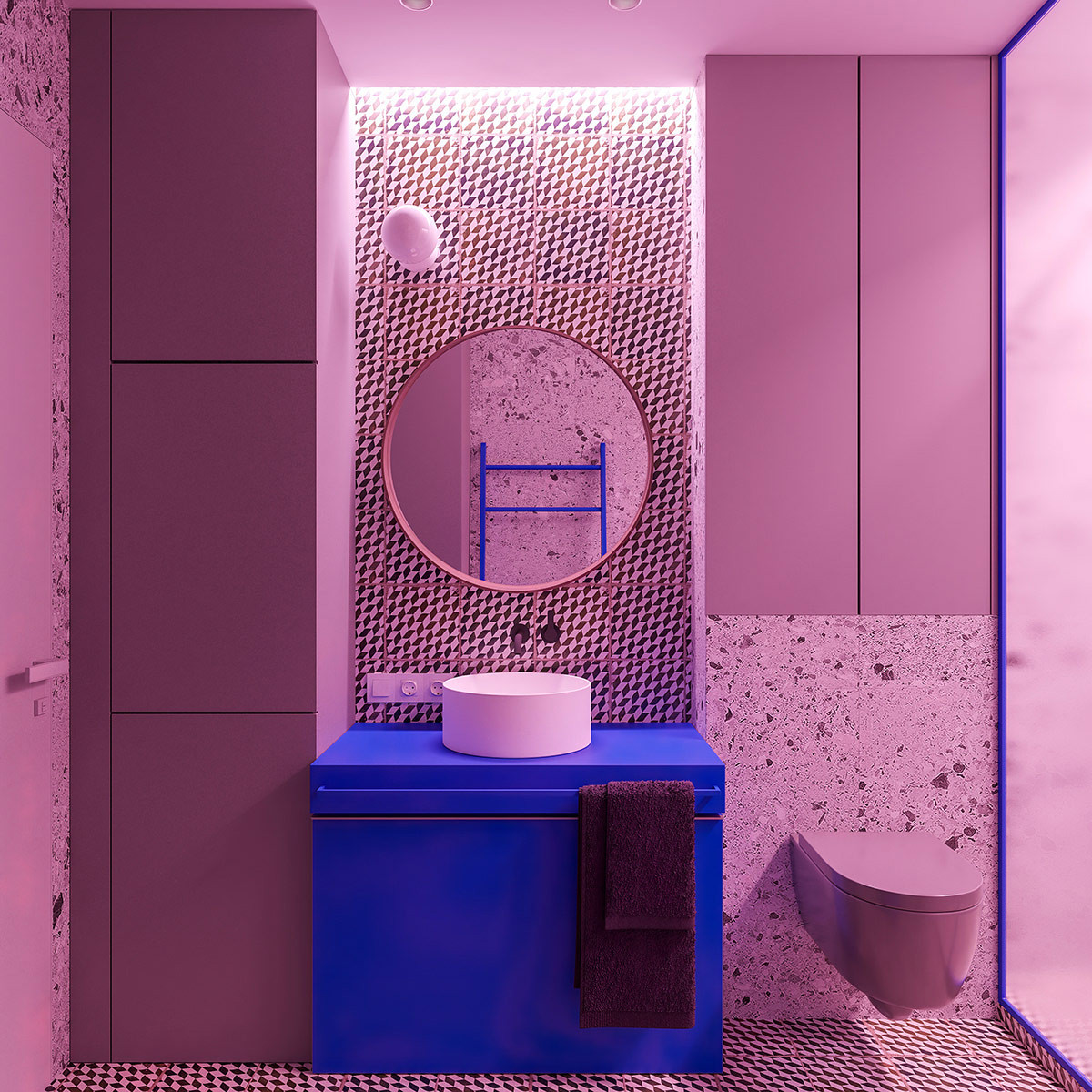 18 |
Visualizer: Studio Open
Speaking of electrifying…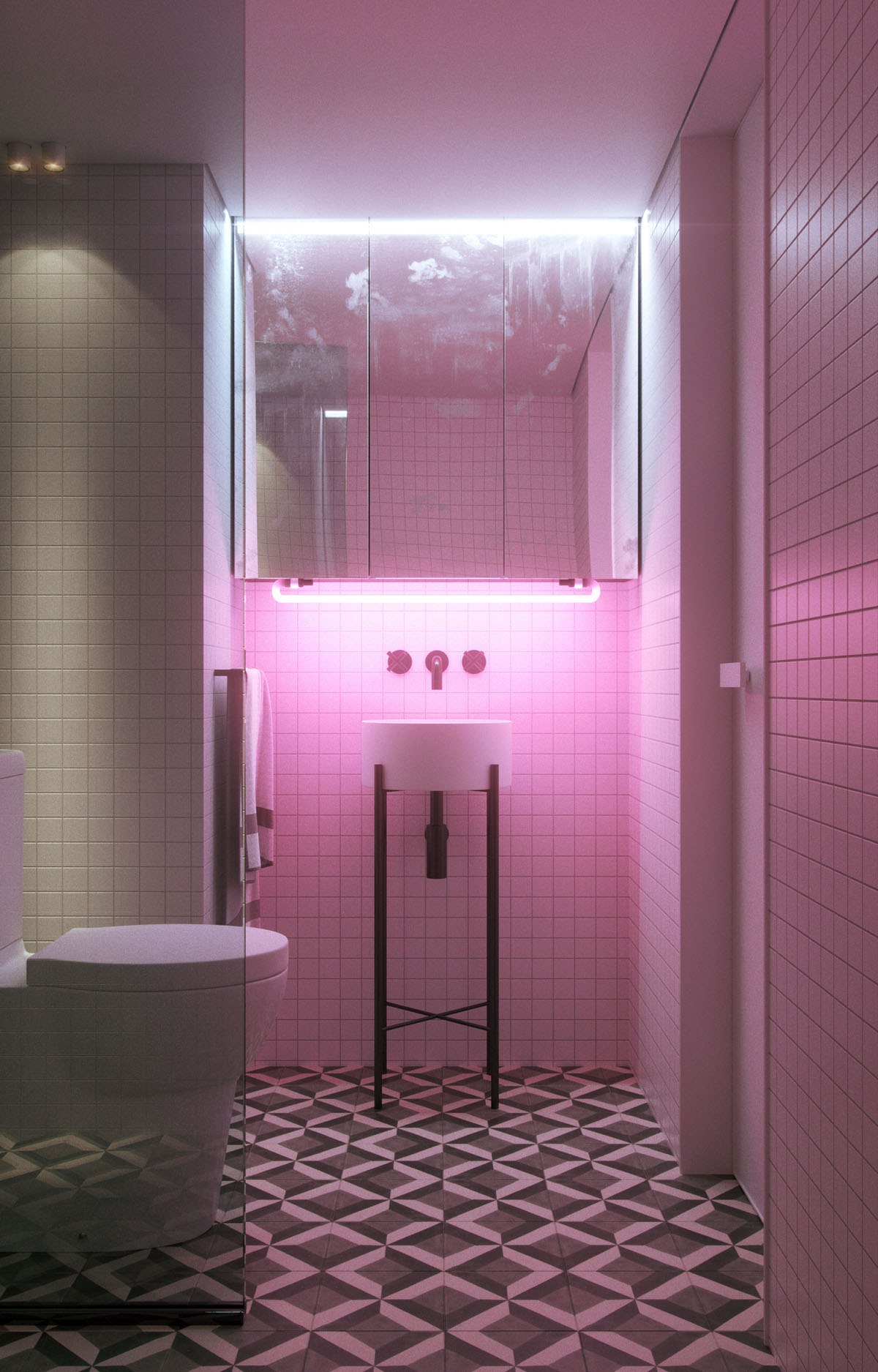 19 |
Visualizer: Barinov Andrey
… One more!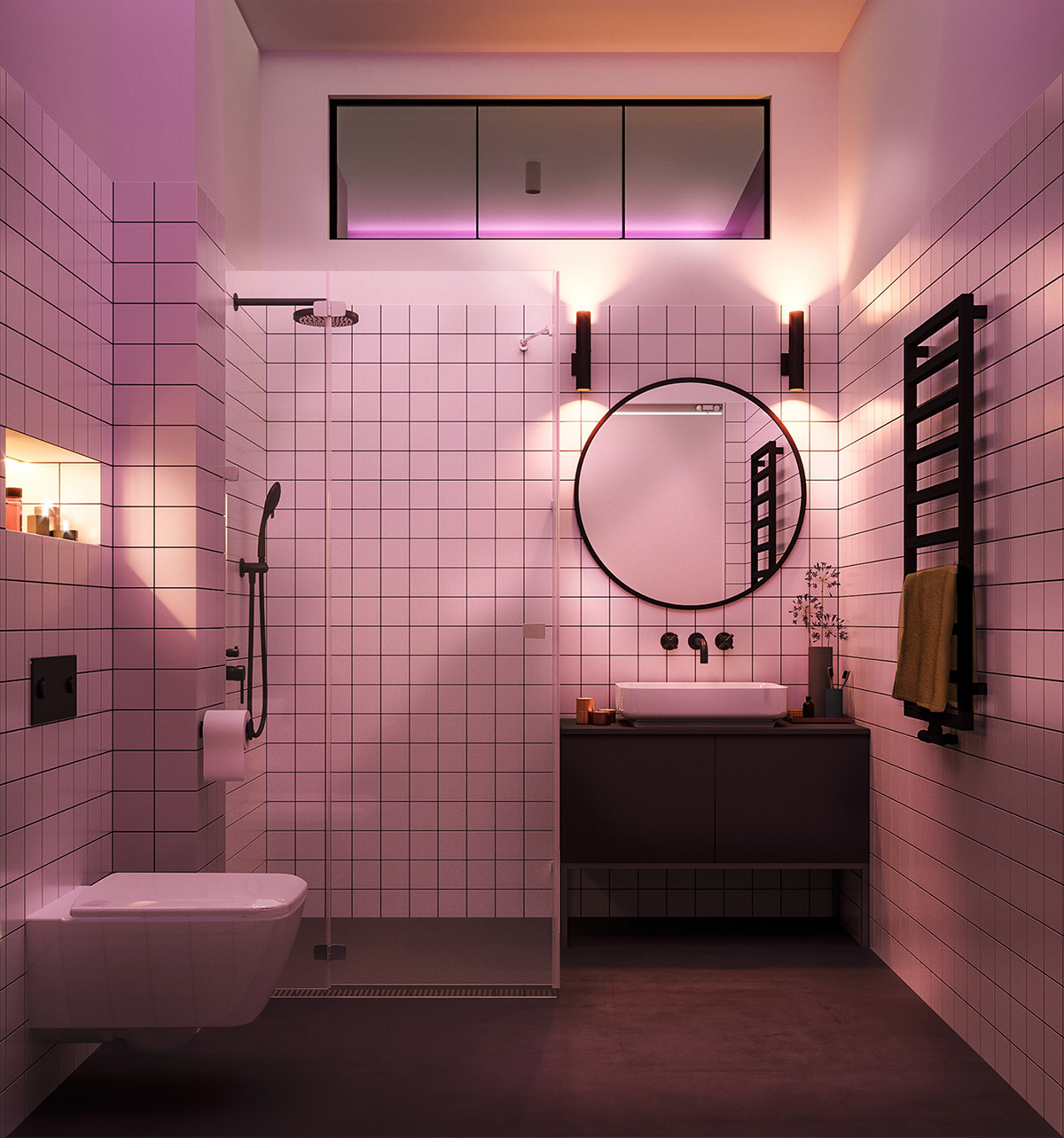 20 |
Visualizer: Alexandra Bertova & Daria Savitskaia
Well, two more. Okay, now we're done.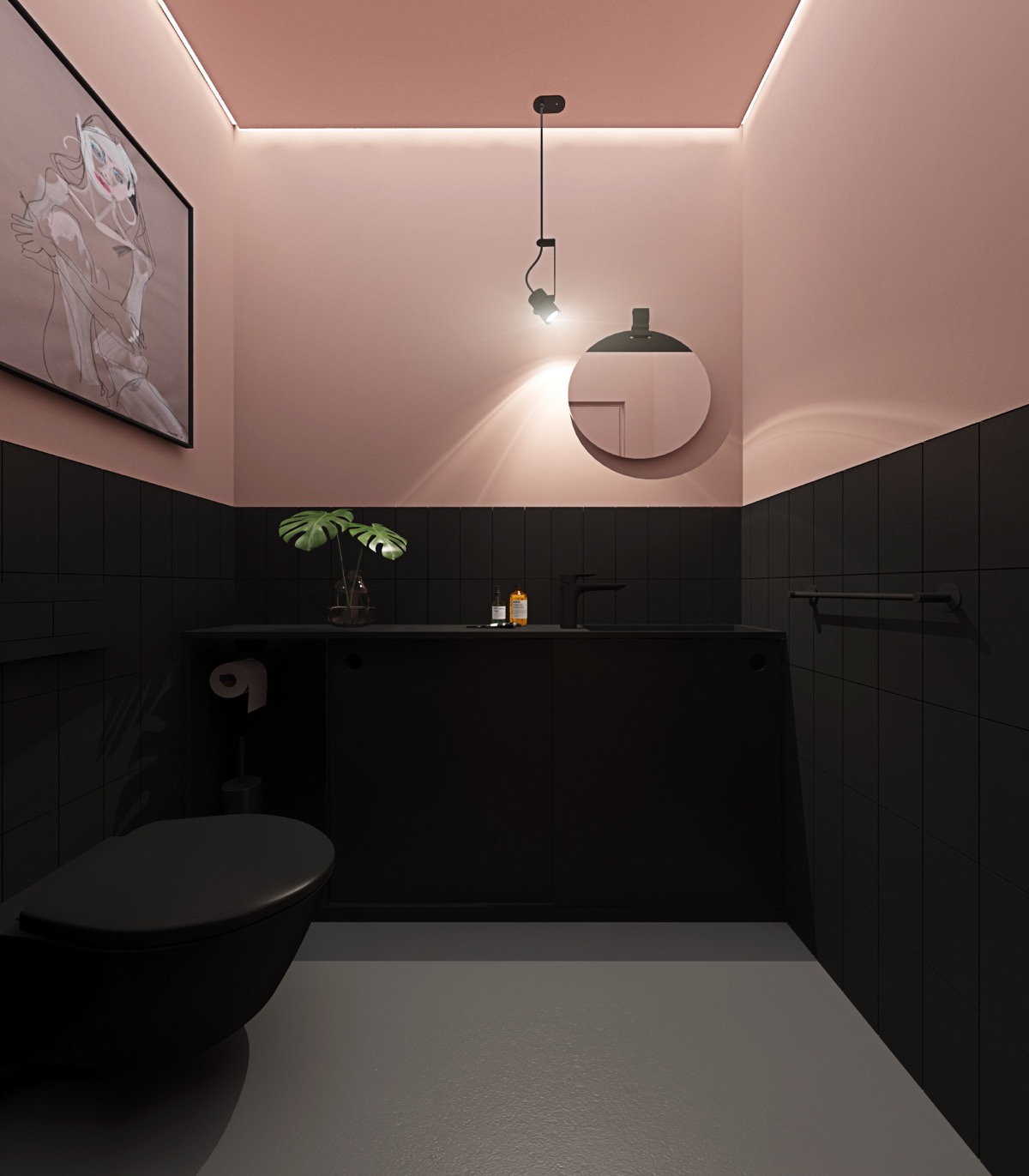 21 |
Visualizer: Boho Studio
All up top. This pink and black bathroom design puts everything rosy right in eyeline, whilst everything down lower is solid black so that it melts away into oblivion.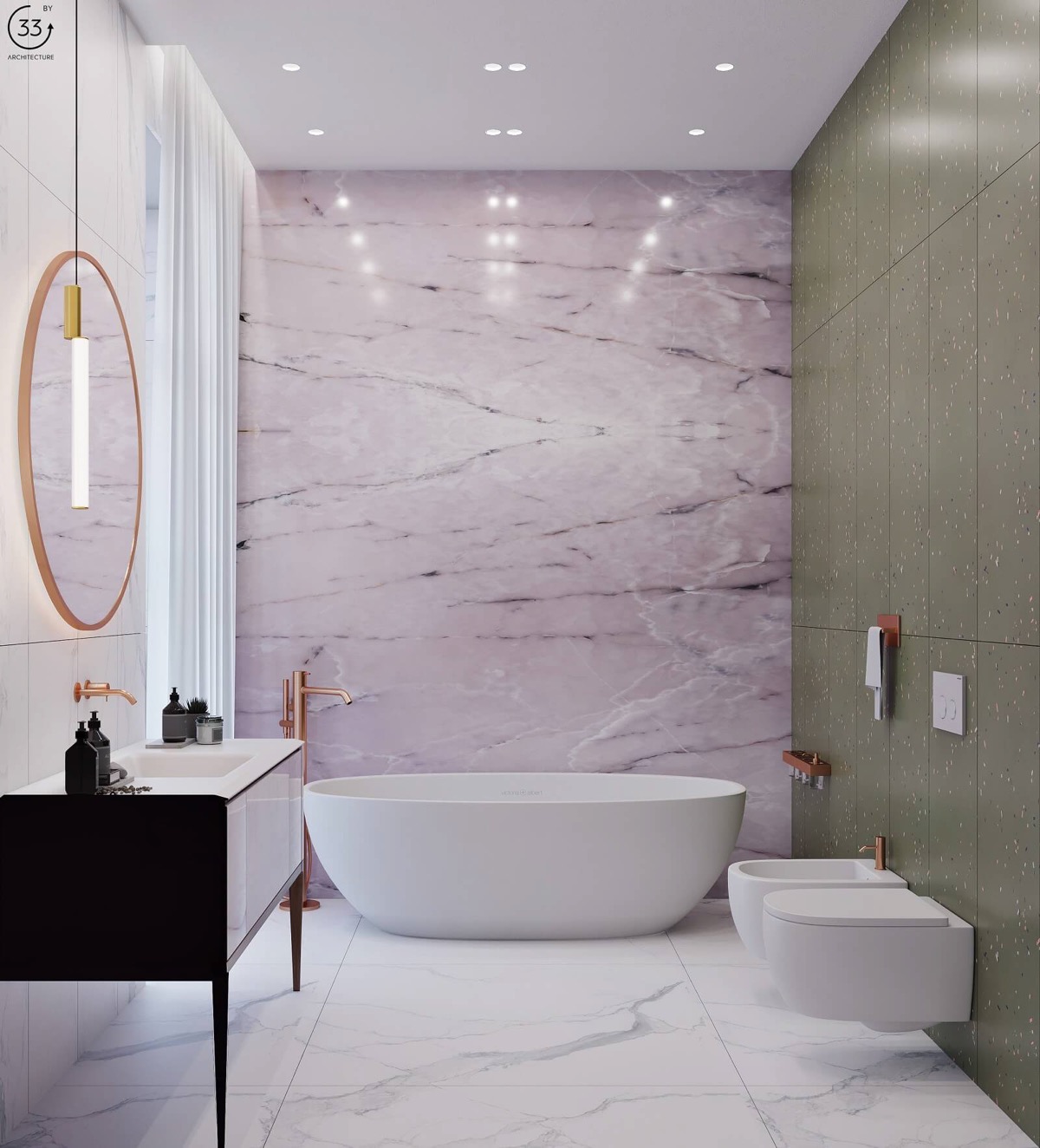 22 |
Visualizer: 33bY Architecture
Tentatively dip a toe into the pink trend with the teeniest of tints.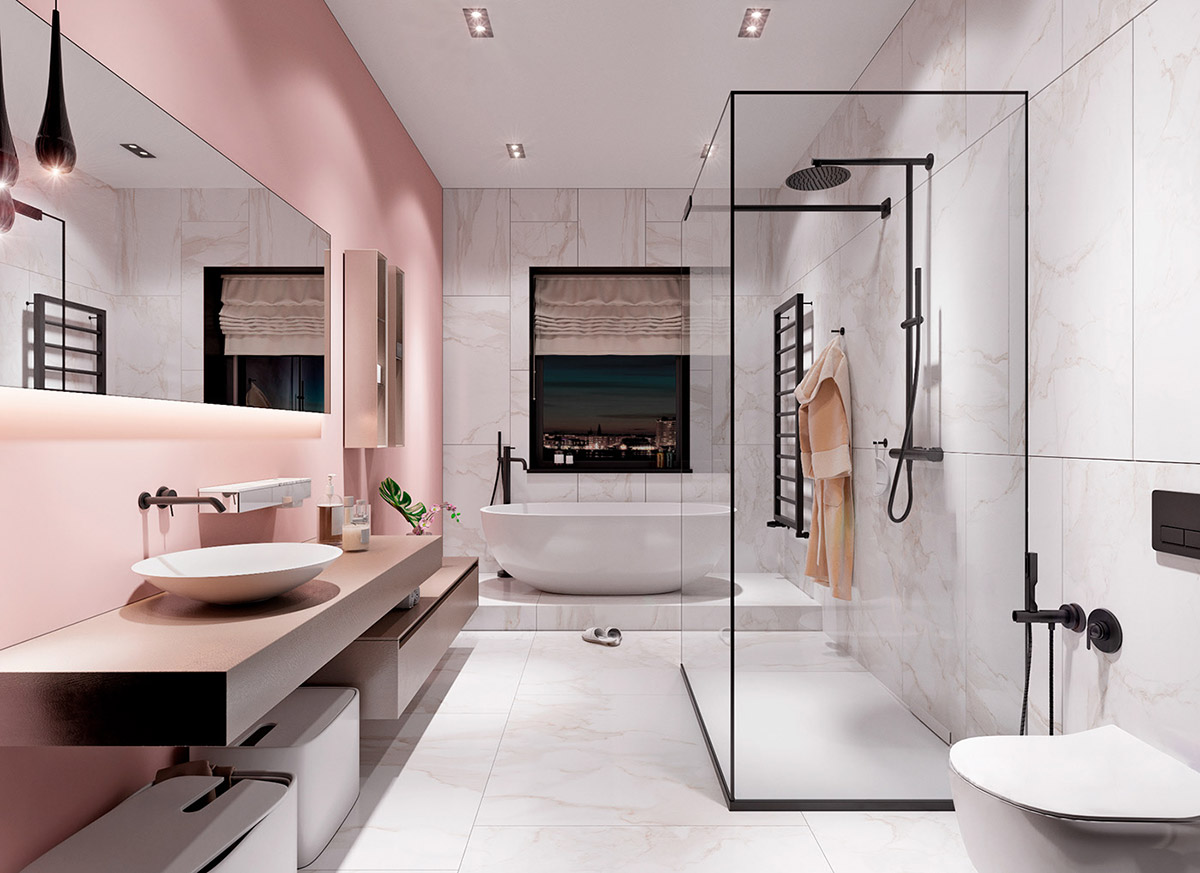 23 |
Visualizer: Nina Galyas
For those who are a afraid of commitment… By limiting pink input to bathroom paint only, you can create a colour scheme that can be changed out relatively quickly and cheaply–and best of all without having to call in a plumber.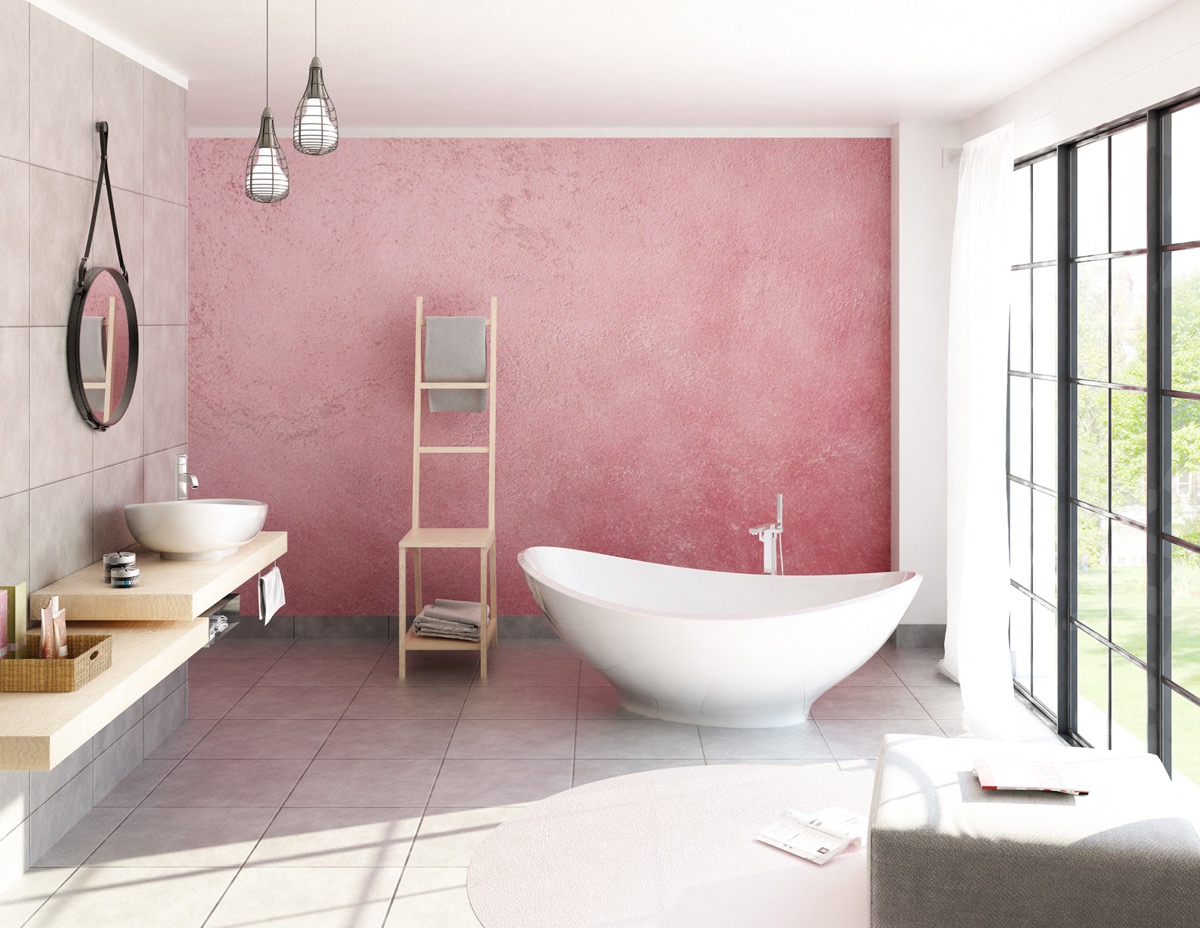 24 |
Visualizer: Elisabetta Goso
Another isolated pink feature wall bathroom idea.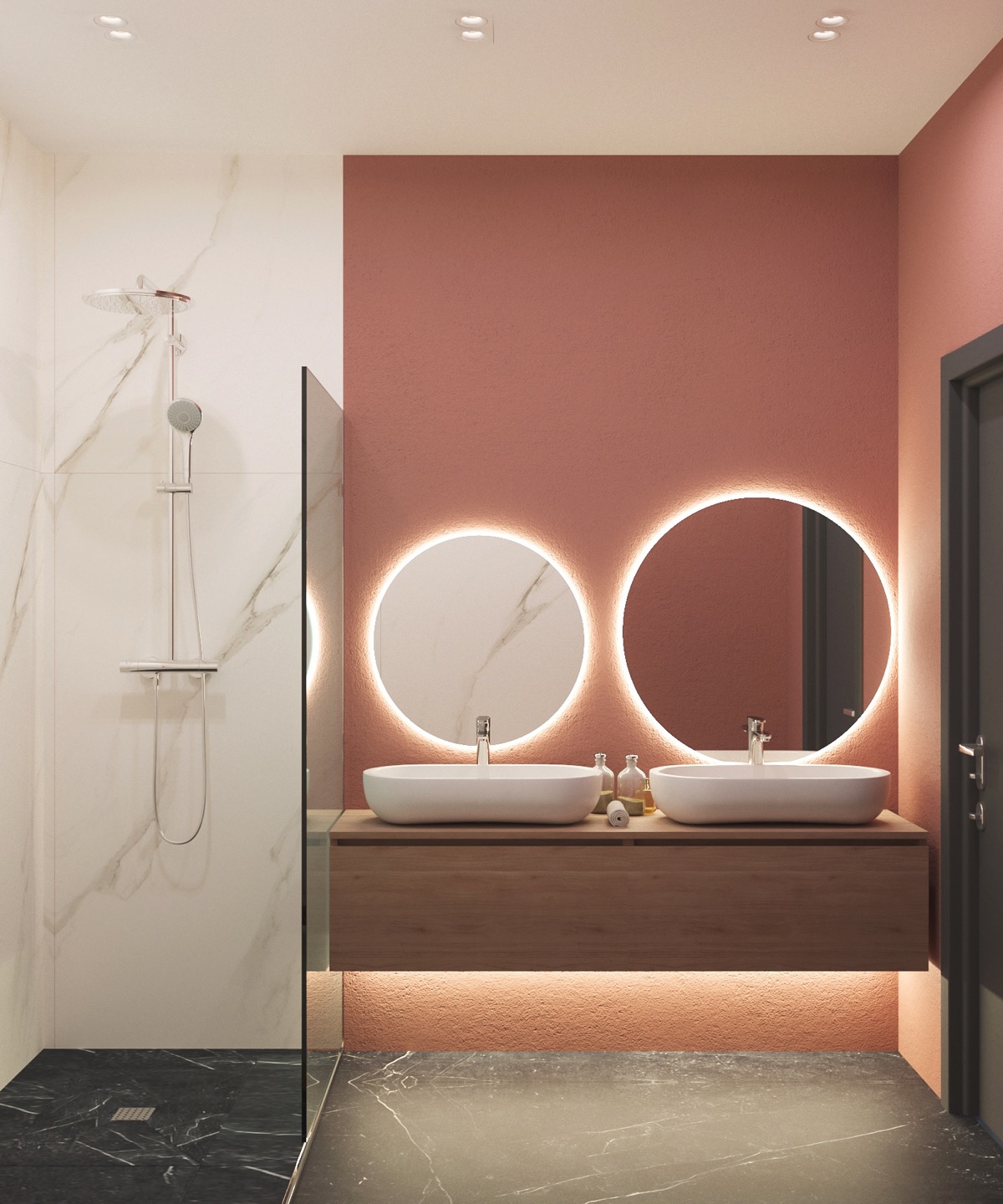 25 |
Visualizer: Anastasia Ciulac & Turuta Pavel
Make your pink feature wall a secondary style statement by hanging backlit vanity mirrors, and underlining the vanity with an atmospheric LED strip light.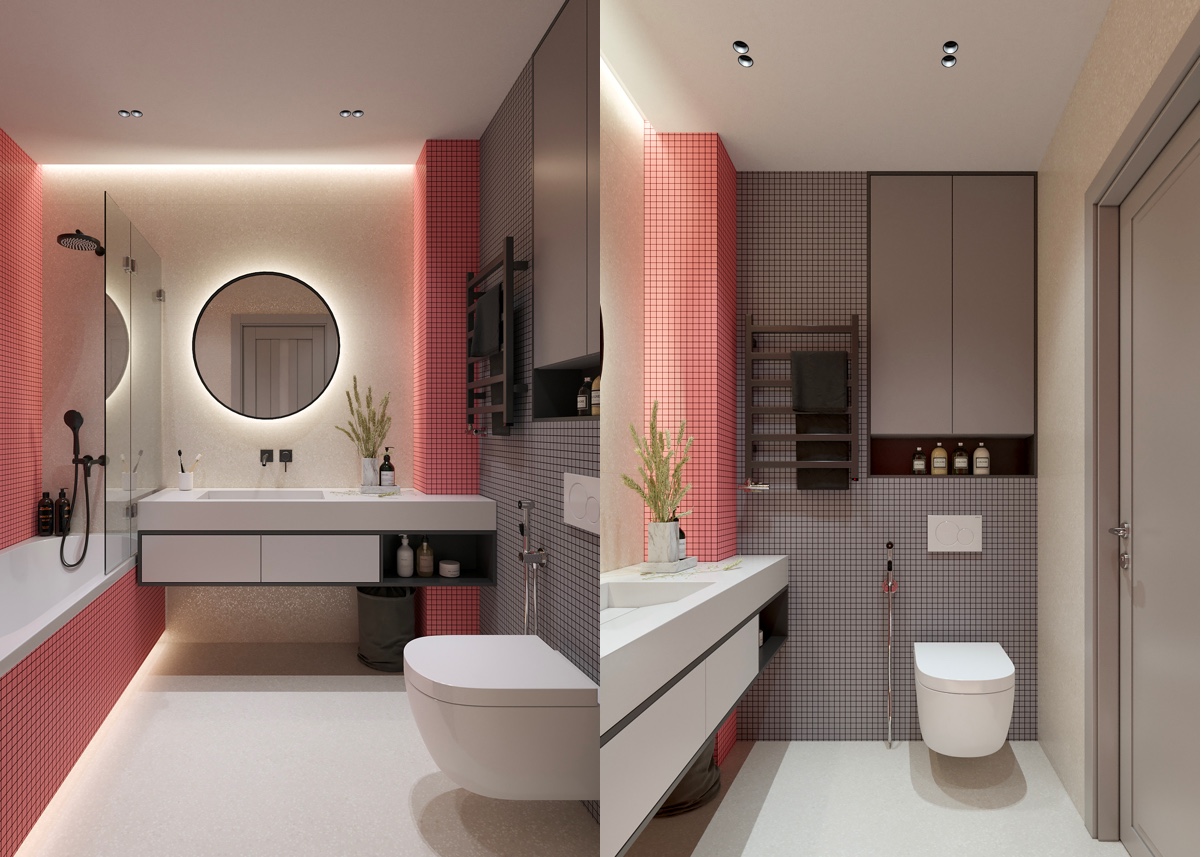 26 |
Visualizer: Katie Domracheva
A switch around of the mood lit pink and white bathroom idea. This time pink walls are pushed to the sides to let atmospheric illumination wash down a white vanity wall.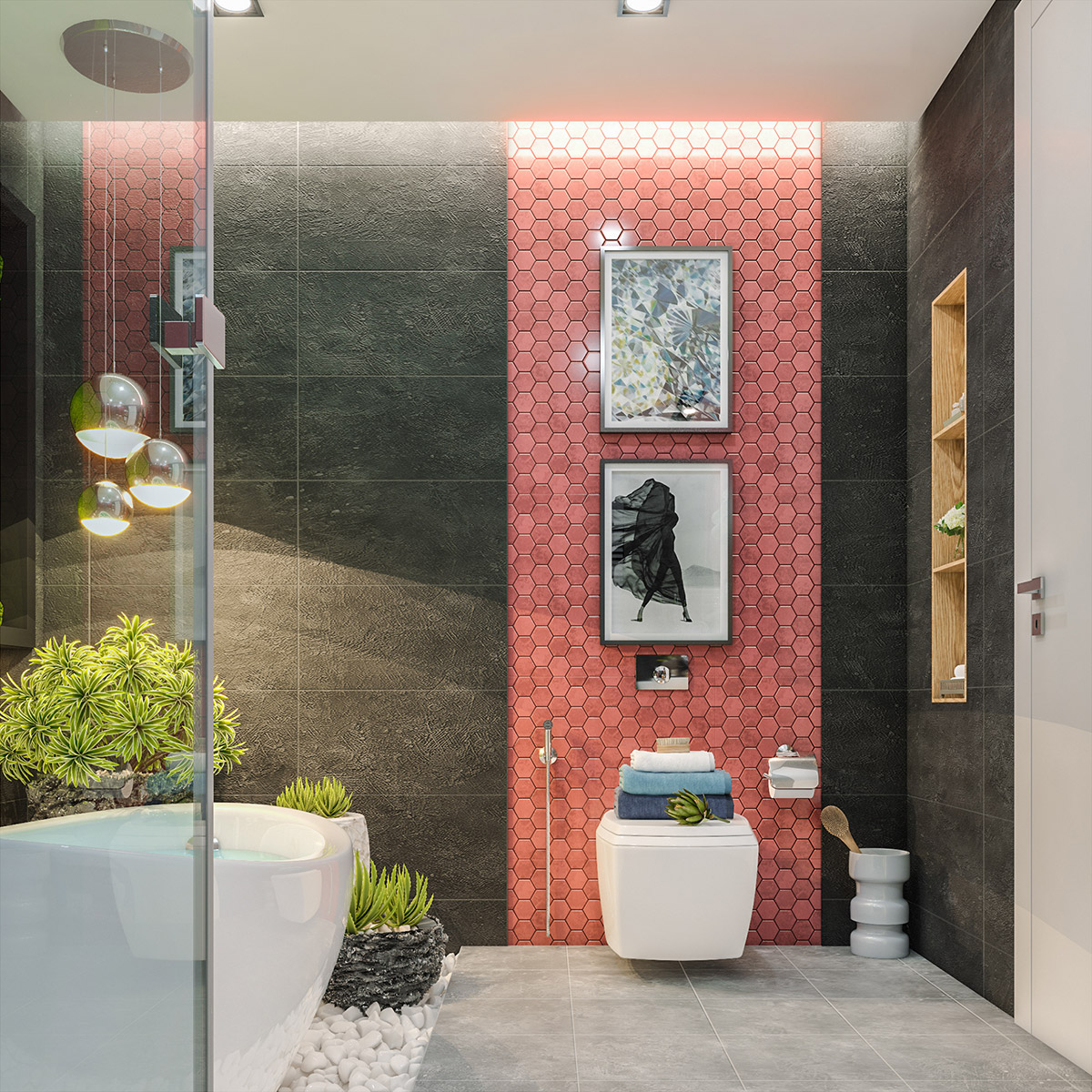 27 |
Visualizer: Rajesh Ravilla
Pink and botanical. There is something super fresh about the lush greenery of live indoor plants against a room canvas of pink and grey. Create yourself a mini courtyard of sorts around the bathtub by laying pebbles and layering in planters at different heights.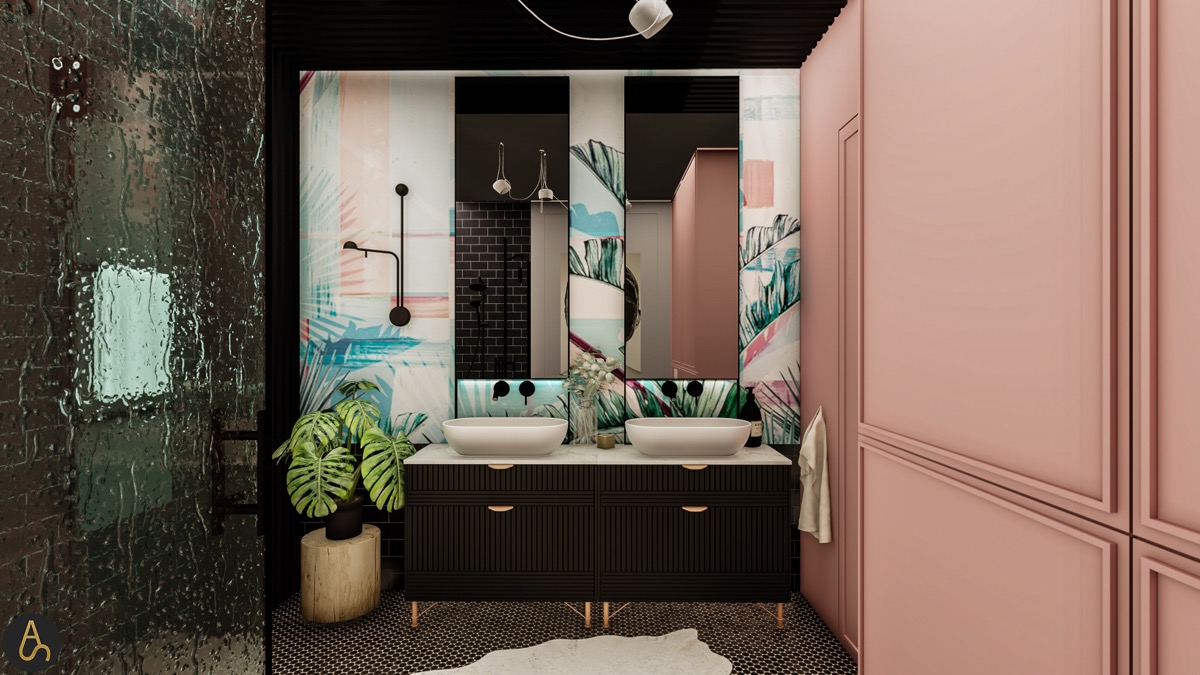 28 |
Visualizer: Malgosia Stan
If you're not green fingered though, a static botanical backdrop pulls off the theme too…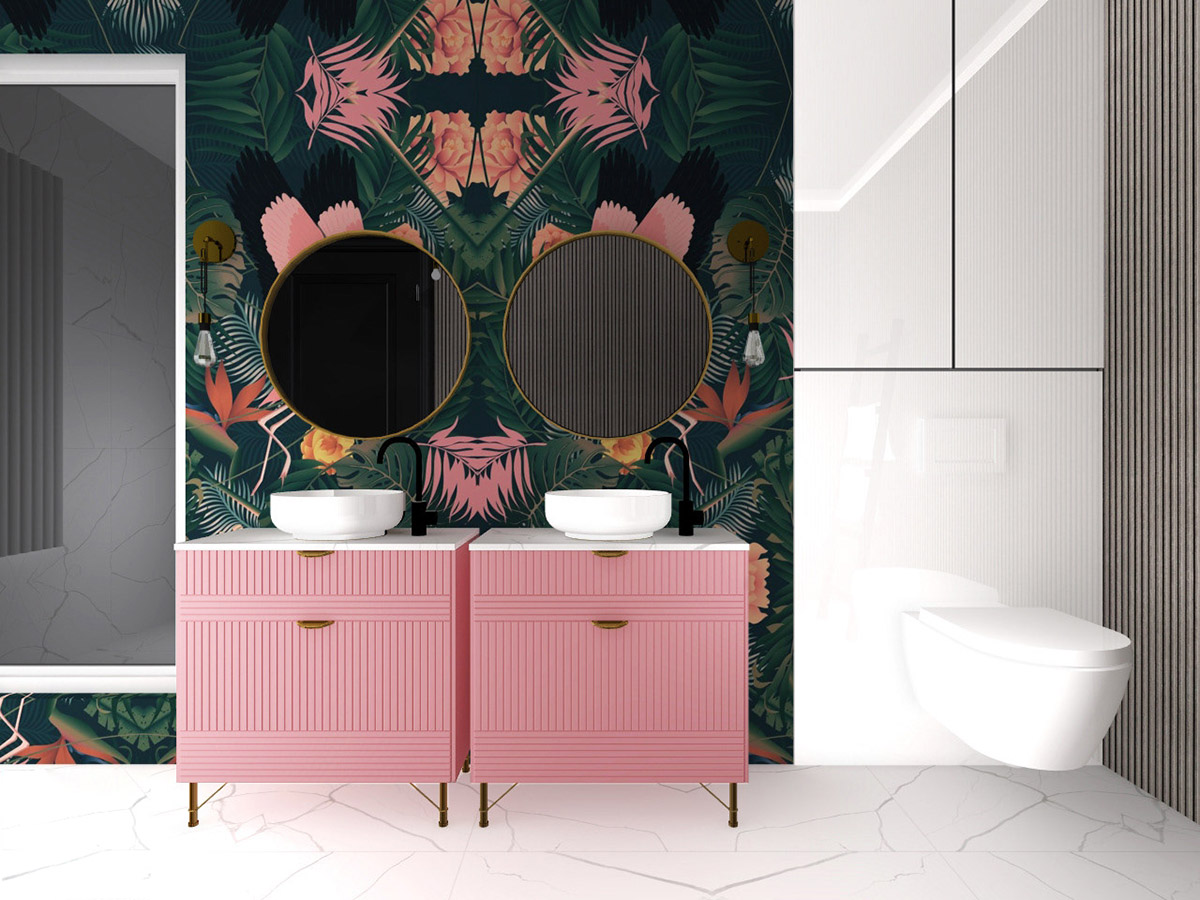 29 |
Visualizer: Malgosia Stan
… And with the right wallpaper you can revel in a really tropical vibe.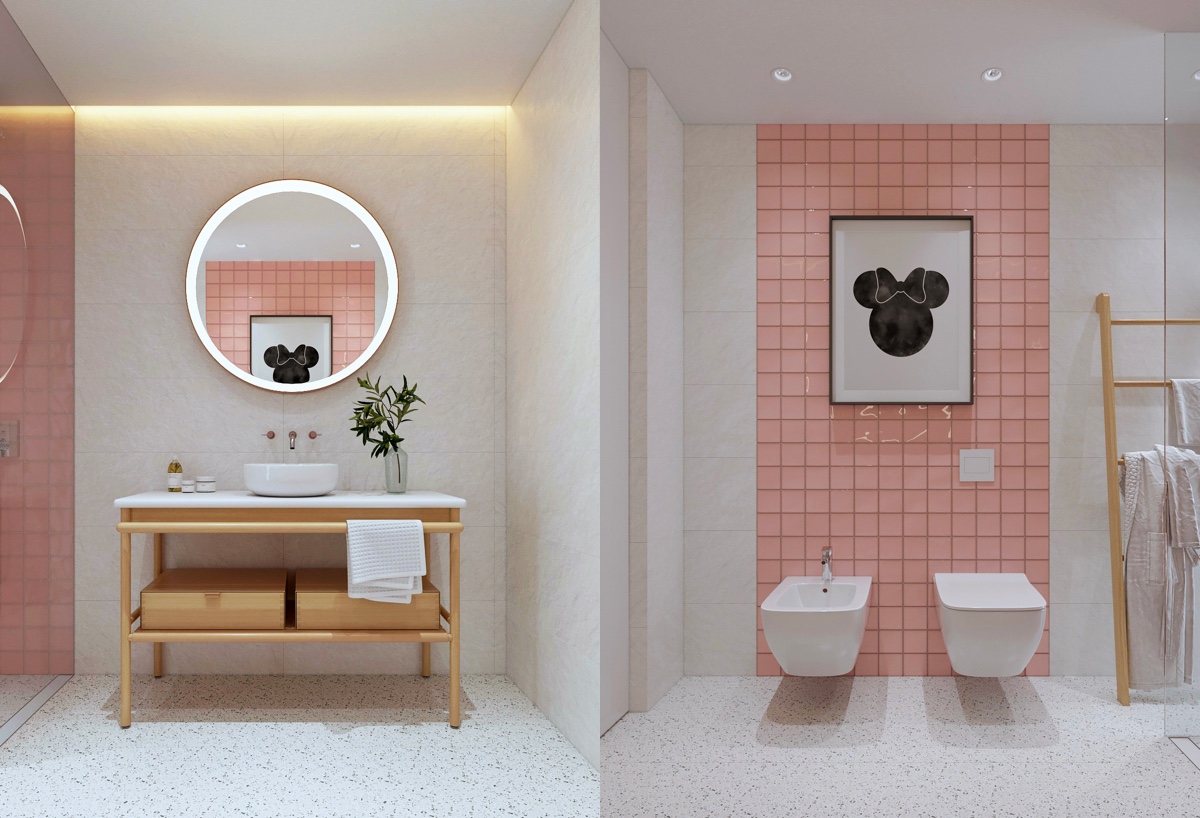 30 |
Visualizer: Katie Domracheva
Pink lacking a little a little magic for you? Do it up DIsney style.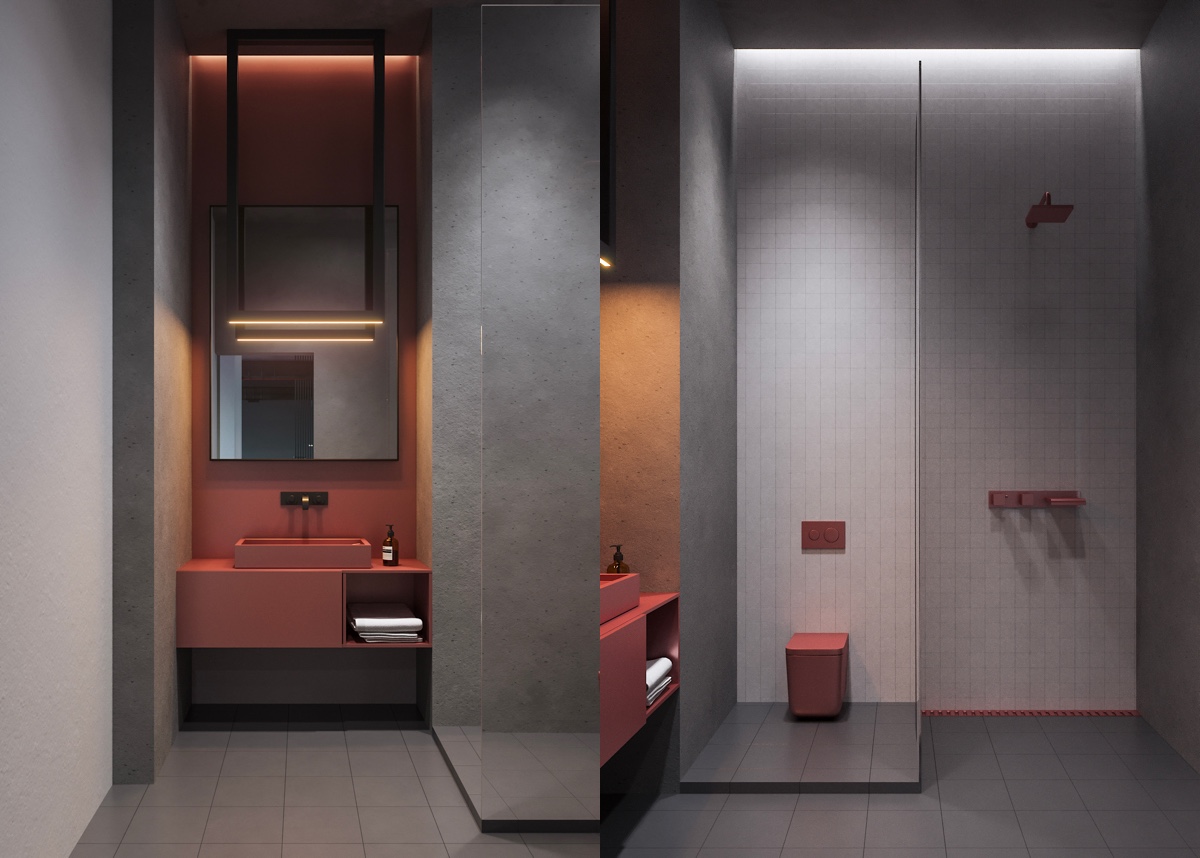 31 |
Visualizer: Rahul Pawar
Go a cut above with concrete. You've purchased every single pink thing in the bathroom line, but now what? Putting pink elements in a raw grey concrete room instantly translates all items into on point industrial chic.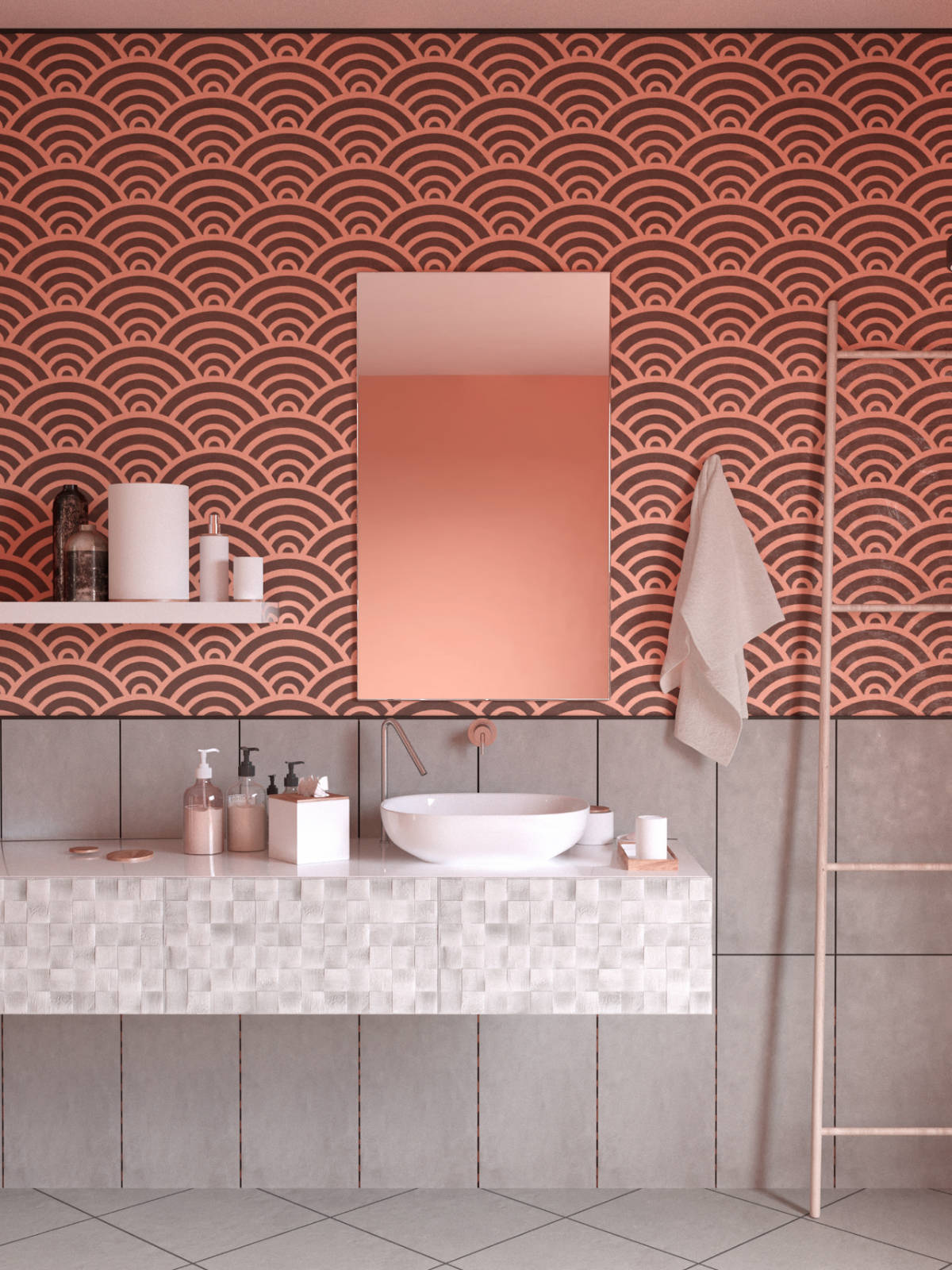 32 |
Visualizer: Serg Ushakov
A little bit of retro goes a long way.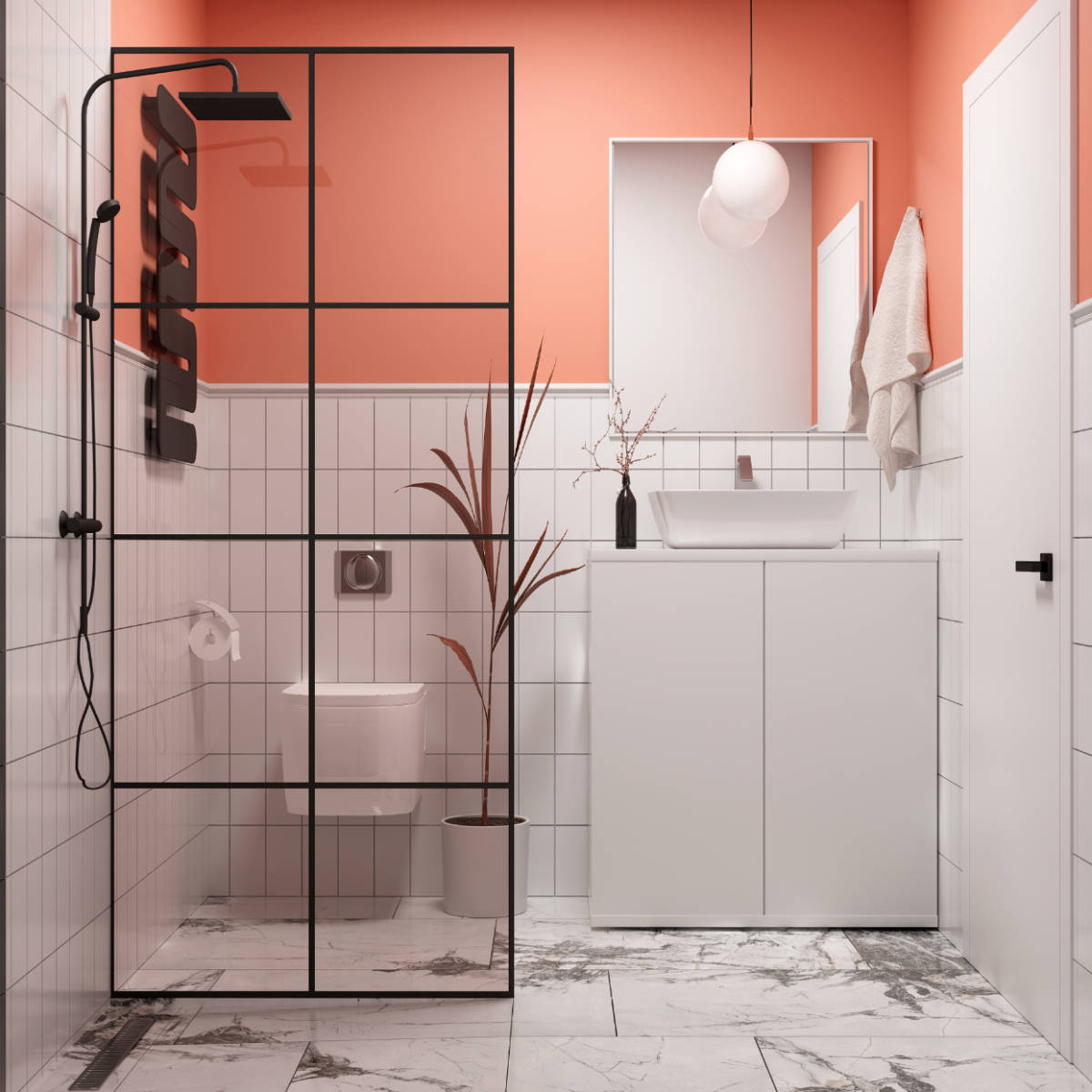 33 |
Visualizer: Serg Ushakov
Step out of the safe zone, paint a bold salmon pink bathroom wall…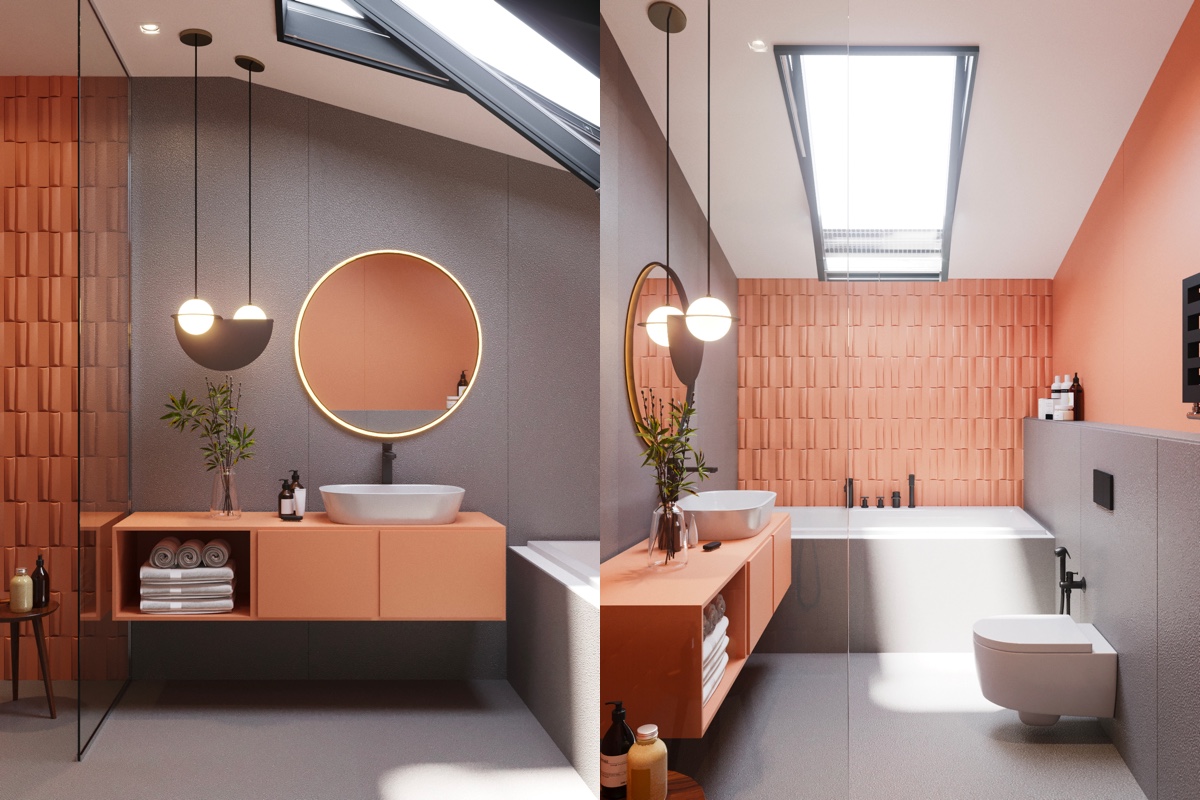 34 |
Visualizer: Anya Krivolapova
… Areas of grey will balance out the brightness.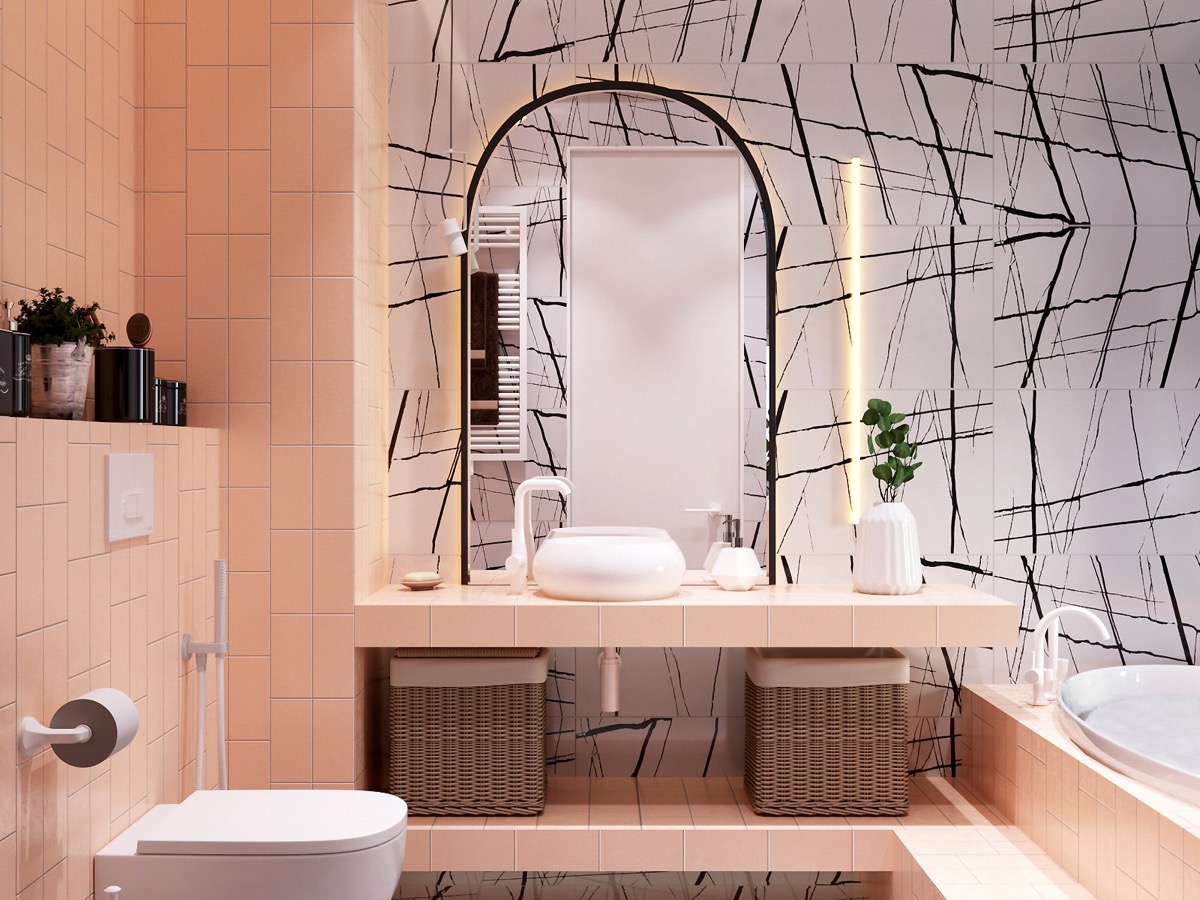 35 |
Visualizer: Lauri Brothers
More smokin' salmon.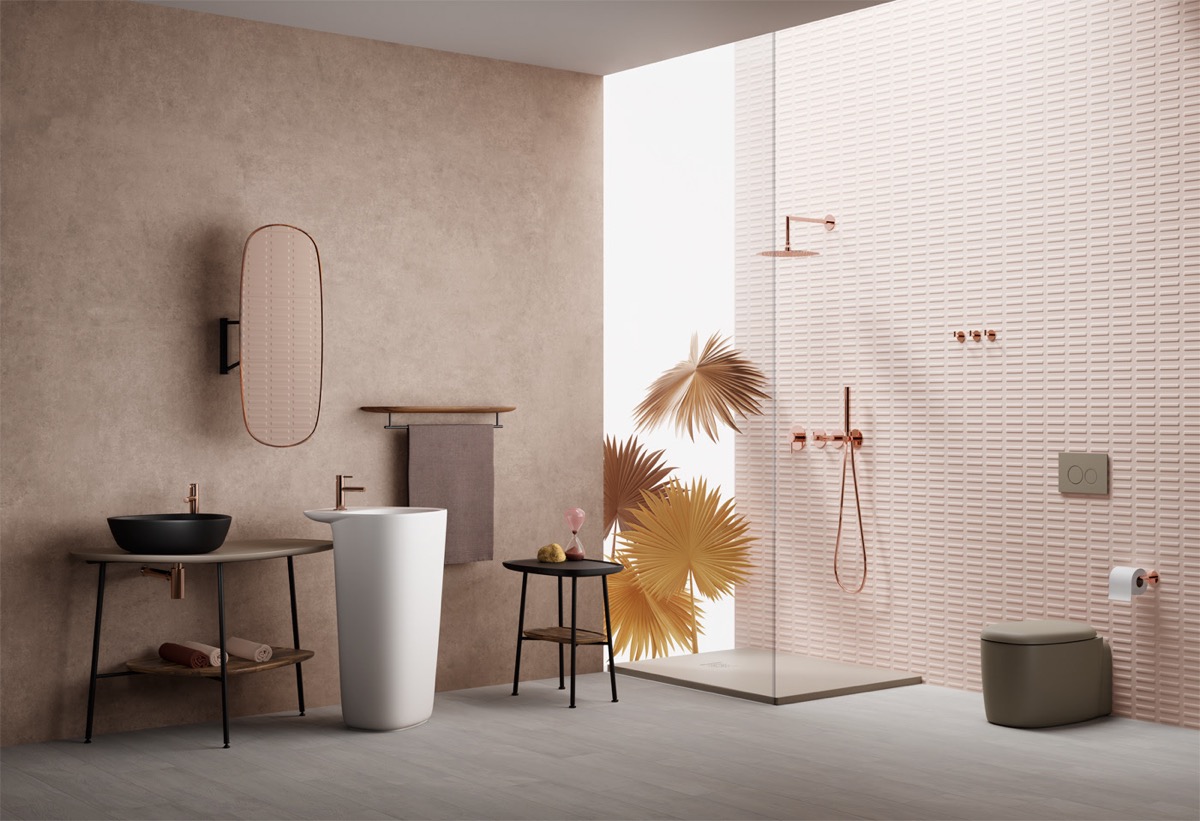 36 |
Visualizer: Terzo Piano
Keep it loose. This gentle blush bathroom design explores a loose layout of furniture and fixtures. A vanity table with vessel basin is stood next to an entirely different pedestal sink, by a mirror that is assigned to neither in particular. The result is a relaxed design that is not restricted by the norm.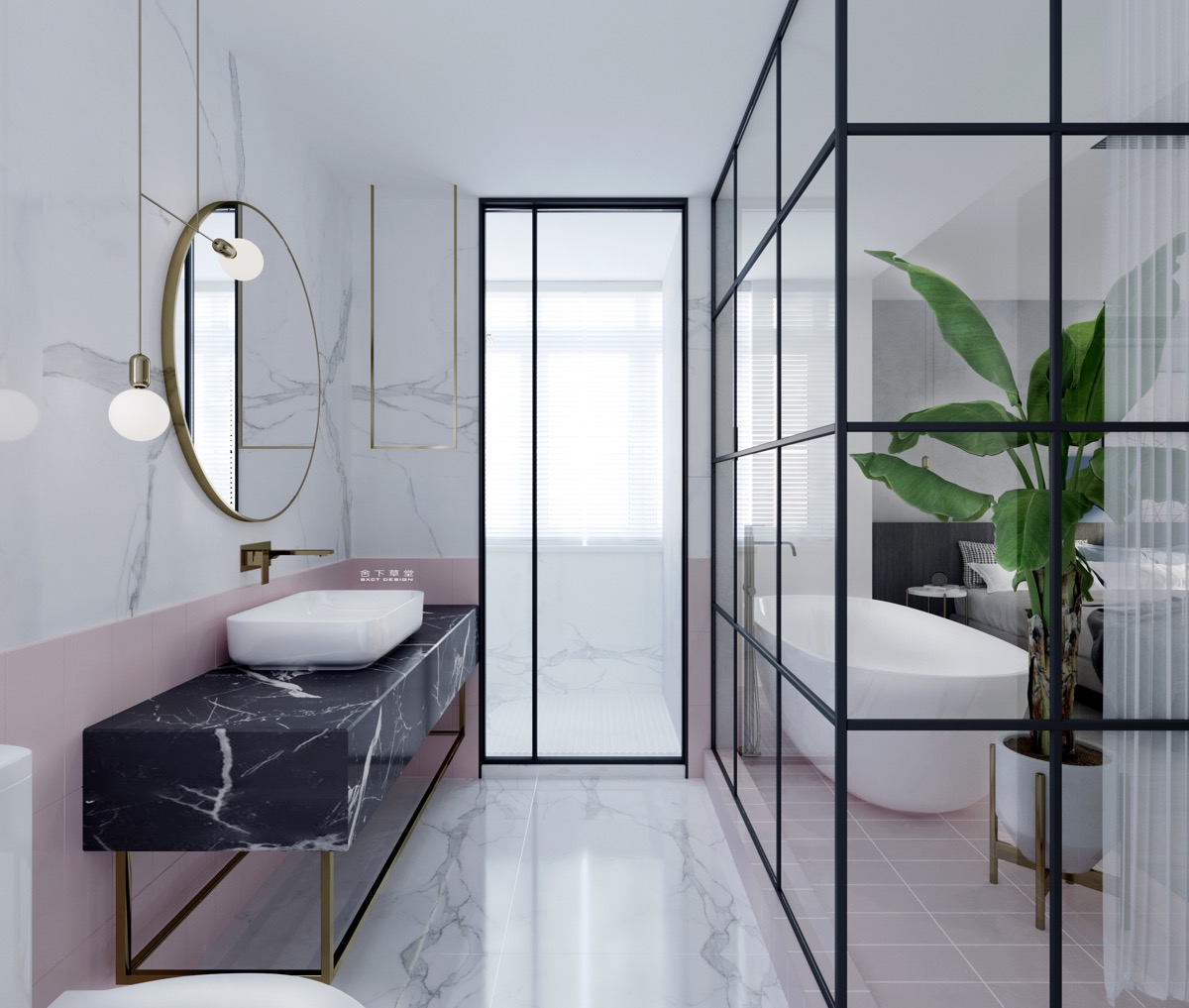 Build a luxe look by combining pink statements with chunky black and white marble.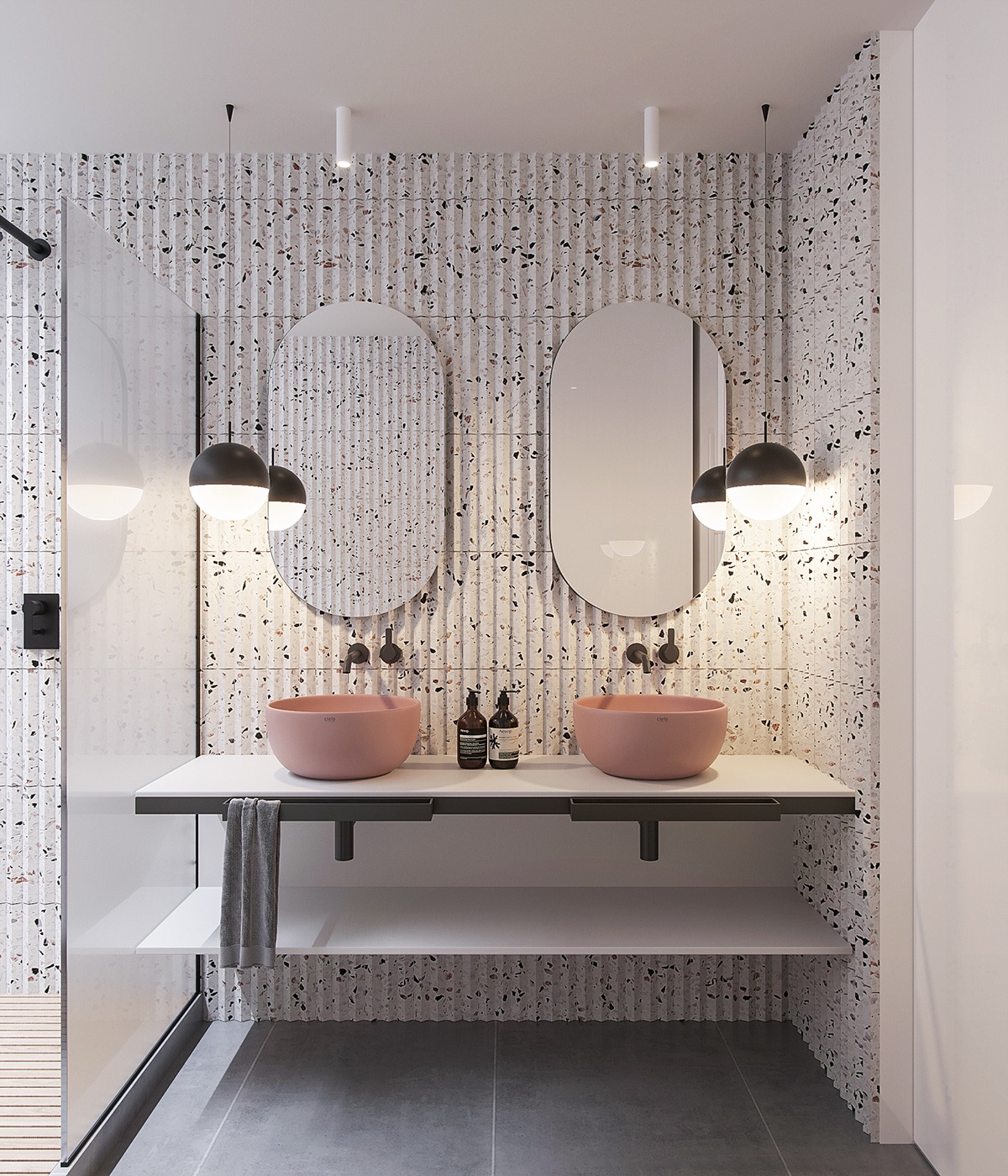 38 |
Visualizer: Andrey Barinov
There can only be one star of the show–or two. Placing just one pink hero piece into a monochrome setting gives it showstopping effect. A dynamic duo of pink basins on a double vanity has the same effect.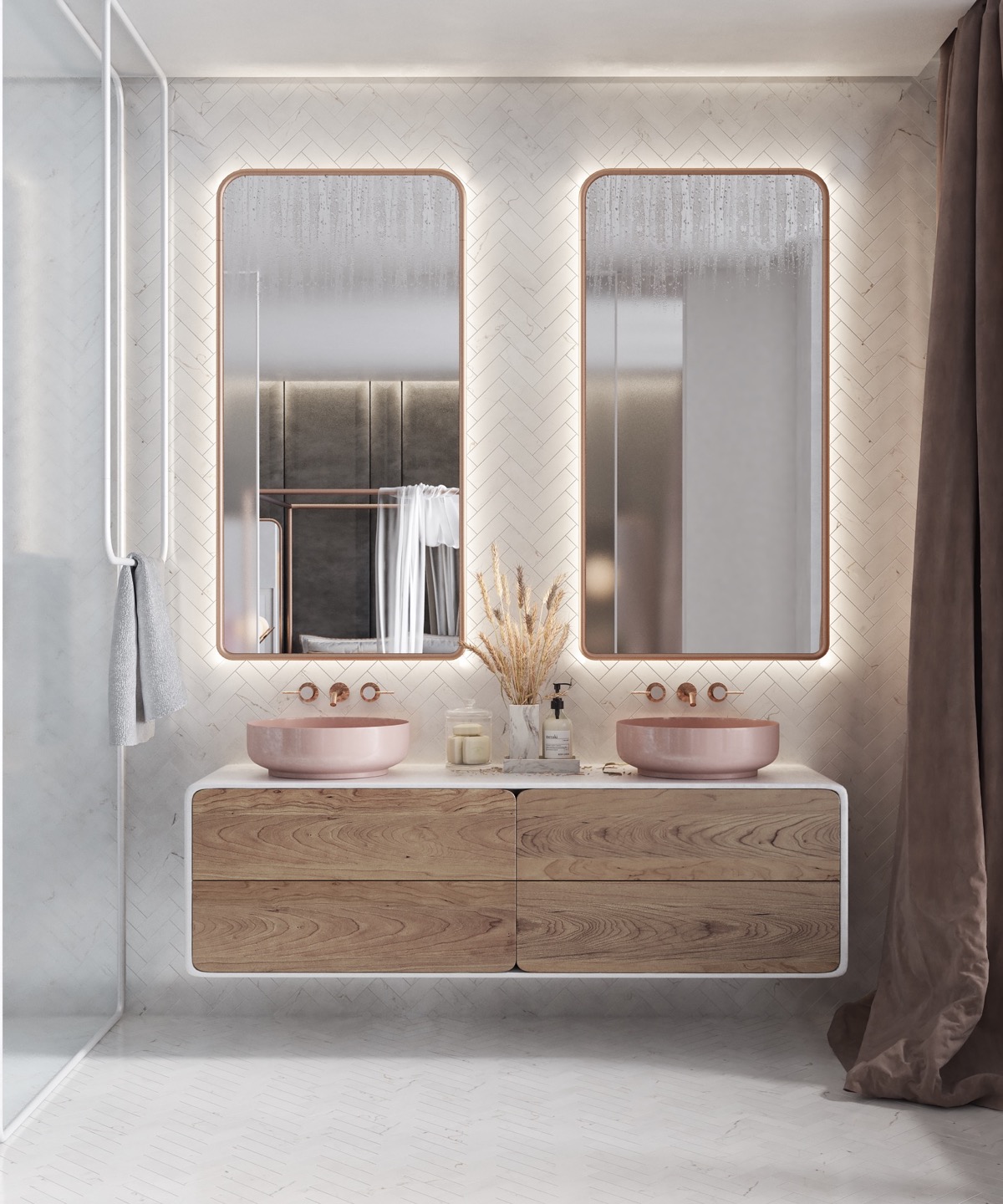 39 |
Visualizer: Yulia Cherviachenko
Pink hero pieces give a similar result in a natural neutral setting, illustrated here as part of a pink and brown bathroom design.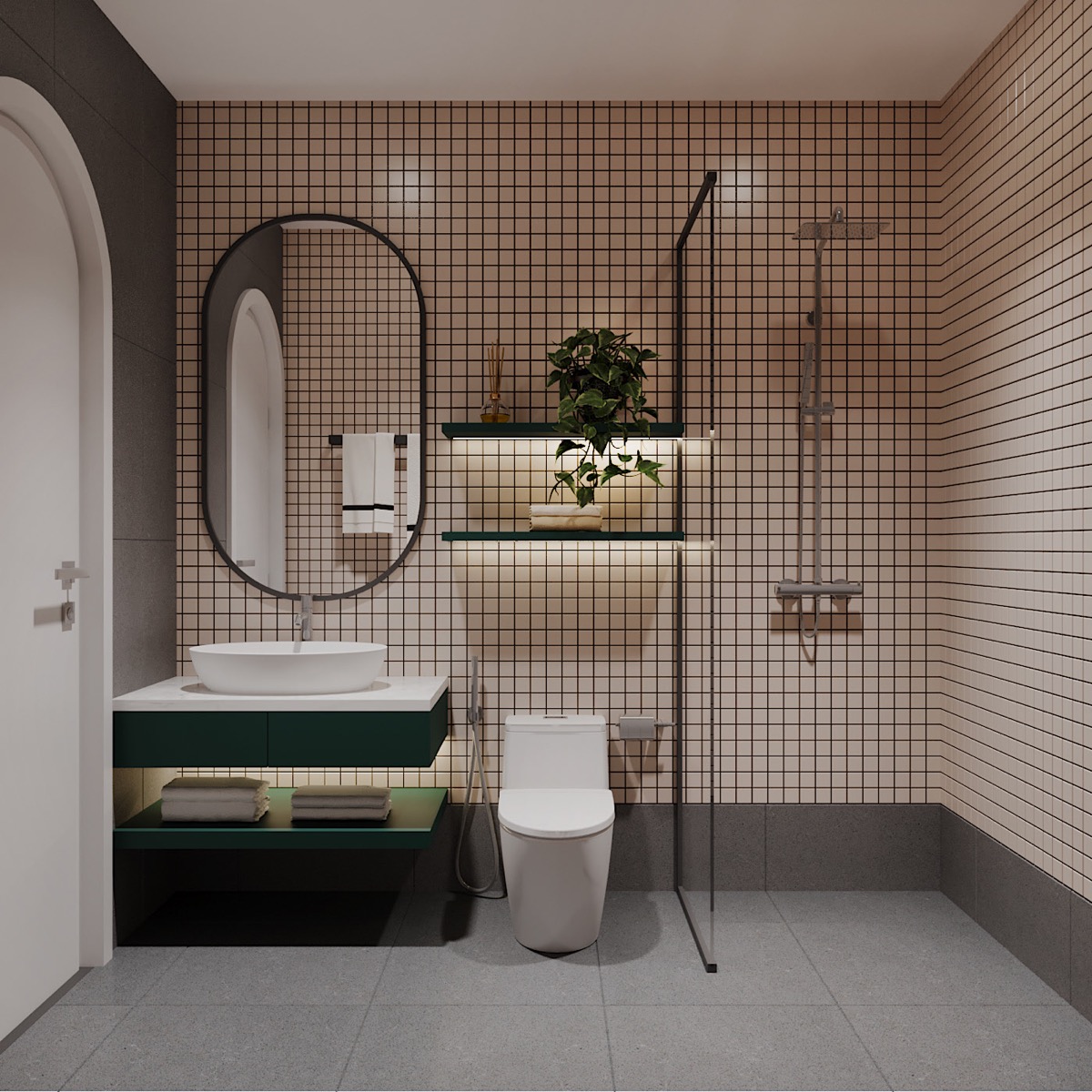 40 |
Visualizer: Ngoc Thuy
Go for black grout to completely change the nature of pale pink tiles.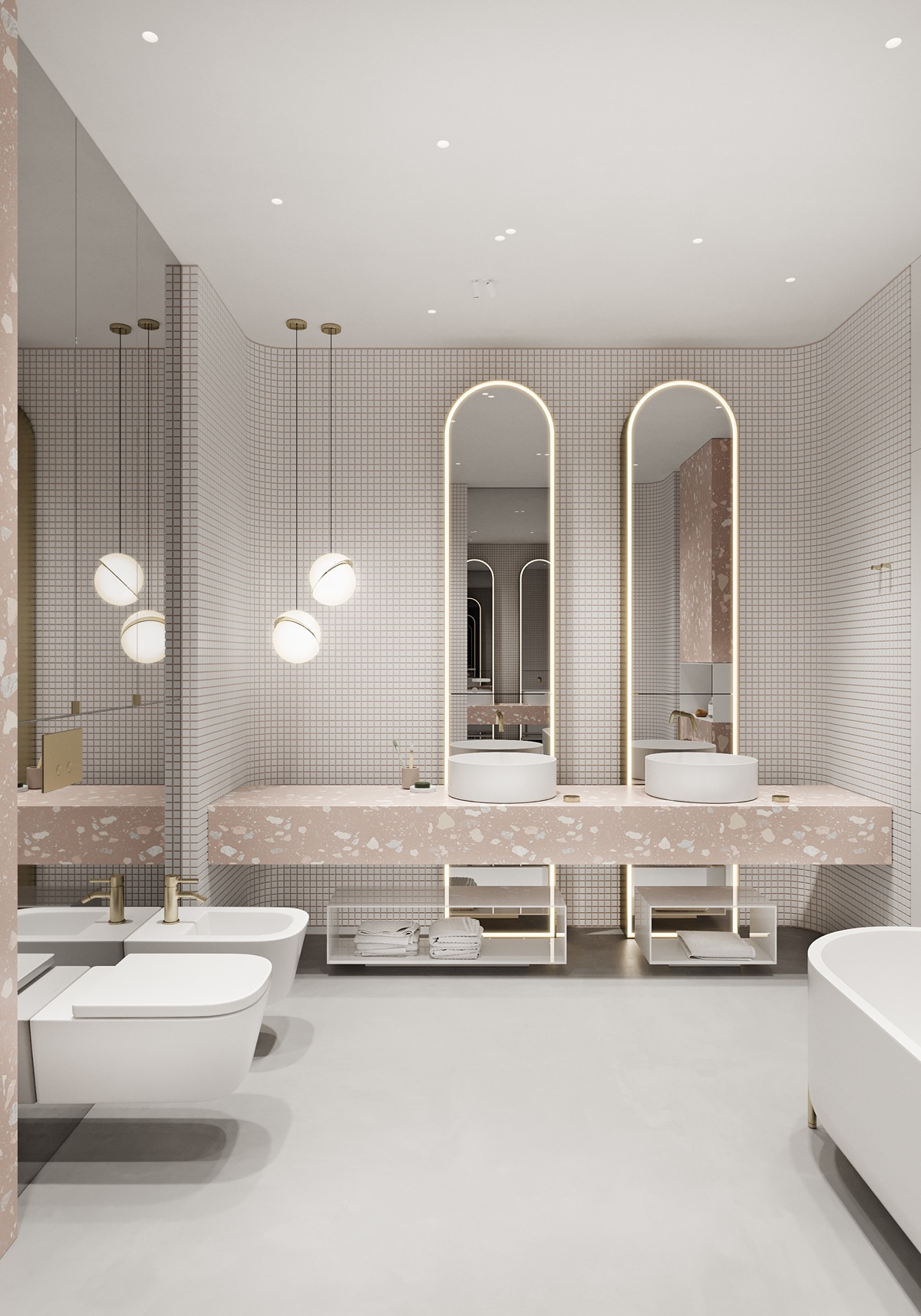 41 |
Visualizer: TOL'KO interiors
Colour with quartz or granite. This superb pink bathroom countertop has its subtle shade highlighted by illuminated vanity mirrors behind, and globe pendant lights above.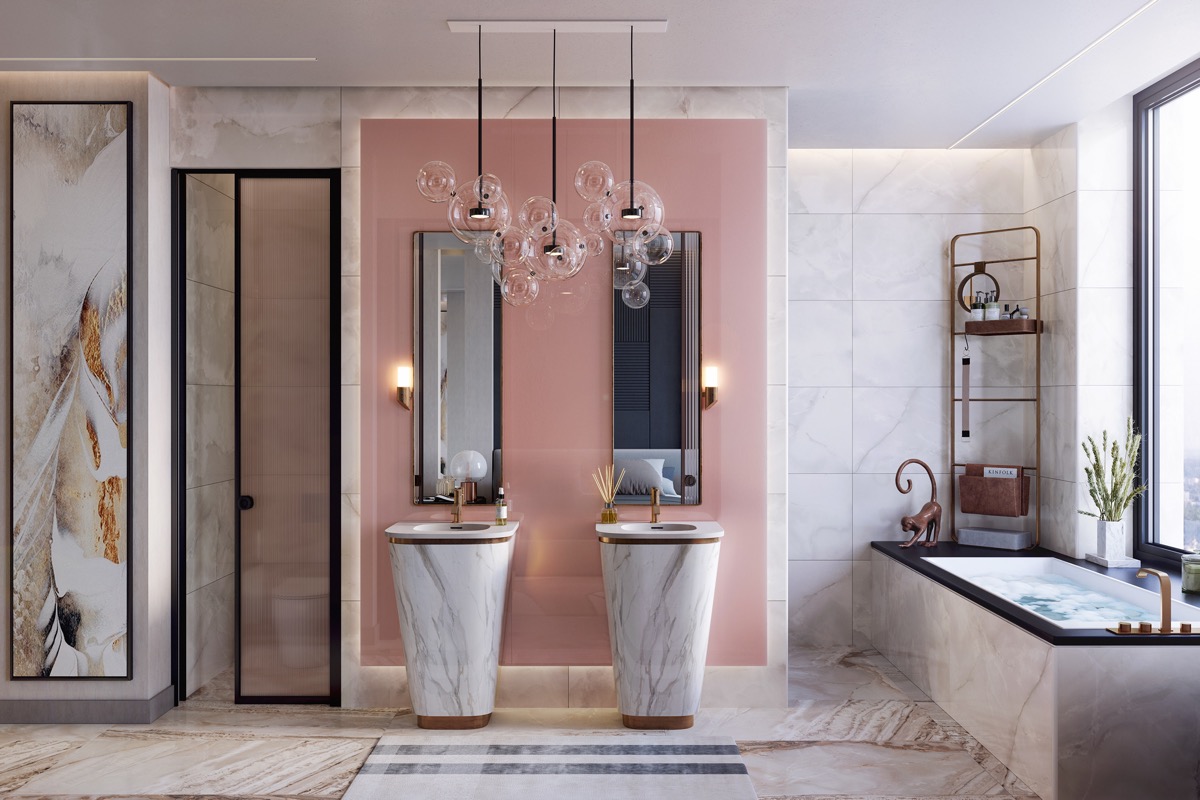 42 |
Visualizer: Spotless Agency
Pull a double sink bathroom vanity arrangement together with an area of focussed colour.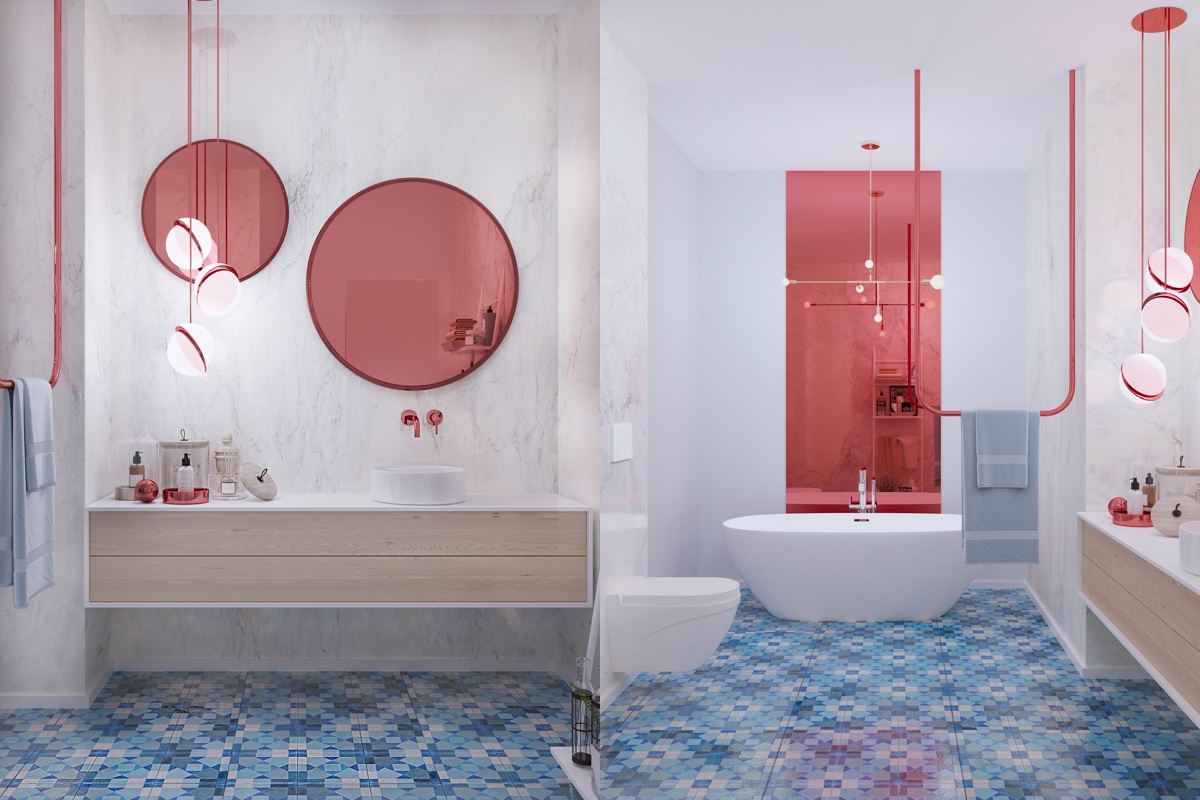 43 |
Visualizer: Elena Maksimova
Pink vanity mirrors and pink reflective panels look punchy.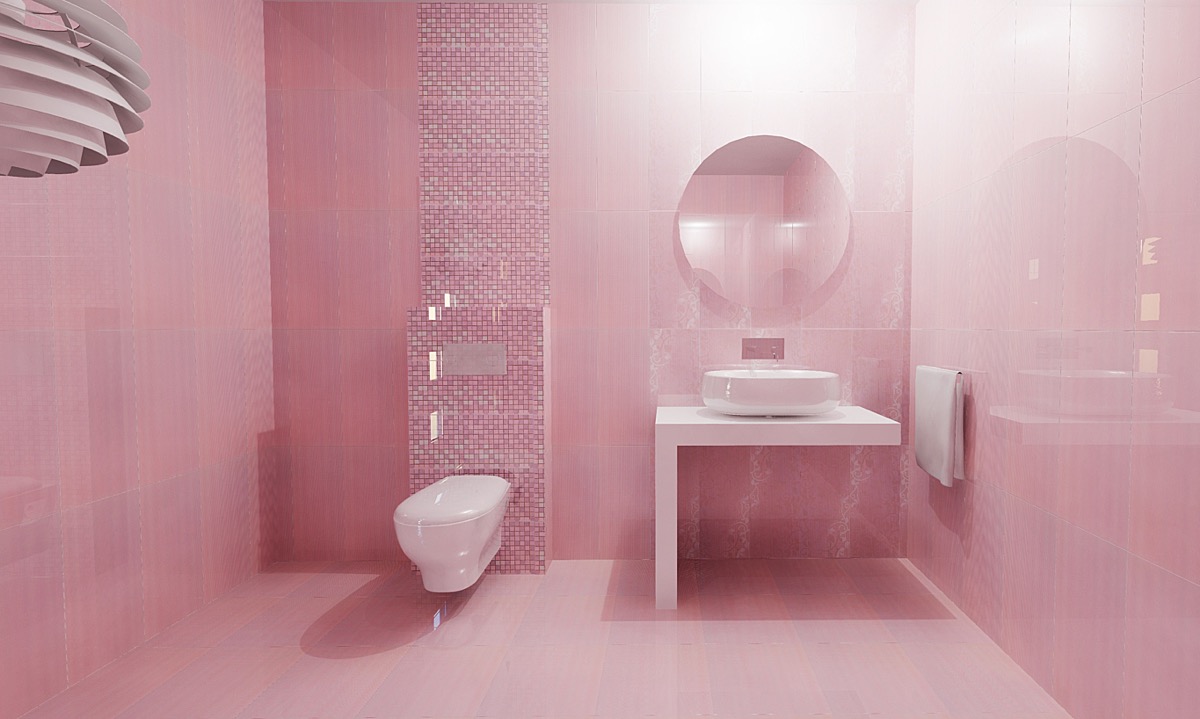 44 |
Visualizer: Yuri Nulman
Shake up a samey top to bottom pink scheme with sections of differing tile texture.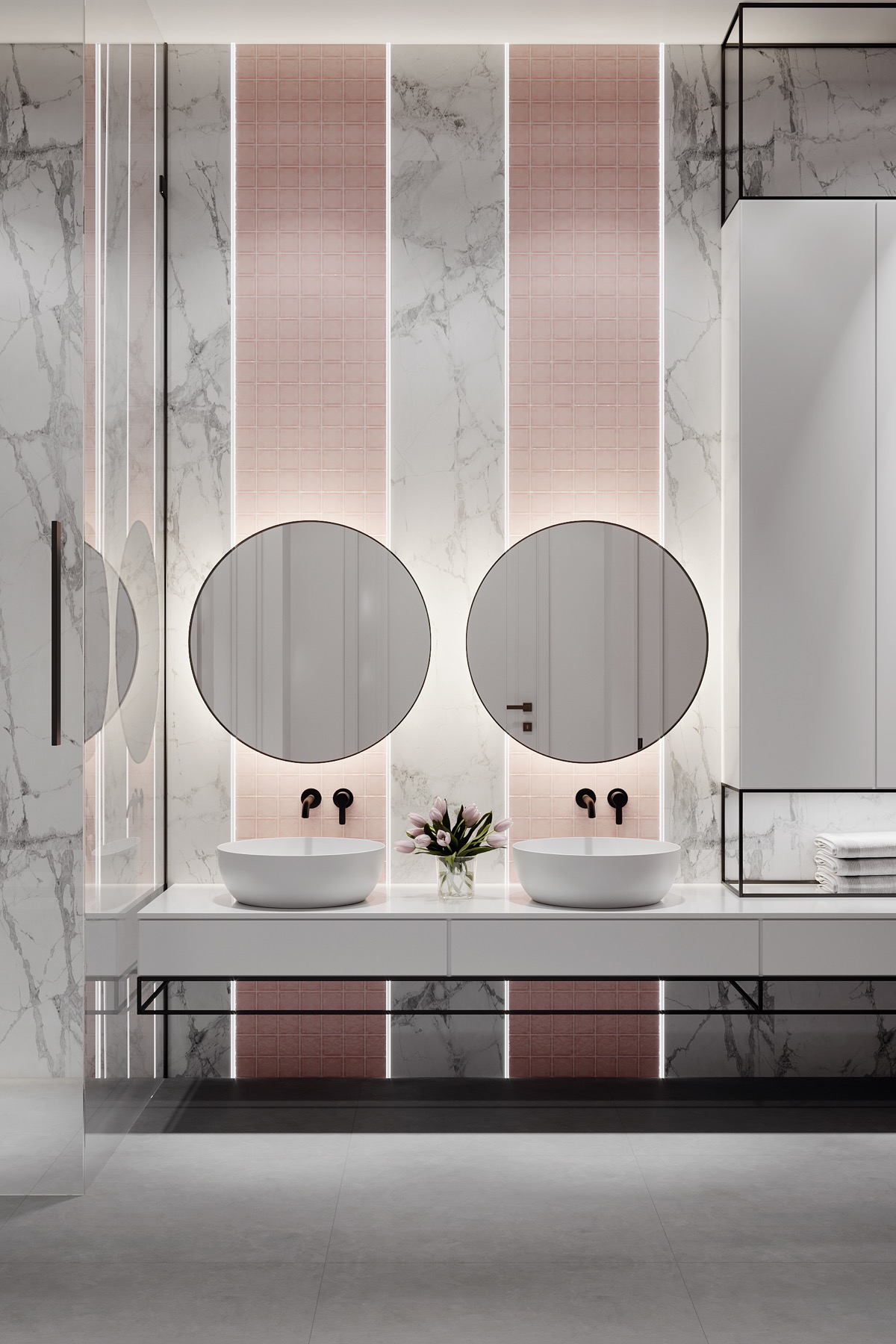 45 |
Visualizer: Vladislava Torgonsky
Pink tiled panels provide all the colourful personality in this light grey and white bathroom. A glass vase of pink flowers adds a temporary extra flourish.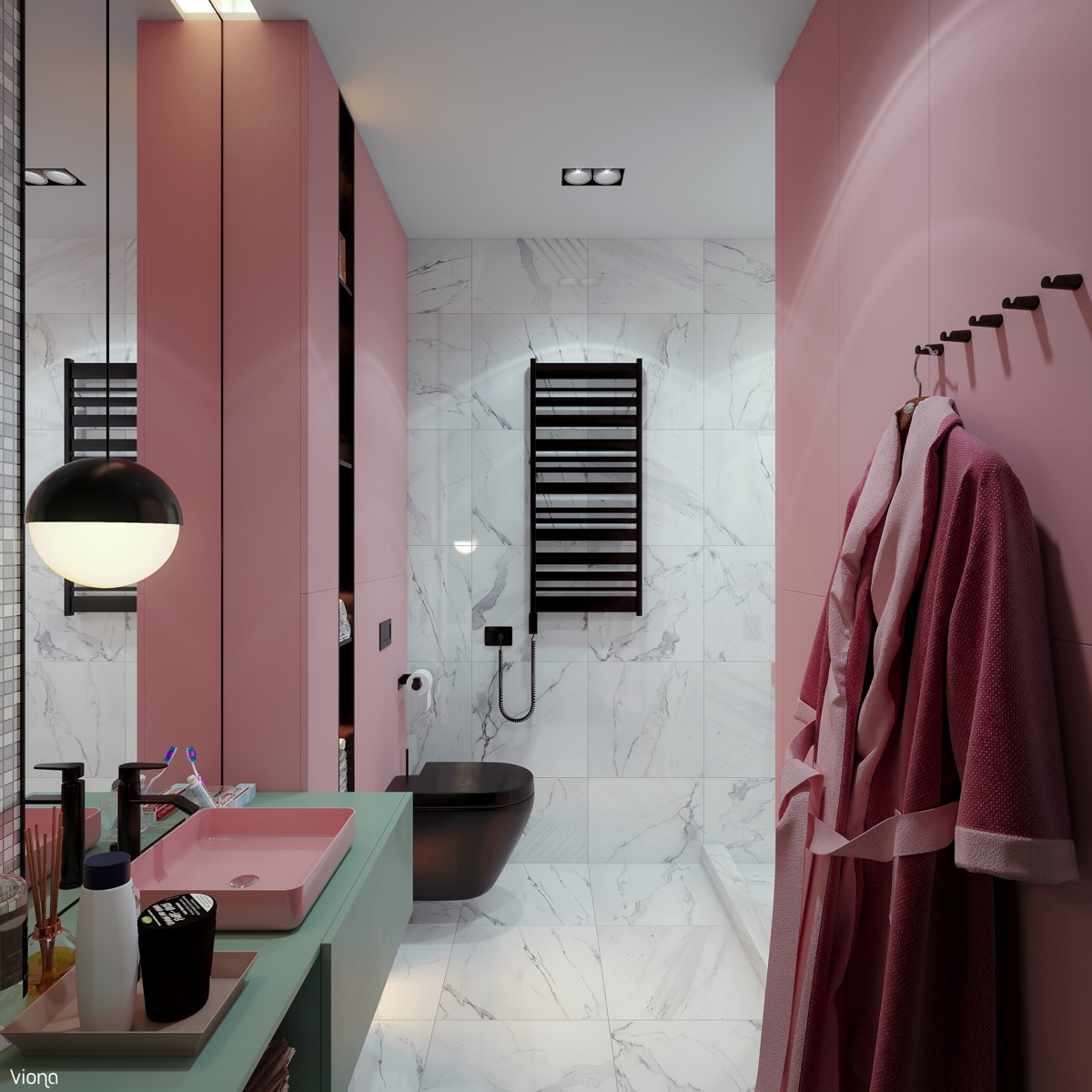 46 |
Visualizer: Viona Visual
Colour block black on pink for easy impact…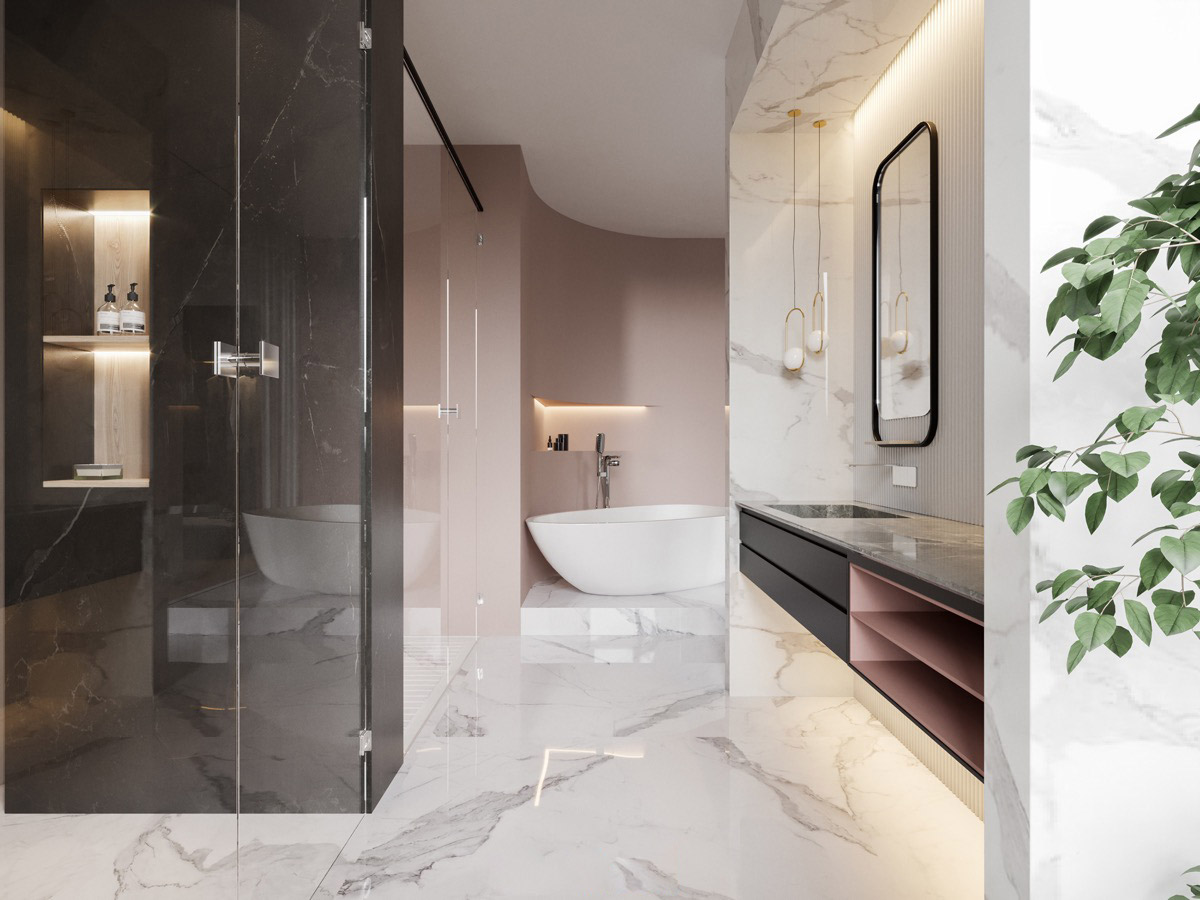 47 |
Visualizer: Riko Visual
… Smoked black glass on blush pink works too.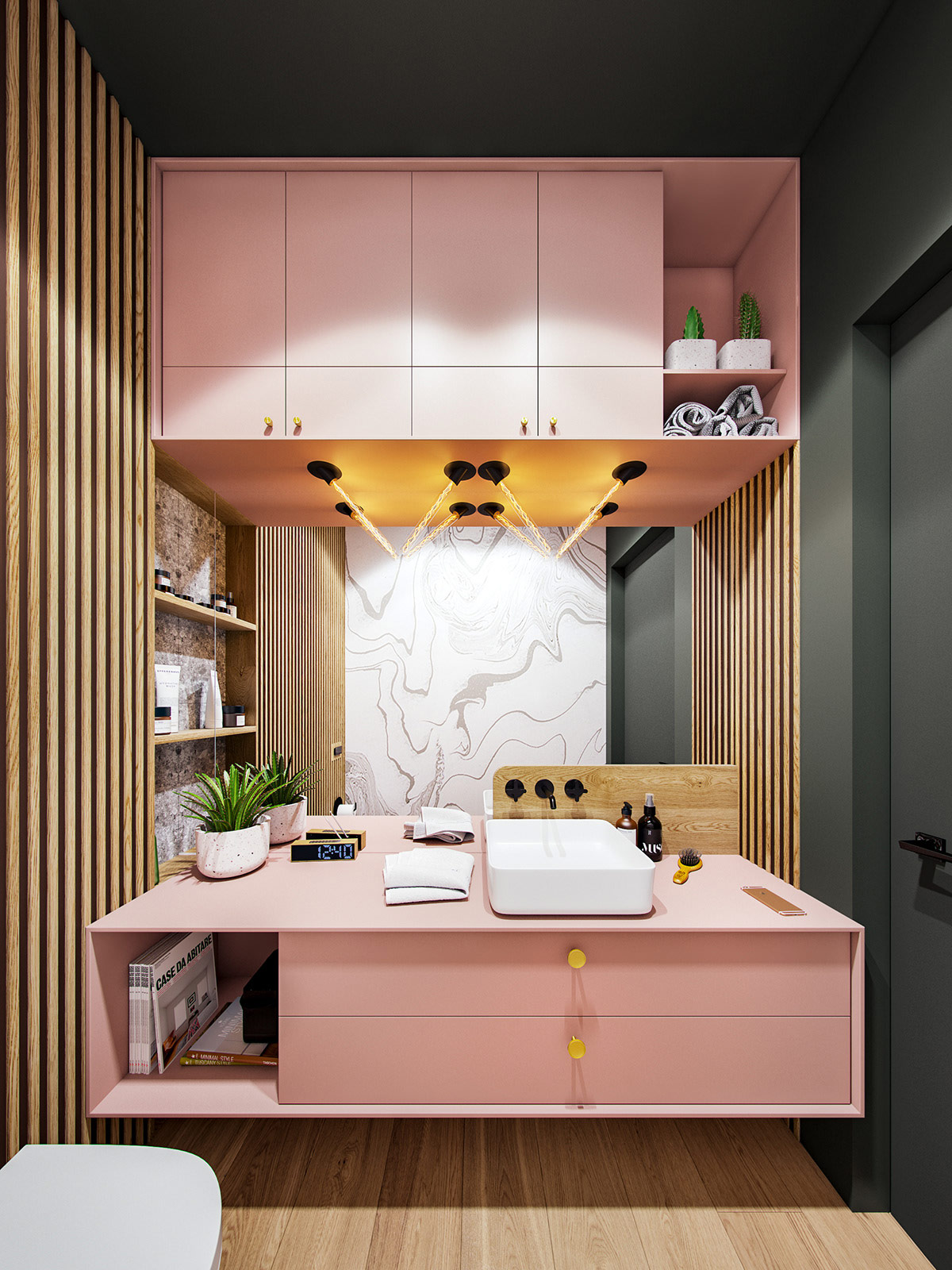 48 |
Designer: ZARYSY
Visualizer: ZARYSY
Pull together pink furniture, wood slatted walls and graphite grey paint for a fashion forward ensemble.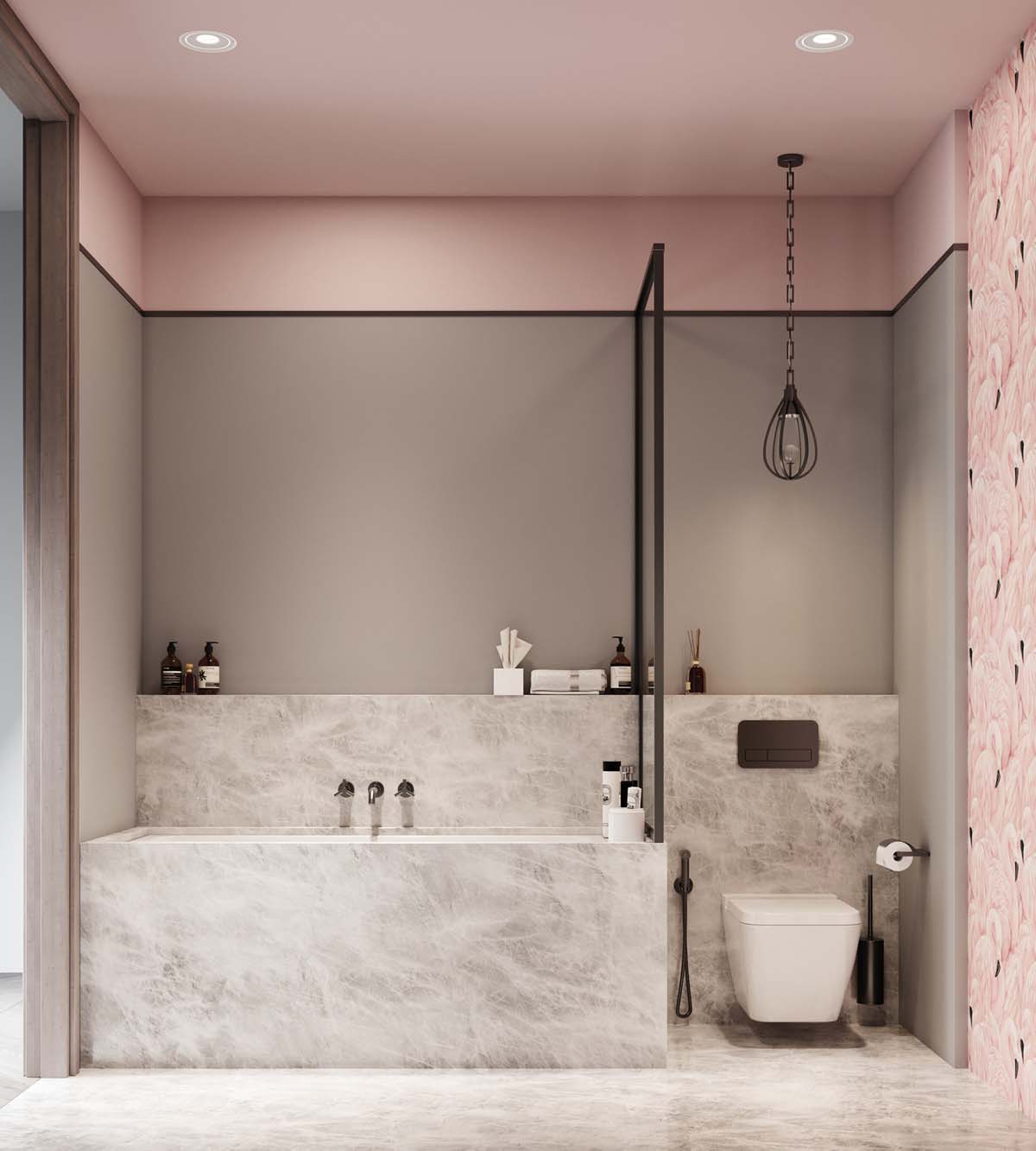 49 |
Visualizer: VizLine Studio
Fill in the gaps with pink flamingos. Well, why not?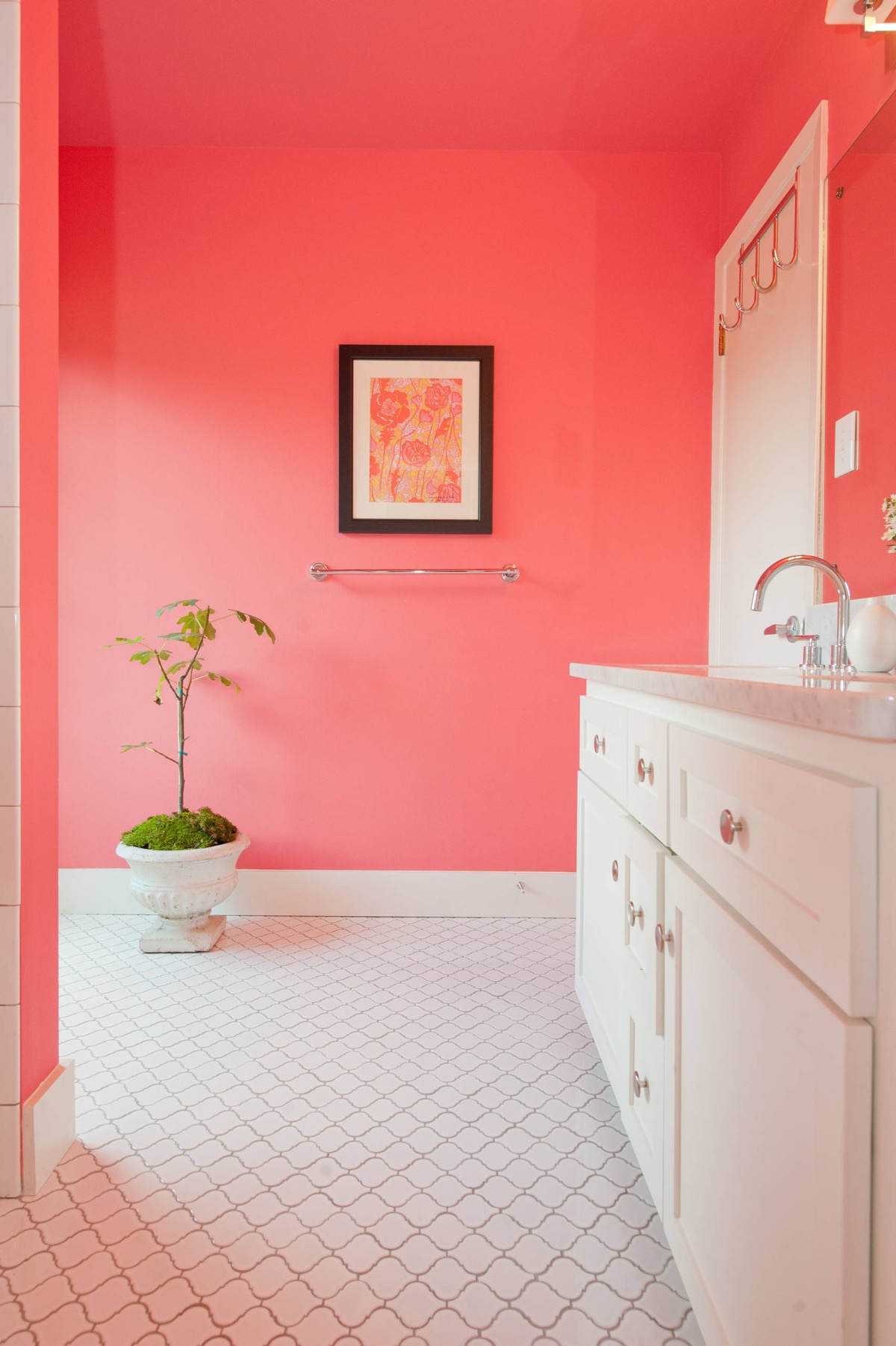 Customise your bathroom with vibrant coral paintwork and complementary artwork.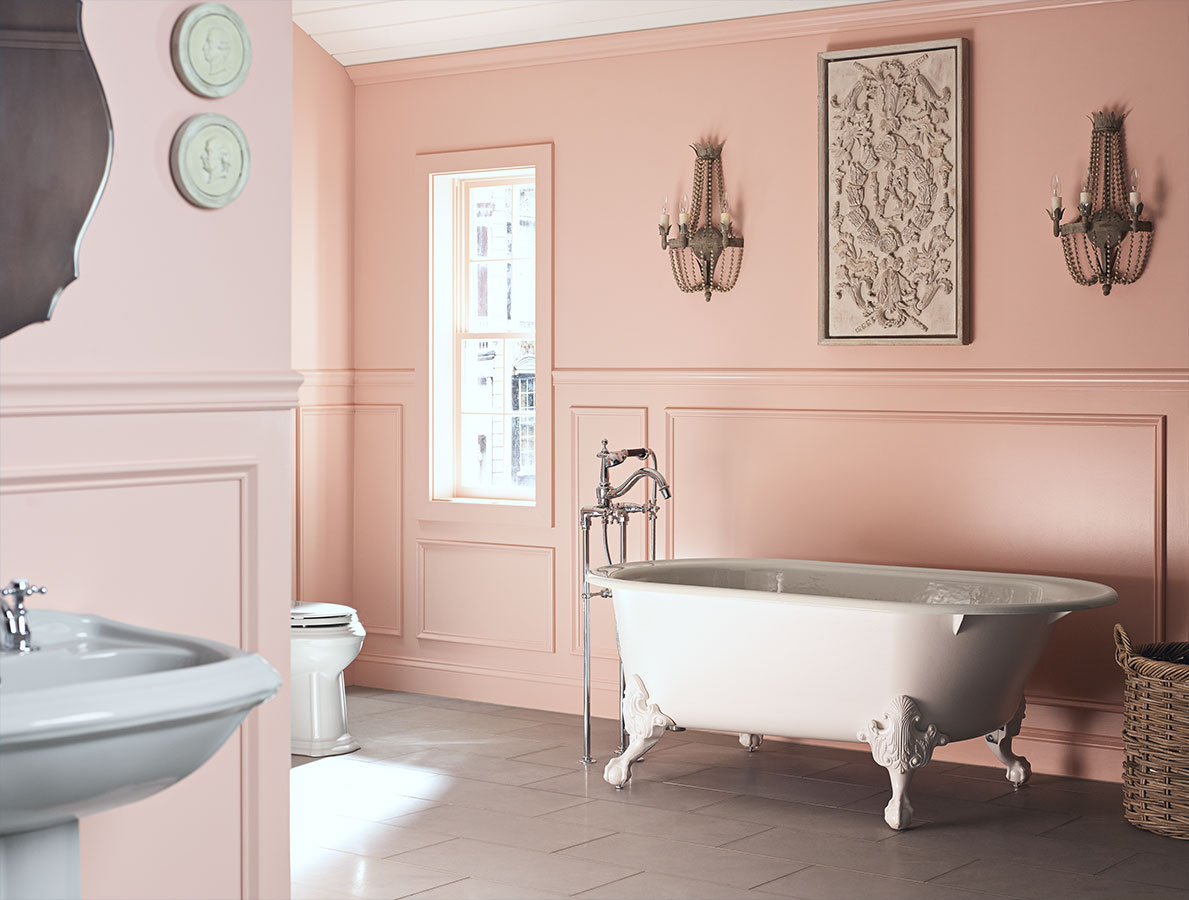 Go vintage with a pink boiserie or wainscot encased bathroom design. Be sure to select a traditional pedestal sink and roll top bath with claw feet to really get that old manor house magic going.