1 |
Visualizer: Madi Chanyshev
A black bedroom is no easy feat, but this space nails it. The black wall is extra luxurious contrasting against the light floors and emerald green accent wall. When using black in a bedroom, make sure that there is plenty of contrast, space, and light to ensure the room doesn't feel overly closed in.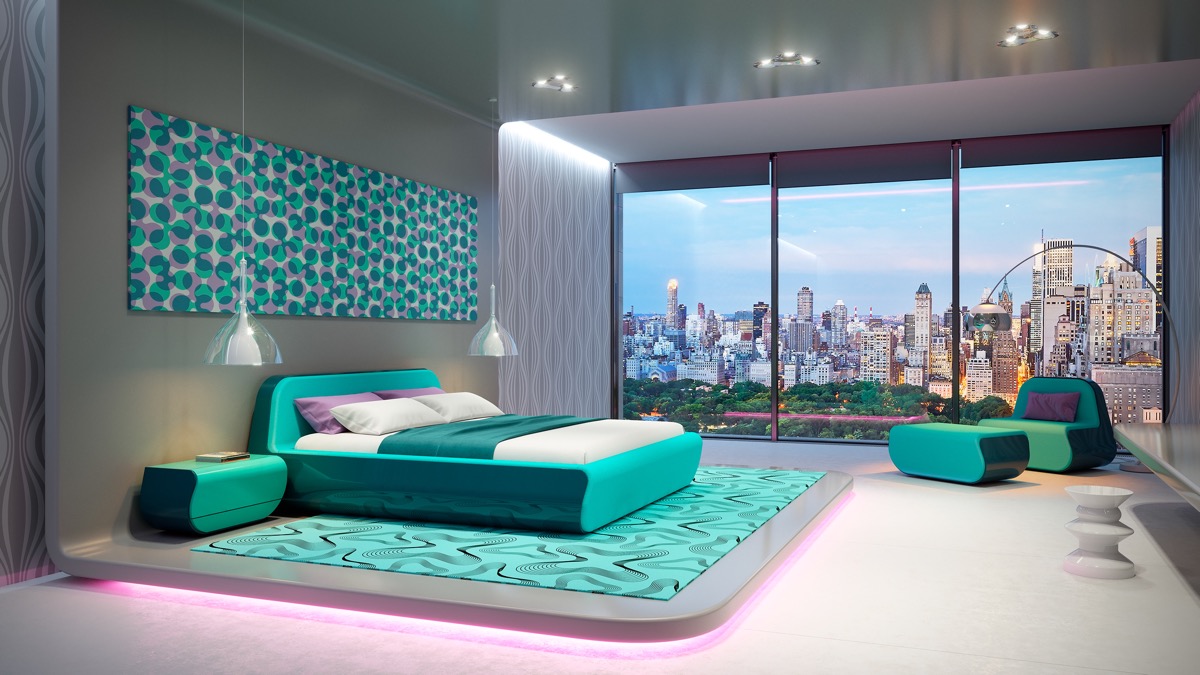 2 |
Visualizer: Denis Syrov
This grey bedroom offsets its neutral hues by diving into the bright and bold world of turquoise. Not only is this color eye-catching on its own, but when applied to the modular furniture within the bedroom, it creates a contemporary aesthetic with a slight futuristic vibe.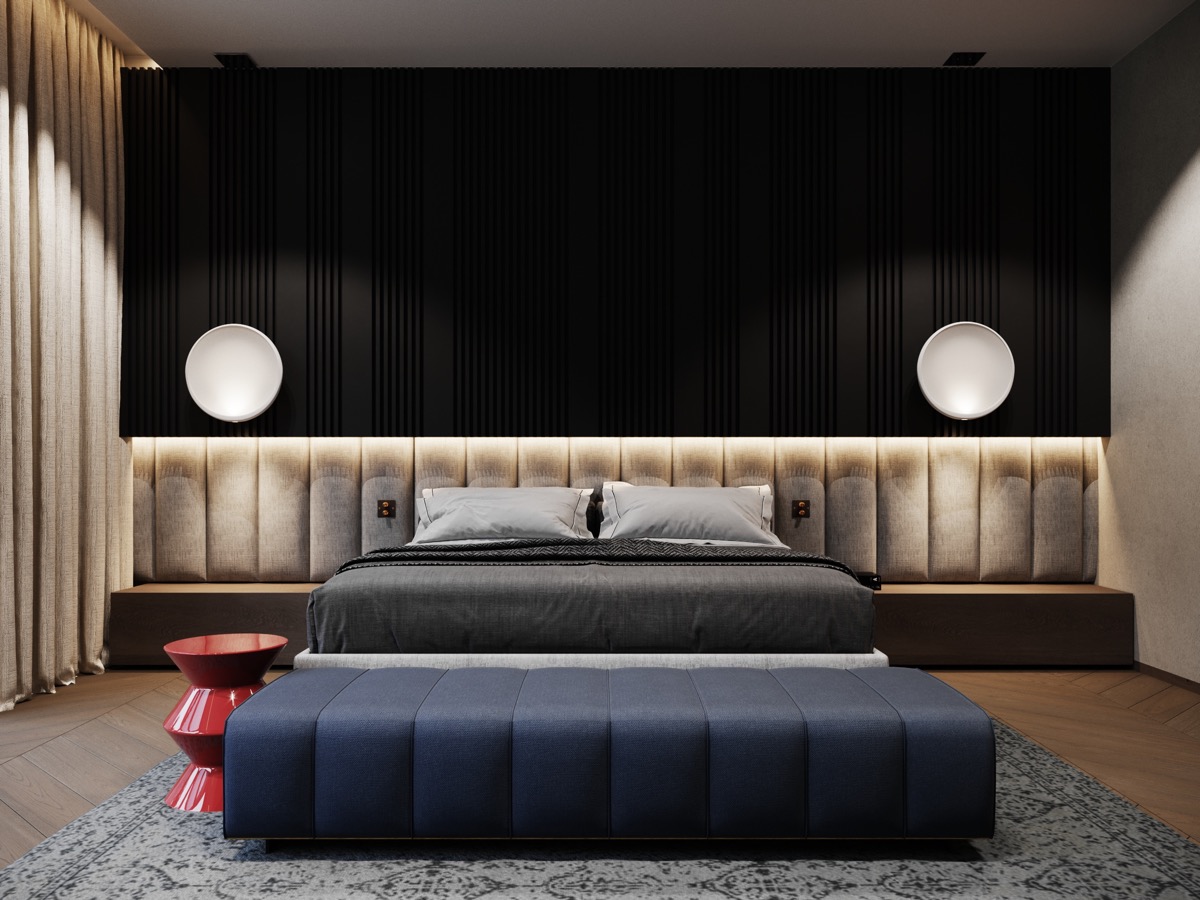 3 |
Visualizer: Johny Mrazko
The oversized headboard in this earthy bedroom is undoubtedly part of why this set up feels so luxurious. The plush cushioning stretching across the entire back wall makes this room look extra cozy. Of course, the ambiance provided by the sconces and built-in headboard lights don't hurt either.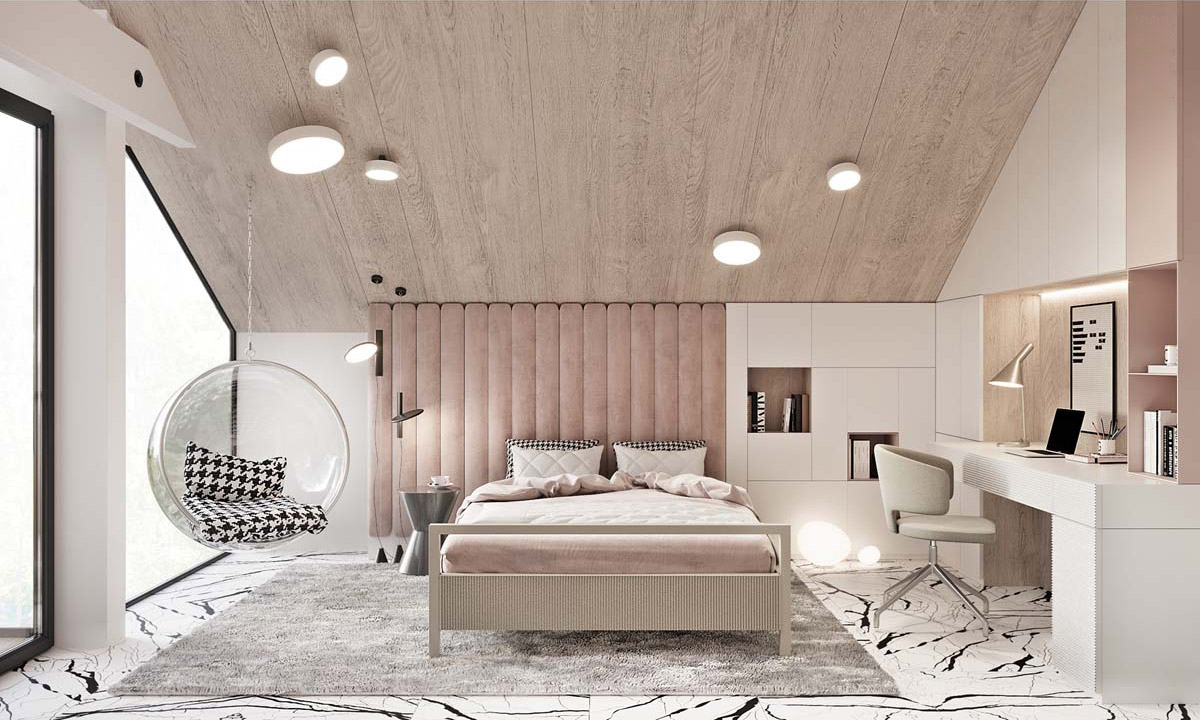 4 |
Visualizer: TOL'KO interiors
A luxurious bedroom shouldn't just be for adults. This luxury kids' room is fit for a teenager and its design creates the perfect retreat to do homework or unwind. The visualizers of this room made great use of soft neutrals, but they also made sure that the space still felt youthful by adding fun design elements, such as the abstract black and white floor and the acrylic swinging chair.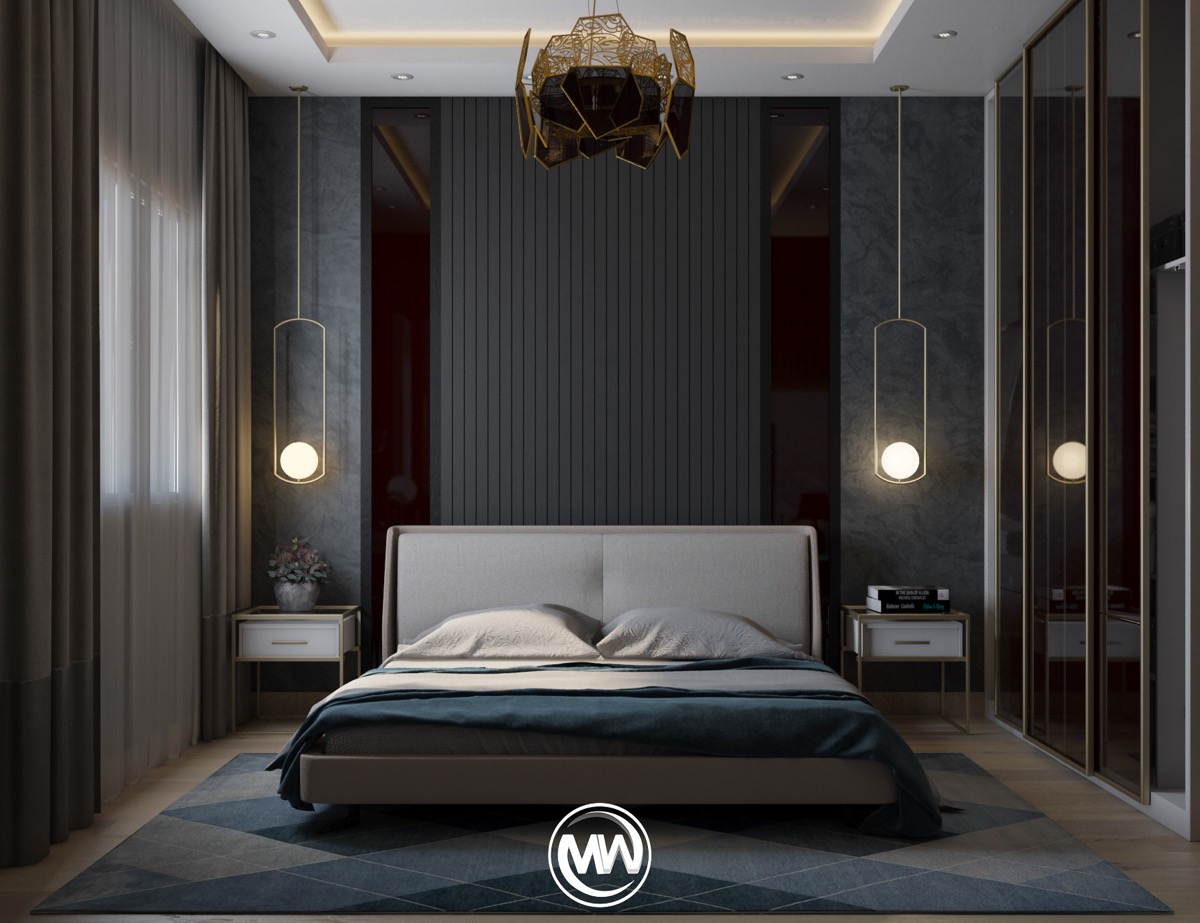 5 |
Visualizer: Mahmoud Wagdi
Seductive dark hues are perfectly illuminated in this space using bedroom pendant lights. The regal gold present on them, as well as the unique chandelier and end tables, makes this bedroom feel like it is fit for modern royalty.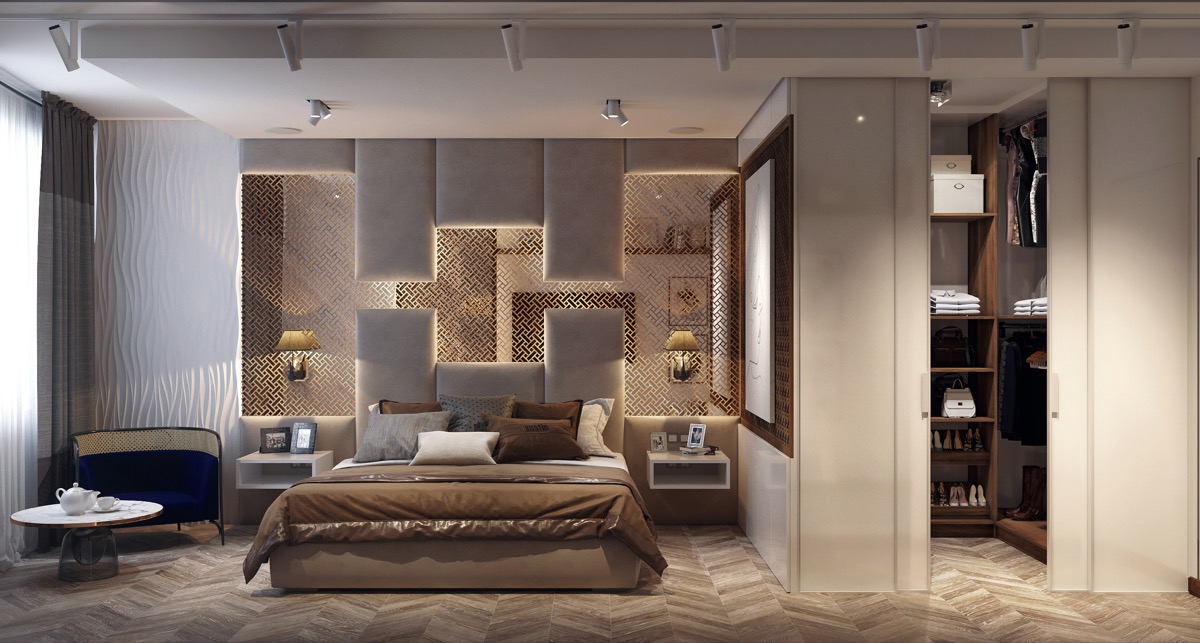 6 |
Visualizer: Evgeny Zjuba
The multitude of textures throughout this design makes it a visual delight. The one-of-a-kind, mirrored backboard especially makes quite the bold statement. One-of-a-kind pieces are great when it comes to designing a luxury bedroom because knowing that you have something that is completely unique to your space can make the whole design feel much more indulgent.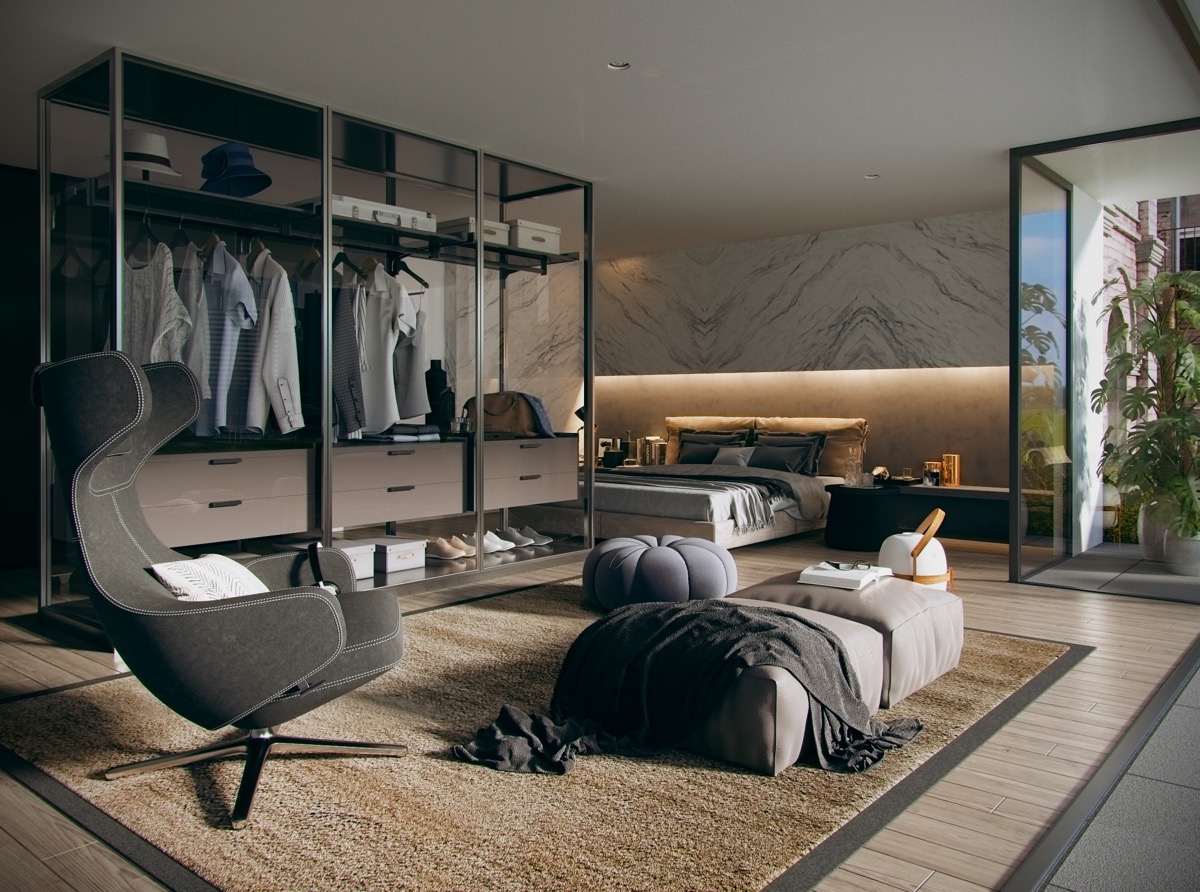 7 |
Visualizer: Tharik Mohammed
Closets are often hidden, but this bedroom took a completely different approach. A sitting area has been created in this open-concept closet perched in the middle of the bedroom. An interesting design choice that absolutely feels right for this space.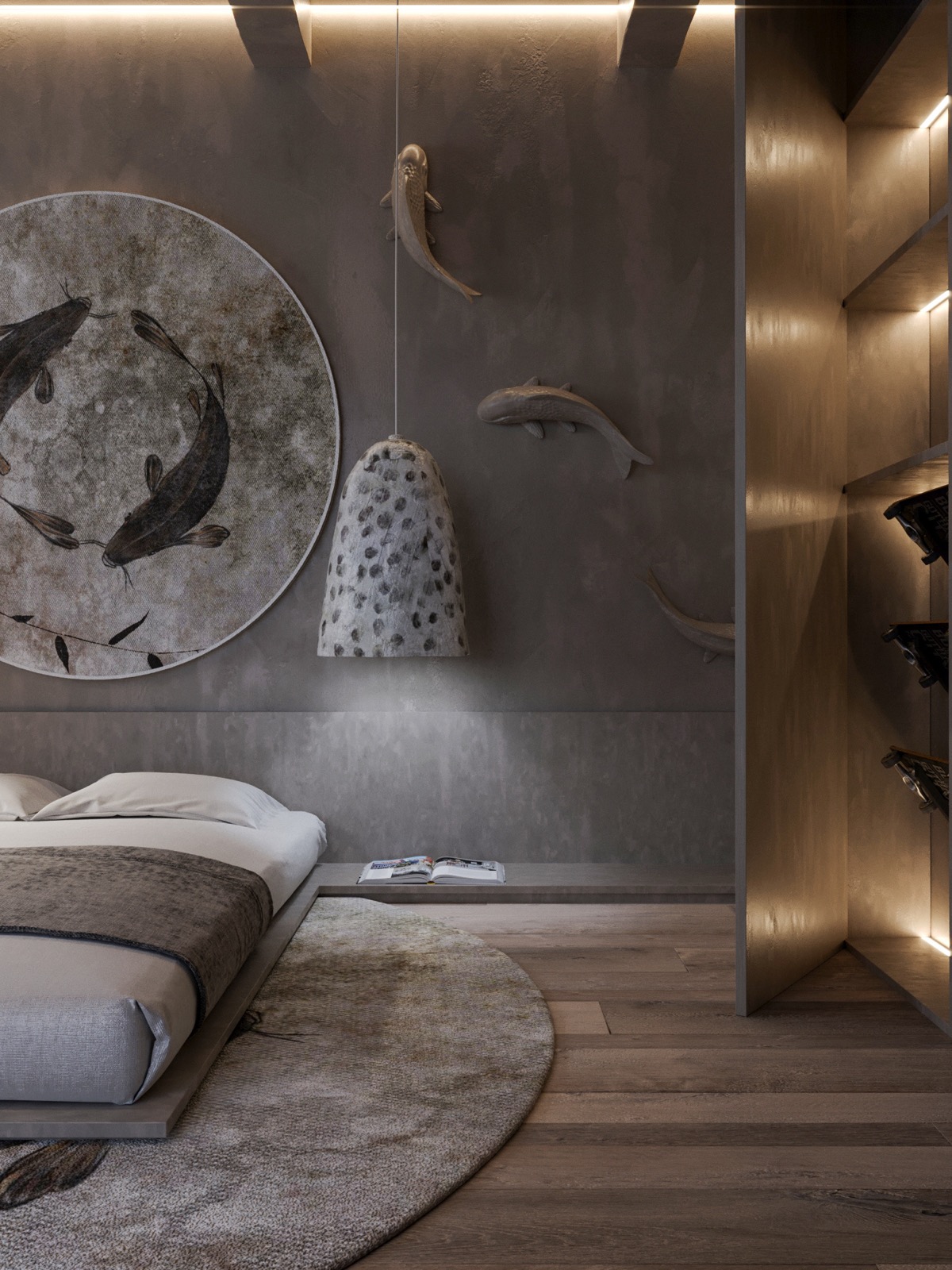 This Asian-inspired bedroom doesn't have a lot of color, but it does have a whole lot of character. Running with the theme of koi fish, we can see that this motif has been used on both the wall and the floor. The 3D wall art really gives this room some extra dimension.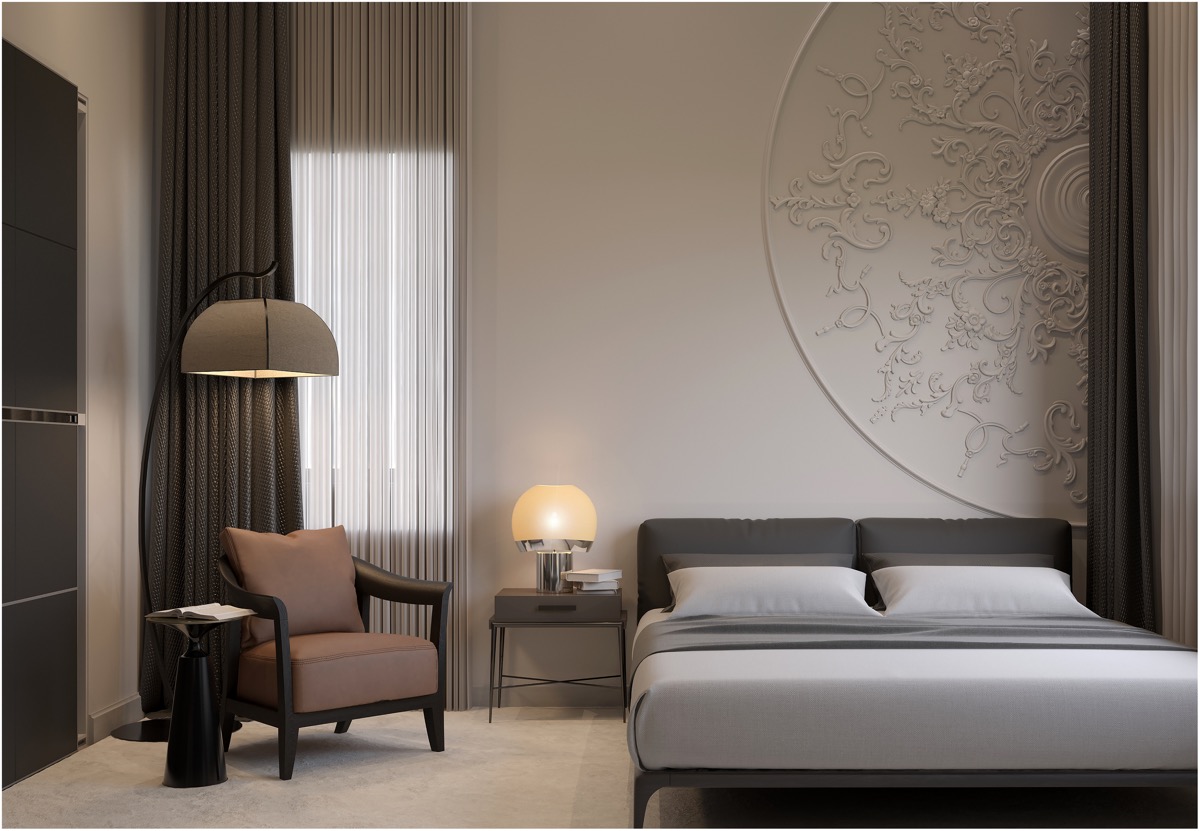 9 |
Visualizer: Leyla Salayeva
The circular molding on the wall makes all the difference here. Try to picture the room without it. Feels pretty plain, right? The wall art you choose for a bedroom can transform the space, so choose wisely. Neutral art with a heavy texture is often a safe way to go if you are looking to achieve a more elegant or refined look.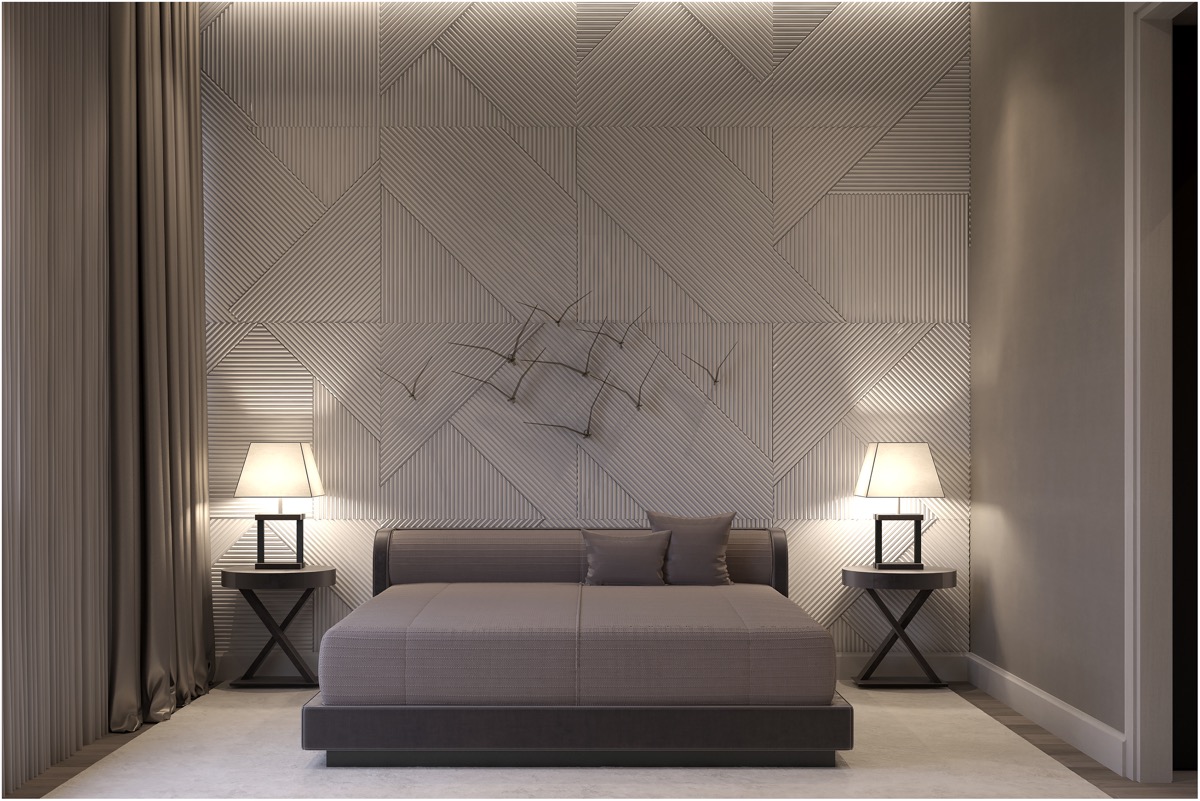 10 |
Visualizer: Leyla Salayeva
A simple bedroom is transformed through the use of an accent wall paired with a wall sculpture. Using a textured accent wall in a bedroom can help create more visual interest and dimension in a room, which in turn can make it feel more luxurious.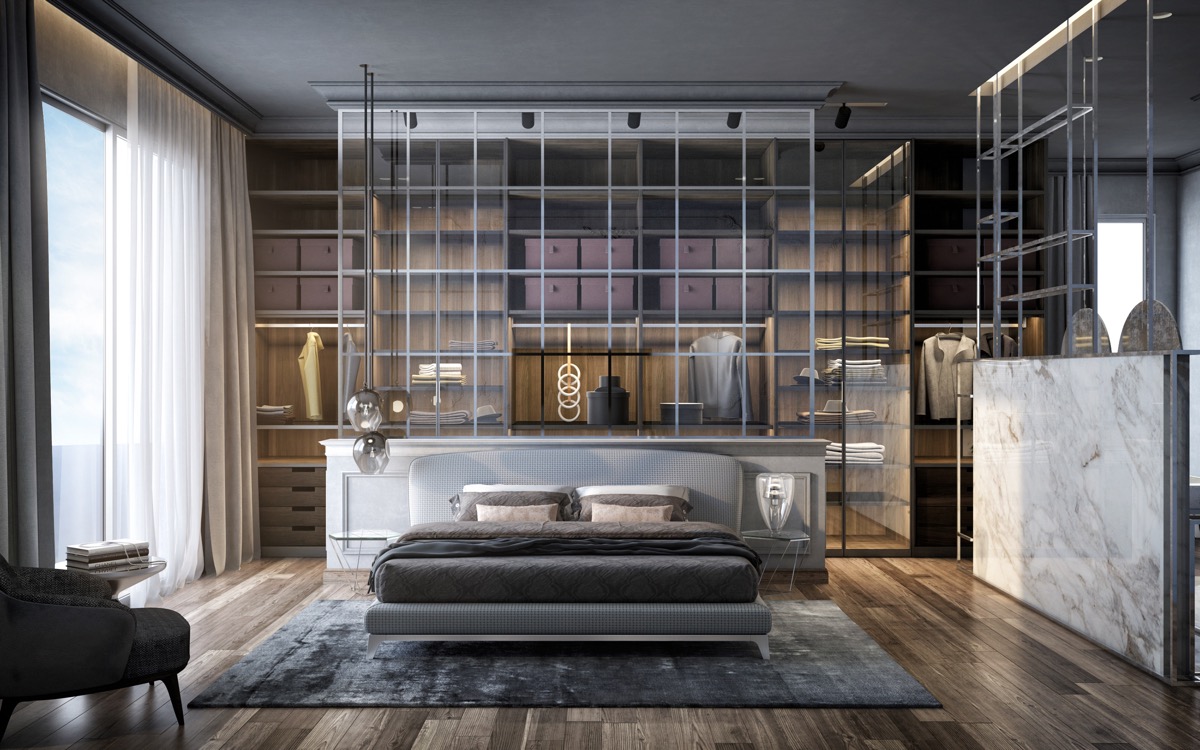 11 |
Visualizer: Mahi Soliman
Usually when we picture a bedroom with a wardrobe, this isn't quite what springs to mind. This bedroom keeps things open by using partitions of glass and marble. Both great building materials that can help you achieve a more glamorous bedroom.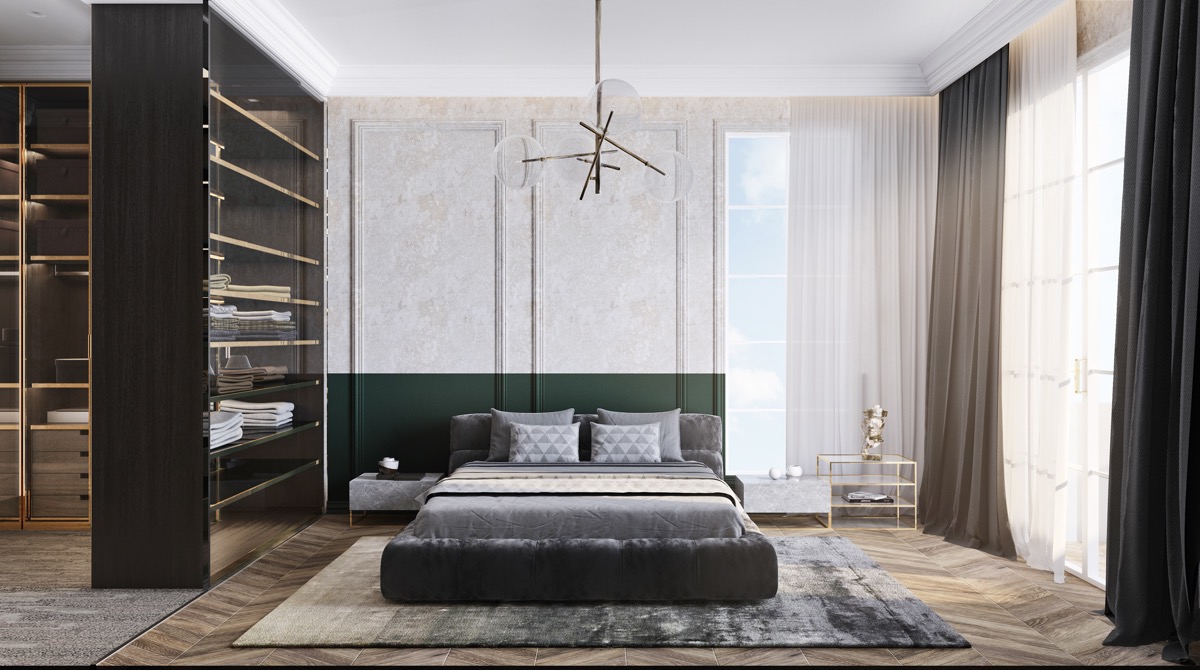 12 |
Visualizer: Mahi Soliman
Take a page from this bedroom's playbook and concentrate on what you hang and where. Sure, the addition of a modern chandelier to a bedroom will instantly up its glam factor, but maybe reconsider something else that you probably already have in your bedroom. When hanging curtains, hang them closer to the ceiling. This can make your windows feel larger and your bedroom feel taller, which will ultimately make the room feel more spacious. More space = more of a luxurious feel.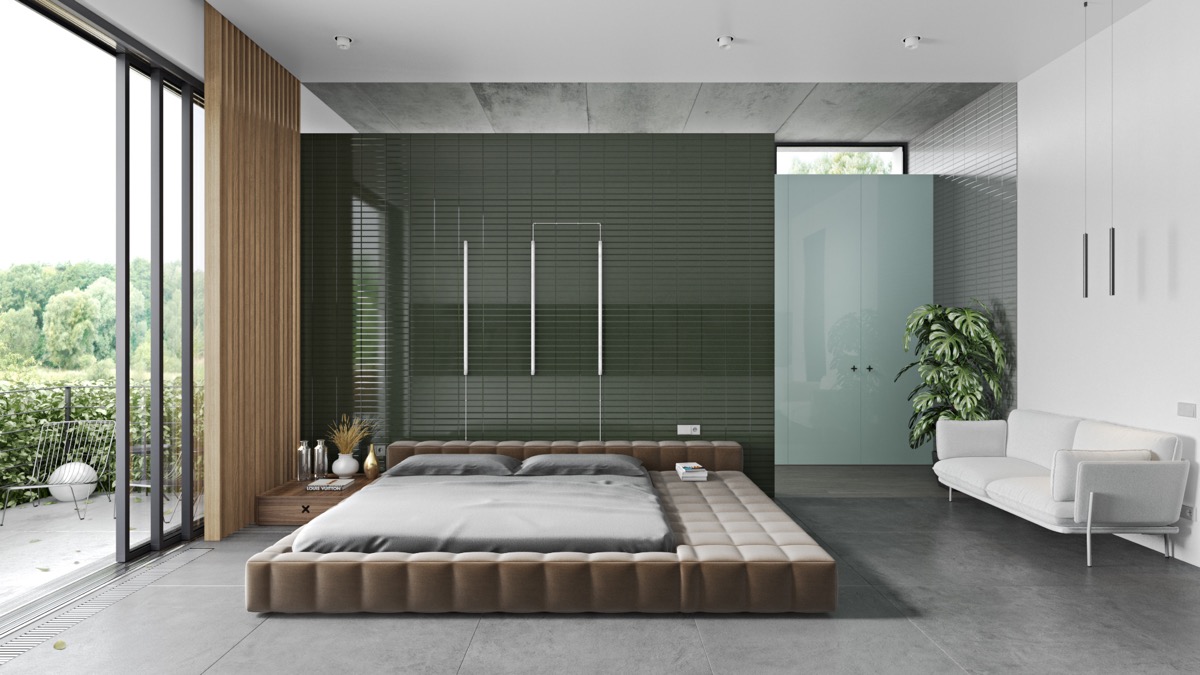 13 |
Visualizer: Dmitry Koval & Hank Smith
Your bed should be comfortable, but it should be stylish too. Take this floor bed for instance. It is unique and ultra-chic being so low to the ground, making it one of the first things that caught our eye in this room. No easy task considering that there is also a gorgeous, glossy tile wall and patio doors that open up to a stunning view.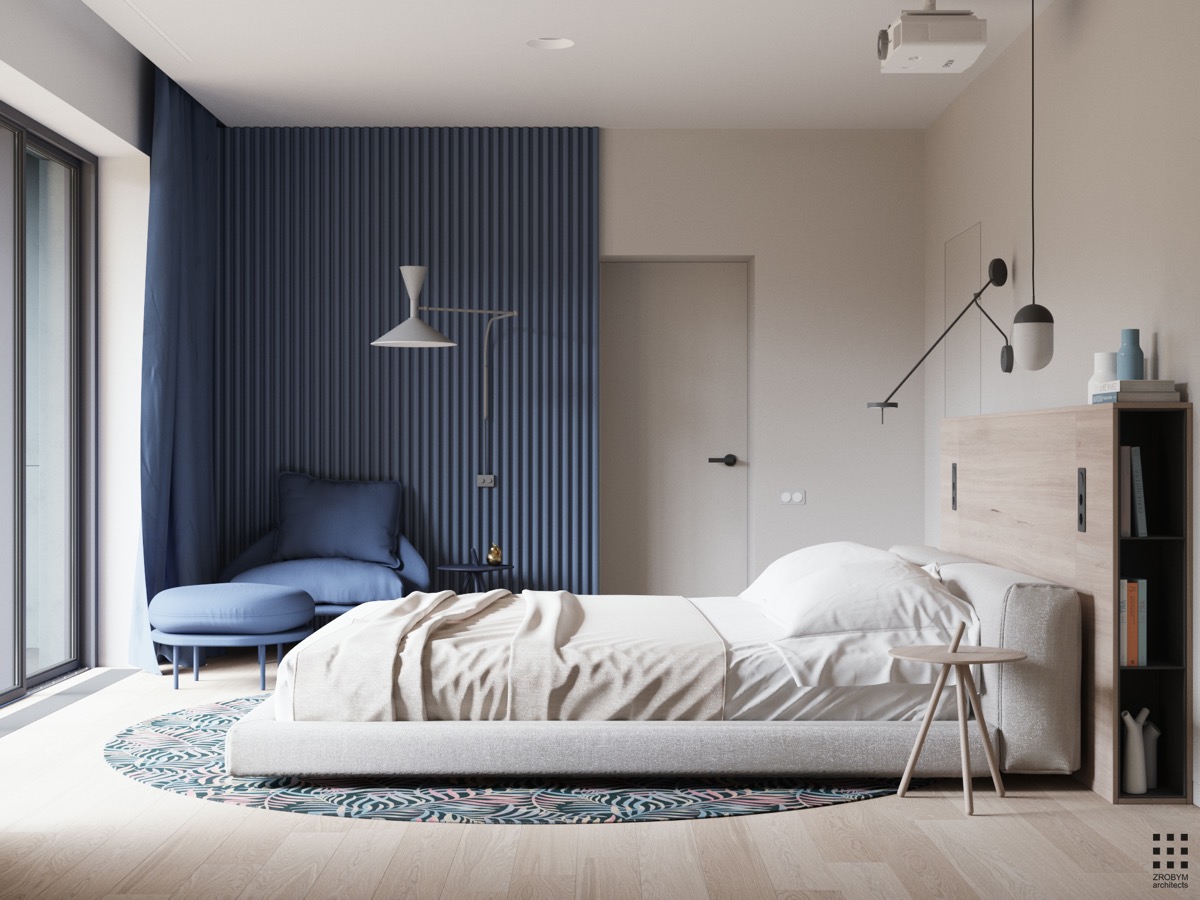 If you're not sure if a blue bedroom is a good fit for luxury, think again. You will notice that many luxury bedroom are big on metallic and neutrals, but that doesn't mean you can't use color. A great example is the color blocked corner of this bedroom.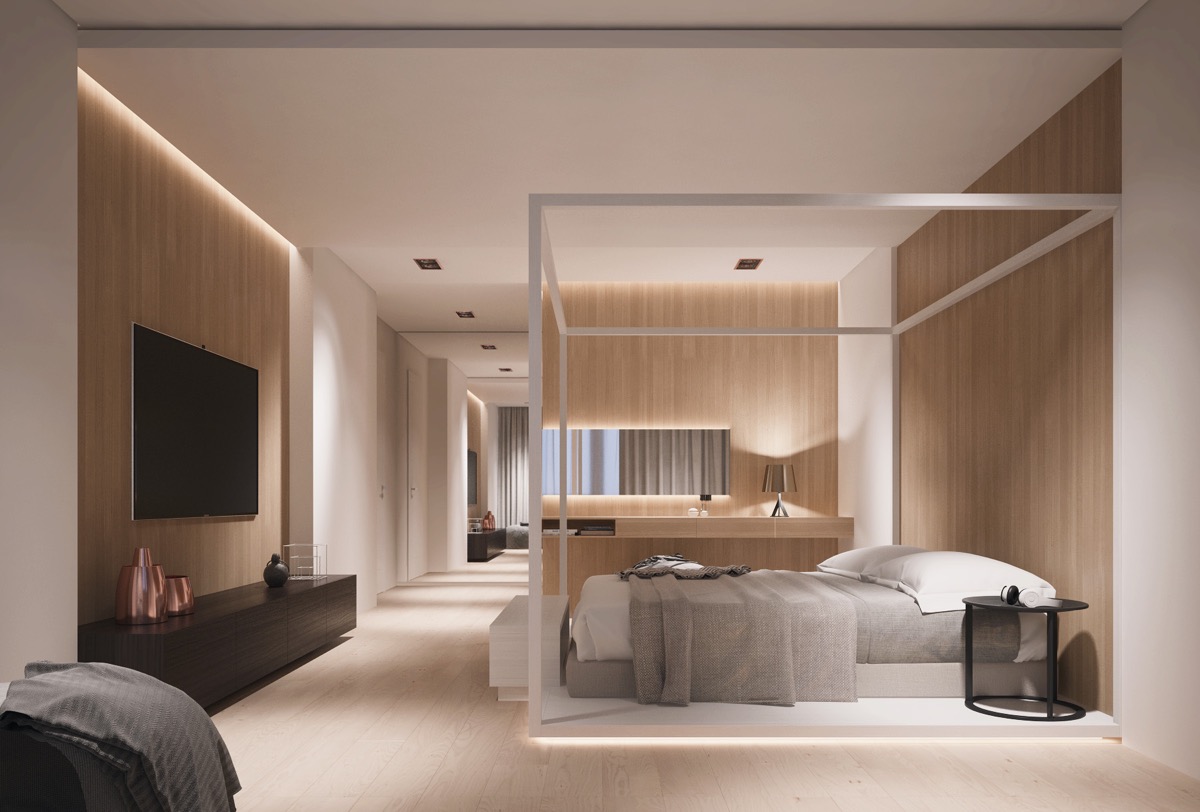 15 |
Visualizer: Kateryna Panasik
This minimalist bedroom is comfortable and chic with its four poster bed and large flat screen TV. A four poster bed is another great option to up the luxurious vibe in a room. They are a bit more classic than platform beds and they come in many modern designs.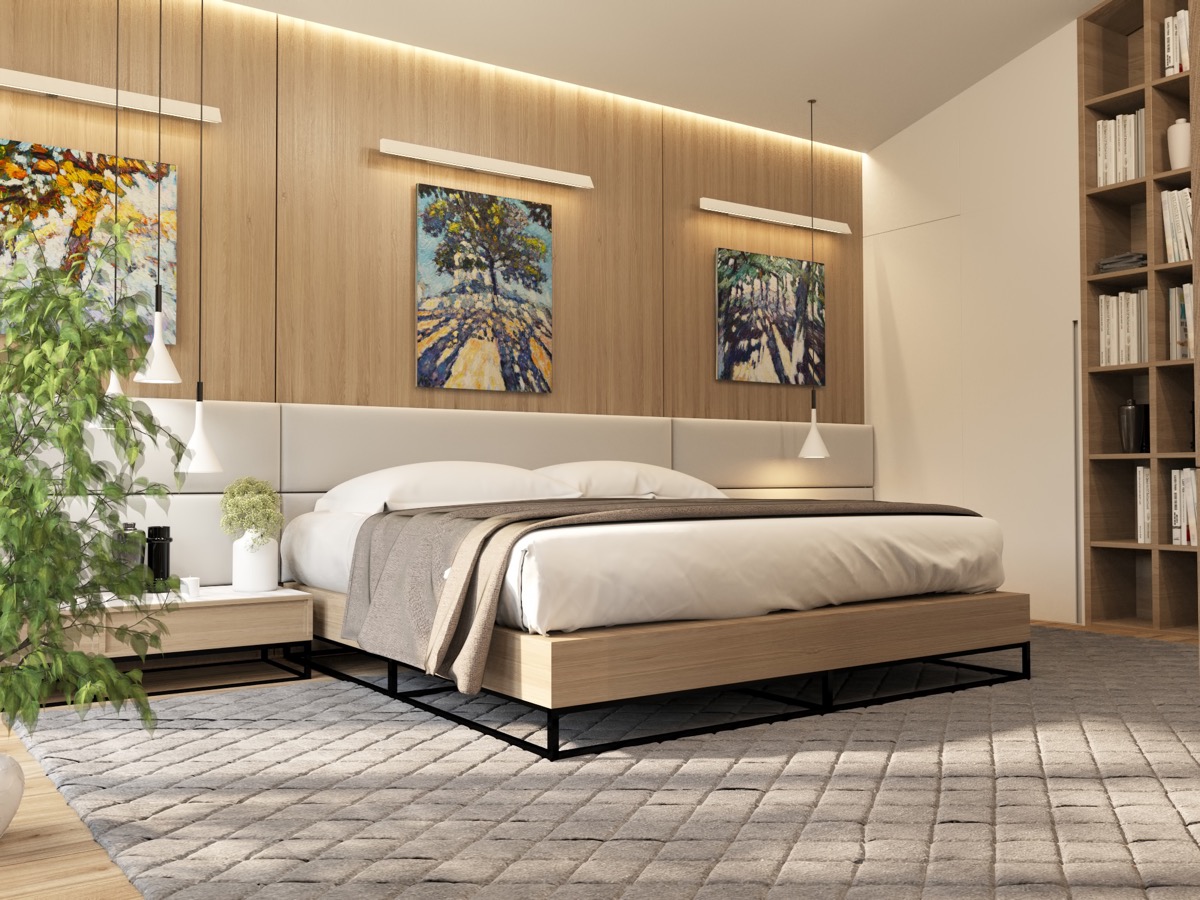 16 |
Visualizer: Julia Ljublianova
A personal art gallery is featured on the wall of this bedroom, all accompanied by its own overhead lighting. Art galleries have a notoriously luxurious feel to them, so it makes complete sense to borrow a page from their design book.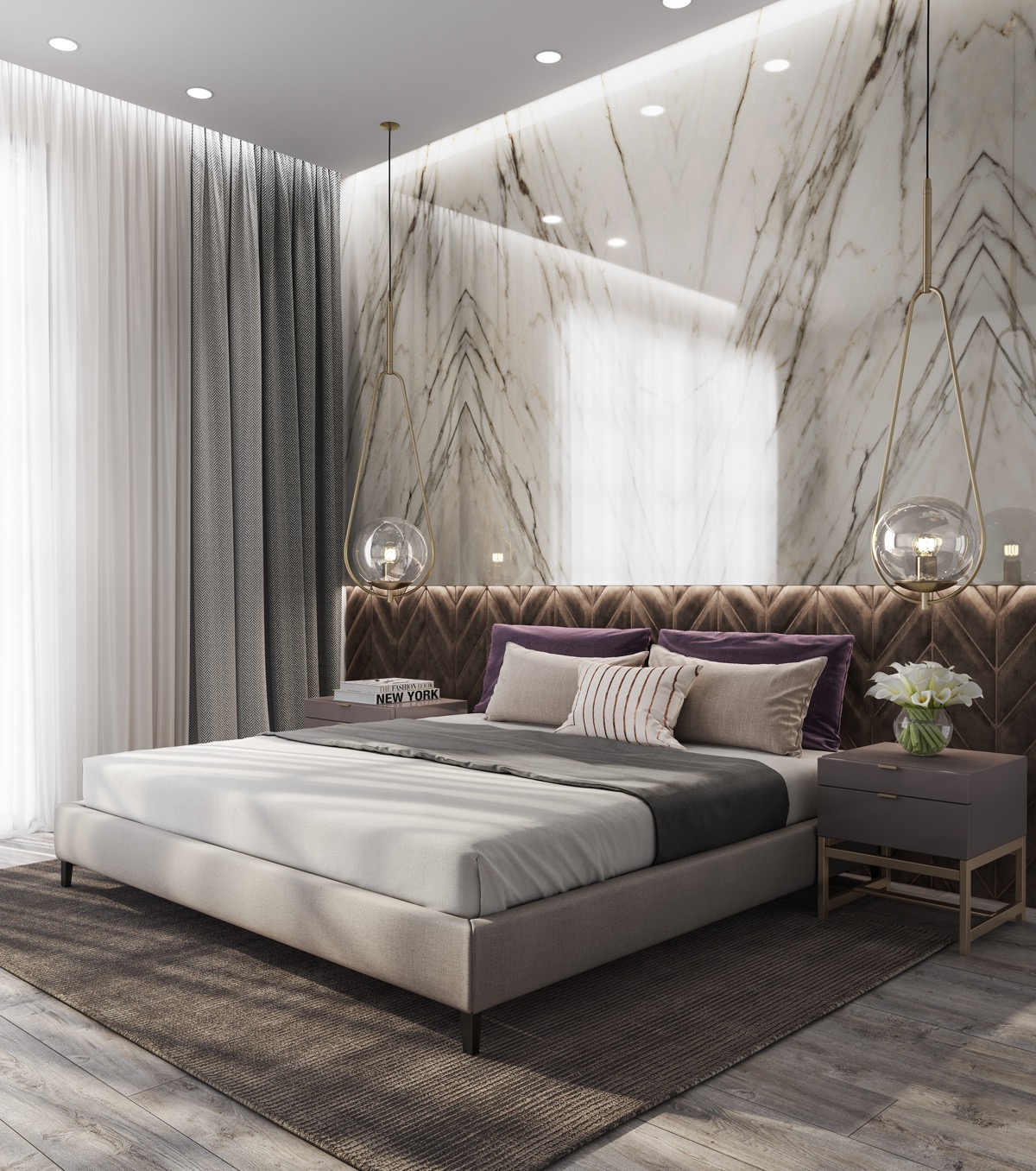 17 |
Visualizer: Anastasia Bakurova
A mix of elements we have seen in previous bedrooms in this collections have been expertly executed in this design. Ceiling-to-floor curtains, oversized headboard, hanging pendant lights, and the use of marble are a few that we can spot right off the bat.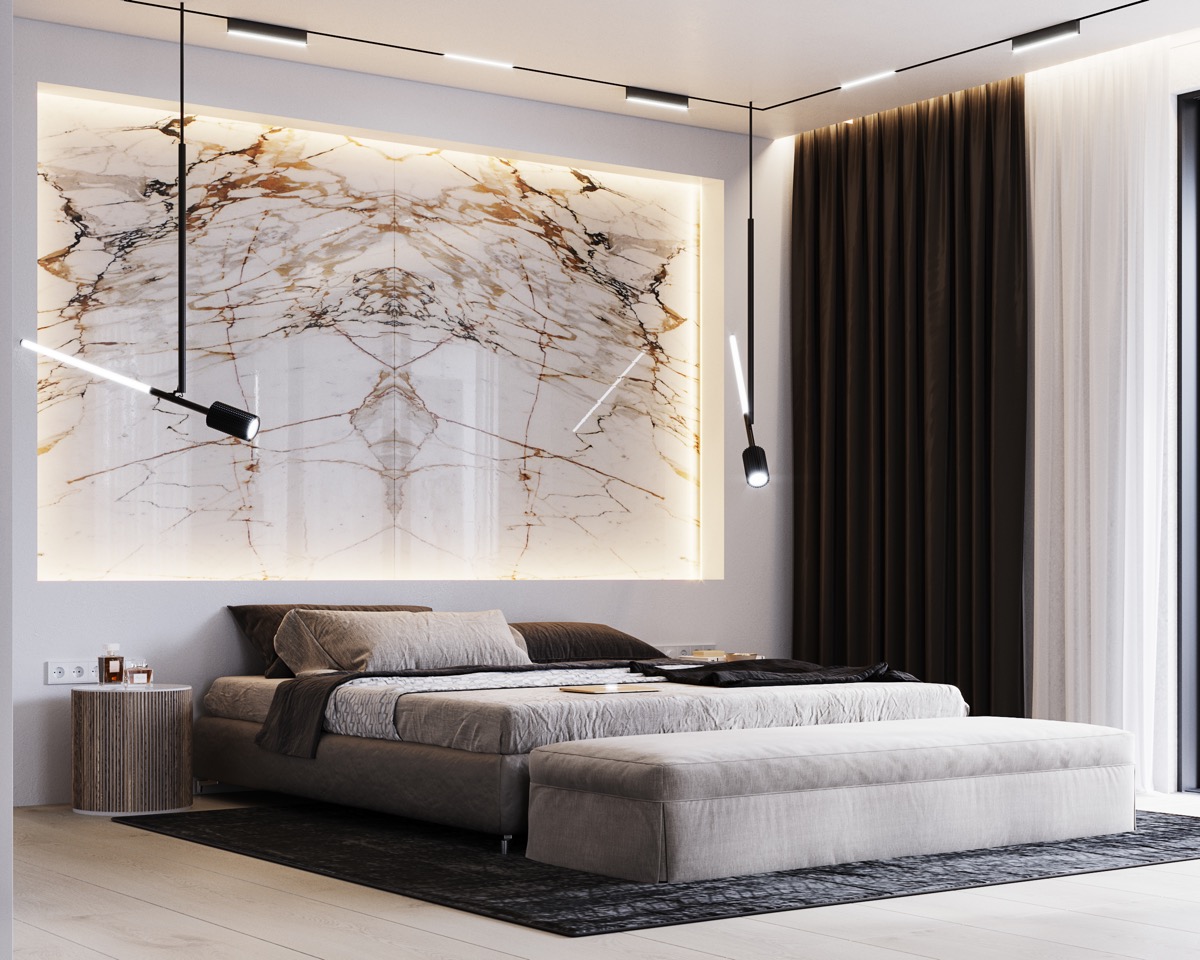 If you don't want to go the route of traditional artwork, consider having some built-in. This abstract design has been laid in to the recessed wall and protected using a large sheet of glass. Something that you definitely don't see everyday!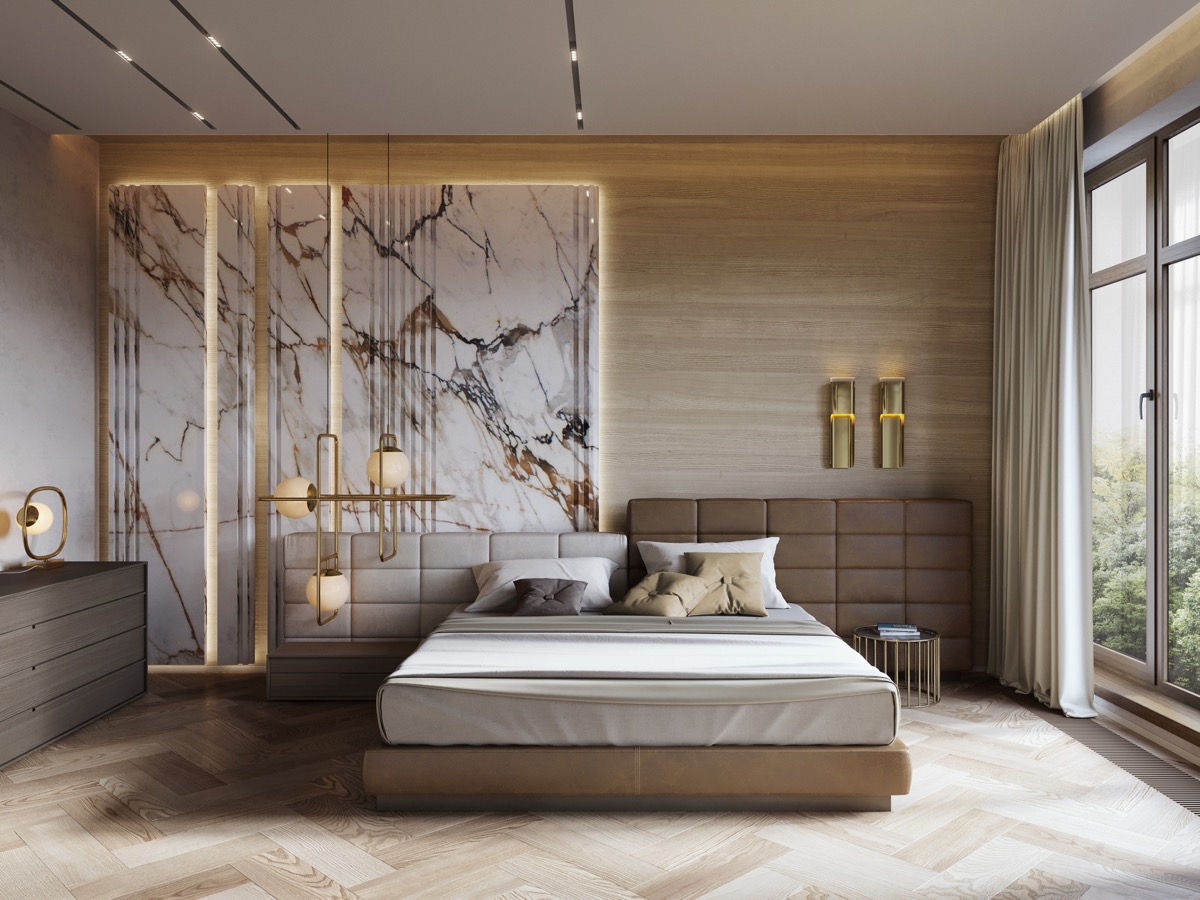 19 |
Visualizer: VizLine Studio
The marble and wood decor seen throughout this design is not an uncommon combination in bedrooms that are looking to achieve high style. It is a dynamic duo with transformative capabilities.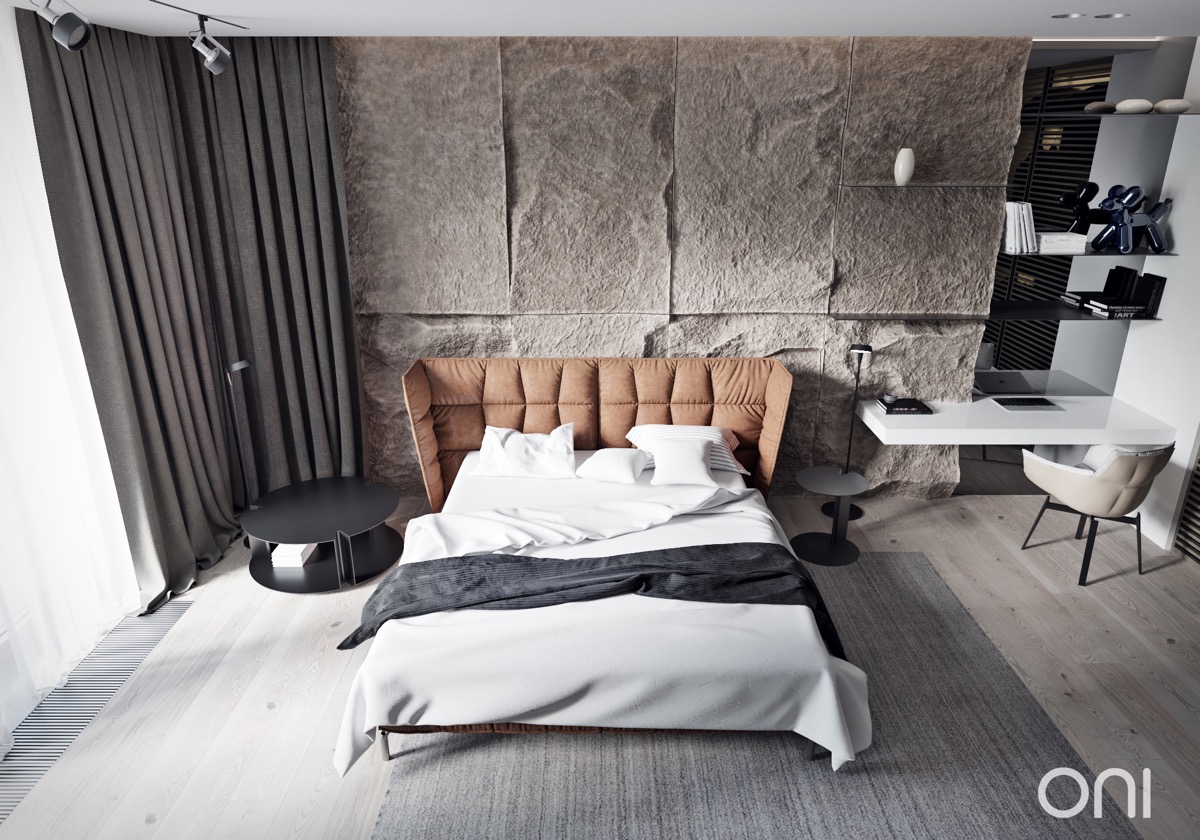 20 |
Visualizer: ONI Architects
The awesome textured accent wall seen behind the bed in this room takes incorporating natural elements to a whole new level. The raw aesthetic and texture is mesmerizing.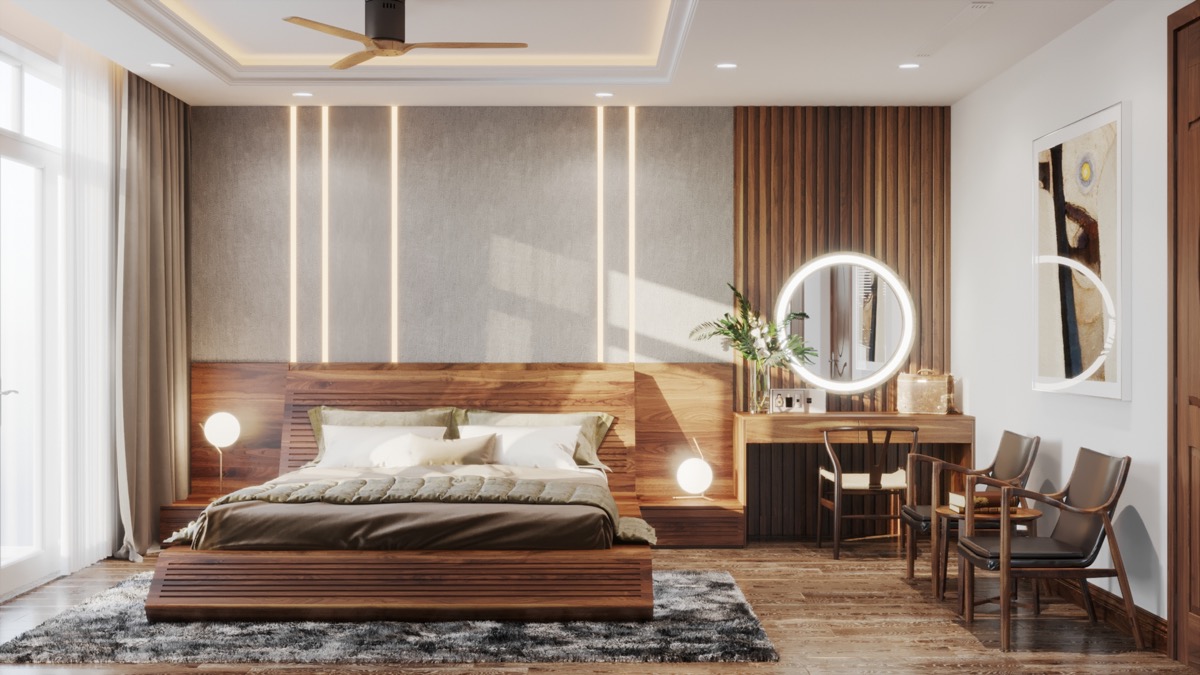 21 |
Visualizer: Hausmax Design
Wood furnishings highlighted by a slew of various lighting creates the perfect mix of natural and man made elements. We especially love the unique ceiling fan that hangs overhead.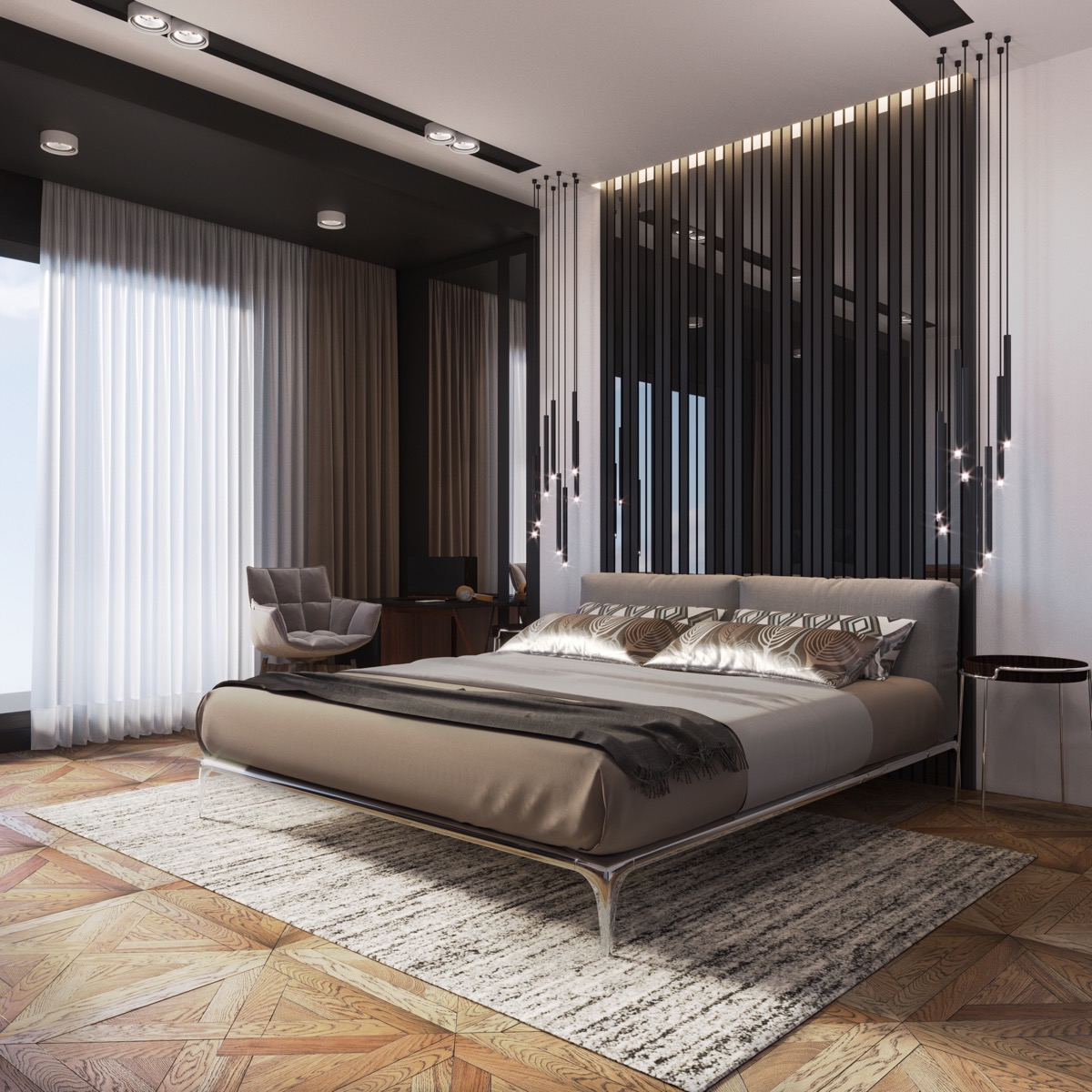 22 |
Visualizer: Bektur Berikbossynov
If you want a bedroom to feel sexy and seductive, try playing with some darker colors. The glossy black accent wall in this room instantly drew us in. Of course, we didn't miss the smaller touches that make this design great though, like the chrome legged bed and simple bedroom chair. Every detail counts!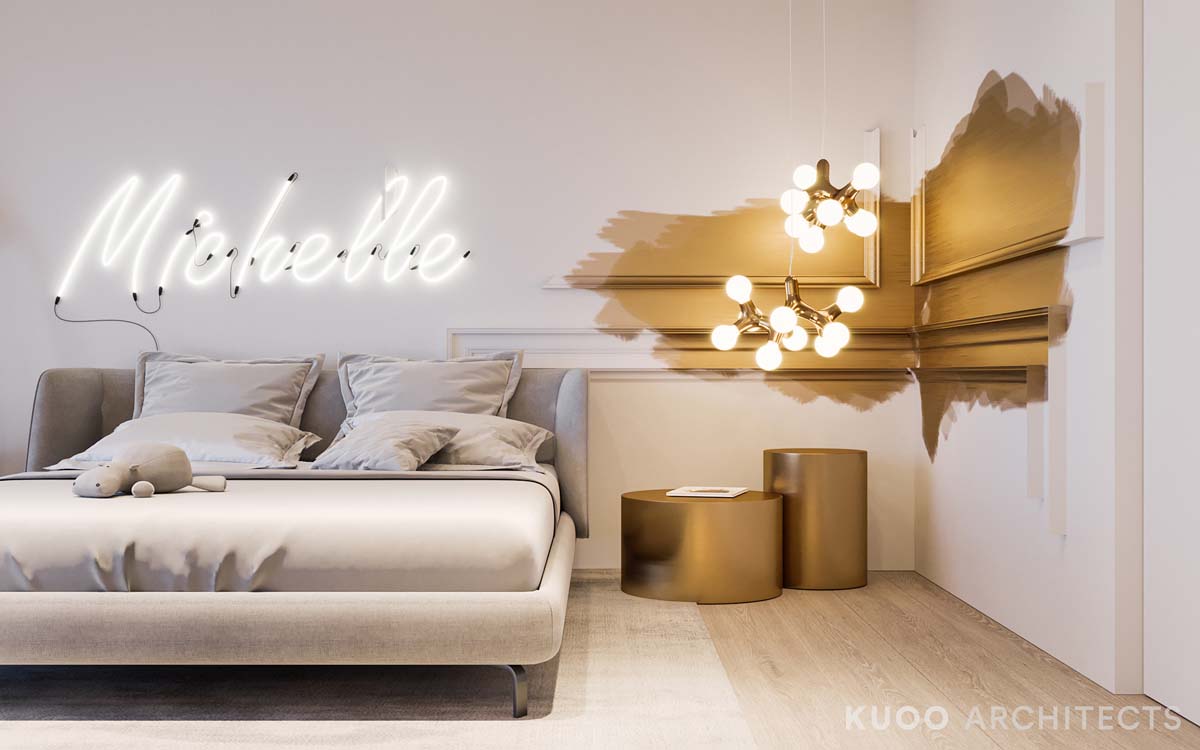 23 |
Visualizer: KUOO Architects
The color gold has been long considered a color of wealth and prosperity, so it is only natural that it is notoriously known as a luxurious color. This bedroom utilizes that knowledge and makes a fun, yet elegant corner using a bit of paint, a unique light, and drum end tables.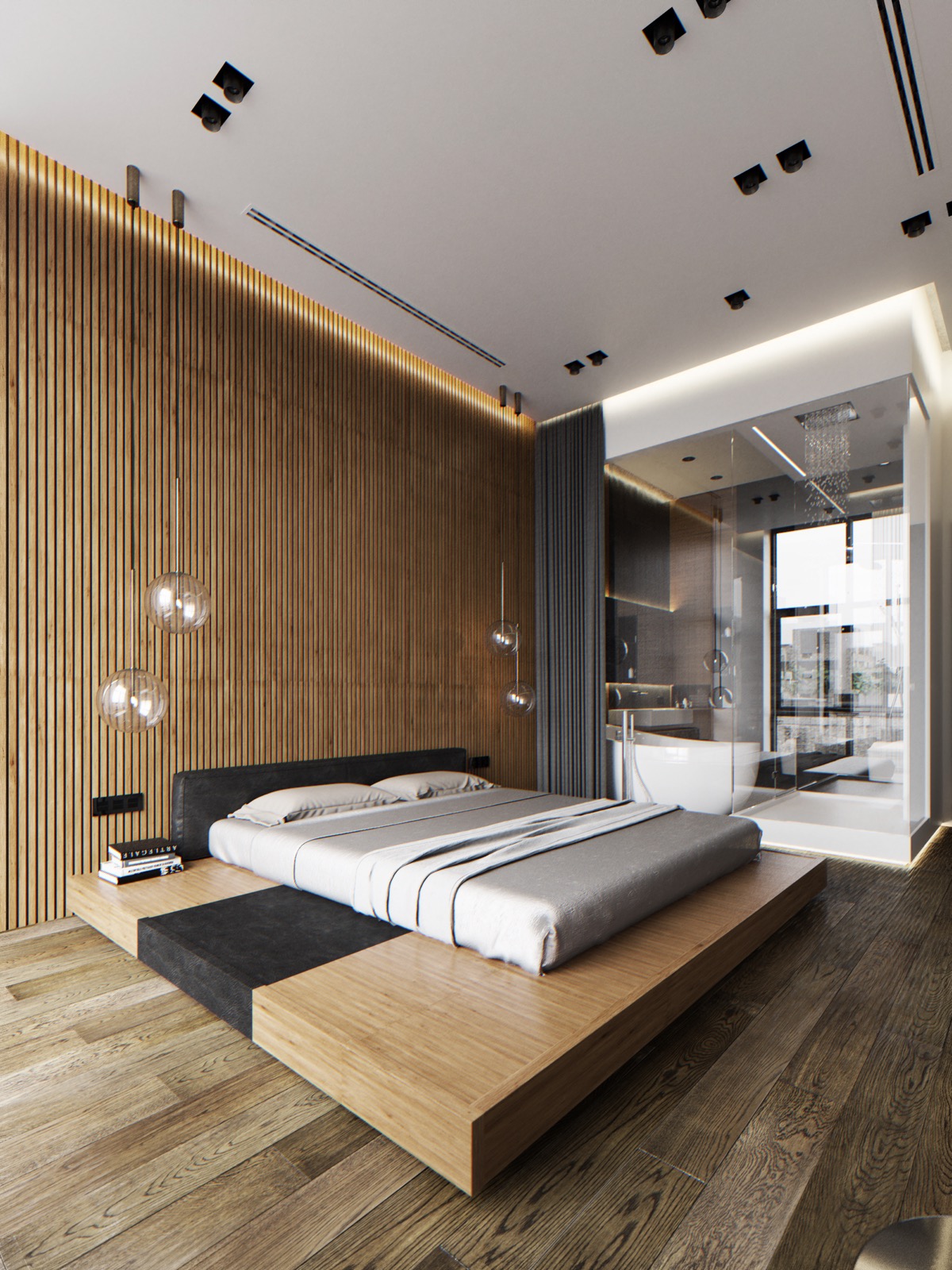 24 |
Visualizer: Forms Architects & A.T.O Studio
Another great use of globe pendant lights. Pendant lights are a home run in the bedroom because not only do they create ambiance and a secondary lighting option, but they can help keep end tables from becoming overcrowded.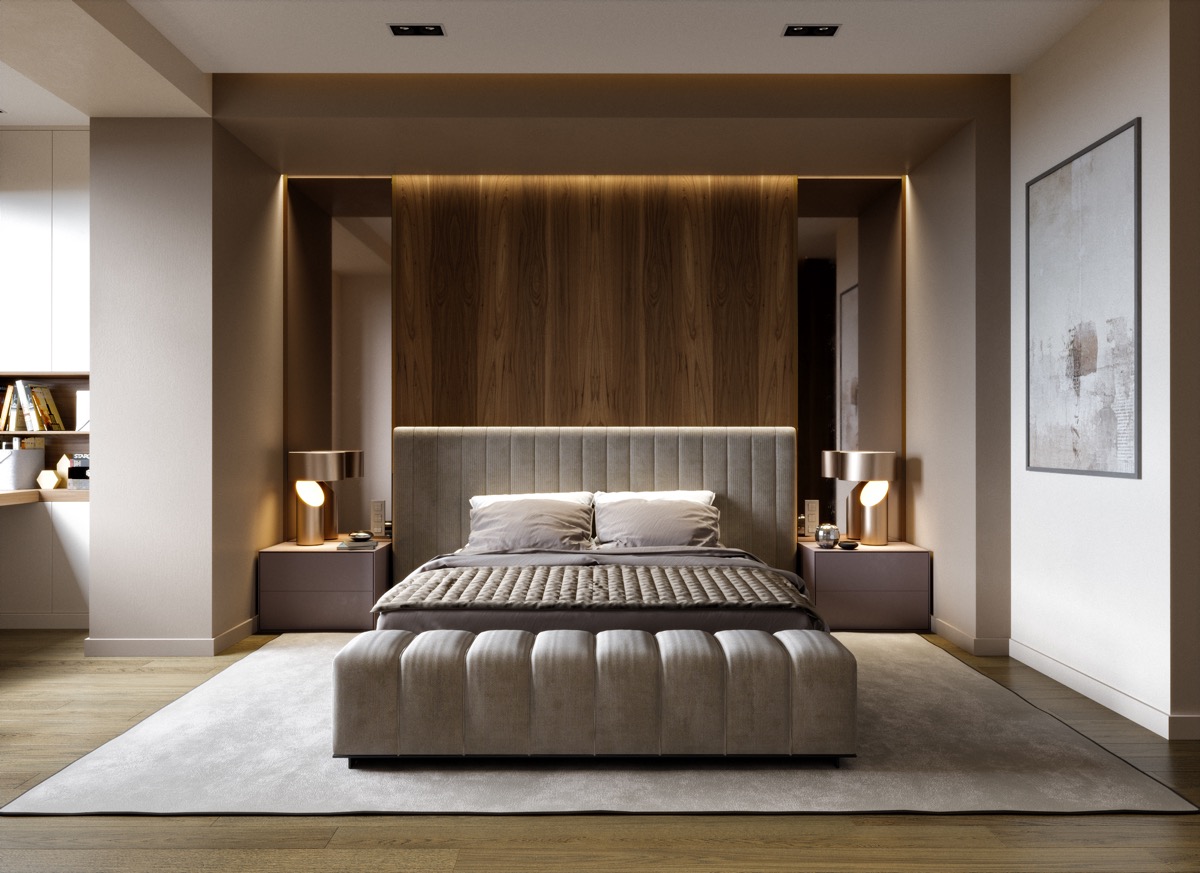 25 |
Visualizer: Maxim Shpinkov
Secondary lighting is absolutely imperative to achieve the desired ambiance for a bedroom, so if you don't want to wire in anything new, go with the tried and true bedside table lamps. Look for ones with a more luxurious design, like the chrome plated ones pictured here.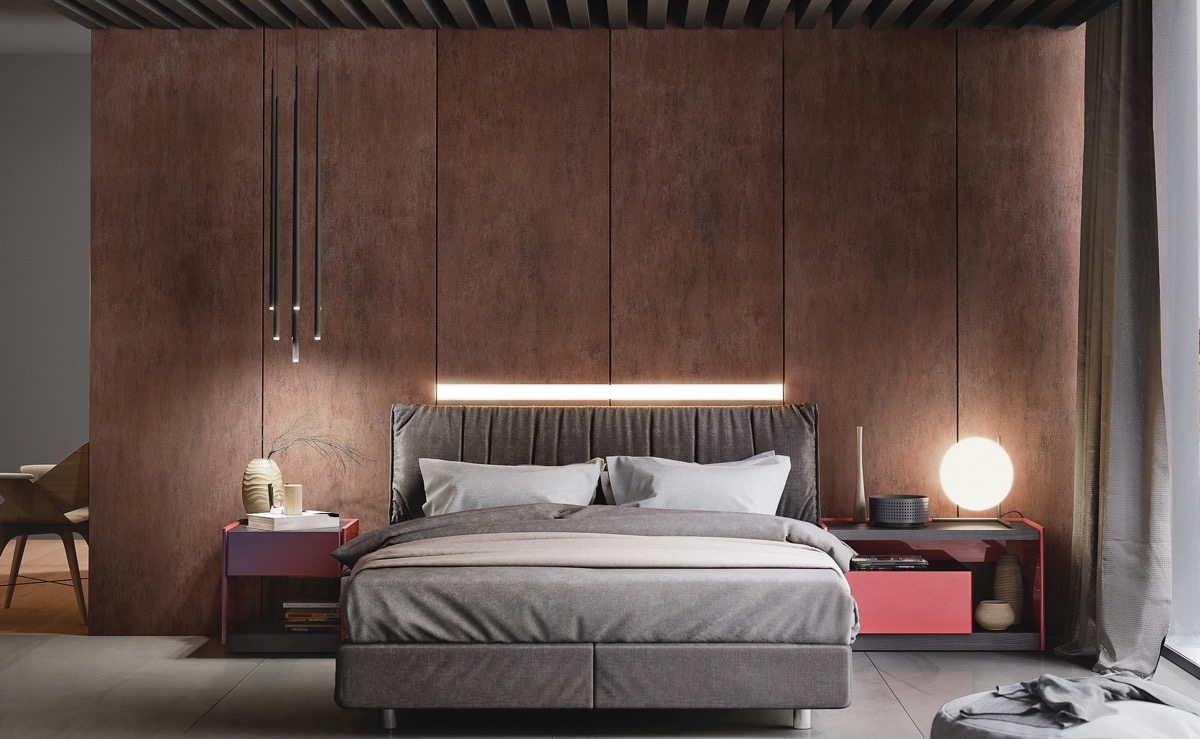 26 |
Visualizer: Drews Studio 3D
Asymmetry can be a great design tool to keep things fresh and interesting. For example, the Vibia Slim LED pendant is only used on one side of the bed here, while a globe table light is used on the other end. Symmetry and matching everything is not necessary to achieve a luxurious bedroom.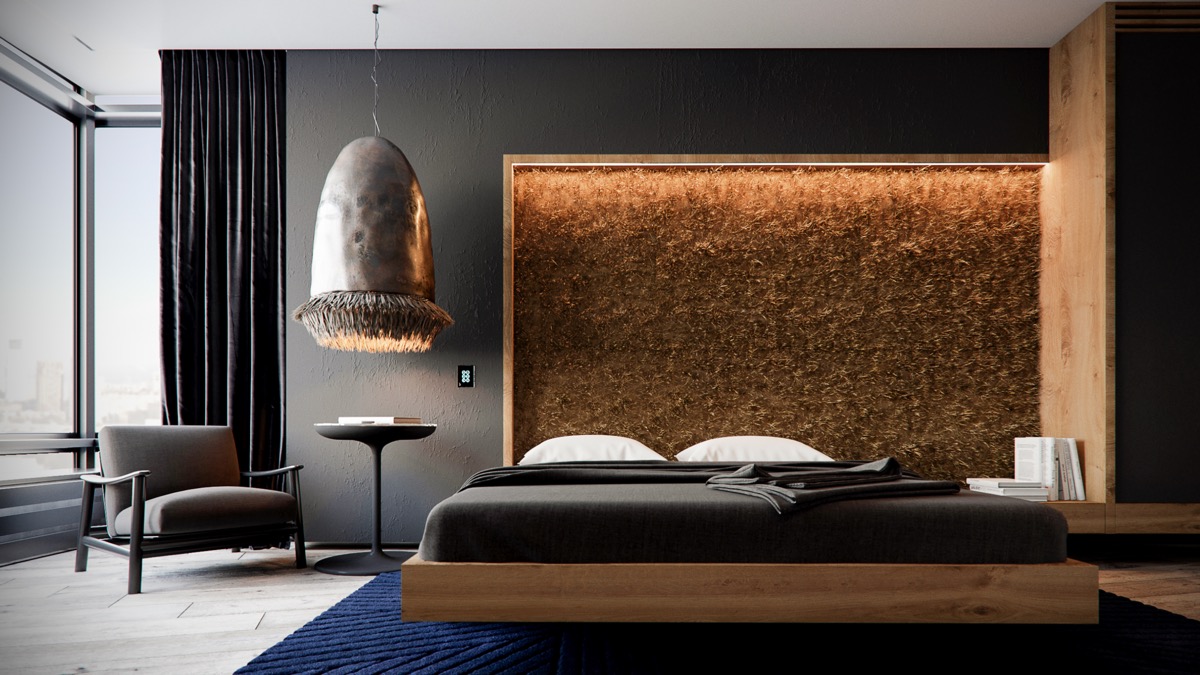 27 |
Visualizer: Meshchankin Artem & Sergey Makhno
Look for pieces of functional art to incorporate in to your design. They're useful and they will give your bedroom a unique edge. We love that here the designer mimicked the texture of the pendant light on the accent wall.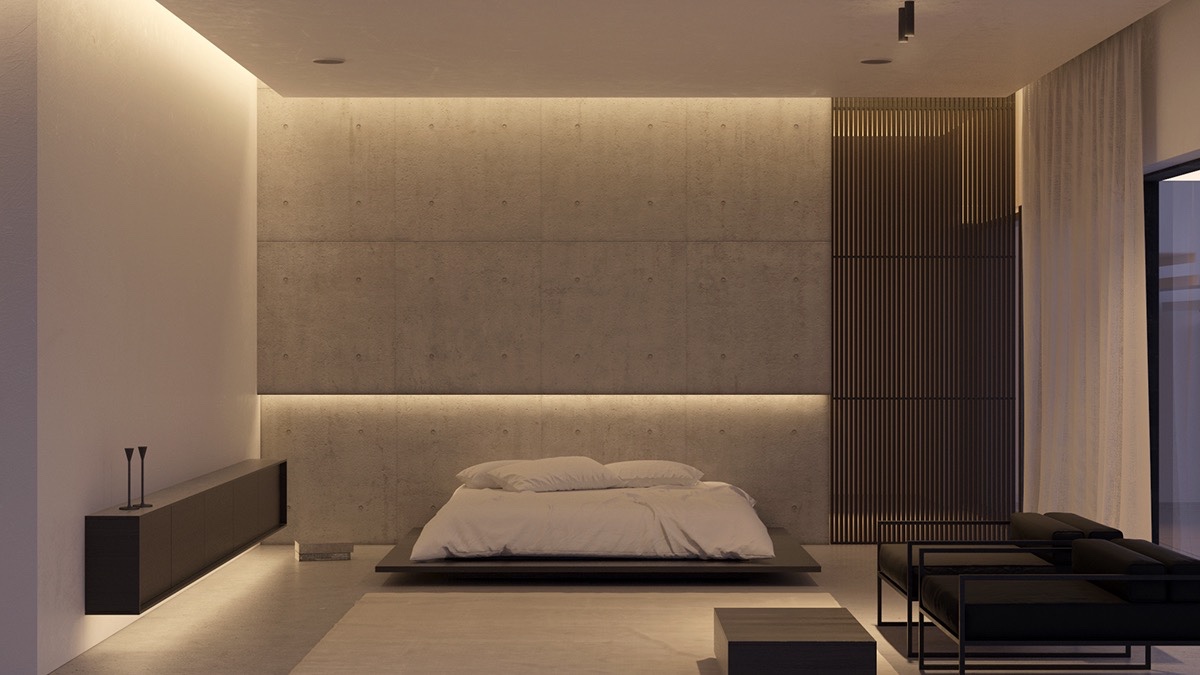 28 |
Visualizer: KDVA Architects
This industrial bedroom takes things in a different direction by using minimalist furniture and an abundance of concrete. Even though this design vastly varies from others on our list, note that it also incorporates built-in lighting and a low platform bed.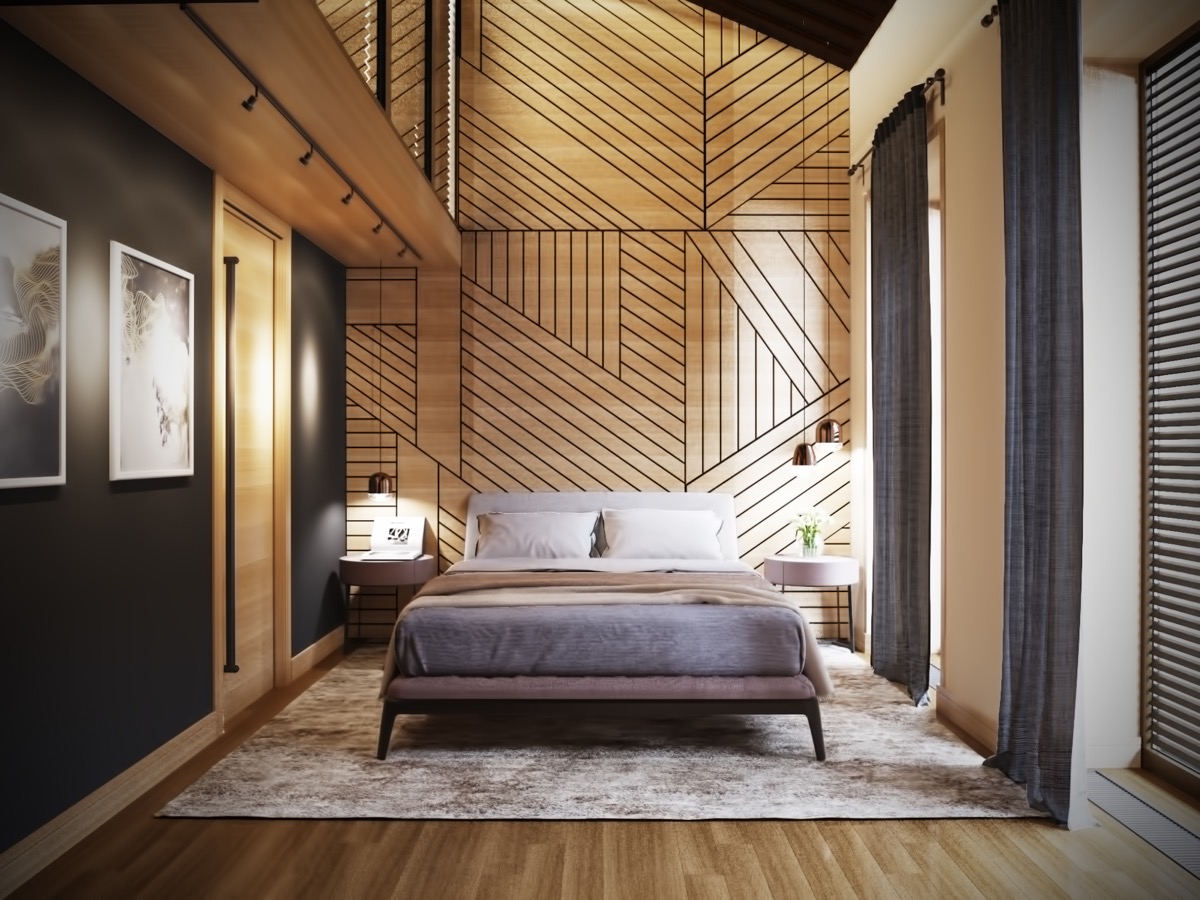 29 |
Visualizer: Tatyana Ozimuk
An oversized throw rug like the one used in this black bedroom is an excellent add-in that can instantly make a room feel more cozy. It can also help to add more visual interest to a room with a minimal color palette by creating a bit more texture in the space.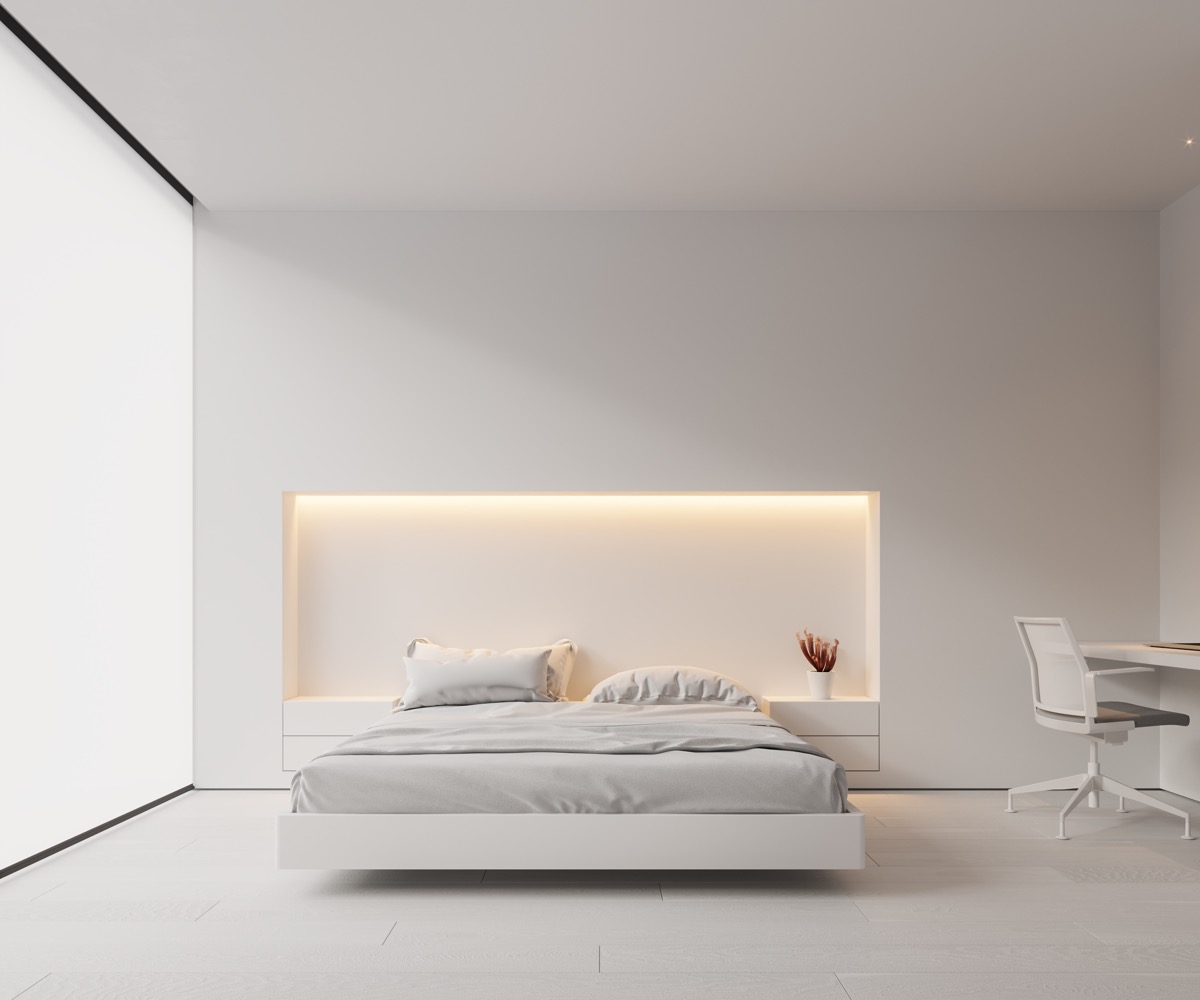 30 |
Visualizer: Kanstantsin Remez
This minimalist bedroom is sleek and clean with its all-white color palette. The designer made sure that this space doesn't feel cold and sterile by fitting it with a modern bed and creating a recessed wall illuminated by built-in lighting.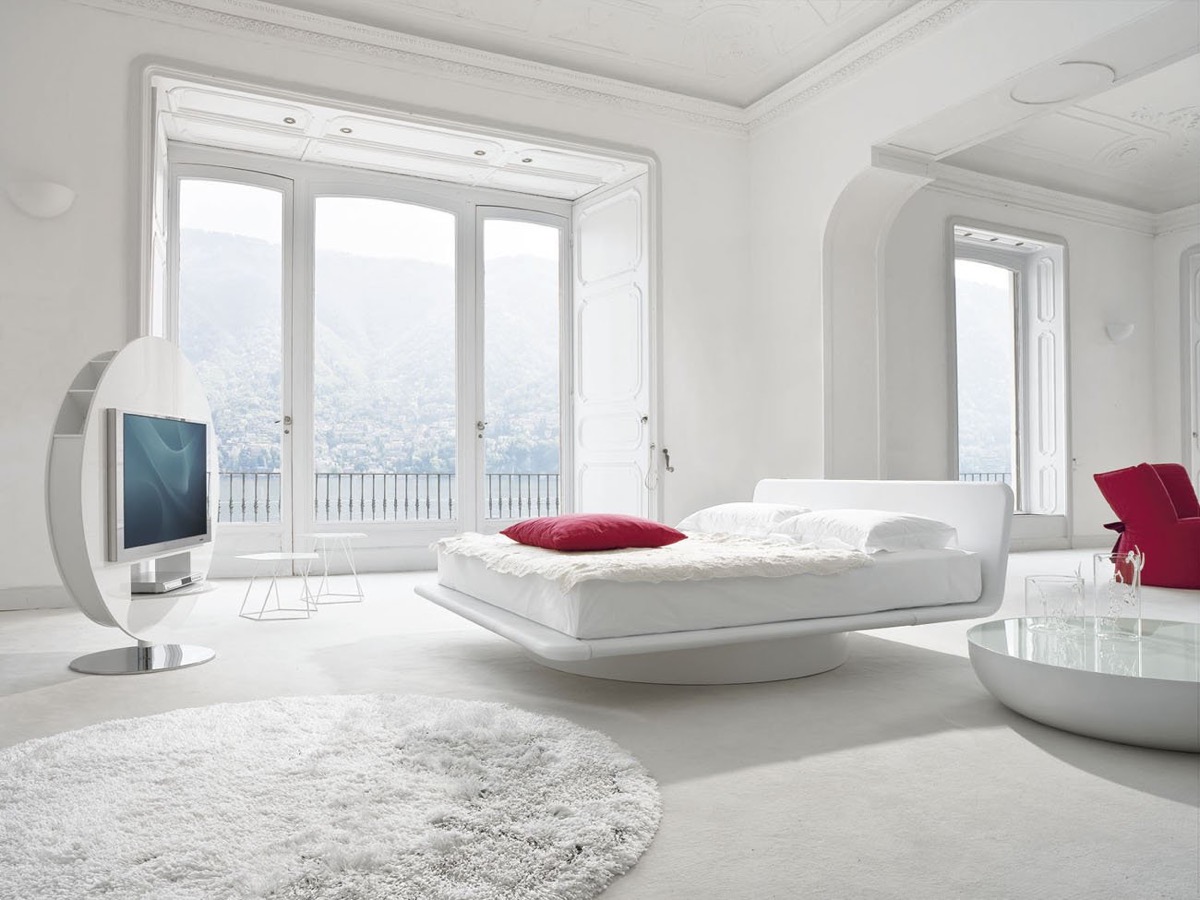 Another white bedroom, but a bit more spacious. This one uses unusually shaped furniture and a bold red to create a fresh design.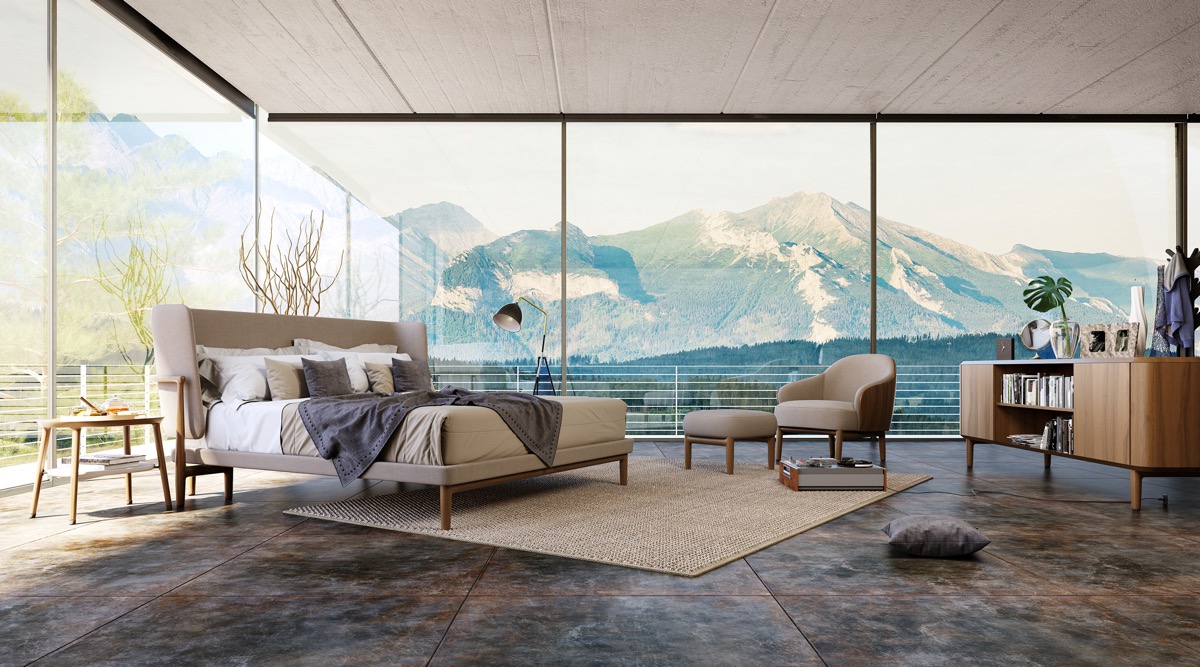 32 |
Visualizer: DAR Studio Render
Who needs wall art when you have this!? Nothing says luxury quite like an irreplaceable view like this one.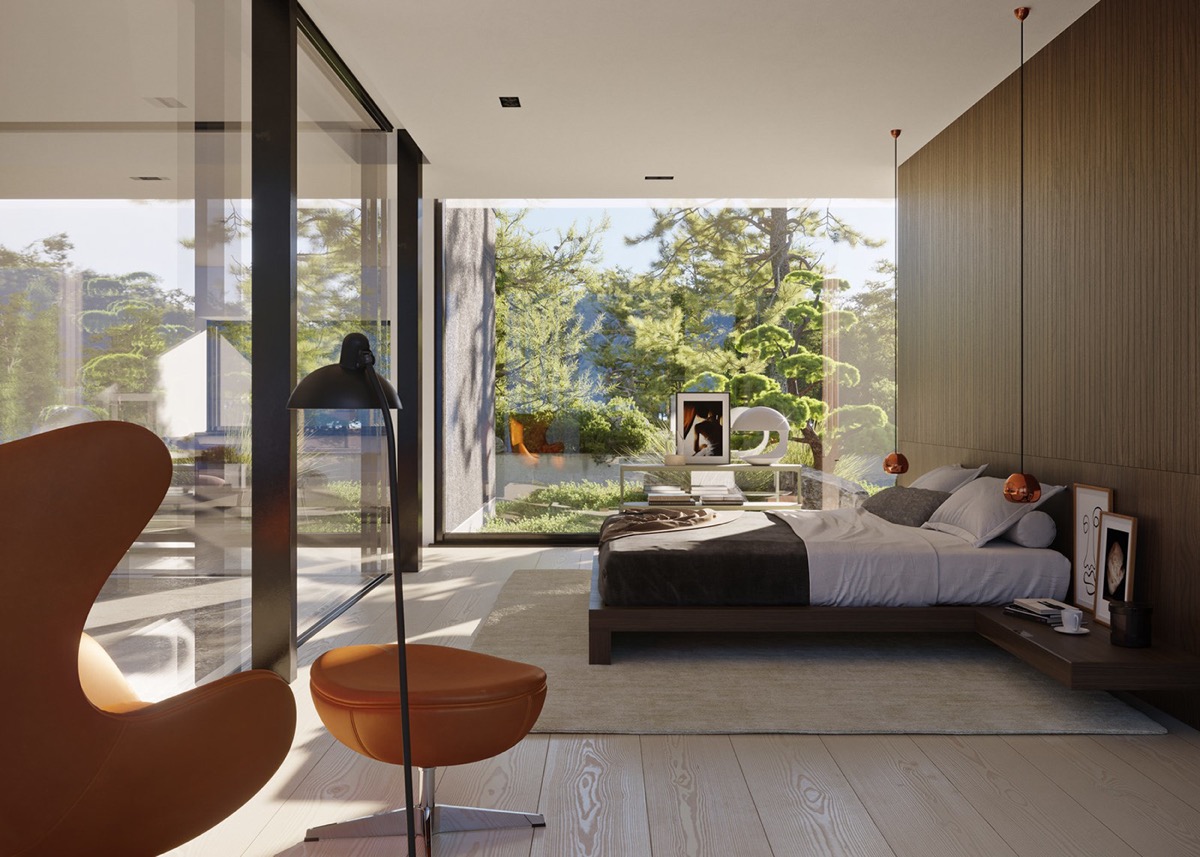 33 |
Visualizer: nMachine
Another large window, but a bit more feasible for the average home. Not only can large windows reward you with a great view, but they are also great for flooding a bedroom with natural light.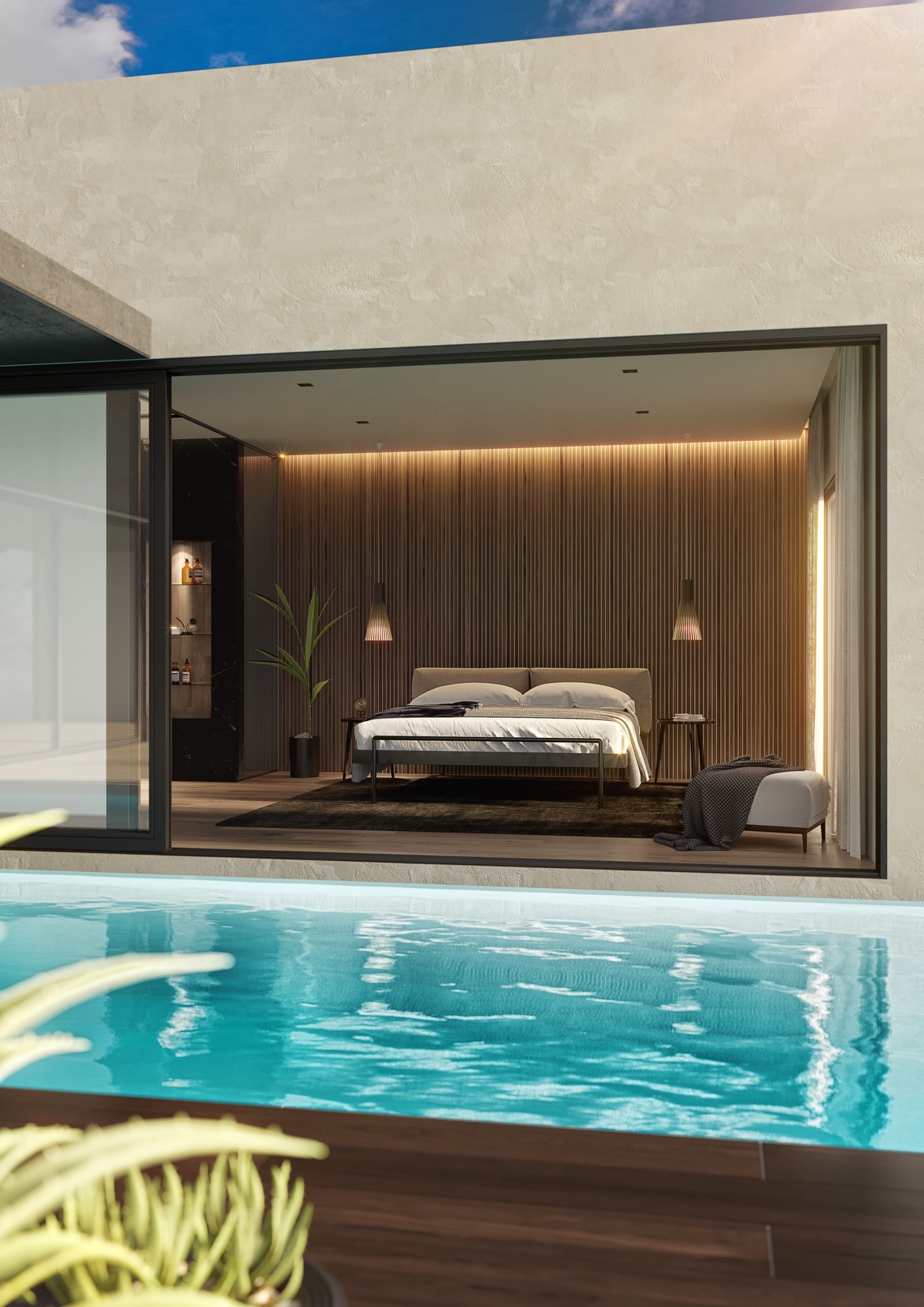 34 |
Visualizer: Tendenza
Being able to step out our bedroom directly in to the pool? Yes, please! This unique design makes that possible with an oversized, sliding glass door.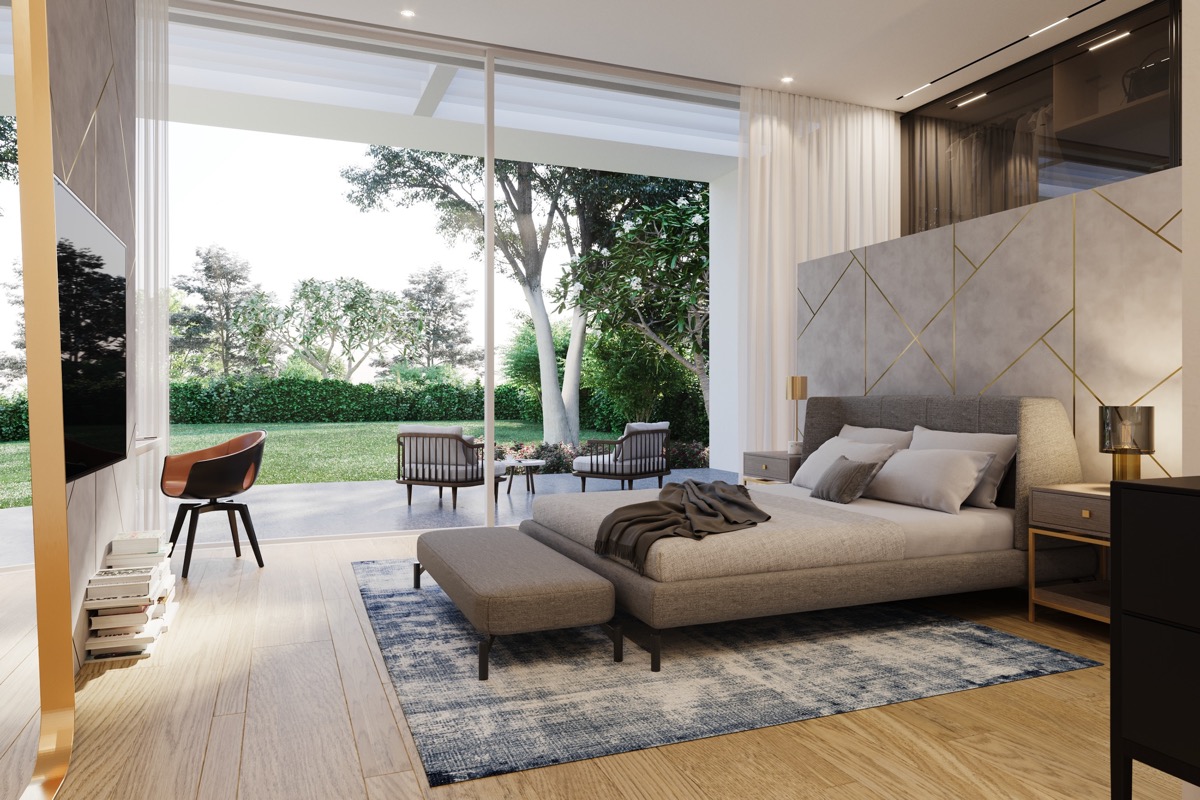 35 |
Designer: Eyal Apple + Dorit Weinbren
Visualizer: The Craft
Design your bedroom with the lifestyle that you want in mind. If that means having coffee outside in the morning while listening to the birds, how can you incorporate that? Sometimes a bedroom can feel luxurious because of the activities or lifestyle it encourages.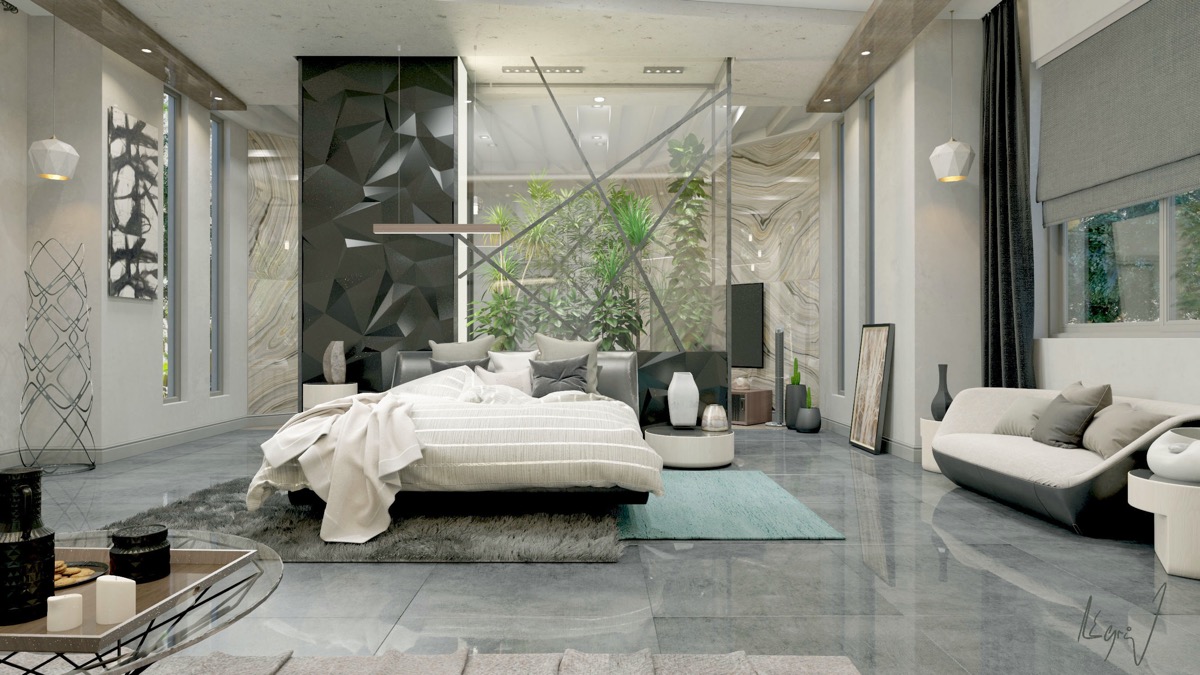 36 |
Visualizer: La Alegría Dhifaoui Samiha
Glitz and glamour, this high-shine bedroom is absolutely divine. With its glossy finishings, spacious layout, and plush rugs, this room's luxurious feel is rivaled by few.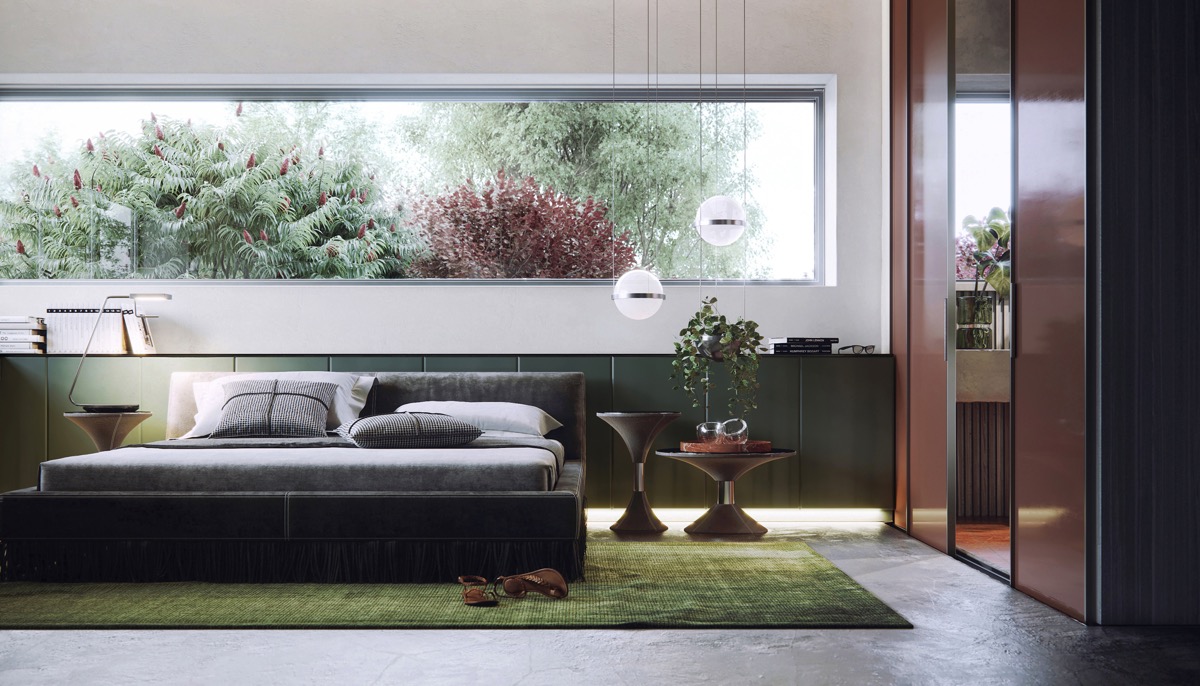 37 |
Visualizer: Anna Fedyukina
A touch of green is featured both inside and outside this bedroom. The area rug is accented by the expansive view of the tree tops that can be seen through the oblong window. A unique configuration for a window, but one that really highlights this design.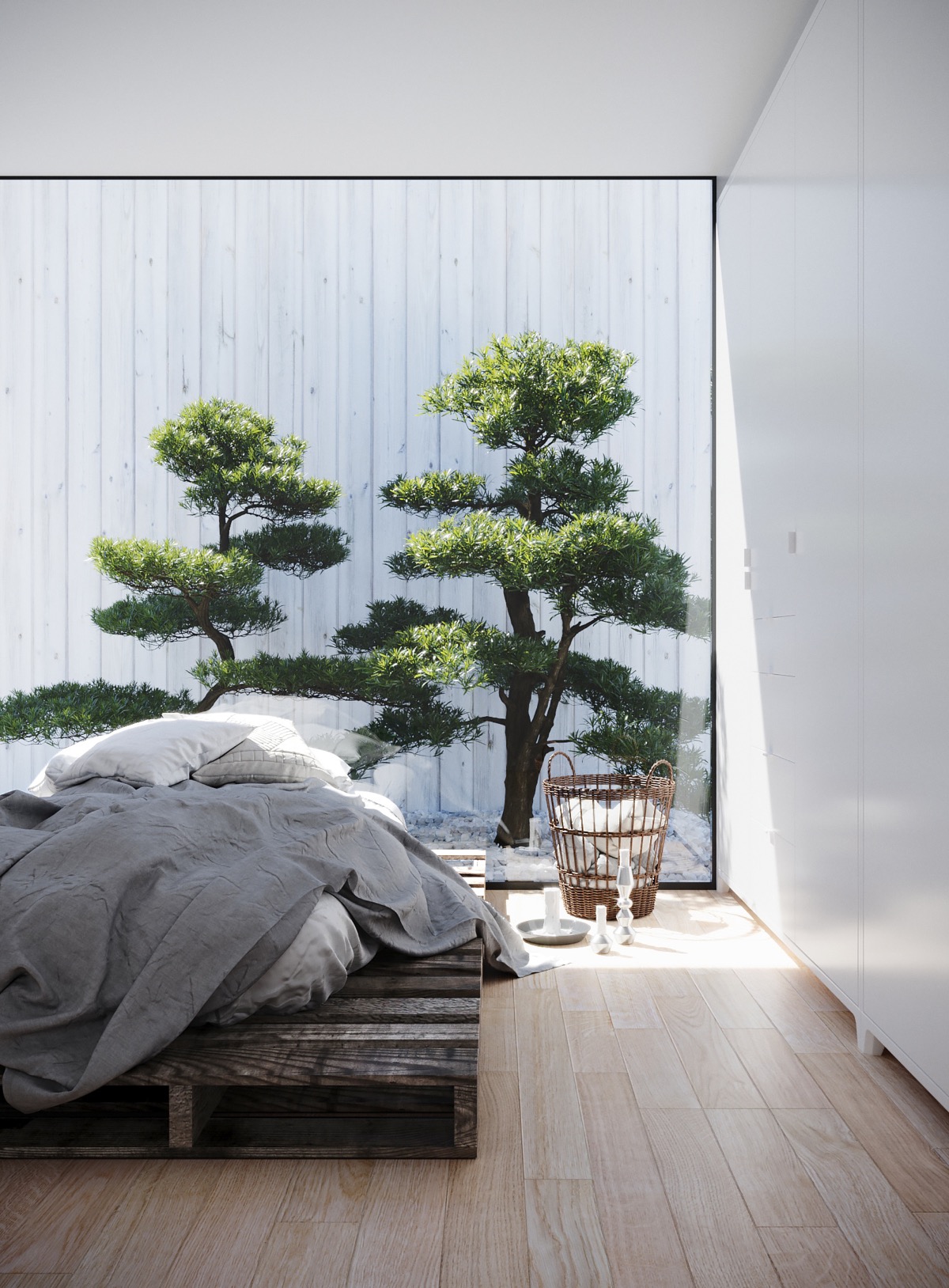 38 |
Visualizer: DAR Studio Render
If you are a nature lover, then this might be the bedroom for you! Instead of a traditional headboard, how about an atrium filled with lush greenery and natural lighting?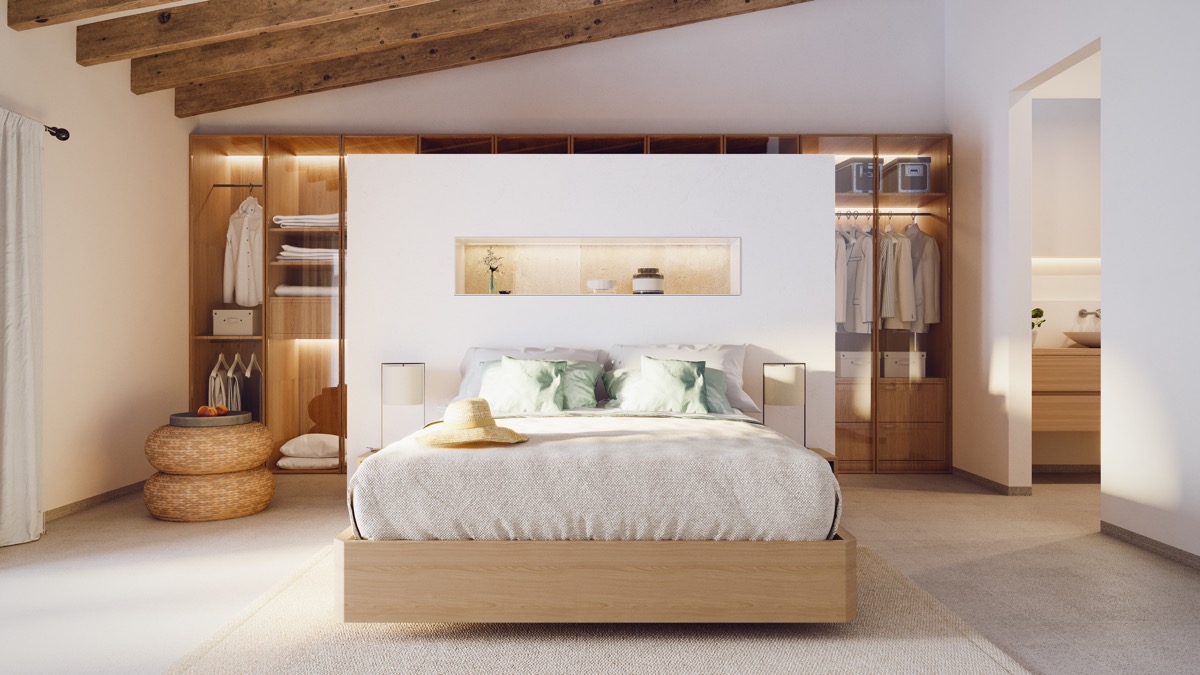 39 |
Visualizer: Berga & Gonzalez Arquitectos
A walk-in closet is re-imagined with this open-concept design. By pushing the bed to the middle of the room, this allowed for a partial wall to be built. This wall not only acts as a headboard, but it helps separate the closet from the rest of the room without completely closing it off.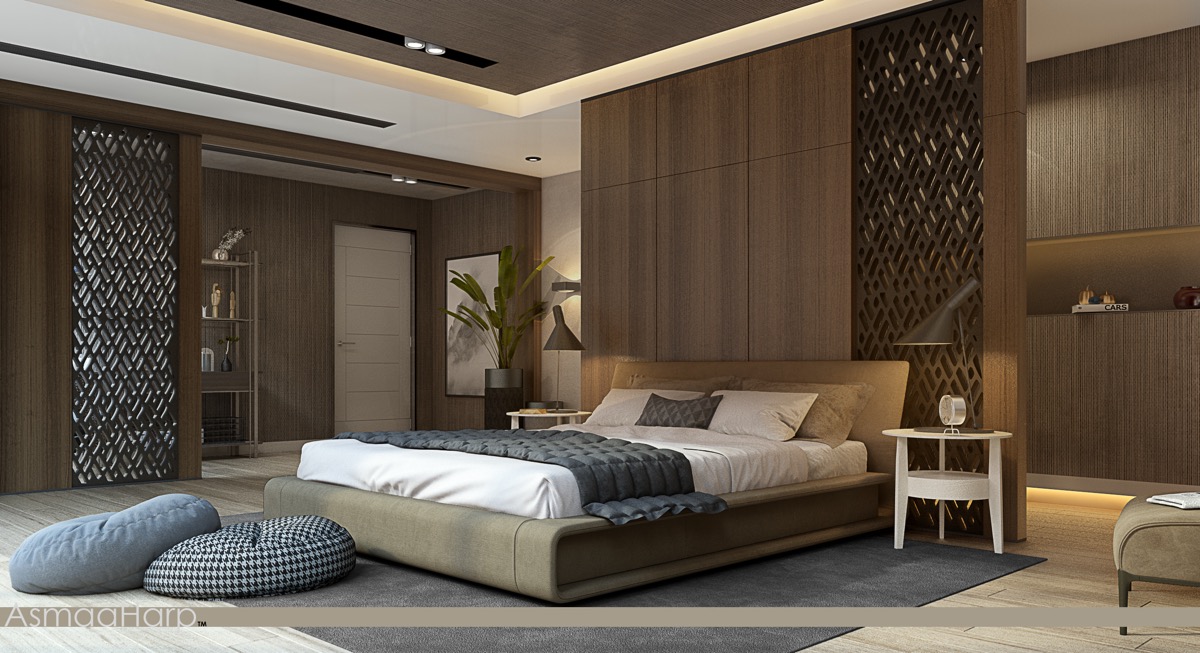 40 |
Visualizer: Asmaa Harp
Modern wood paneling can have a very sophisticated and warm feel, making it the perfect wall covering for a bedroom. This bedroom even accents it with cut out design panels for extra flair.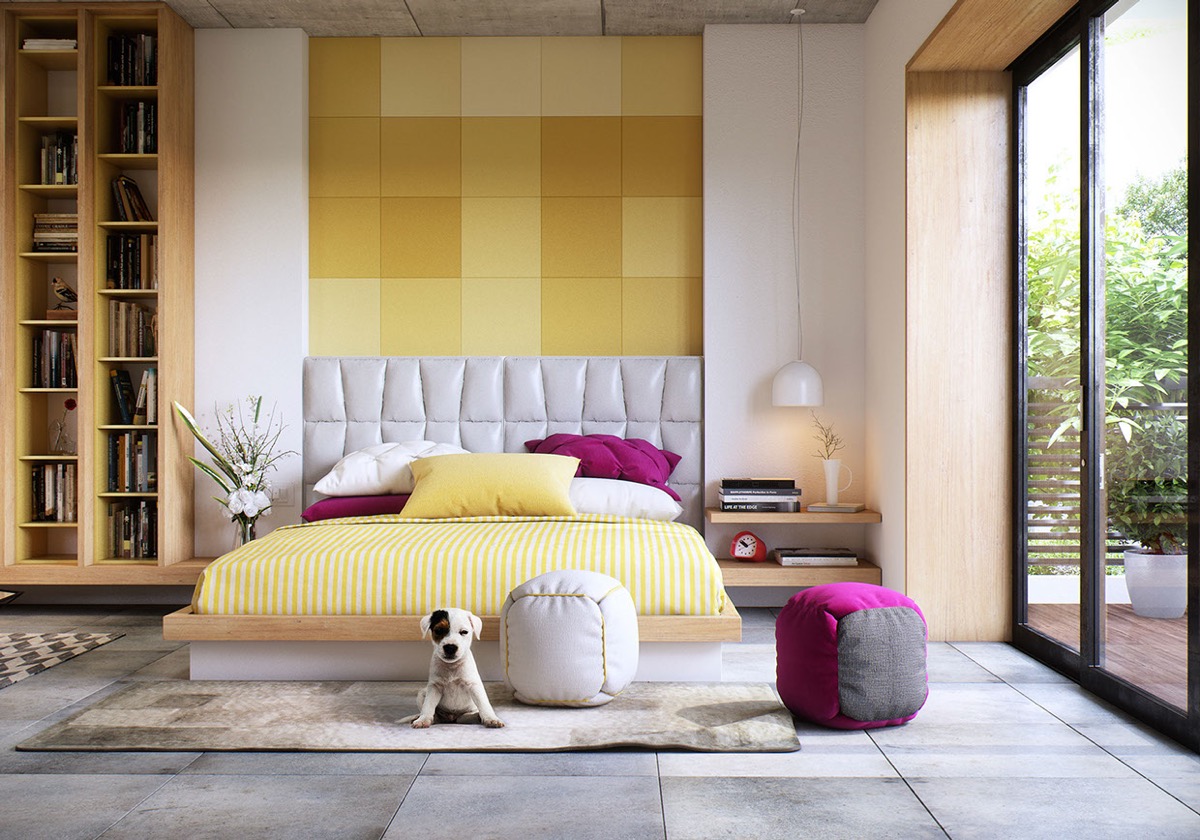 41 |
Visualizer: Image Box Studios
This cool bedroom is both fun and luxe. It makes great use of built-ins, which are a wonderful way to add a bit more luxury to a space.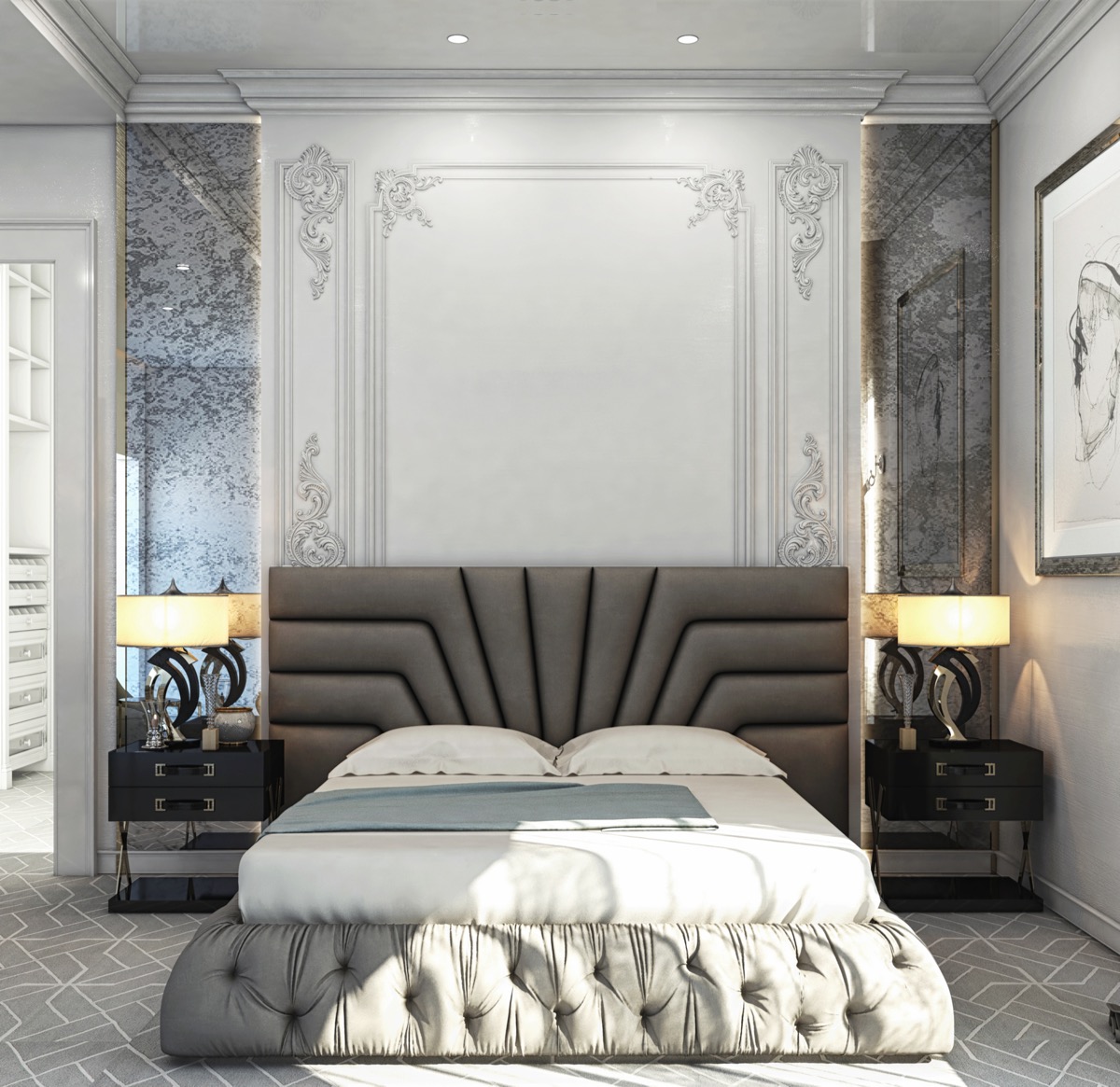 42 |
Visualizer: Omar Maghrabi
Art Deco collides with Modern in this elegant bedroom. Everything from the ornate wall moldings to the grey, low pile carpet come together effortlessly.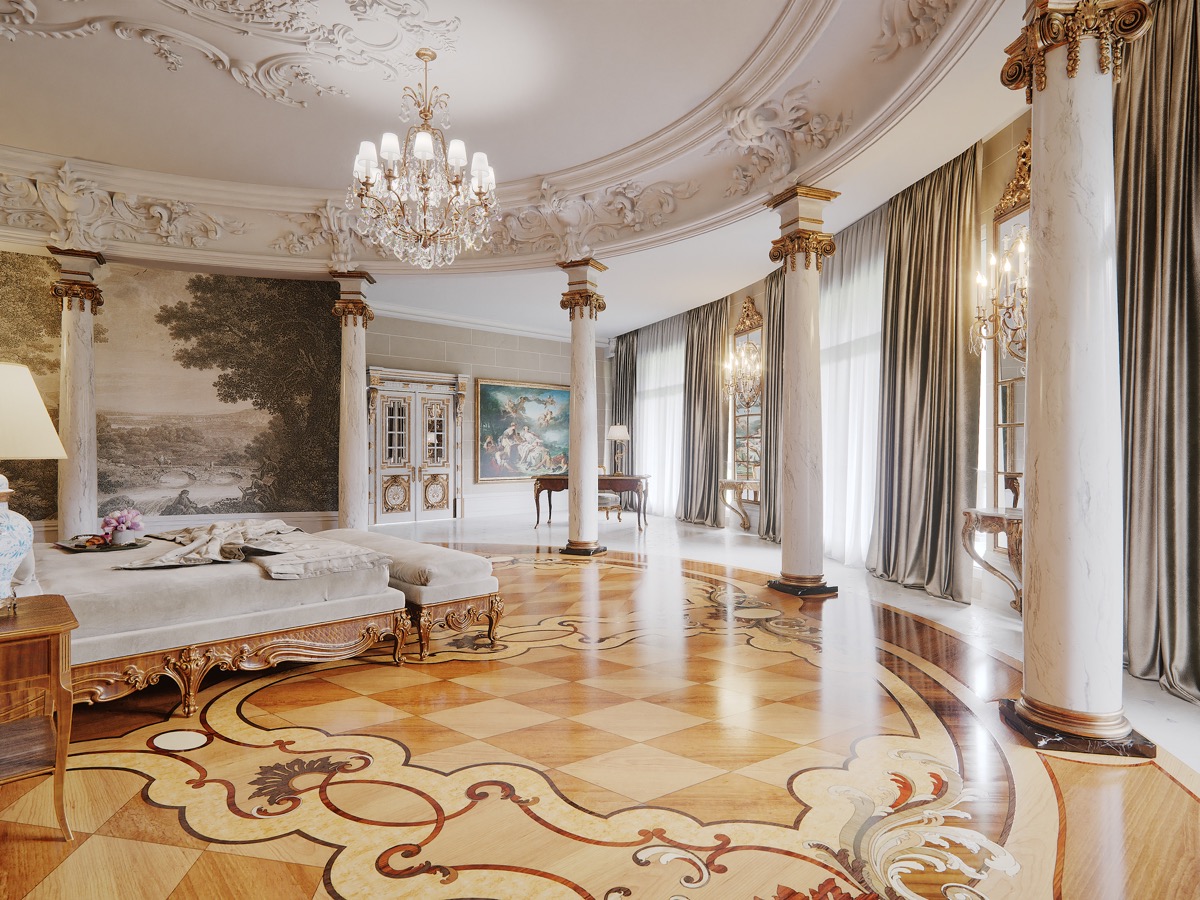 43 |
Visualizer: Blackbell
If you have ever wondered what it feels like to be royalty, try spending a night here. With intricate designs, vaulted ceilings and marble pillars there is a lot to envy with this bedroom. Get the look at home by incorporating a mural in to your bedroom or try adopting a color scheme of gold and white marble.
44 |
Visualizer: Omar Maghrabi
With a bit of a Moroccan aesthetic, this bedroom is a vision in white, blue, and brown. The large shag rug really helps give it a youthful vibe. If Aladdin was set in the modern day, we could totally see this being Princess Jasmine's room.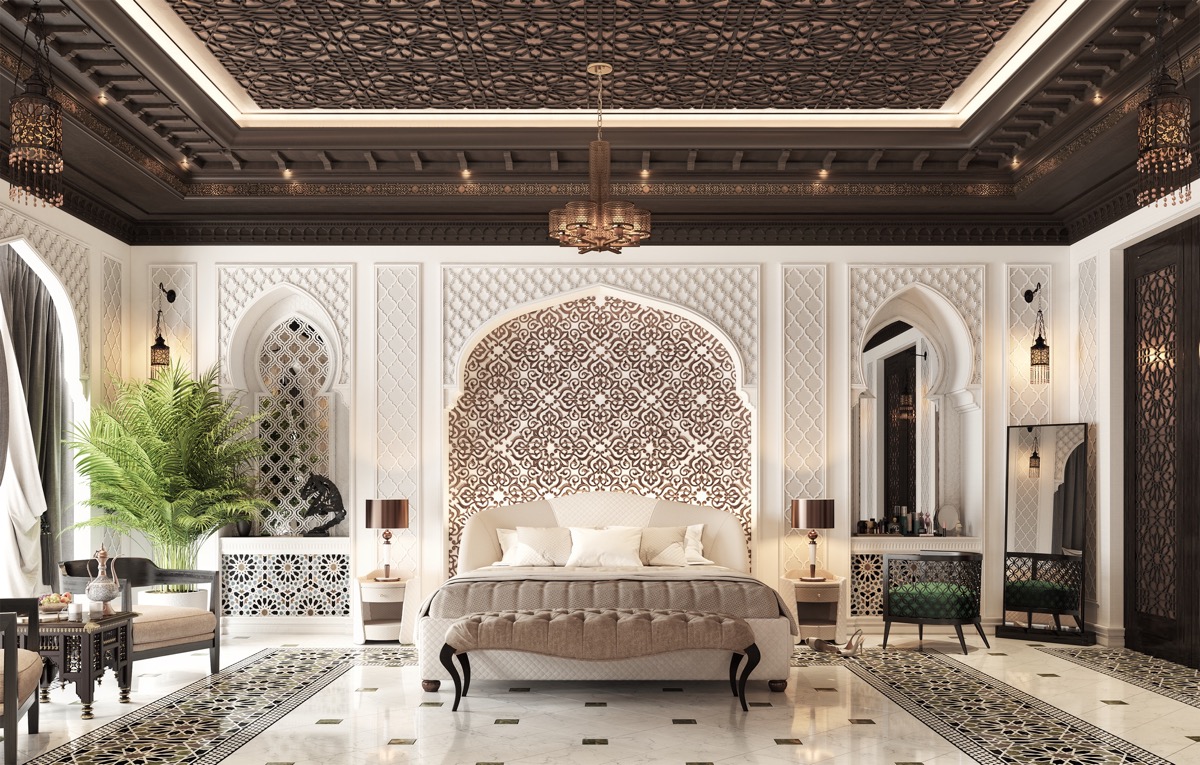 45 |
Visualizer: Bahaa Alsalhe
Another Moroccan beauty. Great attention has been paid to details, such as the intricate tile flooring and various motifs and textures used throughout the design.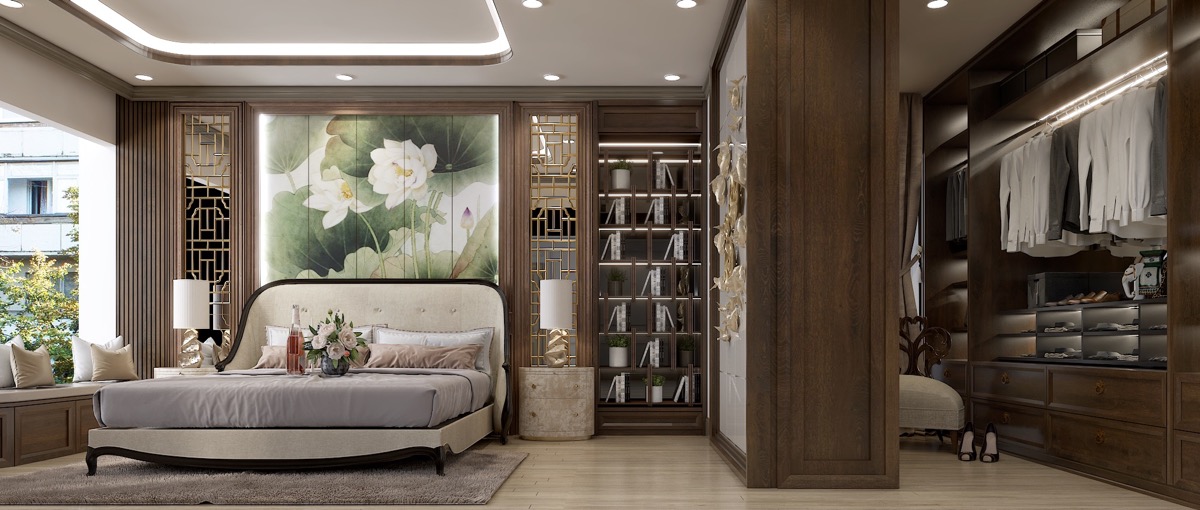 46 |
Visualizer: Việt Dũng
A mural highlighted by built-ins, like the one seen here, is an eye-catching option that can be very cost-efficient. Murals are widely available online or you could always paint your own if you're the creative type!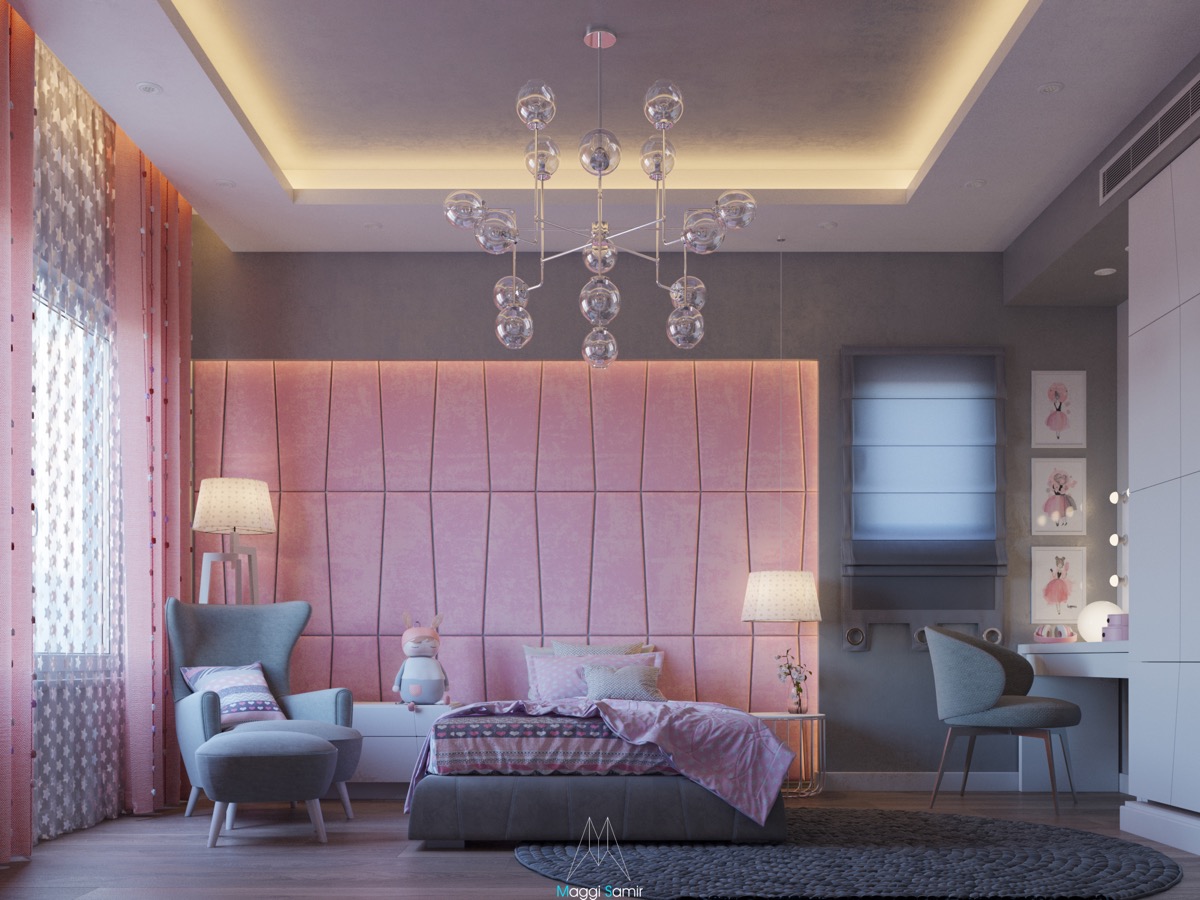 47 |
Visualizer: Maggi Samir
This luxury kids' bedroom is brimming with warmth. A soft pink paired with a darker grey allows for just the right amount of contrast. We especially love the oversized, plush wall.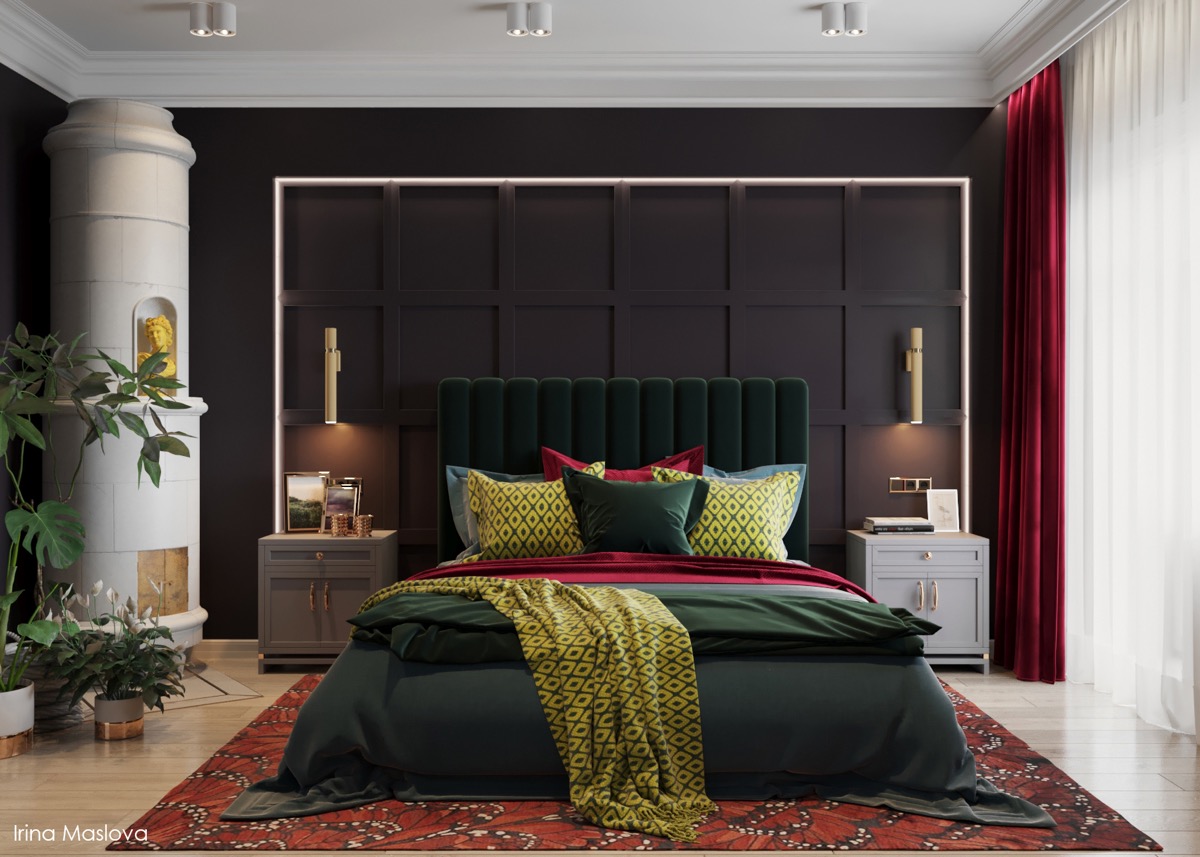 48 |
Visualizer: Irina Maslova
Combining red and green is a bold choice that requires excellent planning. Unless you want your bedroom to look like Christmas, then consider off setting the duo with a bright color like yellow, pink, or turquoise. The addition of tropical plants can also be great way to rid of unwanted holiday vibes.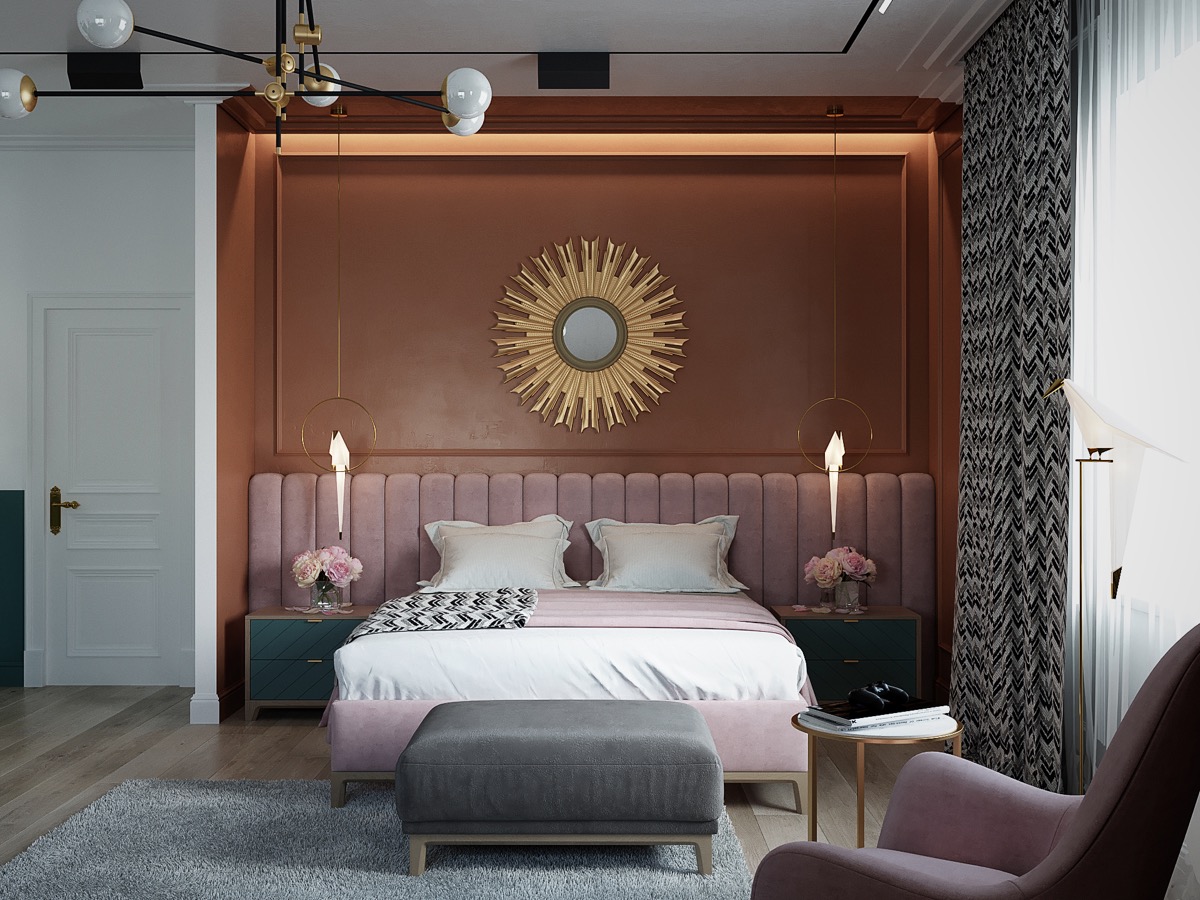 49 |
Visualizer: Alexander Savinov
A dusty pink gives this room a feminine feel, all without being overpowering. Like many of the bedrooms we have seen on this list, an end of the bed ottoman and reading chair have been adding to this bedroom. Two furnishings that are great at adding a touch of class.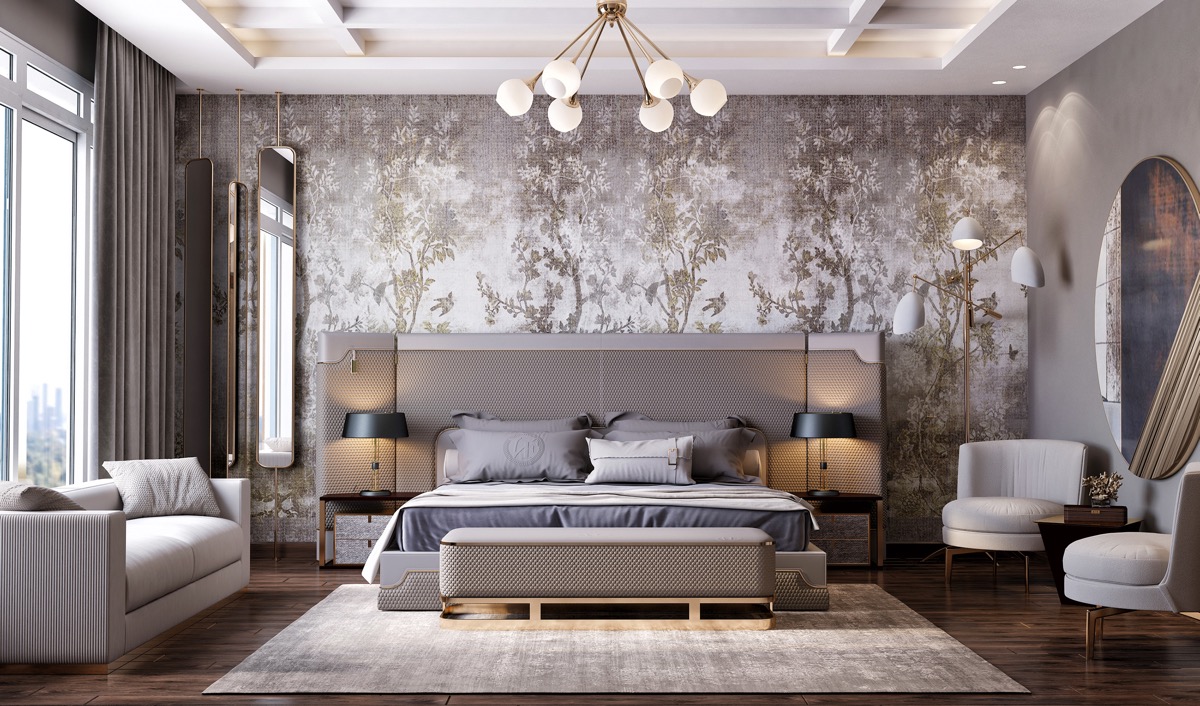 50 |
Visualizer: Reem Omar
Many of the accent walls seen throughout our collection have been quite intricate, but this bedroom is proof that a simple wallpaper job can also have a big impact! The neutral colors and faded design are a magnificent choice for this room.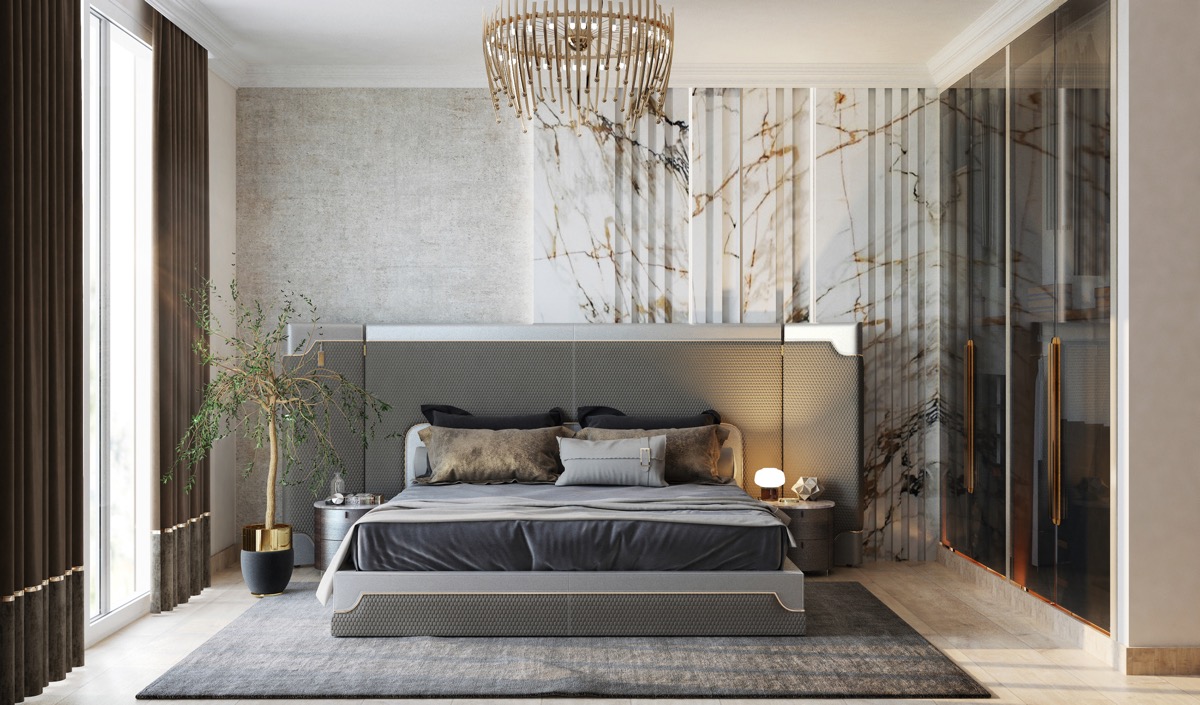 51 |
Visualizer: Rana Ezzat & Reem Omar
This bedroom utilizes many of the elements discussed throughout our collection, but it also incorporates a small tree that really livens up this design. The addition of plants to a bedroom can help a design feel fresh and vibrant. Keep in mind that the pot you choose to put it in can make all the difference though. A ceramic planter will always look far more luxurious than plastic.