1 |
Designer: Manish Aurora
Via: Lonny
Play favourites. This red dining room is an eclectic selection of favourite pieces, pitched together in a riot of colour. A black and white runner helps connect the mix and match dining set together in the busy scheme.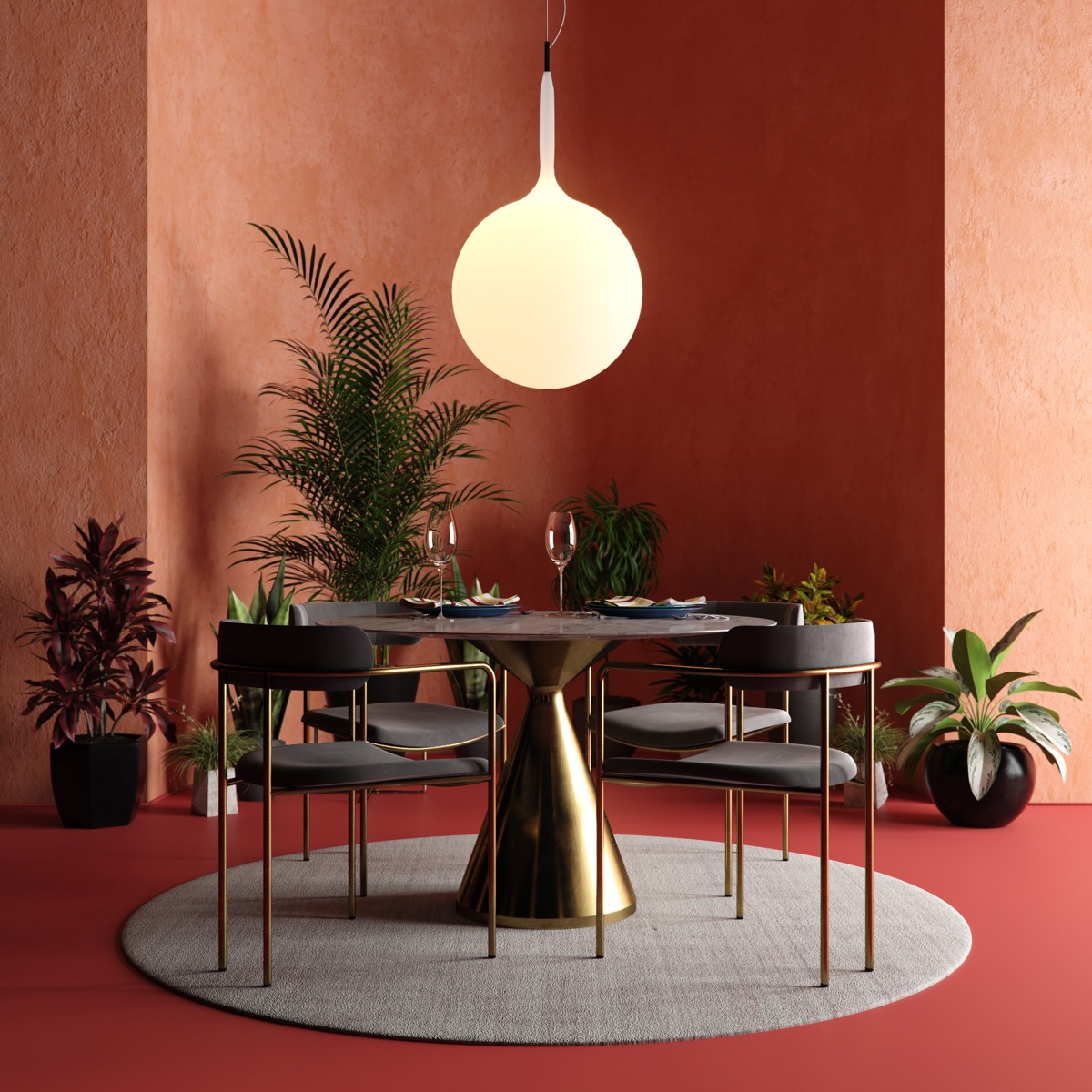 2 |
Visualizer: Timur Mitin
Red and rounded. For an intimate dining room theme, use solid red decor to cocoon a round pedestal table table and a circular rug. Pierce the colour with a large orb dining pendant light as the bright focal point.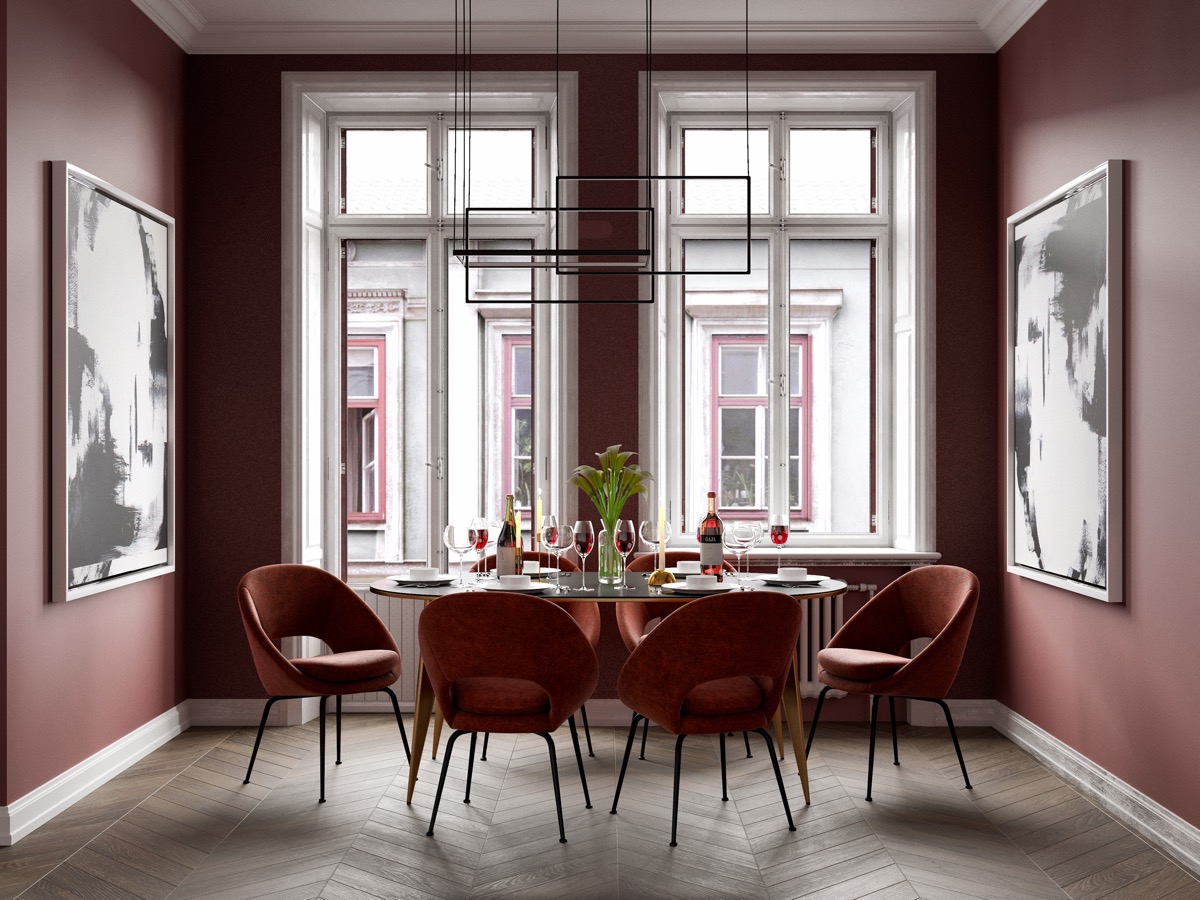 3 |
Visualizer: Serg Ushakov
This red dining room employs large pieces of artwork to lighten up the look. The paintings are heavy on white accents, which emulates two extra windows in the layout.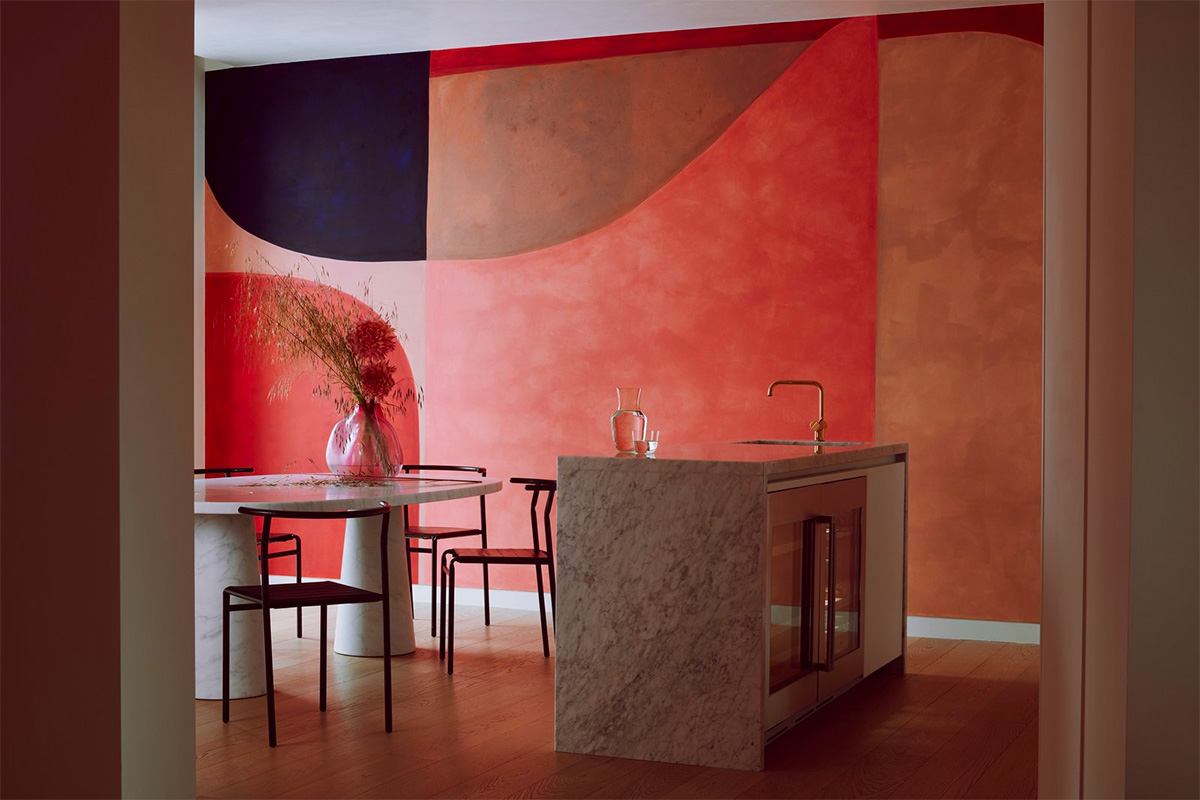 4 |
Designer: Vinson & Co. & RoksandaIlincic
Via: Dwell
Whether you're considering a red feature wall or red artwork, this arty focal wall combines both aesthetics. It's also a fun way to achieve loose zoning in an open plan room like a kitchen diner.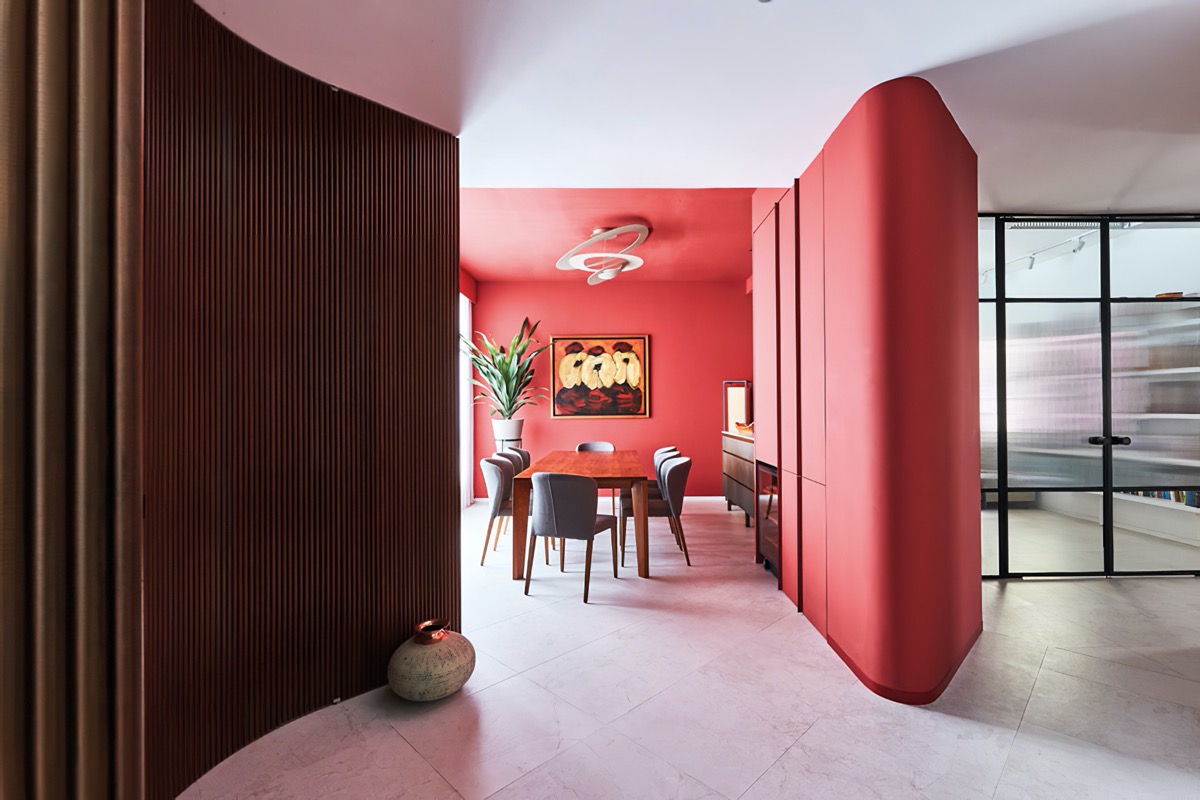 Speaking of zoning, a red ceiling makes a creative way to outline your dining space too.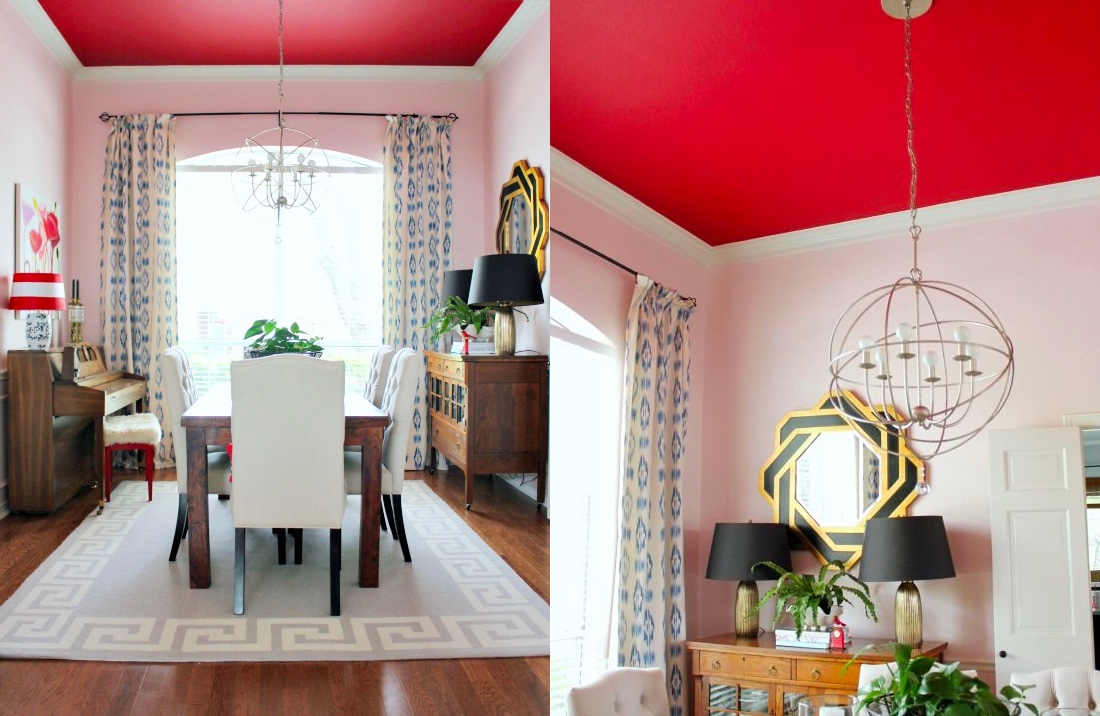 6 |
Designer: Cassie
Via: Kelly Elko
With an edge-to-edge red ceiling, keep colour coordinated accessories sparing.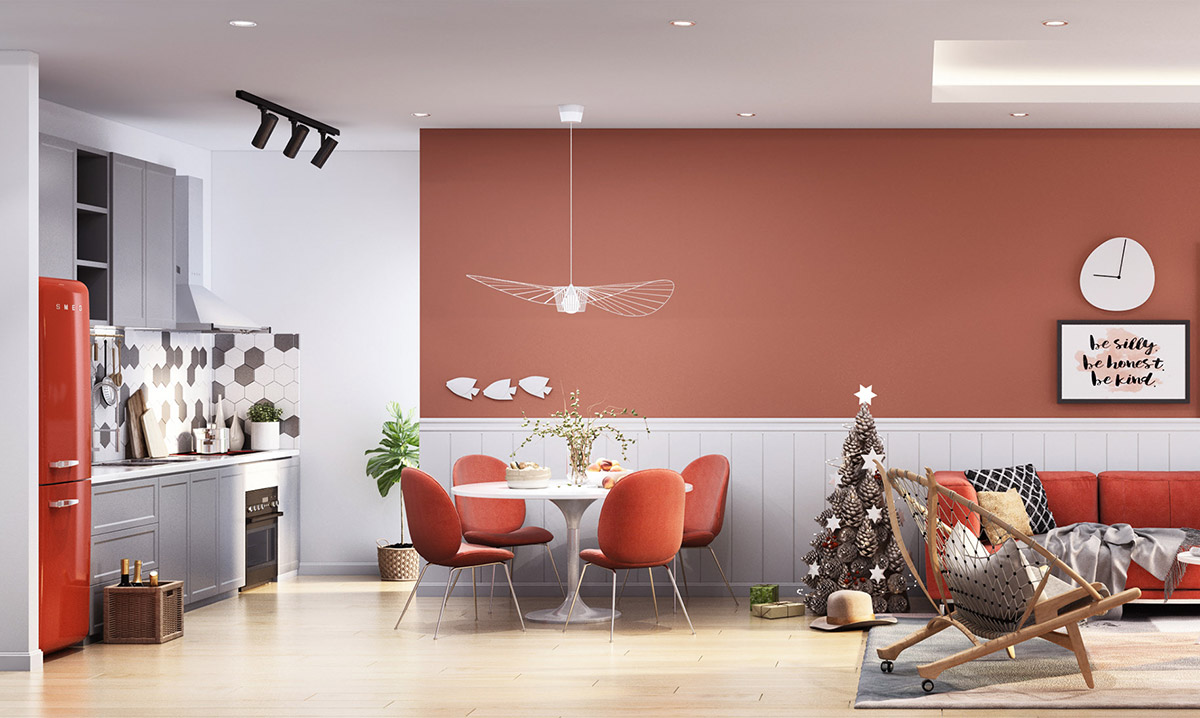 7 |
Visualizer: Lai Studio
Create your colour story with two tones. This example uses a muted shade of red to tint the walls, whilst a brighter hue is reserved for only the hero pieces in the dining room, kitchen and lounge.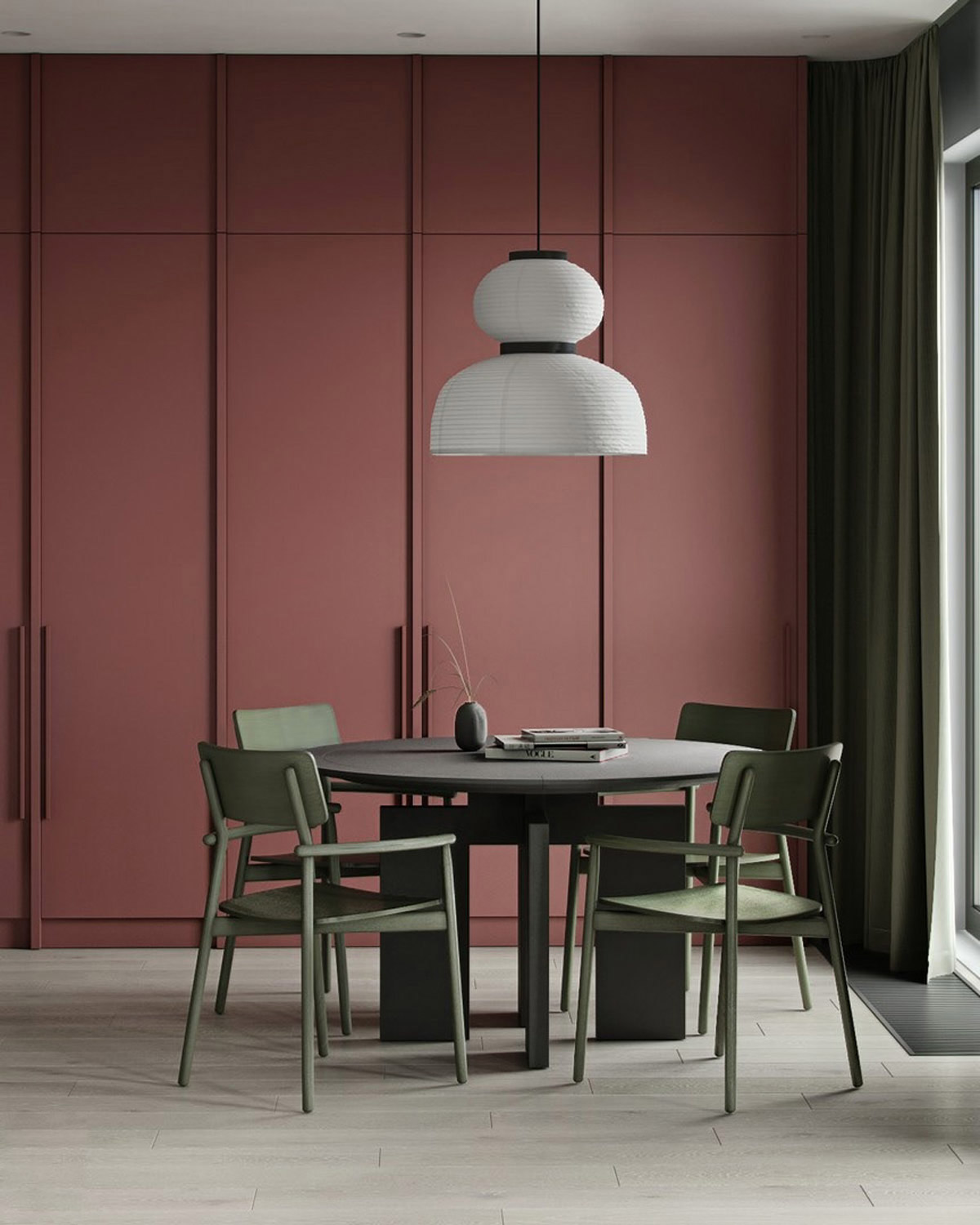 Dark red and muted green make an understated and sophisticated low contrast look. Team with a black table and monochrome accessories to nail a slick contemporary finish.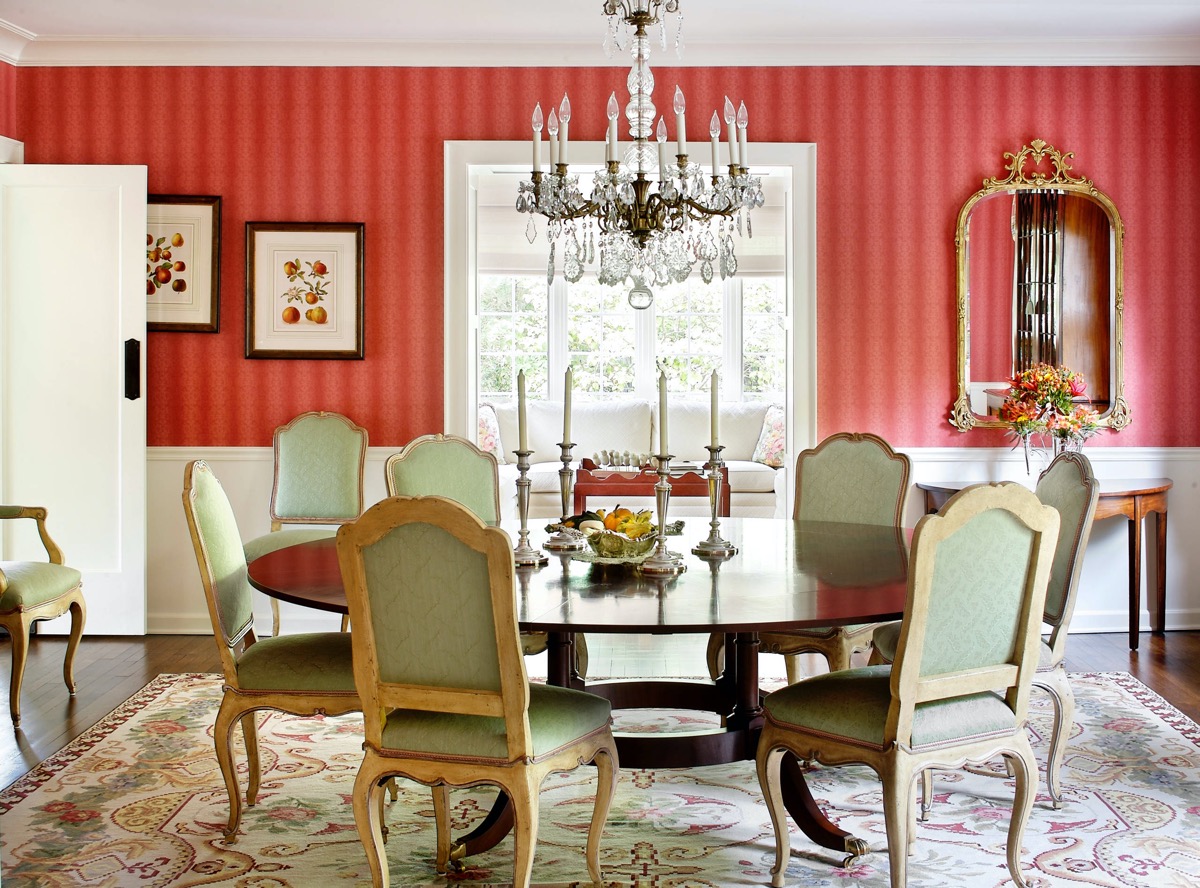 9 |
Designer: Javore Architects
Alternatively, subtly striped wallpaper and high backed dining chairs give the red and muted green theme a classic air.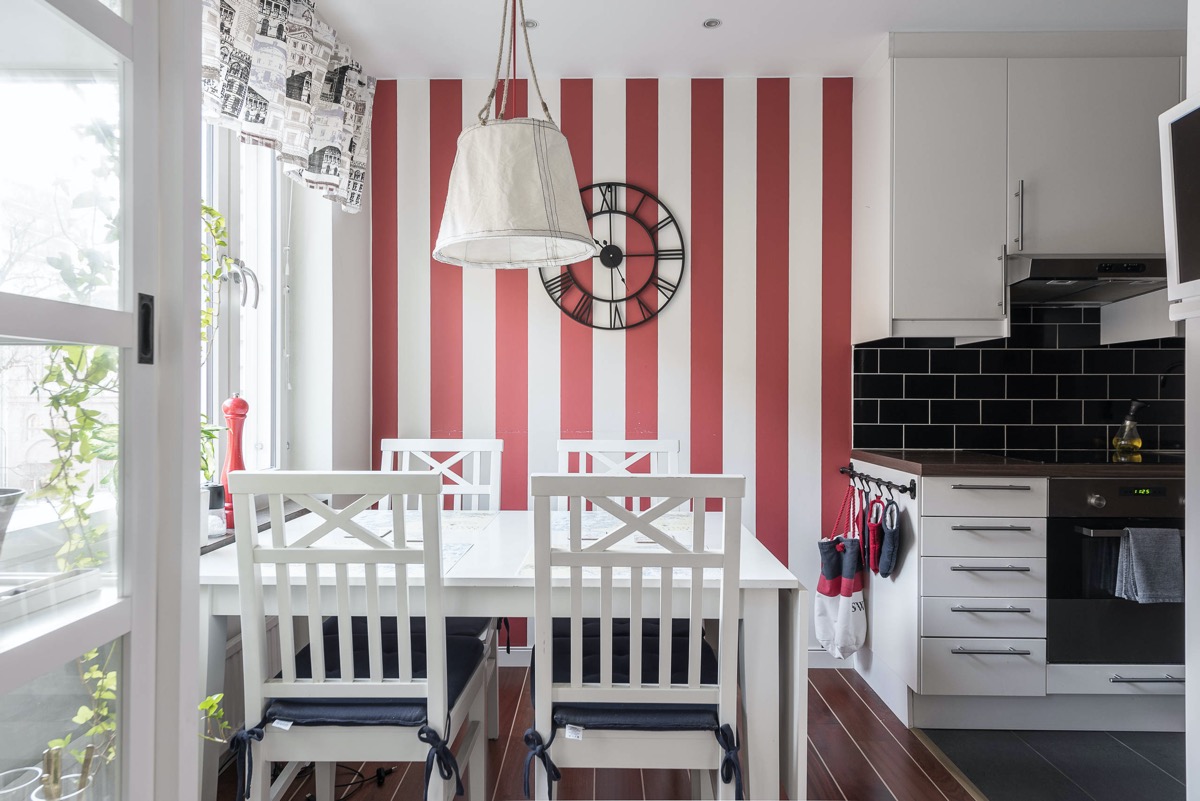 10 |
Photographer: Skenbild Productions
Create bright contrast with a wall of red and white stripes…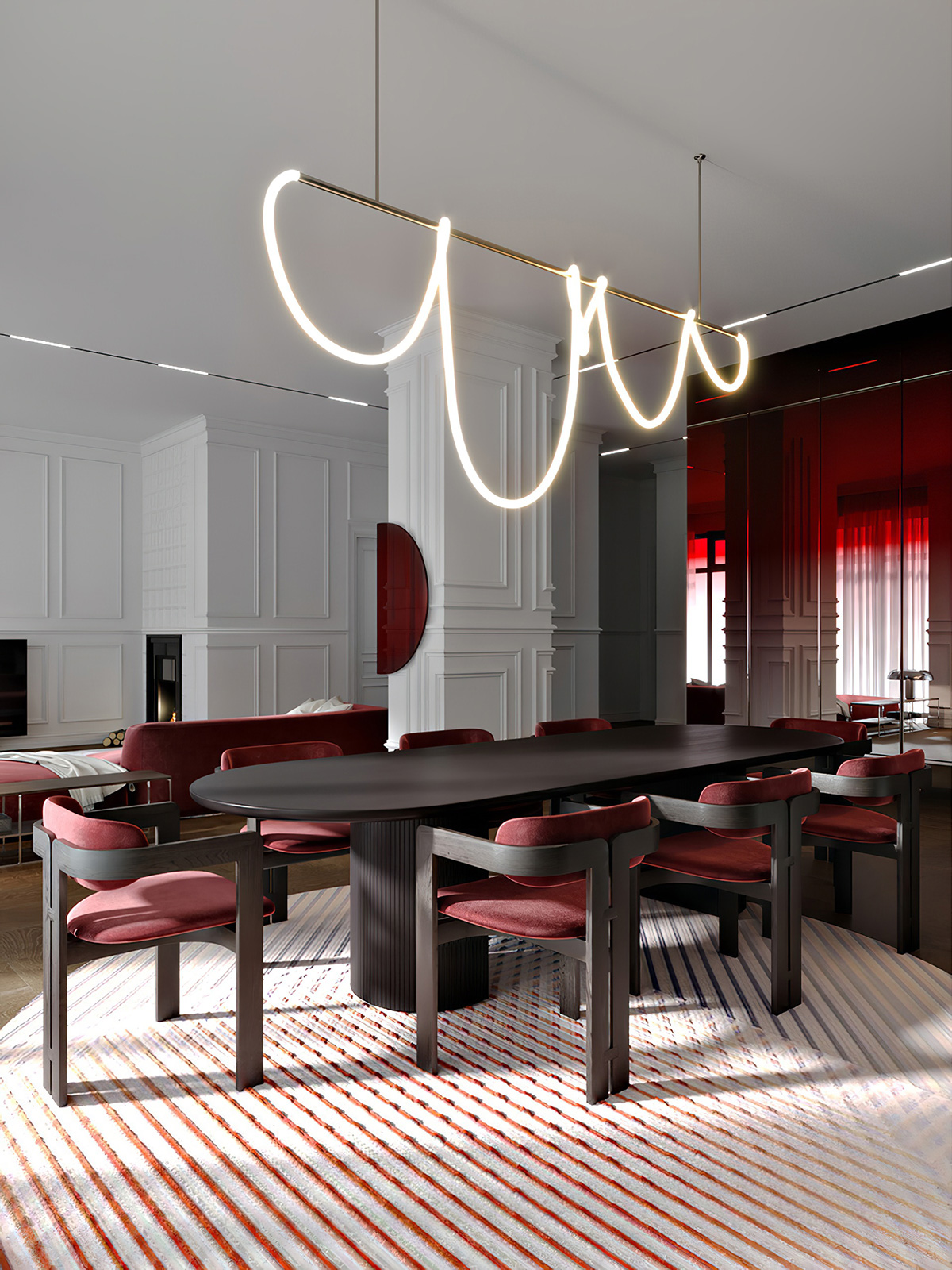 11 |
Visualizer: Tamara Batsmanova
… Or take the aesthetic to the floor with striped carpet.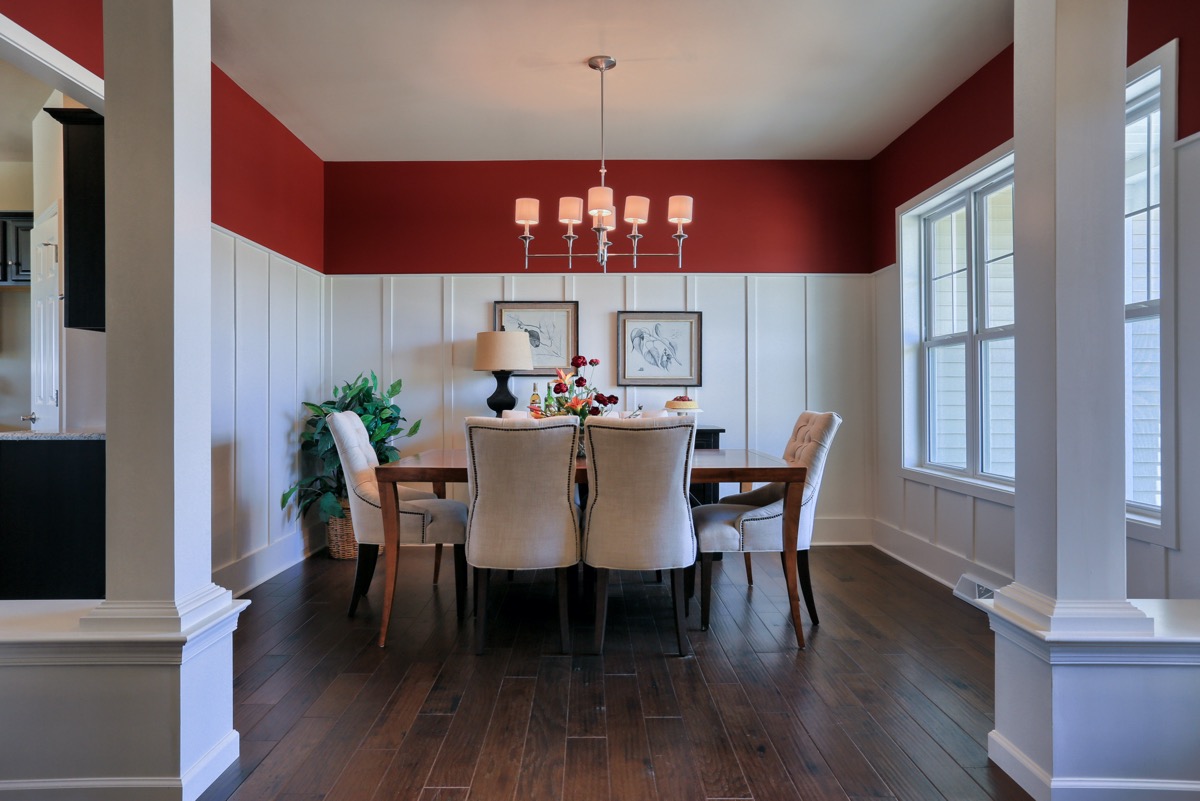 12 |
Designer: Garman Builders
A border around the ceiling line creates opportunity for colour without full commitment. The colour band up top will also accentuate the dining room chandelier.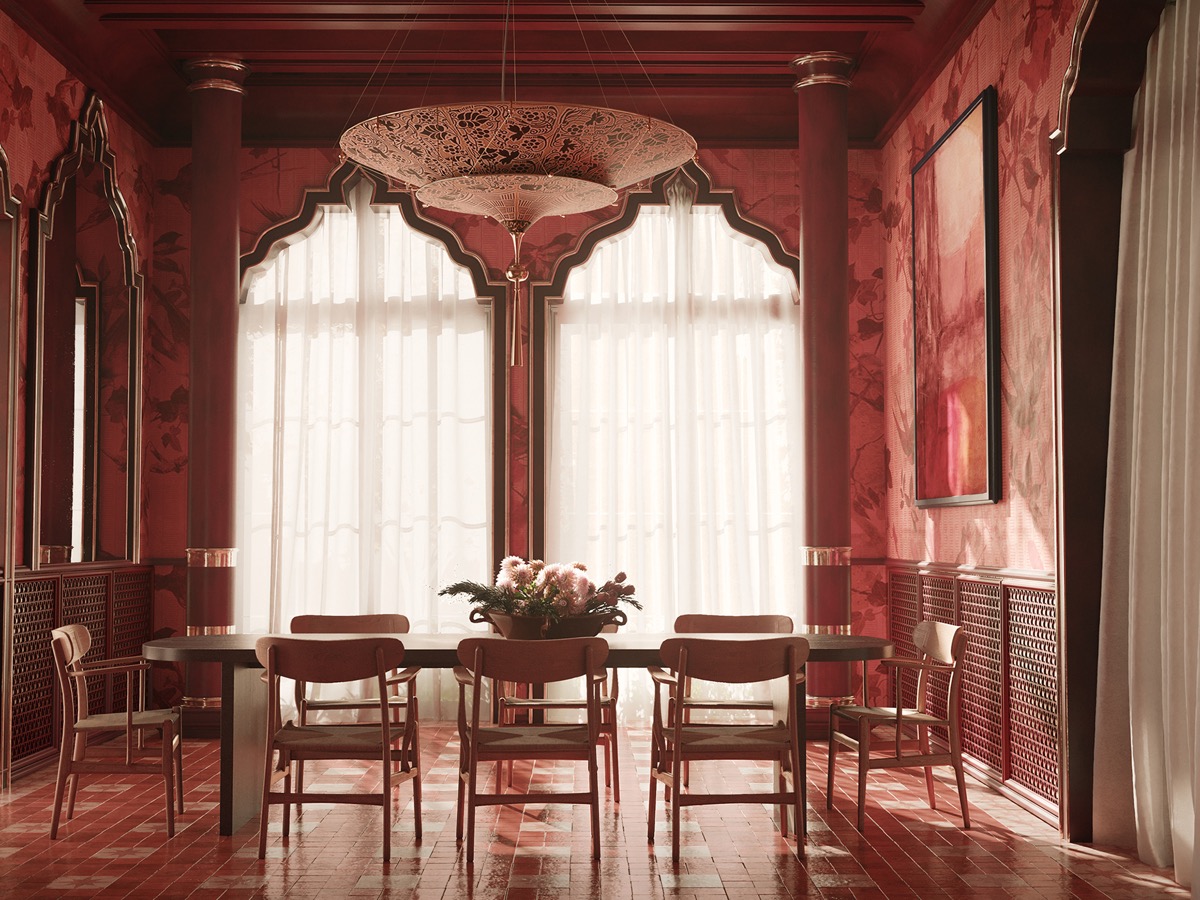 13 |
Visualizer: Atmos Visuals
Go red and regal. Think tall and ornate window frames, huge decorative mirrors, gilded architectural columns and polished red floor tile.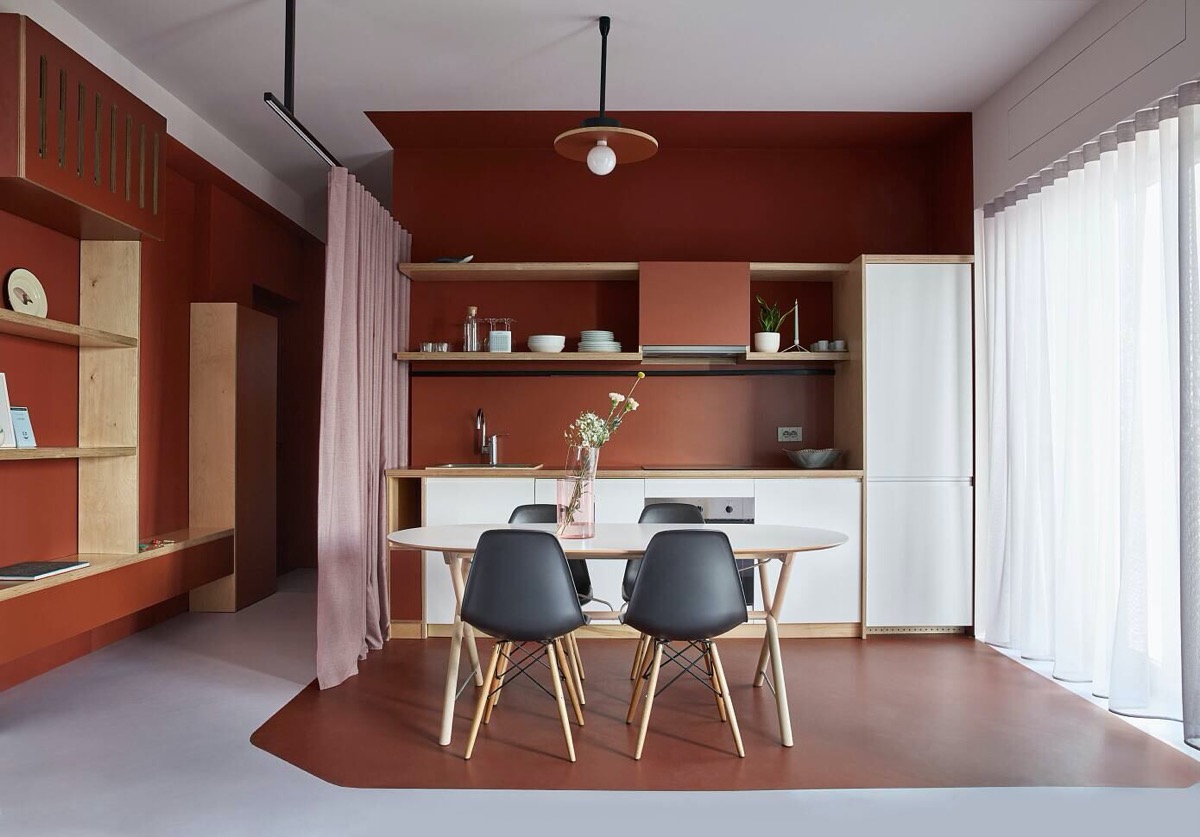 14 |
Designer: Nonestudio
Paint a platform. This red dining area is separated from the adjacent hallway by a painted floor treatment, and a portiere.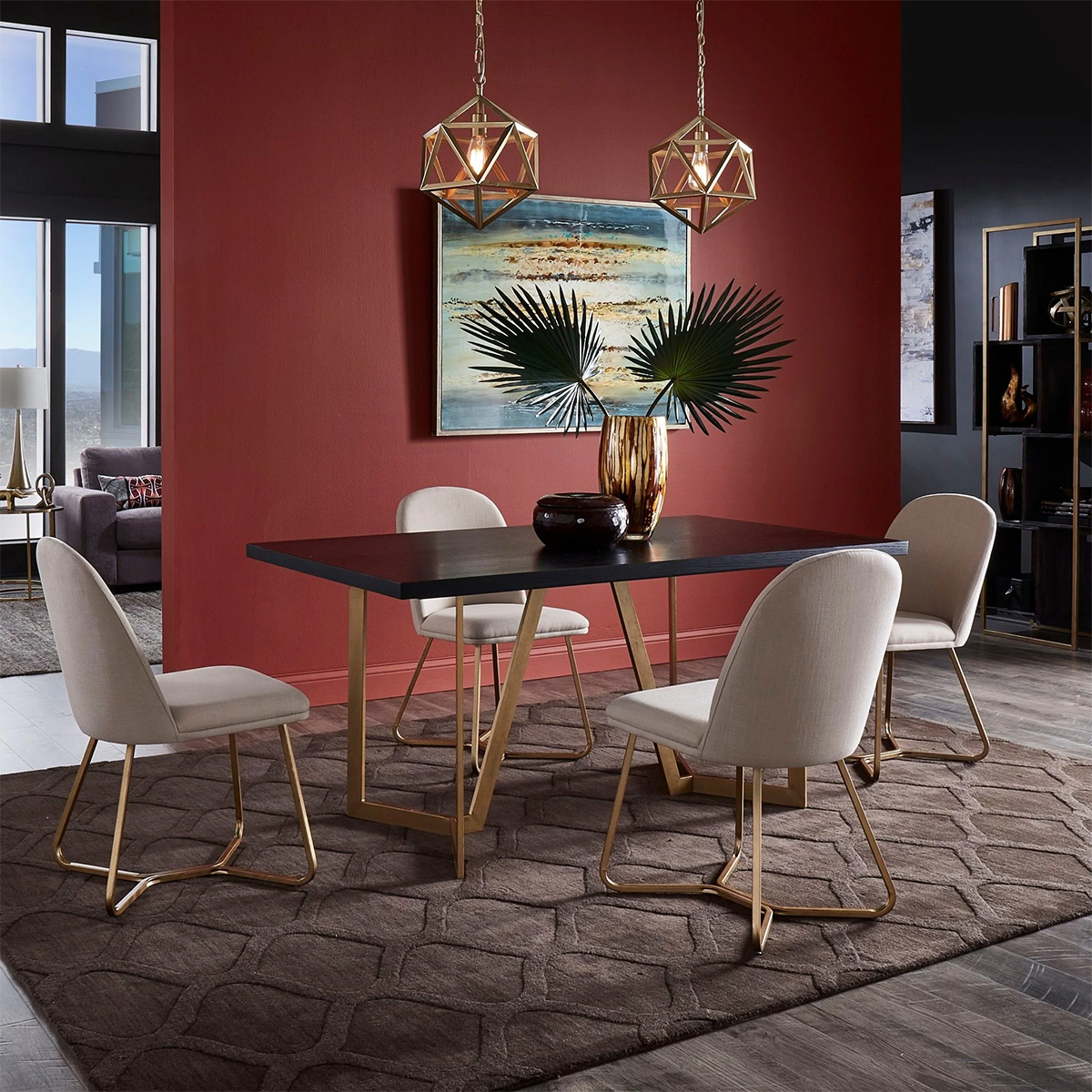 Deliciously red and dripping with gold, this modern dining room is steeped in luxe vibes. You can purchase the beautiful black and gold dining set here.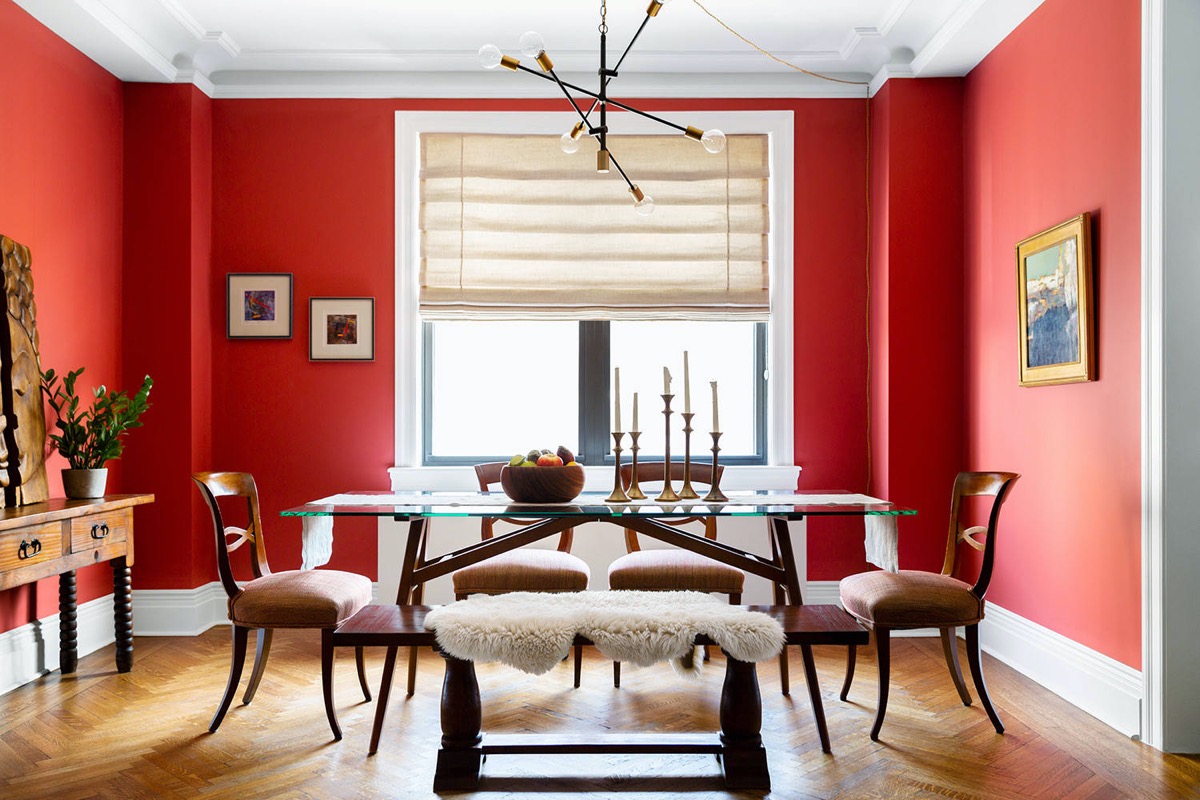 16 |
Designer: InsideWright
A clear glass dining table and neutral dining chairs let bold red walls do the talking.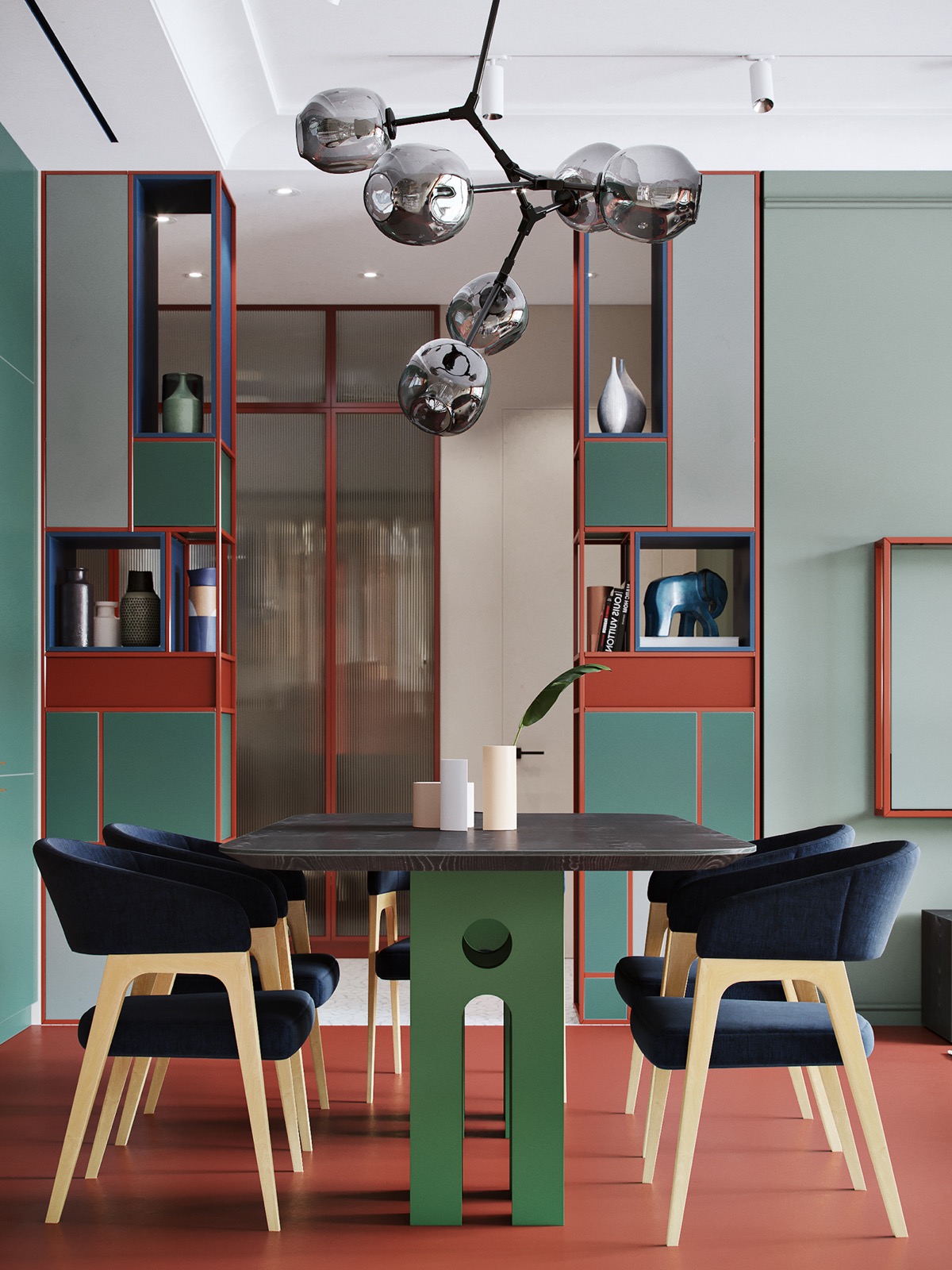 17 |
Visualizer: ATO Studio
Create movement and energy through your red dining room decor with cubism inspired shelving, and decorate with arty finds.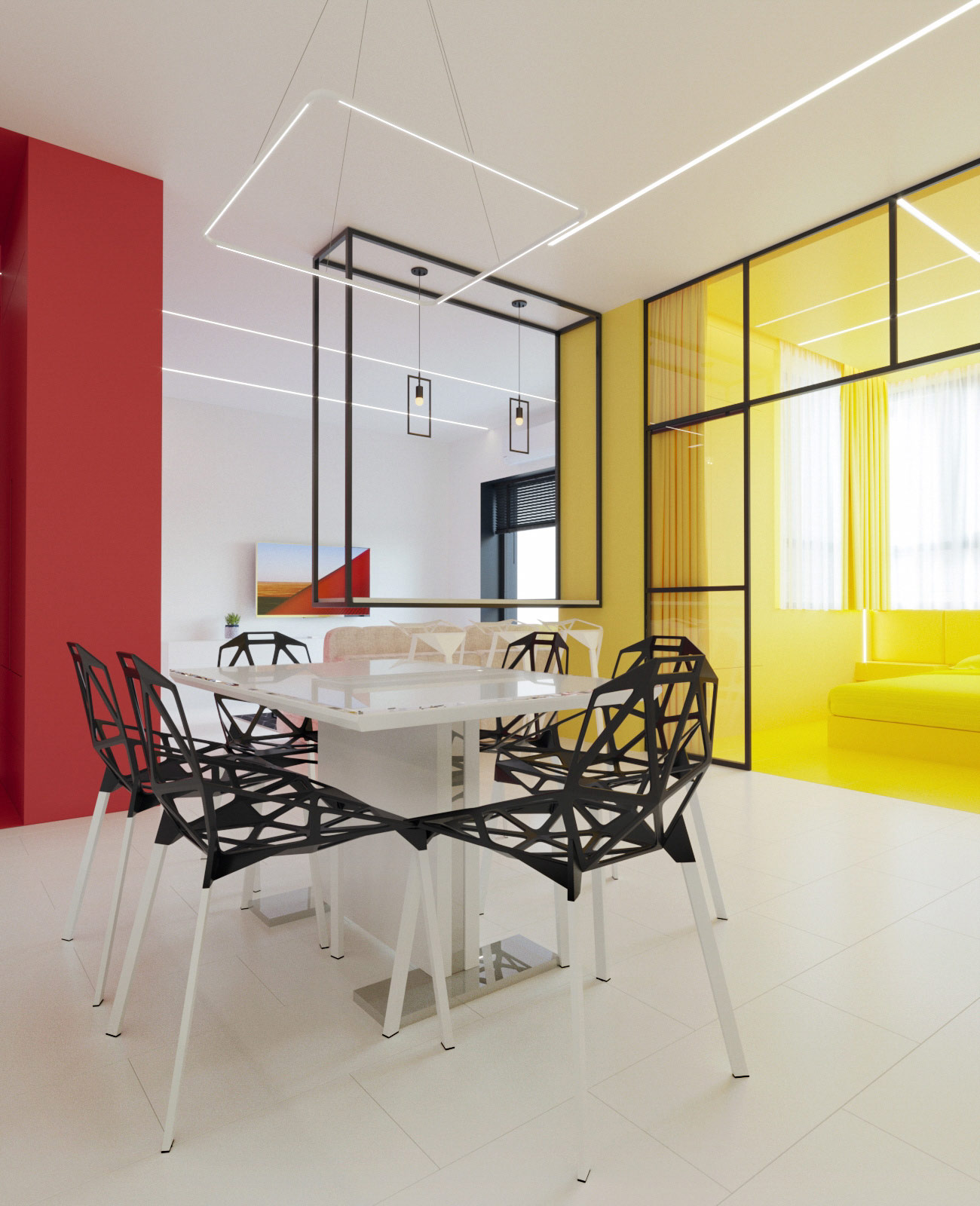 18 |
Visualizer: Rustem Urazmetov
Or, go all out Mondrian with cubist blocks of red, yellow and blue, and thick black graphic outlines.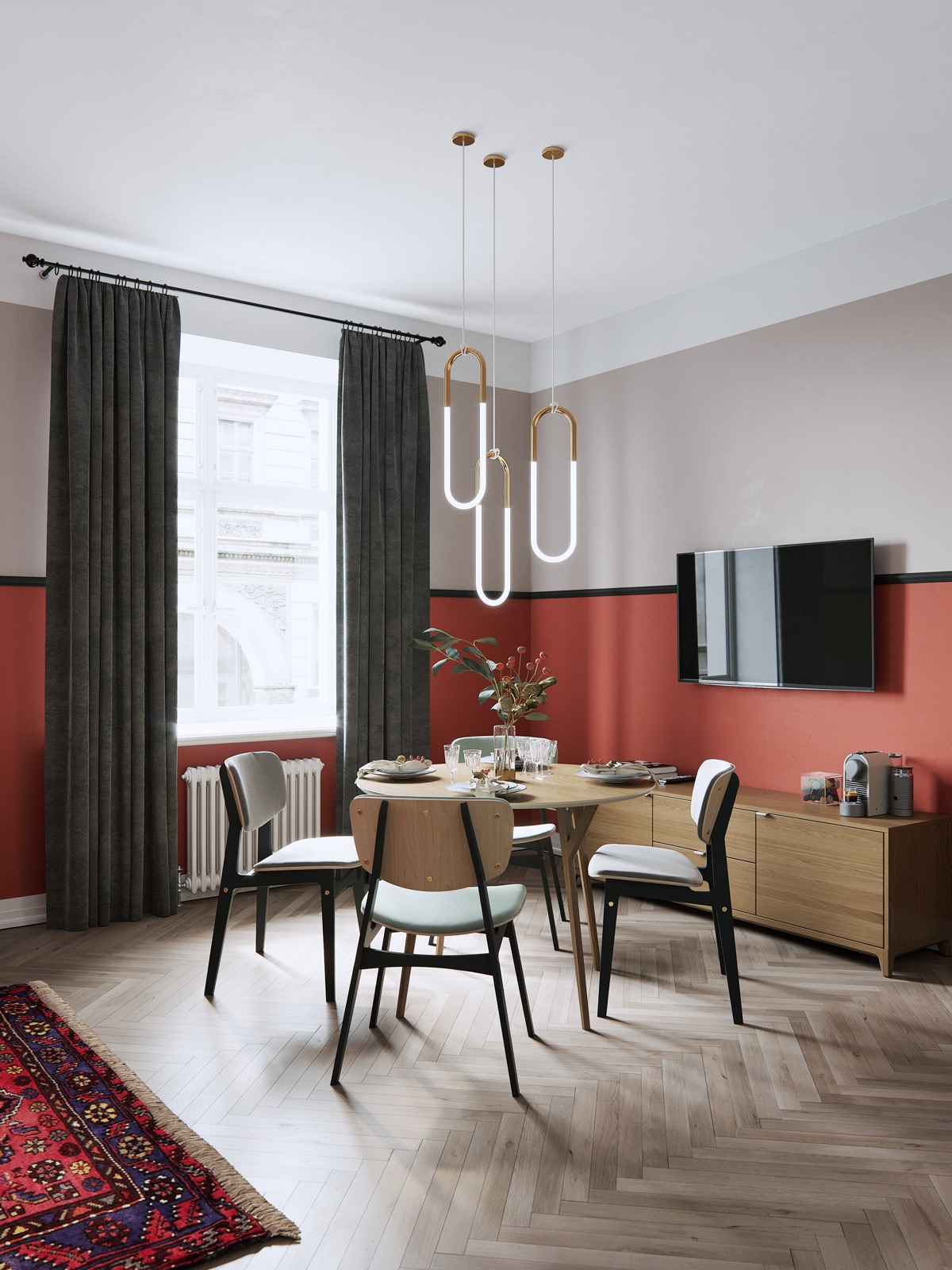 19 |
Visualizer: Ilya Ganzha
Red is a strong colour, consider horizontal color blocking to dilute its effect whilst still benefiting from the warming hue.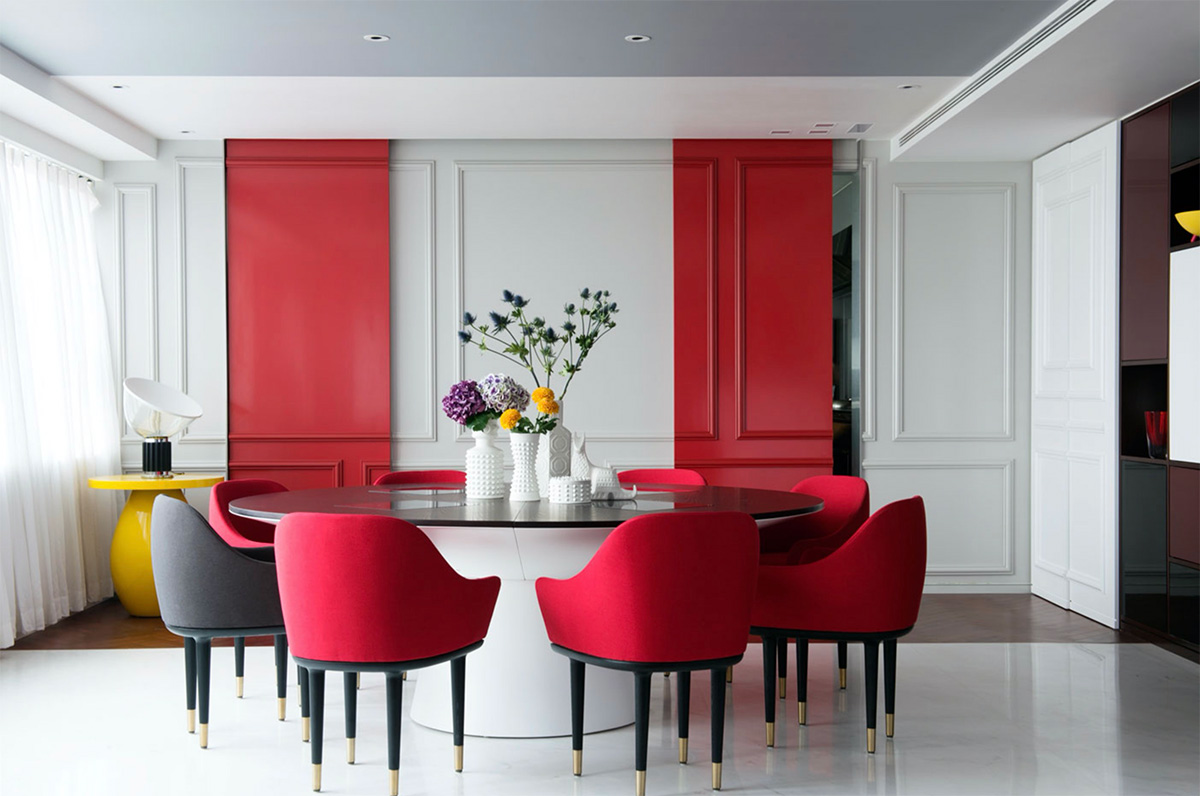 20 |
Photographer: Philippe le Berre
Vertical colour blocking creates a quirky effect over neoclassical panel moulding or ornate boiserie.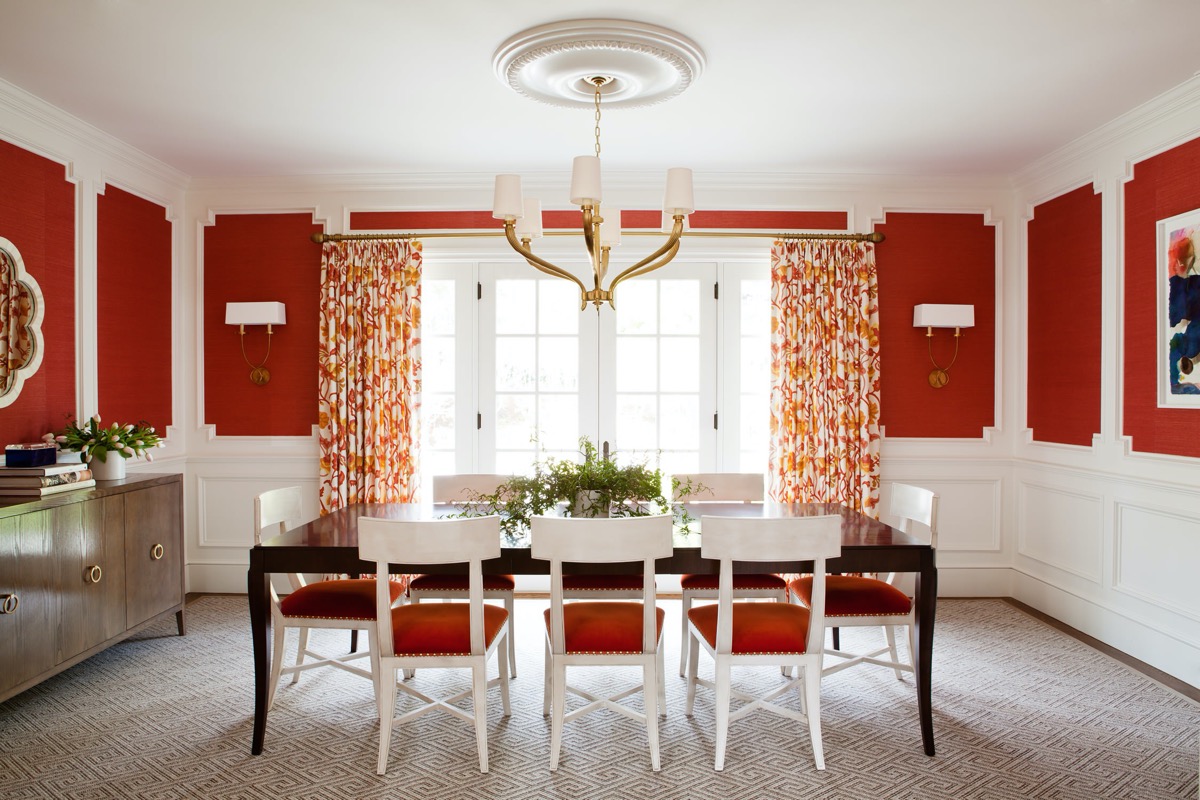 21 |
Designer: Christy Allen Designs
Red notes have been confined to the inside of the moulded panels in this red dining room scheme. Red dining chair cushions take the accent to the table.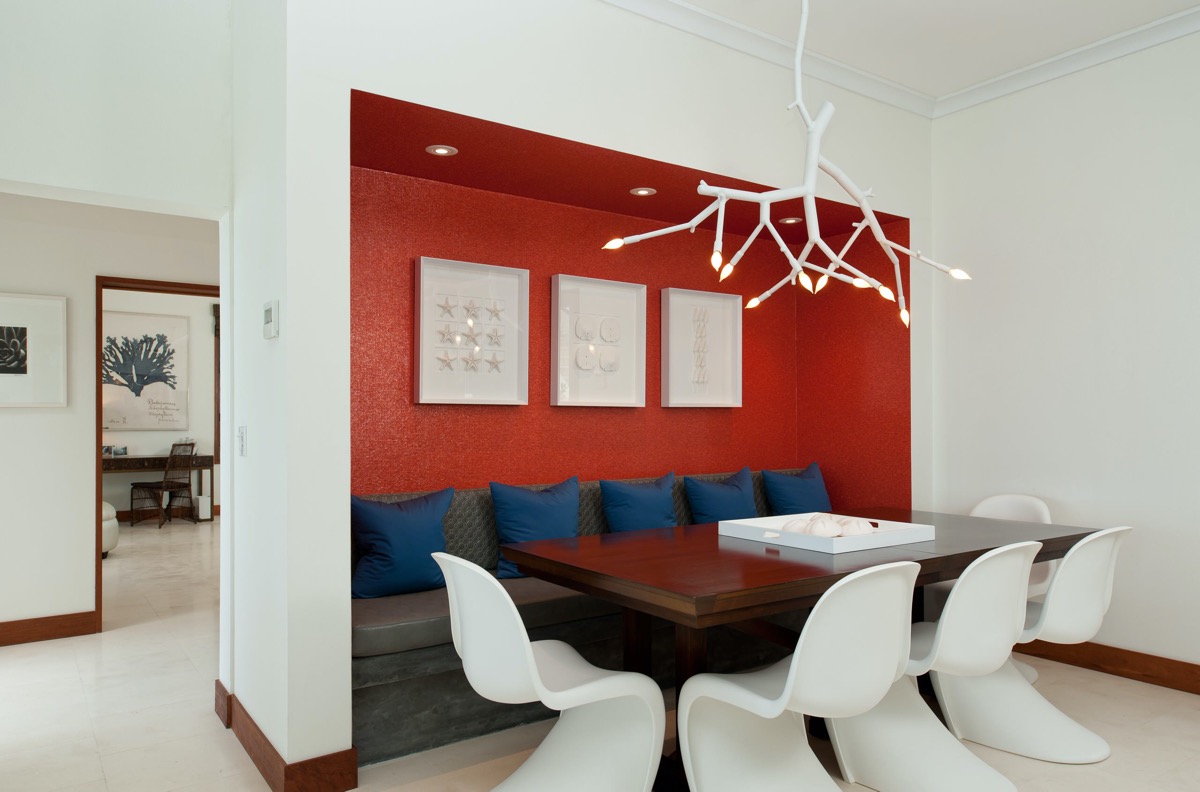 22 |
Designer: Laura Kirar
Keep a lid on the lively colour with a boxed-in banquette seat. Blue accent cushions make a fun contradiction.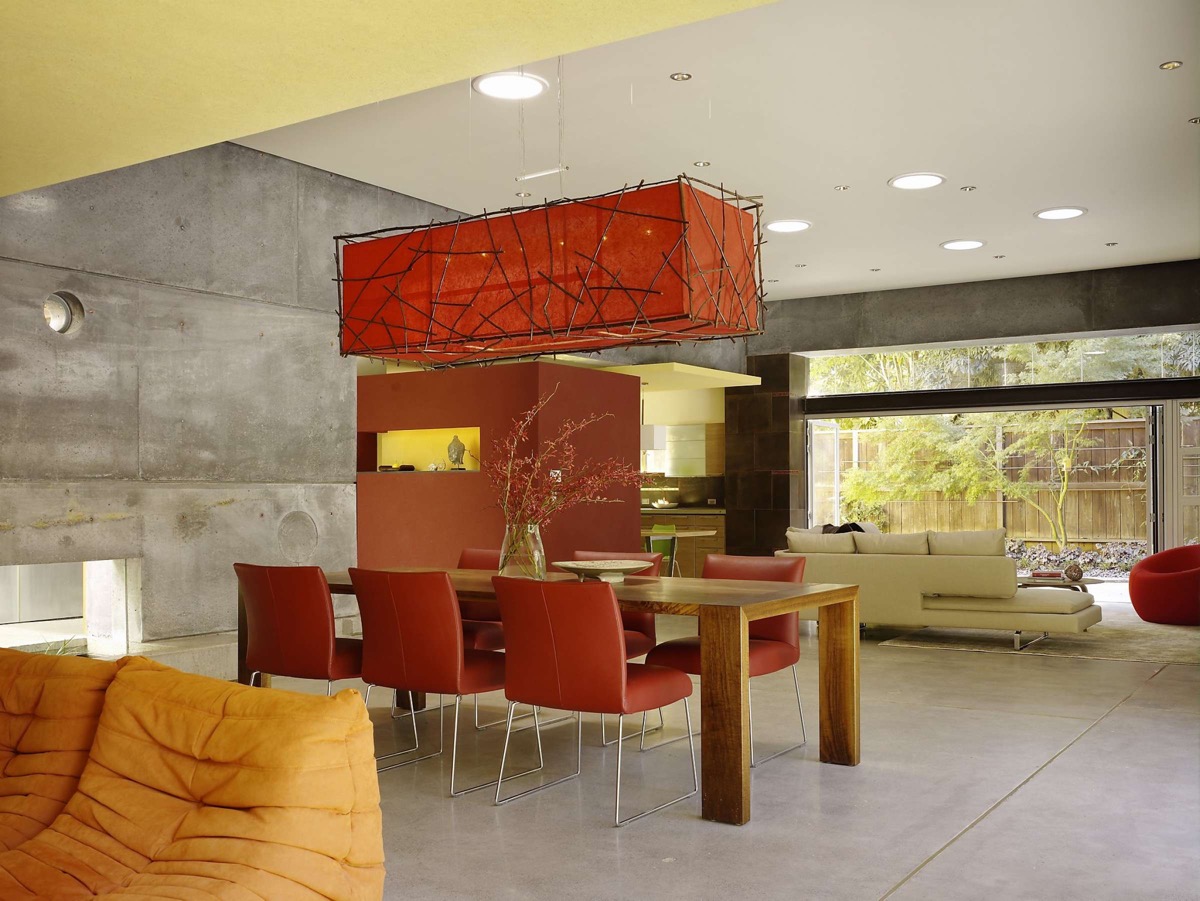 23 |
Designer: David Ward
This amazing red dining room chandelier is a piece of Stick art by David Ward of Sticks-n-Stones. Red dining chairs complement the sculptural focal point.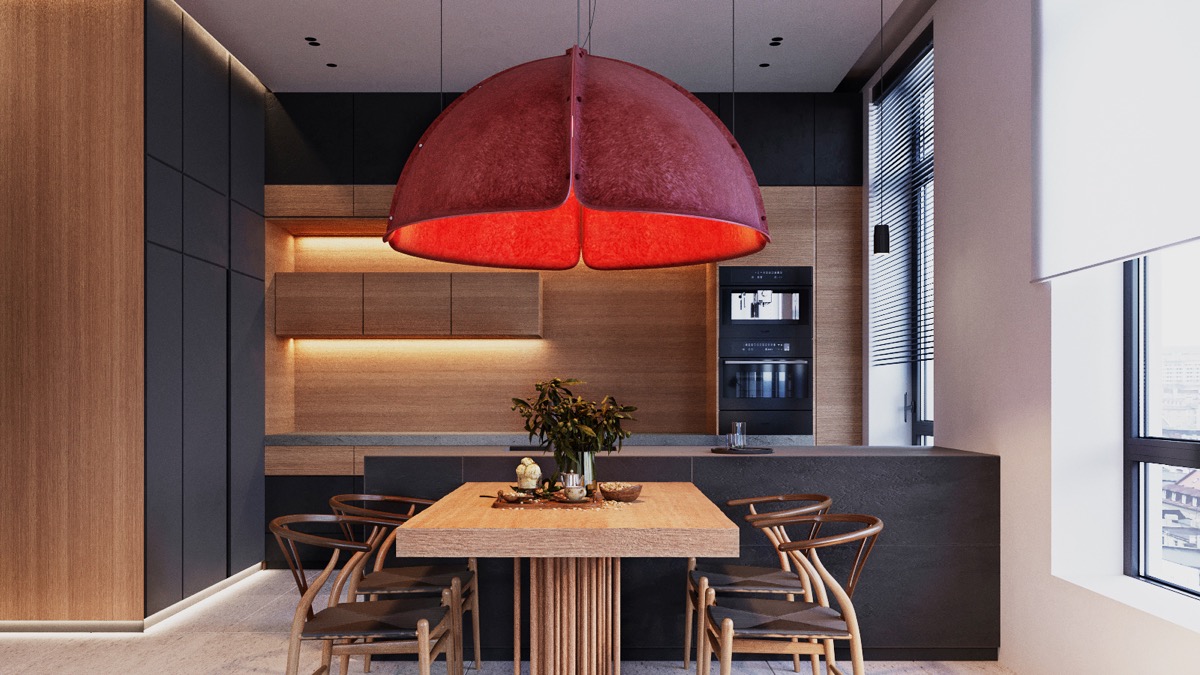 24 |
Visualizer: Yevhen Zahorodnii
Another spectacular red dining room pendant light, this piece dominates the dining room with its extraordinary scale.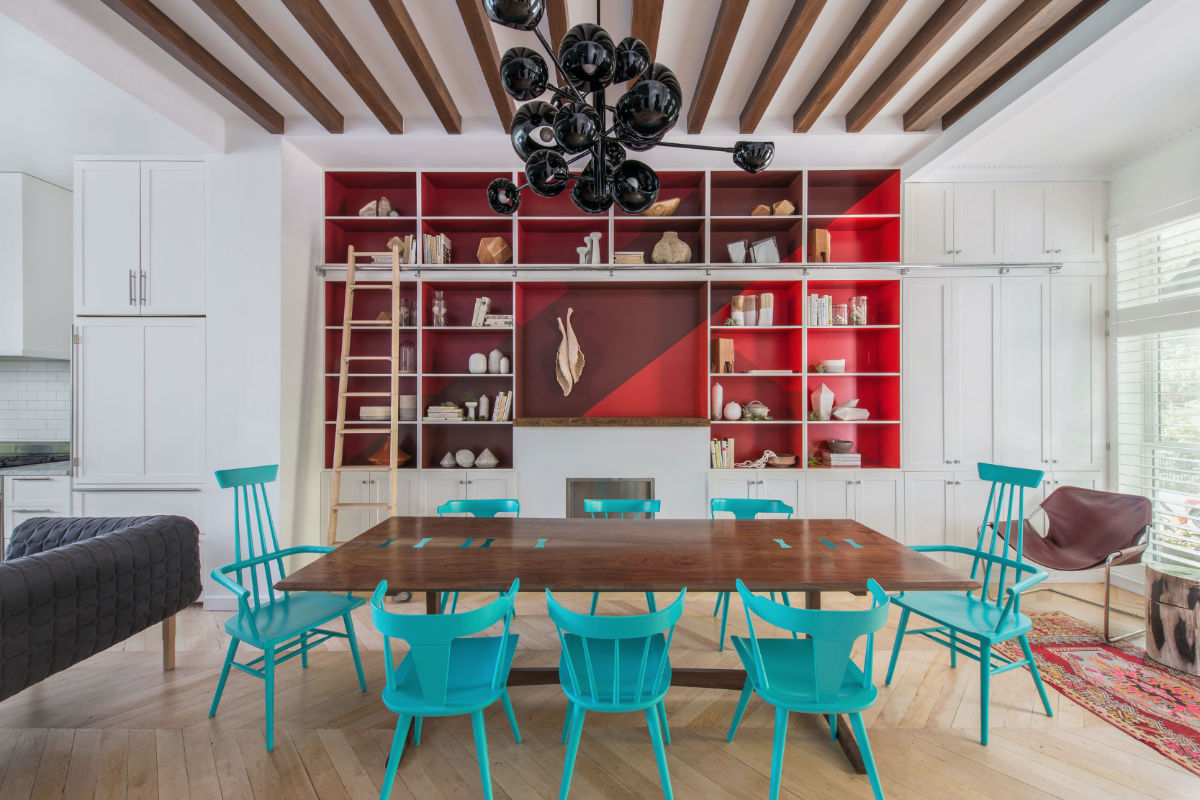 25 |
Designer: Jessica Helgerson Interior Design
Take a simple dining room shelving unit to the next level with a backing of red paint or patterned wallpaper. This example encompasses a fabulous geometric design in three different shades of red.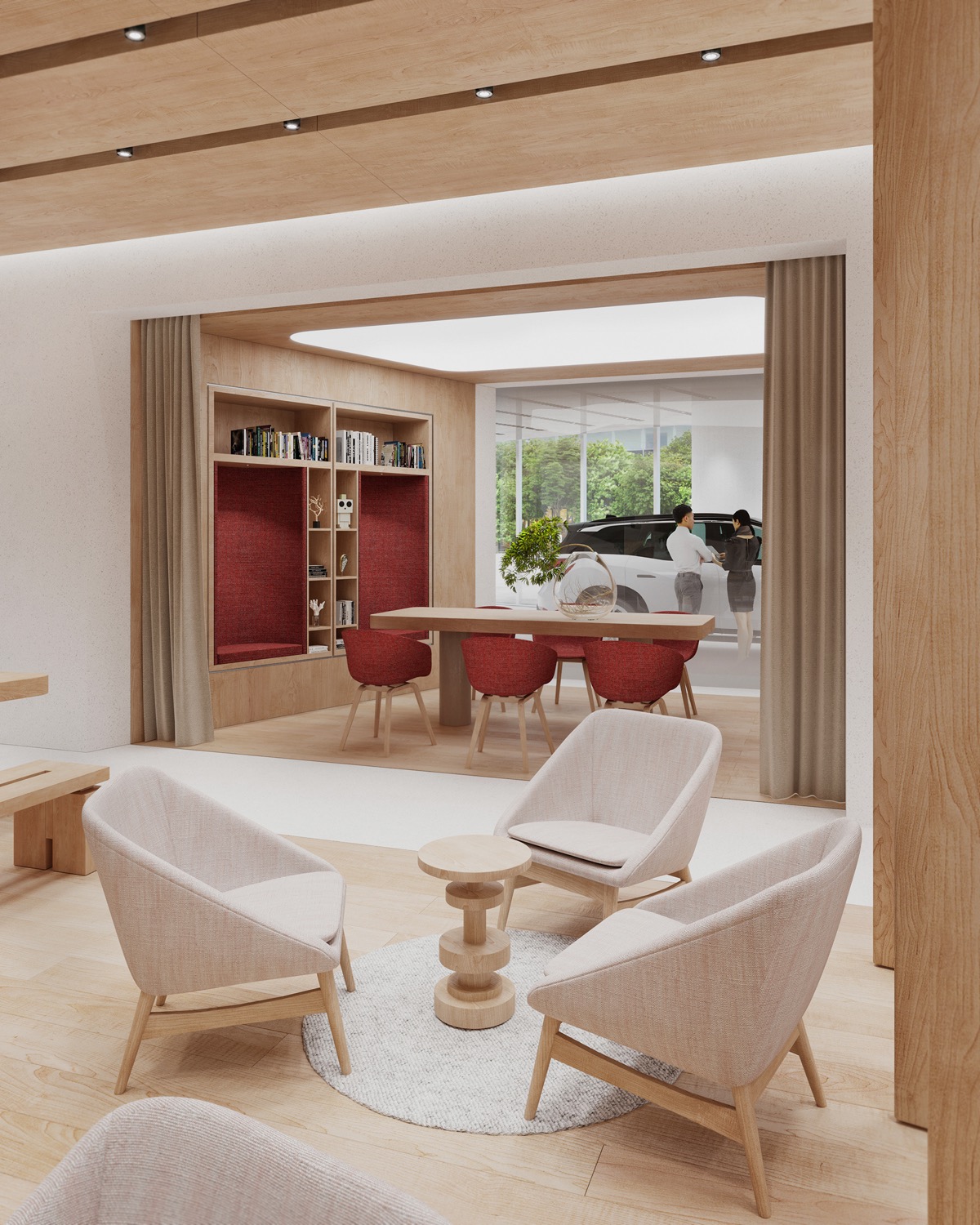 26 |
Visualizer: Andrii Kiiakh
This time it's two neighbouring reading nooks that have been backed with red, to complement a set of modern red dining chairs.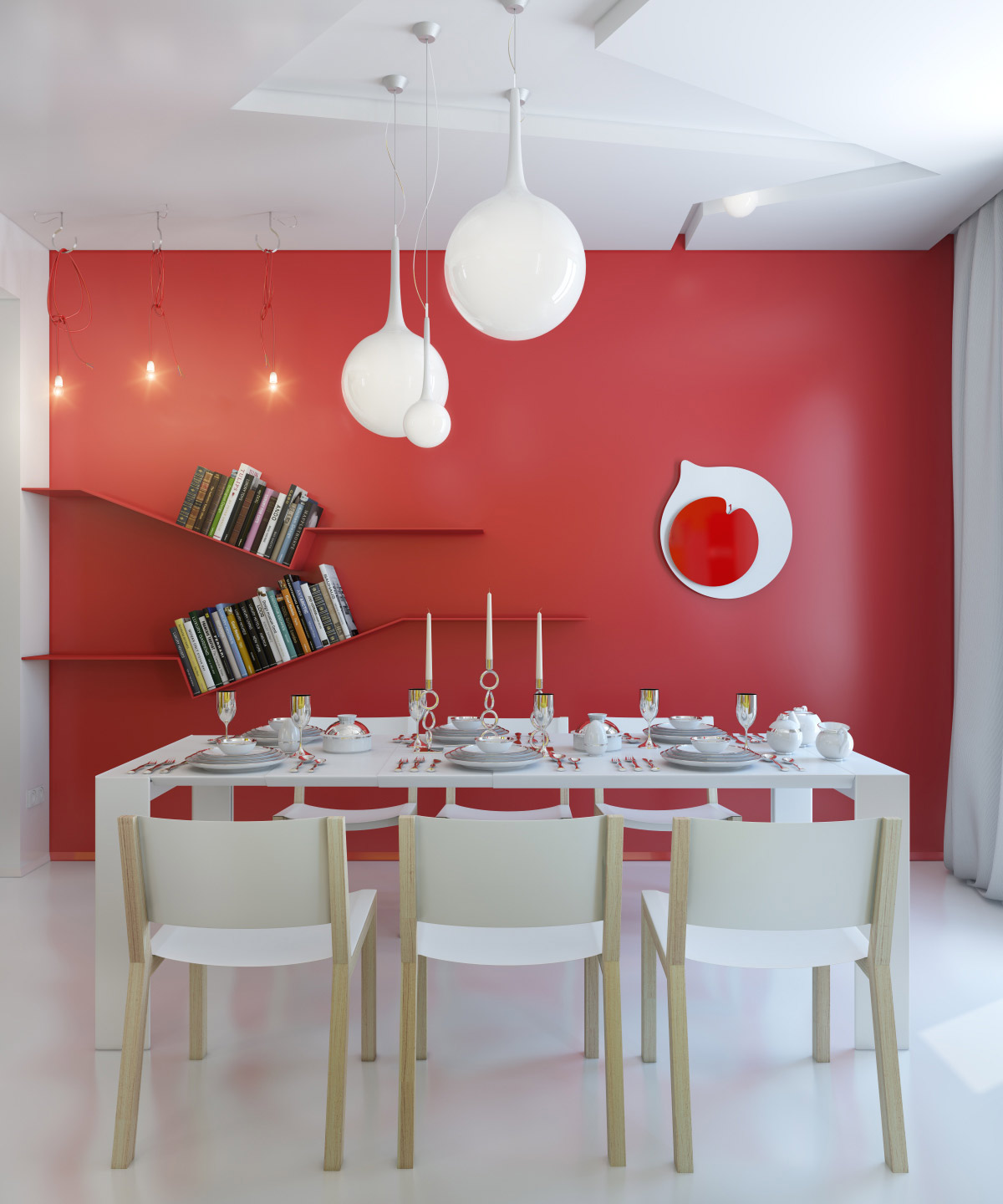 27 |
Visualizer: Anna Marinenko
Add 3D elements to a flat red feature wall. These quirky red bookshelves put an unusual tilt on this statement wall without disrupting its solid state. A piece of modern art encompasses the aesthetic of the dining room pendant lights.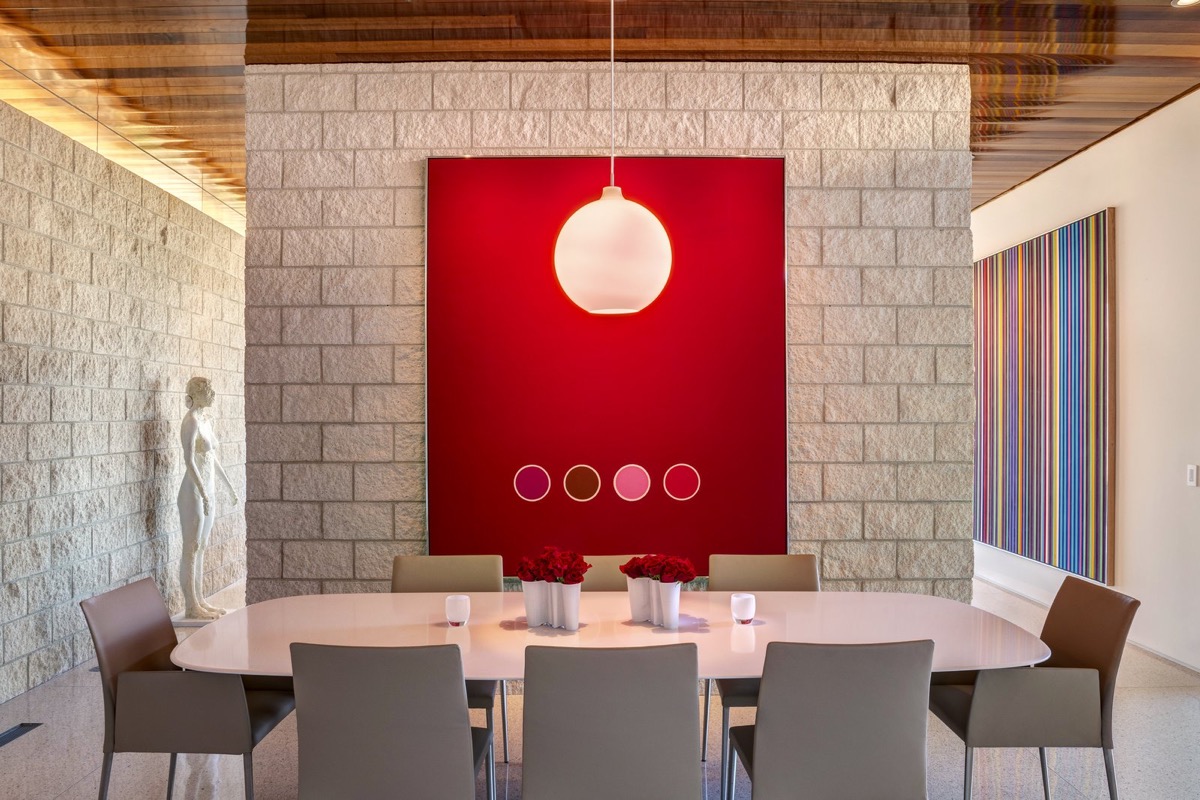 28 |
Designer: O2 Architecture
Via: Dwell
Leave it all on the canvas. If red only appears on artwork in the home, then it's a straightforward swap/sell to change it out for next season's must have shade.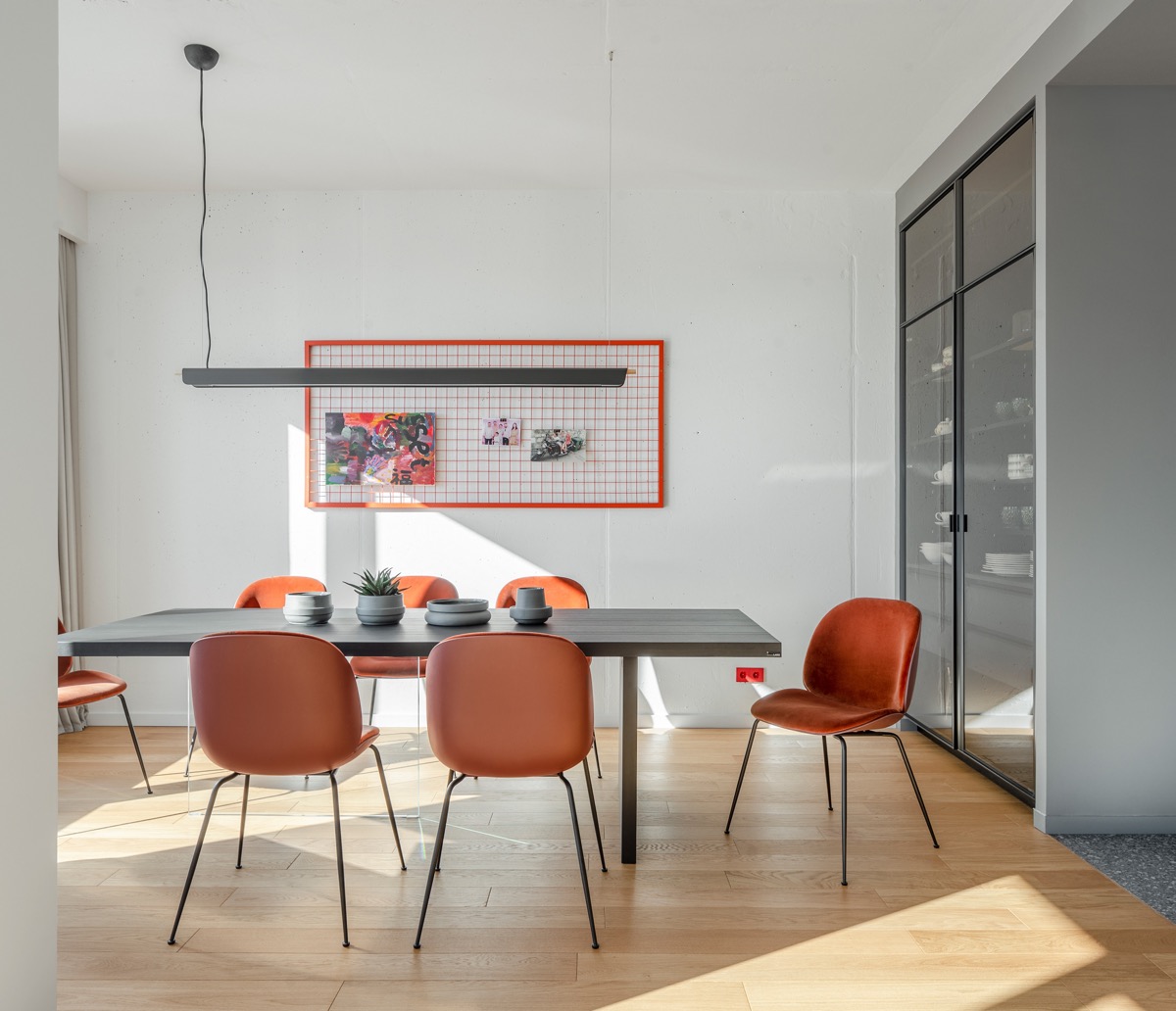 29 |
Visualizer: Bogdanova Bureau
Bulk out the basics. A minimalist decor scheme of crisp white walls, smooth wood flooring and sharp black trims makes an ideal base for a bold choice of red dining room chairs.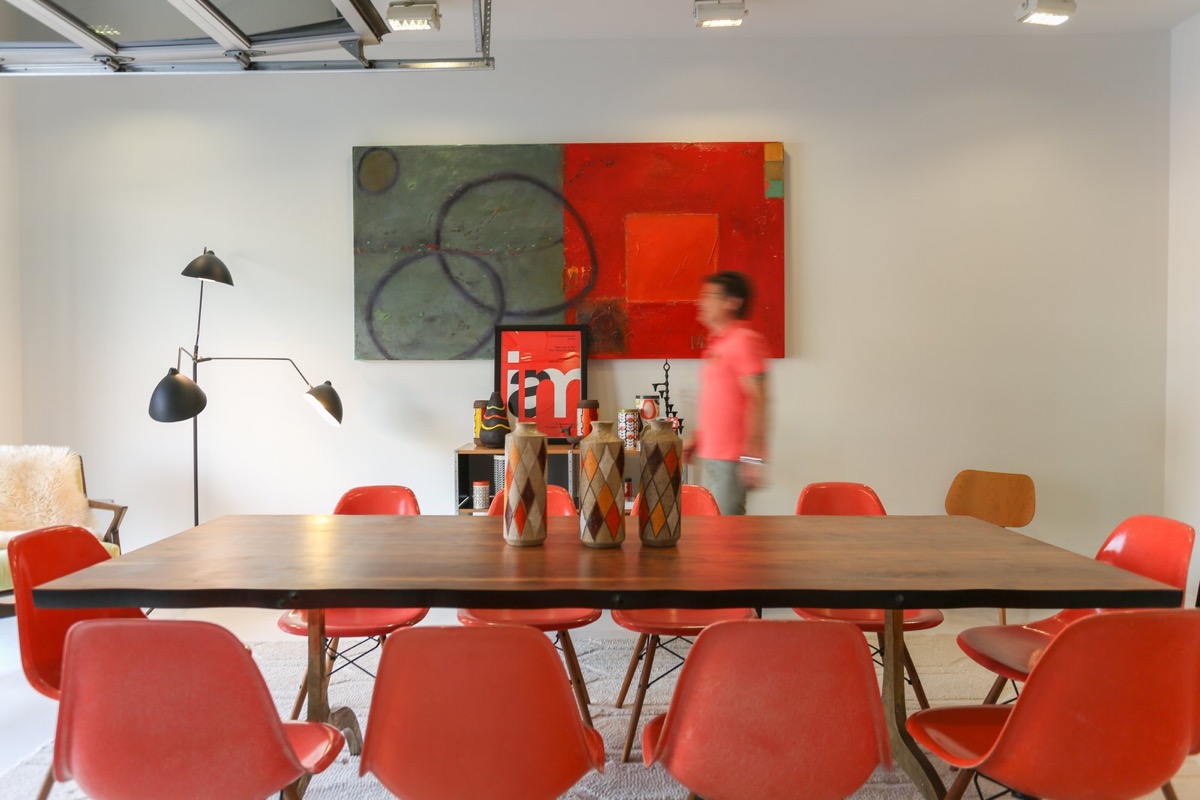 30 |
Designer: William Hezmalhalch Architects
Stretch out the impact of red dining chairs with a colour matched table centerpiece.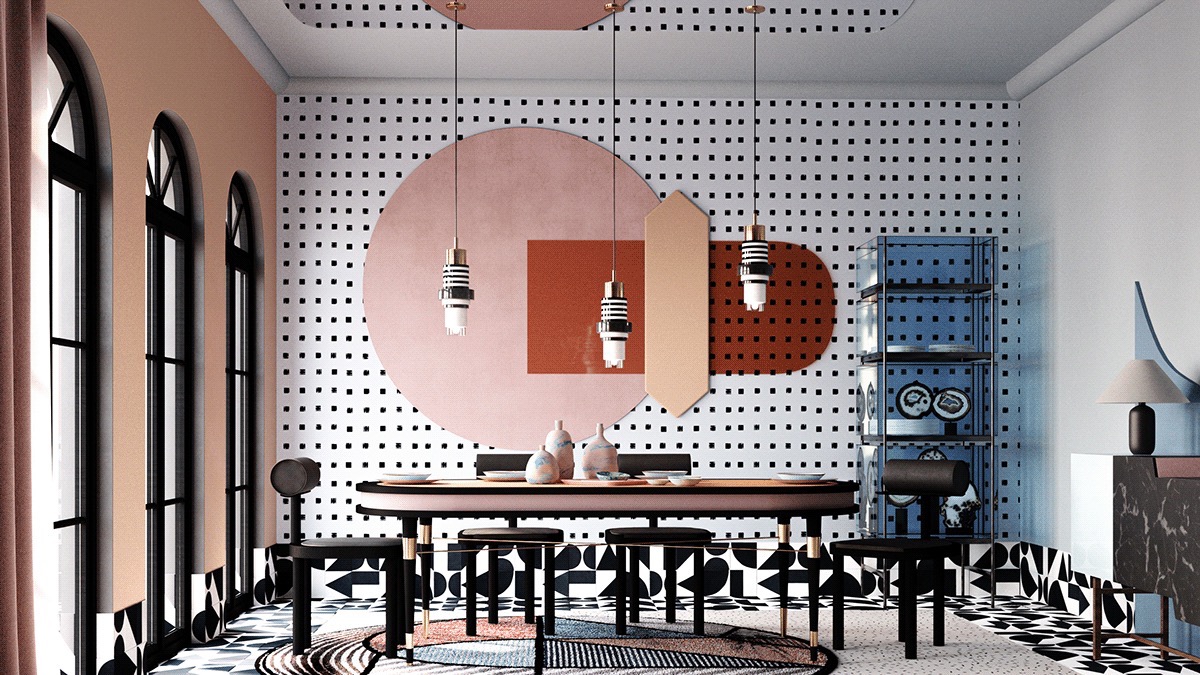 31 |
Visualizer: Konstantina Beradze
Soften red infusions with paler pink and blush additions. Drop in baby blue elements to cool down the combo.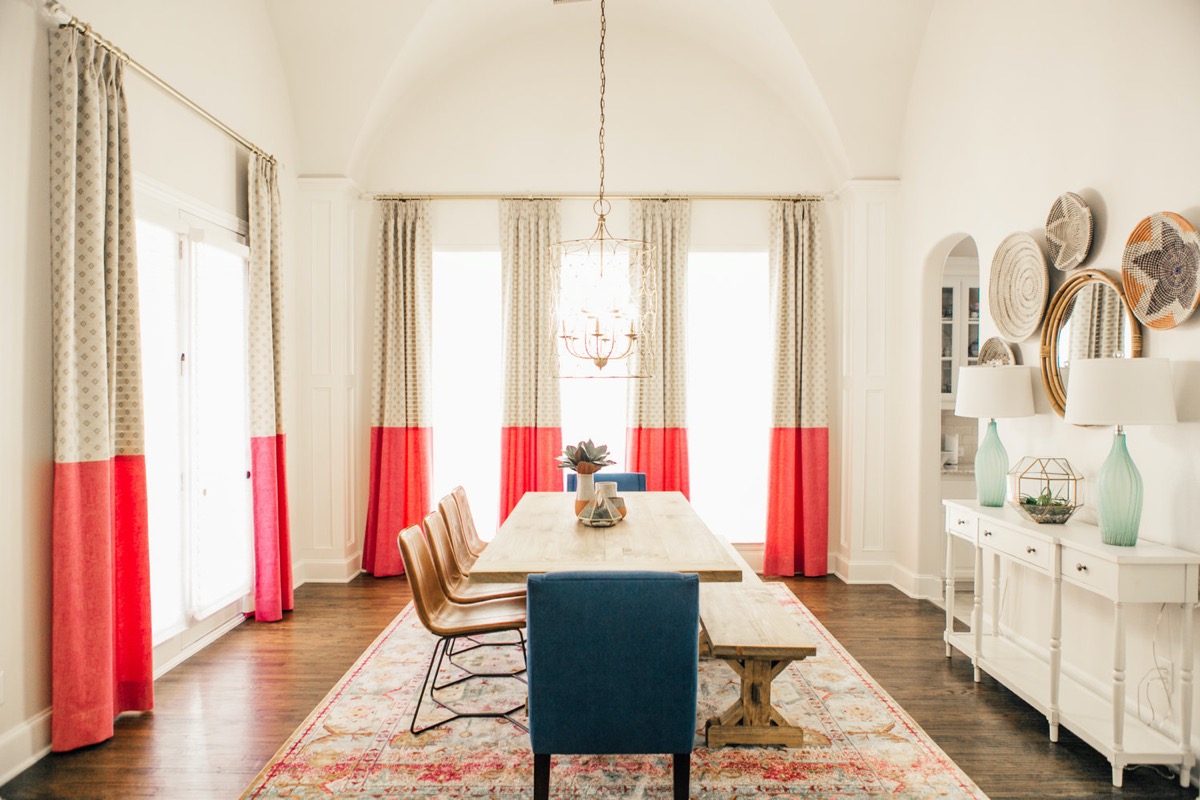 32 |
Designer: Lambert Home
Colour dipped dining room curtains keep red accents on the down low, whilst the atmosphere up top is airy and light.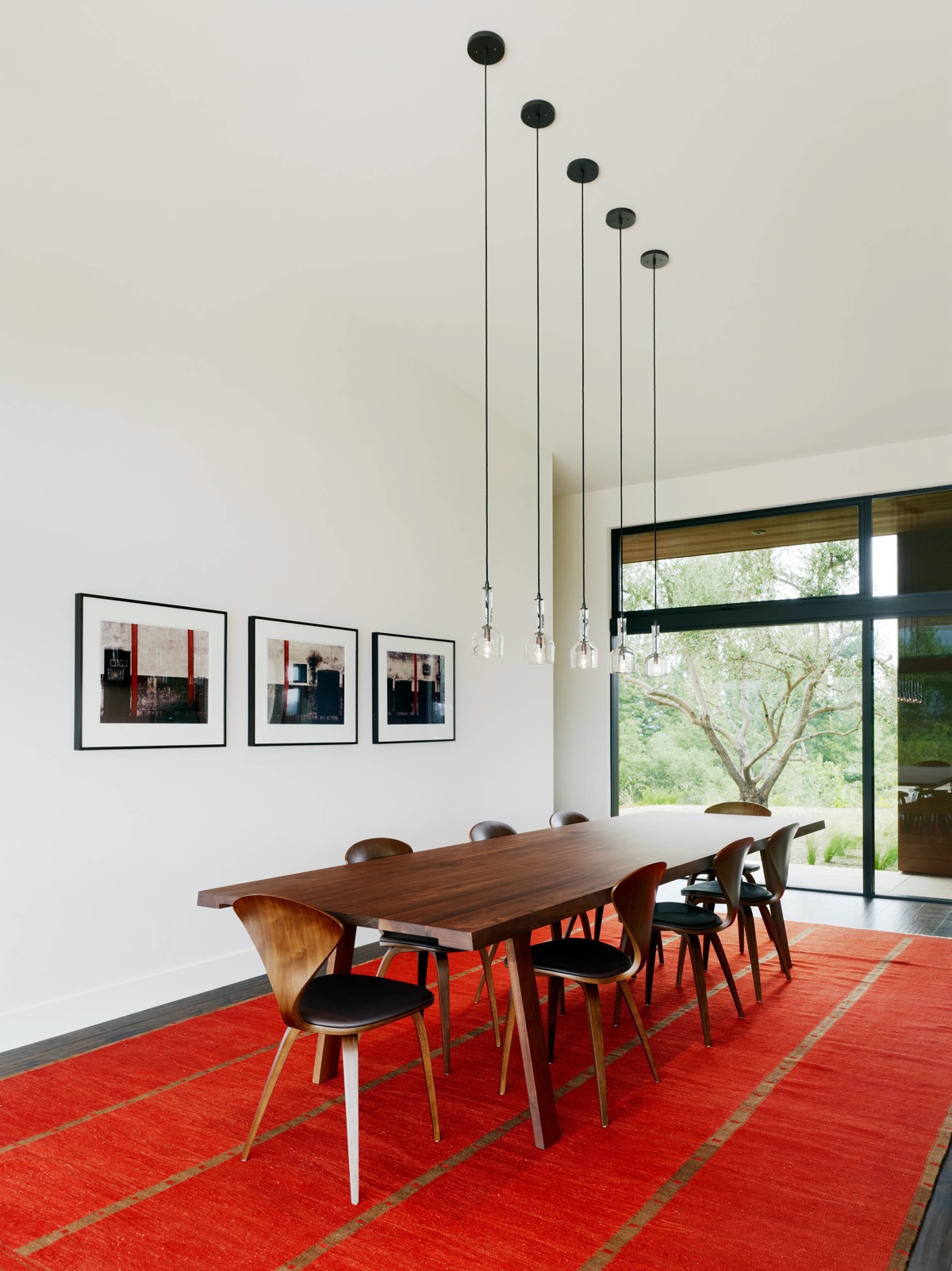 33 |
Designer: Total Concepts
Roll out the red carpet to add visual heat from the ground up. The rest of the room is a restrained combination of crisp white walls, dark wood stain and black anchors.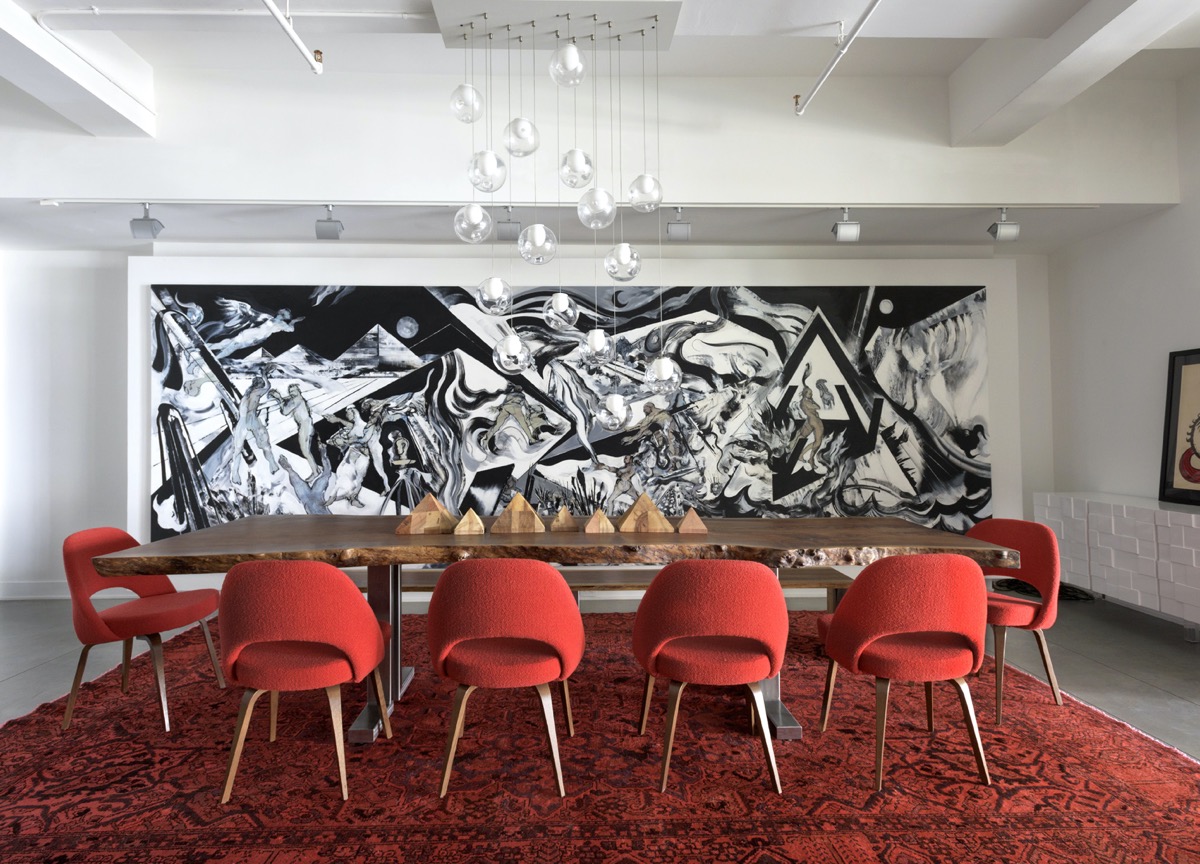 34 |
Designer: Ghislaine Viñas Interior Design
Another ruby red dining room rug, this time with a splash of swirling pattern…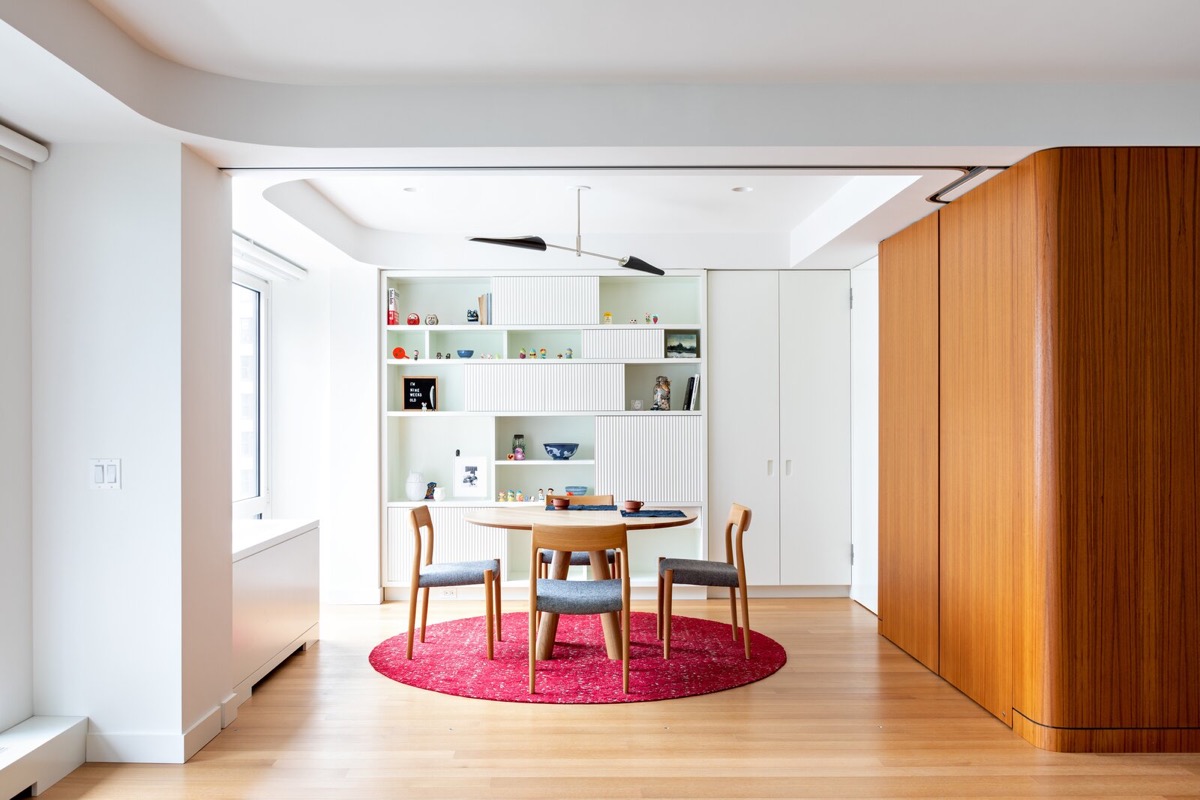 … And let's throw in a circular little number to round off the red rug inspo.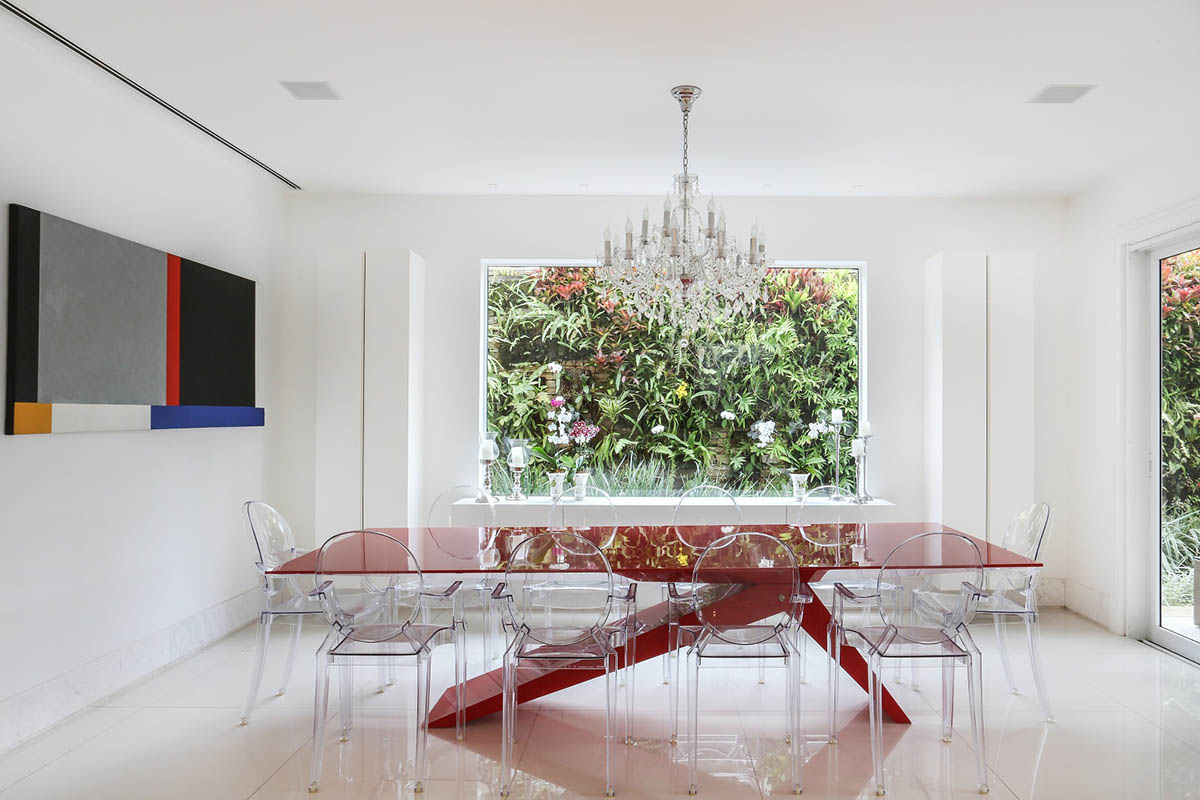 36 |
Designer: Denise Fernandes
Ghost chairs let a superb red dining table take an unobstructed centre stage. A crystal dining room chandelier coincides with the clarity.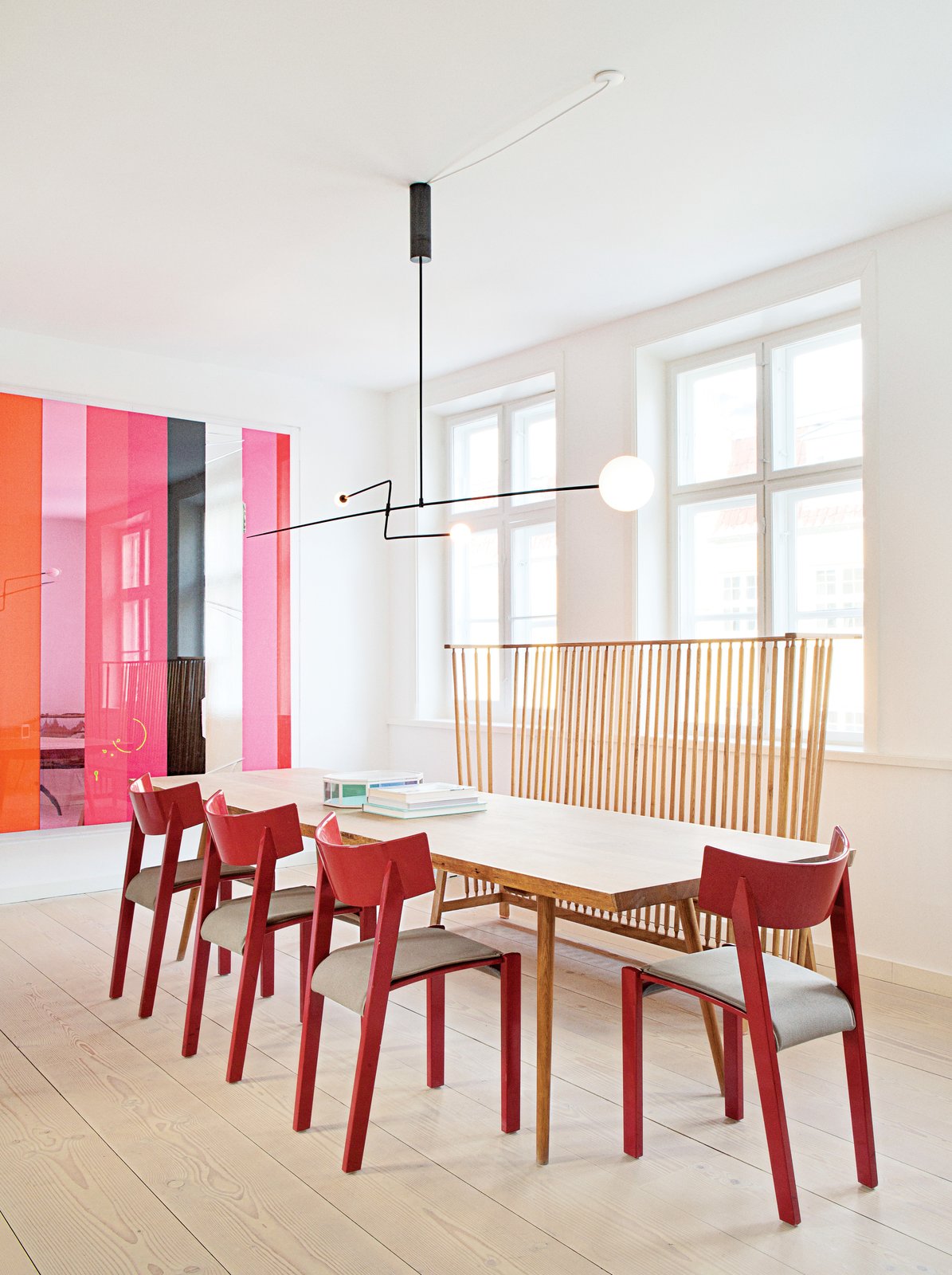 37 |
Designer: Tina Seidenfaden Busck
Bold yet balanced, this red accent dining room is counterbalanced by natural wood tone and beige elements. Unusual furniture silhouettes and joyful art ups the style stakes.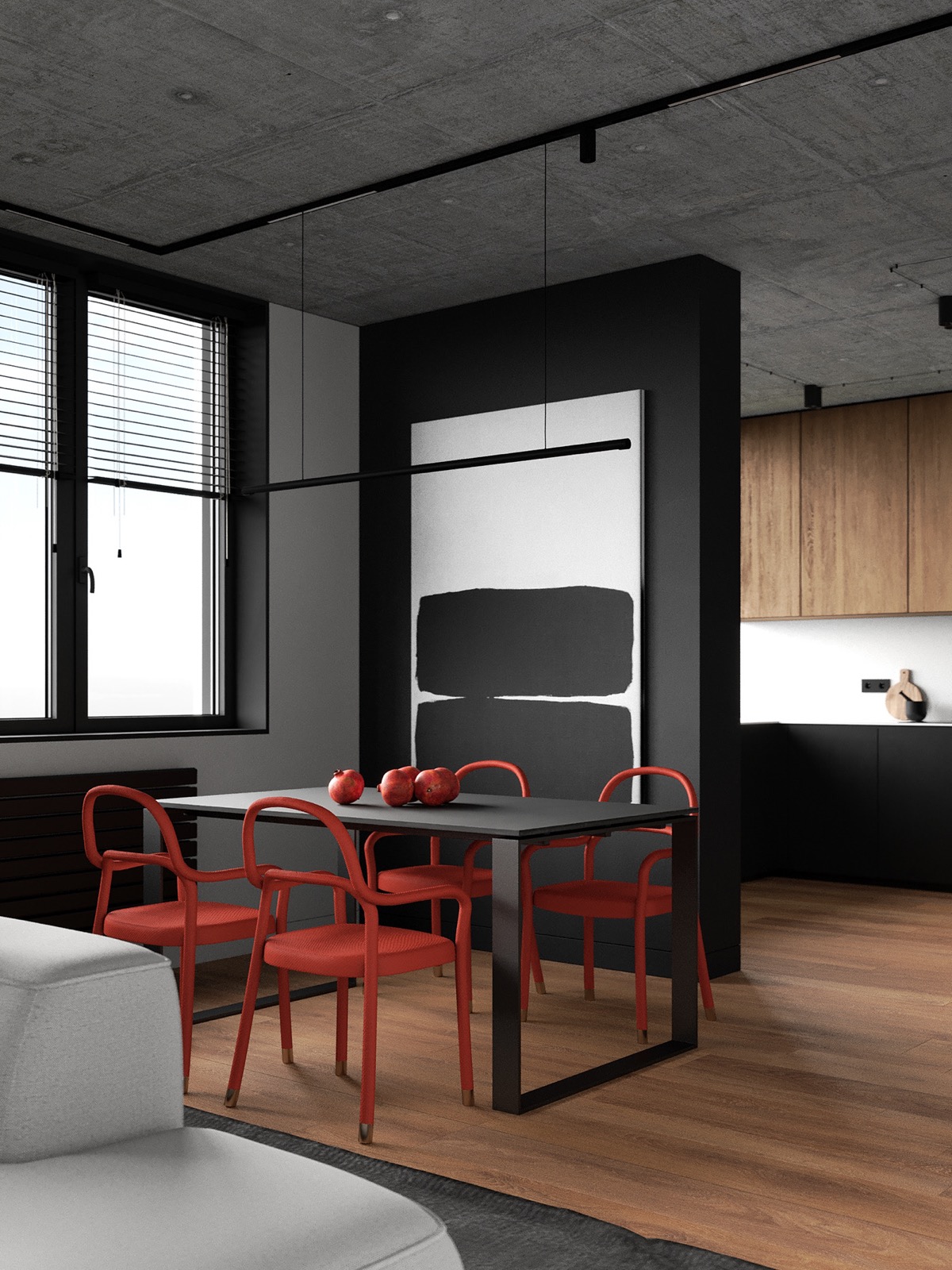 38 |
Visualizer: Angelica Chernenko
Compose a dramatic red and black dining room design with a sombre black table and wall paint, leaving only red dining chairs to up the tempo.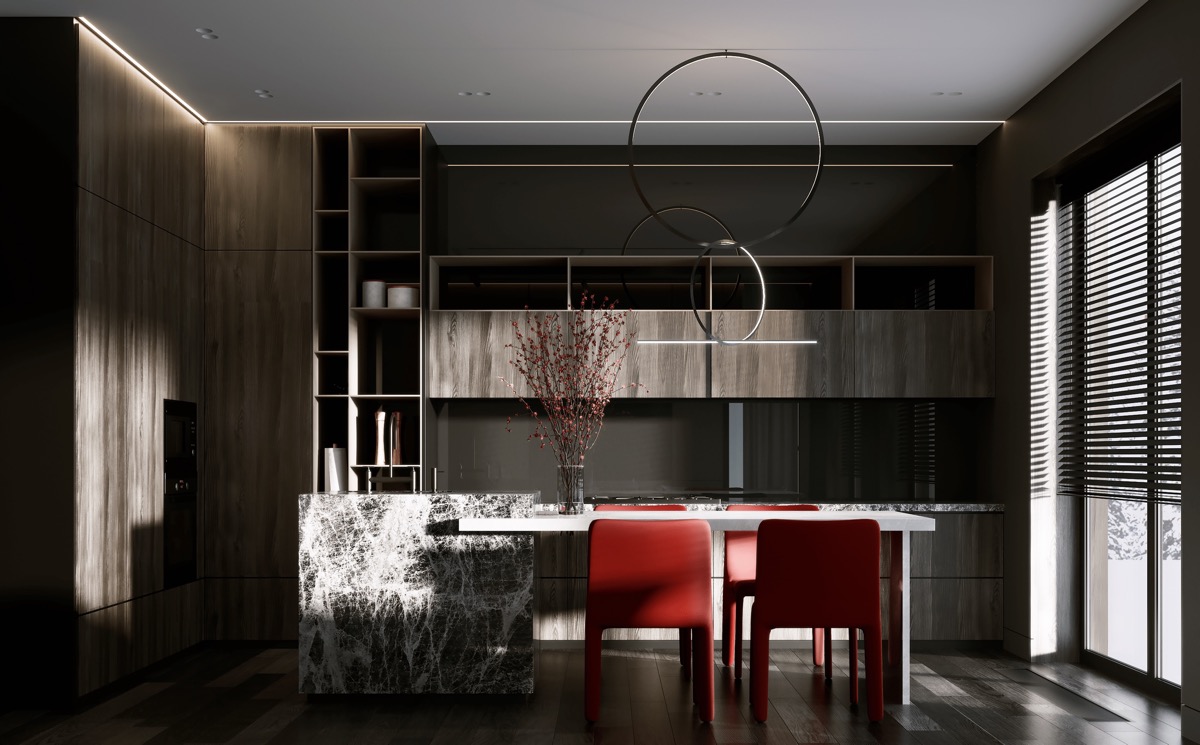 39 |
Visualizer: Liana Nikitina
Black and red decor is translated to a kitchen diner combo here, where a light dining island lifts the centre of the scheme.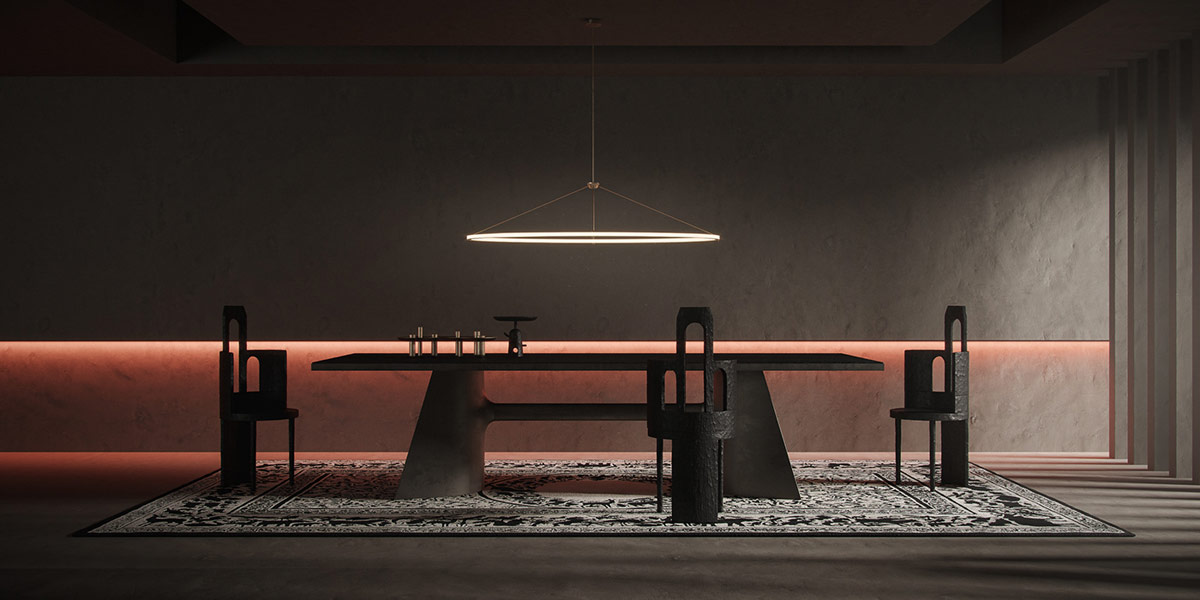 40 |
Visualizer: Serge Somkin
Slick and seductive, red lighting colours a black backdrop and defines the dining set as sculptural silhouettes against its fiery glow. More images of this home here.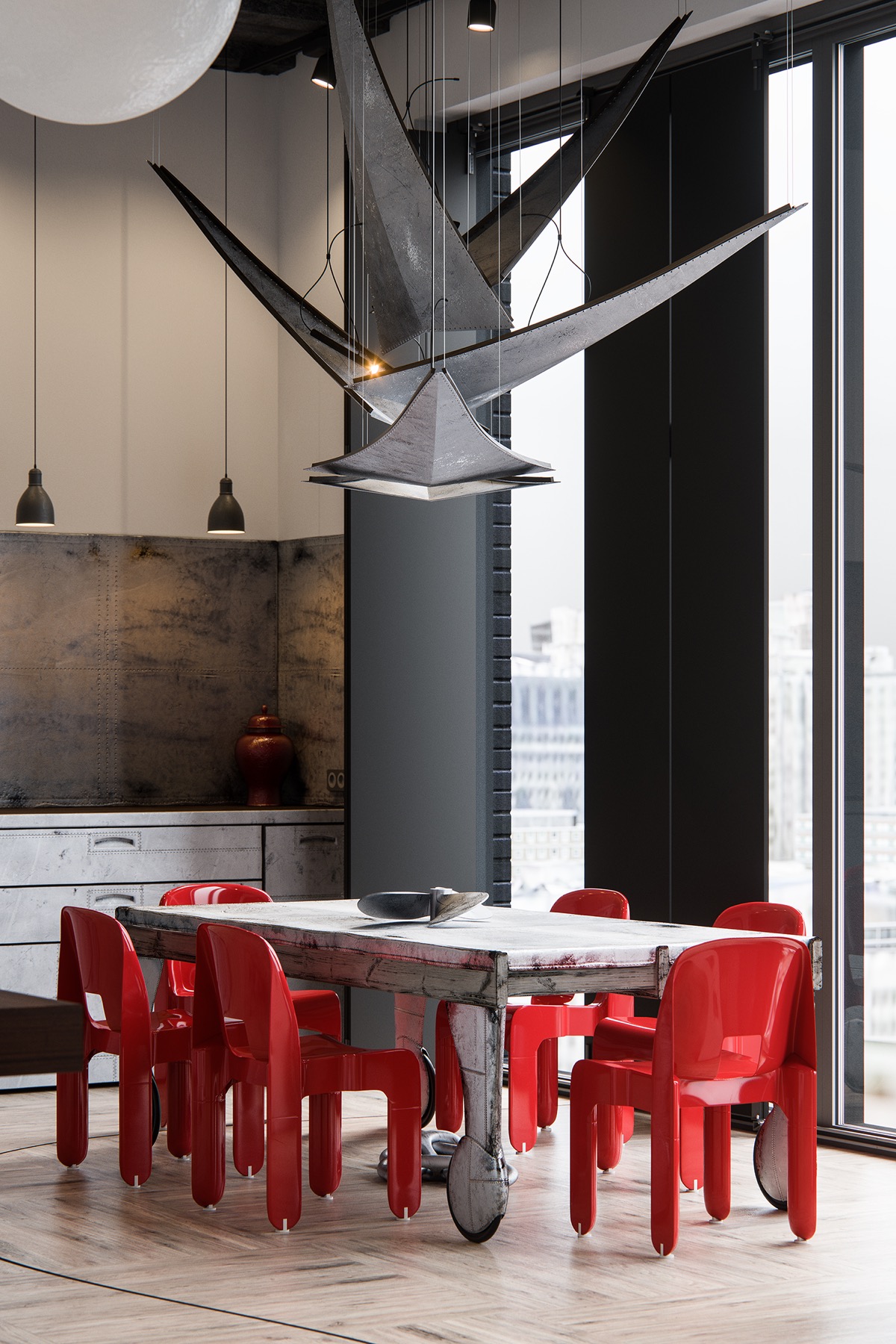 41 |
Visualizer: Double Aye
Go big or go home: Big on dining room lighting, big on furniture design, and big on colour. This dining room is a triple whammy of bold statements.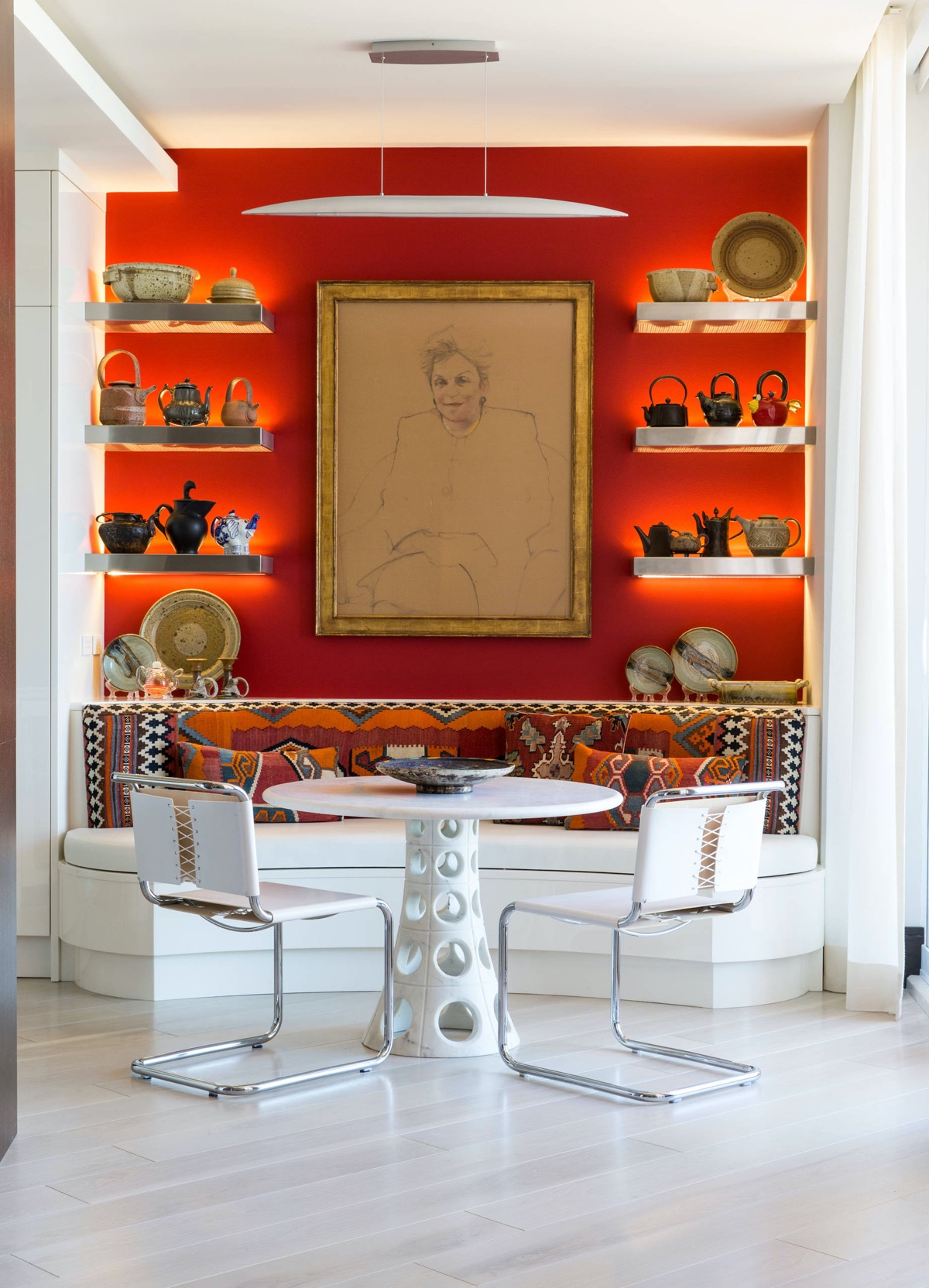 42 |
Designer: Taylor & Taylor
Add a rip of colour with a red dining bench. In this instance, an illuminated red wall grows behind, under the glow of individual shelf lights. A clean white table and accompanying white dining chairs finish off the ensemble.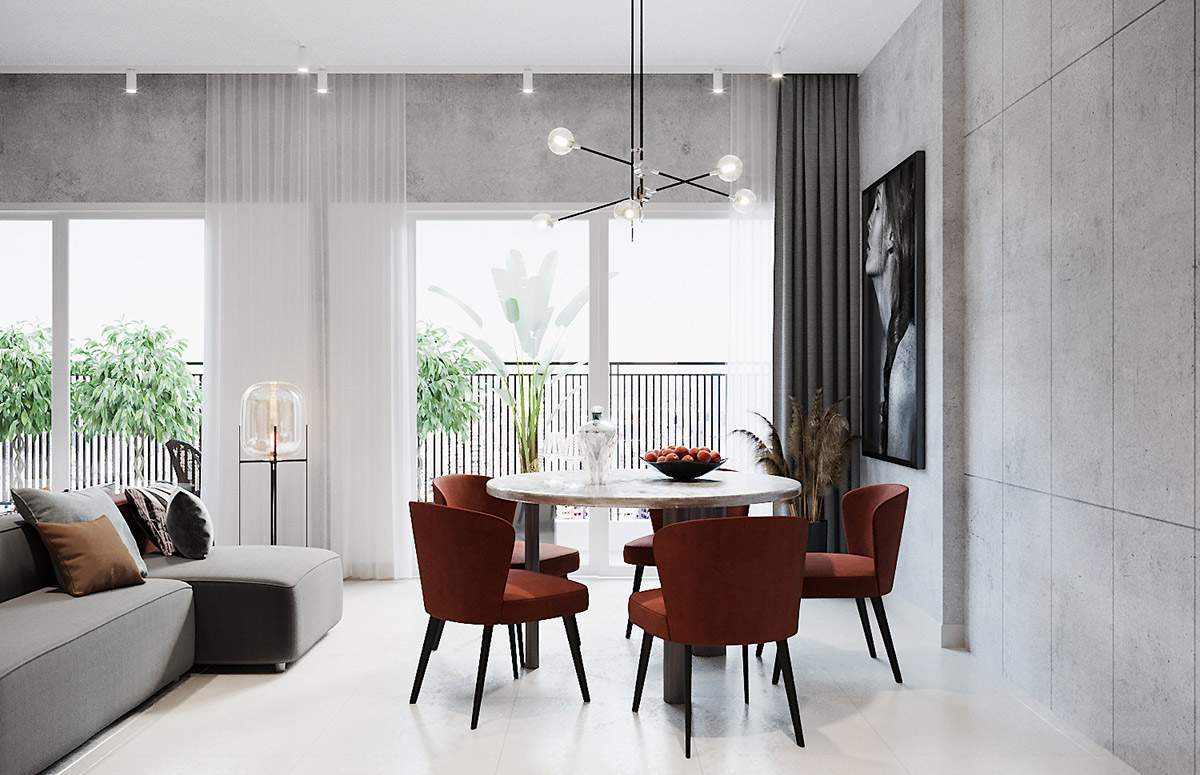 43 |
Visualizer: Lai Studio
Freshen up a red dining room theme with plant greenery, whether it be a jungle of indoor plants, a panoramic view of a green balcony or a selection of botanical artwork.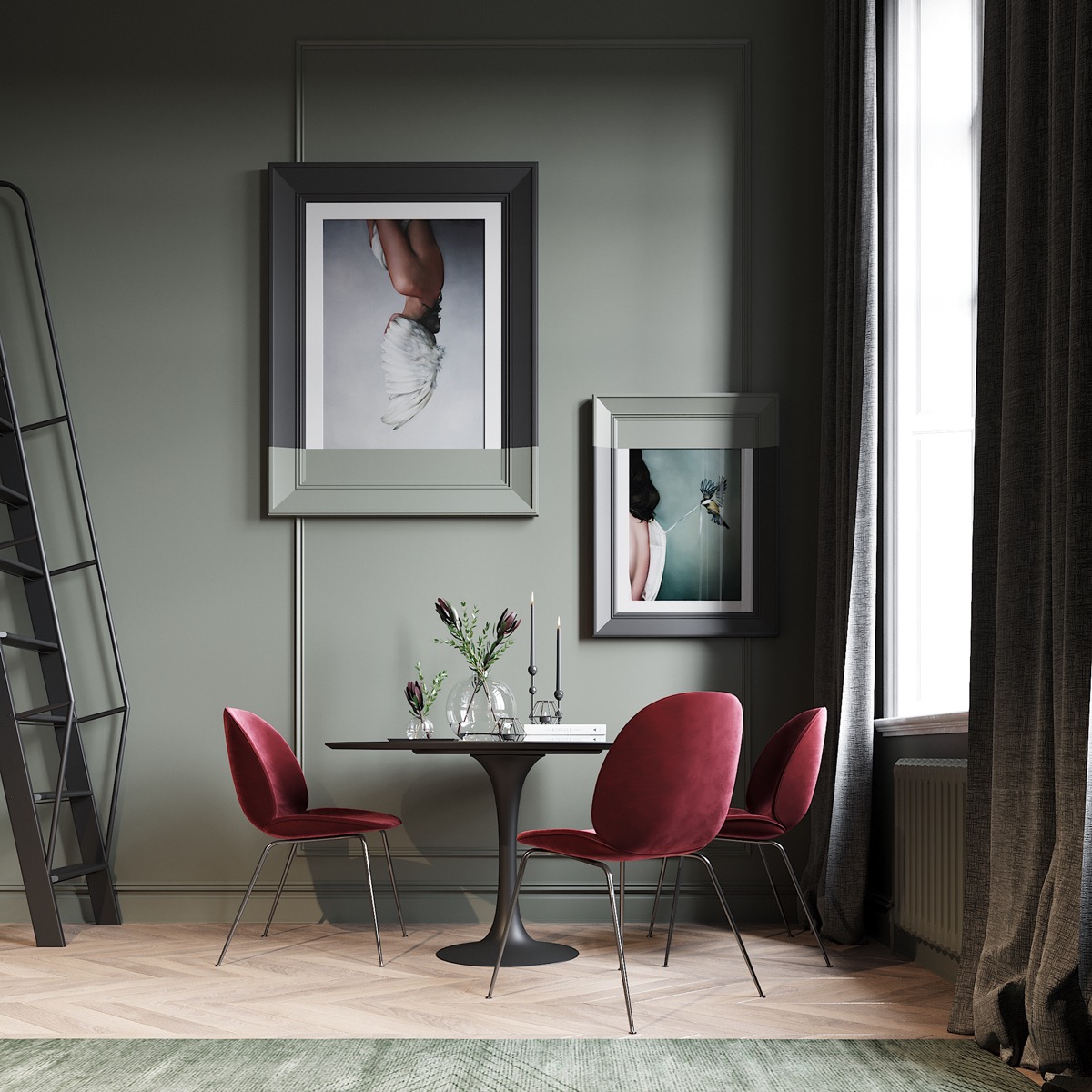 44 |
Visualizer: Evgeniya Belkina
Chic with a shock of red, Gubi Beetle chairs compete for attention with a whimsical gallery wall. Deep red flowers pull the red accent into the table centrepiece, whilst rosy skin tones are depicted in the wall art.
45 |
Visualizer: DaseinDesign studio
Drop chairs make up a shapely red retro dining set that's striking even in tight situations, like this dining spot for two. An oversized red pendant light gives the small dining area a sense of cleverly disproportionate grandeur.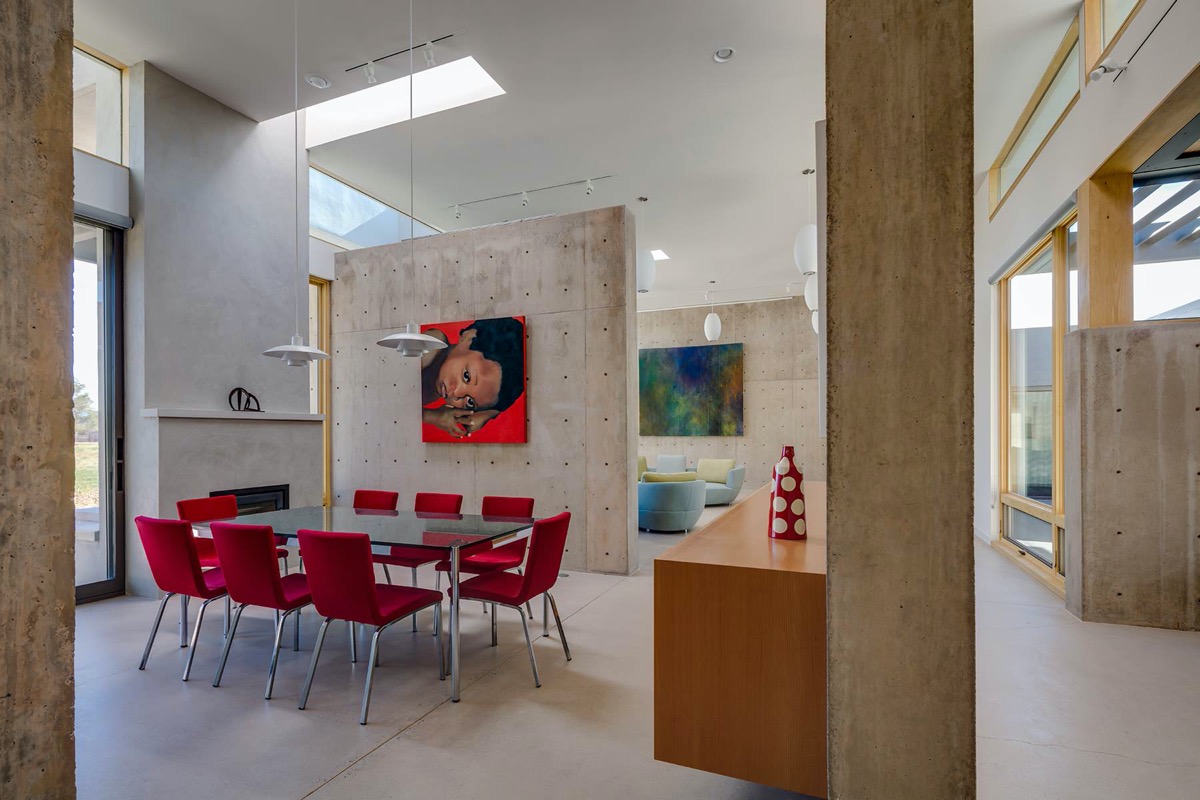 46 |
Designer: dnca architects
Run with the rule of three, with a red dining set, a red art wall and a red accessorised sideboard.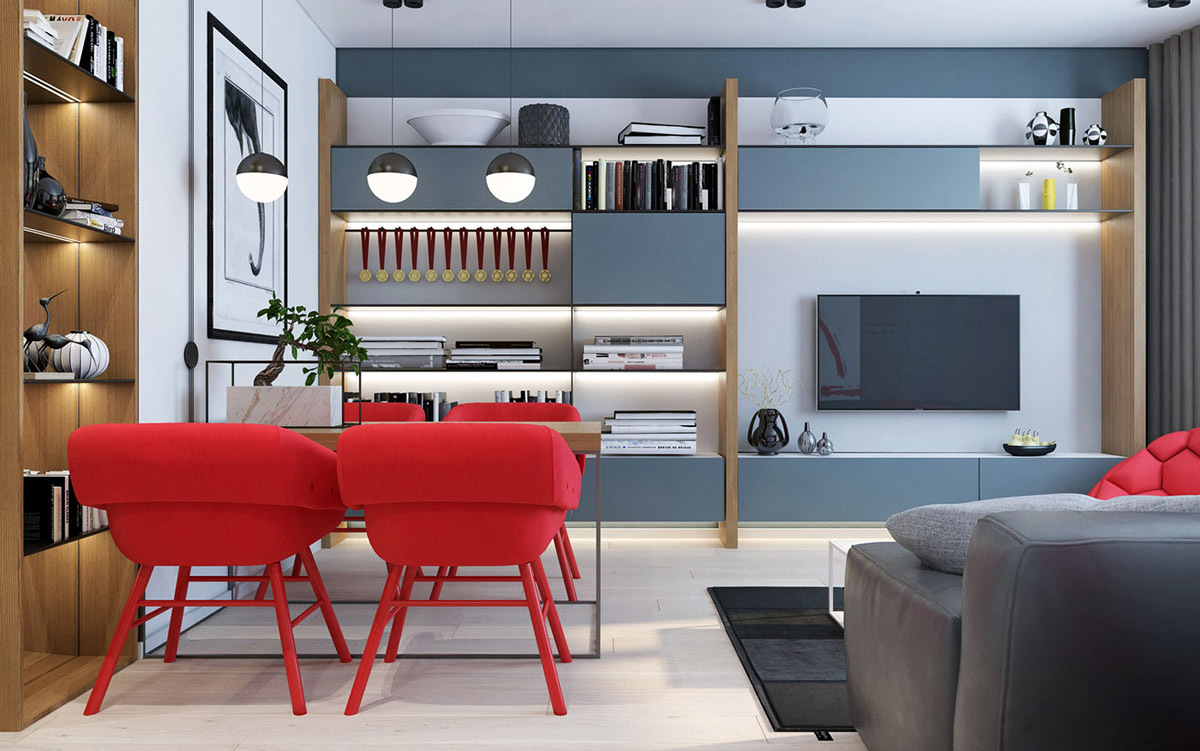 Quench blazing red elements with a cool grey background. These chunky red dining chairs pack a lot of punch, but a wall of grey storage cabinets bring balance and calm to the space. Natural wood tone is spliced in to forge moments of warm harmony.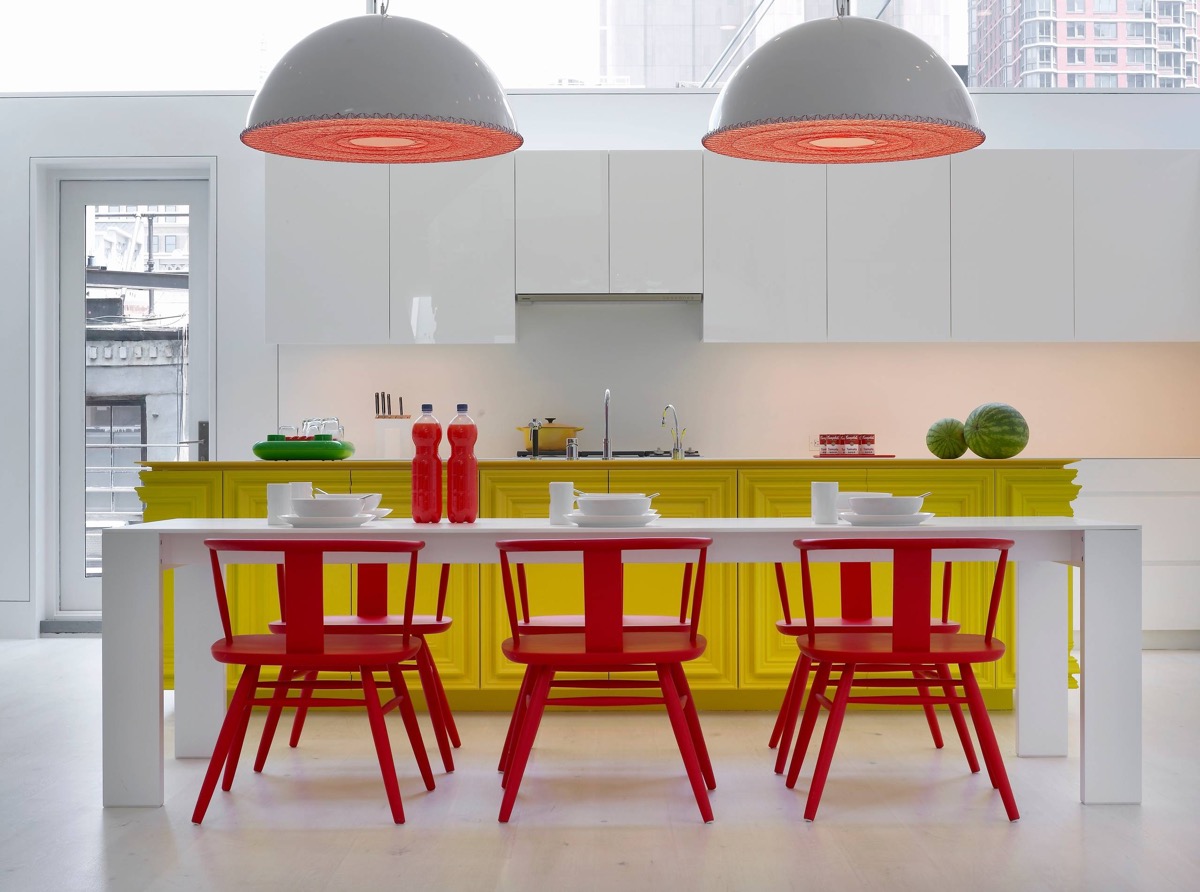 48 |
Visualizer: Ghislaine Viñas Interior Design
Wage war on boring backdrops with acid yellow allies. This acid yellow kitchen makes a vivid companion for red dining room chairs and dining room pendant lights. Could you ever feel defeated with a mood boost like this?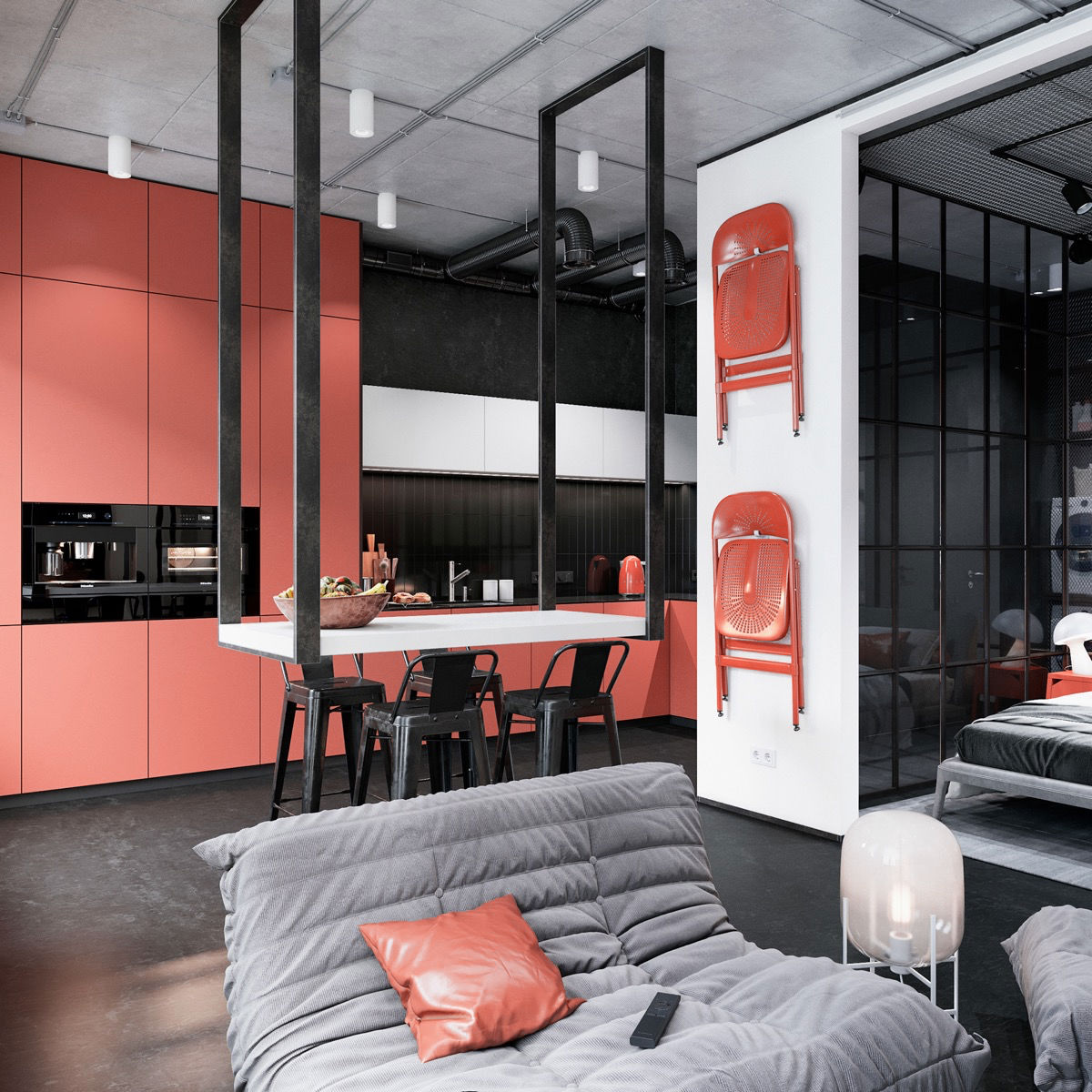 49 |
Visualizer: Marina Grinchuk
Red metal dining chairs fold flat to hang up on the wall of this unique dining space, close on hand to team up with a ceiling mounted dining table. A red kitchen arrangement, and red accent cushions in the lounge, carry the colour story all the way through the open floor plan.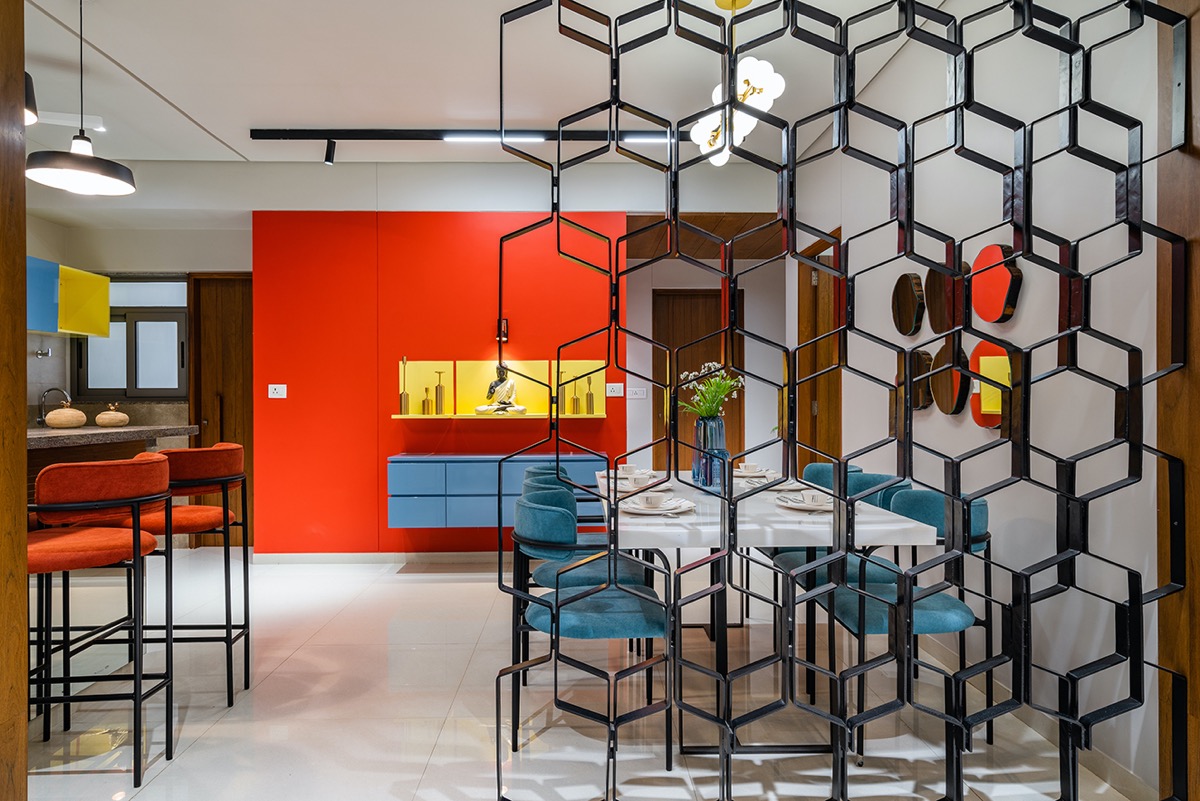 50 |
Architect: Anand Patel Architects
Pull together all three primary colours to make a red, blue and yellow colour concoction that brims with youthful confidence.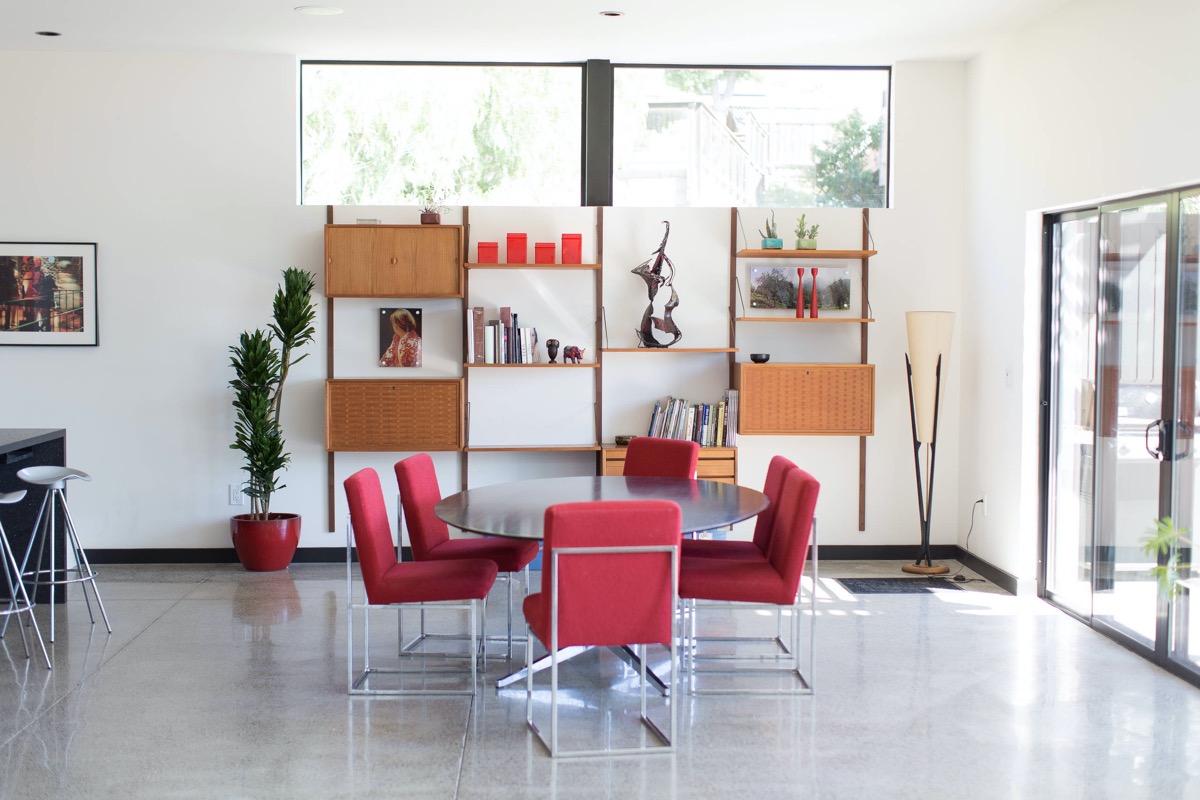 51 |
Visualizer: Nakhshab Development and Design
Prevent your new statement red dining chairs from appearing off-beam by making just a few small colour coordinated additions. Include a red indoor planter, decorative candles, or even some red salt and pepper shakers should do the trick. See some of our favourite red dining room accessories below for more inspiration.