1 |
Designer: Studio Open
Visualizer: Studio Open
Many small dining areas find their sensible place at the end of a kitchen run; it's a good idea to go for the window end so that you can enjoy breakfast in the sun. Installing a radiator right below for the colder months will keep off the draught.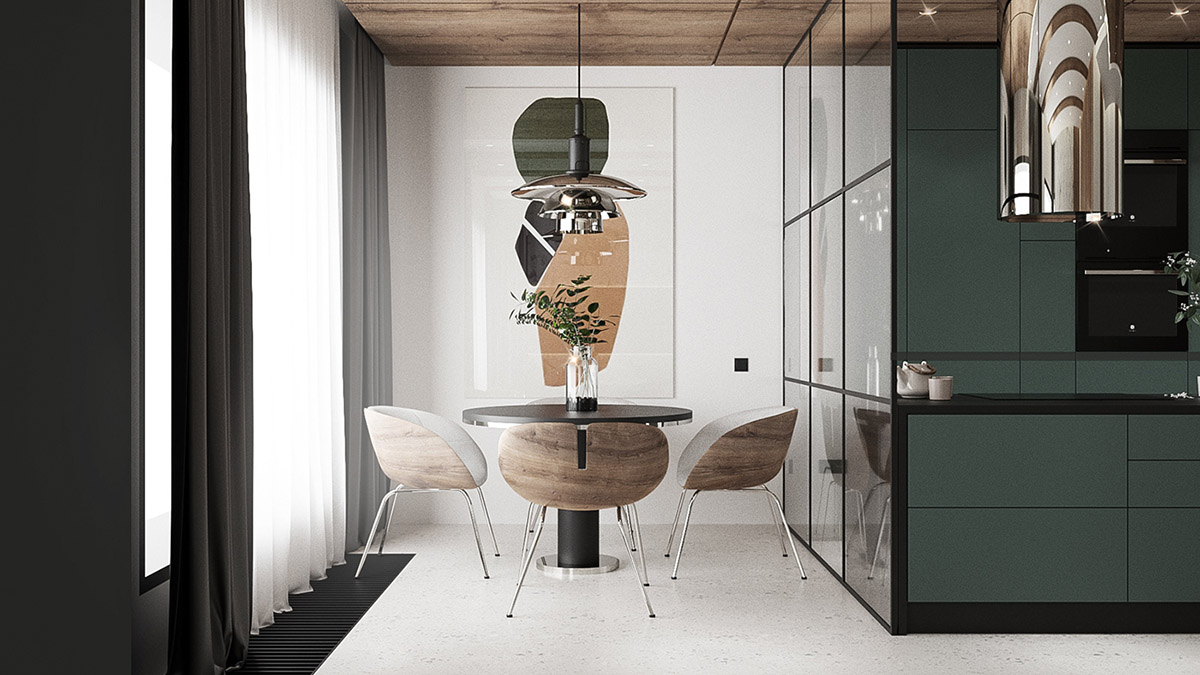 2 |
Visualizer: Innoi Design
You can give a kitchen dining area its own domain by installing a glass divider. Because the room separator is clear, it won't truncate the space or hinder the transfer of natural light but it will build the feeling of an entirely individual space.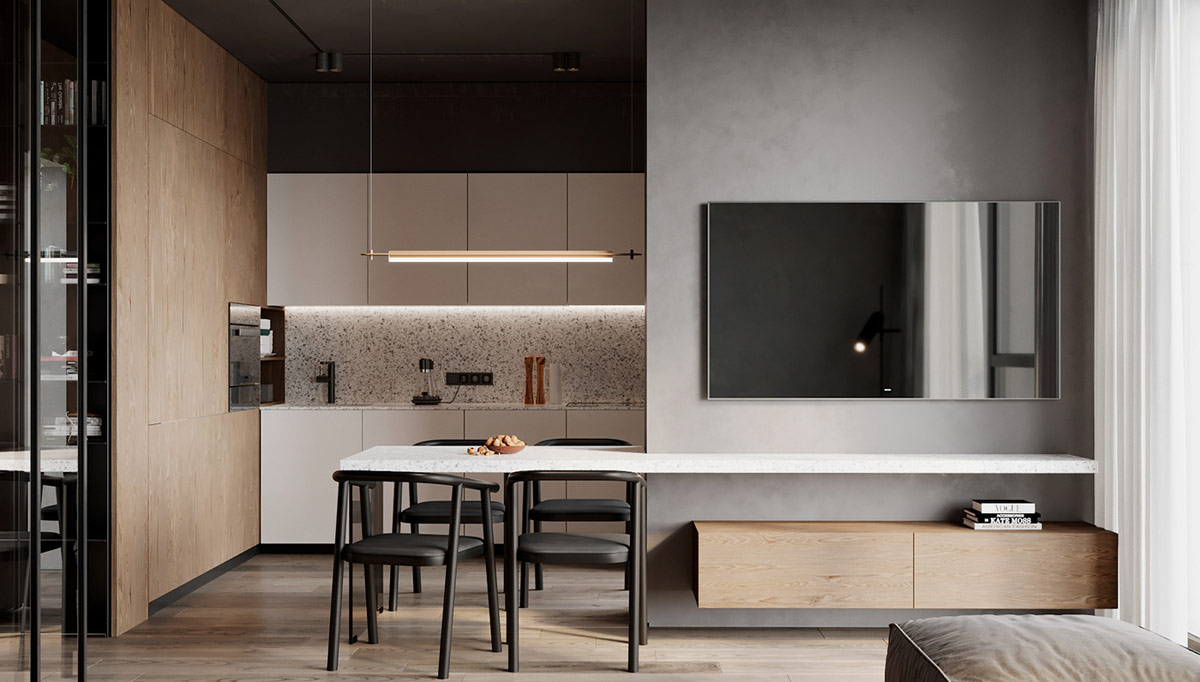 3 |
Visualizer: N.Team Design
Make your dining table work double-duty. This bespoke dining table design transforms into a media shelf as it travels into the adjoined lounge.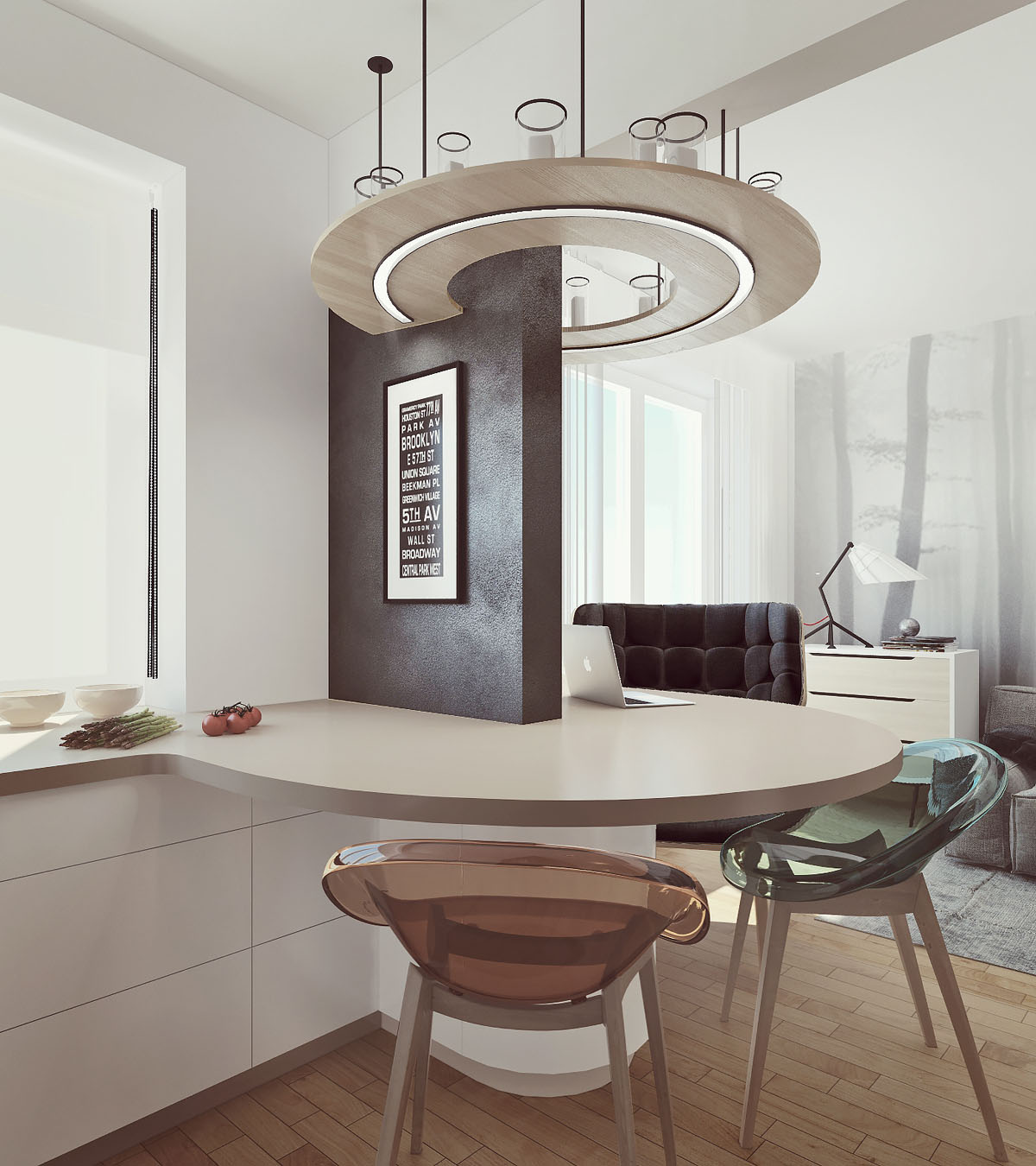 Another double-duty dining table design. This time the back of the rounded tabletop serves as a comfortable home workspace.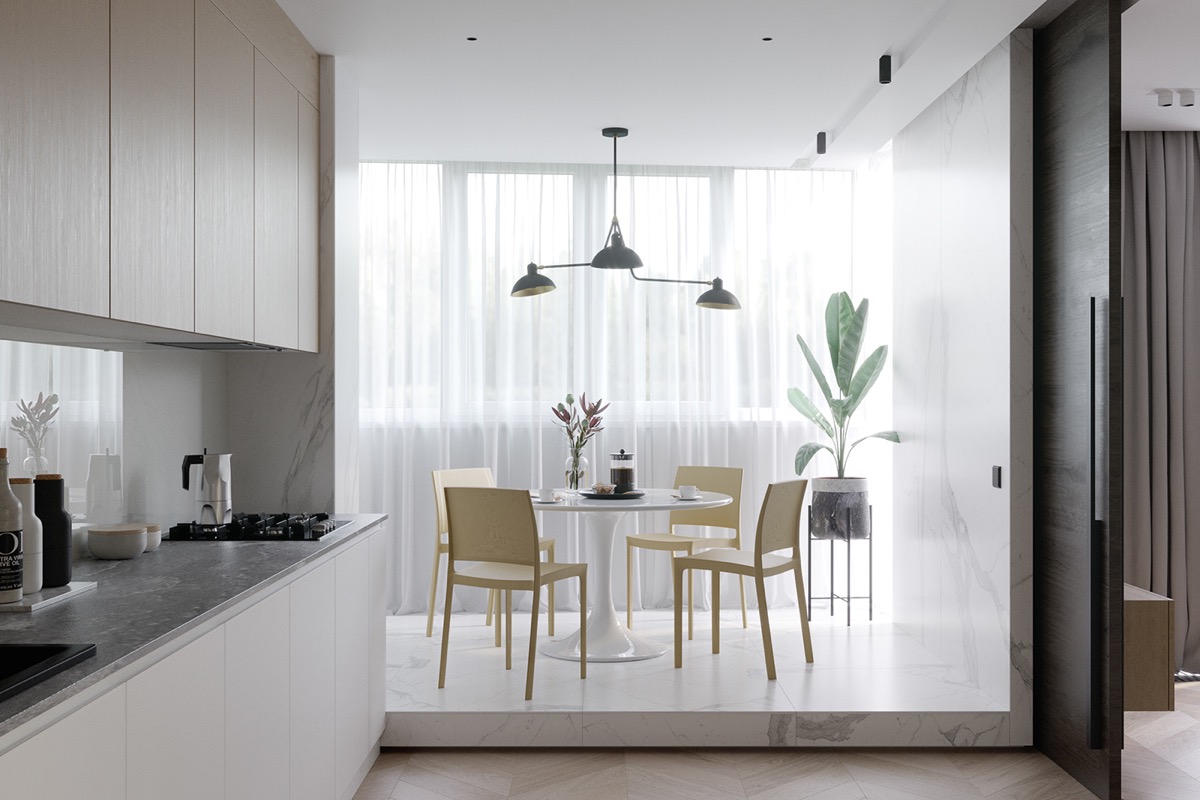 5 |
Architect: Leonid Borynskyi
Visualizer: Tanya Poberezhnik
Elevate a small dining room's presence with a platform. This white marble design wraps the side of the dining area too, creating a continuous cube effect.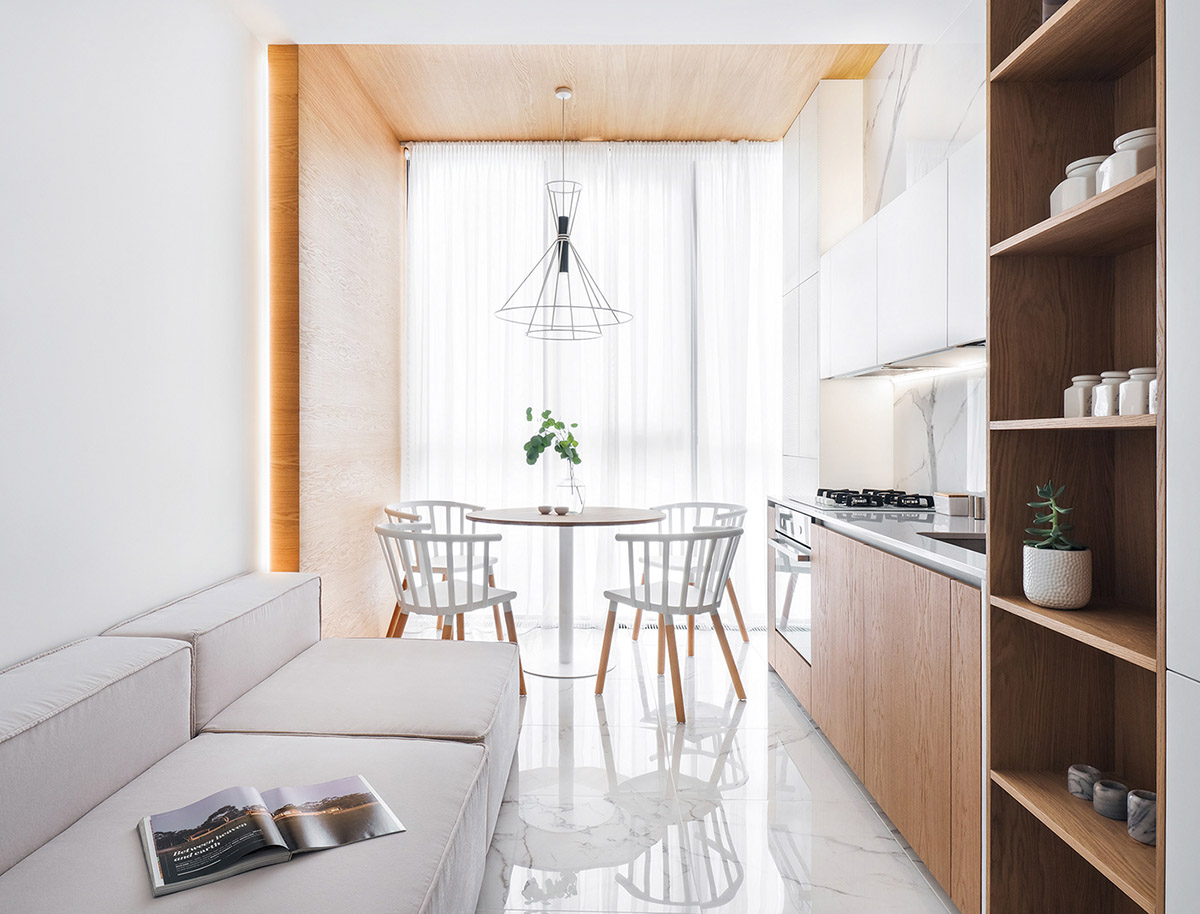 6 |
Photographer: Sergey Melnikov
If room height doesn't allow for a raised dining room floor, then consider differentiating your dining area with a defining ceiling treatment. This approach draws extra attention to a beautiful dining pendant light too.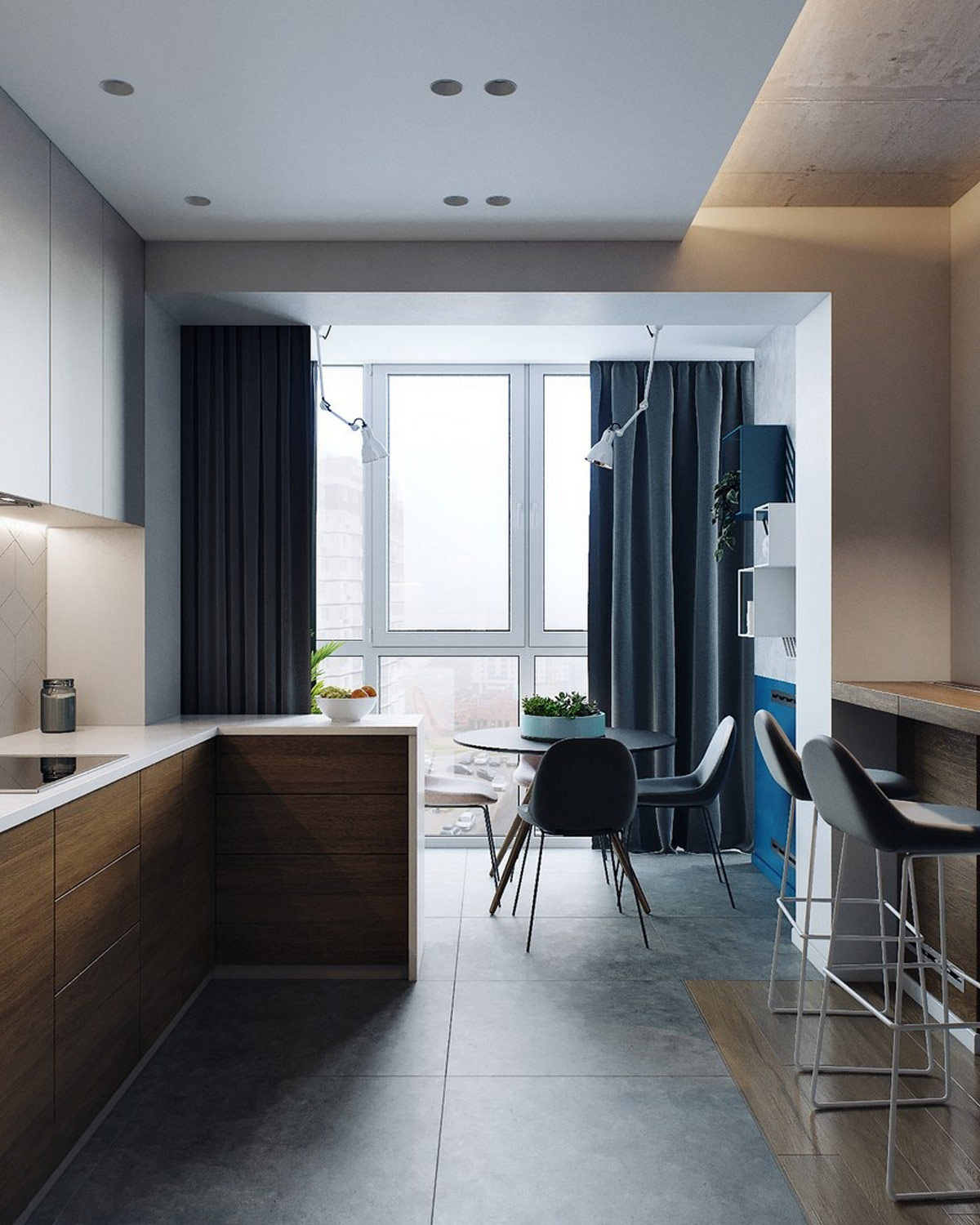 You don't have to get stuck on a classic dining room pendant light installation. An arc floor lamp provides a practical solution when wiring can't be moved, or these swing arm wall lamps create a unique modern vibe.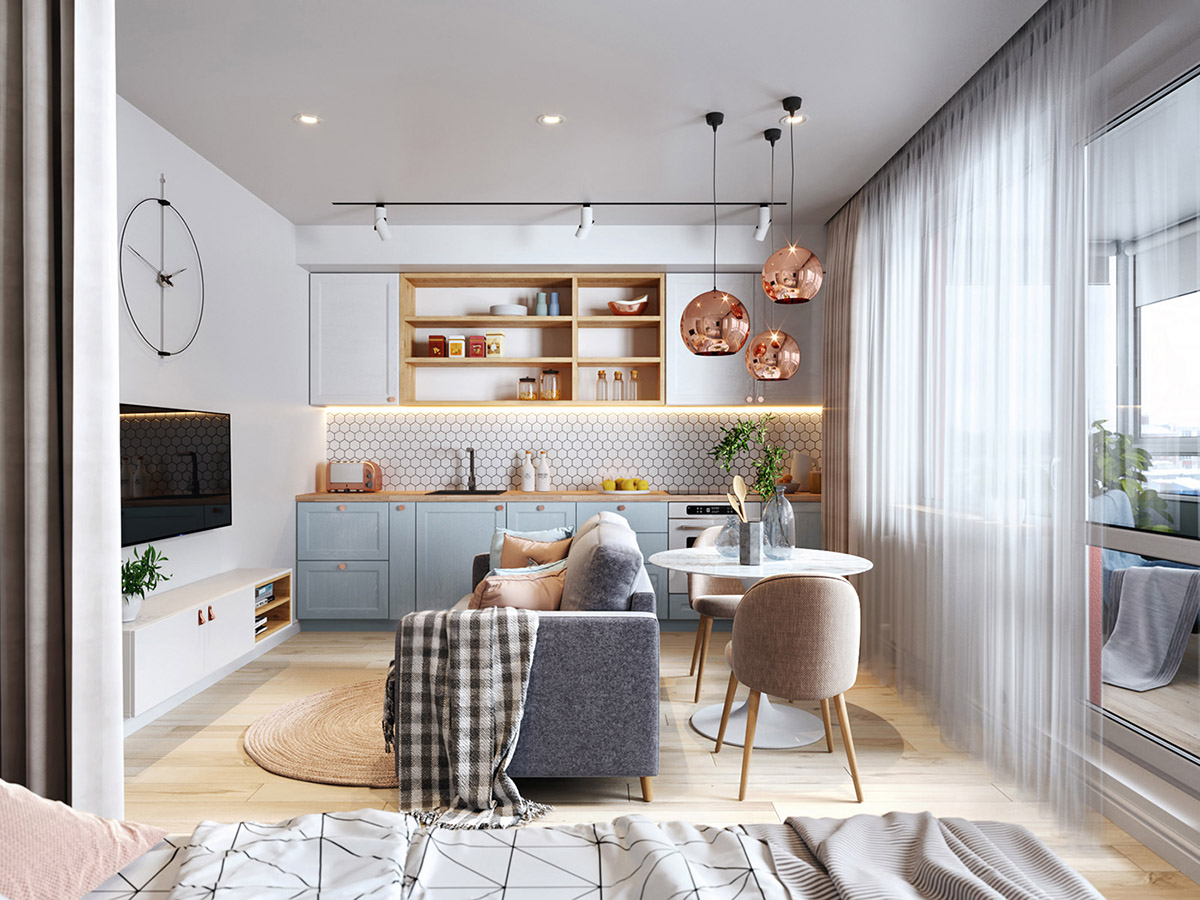 8 |
Visualizer: Oleg Mints
Reshuffle the layout to create new areas. This tiny studio shouldn't be able to accommodate a formal dining area, however, by moving the sofa into the centre of the floor a whole new area opens up by the window.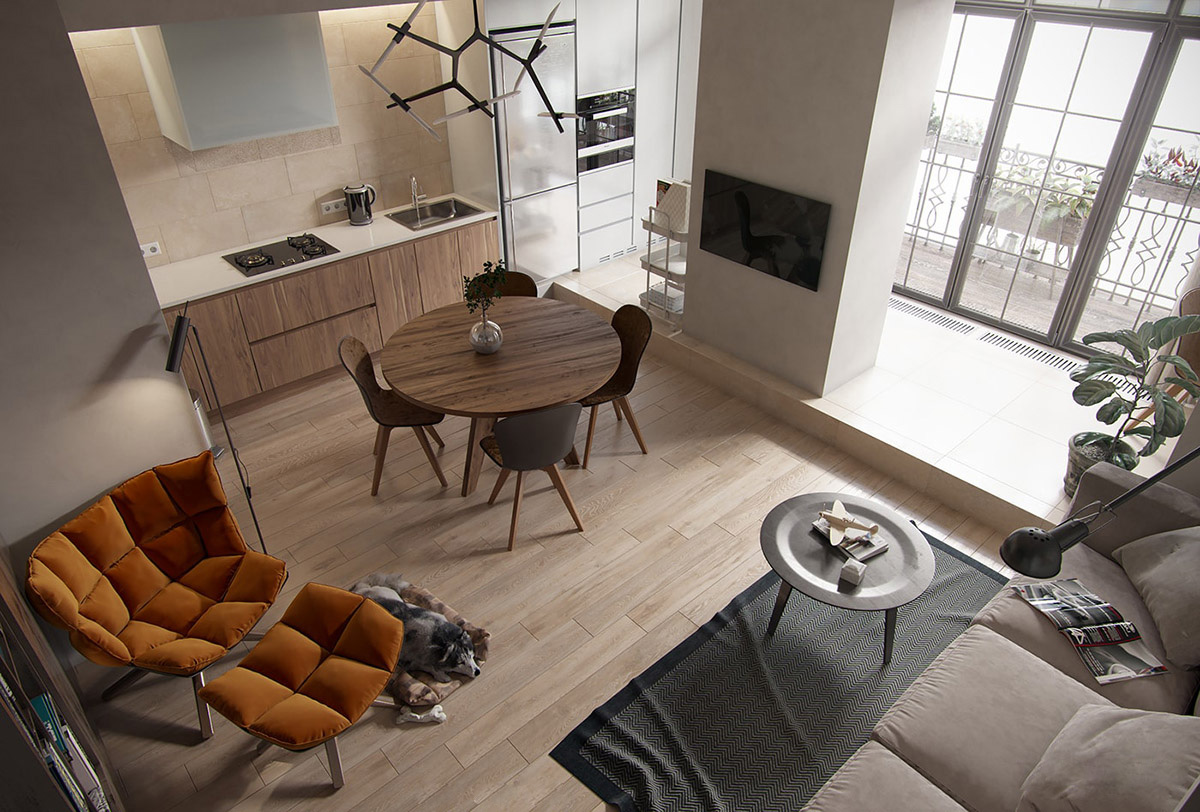 9 |
Visualizer: Respix Studio
Cut corners. When situating a dining area in the centre of a small space, opt for a round dining table to make walking around it a whole lot smoother. Nobody wants to be bumping into sharp corners every day.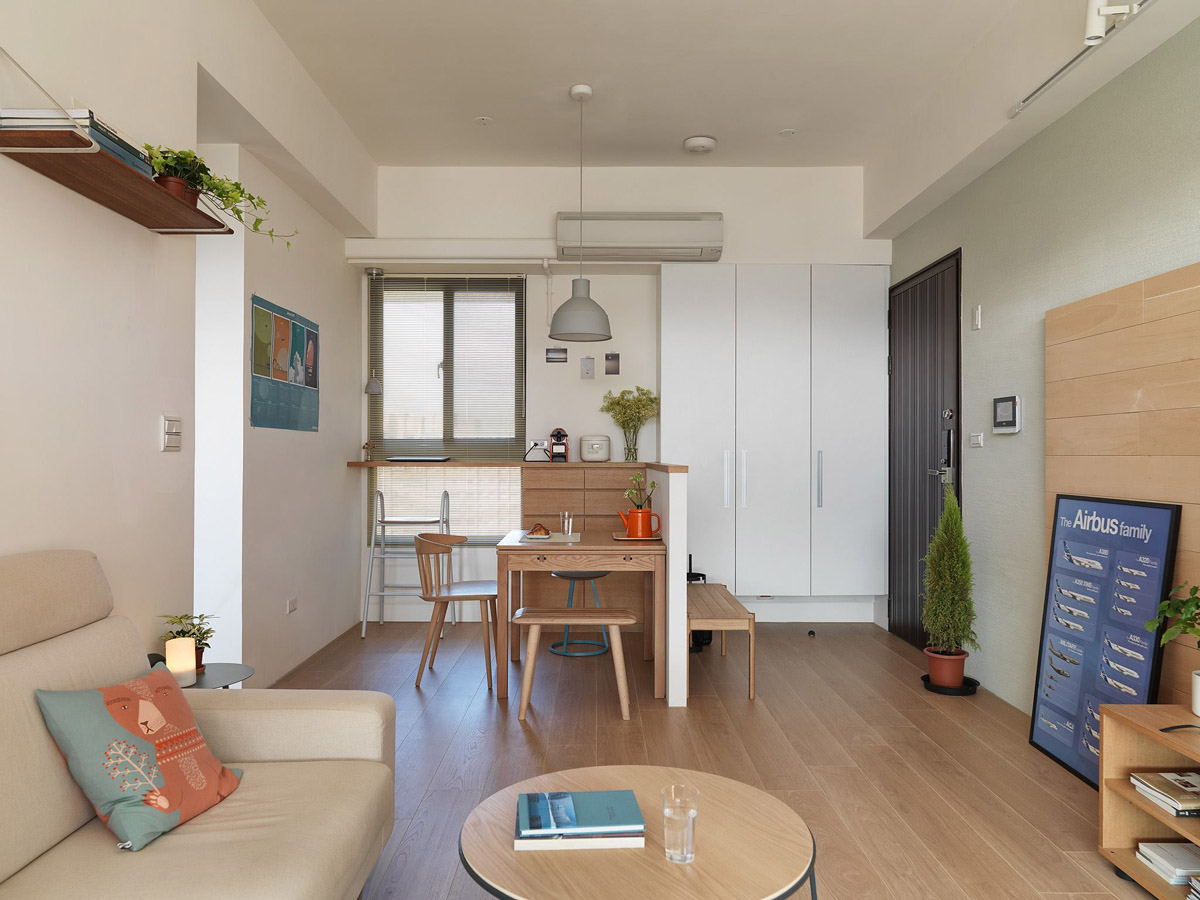 10 |
Designer: The November Design
Borrow half of a space with a half height room divider. This low level wall keeps the dining room cosy from the home entryway without cutting off the visual flow or light. The wall also builds a solid spot to position an entryway bench.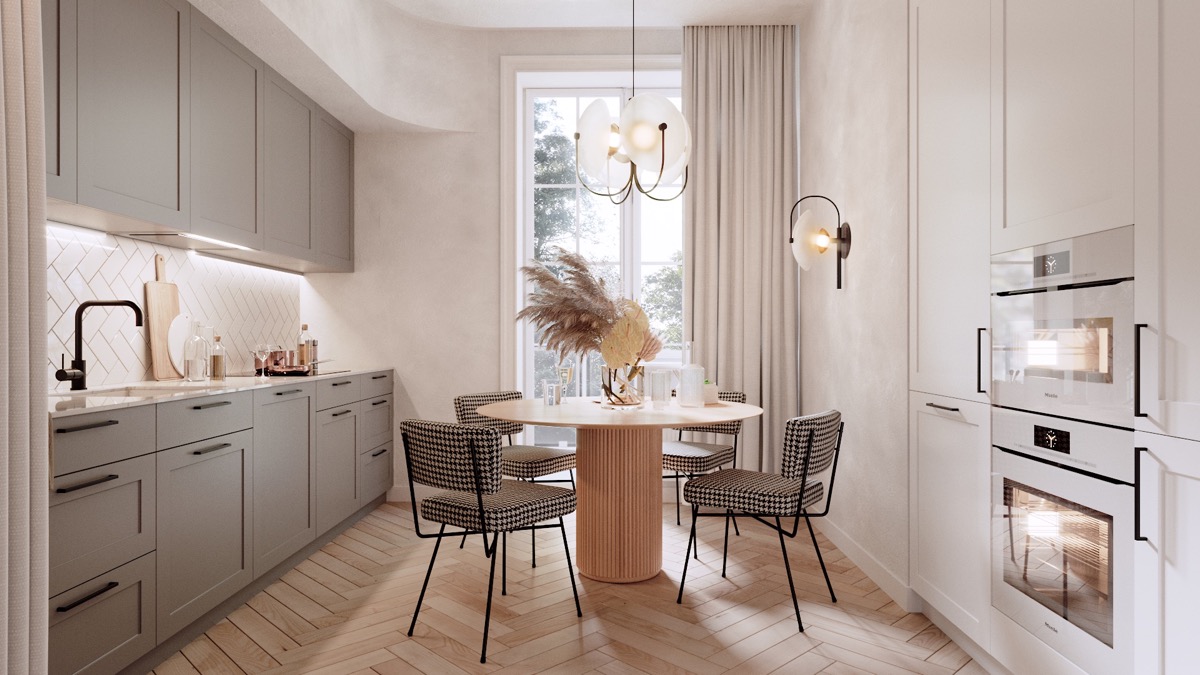 11 |
Visualizer: Dasha Murash
Keep it simple. The uncomplicated silhouette of a pedestal dining table keeps a small layout looking clean and uncluttered.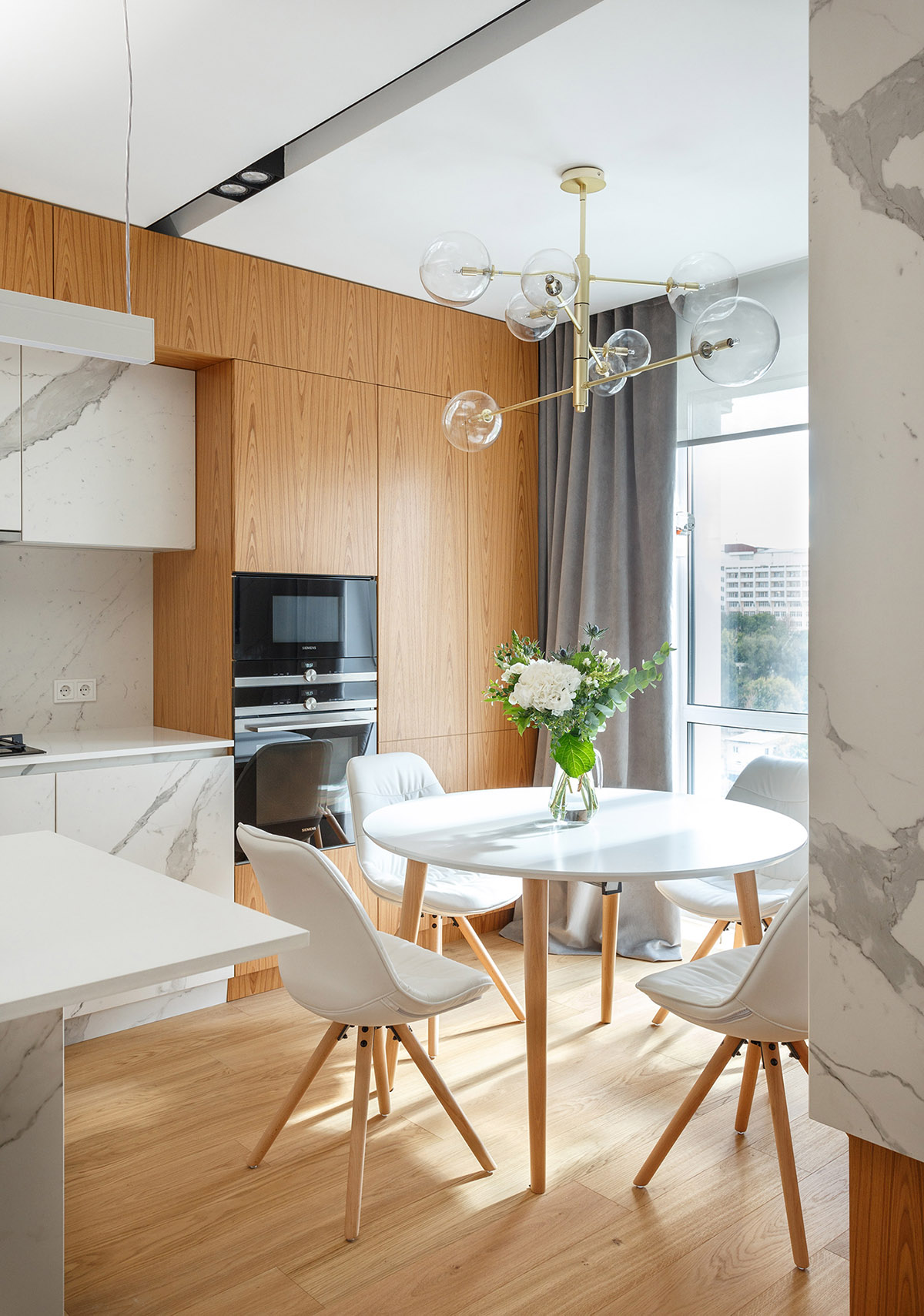 12 |
Designer: Svoya Studio
Photographer: Alexander Angelovskiy
Accessories make a small dining area feel more established. A floral centrepiece will make the area look more loved, whilst a large sputnik chandelier adds glamour.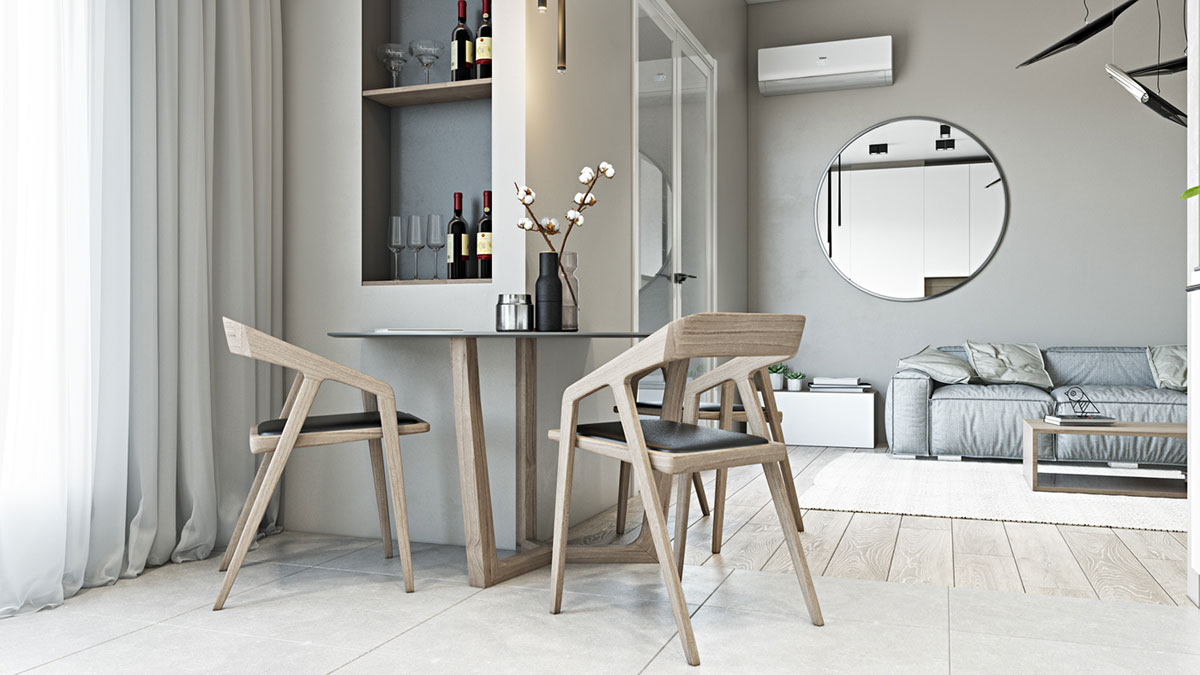 13 |
Visualizer: Wertikal Constructions
Added features. This wrap around dining table is a great space saver, but there's a danger that solutions like these can look a little sidelined in a room scheme. In this instance, a wine storage niche gives the side location added purpose and style.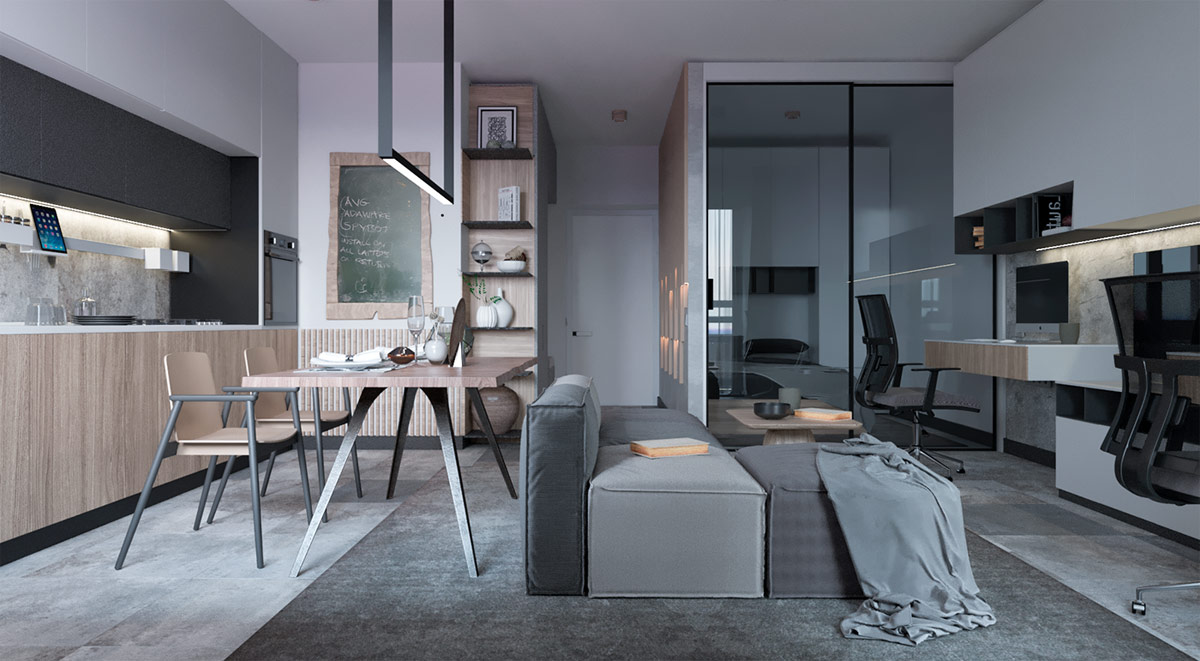 14 |
Visualizer: Tyoma Atsone
Line it up. A rectangular dining table sandwiches neatly between the long back of a sofa and a one wall kitchen. A linear suspension light accentuates the straight aesthetic.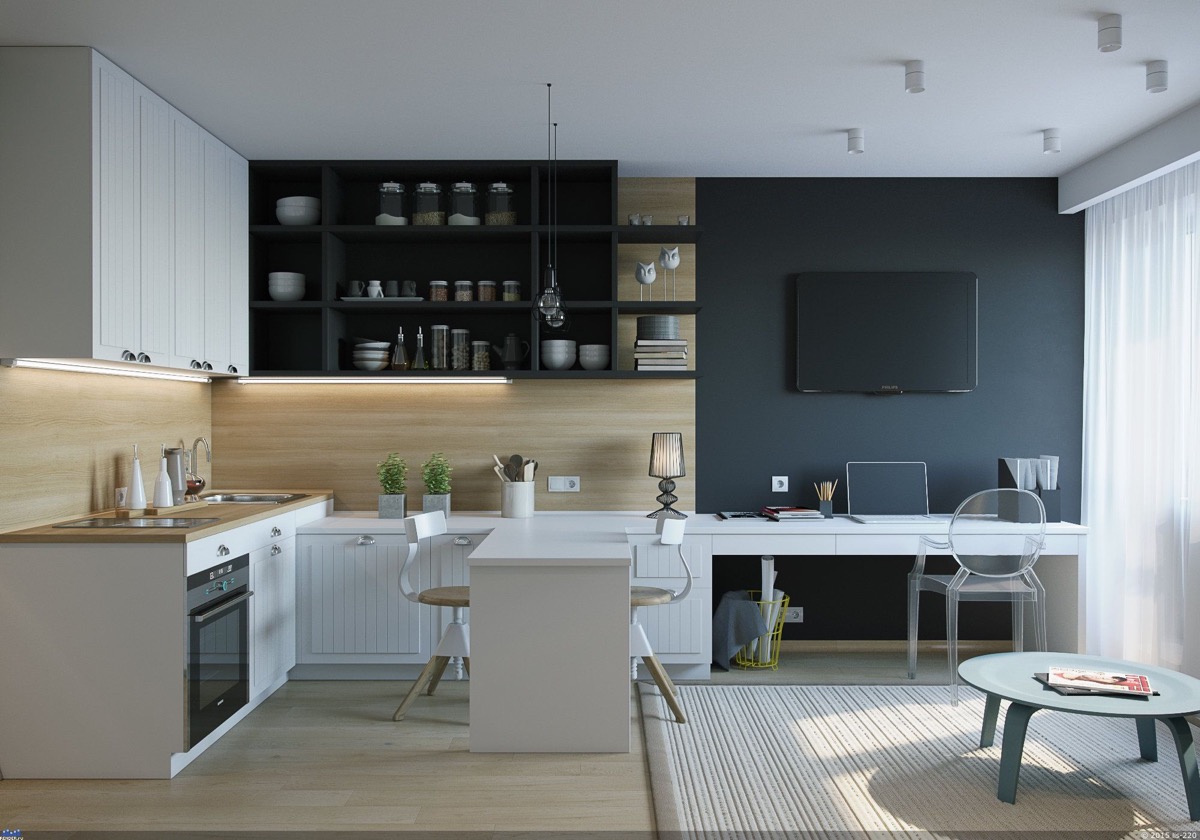 15 |
Visualizer: Eugene Sarajevo
Create continuous lines. This dining peninsula is part of a fluid kitchen countertop-meets-workspace design. The seamless flow makes several small zones into one cohesive piece.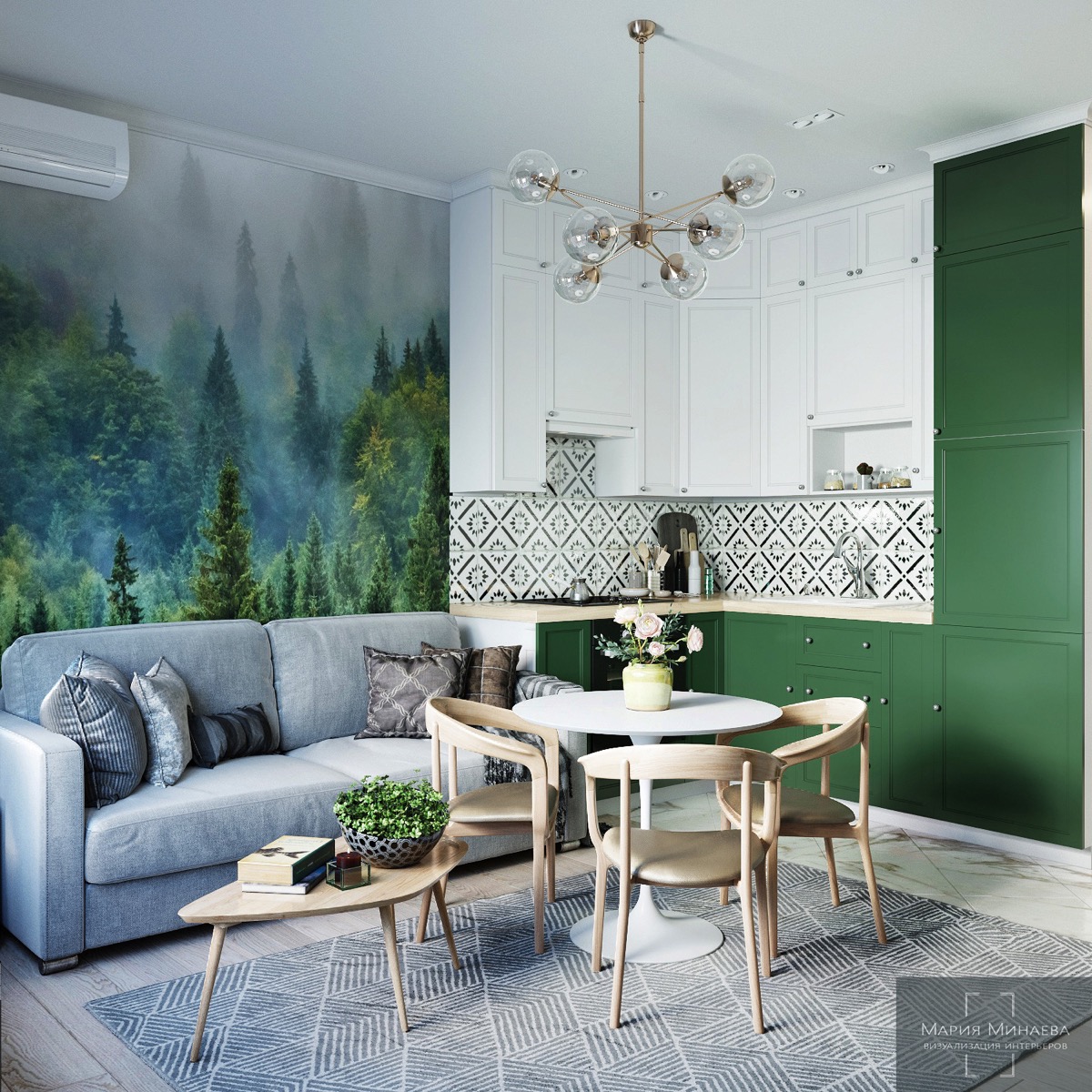 16 |
Visualizer: Maria Minaeva
Mix and mingle. This small dining set mingles with a coffee table in the centre of the lounge.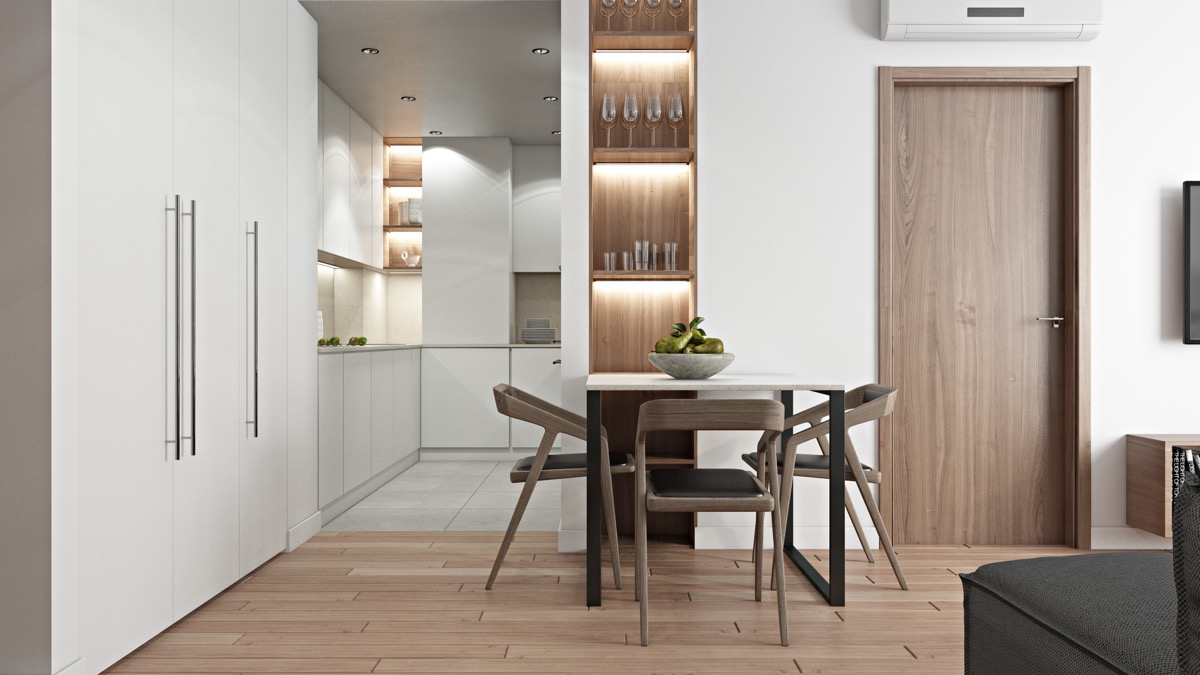 17 |
Visualizer: Wertikal Company
Combine utility with lighting by installing backlit shelves by the table.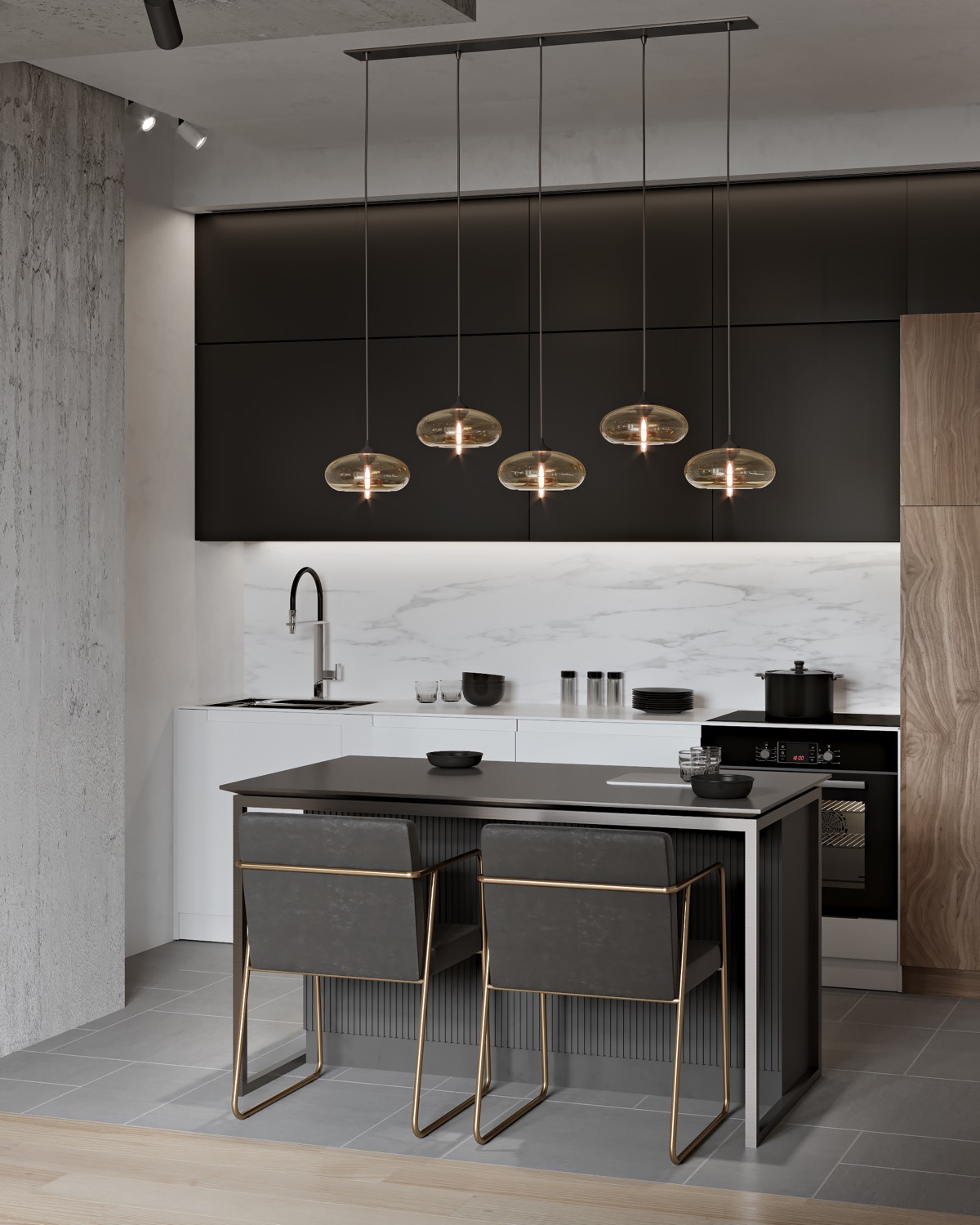 18 |
Visualizer: Dinamika Architects
If bar stools aren't your thing, a lower kitchen island makes a comfortable regular height dining table.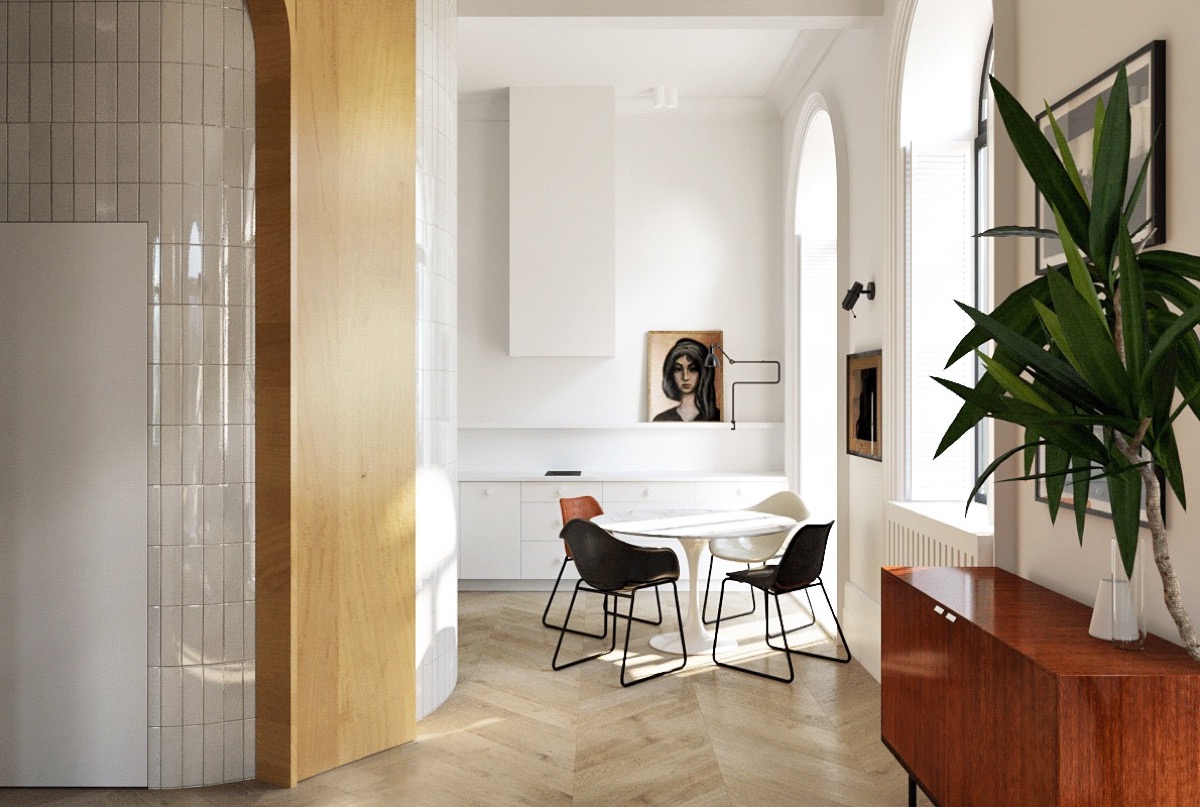 19 |
Visualizer: roomdesignburo
Use dark or colourful artwork to designate a dining spot within an all white room.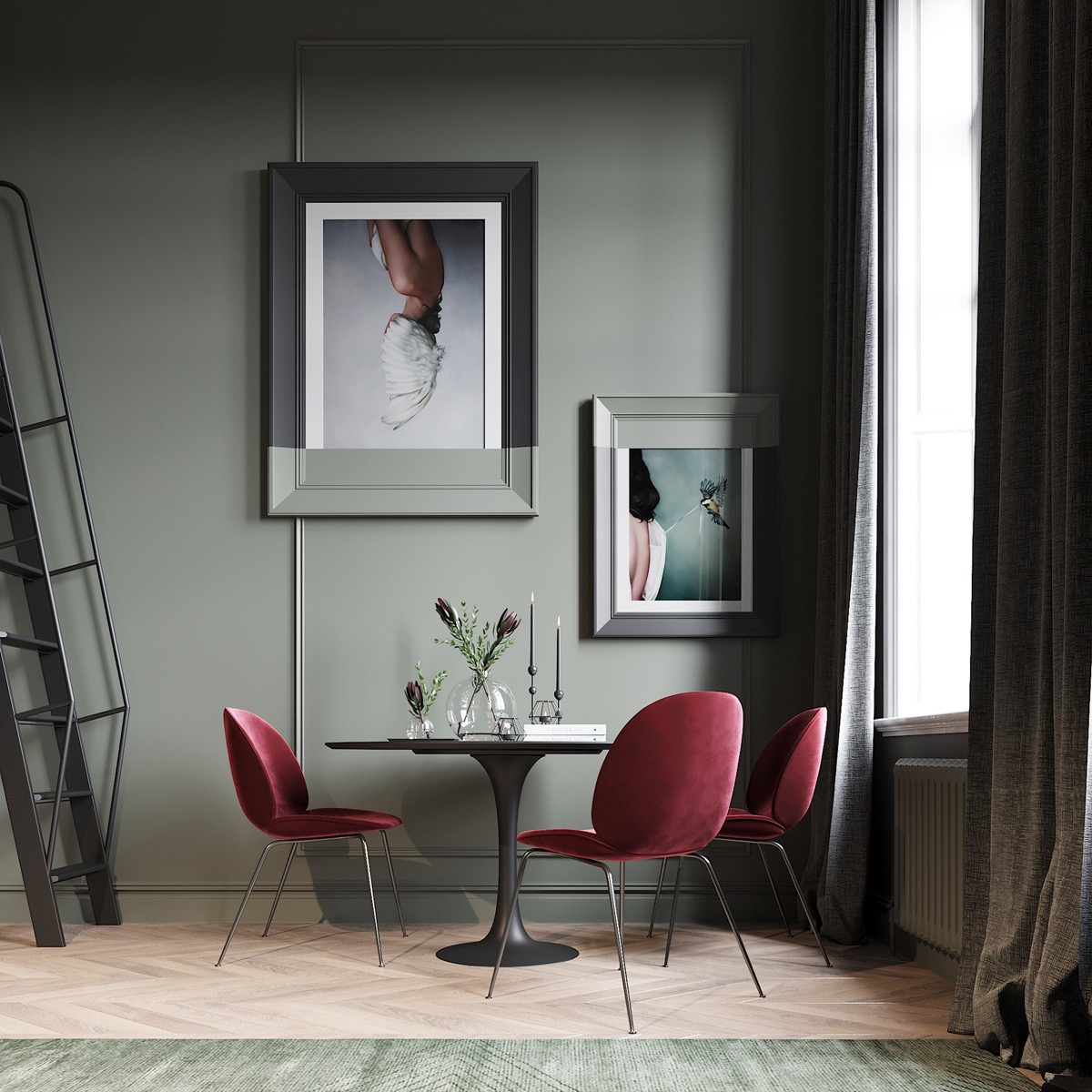 20 |
Visualizer: Evgenia Belkina
Be brave. Not only does this red and green interior have adventurous contrast, but the wall art has been partially painted over to fashion a unique decor feature.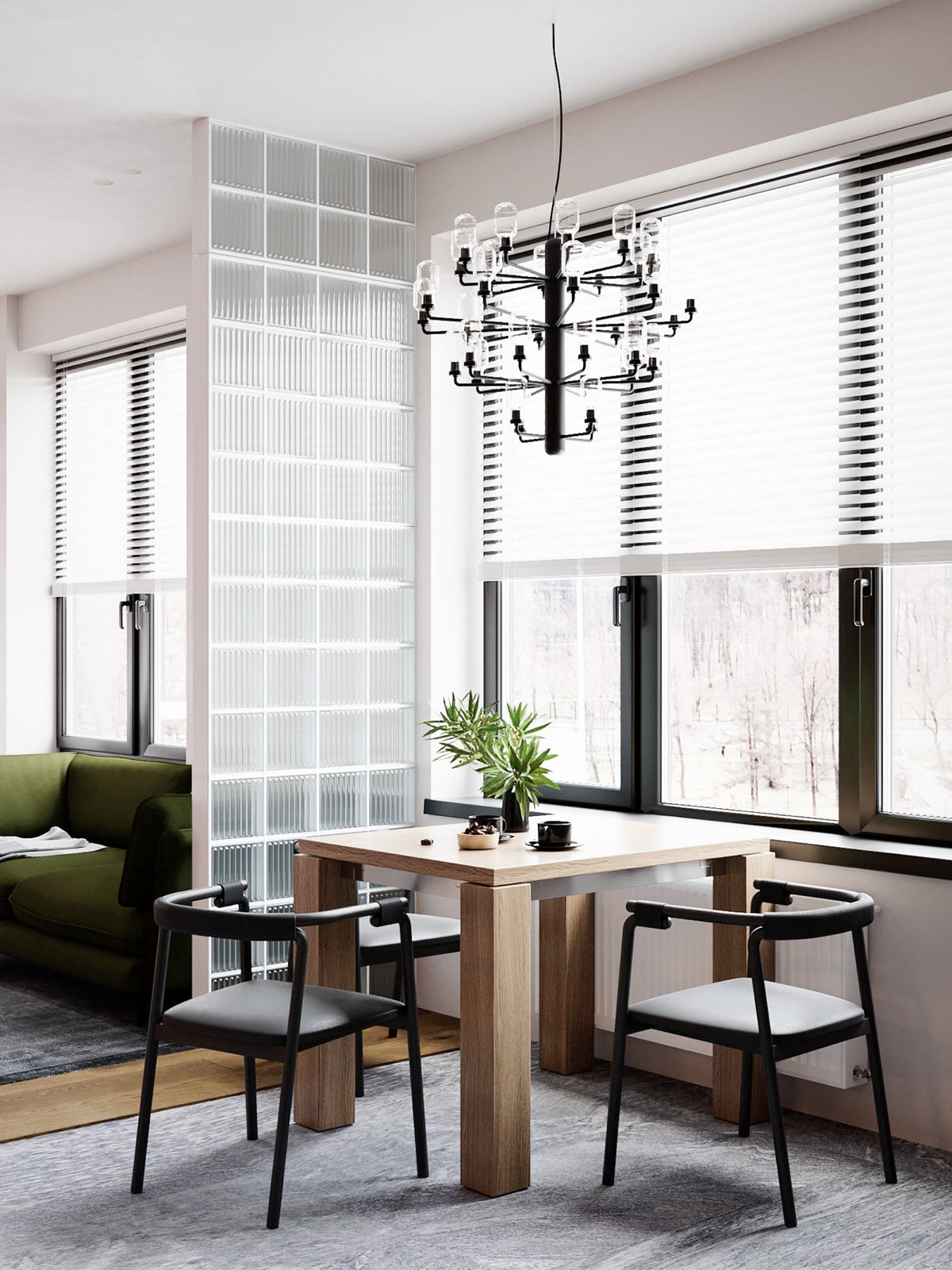 21 |
Visualizer: Olga Lagodnaya
Glass blocks are a light and effective zoning technique. An impressive modern dining chandelier gives an open plan dining area a visual anchor.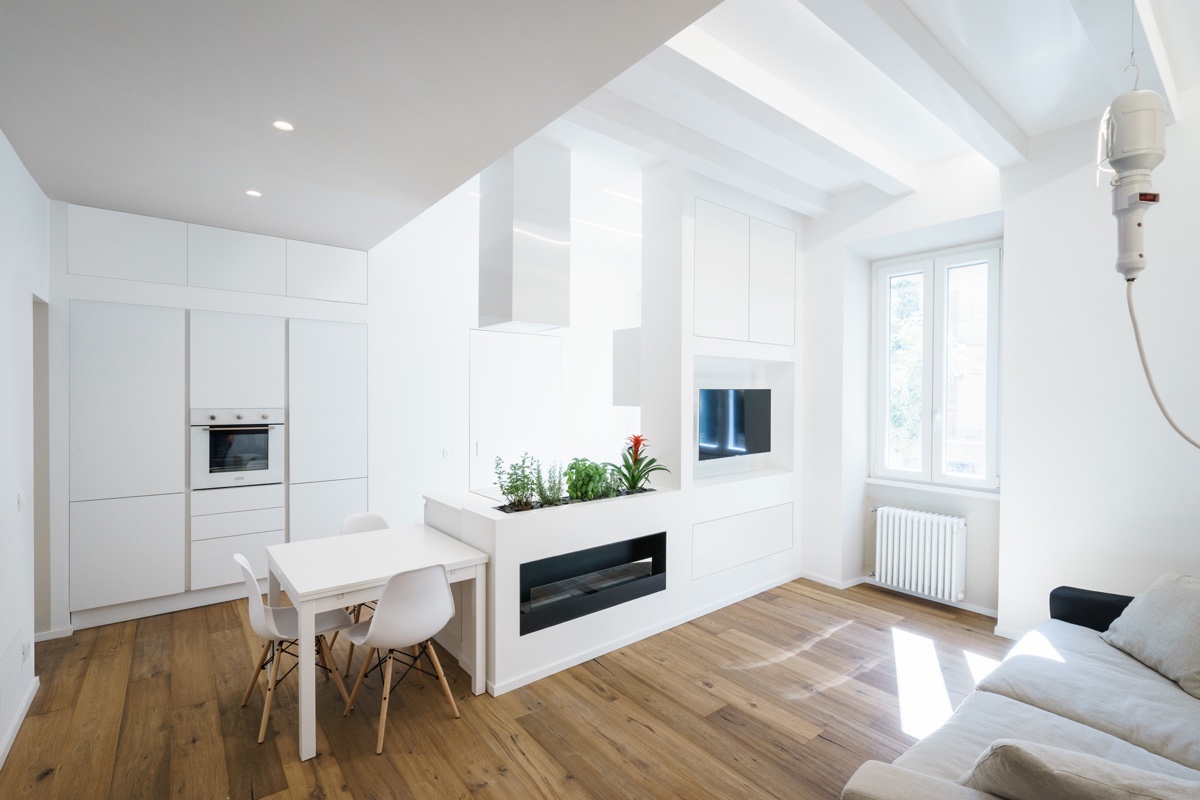 22 |
Designer: Brain Factory
If you can't have your dining set next to a window, create your own garden view with a built-in container full of indoor plants.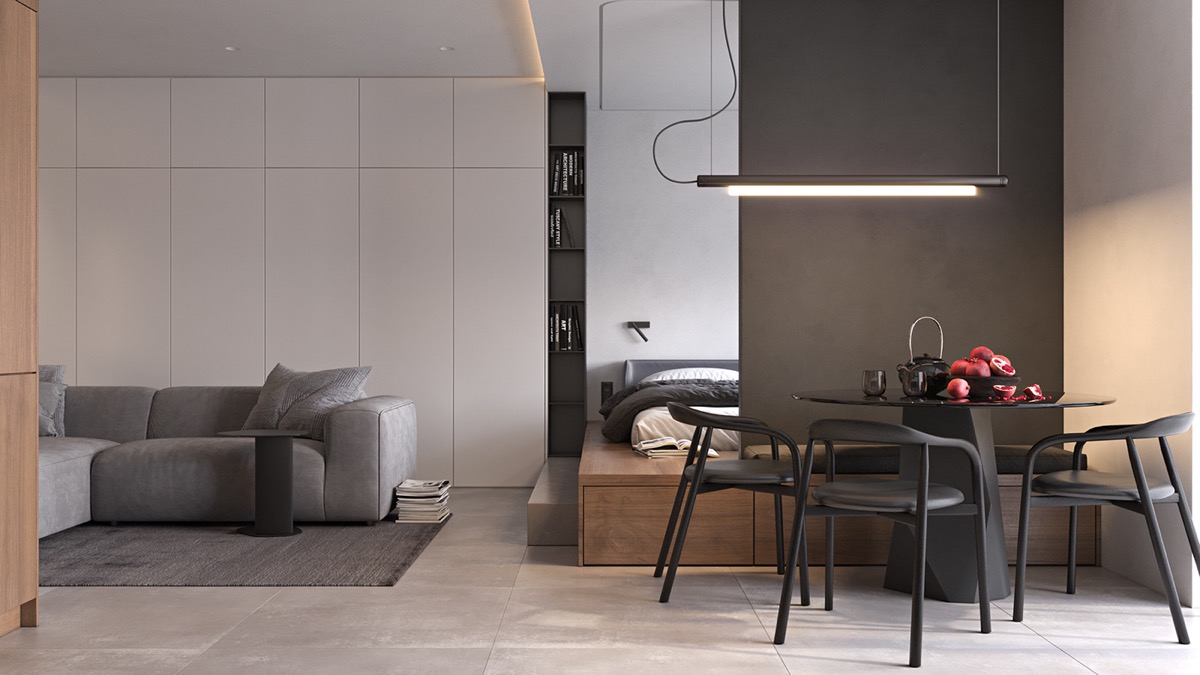 23 |
Visualizer: Nika Tokar
Define your dining zone with a dark feature wall–no matter how small.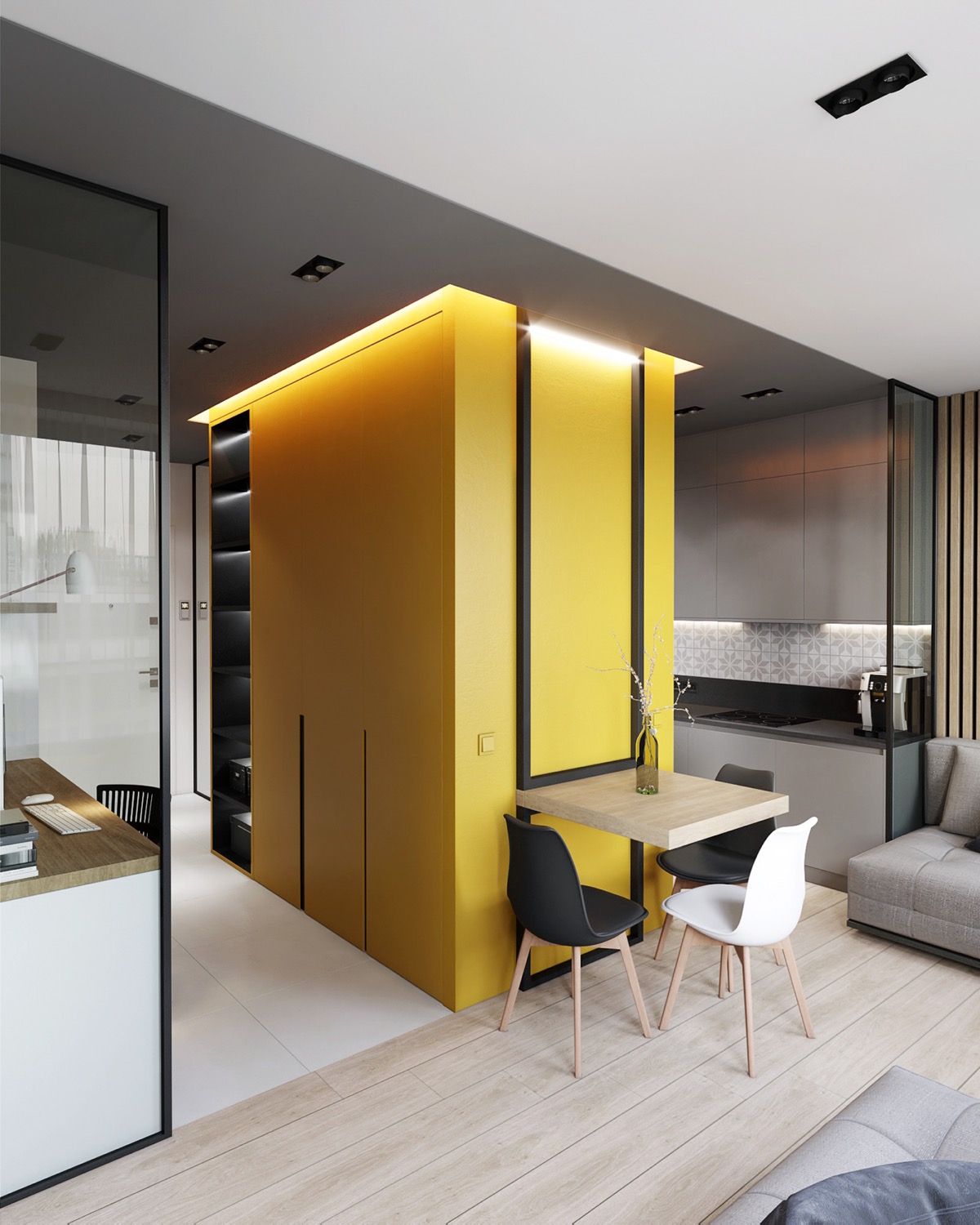 24 |
Visualizer: Shmidt Studio
This eye-catching dining room accent wall is part of a hallway storage volume.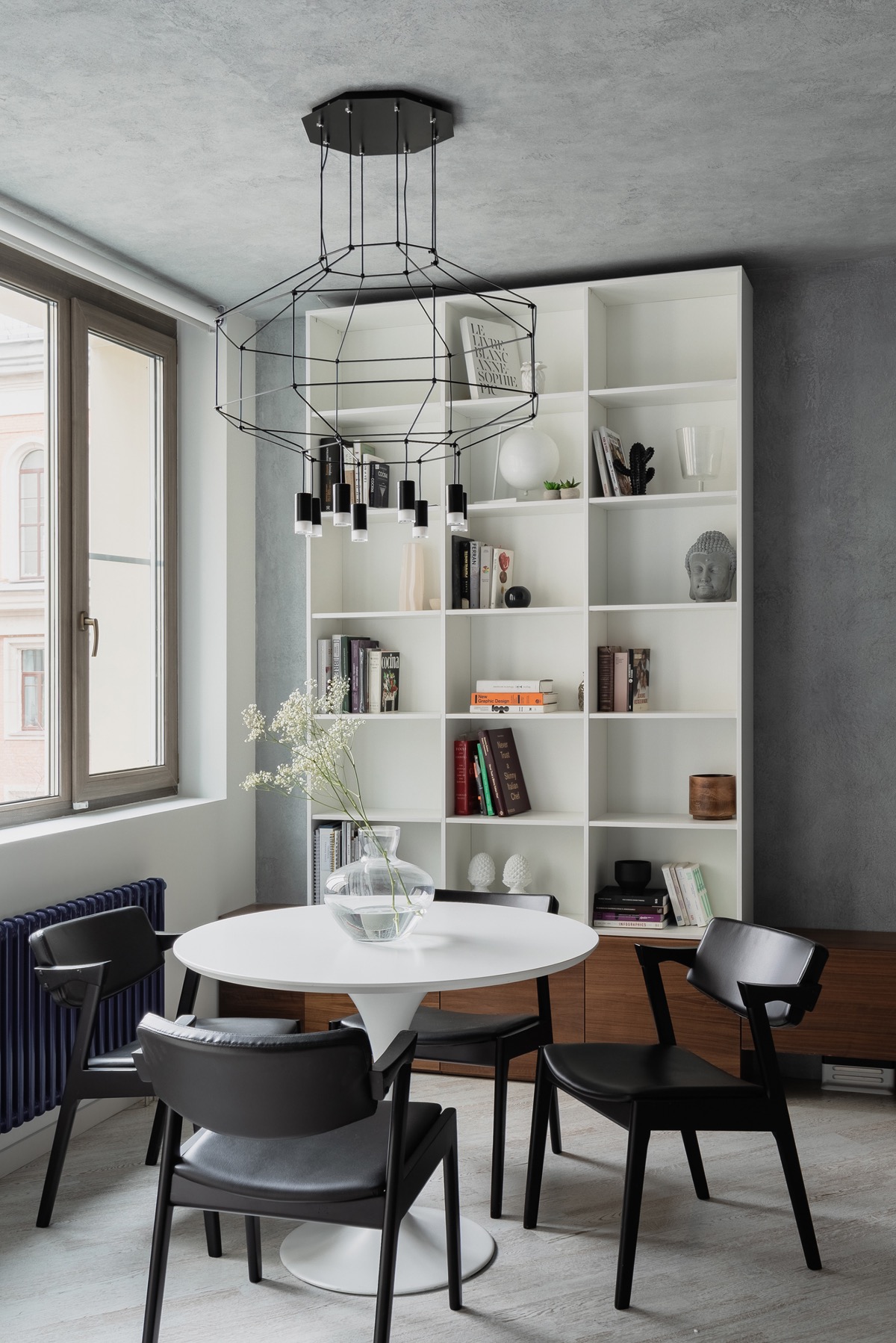 25 |
Visualizer: Dmitrii Tsyrenshchikov & KIDZ Design studio
Bump up your small dining area with a big bookcase…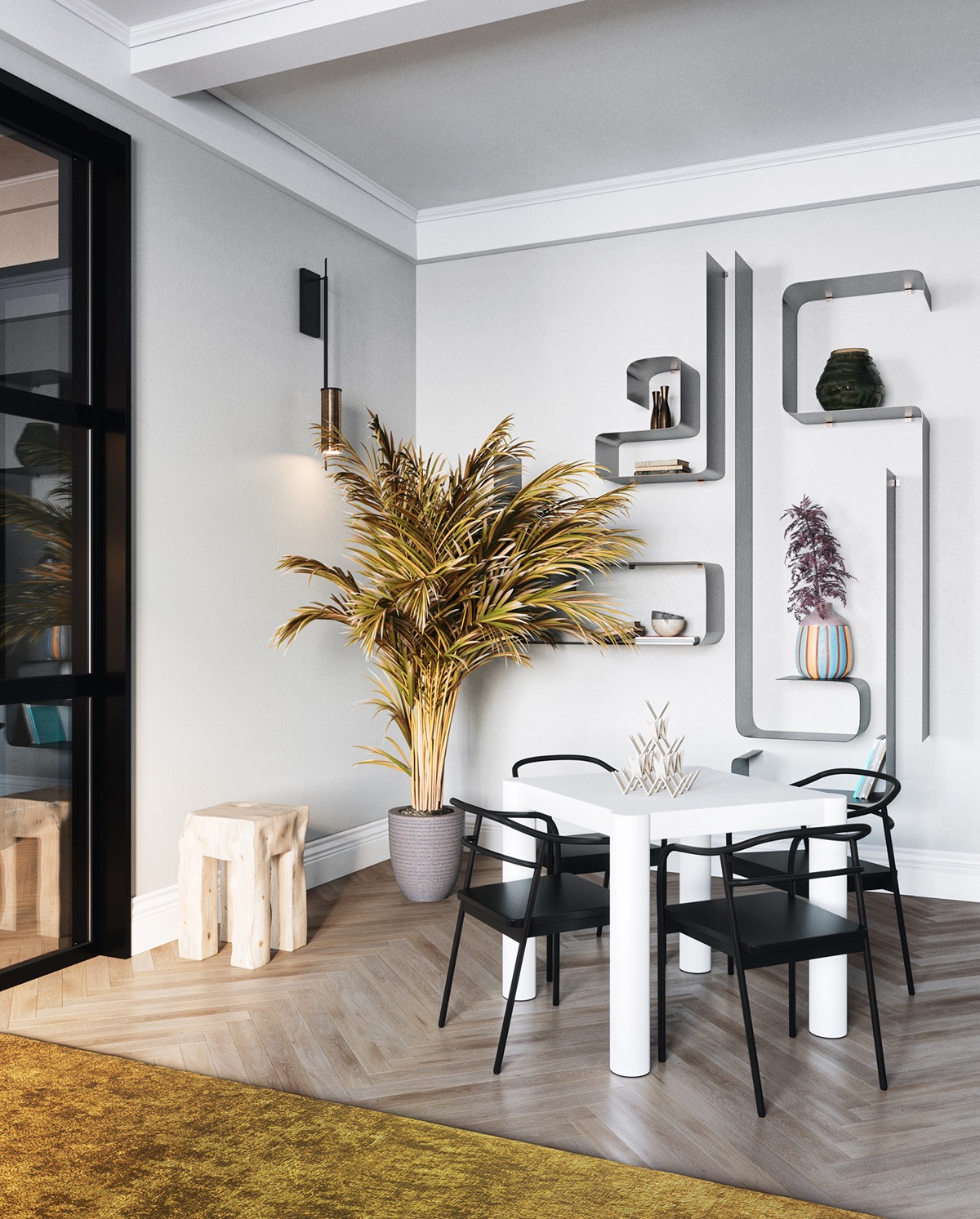 26 |
Visualizer: Emotion School
… Or some unique wall shelves.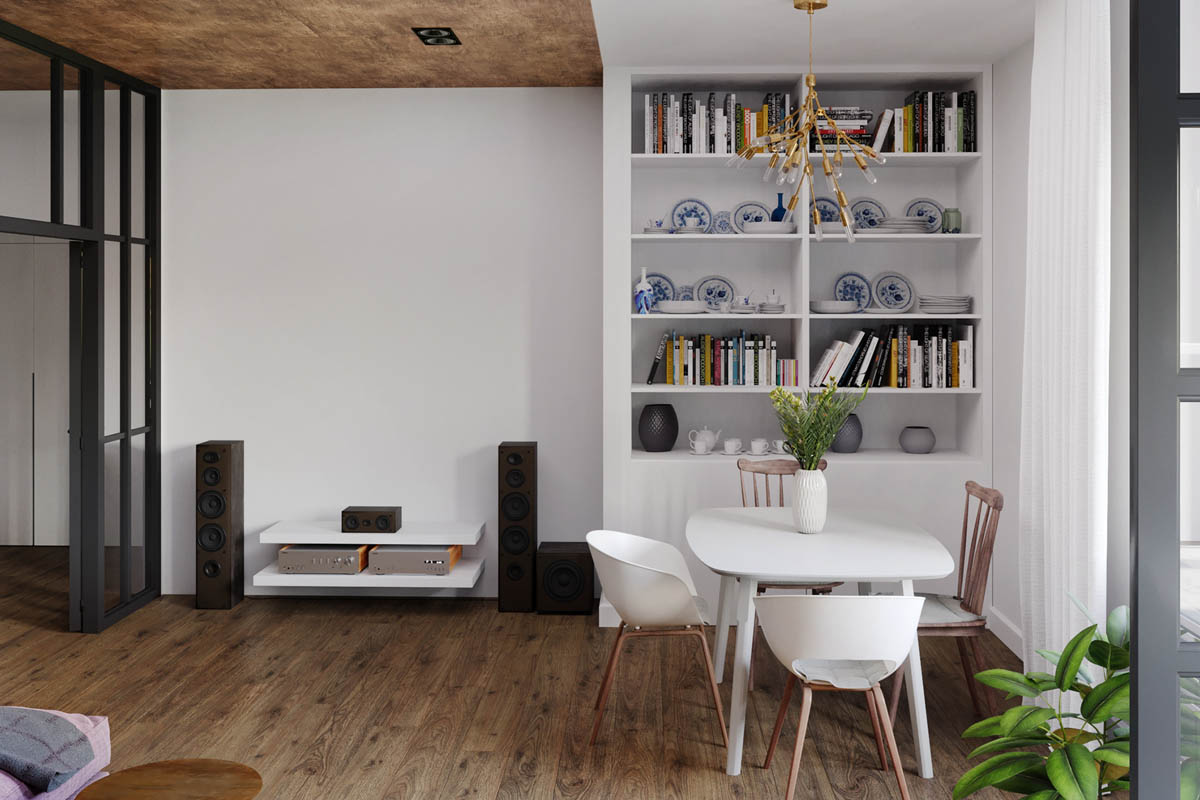 27 |
Visualizer: Vagon Architects
Another bookcase idea, this time with a flush fitting aesthetic.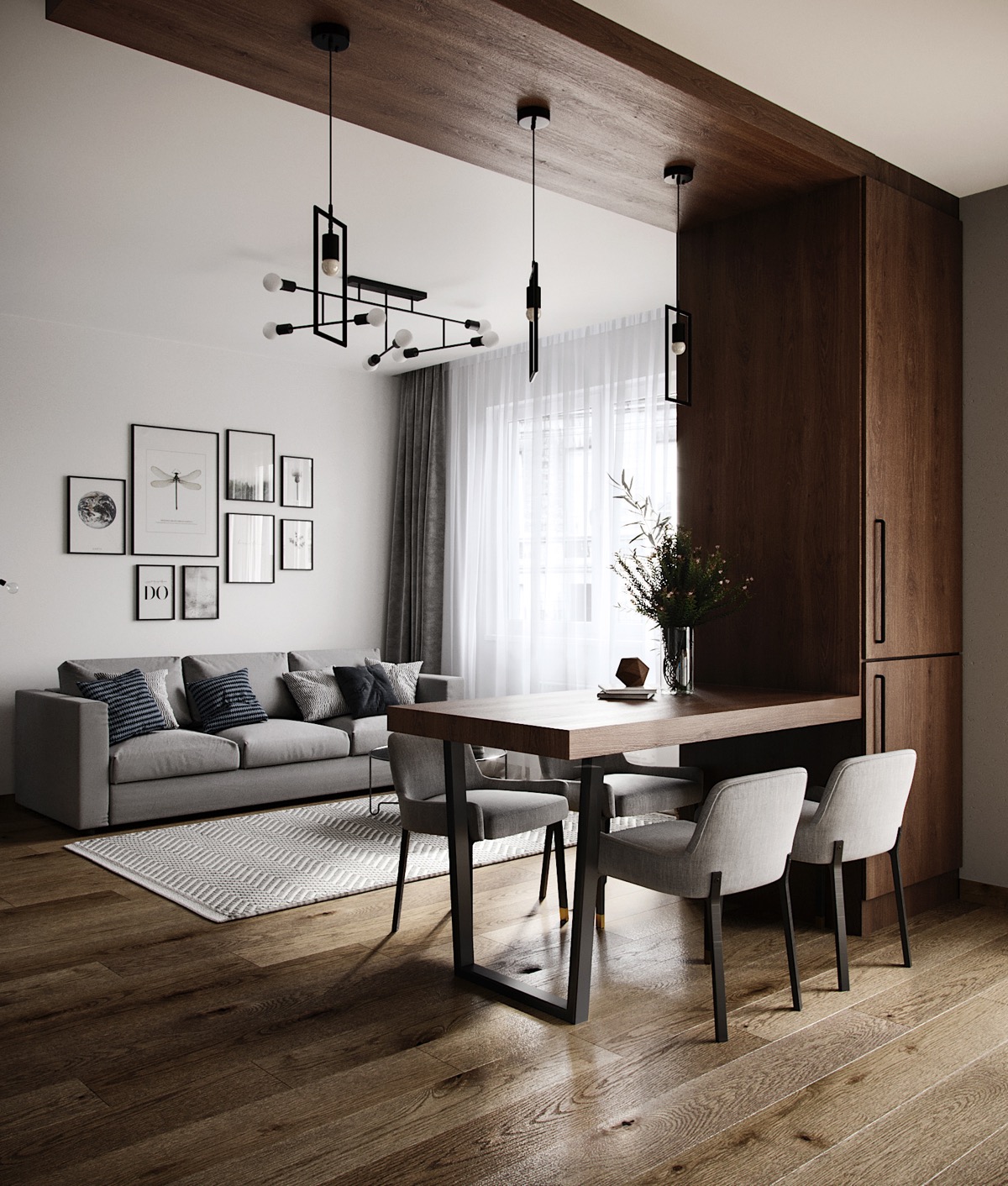 28 |
Designer: Diana Sokolova
Visualizer: Elizaveta Ivanova
Celebrate a central location. This small centrally placed dining set is given weight with a dropped ceiling feature and an attached storage cupboard.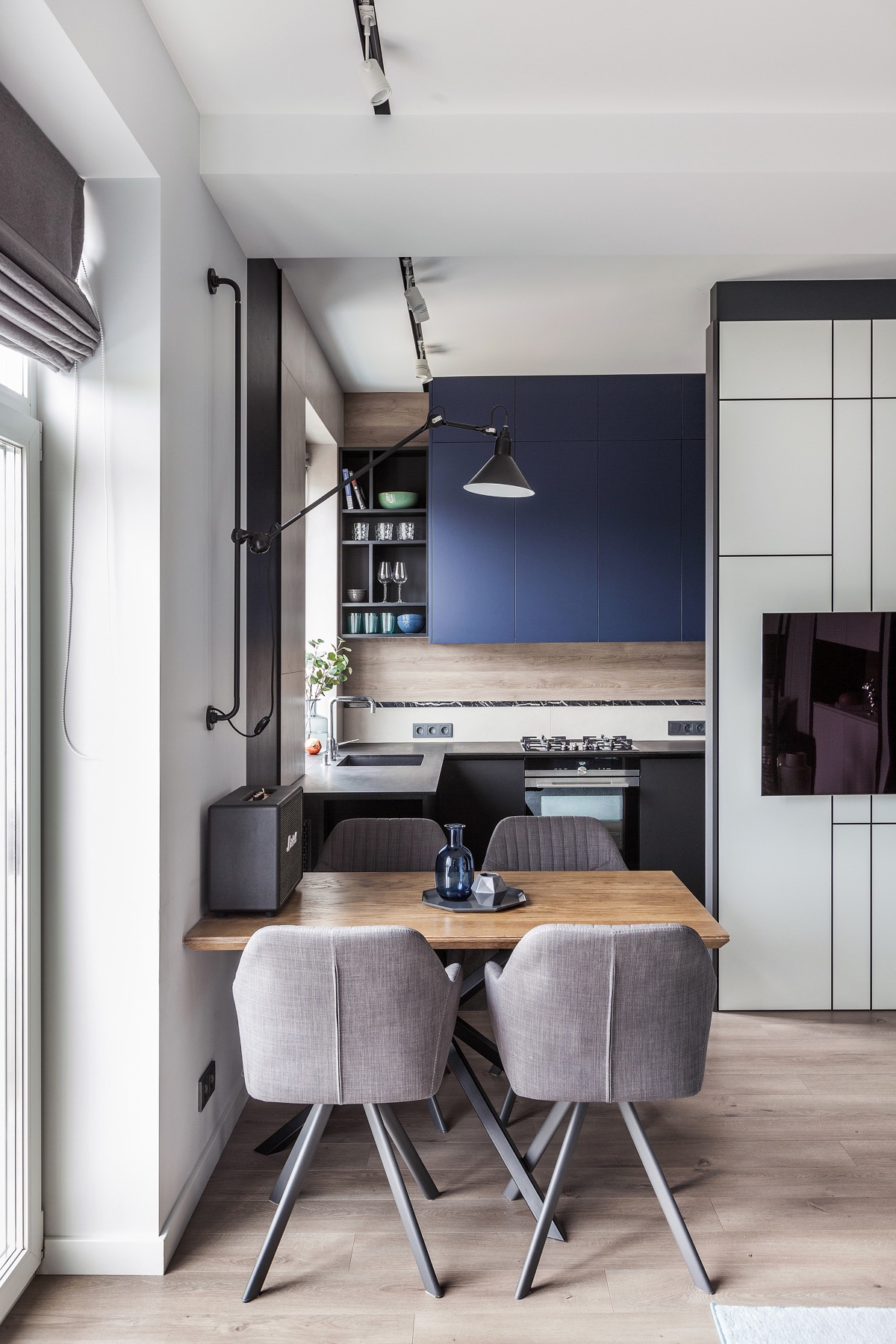 29 |
Visualizer: Insight Studio
Give a sidelined set extra oomph with a large wall light.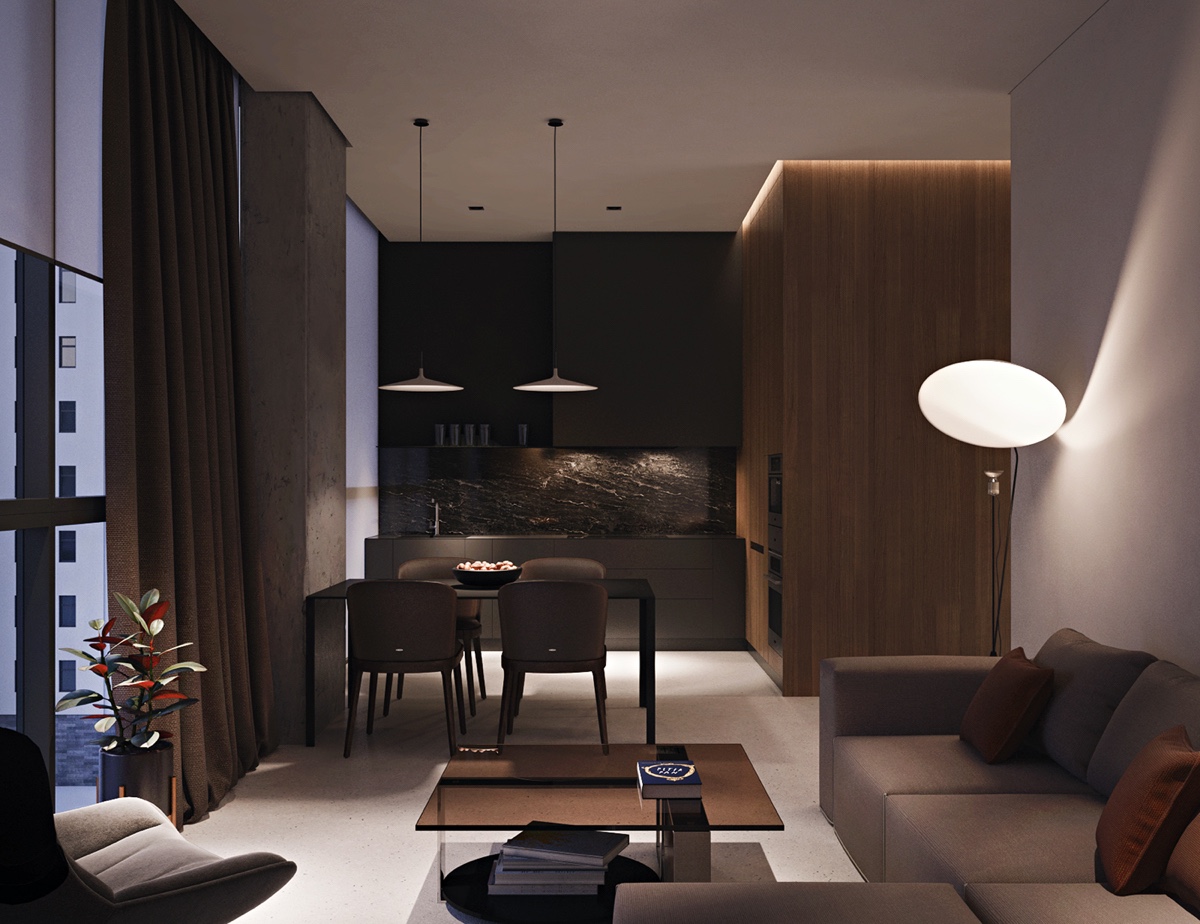 30 |
Visualizer: Maksym Netreba
Darken down decor to build drama and mystique…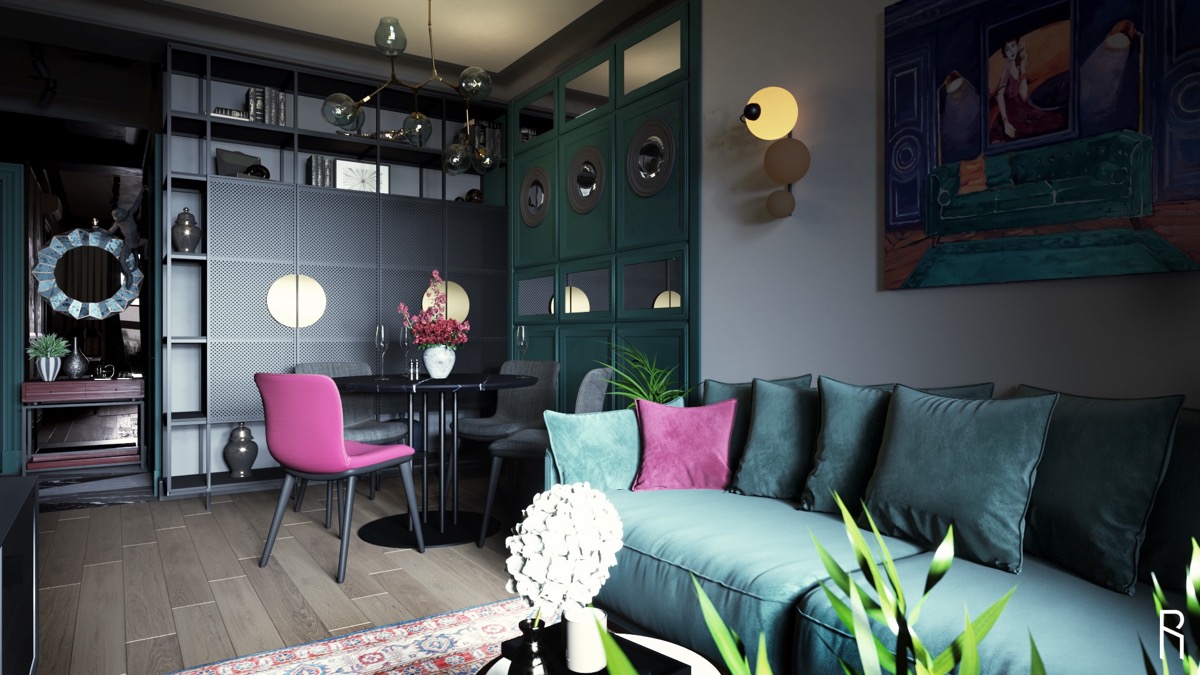 31 |
Visualizer: Rocket Render
… Add pops of colour to draw a dark dining area out of the shadows.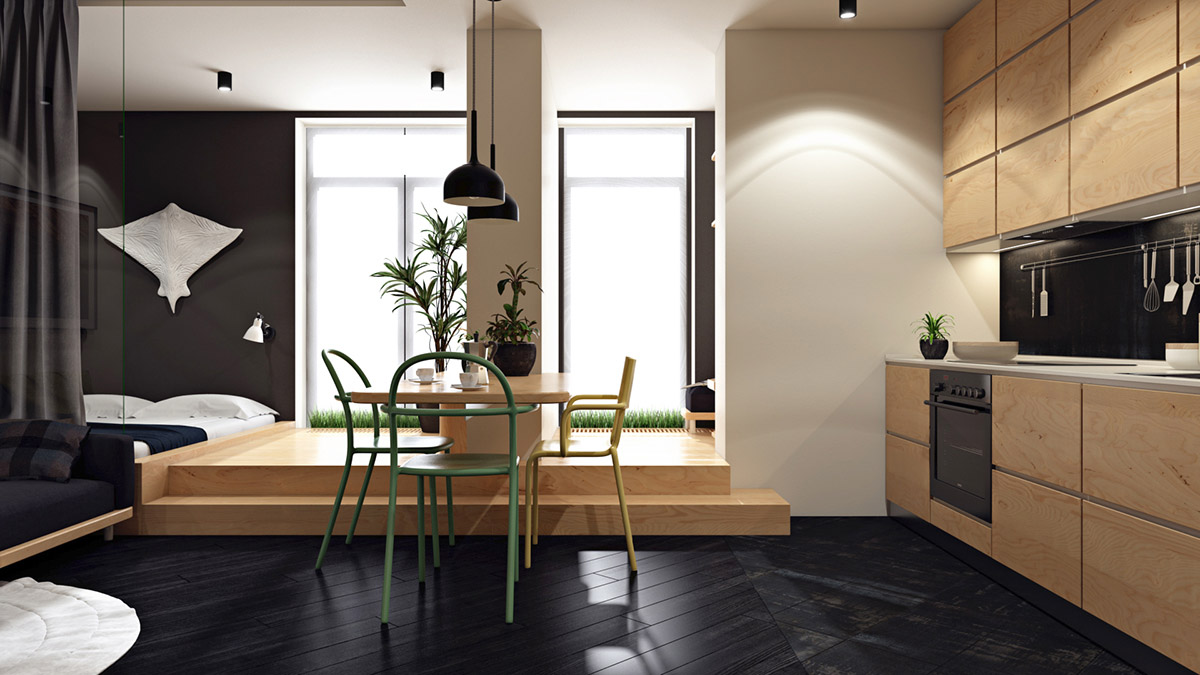 32 |
Visualizer: Studio Pine
Mismatched dining chairs visually break up a dining set, helping it sit more lightly in a small room.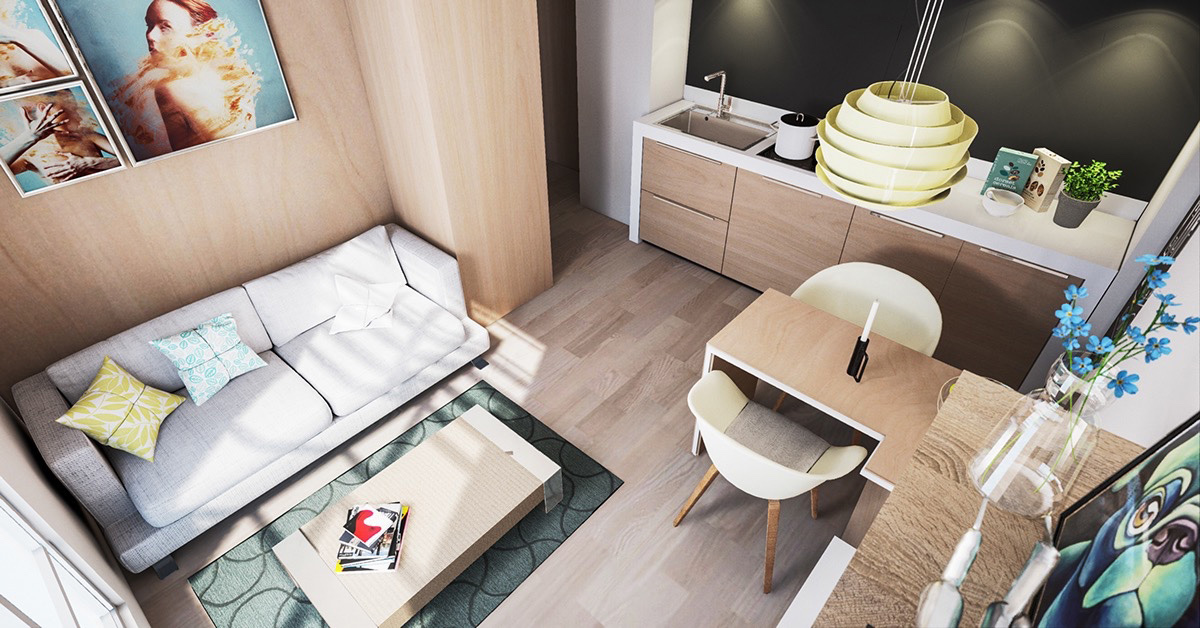 33 |
Visualizer: Roy Fredy
A tiny table for two still beats a lap tray.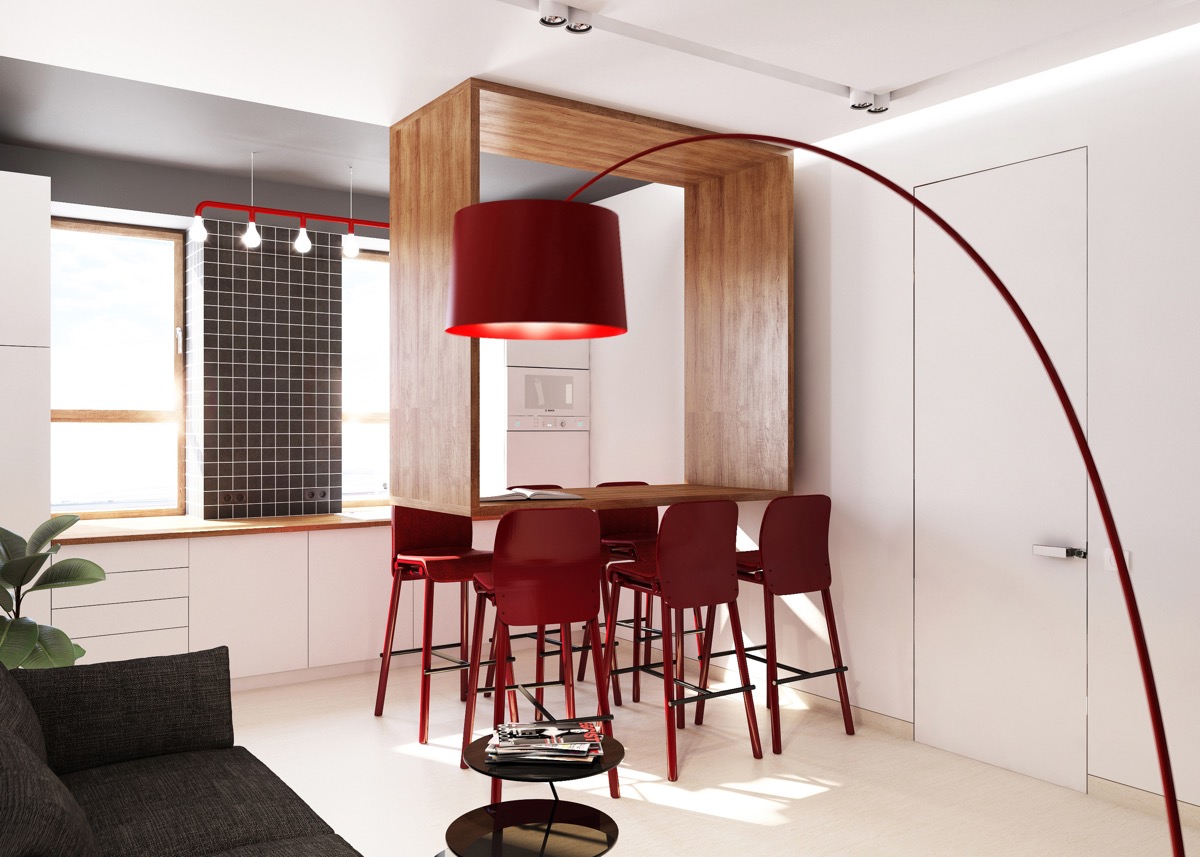 34 |
Visualizer: Khrystyna Mayik
The space may be small but the design statement need not be. Check out this magnificent suspended cube table with bright red dining stools!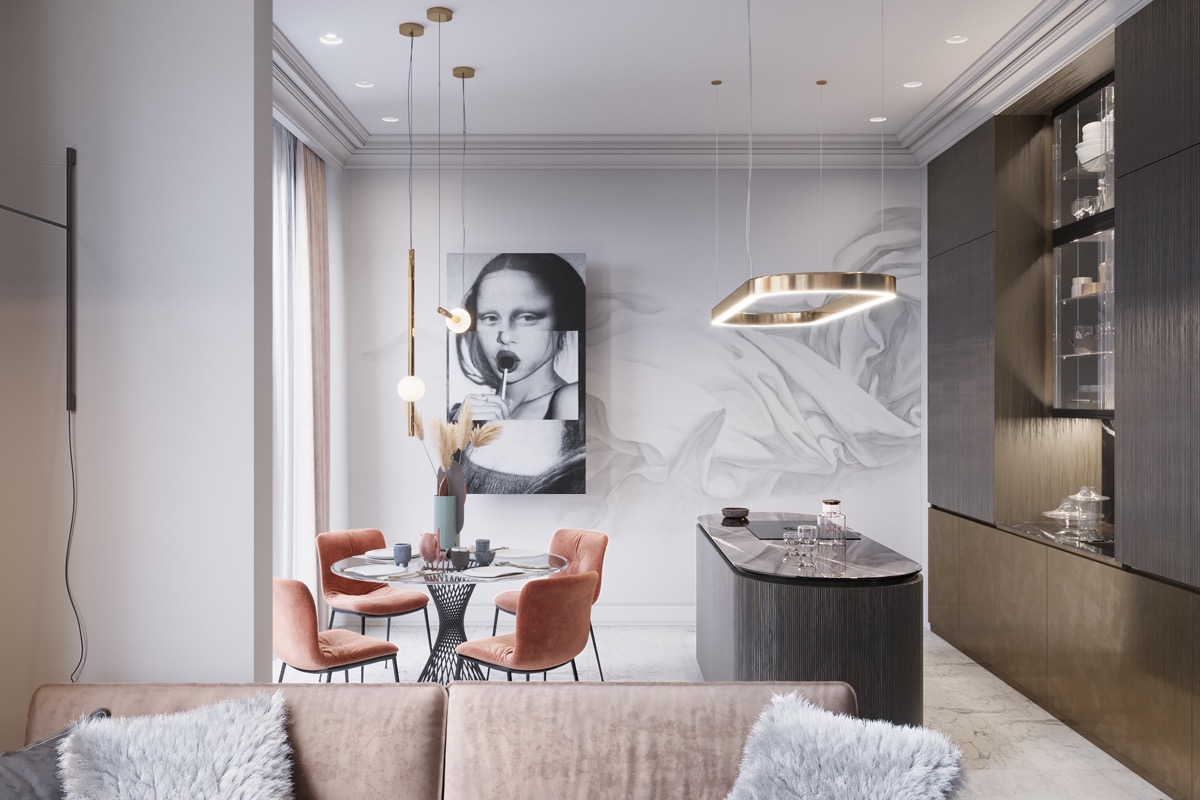 35 |
Visualizer: Viktoriya Petrukhina
Take a small kitchen diner up a notch with tandem light fixtures.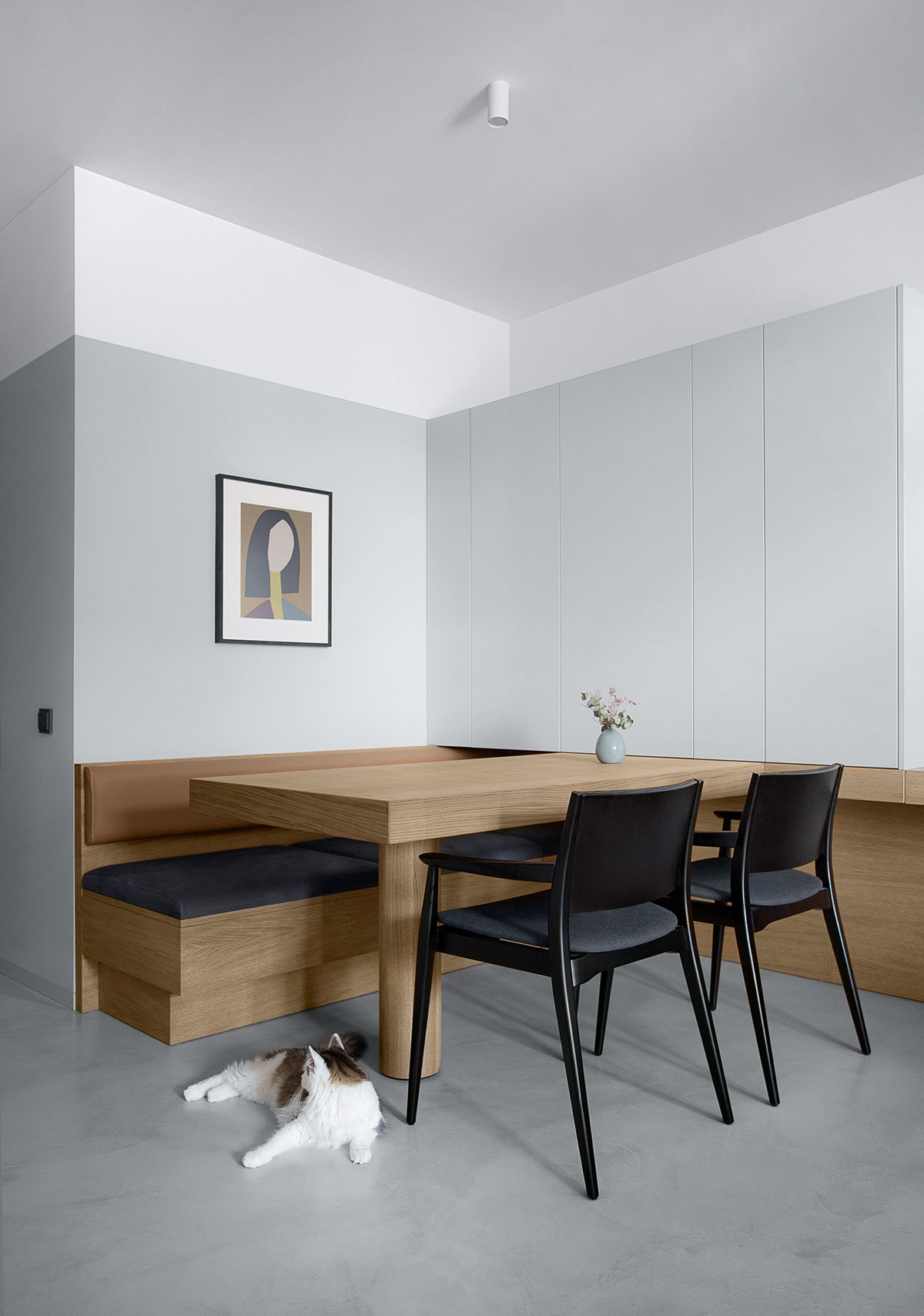 36 |
Designer: Yevheniia Dubrovska
A built in banquette allows the table to be situated closer to the wall.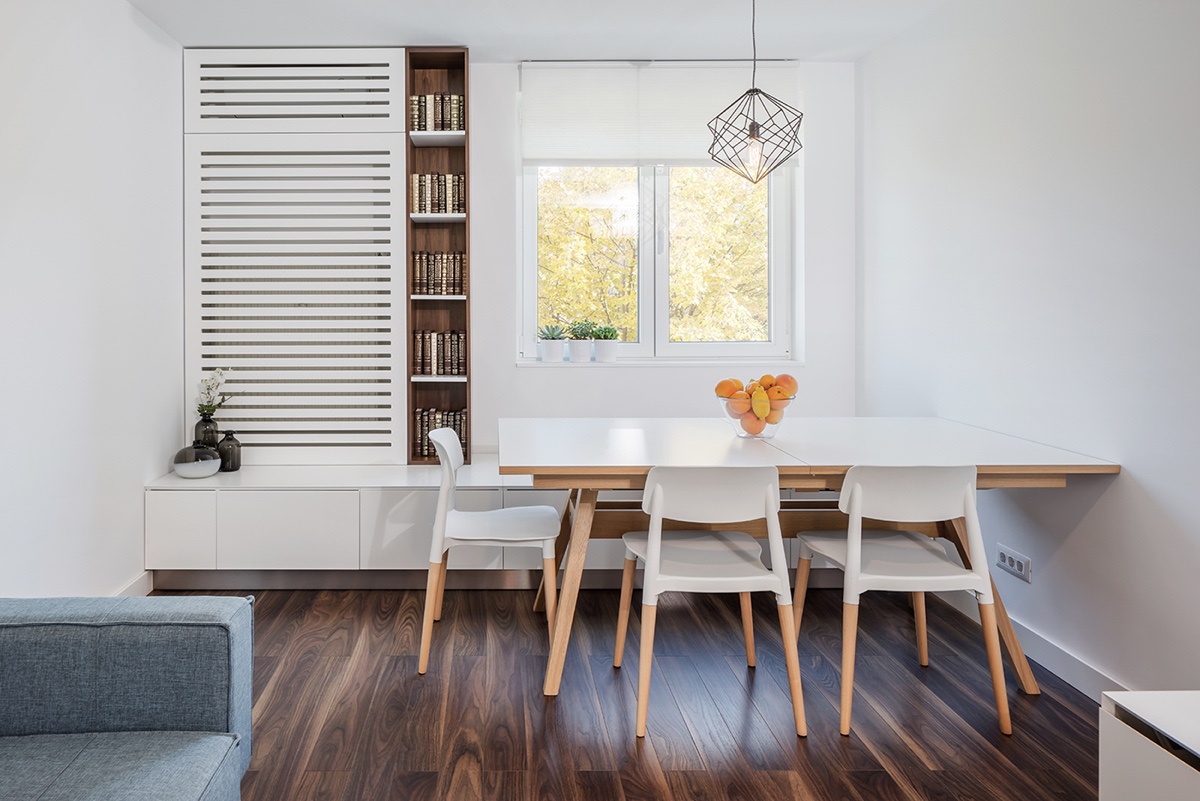 37 |
Designer: CRAFTR AAIM
Window seats can double as banquette seats too…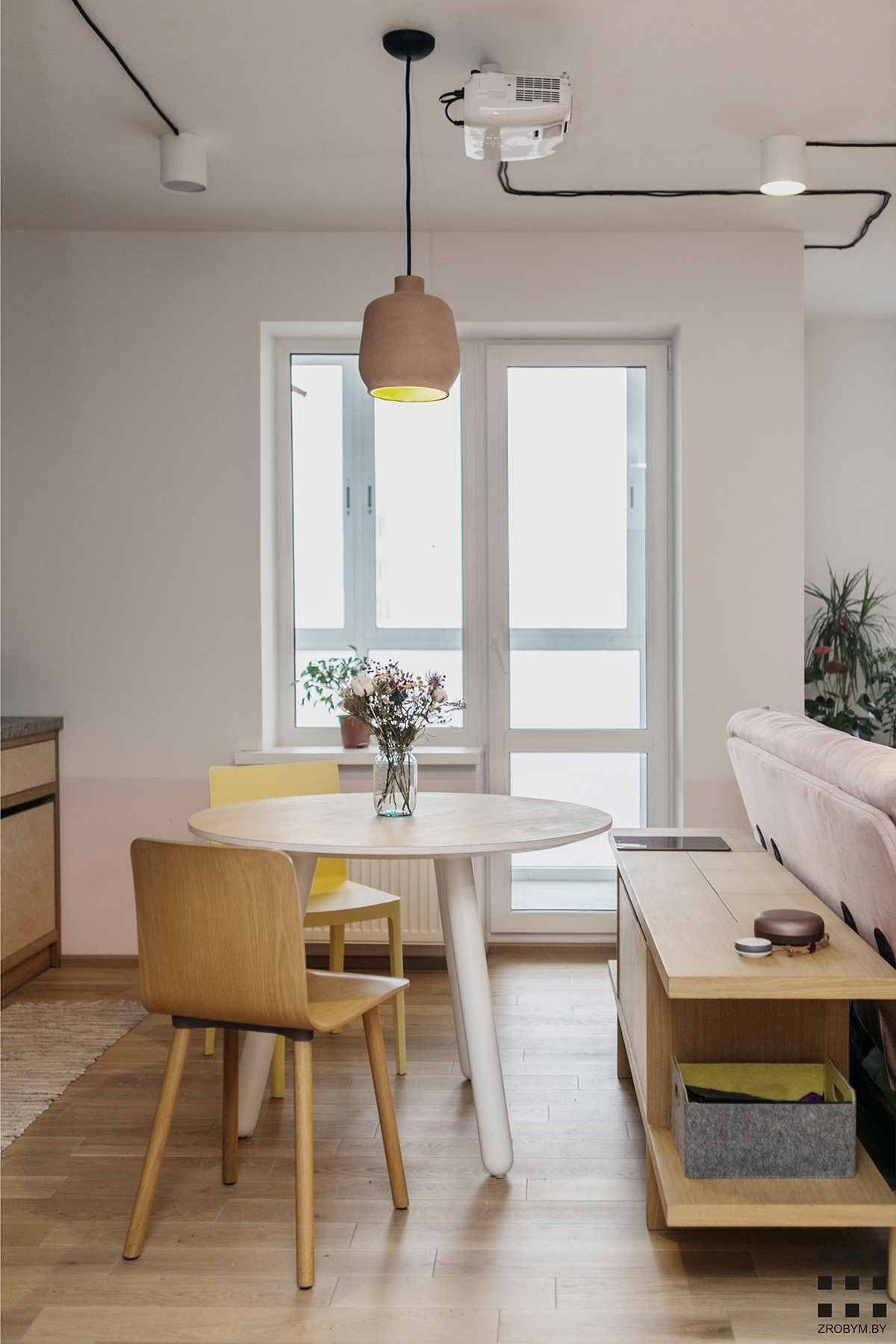 … As can a short sofa table.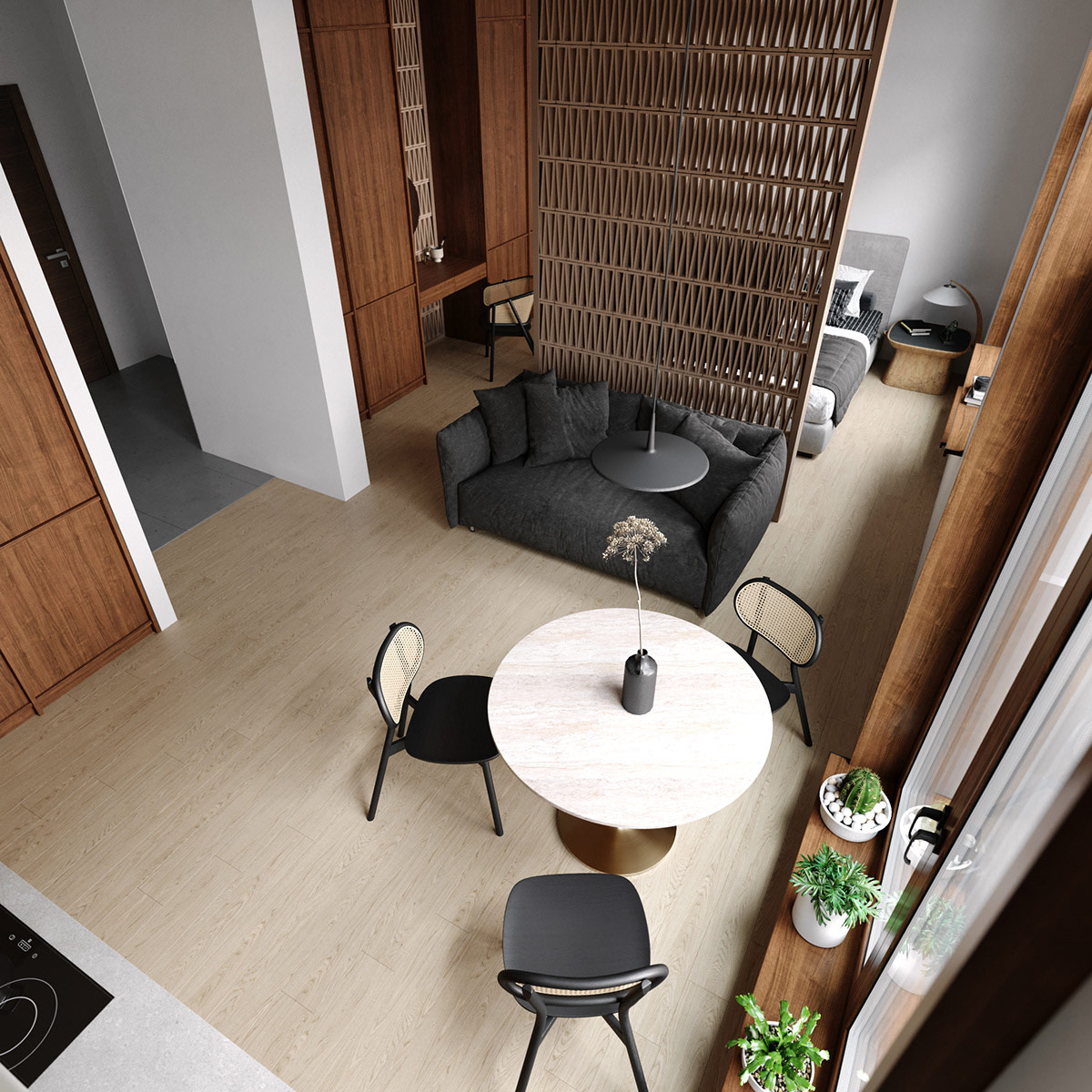 39 |
Visualizer: Michael K
Build height with a tall floral centrepiece.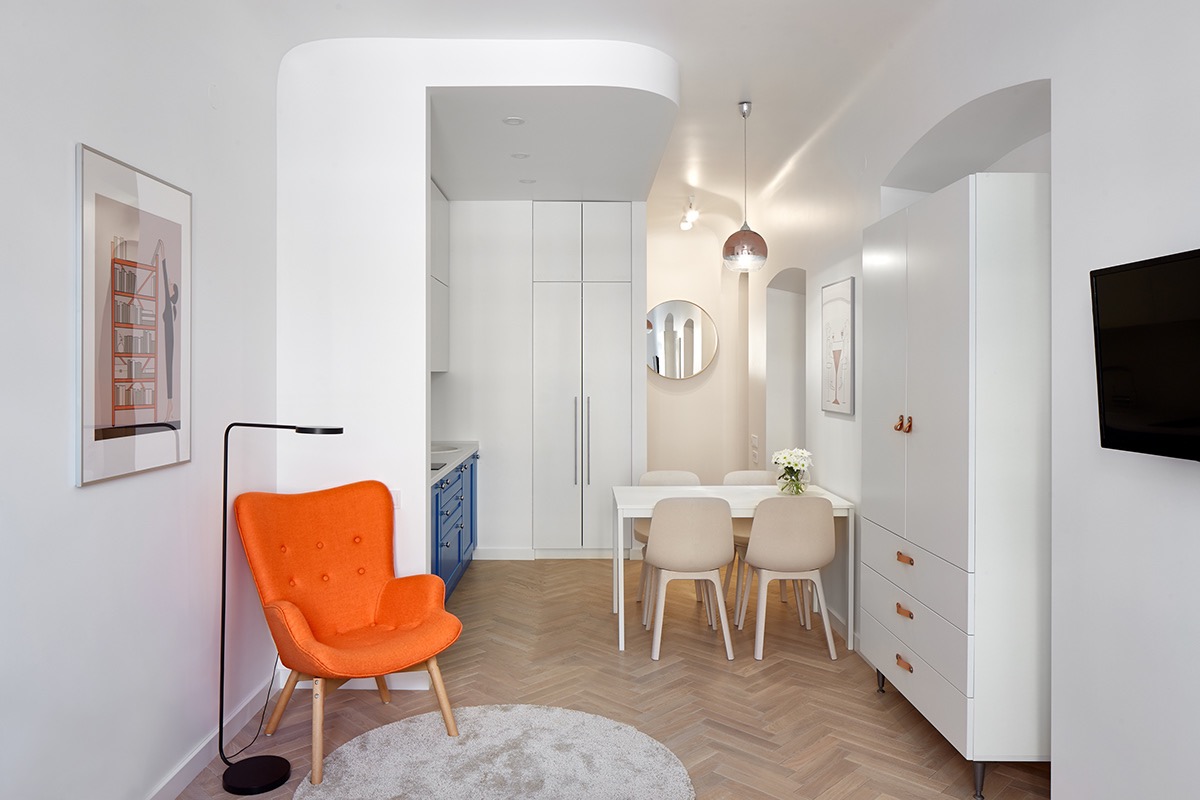 40 |
Designer: LT Studio
Visualizer: LT Studio
Camouflaging a dining area can be helpful in small spaces. This white and cream set falls lightly into the fresh white room decor, whilst a bright orange accent chair and a blue kitchen take the limelight.