1 |
Visualizer: Dvice Inc
Fill a high ceilinged room all the way to the top. In this lofty luxury living space we find a pair of imposing bookcases climb all the way to the top of each side of an enormous chimney breast.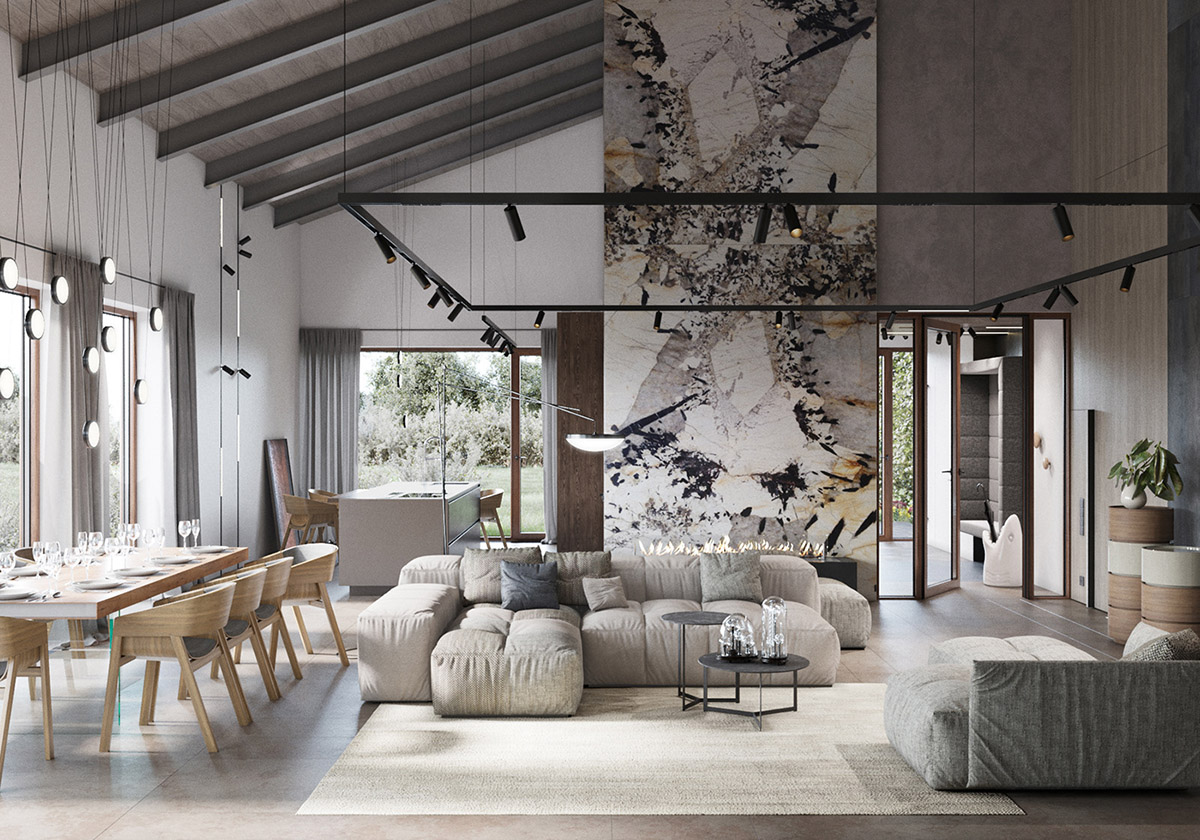 2 |
Designer: MOPS Studio
Visualizer: ONI Render
Design a luxury feature wall into your scheme. This towering wall of quartzite that reachers all the way up to the rafters makes a stunning focal point in an open plan room.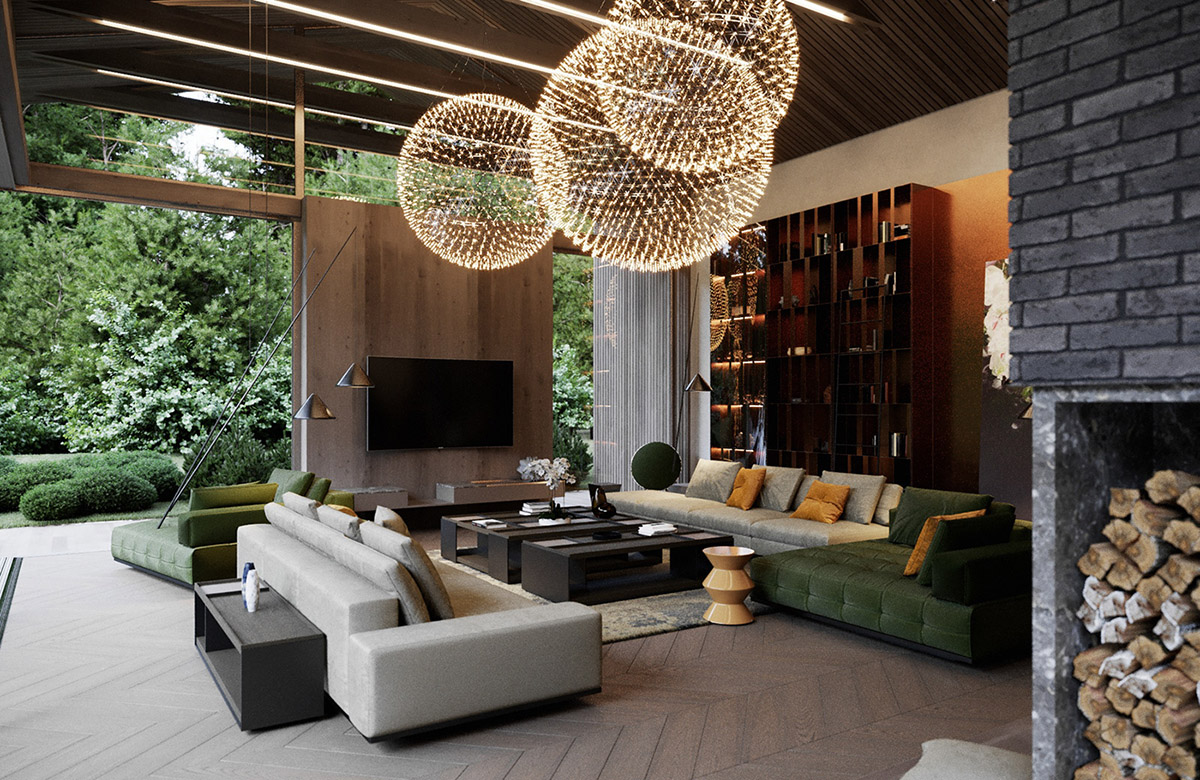 3 |
Visualizer: Johny Mrazko
Light up the sky, or at least your living room, with an eye-catching modern chandelier. This particular lighting arrangement uses various sized forms to create what resembles a celebratory firework display. More images of this here.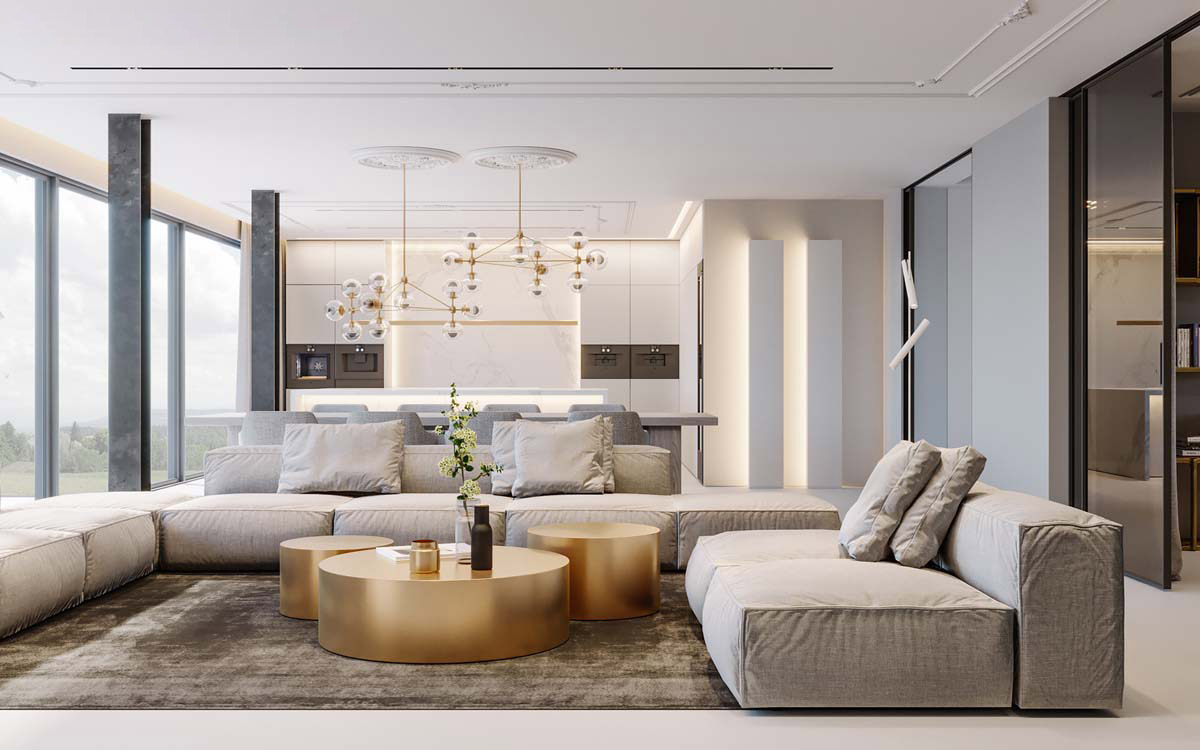 4 |
Photographer: KUOO Architects
Visualizer:
Look marvellous with metallics. This mid century modern coffee table trio brings a lavish golden sheen to the scheme. Two dining room pendant lights continue the metallic theme behind the sofa.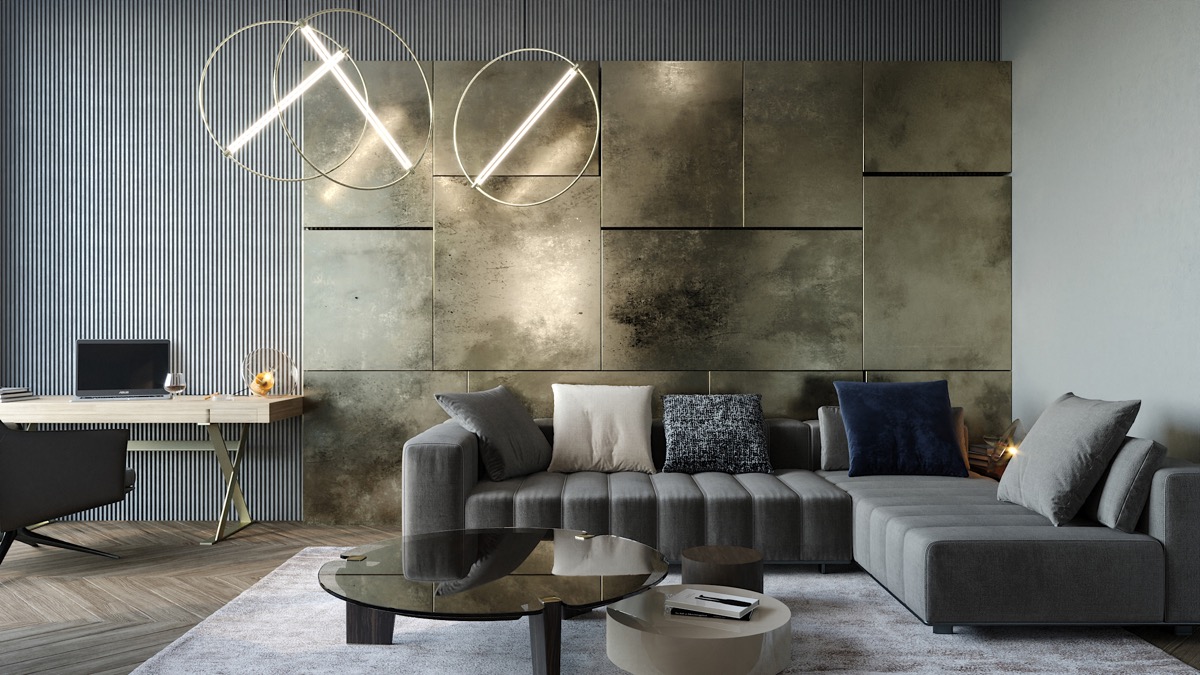 5 |
Visualizer: Alexandru Ionita & Dumbrava Traian
You could even go all out with a metallic accent wall. This one helps to zone a multi-use space.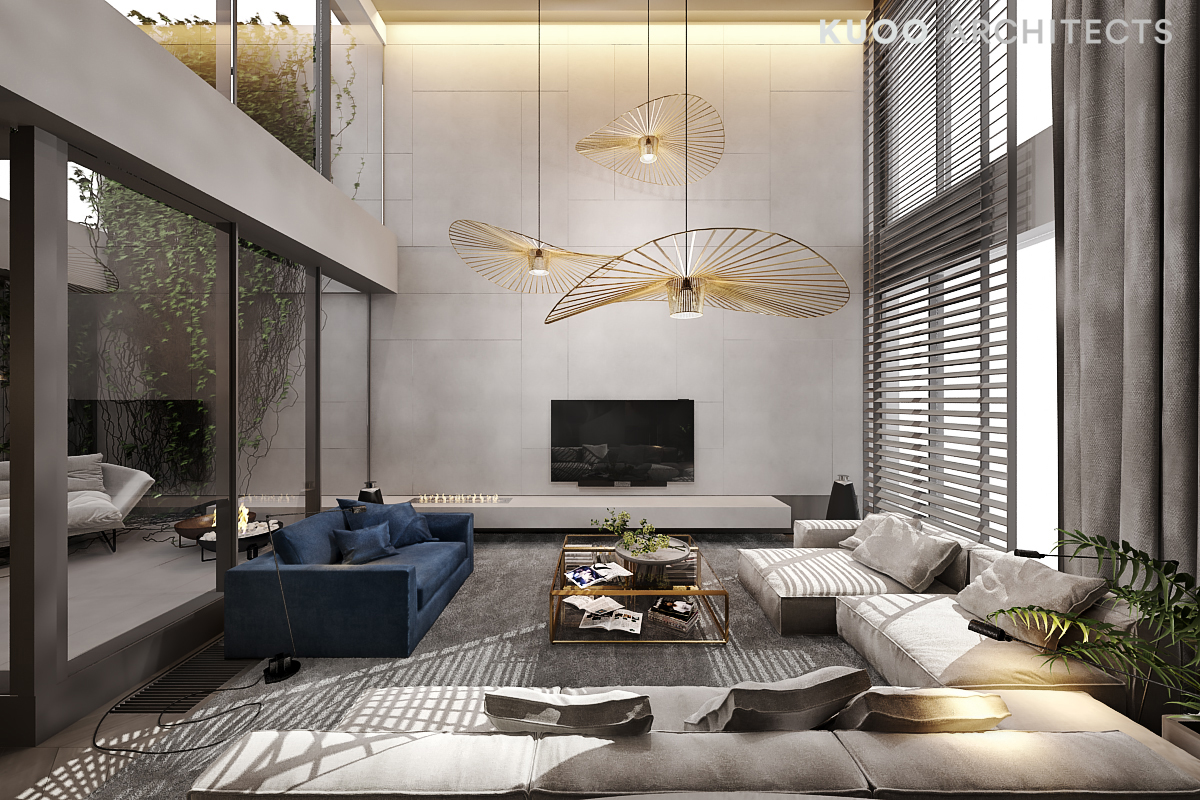 6 |
Visualizer: KUOO Architects
Use multiples for extra oomph. This room not only fills up on sofas at floor level but the interior designer has been mindful of the upper quarters of the room too. Not one, not two, but three living room pendant lights have been hung, and all at differing heights.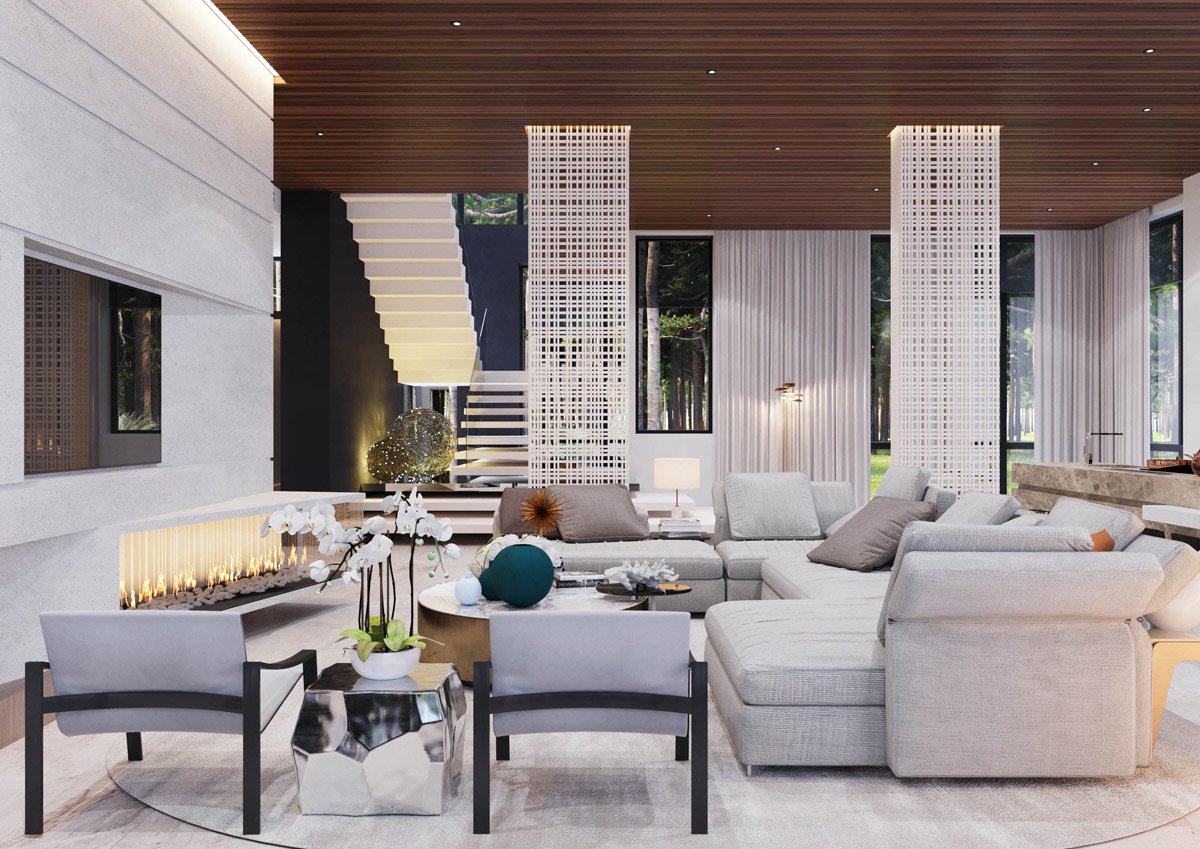 7 |
Visualizer: Shamsudin Kerimov
Illuminate special features. If you're going to go to the lengths of great interior design, then every standout piece should have its own moment in the spotlight. These unique mesh-like columns are lit from above, whilst uplighting illuminates the sleek modern staircase design.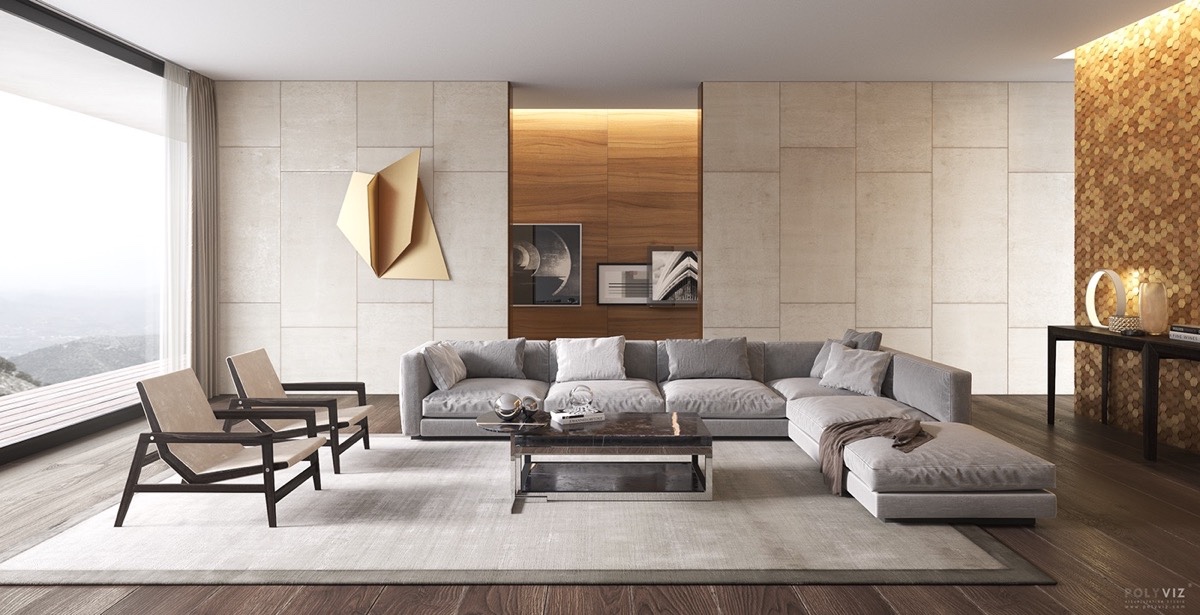 Another example of the efficacy of a considered lighting plan, this time with LED perimeter lighting.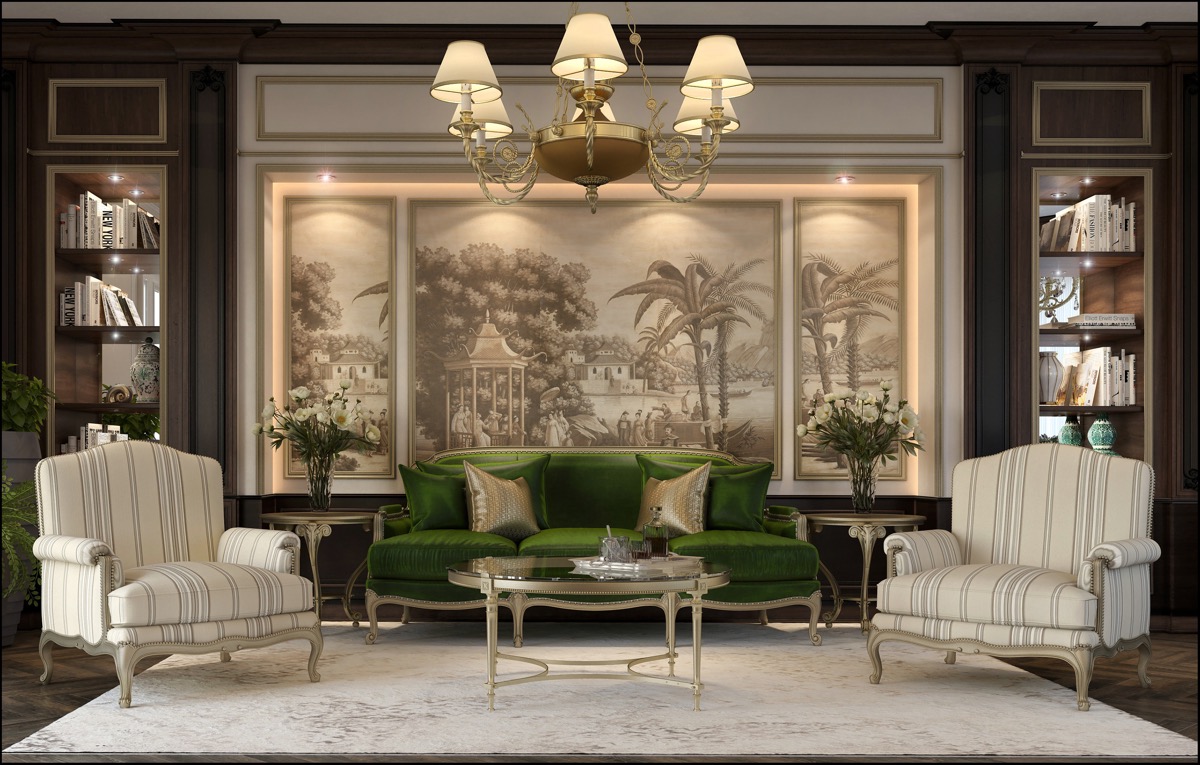 9 |
Visualizer: Leyla Salayeva
Luxury inspired by tradition. This traditionally styled luxury living room features a classic wall mural with a nature theme. The theme is continued with the introduction of indoor plants to the scheme, and with green coloured upholstery on the settee.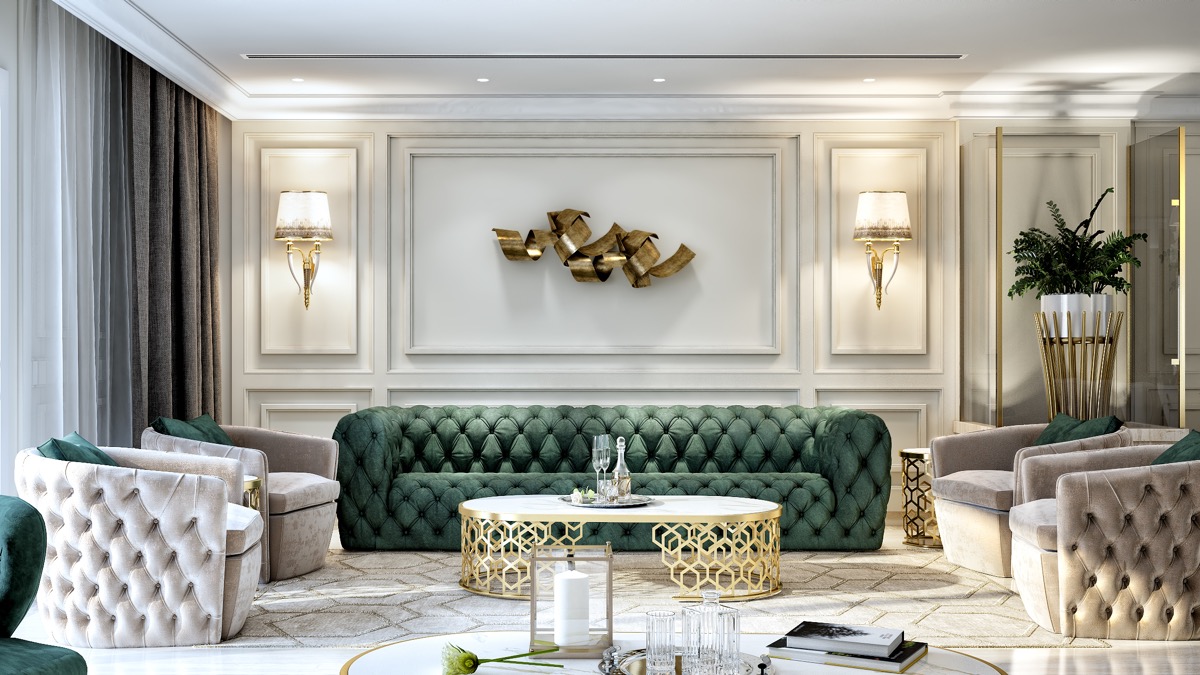 10 |
Visualizer: Sherif Abdul Rahman
This more updated version of a green and white palette still incorporates a classic element with tufted furniture, but modern silhouettes bring it through the ages.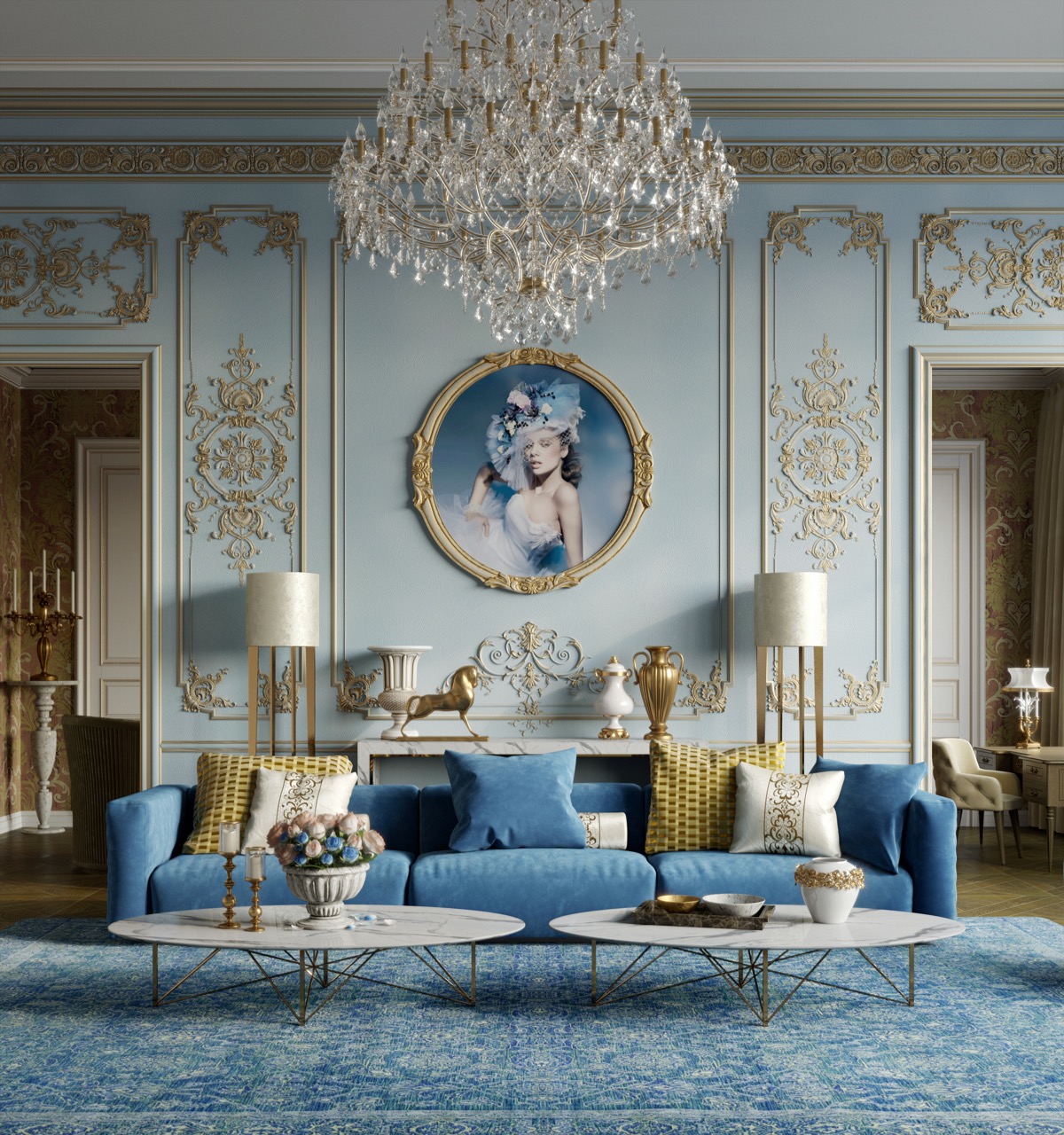 11 |
Visualizer: Julie Pashina
Oh boy, boiserie! If you happen to live in a period house then you may be lucky enough to be the proud owner of boiserie wall decor, if not, then there are companies who supply convincing reproduction panels.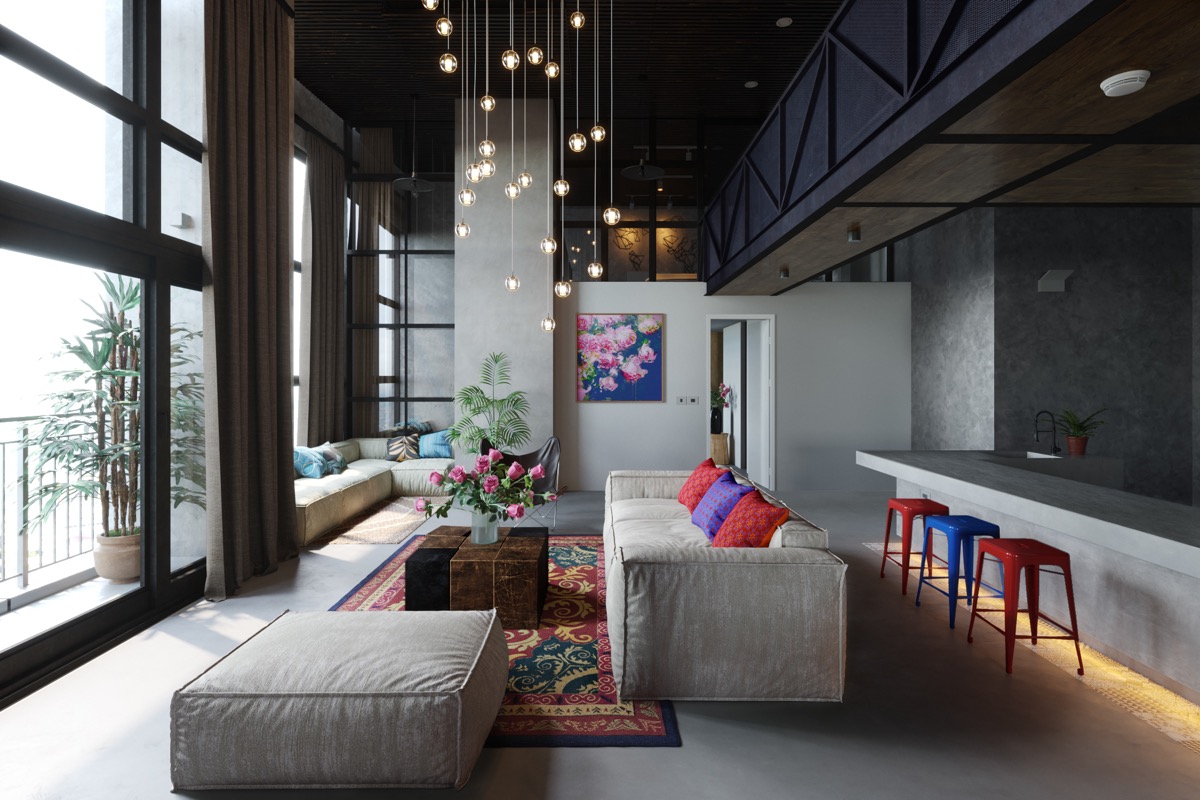 12 |
Visualizer: Roman Kolyada
Create a cohesive colour plan. Consider a sophisticated neutral base that can be freshened with a colourful rug, cushions and accent furniture like in this grey living room.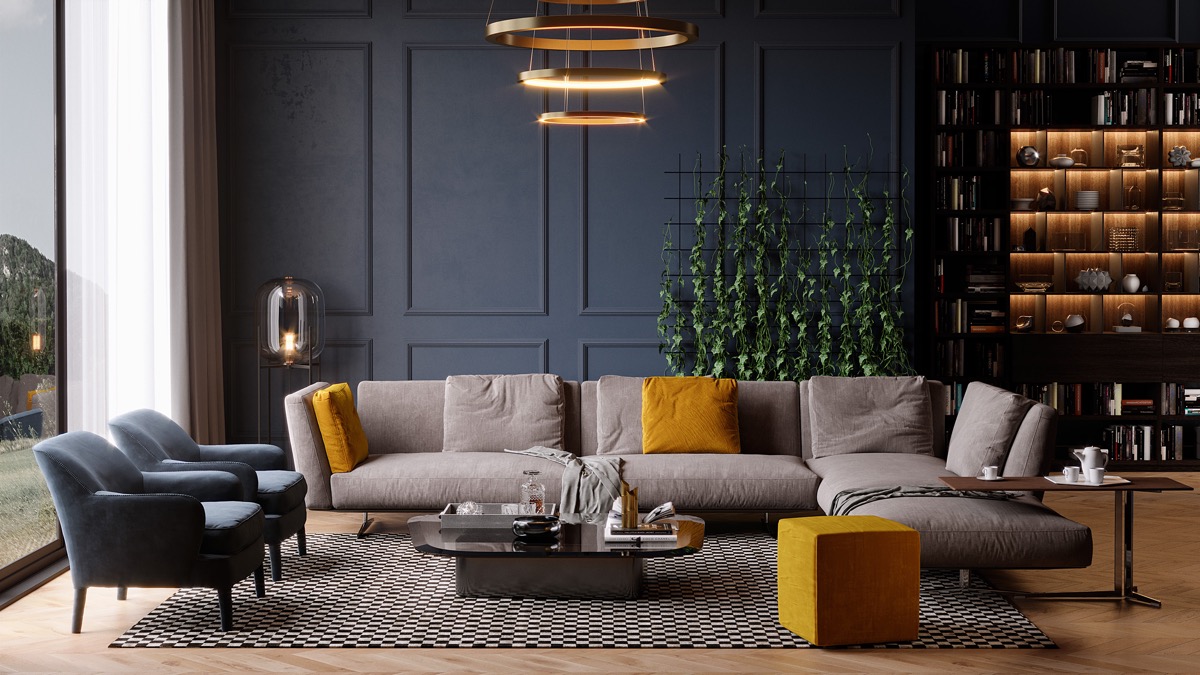 13 |
Visualizer: LUSUS Studio
Deep colour creates drama. This shadowy feature wall is matched by two accent chairs in the same shade, but golden yellow cushions and ambient lighting lift and enrich the look.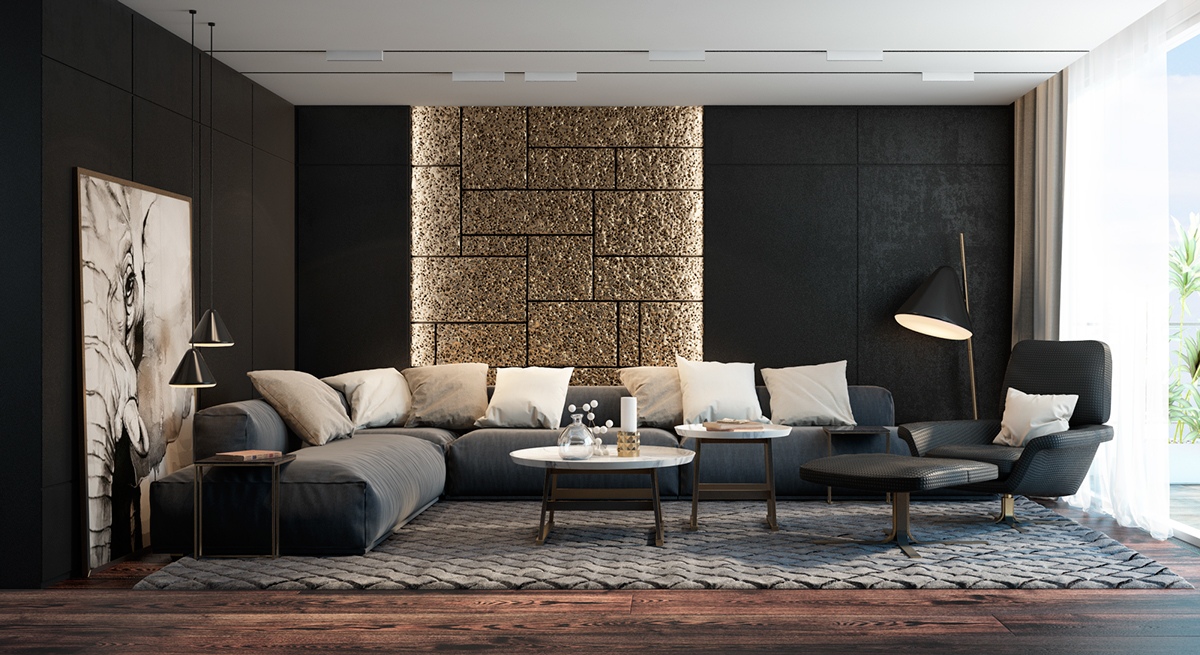 14 |
Visualizer: Dzhemesyuk Design
Highlight texture. Instead of focussing on what colour your feature wall could be, think instead about how to texture it. Once you've found your solution, throw light over it for added effect and wow factor. You can find more beautiful black living rooms here.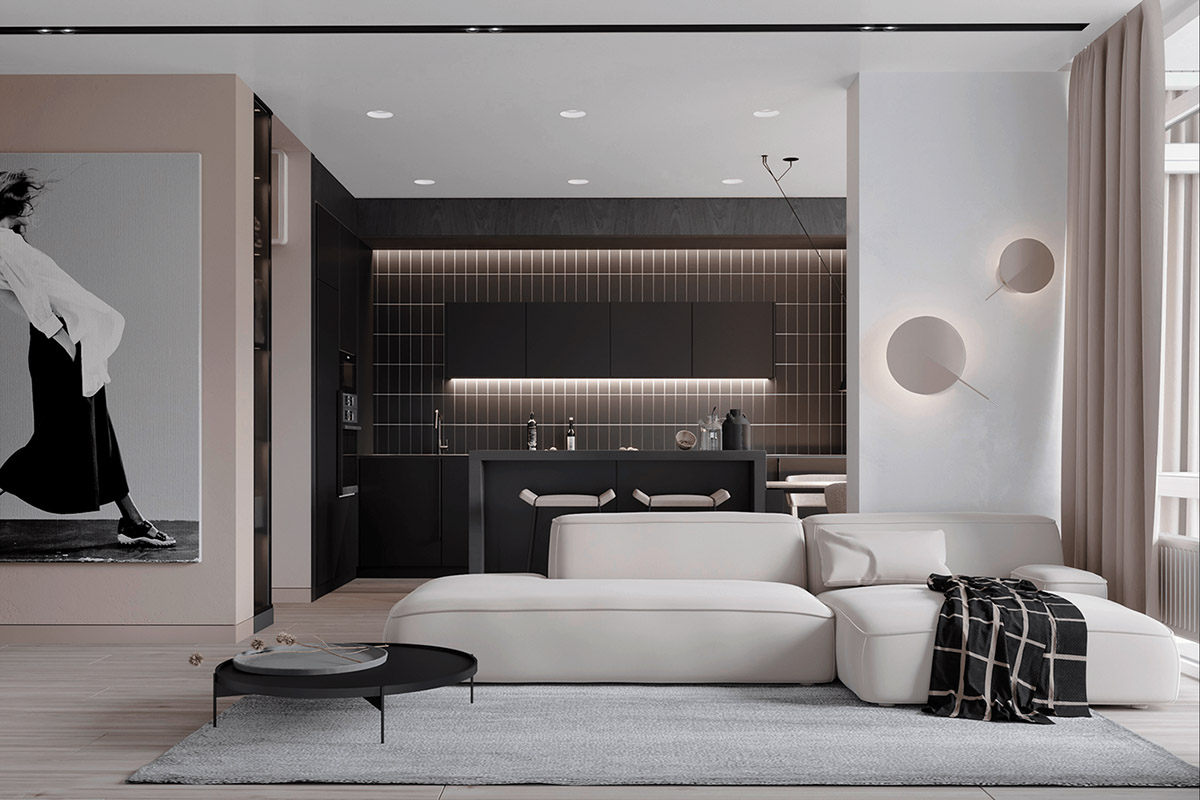 15 |
Visualizer: ArtPartner
The marvels of monochrome. Whether your living room is large or small, a monochrome scheme always delivers a chic cool and collected result.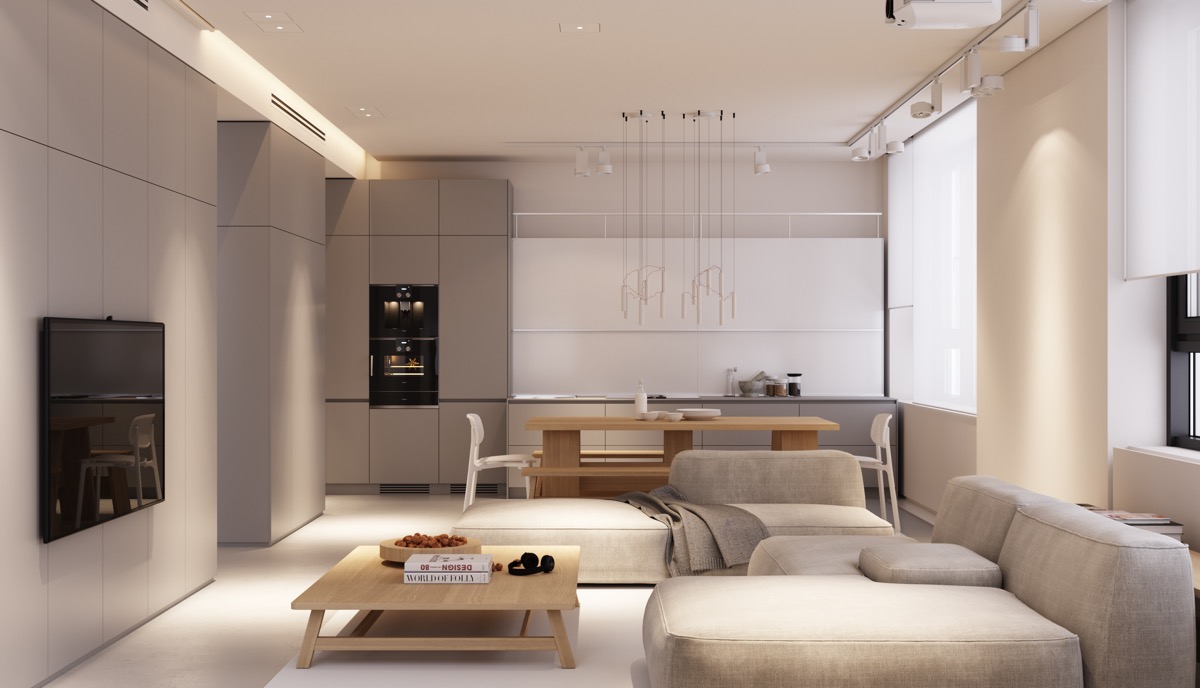 16 |
Visualizer: Z Design
It's all about the sofa. The sofa will always dominate any living room, in the same way that a bed is the protagonist of a bedroom design story. Even the floor-hugging unassuming sofa design in this space is still the piece that sets the tone.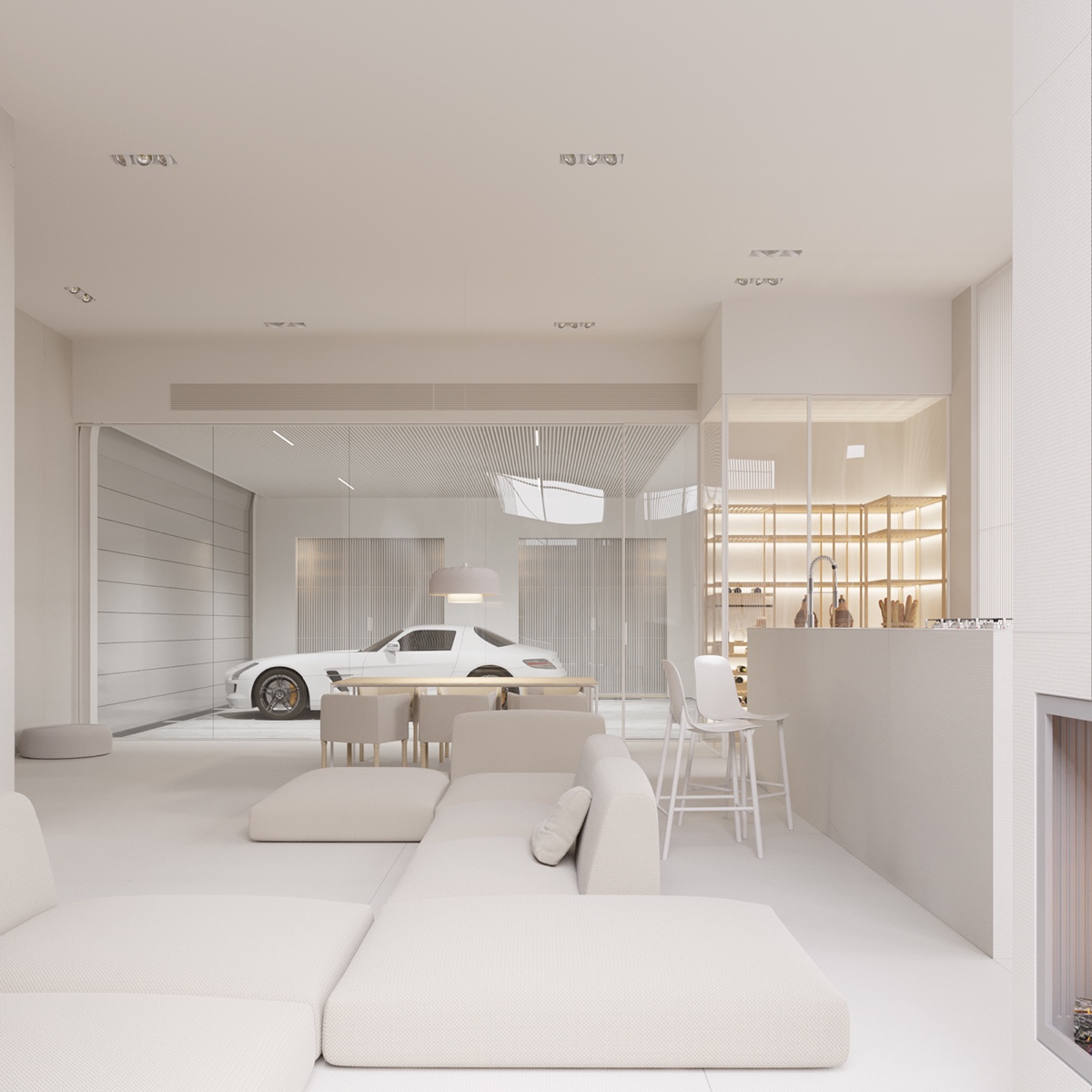 17 |
Visualizer: Igor Sirotov
Not every minimalist living room will have a car garage in it, but this one does. By keeping visual noise on the down low, you can enjoy more of what makes you happy.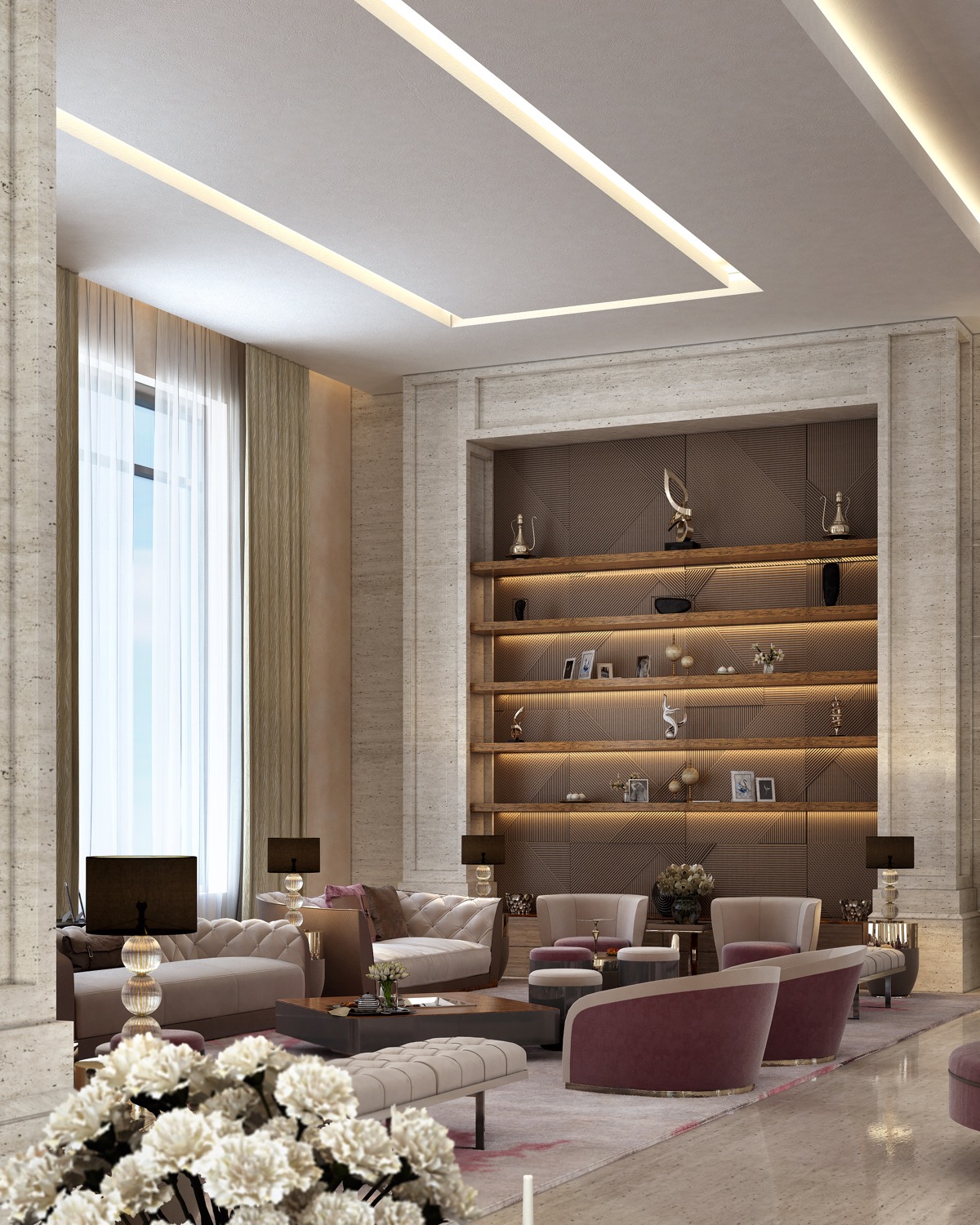 18 |
Visualizer: Abdallah gad
Build a true focal point. Forget making the tv the focal point of the lounge – we all get too much screen time on our laptops, tablets and phones as it is. Instead, create a display of things that actually mean something to you on some unique wall shelves. Then, light them up.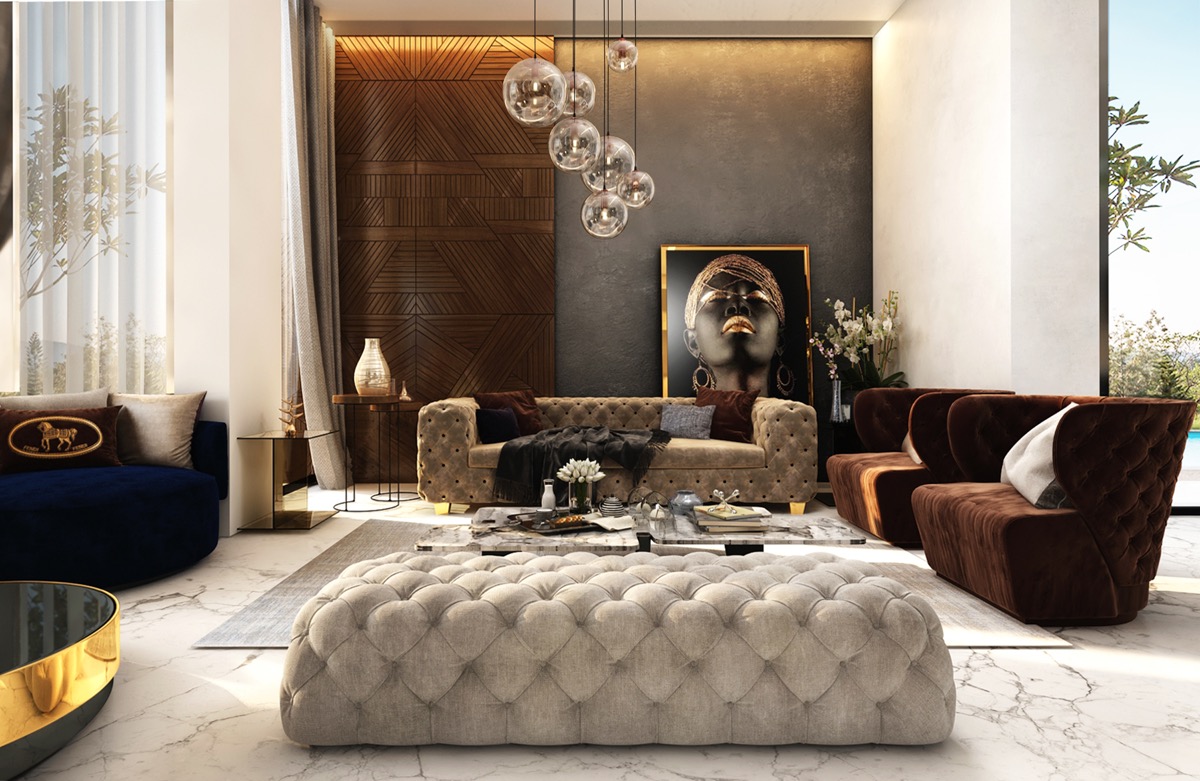 19 |
Visualizer: Fathy Ibrahim & Rehab Elhawary
Create an intimate furniture arrangement. Position your sofas and chairs to encourage social interaction and a sense of cosy closeness.
20 |
Visualizer: Martin Architects
After choosing a standout sofa, don't skimp on a great modern coffee table. Don't neglect that the living room table is the immediate focus from sitting position.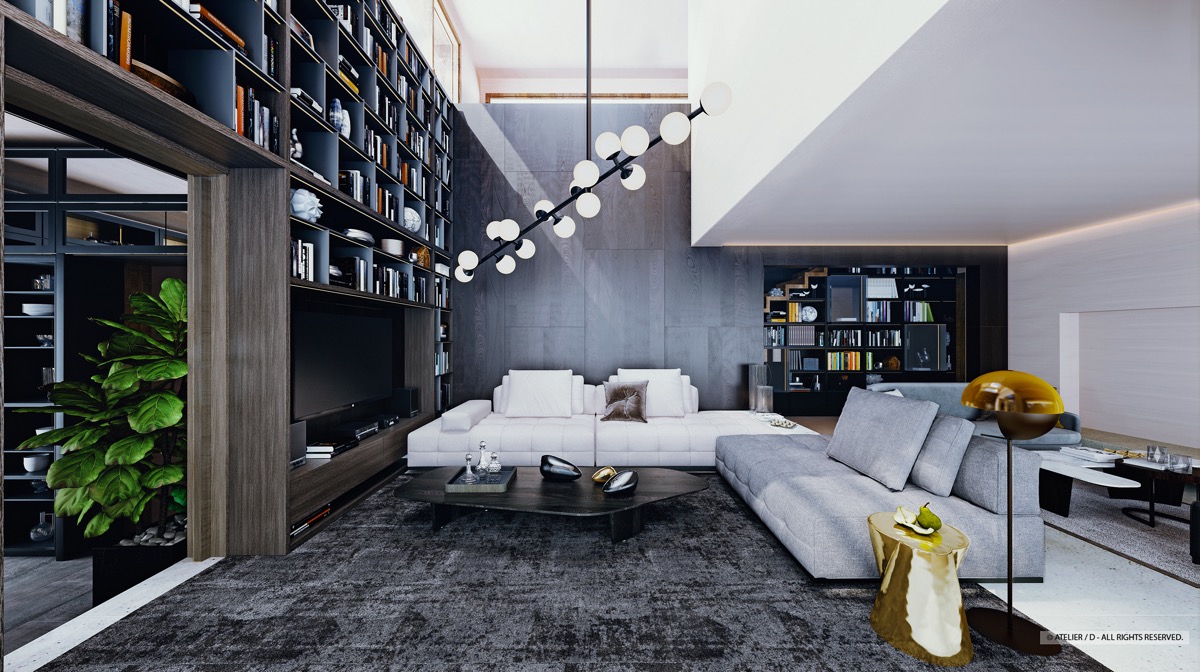 21 |
Visualizer: Atelier/D
As well as a great coffee table, don't forget to incorporate a small side table to serve the sofa. It's not always convenient, or comfortable to stretch toward a low centre spot.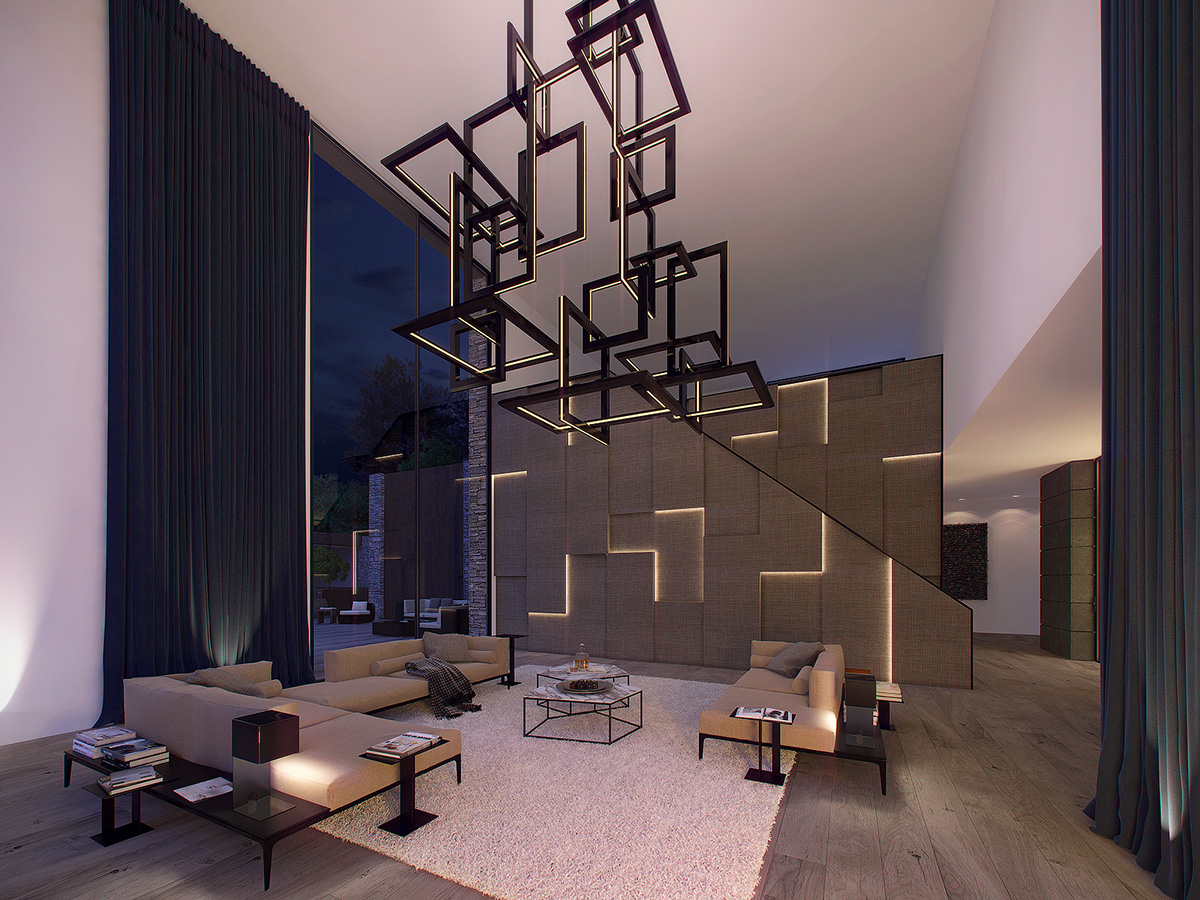 22 |
Visualizer: Alessandro Zecca
Decor is art. Art is decor. Paint your own picture with form and light.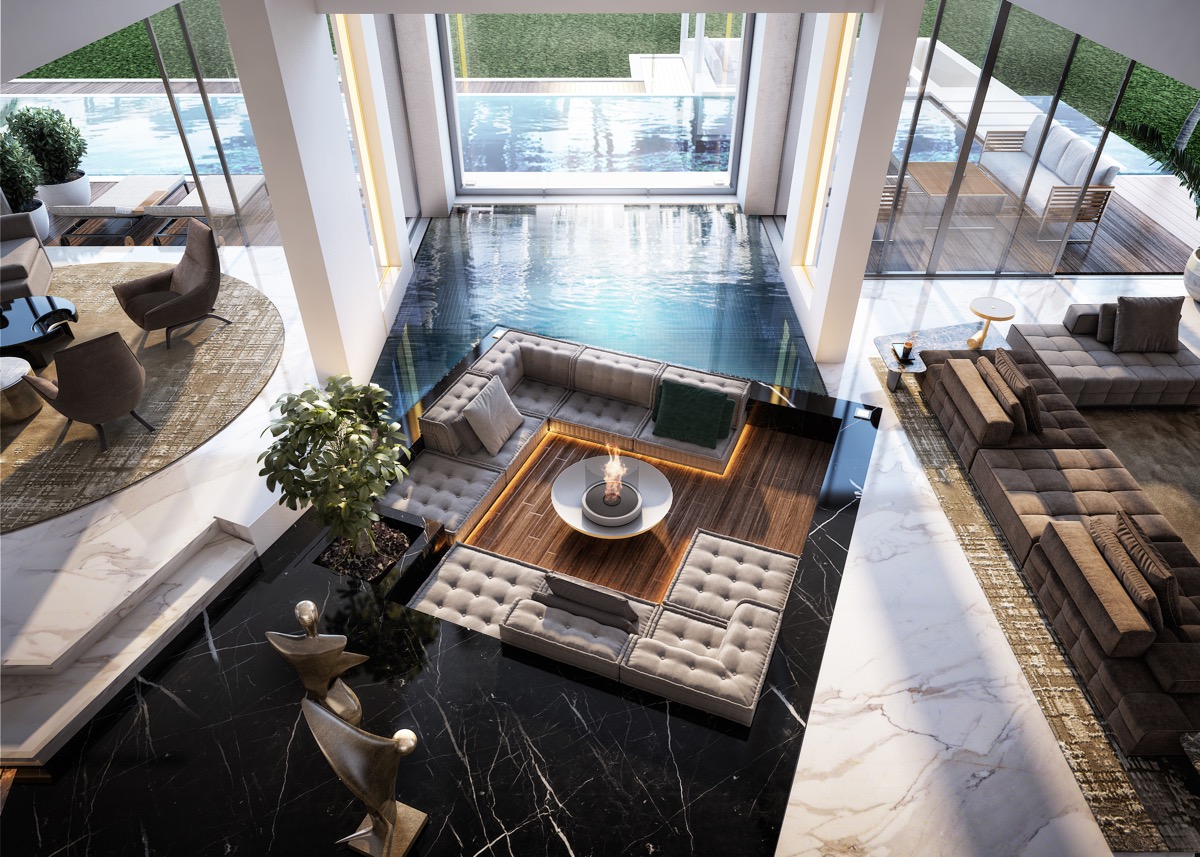 23 |
Visualizer: Naira Omar
Not everyone will have the architectural freedom that a conversation pit like this requires, but we can take inspiration from the central fireplace to gather around like a campfire.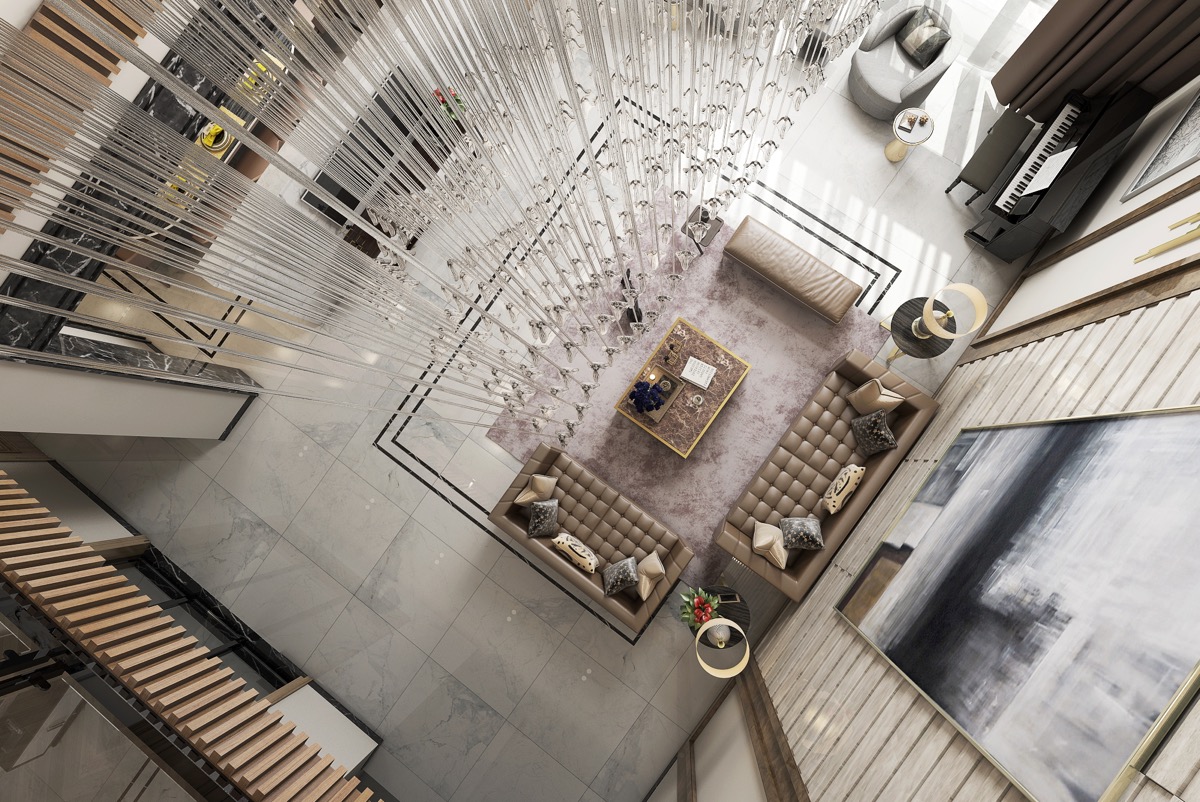 Choose a light that descends to the right length for your space.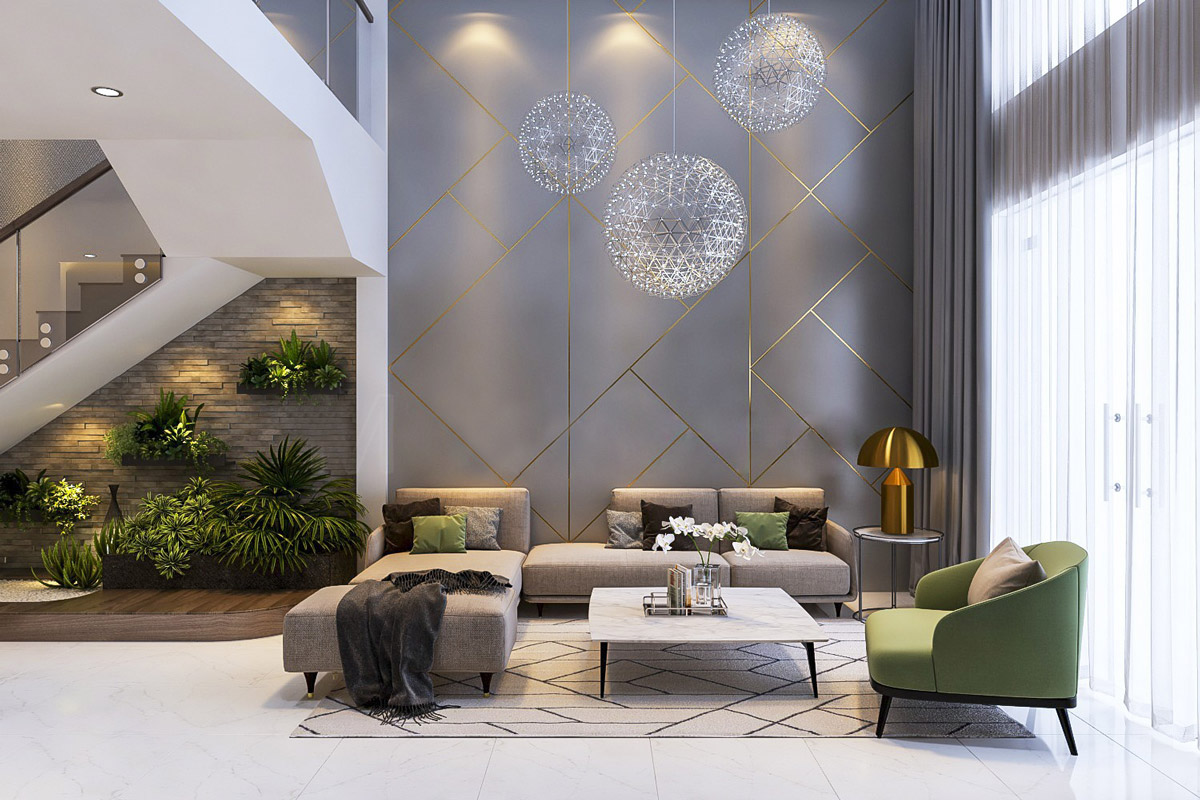 Double the height, double the decor. Don't cut double height living rooms in half by limiting a special decor feature to ground level – especially spaces that incorporate a mezzanine level. Stretch it out.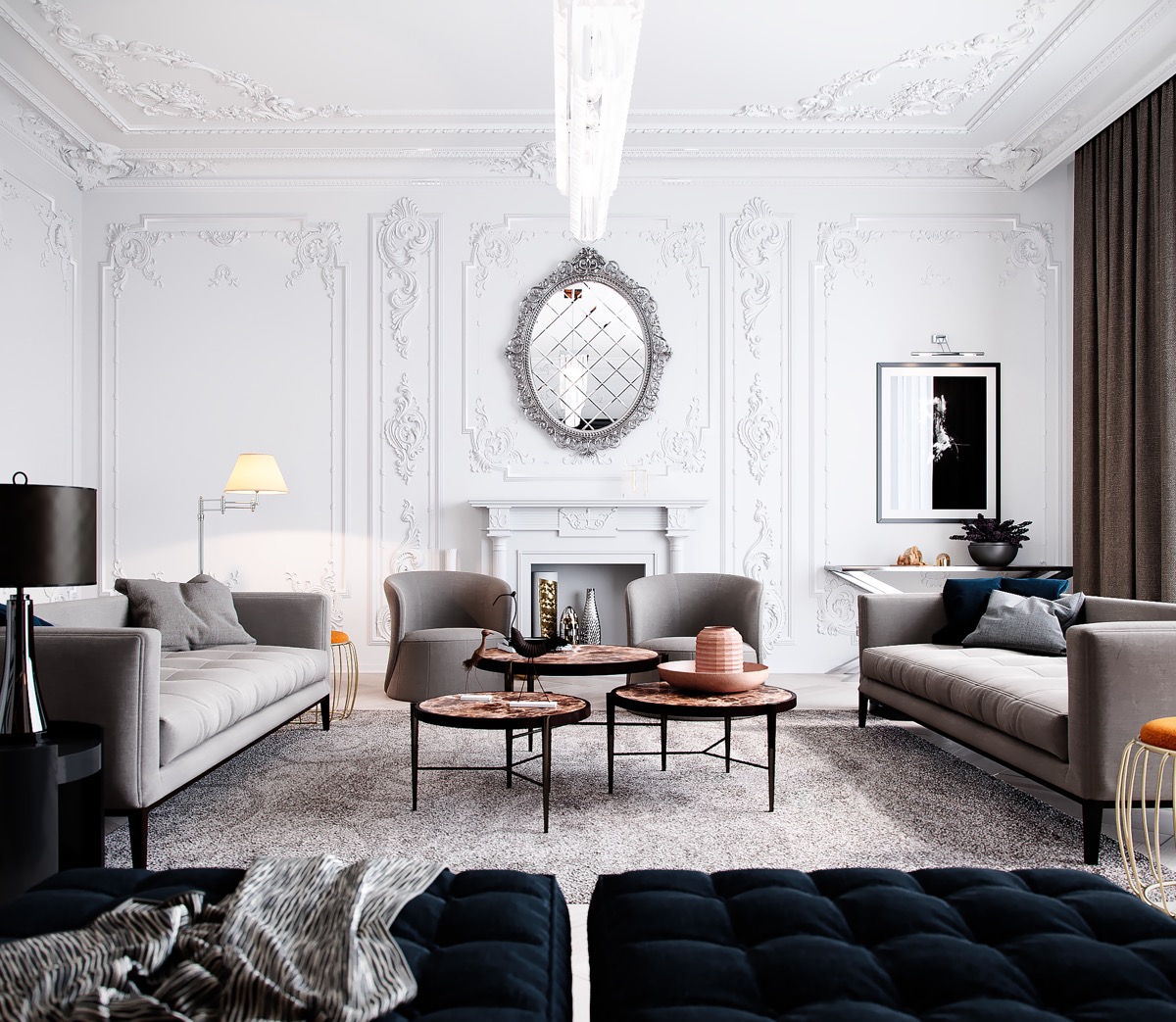 26 |
Visualizer: Kirill Gordeyev
Hang an ornate framed mirror to add decadence and shine.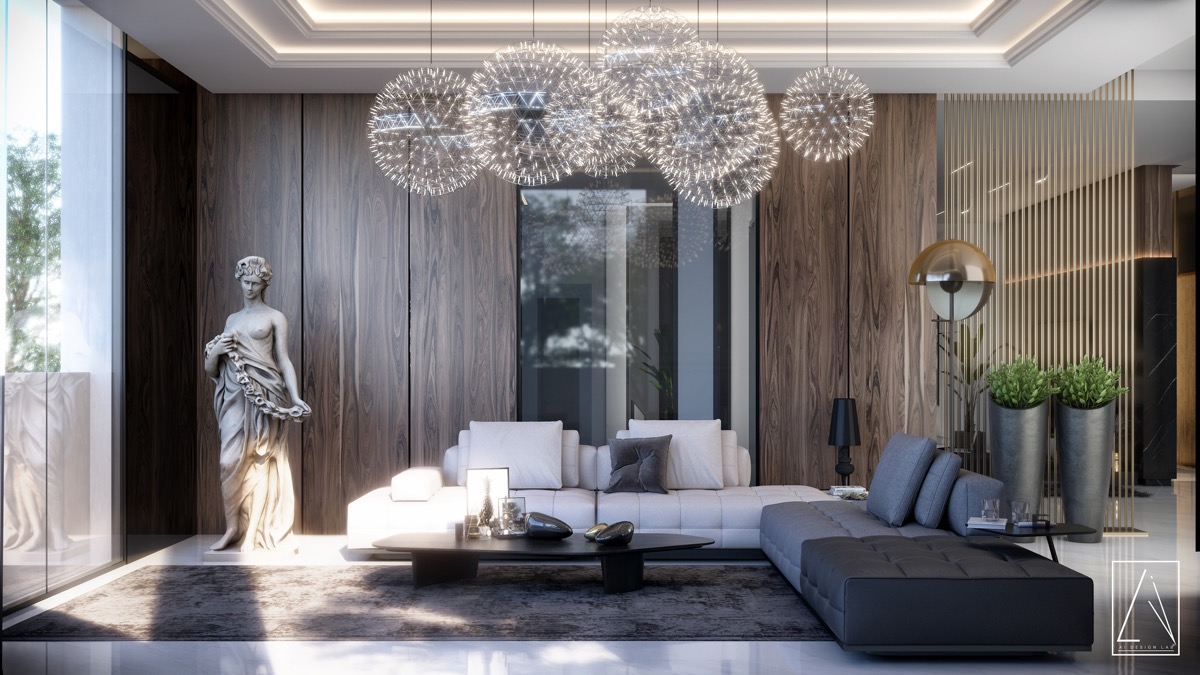 27 |
Visualizer: Ahmed Ibrahim
Greek statues are not just for the garden lawn.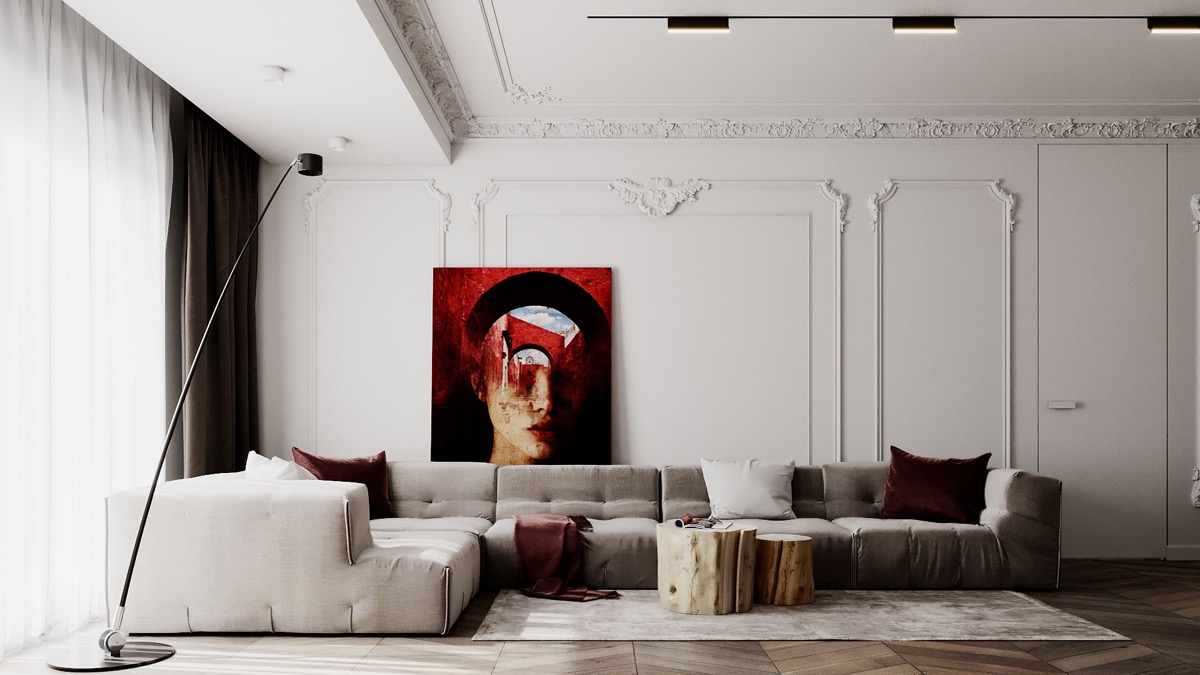 28 |
Visualizer: D3 Design
Luxury isn't only about aesthetics but about comfort too. Linear sofas may look ultra modern but be sure to try before you buy to ensure that low seat, low back design feels luxurious to you. Don't forget about floor lamps too, to fashion a comfortable reading spot.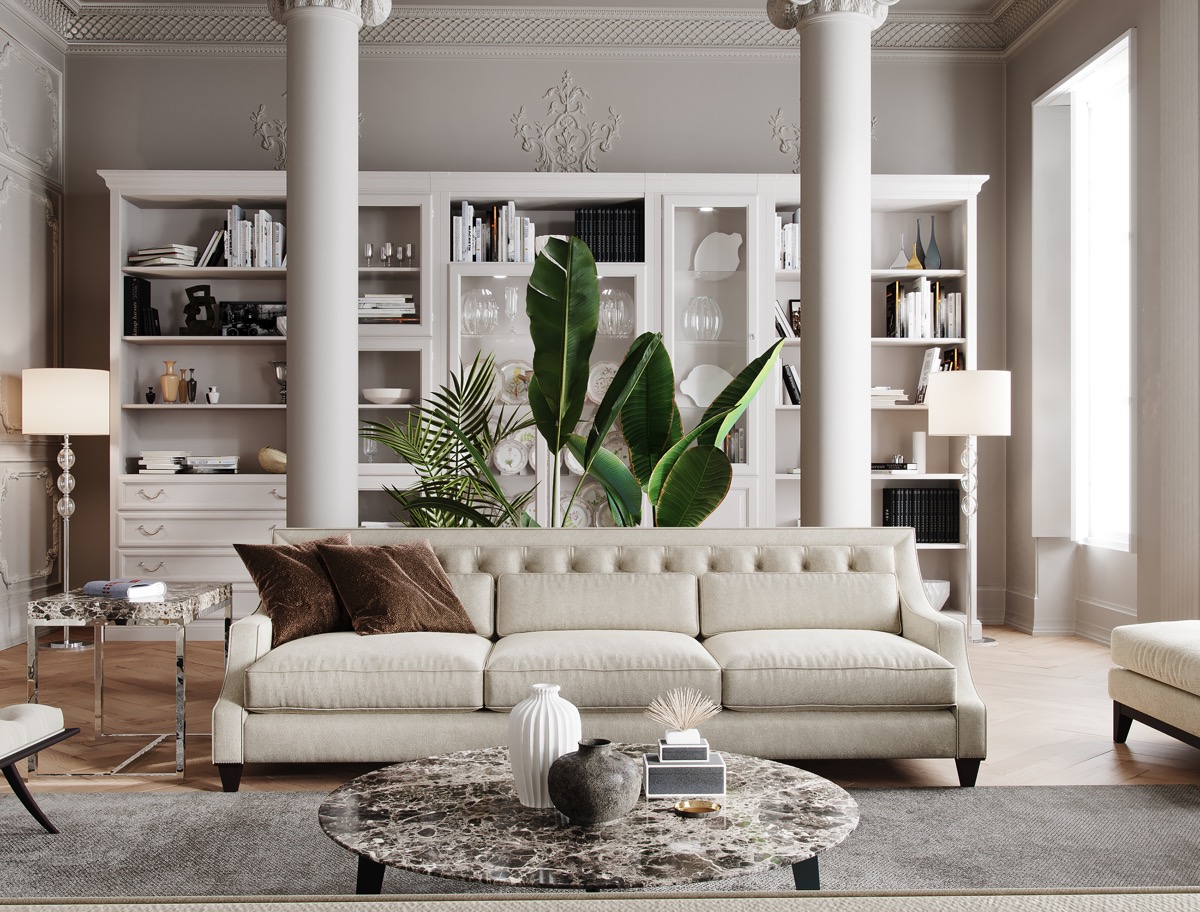 29 |
Visualizer: Kirill Gordeyev
Nothing declares quite the same grandeur as a pair of roman pillars.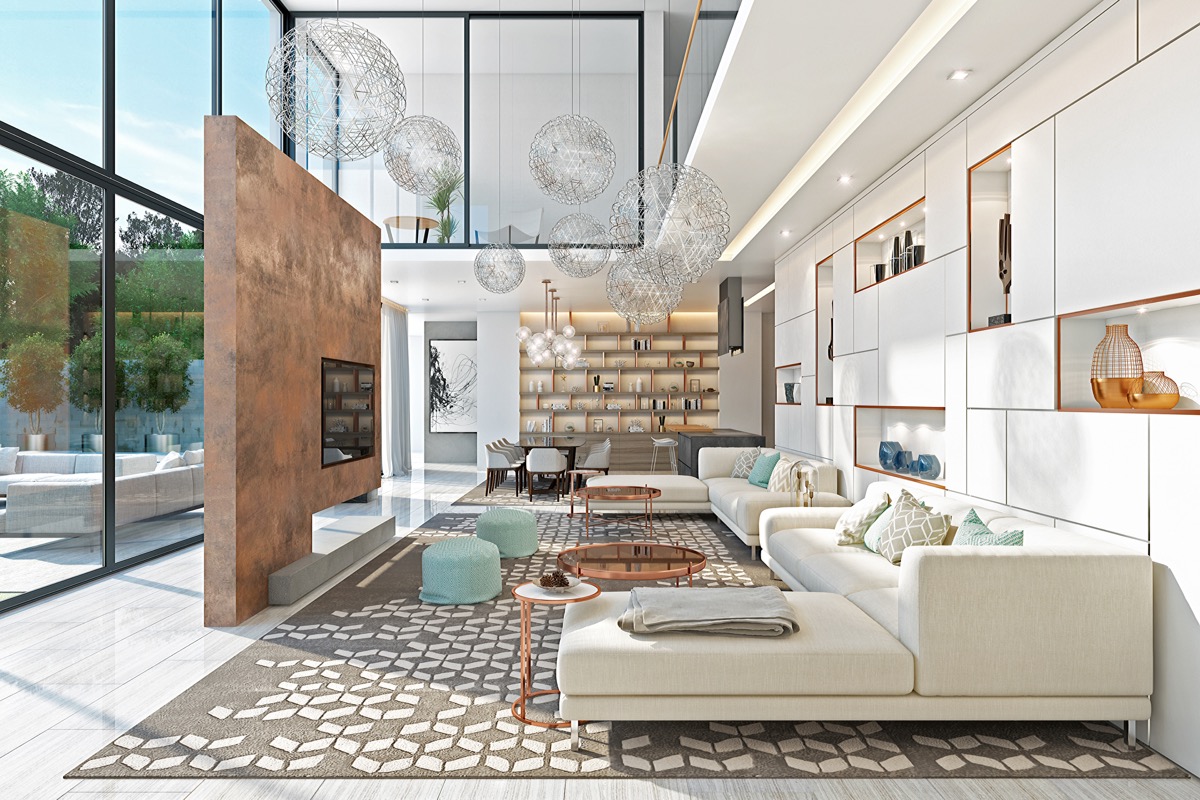 30 |
Visualizer: Yaroslav Serdyuk
Build false walls to accommodate new needs. Bespoke storage furniture can be built to appear as part of the wall, offering recessed nooks to display treasured items. This room also features a constructed tv wall over part of the huge windows.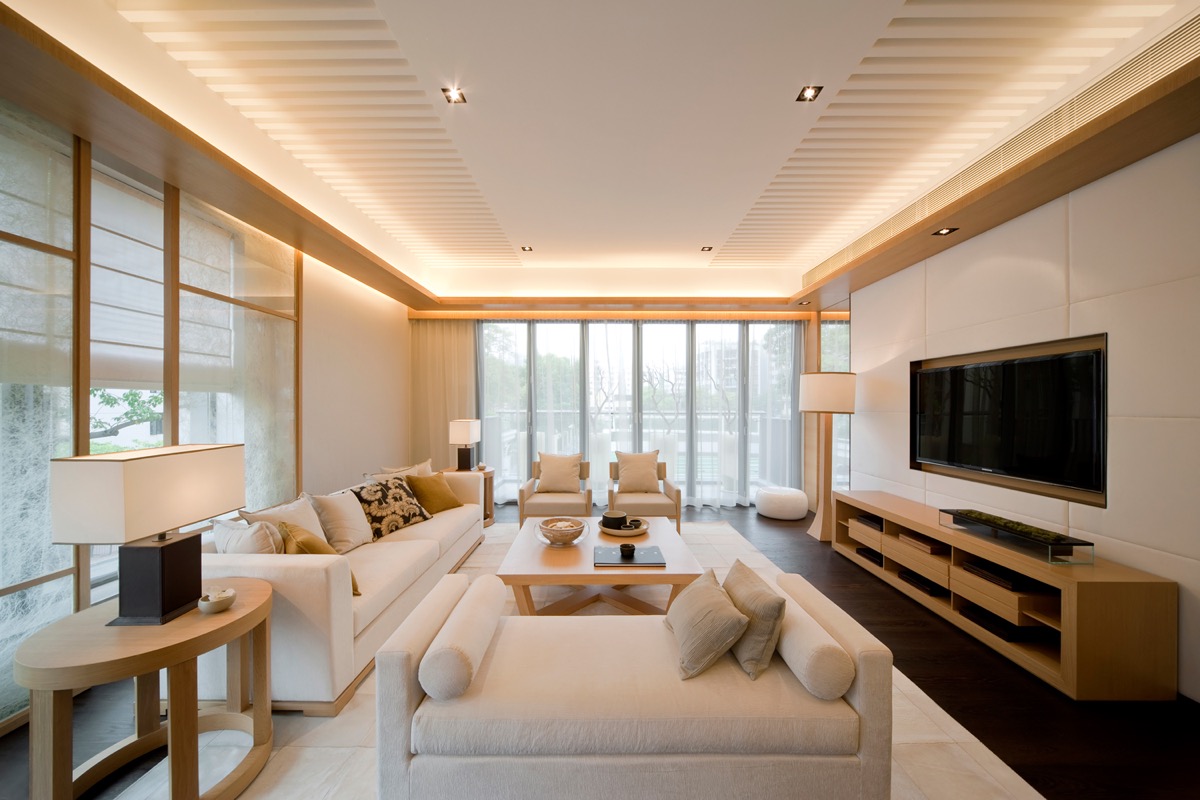 31 |
Designer: Steve Leung Designers
Float your luxury lounge on an enormous rug to keep things just as plush underfoot.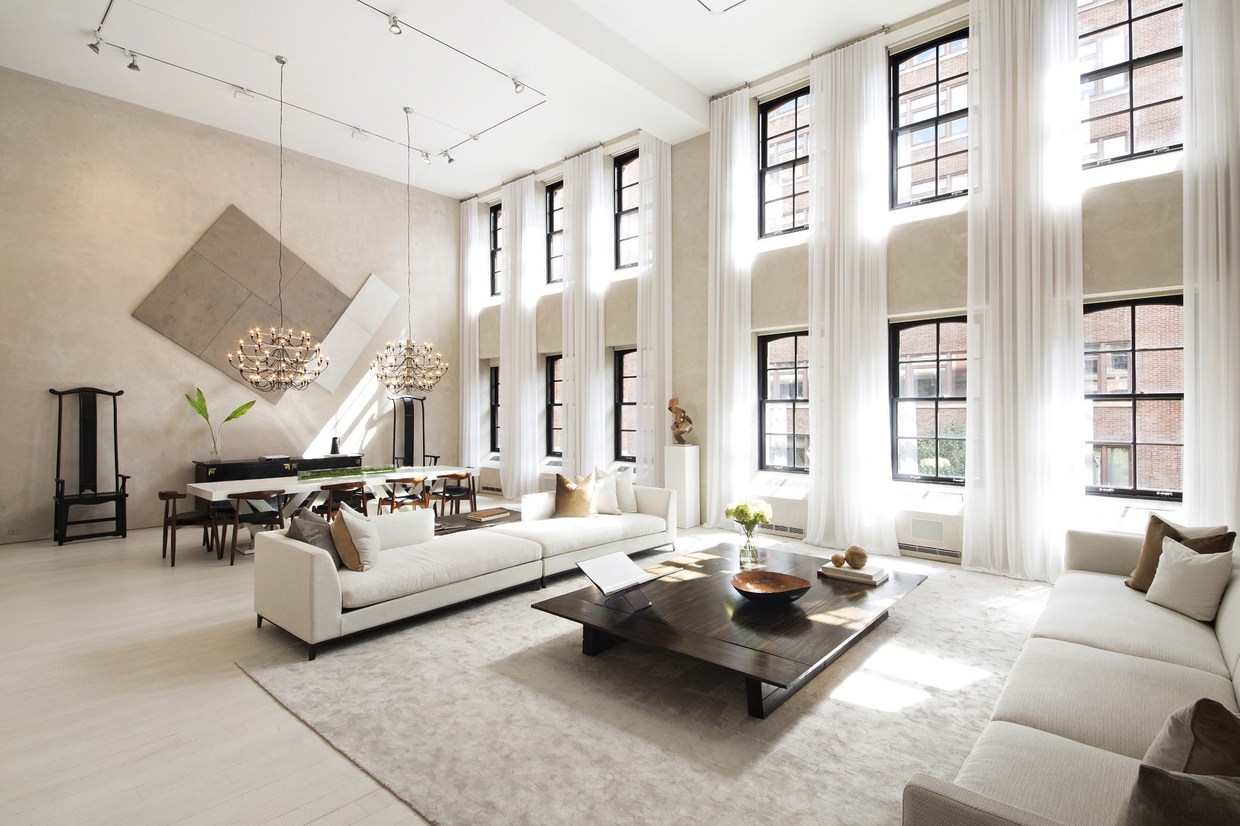 32 |
Via: 2 Luxury Apartments
Made to measure curtains are a must. Don't let window drapes fall short if you want to achieve a luxury finish; let the fabric 'pool' a little at the floor for an abundant lavish look.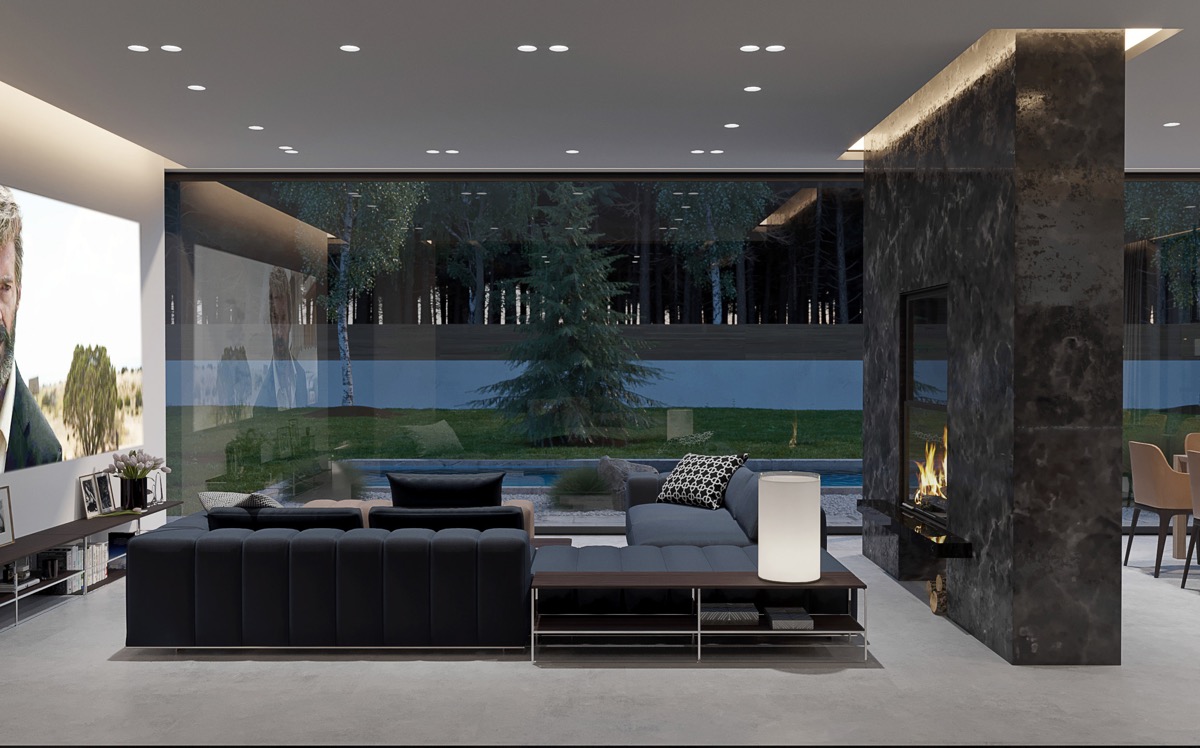 33 |
Visualizer: Nikita Borisenko
Install a double sided fireplace in a long room to serve both ends equally, like this free-flowing modern living room to dining room space.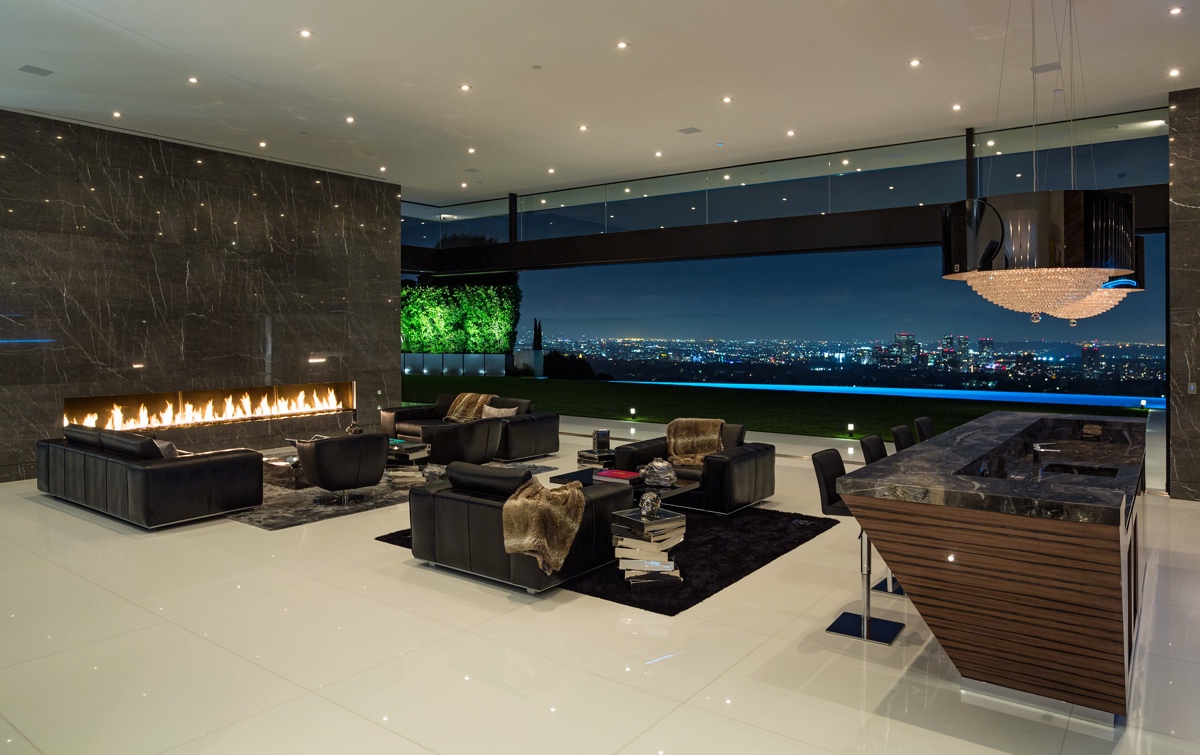 34 |
Designer: Paul McClean
Play up to the strengths of the room. This home is blessed with a sweeping panoramic view, and a long linear fireplace has been placed to echo its stretched line. More images of this home here.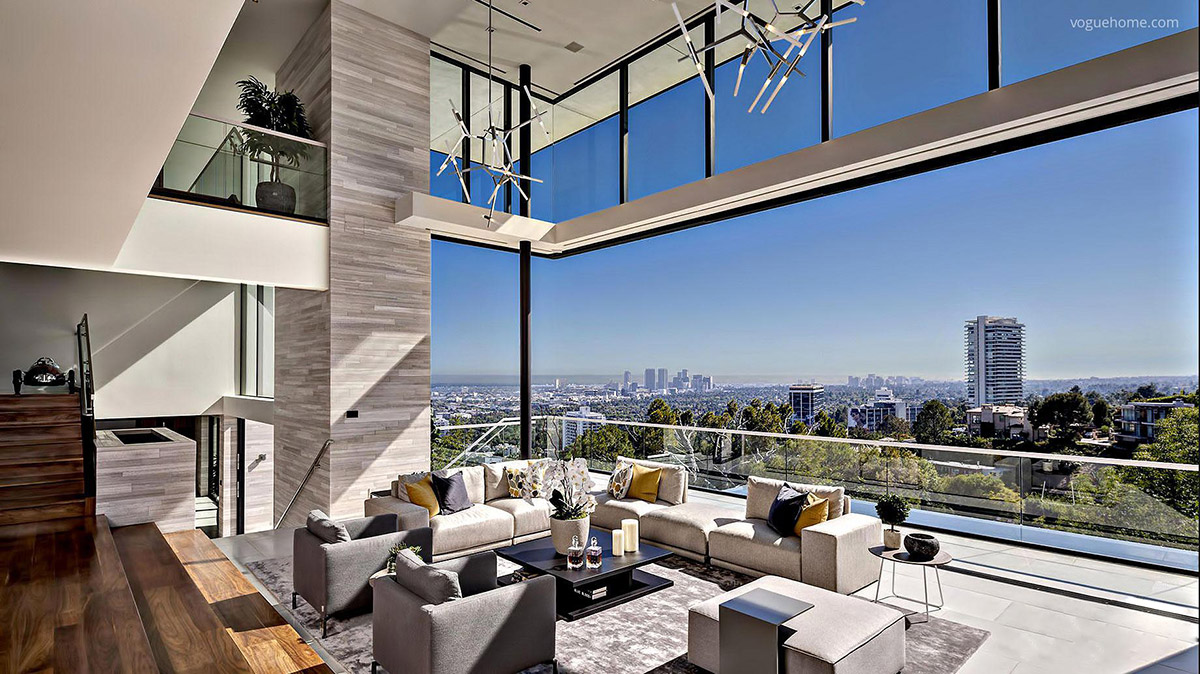 35 |
Via: The Pinnacle List
Connect with the great outdoors – whether that's a garden or a balcony. If your living room makeover is set to stretch as far as architectural remodelling, a retractable glass wall is a great way to blow the budget.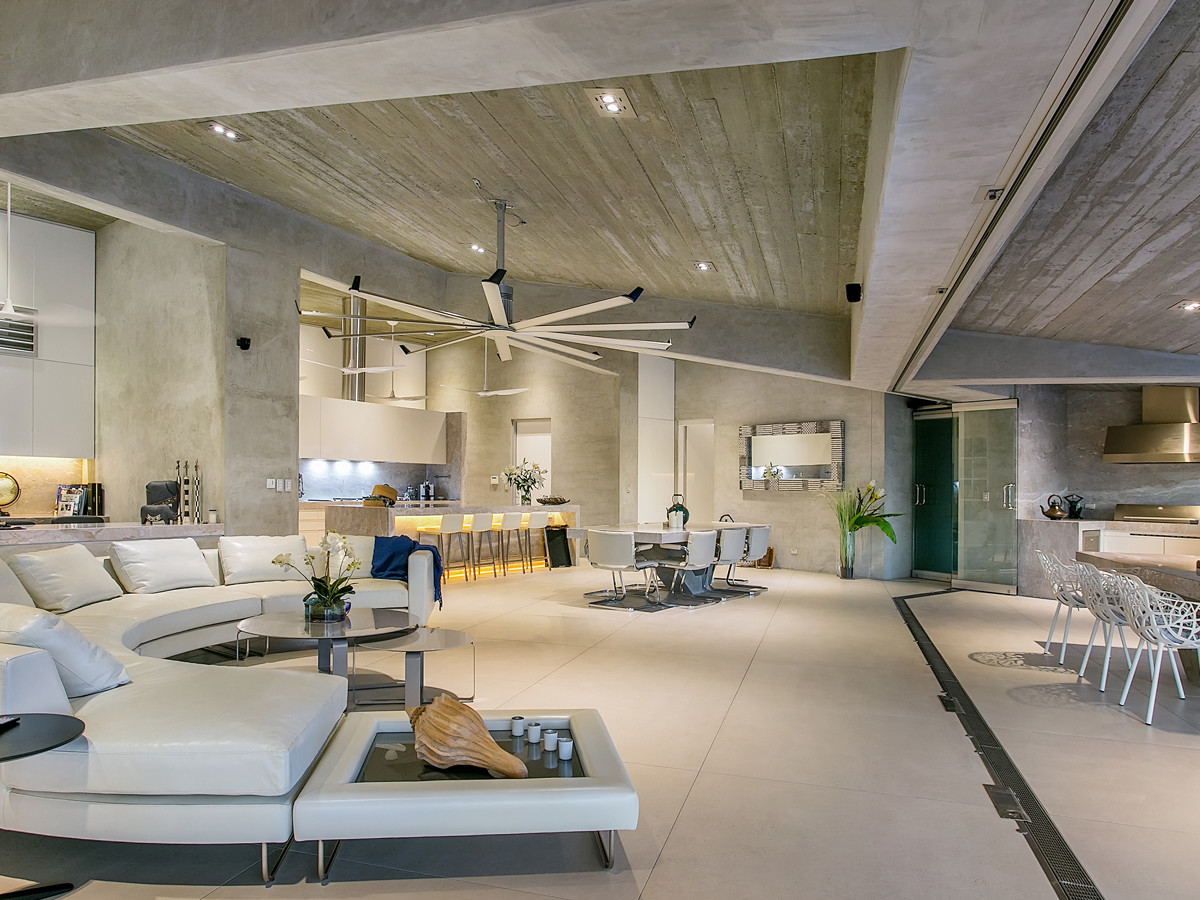 36 |
Designer: Charles Wright Architects
Choose quality larger pieces that fill the space properly, rather than a clutter of smaller cheaper items.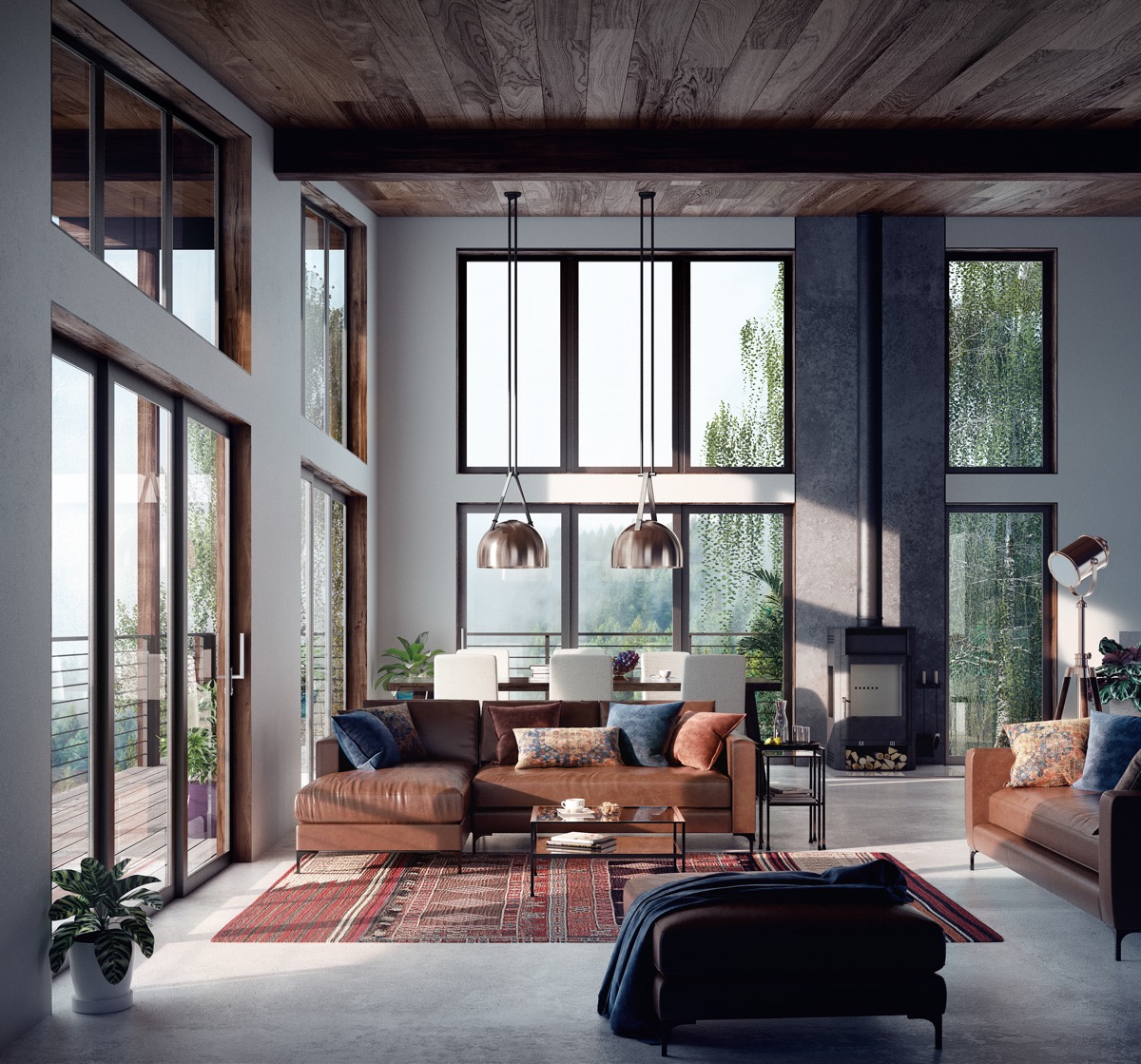 37 |
Visualizer: Romet Mets
Create a cohesive theme so that pieces can be moved around at will and to suit the occasion or season.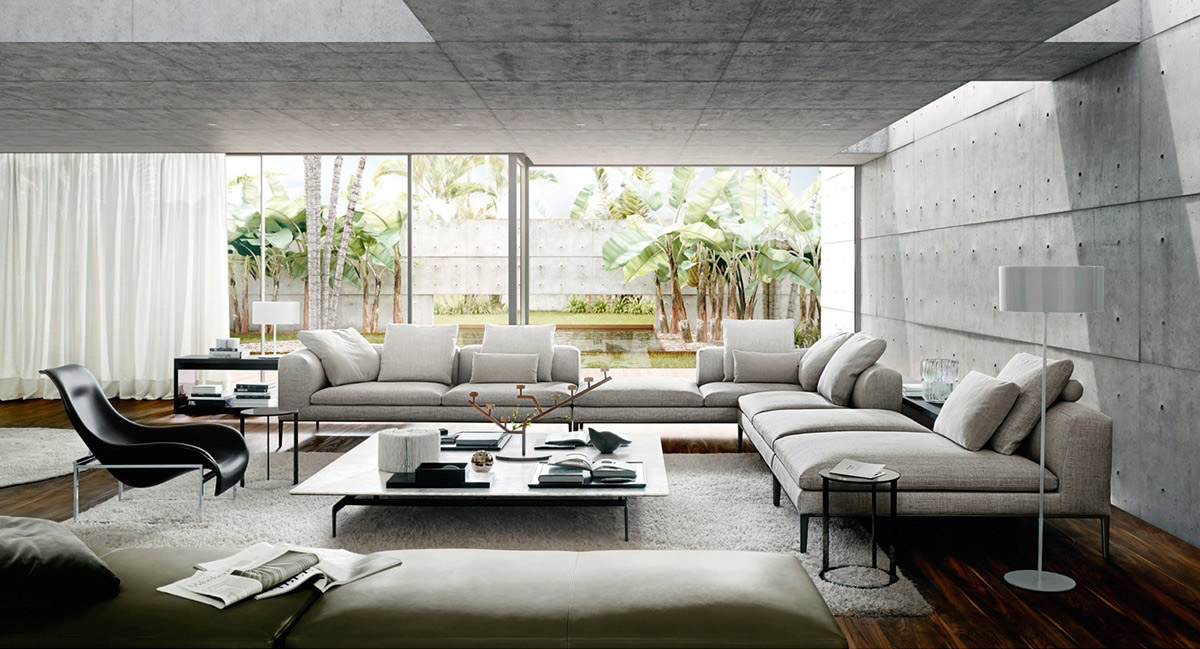 Believe it or not, concrete living rooms can spell luxury too. Use sumptuous sofas and comfy accent chairs to balance the industrial look.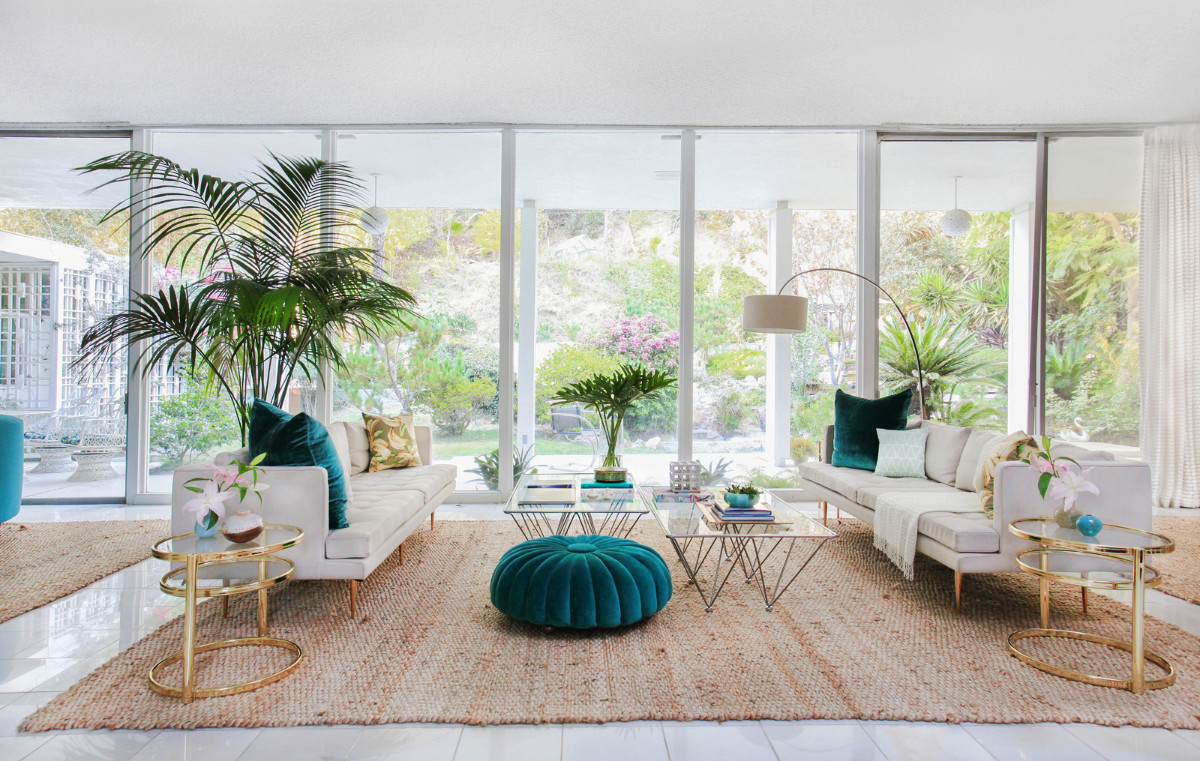 39 |
Designer: Orlando Soria
Be inspired by retro design, like this mid century modern living room.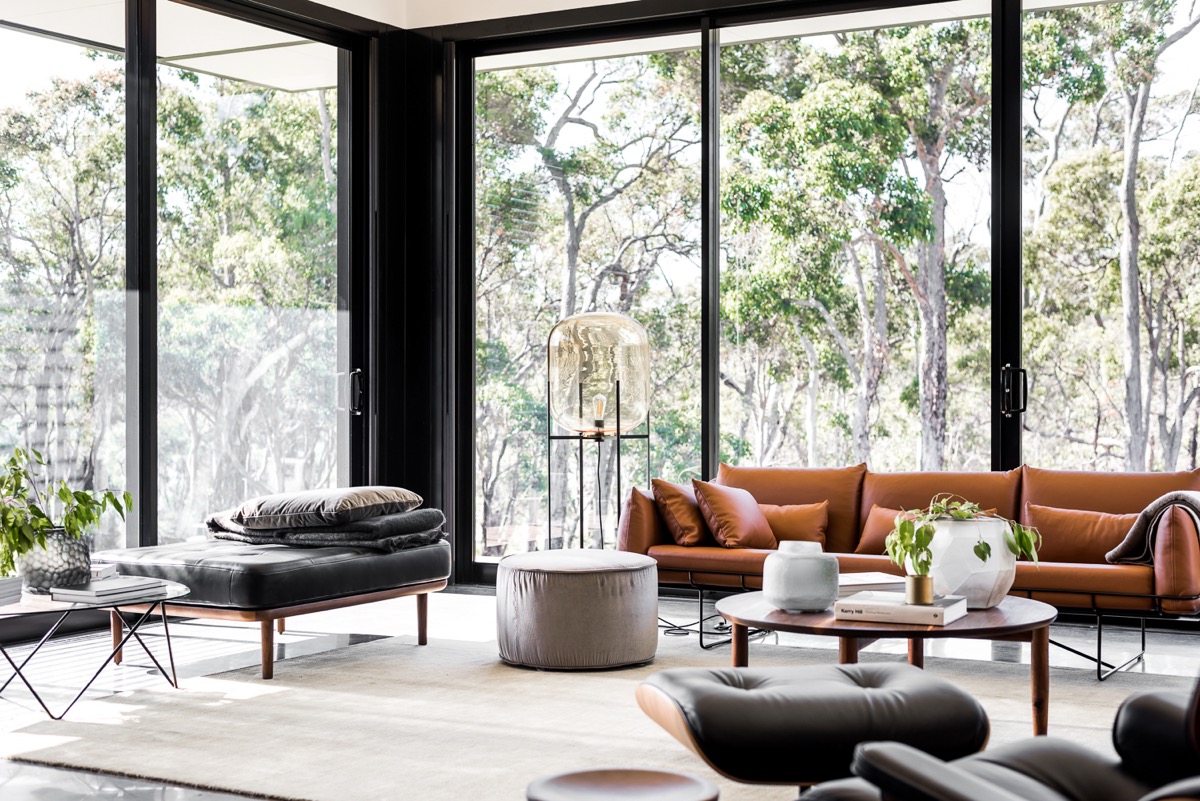 40 |
Photographer: Dion Robeson
Luxury leather sofas have always cost an arm and a leg, but there are plenty of smart and cruelty-free alternatives on the market nowadays.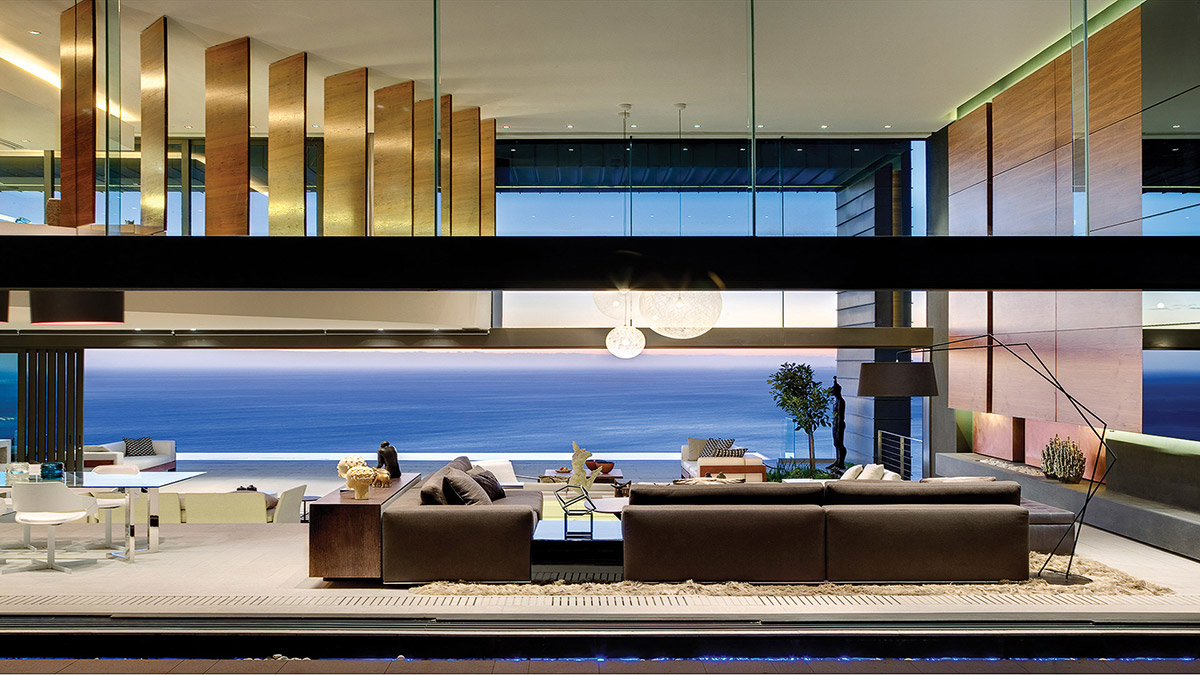 All decor comes secondary in this living room with a spectacular view. Furniture is kept low and sleek so as not to obstruct the panorama.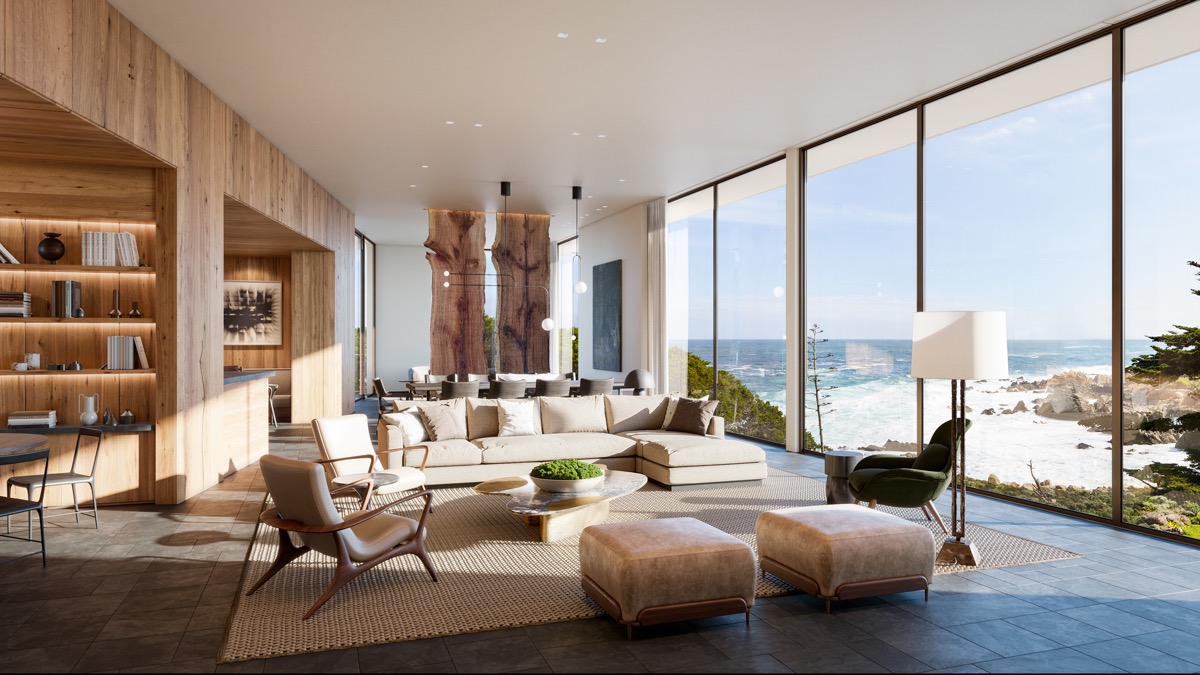 42 |
Visualizer: Diego Querol http://3dq.studio/
A pale room palette can be warmed with generous natural wood panelling.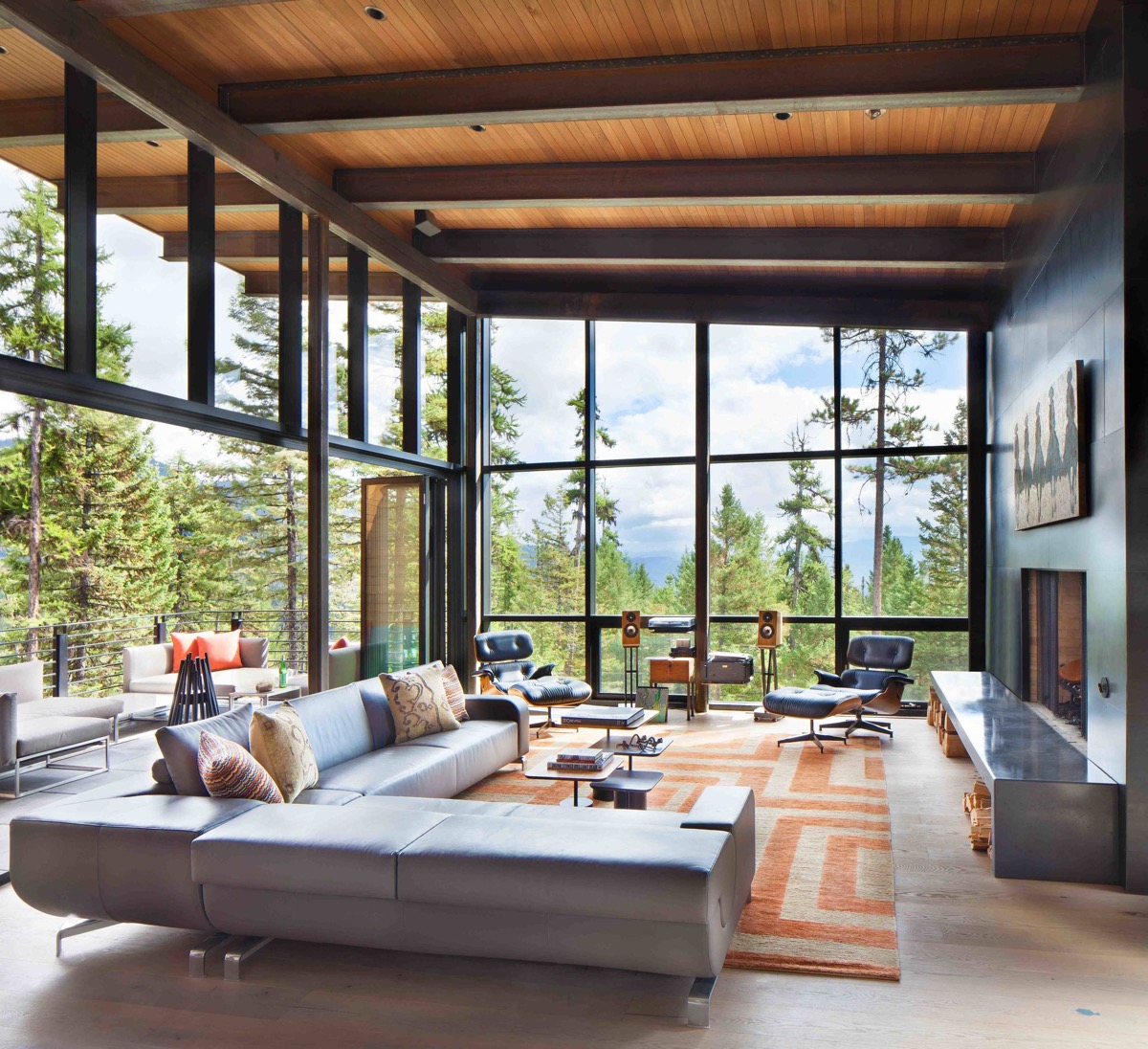 43 |
Architect: Stillwater Architecture
Fashion a chunky hearth at the fireplace, and store an abundance of logs for the winter beneath it.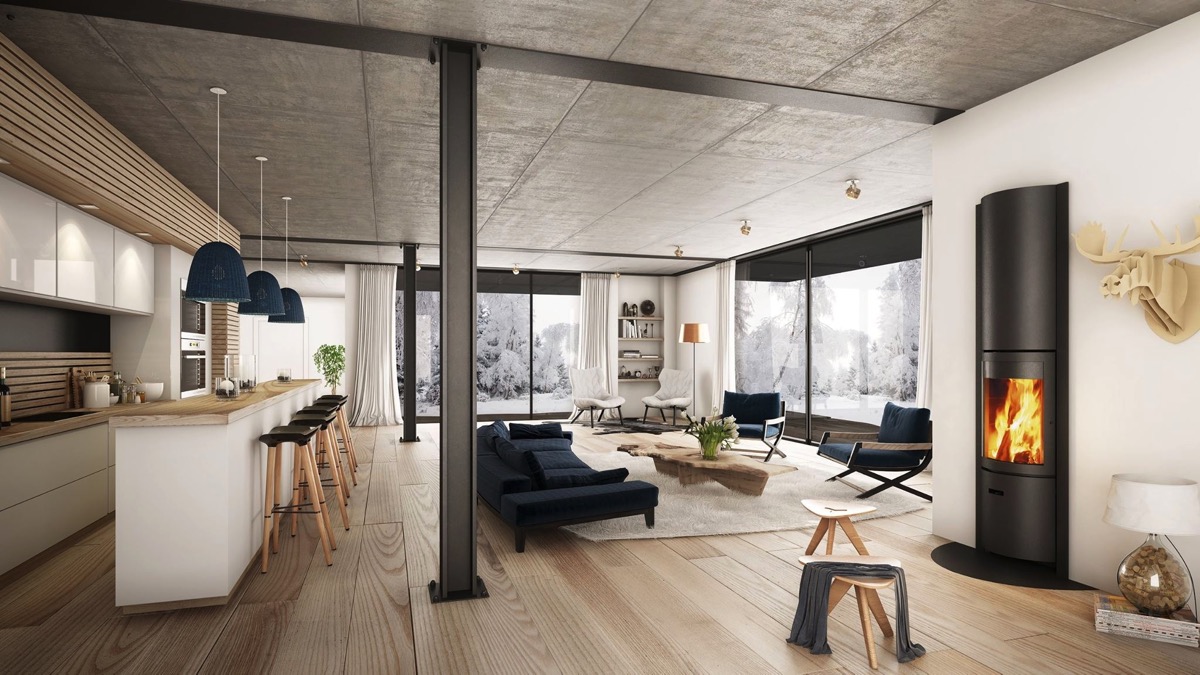 The wood burning stove in this rustic living room is set off to one side, creating a separate sweet conversation spot.
45 |
Visualizer: Morat Morat
Prioritise texture, colour and light. The scale of this luxury industrial living room is awesome, and it would be easy for a space of this scale to appear cold and unwelcoming. Raw red brickwork and glowy lighting extend a warm invitation.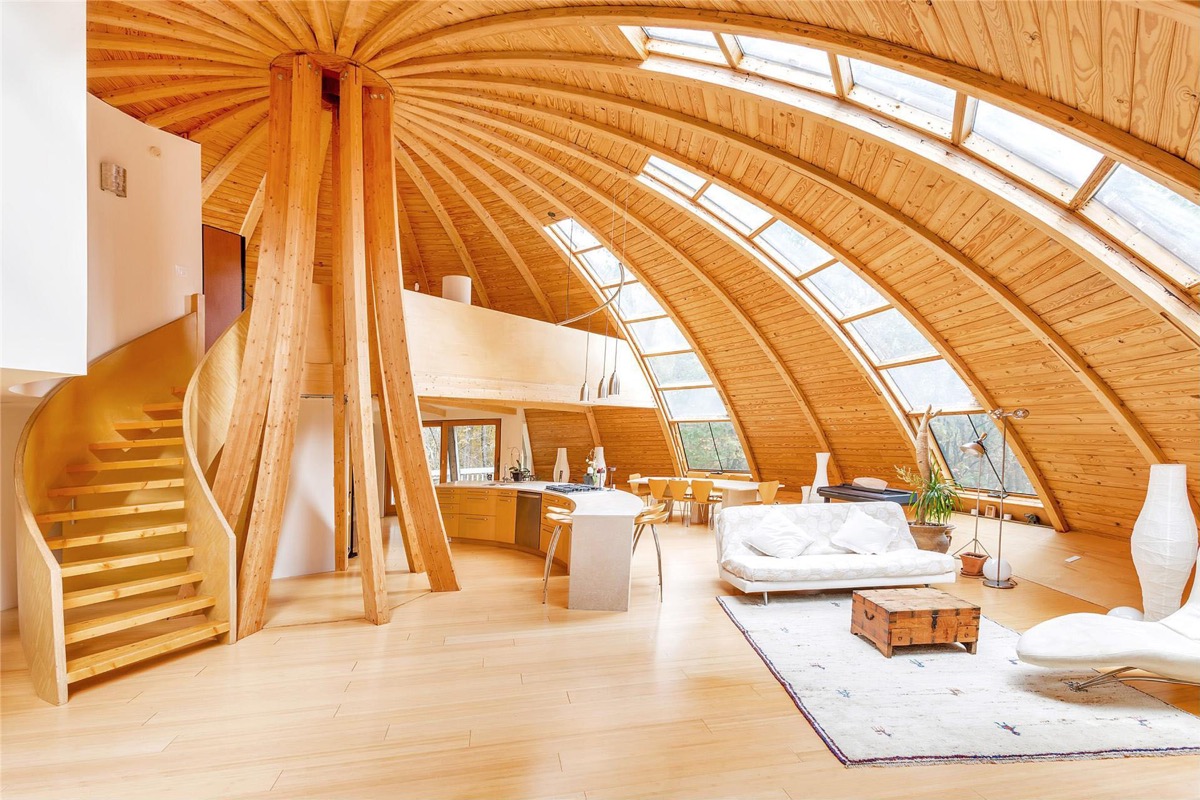 If you have amazing architectural features, you don't need much else. More images of this flying saucer shaped house here.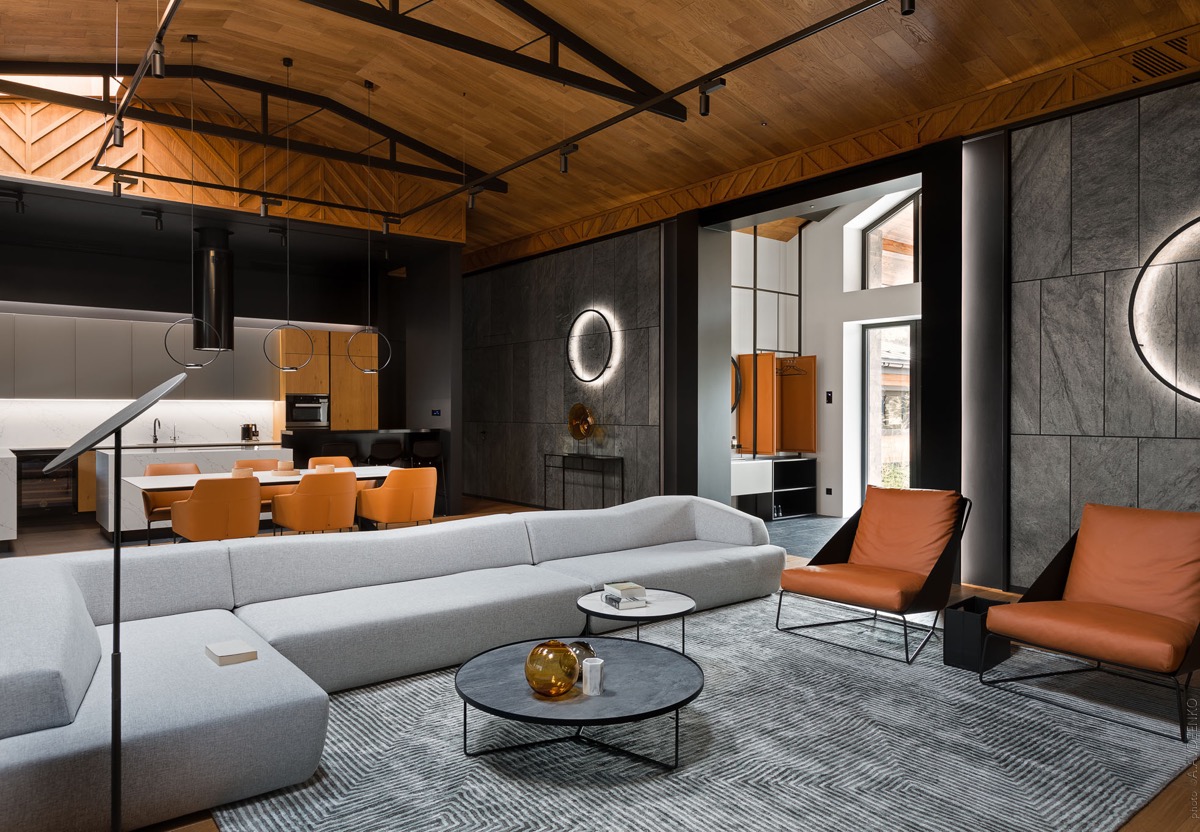 47 |
Architect: Denrakaev
Photographer: Andrey Avdeenko
Black walls create an opulent base for orange and tan furniture. Break up the scheme with pale shades of grey and bright lighting.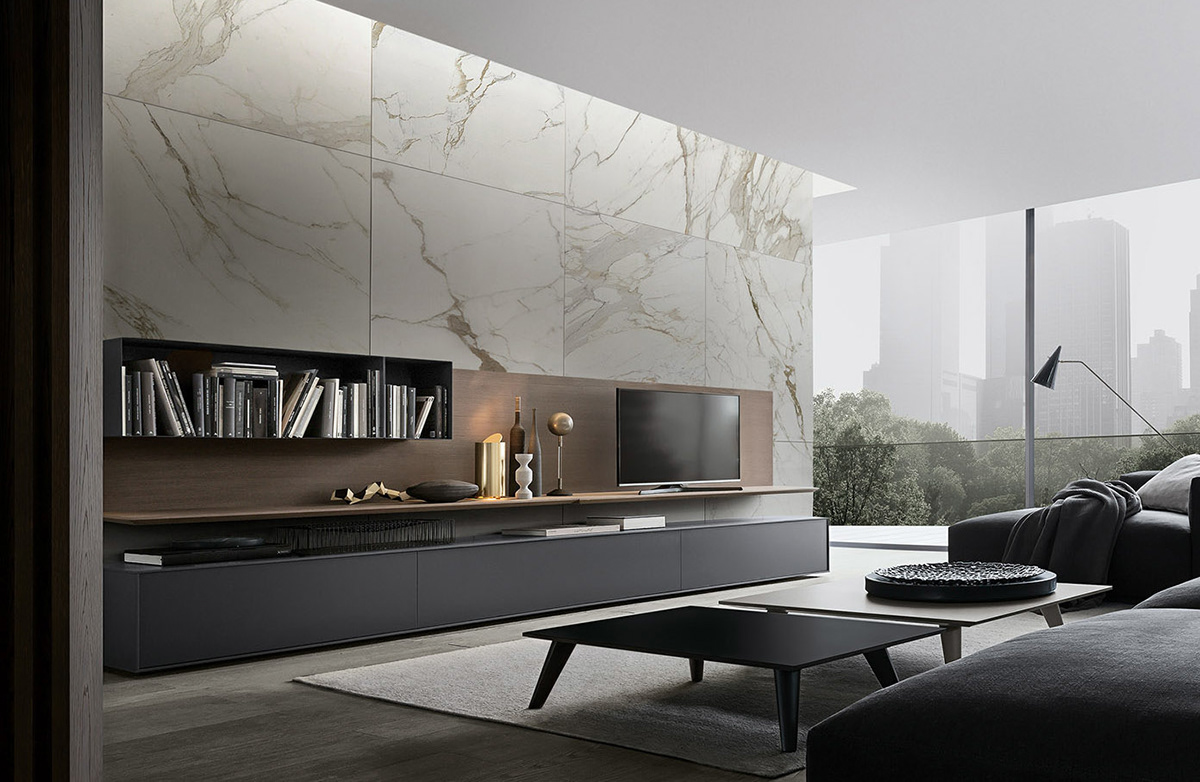 48 |
Photographer: Lorenzo Pennati
Tile with magnificent marble.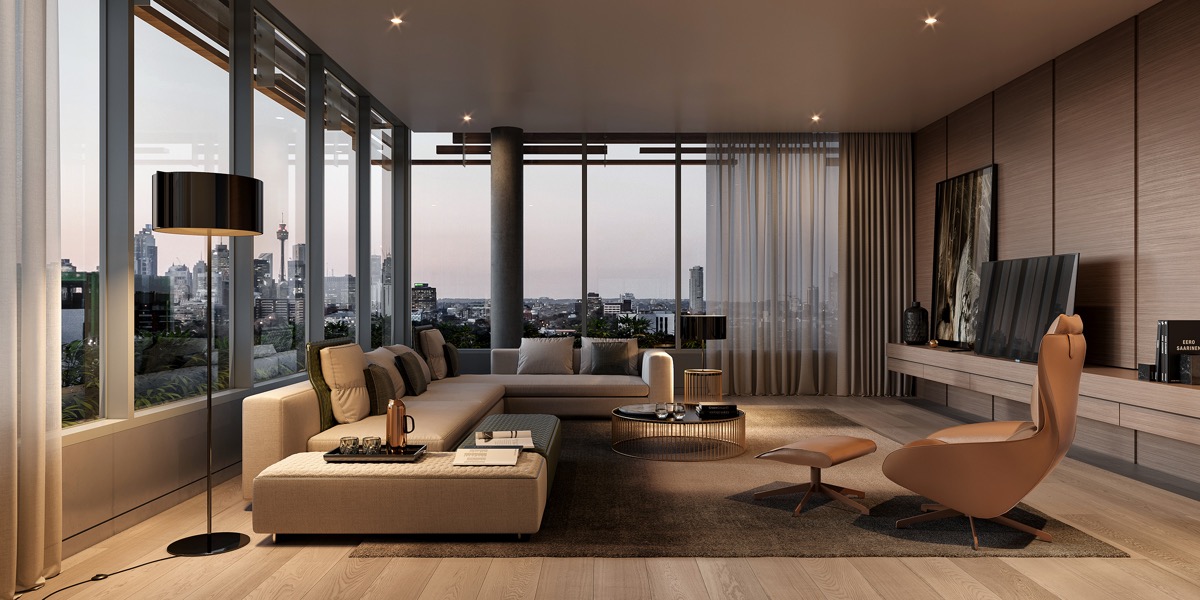 49 |
Visualizer: Evgenii Baisa
Sometimes it's a certain quietness of a space that brings about its luxury.
50 |
Visualizer: Walk The Room
Copper panels quiet the tv in this lounge. A tan leather accent chair matches its warm tone.
51 |
Visualizer: Alexander Golinskiy
More marvellous marble – though this time used almost as wall art.