1 |
Visualizer: Doğukan Taş
Build an industrial style grey backdrop. Raw grey brickwork makes a strong statement behind a slick modern dining set and sputnik chandelier. See more grey modern industrial interiors.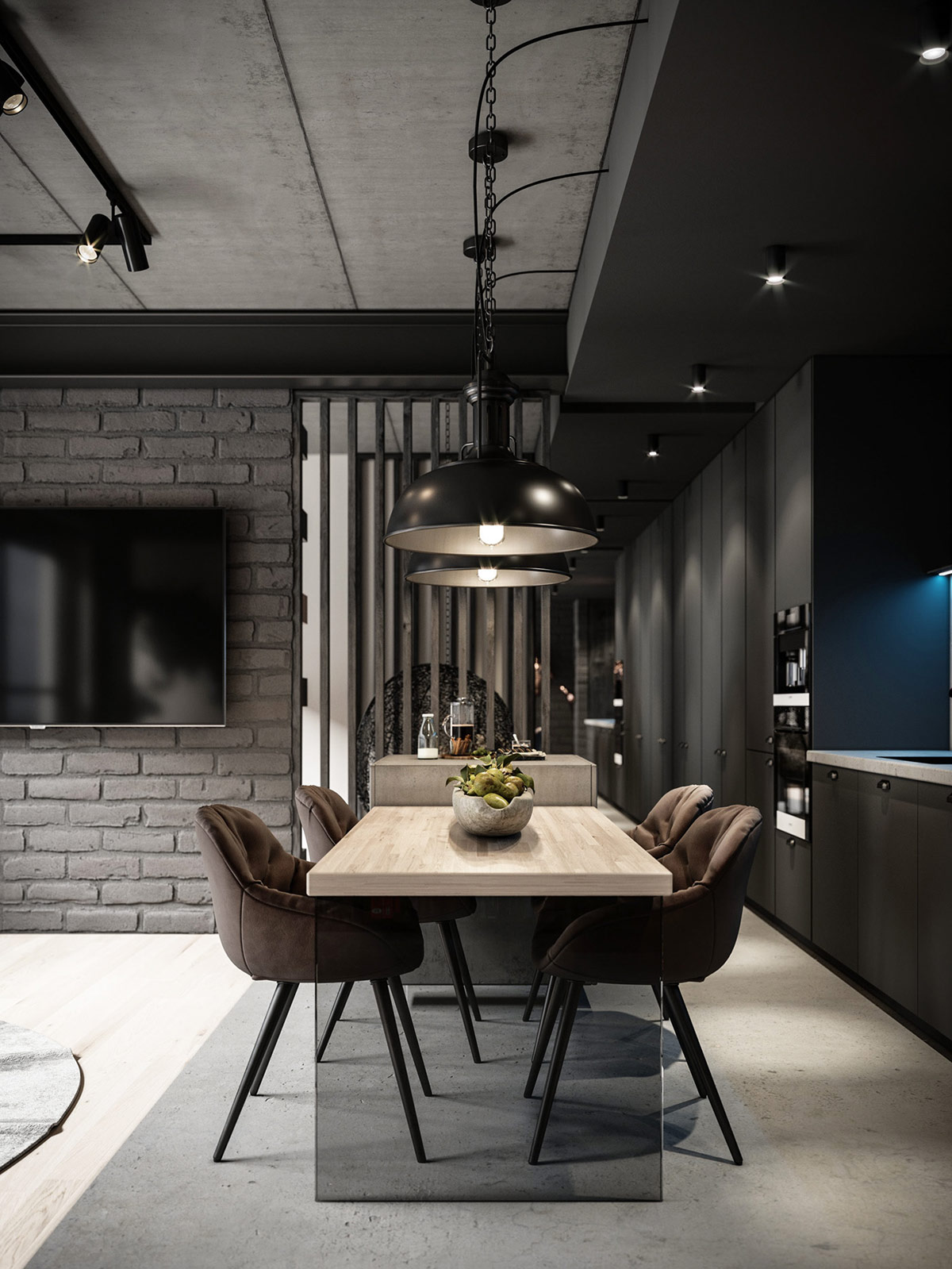 2 |
Visualizer: 3DM Studio
Exposed brickwork walls in this design are complemented by some industrial style lighting too. Soft upholstered dining chairs make cosy contrast.
3 |
Visualizer: Olga Paliychuk
Deep teal is a rich companion for dark grey walls. This interior uses colour to define zones in an open plan living room, with teal elements differentiating the lounge from a grey industrial style dining room.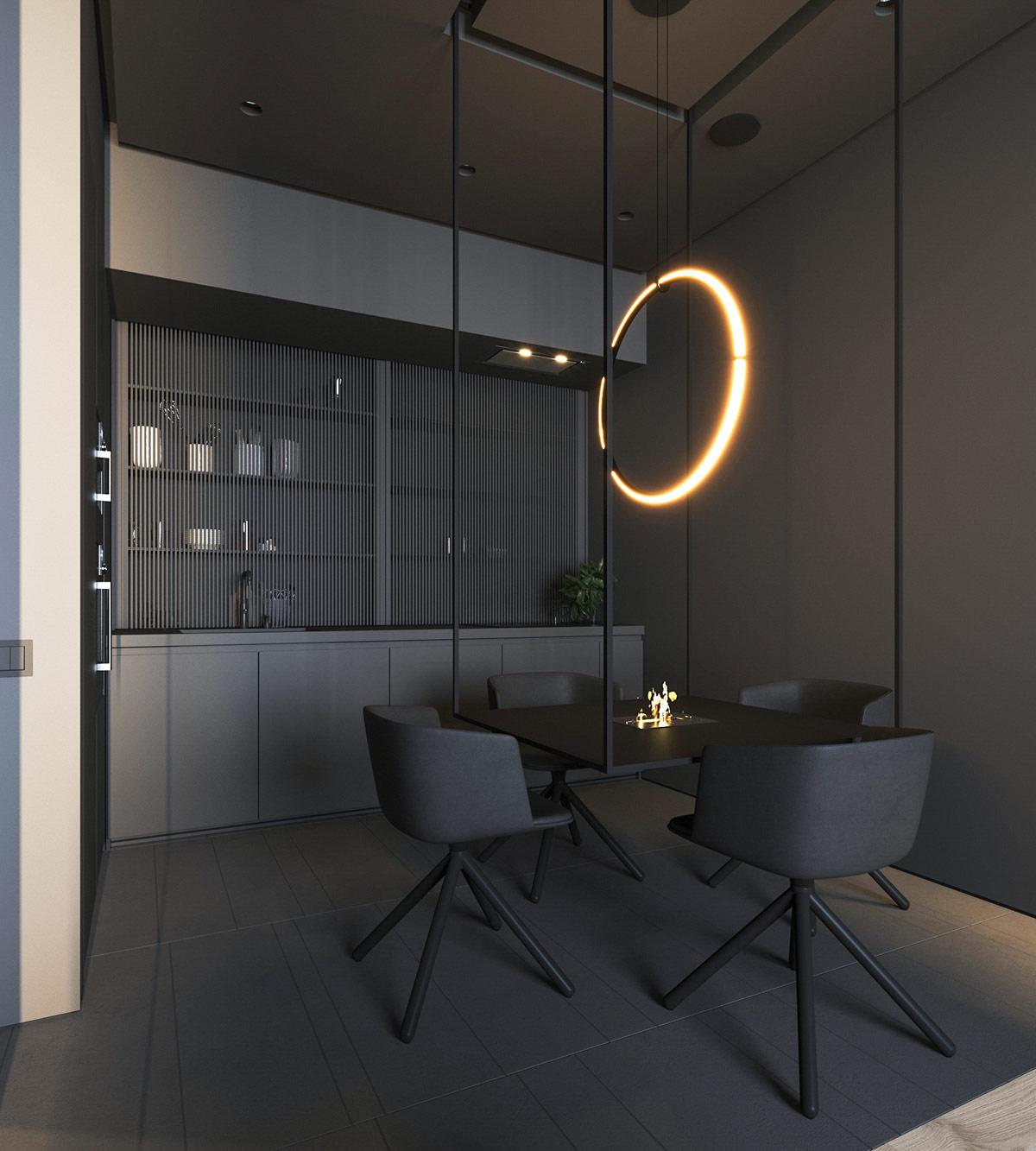 4 |
Visualizer: Stephen Tsimbalyuk
Set a dark grey dining room scheme alight with magnificent lighting, like this eye-catching blazing ring pendant. Also note the flames flickering in the centre of the enchanting upside-down table design. How's that for drama at dinner?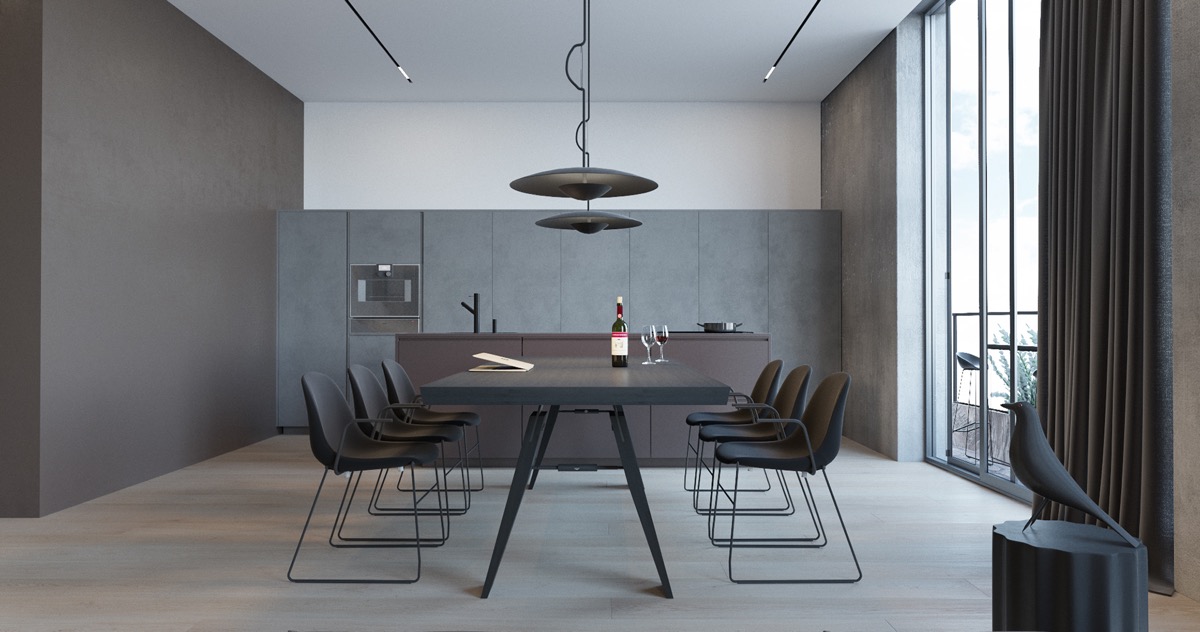 5 |
Visualizer: Olga Paliychuk
Tip the balance with tone. This grey dining table and chairs set is brought to the forefront in a darker shade of grey than the lighter grey kitchen behind. The different shading creates a subtle layered effect without veering away from the grey on grey aesthetic.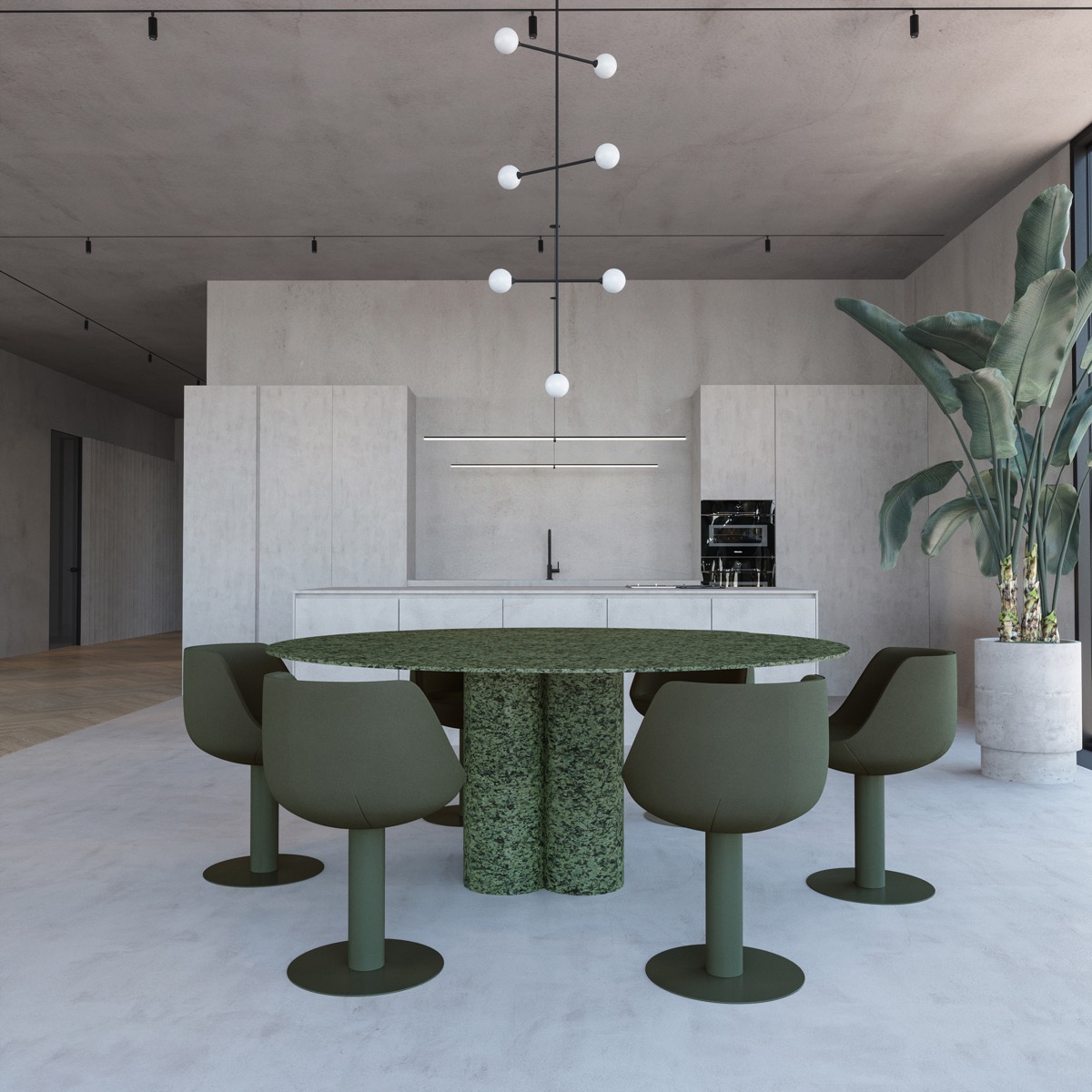 6 |
Visualizer: Olga Paliychuk
Enliven a grey scene with green accents. A green dining set creates a mossy bed beneath a minimalistic modern chandelier here. A large indoor plant echoes the accent colour.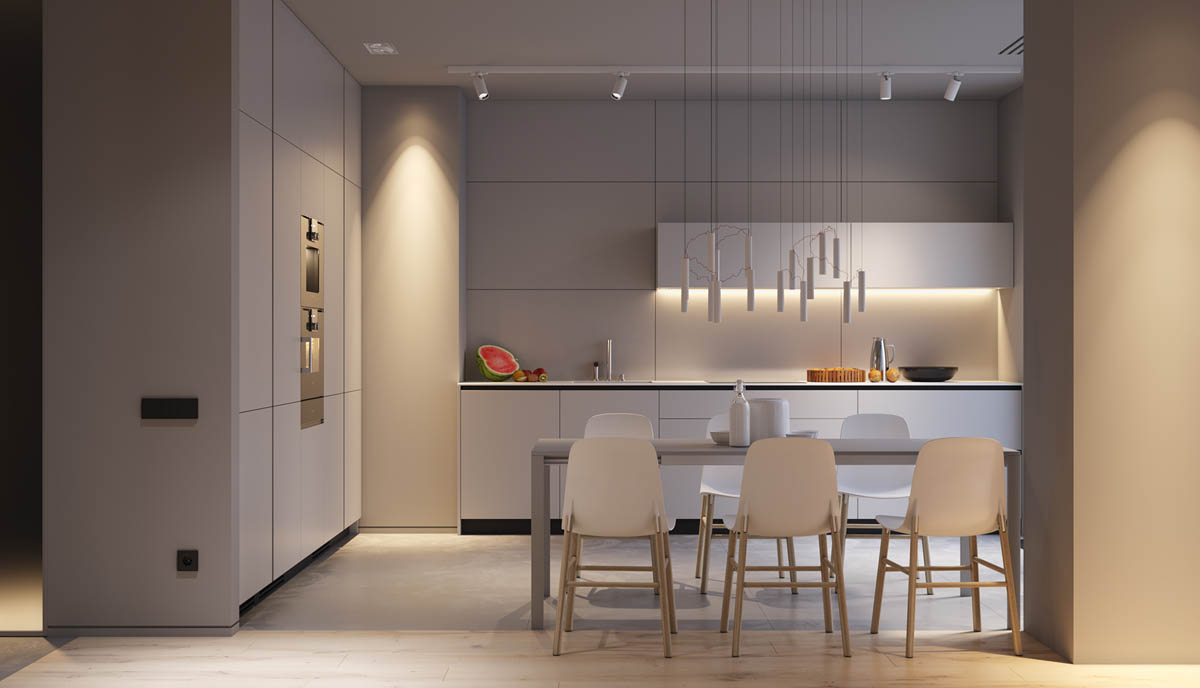 7 |
Visualizer: Z. Design
Accentuate with mood lighting. There is an easy remedy for a grey dining room design that falls flat: Light it up. Add underlighting to wall cabinets and bathe dark corners in the spotlight. Finish off with an impressive chandelier over the table and the job is done.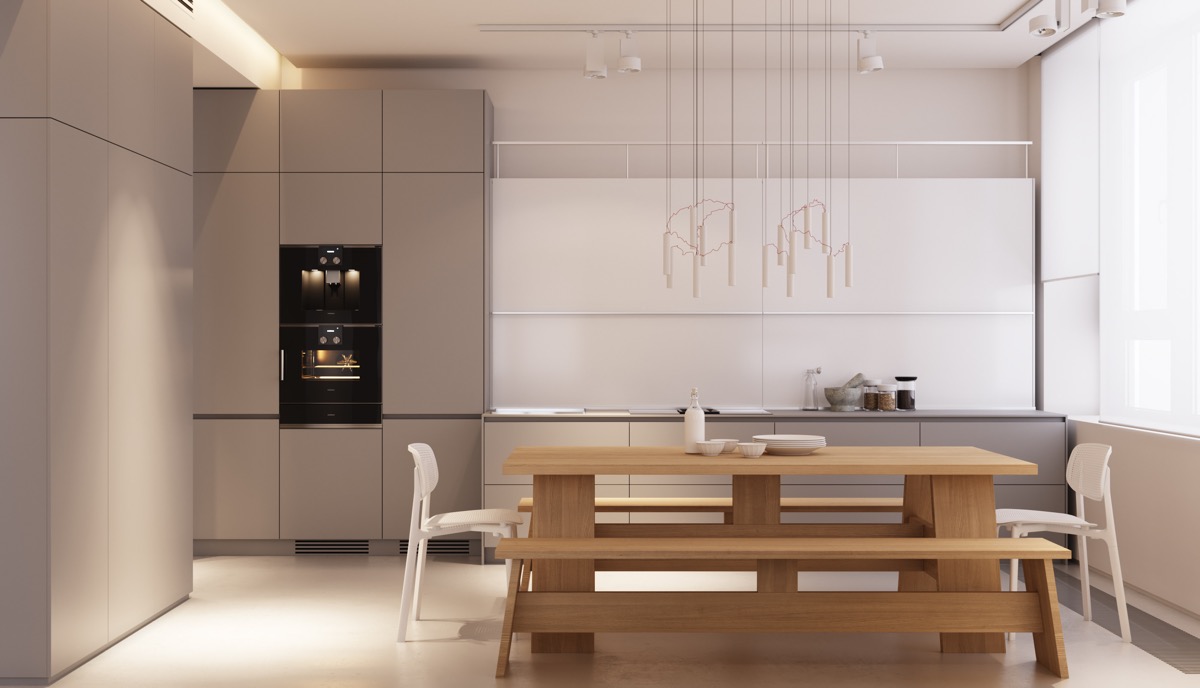 8 |
Visualizer: Z. Design
Turn up the temperature with woodtone. When choosing dining furniture for a cool grey room, opting for a natural wood dining set can really help warm up the look. In this example, white chairs have been teamed with a wood table and dining benches, to tie the set in with the kitchen's white backsplash behind.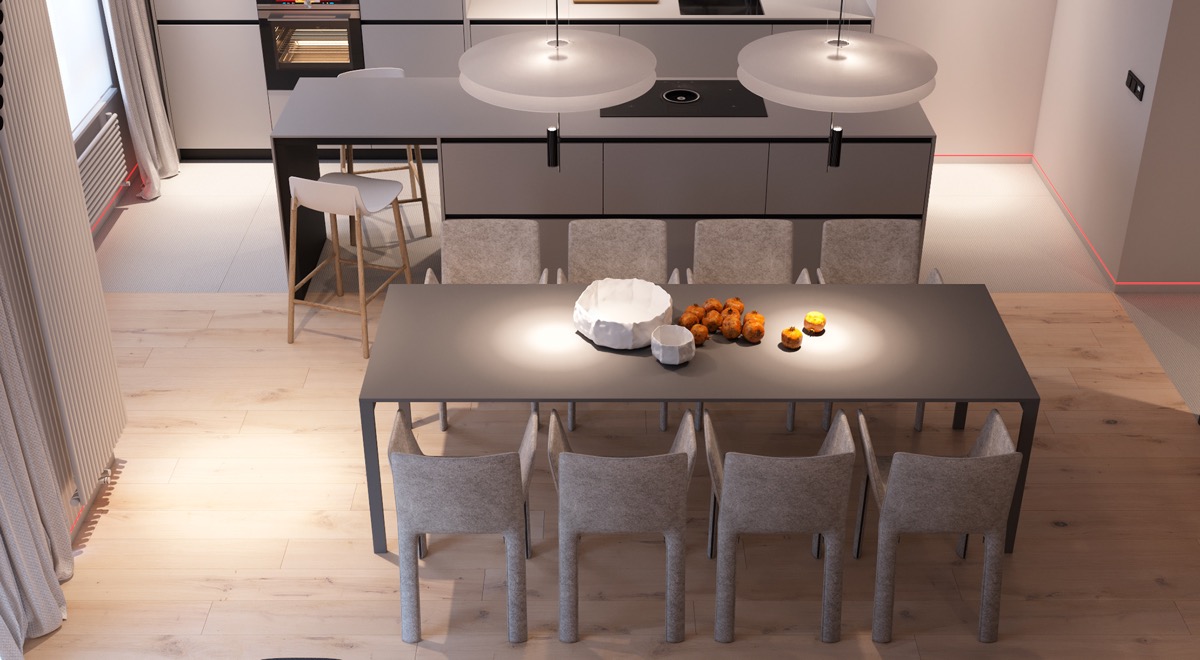 9 |
Visualizer: Z. Design
This design keeps wood grain down on the floor of the dining room, which subtly accentuates a smooth grey dining set. A narrow stripe of colour-changing LED lighting also draws eyes to the floor.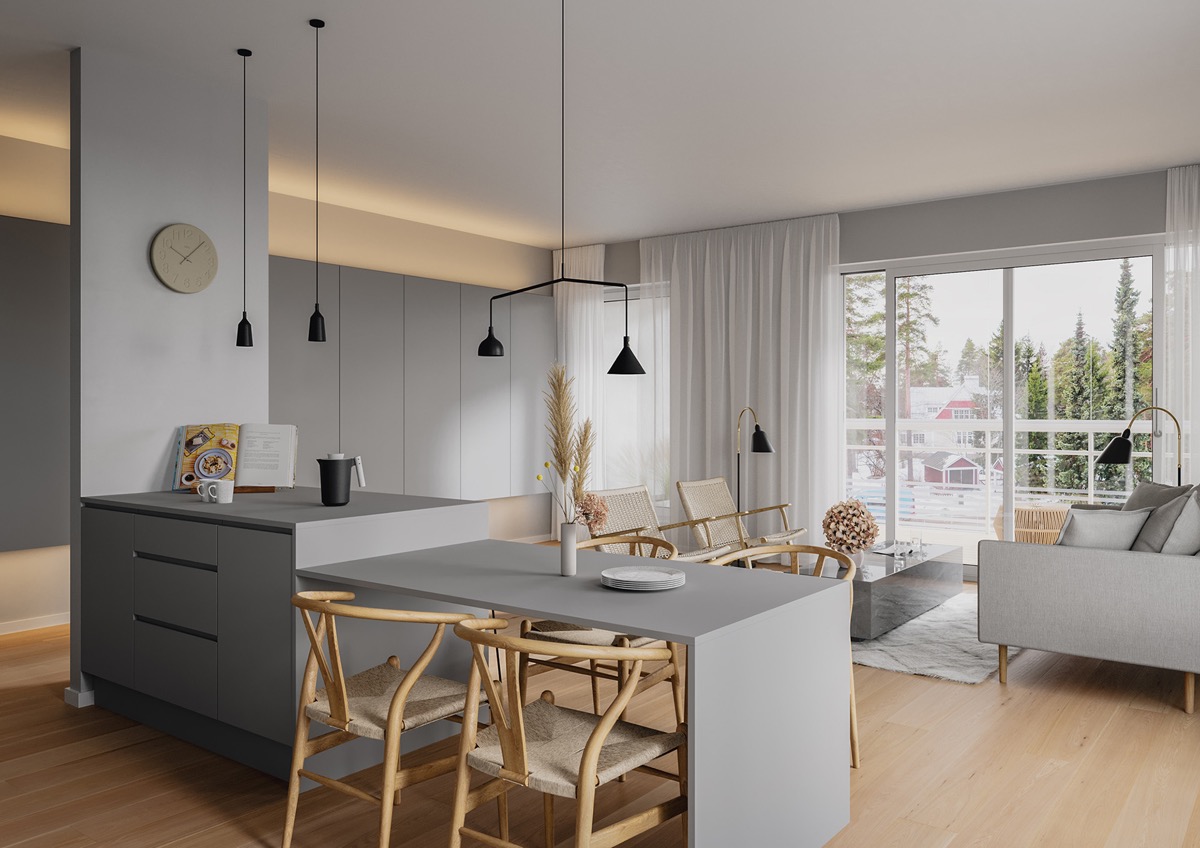 10 |
Designer: Maciej Dziubiński
Visualizer: Tomek Michalski
Natural furniture melds marvellously with a crisp modern grey scheme. Cane dining chairs soften the line of an ultra-contemporary dining kitchen in this naturally accented home. Black accessories keep the combination looking sharp.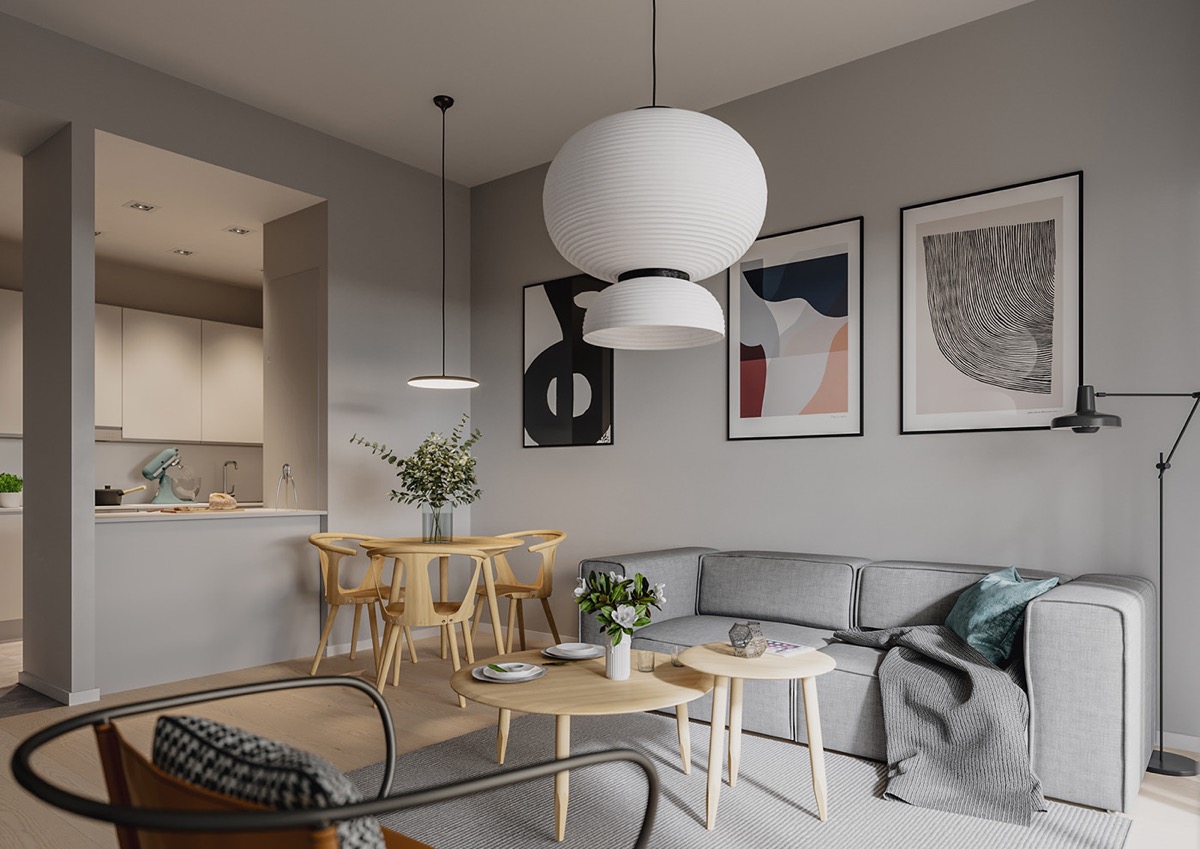 11 |
Designer: Maciej Dziubiński
Visualizer: Tomek Michalski
Tiny and tucked away. This dining area may be small but it is perfectly formed with a neat pendant light to establish its spot, and a bushy table centrepiece.
12 |
Visualizer: Evgenii Baisa & Olga Kolesnikova
Combine the cooking and dining experience by eliminating the space between a kitchen island and dining table–whether you are pushed for square footage or swimming in it, closing the gap brings about a more intimate layout.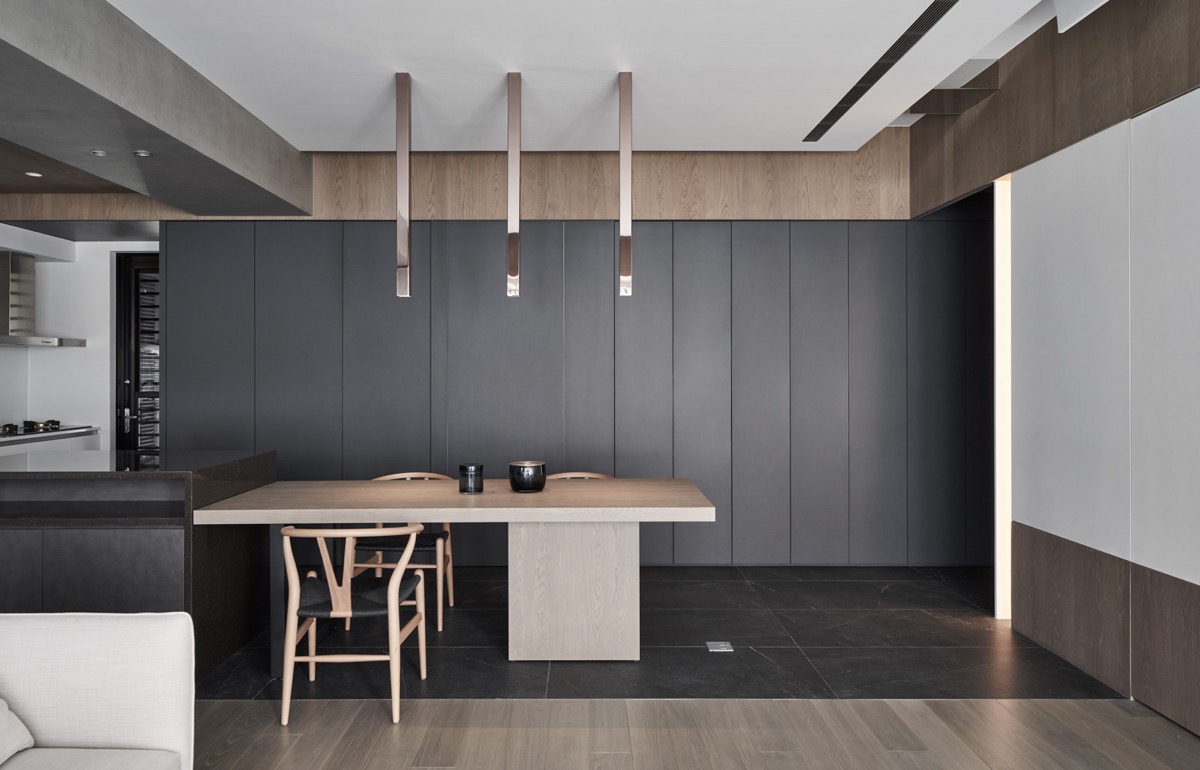 13 |
Designer: One Work Design
The lighter colours of this dining table extension really give it its own identity despite being amalgamated with the kitchen island. Statement lighting above it further strengthens its individuality.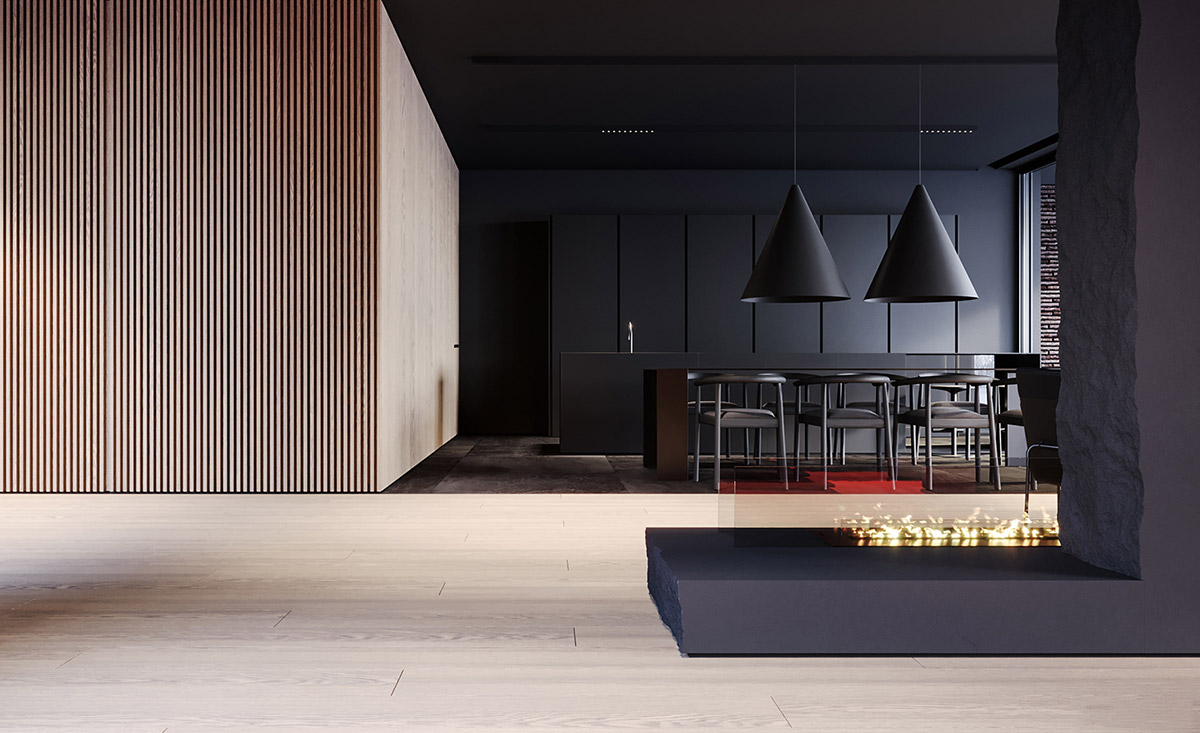 Go large on lighting. Oversized dining room pendant lights dwarf this dining set, but wow what a statement.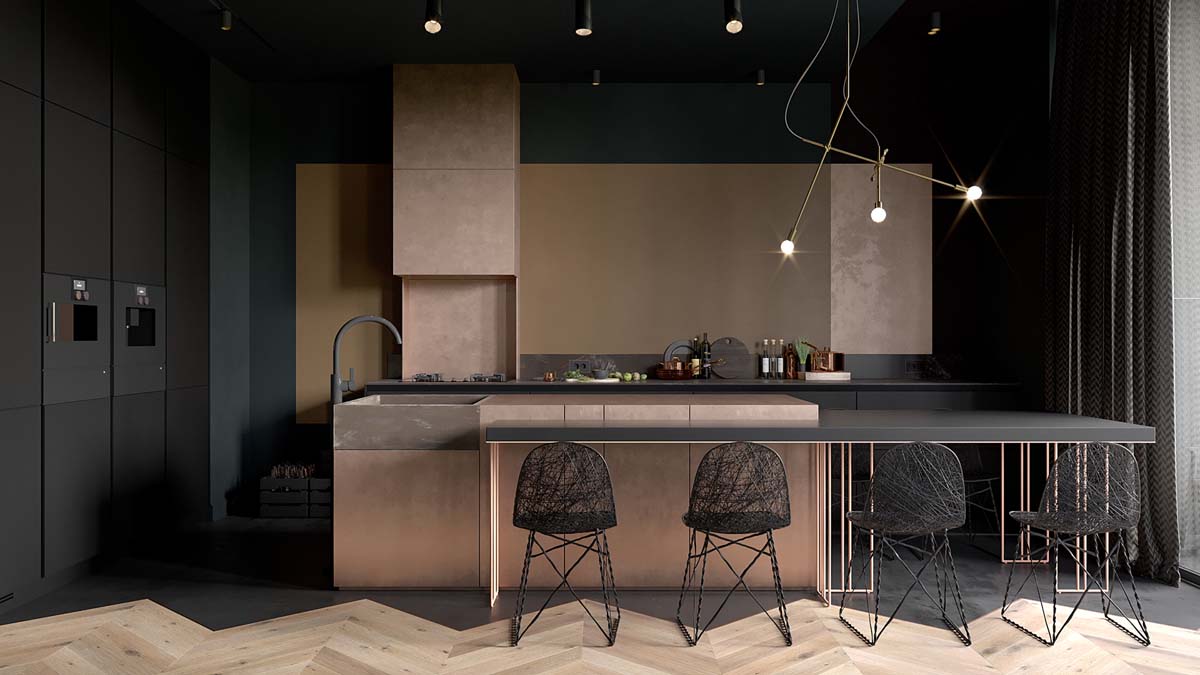 15 |
Visualizer: Cartelle Design
The copper craze is set to continue, so why not bring this warm metallic into your grey dining area too? Link copper kitchens with grey dining areas, or invigorate grey dining rooms with copper framed chairs to embody this dynamic colour duo.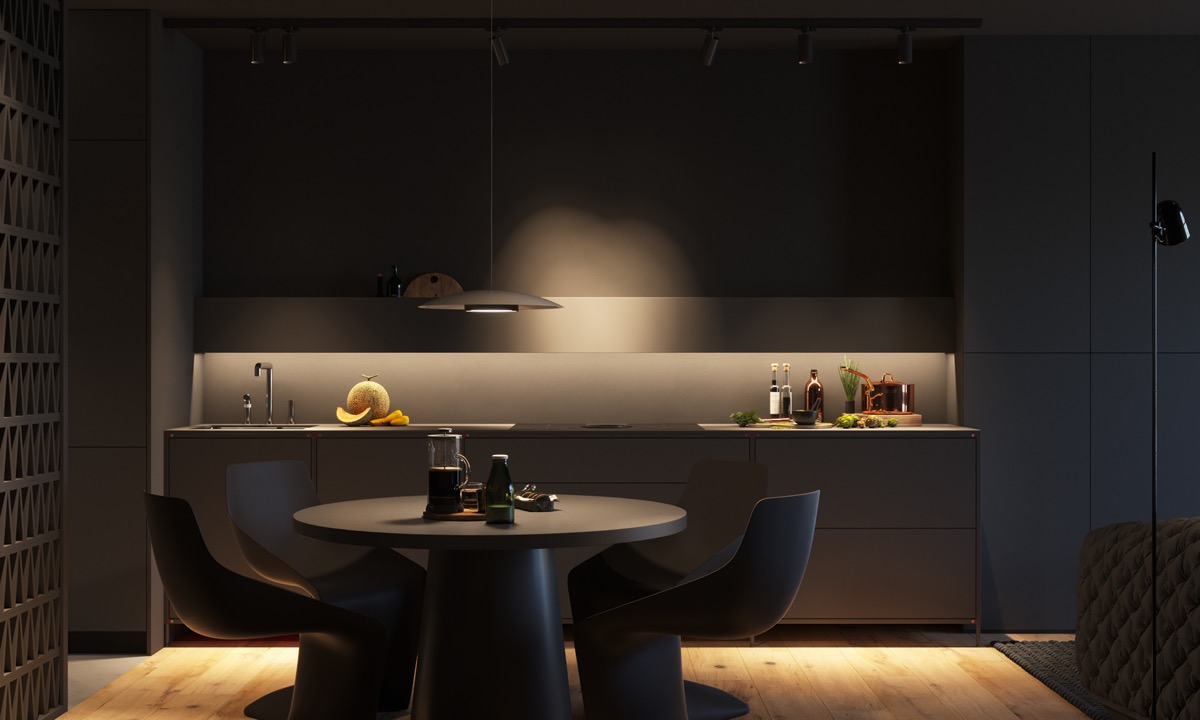 16 |
Visualizer: Z. Design
When daring to go dark, add interest with shape and shade. See more ideas for modern dark interiors.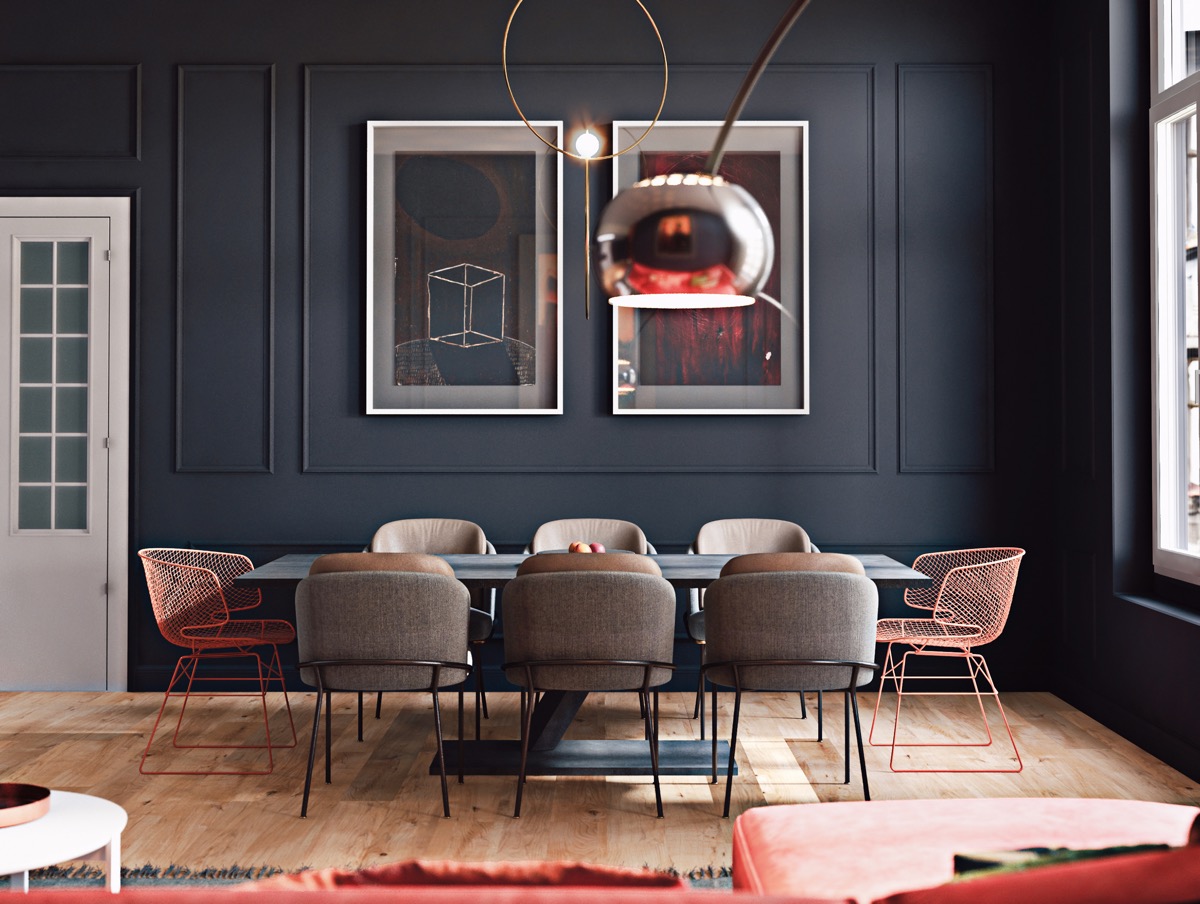 17 |
Visualizer: Diego Drews
Wake up grey walls with bold modern art, like this strong duo of prints. A sculptural light carries the contemporary arty theme.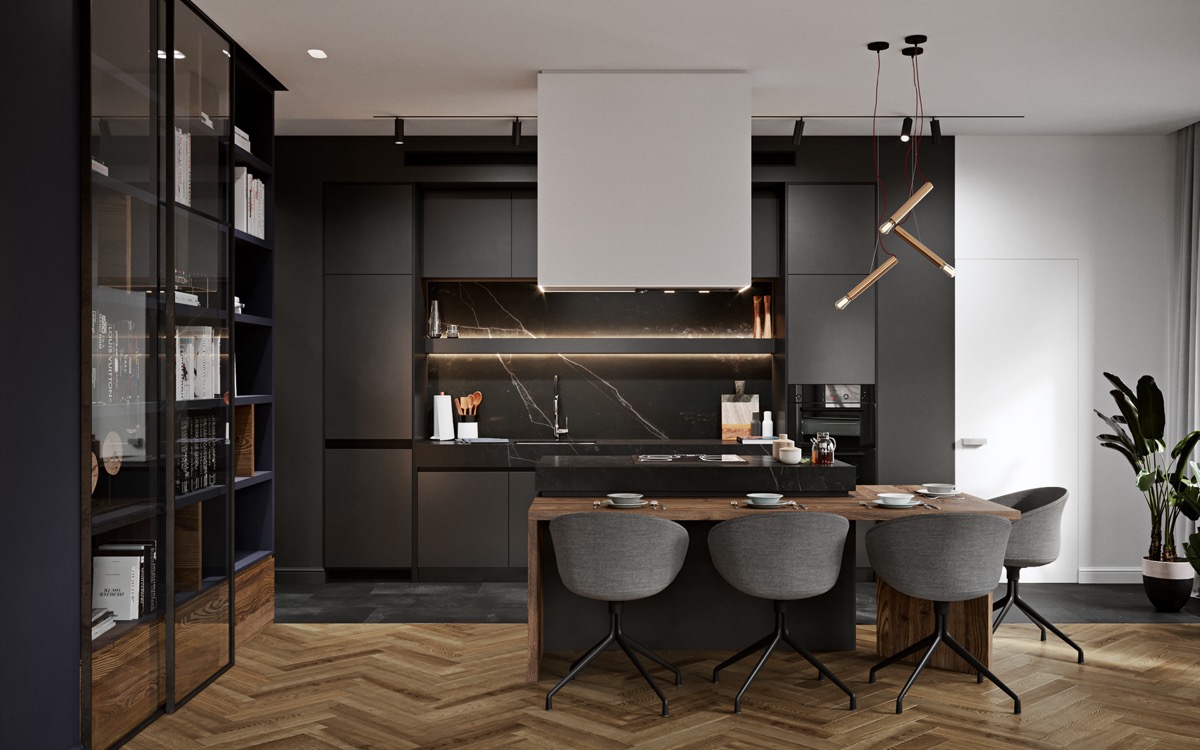 18 |
Visualizer: Cartelle Design
Serious storage space can go amiss in a dining room plan. Make use of the empty wall space around the outskirts by bringing in a tall cabinet, shelving unit, or combination of the two.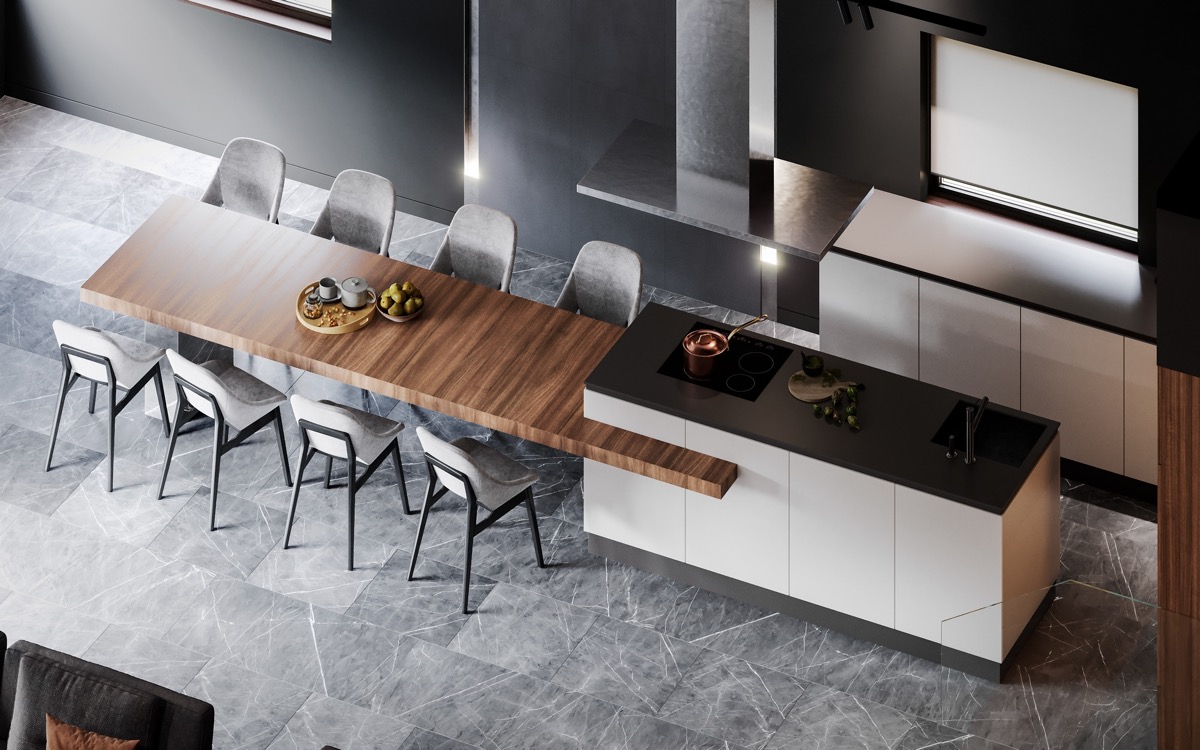 19 |
Visualizer: RB Architects
Create an impressively lengthy kitchen island with a fully integrated dining table design. This kitchen island slots right into a custom cut in the dining tabletop, so that it becomes trickier to visually separate the two parts.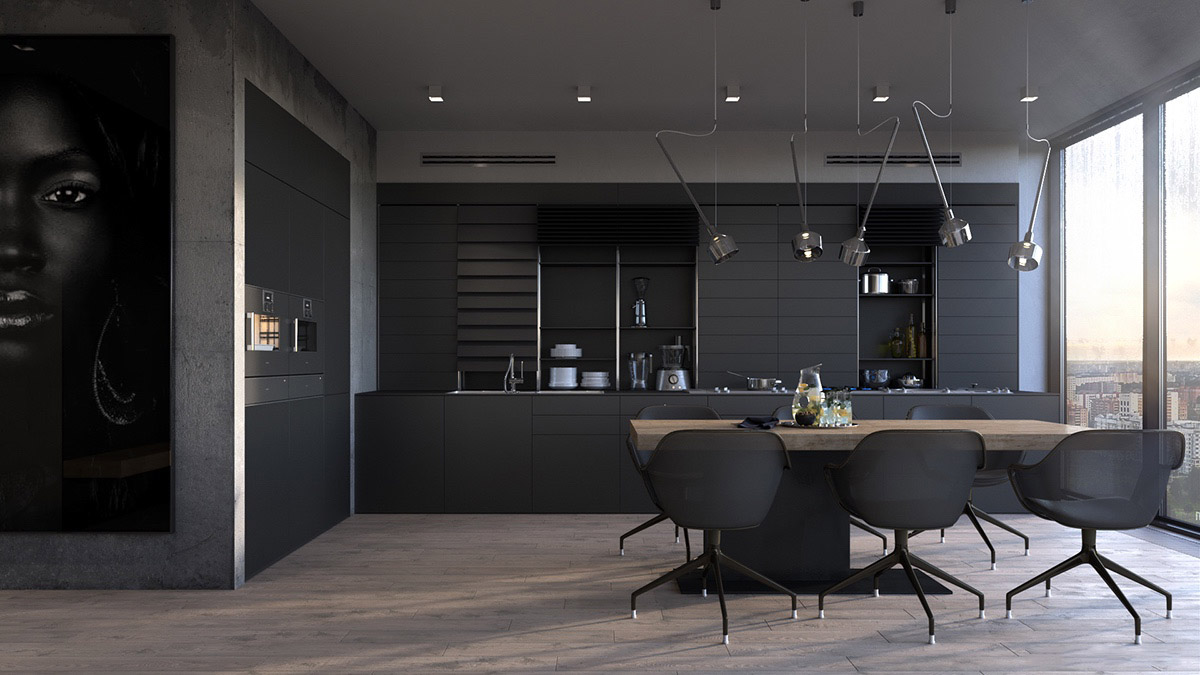 Work your angles. Check out how the angle of these fabulous dining room pendant lights complement the slope of the dining chair legs. Subtle but highly effective.
21 |
Visualizer: Stephen Tsimbalyuk
Fill it with frames. A black geometric frame forms the base of this modern dining table, which links it with the slender base of the coffee table nearby, and with the black window frames. Circular pendant lights complement the curvaceous Muuto Cover chairs.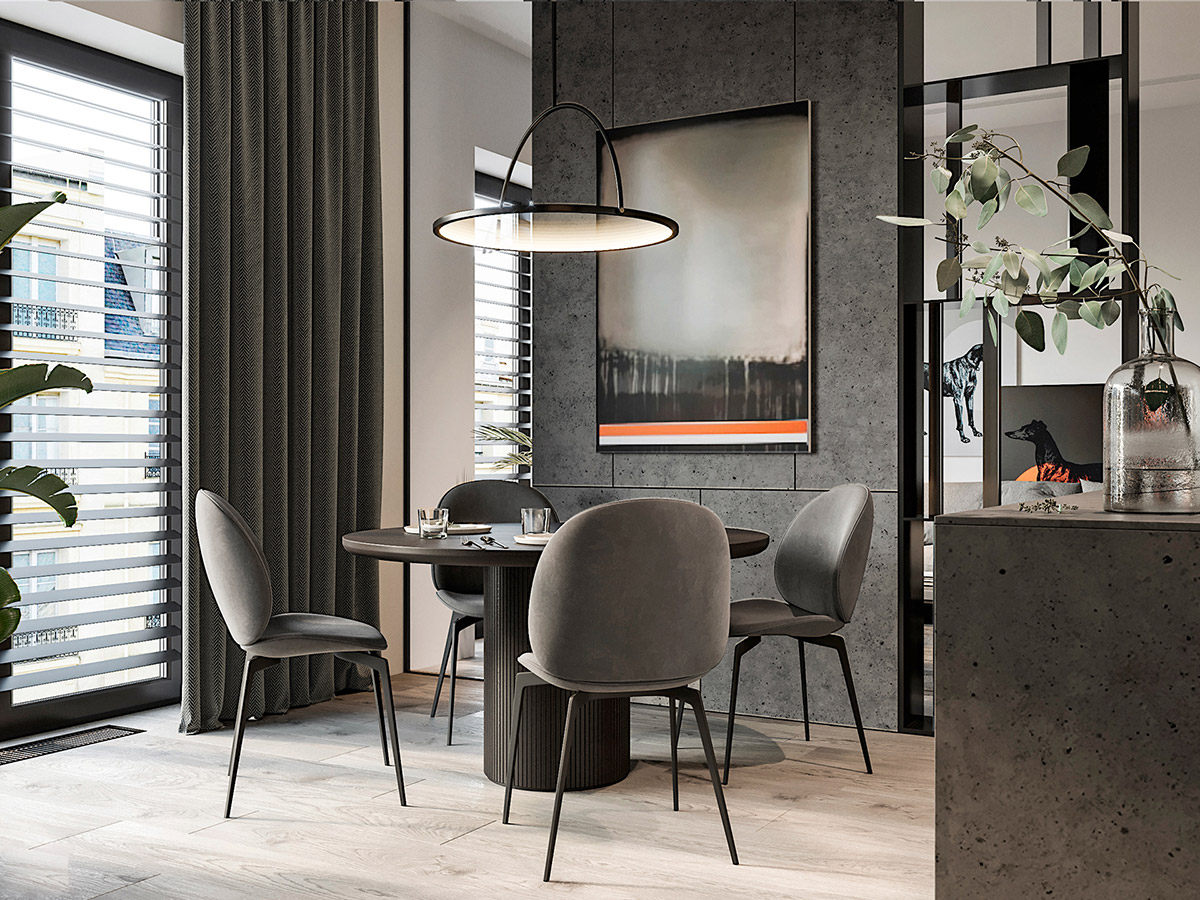 22 |
Visualizer: Quadro Room
Set a shape theme. A disc shaped pendant light swings over a round dining table and the curved seats of Gubi Beetle chairs.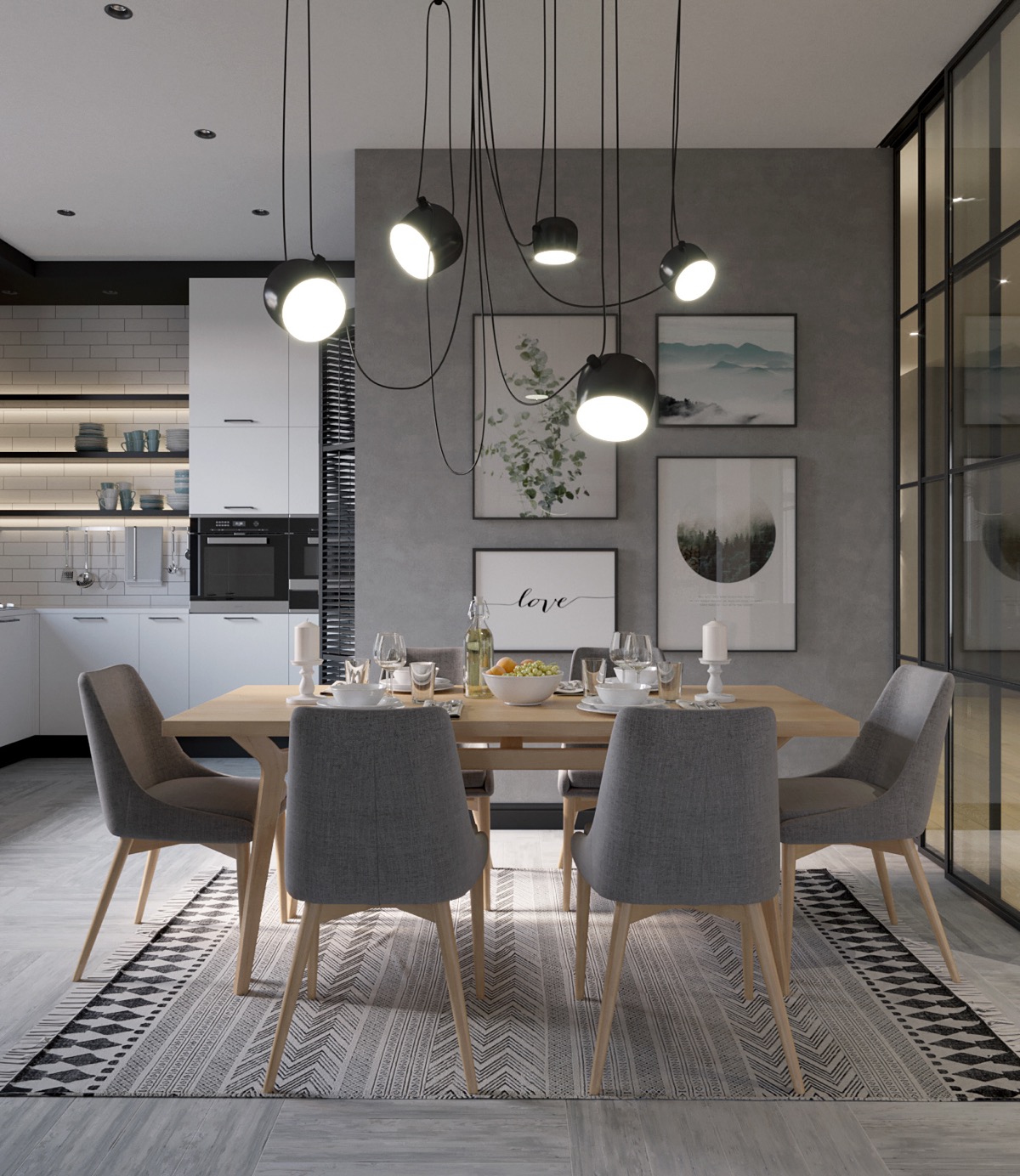 23 |
Visualizer: Katie Domracheva
Create areas of movement. A laid back dining room scheme can be given a bolt of energy by bringing in just a couple of key pieces. In this room, a busily patterned geometric rug adds bustle to the floor, whilst tendril-like wires of AIM pendant lights swoop above.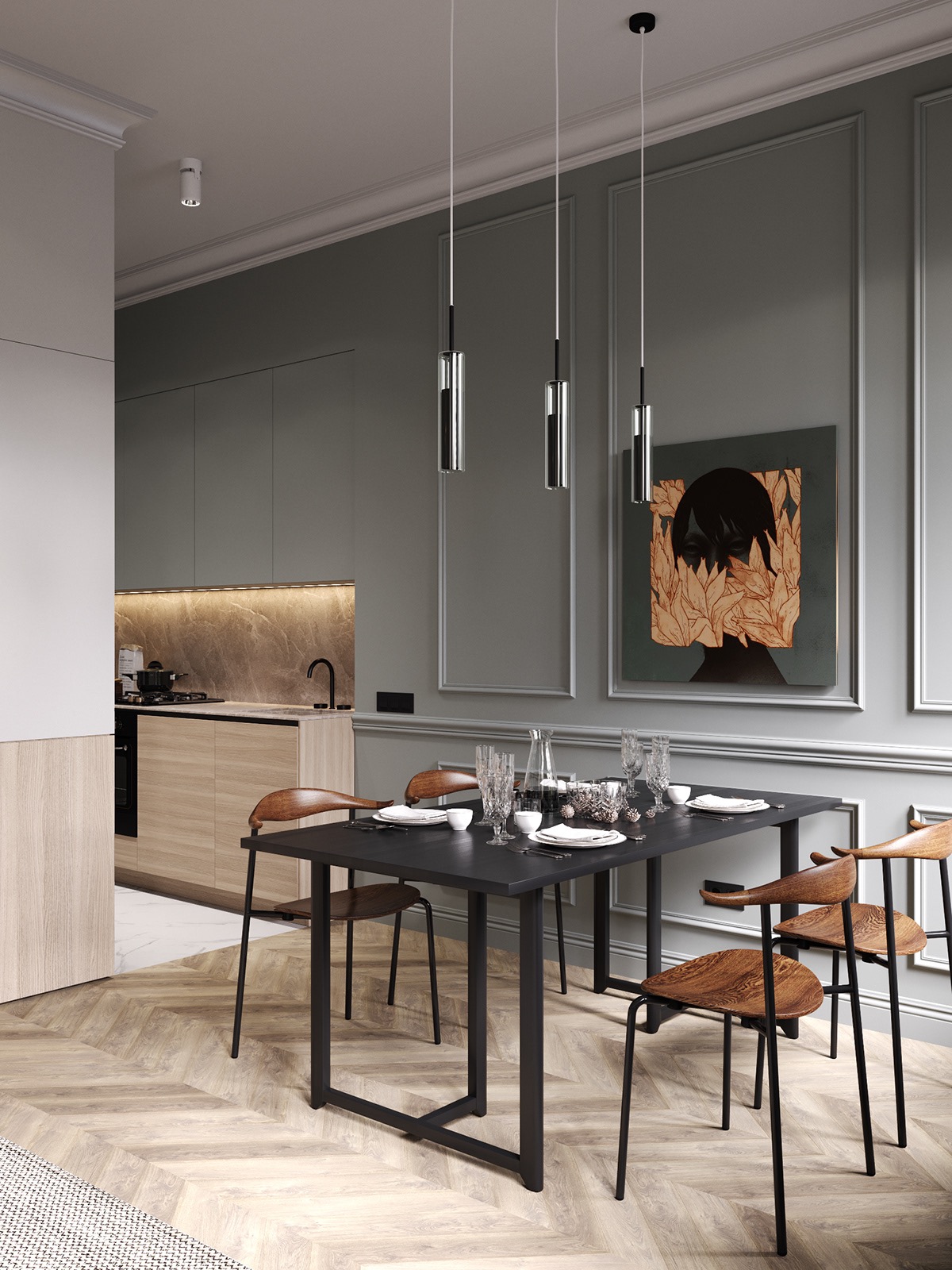 24 |
Visualizer: Cartelle Design
Slip into something sophisticated, with wainscot wall panelling or beautiful boiserie.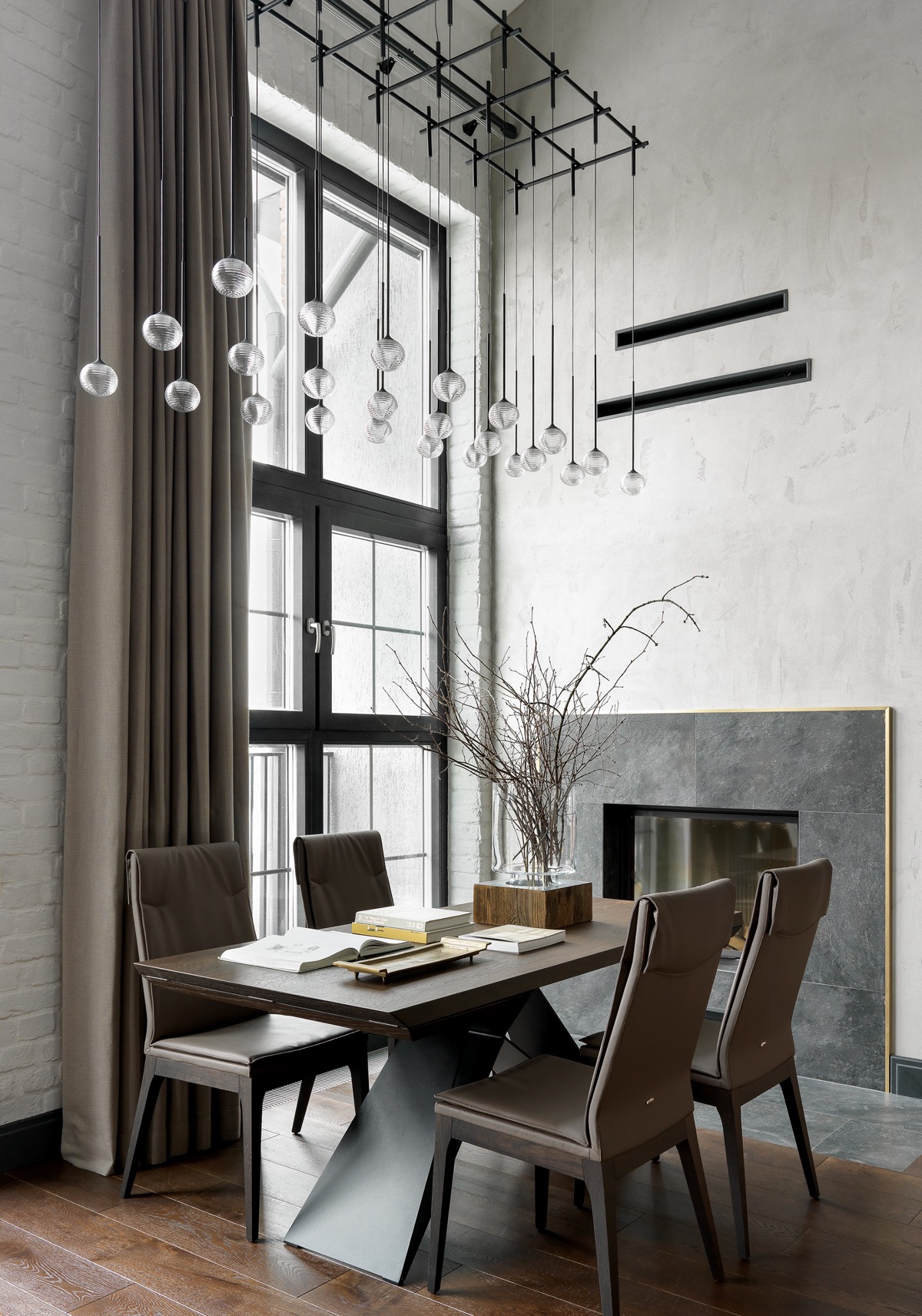 25 |
Photographer: Sergey Krasyuk
Revel in the natural light that comes into the room. When large windows light up your dining room, invest in a crystal or glass modern chandelier that will look just as beautiful reflecting sunlight as it does when powered.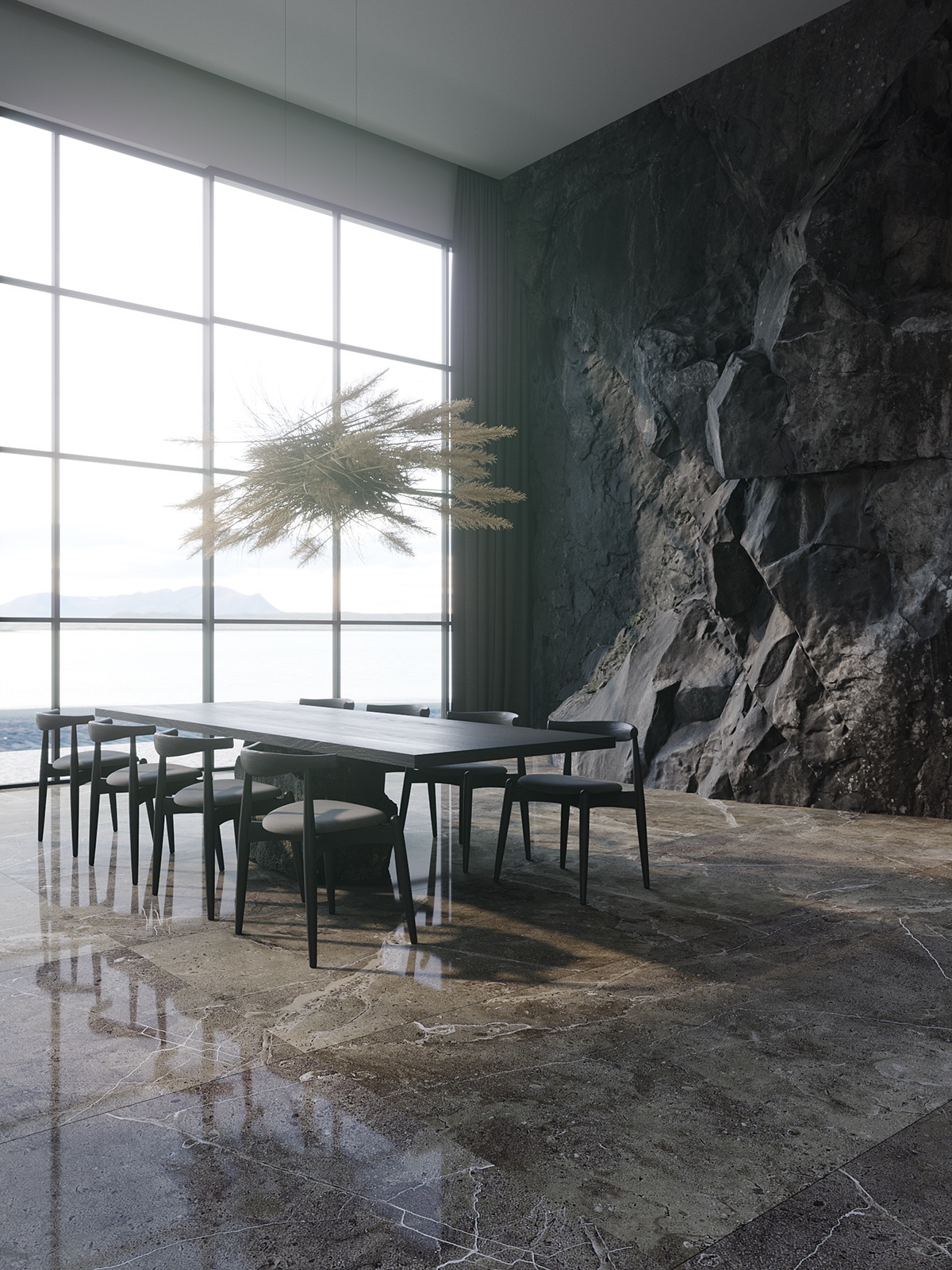 26 |
Visualizer: En Eimis
Reach new heights with rugged rustic features. Think towering rock feature walls, handmade dining pendant lights, and stunning stone floors.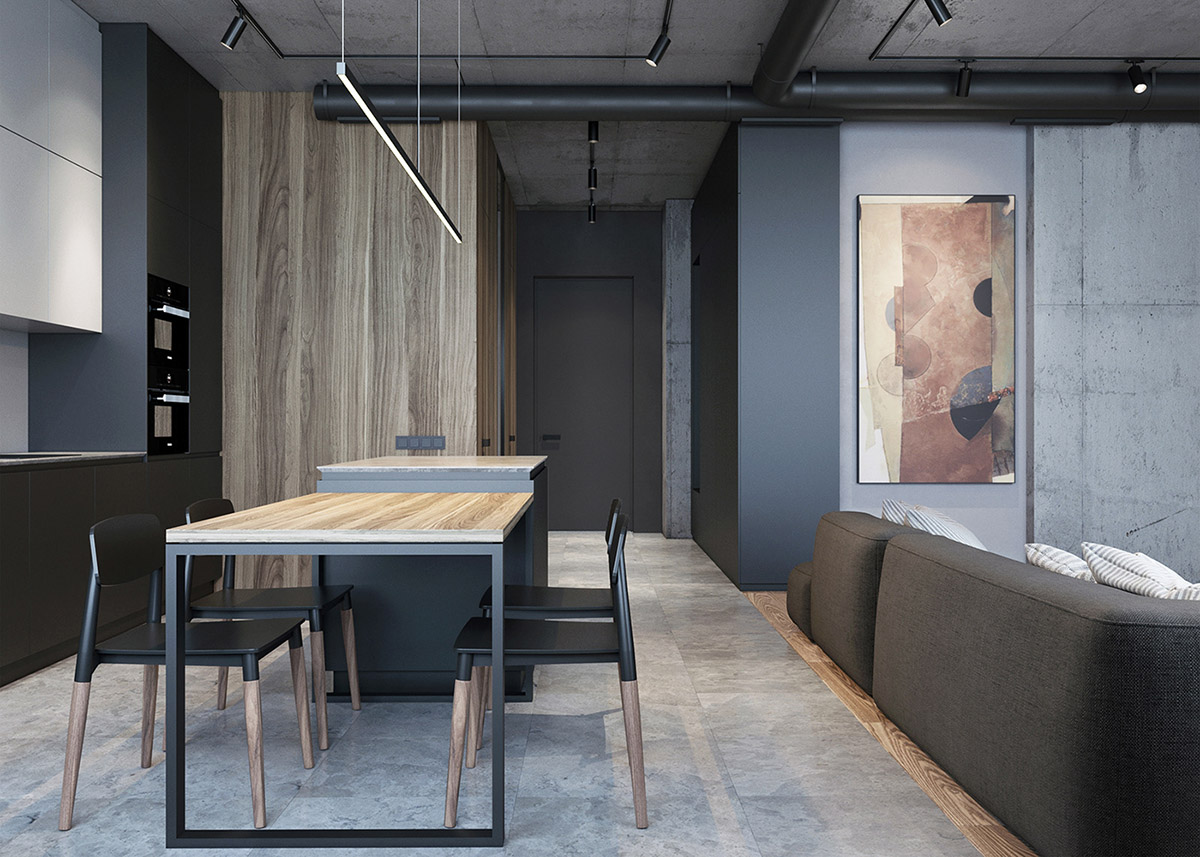 27 |
Visualizer: Valentyn Kovalskyi
Keep it simple. To keep a dining area low key in an open plan setting, choose a linear suspension light to pour light along the entire length of the table without drawing too much attention.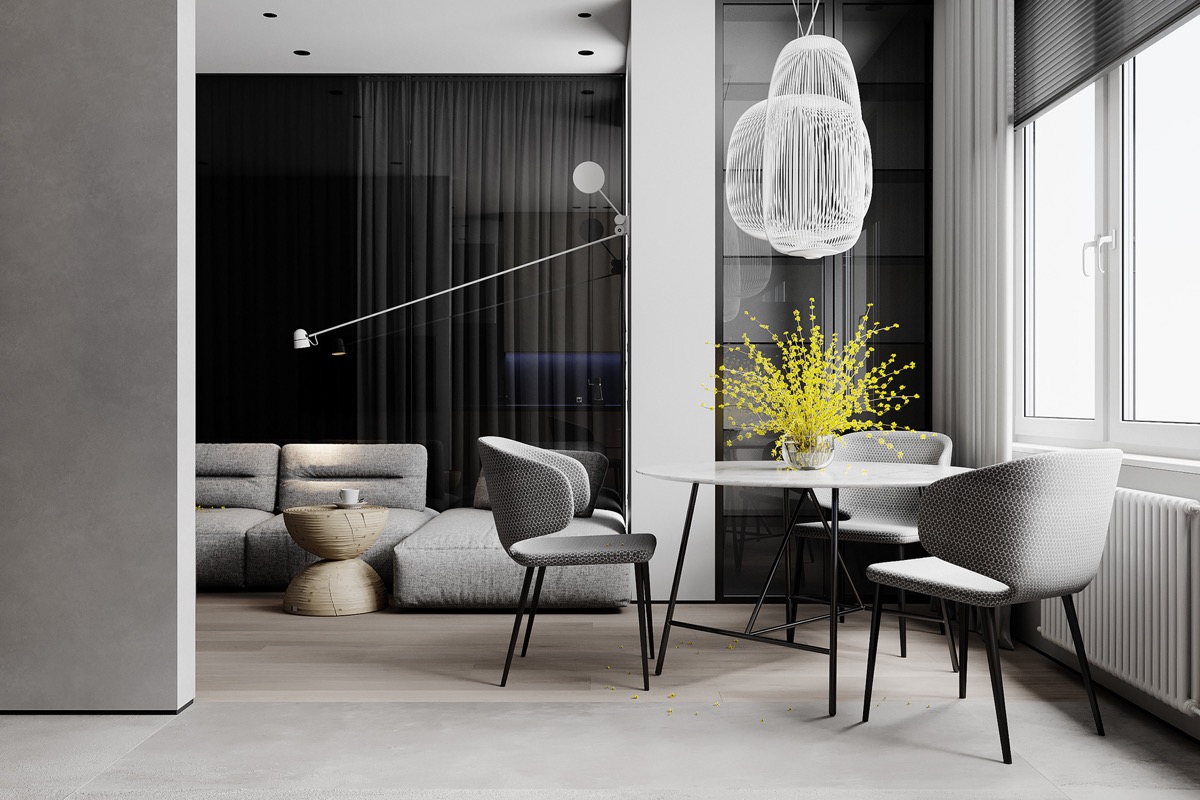 28 |
Visualizer: Vladyslava Torhonska
On the flip side, if it's more attention that your dining space requires, then go ahead and double up on those decorative pendant lights. These textured grey dining chairs also pack extra punch.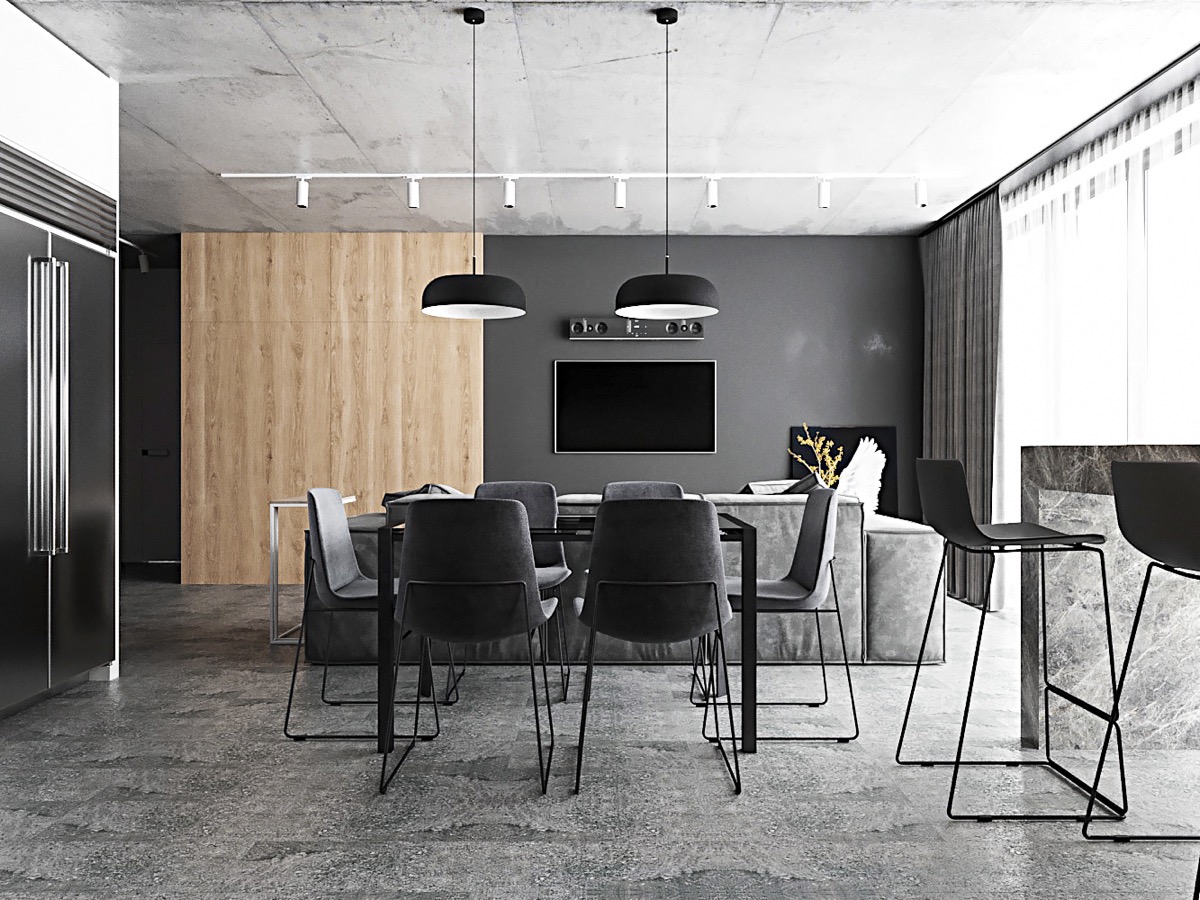 29 |
Visualizer: Taras Andrushko
Slice and dice solid grey walls by interspersing with wood grain panels.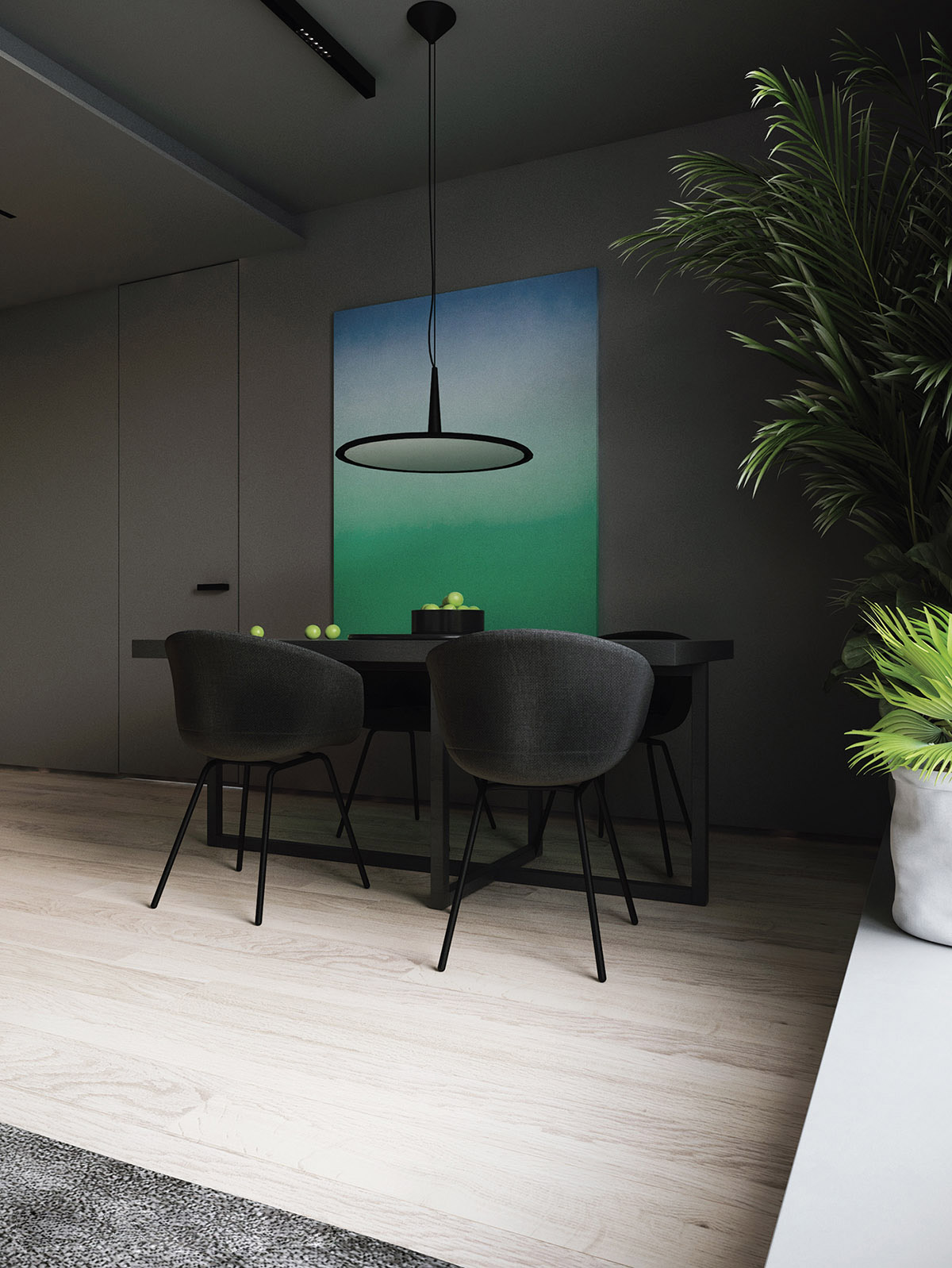 Interrupt a plain grey wall with a moment of unexpected colour. A basic paint wash drops a calming blue and green scene behind this dining area. Indoor plants play along with the fresh colour infusion.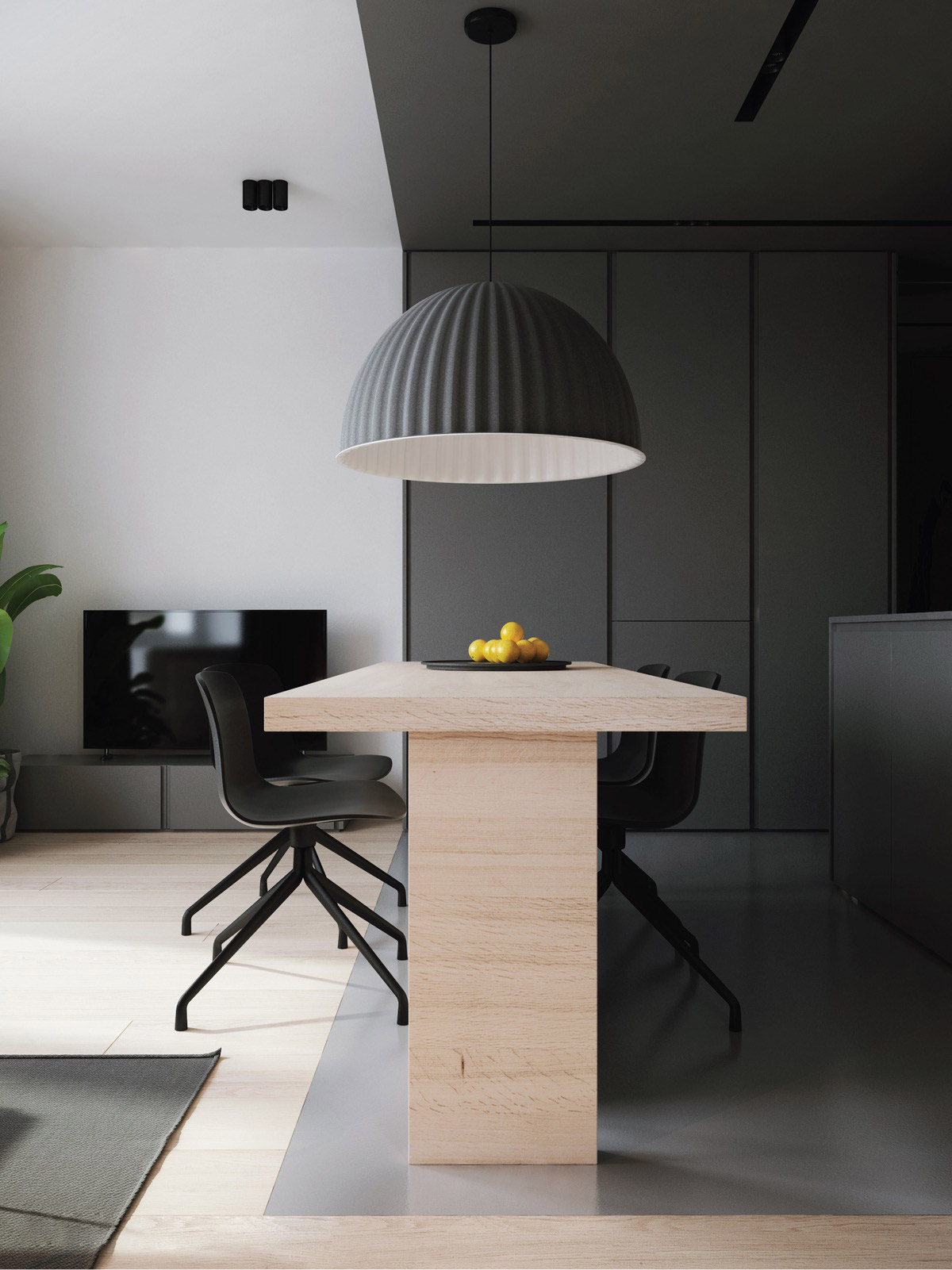 Straddling space. Accomodate a dining area in a narrow living room by implementing it along the border between kitchen and lounge. The table will smooth out a harsh meeting of different floor treatments. Employ a substantial pendant light design to establish its midpoint position.
32 |
Visualizer: ArtPartner Architects
Establish a visual link between a table centrepiece and lighting for a cunningly cohesive design. The spherical nature of these globe pendant lights is subtly echoed in a small orb-like vase on the table, each with a reflective white finish.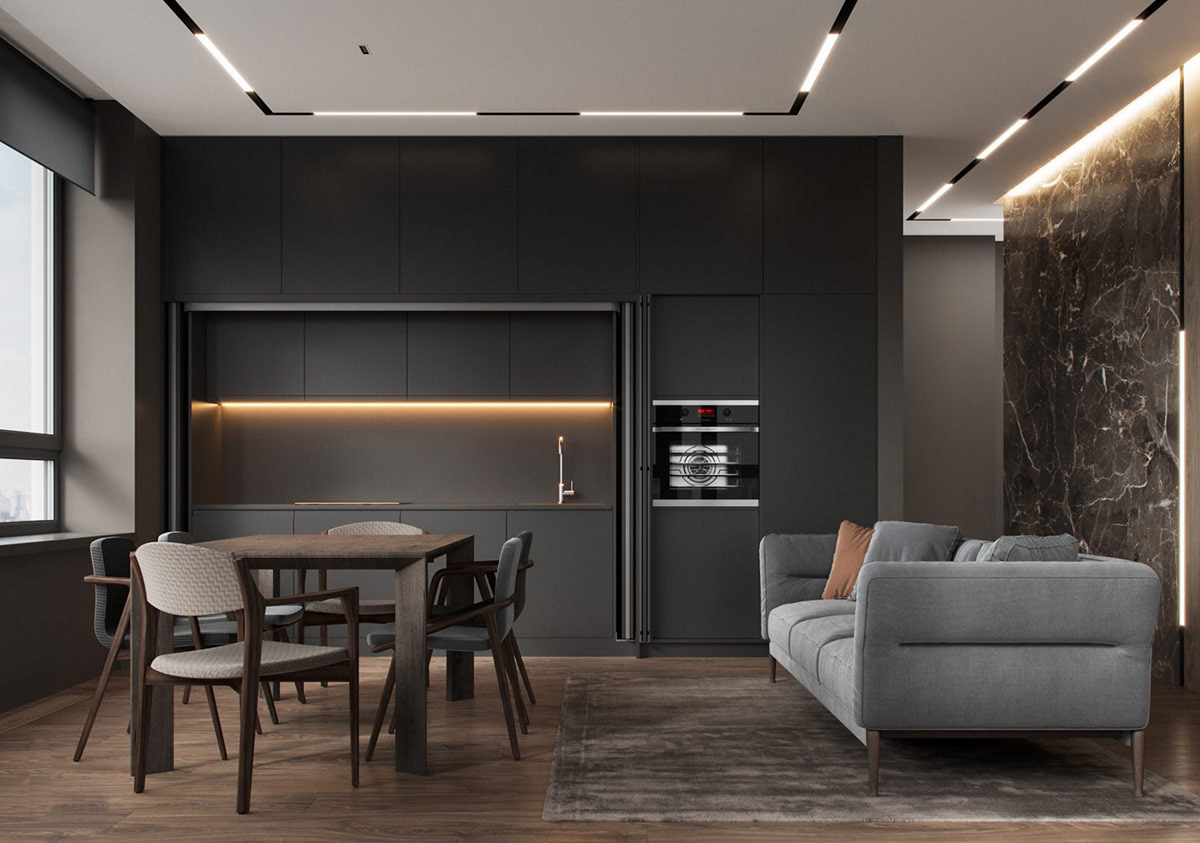 33 |
Visualizer: Home Cult
Mix and match dining chair designs to shake up a sure thing…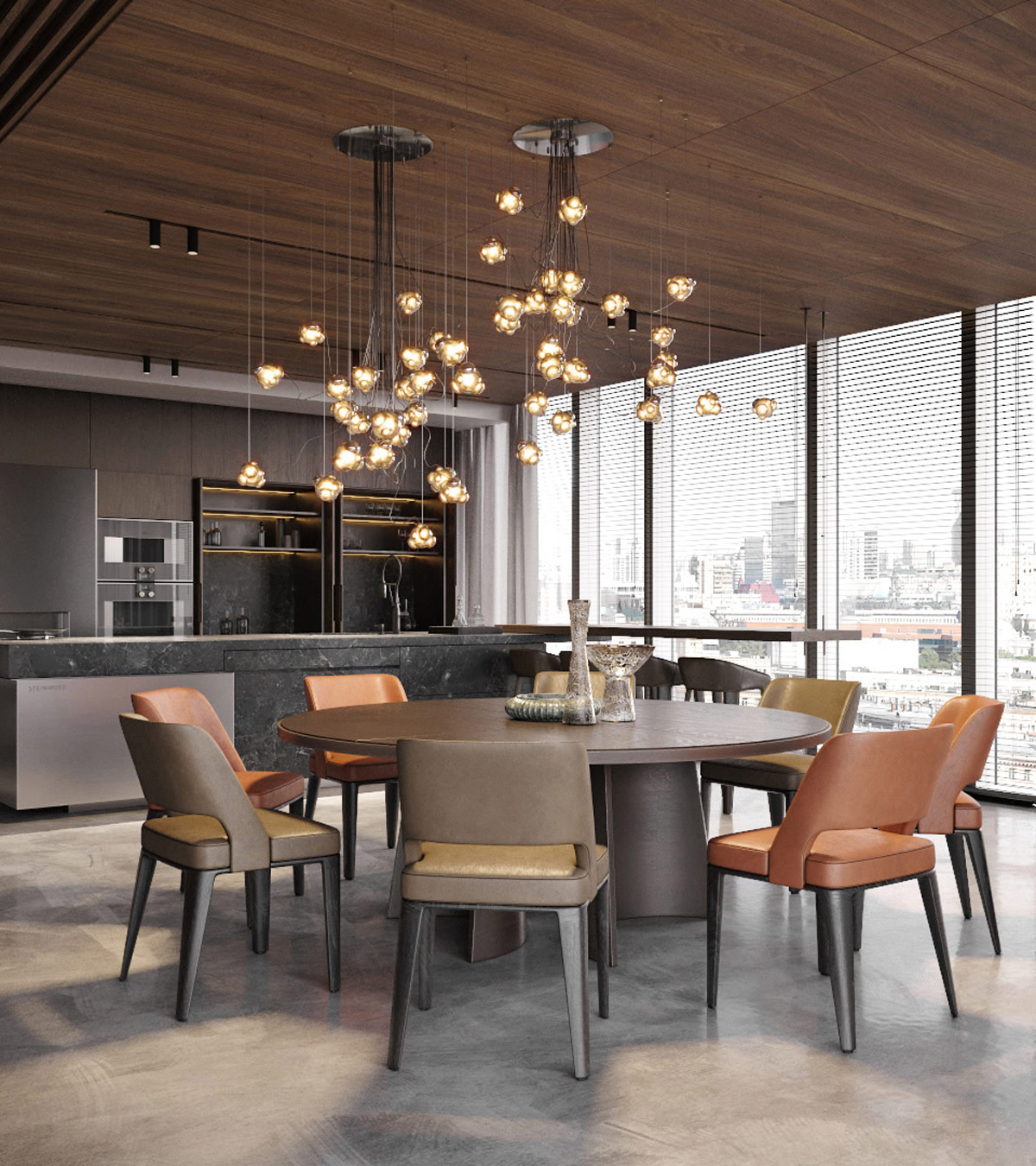 … Even a tonal change in chair upholstery is enough to chase away any chance of mundanity. A cluster of unusual decorative vases has been added here for a pinch of extra character–though that rich wood ceiling and impressive pendant light already had us won over.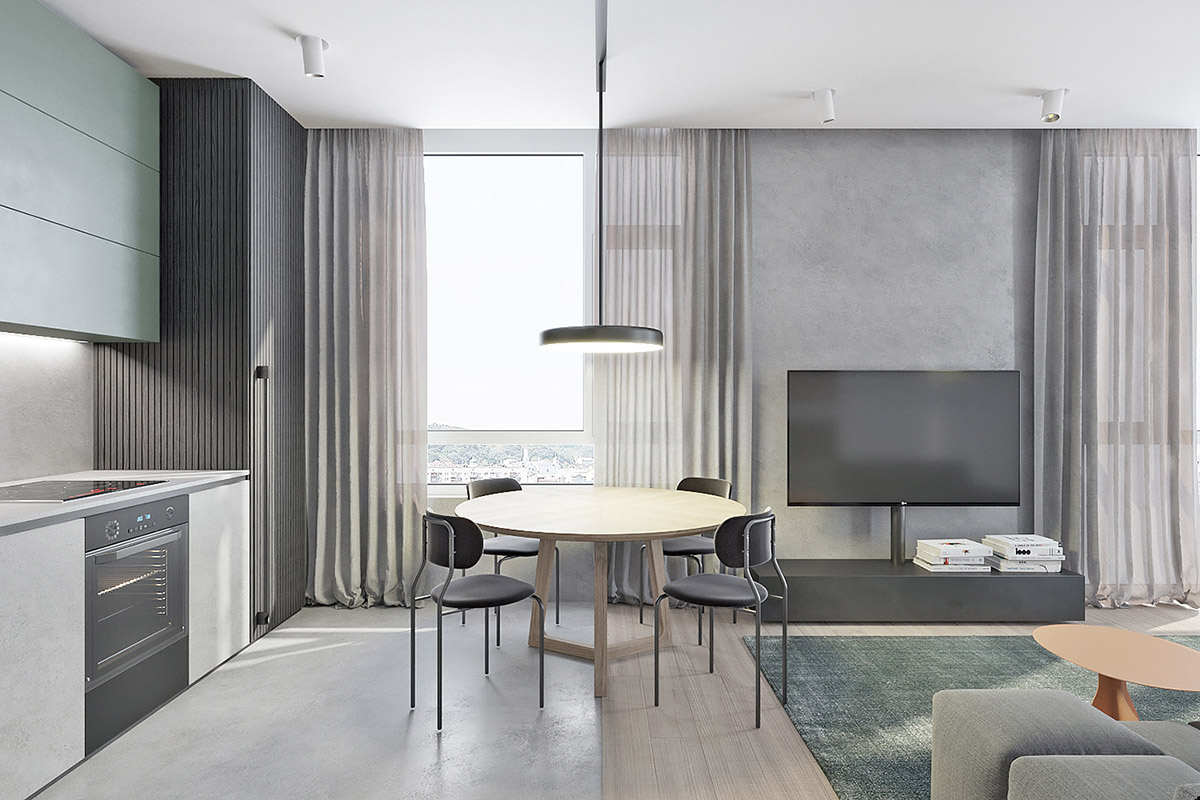 35 |
Visualizer: Lugerin Architects
Pool grey sheer voiles rather than heavy drapes to let natural sunlight permeate…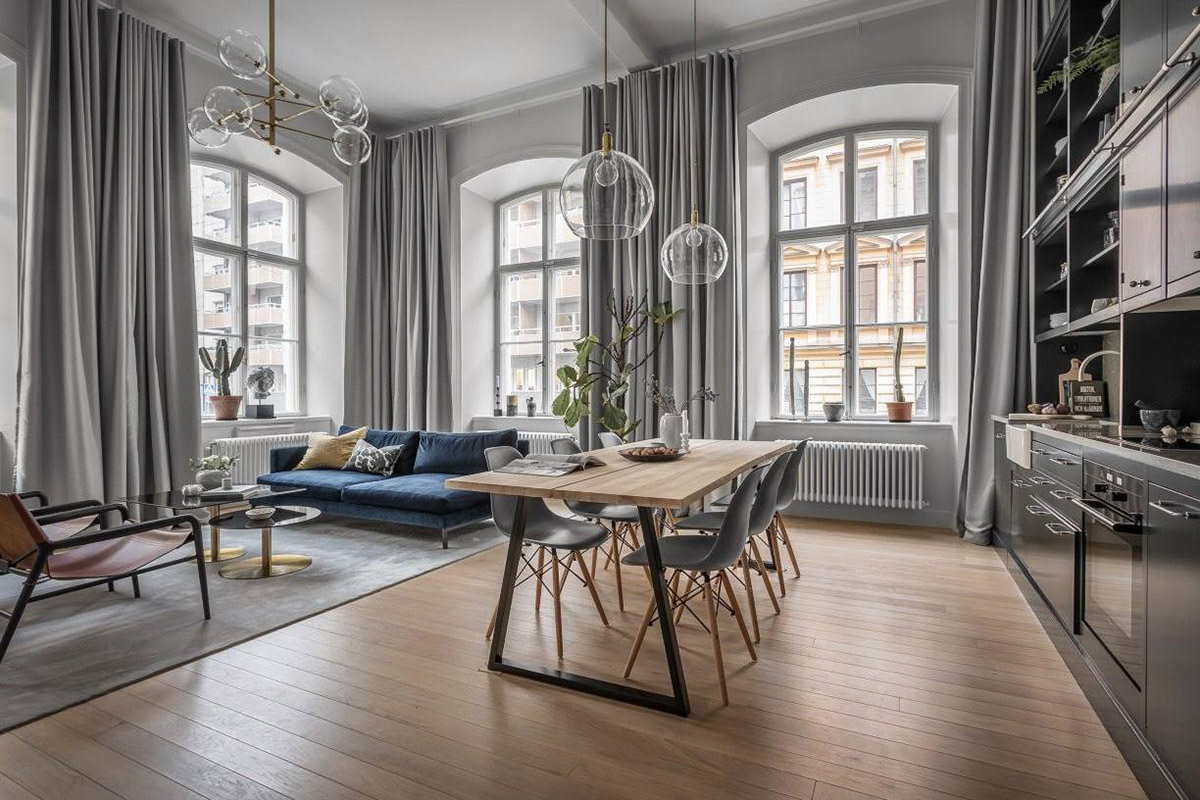 36 |
Visualizer: LVI Studio
… Unless you are staging a dining area in the centre of a blessedly window rich room–in which case go right ahead and drape luxurious fabric in deep dramatic folds to span between each reveal.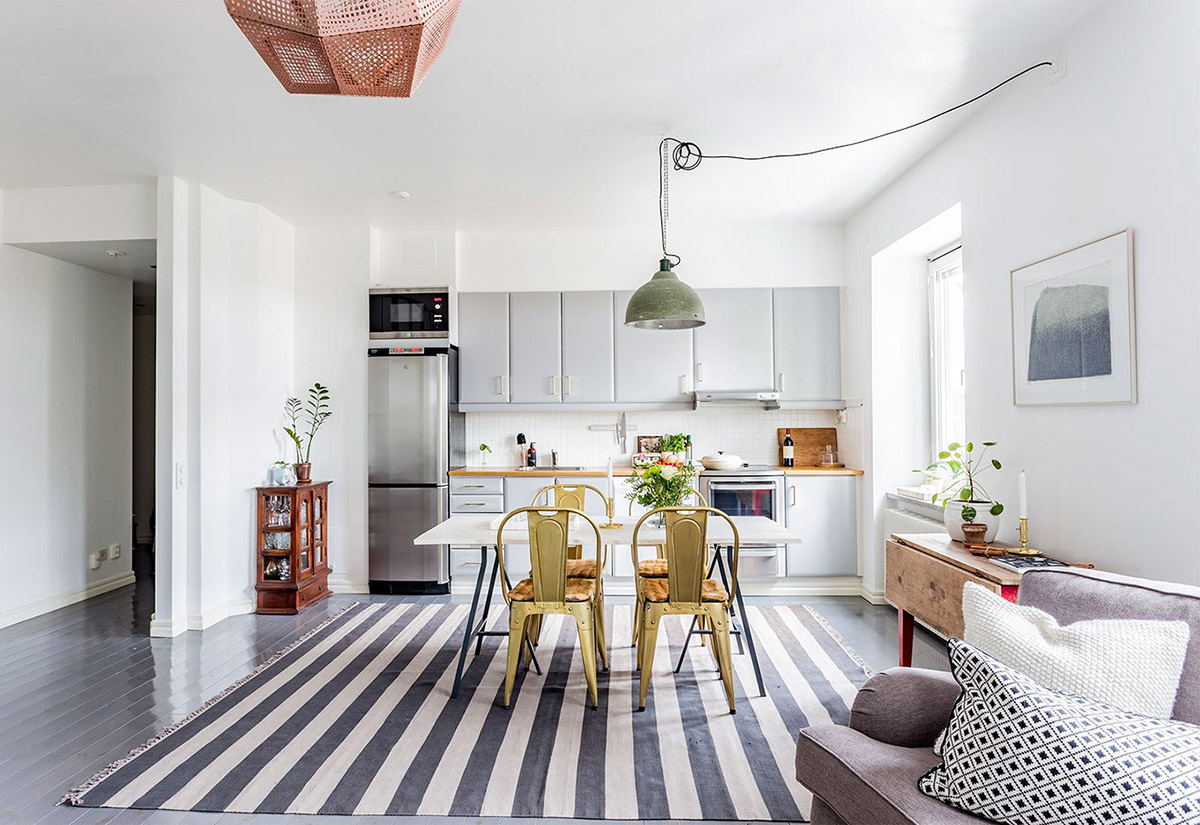 37 |
Designer: Hoàng Long
Prick a grey Scandinavian dining room scheme with points of colour and pattern.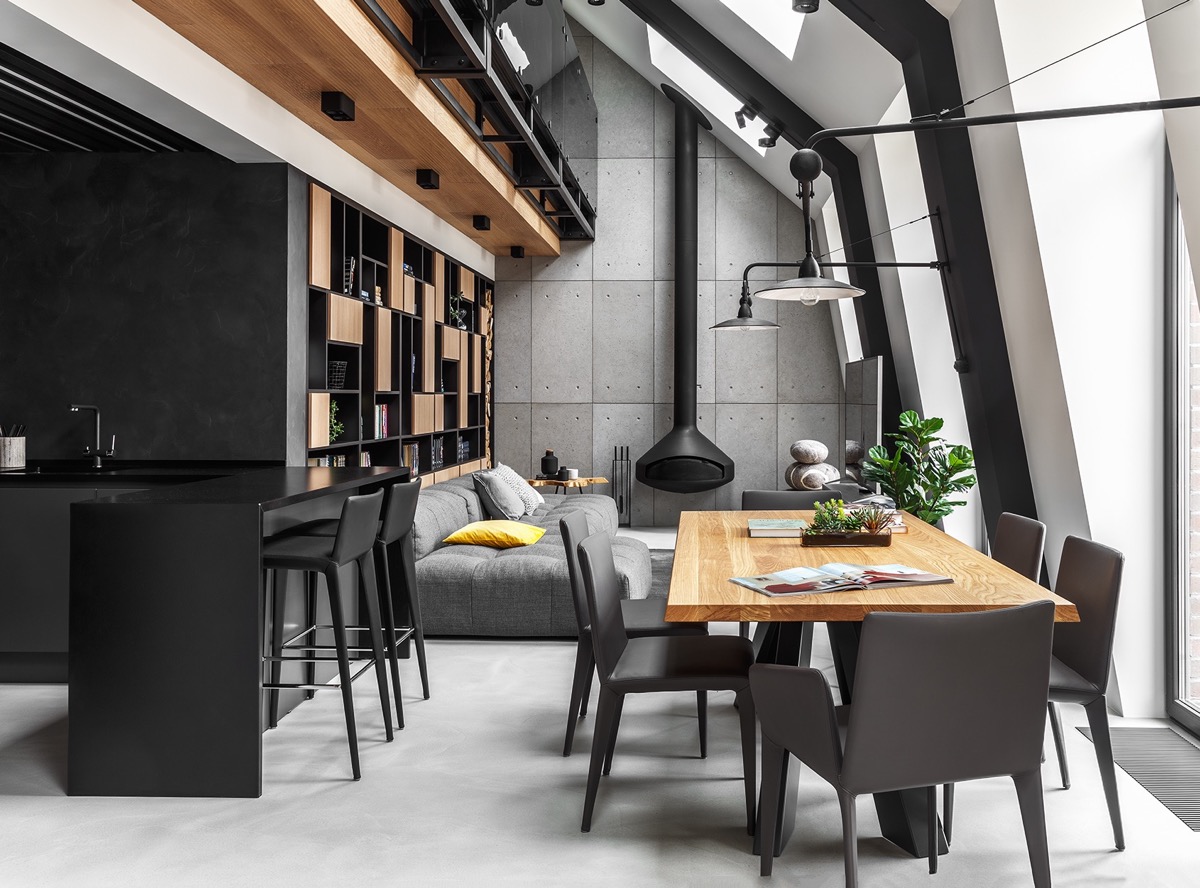 38 |
Visualizer: Design Rocks
Heat up a grey dining room both visually and literally with a showstopping modern fireplace design.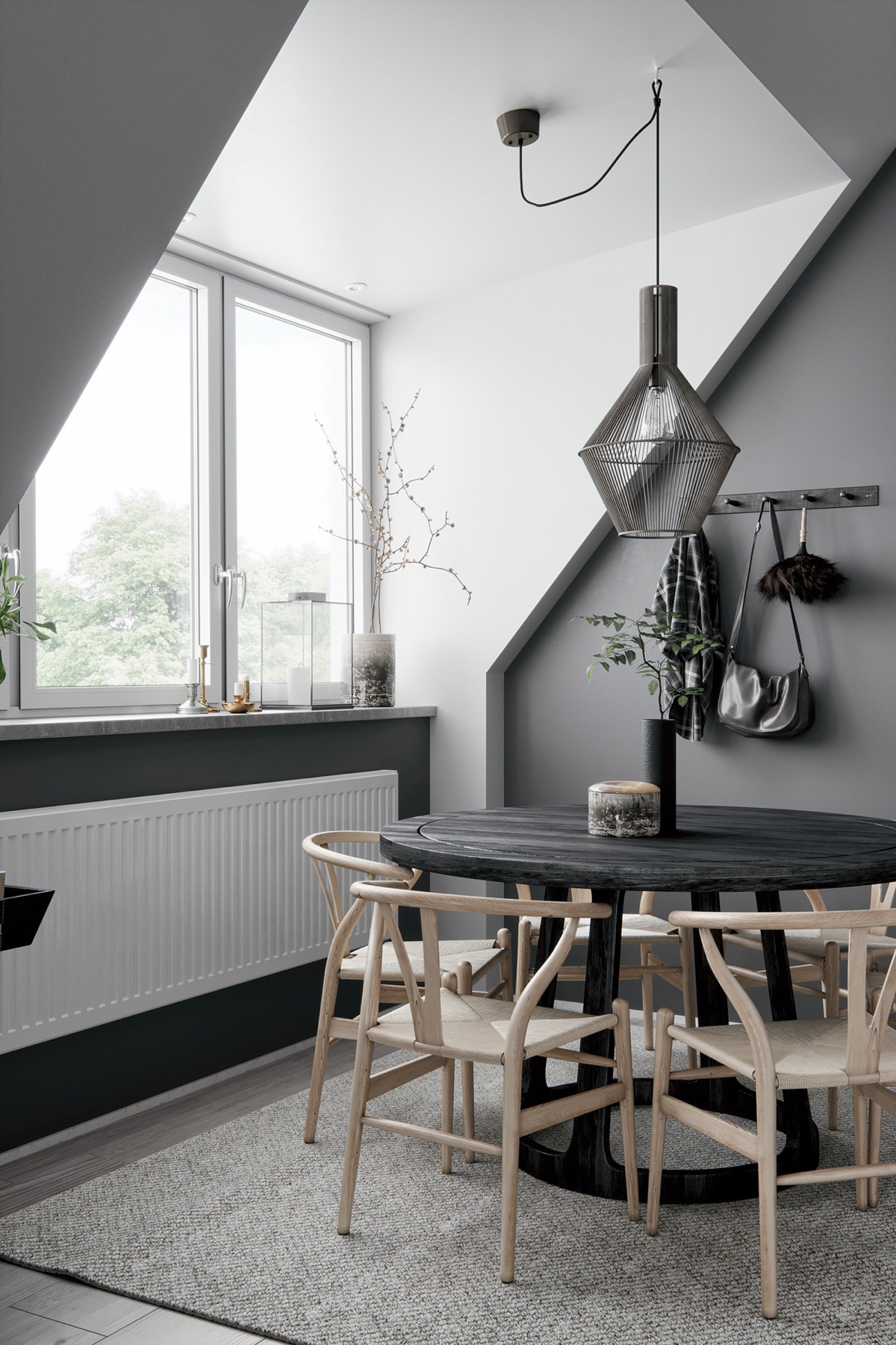 39 |
Visualizer: Rohit Aurora
Even small dining areas can squeeze grey accent walls into the neatest of nooks. Finish off with a grey area rug under the dining set to add a pinch of plush.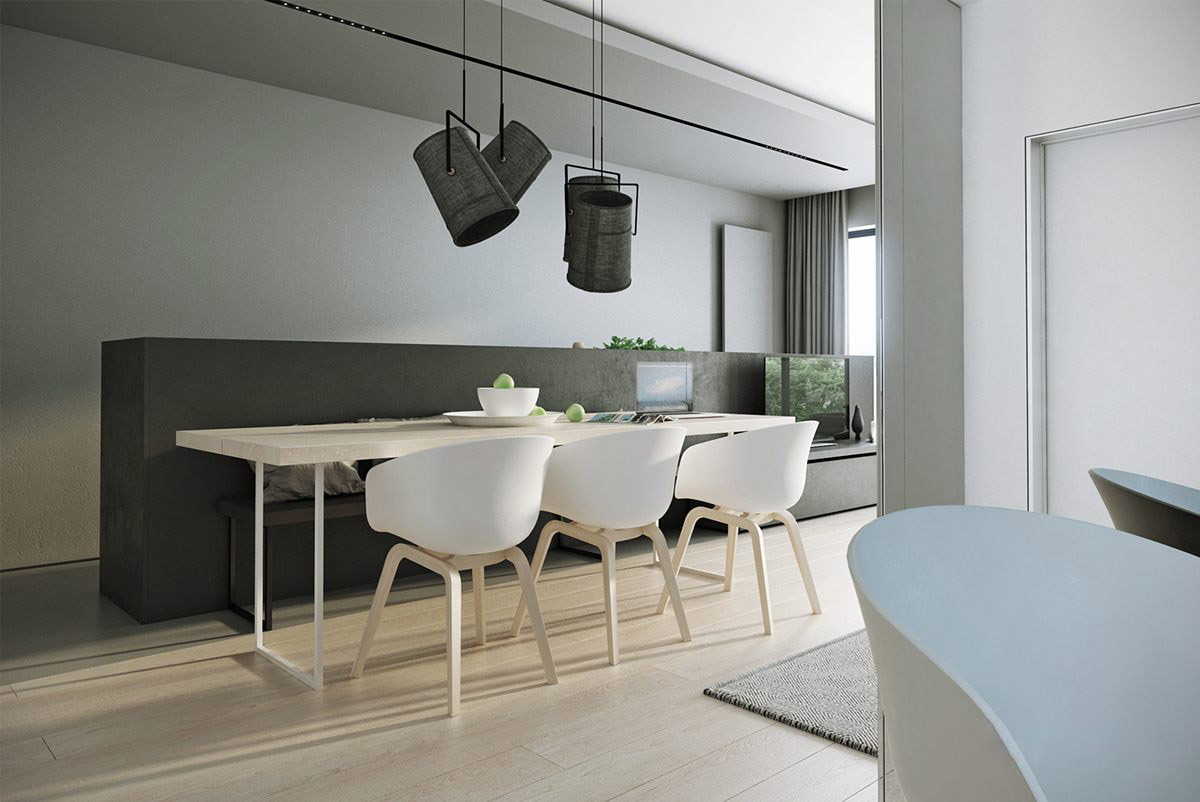 Where space is really tight, place a grey dining bench along a grey wall to keep the look streamlined.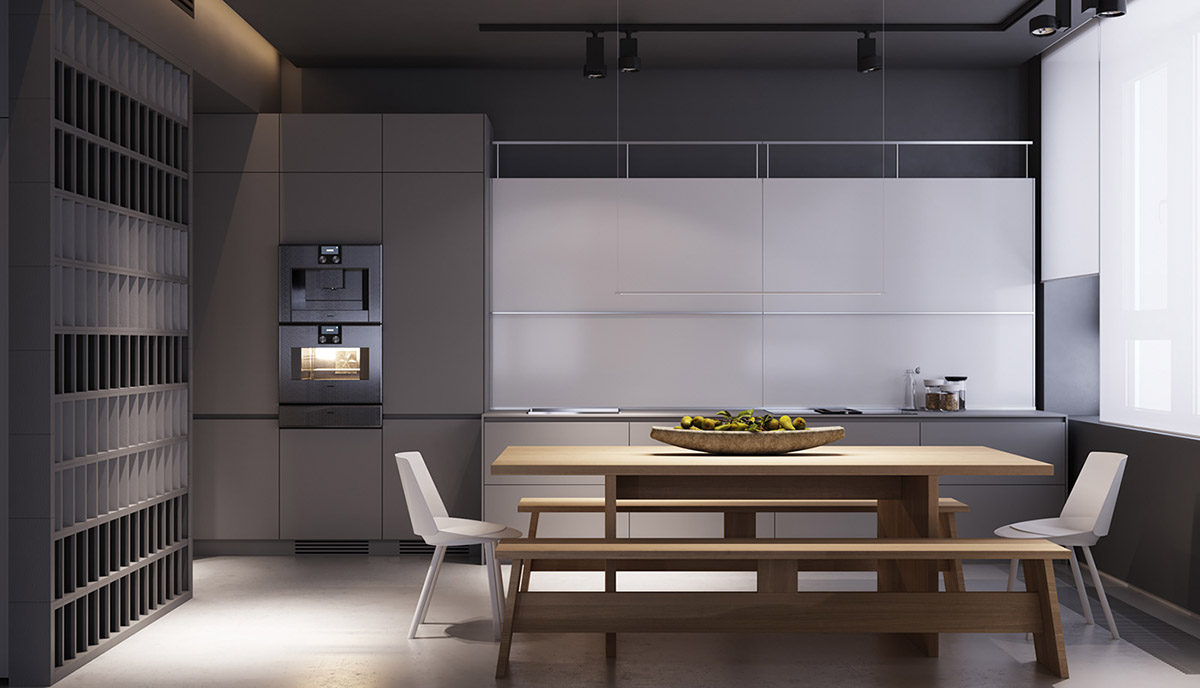 41 |
Visualizer: Z Design
For something that stands out a little more, wooden dining benches stripe warmth across grey surroundings.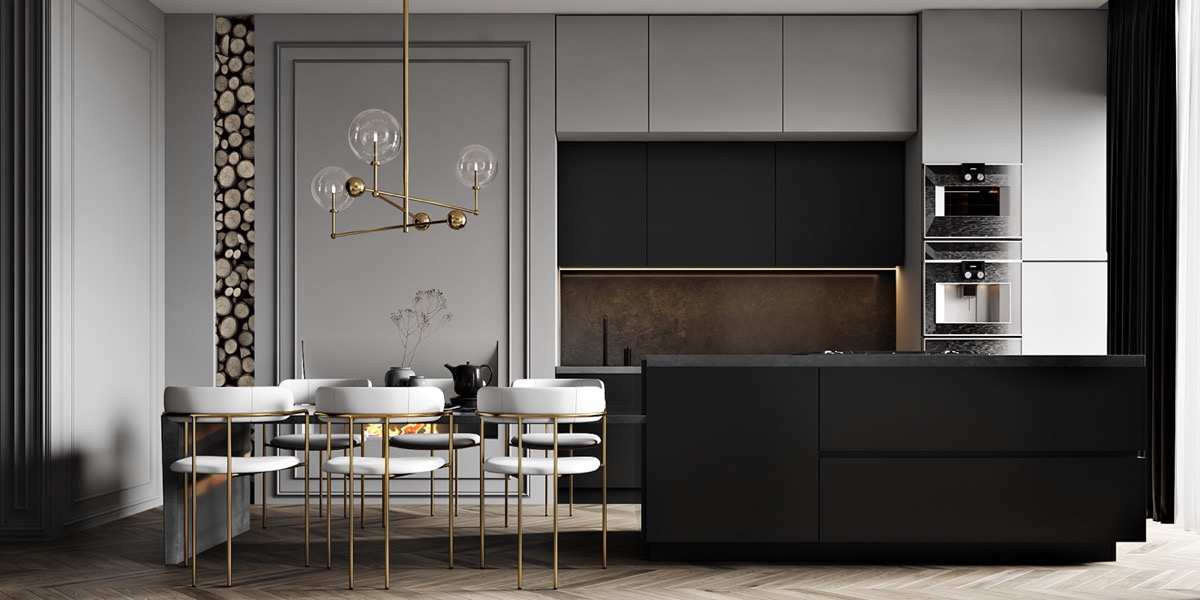 Spike grey neoclassical interior design with precious gold accents.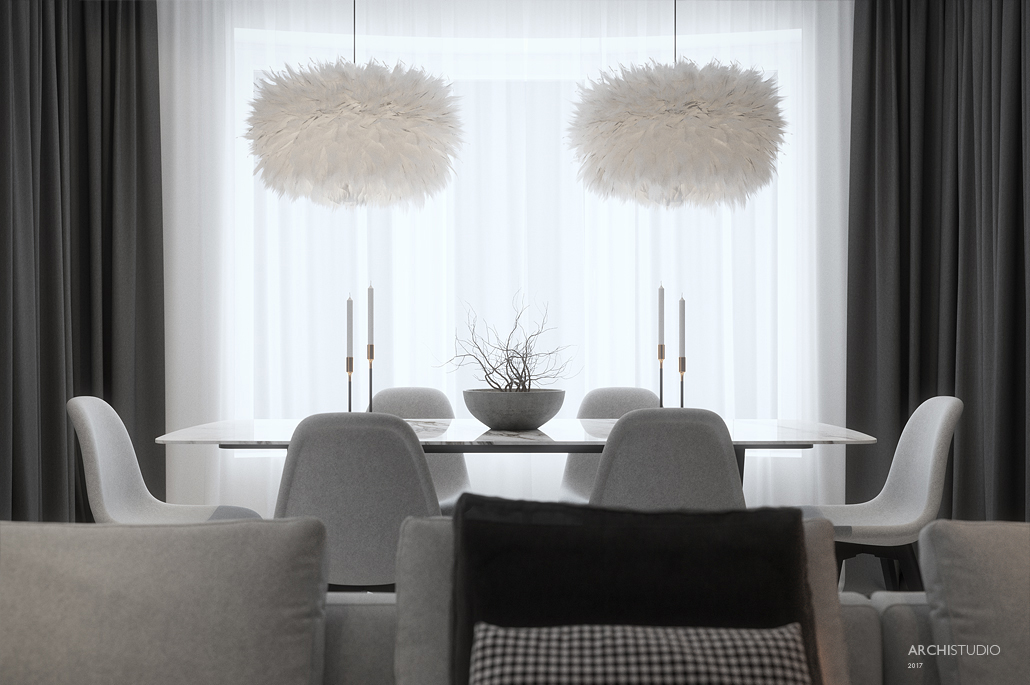 43 |
Visualizer: Andrei & Darya Zhlobich
If grey is growing too serious, add a little playful fluff with fun feathery pendants.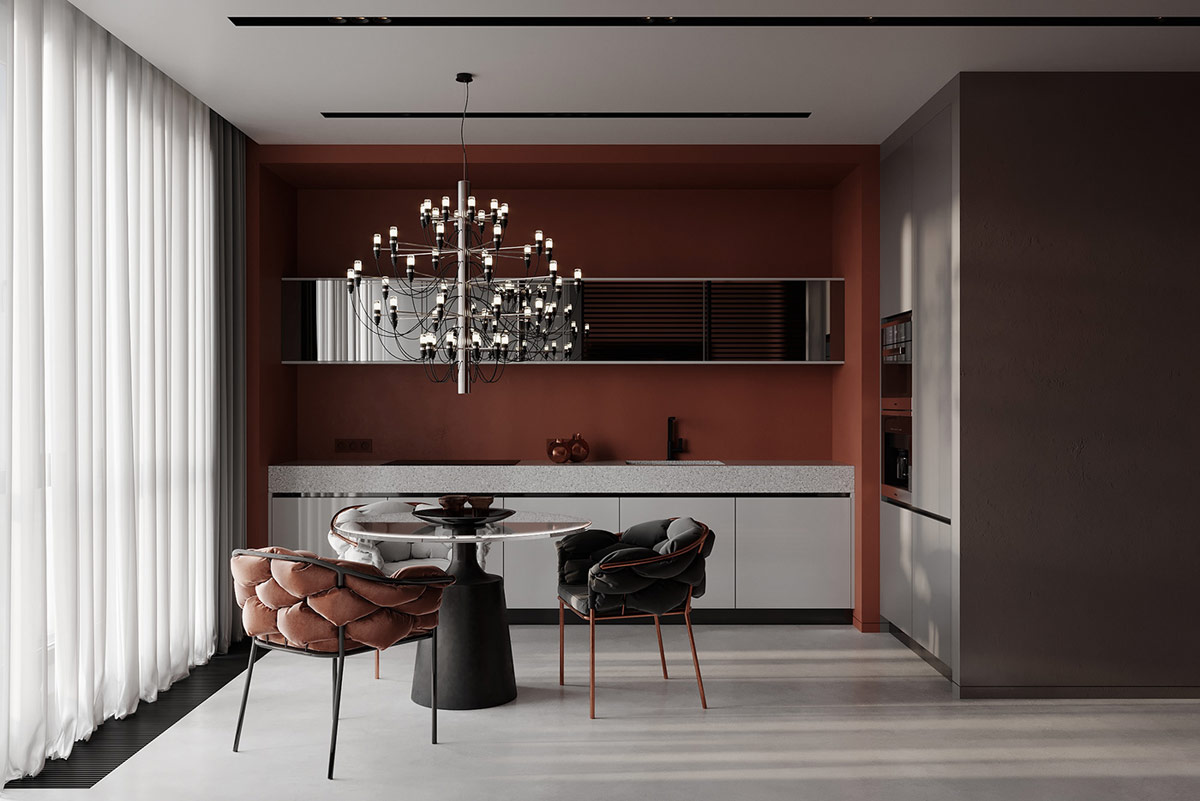 44 |
Visualizer: Vladislava Torgonsky
Cut through the colour palette 50:50, like this equally balanced red and grey interior.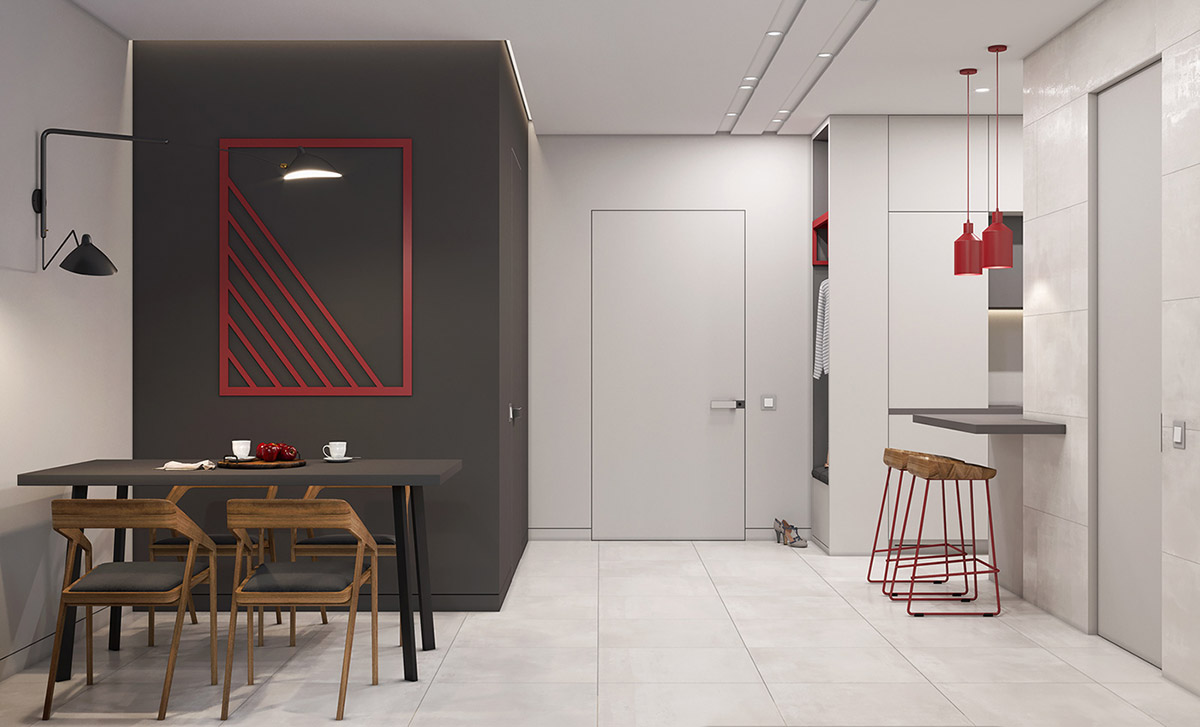 45 |
Visualizer: Dali Design Studio
Another example of a high contrast red and grey interior, this time with more white to freshen the effect.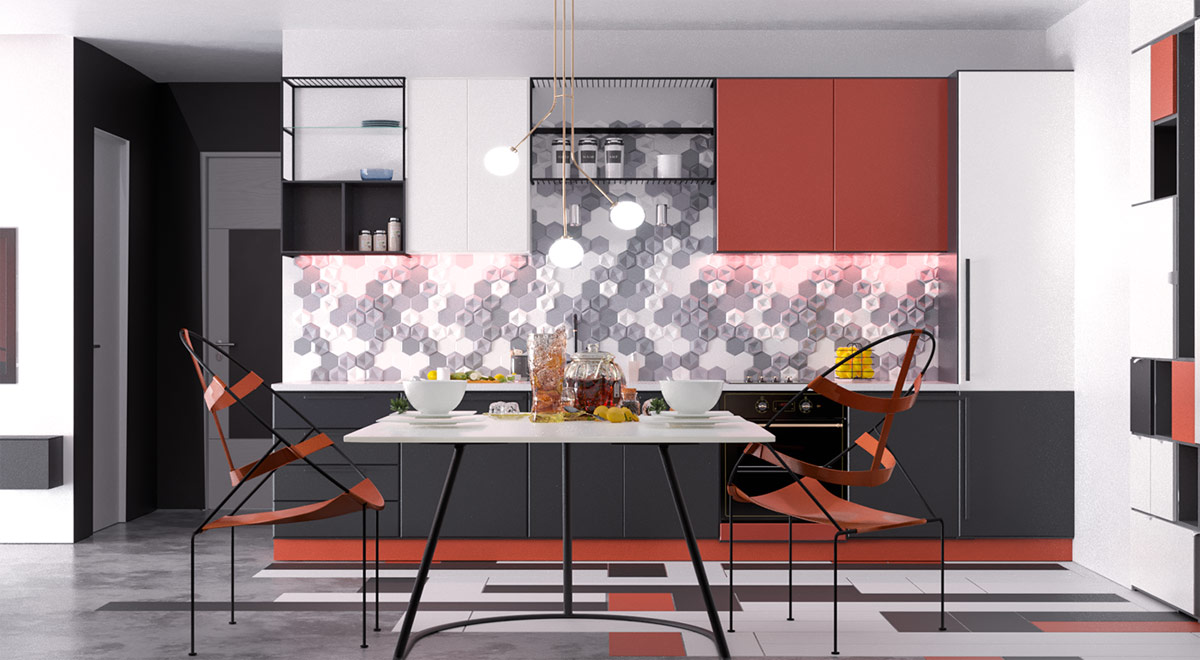 46 |
Visualizer: Tyoma Atsone
Pattern infuses this red and grey dining room, in the floor treatment, and from a geometric kitchen backsplash breaking up the backdrop.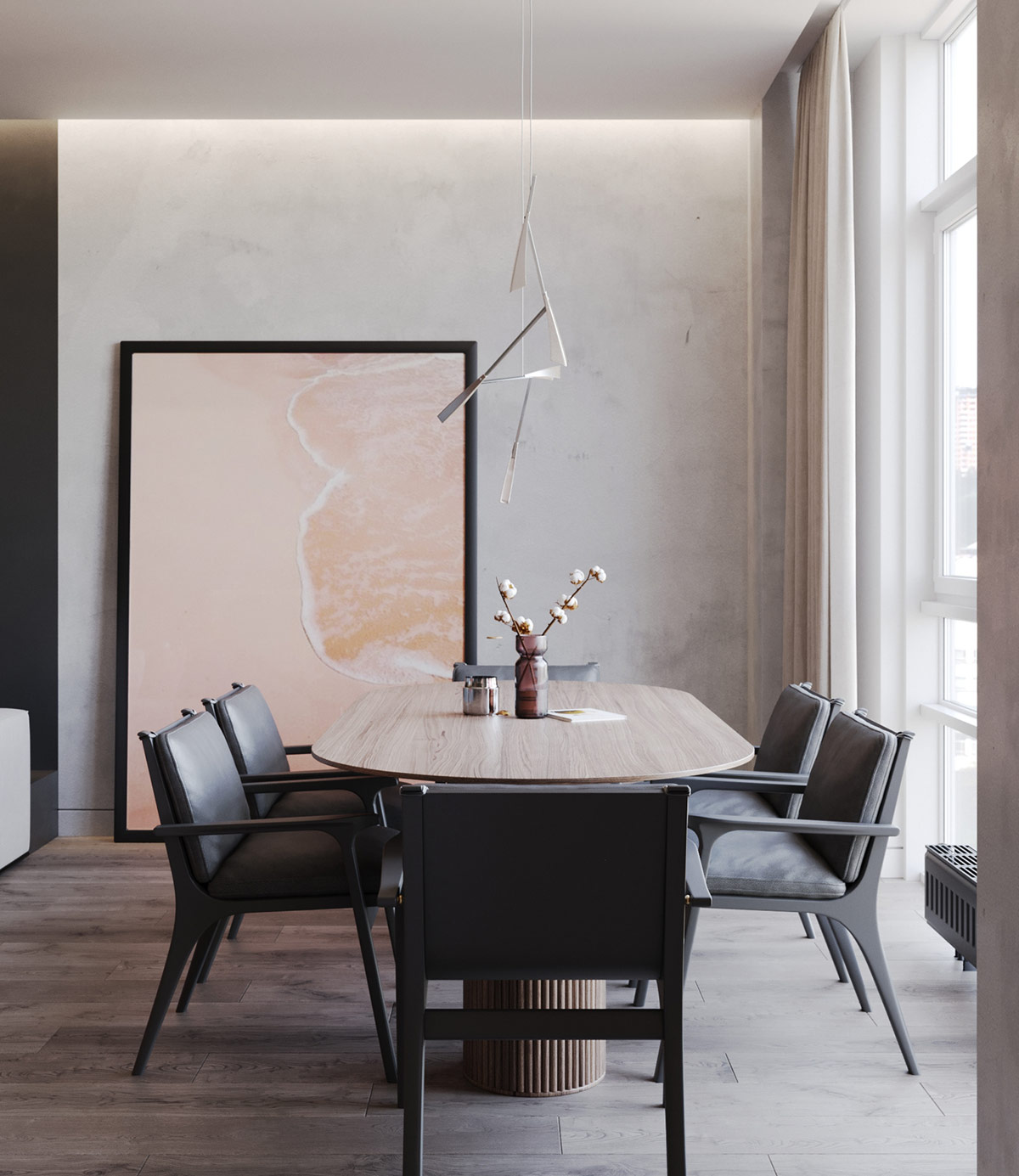 47 |
Visualizer: ArtPartner Architects
If red is too hot on the colour wheel for you, then how about bringing in a pastel? See more ideas for pink and grey interiors.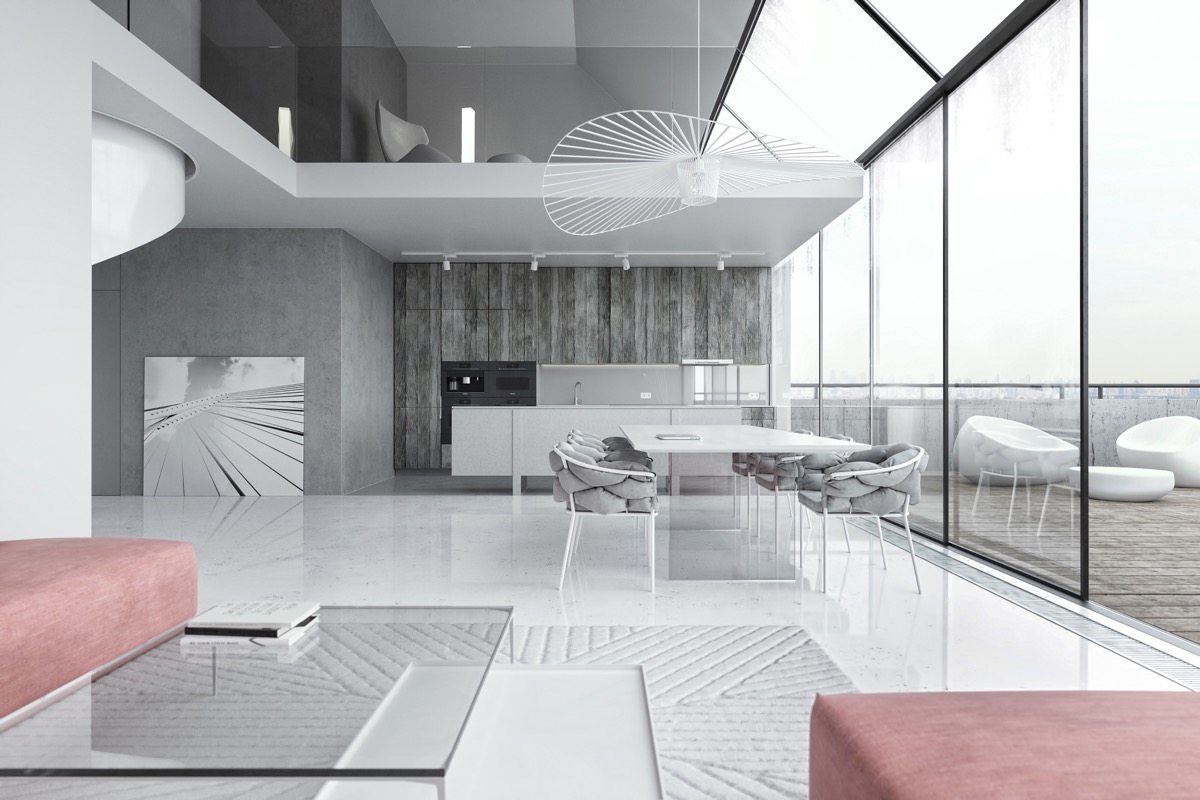 Grey washed wood brings texture to this pink and grey interior.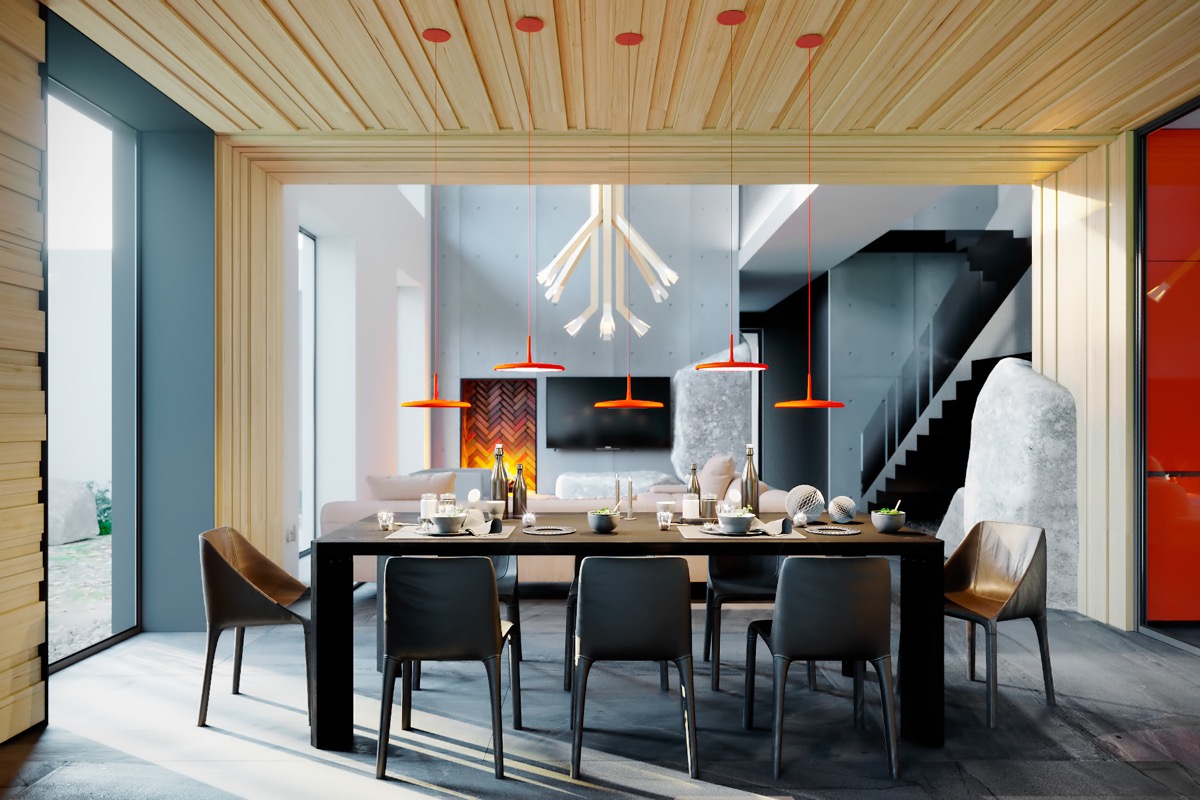 49 |
Visualizer: Anjey Babych
Wood cladding returns to its natural tone here, where it marks a border between the dining room and lounge, and creates a canopy over the table. Orange accents juice things up.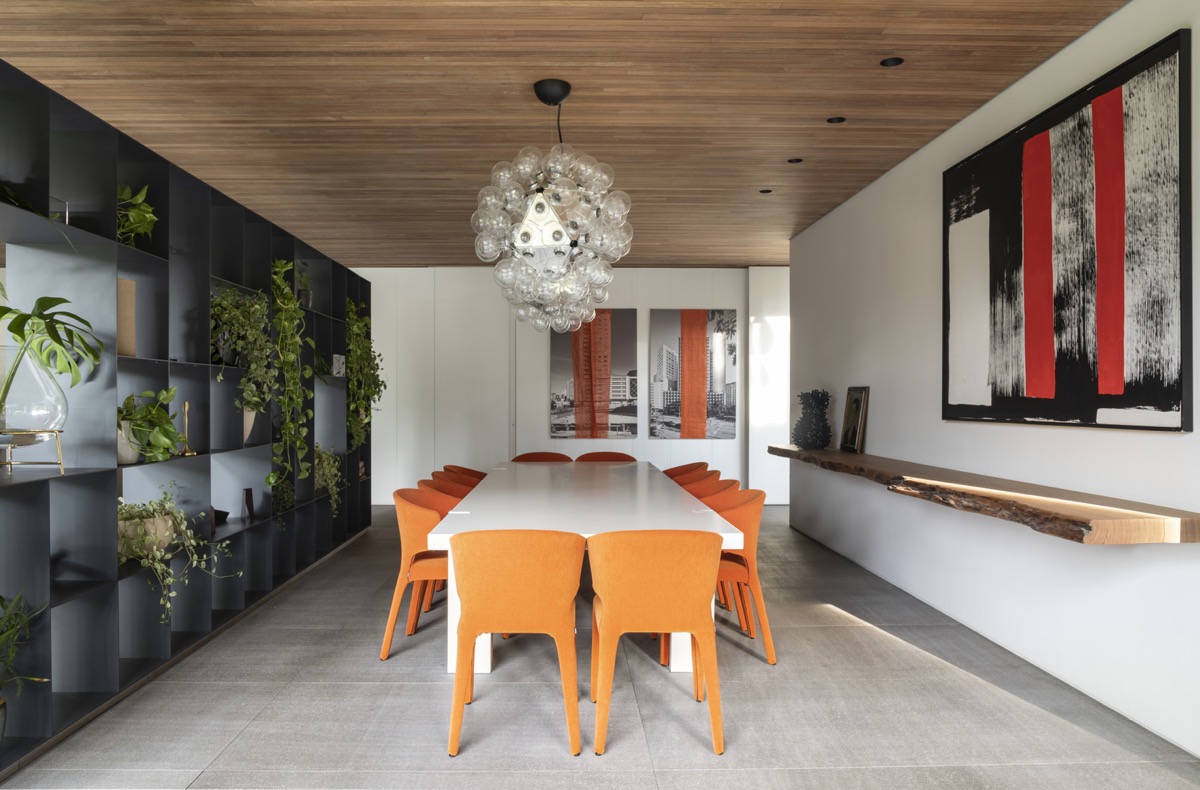 50 |
Designer: Bernardes Arquitetura & Sala2 Arquitetura
Orange is brought in via dining chairs in this home, along with some colourful wall prints.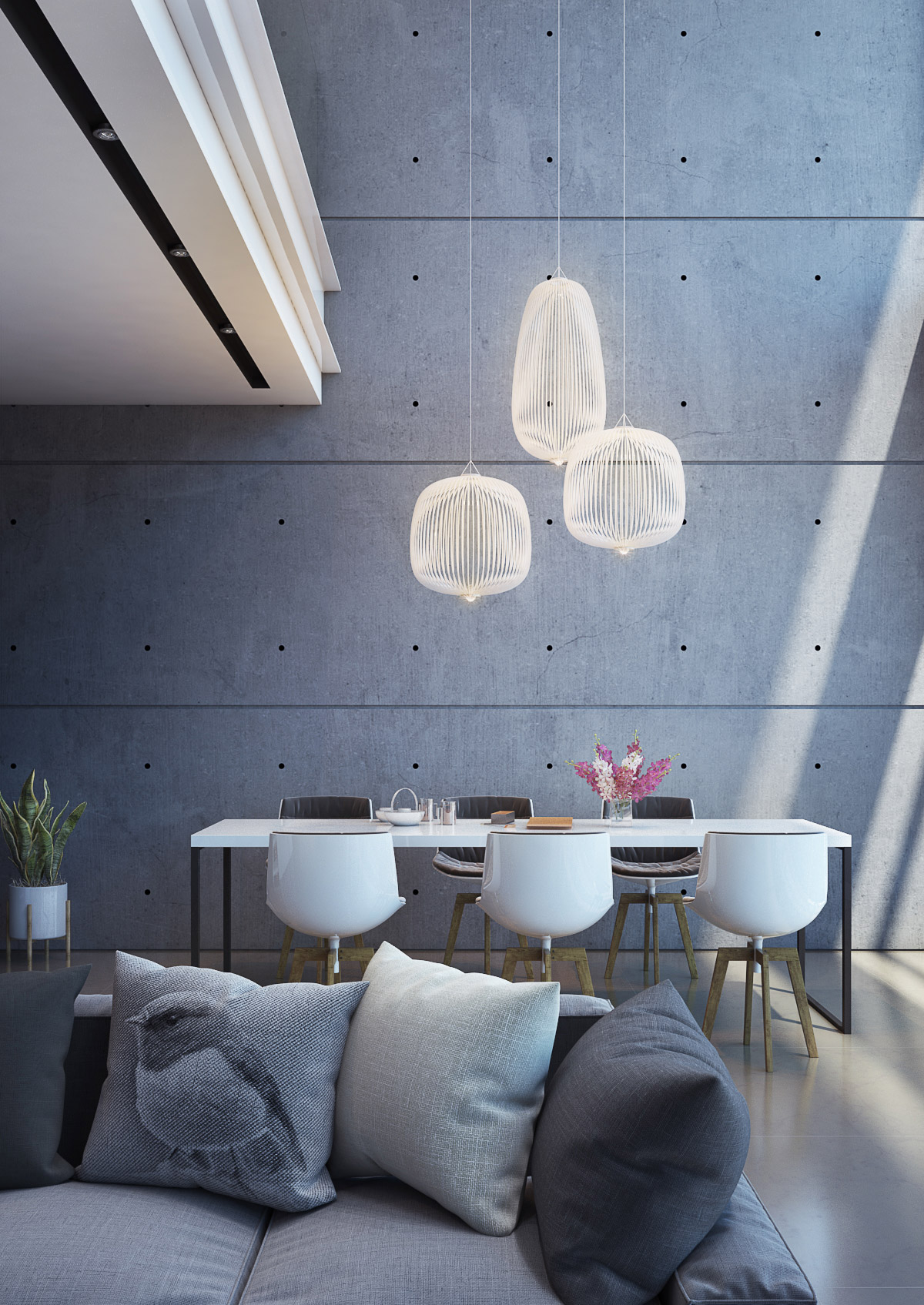 51 |
Visualizer: Mukesh Raj
Juxtapose rough grey concrete with glossy white items, and natural colour.