1 |
Visualizer: Artem Bobrov
Crown your dining spot. A modern chandelier hovers like a halo over this heavenly black and white dining room. Wood tone and greenery breath life onto the blank canvas.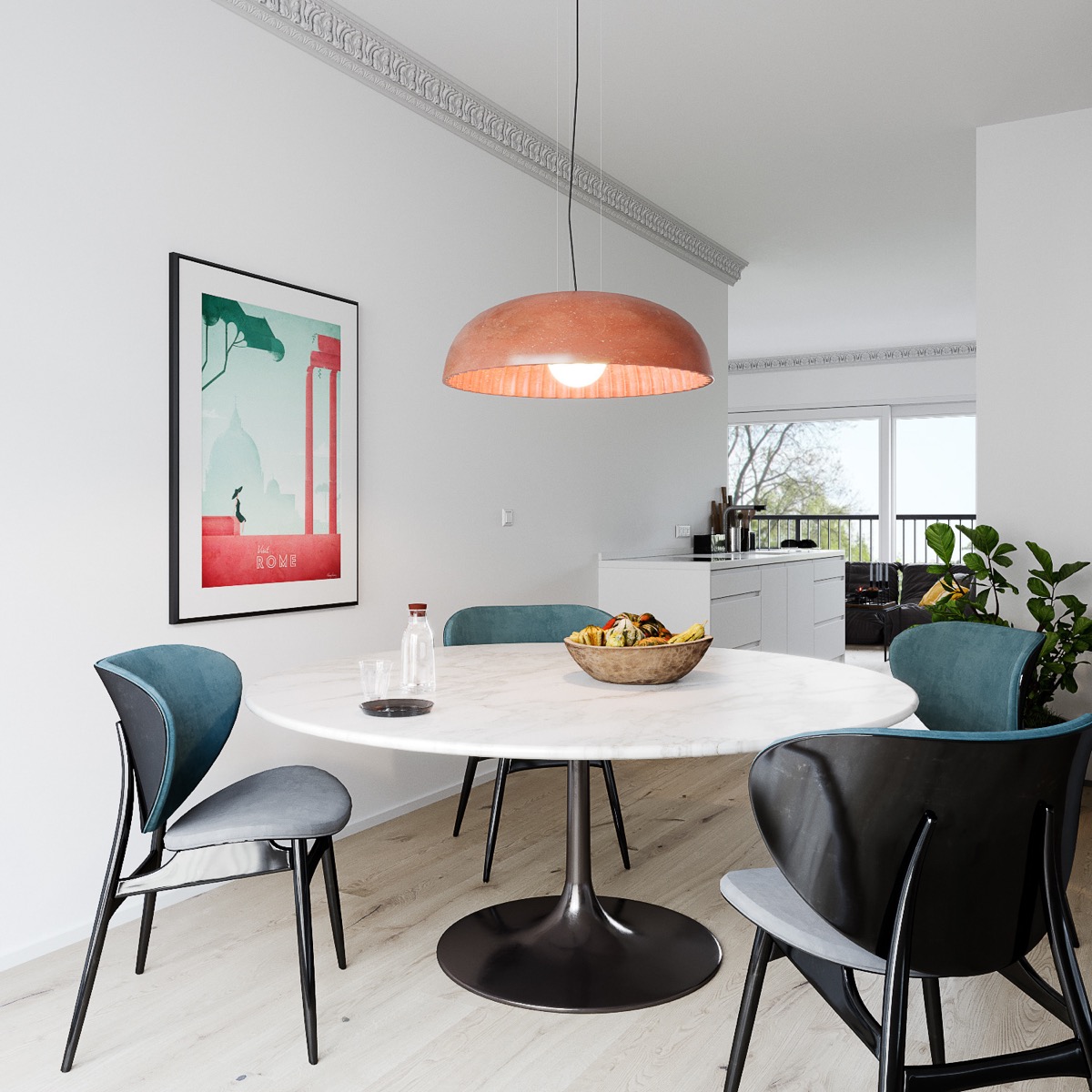 2 |
Visualizer: Alexey Kilimichenko
Let treasured items inspire your scheme. A colourful travel poster is the inspiration for the tropical palette of this coral and green accented scheme. Jade green modern dining chairs encircle a round dining table with a white marble top, under a coral coloured dining room pendant light. A bulky white dining room buffet blends into the background.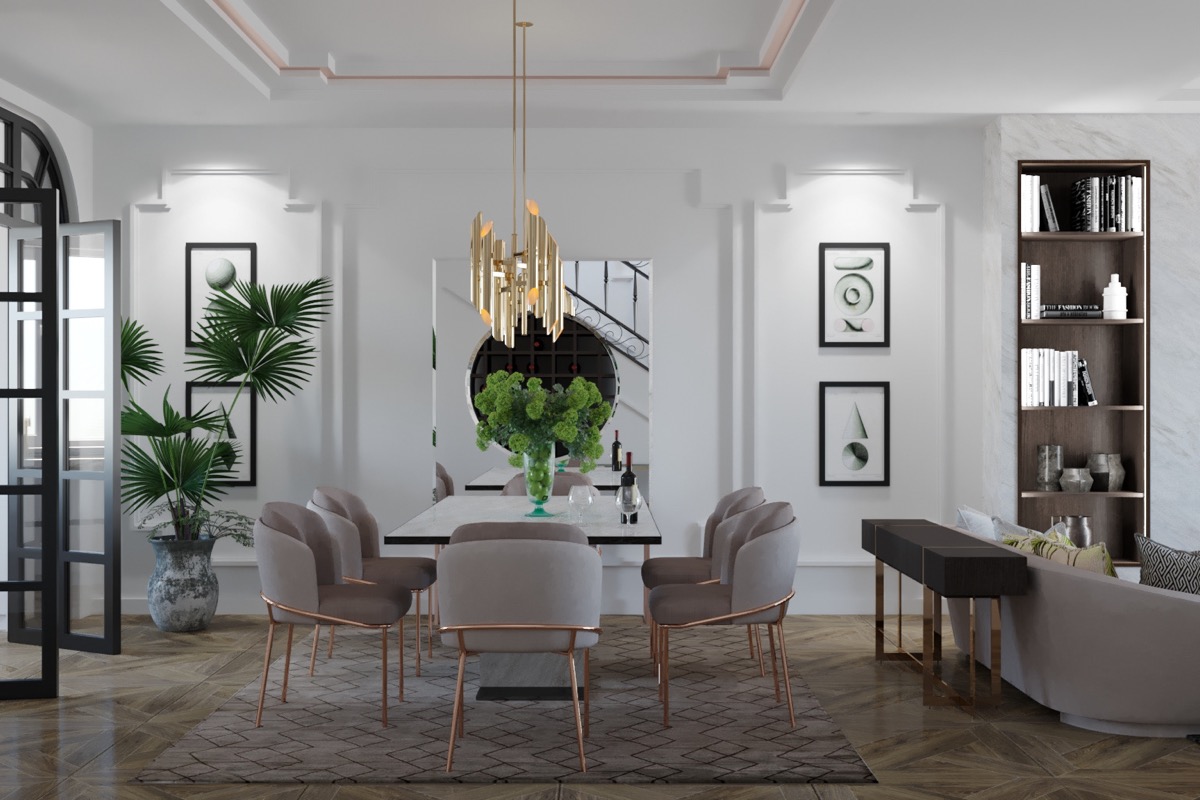 3 |
Visualizer: Julia Buza
Add a look of expense and luxury with golden trims. The subtle sheen brought by a gold dining pendant, slim ceiling inlay, and the golden legs of chic grey dining chairs and black console unit simply oozes upper class. Don't go overboard on this metallic though as it will have the entirely opposite effect.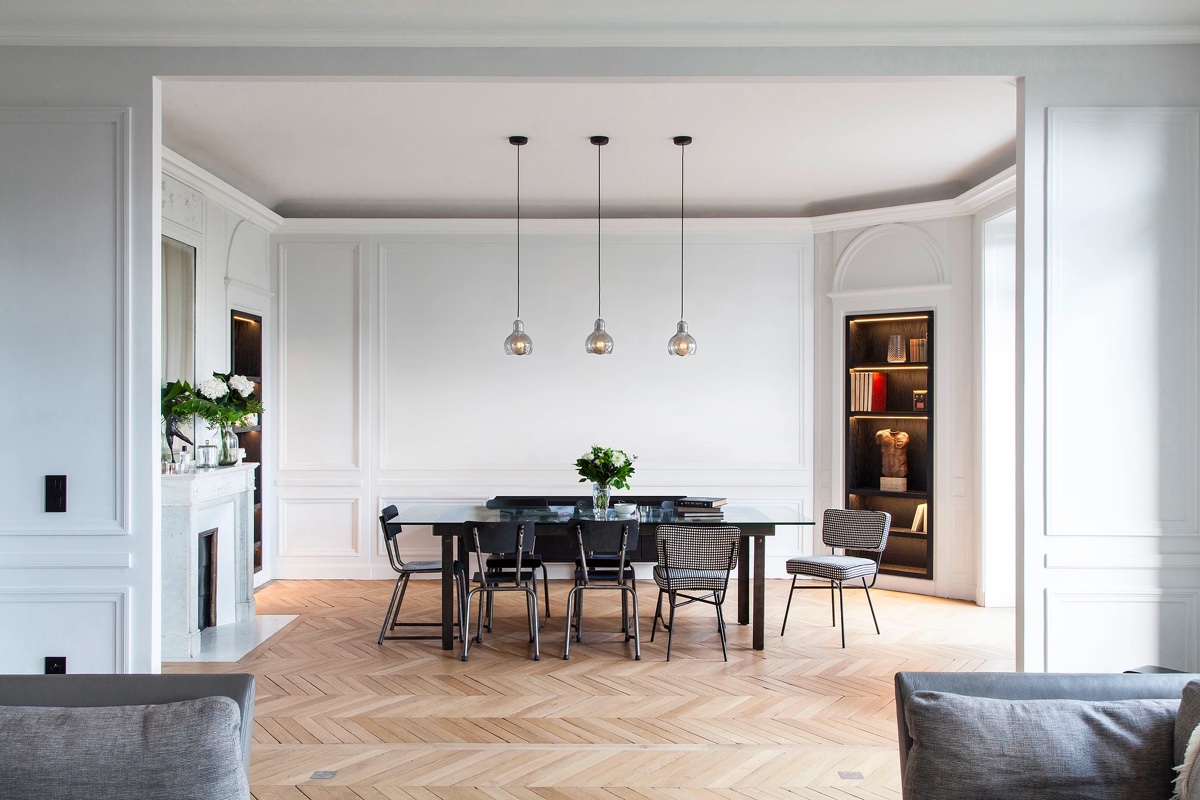 4 |
Designer: Atelier Daaa
Don't be afraid to mix things up. With a plain white backdrop and a clear glass dining table, this room scheme could afford a little mix and match when it came to selecting the dining chairs.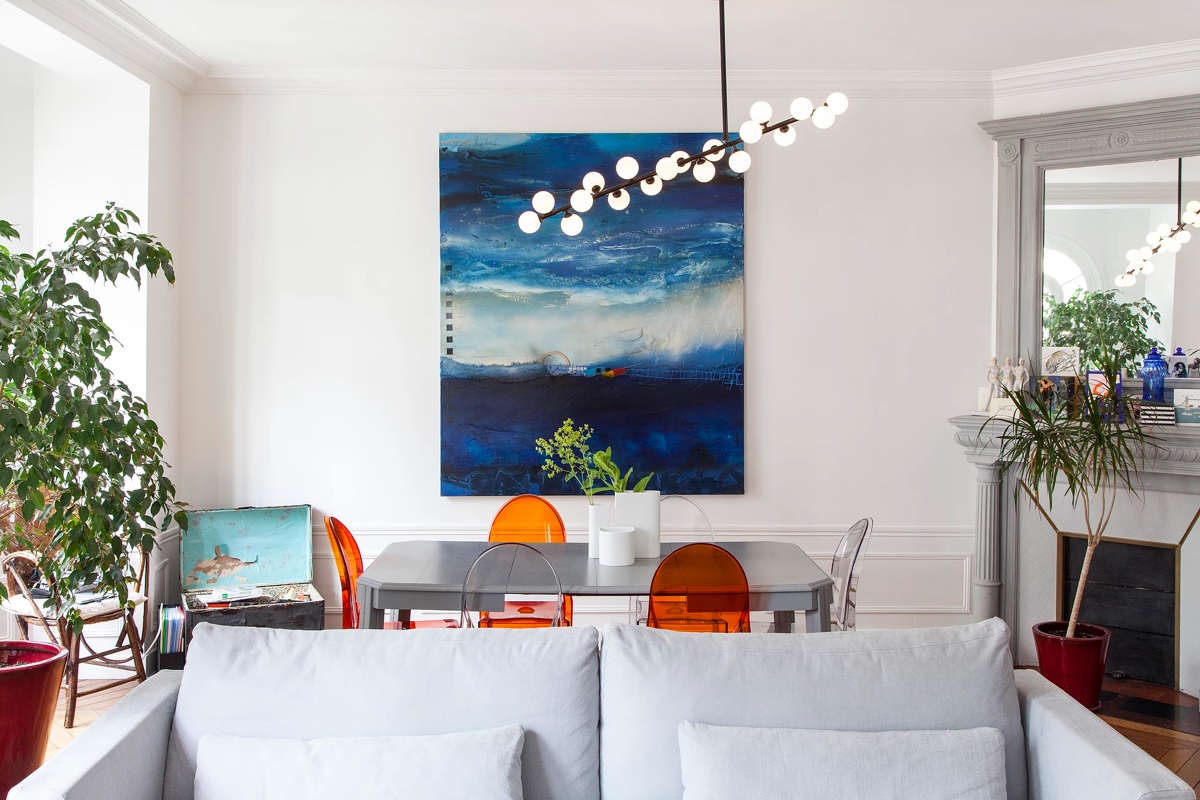 5 |
Designer: Atelier Daaa
Contrasting colour accessories give maximum impact. Three orange tinted versions of dining ghost chairs add extra interest to this carte blanche. A blue based art canvas lends terrific contrast to the tangerine chairs. Blue and orange accessories pop out from white decor around the room.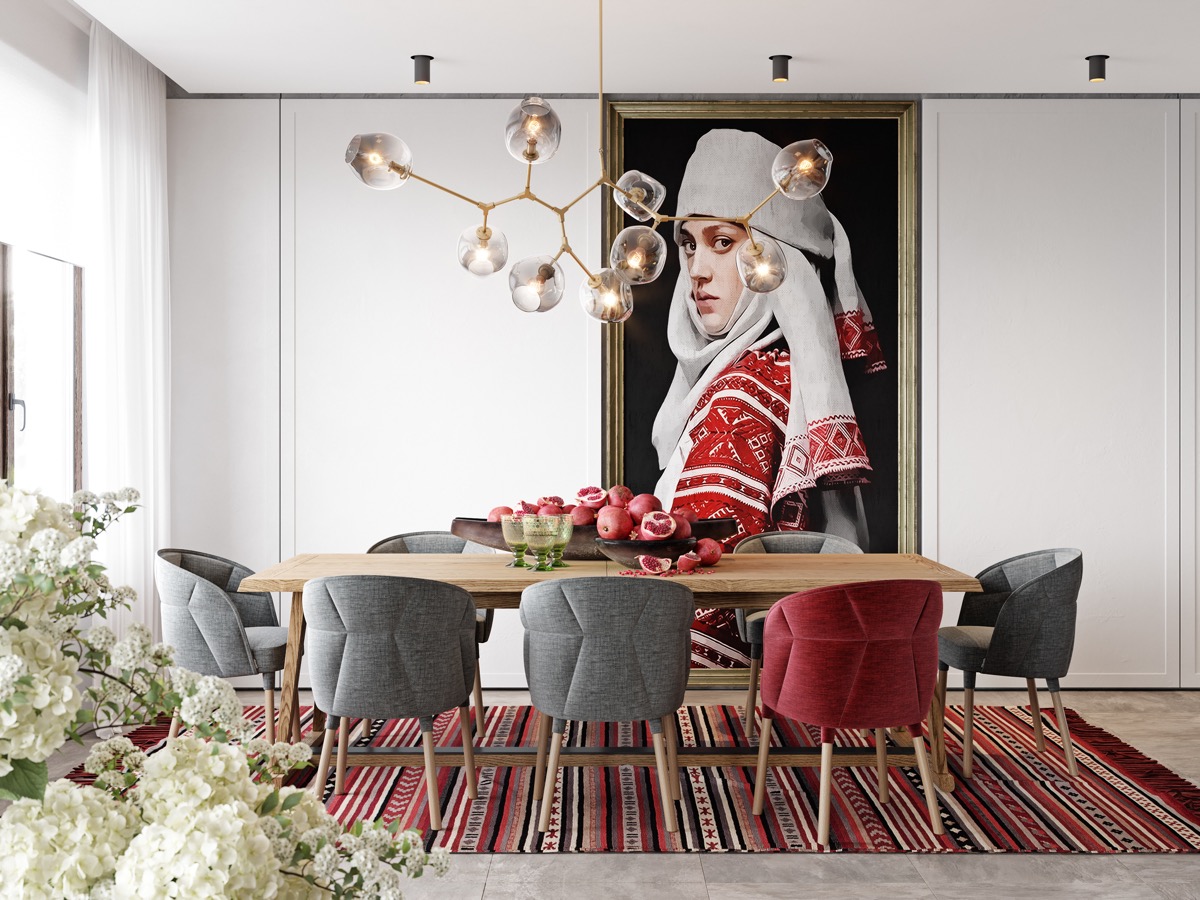 6 |
Visualizer: Alesya Kasianenko
Introduce a colourful area rug. Just because your walls are painted white doesn't mean you can't be seated in a colourful dining area. This striped red rug design is matched by dominant red artwork. A single red accent chair is quirkily positioned along one side of the extendable wooden dining table, rather than placed at the more obvious head of the table. The shape of the dining pendant light emulates pomegranate seeds, which can be seen tumbling from the table centrepiece. A similar chandelier is available here.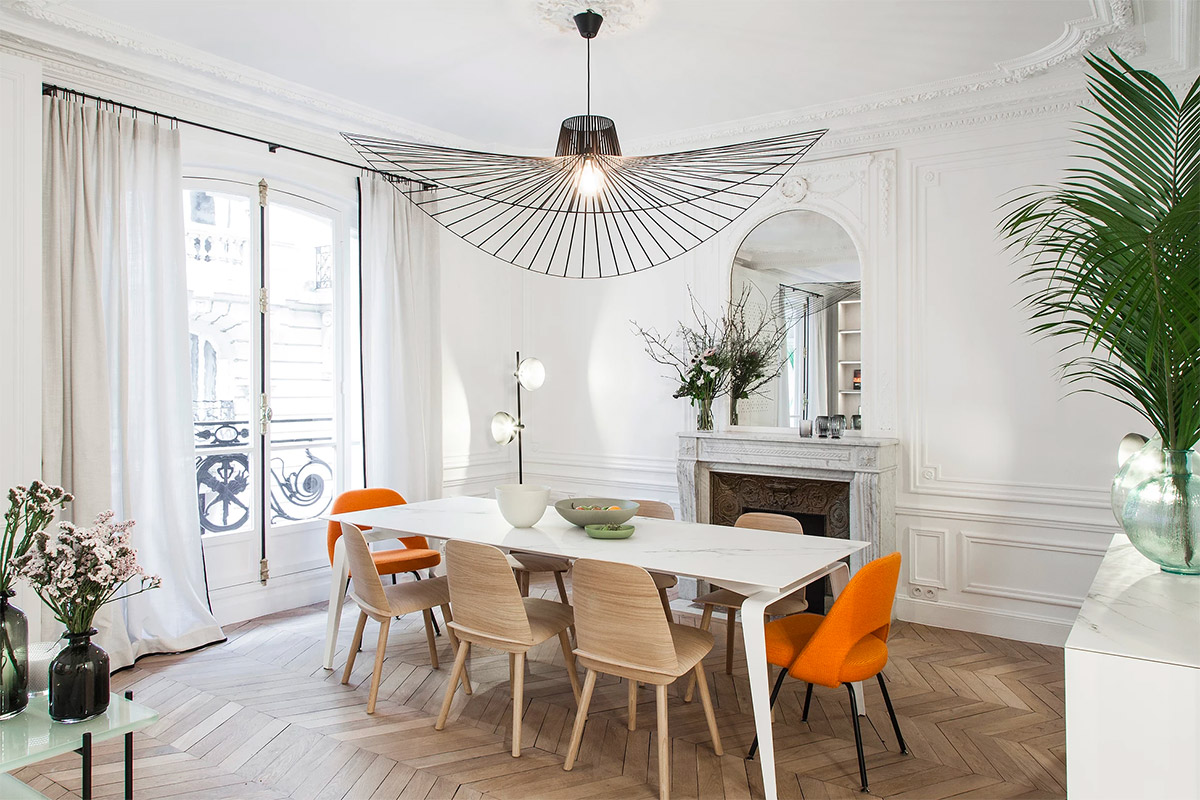 7 |
Designer: Atelier Daaa
Balance the space. The dark wirework shade of this Vertigo pendant spans the entire length of a bright eight seat dining set, made up with the Muuto Nerd chair and Saarinen executive side chair.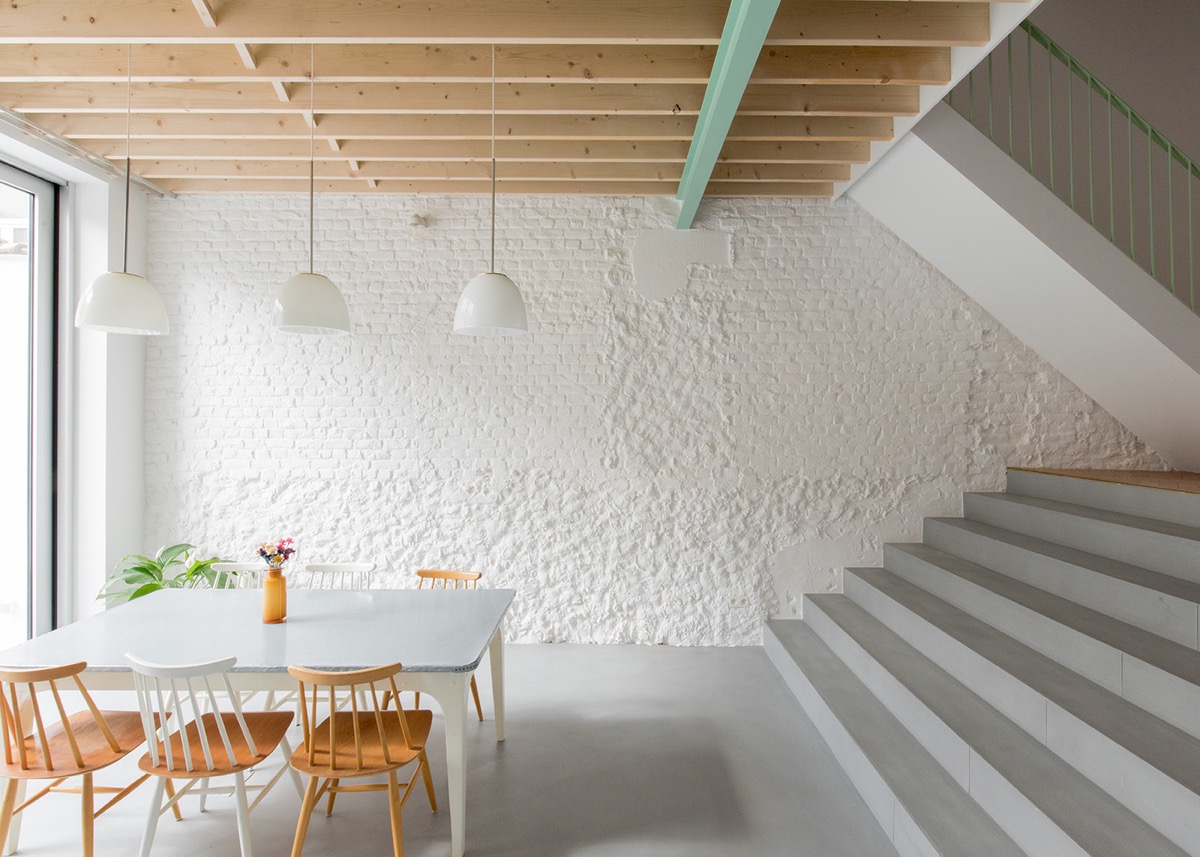 8 |
Designer: MAMOUT architects & AUXAU
Mark out your dining zone with multiple pendant lights.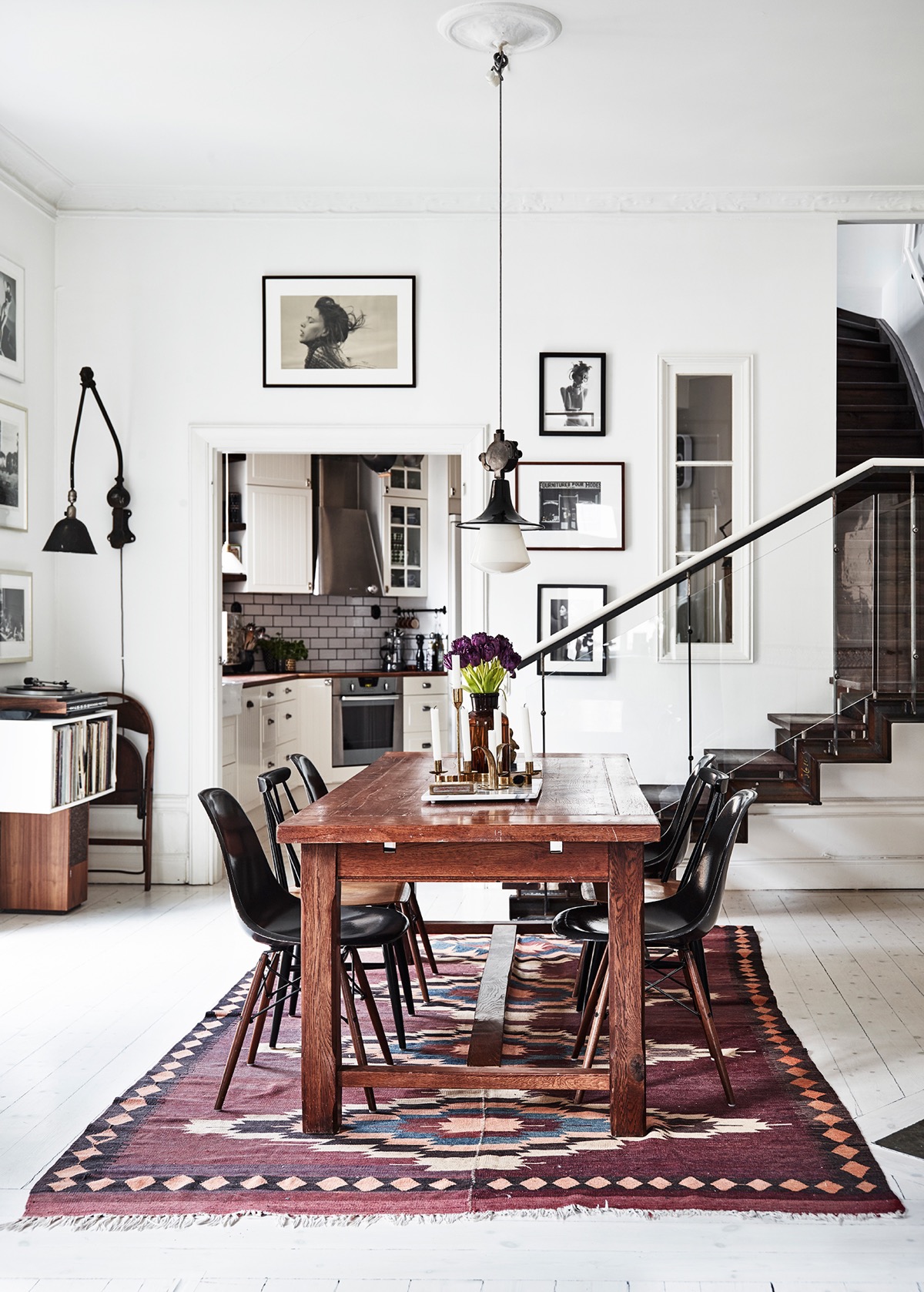 9 |
Visualizer: Andrea Papini
Low hung lighting visually anchors a centrally placed table to its spot.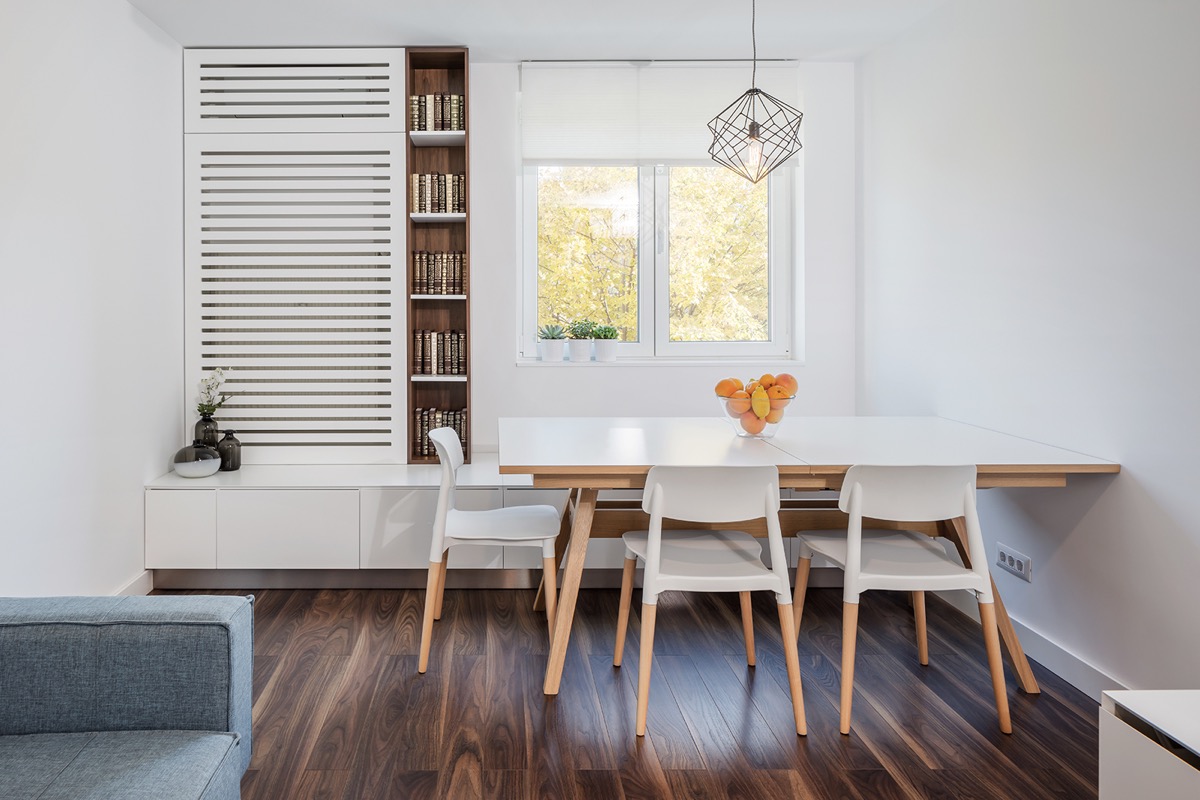 10 |
Designer: Craftr Studio
Incorporate existing built-in seating as a banquette bench. This white dining room set is positioned up against a window seat to save space – it also saves on splashing the cash on extra dining chairs.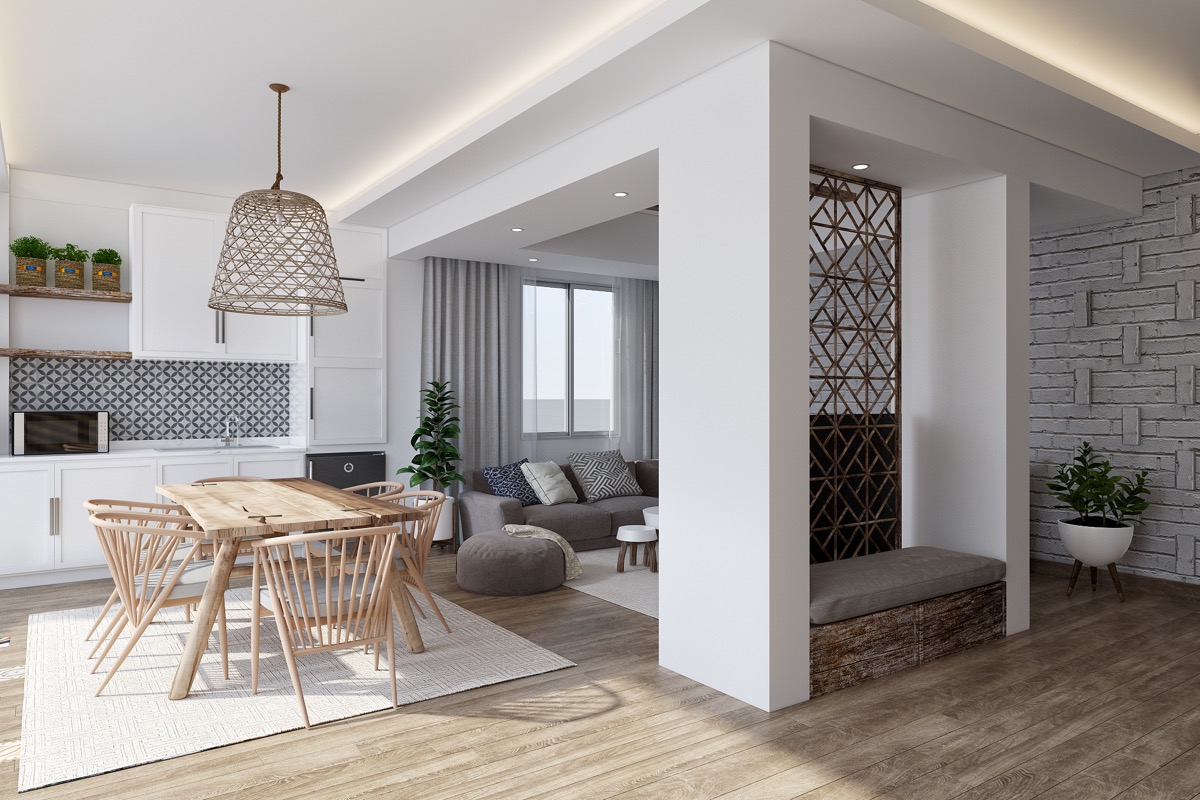 Wood and white for the win. A wooden dining set makes a perfect warming addition to icy dining room decor. This wooden sculptural chair design is the Genny Easy chair by Morelato.
12 |
Visualizer: Igor Sirotov
Bespoke designs can save on space. A white dining room table and chairs morphs with a kitchen island here, creating a streamlined design.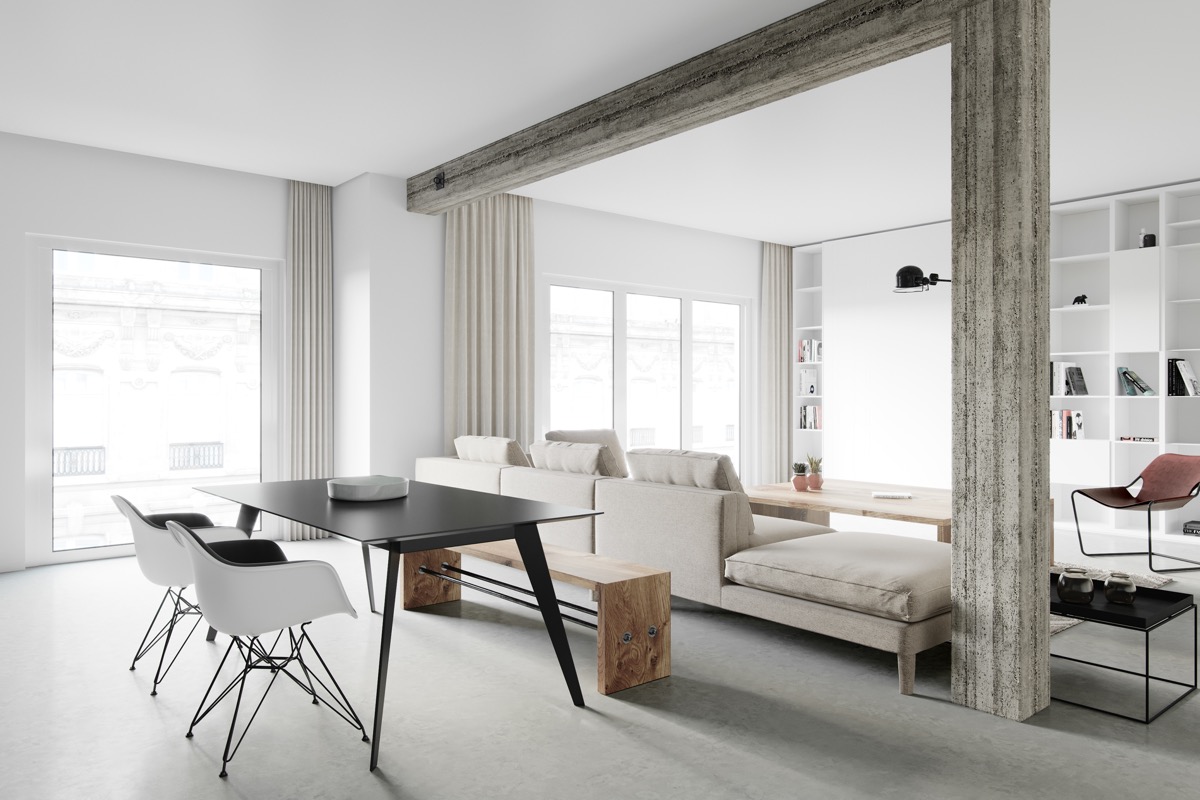 13 |
Visualizer: Ignacio Riera
A dining bench can seat extra guests. Impromptu diners can be accommodated by budging up on this black and white dining room set with bench.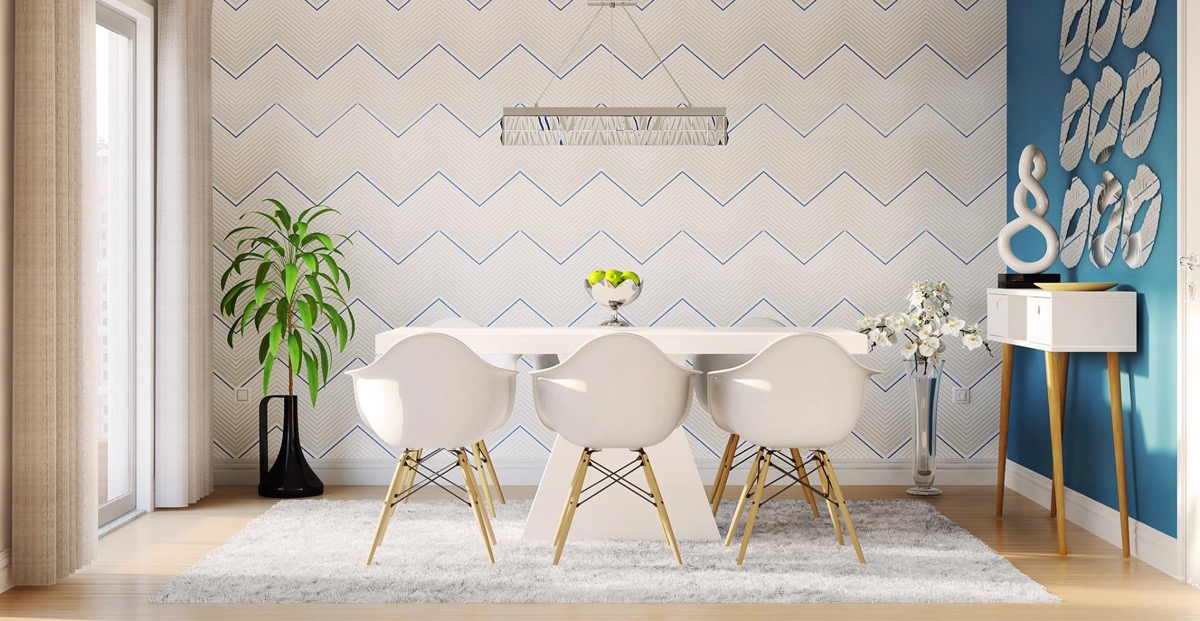 14 |
Visualizer: Dina Kuzmenko
Introduce some pattern. A chevron feature wall has been created behind a pure white dining room table set, in this cheerful blue and white dining room. The modern white dining room chairs are the Eames armchair.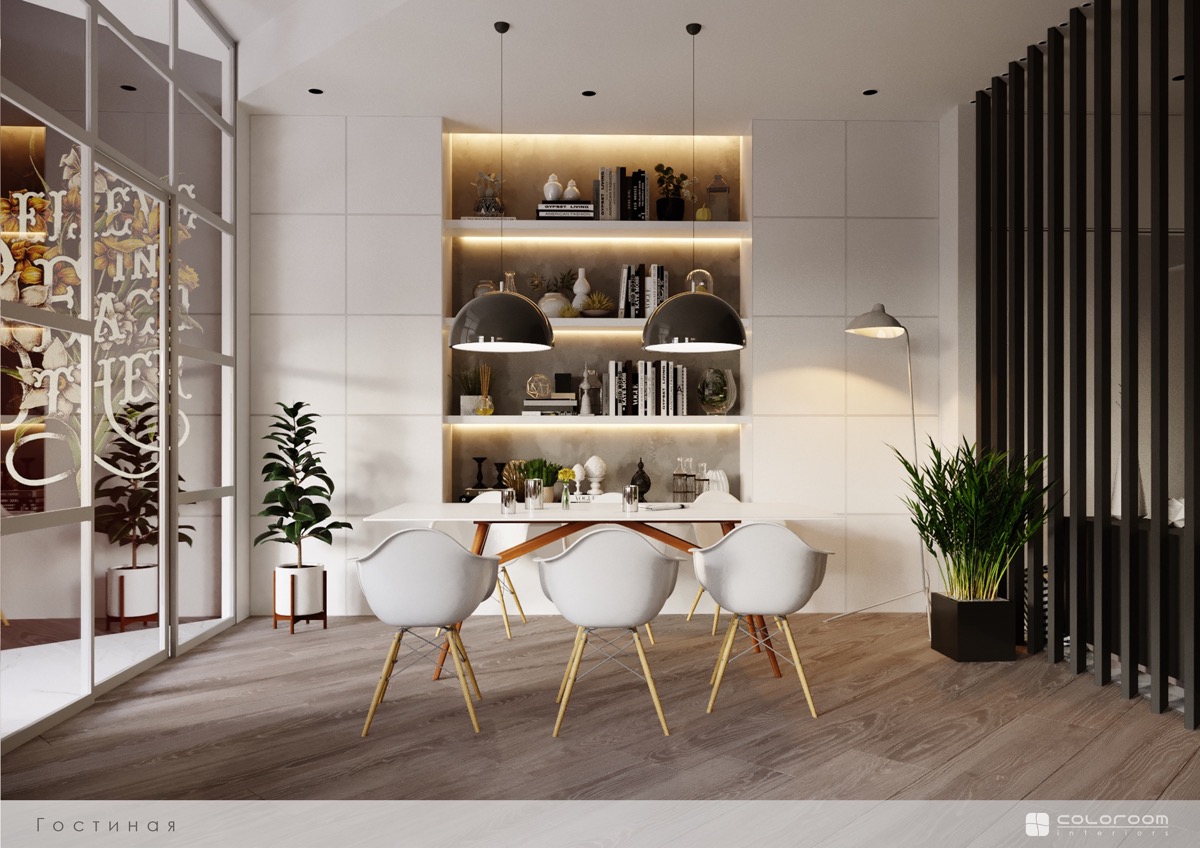 15 |
Visualizer: Coloroom Interiors
Let the shelves do the talking. At least, let the contents of your shelves be the loudest part of quietly colour free decor. Recessed shelving makes a modern change from a more traditional white dining room hutch.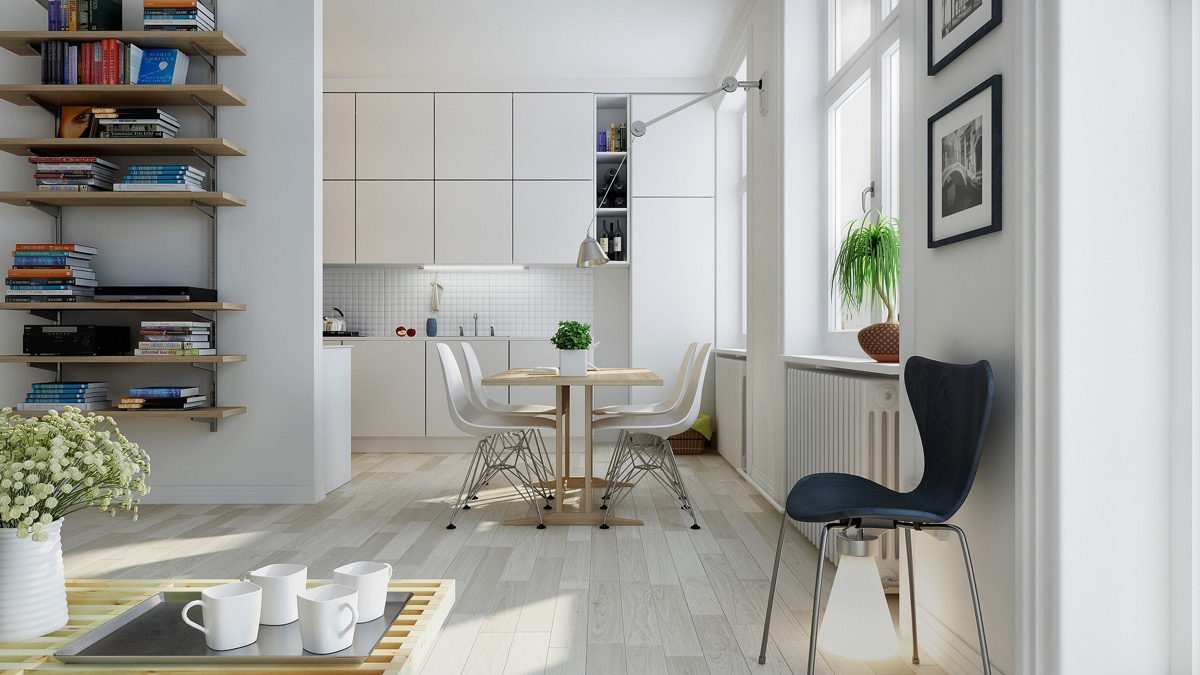 16 |
Visualizer: Pham Phuc
Do the legwork. These white dining room chairs have Eiffel Tower inspired legs that bring a look of strength to a gentle white scheme.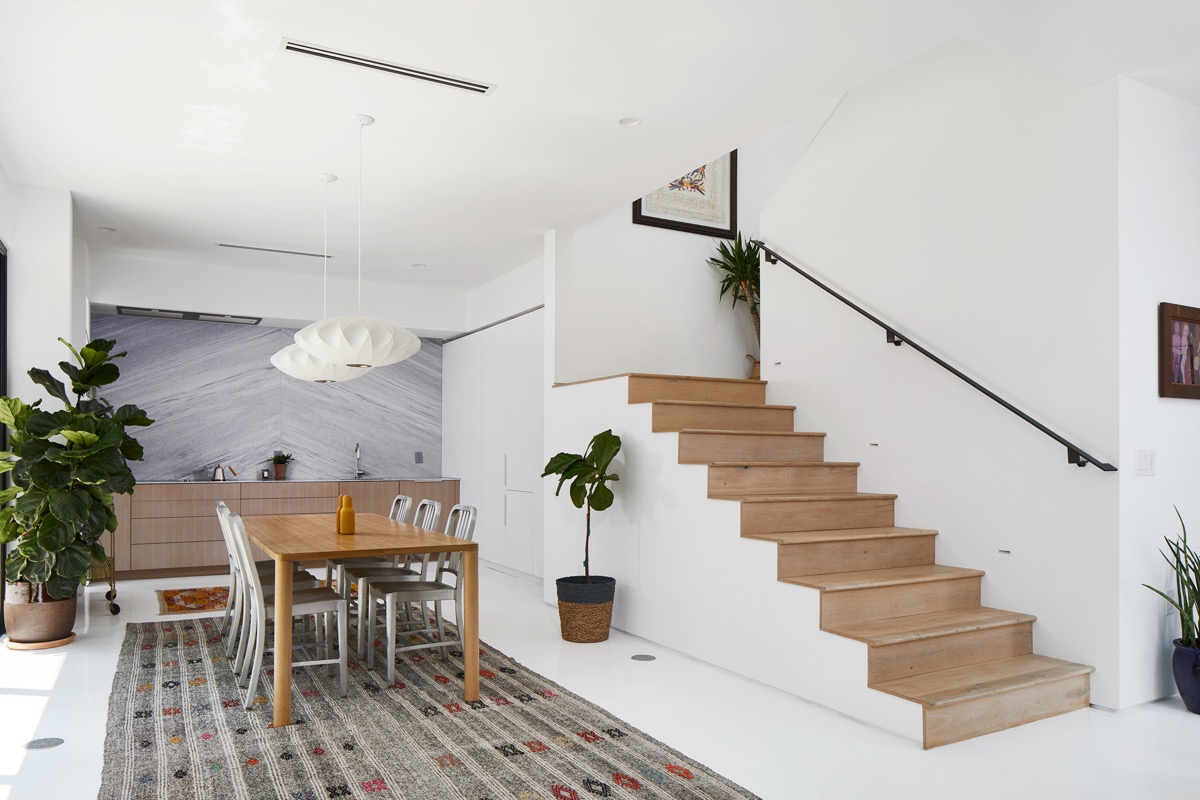 17 |
Visualizer: Bercy Chen Studio LP
Don't underestimate the power of plants. Indoor plants are an easy way to add flashes of greenery to a plain looking room.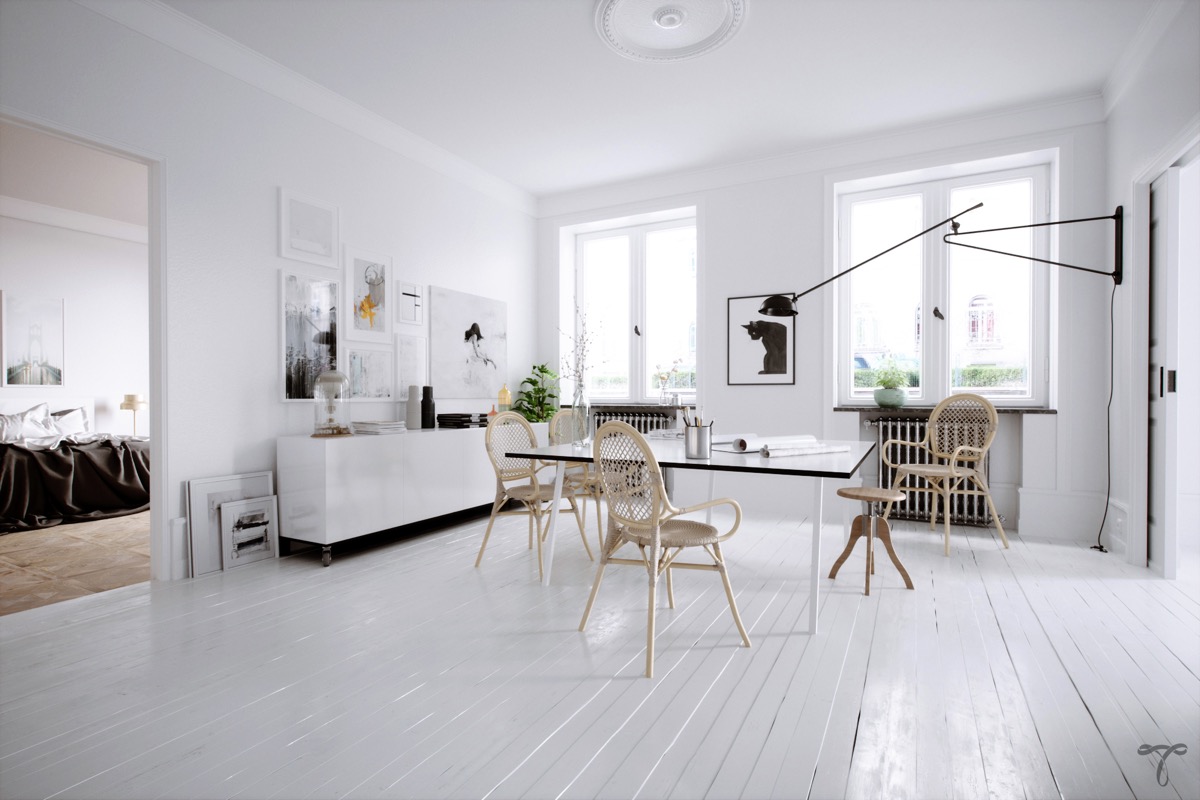 18 |
Visualizer: Tesla Studio
Think outside the (white) box. A swing arm wall lamp is a novel way to add lighting over a dining room table, and this black Flos Mod 265 is just the ticket to complement a modern white dining room table. A cheaper replica is available here.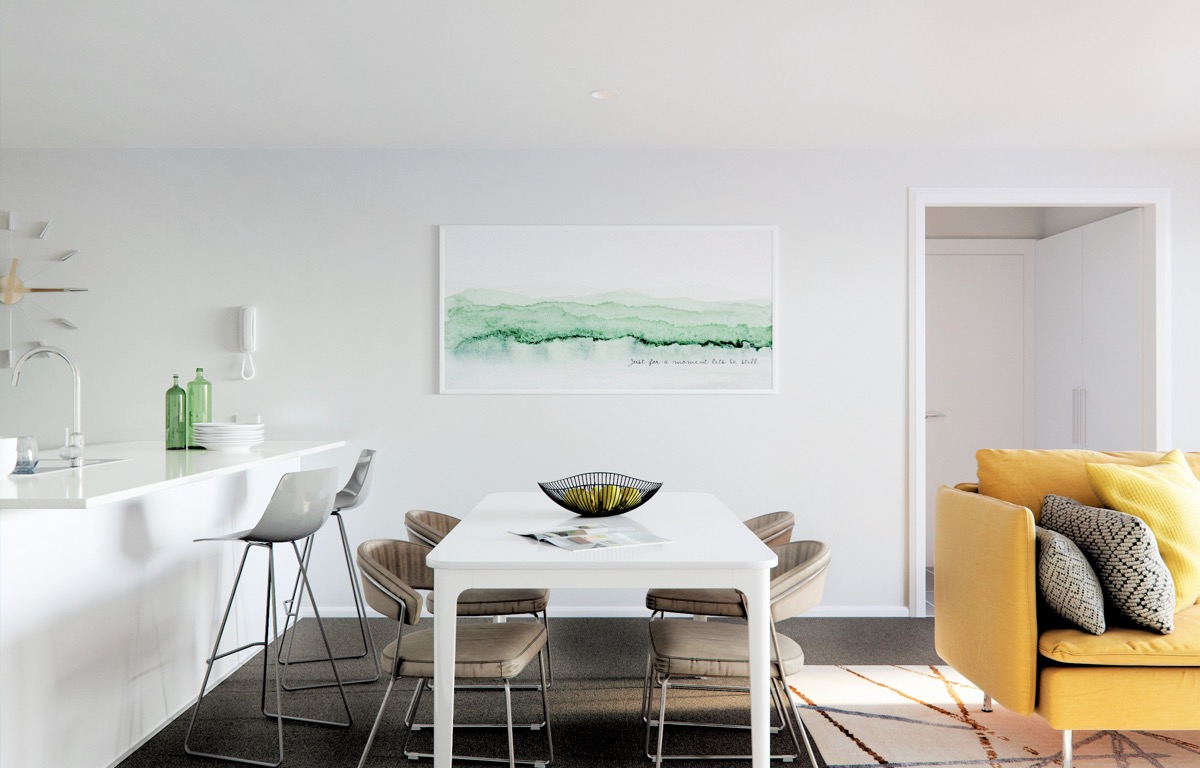 Make your table centrepiece suit your needs. You don't have to splash out on fancy candlesticks if you're not the dinner party type. A simple modern fruit bowl will do.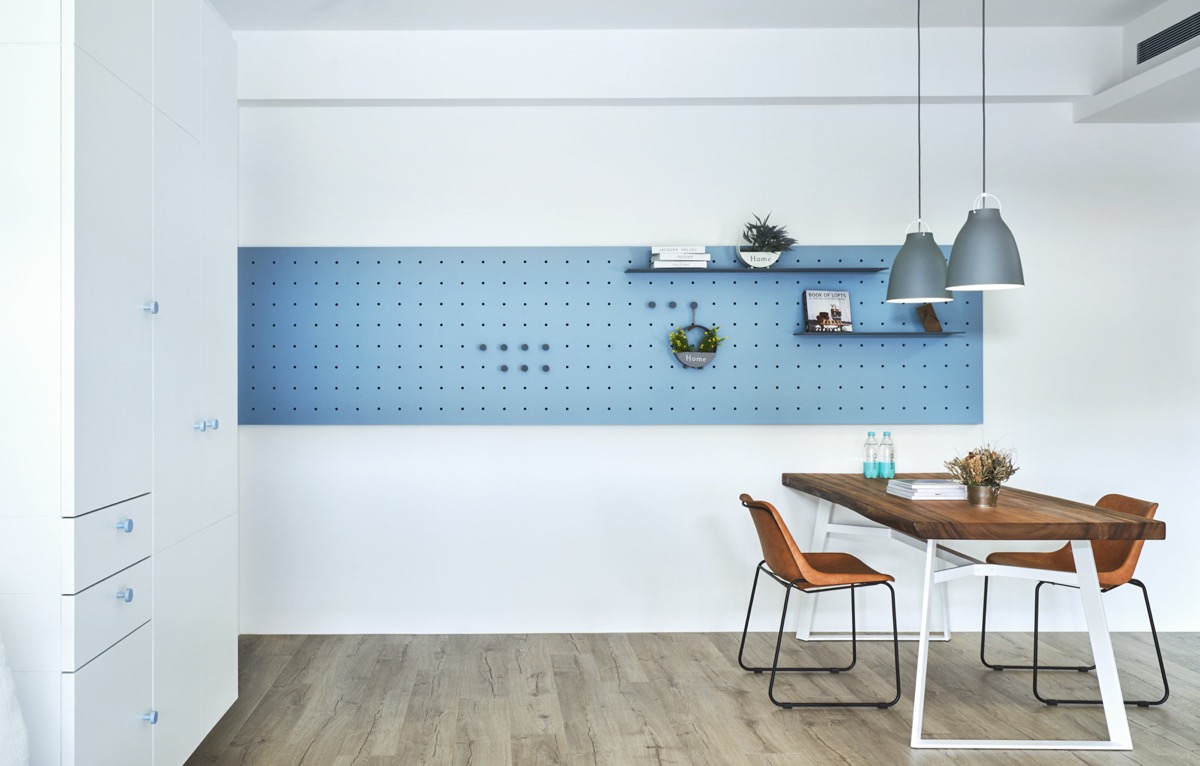 20 |
Photographer: Hey!Cheese
Visualizer: Fungo Design
Add colour in unexpected ways. A blue pegboard wall behind two Caravaggio Pendant lights provides a repositionable shelving system, plus wall hooks where and when they're needed.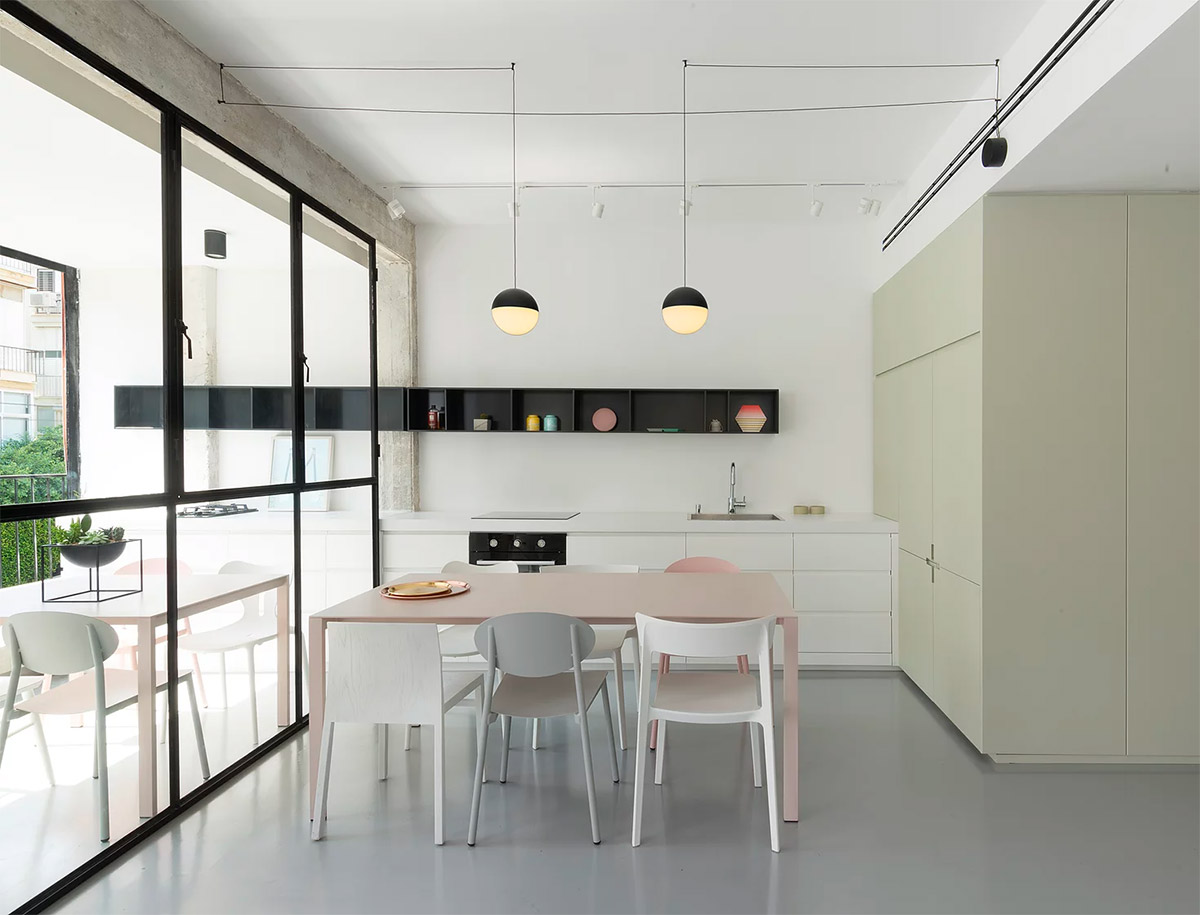 21 |
Designer: Maayan Zusman
Make a shy white scheme blush. This blush pink dining table makes a sweet departure from the surrounding monochrome scheme. Different white dining room chair designs keep the set looking fresh. The dinky globe pendant lights are the Flos String Light Round.
22 |
Visualizer: Evgenii Bulatnikov & Devid Liquify
Geometric accents bring edge to any scheme, like these Vibia Wireflow 2D pendants.
A roaring fireplace adds movement, colour and light. Large artwork can be propped on the floor behind the table for a change of scene.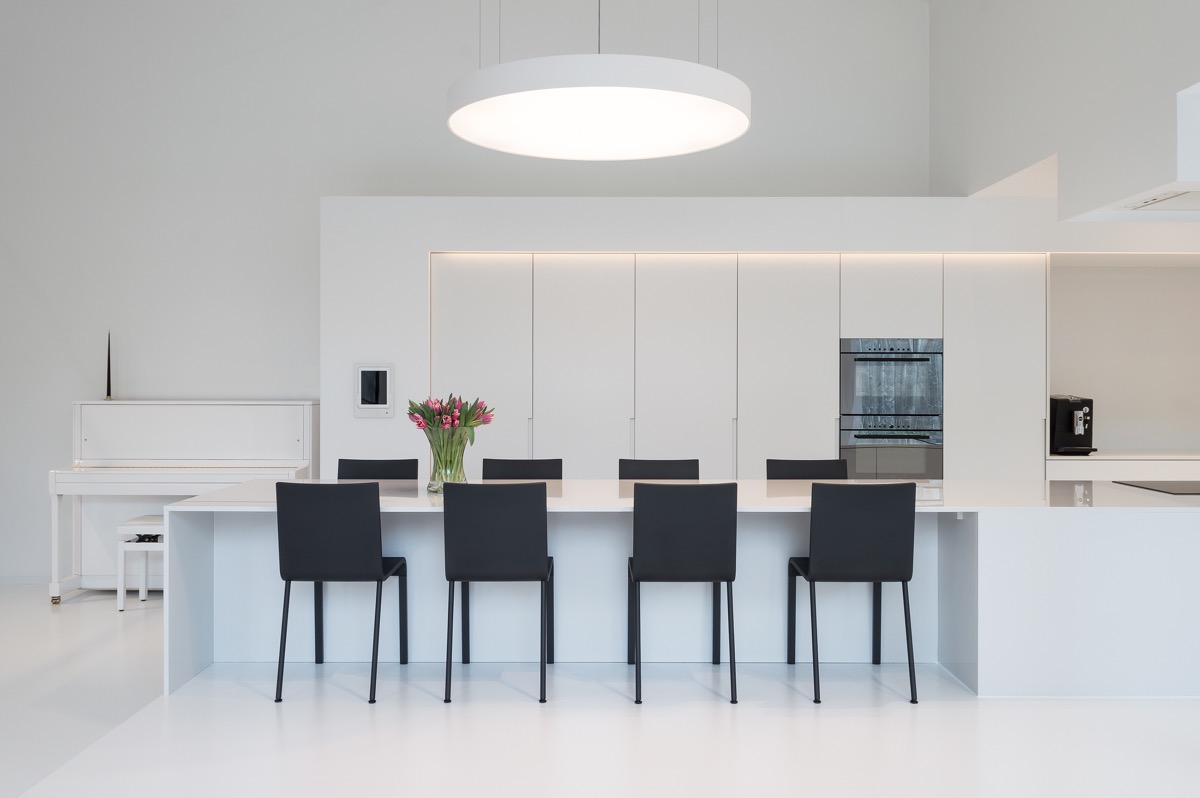 24 |
Visualizer: Stijn Vereeken
Kitchen bars aren't just for breakfast. This tall and elegant black and white dining room set is made by placing modern dining chairs at a sleek kitchen bar.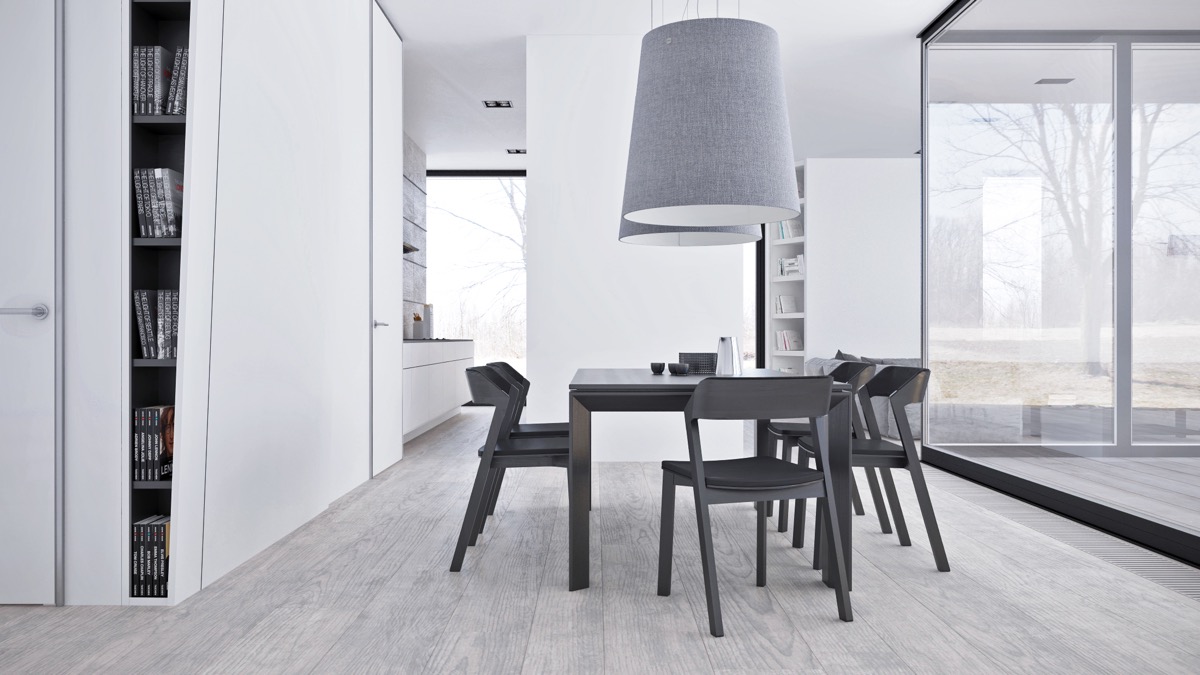 25 |
Visualizer: Maria Garkusha & Ruslan Kovalchuk
Go large on lighting.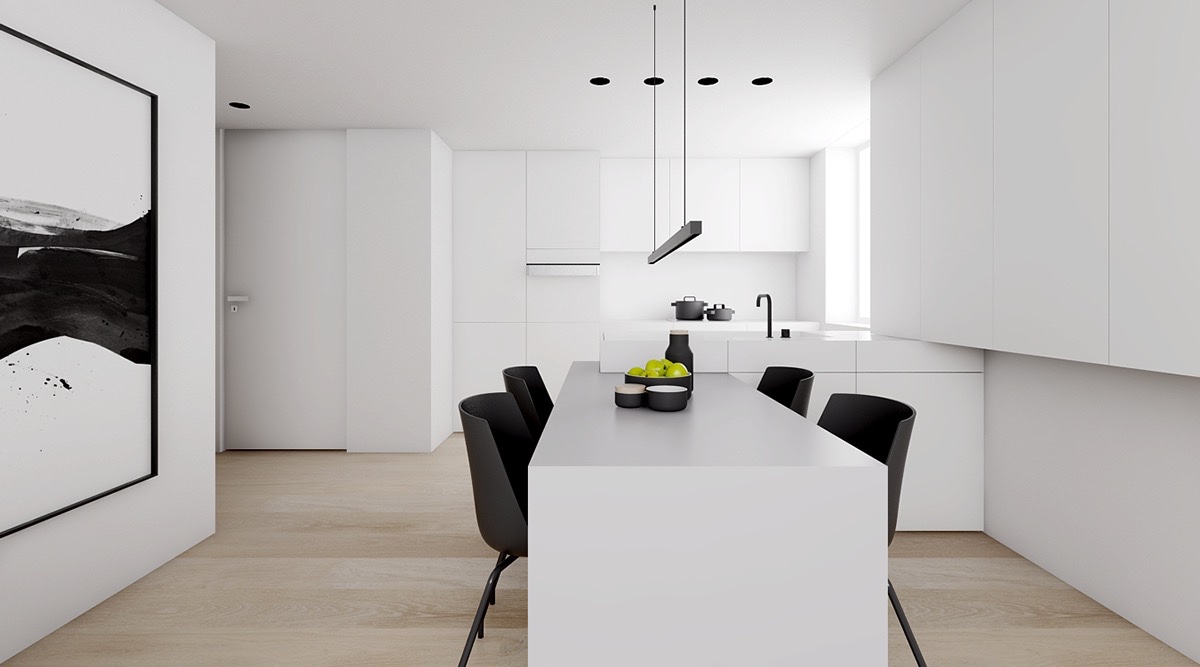 Linear thinking makes light work of minimal spaces. A striking linear suspension lamp looks crisp over black and white dining room sets.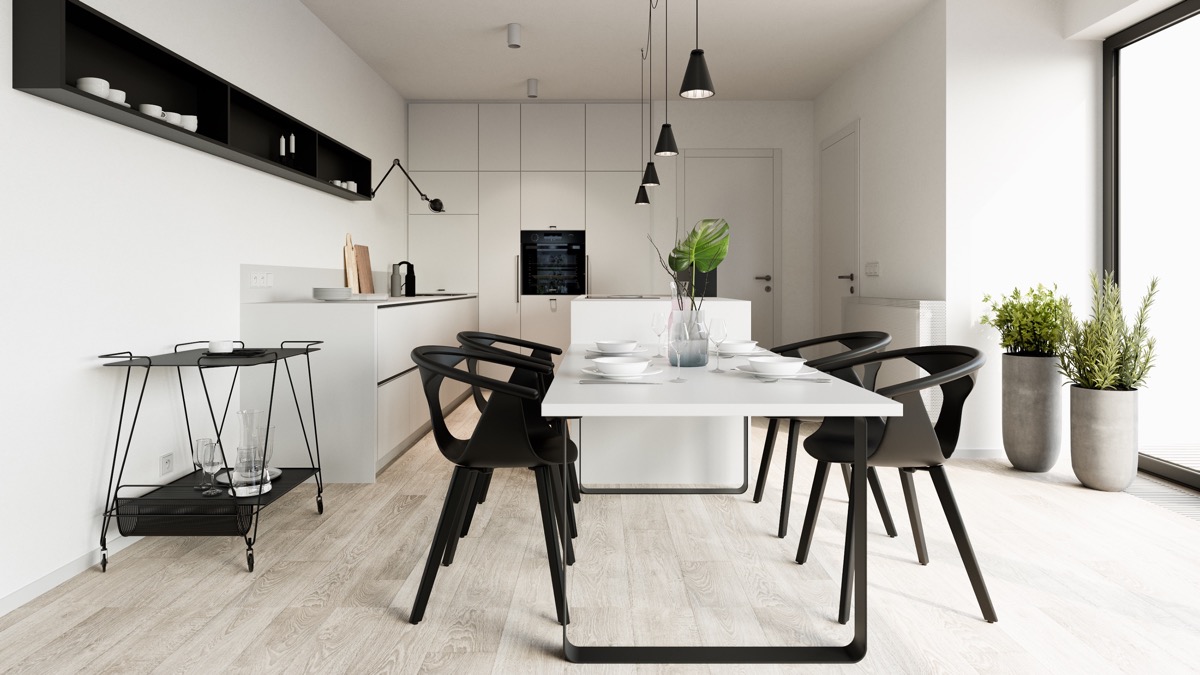 27 |
Designer: Flat White
Visualizer: Tomas Firla & Lukas Teuber
Maximise on monochrome. A black and white dining room table takes on a new dynamic amongst chunky black accent pieces.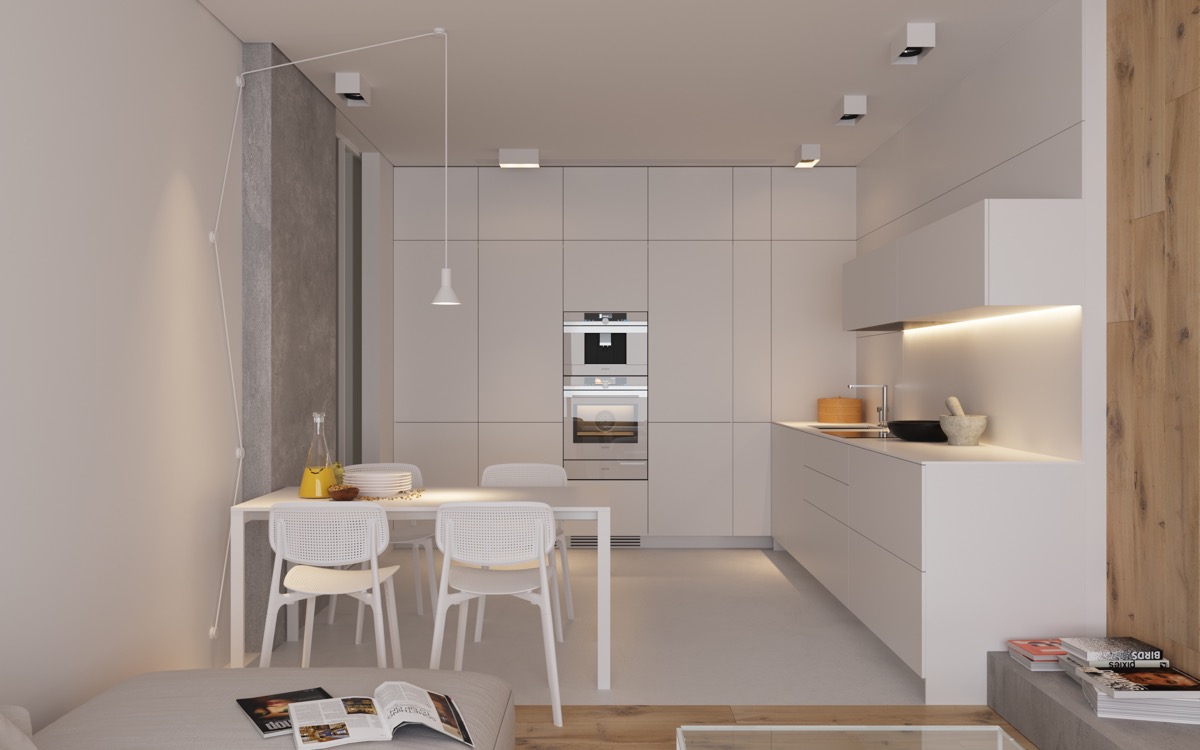 28 |
Visualizer: Z Design
All white dining room sets blend in unobtrusively in a white kitchen diner setup.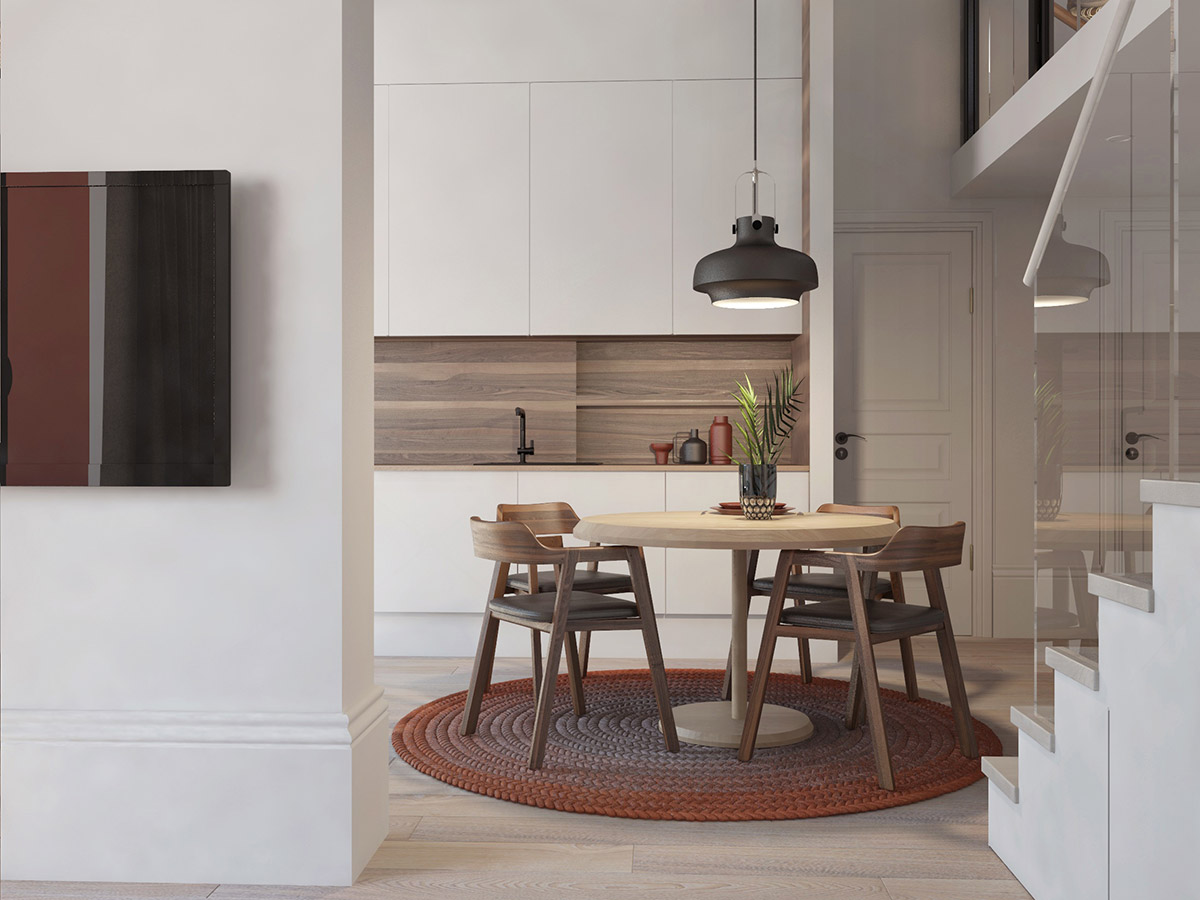 29 |
Visualizer: One Design Studio
Earth tones add depth and warmth. Choose a white dining room cabinet that has wooden shelving nooks, or layer a wooden dining set in front of plain white dining room furniture. Make a centrepiece with a ceramic vase of green fronds to finish the look.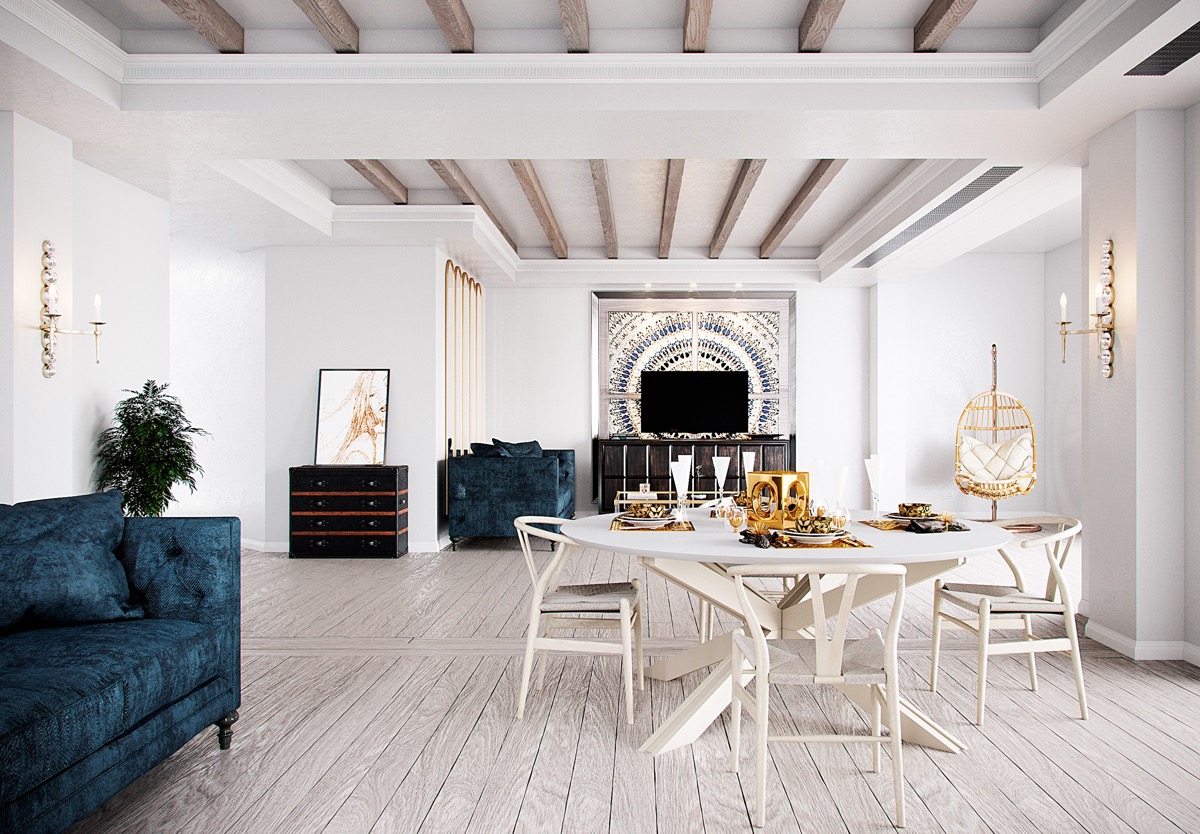 30 |
Visualizer: Sasha Gnativ
Off white dining room sets have a softer look.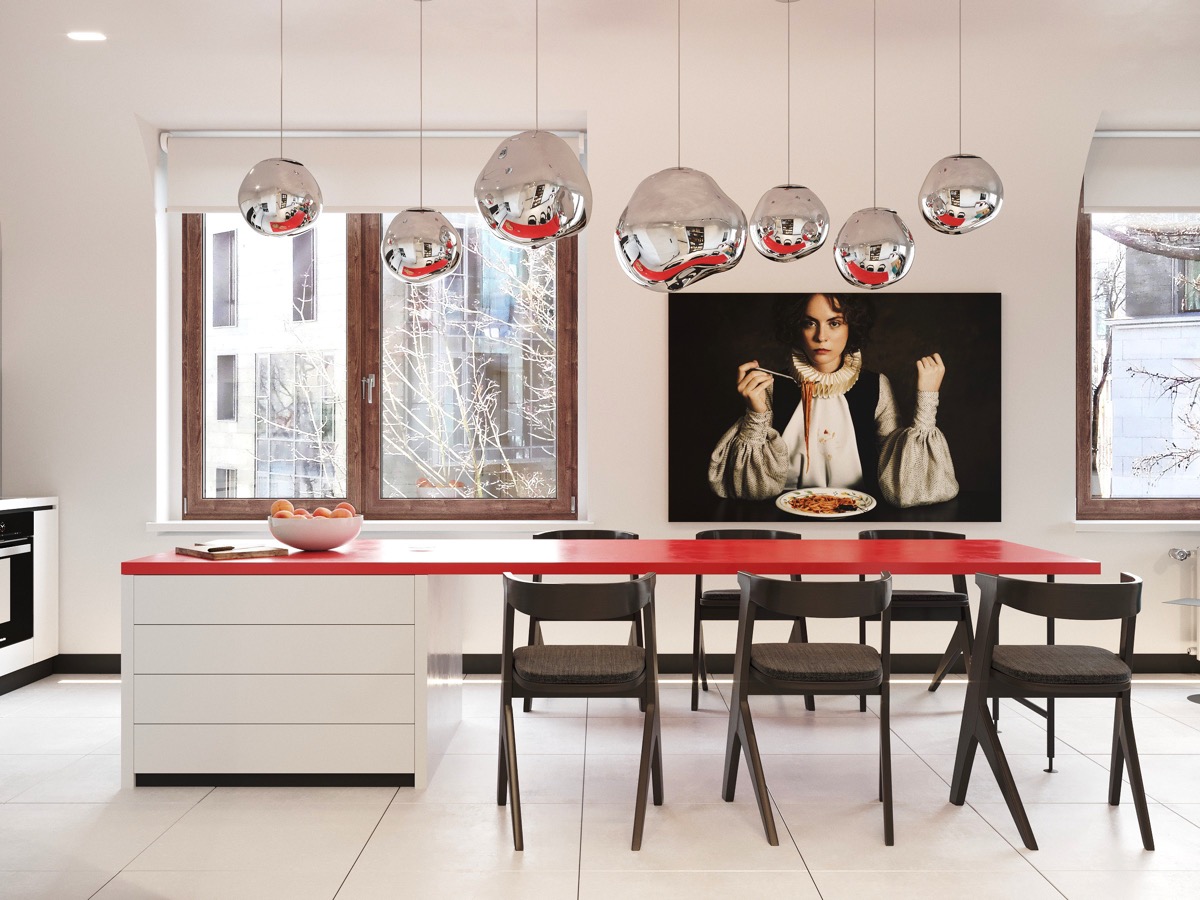 31 |
Visualizer: Slava Korchagin
Use your table top as a canvas for colour.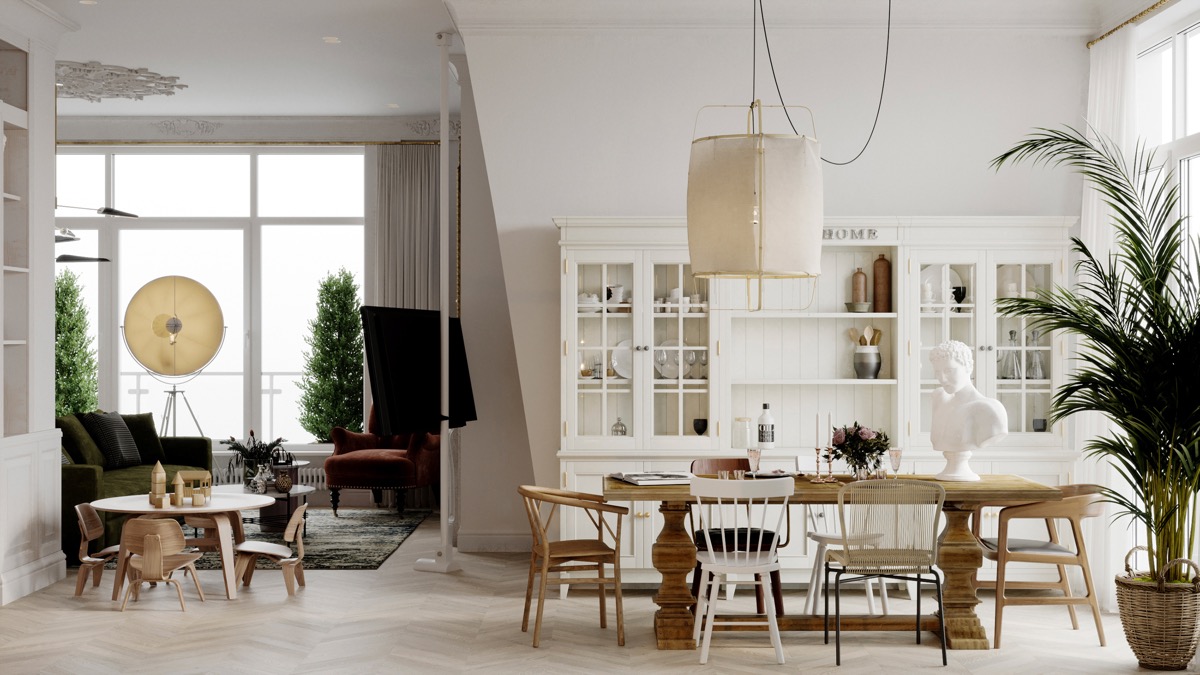 32 |
Designer: Soffit Interiors
Visualizer: Apollo Render
Display elaborate artwork right on the table.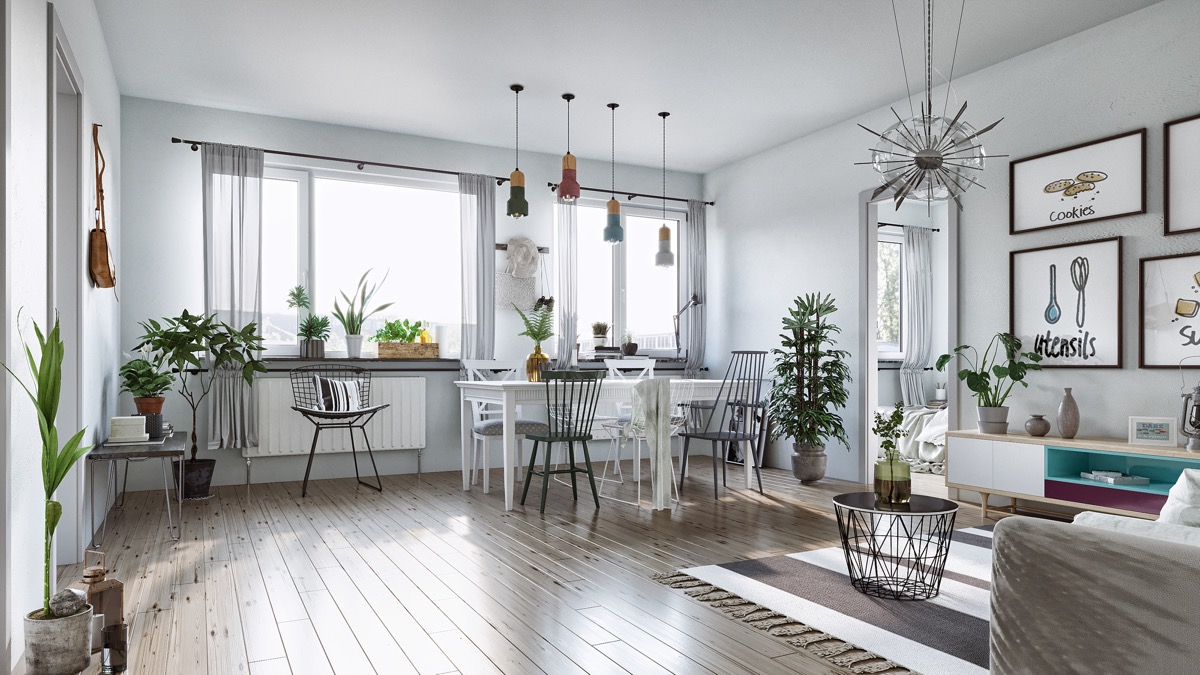 33 |
Visualizer: DA Visual
Add pops of colour with pendants. Colourful wood and concrete pendants colour this monochromatic Scandinavian dining room. A mismatched selection of black and white dining room chairs add to the quirky eclectic aesthetic, placed around a plain white dining room table.